The Dolomites is by far our favorite place to visit in the Dolomites. On our first visit to Italy, we spent four memorable days driving incredibly winding roads, up and down through mountainous territory, enjoying some of Italy's best views. Our first hike, the Lagazuoi Tunnels, really showed us just how beautiful this area is.
First Impression of the Dolomites
This part of the country is almost more Austrian than Italian. German is just as widely spoken as Italian, and we heard hardly any English while we were here. My knowledge of German and Italian is miniscule, as I only know the necessities, such as counting to ten and asking for a glass of wine. Still, we were able to get by.
The towns looked like they were plucked out of Bavaria, with quaint hotels decorated with masses of petunias and other colorful flowers, ski chalets, and the occasional biergarten. We saw chair lifts and gondolas everywhere, used for skiing in the winter, but were now taking vacationers like ourselves to the mountaintops for some of the highest views over Italy.
The hiking was the best we have had yet; challenging, not overly crowded, with rewarding vistas. At the end of the day we would return to Selva di Cadore, our home base, and enjoy pizza, pasta, and wine. This is our kind of paradise.
Our Home Base: Selva di Cadore
To get to the Dolomites, we rented a car in Venice, driving almost two hours north to the town of Selva di Cadore.
Selva di Cadore is a quiet, small town located in the mountains, about a half hour away from Cortina D'Ampezzo. It is a somewhat central location for reaching most of the hiking trails in the Dolomites. Plus, we were located away from the main touristy towns; it was wonderful getting away from the masses of tourists in Italy in July.
In Selva di Cadore we stayed at Hotel Garni Ongaro. We stayed in the quadruple room which had bunk beds for Tyler and Kara and a queen-sized bed for Tim and I. The rooms are basic but clean and breakfast each morning was very good. We loved staying in this small town, a nice break from the bigger cities we just visited in Italy.
Hiking the Lagazuoi Tunnels
Today we did our shortest of three hikes, since it was already 2 pm once we got started. A half hour north of Selva di Cadore is the Falzarego Pass and the Lagazuoi Tunnels. The roads here are insane! I don't think there is a straight section of road in the Dolomites more than 100 meters long, and some mountain climbs would entail driving 36 hairpin turns. We know this because there were signs counting them down during these climbs.
We parked in a car park on a mountaintop, and just when we thought we couldn't go any higher, there was a cable car to take us to 2800 meters of altitude, to the top of a mountain peak. The cable car went so high that we couldn't even see the top…it was covered in clouds.
Lagazuoi Cable Car
Lagazuoi Cable Car
It was a very smooth, very fast ride to the top. We emerged from the cable car into much cooler weather. The four of us were wearing shorts, T-shirts, and rain jackets, which was not enough clothing. If you plan on doing this hike, make sure you are prepared for the cooler temperatures on the mountain top.
The cable car runs every 15 minutes starting at 9 am. The last uphill run is at 4:40 pm. Tickets cost €15 one-way all year except for August. In August, tickets cost €17 one way. Get updated hours and pricing here.
On the Hiking Trail
After photos with an incredible backdrop, we set off down the mountain. This area of Italy was the site of many World War I battles. We could see tunnels and bunkers carved out of the mountains, remnants from the war.
On this hike we were planning on hiking 1 km down one of these tunnels. In order to do this good footwear and flashlights are a must. We came prepared, but could never find the tunnel!!
What an incredible view! | Lagazuoi Tunnels hike
In a way, we were glad we missed the tunnel. By hiking through a dark tunnel we would have missed some of the best views.
View of the Dolomites from the trail | Lagazuoi Tunnels hike
Halfway down the mountain we found the bottom entrance to the tunnel. We walked through the tunnel part of the way. It was dark, chilly, and slippery. Those flashlights are a must!!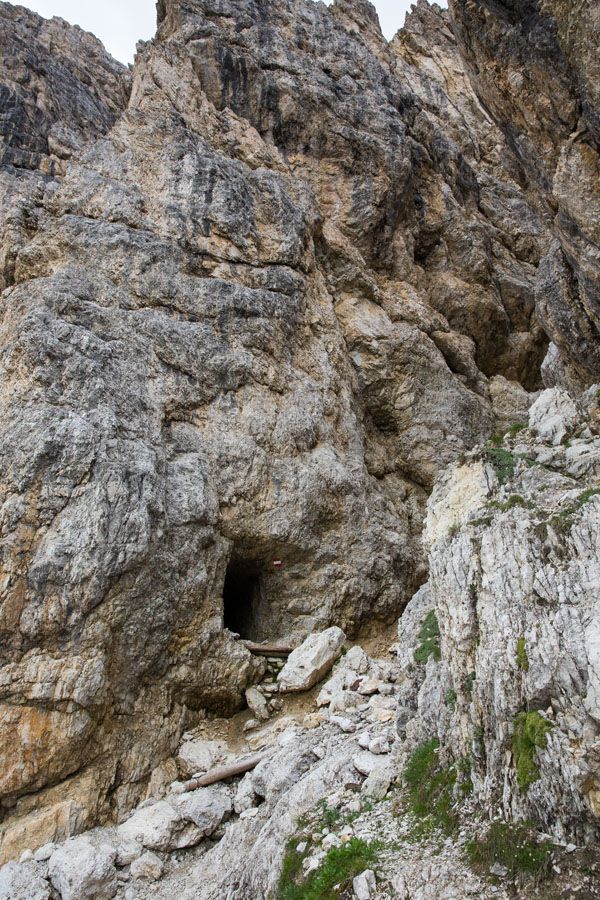 We finished our last descent, ending our first hike in the Dolomites. The scenery is amazing here. We are really looking forward to a much longer hike tomorrow.
Lagazuoi Tunnels Hiking Stats
Distance: 2.5 miles
Elevation Loss: 650 meters (mostly downhill; a cable car takes you to the highest point)
Length of time: 3 to 4 hours
Difficulty: Easy to Moderate
Map: You can purchase a map of this hike at the tourist offices, souvenir shops, and outdoor suppliers in the Dolomites. For this hike, you need the Tabacco #3 or #7. Purchasing the map is not necessary. The hiking trail is well marked and easy to follow. You can also reference the book Shorter Walks in the Dolomites, which we mention below.
When to go: This hike is best during the summer months.
Bring: Hiking shoes, water, snacks or lunch, a jacket and long pants (it is chilly at the higher elevations), and of course, your camera.
Please practice the seven principles of Leave No Trace: plan ahead, stay on the trail, pack out what you bring to the hiking trail, properly dispose of waste, leave areas as you found them, be considerate of other hikers, and do not approach or feed wildlife.
For More Information on Hiking in the Dolomites
Looking for more hikes in the Dolomites? We also hiked the spectular Puez-Odle Altopiano (one of our favorite hikes of all time) and The Tre Cime di Lavaredo Loop, an easy hike around giant pinnacles of stone, one of the iconic views of the Dolomites.
The book Shorter Walks in the Dolomites by Gillian Price was a huge asset to us planning our time in the Dolomites. This book covers 50 one-day hikes in the Dolomites, complete with maps, directions, photographs, and wonderful descriptions of the hikes. If you are considering hiking the Dolomites, we highly recommend this book.
---
More Information about Italy
You Might Also Like: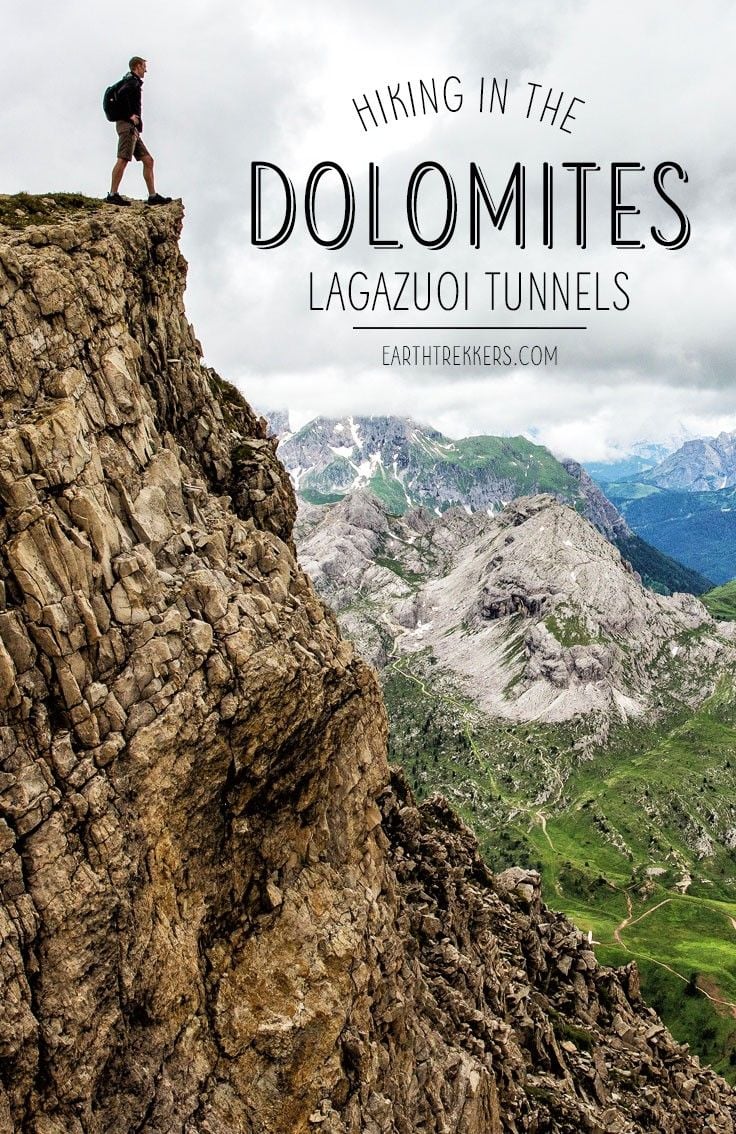 Note: This post contains affiliate links. When you make a purchase using one of these affiliate links, we get paid a small commission at no extra cost to you.
All rights reserved © Earth Trekkers. Republishing this article and/or any of its contents (text, photography, etc.), in whole or in part, is strictly prohibited.