The Tre Cime di Lavaredo is one of the Dolomites' iconic hikes. Three massive rocky prominences rise up from the rolling scenery of the Dolomites, surrounded by amazing views and, during the summer months, wildflowers.
As far as hiking goes, this is a relatively easy hike. Tre Cime is great for kids, so if you are here on a family vacation and want to add a Dolomite hike to your Italian itinerary, this is a great one to consider.
Hiking the Tre Cime di Lavaredo Loop
Tre Cime di Lavaredo Hiking Stats
Distance: 10 km (6 miles)
Elevation Gain: 340 meters
Length of time: 3 to 5 hours
Difficulty: Easy
Map: You can purchase a map of this hike at the tourist offices, souvenir shops, and outdoor suppliers in the Dolomites. For this hike, you need the Tabacco #10. Purchasing the map is not necessary. The hiking trail is well marked and easy to follow. You can also reference the book Shorter Walks in the Dolomites, which we reference below.
When to go: This hike is best during the summer months, when the wildflowers are in bloom. The road to Rifugio Auronzo typically opens in early June.
Bring: Hiking shoes, water, snacks or lunch, a jacket (it is chilly at the higher elevations), and of course, your camera.
Please practice the seven principles of Leave No Trace: plan ahead, stay on the trail, pack out what you bring to the hiking trail, properly dispose of waste, leave areas as you found them, be considerate of other hikers, and do not approach or feed wildlife.
The entire loop is 10 km (6 miles) long and mostly flat. The loop circumnavigates the three colossal pinnacles that gives Tre Cime its name.
We hiked Tre Cime in July on a cloudy and rainy day. Even with less than ideal weather, it was still a gorgeous hike. On sunny days, the views are even better.
The hike begins at Rifugio Auronzo. There are large car parks here but they can fill up during the busier summer months. Try to get here early so you can get a spot. Buses also connect Rifugio Auronzo with Cortina d'Ampezzo and Dobbiaco, for those who are touring Italy without a car.
A wide, relatively flat trail connects Rifugio Auronzo with Rifugio Lavaredo. During this section of the hike, the massive spikes of Tre Cime loom over you and makes Rifugio Lavaredo seem tiny and insignificant.
Rifugio Lavaredo | Tre Cime di Lavaredo loop hike
From Rifugio Lavaredo, a short climb takes you up and over a mild grade. Once at the top, the views change, opening up to a view of the valley in front of Tre Cime, with the mountains of the Dolomites stretching off beyond. In the not too far off distance is Rifugio Locatelli, your next destination.
Trail sign | Tre Cime di Lavaredo loop hike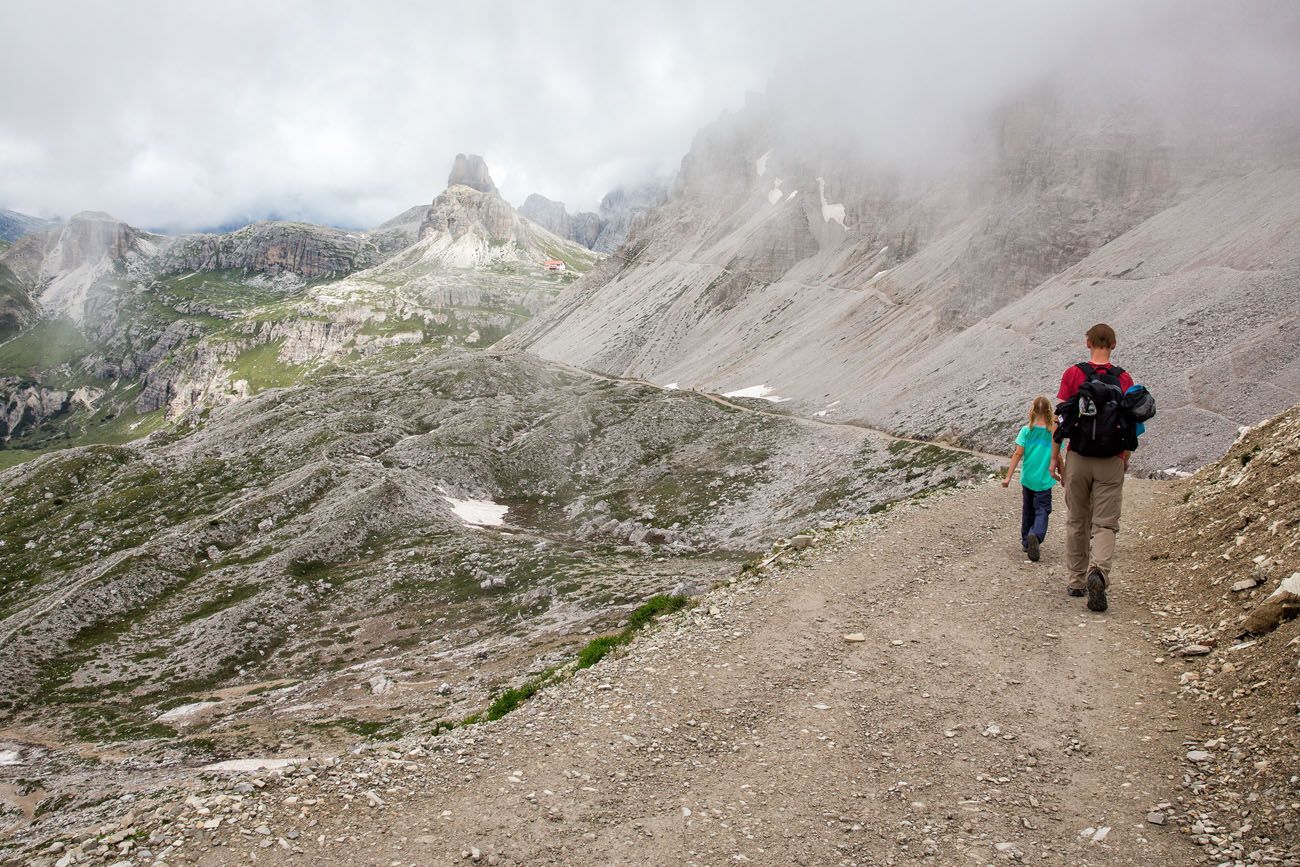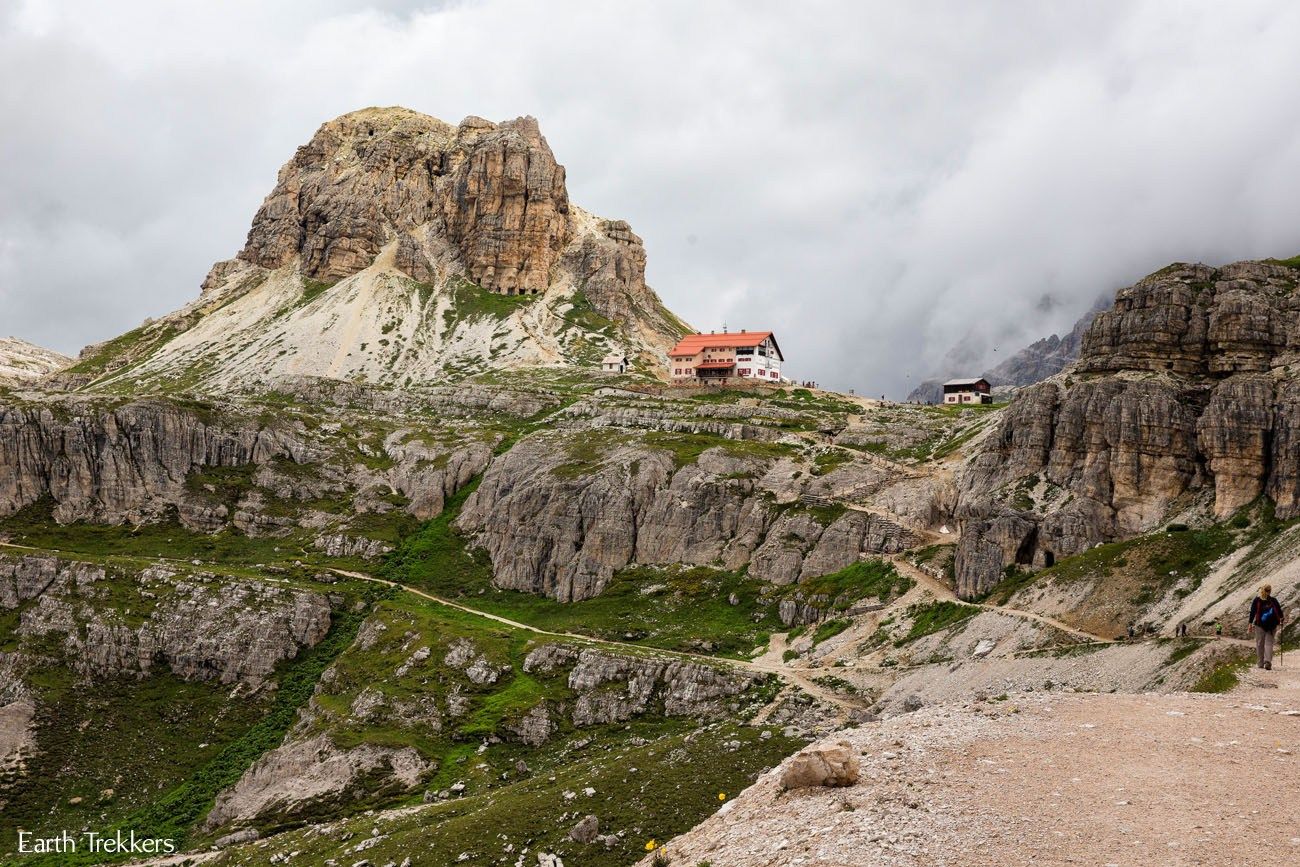 Rifugio Locatelli | Tre Cime di Lavaredo loop hike
From Rifugio Locatelli, you will have your best view of the Tre Cime and the valley. Hopefully, you will have better weather than we did.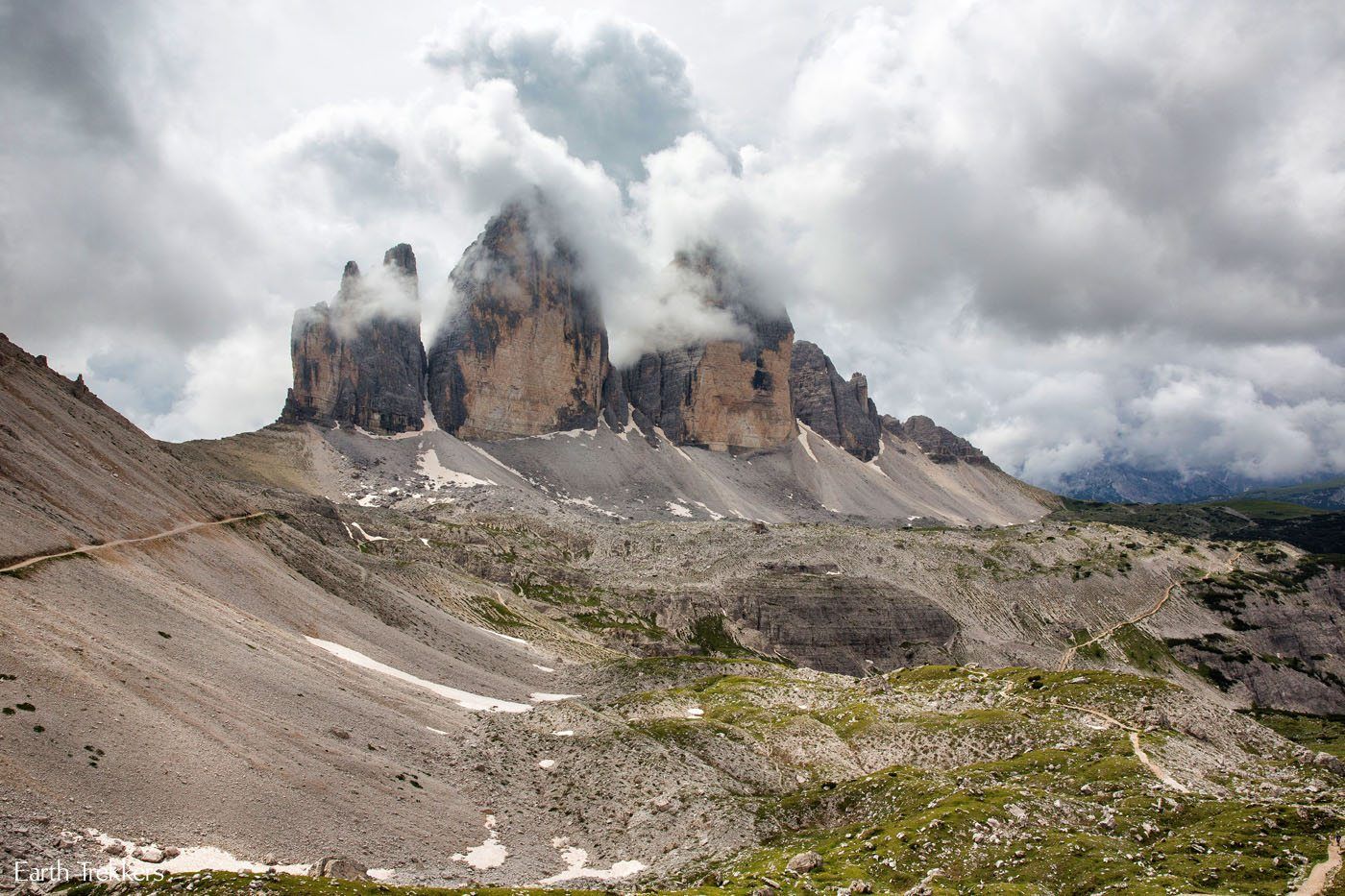 After enjoying the view, take the path downhill and cross the valley in front of the Tre Cime. If you are here during the summer months, this valley is carpeted with wildflowers.
Tyler and Kara on the trail | Tre Cime di Lavaredo loop hike
The hike ends back at the car park at Rifugio Auronzo.
Getting to Rifugio Auronzo
The closest town to Rifugio Auronzo and the start of the hike is Misurina. The final road to main parking lot, SS48bis, can close in the winter months when it becomes covered with snow.
Driving Distances from Nearby Towns:
Cortina d'Ampezzo:

23 km, 40 minutes

Selva di Cadore:

53 km, 1.5 hours

Bolzano:

152 km, 2.5 hours
There is a €30 fee for parking at Rifugio Auronzo. Here is more information about the parking fee for Rifugio Auronzo.
For more information about how to get here using public transport, take a look at this link.
For More Information on Hiking in the Dolomites
Looking for more hikes in the Dolomites? We also hiked the spectular Puez-Odle Altopiano (one of our favorite hikes of all time) and the Lagazuoi Tunnels, a mostly downhill hike with awesome views and the chance to walk through old World War I tunnels.
The book Shorter Walks in the Dolomites by Gillian Price was a huge asset to us planning our time in the Dolomites. This book covers 50 one-day hikes in the Dolomites, complete with maps, directions, photographs, and wonderful descriptions of the hikes. If you are considering hiking the Dolomites, we highly recommend this book.
Where We Stayed in the Dolomites
We stayed at Hotel Garni Ongaro in Selva di Cadore. Selva di Cadore is a quiet, little town located in the mountains, about a half hour away from Cortina D'Ampezzo. It is a somewhat central location for reaching most of the trails we hiked. Plus, we were located away from the main touristy towns; it was wonderful getting away from the masses of tourists in Italy in July. In Hotel Garni Ongaro, we stayed in a quadruple room, perfect for families, with a queen-sized bed for the adults and bunk beds for the kids.
---
More Information about Italy
You Might Also Like: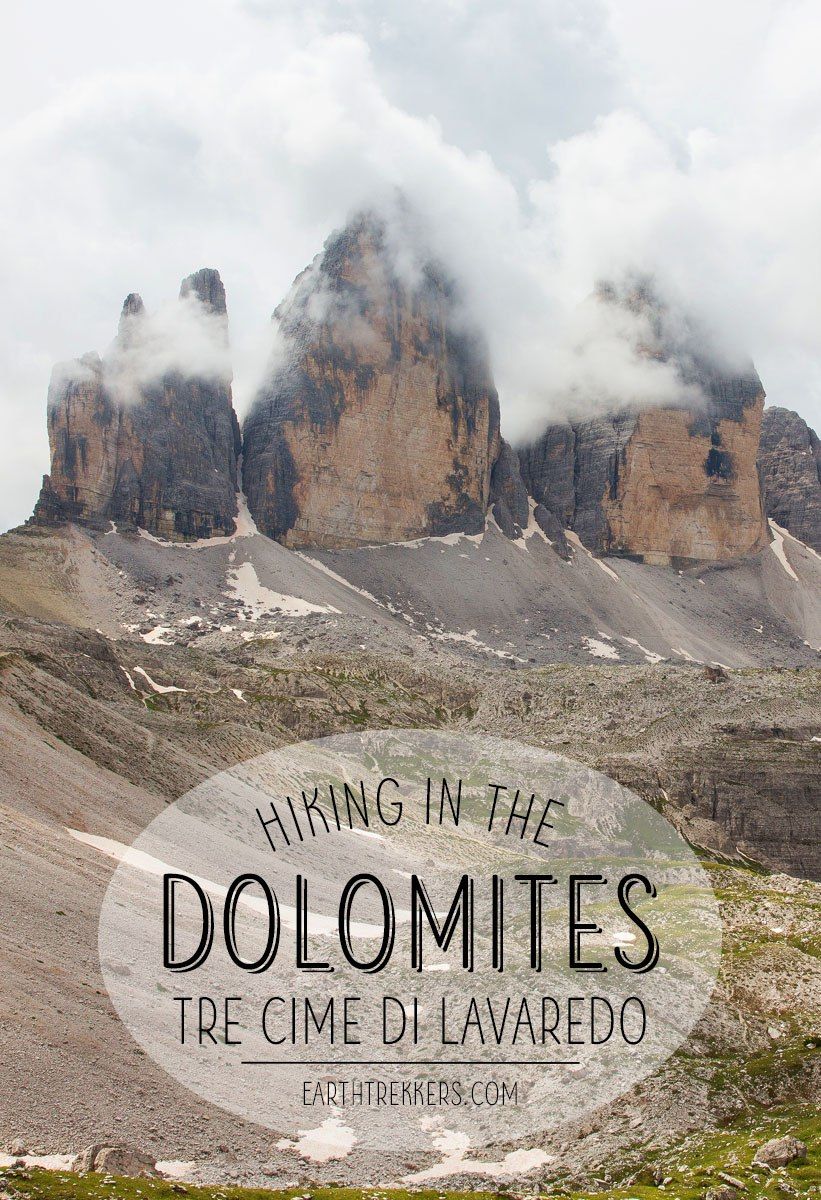 Note: This post contains affiliate links. When you make a purchase using one of these affiliate links, we get paid a small commission at no extra cost to you.
All rights reserved © Earth Trekkers. Republishing this article and/or any of its contents (text, photography, etc.), in whole or in part, is strictly prohibited.