Located in the Guadalupe Mountains of New Mexico sits an underground fantasy land of limestone chambers, stalactites and stalagmites, and long, twisting tunnels. Carlsbad Caverns is breathtaking in its beauty.
I'm not a big fan of caves and caverns but I found this place to be unexpectedly amazing. It feels massive like Mammoth Cave in Kentucky, but with its astounding number of stalactites, stalagmites, ribbon-like curtains, totem poles and soda straws, it's truly a sight to behold.
You can tour the caverns on your own or join a ranger-guided walk for an even more in-depth experience.
Touring the caverns is the main attraction, but there are also miles of hiking trails and a scenic drive that winds its way through the mountains.
In this post, learn how to plan the perfect visit to Carlsbad Caverns.
Interesting Facts about Carlsbad Caverns
Carlsbad Caverns is located in southeastern New Mexico in the Guadalupe Mountains. This mountain range, which spans the border with Texas, is also home to Guadalupe Mountains National Park. You can visit both of these parks in a weekend getaway or as part of a larger road trip.
On May 14, 1930, Carlsbad Caverns officially became a national park.
The temperature is a consistent 56°F year round.
Bats dwell inside of the cave primarily during the summer months. In fact, one of the best things to do in Carlsbad Caverns is to watch the bats fly from the cave in the evening.
A disease called White-Nose Syndrome is spreading through the USA, killing bat populations. It does not affect humans, but you will walk across medicated mats to help stop the spread of this disease. The national park service also requests that you do not wear any clothing or shoes to Carlsbad Caverns that you have worn in another cave.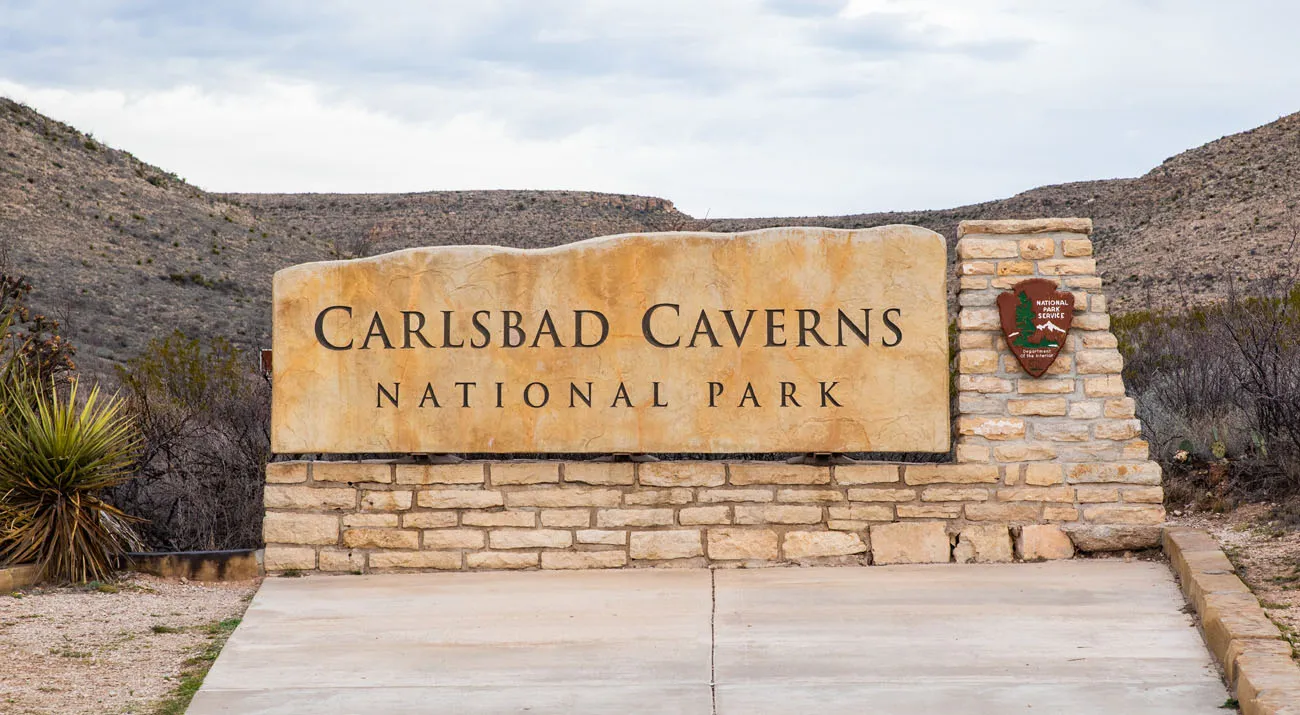 Geology of Carlsbad Caverns
250 millon years ago, the area around Carlsbad Caverns was a coastline. Marine life formed a reef, laying down the limestone building blocks that would later help form this cave.
The water receded and tectonic movements created the Guadalupe Mountains.
Later, hydrogen sulfide, created from the petroleum fields that sit underground, seeped up into the limestone. It mixed with oxygen, forming sulfuric acid, which then dissolved the limestone, leaving behind the enormous caverns.
Over millions of years, groundwater seeping into the caverns created the stalactites, stalagmites, draperies, and soda straws, forming the beautiful decorations and adornments in these giant rooms.
DID YOU KNOW? A cave is a cavity in the ground that is large enough that some portion of it will not receive direct sunlight. A cavern is a specific type of cave. A cavern is formed by soluble rock that can grow speleothems (stalactites, stalagmites, etc.). So, all caverns are caves but not all caves are caverns.
Things to do at Carlsbad Caverns
The main reason to visit Carlsbad Caverns is to explore the underground wonderland, but there are also several "above ground" things to do at Carlsbad Caverns.
Explore the Caverns
You have two options for exploring the caverns. You can either go at your own pace and walk the self-guided trails or you can join a ranger guided tour.
If you are short on time, walking the self-guided underground trails is the best thing to do at Carlsbad Caverns. However, if you are looking to "go deeper" into the caverns, learn more about the history and geology, or add more adventure to your visit, join a ranger guided tour (of which there are many to choose from).
I will discuss these in more detail later in this post (or skip ahead now).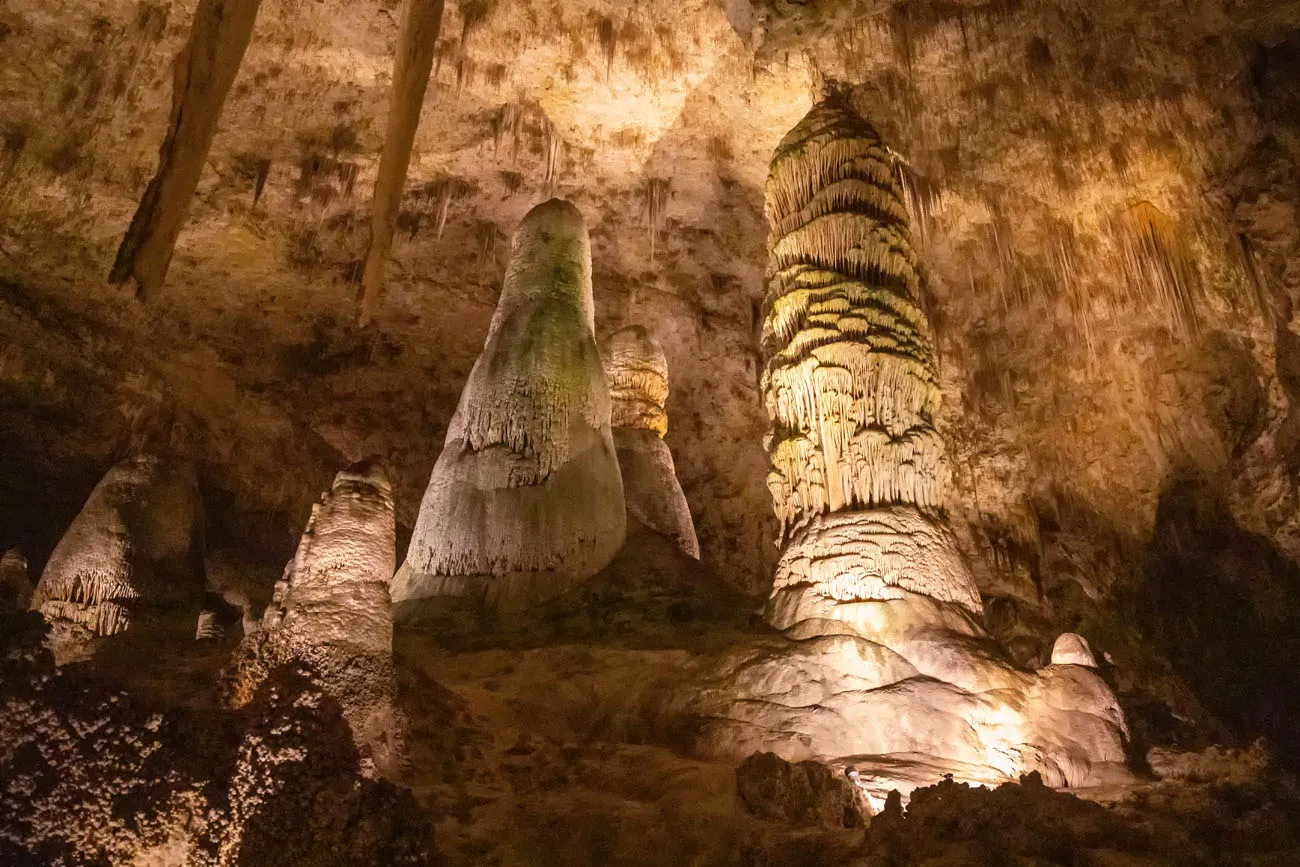 Bat Flight Program
This is one of the best things to do at Carlsbad Caverns, but it's only possible during a certain time of year.
The bats that you can see at Carlsbad Caverns are migratory, so they are only here several months of the year. The bats arrive in mid to late-April and live in the cave through October.
From late May through October you can watch the Bat Flight program. At the Bat Flight Amphitheater, grab a seat and watch as the bats emerge by the thousands from the natural entrance of the cave.
This is included with your entrance fee into the park and there is no additional charge for this activity. You do not need a reservation but seating is first-come, first-served. This takes place each evening and is weather dependent.
The best time to see the bats is in August and September, when the baby bats join the show.
Dark Sky Program
Due to the remoteness of Carlsbad Caverns, this is a prime spot to view the night sky.
On specific nights, from May through October, you can join a ranger-guided walk. There are Star Walks and Moon Walks and if you really have good timing, you can see a meteor shower.
Get the exact dates and learn more on the National Park Service website. ​
Hike one of the Surface Trails
There are several surface hiking trails that you can choose from. We did not do any hiking here, although I did a lot of research prior to our visit.
From my research, the Upper Rattlesnake Canyon to Guadalupe Ridge Loop looked and sounded the most interesting. This hike is 6 miles long and takes roughly 4 hours.
In my opinion, spending more time below ground in the caverns or hiking a trail in nearby Guadalupe Mountains National Park would be a better way to spend your time. If you have hiked any of these trails and disagree, let us know in the comment section below.
Walnut Canyon Desert Drive
This one-way, 9.5 mile gravel road is a "scenic" drive through the mountains of Carlsbad Caverns.
I heard nice things about this drive but it did not live up to the hype. In all honesty, it's a rather boring drive through monotonous desert scenery. Unless you have plans to hike one of the trails that start on this loop, save your time and skip this drive.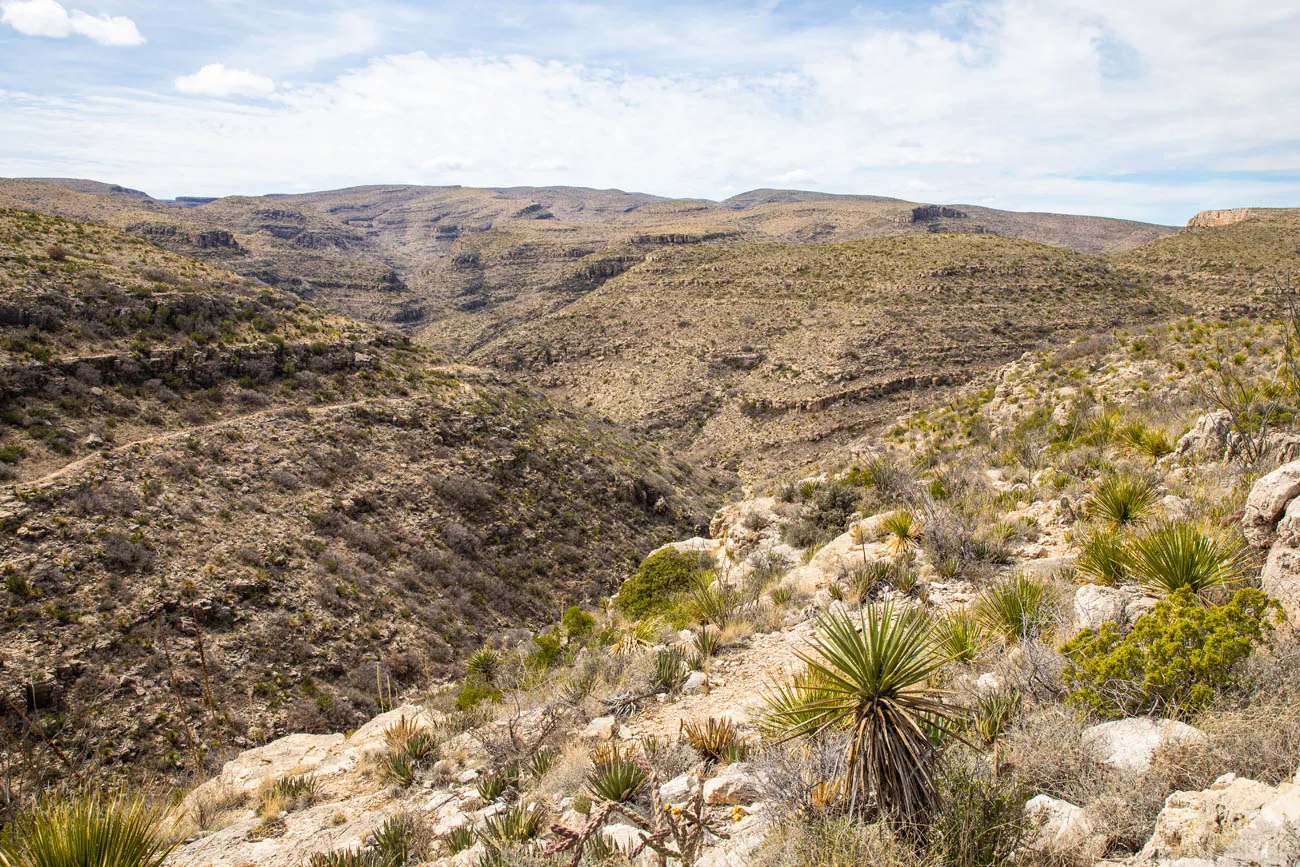 Rattlesnake Springs
Rattlesnake Springs is an oasis located in Carlsbad Caverns National Park. There is a nice picnic area but the oasis is overrated. Here is what it looks like.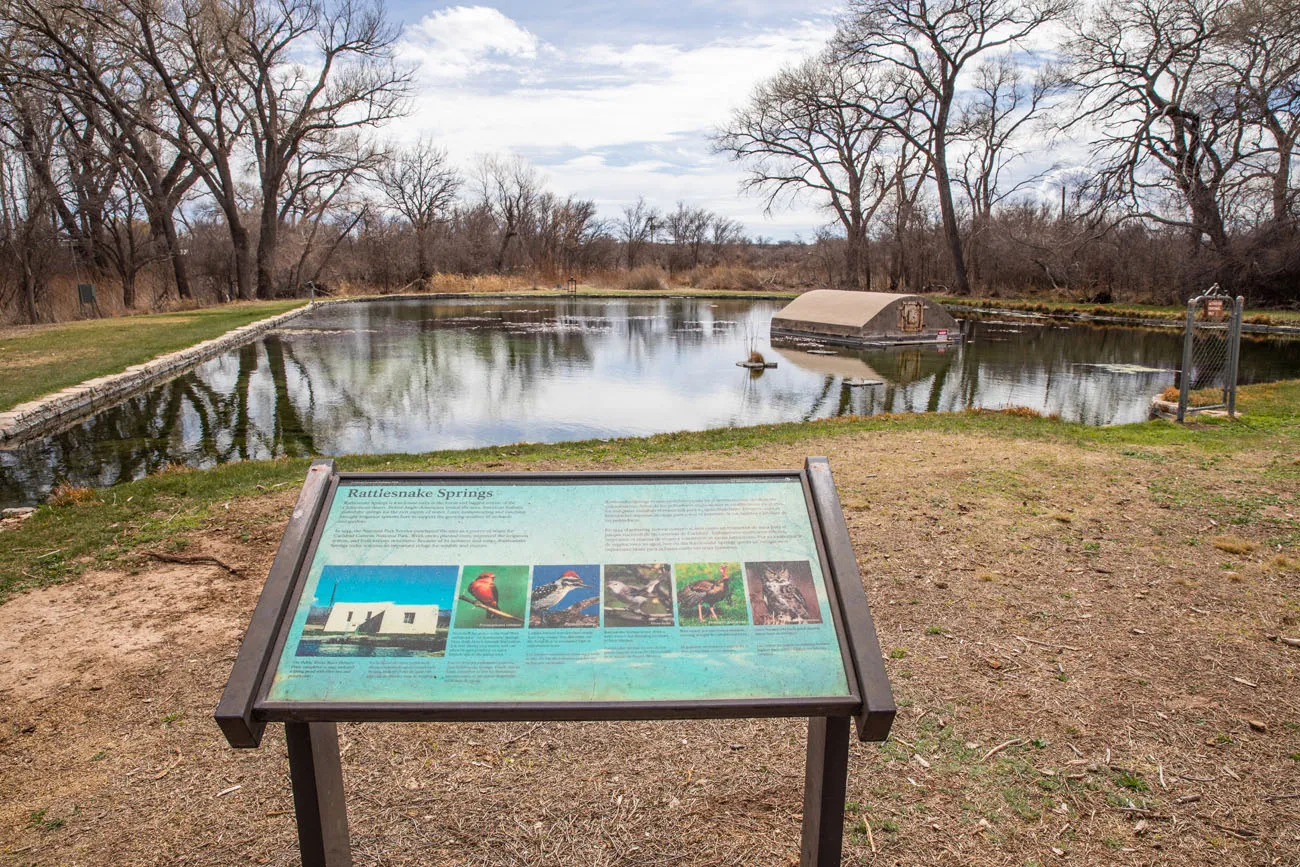 Best Tours of Carlsbad Caverns
Self-Guided Tours
There are two self-guided tours and both are well worth your time.
Natural Entrance Trail
Distance: 1.25 miles (2 km)
Difficulty: Moderate
Length of Time: 45 minutes to one hour
Entering Carlsbad Caverns through the Natural Entrance is one of the best experiences in the park. A well-maintained asphalt trail winds its way down into the mouth of Carlsbad Caverns. Gradually, your eyes will adjust to dim lighting, as you travel farther into the cavern. The cavern gradually reveals itself and its collection of unique rocky formations and dripstones.
This trail ends at the Big Room Trail.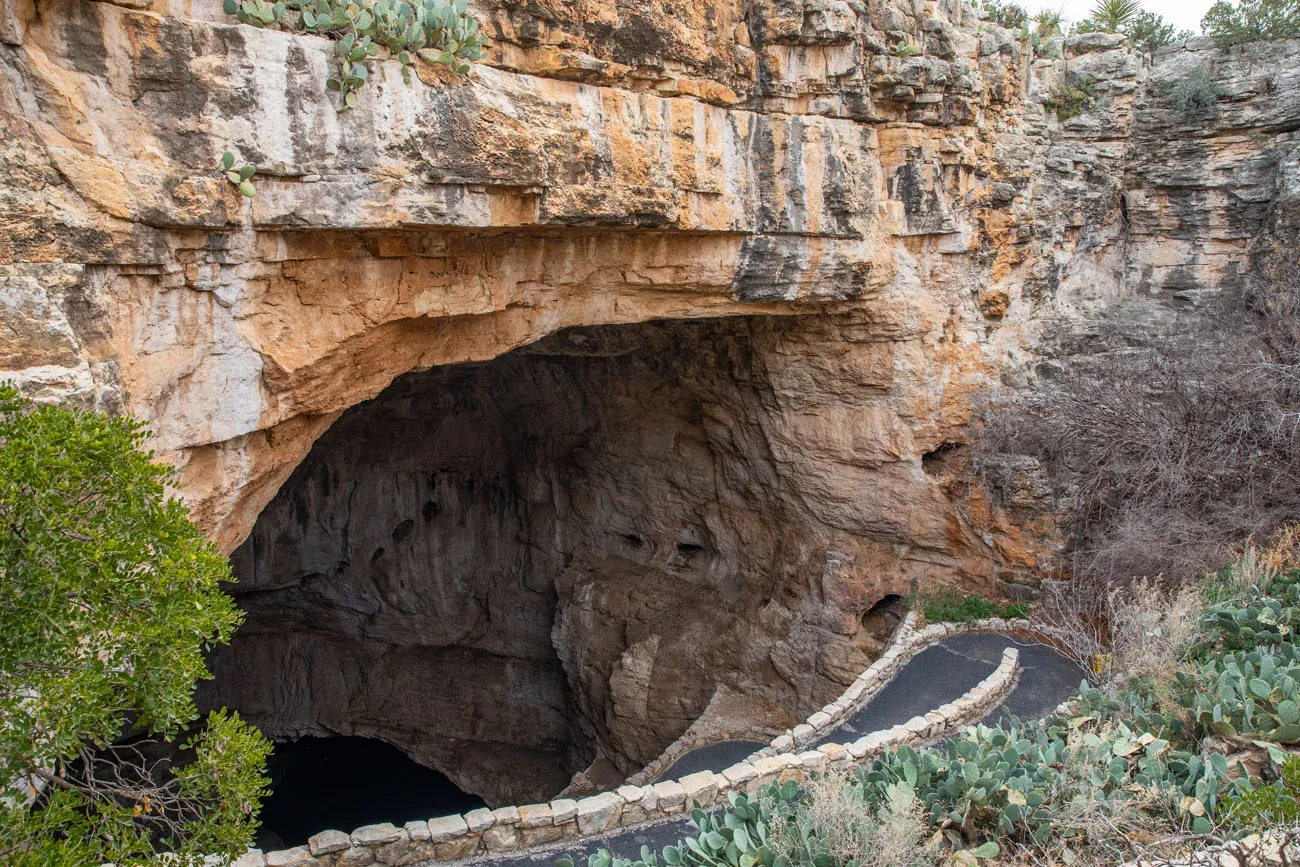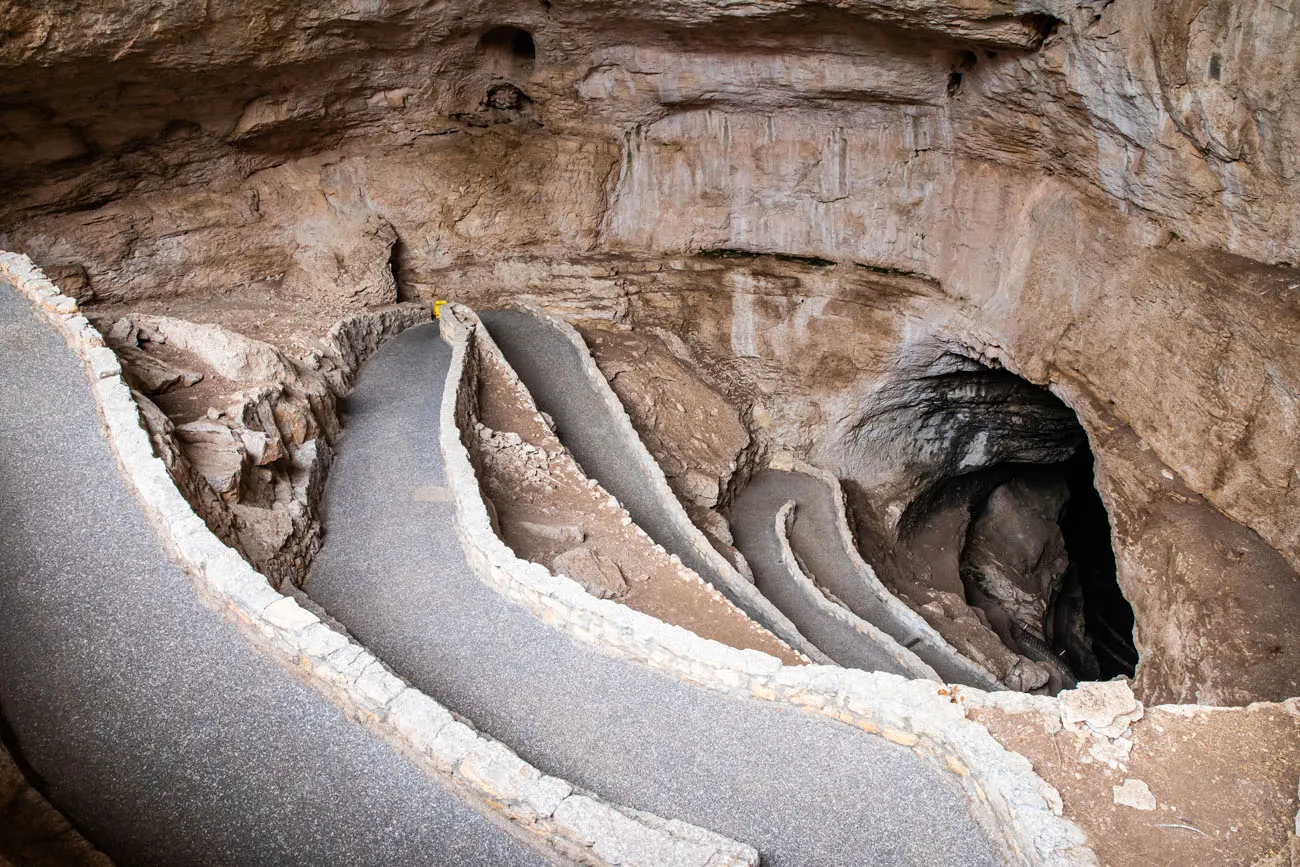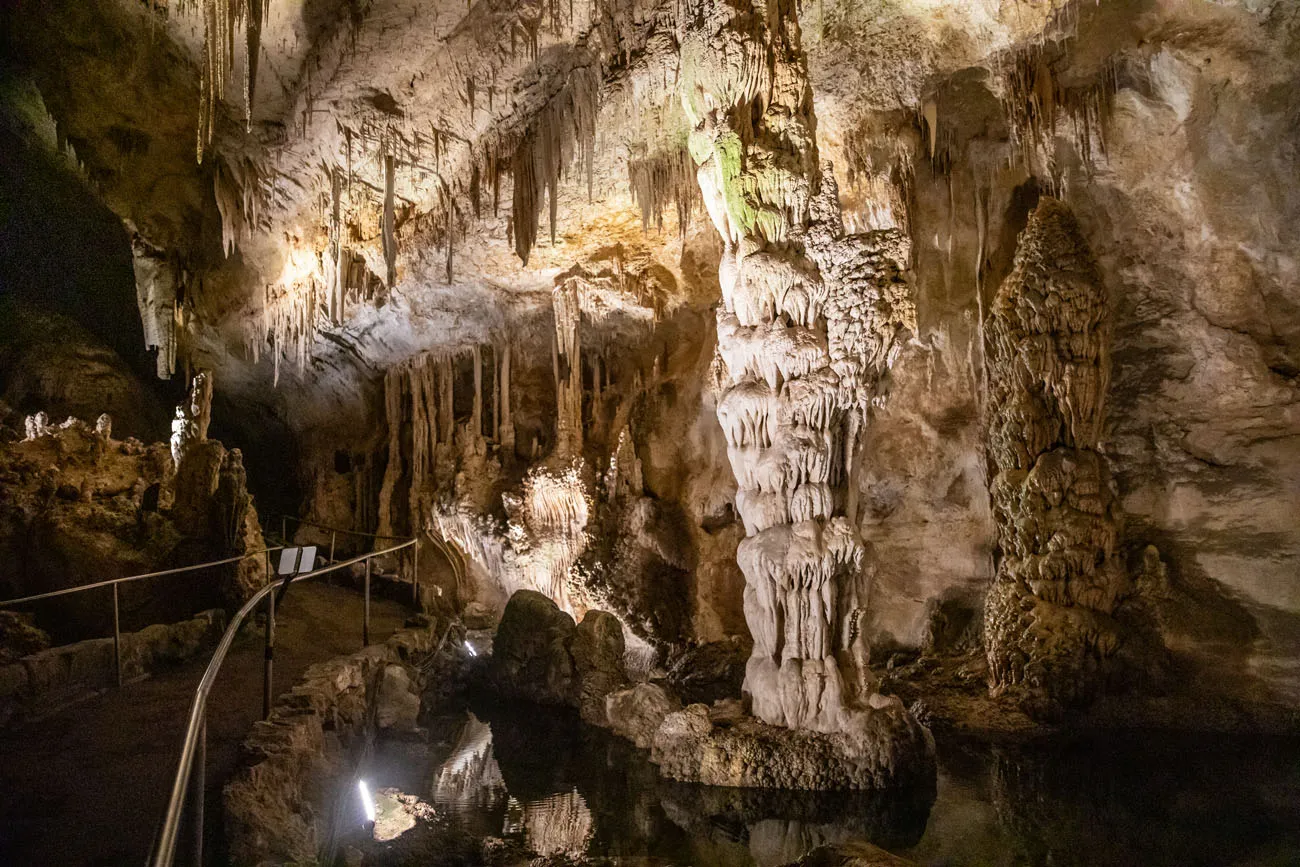 PRO TRAVEL TIP: This walk is completely downhill if you start at the entrance and work your way into the cave (recommended!). If you choose to go the other way, exiting the cave through the Natural Entrance, expect a tiring, steep, uphill walk the entire way.
Big Room Trail
Distance: 1.25 miles (2 km)
Difficulty: Easy, mostly wheelchair accessible
Length of Time: 45 minutes to one hour
The Big Room is the largest cave chamber in the United States by volume. This massive room is filled with stalactites and stalagmites, cave formations, and breathtaking views.
Will Rogers called this cavern "The Grand Canyon with a roof over it."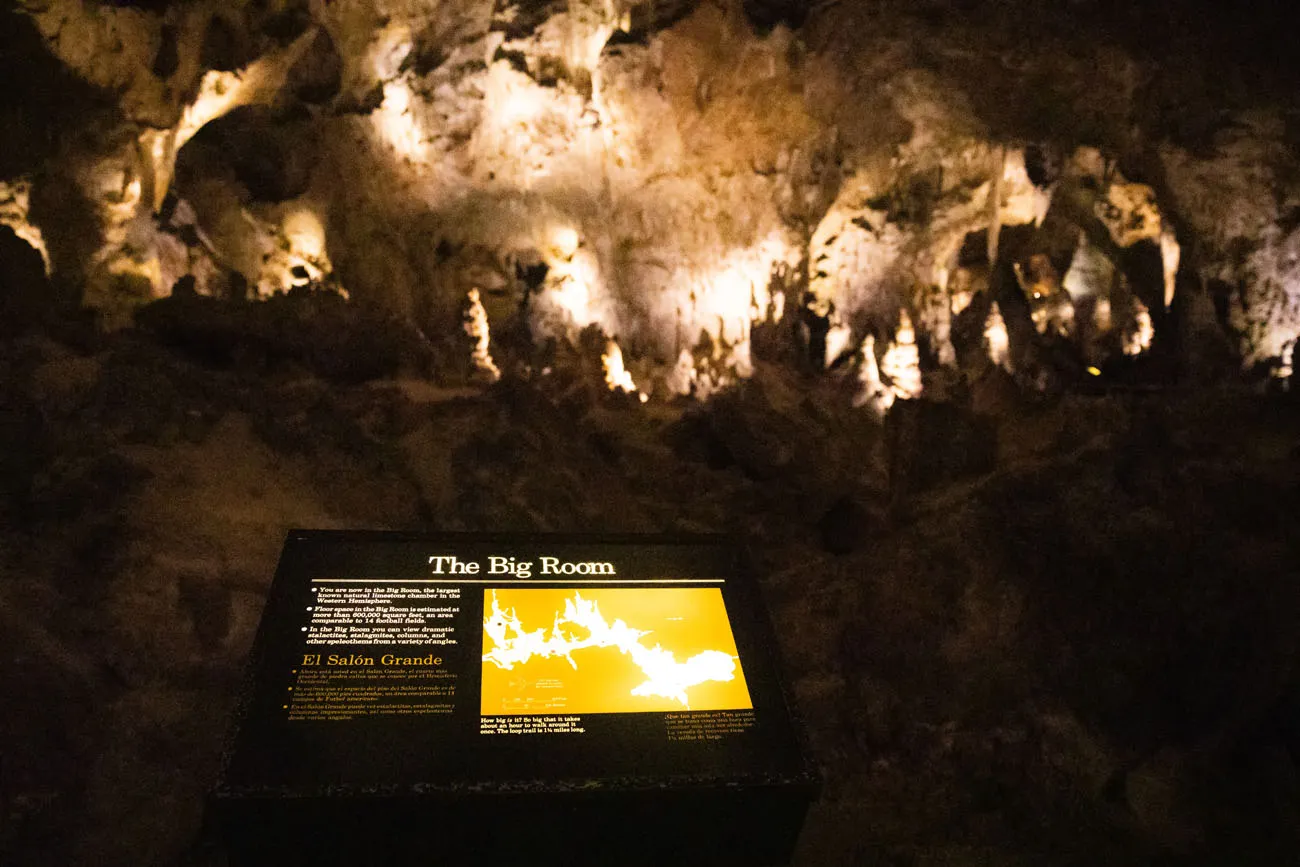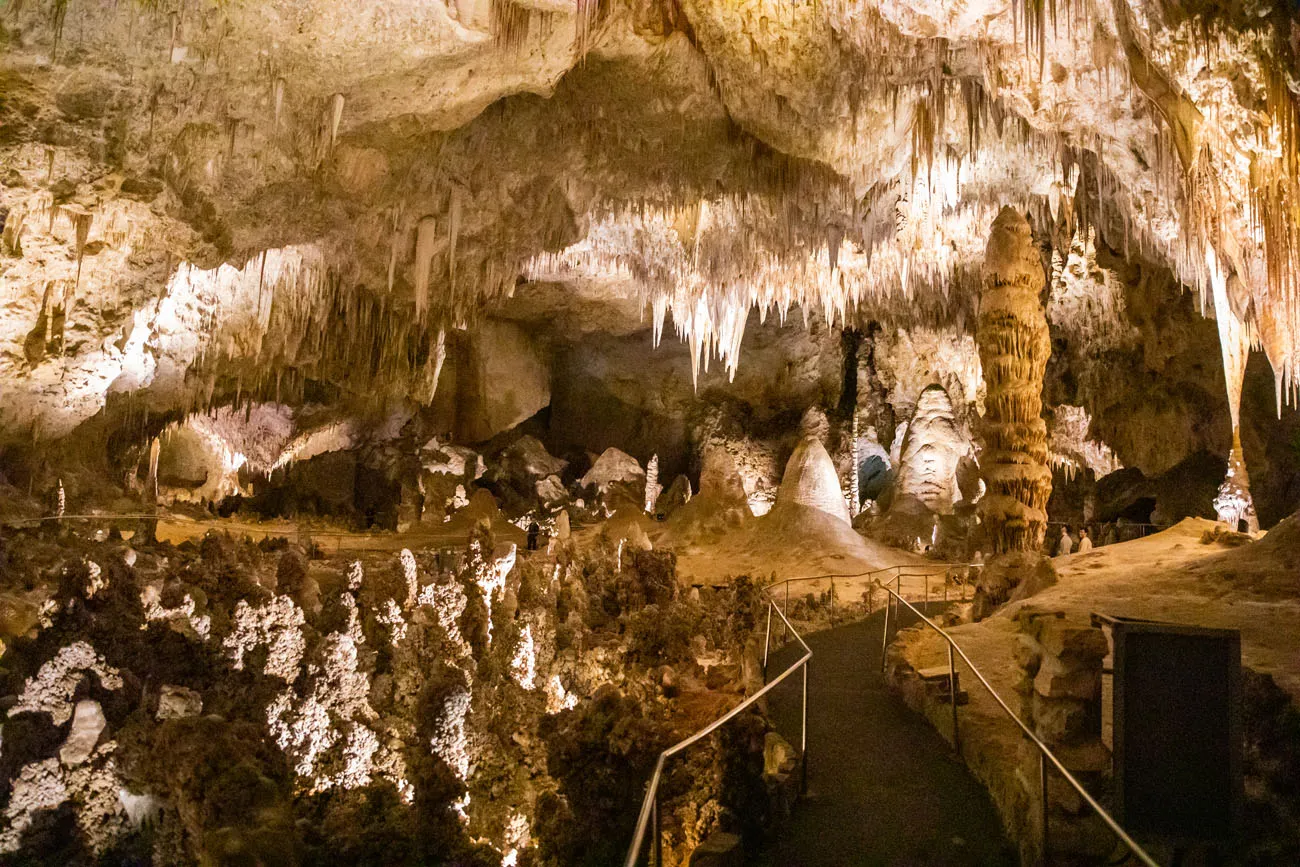 PRO TRAVEL TIP: The Natural Entrance trail ends in the Big Room, so you can easily combine both of these walks. Expect it to take 1.5 hours to walk both trails, a little bit longer if you stop frequently for photos or to read the information signs.

Ranger Guided Tours
Currently, there are five ranger guided tours that you can choose from. These range from short, easy walks to much longer "hikes" that have you crawling through narrow tunnels and doing a bit of rock scrambling. All of these tours have an additional fee.
IMPORTANT NOTE: Only the King's Palace Tour is currently being offered (as of April 2023). Get updates on the National Park Service website.
King's Palace Tour
Duration: 1.5 hours
Distance: 1 mile (1.6 km)
Tour Size: 40
Cost: $8
This is one of the most popular ranger-guided tours. On this 1.5-hour tour, descend deeper into Carlsbad Caverns to see one of the best collections of cave formations in the park.
This is the tour that we did and Tim and I both really enjoyed it. We have been to numerous caves around the world but on this tour you see an astonishing array of stalactites, stalagmites, and other cave formations. If you are looking for an easy but beautiful tour of Carlsbad Caverns, this is a great choice.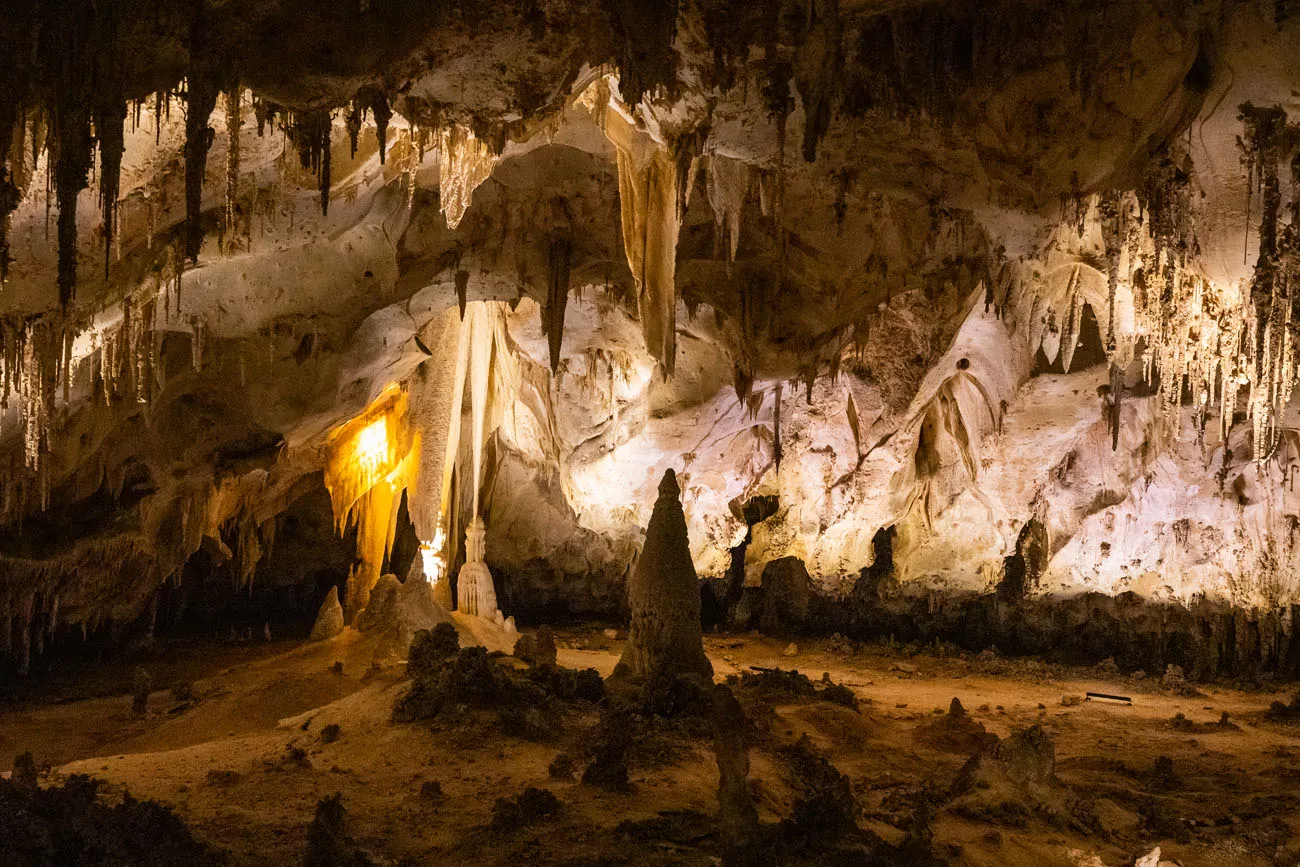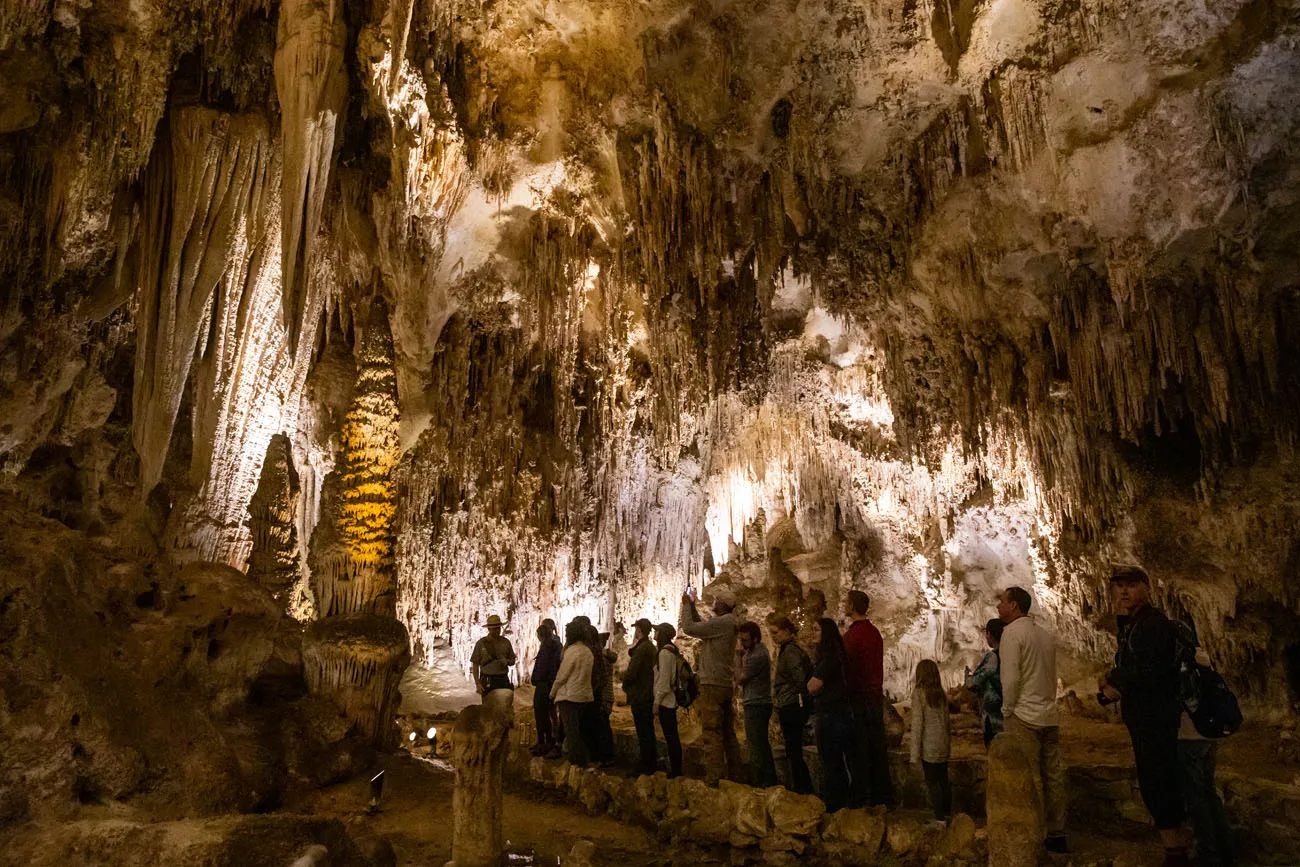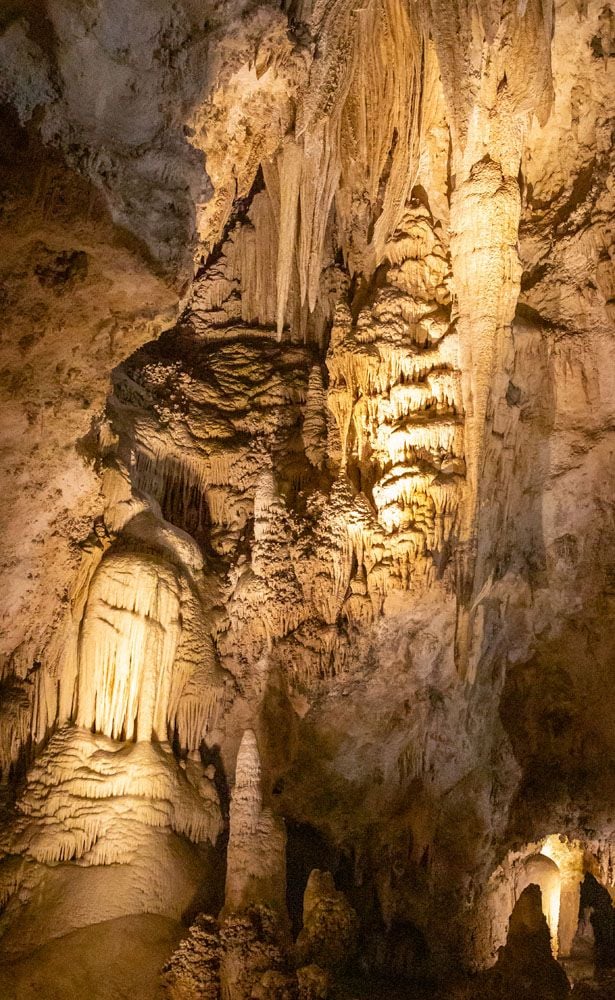 Left Hand Tunnel Tour
Duration: 2 hours
Tour Size: 10
Cost: $7
Tour Carlsbad Caverns by candle-lit lantern, just like the first visitors who toured the caverns in the past. This is a small group tour and a nice alternative to the larger tours on this list.
Lower Cave
Duration: 3 hours
Tour Size: 12
Cost: $20
This is a more adventurous tour. Put on a helmet and gloves and descend deeper into Carlsbad Caverns. Climb down 60 feet of ladders and see more amazing cave formations.
Hall of the White Giant
Duration: 4 hours
Tour Size: 8
Cost: $20
Crawl through tight passageways, climb down ladders and over slippery surfaces, and even do some free climbing. If you are looking for an adventure and don't mind getting a little dirty, this might be the tour for you.
This was our first pick, but when we went to make our reservations, this tour was sold out (almost one week in advance in March) so we did the King's Palace Tour instead.
Slaughter Canyon Cave
Duration: 5.5 hours
Tour Size: 16
Cost: $15
This is the longest tour on the list. Done as a point-to-point walk, you will walk through underground caverns without electricity. Flashlights and headlamps will light your way. You will walk on slippery, uneven ground and with the dim lighting, this is one of the best adventures in Carlsbad Caverns.
All of these tours are offered on various days and times during the week. The schedule changes frequently based on the season. Click here to get the updated schedule on the national park service website.
Which Tour is Right for You?
If you like the idea of a quick tour where you get to see and amazing collection of cave formations, I recommend the King's Palace Tour.
If you like the idea of a quieter tour, explore the caverns by lantern on the Left Hand Tunnel Tour.
The Hall of the White Giant, with its narrow passageways and rock climbing, sounds like a cool adventure.
Booking Your Tours
If you will be visiting Carlsbad Caverns during peak season (Spring Break, the summer months, and holiday weekends) book your tickets in advance. Some tours only offer a small number of spots so they can sell out ahead of time.
We visited Carlsbad Caverns in early March and most of the tours were sold out in advance.
You can book your tickets online in advance. I suggest you start on the National Park Service website. Or, you can go directly to recreation.gov to look at the available tours.
How to Get to Carlsbad Caverns
Carlsbad Caverns is located in southeast New Mexico. The closest town is Carlsbad, New Mexico. From Carlsbad, it takes about 40 minutes to drive here.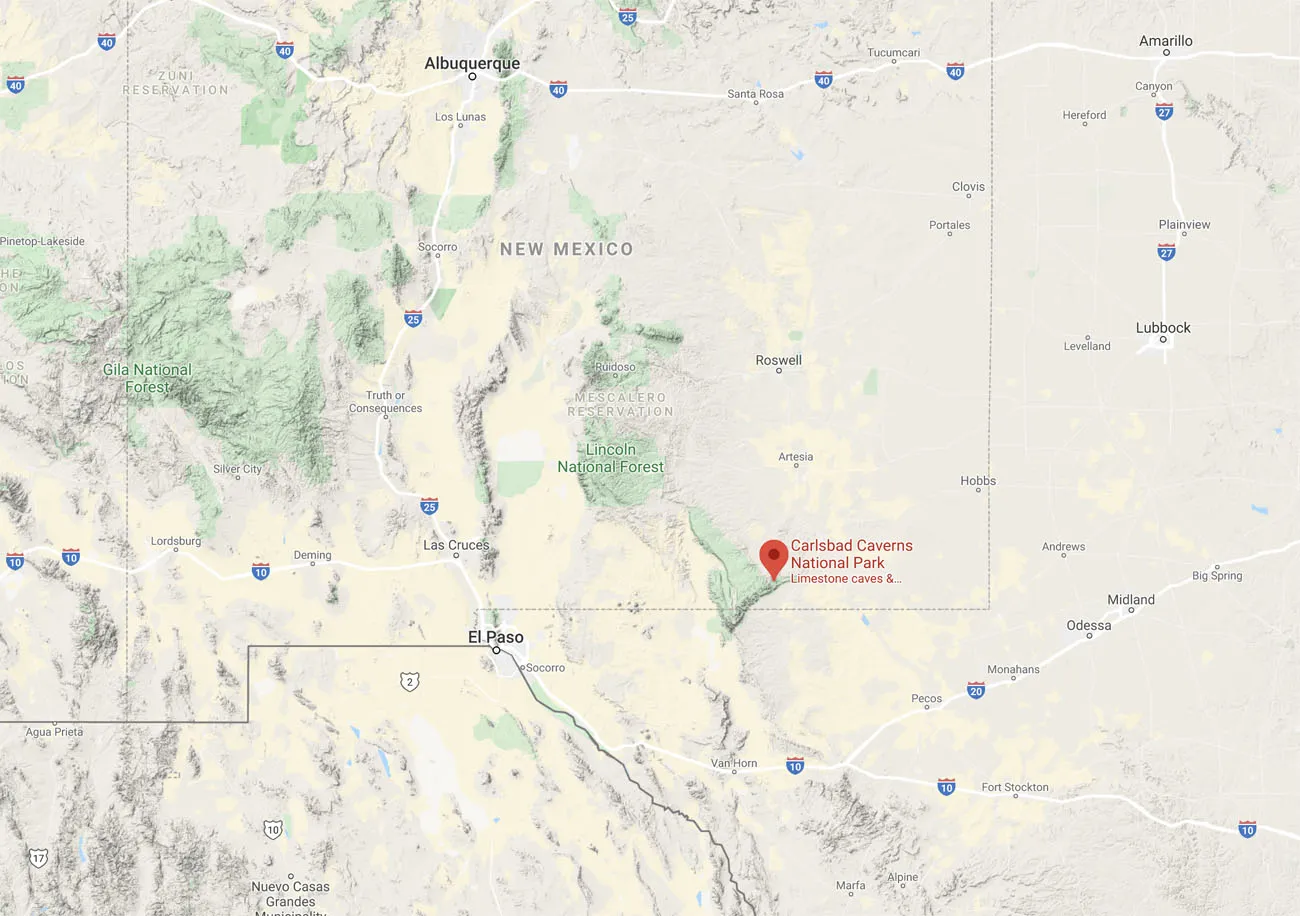 Practical Information
Park Hours
Unlike many national parks, which are open 24 hours a day, Carlsbad Caverns has set hours of operation. The visitor center is open daily from 8 am to 5 pm. You are permitted to hike into the cave starting at 8:30 am.
The park is closed on Thanksgiving, Christmas, and New Year's Day.
Fees and Passes
Adults (16 years and older): $15 per person
Children (15 years and under): free
If you have an America the Beautiful Pass (a pass that gets you admission into more than 2,000 recreational sites in the USA, including all of the national parks), your entrance fee is covered. However, if you join a ranger guided program, you will have to pay the additional fee.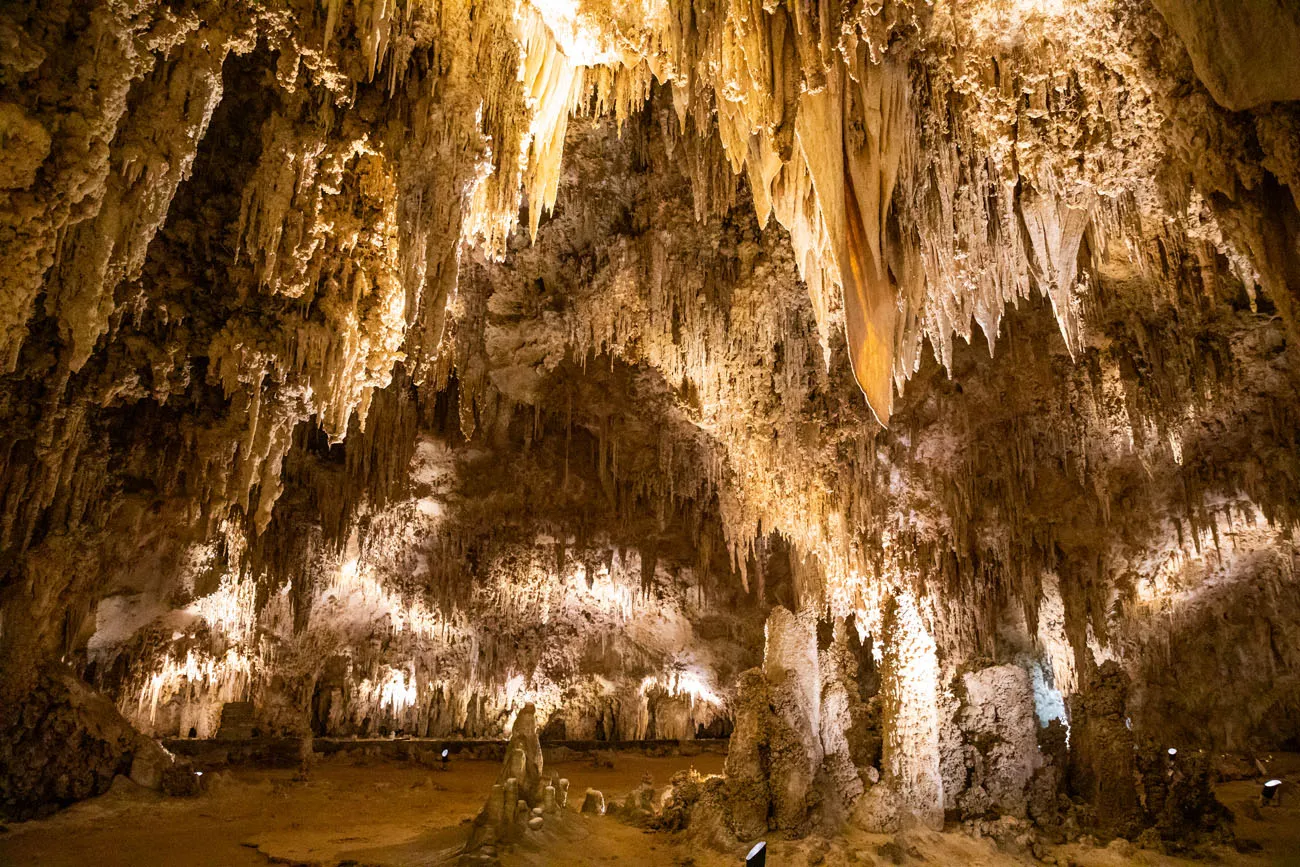 Where to Stay
I recommend staying in Carlsbad, since it is the closest town.
TownePlace by Marriott Carlsbad. This is where we stayed. It is centrally located in Carlsbad, so it's just a quick drive to get dinner or go to the grocery store. Breakfast is included and this is one of the highest rated hotels in Carlsbad.
Post Time Inn. This brand new hotel just opened in February 2020. Your stay includes breakfast, premium movie channels, and free laundry. This is a hotel that I would consider on a return visit to Carlsbad.
Hampton Inn and Suites. This hotel is located on the southern end of Carlsbad, so you will have a slightly shorter drive to the park. This hotel gets good reviews.
Where to Eat in Carlsbad
Here are two restaurant recommendations, great spots to get dinner at the end of the day.
The Trinity Hotel Restaurant. This hotel serves excellent pasta dishes. We were lucky enough to get a table on the second level where we could overlook the restaurant and bar.
Yellow Brix Restaurant. This restaurant offers indoor and outdoor seating. They serve salads, steak, burgers, sandwiches and pasta. I had the Green Chili Fettuccini and it was delicious.
---
If you have any questions about visiting Carlsbad Caverns, let us know in the comment section below!
Where Are You Going Next?
If this is part of a bigger road trip through New Mexico and Texas, here is more information to help you plan your trip:
WHITE SANDS NATIONAL PARK: In our guide to White Sands National Park, we cover the best things to do and how to plan your visit.
BIG BEND NATIONAL PARK: Check out our Big Bend National Park Travel Guide for important travel information, sample itineraries, and how to plan your visit. Don't miss our article Best Things to Do in Big Bend for great things to do in the park.
GUADALUPE MOUNTAINS: Read our article Best Things to Do in Guadalupe Mountains National Park for a full list of things to do, plus important information and helpful tips to plan your visit here.
HIKES IN GUADALUPE MOUNTAINS: Learn how to hike to the "Top of Texas" our guide to Guadalupe Peak. The Devil's Hall Trail is a fun hike to unique looking canyon. We also have detailed guide on how to hike the McKittrick Canyon Trail to Pratt Cabin, the Grotto, and the Notch and the Permian Reef Trail is one of the most underrated hikes in the park.
VISIT THE US NATIONAL PARKS: Looking for your next big adventure? Read our post Best National Parks, where we narrow down the long list into 15 must-see parks. You can also learn more about the national parks (and get the full list) in our Guide to the US National Parks. Finally, if you are traveling as a family, here are the best national parks to visit with kids.
Visit More National Parks in the USA: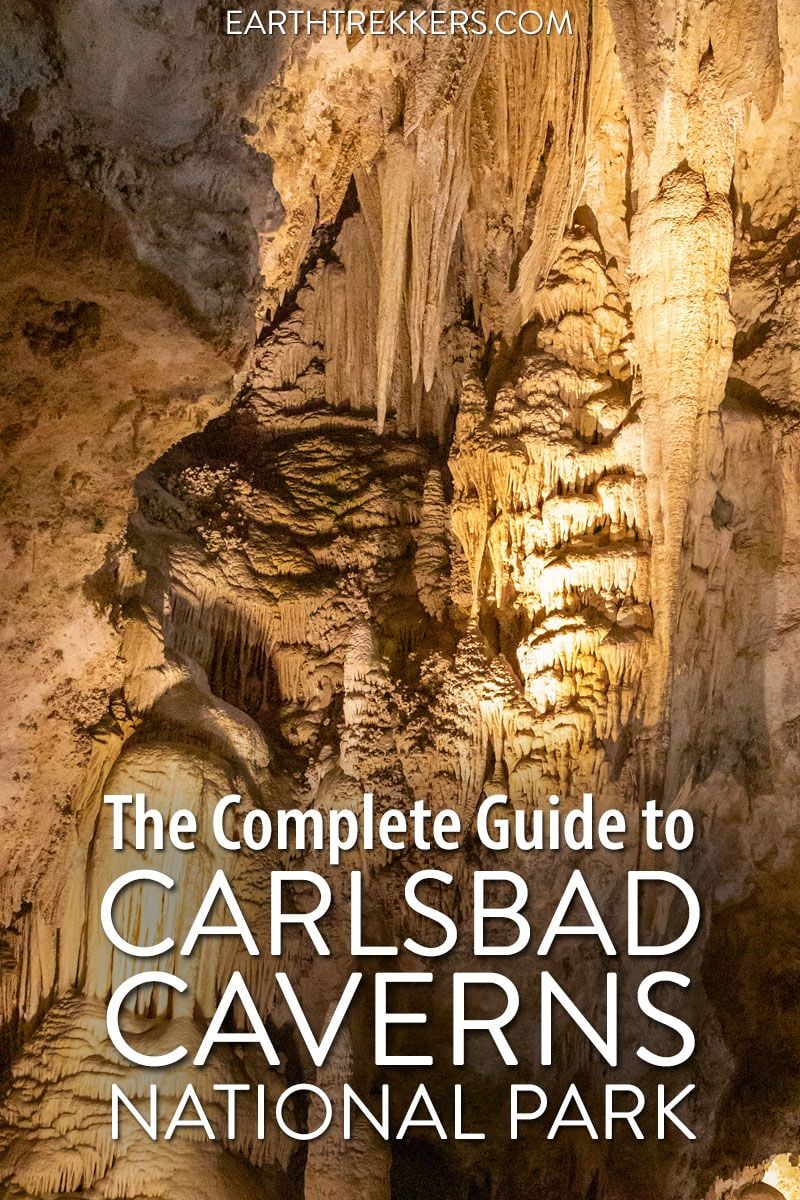 Note: This post contains affiliate links. When you make a purchase using one of these affiliate links, we get paid a small commission at no extra cost to you.
All rights reserved © Earth Trekkers. Republishing this article and/or any of its contents (text, photography, etc.), in whole or in part, is strictly prohibited.