The McKinley Bar Trail is a great add-on to a Denali Park Road backcountry adventure. Hiking through a beautiful landscape of streams, marshes, and spruce trees makes this hike enjoyable even on a cloudy day. And on a clear day you will also be treated with specular views of Denali and the Alaskan Range.
The McKinley Bar Trail is an easy hike. Those looking for a more challenging experience, or looking for more adventure, should consider combining this hike with mountain biking, which is what we did. See the Biking to the Trailhead section of this article to learn more.
McKinley Bar Hiking Stats
Distance: 4.7 miles out-and-back
Difficulty: Easy
Total Ascent: 400 feet
Highest Elevation: 2,125 feet
Lowest Elevation: 2,000 feet
Time: 2 to 4 hours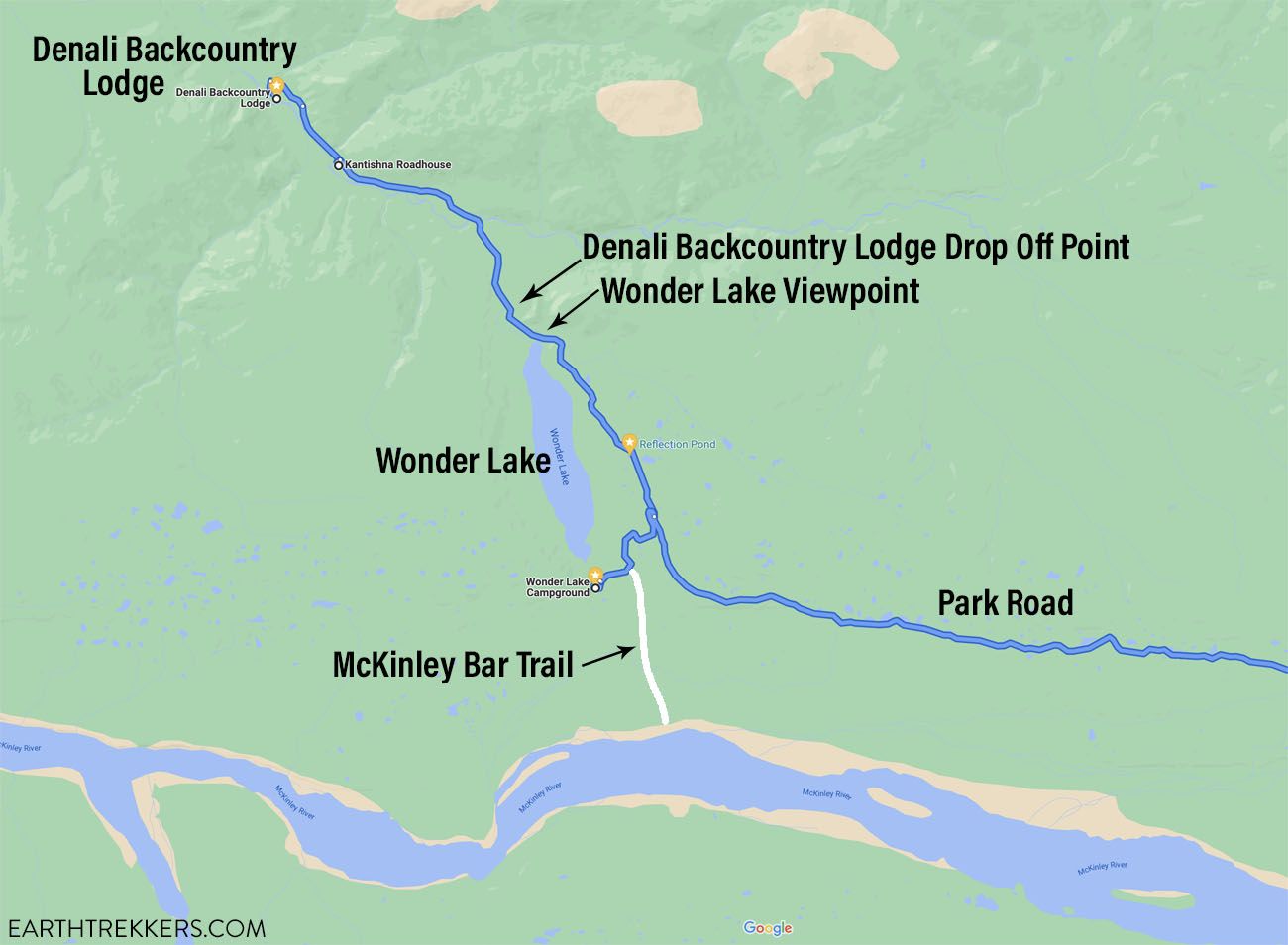 Map of the location of the McKinley Bar trailhead on Denali Park Road.

McKinley Bar Trail Elevation Profile
Please practice the seven principles of Leave No Trace: plan ahead, stay on the trail, pack out what you bring to the hiking trail, properly dispose of waste, leave areas as you found them, minimize campfire impacts, be considerate of other hikers, and do not approach or feed wildlife.
Getting to the McKinley Bar Trailhead
From the Lodges in Kantishna
If you are visiting one of the lodges in Kantishna, then inquire if they offer transportation to/from the trailhead, if they offer a guided hike, or if they rent mountain bikes.
We stayed at the Denali Backcountry Lodge in Kantishna and they offer guided hikes in the area, including the McKinley Bar Trail. With a guided hike they will drive you to and from the trailhead and a guide will accompany you on the hike.
The Denali Backcountry Lodge also lends out mountain bikes. You can bike to the trailhead from the lodge (9 miles each way). Another alternative is to have one of the lodge vans drop you off near the Wonder Lake Viewpoint, where you can bike to the trailhead (4 miles), hike the McKinley Bar Trail, and then bike back to the lodge (9 miles), for a total distance of 13 miles by bike.
Note that guided hikes and van transports are at designed times for the Denali Backcountry Lodge. This may hold true for the other lodges in Kantishna as well. Therefore, it is important to check the schedule with the lodge you are visiting to ensure that this experience will fit into your overall itinerary.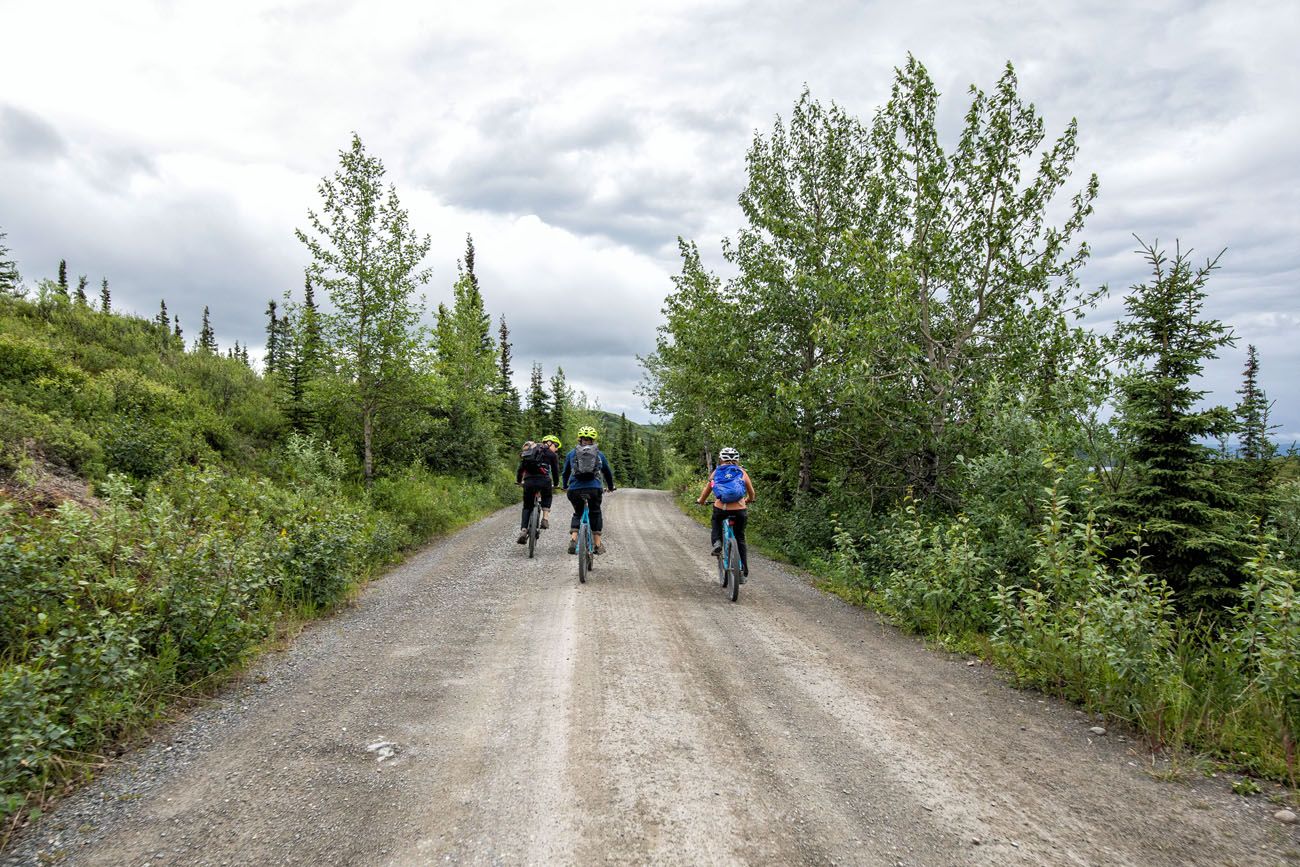 Biking on Denali Park Road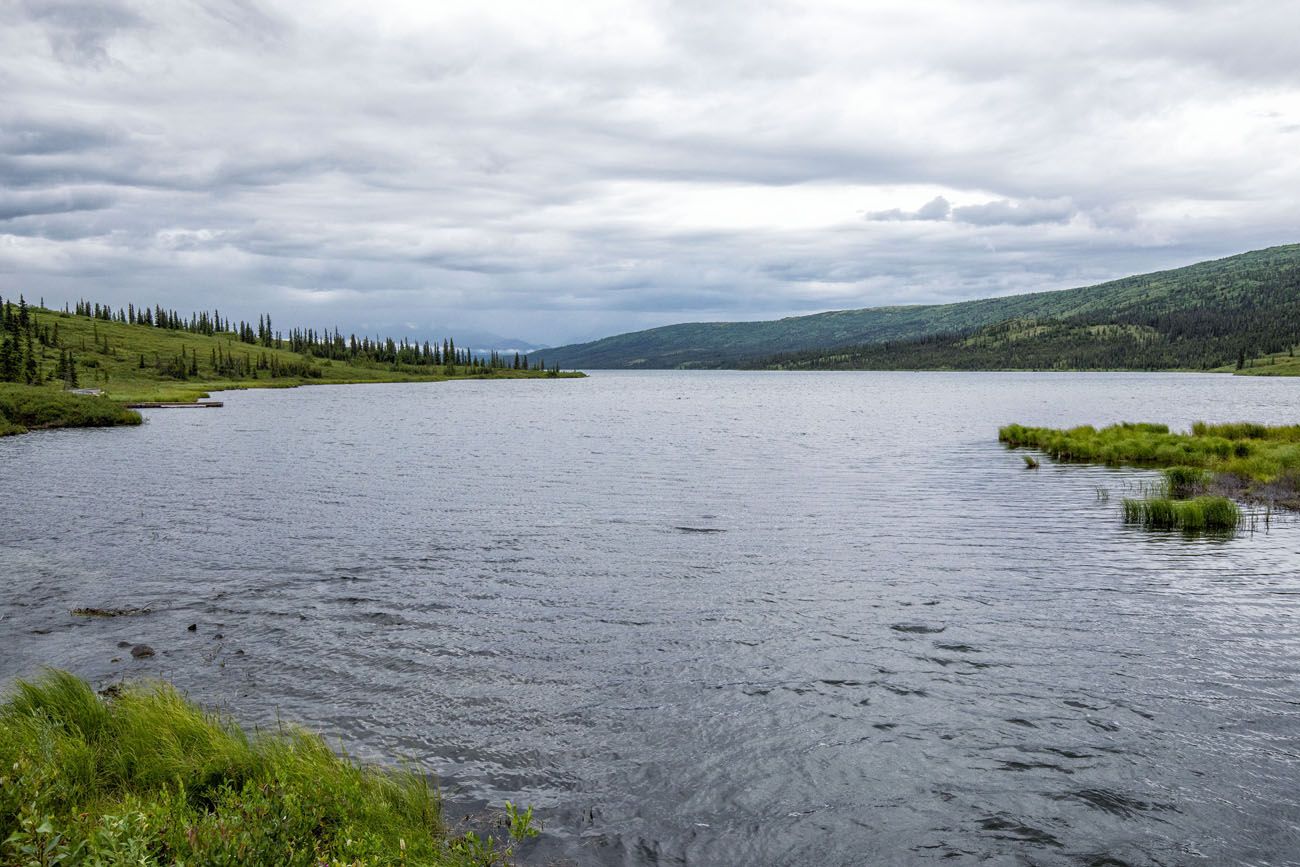 Wonder Lake on a cloudy day
From the Wonder Lake Campground
If you are camping at the Wonder Lake Campground then simply walk 0.6 miles up the campground access road towards Park Road and the trailhead will be on your right.
From other Denali Campgrounds
If you are camping elsewhere in the park, then catch a green hiking bus out to the Wonder Lake area and ask to be dropped off at the McKinley Bar Trailhead or at the intersection of Park Road and the access road for Wonder Lake Campground. Make sure you know the green bus schedule so you can time your return.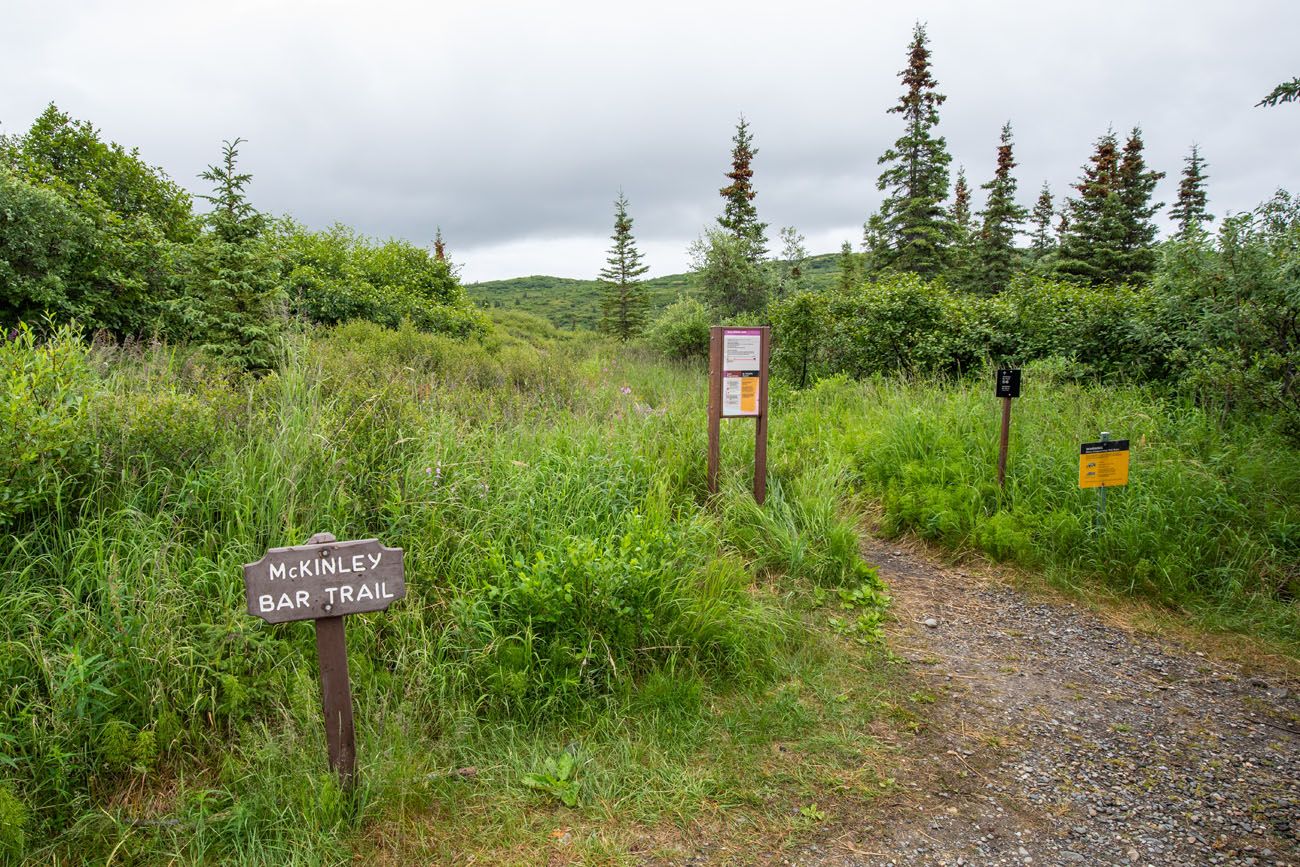 The trailhead
Hiking the McKinley Bar Trail
Step-By-Step Trail Guide
The McKinley Bar trail is a well-traveled, well-maintained trail that is easy to follow.
For just over two miles, you will hike along a mostly flat trail to the McKinley River Bar. The trail takes you through a short, scrubby forest, through wetlands, and finally through a spruce forest before ending at the river.
Most of the trail is a compacted rocky, dirt trail, but there are some fun elements to the trail itself. At one point you will walk on flat steppingstones in order to cross a stream. And through the marsh areas you will walk along long narrow boardwalks. If it has recently rained then your feet my get wet or muddy.
As you hike towards the McKinley River you are treated to wonderful views of the Alaska Range. And on a clear day you will be able to see Denali.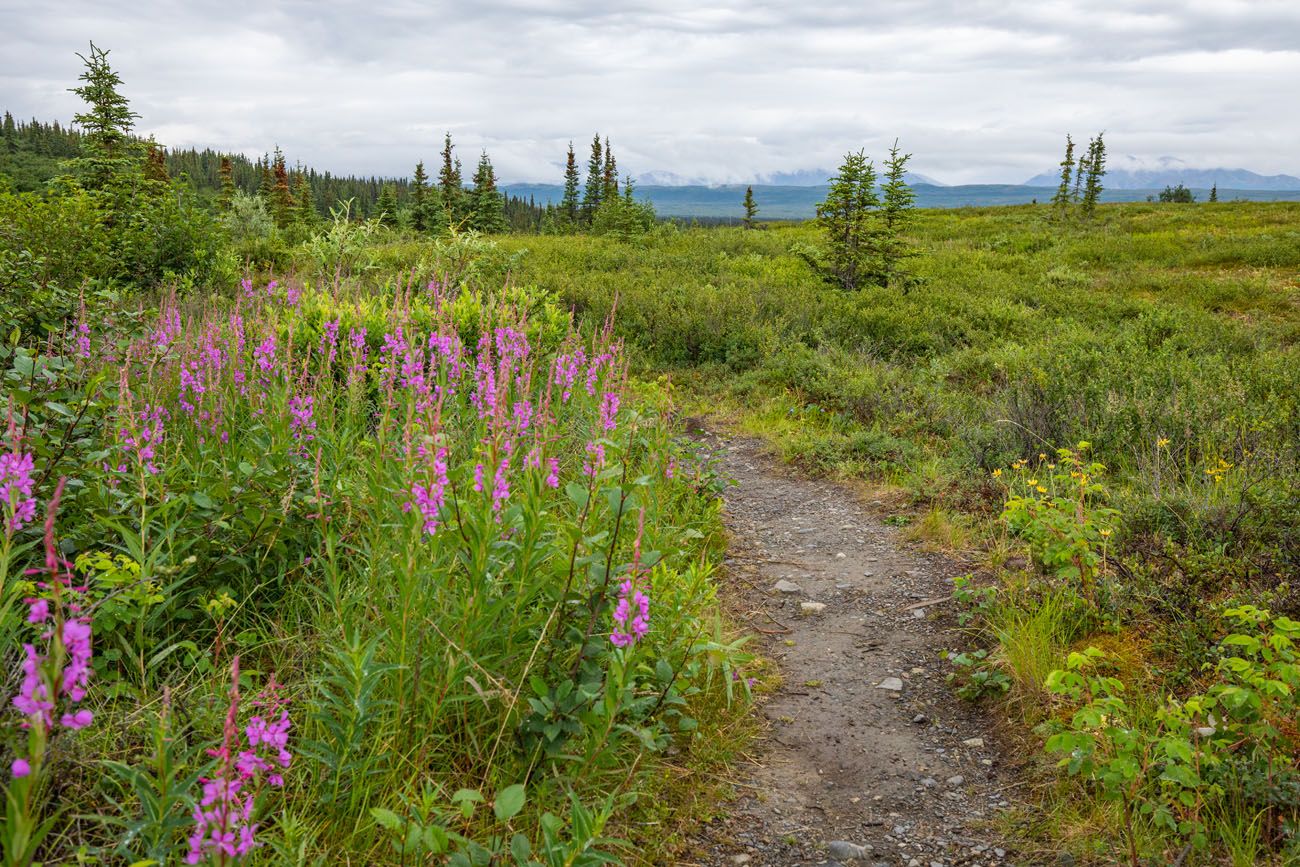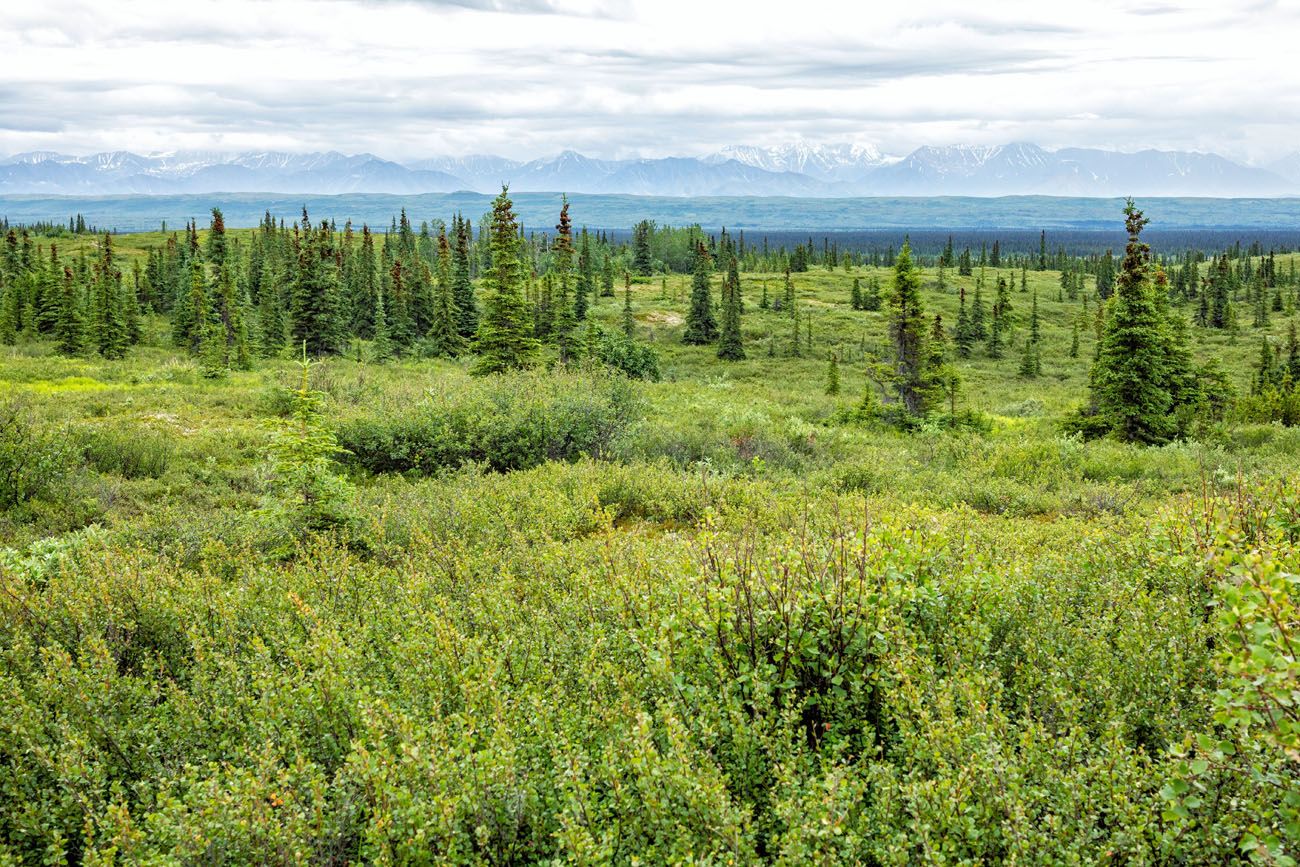 View of the Alaska Range from the trail. On a clear day you will also be able to see Denali.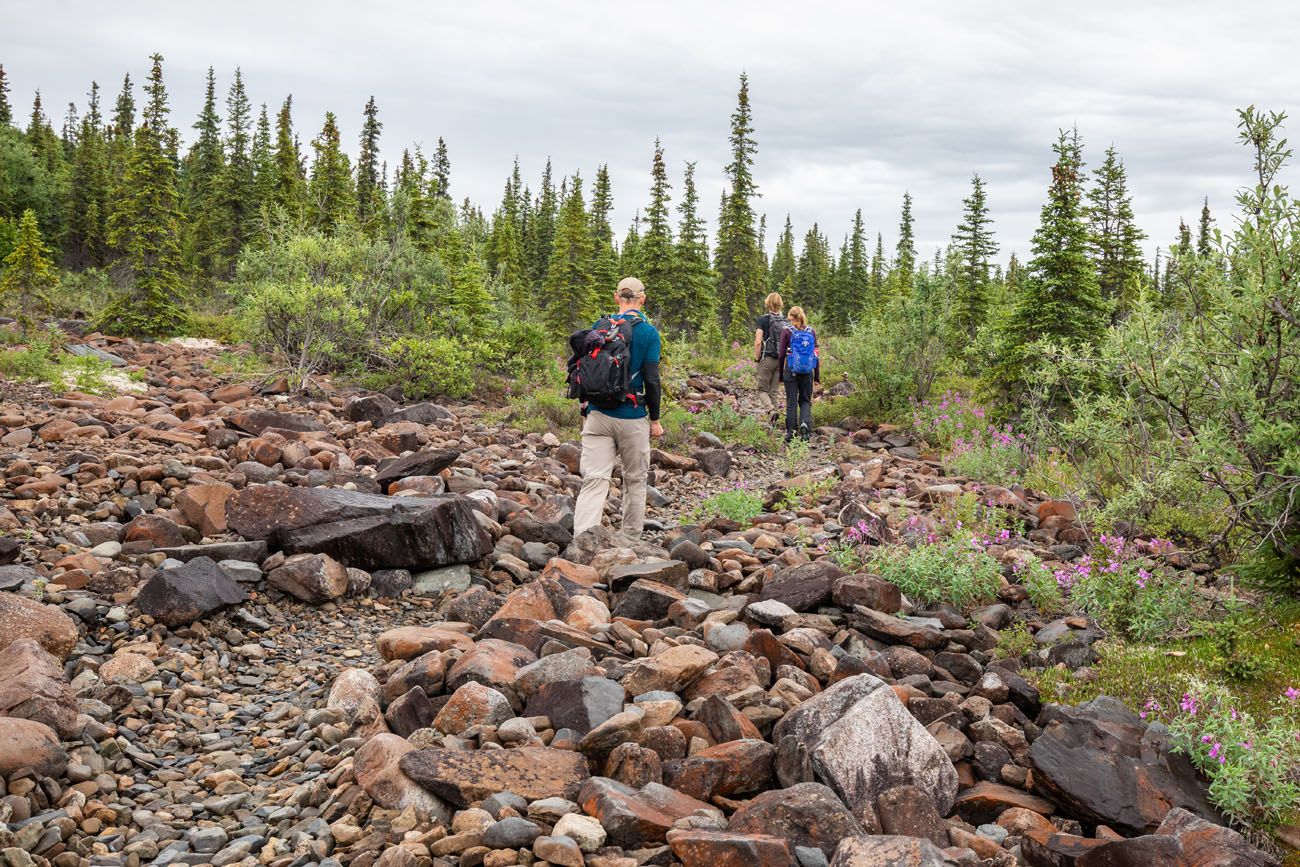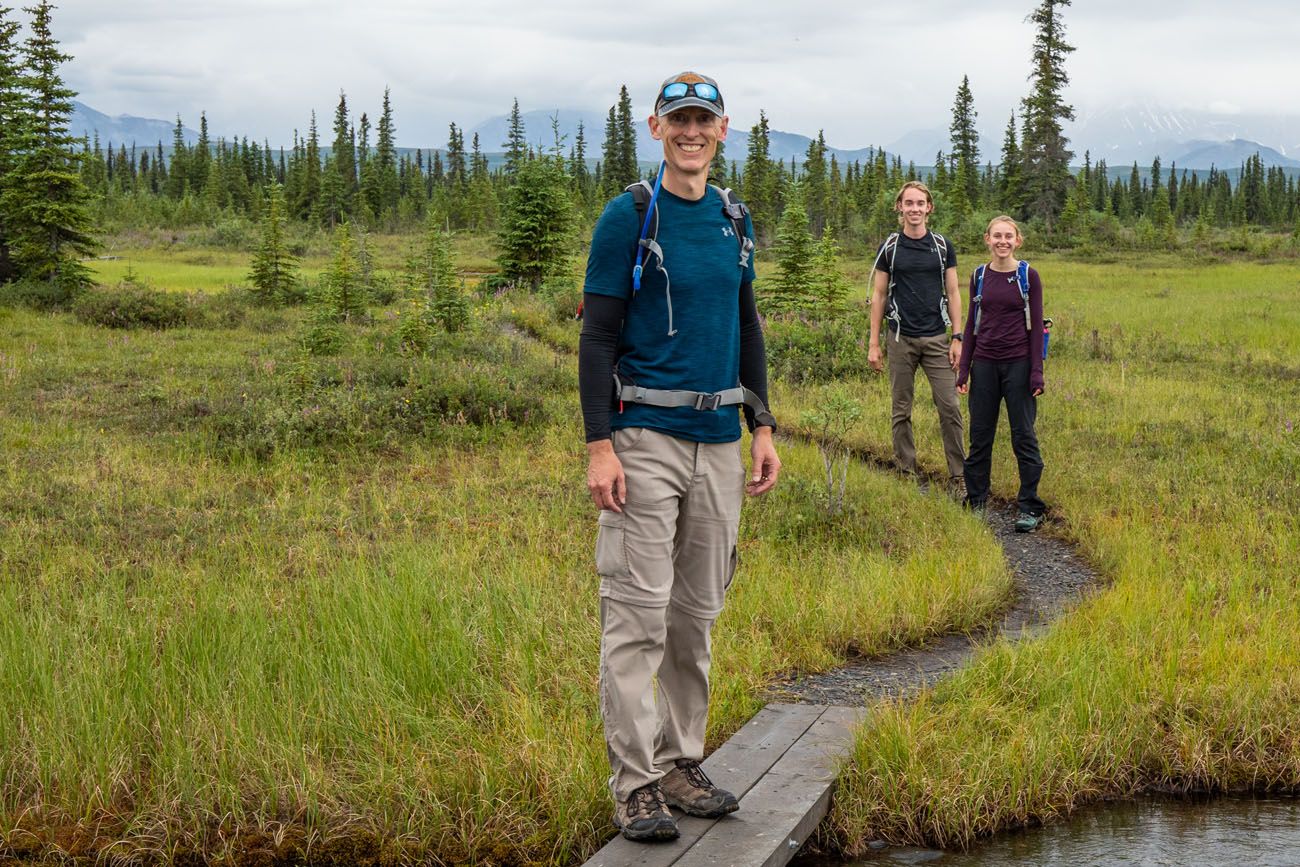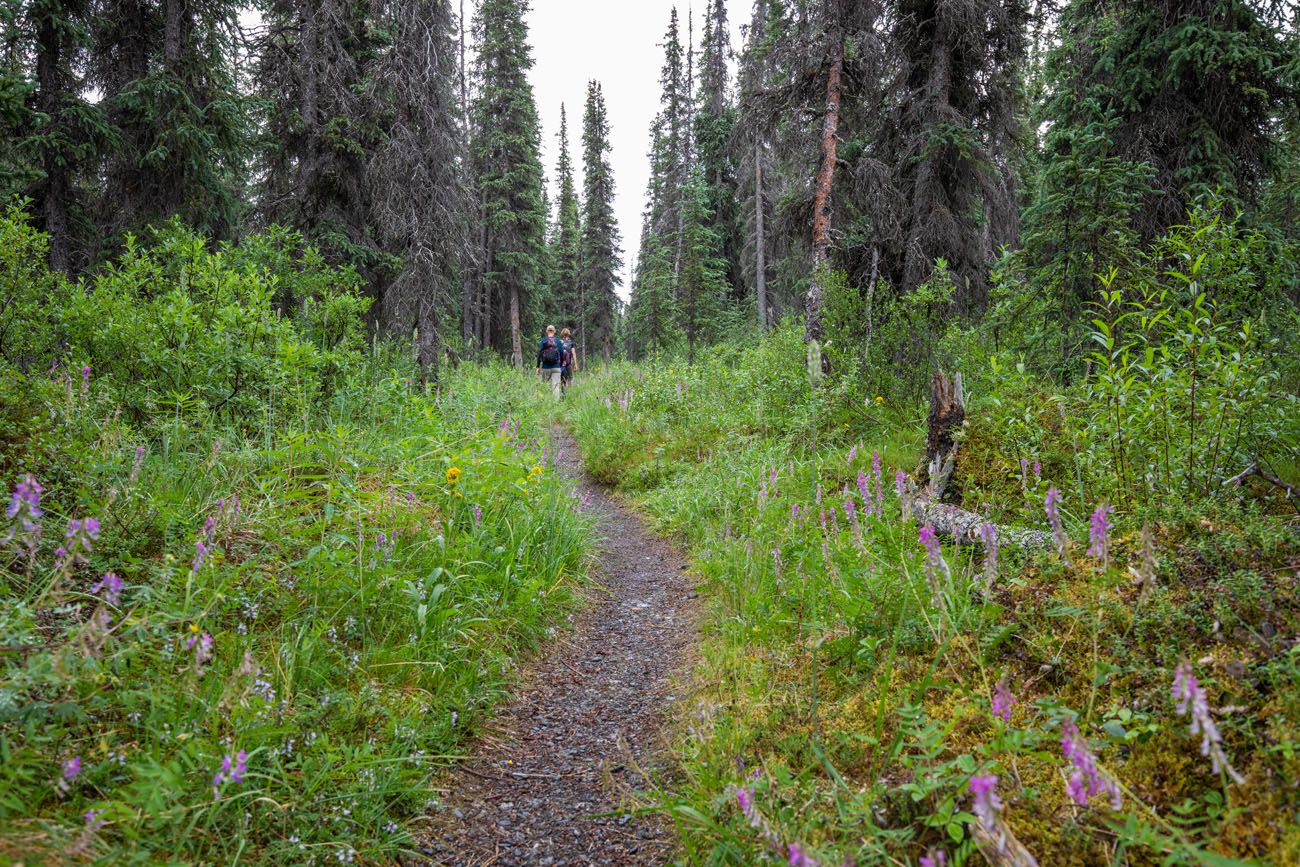 PRO TRAVEL TIP: Bring mosquito repellent. At the trailhead and along the trail the mosquitoes were the worst that we experienced during our entire 6 day stay in Denali National Park.
Once you reach the McKinley River, explore the mudflats that align the riverbank for bear, moose, and wolf footprints. Avoid stepping in the mudflats yourself as your feet can sink into mud pretty far (Julie learned that the hard way).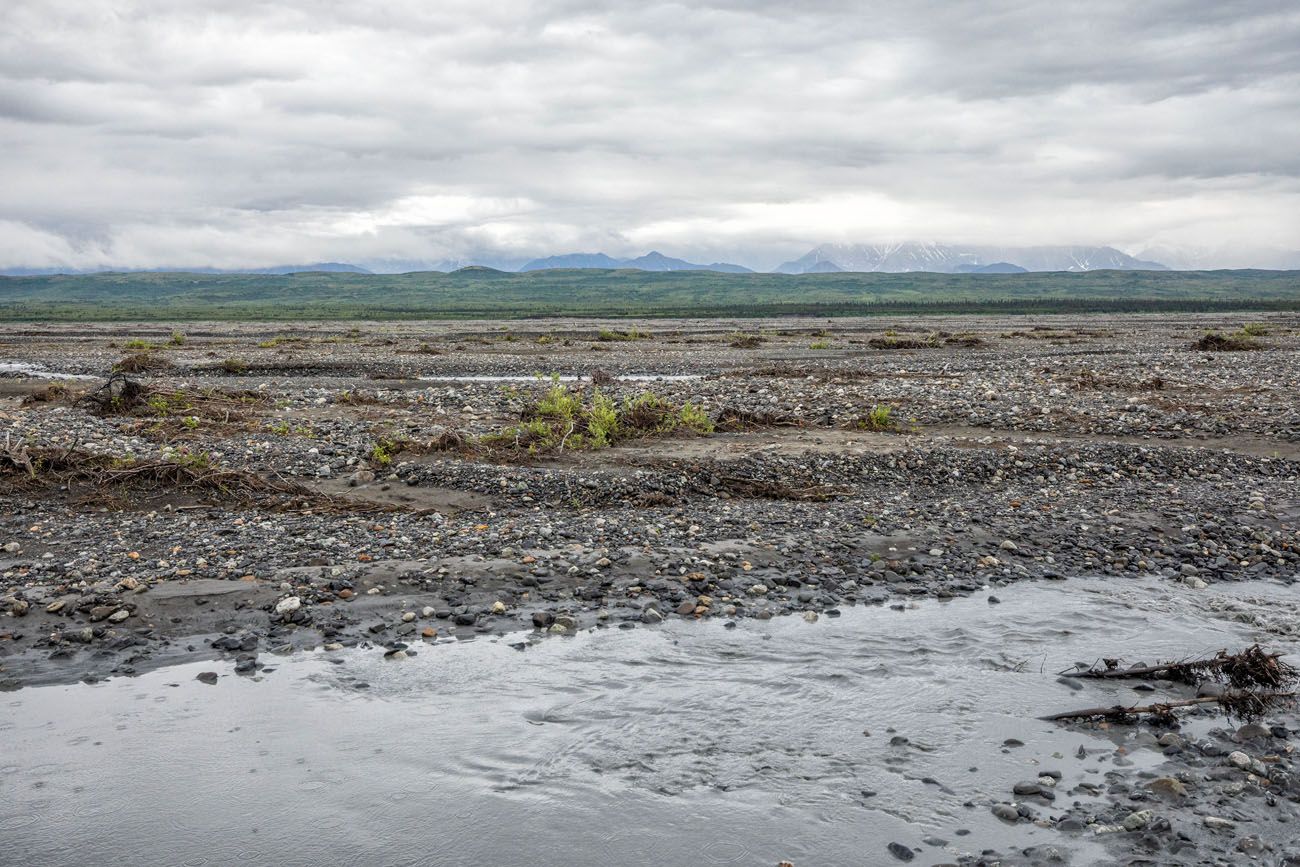 View across the McKinley River Bar to the Alaska Range.
McKinley River
To finish the hike, retrace your steps back to the trailhead.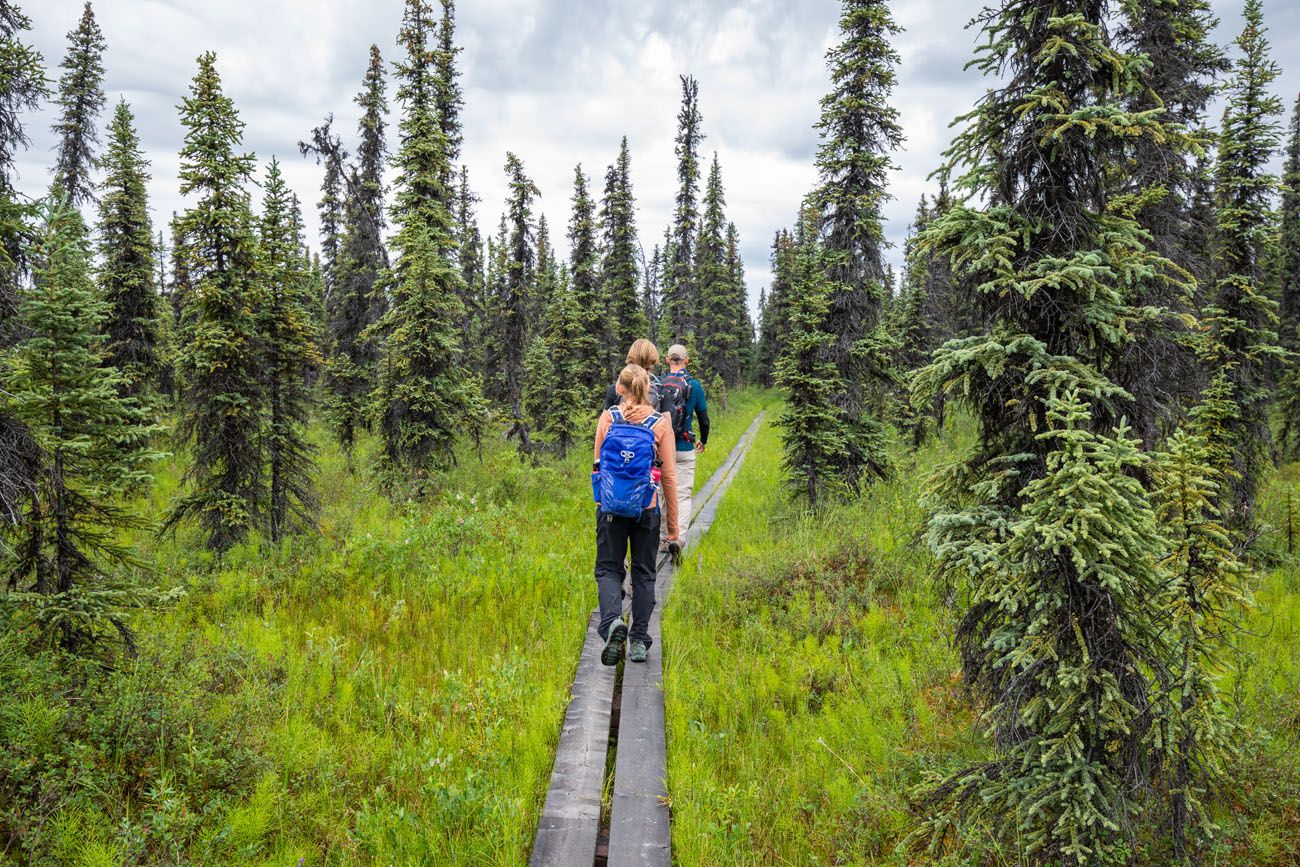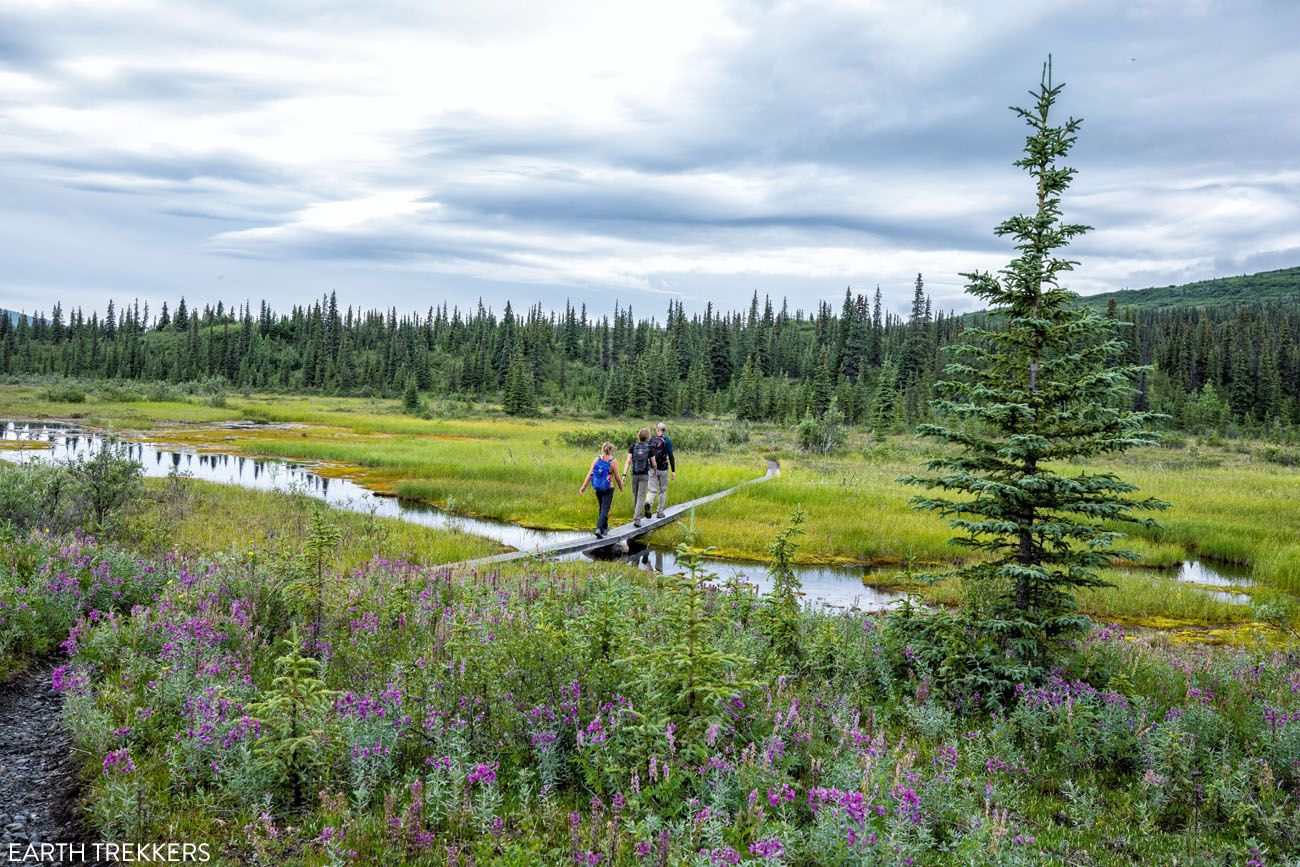 Biking to the Trailhead
We stayed overnight at the Denali Backcountry Lodge. Free mountain bike rentals were included with our stay, so we opted for a biking plus hiking adventure instead of being driven between the lodge and the trailhead.
At 10:00 am a van drove us and the mountain bikes from the Denali Backcountry Lodge to a drop off point near the Wonder Lake Viewpoint (Wonder Lake's closest point to Park Road). We then rode the mountain bikes along Park Road and turned right onto the access road that leads to the Wonder Lake Campground.
The McKinley Bar Trailhead is on the left about 1.1 miles down the Wonder Lake Campground access road. There is a small parking area here that the various Kantishna lodges use for guided hikes.
This area is also well marked with a McKinley Bar Trailhead sign. The trailhead is 4 miles from the Wonder Lake viewpoint.
After our hike we then mountain biked back to the Denali Backcountry Lodge, which was another 9 miles.
PRO TRAVEL TIP: When mountain biking on Park Road stop at Reflection Pond. If it is a clear day and not windy then you will be able to see Denali's reflection in the pond. It can make for a spectacular photo.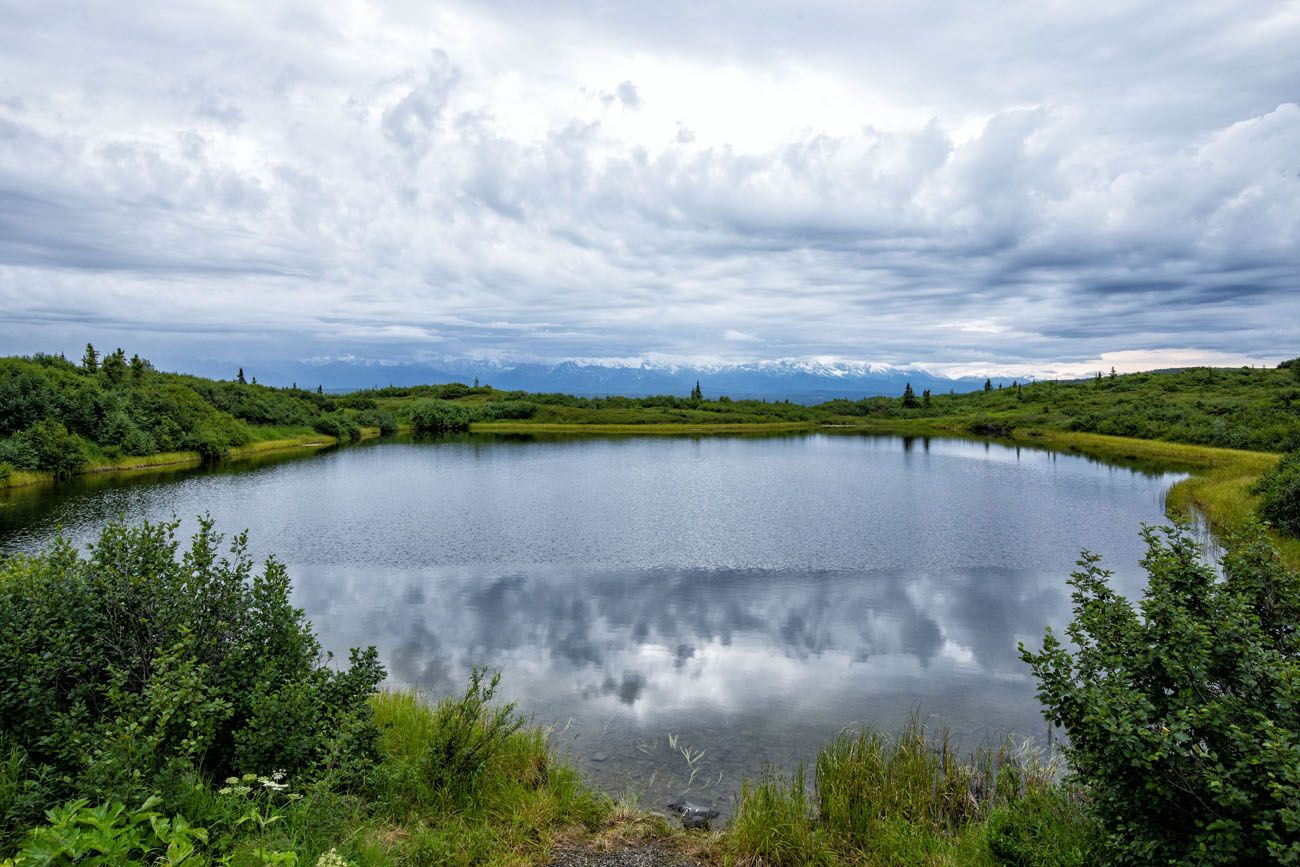 Reflection Pond
Note that the roads in this area are hilly, so the mountain biking becomes a good workout. It is actually much harder than hiking the McKinley Bar Trail. The good news is that the road is mostly downhill on the way back.
Elevation profile of Denali Park Road from Wonder Lake to the McKinley Bar trailhead.

Elevation profile of Denali Park Road from McKinley Bar trailhead to the Backcountry Lodge.
If you are day tripping to the Denali Backcountry Lodge then note that the day trip bus only stays at the lodge for 2 hours. This isn't enough time to get to/from the trailhead plus complete this hike. Therefore, you should consider taking the Denali Backcountry Lodge daytrip bus to the lodge and taking a flight with Kantishna Air Taxi back out of the park. This allows for more time to do this excursion.
PRO TRAVEL TIP: While you are in the area of the Kantishna lodges and still have your mountain bike, ride down to the end of Denali Park Road. It runs alongside of the airport landing strip. There is a sign here marking the end of Denali Park Road (mile 92.5).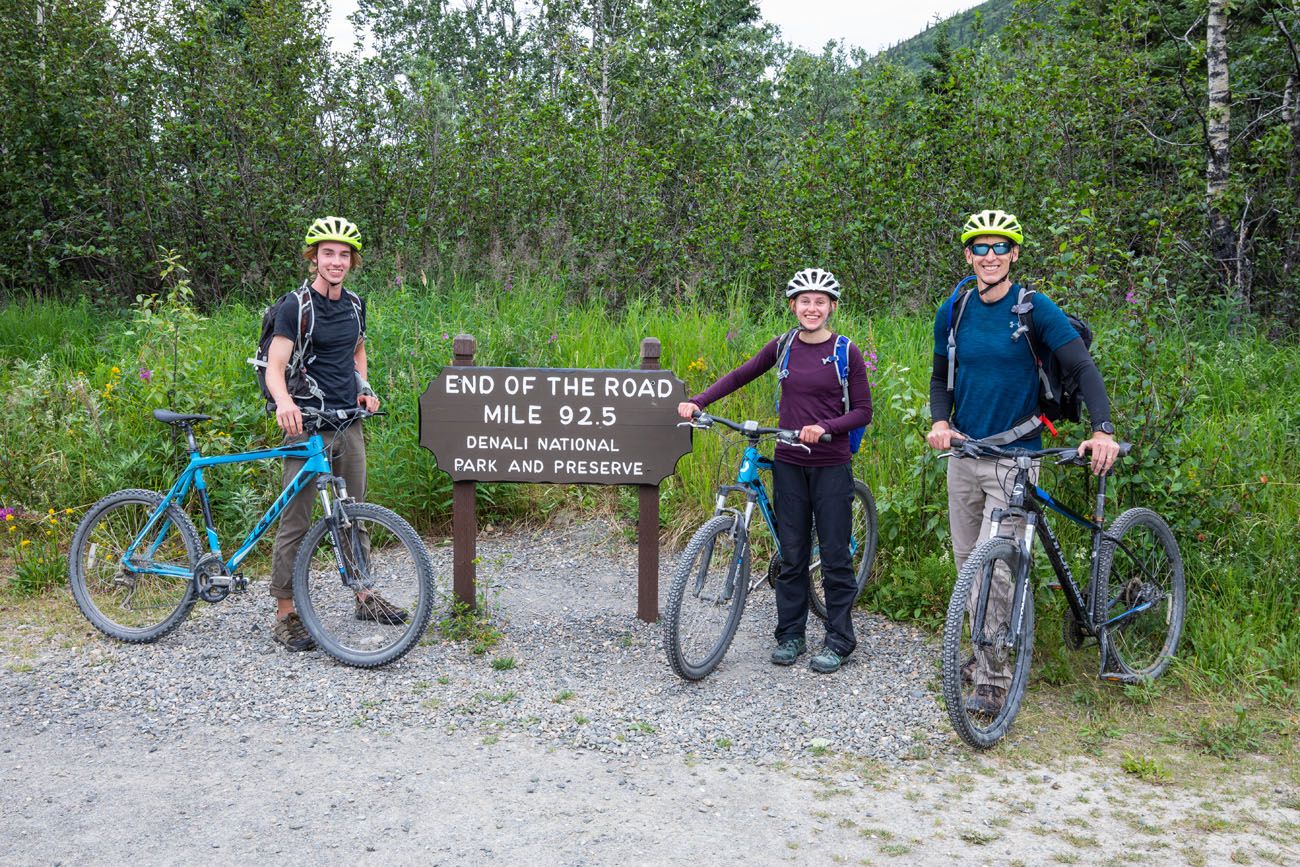 What to Bring
Sunscreen
Insect repellant
Bear spray
Rain jacket: Just in case bad weather moves in.
Wear long pants: Long pants can protect your legs from the vegetation that aligns the trail.
If you are new to hiking or are curious about what you should bring on a hike, check out our Hiking Gear Guide. Find out what we carry in our day packs and what we wear on the trails.
Wildlife Safety
Be bear aware, moose aware, and wolf aware. Posted signage at the Denali Visitor Center provides the following advice:
Bears
1. Talk and/or sing while you are hiking to make your presence known so you don't surprise a bear. If you run out of things to say then simple repeat the phrase "Hey Bear".
2. If you see a bear, do not run as they may see you as prey. Put your arms up to make yourself look bigger and back away slowly while keeping your eyes on the bear. Get at least 300 yards away from the bear.
3. If the bear charges at you then use bear spray.
Moose
1. Stay at least 25 yards away from a moose.
2. A moose may charge if you are too close, especially a mother protecting a calf. If this happens then run and get away as fast as you can. They will try to trample a perceived threat.
Wolves
1. Stay at least 25 yards away from a wolf.
2. If a wolf approaches you then shout aggressively and throw rocks at it.
In 2021 it was estimated that 350 bears, 1,700 moose, and 90 wolves (14 packs) inhabit the 6 million acres of Denali National Park. We did not see any wildlife while hiking the McKinley Bar Trail but we did see Moose droppings two different places on the trail.
---
If you have any questions about hiking the McKinley Bar Trail, let us know in the comment section below.
More Information about Alaska
HIKES IN DENALI: There is a long list of hikes to do in Denali. Several top hikes include the Savage Alpine Trail, Mount Healy Overlook, and the Horseshoe Lake Trail. Get the full list in our Denali Hiking Guide.
DENALI PARK ROAD: Taking a park shuttle on Denali Park Road is one of the top experiences in the park. In our Guide to Denali Park Road, learn what there is to see and do along the road. It's also important to know that currently there is a road closure on Denali Park Road, which will impact your experience.
BEST OF DENALI: For more information about what there is to do in Denali National Park, read our article Best Things to Do in Denali.
NATIONAL PARKS IN ALASKA: There are 8 national parks in Alaska. So far, we have visited four of them. Learn more in our guides to Denali, Wrangell-St. Elias, Kenai Fjords, and Katmai.
MORE GREAT HIKES IN THE NATIONAL PARKS: From hikes to the tallest peaks to beautiful coast trails, read our Guide to the Best Day Hikes in the US National Parks.
NATIONAL PARKS: In our Guide to the US National Parks, get the full list of national parks with important travel planning information, such as things to do in the parks and sample itineraries.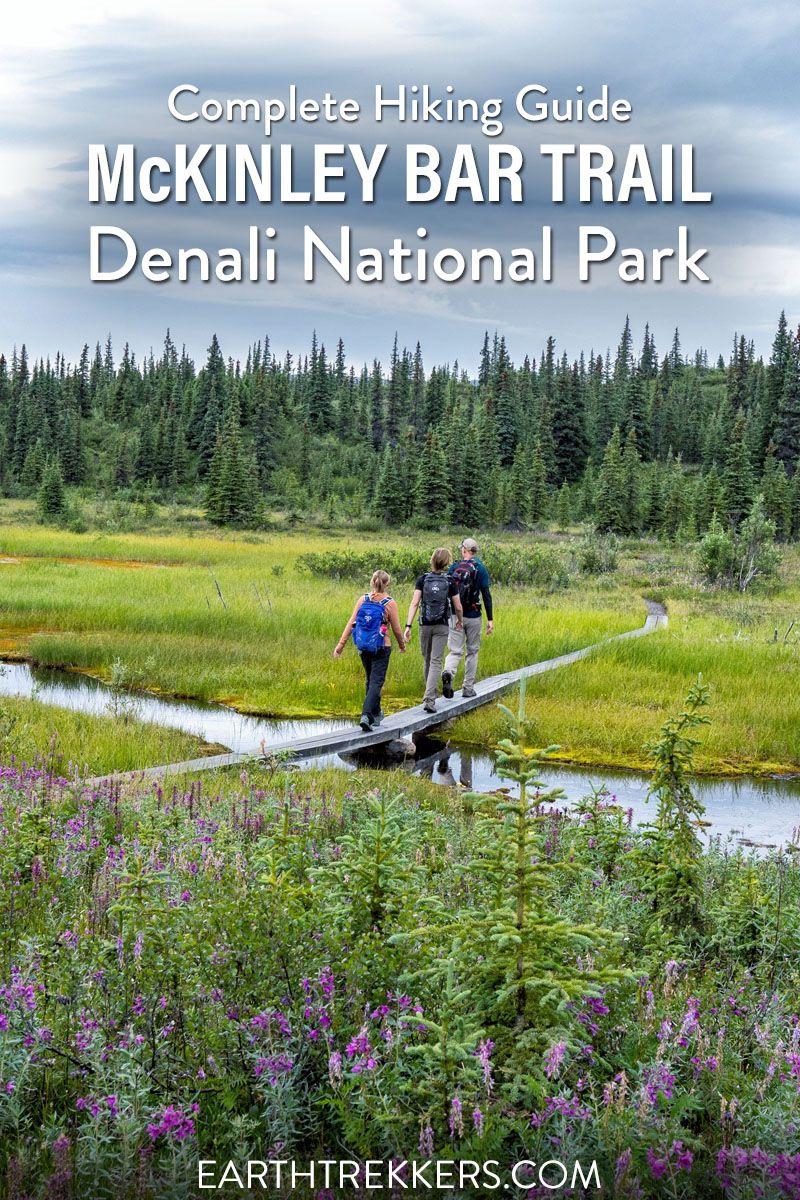 All rights reserved © Earth Trekkers. Republishing this article and/or any of its contents (text, photography, etc.), in whole or in part, is strictly prohibited.