Melbourne now makes the list as one of our favorite cities in the world. We were expecting a lot out of this place, a melting pot where people from all around the world come to live.
When people from all around the globe make this their home, they bring along with them their food, their culture, and their language. Melbourne is one of the most diverse cities in the world when it comes to food. You name it and you can find it here…dim sum, Afghan, Armenian, Thai, Indian, Mongolian, the list is endless. While walking through the city, eavesdropping on conversations, we would hear three different languages being spoken, all within one city block.
We had four days in Melbourne, just enough time to see the highlights, barely enough time to really get to know the city. Unfortunately, our traveling pace has picked up in the last month. Now that our date to return home is looming out there in the near future, we have felt an urgency to see as much as possible. Yes, we are getting to a lot of places, but sometimes I wish we had just a little more time before it was time to leave. Melbourne was one of these places. Here is what we loved the most…
The Coffee is Amazing
Being the only coffee drinker in the family, I was the only one who can vouch for how awesome the coffee is in Melbourne. They are serious about their coffee here. There is literally a coffee shop on every corner and although I didn't try them all, I did sample quite a few. I would go back to Melbourne just for a cappuccino. It is that good.
My cappuccino craze began in Siena, Italy. Since then, I have been sampling cappuccinos from around the world and nothing has come close to Italian coffee. Not until Melbourne.
Every morning I would go out on my own, pay a visit to a coffee shop, and drink my cappuccino while writing in my journal. I loved getting out on my own for just a little bit, having some peace and quiet, while sipping some of the world's best coffee. I am someone who craves a little alone time and this was the perfect way for me to get my coffee fix and solitude.
In Melbourne, my favorite place was The League of Honest Coffee. Not only was the cappuccino a visual work of art but the cappuccino was delicious.
Cafés and Shopping
There is something here for everyone: upscale shopping, souvenirs, mid range clothing stores, and we even saw a Target. In Melbourne, there are these great arcades, old buildings resembling train stations, which have been converted into small, boutique shopping malls. This was the perfect place to do a little window shopping. Once you have worked up an appetite shopping, hit an outdoor café. Parts of Melbourne almost have a European feel to them, with their outdoor cafes, historic colonial architecture, patrons sipping on wine, and a smattering of languages from all around the world.
It Is So Quiet Here!
Melbourne is a fairly large city, home to four million people. It is also the quietest city we have ever been in.
We had a hotel room in the heart of the city, with windows looking out over the skyscrapers. After being here for twenty-four hours, walking the city and relaxing in our hotel room, we realized that we had yet to hear a siren, or a honking car, for that matter!
In most cities, horn and sirens are so constant that they make up background noise, sounds you get used to. Here, in Melbourne, it was silence. It seemed so odd, especially after some of the places we have visited. Eventually, we did hear a few sirens and a few horns, but noise pollution is one thing that Melbourne is greatly lacking, an advantage over most other cities in the world.
The Melbourne Star
The Melbourne Star is a giant Ferris wheel, resembling the London Eye. What kid wouldn't love a ride on a Ferris wheel?
The Star was built in 2008, but after a series of unfortunate events (like the wheel developing huge cracks in the supports) the entire Star was dismantled and rebuilt, permanently opening in December 2013.
The Melbourne Star is located in the Docklands area of the city. We wondered why the city would put an attraction like this so far from the city center, but there were certain advantages to its location. For one thing, there were no lines here. During our thirty-minute revolution we had a pod all to ourselves. Also, with its remote location, we had perfect views of the Melbourne skyline. The views were awesome. We took a ride on the Star on our last night in Melbourne, so this was a good way to get one last look at this city that we have fallen in love with.
Elvis is Here!
While out on a walk through Melbourne, I took a detour to the cemetery. I do not know why I like visiting cemeteries so much while traveling, but I do. I find them fascinating, a look into the past. You can tell a lot about a city by visiting where the dead are buried. T
here are very old sections in the Melbourne cemetery, with tombstones dating back to the mid 1800's. These older sections were decrepit, with crooked and cracked tombstones, weeds growing around the grave sites, iron fences that were rusted and worn. If it had not been such a sunny, pleasant day it would have been a bit spooky. Along the roads were much newer, more ornate and well taken care of graves, all Italian, all with occupants who lived between the late 1800's to the mid 1900's. Then, sprinkled about an even newer section, were people from all over the world, much like the ethnic diversity we have been seeing on Melbourne's streets.
From walking around the cemetery, without consulting any history books, it looks as though Melbourne was founded as a European colony, in the early 1900's the Italians moved in, followed by the rest of the world.
While walking through the cemetery, who did I find? Elvis Presley! This came as a huge surprise. Why would there be a shrine to Elvis Presley here? Now this was something I did do a little research on. The memorial was commissioned by the Elvis Presley Fan Club of Australia in 1977. It is the only one of its type in Australia and draws thousands of visitors every year. Elvis has one of the grandest plots in the cemetery, with a grotto adorned by flowers and photographs. So unexpected!
Ever Changing Graffiti
In most cities, graffiti covers the poorer sections of cities…low-income housing, subway cars, bridges. In Melbourne, graffiti decorates the city center. Most of the graffiti is found on Hosier Lane, a pedestrian area that is really made up of several small streets, an area where graffiti is not only present but encouraged.
I do consider graffiti to be a form of art, especially in a place like this, where freedom of expression is allowed on these walls. Some of this art is whimsical, with no real meaning, at least that I can tell, but some of it does send a message.
Hosier Lane was one of our favorite things we saw while in Melbourne. We walked through the lanes, smelling the fresh paint, watching the artists at work. There is no hiding under the cover of darkness here; artists were out in full daylight, going to work. On a fresh wall painted white or gray, several men were showing off their creativity.
We loved walking through here. The colors are so vivid! At first, Tyler and Kara were not impressed. By now, Kara is always tired of having her photo taken, and it sometimes can be difficult to get a smile out of her. But, once they saw the fun of taking photos here, they got into it. Gangsta poses (Kara excels at these), running away from Sully, acting grumpy like Daffy Duck, showing our guns with the western dude, it was all so much fun.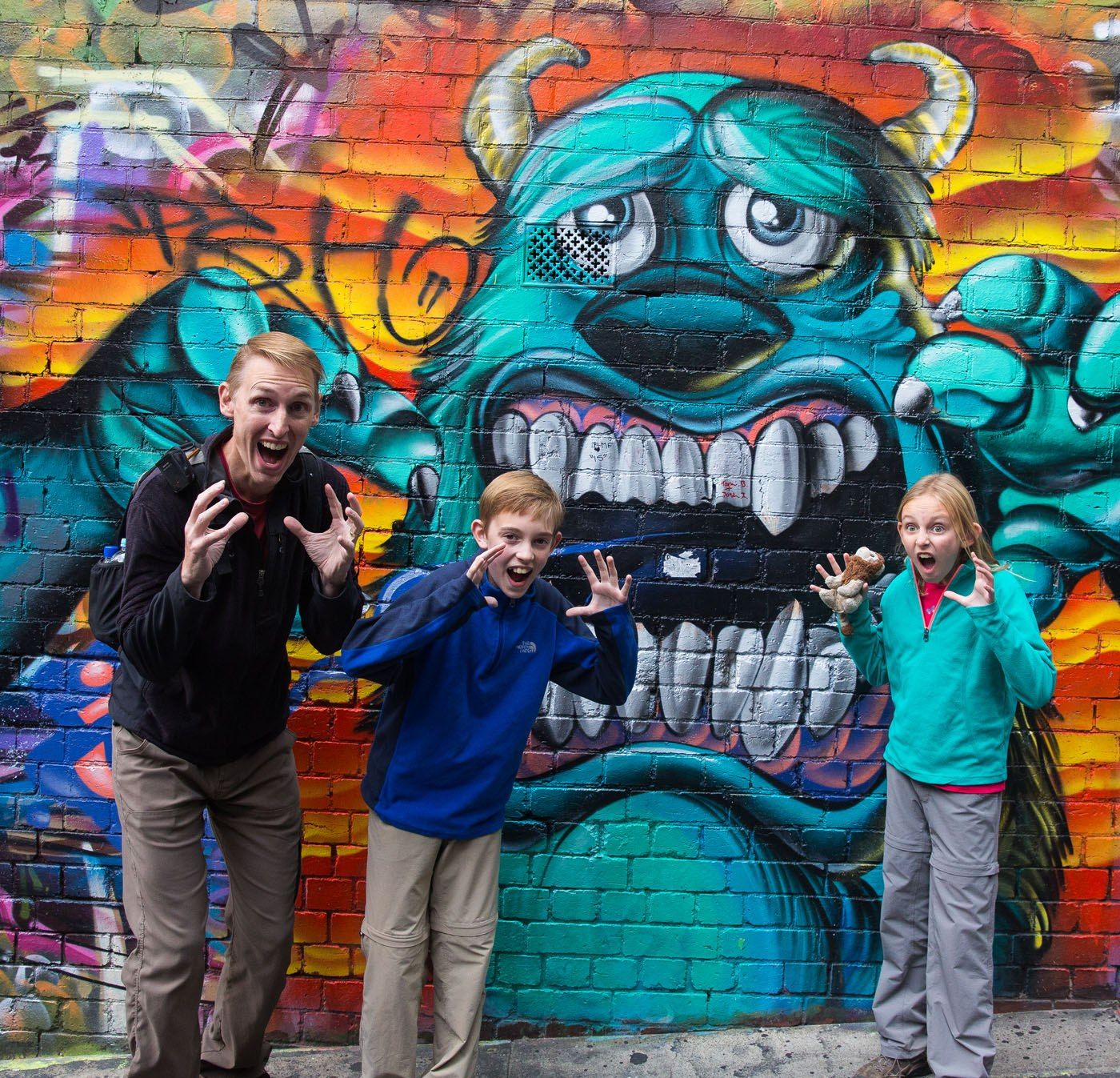 On one of my coffee walks, I revisited Hosier Lane two days later. Already, it looked different. Some new art had popped up, covering up someone else's work.
This left me wondering, for the graffiti artist, is it hard to decide where to put their art? Do they feel guilty covering up someone else's work? And once their masterpiece is complete, is it sad knowing that a few days later their work will be gone forever, lost underneath layers of other people's artwork?
Australian Rules Football at the MCG
Before arriving in Melbourne, Tim would ask the Australians we met, "What should we do in Melbourne?" The universal answer was "watch a game of footy at the MCG."
So we did.
Australian rules football, also known as footy or Aussie rules, is a major pastime of Australian people. Melbourne, with its MCG, sits at the epicenter of footy. The MCG, Melbourne Cricket Ground, is the number one place to watch a footy match. This is hallowed ground for Australians. To watch a footy game here, preferably one that is a big game on a Saturday night, is like hitting the jackpot. And hit the jackpot we did.
We purchased tickets for Saturday night's game, a rematch between the Sydney Swans and Hawthorn Hawks. These teams were in last season's Grand Final, similar to the Super Bowl in American football. It was a huge rematch, drawing big crowds to the stadium. For us, it was a very affordable night. Our family of four attended the game for only $80 AUD ($64 USD), bargain entertainment in Australia. We were quite surprised at the price, as Australia has been one of the most expensive places we have visited. It is nice to know that they keep prices low for the fans.
Prior to the game, Tim and I spent some time familiarizing ourselves with the rules. Aussie rules is a fast paced game with a lot of running and to us, it looked like a good mix of soccer, rugby, football, and basketball. During the game, fans drink beer and eat meat pies. Although it did not sound appetizing, we tried a meat pie, preferring a good old-fashioned hot dog instead.
As we watched the game, we were able to figure out some of the rules, although some of the fouls and game stoppage remains a mystery to us.
There were two features of the game that we found very interesting. When the ball goes out of bounds, the referee is the one to throw it back in. He stands with his back to field, and with an odd series of movements, launches it onto the field, leaving the players to fight for it.
Another unusual aspect is that the true time is never shown in the stadium, leaving fans and players alike wondering when the quarter was going to end. That really increases the suspense of the game! The lead bounced back and forth between the two teams, keeping fans on the edge of their seats until the final bell was blown. The fast paced nature kept Tyler and Kara interested throughout the entire game.
In the end, the Sydney Swans were the victors, just barely beating the Hawthorn Hawks. We had an awesome time, and we thank all of those Australians who advised us to watch a game of footy while in Australia.
Whacky Left Turns
This may not be one of my favorite things about Melbourne, but the pure bizarreness of it bears mentioning.
In Australia, cars drive on the left.
In Melbourne, in order to make a right hand turn, which is against traffic, it is done from the far left lane. At first, this seems to make no sense at all. Not only do these cars need to make sure no one is coming towards them in the right lanes, but they now also have to look behind them to make sure that no one is approaching from the right. Just trying to explain it is enough to give me a headache.
But the more we saw this, the more it made sense. These right turning cars had their own waiting zone in the intersection and a light telling them when to make their turn. Doing it this way, traffic jams within intersections were avoided and traffic seemed to flow better. Fortunately, we did not do much driving in Melbourne, so we never had to attempt a right turn from the left lane, but it was a quirk like this which made Melbourne that much more interesting to us.
The Dandenongs
Any guesses what the Dandenongs are? Australia is filled with places with unusual names, the Dandenongs one of the many.
The Dandenongs are a mountain range located a half an hour outside of the city. This is the playground for Melbournians, with hiking trails, shopping and cafes, and excellent views back to the city. We visited the Dandenongs, racing through the maze, eating pancakes for lunch at Flippin' Pancakes, and we even did a little shopping. Tim and I loved seeing the cyclists, climbing the mountains and racing back down the other side. Oh, how we miss riding our bikes!
Melbourne, one of the world's most livable cities, really captured our hearts. This city cannot be missed on a visit to Australia. Just be prepared to budget enough time for coffee shops, shopping, amazing dinners, and a footy match. This is a place where you will never go hungry or bored and we will be back again someday.
---