Clare Valley is one of several wine regions in South Australia that can easily be visited on a day trip from Adelaide. Barossa Valley is the most well-known region, followed by McLaren Vale. Adelaide Hills sits just to the east of Adelaide.
On our most recent visit to Australia, we spent four days in Adelaide. The reason for our visit was to sample some of South Australia's best wine and most unique cellar doors. We spent most of our time in Barossa Valley and McLaren Vale, but there were a few places in Clare Valley that we wanted to visit.
Tim and I only spent a few hours in Clare Valley, but during that time, learned enough to publish this short article about our experience plus some tips to help you plan your visit.
What is Clare Valley?
Clare Valley is a wine region in South Australia. It sits 145 km north of Adelaide and it takes an hour and forty-five minutes to drive here. If you plan to use Adelaide as your home base for visiting the South Australia wine regions, Clare Valley is one of the farthest one from the city.
Clare Valley is slightly cooler than Barossa Valley and McLaren Vale and it is well known for its Riesling wines. This region is home to about 50 wineries.
Our Experience in Clare Valley
On this website, we have a lot of guides to the best things to do and sample itineraries, but this article is a little bit different. Tim and I only spent a half day in Clare Valley, which is not enough time to come close to writing a "best things to do" guide.
Instead, I want to share with you our experience and what we learned. I'll take you through how we spent our time, tips to help you plan your visit, and other places that came recommended to us, if you like the idea of spending more time here than we did.
Below is our half-day itinerary to Clare Valley.
8:15 am: Drive from Adelaide to Clare Valley
It takes almost 2 hours to drive to Clare Valley, so if you have limited time in the area, it's probably better spent at Barossa Valley or McLaren Vale, which are much closer to Adelaide.
We are from the US, and the drive from Adelaide to Clare Valley looked very much like the drive across the Midwest. The roads are long, straight, and flat, traveling through farms and very small towns. Sometimes kangaroos can be spotted along the drive.
Once you get closer to Clare Valley, you enter some rolling hills and the road starts to twist and turn.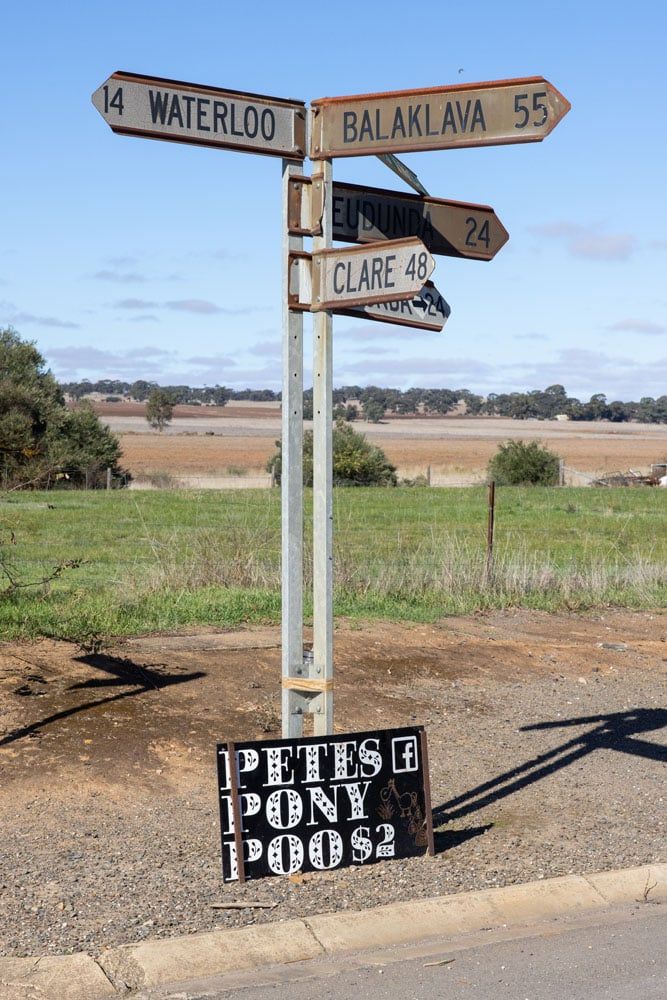 Street sign on the drive between Clare Valley and Barossa Valley
10 am: Jim Barry
About one month prior to our visit to Adelaide, Tim and I were in Taupō, New Zealand. We had dinner at a fantastic restaurant and ordered a bottle of the Jim Barry The McRae Wood Shiraz. It was the best bottle of wine we had during our five week trip to New Zealand so Jim Barry got added to our to do list while in Adelaide.
The Jim Barry winery dates back to 1947, when Jim Barry planted the first vines on the estate. In 1969, he went on to start Taylor Wines, which is also located in Clare Valley.
This family run winery produces a long list of award-winning wines. In 2022, Jim Barry won multiple trophies at the Clare Valley Regional Wine Show, including best Dry Riesling 2021 Vintage (their 2021 Block 114 Riesling), Best Vintage Section Shiraz (their 2021 Lodge Hill Shiraz), and Best Exhibitor of Show, just to name a few.
At Jim Barry, we arrived right at 10 am and were the only visitors during the hour we spent here. Tim and I took the Immersion Tasting and added on a tasting of the Armagh. Everything we tasted was wonderful, including the McRae Wood, but our favorite was the Armagh, which has the reputation of being one of Australia's highest quality wines.
If you like white wine, Jim Barry also produces the Assyrtiko, a wine that originates in Santorini, Greece. He brought some Assyrtiko cuttings to Clare Valley, grafted them onto Riesling vines, and is the first producer in South Australia to be producing Assyrtiko wine.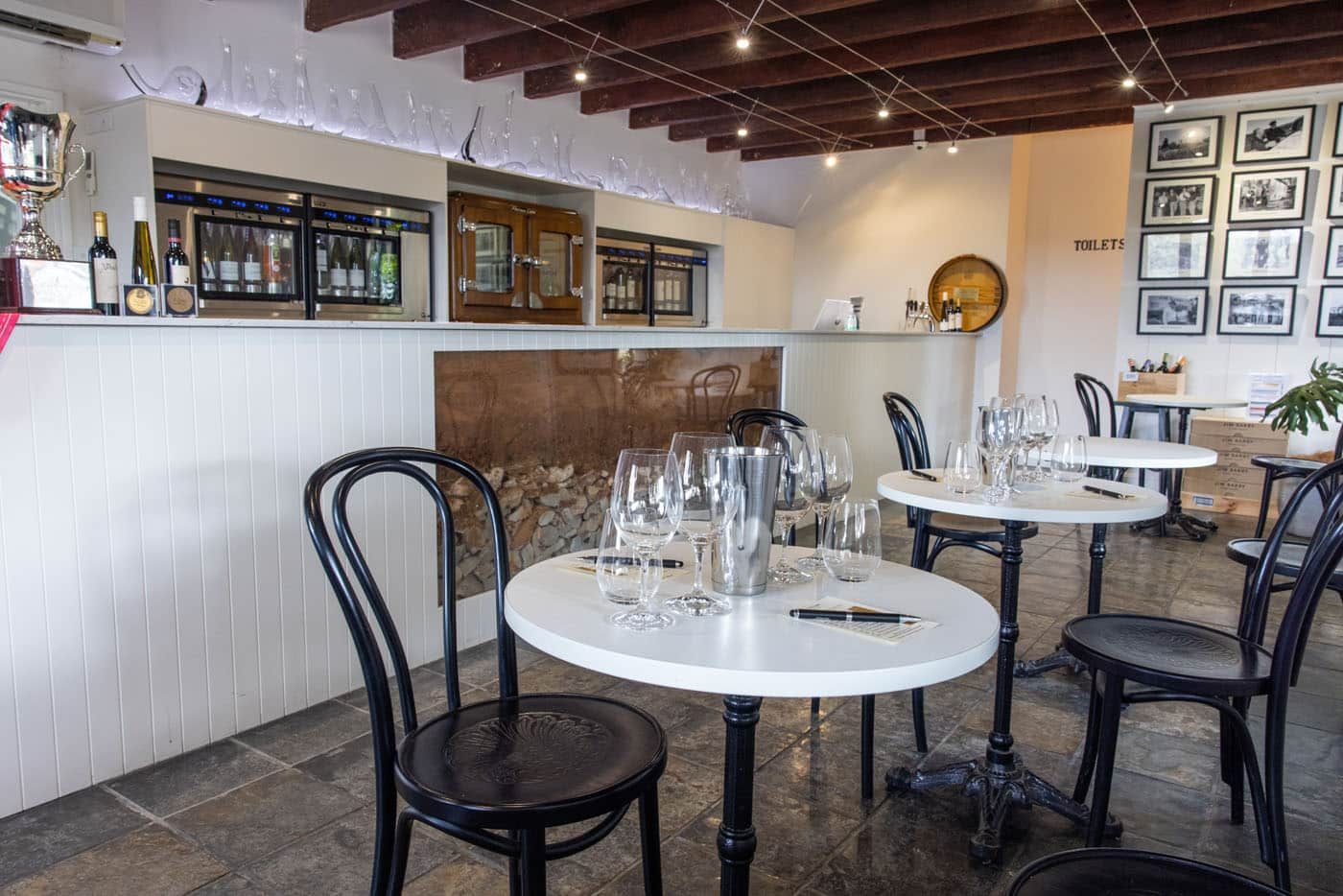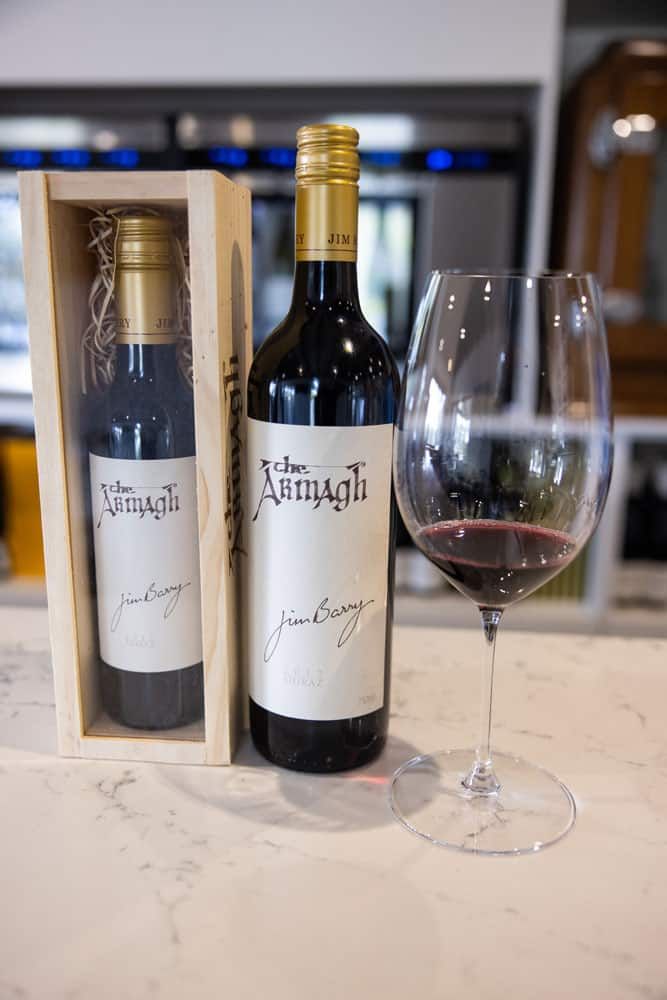 Tim and I had a wonderful experience here. The only downside was learning that they do not ship to the USA or work with Get Freighted, a company we used to ship wine home from Barossa Valley and McClaren Vale. However, they do import wine to the USA so we are hoping our local wine shop can help us purchase a few bottles of this fabulous Jim Barry wine.
Learn more about Jim Barry's story and wines on the official website.
11:00 am: Shut the Gate Wines
Shut the Gate Wines got added to our Clare Valley list because several sommeliers in Barossa Valley recommended them.
This small wine producer grows Riesling, Chardonnay, Pinot Gris, Shiraz, Grenache, Tempranillo, and a few other varietals. The cellar door is spacious and welcoming and we had a tasting at the wine bar which was fantastic. Unfortunately, like Jim Barry, the only way we were going to get any wine home was to stash a bottle in our luggage.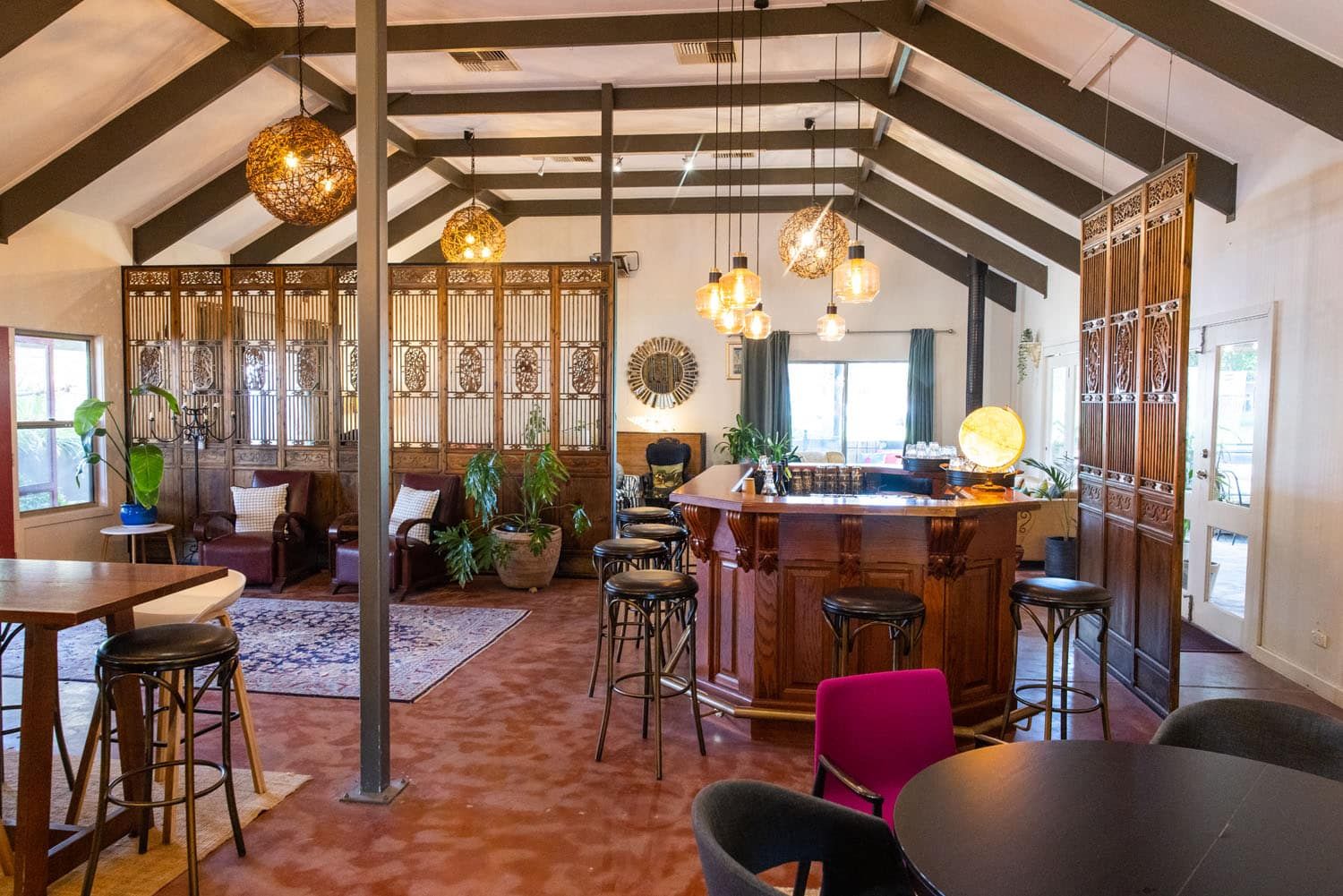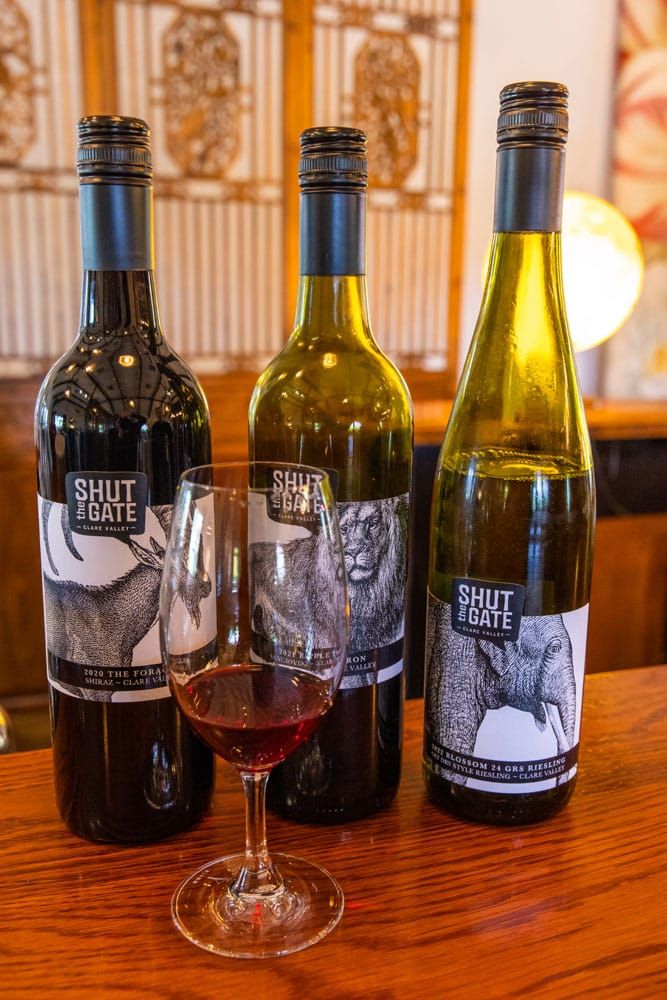 We loved our visit to this cellar door and we're not the only ones. The recommendations from other wineries in a different region is one clue, but Shut the Gate was awarded the Best Large Cellar Door Clare Valley 2022.
Learn more about Shut the Gate on their website.
12:00 pm: Paulett Wines
What brought us to Paulett Wines is their amazing food and wine pairings.
At their Bush DeVine Winery Restaurant, we had the Canapé & Wine Flight Tasting Experience, where five canapés were paired with five Paulett wines. This meal was the highlight of the day and if you are a foodie, this is a great experience to add to your visit to South Australia.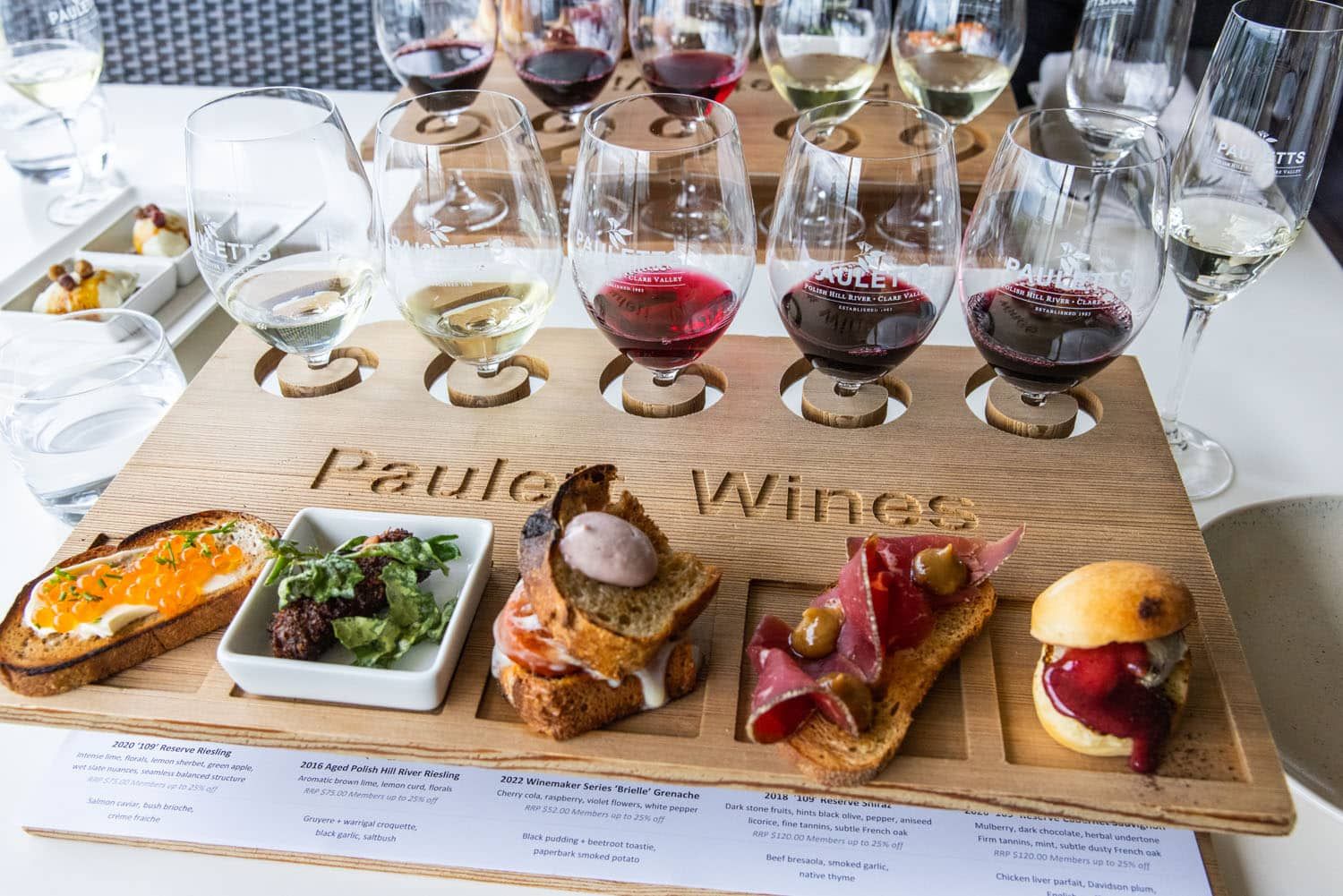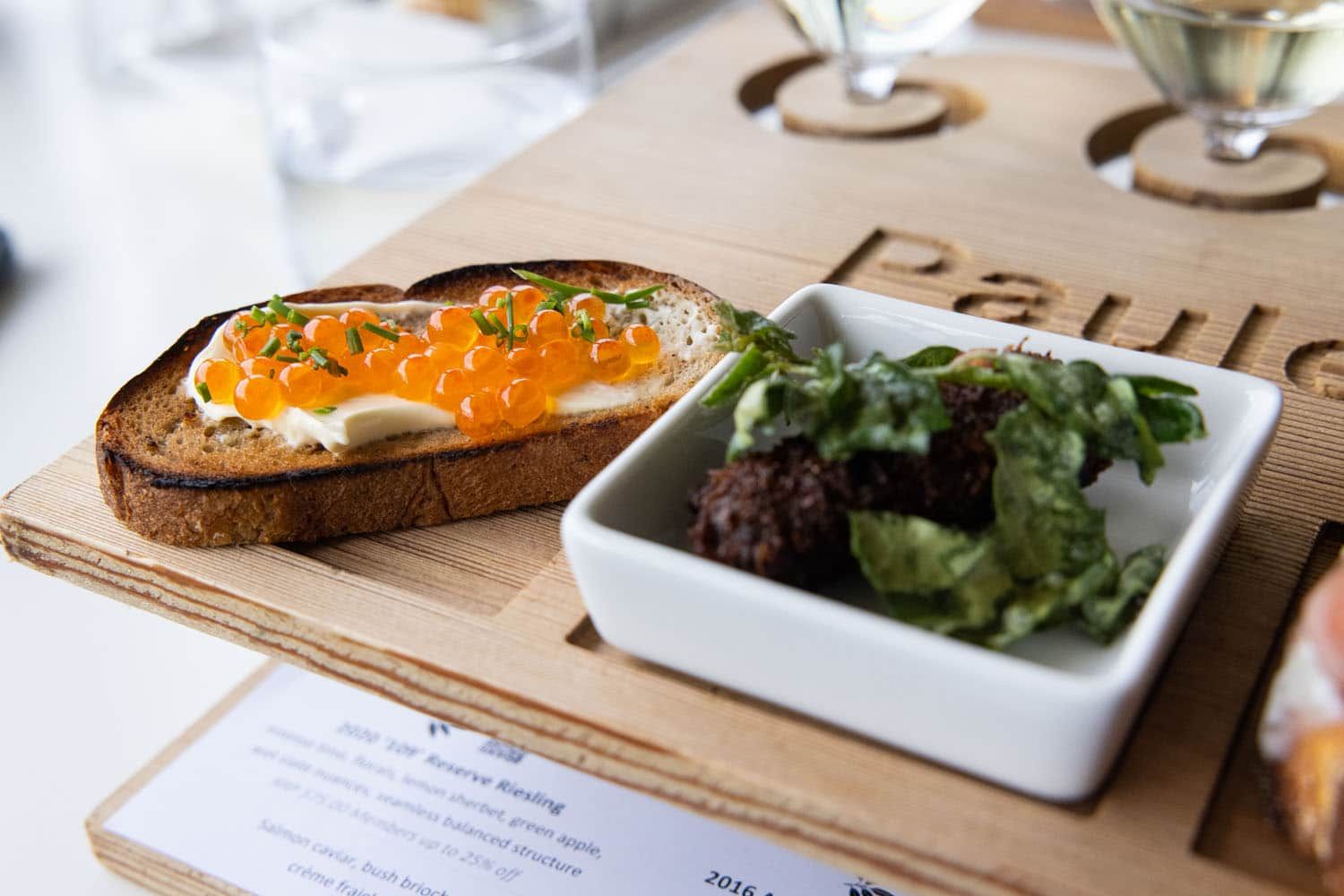 At Paulett Wines, you can also do a wine tasting or dine in the restaurant a la carte.
Tim and I were thrilled to learn that Paulett Wines works with Get Freighted, so we were able to ship home some of the wine that we tasted with lunch.
Our visit ended around 1 pm, at the conclusion of lunch. I really was looking forward to a visit to Mr. Nobody, but on the day we visited Clare Valley, they were closed.
From Clare Valley, Tim and I drove an hour south to Barossa Valley, where we spent the rest of the afternoon.
More Wineries in Clare Valley
Below is a list of a few more places that were recommended to us or came up in our research. Some of these were closed on the day we visited to Clare Valley, which is why we continued on to Barossa Valley.
Mr. Nobody. Located in Auburn, Mr. Nobody produces fortified wine and liqueurs.
Mr. Mick Cellar Door and Kitchen. This historic cellar door is one of the picturesque in Clare Valley. On a warm day, sitting outside on the lawn with a bottle of wine would be a great way to spend the afternoon.
Sevenhill Cellars. Established in 1851, this is Clare Valley's first winery. They do wine tastings, have grazing plates, and you can walk the trail around the vineyard past historic buildings on the estate.
Tips for Visiting Clare Valley
How Much Time Does It Take to Do a Wine Tasting?
On average, a guided wine tasting takes about an hour.
What about Drinking and Driving?
To avoid drinking too much wine, we would both share one tasting or Tim would skip a tasting altogether, to keep his BAC low. And if we didn't like a wine, we'd pour it out.
If you and everyone in your group does not want to limit how much you have to drink, consider joining a tour or hiring a private driver to take you around.
Can Wine Be Shipped Outside of Australia?
If you live in Australia, shipping wine home is easy and straightforward. Outside of Australia, things get to be more difficult.
In Clare Valley, only one of the three wineries we visited were able to ship wine home for us through a company called Get Freighted. For the ones that didn't, we either had to carry the wine home with us in our checked luggage or keep our fingers crossed that we can find the wine in a shop once we get home.
Get Freighted Cellar Door is a small company that works with the wineries to package your wine up into one shipment and deliver it to your house. From our experience, they predominantly work with wineries in Barossa Valley, Adelaide Hills, and McLaren Vale. Of the three wineries we visited in Clare Valley, only Paulett Wines works with Get Freighted.
One of the great things about Get Freighted is that they also work with wineries in Barossa Valley, Kangaroo Island, McLaren Vale, and Adelaide Hills, so if you plan to visit multiple wine regions, you can assemble your wines into one shipment.
Once a month, the wines are shipped to their recipients. From the date of shipping, we were quoted a 3 week delivery time.
It's a bit nerve wracking, if you will be placing a big shipment from multiple wineries, to have it all combined into one shipment. However, we had a big shipment from multiple wineries in Barossa Valley and McLaren Vale and it arrived right on time at our front door.
Another benefit to Get Freighted is that once you drink all of your wine, you can reorder more through their website, or try some new wines that are harder to get where you live.
Do You Need to Make a Reservation in Advance?
Our visit to Clare Valley was during the month of May, which is the shoulder season here. We made reservations for Jim Barry and Paulett Wines, since these were the main reason for our visit to this region and didn't want to take a chance that we couldn't do a tasting or have lunch once we were here.
If your visit will be during the busier summer season, then consider making a reservation for your wine tastings, to avoid disappointment.
Is Clare Valley Worth It?
Clare Valley is the farthest of the wine regions from Adelaide and it takes just under 2 hours to drive here. Barossa Valley and McLaren Vale both sit about an hour away from Adelaide.
If you have limited time in the area, I think it is better spent in Barossa Valley or McLaren Vale, than driving to Clare Valley.
We enjoyed our time in Clare Valley, but both Tim and I thought that Clare Valley lacked some of the character found in McLaren Vale and Barossa Valley.
If you live outside of Australia and plan to ship some wine home, it's harder to do so from Clare Valley. We only visited a few cellar doors, but in talking to the sommeliers, tourism is just coming back after COVID and they have had very few American visitors. Shipping wine to the USA or Europe is not something they get asked to do very much so they are not set up to do so.
However, if you like dry Riesling wines, then Clare Valley is worth the visit, since this region produces some of the best Riesling in Australia.
---
If you have any questions about the wineries in Clare Valley, or if you would like to share your favorites, let us know in the comment section below.
More Information for Your Trip to Australia
SOUTH AUSTRALIA: One of the best things to do in South Australia is to visit the wine regions near Adelaide. Plan your visit with our Guide to McLaren Vale and Guide to Barossa Valley. We also have a recap about our visit to McLaren Vale and Barossa Valley from our first visit to Australia.
TASMANIA: In Tasmania, hike to Cape Raoul and Wineglass Bay, explore the Tasman Peninsula, spend some time on Bruny Island, visit Bonorong Wildlife Sanctuary, and cruise to Tasman Island.
MELBOURNE: Melbourne is one of our favorite cities in Australia. Learn about the Best Things to Do in Melbourne and get a recap of our experiences here.
SYDNEY: Get started with our Sydney Bucket List, which contains 40 of the best things to do in Sydney. We also have a guide to the Sydney Bridge Climb and the Coogee to Bondi Coastal Walk, with a lot more information coming soon.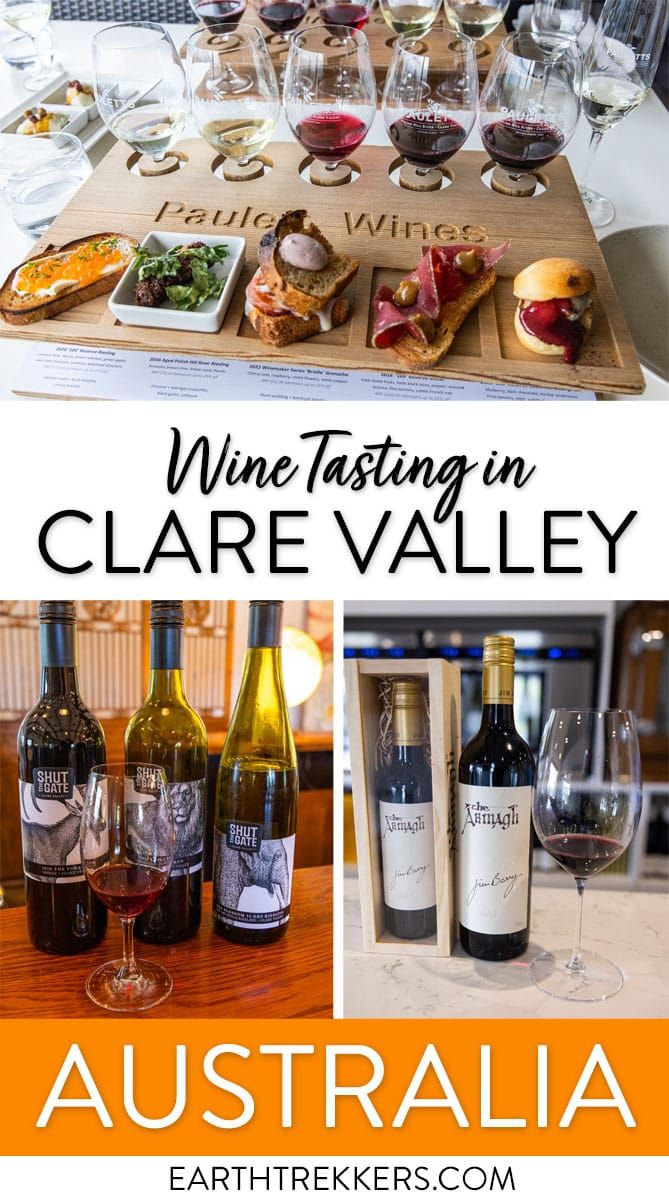 All rights reserved © Earth Trekkers. Republishing this article and/or any of its contents (text, photography, etc.), in whole or in part, is strictly prohibited.