Hiking to the summit of a volcano for sunrise views of the island is one of the most memorable experiences you can have in Bali. In fact, this is an experience that you can only do at select locations around the world, so why not enjoy the views at one of the best sunrise locations ever? In this guide, we cover how to hike Mount Batur at sunrise.
Note: At the end of May 2023, an announcement was made that all mountains in Bali were closed to tourism, including this hike on Mount Batur. However, two weeks later, all tours resumed, so it remains to be seen if this ban will be enforced. We recommend staying in touch with your tour operator ahead of your trip to make sure your tour hasn't been cancelled. Learn more about the ban and its enforcement here.
Mountains in Bali are considered sacred so please act and dress appropriately while enjoying this excursion. By doing so you will be respecting the local customs and culture, and enabling future travelers to enjoy this same experience.
About My Experience
I completed the Mount Batur sunrise hike back in late March of 2023. Traveling with a friend from Sydney, Australia, the two of us both agreed that this was a top experience during our time in Bali. We booked with Four Elements Adventures, who offered a private tour for the two of us. Our guide led us up the mountain, provided a cooked breakfast at the summit, and showed us around the top of the caldera. After concluding the Mount Batur sunrise hike, Four Elements brought us to the nearby Mount Batur Hot Springs before driving us back to Ubud.
Information About Mount Batur
Mount Batur (Gunung Batur) is one of the highest peaks in Bali, standing at a height of 1717m (5633ft). Batur is an active stratovolcano, with the last eruption being in 2000. However, it is safe to hike Mount Batur, as conditions are closely monitored, and hundreds of people hike to the summit every day to enjoy the spectacular sunrise views.
Mount Batur is located in northeast Bali. In 2012, UNESCO made the Mount Batur Caldera a part of the Global Geoparks Network.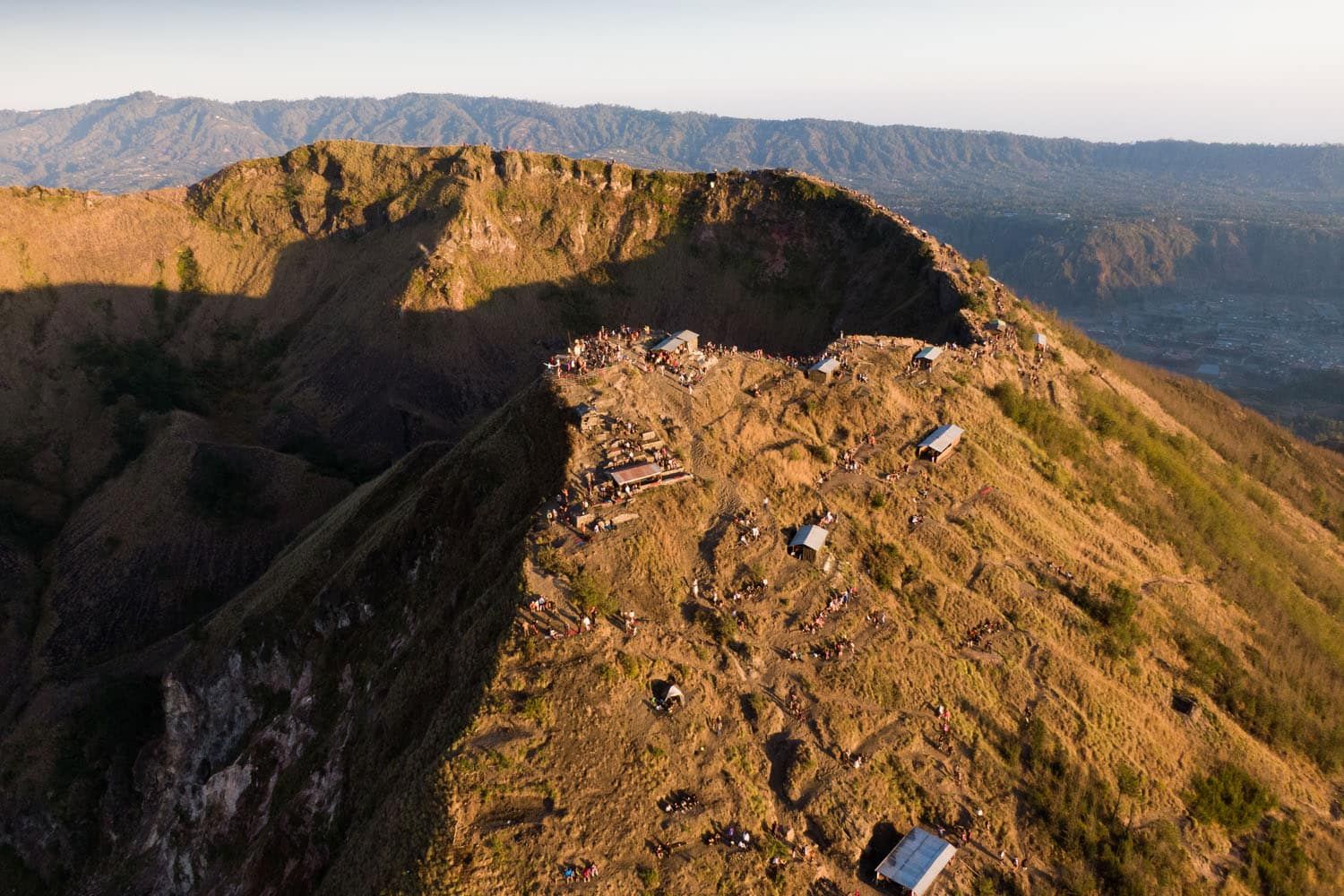 The summit of Mount Batur. Once you hike to the top, you have the option to walk the trail around the caldera for more awesome views from Mount Batur | shutterstock.com/Vytautas Janusauskas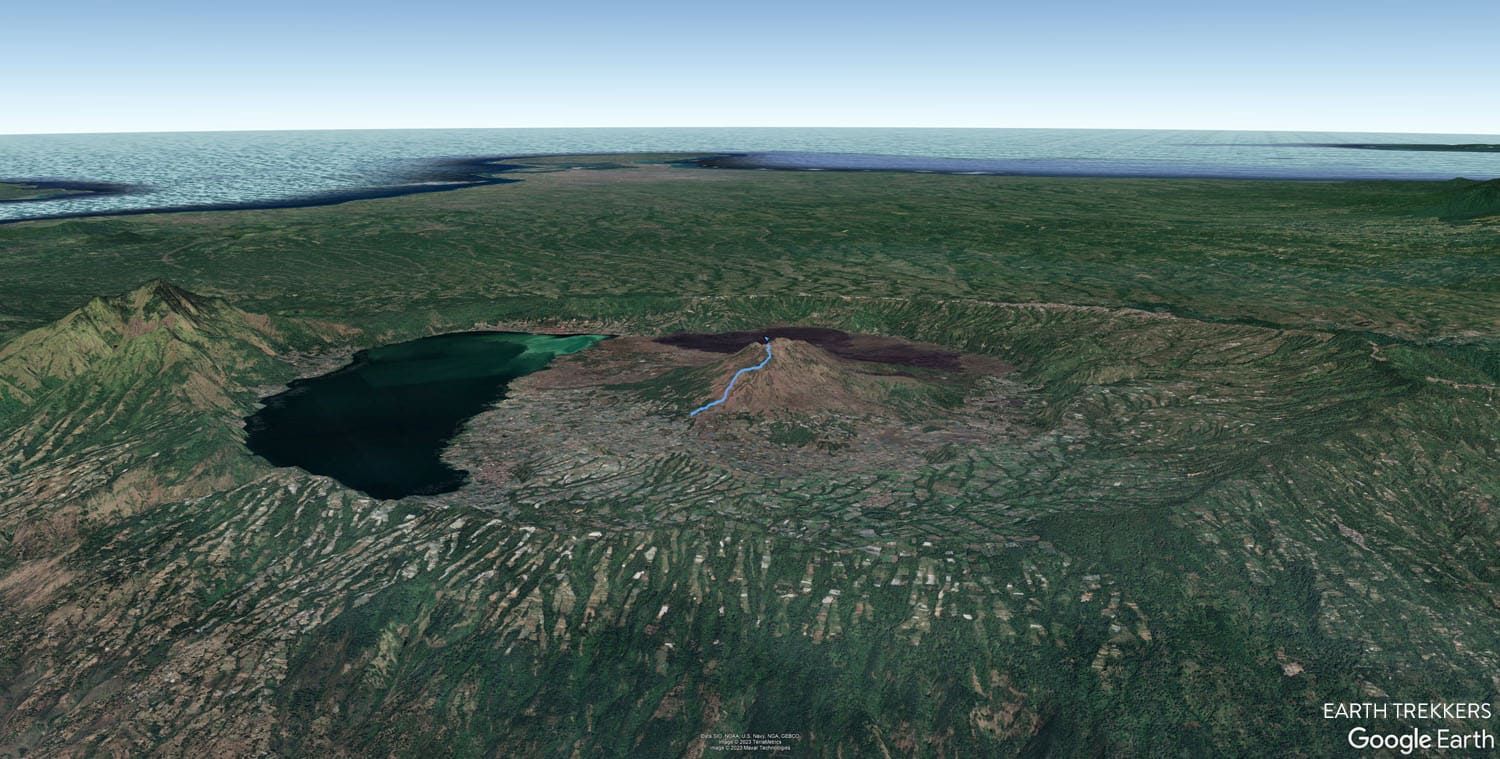 The hiking trail is the blue line on Mount Batur. In this image, you can see that Mount Batur is located inside of a much larger caldera.
Mount Batur Hiking Stats
These hiking stats are for the northeastern route to the summit.
Distance: 6.4 km (4 miles) round trip (this includes hiking on the summit of Mount Batur)
Total Ascent: 475 meters (1,555 feet)
Starting Elevation: 1,220 meters (4,000 feet)
Elevation on Mount Batur: 1,675 meters (5,500 feet)
Difficulty: Moderate with some strenuous sections
Time: 3 to 4 hours (about 1 hour up, 1 hour down, and 1 to 2 hours on the summit for sunrise photos and to walk around the caldera)
Map of the Mount Batur sunrise hike
How to Get to Mount Batur
Mount Batur is located on the northeastern side of Bali. Given this, it can be a pretty long ride to get here depending on where you're staying.
You can only complete the Mount Batur sunrise hike with a guide. Luckily there are plenty of great tour options to pick from, which all include transportation from your lodging to the base of the volcano. Tours will generally service those staying in Ubud, Seminyak, Kuta, Canggu, and other southern locations.
From Ubud, it takes an hour and fifteen minutes to reach the trailhead for Mount Batur via car. From the beaches surrounding Denpasar (Kuta, Seminyak, Canggu) expect the drive to take roughly two and a half hours.
We recommend staying overnight in Ubud as this will cut your travel time in half. The more well-rested you are, the more you will enjoy this experience.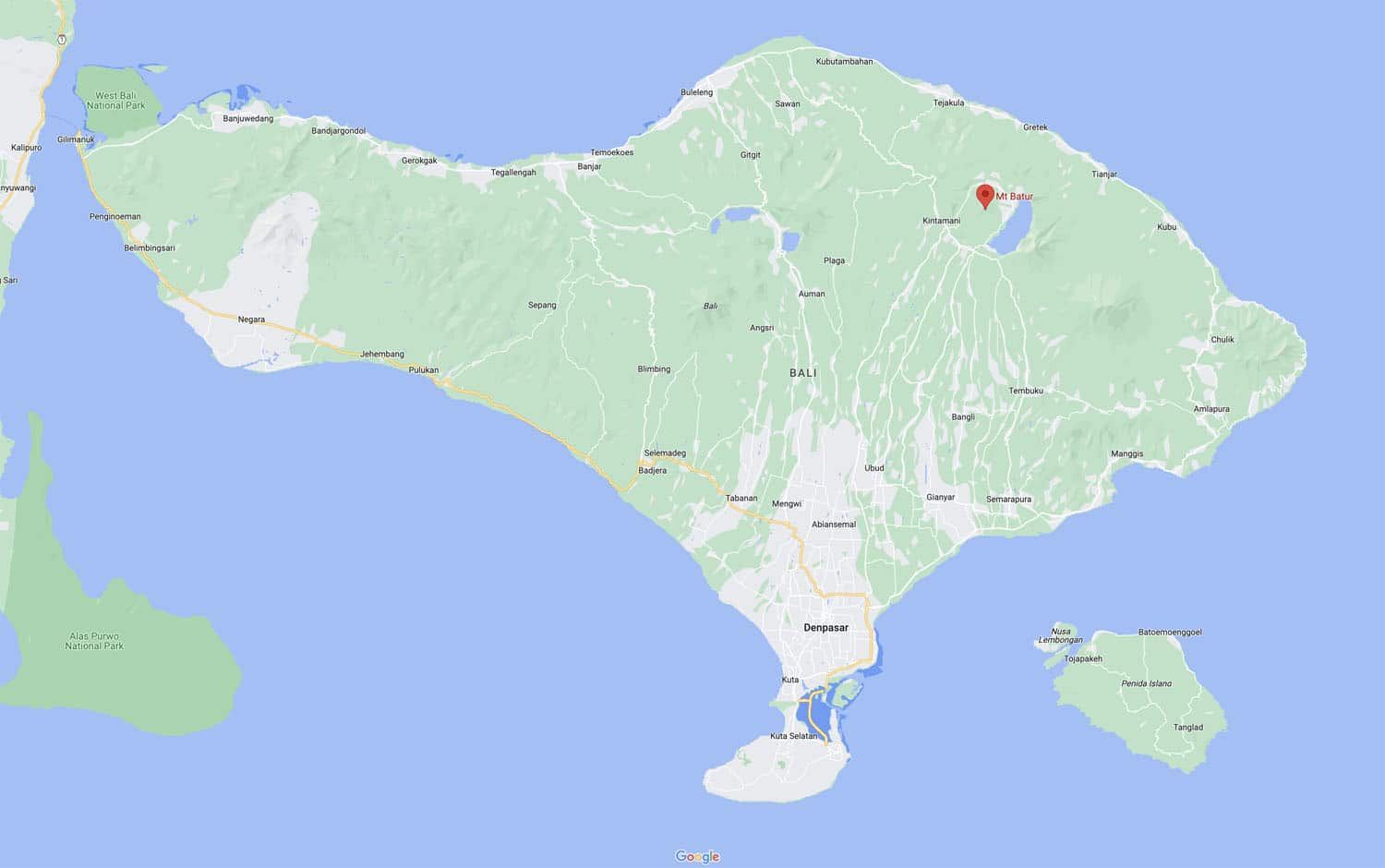 Location of Mount Batur in Bali
How to Pick a Tour Company
Travelers are not allowed to hike to the summit of Mount Batur without a guide. Some trails are not marked, and when hiking in the very early morning it can be even easier to take a wrong turn. Plus hiring a guide helps support local businesses and gives some added perks at the summit.
Luckily enough, there is a great variety of tours to pick from. We booked with Four Elements Adventures and would absolutely recommend them. They offer plenty of English-speaking guides who have all summited Mount Batur hundreds of times. Our guide was fantastic, creating an amazing experience that is unforgettable.
Some tours will add an additional bonus after summiting Mount Batur. Their itineraries may include white water rafting or to a hidden waterfall. The cost of visiting these is not included within most tours, but it is a nice reward. Check with who you book with to confirm if there are any extra stops on your itinerary. On GetYourGuide, most tours show their itinerary on the booking page.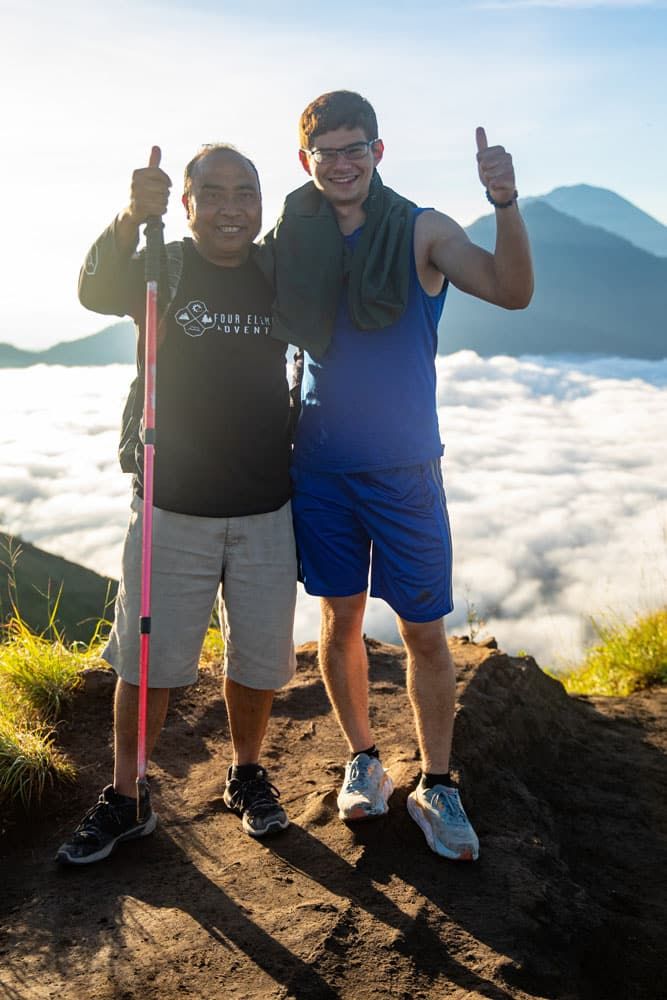 Cam and our guide with Four Elements Adventures
Routes to the Summit of Mount Batur
There are multiple routes to summit Mount Batur, and which one you do relies solely on the tour you book. However, there are only slight differences between trails and they all lead to the same summit.
When booking with Four Elements Adventures, you'll be hiking from the northeastern side of the volcano. This is a less-traveled trail that few tours choose to take, so you won't be held up behind long lines of hikers. This trail is a slow, gradual climb up a dirt track. It can be moderately difficult at times, but for the most part, almost anybody could complete this route. It can take about an hour or two to reach the summit from here.
The main trail, which most tours take, begins south of Mount Batur outside of the town of Kintamani. When looking at a map, this is right next to Lake Batur.
This trail will split a little bit before a mile into the hike, offering two trails of varying difficulty. Take the trail to the right for a more direct, steeper path up to the northern summit. Here you will find less people and a shorter trail, but greater difficulty. The trail to the left is much more gradual. The path consists of packed dirt and is shared with motorcycle taxis (which you can book separately to take you to the summit). This trail is longer but easier, and is recommended for those who aren't confident in their hiking ability.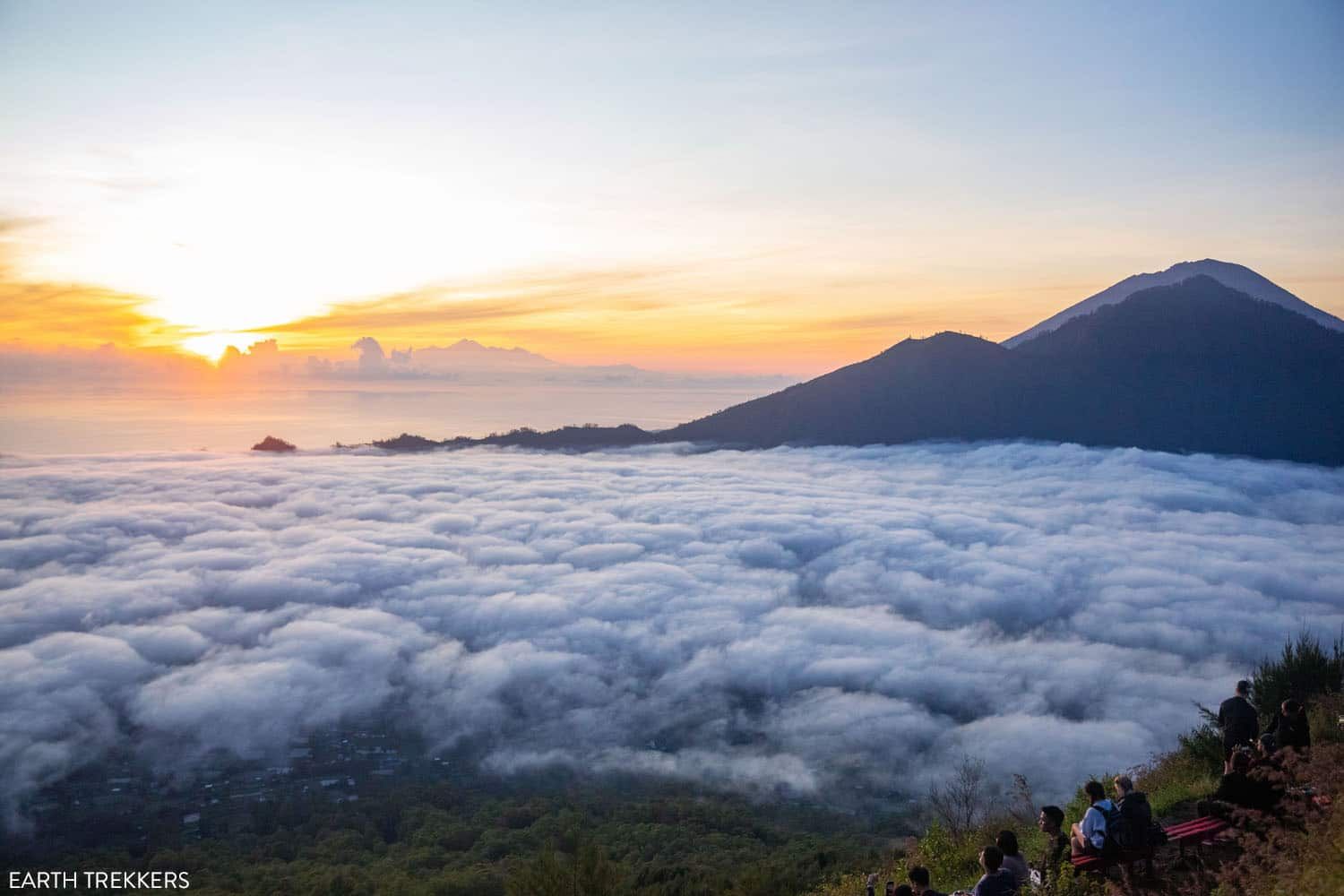 The view from Mount Batur at sunrise
Mount Batur Sunrise Hike
Step-By-Step Trail Guide
Getting to Mount Batur
The Mount Batur sunrise hike is consistently rated as one of the best sunrise hikes in the world. With that being said, expect a very early morning. We're talking about setting alarms for 2:00 am! Getting out of bed is without a doubt the hardest part of the day, so once you've accomplished that it's smooth sailing from here!
We booked our tour with Four Elements, which included a driver that picked us up at 2:30 am from our hostel in Ubud. After a quick nap in the car, we reached their base camp at 3:45 am.
Hiking to the Summit of Mount Batur
We were introduced to our guide and given each a headlamp and hiking pole while we sipped on a hot glass of tea. Expect temperatures to be slightly colder than elsewhere on the island, especially this early in the morning. I recommend bringing a light jacket to warm up in, but you won't need it for long.
We strapped on our headlamps and departed base camp at roughly 4 am, starting on the outskirts of a small village at the base of the volcano. You'll pass through onion fields as you walk along a nice and easy dirt track. For earlier stages of the hike, expect to see Jeep's or motorbikes on your path. Some tourists choose to take these to the summit, but I feel this heavily detracts from the experience.
Roughly 10 minutes after leaving camp, the trail will start to slowly increase in difficulty. As you enter the forest at the volcano's base, the trail will slowly rise to the summit. Expect a moderate climb along a wide, rocky trail. Continue onwards with your guide as you take in the fresh, early morning air. Feel awake yet?
Soon after, you'll exit the woods where the view will drastically open up. Upon rising above the tree line, you'll be able to see dozens of headlamps way off in the distance. Follow this string of lights since, although it may still be too dark to see your route, the lights are a good indicator of where you'll be ending up.
If the sky is clear, look up as well. You'll find hundreds of stars spread out over the sky to help light your way. Looking behind, you can see the towering silhouette of Mount Aba, and behind it, Mount Agung.
As you near the summit, the trail will gradually get steeper. Watch your step as the trail gets pretty narrow at points and can be prone to sliding.
Roughly an hour into starting your hike, you'll reach the summit in time for sunrise. Most likely you'll reach the summit well before the sun comes up. Your guides do this to ensure you have plenty of time to enjoy the sunrise at the top, so there is no need to stress about missing the views while hiking.
Sunrise on Mount Batur
We made it to the summit at 5am. When hiking Mount Batur in late March, we began to see faint amounts of light coming up from the horizon upon summiting. As we waited for sunrise, we found a spot to rest while our guide grabbed us breakfast. We were treated to fresh glasses of tea and an egg cooked in the volcano's steam!
Slowly the few crimson threads of sunlight grew across the horizon, getting brighter as the sun finally peaked over the horizon.
The views from the summit were incredible. The countryside was obscured by low hanging clouds, so we could see only the peaks of Mount Aba and Mount Agung. The hard work involved with hiking to the summit definitely made the views even more rewarding and enjoyable.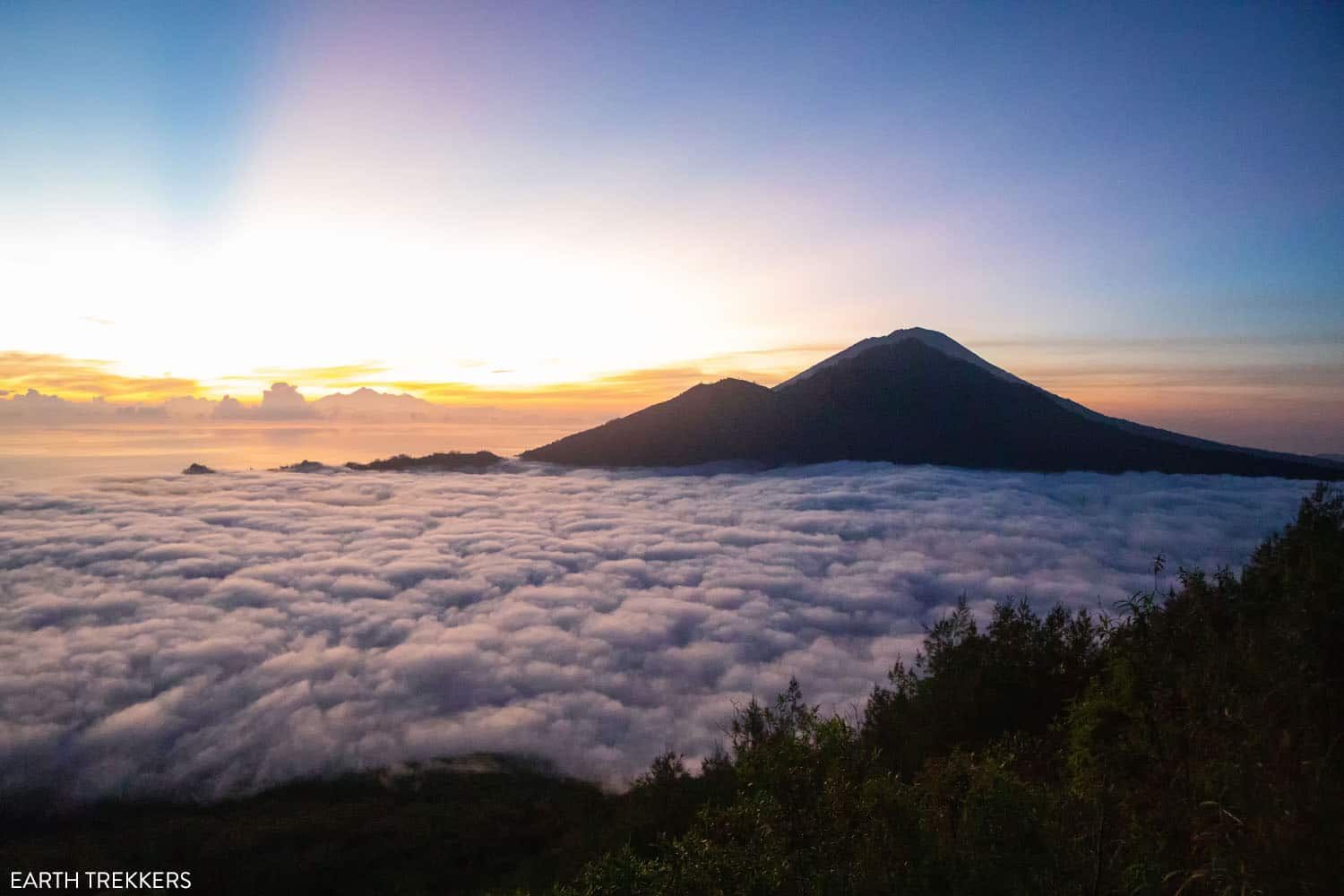 The view from Mount Batur at sunrise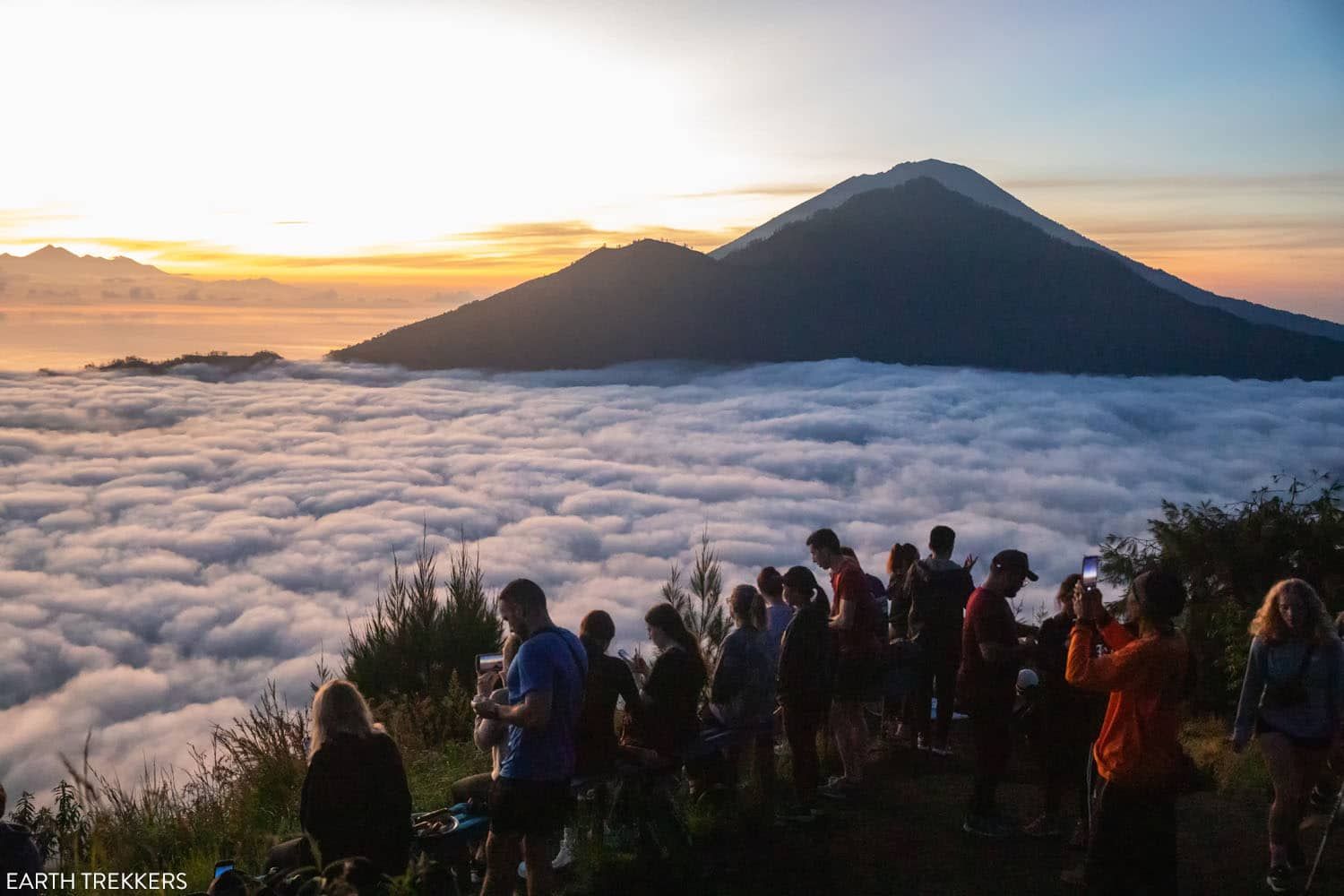 This photo gives you an idea how crowded it can be at the summit of Mount Batur
What to See at the Summit
Watching the sunrise isn't the only thing to do at Mount Batur's summit. There are plenty of steam pillars rising from tiny cavities in the ground. You can get up close with them and your guide may dare you to stick your hand inside. It's perfectly harmless but surprisingly hot!
As noted at other key spots around Bali, you may find a few Macaques if you're lucky. These are small, daring monkeys that aren't afraid to get up close and personal with you. We saw a few attempting to steal the breakfasts of other hikers, but they won't harm you unless seriously provoked. They're more than happy to munch on spare eggs and enjoy the sunrise, same as you.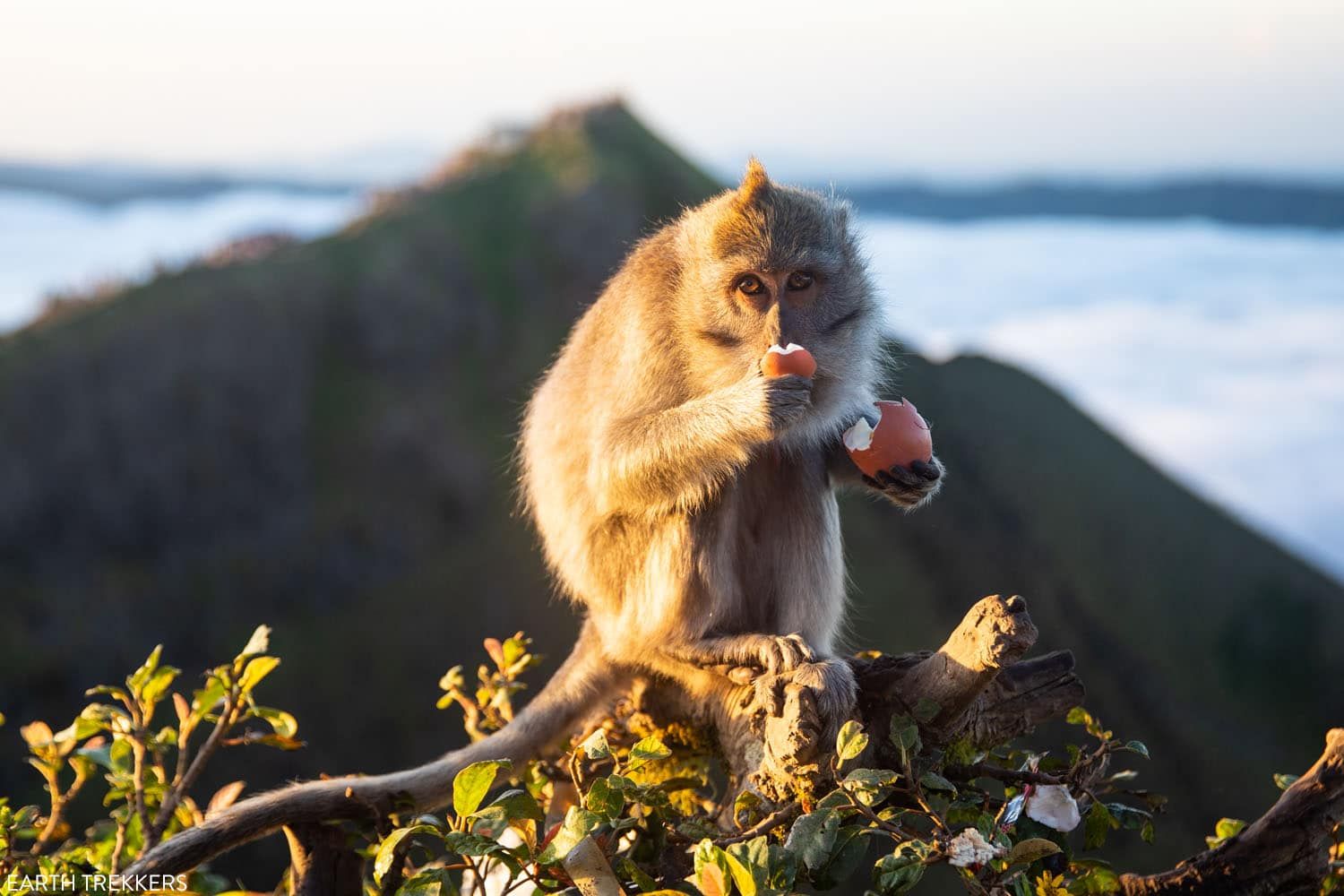 While at the summit, walk around above the crater to enjoy views in all directions. No matter which way you look you're bound to see something spectacular.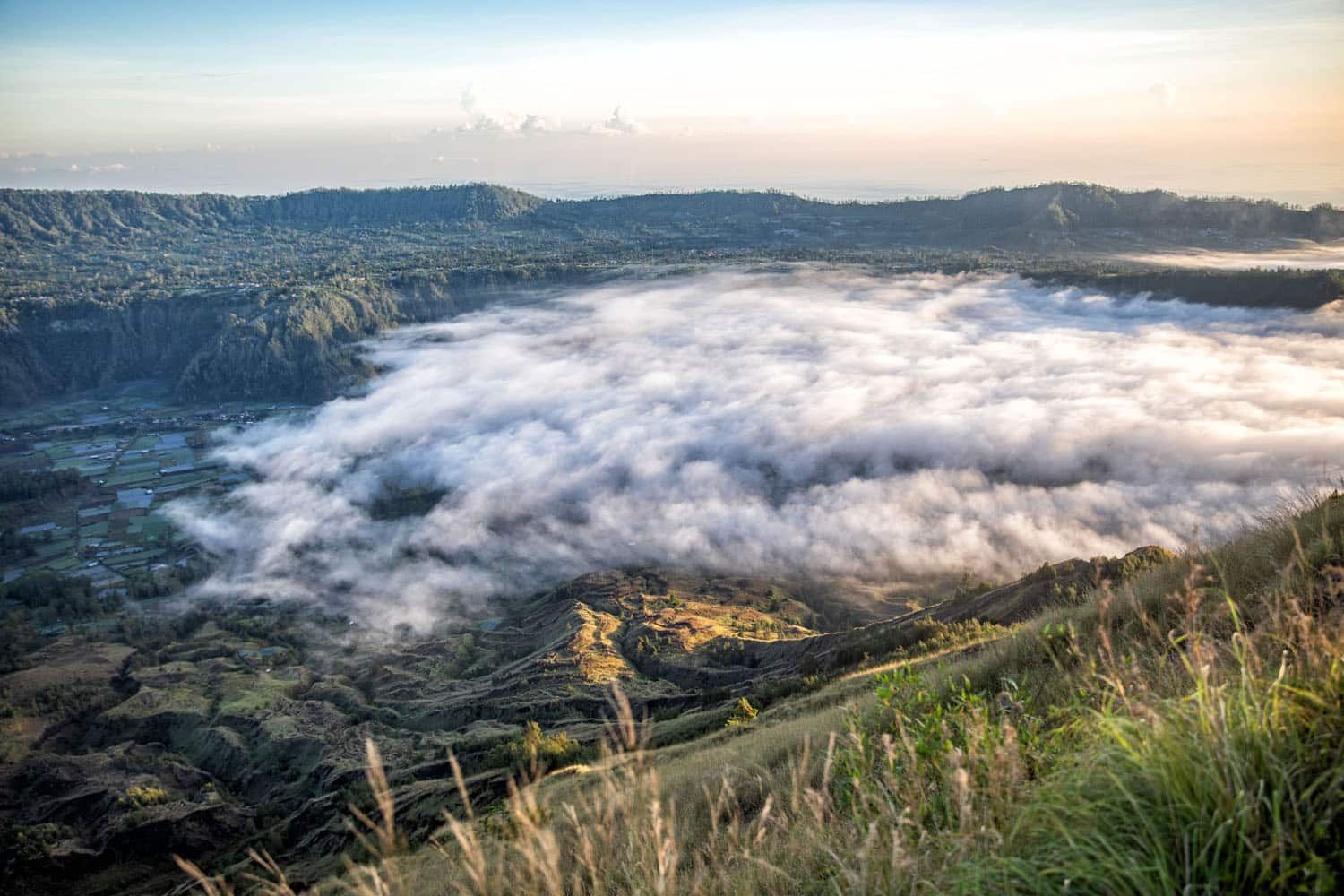 The view from Mount Batur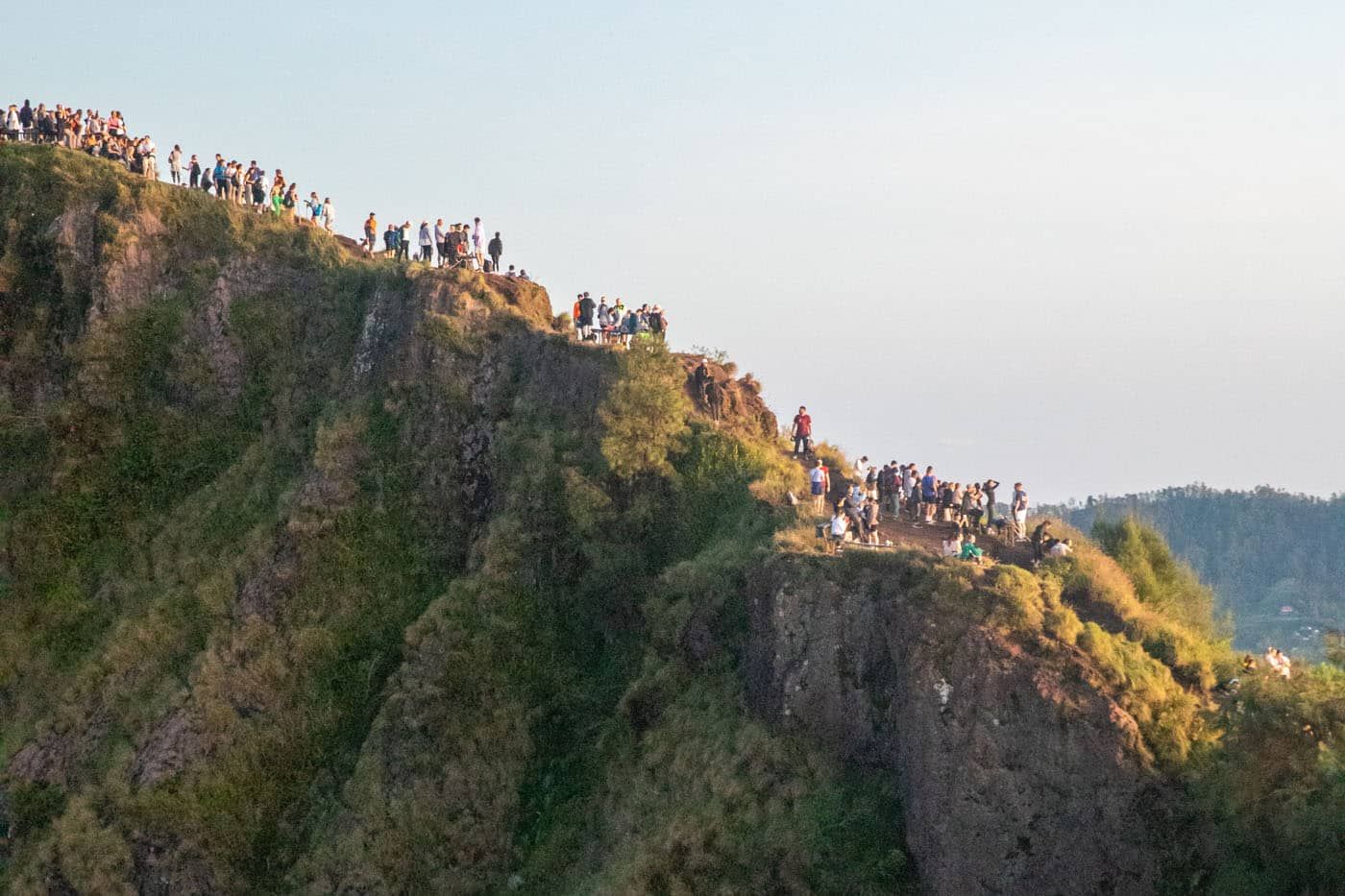 Hikers on Mount Batur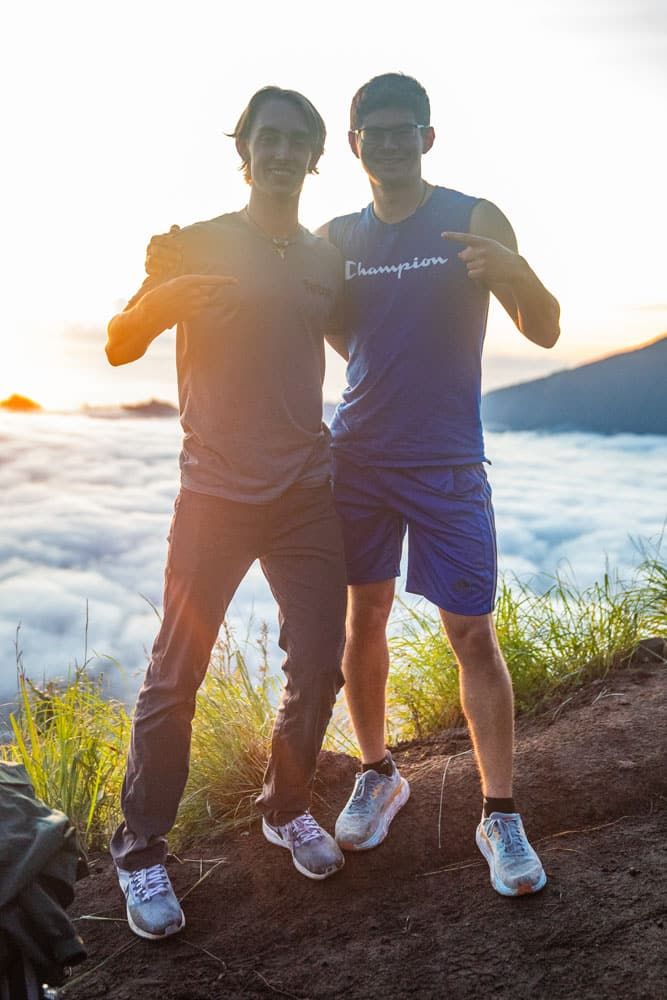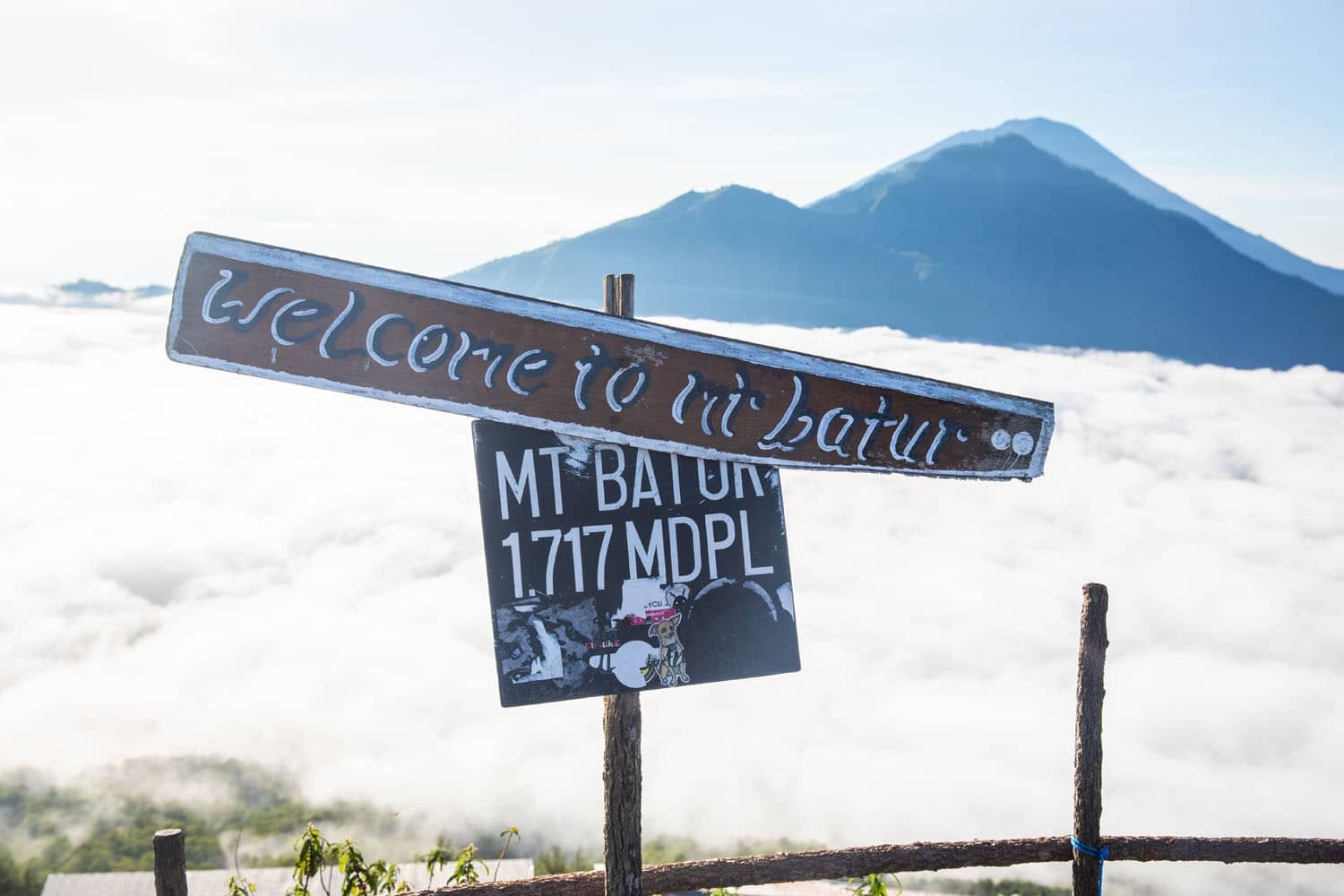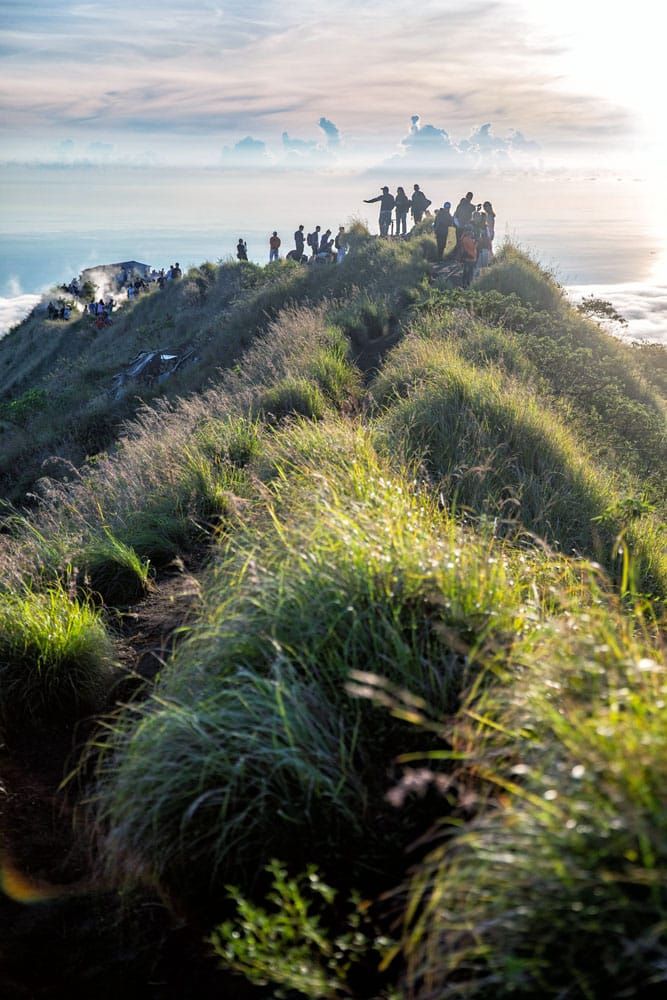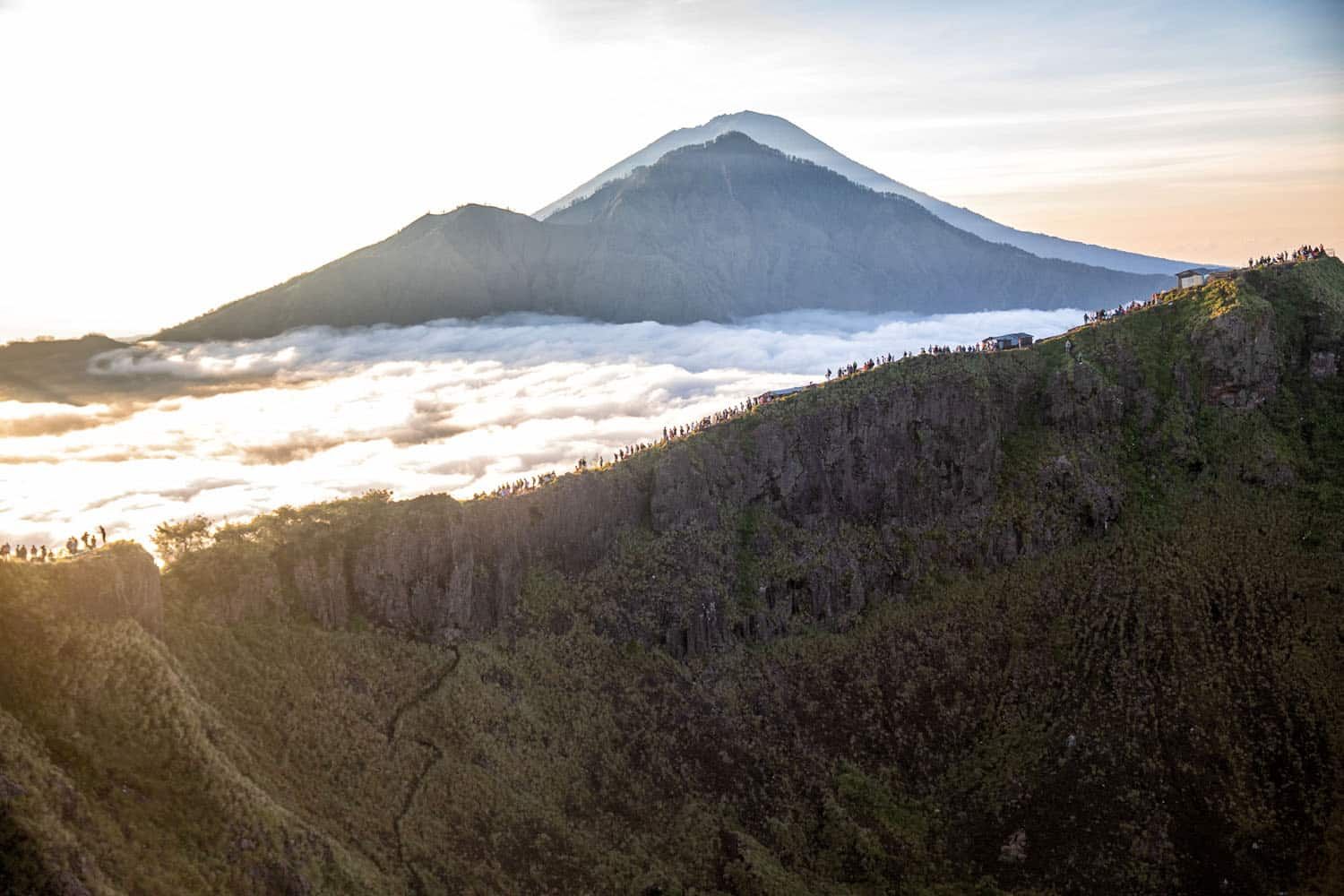 Looking across the Mount Batur caldera to Mount Agung and Mount Abang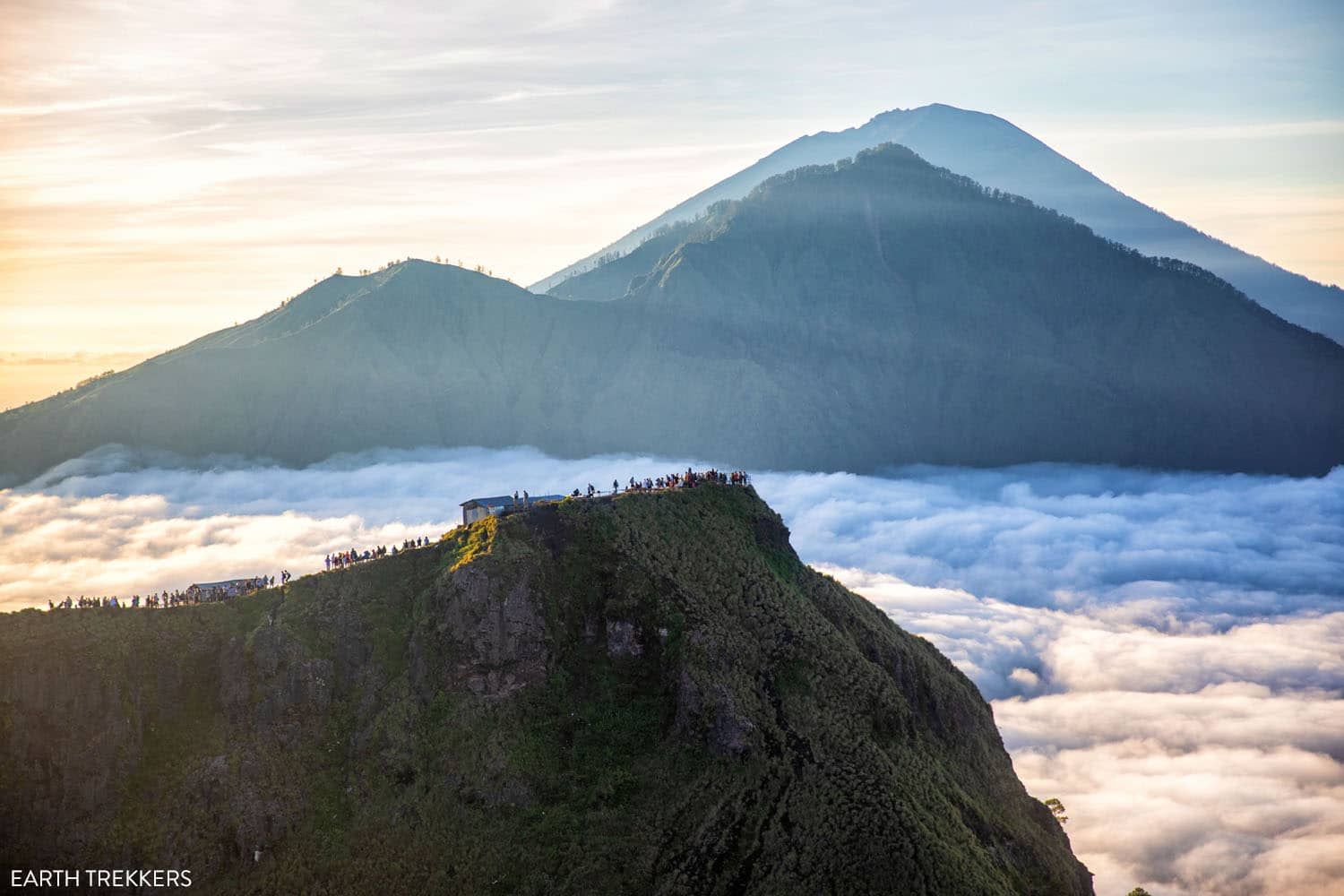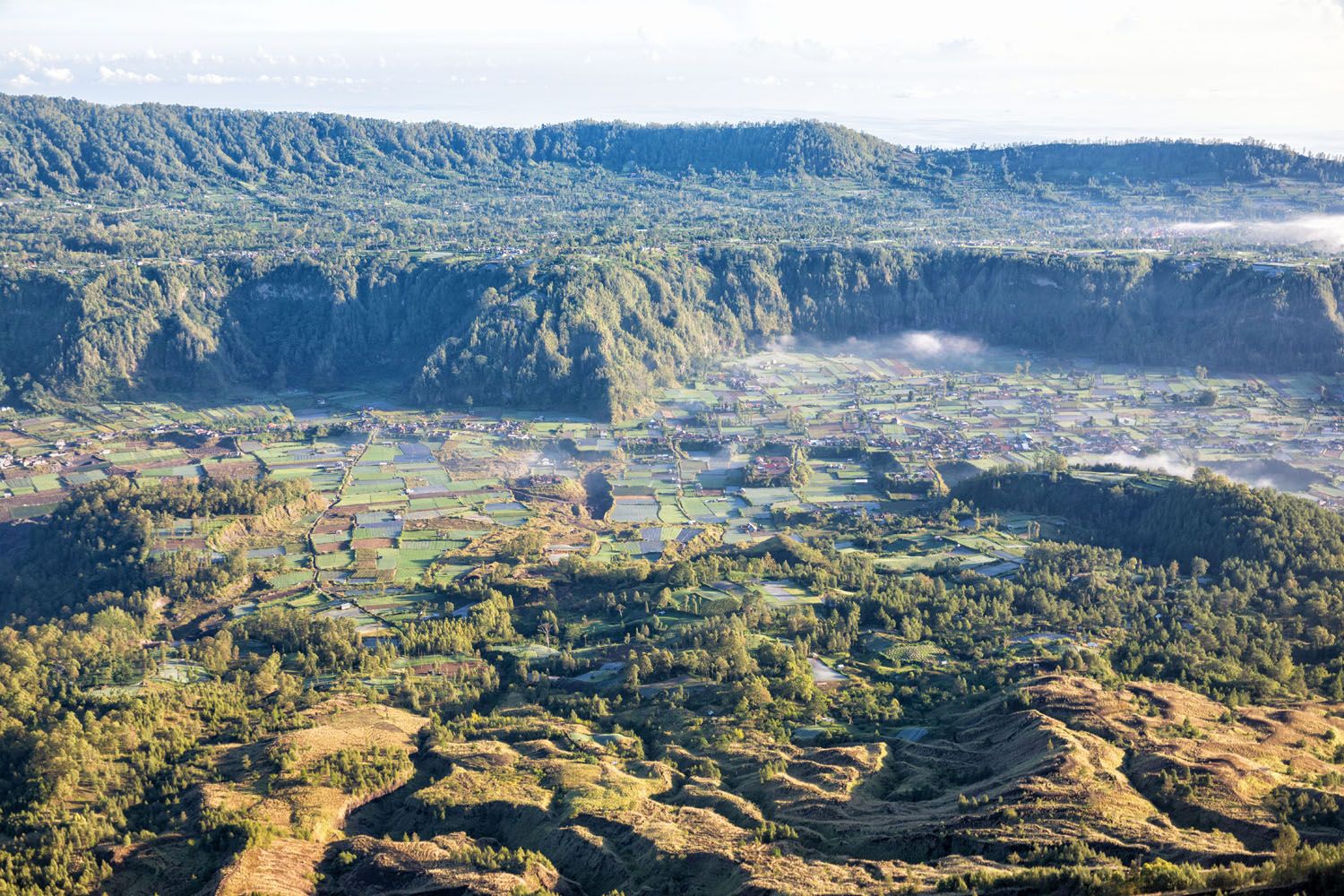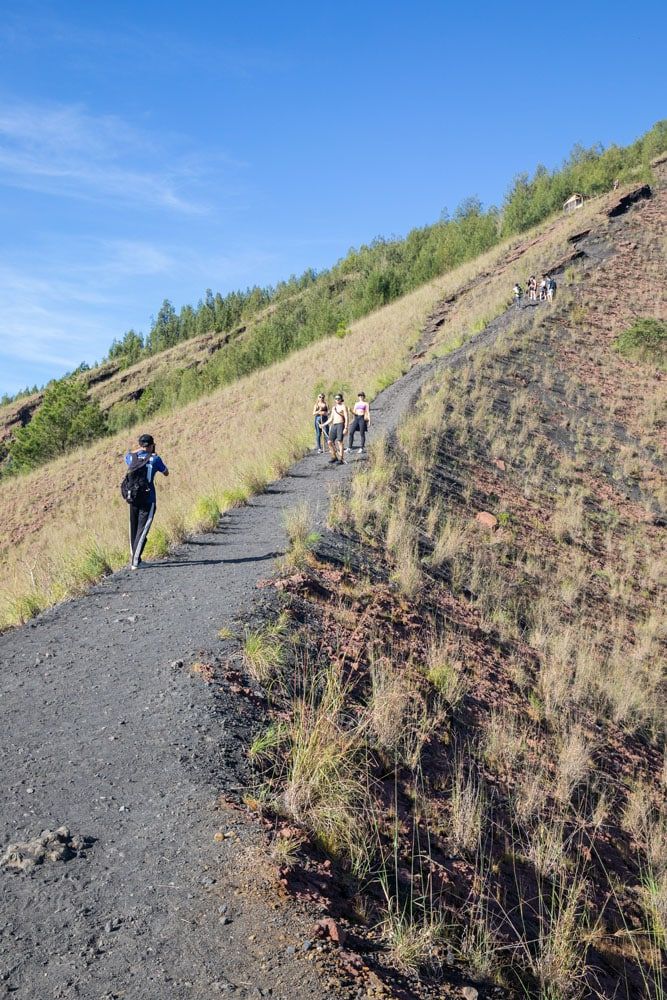 Trail on the return hike
Unwinding in the Hot Springs
If you're looking for something to do after returning from your hike, we highly recommend visiting the Batur Natural Hot Springs. Located only a 15 minute drive from Mount Batur, these hot springs are the perfect place to relax after a busy morning. Here you'll find a collection of heated infinity pools that are essentially giant hot tubs. Don your swimsuit, bathe in the water and admire the views out over Lake Batur.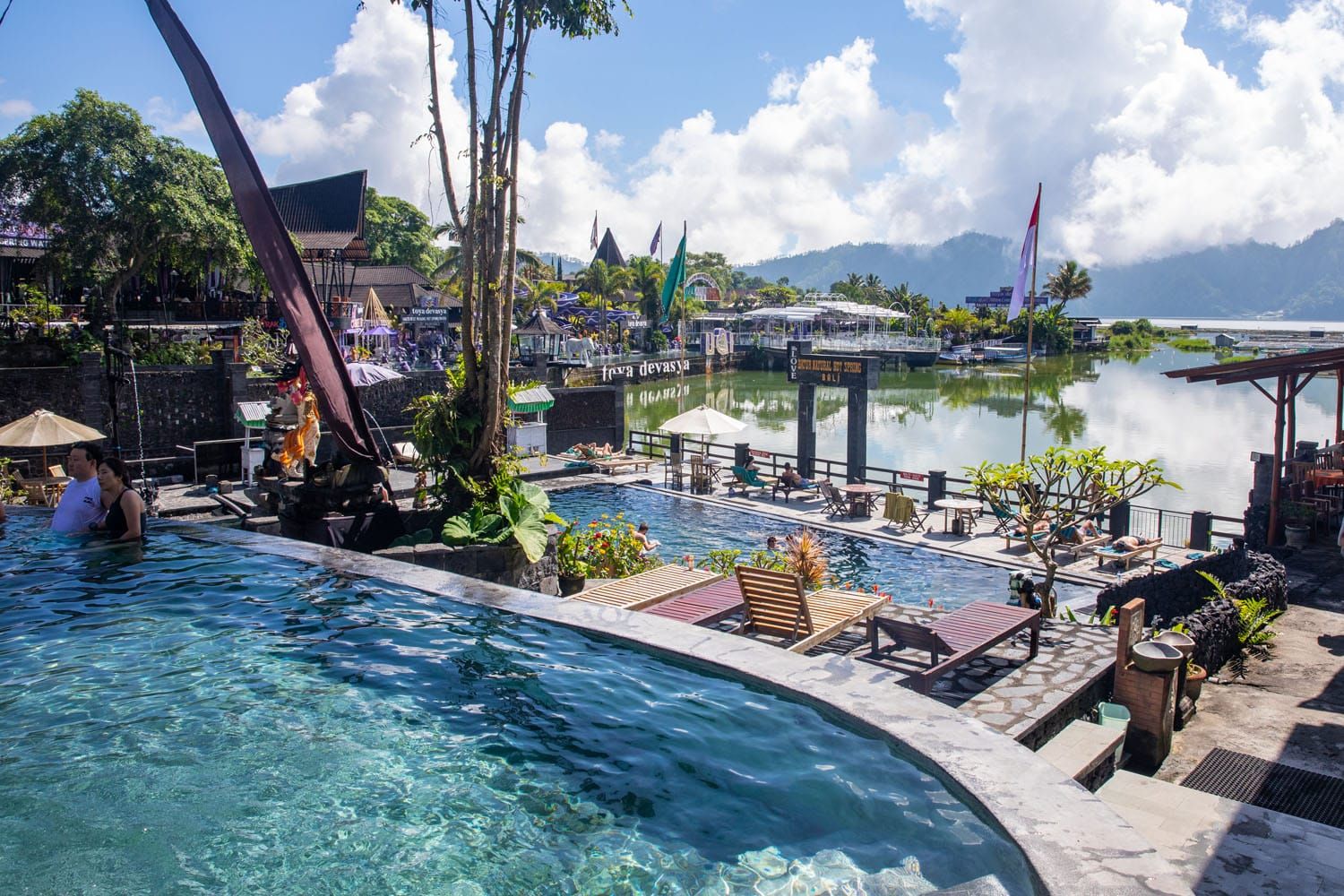 Batur Natural Hot Springs
Mount Batur vs. Haleakala: Which is the Better Sunrise Experience?
In my opinion, the views at the summit of Mount Batur were incredible and topped other sunrise experiences like Haleakala in Hawaii. The act of hiking to Batur's summit provides the sunrise views as a reward that is hard-earned, rather than if you drove to a viewpoint. The sunrise views from Mount Batur are more spectacular than the sunrise views from Haleakala, in my opinion.
However, Haleakala is the clear winner when it comes to hiking. The Sliding Sands Trail, which takes you into the caldera of Haleakala, is a much more interesting trail the Mount Batur hike. The Mount Batur hike itself is nothing special to write home about, only the views from the summit are stunning.
Hiking in and around the Haleakala crater is one of my top 20 hikes in the entire world but the sunrise view from Mount Batur is my favorite of the two. But if you can do both, go for it. Both are unforgettable experiences.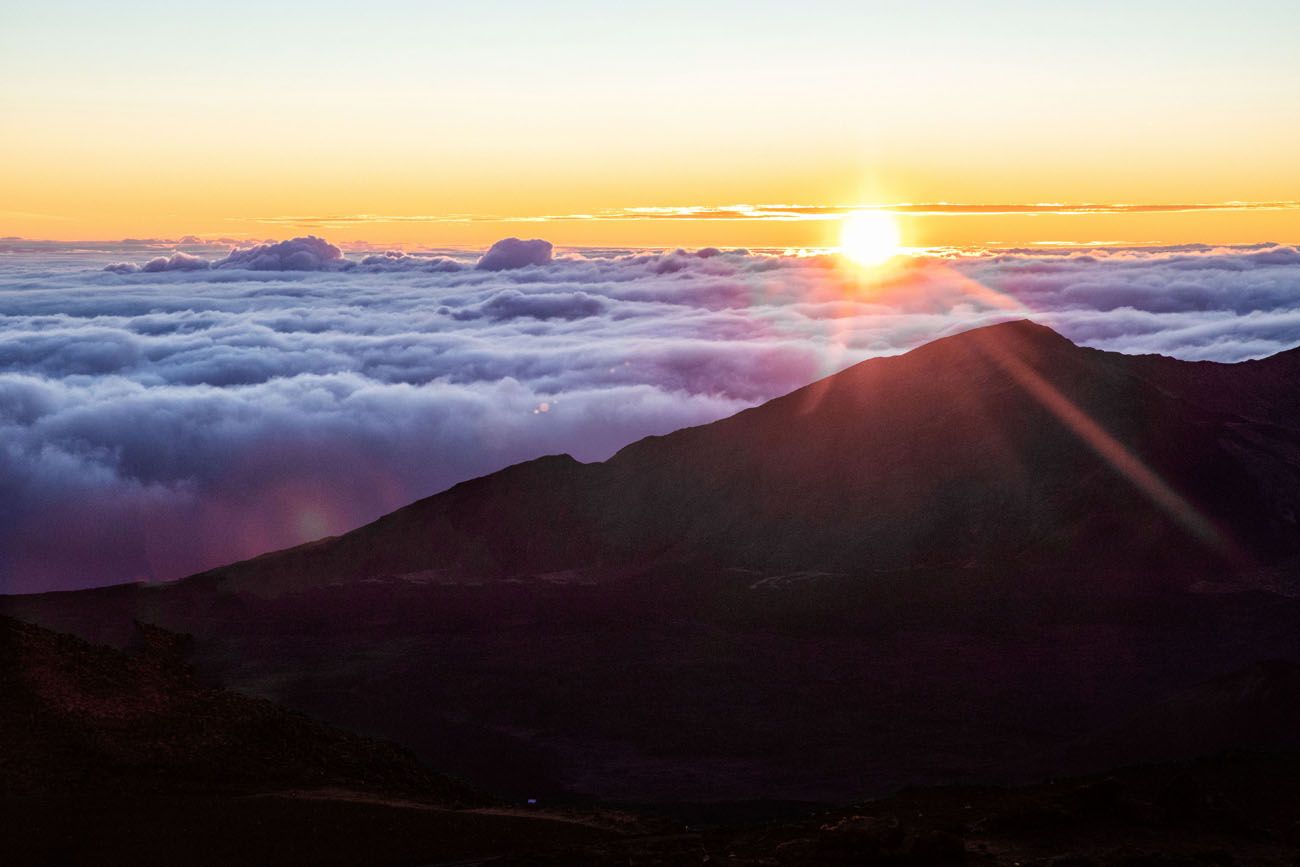 Sunrise on Haleakala
Frequently Asked Questions
How hard is the Mount Batur sunrise hike?
The Mount Batur sunrise hike is not a hard hike to complete. There are some sections which I consider to be strenuous, but these do not last long. You don't need any technical hiking or mountaineering experience to complete this hike. For the most part, it's a steady climb up a dirt hill. Anyone with a basic level of fitness will have no issues completing this hike. If you have issues with stability or strength, I recommend a pair of hiking poles (if you book a tour, these will most likely be provided).
How long does the Mount Batur sunrise hike take?
Allocate 8 hours of your day for the Mount Batur sunrise hike. This includes transportation to & from the volcano, hiking time, and plenty of time to enjoy the sunrise and wander the summit. The hike itself will take anywhere between 3 and 4 hours, depending on your level of fitness.
Is the Mount Batur sunrise hike worth it?
Absolutely. Waking up at 2am is never something I'd consider fun, but once we made it for sunrise, I knew the struggle paid off. The entire experience is one of the best you can have in Bali. Even if you hate the idea of an early wake-up call or feel you may struggle with the hike itself, the Mount Batur sunrise hike is worth it.
Mount Batur Tours
Here are several highly rated hiking tours of Mount Batur, including a sunset option and an option to stay in Kintamani, which allows you to have a much later wake up time on the day you do this hike.
---
If you have any questions about the Mount Batur sunrise hike, or if you want to share your experience, let us know in the comment section below.
More Information for Your Trip to Bali, Indonesia
BALI: Learn more about Bali in our guide to the best things to do in Bali, how to visit the Aling-Aling Waterfalls, what it is like to visit Bali on Nyepi Day, and how to do the Mount Batur Sunrise Hike.
BALI ITINERARY: If you are planning a quick visit to Bali, take a look at our 5 Day Bali Itinerary and our 7 Day Bali Itinerary. If you have more time, learn how to spend 10 days in Bali, visiting the highlights and a few hidden gems.
AUSTRALIA: Spend some time in Sydney, go wine tasting in Barossa Valley and McLaren Vale, explore Uluru and the Red Centre of Australia, visit Melbourne, go snorkeling in the Great Barrier Reef, and don't miss Tasmania, one of our favorite places in Australia.
FIJI: Read about our experience spending one week in Fiji and how to visit Modriki Island, filming site for the movie Castaway.
AMERICAN SAMOA: We cover the best things to do in our article Best Things to Do in American Samoa and have a guide to 20 things you should know before visiting American Samoa. Learn how to visit one of the most remote national parks in the USA in our Guide to the National Park of American Samoa.
MORE GREAT HIKES FROM AROUND THE WORLD: For a list of great hiking trails from around the world, check out our 20 Best Day Hikes in the World article. We also have a guide to the Best Hikes in Europe and 20 Great Day Hikes in the US National Parks. For a bigger list of hikes, check out our Hiking Page.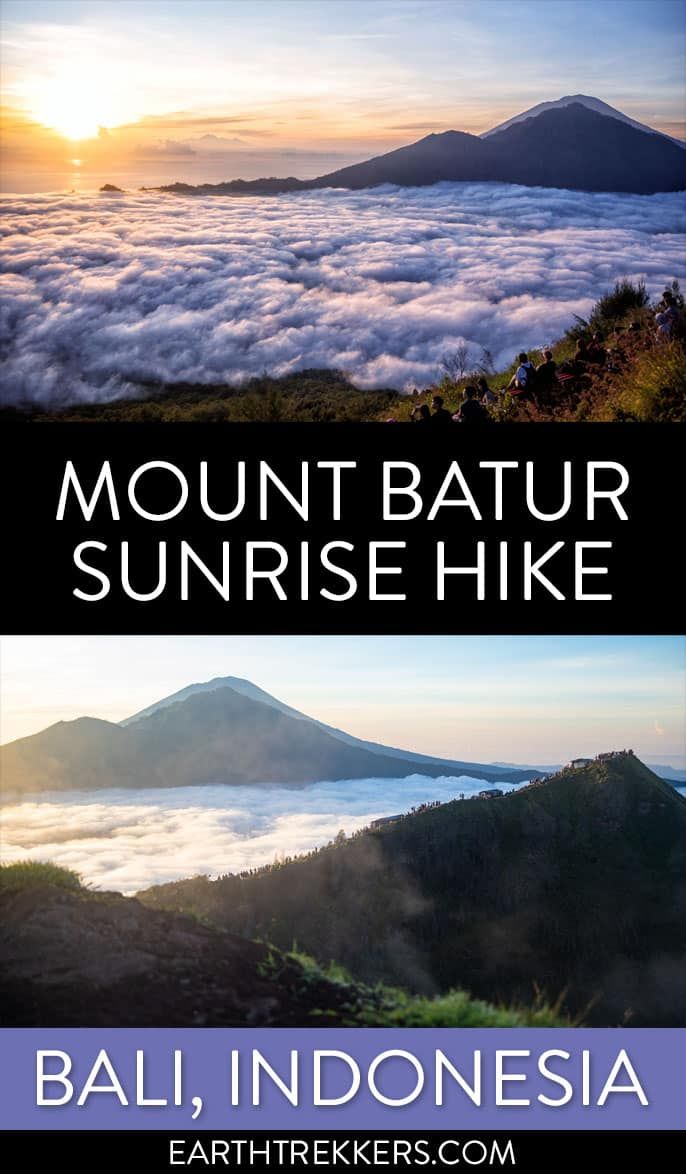 Note: This post contains affiliate links. When you make a purchase using one of these affiliate links, we get paid a small commission at no extra cost to you.
All rights reserved © Earth Trekkers. Republishing this article and/or any of its contents (text, photography, etc.), in whole or in part, is strictly prohibited.