The Aling-Aling waterfalls are a hidden gem nestled deep within Bali's northern jungles. Here you'll find a beautiful twin waterfall, as well as three smaller falls further downstream. It's these three smaller falls that are a paradise for thrill-seekers. From cliff jumps of various heights to a daring waterfall slide, this area quickly became my favorite spot in all of Bali.
So, what makes this spot so captivating? Continue reading and take the leap with us to explore Bali's most unknown adventure.
About the Aling-Aling Waterfall
Many people mistake the area as "Aling-Aling" or the Aling-Aling waterfalls. In actuality, the area consists of a handful of waterfalls and swimming pools all located within the Samangan Valley.
Aling-Aling is the largest of these falls, standing at a little over 30 meters tall. This twin waterfall sits within a small outcropping in the valley, surrounded by steep cliff faces overgrown with lush moss. There is a walkway out to Aling-Aling waterfall and a platform where you can stand in front of it, but you cannot swim in the natural pool at its base.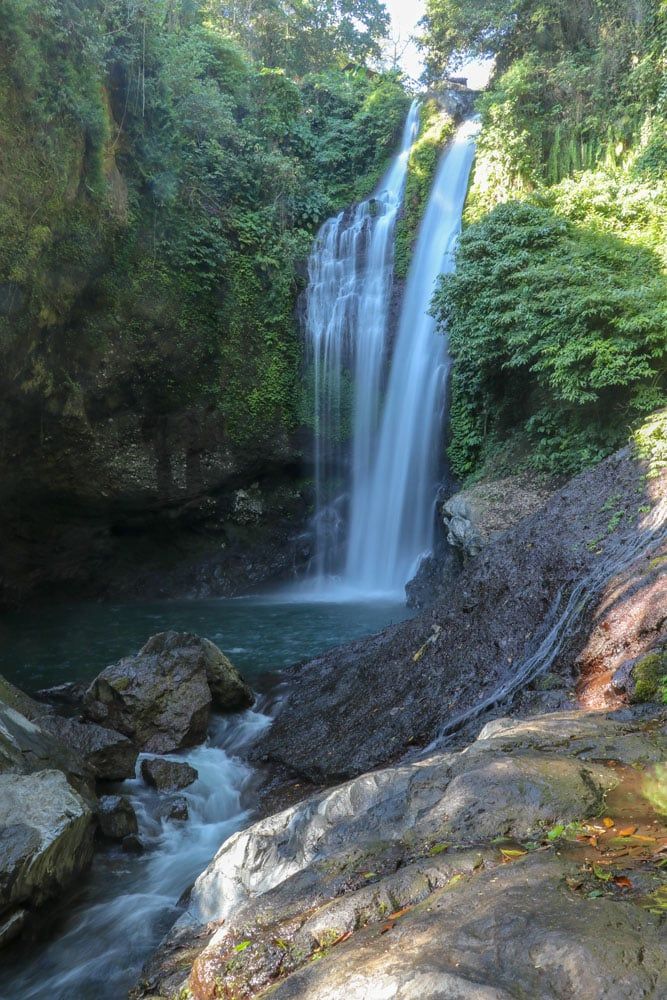 Aling-Aling Waterfall | Sanatana/shutterstock.com
A couple of minutes walking downstream will take you to the more popular section of the falls. Here is where you'll find spots for cliff jumps and a thrilling waterfall slide. Cliff jumps here vary in intensity, ranging from heights of 5, 10, and 15 meters at Kroya, Kembar, and Pucuk waterfalls, respectively. These waterfalls are extremely close to one another, only a minute's walk between each of them.
Our Experience at Aling-Aling Waterfall
As an adrenaline junkie, Aling-Aling Waterfall was my favorite spot to visit throughout my time in Bali. This spot is more like an adventure park, featuring three cliff jumps of various heights and a waterfall slide. For all the jumps there is a tiny ledge for daring visitors to jump off from, and below lies a deep pool of water.
When you arrive, you'll be asked to hire a guide before entering the valley. Entry fee plus a guide costs (125K IDR, or $7.50 USD).
Usually when visiting Bali's waterfalls, hiring a guide is optional and sometimes a scam, depending on which site you're visiting. Here however, it's not only mandatory but also preferred.
The guides here are paid to look out for your safety if attempting the cliff jumps or waterfall slide, and will provide you with things like life-jackets should you need them. Not only that, but the guides themselves are fantastic. The guide we hired helped take all the photos you see on this article, led us between the different falls and also helped position us for the waterfall slide. He was also crazy in all the right ways, and it was such a blast being able to spend time with him.
Kroya Waterfall
Our guide led us through a nearby rice field before we descended the steps into the valley.
Our first stop was Kroya Waterfall and it is the most popular out of the three for visitors. You'll find a wide cement platform that hangs over the edge of a fairly large natural pool. On the other side lies Kroya Waterfall.
We started with the 5-meter jump here as a warm-up for what's to come and loved it. You can get a really good running start here! The height is also manageable for anyone who may have a fear of heights.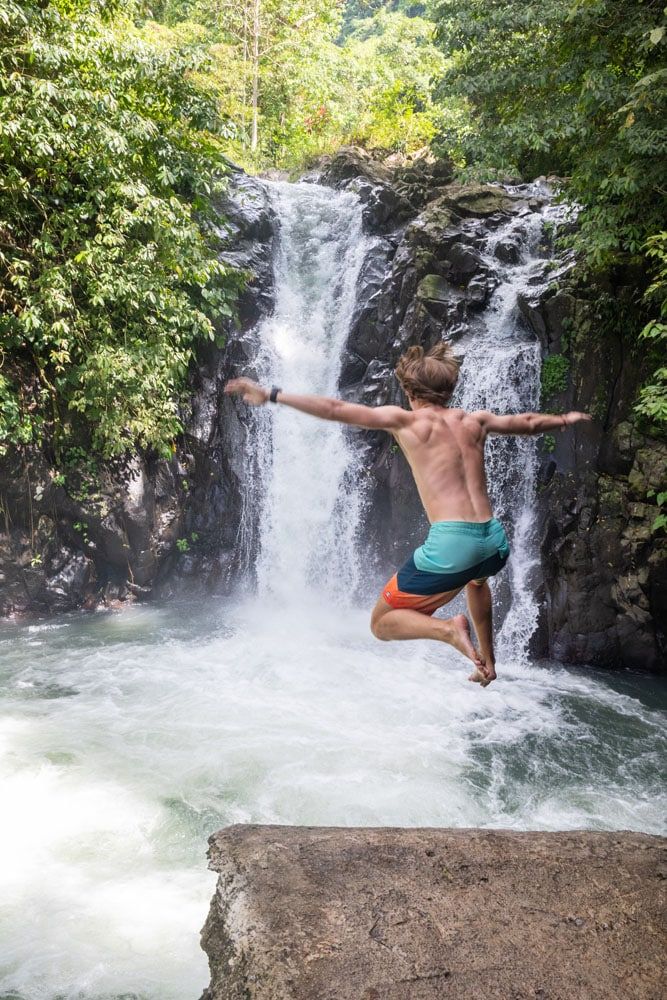 Cliff jump at Kroya waterfall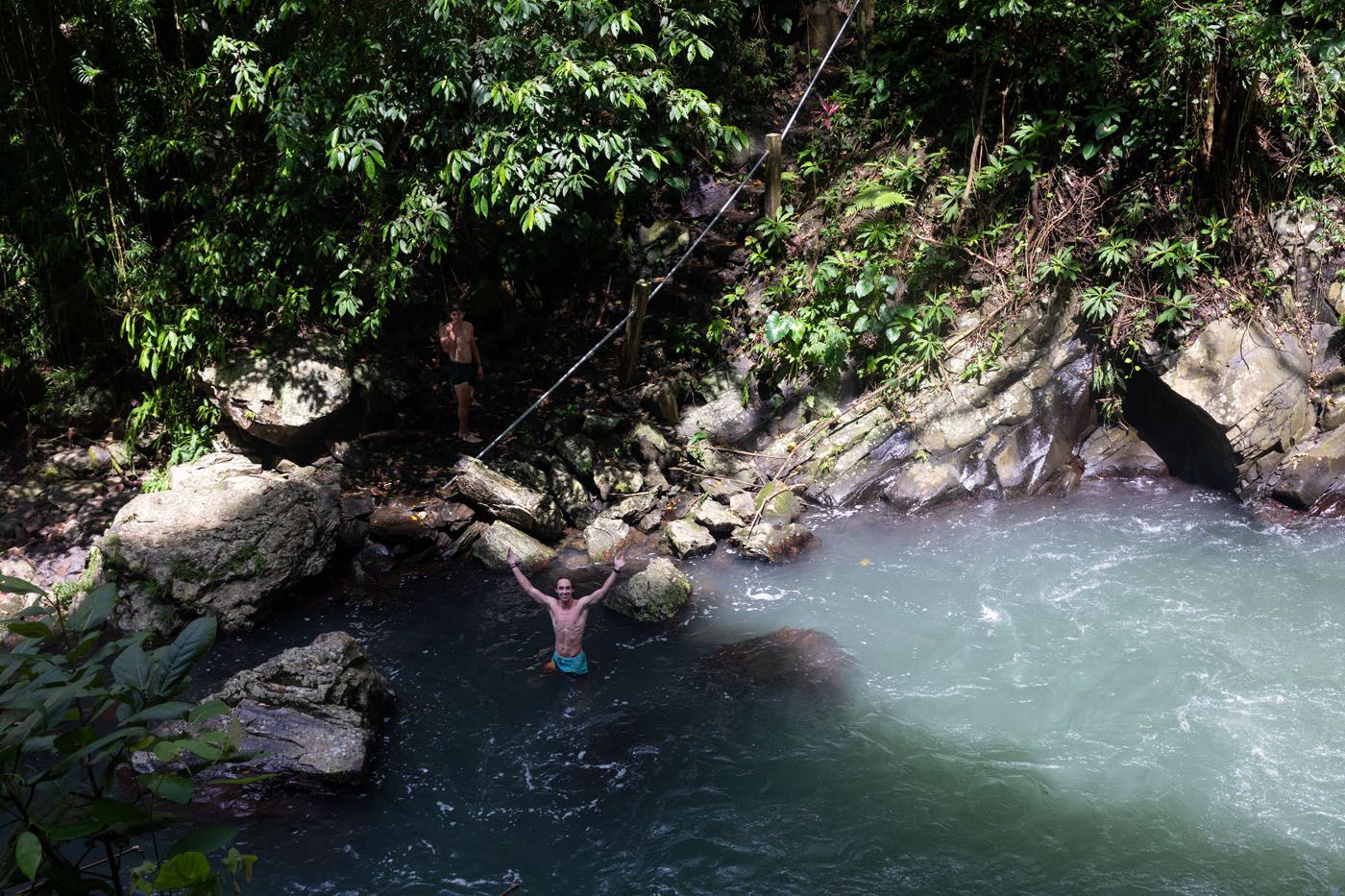 The pool at the bottom of Kroya waterfall
The current at Kroya Waterfall is pretty strong, so don't be worried when you find yourself being pushed towards the cliff face you jumped from. There is a rope that you can grab to pull yourself back around and up to the ledge, as well as guides that will provide a helping hand.
Kroya Waterfall also makes the perfect waterfall slide! Strap on a lifejacket for added protection, lay your legs within the current, swing your body into the water and enjoy the rush! This was an experience like none other, and I think was more fun than any of the jumps just because of how unique it was.
As you slide down, you'll whiz past the jagged rock walls as the current pulls you from left to right, before plunging into the pool below. As scary as it looked while doing it, I knew it was perfectly safe. But the fear factor definitely added to the excitement!
Our guide is helping my friend Cam at the top of the Kroya waterfall slide.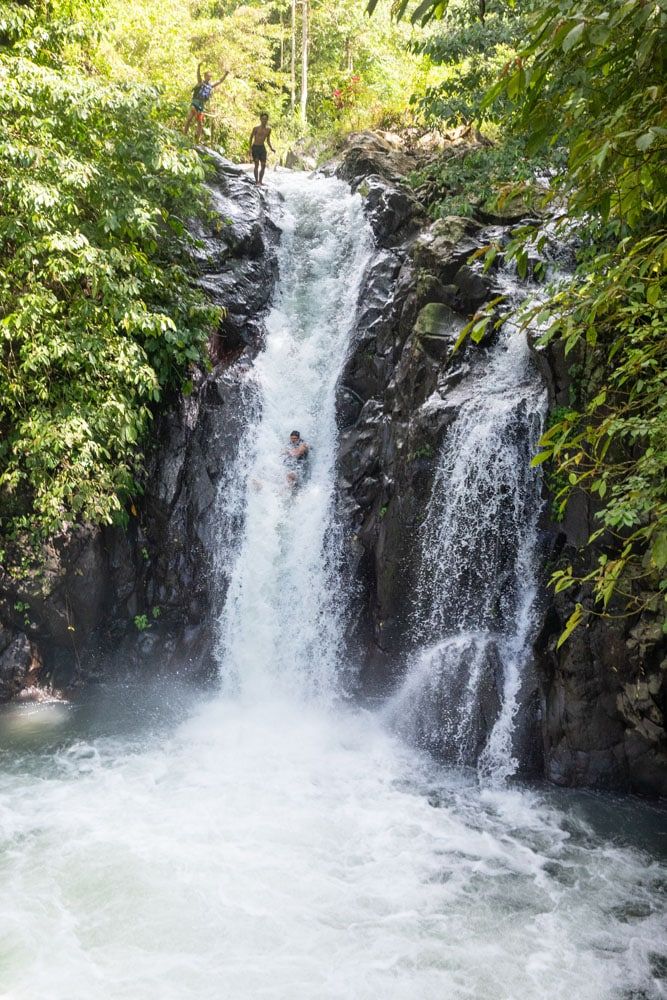 Here goes Cam down the slide.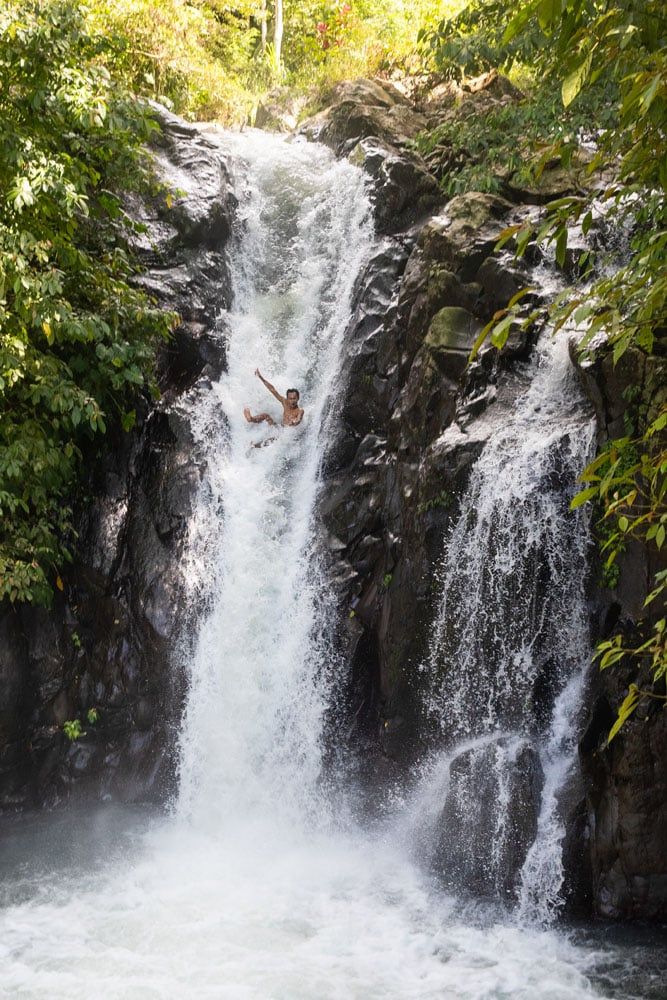 And here's our guide
Kembar Waterfall
Not even a minute's walk away was Kembar Waterfall. Here we were the only ones bold enough to attempt the 10-meter jump into the pool below.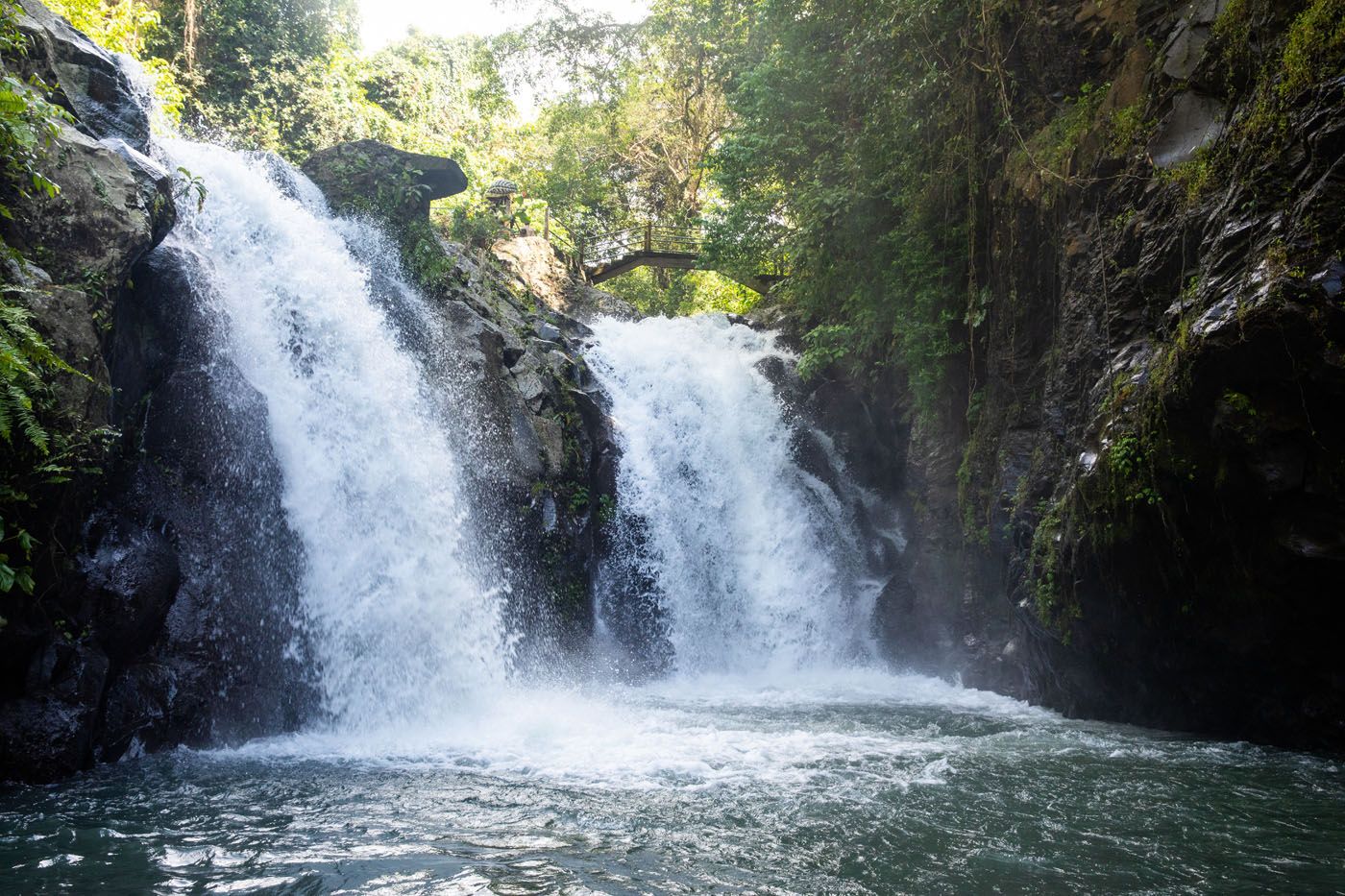 Kembar waterfall
Before we arrived I had never cliff jumped before, so when I heard there was a 10 and even a 15 meter jump, I couldn't tell if I was more nervous or excited.
Our guide gave the countdown, and when I heard "GO!" I leaped from the ledge. My stomach dropped and the wind rushed upwards as I fell, and I pulled my arms in at the last second before submerging within the water. As I swam back up to the surface I remember waving at our guide, ecstatic, and claimed that that was the most fun thing I've ever done in Bali!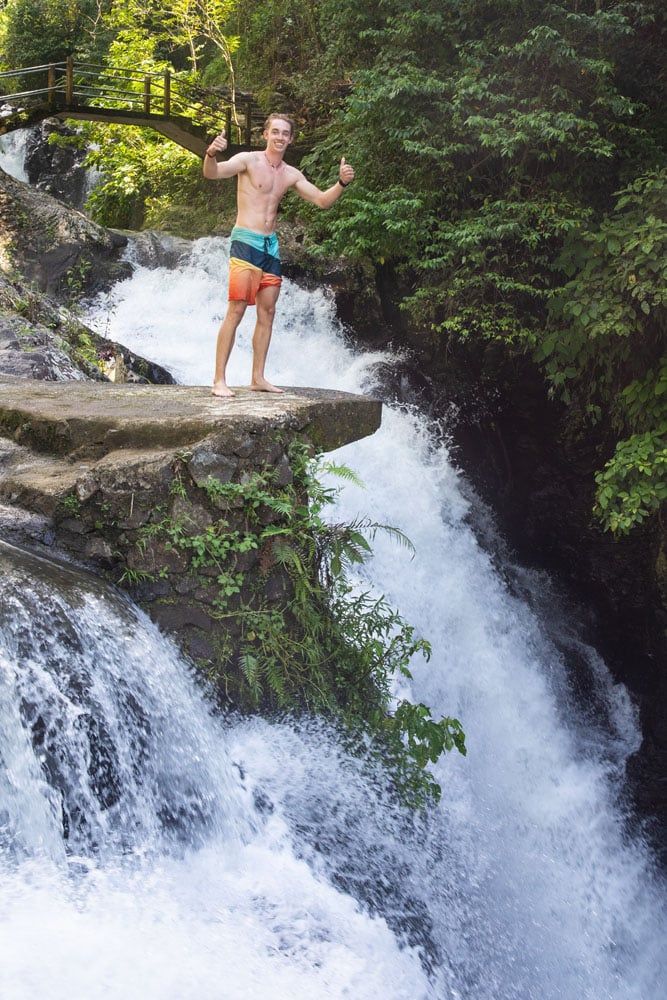 Getting ready to jump at Kembar waterfall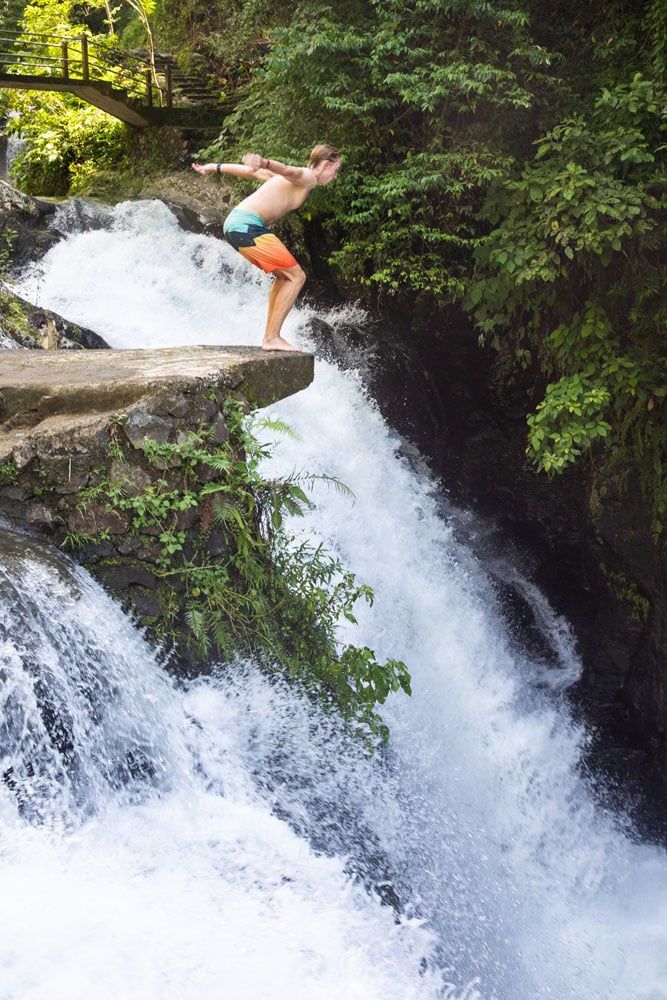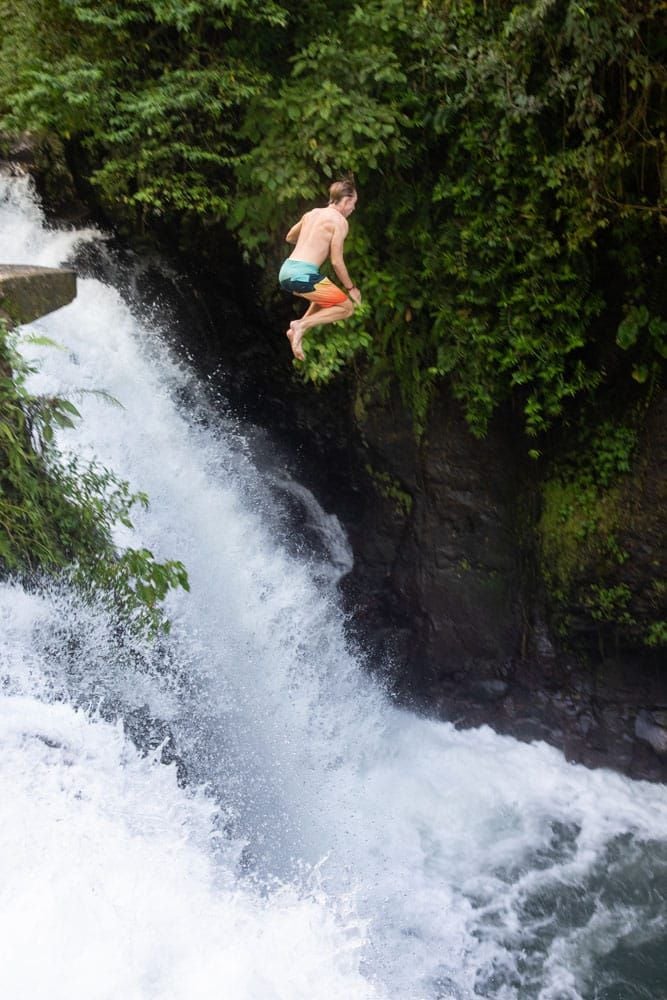 Kembar waterfall jump
Pucuk Waterfall
We jumped at Kembar Waterfall a few more times before graduating to the big-boy leagues at Pucuk.
Same deal here: rocky ledge, high above the water. Say a prayer, countdown, and leap! I had to get a running start here to hype myself up to do it, but boy was it so much fun! I only remember feeling pure fear as I fell, but once I surfaced, I had the biggest smile on my face.
Do be warned that, the higher up you jump from, the more careful you have to be when landing. From the 15 meter jump, you do feel a slight sting when landing in the water at such a fast speed, primarily on the bottoms of your feet.
In terms of pool depth, there is nothing to worry about. The water is so deep that we never hit a rock or crashed into the bottom. Just make sure, especially at the 15 meter jump, to get some distance from the cliff to land in the deeper pool of water. Here it's just time for you to send it! The adrenaline rush from these jumps was unreal.
In the video below you can see the Pucuk waterfall cliff jump.
In Conclusion
Overall, the experience at these falls was amazing, and absolutely the most memorable experience of our trip. For a small price you get immense value, including several high-octane adventures and a handful of hikes to beautiful waterfalls.
Our guide was incredibly fun, approachable, and helpful, and this experience wouldn't have been as great without him. He took some amazing photos of us as we dove from the cliffs, while also showing us up with his own skill and craziness.
We visited Kroya, Kembar, and Pucuk Waterfall for the adrenaline-filled cliff jumps, but didn't learn until after visiting that the actual Aling-Aling waterfall is a short walk upstream. If you'd like to visit Aling-Aling, which we recommend you should, ask your guide if he/she can take you there first. From photos it looks beautiful and is definitely a worthwhile stop for the area. If you're not planning on jumping, this also makes a visit here worth it.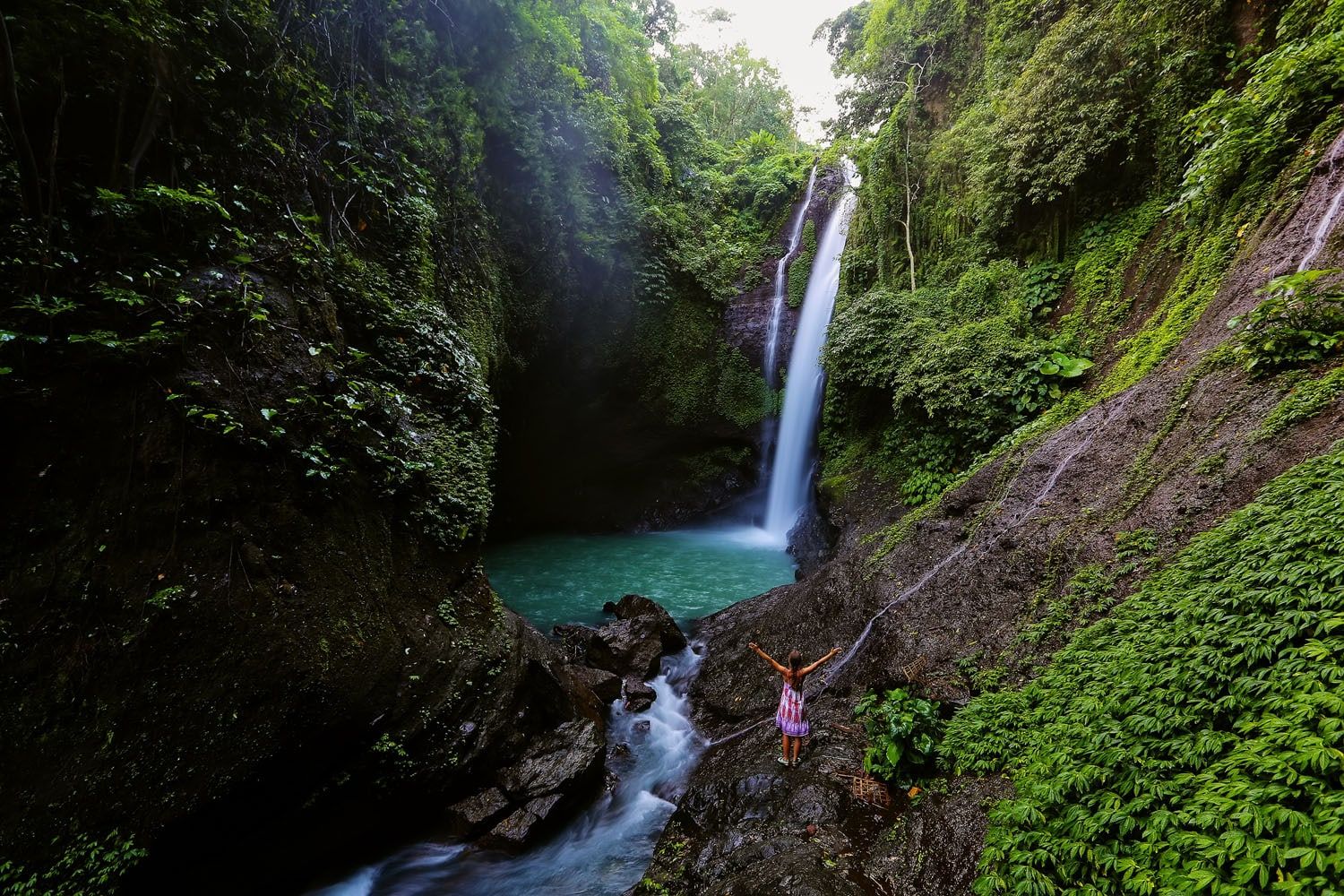 Aling-Aling Waterfall | My Good Images/shutterstock.com
Safety at the Aling-Aling Waterfalls
If you choose to take the leap at Kroya, Kembar, or Pucuk Waterfall, you may have a few safety concerns at first glance. Not to worry, the whole area is perfectly safe as long as you take the right precautions. Do note that the walkways between waterfalls can be pretty slippery as they lie right along the water's edge.
Ensure you have shoes with good traction, or that you're confident in your footing. In order to get out to Pucuk Waterfall you will need to wade through ankle deep water, but only for a few long steps.
We jumped at each site a handful of times and never came close to hitting rocks or crashing into the bottom of the pool below. The ledge that you jump from is also made from solid rock with good traction. You don't have to worry about slipping unless it recently rained. When you do jump however, do your best to gain some distance from the ledge. At Pucuk Waterfall there is a cliff face that you have to jump away from.
As for the waterfall slide at Kroya Waterfall, even though this looks the most dangerous, it may actually be the safest. Upon entry you'll hire a guide that will show you around the area and look out for your safety when jumping or sliding. You'll be given a lifejacket for the waterfall slide to protect your back and help you with the short swim back. The current is strong here, so the lifejacket is great to have here if you're not confident in your swimming ability.
We slid down Kroya Waterfall more times than we could count and absolutely loved it. Our guide helped position us in the safest route the first few times, but by the end we were going up and doing it on our own. As long as you keep your arms towards your body, you also don't have to worry about crashing into the side of a rock wall.
Other Cool Spots Nearby
Banyumala Waterfall: This gorgeous twin waterfall has an open swimming hole, perfect for a refreshing way to cool off.
Gitgit Waterfall: A massive, thunderous waterfall that's one of the most impressive on the entire island.
Sekumpul Waterfall: Bali's tallest waterfall, this hidden gem also features hiking paths that lead to smaller falls.
Bedugul: A charming lake town nestled within a valley, Bedugul serves as a great home-base for the night. In town you'll also find Ulun Danu Temple and the Handara Gate.
For more places to visit in Bali, don't miss our Bali Bucket List.
---
If you have any questions about the Aling-Aling Waterfall, or if you want to share your experience, let us know in the comment section below.
More Information for Your Trip to Bali
BALI: Learn more about Bali in our guide to the best things to do in Bali, how to visit the Aling-Aling Waterfalls, what it is like to visit Bali on Nyepi Day, and how to do the Mount Batur Sunrise Hike. Get suggestions on how to plan your time with our 7 Day Bali Itinerary and 10 Day Bali Itinerary.
ADVENTURE TRAVEL: Here are 50 adventures to turn your next trip into an epic travel experience.
FIJI: Read about our experience spending one week in Fiji and how to visit Modriki Island, filming site for the movie Castaway.
SOUTHEAST ASIA: Learn how to plan an epic trip through Thailand, Laos, Cambodia, and Vietnam in our 3 Month Southeast Asia Itinerary.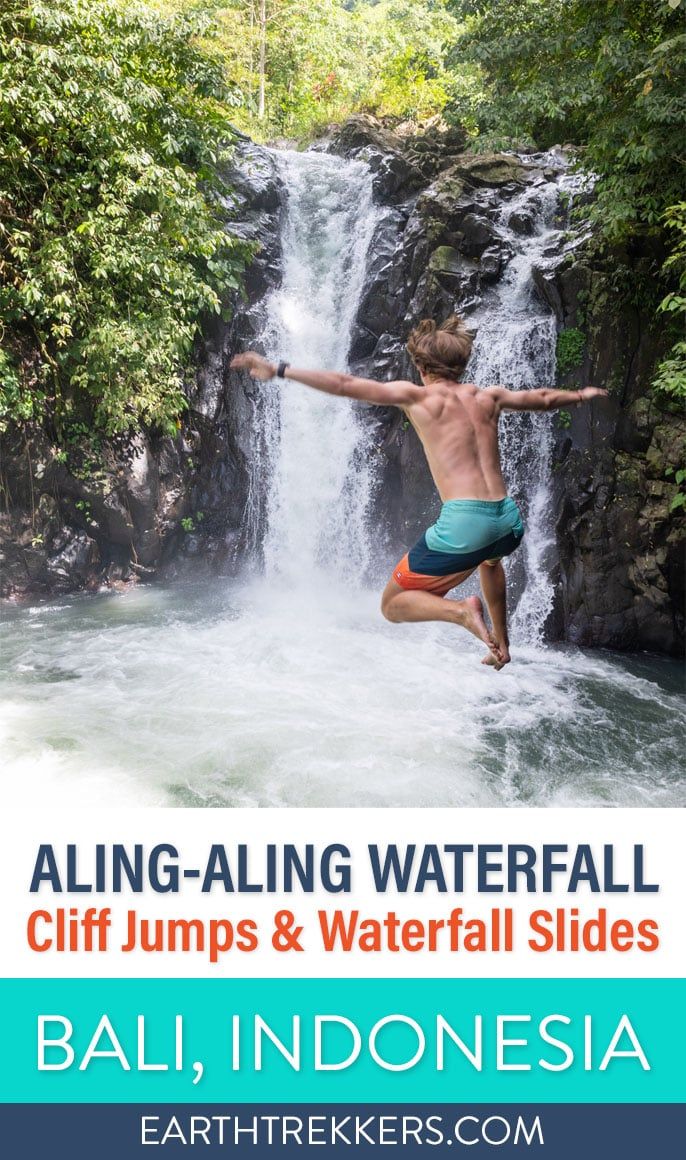 All rights reserved © Earth Trekkers. Republishing this article and/or any of its contents (text, photography, etc.), in whole or in part, is strictly prohibited.