Nyepi day is Bali's "day of silence". Celebrated by the Balinese Hindus on the island, this is a full day of complete silence, meditation, and prayer. Roads, beaches, shops, and restaurants close for the day, and everyone remains inside to honor the beginning of the Balinese New Year.
If you're a tourist planning a trip to Bali and find yourself here for Nyepi day, there are several things you should know.
What is Nyepi Day?
Nyepi Day is part of a 6-day holiday in Bali centered around the Balinese New Year. Nyepi day is the third day of this celebration. On Nyepi day, Balinese hindus observe a full day of silence, fasting, and meditation from 6 am until 6 am the following morning.
During this time, there is no working, no entertainment, no traveling, lights are kept dim, and most people refrain from talking and eating. This is a period of self-reflection before the start of the New Year.
The day after Nyepi is celebrated as New Year's Day.
The Ngurah Rai International Airport is closed on Nyepi Day, so you can consider the entire island to be on a "spiritual lockdown". There will be no flights to or from Bali on Nyepi day.
What to Expect on Nyepi Day
On Nyepi day, you will not be able to leave your hotel or resort for the day. You can do whatever you'd like within your property, but the gates to the outside will be shut. Do not fret. Although it will require you to alter your itinerary if you're in Bali for only a few days, this is such a unique experience that you can't get any other time of year.
Celebrate the day of silence as the local Balinese do and detach yourself from the clutches of modern society and the Internet. Enjoy the brief, 24-hour period of bliss. Or, binge your favorite shows or movies on Netflix. No one's going to stop you.
Non-Hindu residents and tourists also have to adhere to the rules of Nyepi day, with some modifications to the rules. As a tourist, you are still allowed to talk amongst yourselves, but keep noise to a minimum. Lights also should be dimmed, but you do not have to live in complete darkness.
Shops and restaurants will also be closed on Nyepi day, but an exception may be made for any cafes/restaurants on resort property. We got lucky and the restaurant at our hotel was open, but we had to eat within our rooms. It is always best to check before arriving, as you can stock up on food in the event of a restaurant closure.
The Day Before Nyepi Day
The day before Nyepi Day everyone frantically prepares for and begins parading the Ogoh-Ogoh around the streets. Because of this, roads will either have heavy traffic or be closed entirely. This occurs all across the island of Bali.
We recommend that, if you need to travel someplace the day before Nyepi Day, do so as early in the morning as possible. You'll also find that you cannot check in or out of a hotel on Nyepi Day itself, so make sure you're staying somewhere comfortable.
Ogoh-Ogoh Celebrations
On the evening before Nyepi day, make sure to catch the Ogoh-Ogoh celebrations happening everywhere across the island. Local Balinese people spend weeks or even months crafting giant, paper-mache demons that are paraded through the street at night. In a final act of intense, lively celebration, groups of locals carry these demonic effigies down the streets, parading them around town, before burning them as an act of purification.
With loud music, choreographed dancing, and plenty of colored smoke and fire, this celebration is done to burn away the evil spirits, allowing the Balinese to enter the new year cleansed.
This island-wide celebration was breathtaking, and it was something that I've never seen anything like before. Despite the following day's closures, you absolutely have to plan a trip to Bali for Nyepi Day. It's a beautiful celebration that we were so lucky to be a part of.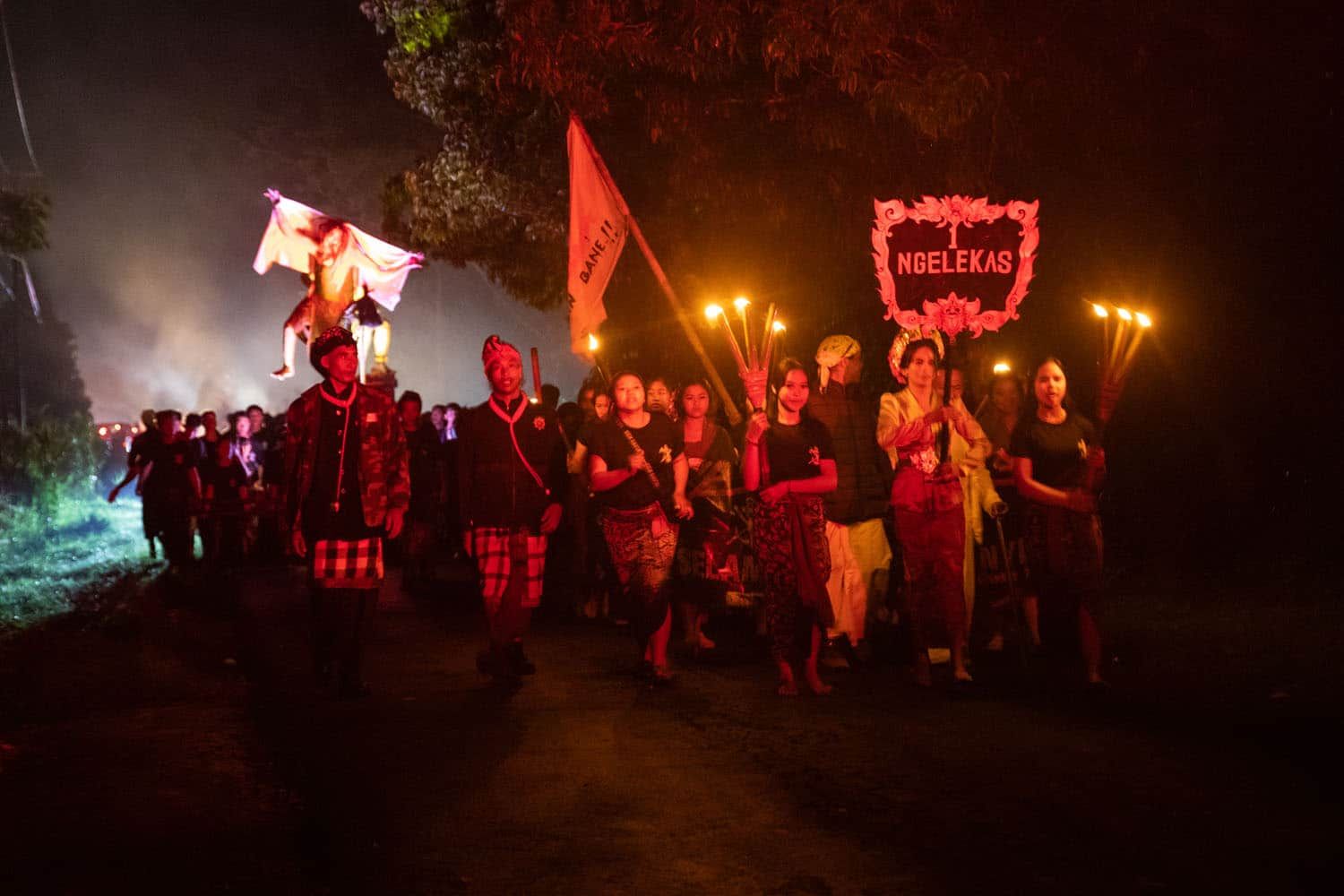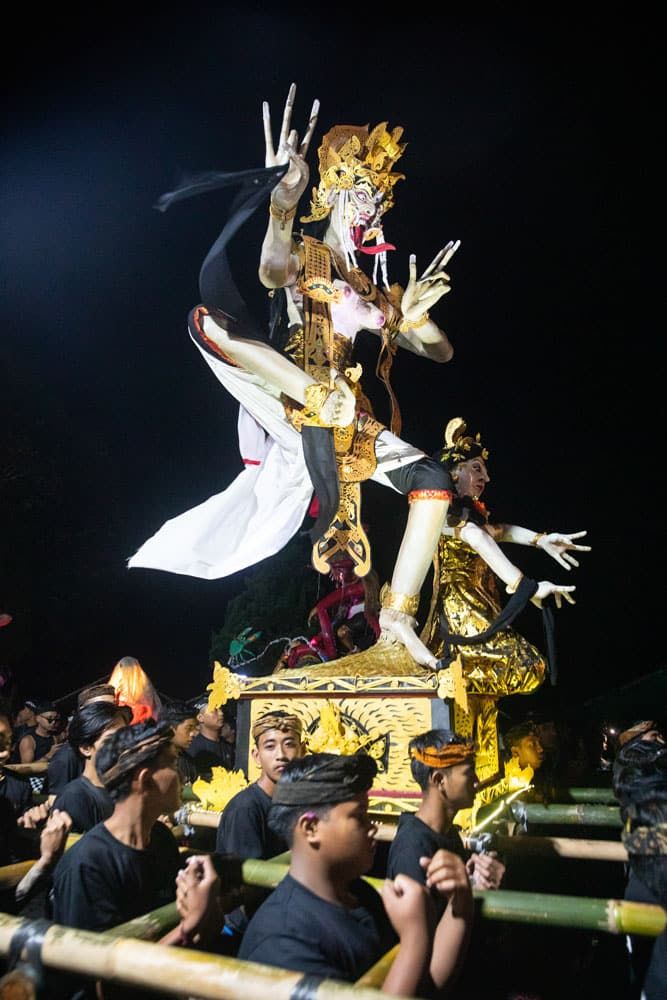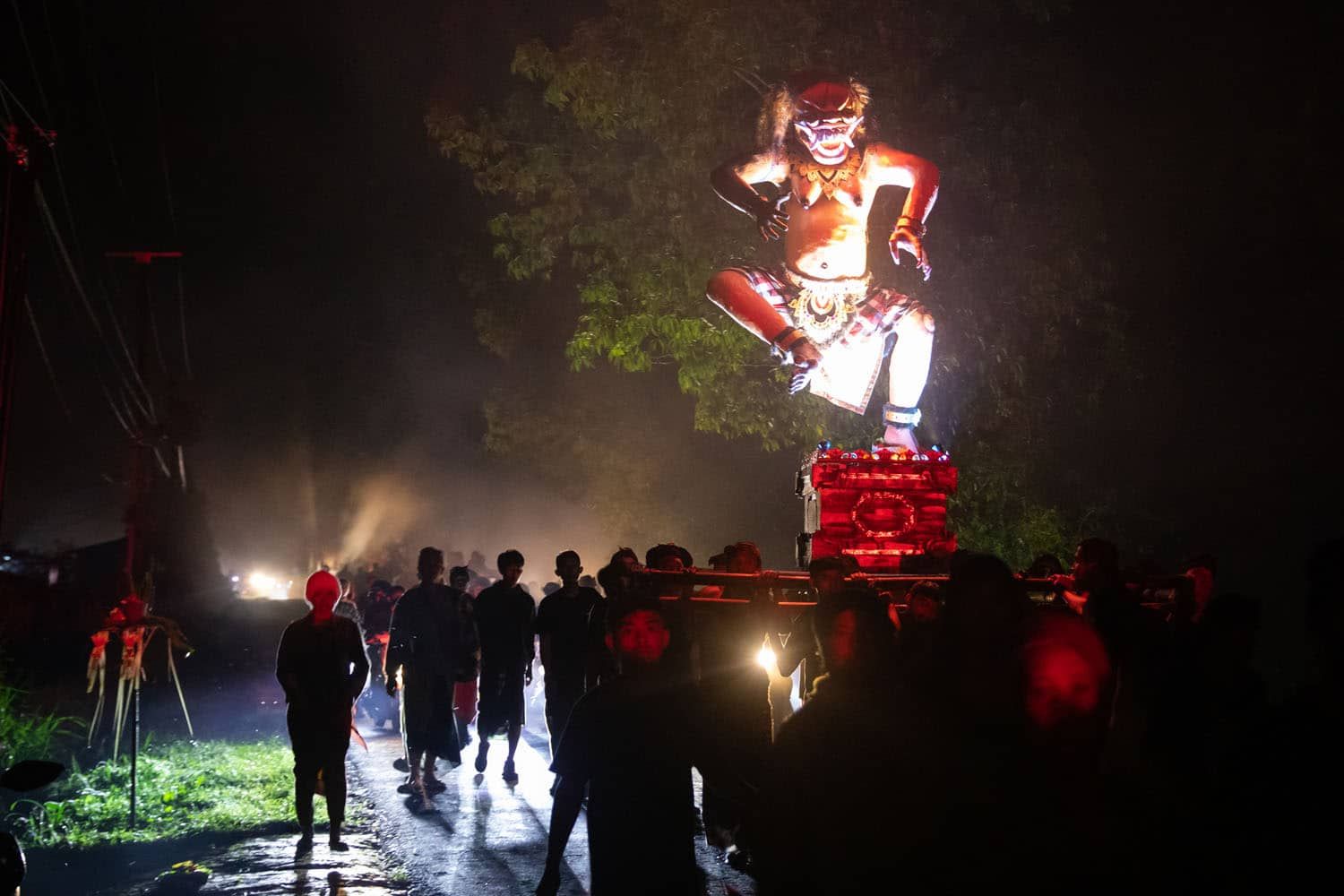 My Experience on Nyepi Day
Waking up on Nyepi Day, we found it to be eerily quiet. Apart from the sound of the birds chirping and the faint electric hum of our air conditioning unit, there was total silence.
While in Bali you get so used to hearing the bustling streets outside your window, filled with flocks of motorbikes, cars, and honking horns. Especially with the night before and the loud, spirited Ogoh-Ogoh celebrations, on Nyepi Day it was strange hearing everything so quiet.
It definitely was a day full of peace, meditation, and thought for myself, and celebrating Nyepi Day with the locals was one of the most memorable experiences out of our 10 days in Bali.
Future Dates of Nyepi Day:
2024:

March 11
2025: March 29

2026:

March 19
---
If you have any questions about Nyepi day, or if you would like to share your experience, let us know in the comment section below.
More Information for Your Trip to Bali
BALI: Learn more about Bali in our guide to the best things to do in Bali, how to visit the Aling-Aling Waterfalls, and how to do the Mount Batur Sunrise Hike.
BALI ITINERARY: If you are planning a quick visit to Bali, take a look at our 5 Day Bali Itinerary and our 7 Day Bali Itinerary. If you have more time, learn how to spend 10 days in Bali, visiting the highlights and a few hidden gems.
SOUTHEAST ASIA: Learn how to plan an epic trip through Thailand, Laos, Cambodia, and Vietnam in our 3 Month Southeast Asia Itinerary.
TRAVEL INSPIRATION: For more travel ideas, here are 10 unique destinations to put on your travel wish list and 10 cool destinations to visit during the winter holiday season.
All rights reserved © Earth Trekkers. Republishing this article and/or any of its contents (text, photography, etc.), in whole or in part, is strictly prohibited.