Neuschwanstein is one of Germany's most visited sites. This fairytale palace, which was Walt Disney's inspiration for Cinderella's castle, is located in Bavaria, Germany.
People from around the world descend on Neuschwanstein between the peak season months of July and August. With the crowds of people come long lines. Nothing spoils a visit to Neuschwanstein more than spending precious hours in line to purchase tickets.
It is possible, even during peak season, to visit Neuschwanstein without waiting in long lines. So, how do you do it?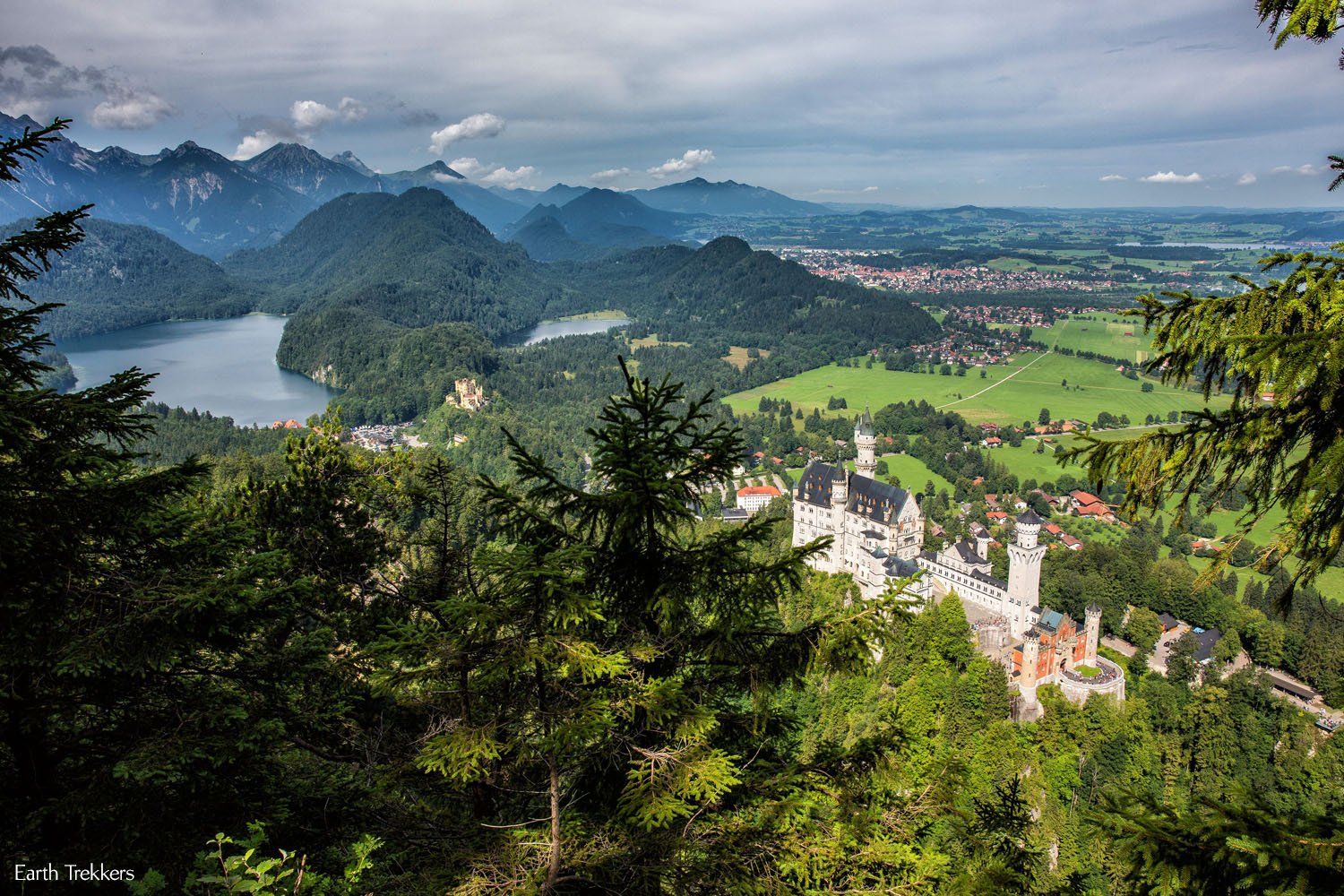 How to Avoid the Crowds at Neuschwanstein
Get there Early. Very Early.
This is where staying in Bavaria has its advantages. Arrive one hour before opening time to purchase your tickets for the first tour of the day. During this time, it will be easy to find parking, there will be no queues, and your tour may not be completely booked. The castle will be calm and quiet, just the way it was meant to be seen.
Midday is the worst time to arrive at Neuschwanstein. Munich day trippers arrive at this time, along with masses of people from the surrounding areas. Midday in the summer there can be queues of 90 minutes or more just to purchase tickets. Even then, you may be purchasing tickets for a tour two to three hours later in the day!
Note: During the months of July, August, and September, tickets can sell out by noon.
Purchase your Tickets in Advance
You can purchase your tickets online in advance. By doing this, you will avoid the lines and the long waits. At midday, Neuschwanstein can still feel like a zoo, but at least you have your tour reserved. There is an additional charge (€2.50 per ticket) for pre-purchasing your tickets, but it's worth it, especially if you will be visiting Neuschwanstein during peak season.
Click here to learn more about purchasing your tickets in advance.
Visit on a Weekday
Crowds are lower on weekdays than weekends.
Can't Arrive Early? Arrive Late
After 3 pm, things begin to quiet down, as day trippers make their way back to Munich and the surrounding towns.
Be aware that this tactic may not work during peak season. In July and August, tours can sell out by early afternoon. Avoid this by advance purchasing your tickets for the last tour of the day and then arrive when most of the crowds are gone.
Visit Neuschwanstein During the Off Season
Visit during low season and you may have the castle almost all to yourself. The months from November through April have the lowest crowds (except during the holiday seasons of Christmas and Easter). The weather may not be ideal but during winter months you may be able to see Neuschwanstein covered in snow.
Shoulder season (May, June, and October) is another great time to visit Neuschwanstein. Crowds are lower and the weather can be very pleasant.
What is There to Do at Neuschwanstein?
The palace, of course, is the main attraction. To get from the ticket booth to the palace you can either walk the 30 minutes uphill on a paved, shaded path, or take the bus. During the summer months, queues for the bus can be very long!
Tours last approximately 35 minutes. A guide will take your group through the palace where you will learn about the history of the Neuschwanstein and King Ludwig II.
After your tour, you can explore the area around the palace. Don't miss Mary's Bridge! This is the place to take that iconic photo of Neuschwanstein. Just be prepared to wedge yourself in among the masses of people trying to get this same photo.
Note: Mary's Bridge can close during periods of bad weather (such as snowfall during the winter months).
To get another phenomenal view of Neuschwanstein (and to really leave the crowds behind), hike on the trails on the other side of Pollat gorge. To get here, cross Mary's Bridge and follow the hiking trails uphill into the woods. The trails are well-marked and well-groomed. This was our favorite part of visiting Neuschwanstein.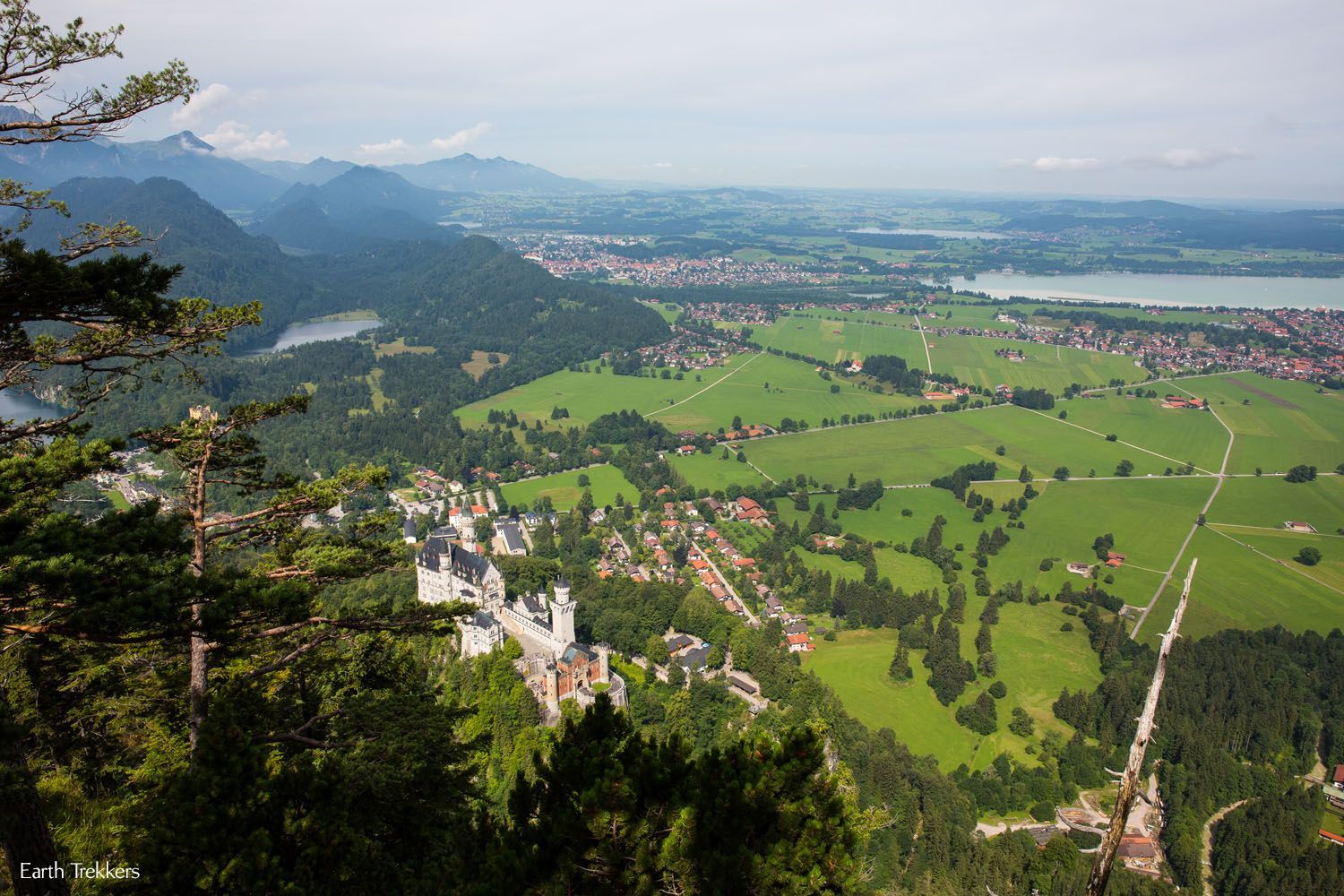 Hohenschwangau Castle. This castle was the childhood residence of King Ludwig II. It is a 20 minute walk from Neuschwanstein. This castle can only be visited on a tour. Tickets can be purchased in combination with Neuschwanstein.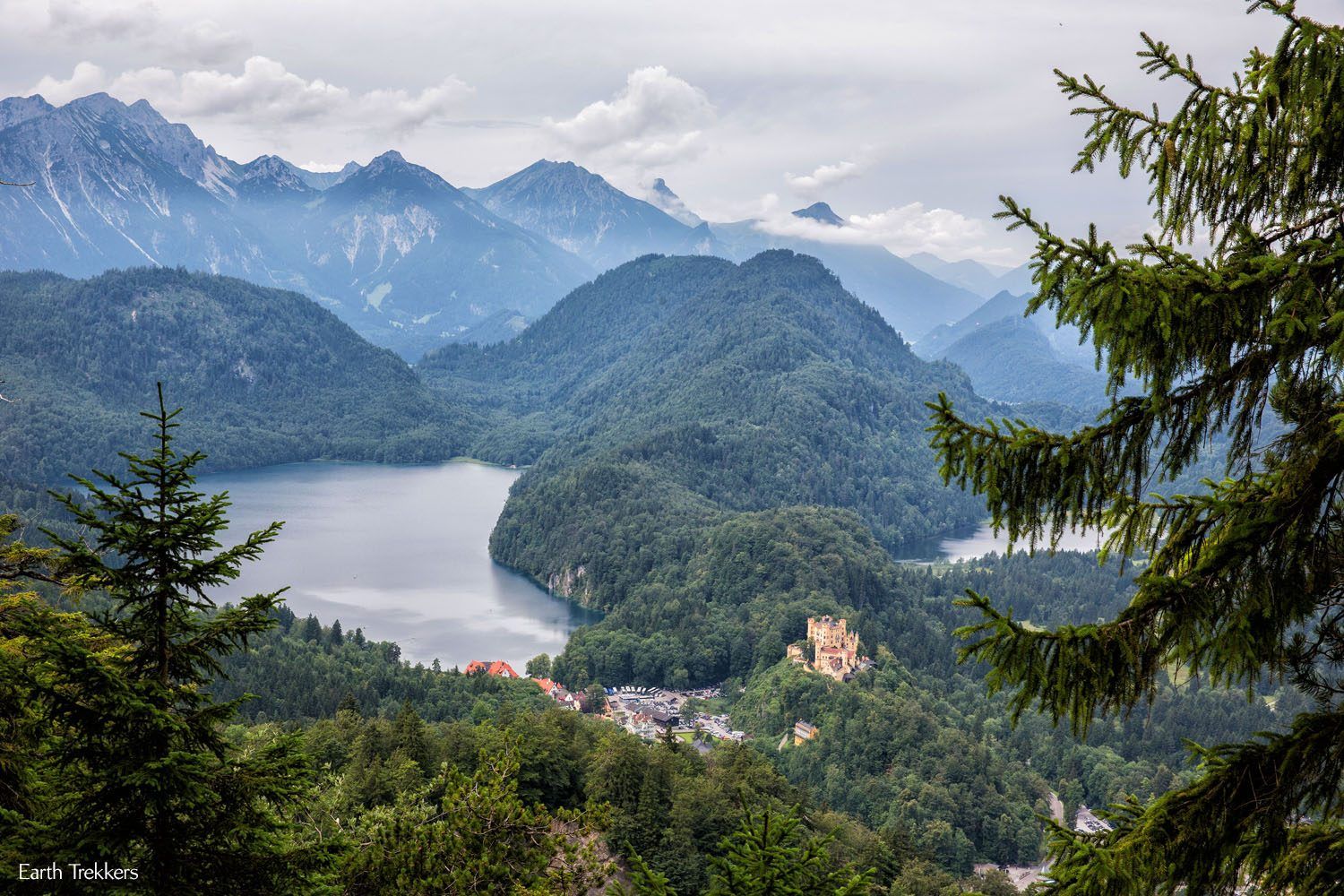 Where to Stay
Hohenschwangau: From this small town, you can walk to the ticket booth and Neuschwanstein Castle. You can't get any closer than this!
Fussen: A bit larger than Hohenschwangau, from Fussen it is just a five minute drive to the castle.
Garmisch-Partenkirchen: One hour away from Neuschwanstein, this is a great place to base yourself in Bavaria. Not only will you have access to Neuschwanstein, but it is very easy to get to Zugspitze, Munich, and Innsbruck, Austria.
Munich: One hour and forty minutes away (120 km), it is still possible to get in line early for tickets.
Important Note
There is renovation work going on inside of the castle and is expected to last into 2024.
Important Links
Neuschwanstein Website: click here
Hohenschwangau Castle Website: click here
---
If you have any questions about how to visit Neuschwanstein, let us know in the comment section below.
More Information for Your Trip to Germany
BAVARIA, GERMANY: Take an amazing 10 day road trip in Bavaria, visiting Munich, Neuschwanstein, Berchtesgaden, Salzburg, Innsbruck, and drive the Romantic Road in Germany.
BERLIN: Start with our article Best Things to Do in Berlin for a big list of things to do in the city. Plan your visit with our 5 Day Berlin Itinerary and what to expect on a visit to Teufelsberg.
SAXONY, GERMANY: In Saxony, visit the fairytale bridge called Rakotzbrücke and the amazing Bastei Bridge. Put both of these together, plus the town of Görlitz, into on big day trip from Berlin.
EUROPE TRAVEL INSPIRATION: For more great ideas on where to go in Europe, check out our article 30 Beautiful Places to Visit in Europe and the 20 Best Hikes in Europe. You can also get more travel ideas in our 10 Days in Europe itinerary guide, which has 10 great itineraries for your next trip to Europe.
All rights reserved © Earth Trekkers. Republishing this article and/or any of its contents (text, photography, etc.), in whole or in part, is strictly prohibited.