Zugspitze, Germany's highest peak (2962 meters), is located in southern Germany on its border with Austria. Visiting Zugspitze is a fantastic half day excursion which can easily be accomplished from both Austria and Germany.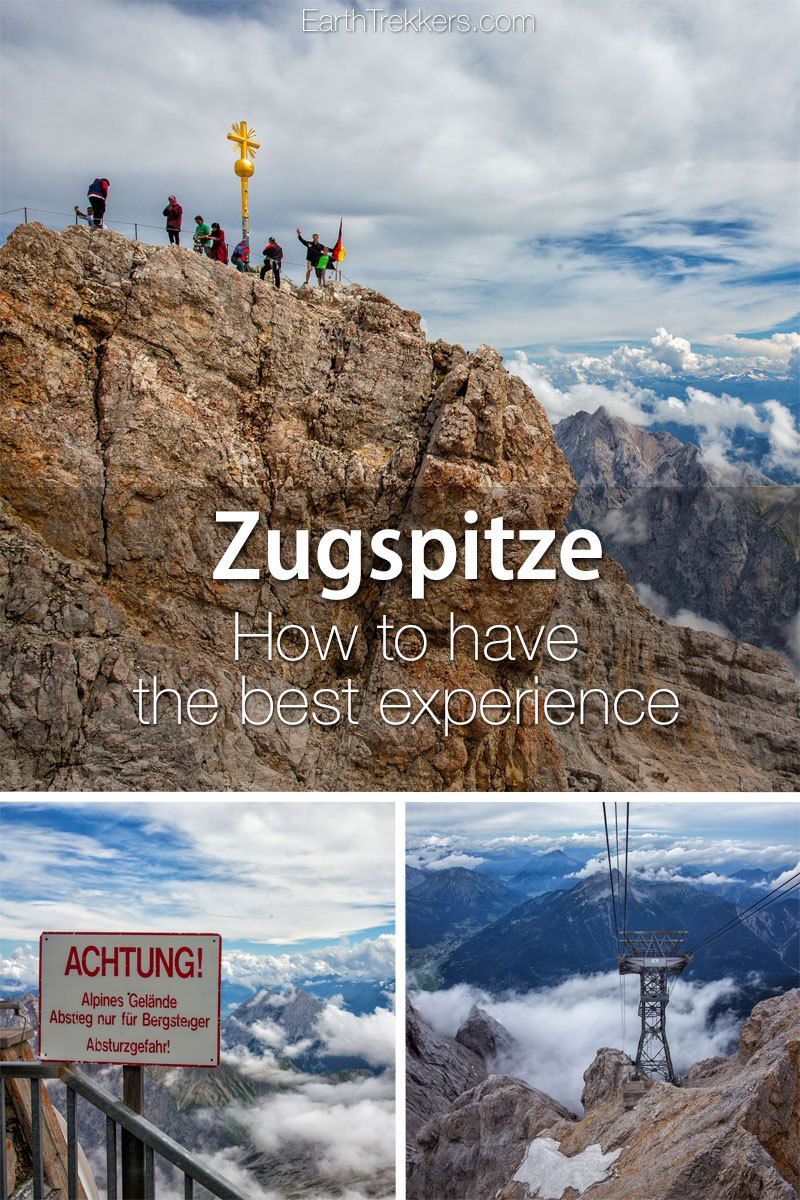 How to Visit Zugspitze
Austria or Germany?
Since Zugspitze sits on the border between Austria and Germany, it can be accessed from both of these countries. So how do you decide which one is the best starting point?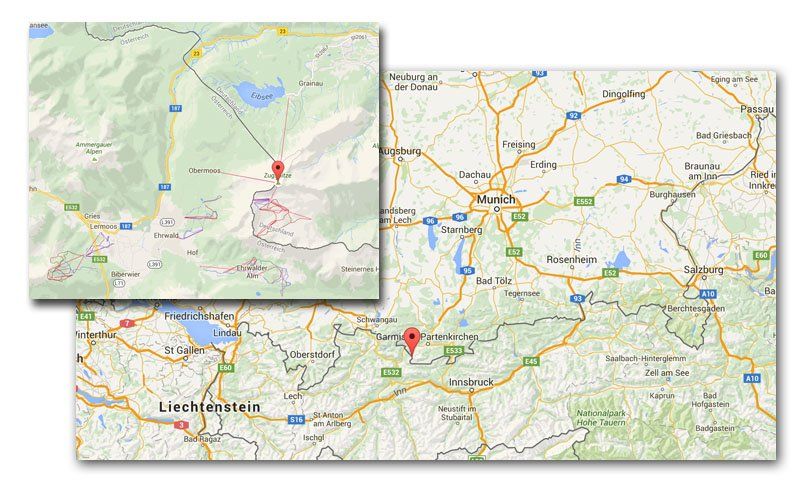 To get to the peak of Zugspitze, there are three cable cars and five hiking paths/mountaineering routes to the top.
Cable Car from Germany: The Eibsee-Seilbahn cable car takes visitors from Eibsee, the lake at the foot of Zugspitze, to the peak, in 10 minutes. Get the location on Google Maps: search for "Eibsee Cable Car, Am Eibsee 6, 82491 Grainau, Germany"
Zahnradbahn: From the train station in Garmisch-Partenkirchen, board the train for a journey through Grainau and Eibsee, then ascend Zugspitze by cogwheel power. This route takes you through a tunnel and then on to the Zugspitze Glacier Plateau, also called Zugspitzplatt. From here, board the Glacier Cable Car to the peak. Travel time is one hour from Garmisch and 35 minutes from Eibsee.
An alternative way to make the trip from Garmisch-Partenkirchen is to take the cogwheel train to Eibsee and then ascend to the top of Zugspitze by cable car.
One example of how to do the round trip journey from Germany would be to take the cable car up from Eibsee, visit the top, and descend by cogwheel train back to Eibsee to enjoy all of the different views. For more information on tickets and prices, click here.
From Austria: The Tiroler Zugspitzbahn, located in Ehrwald, Austria, whisks riders to the top in ten minutes. Visit their website for update prices and timetables. Get the location on Google Maps: search for "Tiroler Zugspitzbahn Talstation, Obermoos 1, 6632 Ehrwald, Austria" or just "Tiroler Zugspitzbahn Talstation"
Hiking Trails to the Summit of Zugspitze: There are five hiking trails to the top of Zugspitze, each varying in difficulty levels, but most taking eight to ten hours (one way) to complete. Most trips are split over two days, with an overnight stay in an alpine hut before attempting the final, steep push to the summit.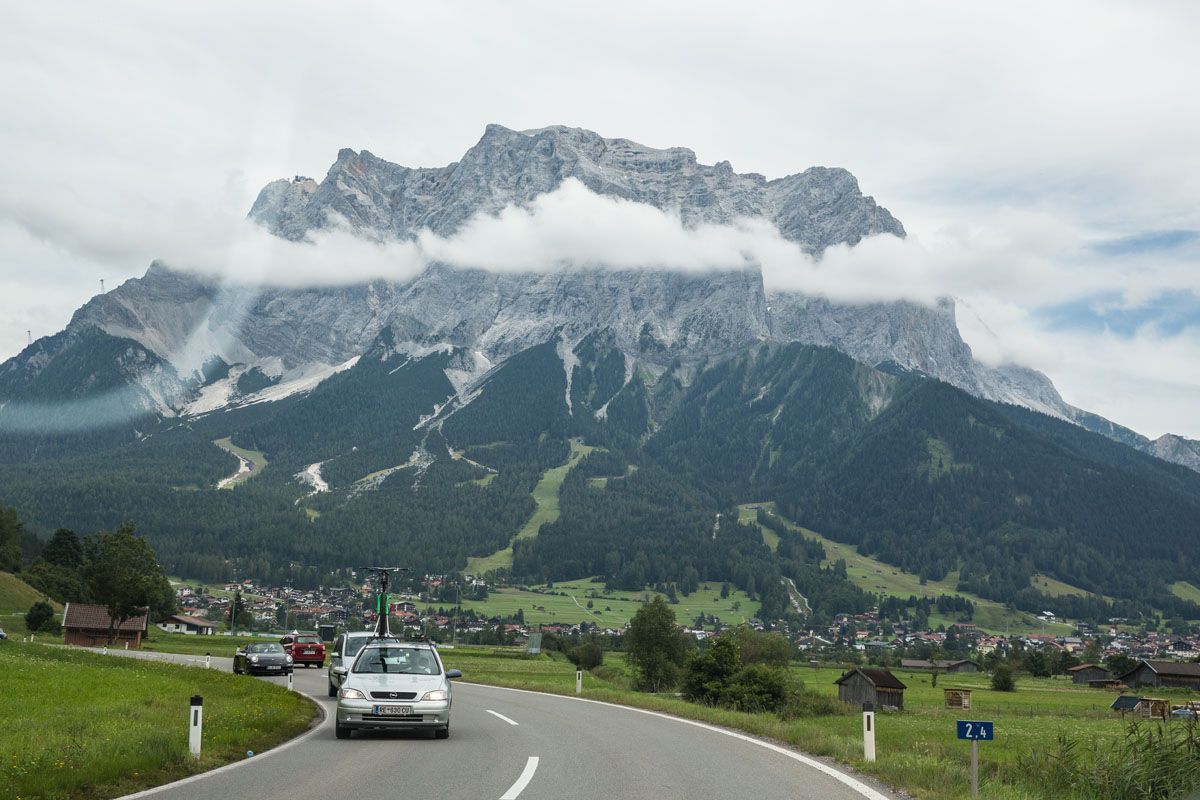 What Did We Do?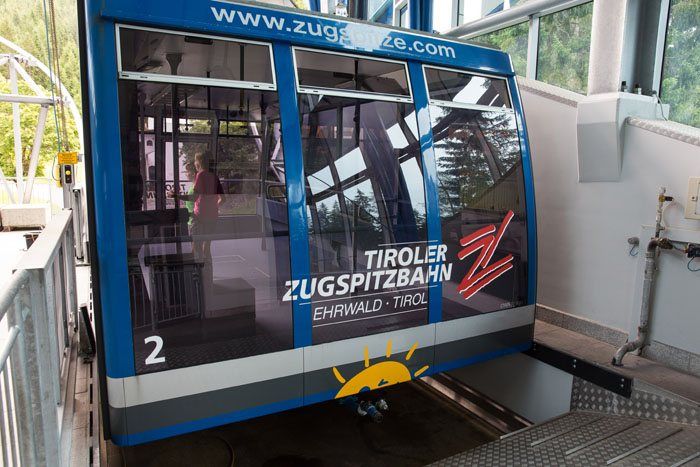 Even though we were staying in Garmisch-Partenkirchen, which would have made the German ascent more convenient for us, we chose the Austrian cable car. The prices are cheaper and the Austrian cable car is consistently less crowded than the German cable car. In fact, there were only several other people in our car, whereas the German cable car was packed with riders. With less of a crowd, we were able to enjoy the views more and we had an easier time taking photos. Plus, we did not have to wait in any queues.
The ride to the top is stunning, with views of the Alps, scattered through Austria, Germany, and Switzerland.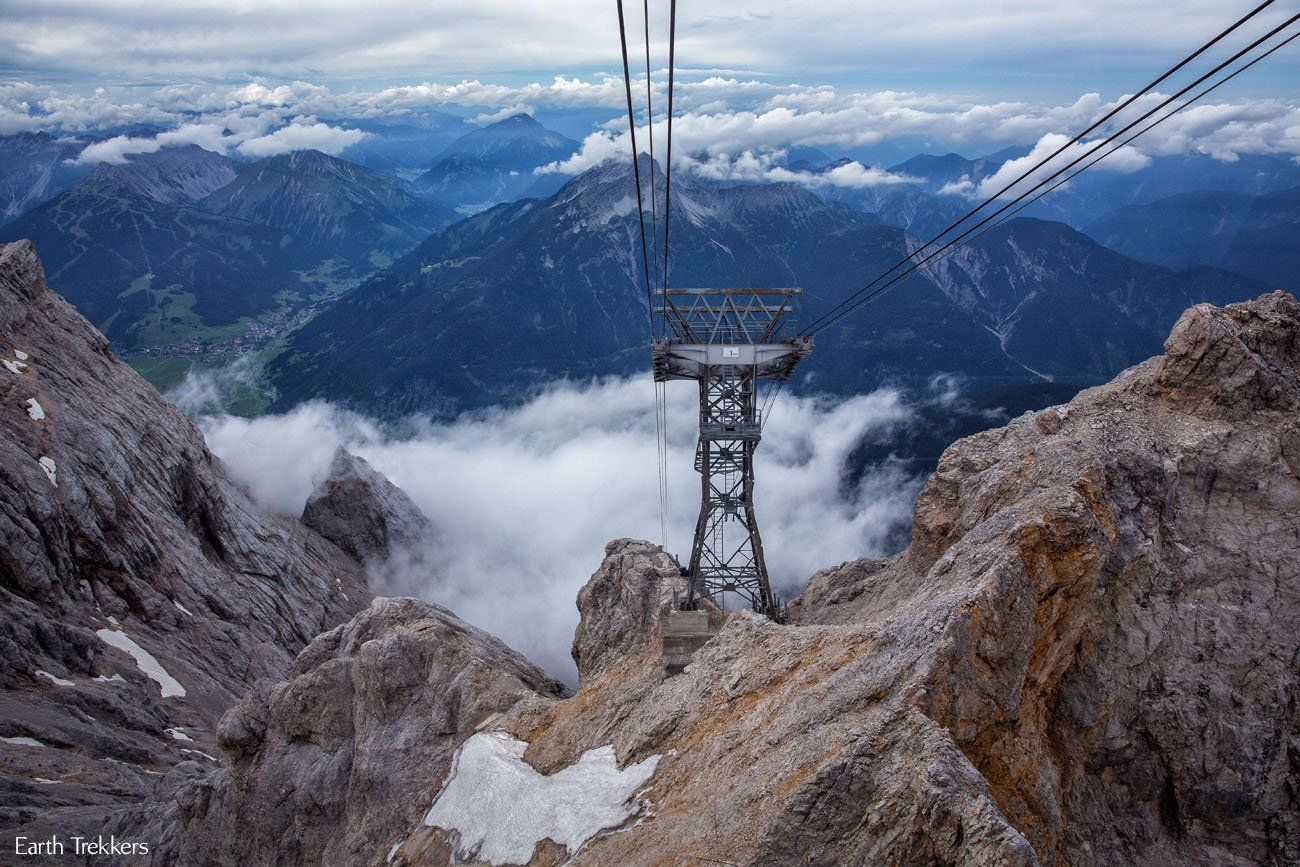 At The Top
Once on top of Zugspitze, you are straddling the border between Austria and Germany. Each country has a terrace, complete with museums and restaurants, connected by a narrow walkway. Whether you ascend from Germany or Austria, once on top you can easily access all areas of the summit.
Enjoy panoramic views over the Alps, feast on German food and beer, and look out over the Zugspitzplatt Glacier. In the wintertime, skiing is a popular activity here, complete with chair lifts. We were here in July and there was a small luge track for children.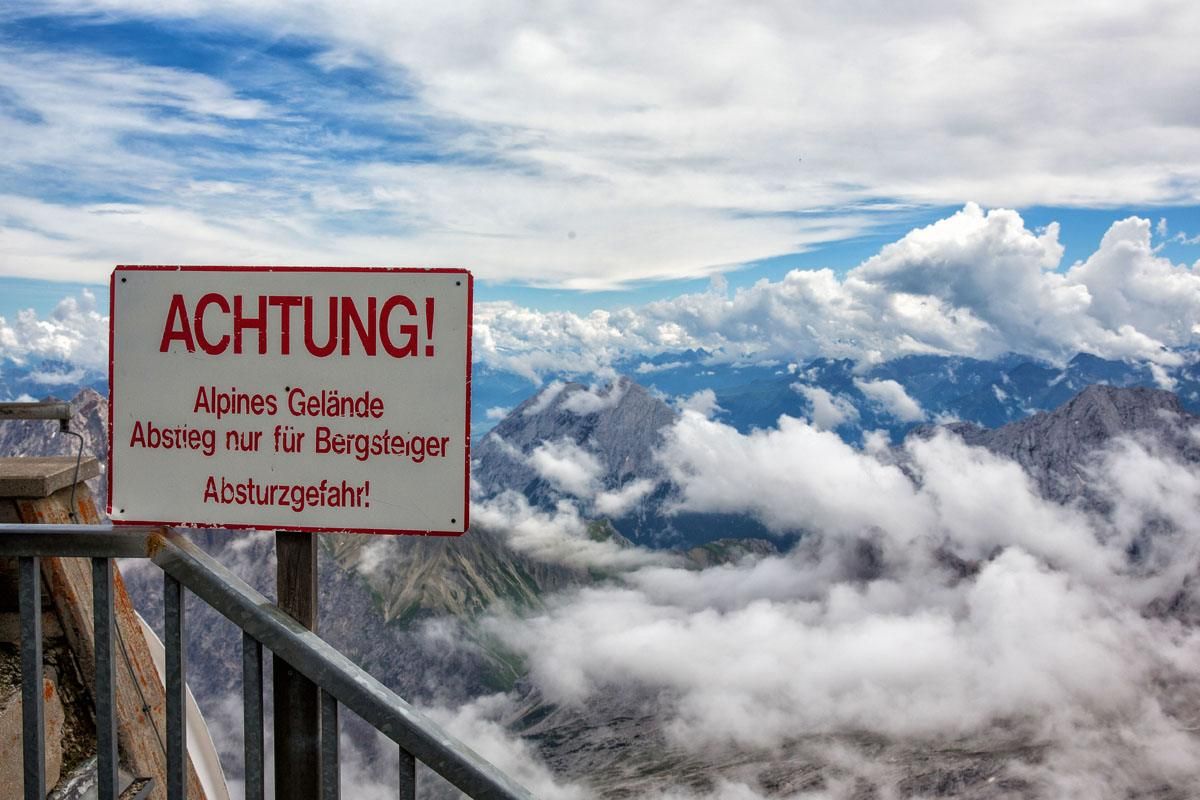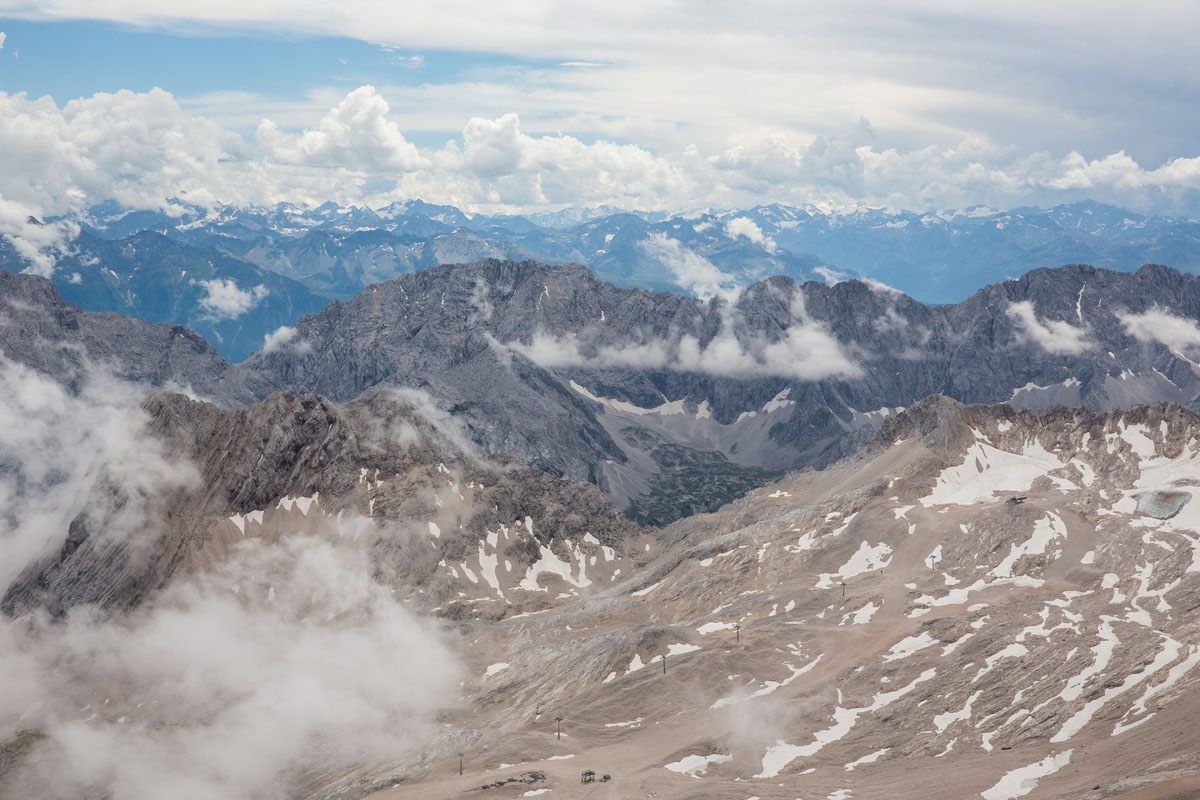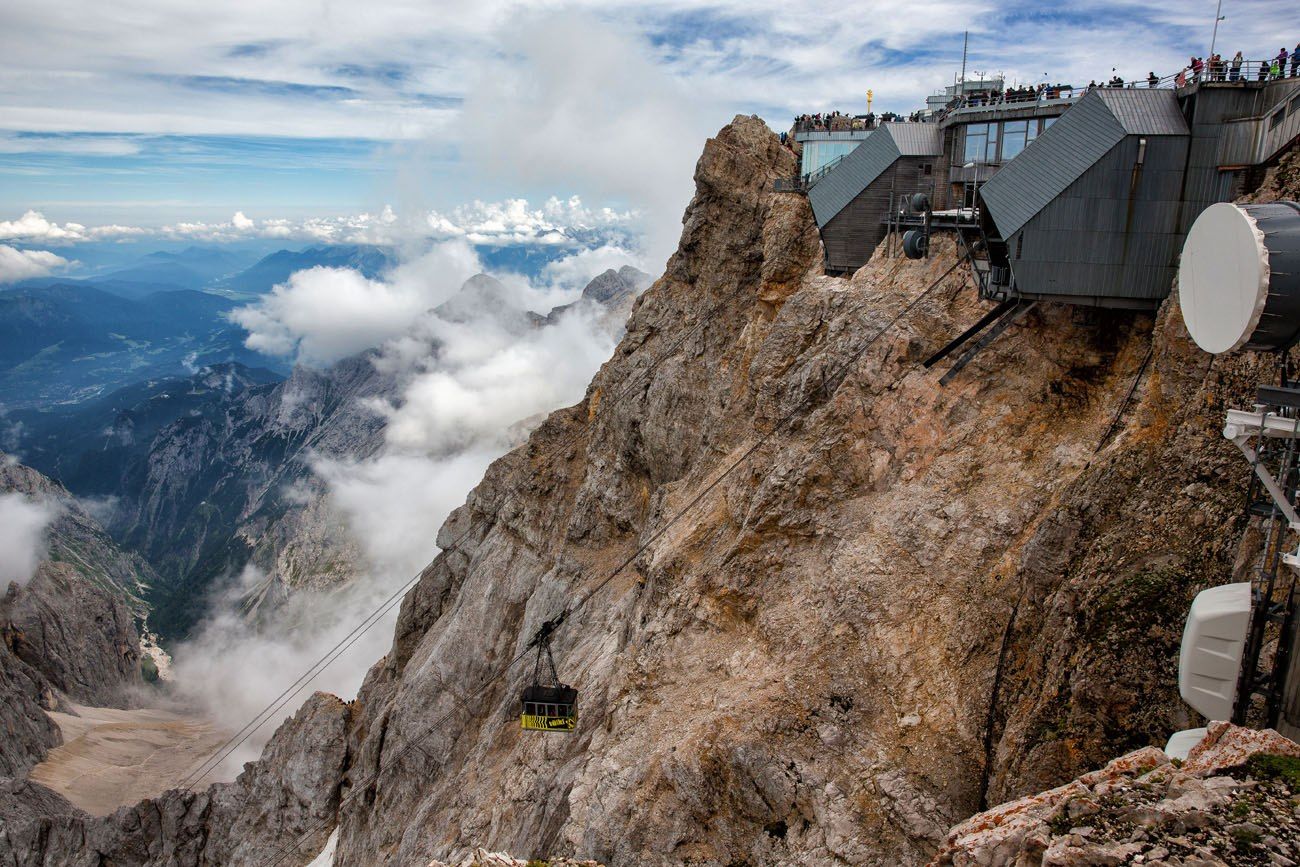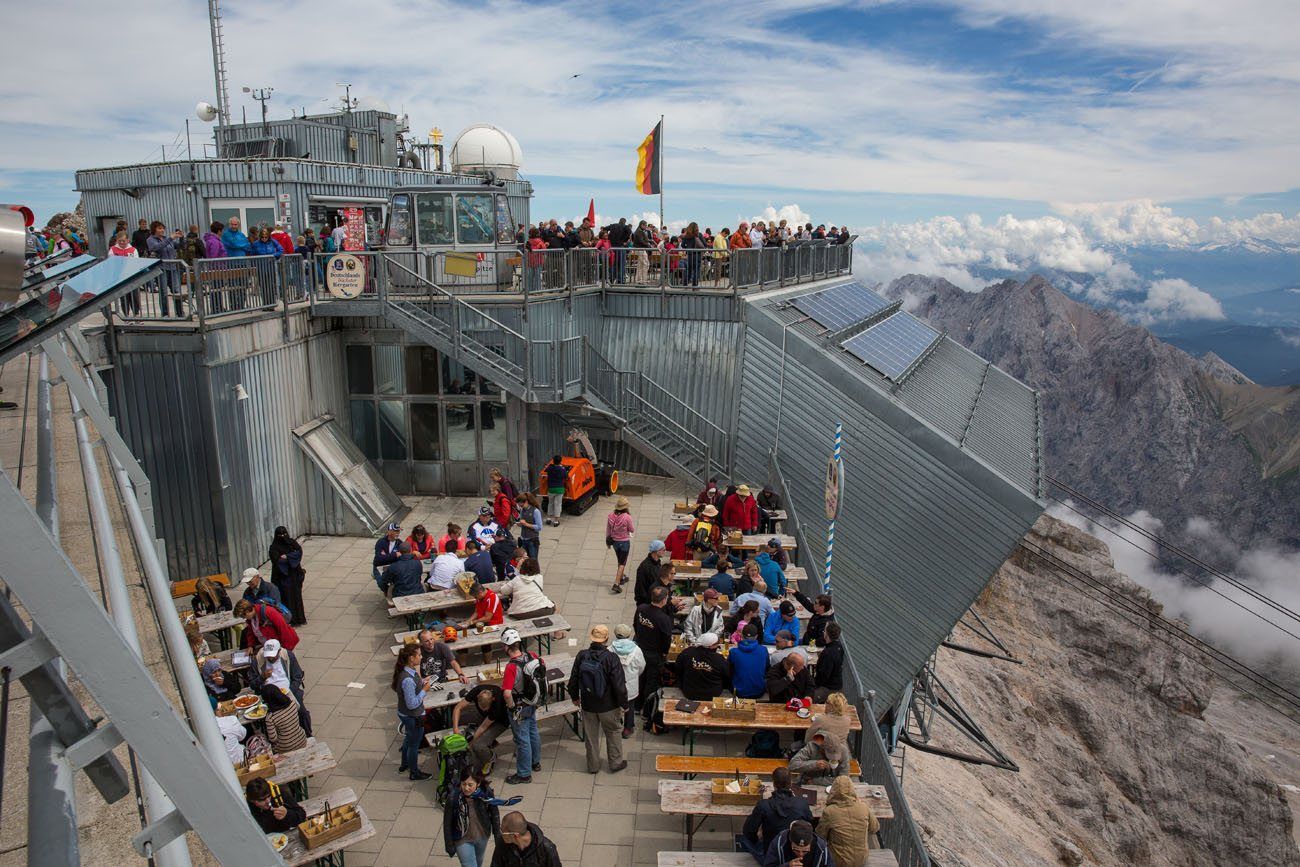 Climbing to the Summit
The German peak is marked by a golden cross. For those looking for a little more adventure, it is a short climb to the official peak of Zugspitze. Chains and ladders assist climbers to the top, and during peak season, there can be a traffic jam of people awaiting their turn to make it to the top.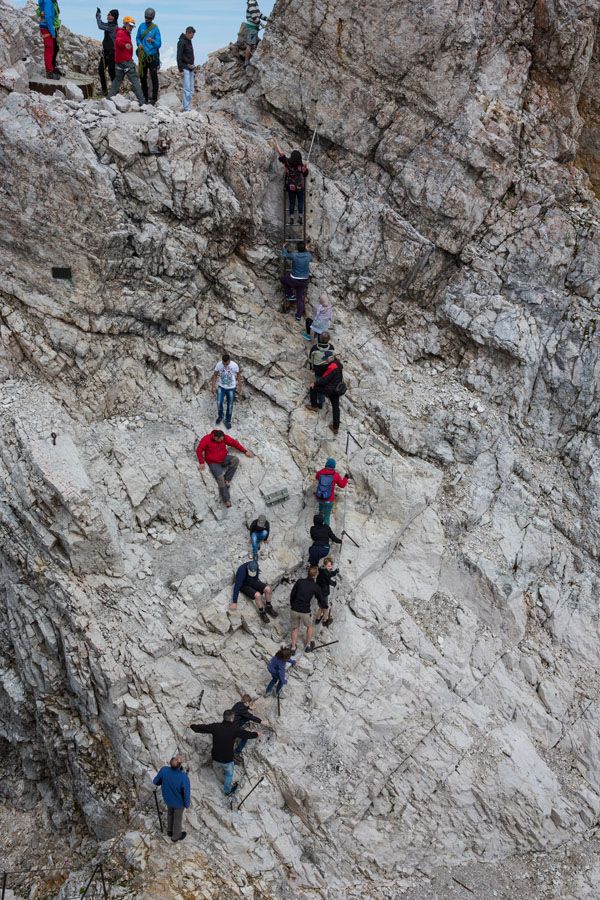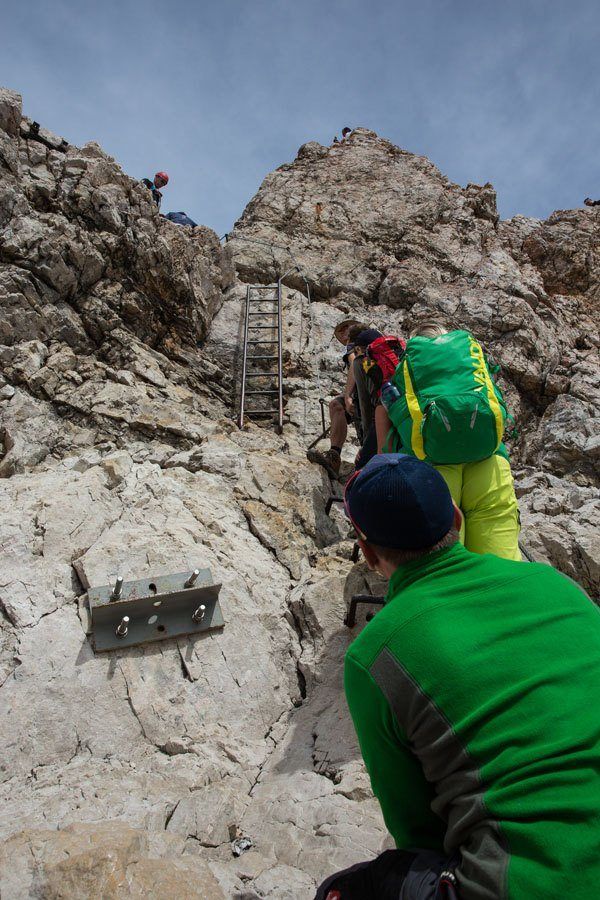 There are multiple signs warning visitors of the dangers of this ascent. Even with the chains and ladders there is an element of danger…there is that small chance of slipping off of the rock face and plunging down the side of Zugspitze. Tim and I pondered the wisdom of allowing Tyler and Kara to make the ascent but we decided to let them do it. They scrambled to the top like it was nothing and they officially got to stand on top of Germany's highest peak.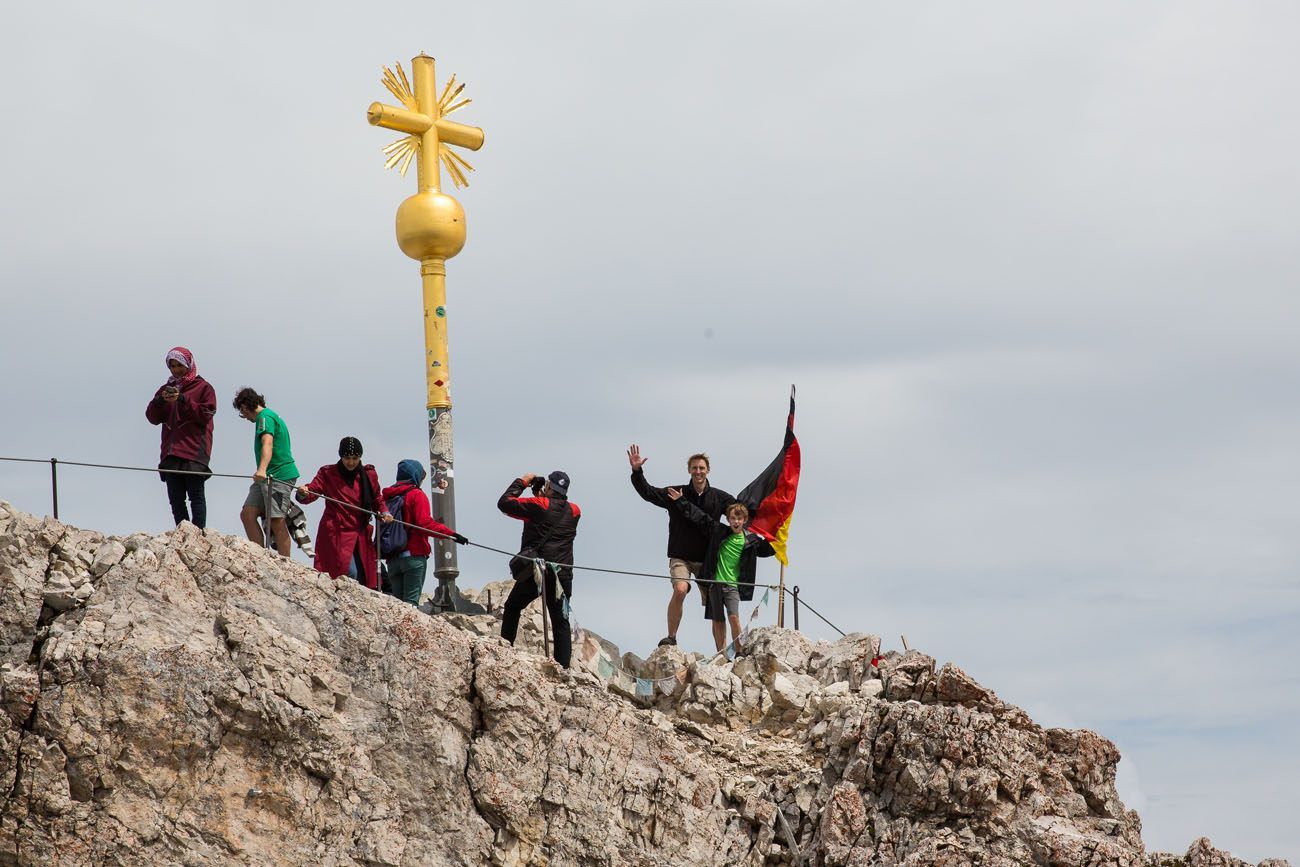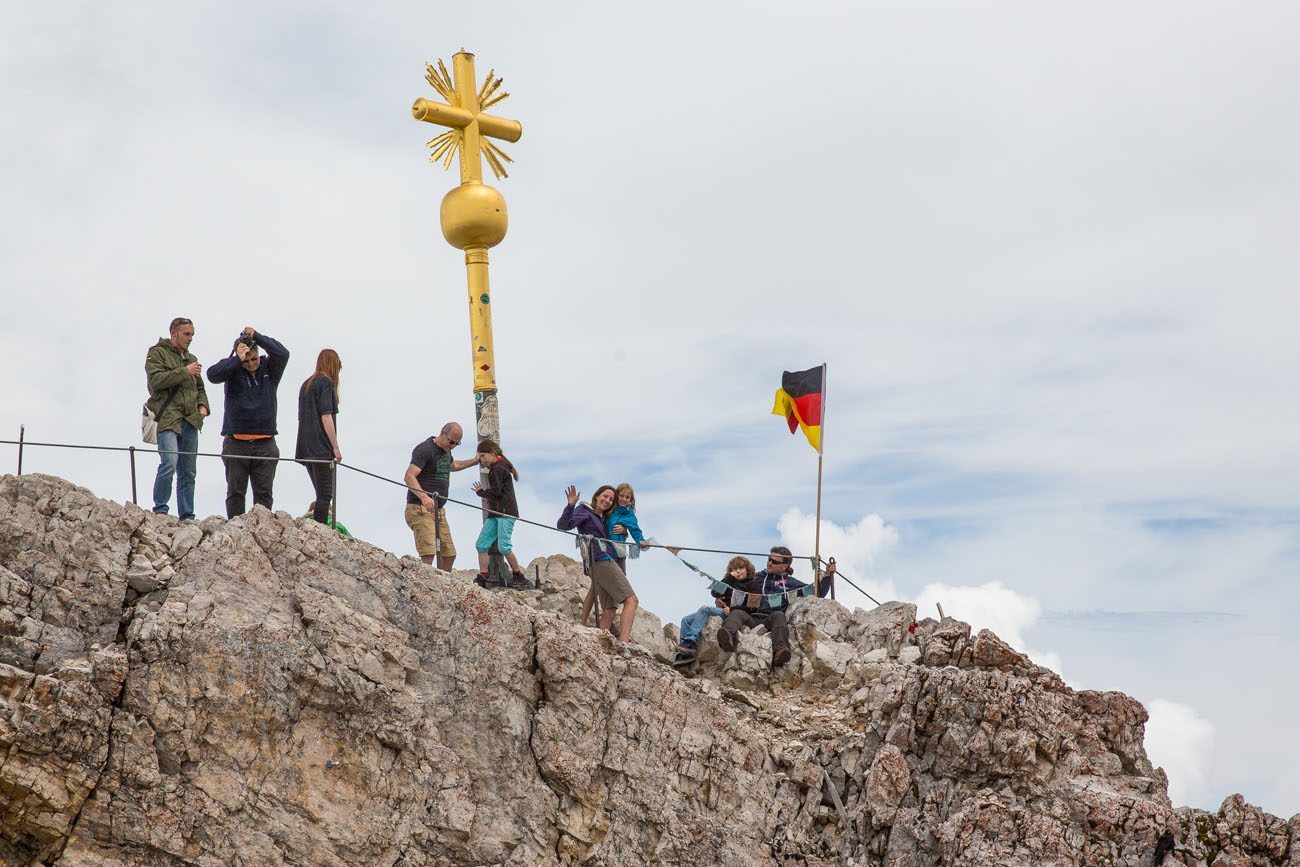 What To Bring
Even mid-summer, temperatures atop Zugspitze can be very chilly, so at the least, make sure you bring a jacket. We were here in July, and in a jacket and shorts we were all still feeling the chill.
Of course, don't forget your camera!
When To Go
Make sure you go on a clear day. With rain and clouds you will miss those views of the Alps, the main reason for coming up here.
During the summer months the temperatures are comfortable and the climb to the peak is an option. During the wintertime, the Alps will be blanketed with snow, an awesome sight, I am sure, and you will have the option to go skiing.
Things To Do Around Zugspitze
In Bavaria, Germany
Neuschwanstein, one of Germany's most spectacular castles: 47 km, one hour drive
Garmisch-Partenkirchen, home of the 1936 Winter Olympics, and excellent home base for exploring Bavaria and Austria.
Munich, home of Octoberfest, 117 km, two hour drive
In Austria
Innsbruck, charming town in the Alps, home of the 1964 and 1976 Winter Olympics, 87 km, a one hour and thirty minute drive.
Combining Zugspitze with Neuschwanstein
We gave ourselves a very busy day by visiting Neuschwanstein in the morning and Zugspitze in the afternoon. In order to do this, arrive at Neuschwanstein a half an hour before opening time, in order to catch the first tour of the castle. By midday we were driving to Zugspitze for part 2 of our jam-packed, awesome day in this little corner of the world.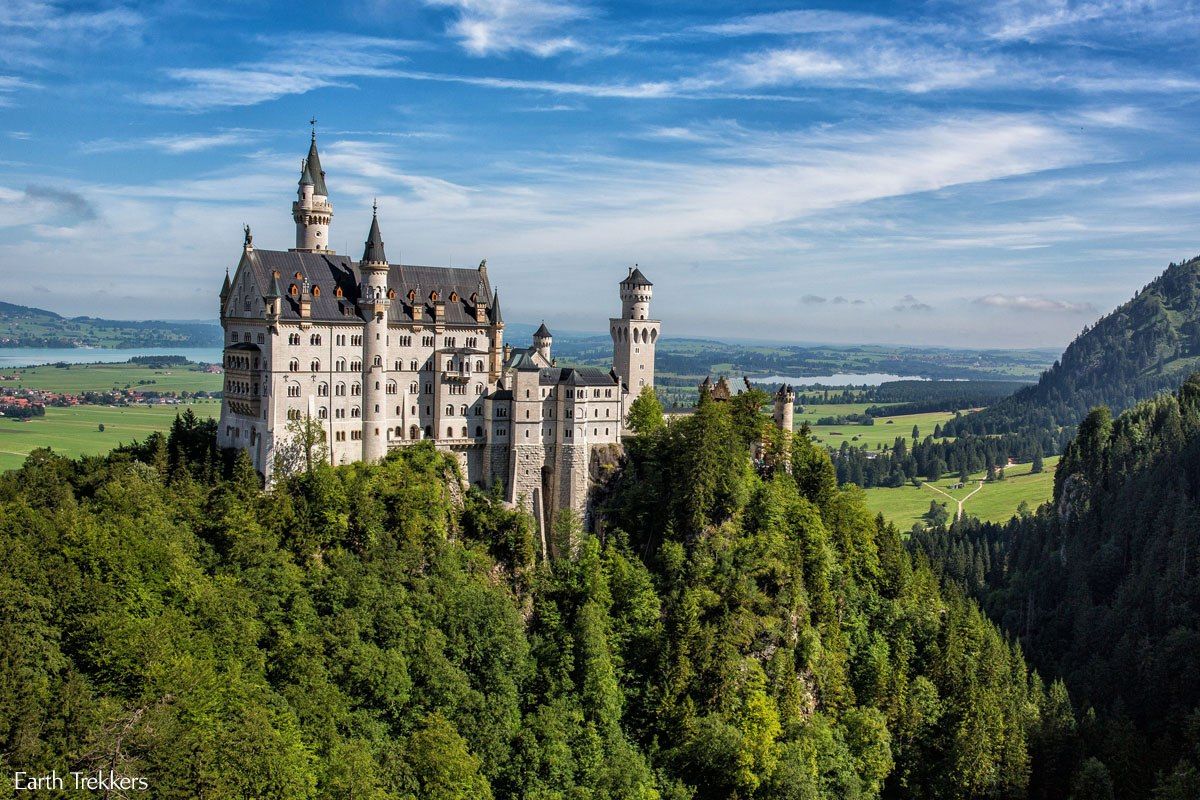 More information for your trip to Germany
---