Lucerne (also spelled Luzern) is a gorgeous Swiss city that sits at the foot of the Alps. This is the perfect kind of town to explore in one day. The city center is compact with just a few key places to visit. The best things to do are to wander the old town, eat, drink, shop, and enjoy the views of the lake. With one day in Lucerne, you also have enough time to ride the cableway up to Mt. Pilatus for stunning views of Lucerne and the Swiss Alps.
One Day in Lucerne and Mt. Pilatus
For the best experience, plan to visit Mt. Pilatus in the morning and then tour the city of Lucerne during the afternoon and evening.
How to Use This Map: Click the tab in the top left hand corner of the map to view the layers (best things to do, restaurants, hotel recommendations). You can click the check marks to hide or show layers. If you click the icons on the map, you can get more information about each point of interest.

If you click the star next to the title of the map, this map will be added to your Google Maps account. To view it on your phone or computer, open Google Maps, click the menu button, go to "Your Places," click Maps, and you will see this map on your list.
Mt. Pilatus
Mt. Pilatus is a jagged mountain that overlooks Lucerne. Cable cars and a cogwheel railway whisk visitors to the top, where you can go hiking, ride Switzerland's longest summer toboggan, and take in the view from a handful of viewpoints. There is so much to do on Pilatus that you can spend a full day here but for this itinerary, plan on leaving by 2 or 3 pm so you still have time to explore Lucerne.
There are four options to get to the top of Mt. Pilatus: by hiking, by cableway, by cogwheel railway, or by a round trip ride on the cogwheel train, cableway, and boat.
Cableway
From Kriens, ride a series of two panoramic gondolas and a cableway to get to the top of Mt. Pilatus. Along the way, you will pass through two mountain stations. At the first station, Krienseregg, there is a small ropes course perfect for young children.
At Fräkmüntegg, the second station, you can walk on a more advanced ropes course (perfect for adults and older kids) or ride Fräkigaudi, the longest toboggan run in Switzerland.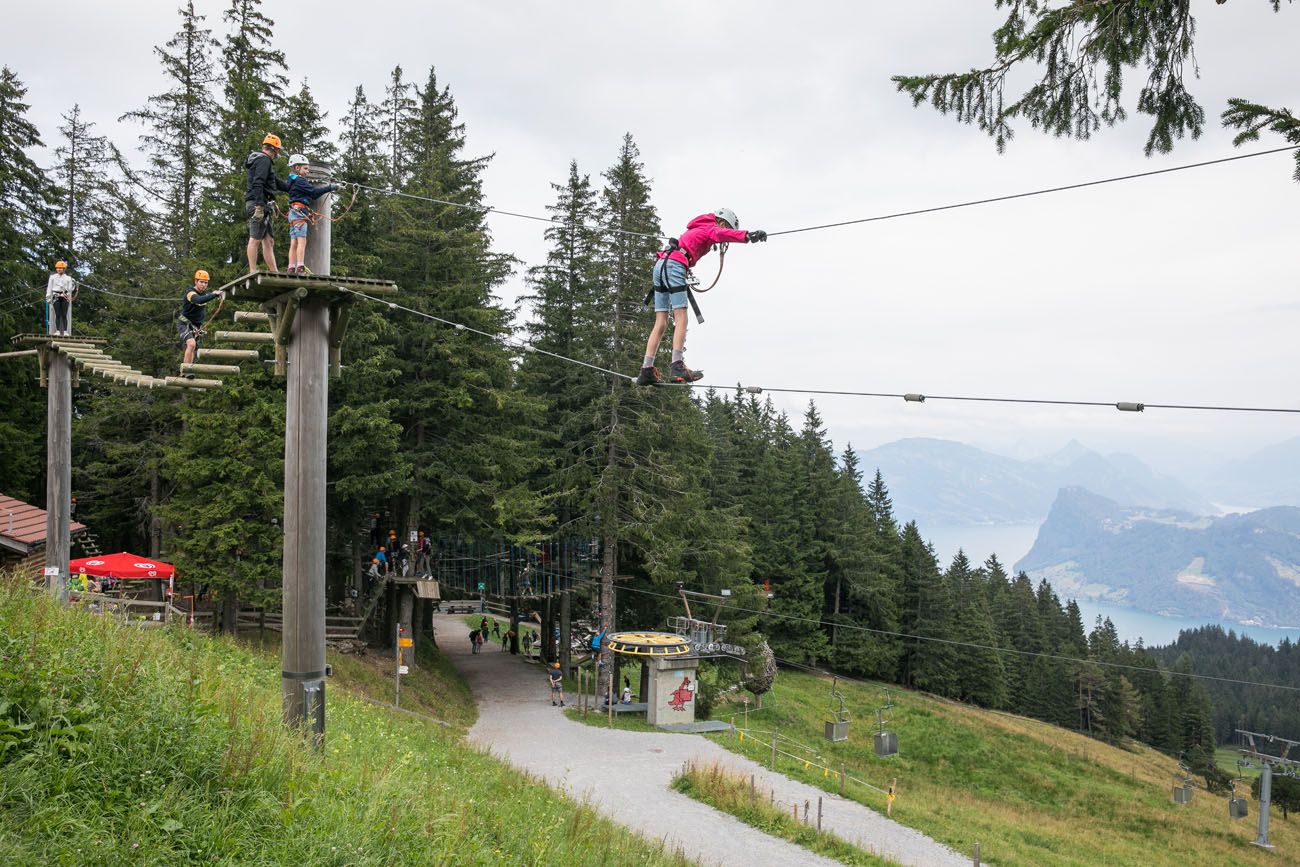 We rode the toboggan and it's awesome! At 1,350 meters in length, it's a long ride to the bottom. As you are towed back to the top of the run, enjoy the mountain scenery and drift past the nearby cows, munching on grass, their bells creating a sort of alpine music that just seems so…Swiss!
Photography is not permitted on the toboggan, so I don't have photos to share, but this is worth it if you are looking for a short thrill ride.
We did this in the early afternoon and waited in line for about a half an hour for our turn. Children 8 and younger must ride with an adult.
From Fräkmüntegg, you will take the cableway to the top of Mt. Pilatus (Pilatus Kulm). This is called the Dragon Ride, since you get the sensation that you are flying.
You can book tickets for the full round trip journey to the peak or only go as far as Fräkmüntegg if you like. However, it's worth going to the very top of Pilatus if the weather is clear.
Cogwheel Railway
This cogwheel railway is the steepest in the world. It takes 30 minutes to climb to the top of Pilatus with an average gradient of 48°. Wow!
You can combine the cogwheel railway and cable car route into one round trip journey. This is called the Silver Round Trip. You start at the Lucerne railway station, ride the cogwheel train to the peak, take the cableway and gondolas to Kriens, and then ride a bus back to the railway station. If you don't have a car, this is perfect because your transportation to and from Lucerne is included in your ticket price.
For pricing of the cableway, cogwheel railway, and Golden Round Trip, visit the official website.
Golden Round Trip
The Golden Round Trip combines the cogwheel railway and cable cars with a boat trip on Lake Lucerne. The boat takes you from Lucerne to Alpnachstad where you will board the cogwheel railway. To get back to Lucerne, ride the cable cars to Kriens and then a short bus ride takes you back into the city.
Hiking to the Top of Mt. Pilatus
There are several hiking routes from Lucerne to the top of Mt. Pilatus. These are tiring, strenuous climbs. They sound spectacular, but if you want to have time (and energy) to tour Lucerne in the afternoon, your best bet is take the railway or cable cars.
What We Did
We rode the series of panoramic gondolas and cableway from Kriens round trip. We went directly to Pilatus Kulm, ate a quick lunch, did a short hike, and then rode the cable car down to Fräkmüntegg. After racing down the toboggan we took the gondola back to Kriens.
If we did it again, we would do the Silver Round Trip so that we could ride both the cogwheel railway and the cable car.
Hiking on Mt. Pilatus
Once you are on top of Mt. Pilatus, you have tons of options to fill your time. There are restaurants and hotels, so you can even spend the night here if you desire.
Clustered around the station are short, uphill climbs to several viewpoints. You could spend about an hour visiting these viewpoints if you want to see some spectacular views without expending a lot of energy.
We climbed up to Esel. From here, you can look down at Lucerne and out across the Alps. I'm a bit bummed that it was so cloudy at the top but sometimes that's just the way it goes!
The Esel viewpoint is the rocky prominence behind the Bellevue Hotel.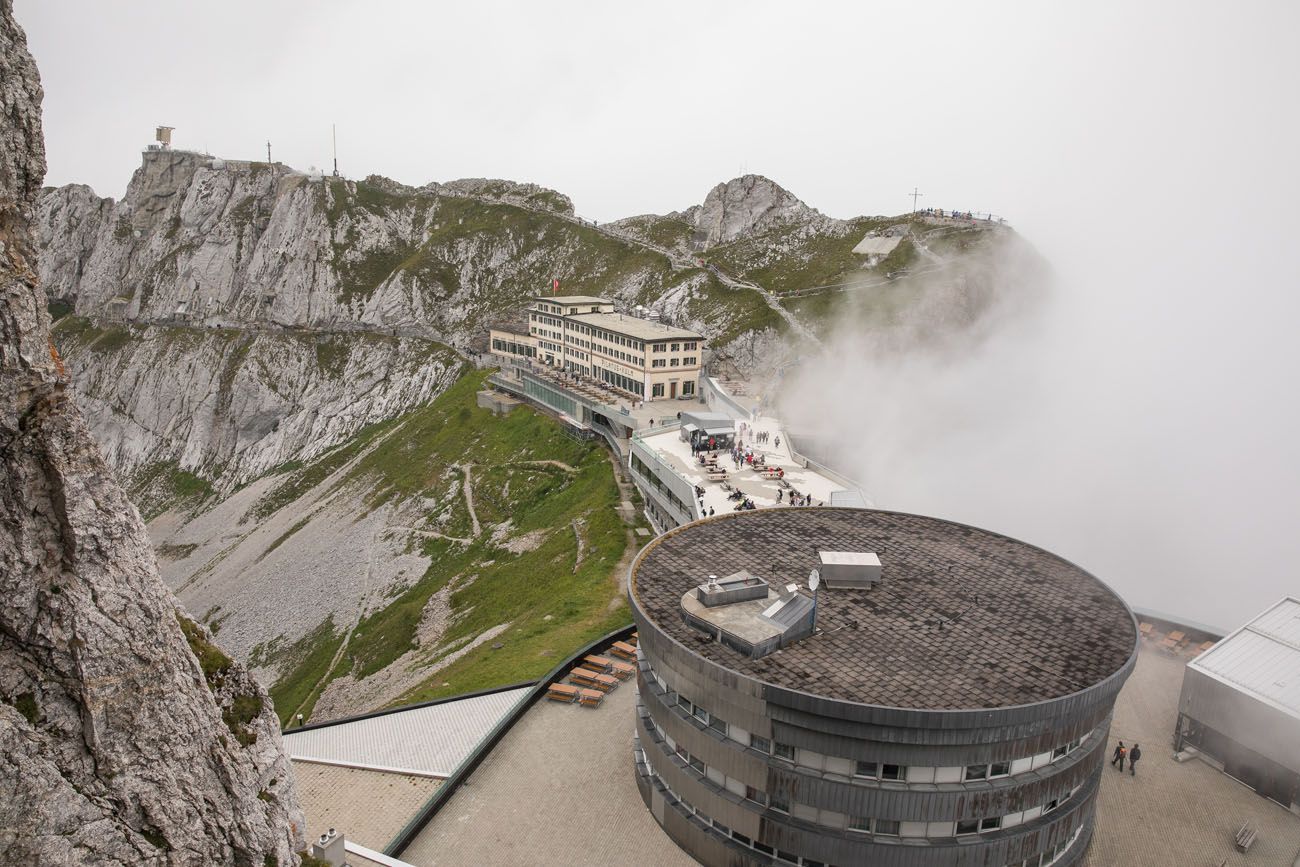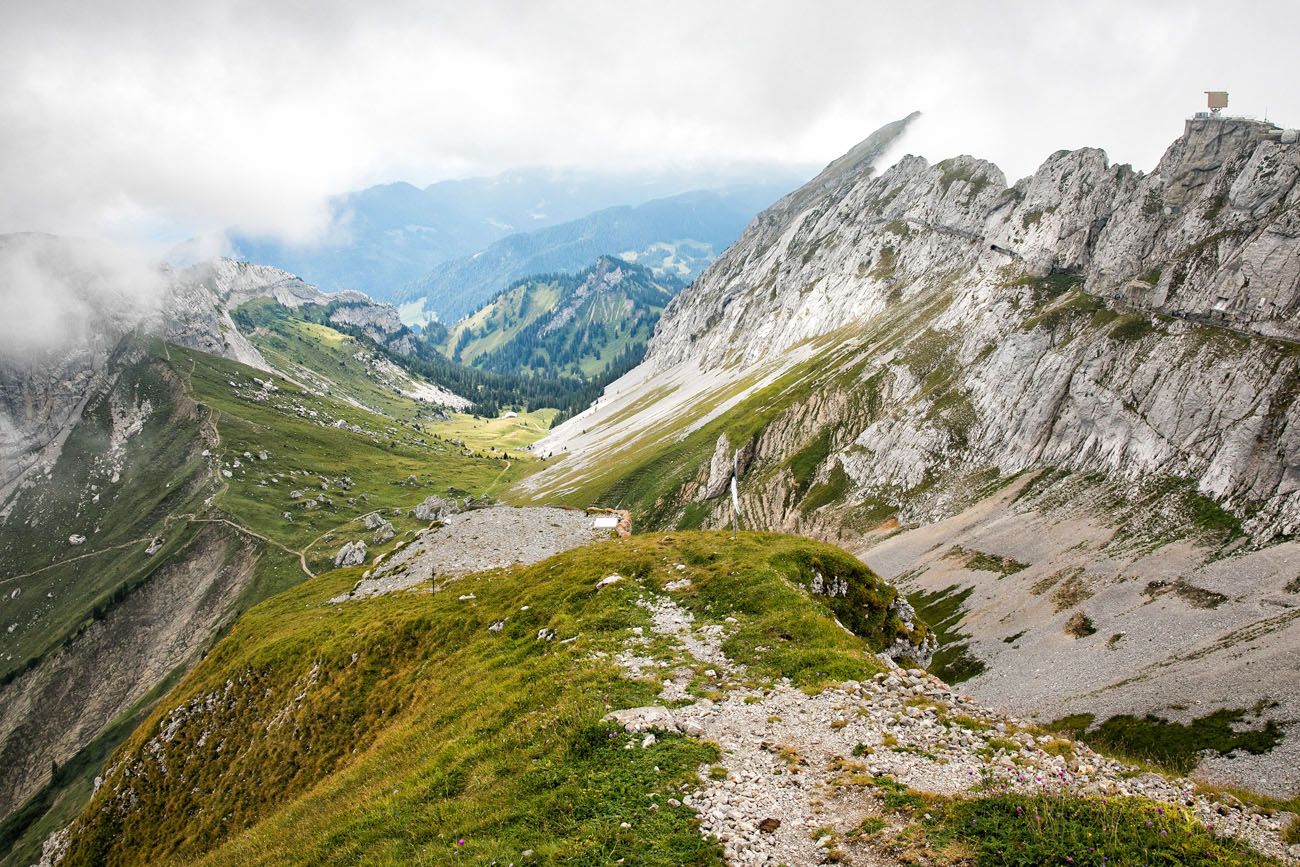 View from Esel Viewpoint | One Day in Lucerne and Mt. Pilatus
There are also some wonderful, short hikes you can do as well. Since you are already on a mountaintop, the elevation gain is minimal so these hikes are relatively easy.
Inside of the station, you can visit the information desk, get a copy of the map, and have one of the guides give you a quick run down of the hikes. Or, you can click here, to visit the official Pilatus website and read about all of the options.
Hiking to Tomlishorn on Mt. Pilatus
If you are looking for a short, scenic walk along the jagged peaks, this is a good one to do.
This short hike is really more of walk. Most of the trail is paved with asphalt. It's only at the very end of the hike that you walk on a rough, rocky trail. There are a few short climbs and a series of steps but it's not difficult. Allow about 40 minutes for this hike.
We really enjoyed this walk. Unfortunately, there was one clump of clouds that hung over Pilatus during our visit, so we didn't get the spectacular views of the Alps we were hoping for, but even so, it was a very nice walk. My favorite part was hearing the ringing of the cow bells in the valley below.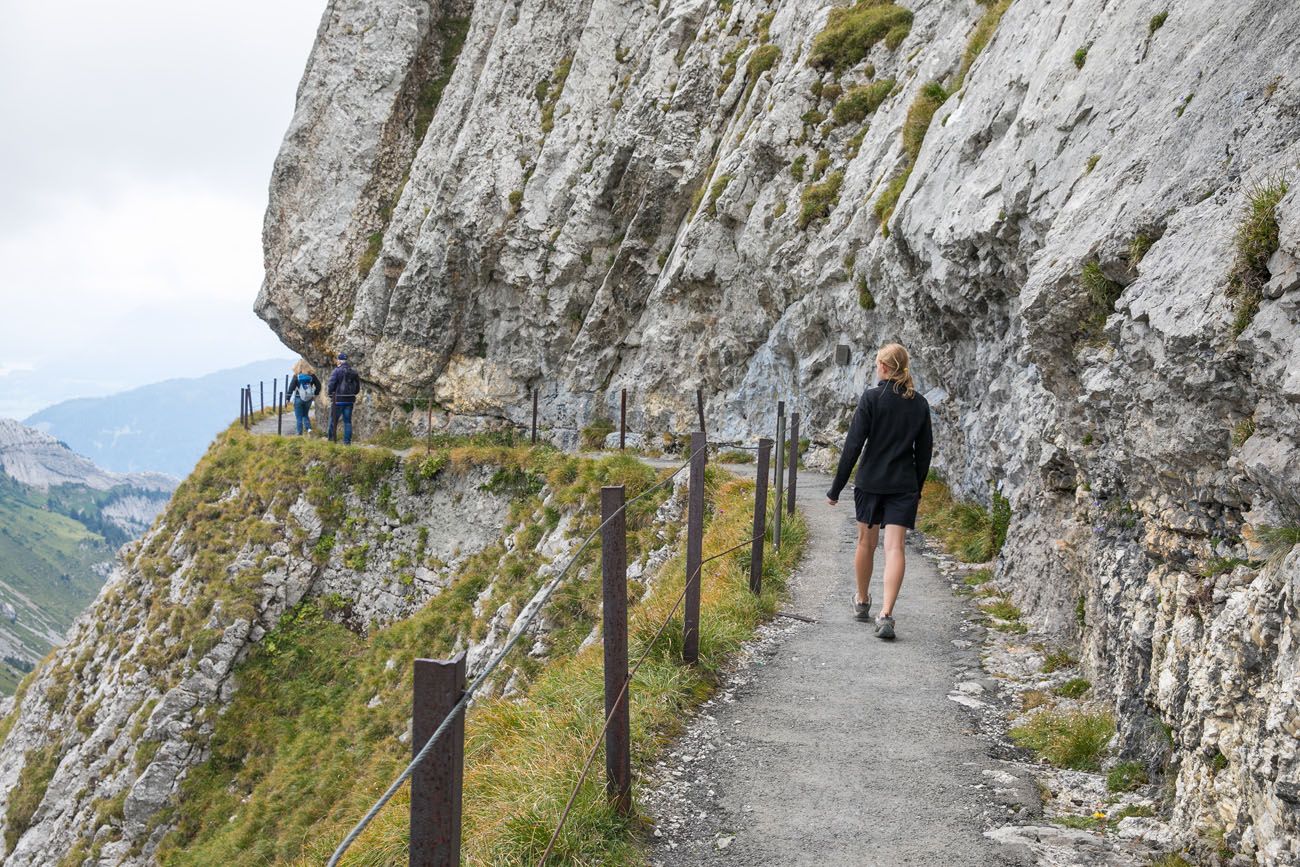 Trail to Tomlishorn | One Day in Lucerne and Mt. Pilatus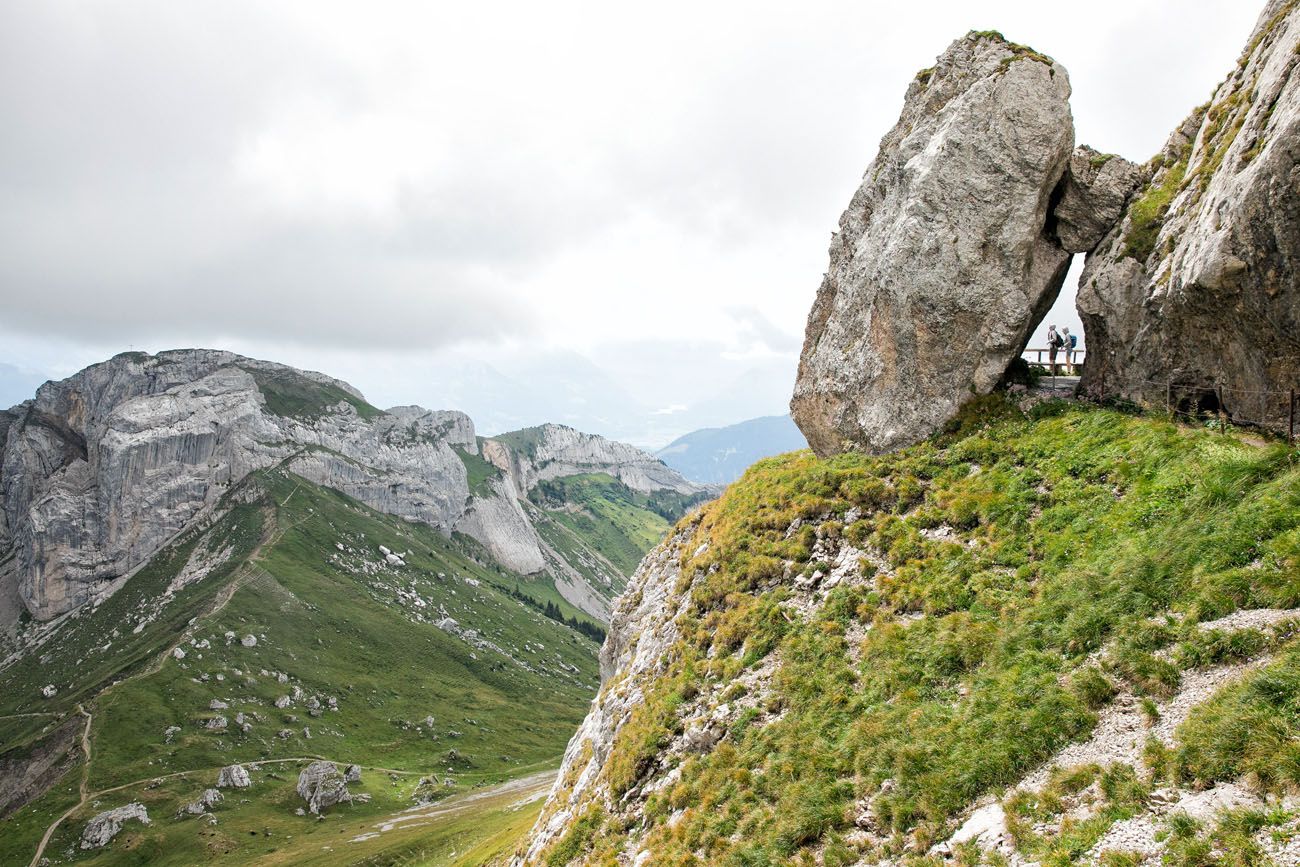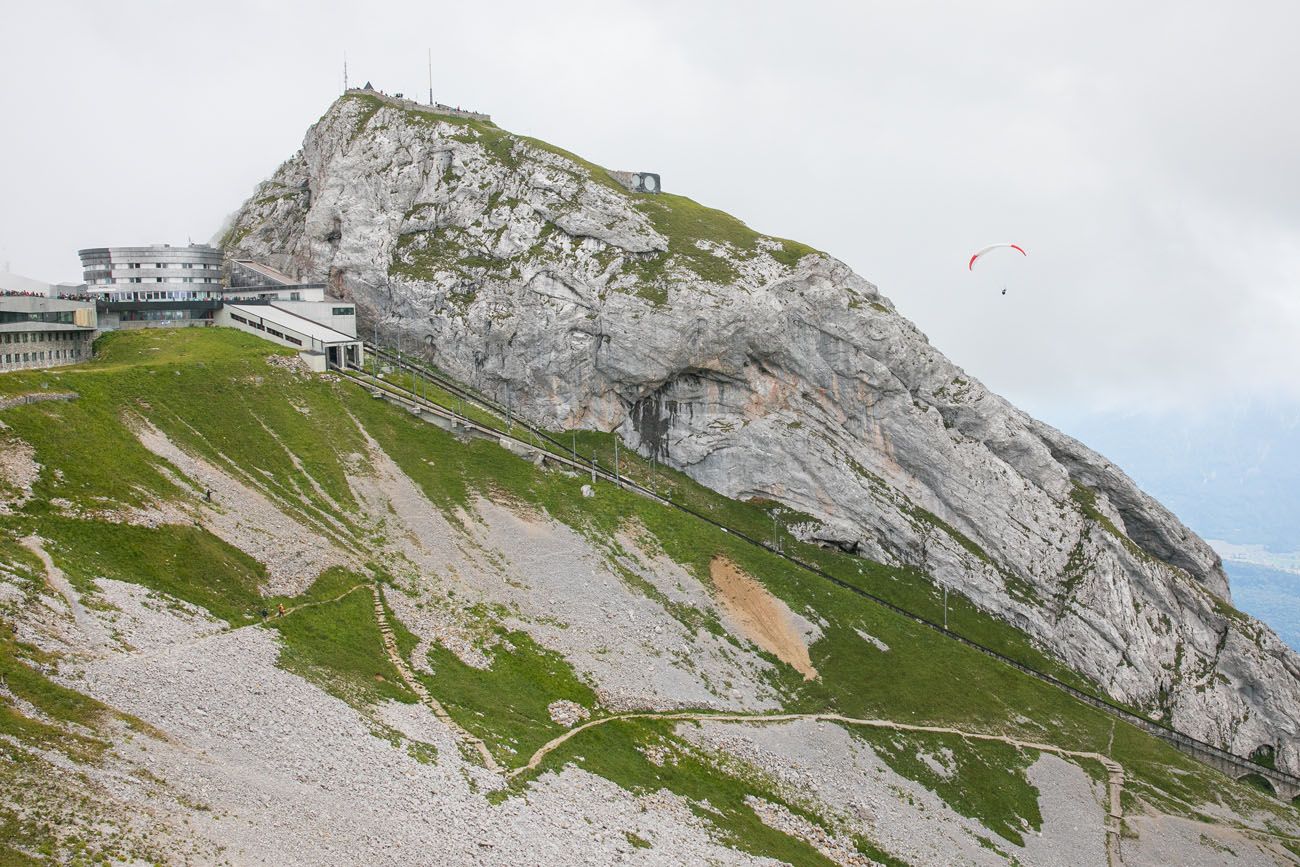 Looking back towards Pilatus Kulm from the trail | One Day in Lucerne and Mt. Pilatus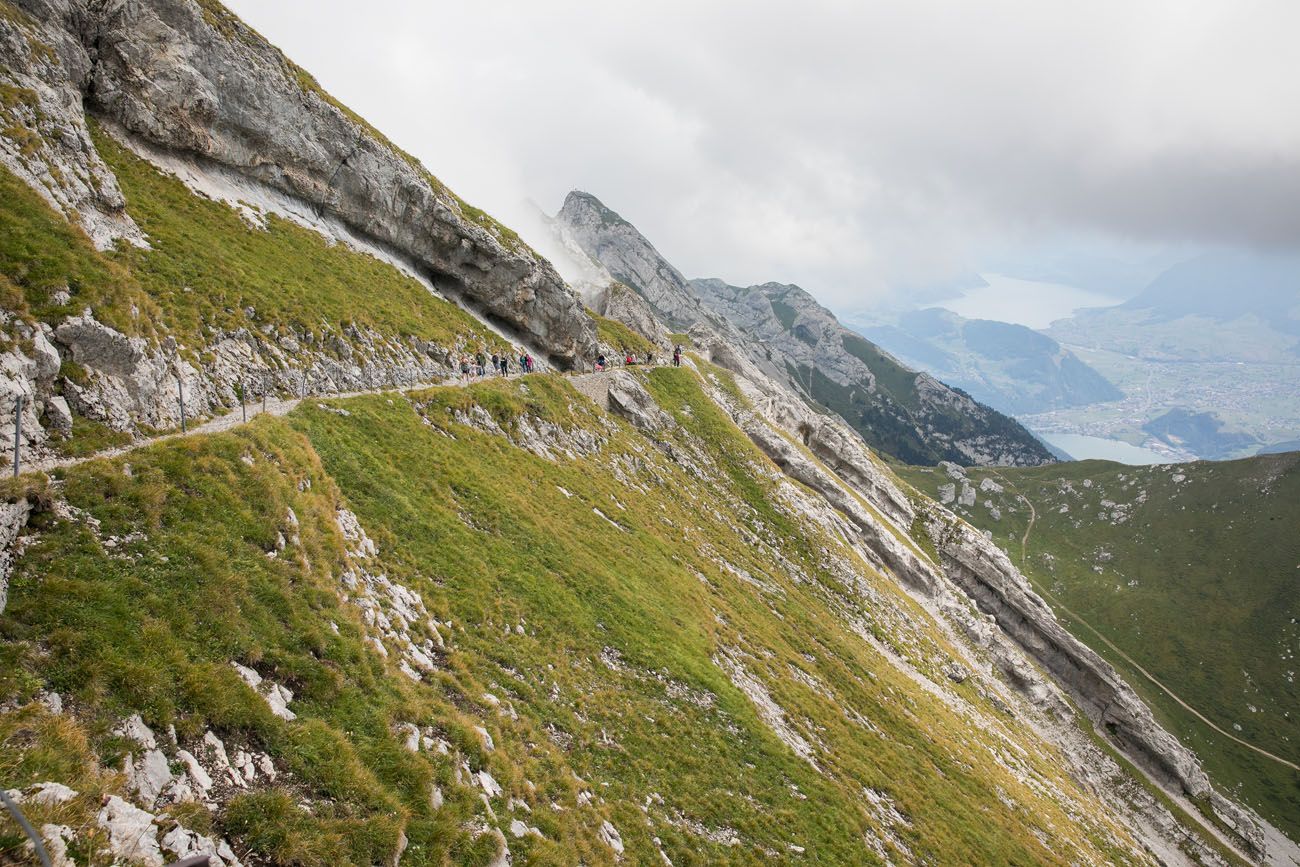 Another view looking back along the trail.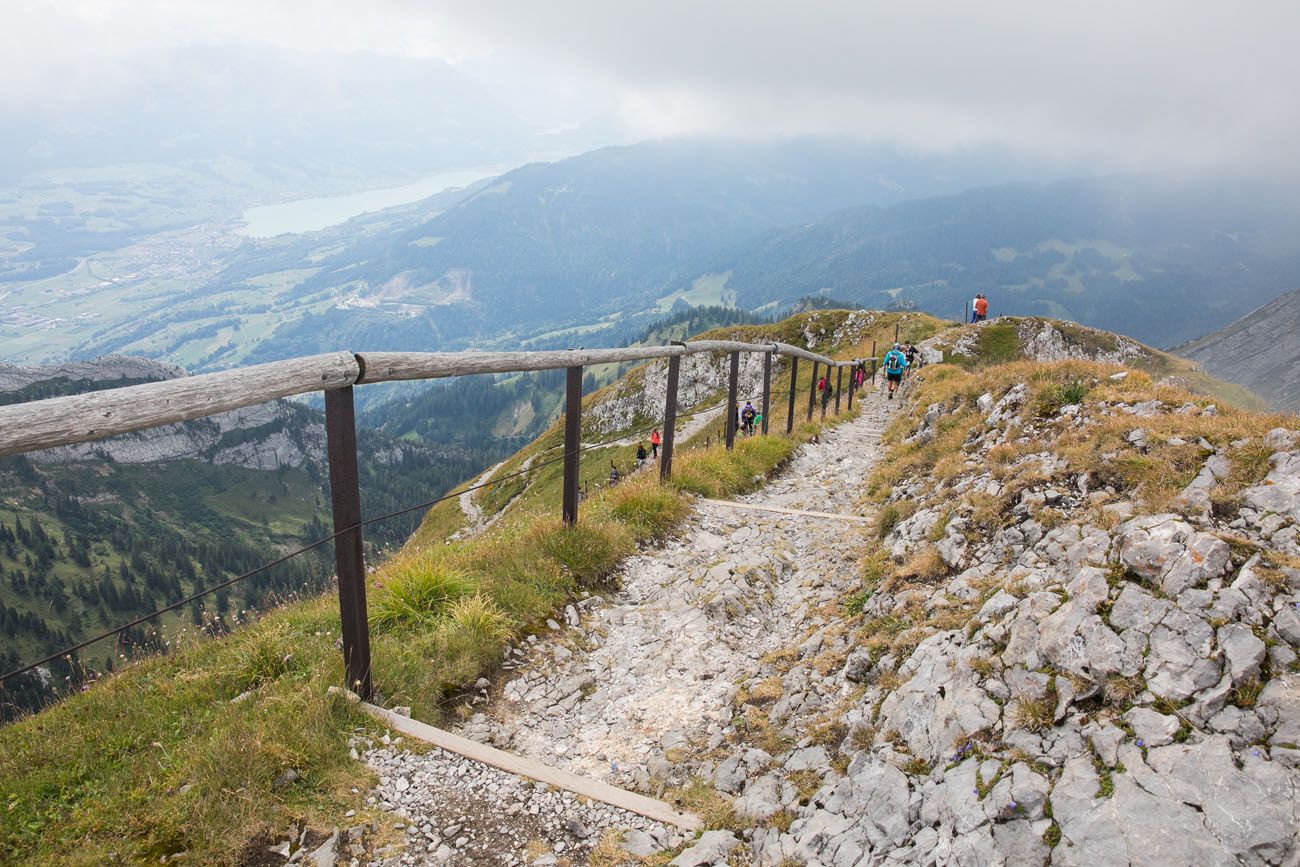 The final climb up to the viewpoint.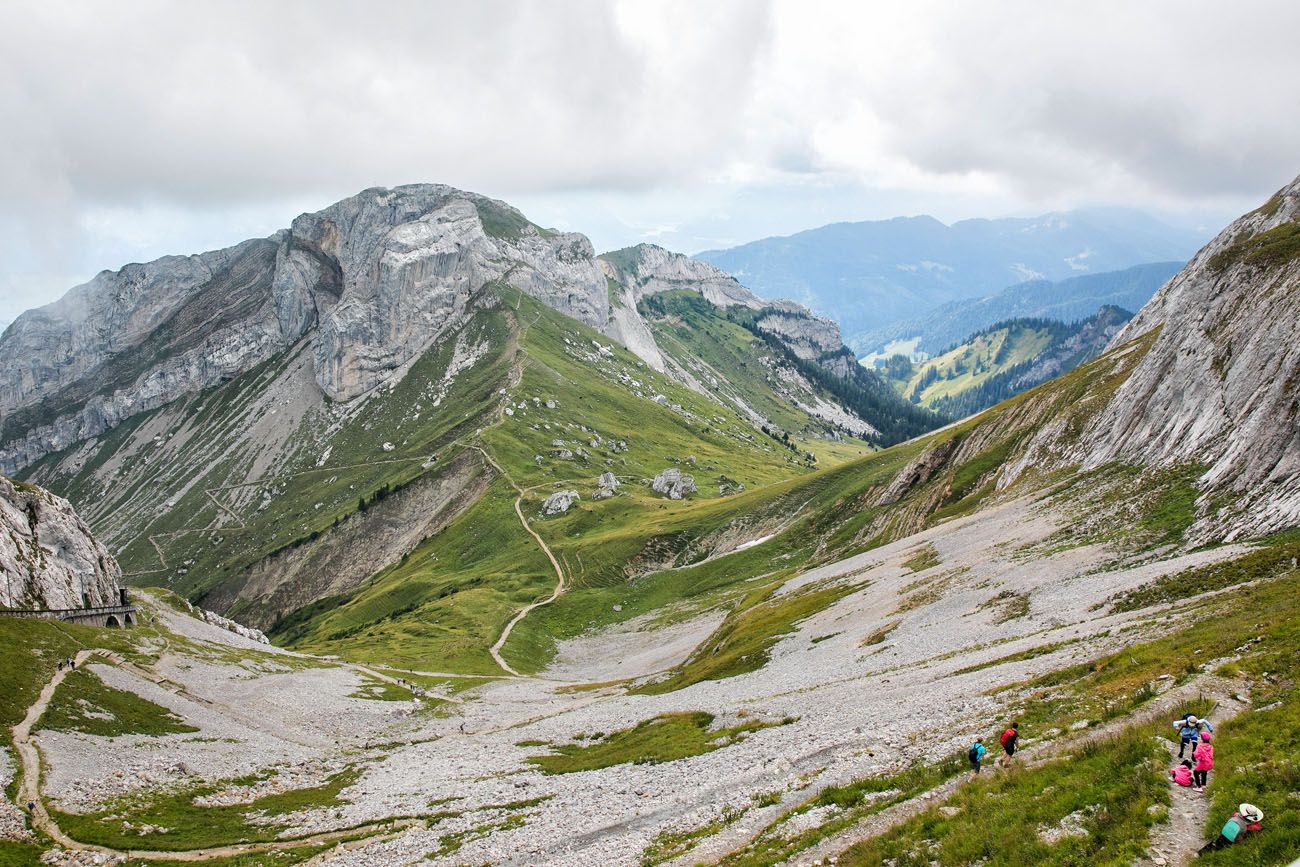 More Information
For more information on visiting Mt. Pilatus, including updated pricing and hours of operation, visit the official website.

Best Things to Do in Lucerne
Spend the afternoon and evening touring Lucerne. Most of the main sites are located in or near the Old Town.
Here are the best things to do with one day in Lucerne.
Wander the Old Town
Sitting along the Reuss River and the edge of Lake Lucerne is the old town. Medieval buildings rub shoulders with modern shops and restaurants.
Kornmarkt is the heart of the old town. This medieval square is where you can see the town hall and it's tower.
If you like to visit churches, the best ones to visit are the Jesuit Church and the Church of St. Leodgar.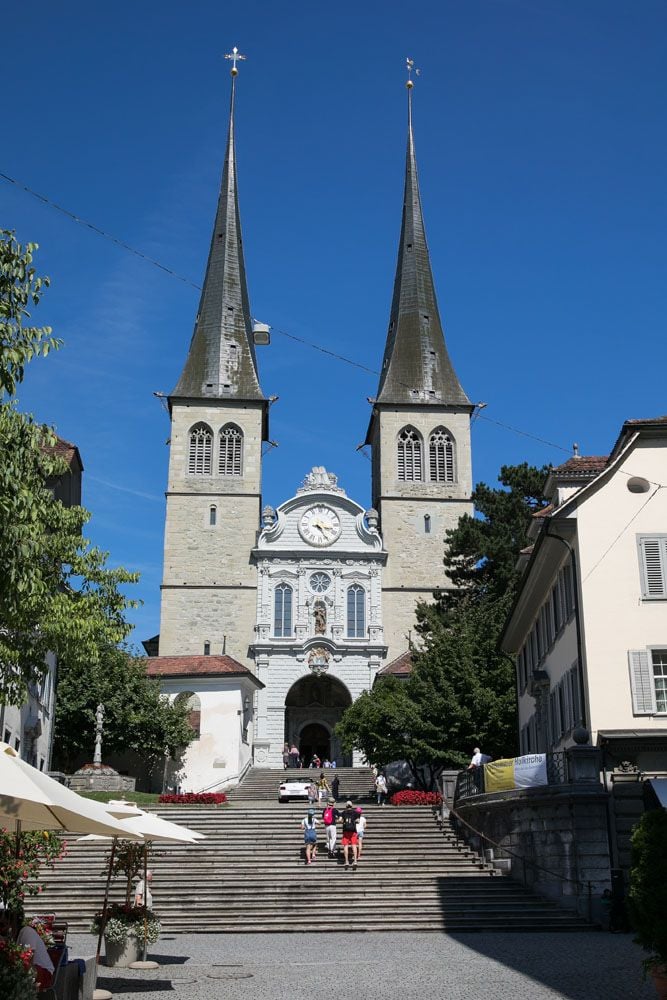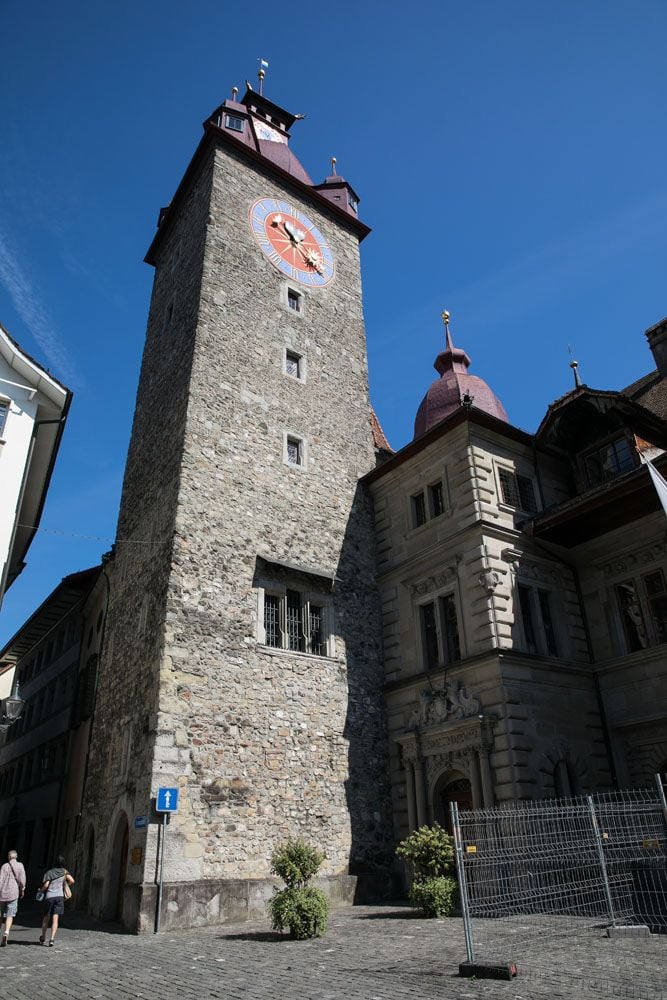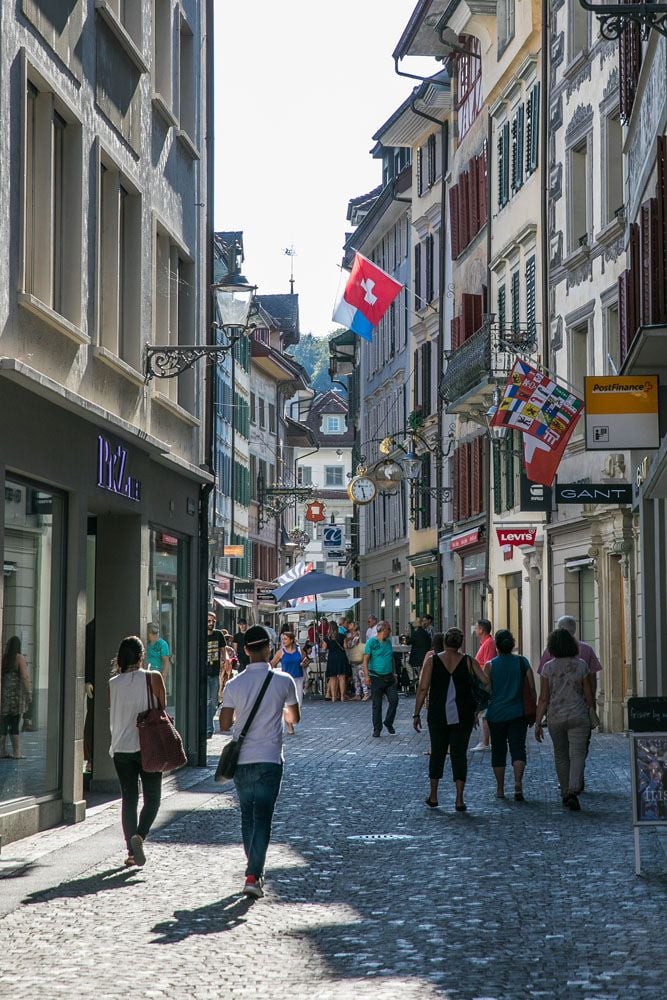 Lucerne old town | One Day in Lucerne and Mt. Pilatus
PRO TRAVEL TIP: Shops close surprisingly early so if shopping is on your list, you may need to finish up by 4 pm! We were here on a Saturday and most places closed between 4 and 5 pm. Many shops are closed on Sunday and they may only stay open as late as 6:30 pm on weekday nights.
Walk Across the Chapel Bridge (Kapellbrücke)
Kapellbrücke is the largest wooden covered bridge in Europe. Dating back to the 17th century, this medieval bridge contains paintings that depict Lucerne's history.
In 1993, the bridge almost completely burned down. Two-thirds of the interior paintings were destroyed in the fire.
Sitting next to the bridge is the Wasserturm, which was once used as a prison and torture chamber. The tower is not open to the public.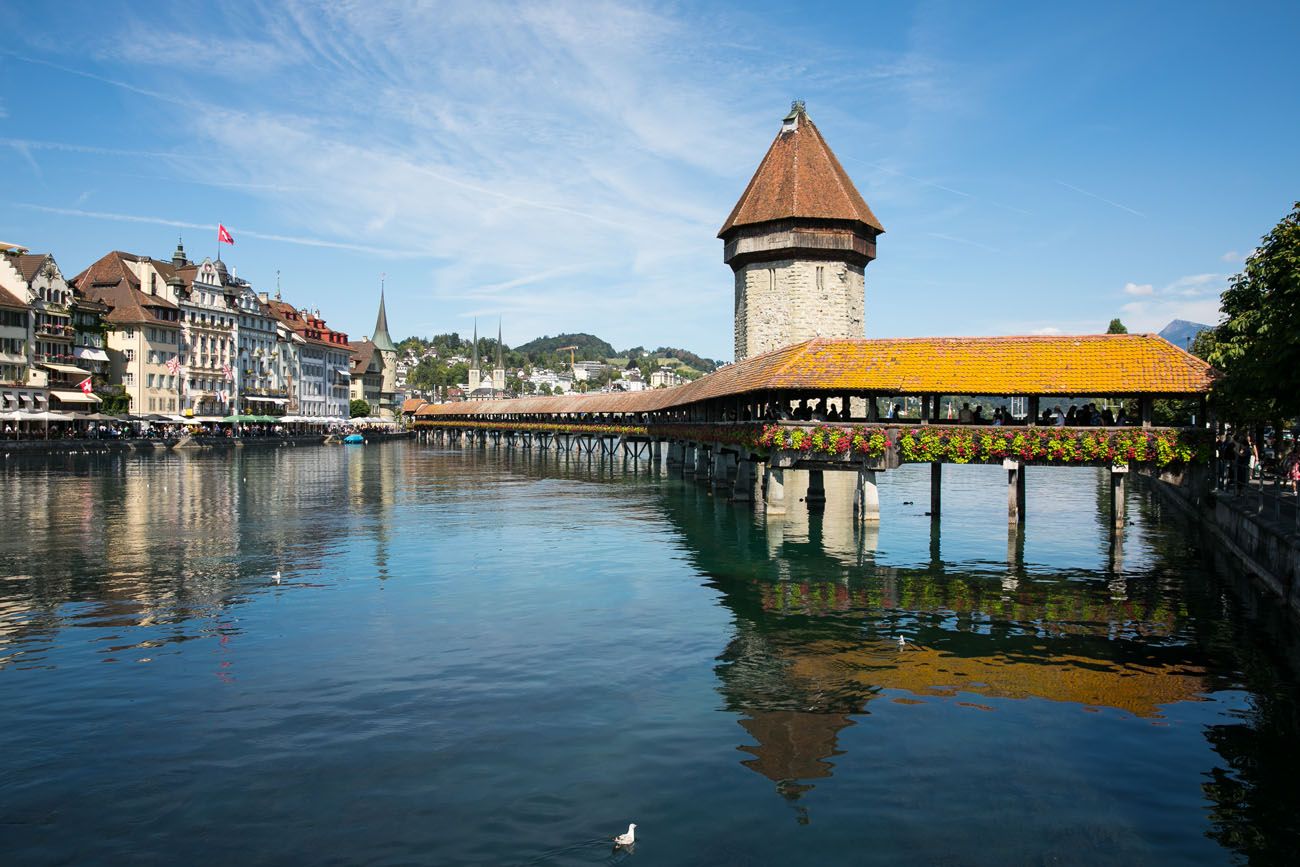 Chapel Bridge | One Day in Lucerne and Mt. Pilatus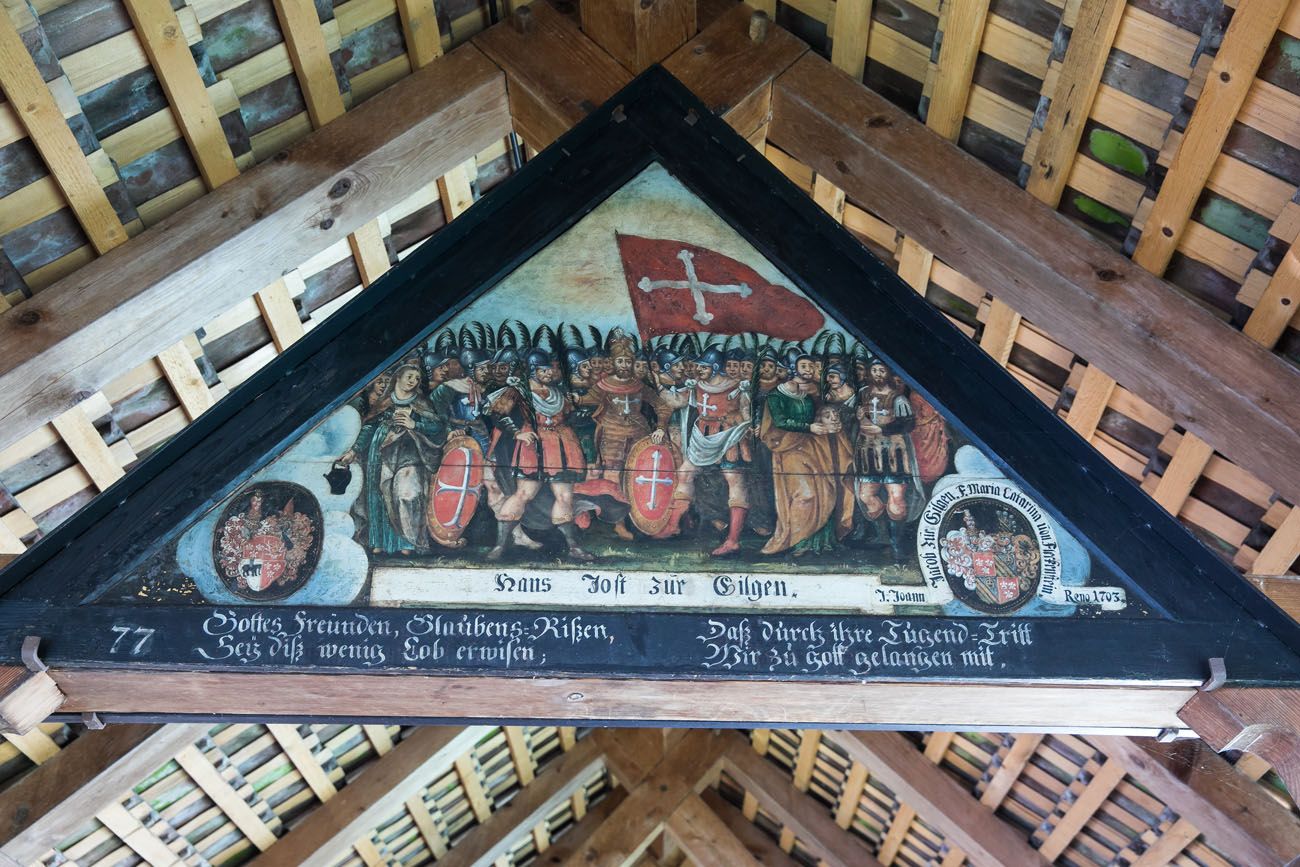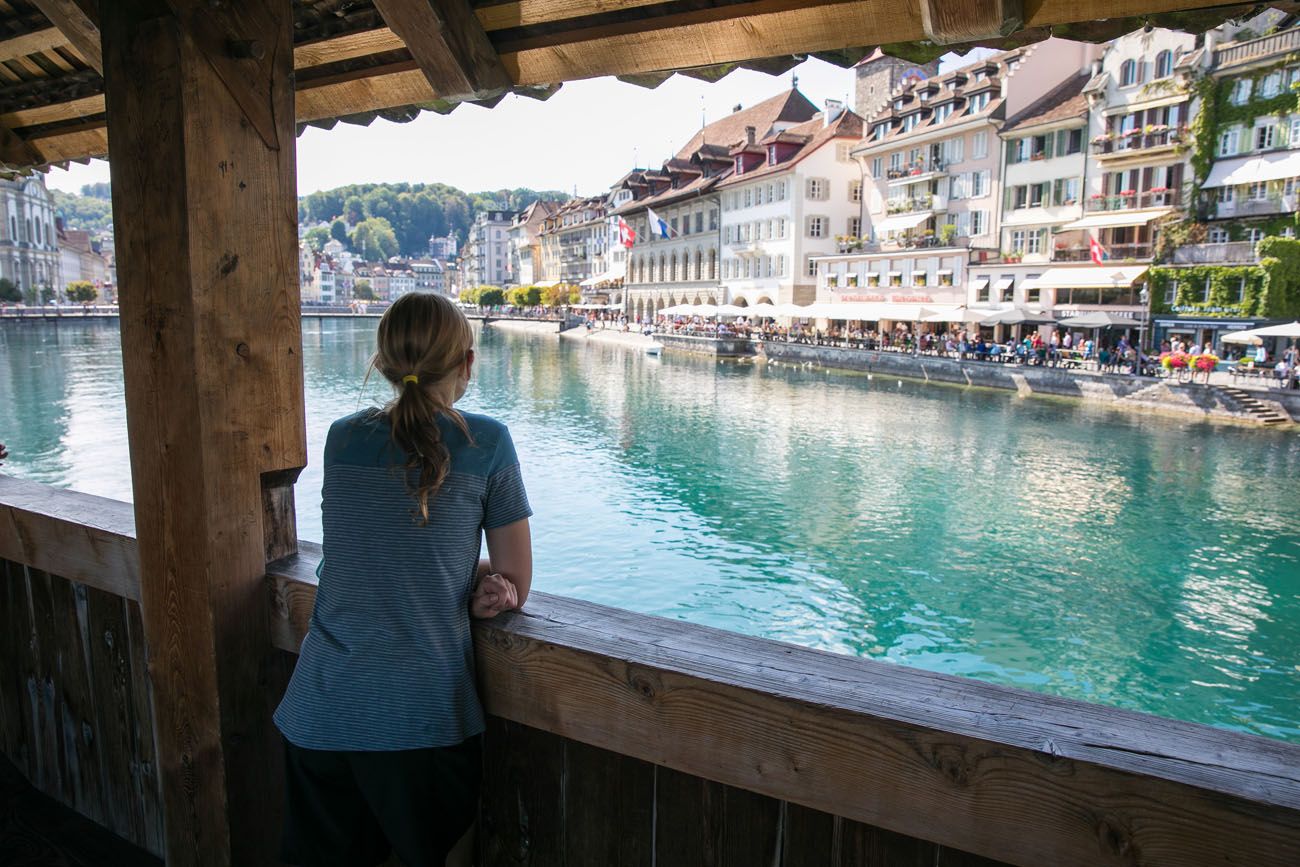 View from Chapel Bridge | One Day in Lucerne and Mt. Pilatus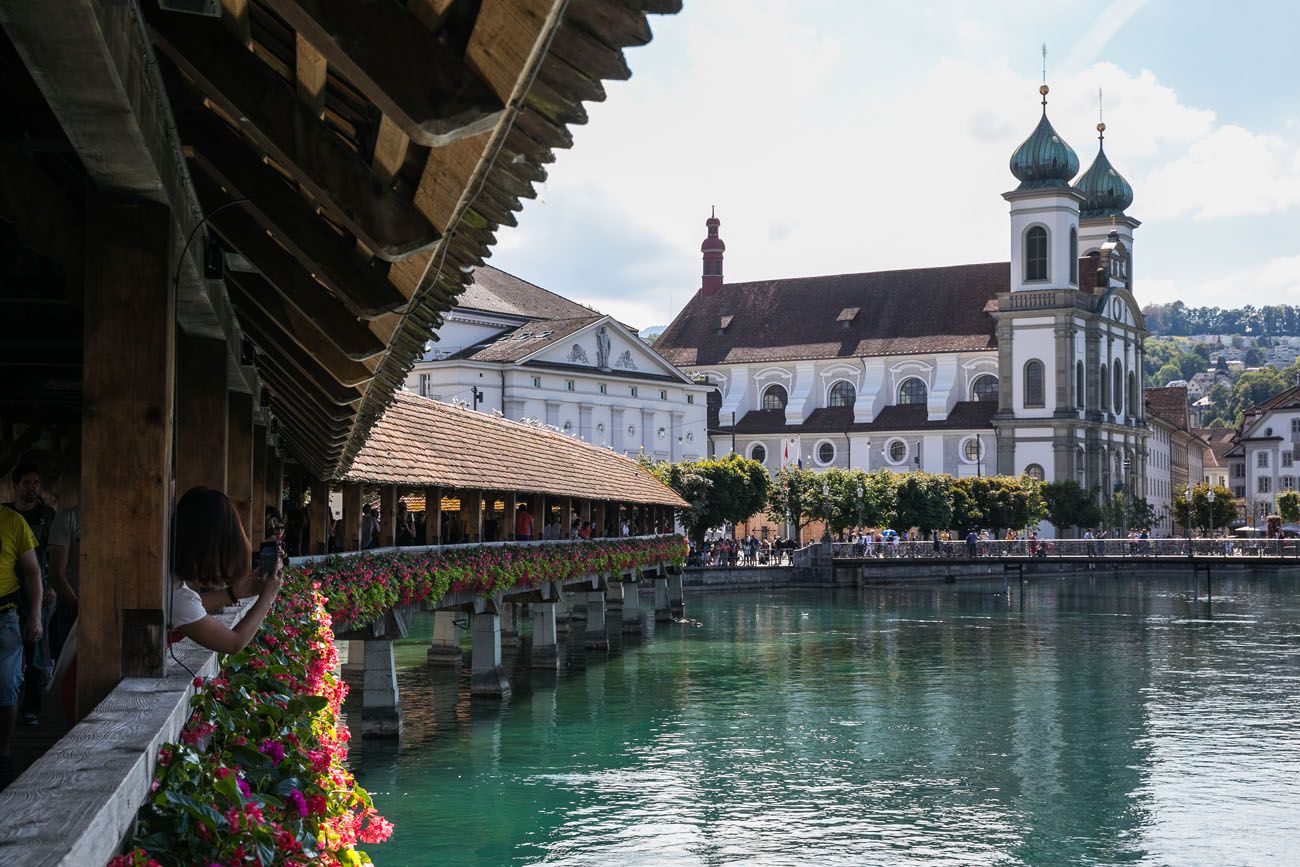 Lake Lucerne
I think the views across Lake Lucerne are spectacular. A crystal clear lake with a backdrop of the Alps…this is a gorgeous setting for a city.
Lake Lucerne | One Day in Lucerne and Mt. Pilatus
While standing on the edge of the lake I couldn't help to think what a nice place this would be to call home.
You can simply ogle at the view, like we did, or rent one of the paddle boats if the weather is nice.
Walk along the Medieval Walls
Located on a hilltop just a short ways from the old town are the medieval walls and towers, also called Museggmauer.
To get here, it's a short, uphill walk to get to the base of the walls, but it's worth it. Once on top of the walls you are treated to a beautiful view of Lucerne.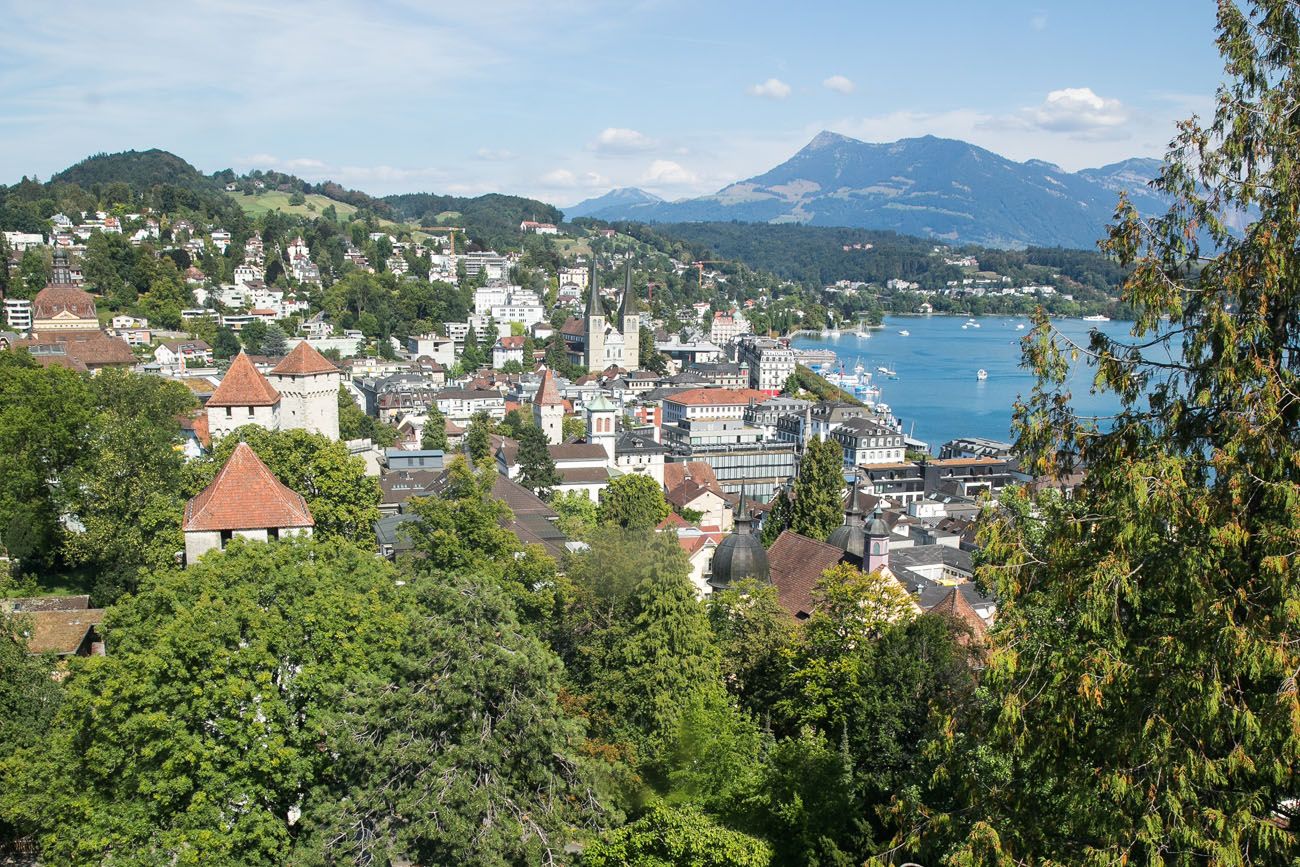 View from the Medieval Walls | One Day in Lucerne and Mt. Pilatus
You can also climb the towers for even higher views, but in many of the towers, the windows are blocked with a mesh grate or a glass that can make photography tricky.
The walls are free to visit.
Visit the Lion Monument
The Lion Monument is a carving of a lion in a sandstone quarry near the old town of Lucerne. On this list, this monument is the site located farthest from the city center. However, it's only a 15-minute walk from the old town if you would like to see it.
Where to Eat
Here are some top picks for restaurants located within walking distance of the old town.
Stern Luzern. Mid-priced restaurant offering a modern twist on Swiss food.
Bolero Restaurante. This Spanish restaurant serves the best paella in town.
Restaurant Olivo. Enjoy views of Lake Lucerne while you dine on French food and seafood at this upscale restaurant.
Khoua Vientiane. This Asian restaurant serves great food at budget prices.
Where to Stay in Lucerne
LUXURY: Hotel Schweizerhof Luzern. This family-run 5-star hotel is located right on Lake Lucerne in the old town. Each room is individually decorated according to an actor, writer, or musician who has stayed at the hotel.
UPSCALE: Seehotel Sternen. This property is located on Lake Lucerne but it is a 5-minute drive from the city center. However, the setting is gorgeous. If you like the idea of getting out of the city and staying in a quiet hotel with wonderful views of Lake Lucerne, this one is worth considering.
MID-RANGE: Hotel Anker Luzern. This hotel opened in 2016 so it is almost brand new. The rooms are beautifully decorated with a modern flair and some rooms offer balconies.
BUDGET: Hotel Restaurant Stern Luzern. Located in the old town, this conveniently located hotel offers rooms that can accommodate up to four people. And this is also the location of one of our restaurant recommendations, Stern Luzern.
---
Do you have questions about how to spend one day in Lucerne and add on the visit to Mount Pilatus? Let us know in the comment section below!
More Places to Go in Switzerland:
ZÜRICH: For things to do on a quick visit, check out our article One Day in Zürich.
JUNGFRAU REGION: What exactly is the Jungfrau region? Find out in our Guide to the Jungfrau Region, which includes maps and important travel planning information. We also have articles about the best things to do in the Jungfrau region as well as the top hikes in the Jungfrau region. Riding to cable car to Schilthorn and the Mürren Via Ferrata were two of our favorite experiences in this part of Switzerland.
JUNGFRAUJOCH OR SCHILTHORN: Jungfraujoch and Schilthorn are two high alpine excursions in the Jungfrau region of Switzerland. If you only have the time for one, which is better, Jungfraujoch or Schilthorn?
LAUSANNE: Lausanne is another beautiful Swiss city with lots of great things to do and it also is a great home base for day trips in the area, such as Gruyères and Montreux, Vevey, and Chateau de Chillon.
SWITZERLAND ITINERARY: If your visit to Zermatt is part of a bigger trip to Switzerland, check out our Switzerland Itinerary, which has suggestions on what to do if you have 7 days, 14 days, or even longer.
ZERMATT: For ideas on what to do, read our article Best Things to Do in Zermatt and the best hikes in Zermatt. Plan your visit with our Zermatt Itinerary Guide. And don't miss our articles about how to visit Matterhorn Glacier Paradise, how to visit Gornergrat, and how to hike the Matterhorn Glacier Trail.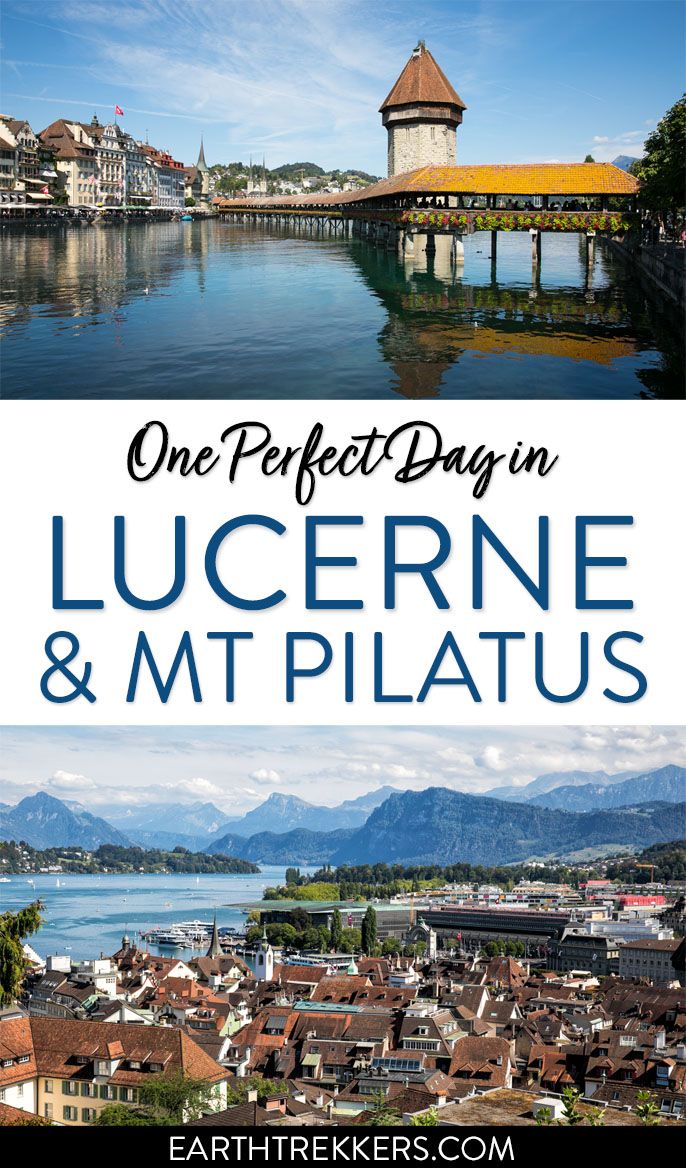 Note: This post contains affiliate links. When you make a purchase using one of these affiliate links, we get paid a small commission at no extra cost to you.
All rights reserved © Earth Trekkers. Republishing this article and/or any of its contents (text, photography, links, etc.), in whole or in part, is strictly prohibited.