Zürich, with its colorful old town and handy public transportation network, is a great city to add on to your tour of Switzerland. Wander the picturesque old town, dine on fondue, go shopping, and take a boat tour of Lake Zürich. Here are the best things to do with one day in Zürich.
Interesting Facts about Zürich
Zürich is the largest city in Switzerland. With a large train station and an international airport, this is a major transportation hub in Switzerland. If you are planning a trip to Switzerland, there is a good chance your trip will start and/or end here.
In 2018, Zürich was ranked as the 4th most expensive city in the world to live in. Zürich is home to many banking and financial institutions, making it one of the world's largest financial centers. These prices will get passed down to you as a tourist. Expect higher prices for hotels and food than you would see in other major European cities, although the price difference is not astronomical.
The city center of Zürich is small and compact and this is where you will spend most of your time. The Limmat River runs right through the city center, flowing into the Lake Zürich. The church steeples of Grossmünster and Fraumünster dominate the skyline, and a maze of narrow, cobblestoned streets course through the old town, making this the perfect place for a leisurely stroll.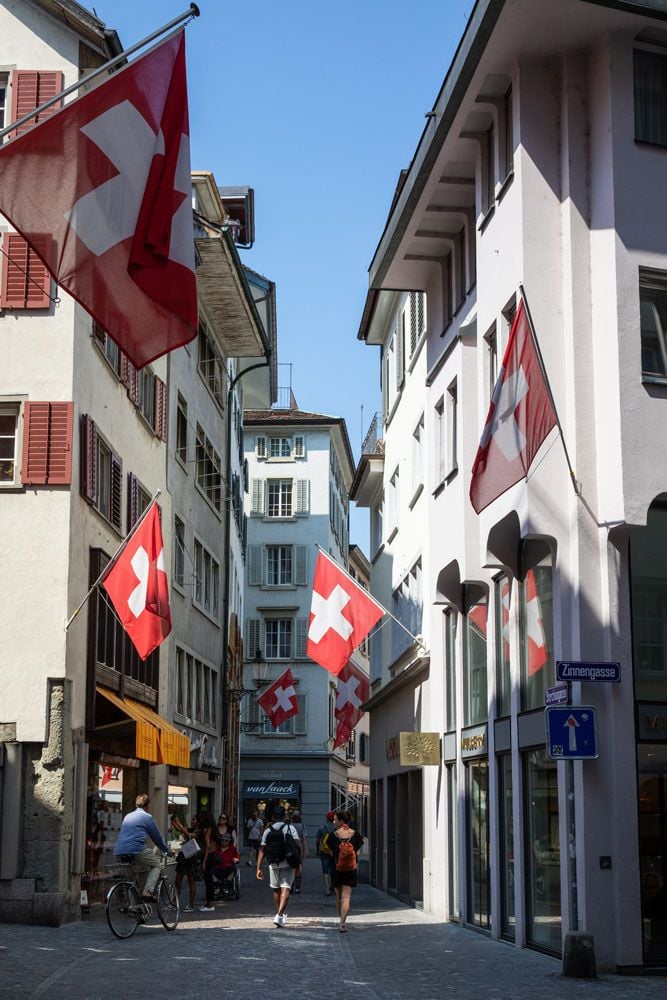 One Day in Zürich
Rather than having a minute by minute itinerary, here is a list of the best things to do if you have one day in Zürich.
At the end of this article, get recommendations on where to eat and where to stay.
If you have plans to stay longer than one day in Zürich, we also give several great ideas for day trips. Zürich is a great home base for day tripping to other places in Switzerland.
Best Things to Do in Zürich
1. Wander the Old Town (Altstadt)
The old town is the historic city center of Zürich. These narrow, pedestrian only streets are lined with shops, restaurants, hotels, and the residences of the locals.
The Limmat River divides the old town into two sections, but with a series of bridges, it's easy to crisscross back and forth as you explore Zürich.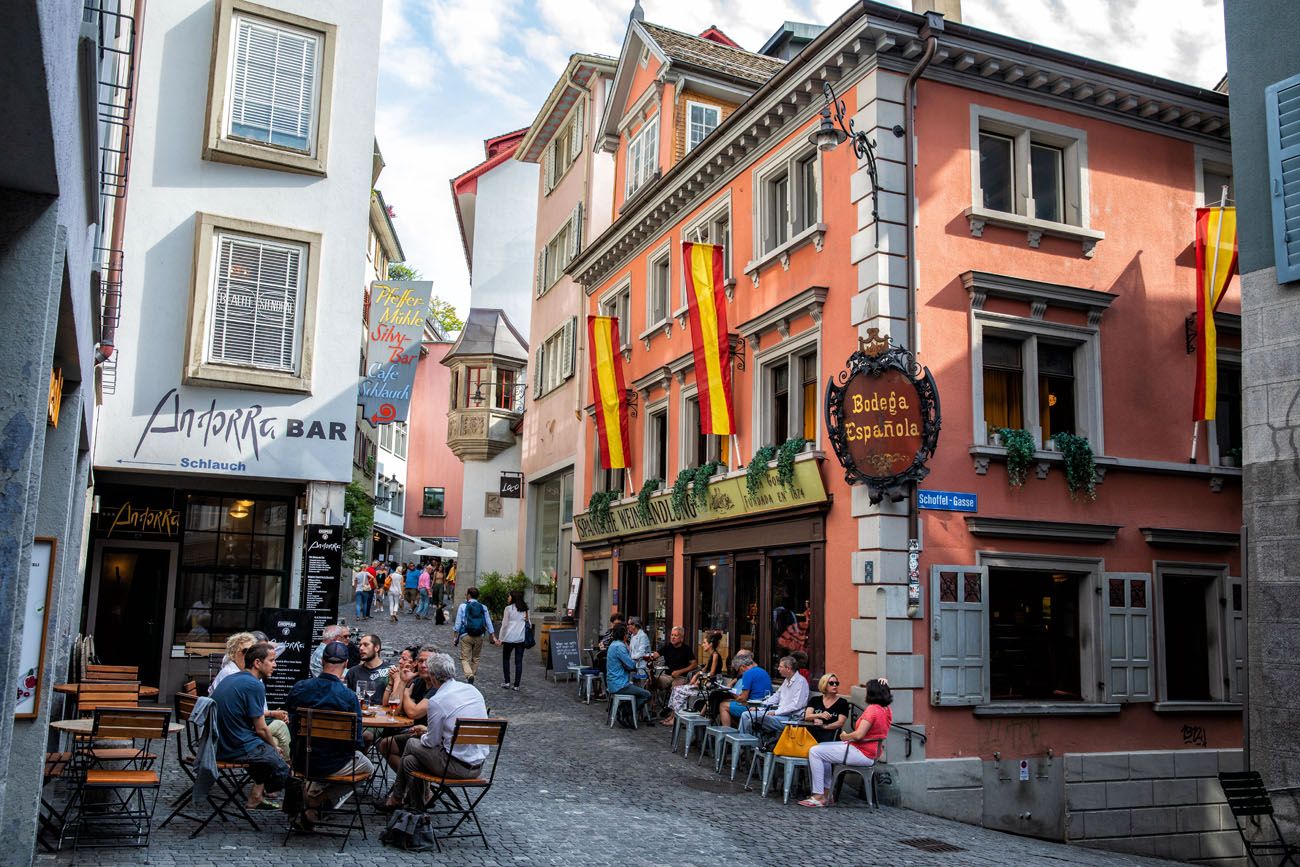 Zurich Old Town | One Day in Zürich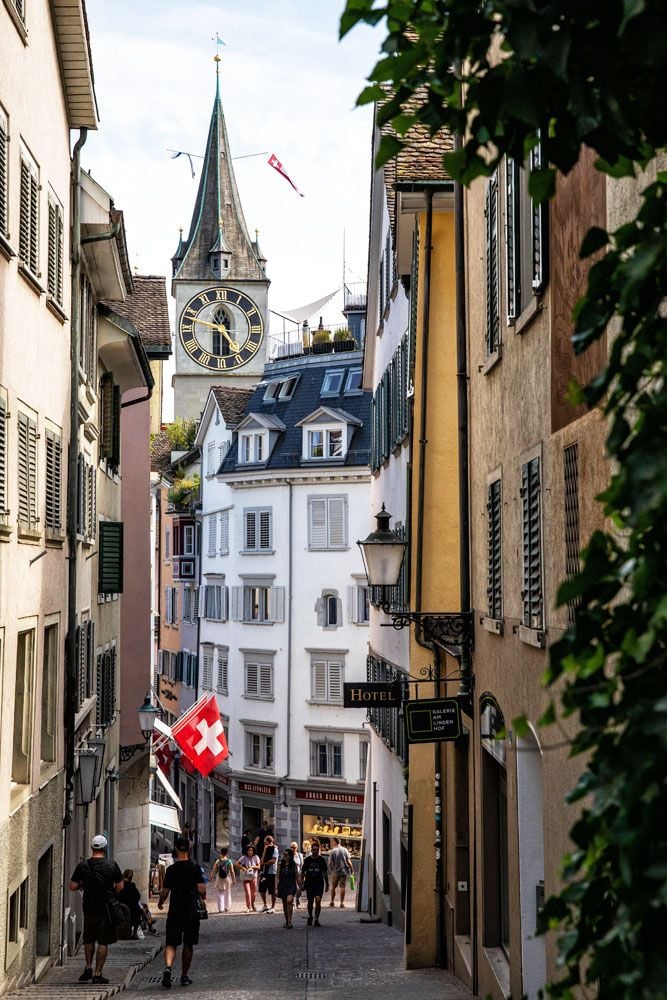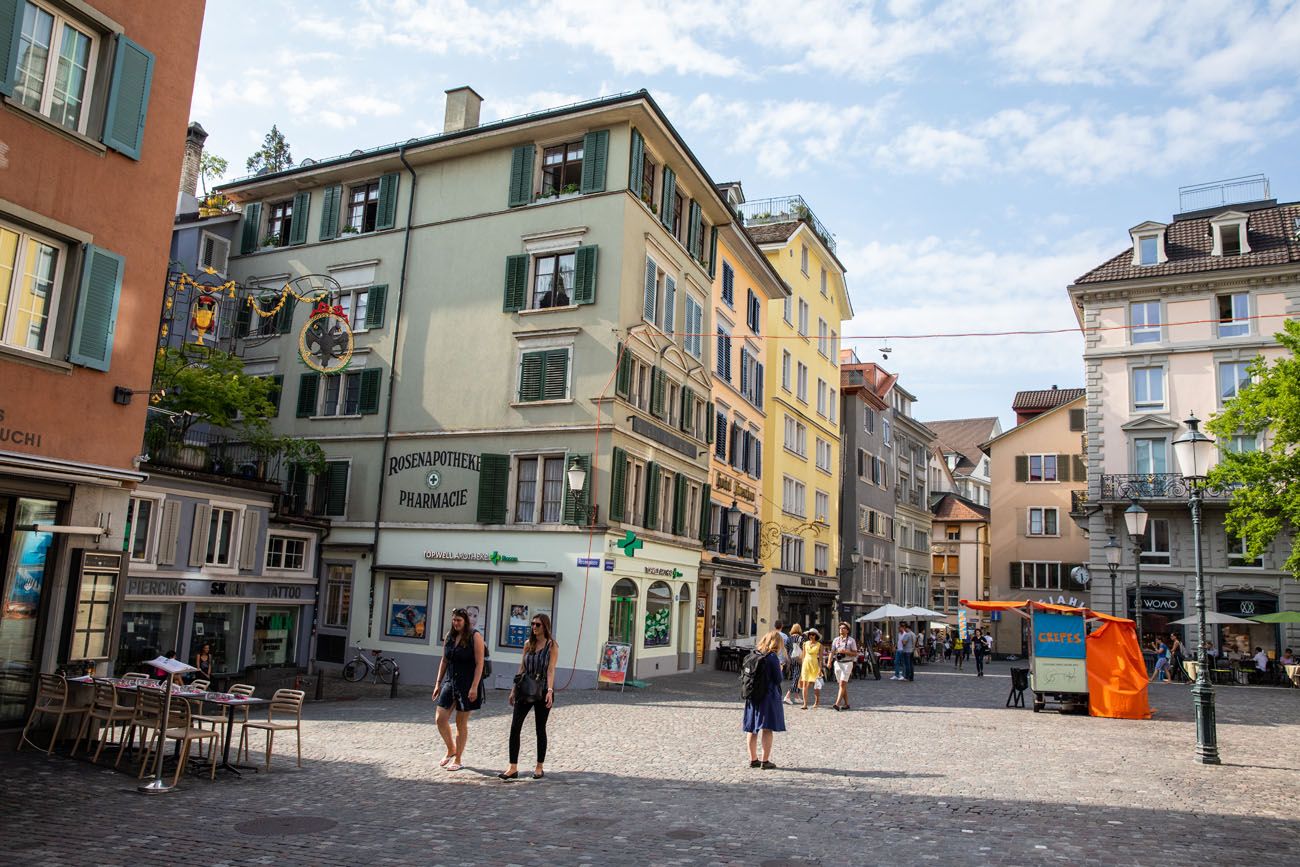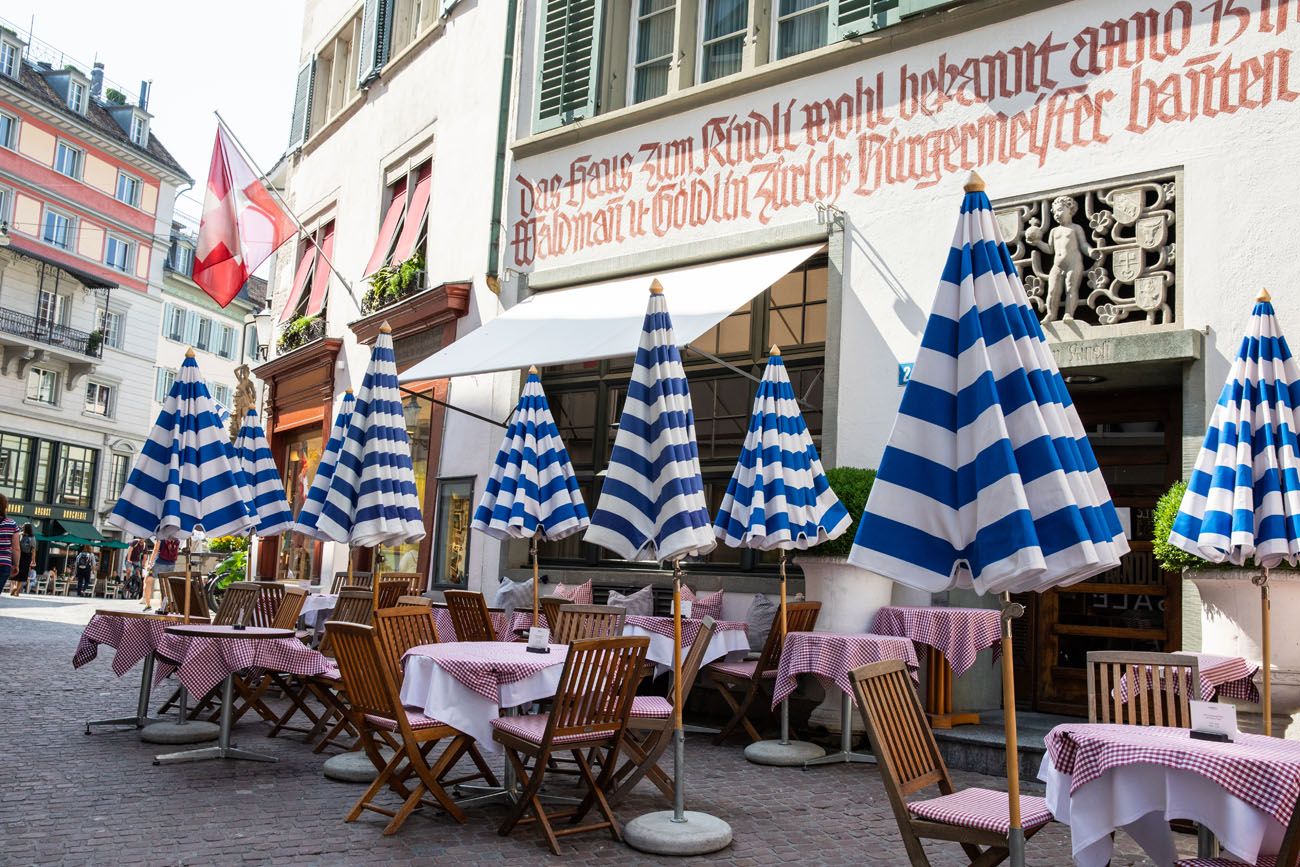 The old town is bordered by the central train station (Hauptbahnhof) in the north, Lake Zürich in the south, and spreads east and west several blocks from the Limmat River. It takes several hours to wander through the old town at a leisurely pace. There are several notable sights, such as Grossmünster and Fraumünster churches, to see along the way (these are mentioned below).
Niederdorf (referred to as Dörfli by the locals), is a small district located within the old town. This area is the main destination for the city's nightlife and it is home to many shops, restaurants, and scenic side streets. It gets its name from Niederdorfstrasse, the main pedestrian street that runs through the district.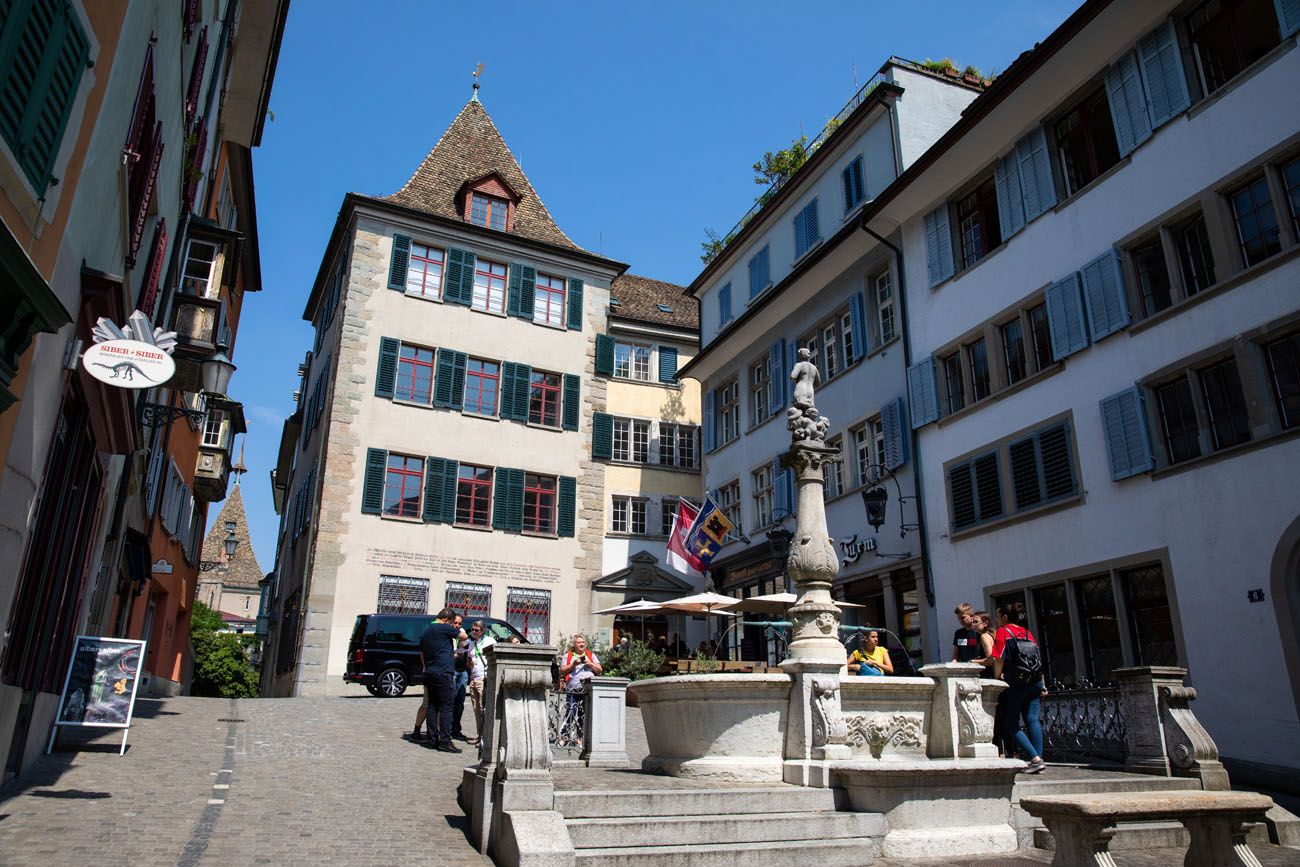 Cabaret Voltaire is the cafe where the Dada art movement began in 1916. You can still visit this café. It typically opens at 5:30 pm (earlier on weekends) and features live jazz music.
2. Grossmünster
The Grossmünster is a Protestant church that is located in the old town. It is one of the most recognizable landmarks in the city. The church is open daily from 10 am to 6 pm, with reduced hours from November to February.
Grossmünster | One Day in Zürich
3. Fraumünster
Fraumünster is another main church in Zürich. This church is famous for the stained-glass windows that were designed by Marc Chagall in 1970. You can take an audio-guided tour of the church and the crypt. Click here to learn more.
4. Lindenhof Hill
For a beautiful view over Zürich, walk to the top of Lindenhof hill. Find a spot along the sitting wall and enjoy the view.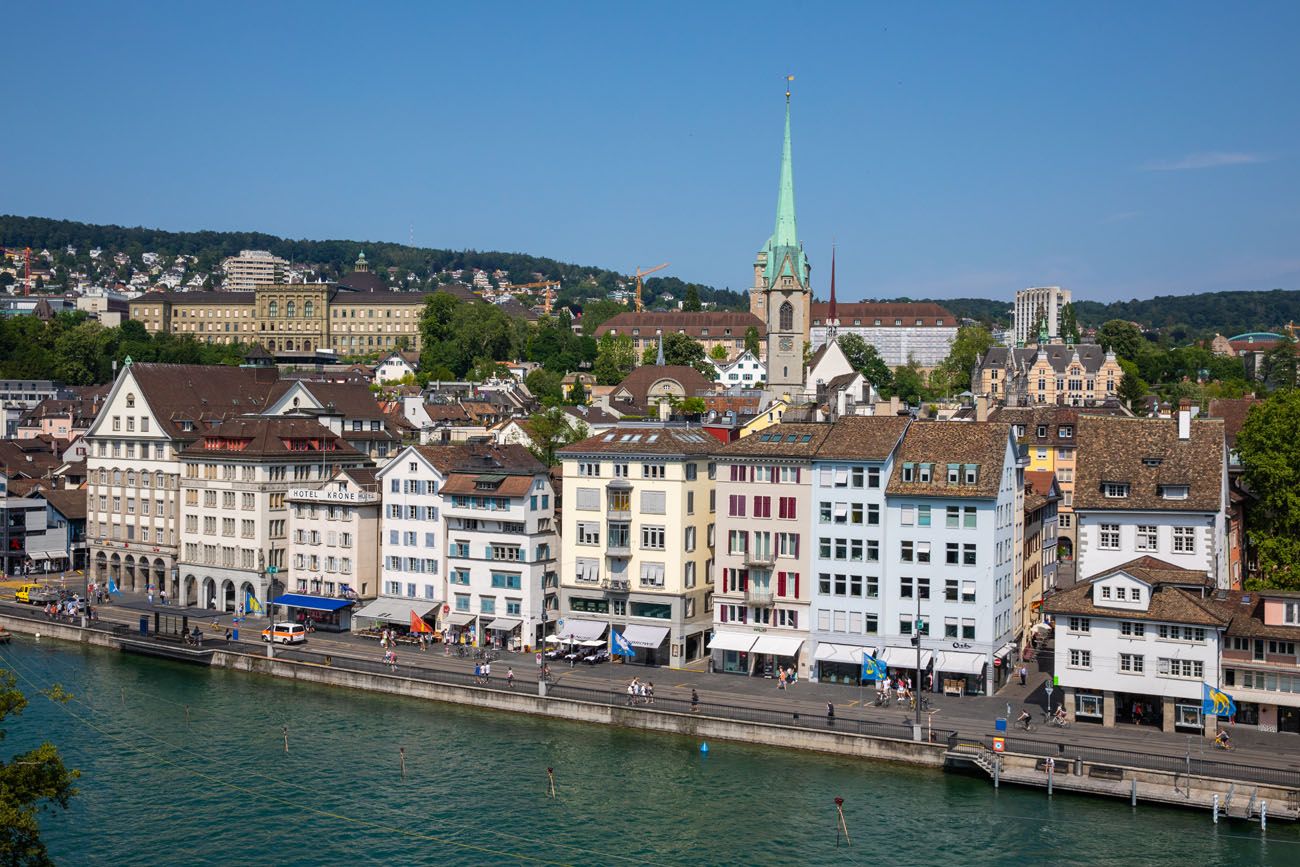 View from Lindenhof Hill | One Day in Zürich
PRO TRAVEL TIP: This makes a great picnic spot in Zürich. We bought pastries and chocolate at Confiserie Sprüngli and ate them while enjoying the view over the city. Yum!!
5. Museum of Art (Kunsthaus Zurich)
See 4,000 paintings and sculptures from the Middle Ages to present day. This collection includes art by Claude Monet, Edvard Munch, Vincent Van Gogh, Pablo Picasso, Edouard Manet, and Swiss artist Alberto Giacometti.
Click here to get updated hours and pricing.
6. Swiss National Museum (Landesmuseum Zürich)
This museum contains exhibits on Switzerland's history, with paintings and sculptures from prehistory through the Middle Ages to the 20th century. See gothic art, carved altars, and coins from the Middle Ages.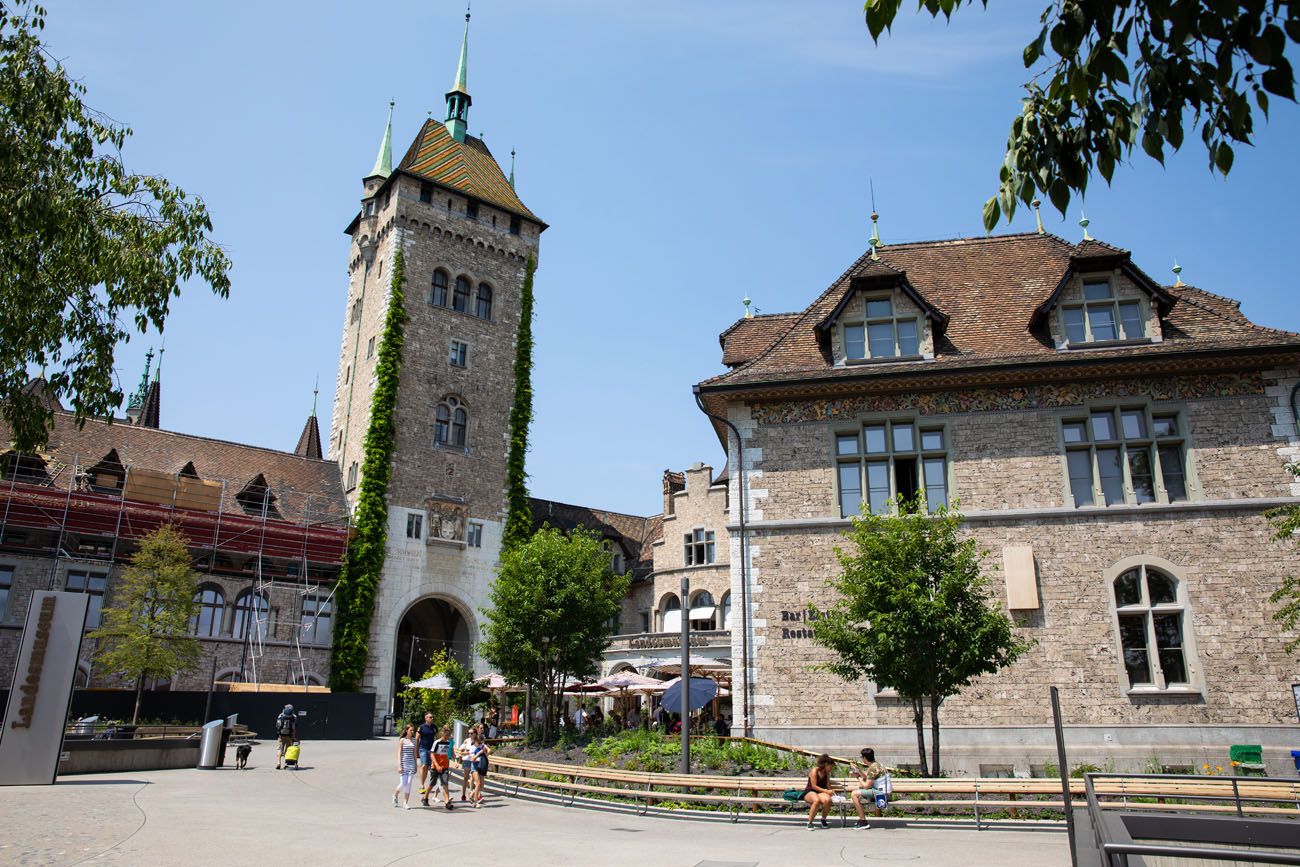 Swiss National Museum | One Day in Zürich
7. Bahnhofstrasse
Home to Dior, Chanel, Louis Vuitton, Hermès, and Prada (just to name a few), this is one of the most expensive shopping streets in the world. This street starts at the central train station (Hauptbahnhof) and ends near Lake Zürich.
8. Lake Zürich
A popular thing to do while in Zürich is to take a boat cruise on Lake Zürich. This makes a nice break from walking the city streets and visiting museums. Click here for your cruising options on Lake Zürich.
If you don't feel like taking a cruise, you can have a picnic lunch on the promenade and enjoy the view.
9. FIFA World Football Museum
For those with an interest in football, this is worth the visit. Learn about the history of football through the museum's interactive displays and short films.
This museum is located outside of the old town, but you can still get here by walking (it is about a 20-minute walk from the old town). You can also get here by tram.
Get updated hours and pricing here.
10. Uetliberg Mountain
This "mountain" is really just a large hill, but it provides a nice view over the city of Zürich. This is located on the outskirts of Zürich, so getting here will take some time. If you only have one day in Zürich, your time is better spent in and around the old town, but those who make the trip out this way tend to enjoy the experience.
To get here, you can take the train from Zürich (about 30 minutes) and then it is a 10-minute uphill walk to the viewpoint. Click here to learn more about how to get here.
One Day Walking Tour of Zürich
Below is a map of the top sights in Zürich. The walking route is a good starting point on how to link everything together. However, I highly recommend exploring the side streets as you walk through the old town.
Since this walking route is a loop, you can start and end at any point on this route.
Not included on the walking route are the FIFA World Football Museum and Uetliberg Mountain, since they sit outside of the old town.
How to Use This Map: Click the tab in the top left hand corner of the map to view the layers (points of interest and the walking route). You can click the check marks to hide or show layers. If you click the icons on the map, you can get more information about each point of interest.

If you click the star next to the title of the map, this map will be added to your Google Maps account. To view it on your phone or computer, open Google Maps, click the menu button, go to "Your Places," click Maps, and you will see this map on your list.
Should You Purchase the Zürich Card?
The Zürich Card covers unlimited travel by tram, bus, and train, in the city of Zürich and also includes a cruise on the Limmat River and a short round trip cruise on Lake Zürich. Get free or reduced admission to the museums and a 50% discount if you take their guided old town walking tour.
With the Zürich Card, you get free admission into the Swiss National Museum, a 30% discount to the FIFA Football Museum, and a 33% discount to the Kunsthaus (Art Museum).
The Zürich Card costs CHF 27 for a 24-hour pass and CHF 53 for a 72-hour pass.
If you plan to visit two museums (Swiss National Museum, FIFA, or Kunsthaus), the card pays for itself. You also get the benefit of free transportation in Zürich, discounts at select restaurants, with the option to add on a Limmat River boat cruise or a short cruise on Lake Zürich. Plus, this card covers many sights in Zürich that we do not have listed in this article.
Click here to learn more about the Zürich Card.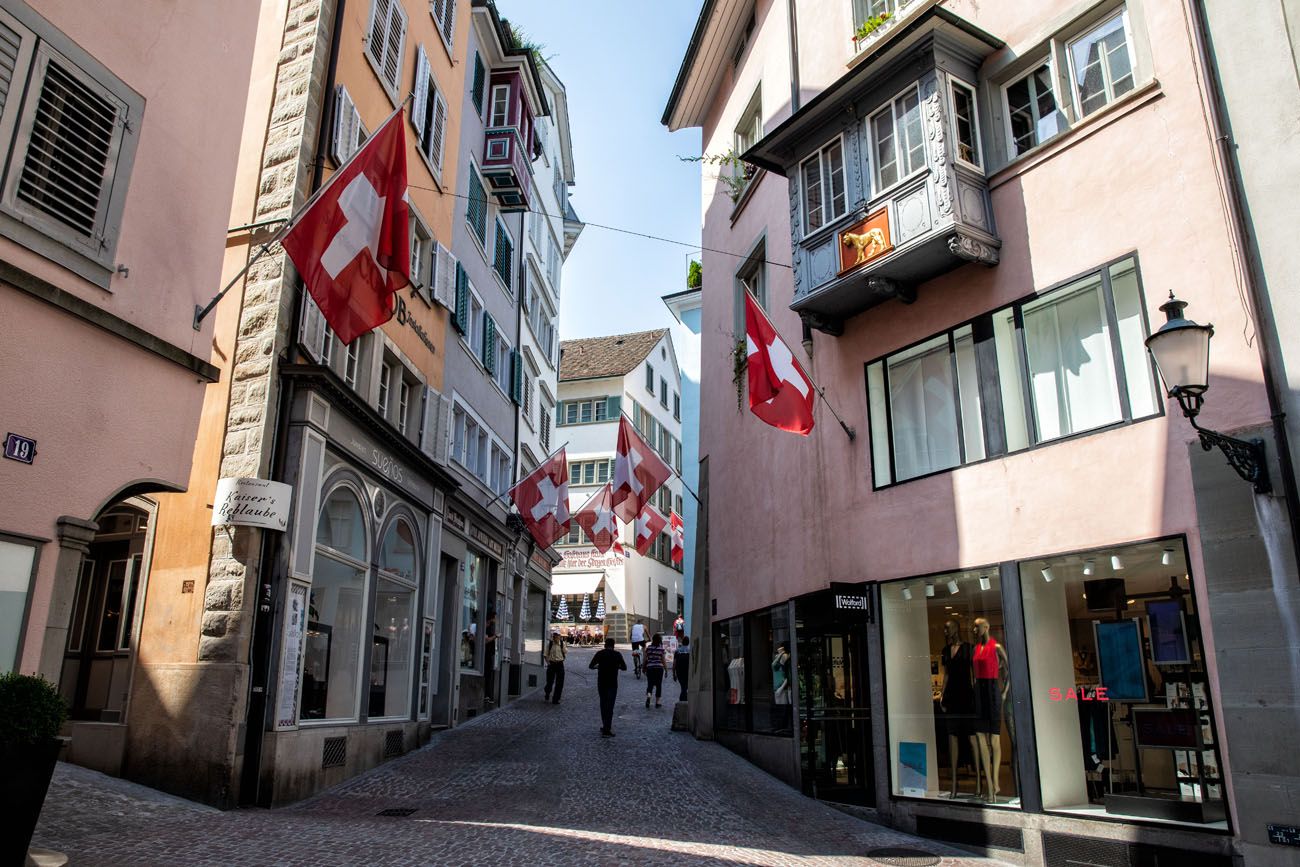 Zürich Old Town | One Day in Zürich
Where to Eat
In Zürich, you will find a whole range of restaurants to choose from…traditional Swiss, Italian, Japanese, Thai, Chinese, Mexican, Lebanese, and more. Here are a few notable suggestions.
Le Dezaley. This popular restaurant serves fondue and other traditional Swiss dishes. It is located near Grossmünster in the old town.
PRO TRAVEL TIP: You know you are getting near a fondue restaurant when the smell of "stinky" cheese fills the air. Cheese fondue is not for everyone. Tim and Tyler could never get past the smell, but Kara and I loved eating cheese fondue.
La Pasta. We ate here and loved it. This Italian restaurant serves delicious pasta dishes that aren't overly expensive. It is located in the Niederdorf district of the old town so it makes a great lunch or dinner spot as you tour the old town.
Confiserie Sprüngli. This is a must-visit while in Zürich. Downstairs is a shop selling all kinds of treats…pastries, Swiss chocolate, and cookies. Sprüngli is famous for their Luxemburgerli, which are mini macaroons. Eat them now and buy more to take home and share with your friends and family. Upstairs is a café and restaurant where you can have breakfast or lunch.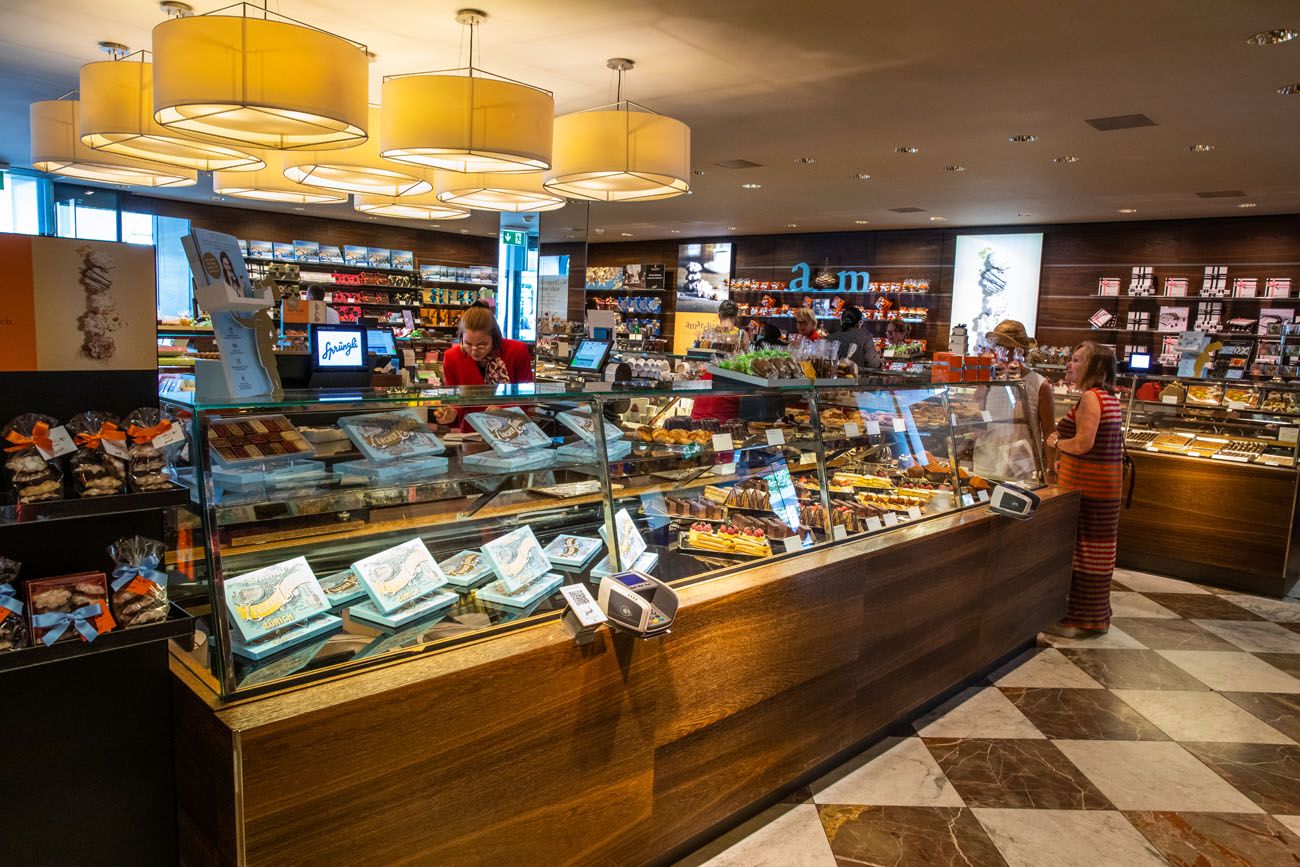 Confiserie Sprüngli | One Day in Zürich
Where to Stay
LUXURY: Baur au Lac. This high-end hotel is located in its own private park in the heart of Zürich. The onsite restaurant, Restaurant Pavilion, is a 1-star Michelin rated restaurant.
MID-RANGE: Hotel Adler. Located in the heart of the old town, this is one of the best places to stay in Zürich. We stayed here and had a great experience. They also run a fondue restaurant, so the hotel lobby smells like cheese.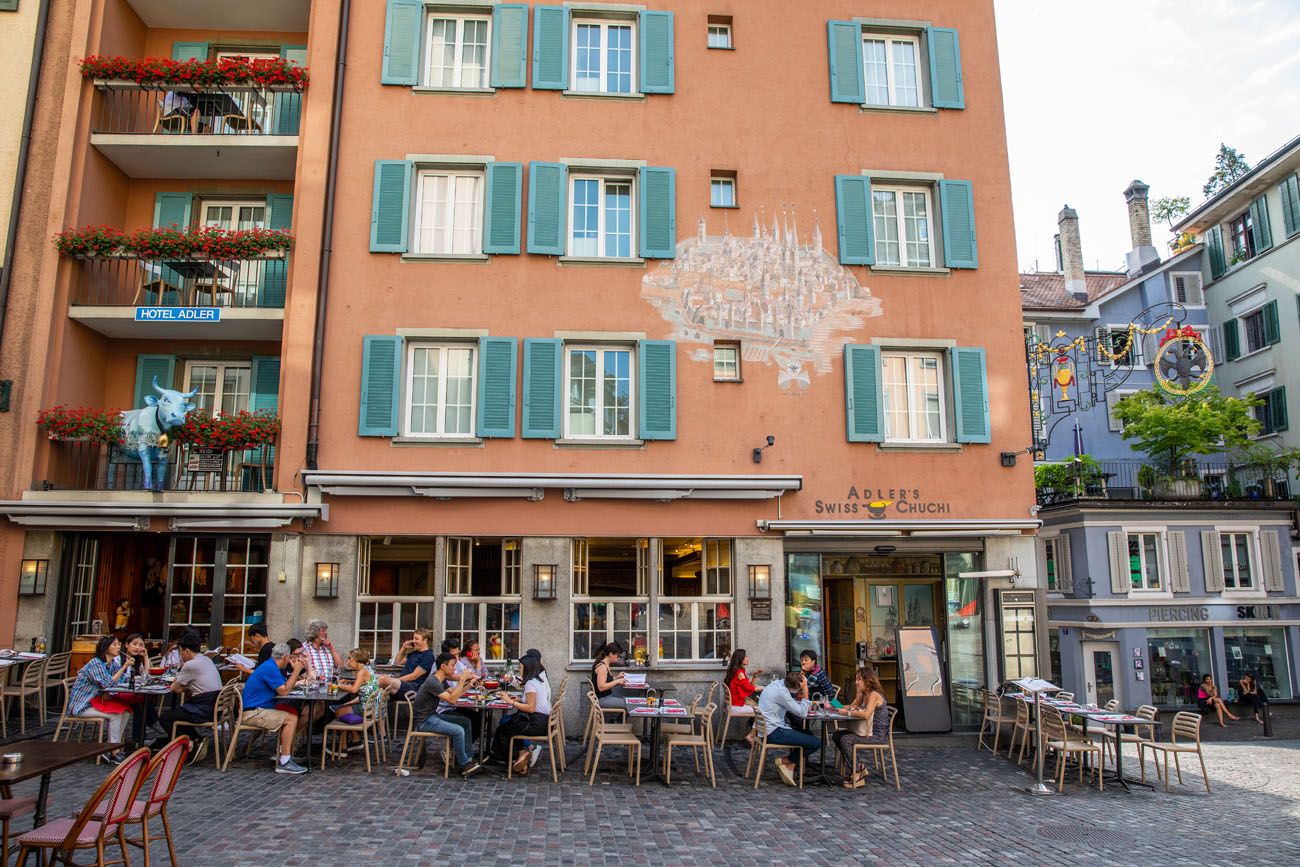 Hotel Adler | One Day in Zürich
BUDGET: Hotel Hottingen. This hotel was renovated in 2016 and has rooms that can accommodate up to four people. It is located east of the city center and it is a 10 to 15-minute walk to get to the old town (or you can use public transportation).
Day Trip Ideas from Zürich
Zürich is a handy home base for exploring more of Switzerland. Here are several day trip ideas, if you plan to stay here for more than one to two nights.
Lucerne and Mt. Pilatus
Lucerne is a gorgeous Swiss city that is just a quick train ride from Zürich. With one day, you can explore the compact city center and ride the cableway up to Mt. Pilatus.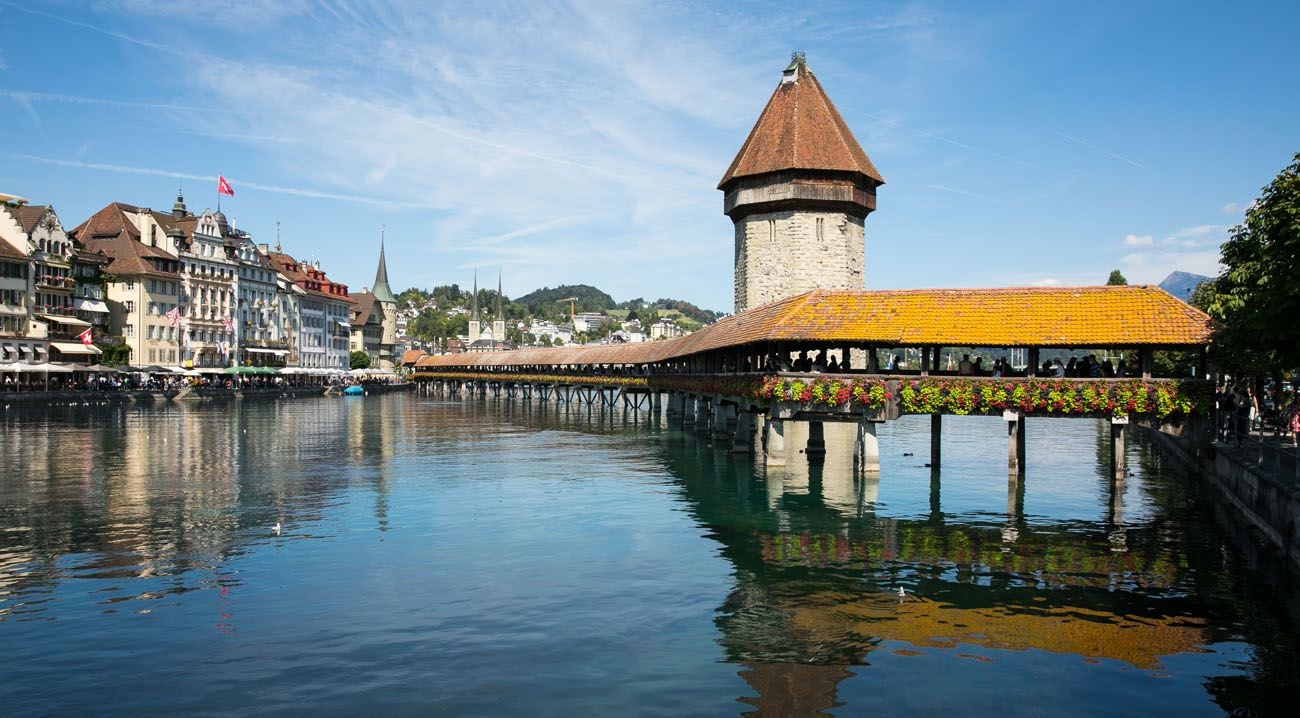 Mt. Titlis
Mt. Titlis is a mountain in central Switzerland that is accessible by rotating cable car. Offering high mountain views and the chance to play in the snow, even in the summer, this is another great day trip idea from Zürich. Click here to visit the official Mt. Titlis website.
You can also visit Mt. Titlis on a tour from Zürich.
Interlaken/Jungfrau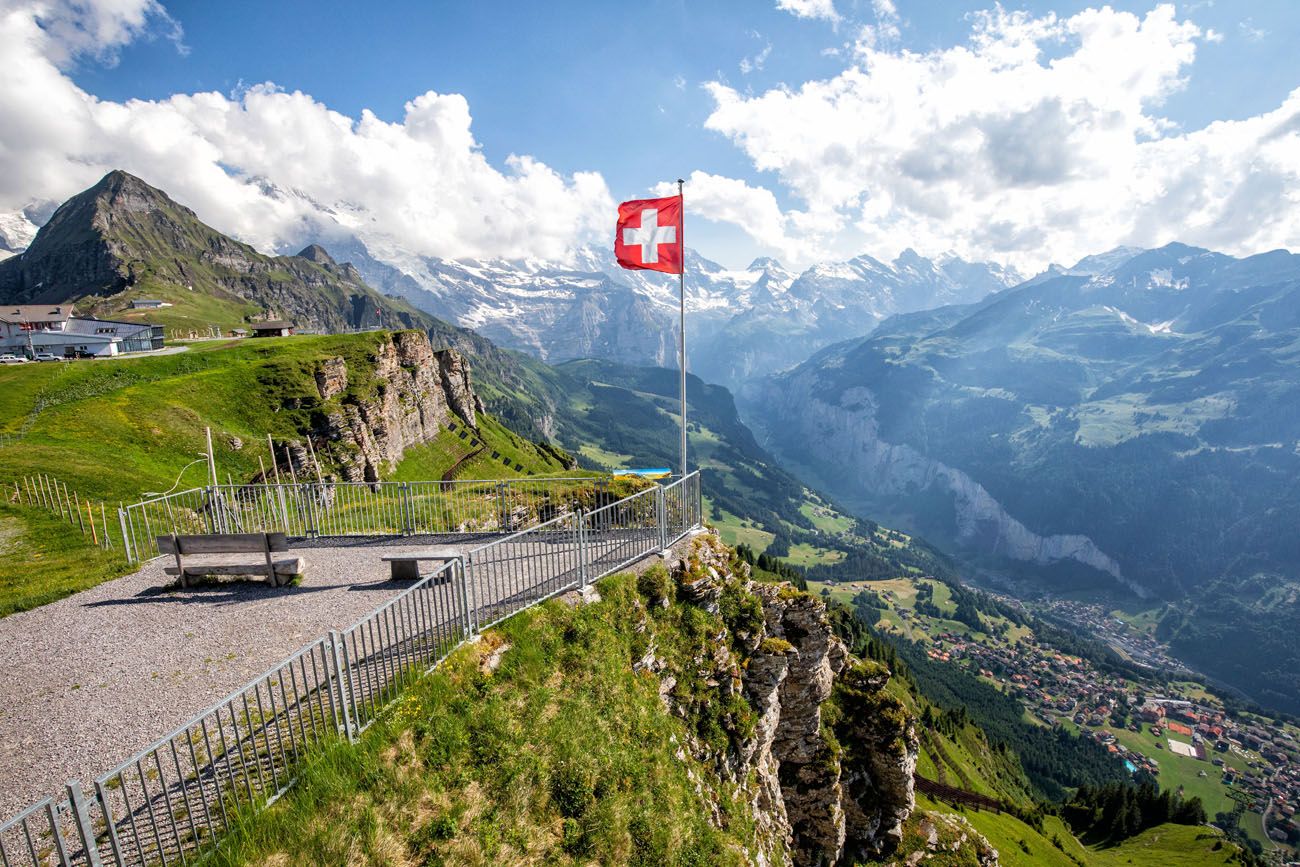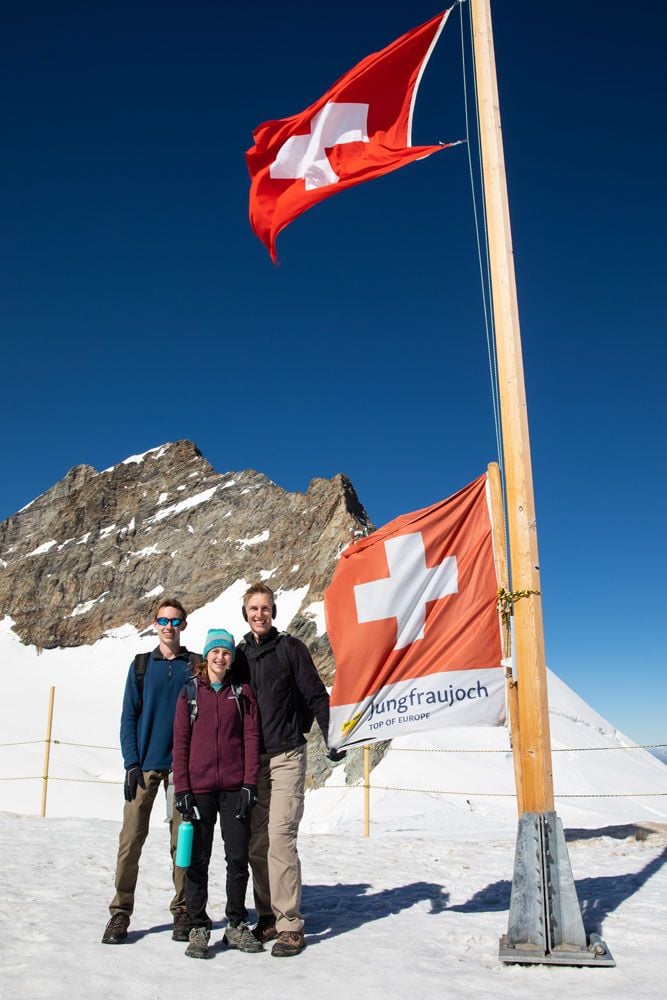 With one full day, you can day trip to the Bernese Oberland. This wonderland of small villages, jagged mountain peaks, and scenic hiking trails is the highlight for many visitors to Switzerland. For more information, read our article about the best things to do in the Jungfrau region.
Rhine Falls
Rhine Falls is the largest waterfall in Europe. It is located in northern Switzerland, not far from Germany. On this 5-hour tour, travel through picturesque villages, visit the town of Stein am Rhein, and view the waterfall.
Day Trip Tours from Zürich
---
If you have any questions about spending one day in Zürich, let us know in the comment section below.
More Places to Go in Switzerland
LUCERNE: Learn how to spend one perfect day in Lucerne with a trip to Mt. Pilatus.
SWITZERLAND ITINERARY: If your visit to Zürich is part of a bigger trip to Switzerland, check out our Switzerland Itinerary, which has suggestions on what to do if you have 7 days, 14 days, or even longer.
LAUSANNE: Lausanne is another beautiful Swiss city with lots of great things to do and it also is a great home base for day trips in the area, such as Gruyères and Chateau de Chillon.
JUNGFRAU REGION: What exactly is the Jungfrau region? Find out in our Guide to the Jungfrau Region, which includes maps and important travel planning information. We also have articles about the best things to do in the Jungfrau region as well as the top hikes in the Jungfrau region. A visit to Jungfraujoch is one of the most popular experiences in the Jungfrau region, but is it worth it? Riding to cable car to Schilthorn and the Mürren Via Ferrata were two of our favorite experiences in this part of Switzerland.
LUGANO: Lugano is located in southern Switzerland. From here, you can visit the fairytale bridge Ponte dei Salti and you can easily day trip to Lake Como and Bellagio.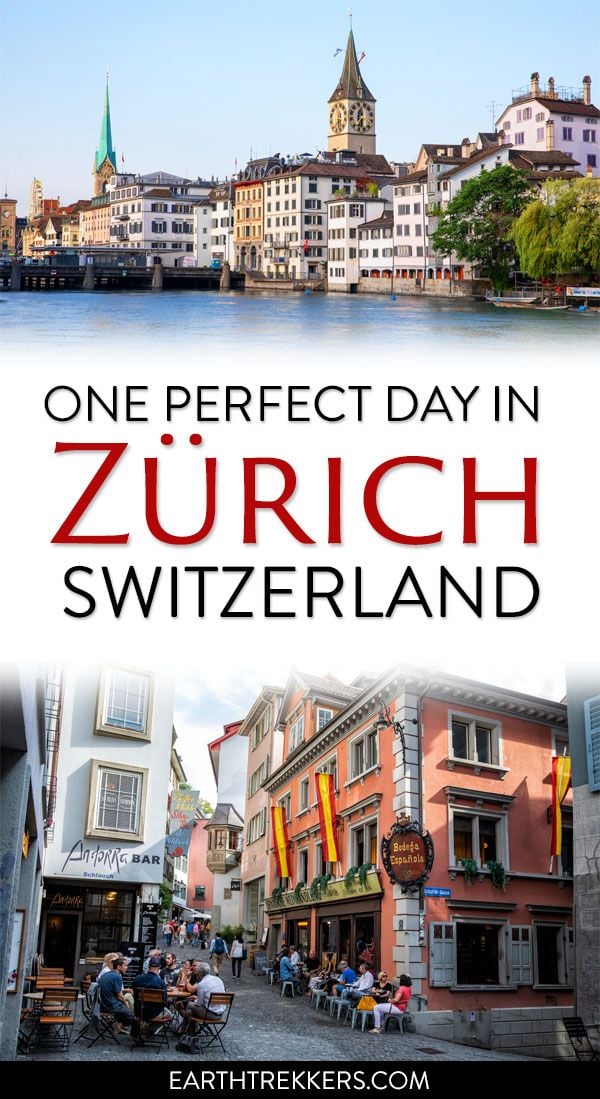 Note: This post contains affiliate links. When you make a purchase using one of these affiliate links, we get paid a small commission at no extra cost to you.
All rights reserved © Earth Trekkers. Republishing this article and/or any of its contents (text, photography, etc.), in whole or in part, is strictly prohibited.