If you are looking for a short but sweet hike in the Jungfrau region of the Bernese Oberland, the Eiger Trail is a great one to consider. This point-to-point hike follows the north face of the Eiger mountain. Along the way, you get jaw-dropping views across the Lauterbrunnen Valley to Mürren and also down to Grindelwald.
This was one of our favorite hikes in the region. The views are unbeatable, it is mostly a downhill walk so you don't have to be super fit to hike this trail, and it can be easily added onto a visit to Jungfraujoch or Kleine Scheidegg. For a one day itinerary that includes the Eiger Trail and Jungfraujoch, with information on how to use public transportation, read our One Day in the Jungfrau Region Itinerary.
And did I mention that the views are spectacular?! 🙂
One of the most confusing things, at least for me, was figuring out how to get around the Bernese Oberland. In this article, not only will I tell you what to expect on the trail, but how to get around by train.
Here we go!
Eiger Trail Hiking Stats
Distance: 7.25 km (4.5 miles) point-to-point
Elevation Change: 140 meters up, 800 meters down
Difficulty: Easy to moderate
Length of Time: 2 to 3 hours
When to go: Late June through October

Eiger Trail Elevation Profile
If you read other articles about the Eiger Trail, the distance is consistently listed as 6 km (3.75 miles). Our Garmin GPS said this hike was 7.25 km, from train station to train station. The extra distance could have come from the change in the start of the hike due to construction at Eigergletscher or interference from the mountains. However, this hike felt longer than 6 km, so I believe our GPS was relatively accurate.
IMPORTANT NOTE: This hike is different from the Jungfrau Eiger Walk. The Jungfrau Eiger Walk is a 2 km downhill walk that connects Eigergletscher with Kleine Scheidegg. You will not hike past the North Face of the Eiger on this walk. Learn more here.
Background Information on the Eiger
Eiger is one of three main peaks in the Bernese Oberland. Eiger, Mönch, and Jungfrau form a trio of mountains that dominate the landscape. Jungfrau, at 4,158 meters, is the tallest of the three but Eiger, at 3,967 meters, is a popular rock climbing destination.
The North Face of the Eiger was first climbed in 1938 by an Austrian-German climbing team. Since this time, 60 others have lost their lives attempting to climb Eiger.
Hiking the Eiger Trail is a great way to get up close with this massive mountain, without risking your life.
How to Get to the Eiger Trail
The Eiger Trail is located in the Jungfrau region of the Bernese Oberland.
This is a point-to-point hike, starting at Eigergletscher (Eiger Glacier Station) and ending in Alpiglen. If you do the hike in this direction, it is a mostly downhill walk. Of course, you can start in Alpiglen and walk uphill to Eigergletscher, but if you do so, add another 30 to 45 minutes onto our time estimate since you will be moving at a slighty slower pace.
To do this hike, you will take a train to Eigergletscher station, the starting point of this hike. Then, at the end of the hike, take a second train from Alpiglen to your starting point in the Bernese Oberland.
Below is a trail and train map of the area. I highlighted the key towns (Kleine Scheidegg, Eigergletscher, Grindelwald, and Lauterbrunnen). The Eiger Trail is the red hiking trail labeled #36. Trains and cable cars are the black lines. Hiking trails are the red lines.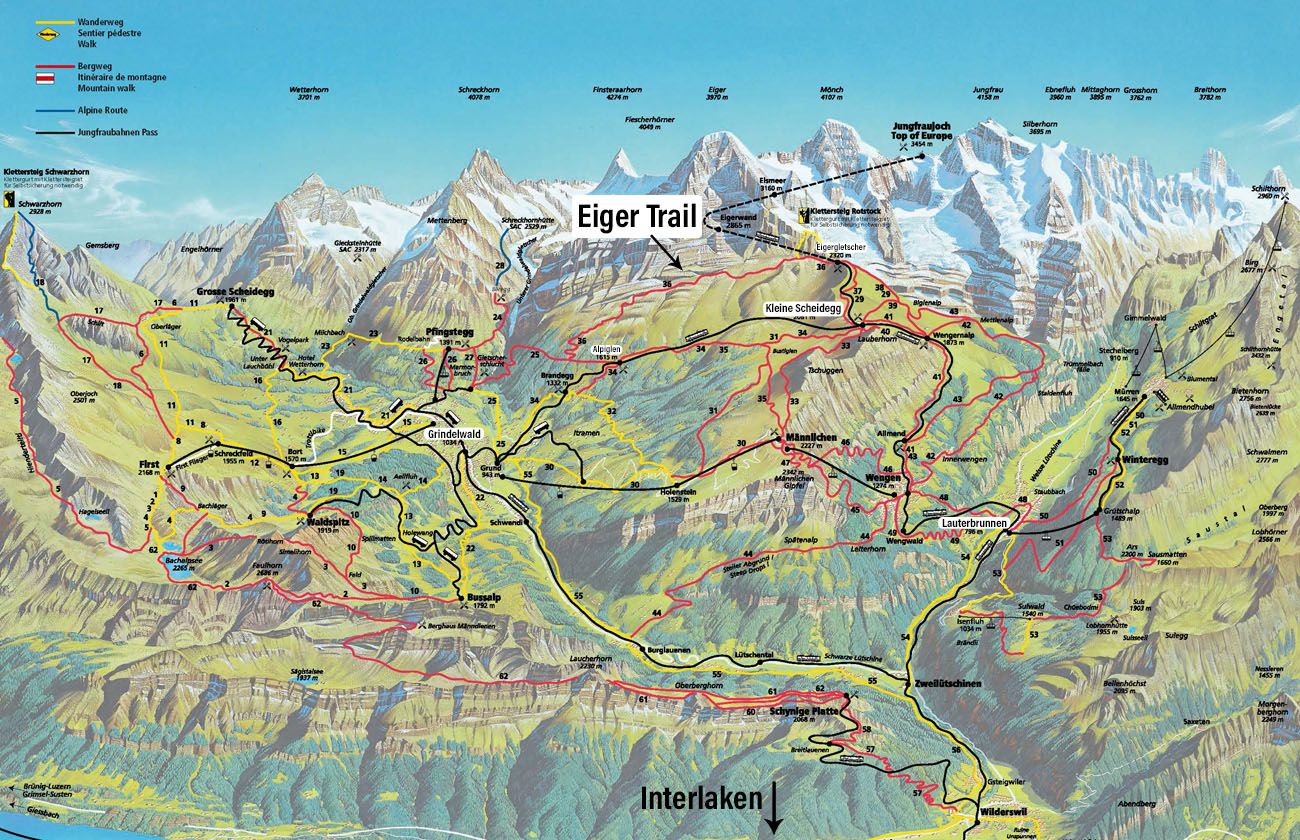 Here is a zoomed-in version of the above map. I highlighted the hiking trail blue.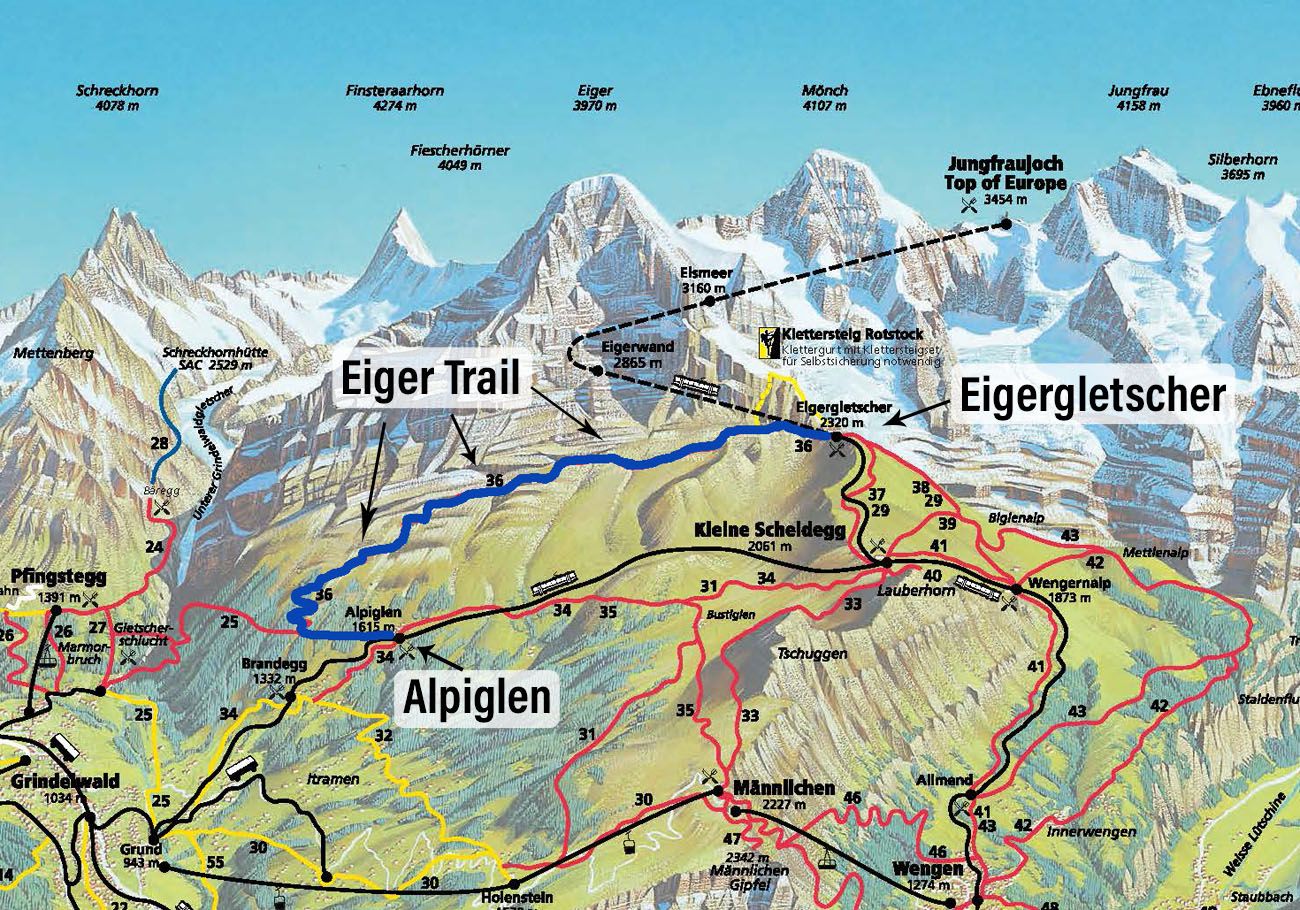 How to get to Eigergletscher
Eigergletscher station is located between Kleine Scheidegg and Jungfraujoch. There are two ways to get here, either through Kleine Scheidegg or Grindelwald. A new gondola now links Grindelwald and Eigergletscher, which is the reason why there are now two different ways to get to the starting point of this hike. Your route depends on your starting point.
Here are the routes and travel time estimates for the towns in the Jungfrau region. You can also see the full timetable here.
Wengen: train from Wengen to Kleine Scheidegg: 30 minutes; Kleine Scheidegg to Eigergletscher: 5 minutes; Total time including transfers: 46 minutes
Lauterbrunnen: train from Lauterbrunnen to Kleine Scheidegg (through Wengen): 38 minutes; Kleine Scheidegg to Eigergletscher on the Jungfraubahn: 5 minutes; Total time including transfers: 1 hour 2 minutes
Mürren: train Mürren to Grutschalp: 14 minutes; cable car Grutschalp to Lauterbrunnen: 4 minutes; train from Lauterbrunnen to Kleine Scheidegg: 38 minutes. Travel time is 1 hour 36 minutes including transfers.
Grindelwald: Eiger Express to Eigergletscher: 20 minutes; Total time including transfers: 56 minutes
Interlaken Ost: Train Interlaken Ost to Grindelwald: 29 minutes; Eiger Express to Eigergletscher: 20 minutes; Total time including transfers: 1 hour 4 minutes
PRO TRAVEL TIP: If you visit Jungfraujoch on the same day, the return train stops at Eigergletscher Station before arriving at Kleine Scheidegg. Get off at Eigergletscher to start the hike. We visited Jungfraujoch in the morning and hiked the Eiger Trail in the afternoon. This saved us the money and time for a second train journey all of the way back to Kleine Scheidegg on a different day.
EIGER TRAIL HIKING TICKET. This is a train ticket that covers your fare from your starting train station to Eigergletscher and then from Alpiglen back to your train station of origin. The official website states that prices start at 24 CHF but more realistically they come in around 55 CHF. For more information, click here.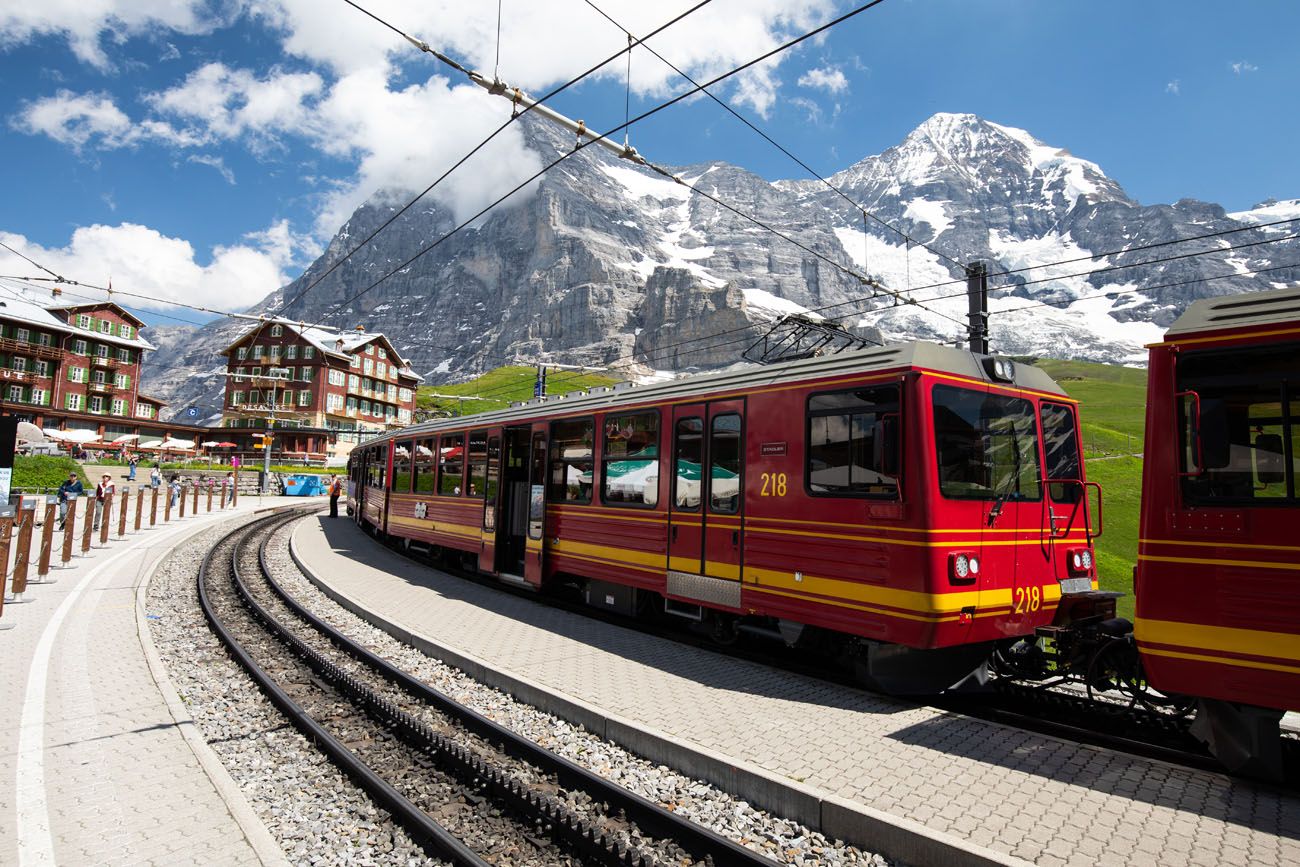 Kleine Scheidegg station and the Jungfraubahn, the train that goes to Eigergletscher and Jungfraujoch.
What We Did
We did this hike in early July.
We started the day with a visit to Jungfraujoch. We took the first train of the day, when crowds are lower at Jungfraujoch.
We took the first train of the day up to Jungfraujoch and spent the morning here. After having lunch at Jungfraujoch, we took the train back towards Kleine Scheidegg. We got off at Eigergletscher, hiked to Alpiglen, and took the train back to Kleine Scheidegg.
The Eiger Trail
Step-By-Step Trail Guide
The trail is very well marked and easy to follow. At the station, look for the bright yellow-orange trail signs or the large signs that direct you to the Eiger Trail.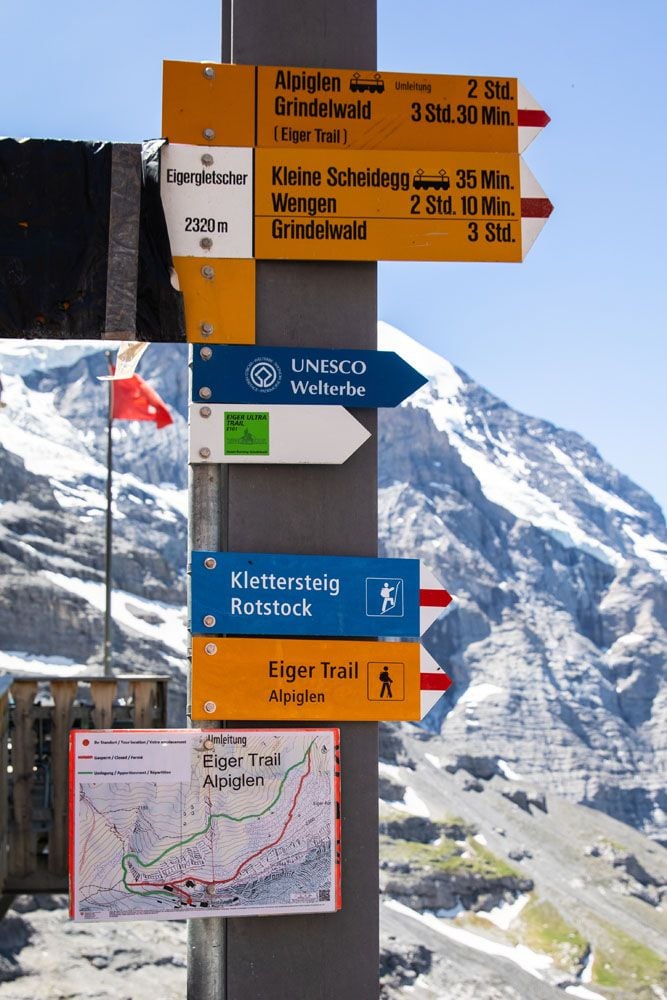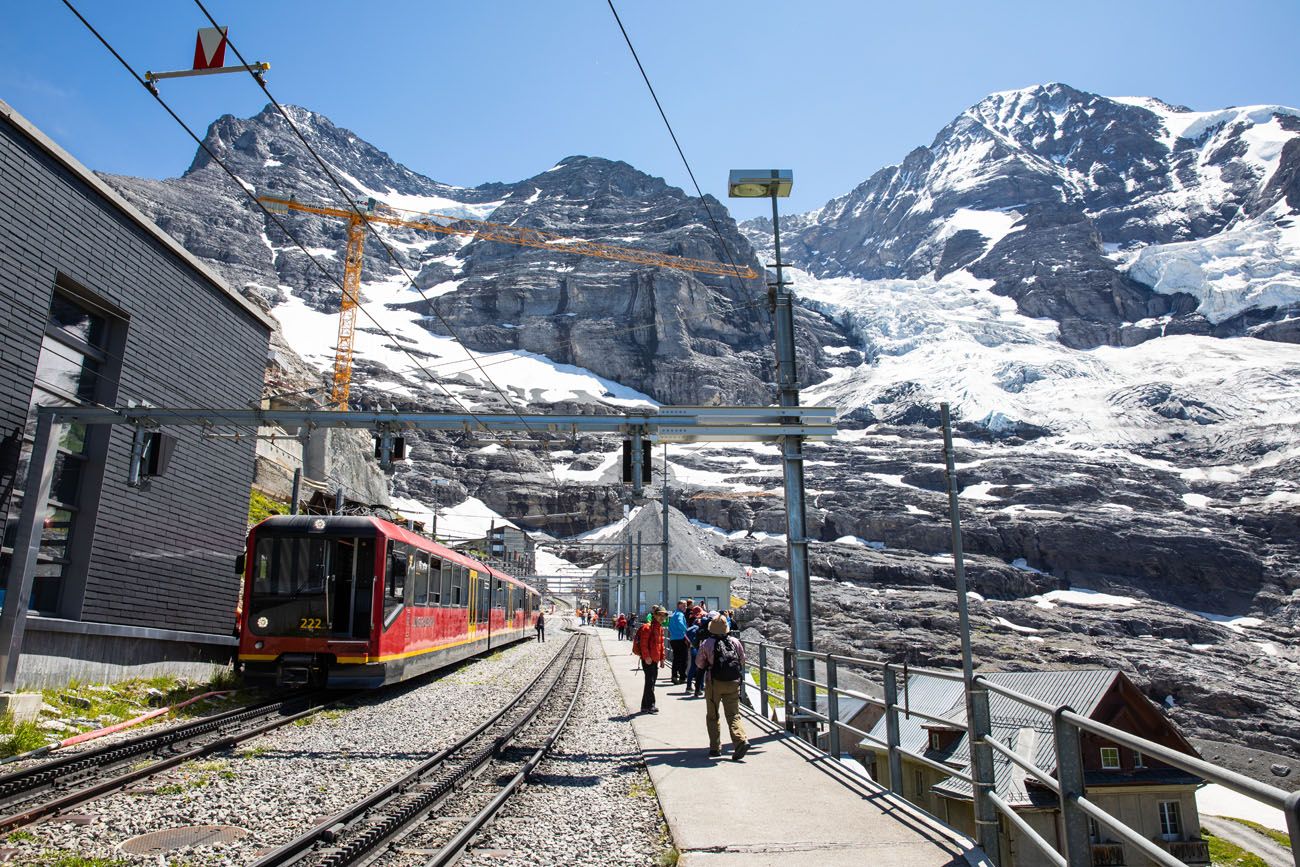 Eigergletscher Station
The trail sign at the trailhead states that it takes 2 hours to hike this trail if you start at Eigergletscher. We typically hike much faster than most estimates. However, it took us 2.5 hours, simply because we stopped so frequently to take photos and enjoy the views.
This place really amazed us.
The first views, just meters away from the Eigergletscher station, are incredible. This is where you can look across the Lauterbrunnen Valley to Mürren. Looming over you are Eiger, Mönch, and Jungfrau. On a crystal clear day these views are unbelievable.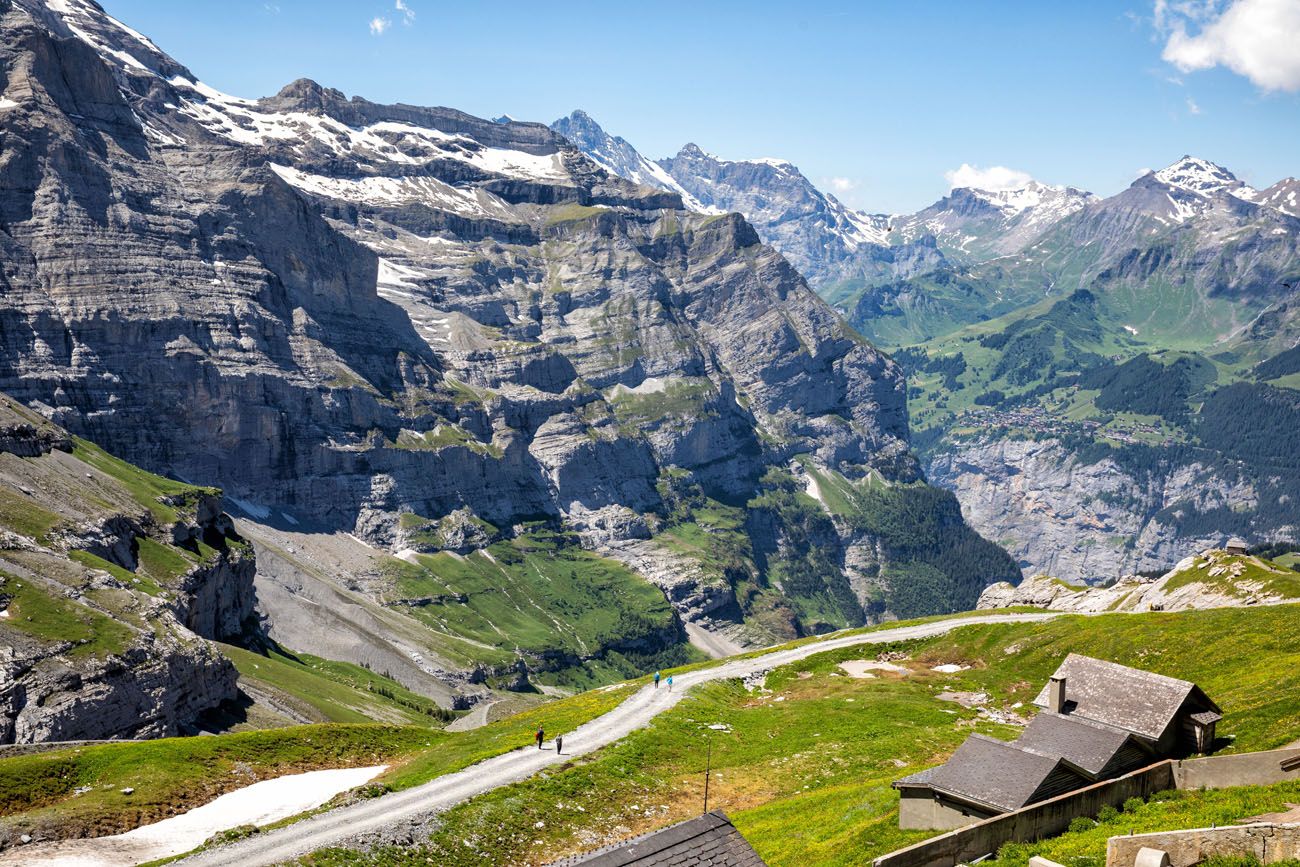 View from Eigergletscher Station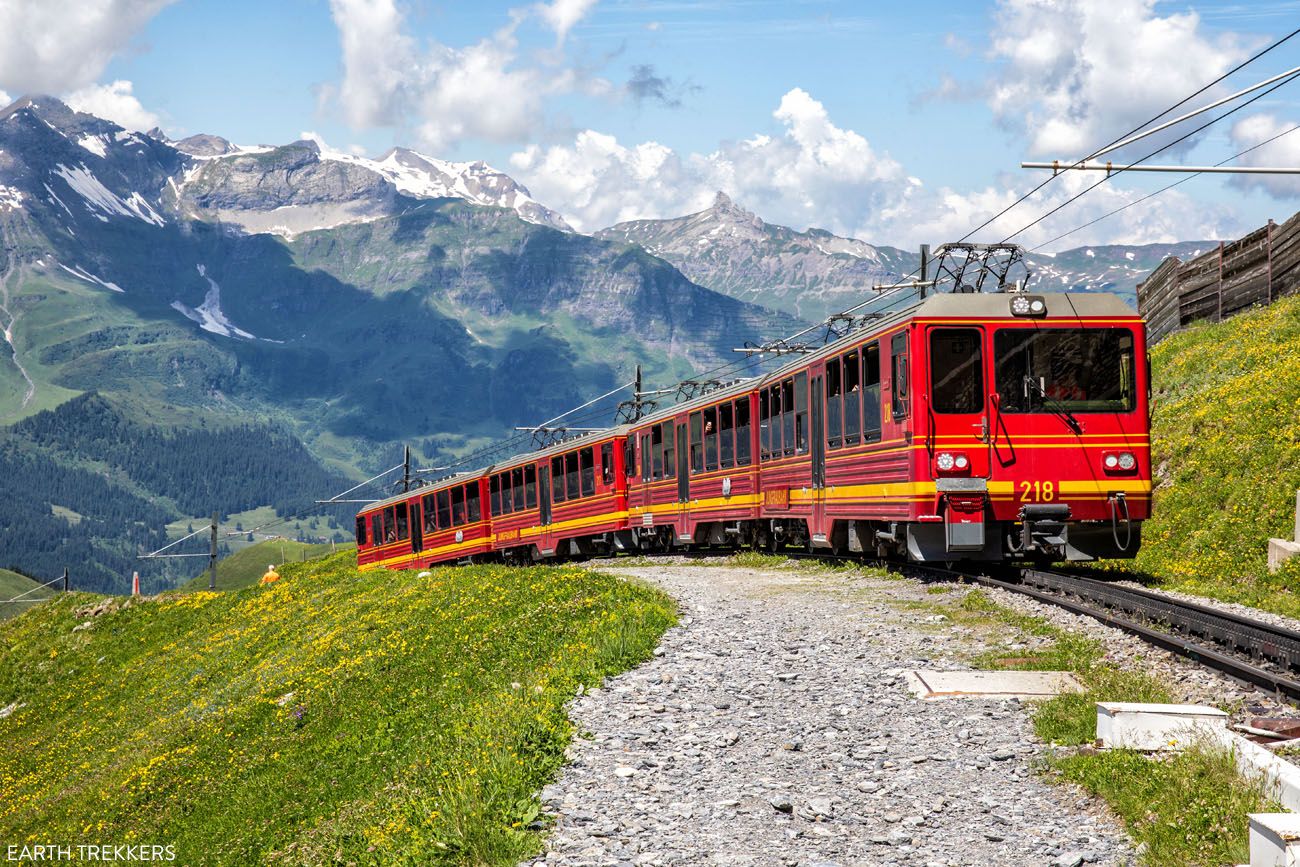 Jungfraubahn arriving at the station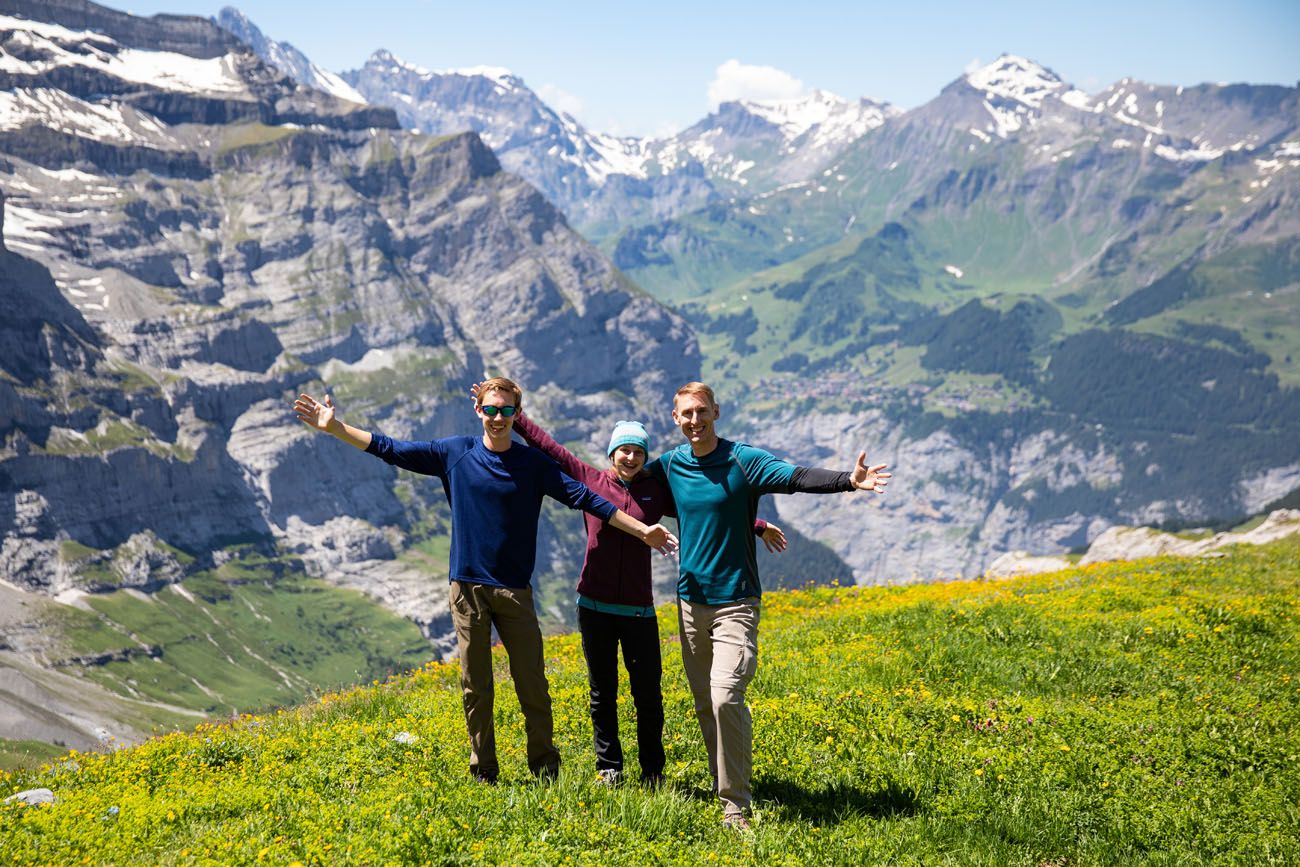 Great place for a family photo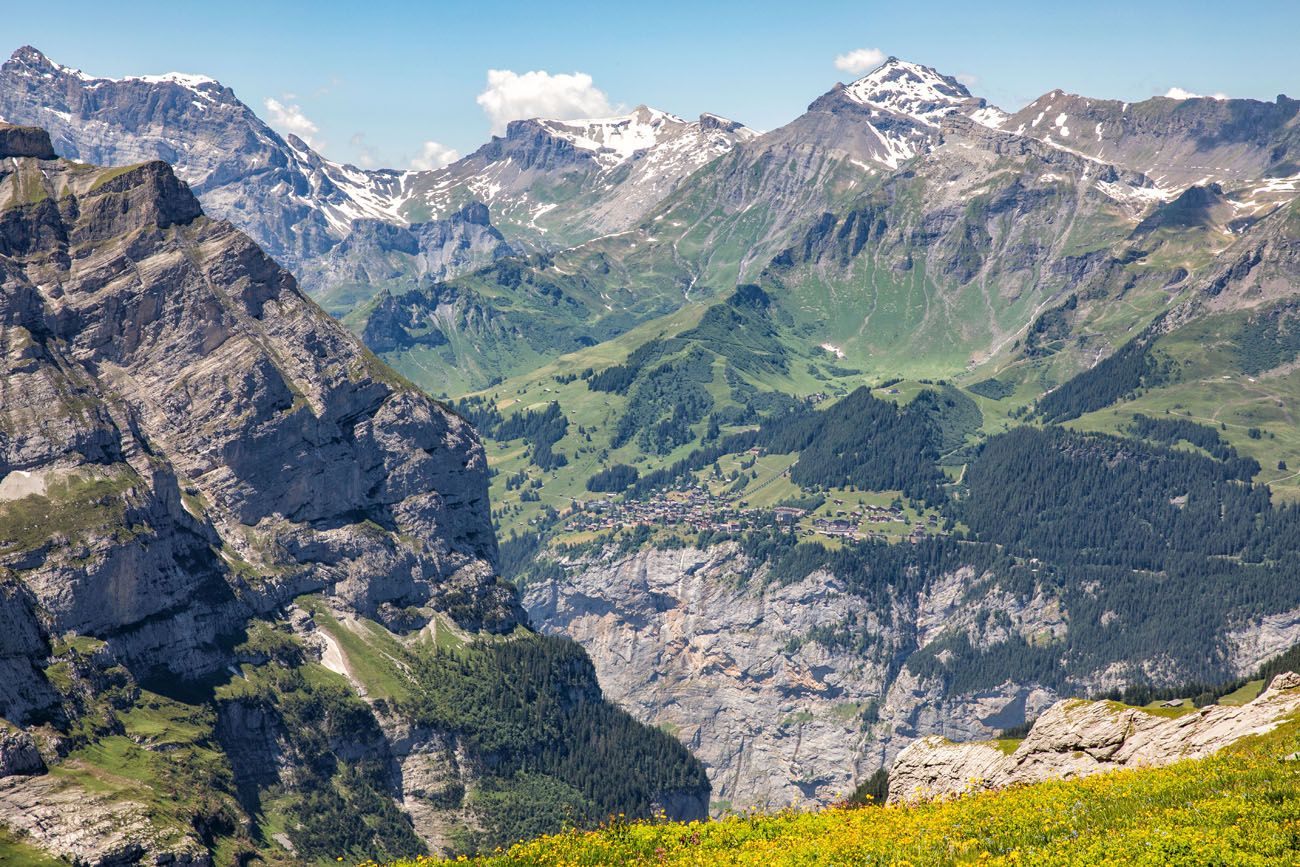 View across Lauterbrunnen valley to Mürren and Schilthorn
The trail quickly makes a turn back towards Eiger. For most of the hike, you will hike downhill towards Grindelwald. To your right you will overlook Kleine Scheidegg.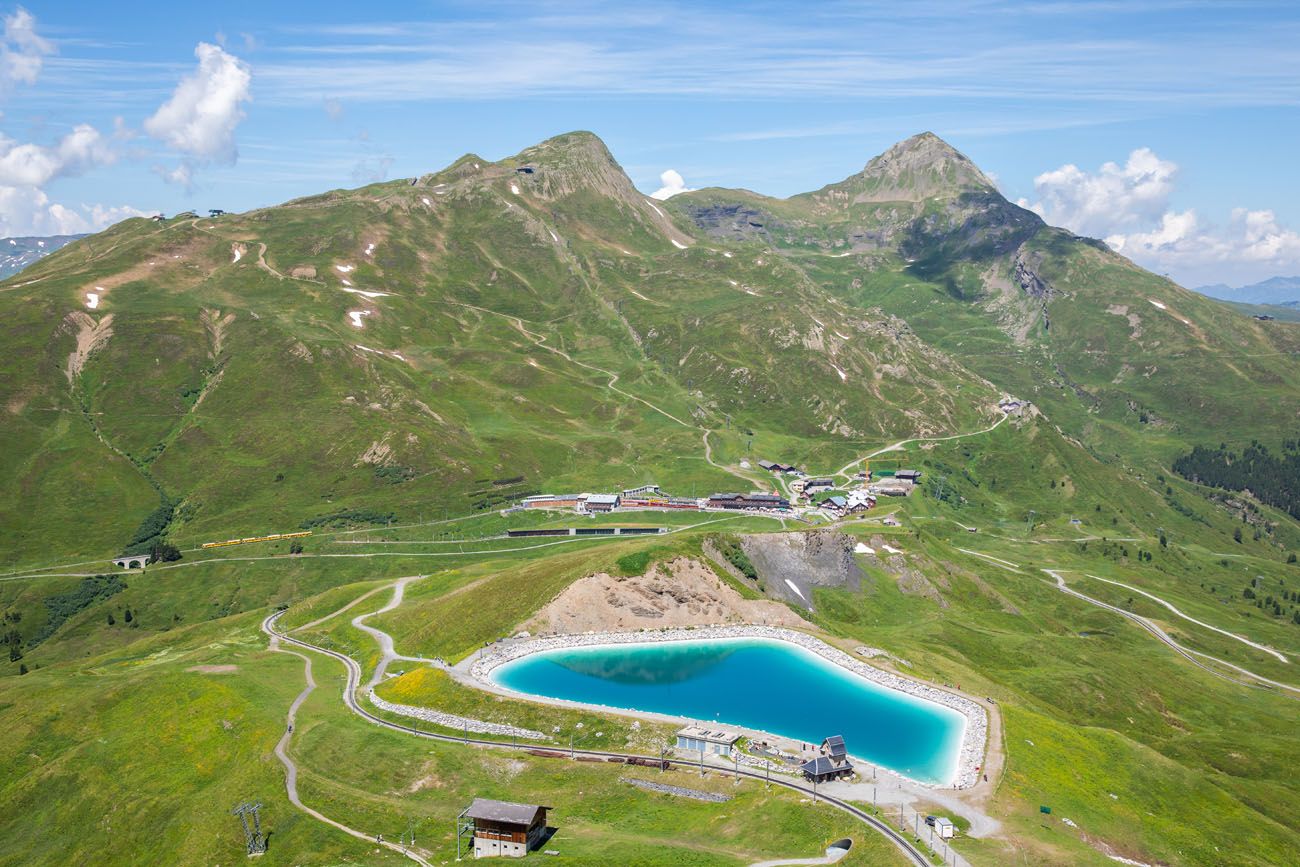 Overlooking Kleine Scheidegg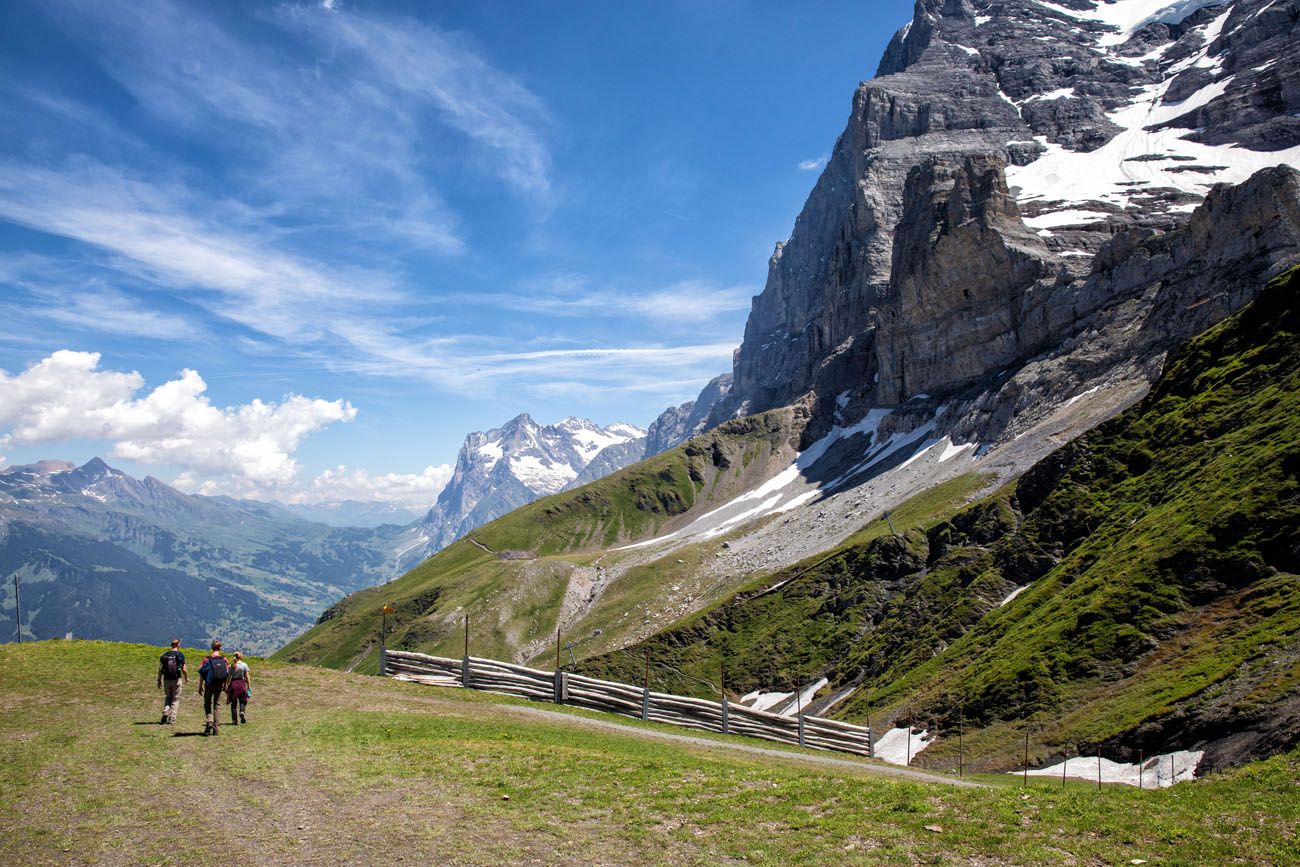 For most of the way, the trail slowly heads downhill without much deviation. To your right is Eiger. In front of you is Grindelwald. Even though the views don't change a whole lot, there is still something very thrilling about this hike, especially on a clear day like we had.
Here is a journey down the trail in photos.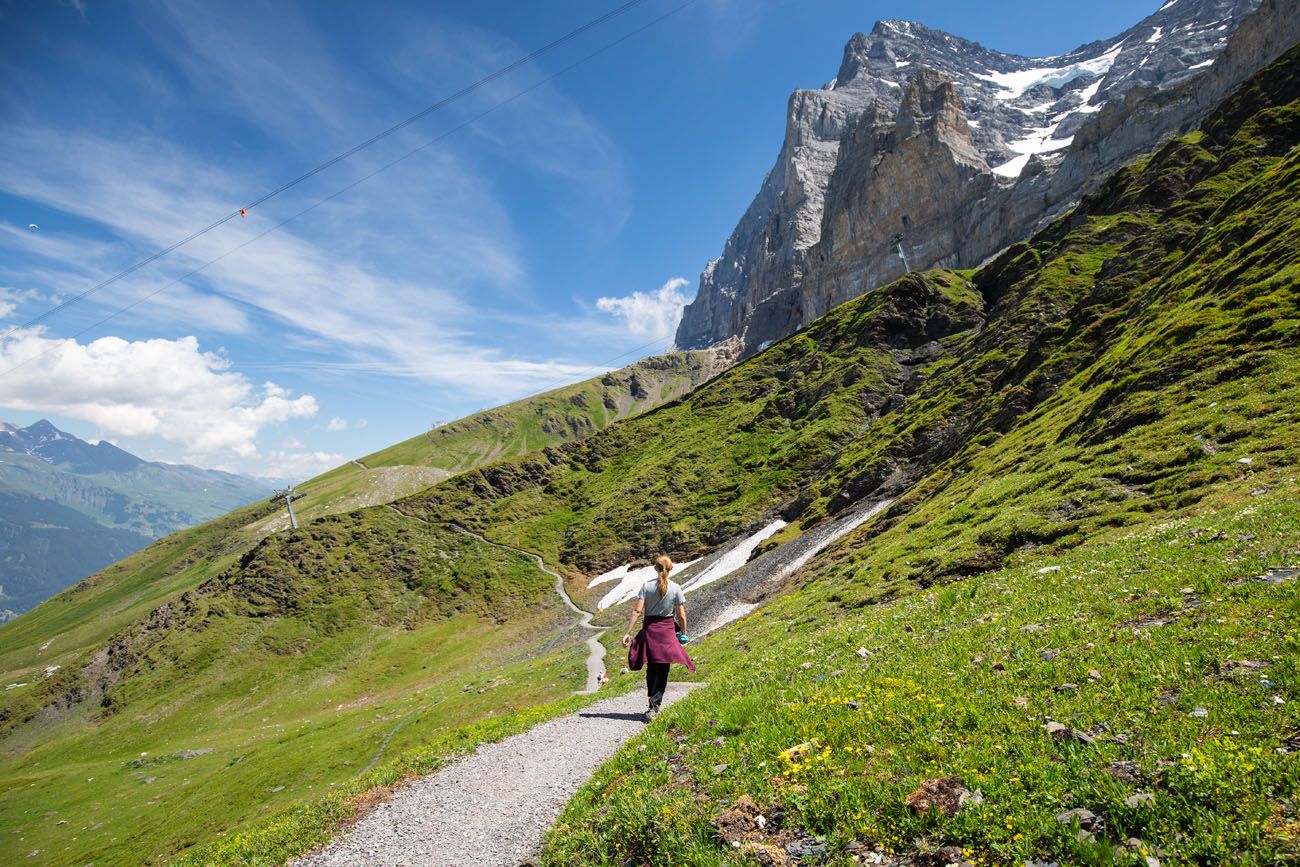 Even in early July, there was still snow on the trail.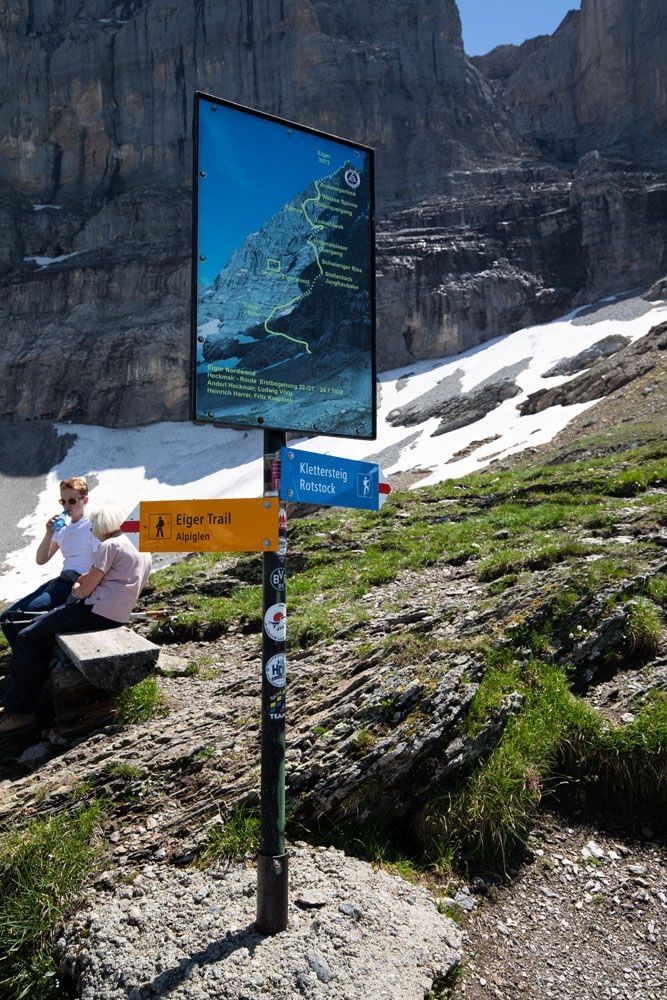 The turn-off for the via ferrata on the north face of Eiger. If you are interested, learn more here.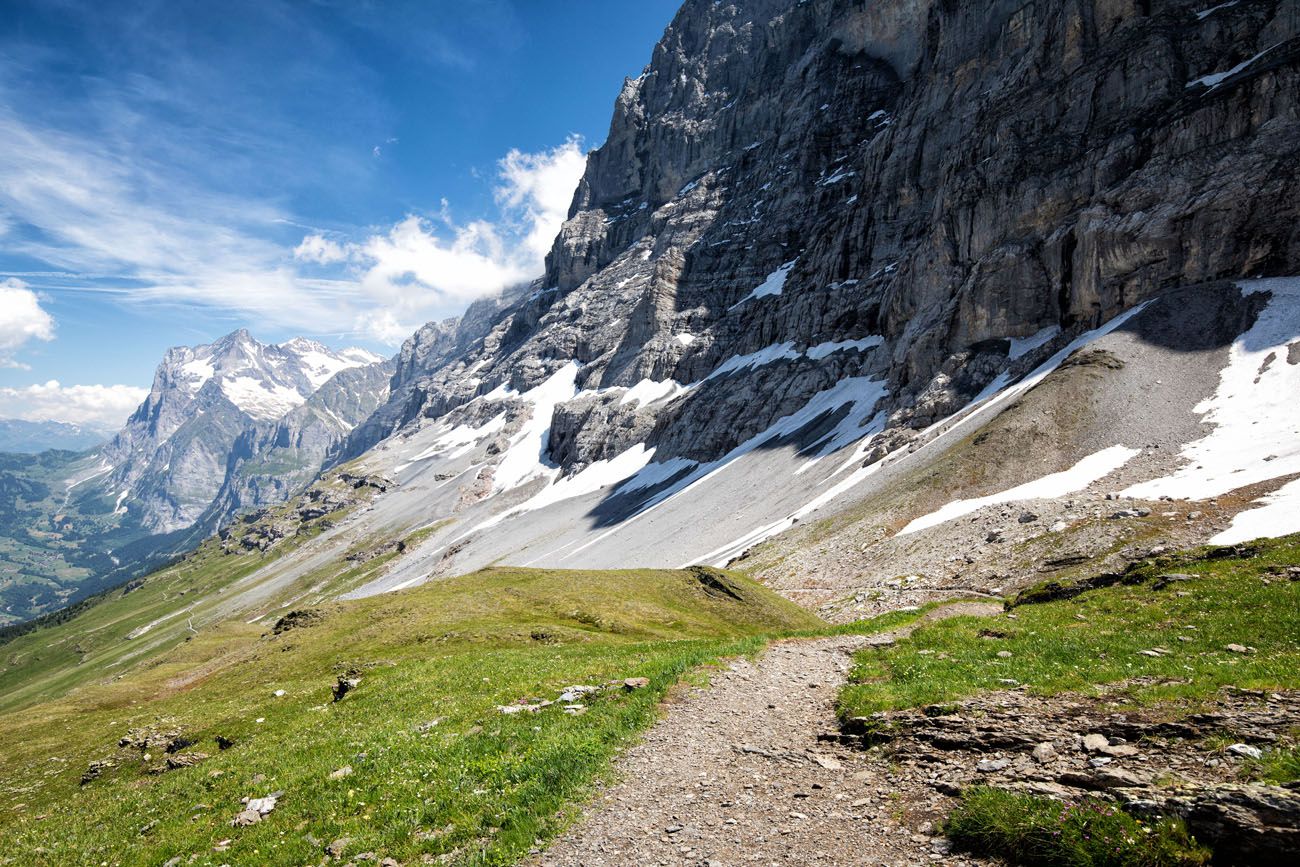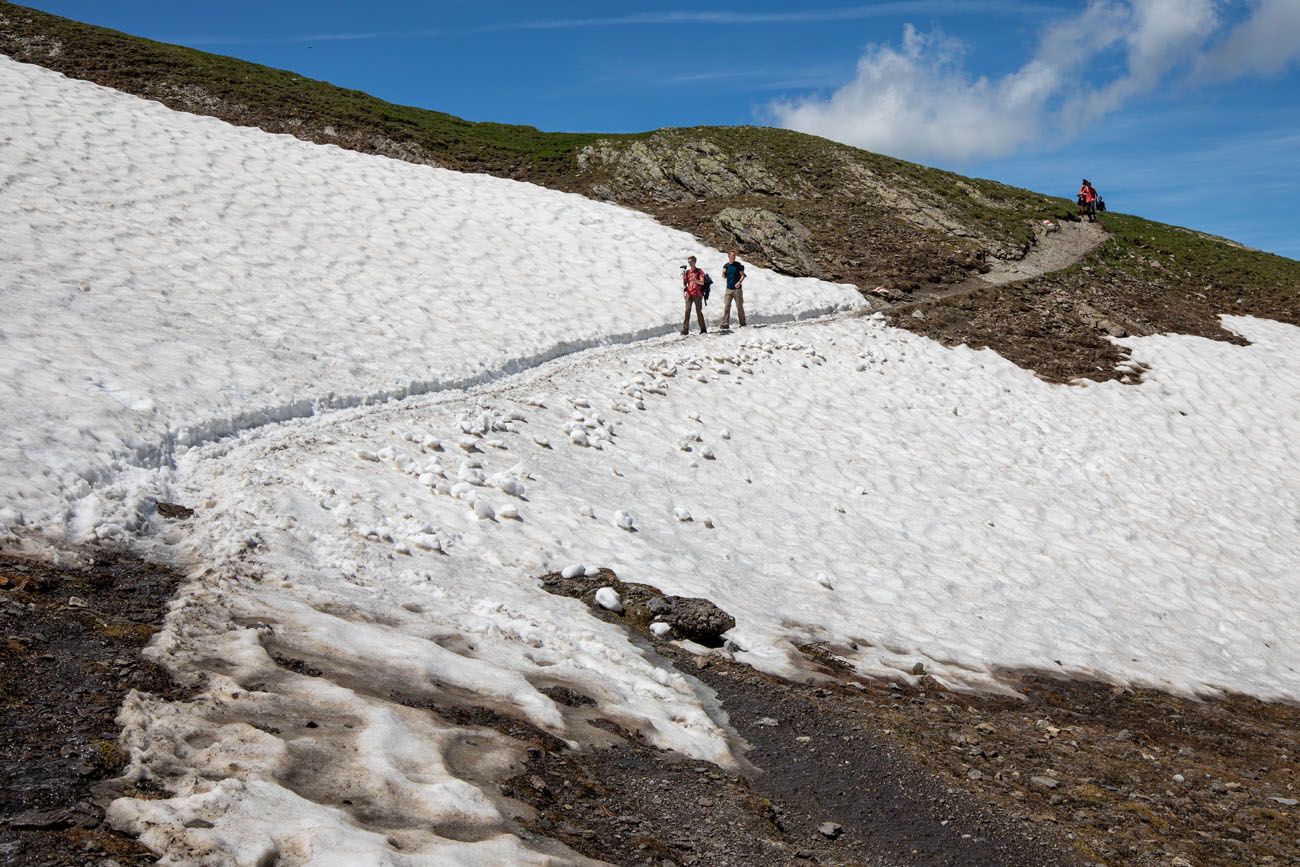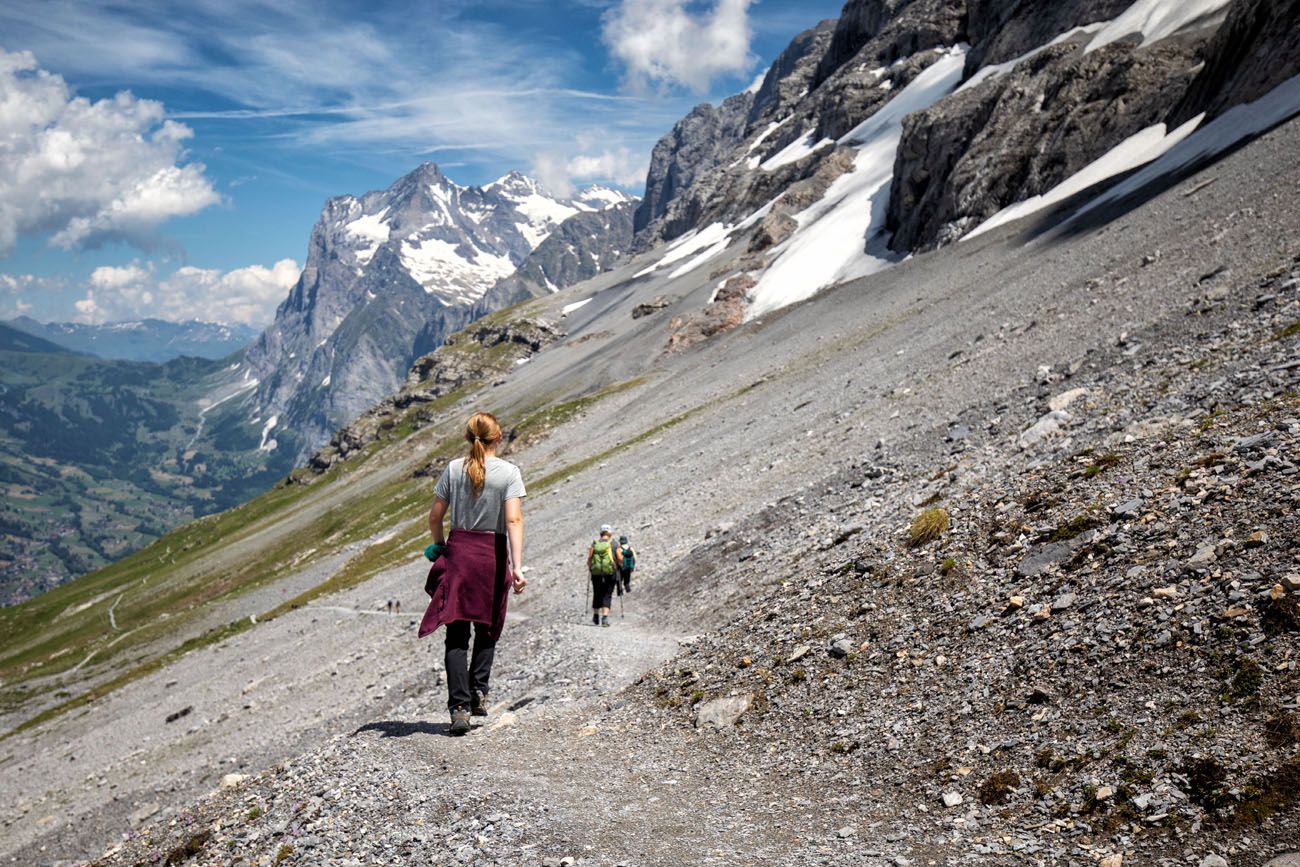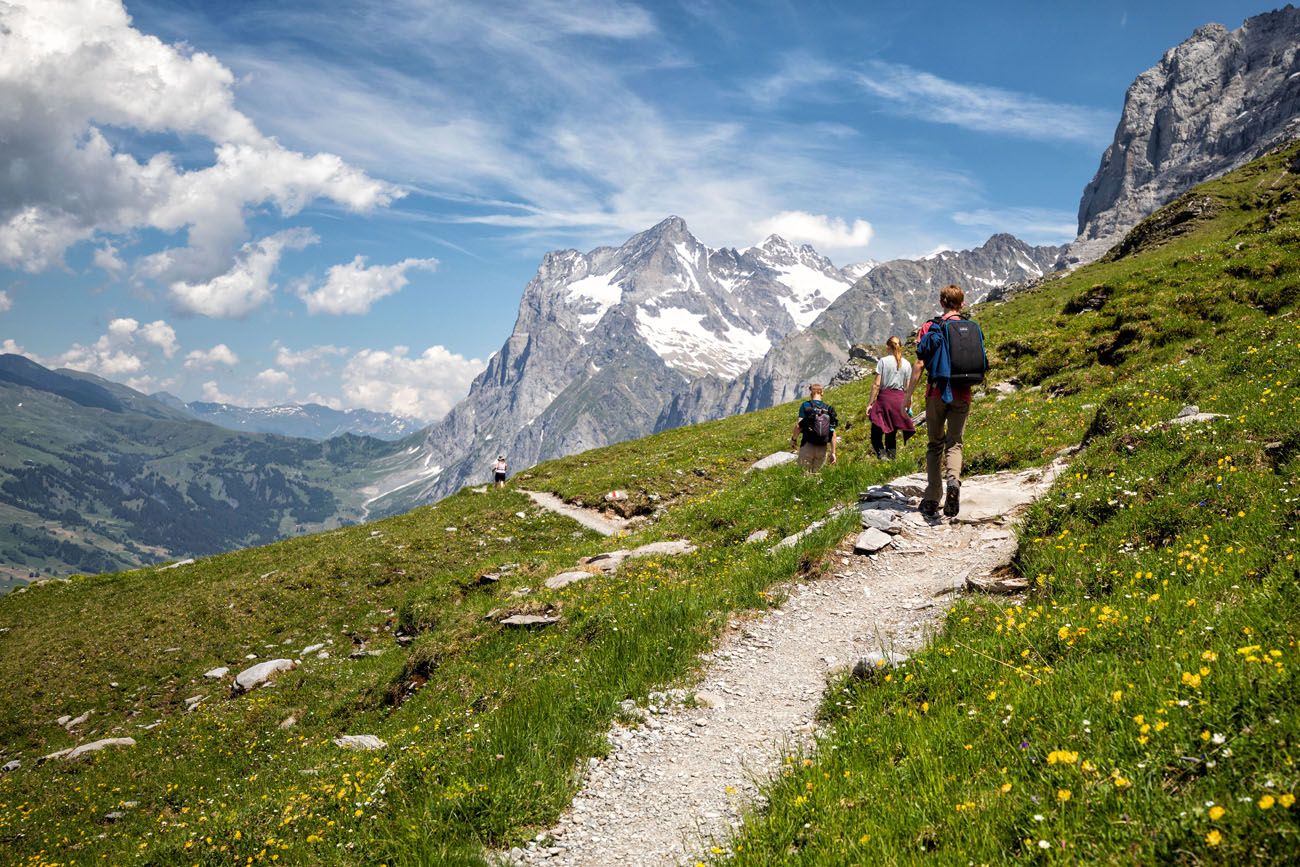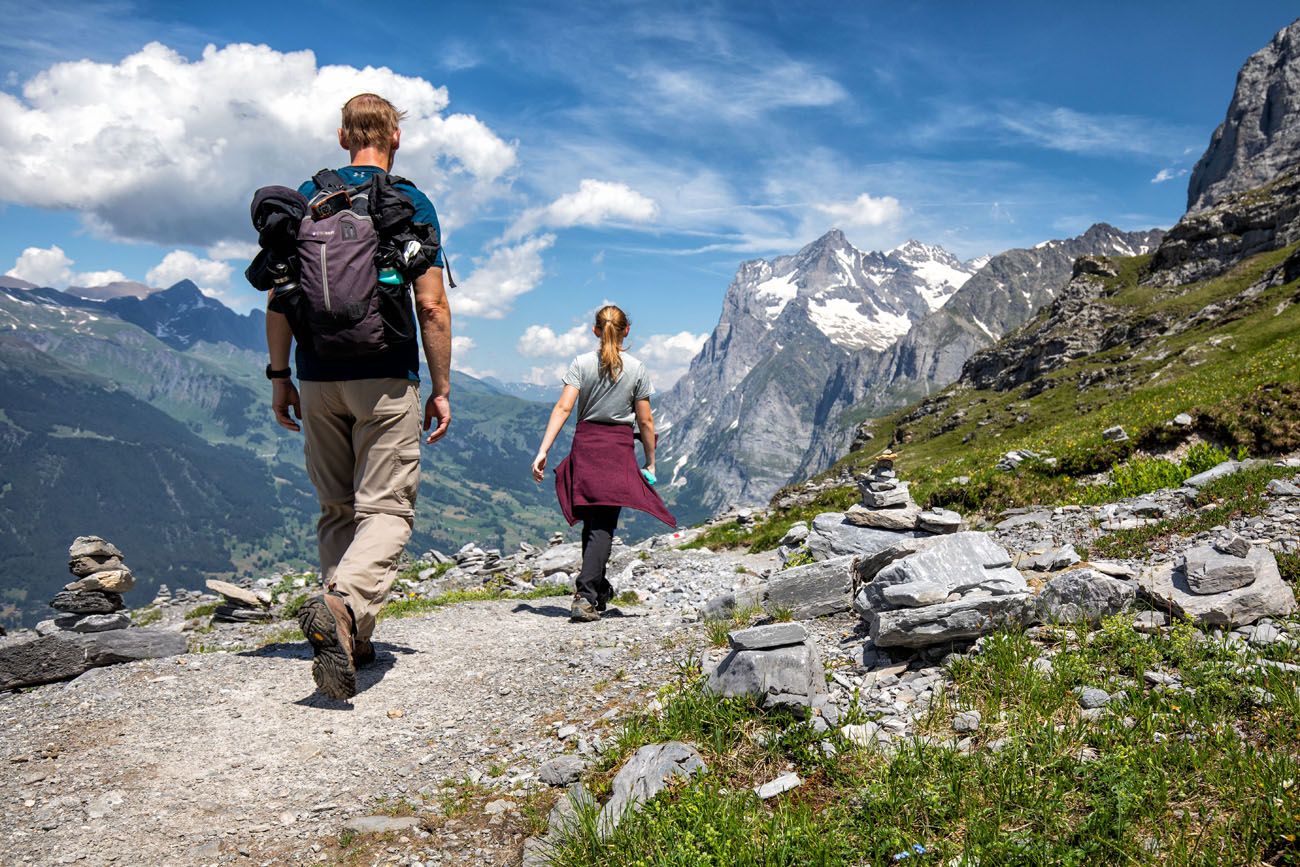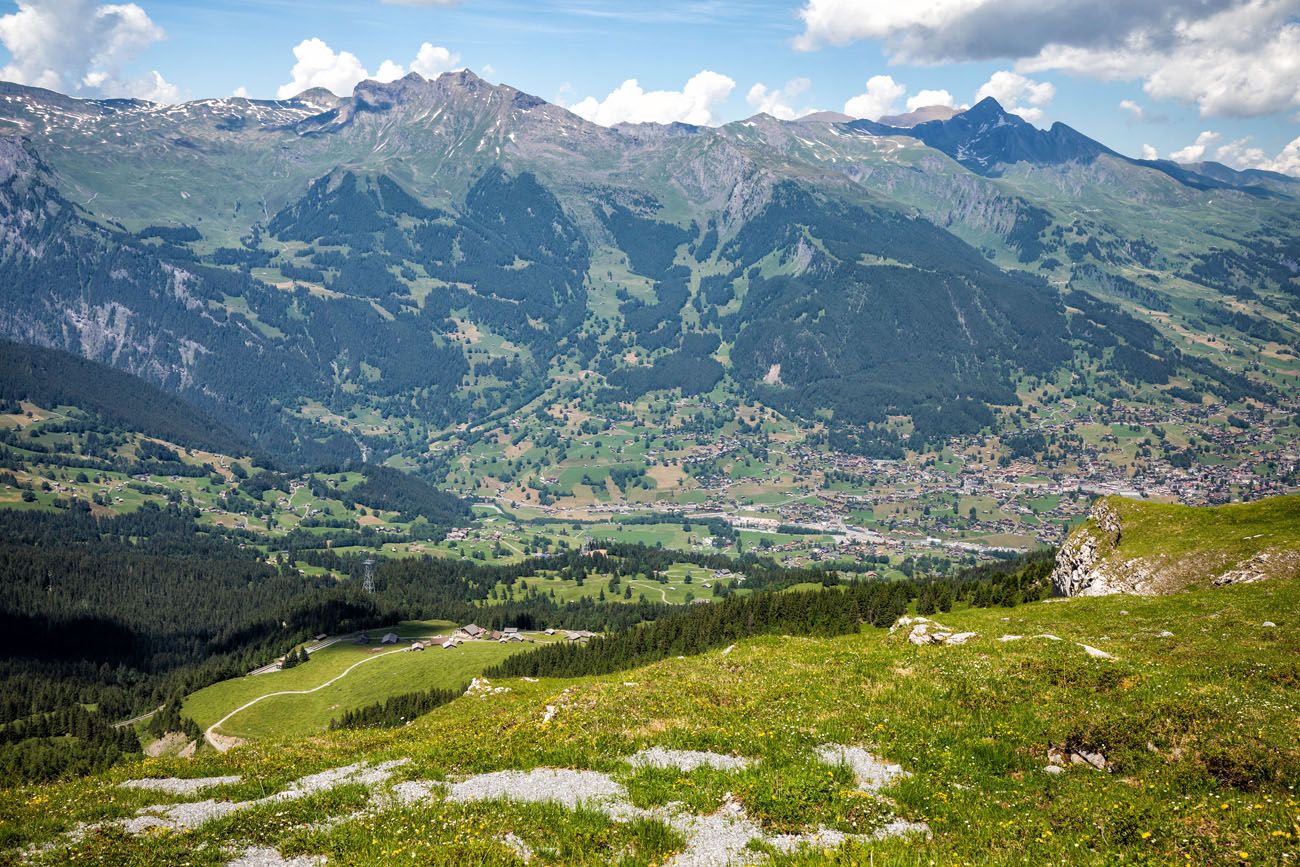 A view of Grindelwald.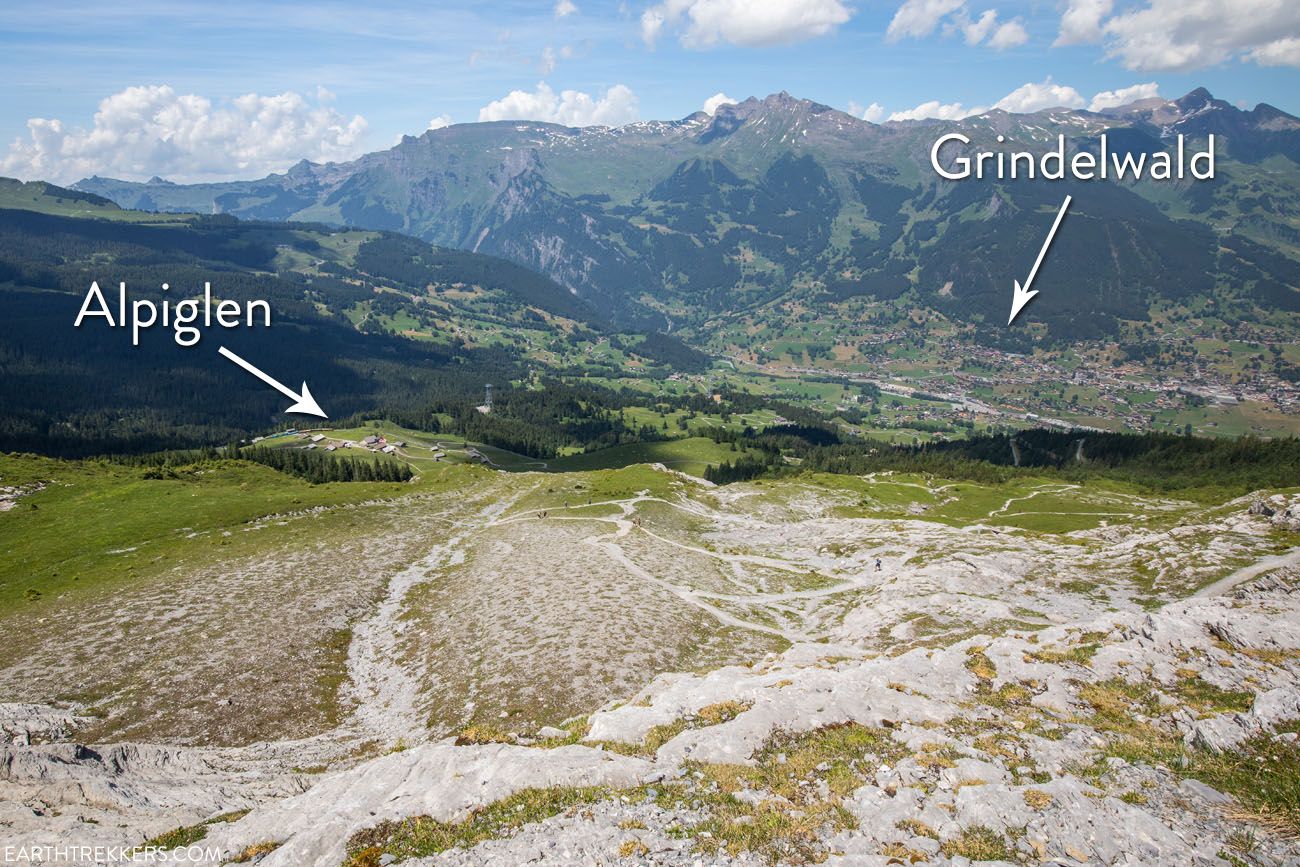 Alpiglen, Grindelwald, and a view of the trail as it switchbacks down to Alpiglen.
Just before the trail makes a turn towards Alpiglen, you will arrive at this waterfall.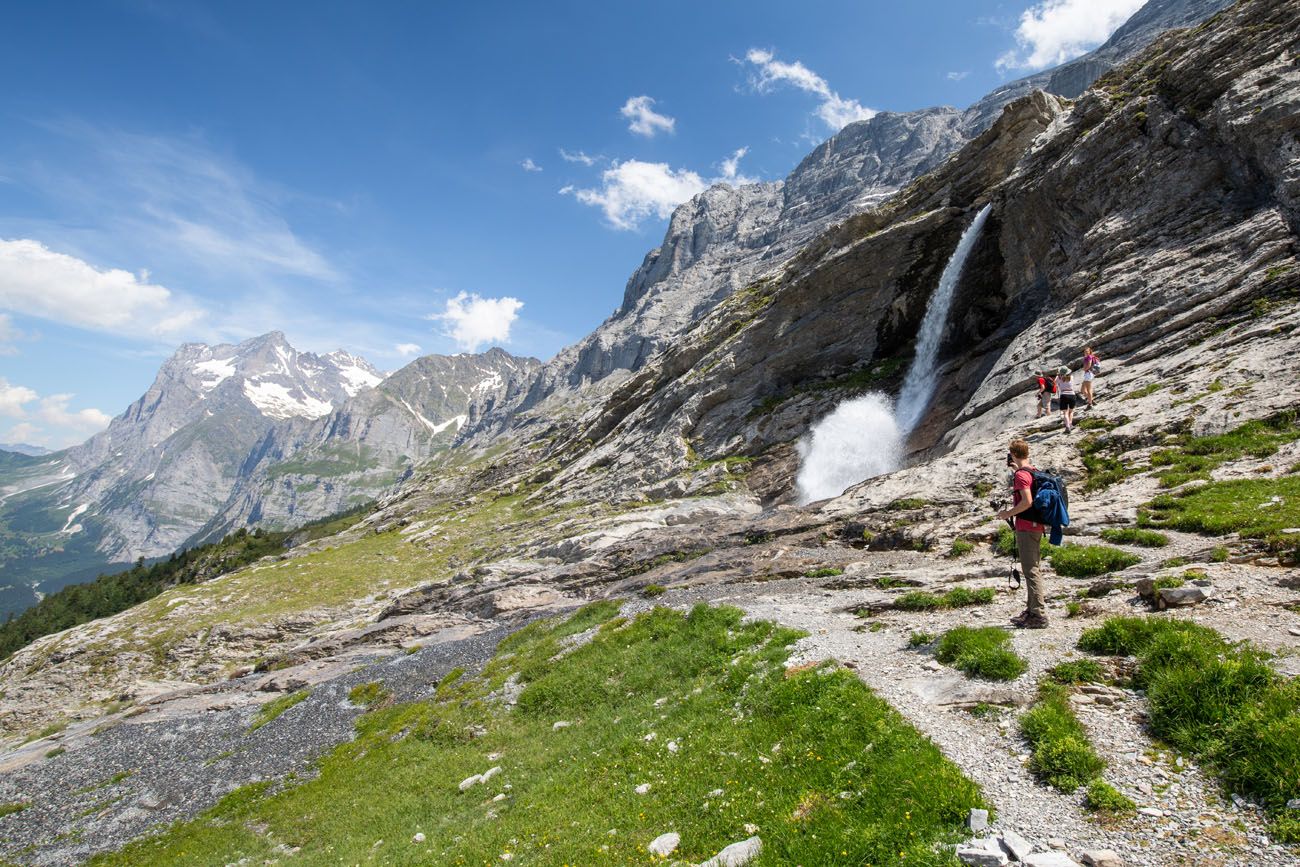 Then the trail zig-zags its way to Alpiglen. This is the toughest part of the hike, since the trail is rather steep here. If you have hiking poles, this is the perfect place to use them.
The trail ends in Alpiglen. There is a small restaurant here, if you need food or drinks or just to take a break before moving on.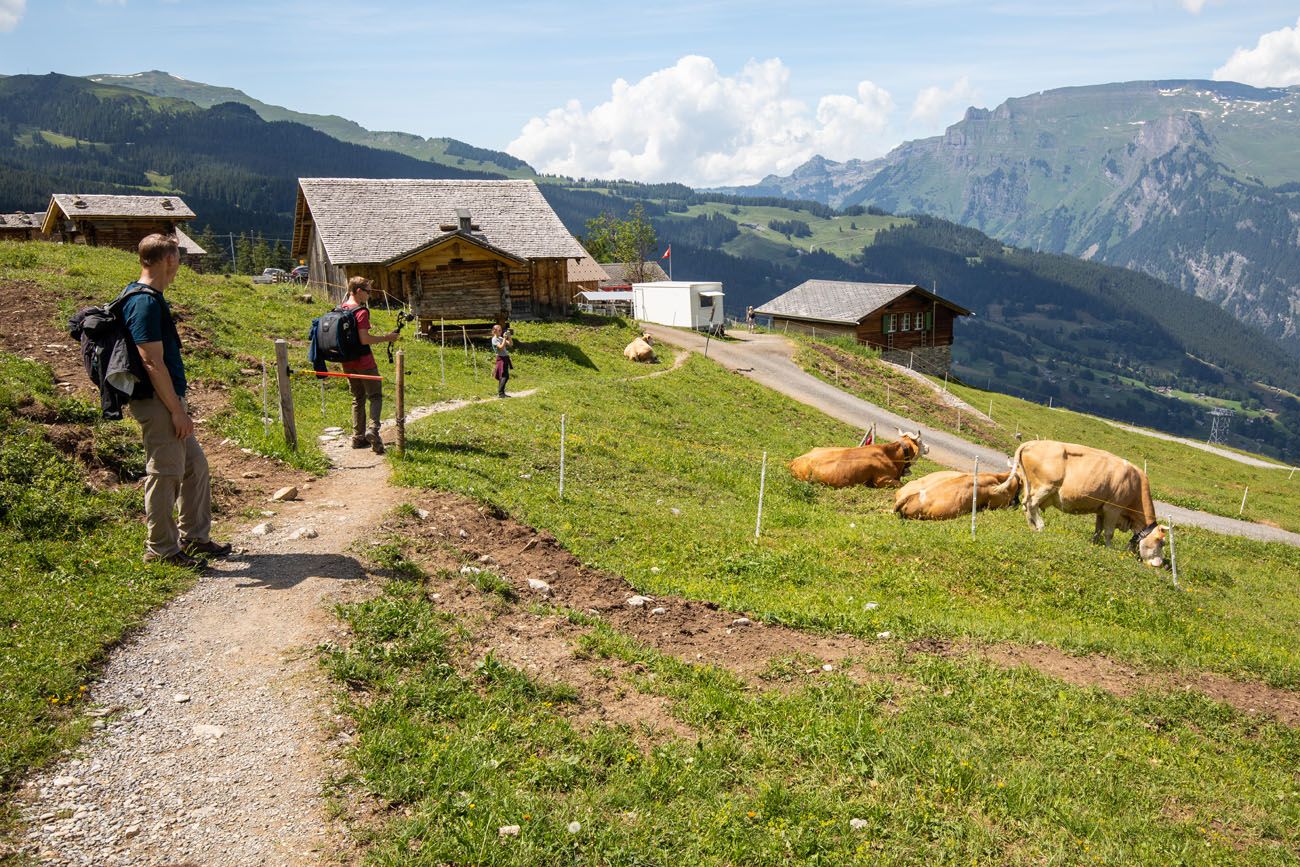 From Alpiglen, you can either take the train to Kleine Scheidegg (12 minutes) and onto Lauterbrunnen (50 minutes) or you can go directly to Grindelwald (18 minutes).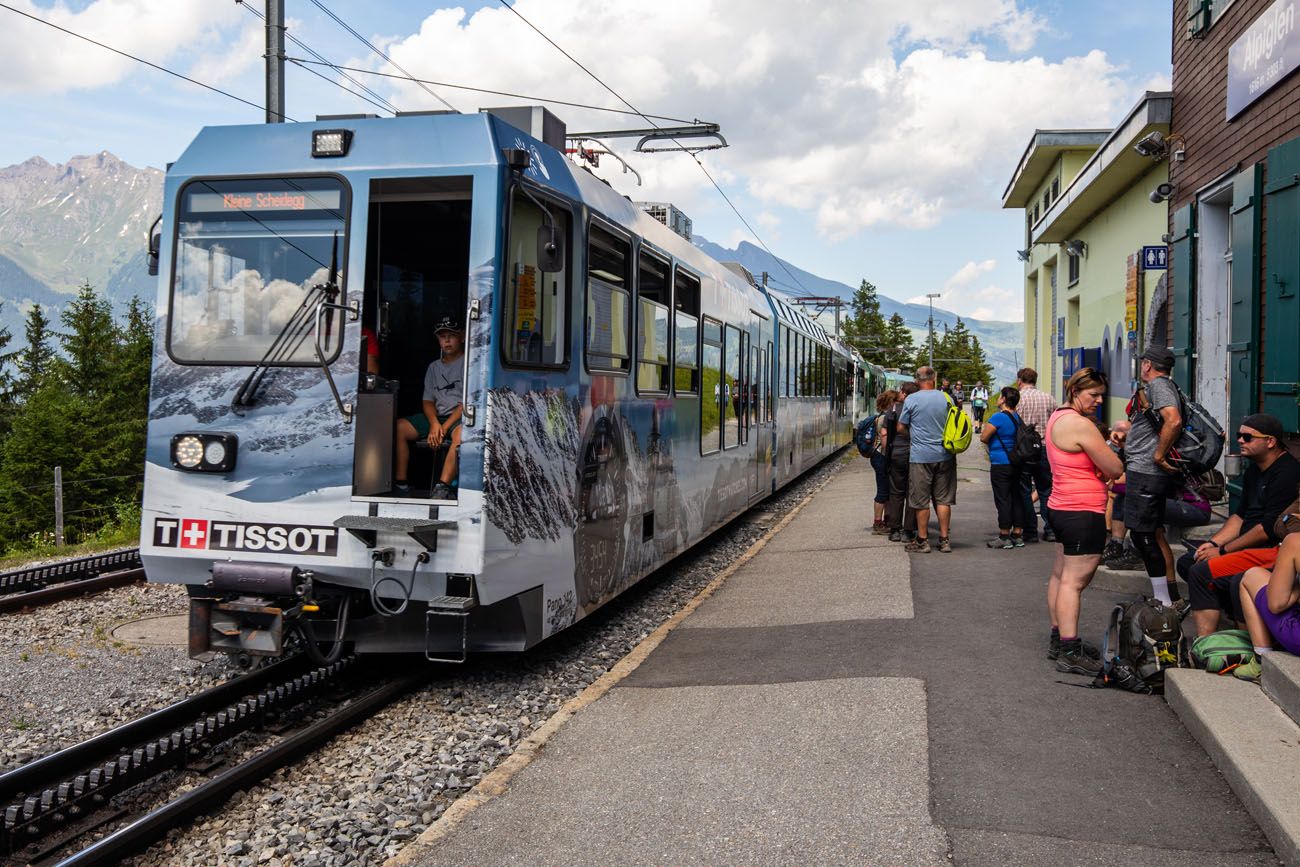 Alpiglen station
Before Ending Your Day…
Once finished the hike, we have a great viewpoint to recommend near Kleine Scheidegg. From Alpiglen, you can ride the train back to Kleine Scheidegg and hike the first part of the Panorama Trail to restaurant Grindelwaldblick (or, if you are doing great on time, hike the entire Panorama Trail). Learn more in our One Day in the Jungfrau Region Itinerary.
Want to See More?
Check out our video about what it is like to hike the Eiger Trail.
What to Bring on the Hike
Hiking shoes. Waterproof hiking shoes are ideal, especially if you are hiking in late June into July or October, when there could be snow on the ground. However, you can get by with a good pair of walking shoes in the late summer if conditions are dry.
Hiking Poles. These are nice to have, especially at the very end of the hike, when the trail becomes a steep, downhill walk that makes the knees ache.
Food and water. There is no food or water along the trail. However, there is a restaurant in Eigergletscher and Alpiglen.
Sunscreen. There is very little shade on the trail.
Please practice the seven principles of Leave No Trace: plan ahead, stay on the trail, pack out what you bring to the hiking trail, properly dispose of waste, leave areas as you found them, be considerate of other hikers, and do not approach or feed wildlife.
Important Links
For recommendations on where to stay, read our guide to Where to Stay in the Jungfrau Region. Learn where to stay for great views of the Swiss Alps and get recommendations whether you are looking for a budget hotel, luxury hotel, or if you are traveling as a family.

---
If you are planning to do this hike and have questions, feel free to comment below!
More Places to Go in Switzerland:
JUNGFRAU REGION: If you are planning a trip to the Jungfrau region, check out our Guide to the Jungfrau Region,which includes maps and important travel planning information. We also have a separate article about the best things to do in the Jungfrau region. Get more information on how to visit Jungfraujoch, where to stay in the Jungfrau region, and how to add on the thrilling Mürren Via Ferrata to your visit.
SWITZERLAND ITINERARY: If your visit to Zermatt is part of a bigger trip to Switzerland, check out our Switzerland Itinerary, which has suggestions on what to do if you have 7 days, 14 days, or even longer.
MORE GREAT HIKES IN SWITZERLAND: The Bernese Oberland is one of Switzerland's top hiking destinations. Hike the short, incredibly scenic trail from Männlichen to Kleine Scheidegg, walk the Northface Trail from Mürren, or hike from Schynige Platte to Faulhorn, a longer, more challenging, but awesome hike in this region. We also recommend hiking to Riffelberg in Zermatt and hiking the Gastlosen Tour near Gruyères.
ZERMATT: In Zermatt, don't miss the hike from Gornergrat to Riffelberg. For more ideas on what to do, read our article Best Things to Do in Zermatt. For more alpine views, learn how to visit Matterhorn Glacier Paradise (and find out if it is worth it).
LUCERNE: Learn how to spend one perfect day in Lucerne with a trip to Mt. Pilatus.
MORE GREAT HIKES IN EUROPE: From thrilling trails in the Alps to easy walks along the coast, read our article 20 Best Hikes in Europe for some beautiful hiking trails to put on your travel wish list.
All rights reserved © Earth Trekkers. Republishing this article and/or any of its contents (text, photography, links, etc.), in whole or in part, is strictly prohibited.