Lugano is a beautiful city that is located in southern Switzerland. One day is all you need to visit the highlights of Lugano, but with more time, it makes a great home base to explore southern Switzerland and northern Italy. Here are 10 great day trips from Lugano.
Best Day Trips from Lugano
1. Cruise Lake Lugano
One of the best things to do in Lugano is to get out on the lake. There are many different ways to experience Lake Lugano. Take a scenic round-trip cruise from town, use the ferry to hop from point to point along lake Lugano, or ride the ferry to Gandria and walk back to town from here.
Ideas on how to spend a few hours, or more, on Lake Lugano:
Cruise round trip from Lugano:

If you cruise to Ponte Tresa and back to Lugano, this takes roughly 4 hours.

Visit Gandria:

In the afternoon, cruise to Gandria, have dinner, and cruise back to Lugano.

Gandria and the Olive Trail:

Cruise to Gandria and walk back to Lugano on the Olive Trail

Swissminiatur:

Cruise to Melide, visit Swissminiatur, and take the boat or the bus back to Lugano

Campione d'Italia:

This is an enclave of Italy that is entirely surrounded by Switzerland. You can see it from the ferry or disembark here for a quick visit.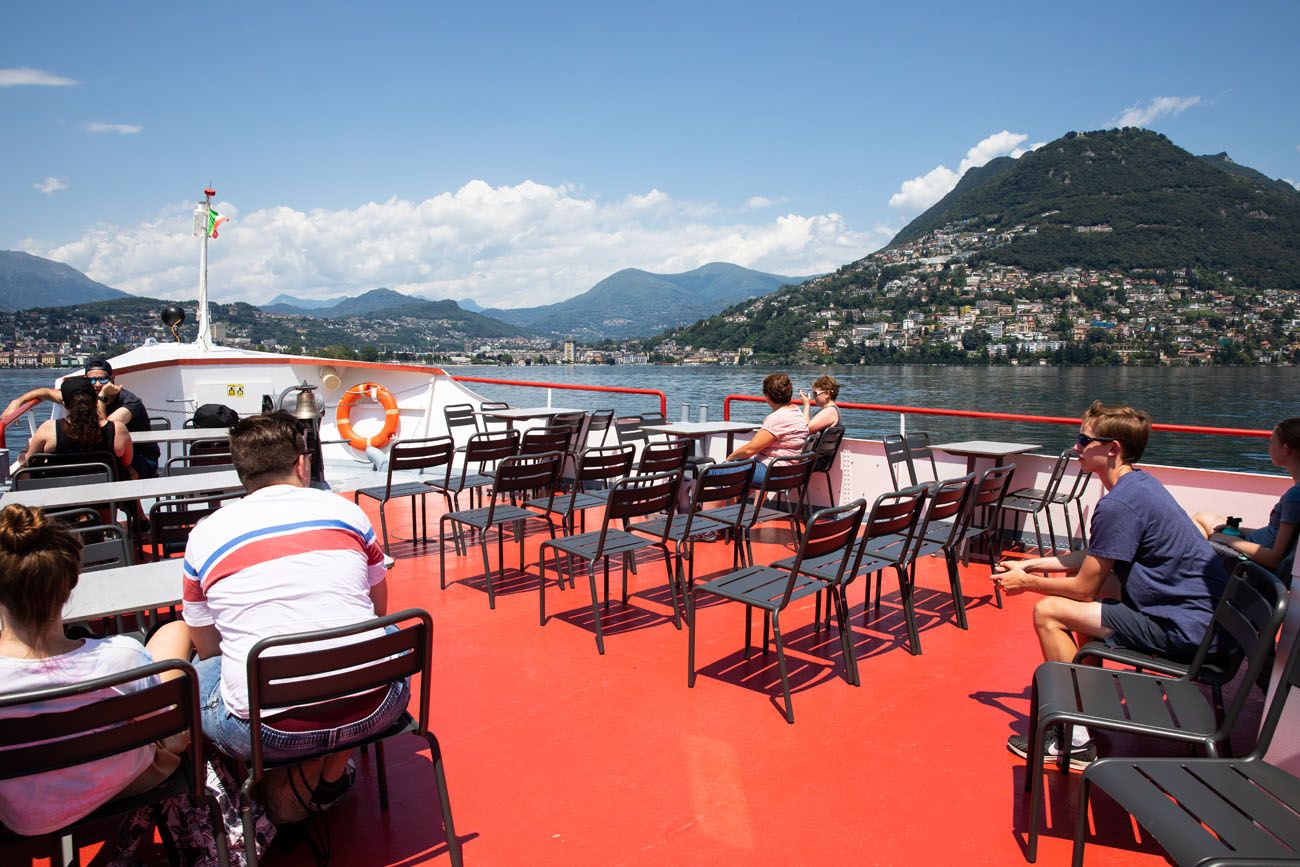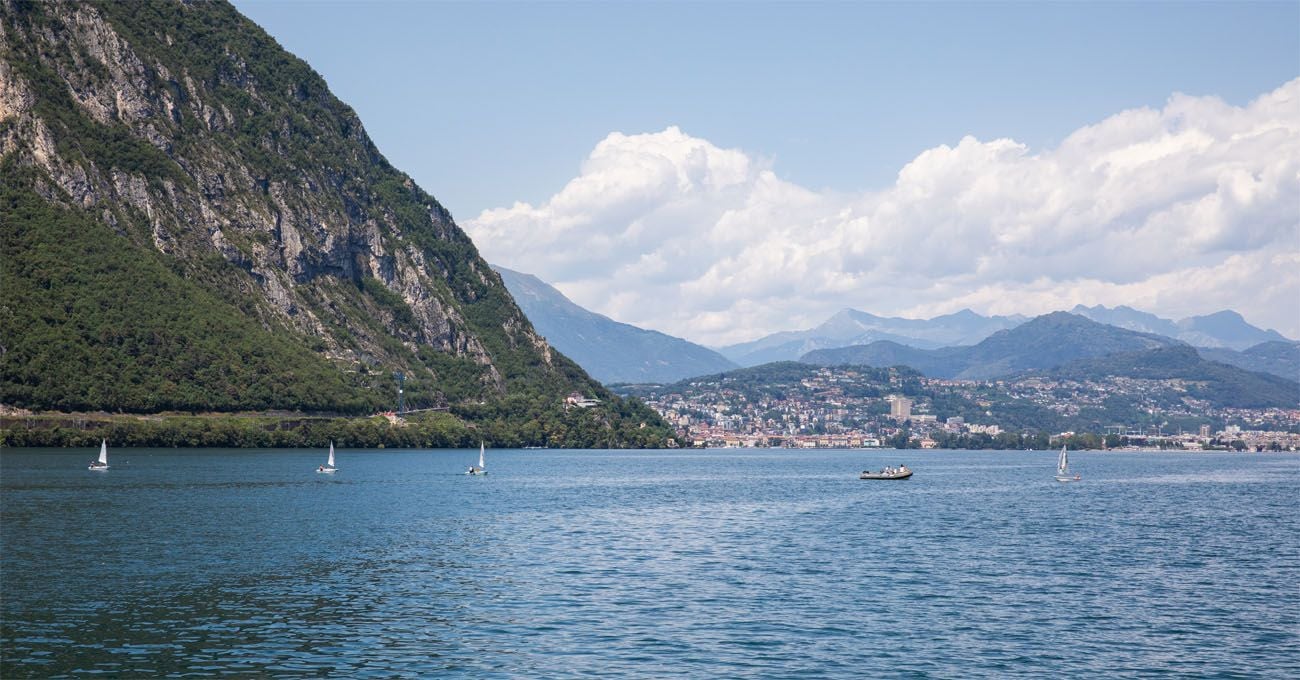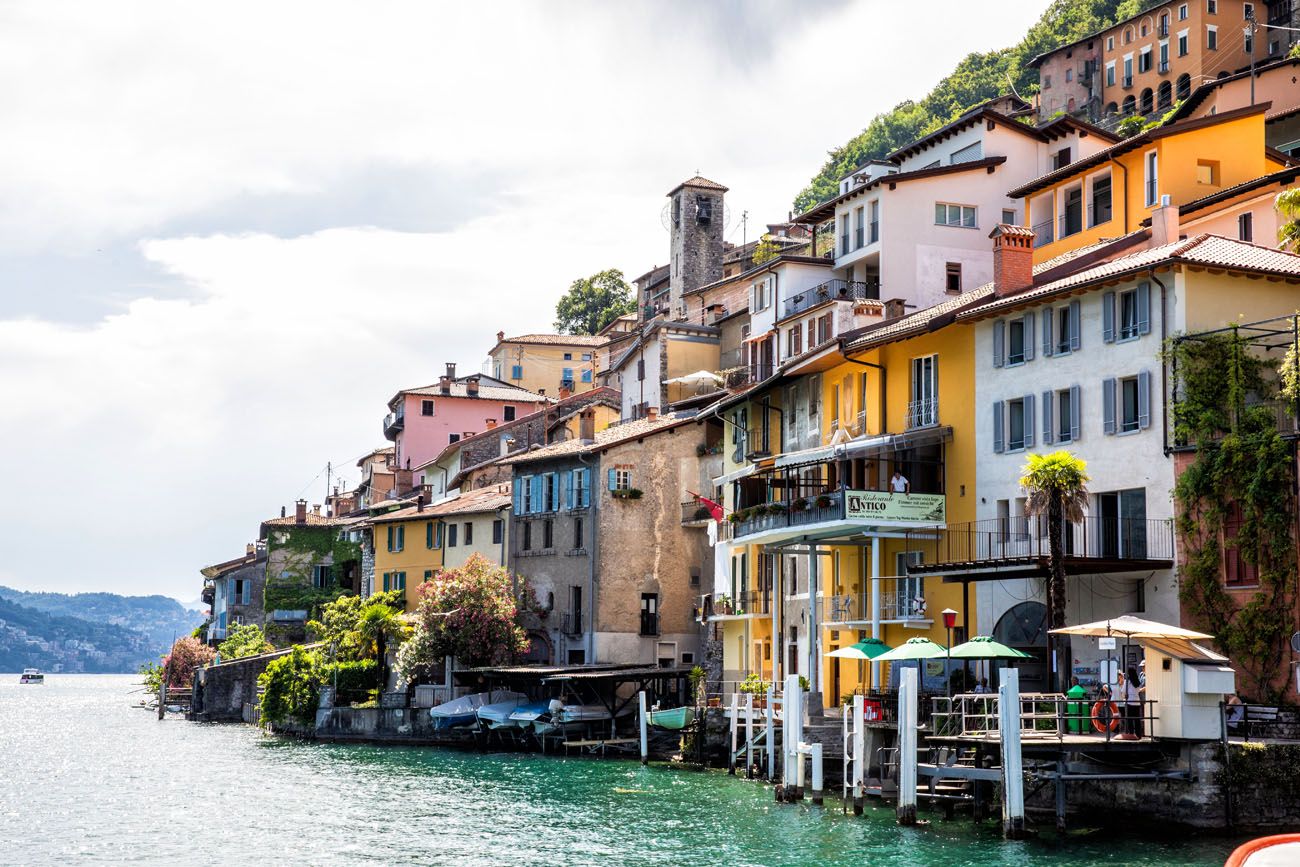 Gandria | Best day trips from Lugano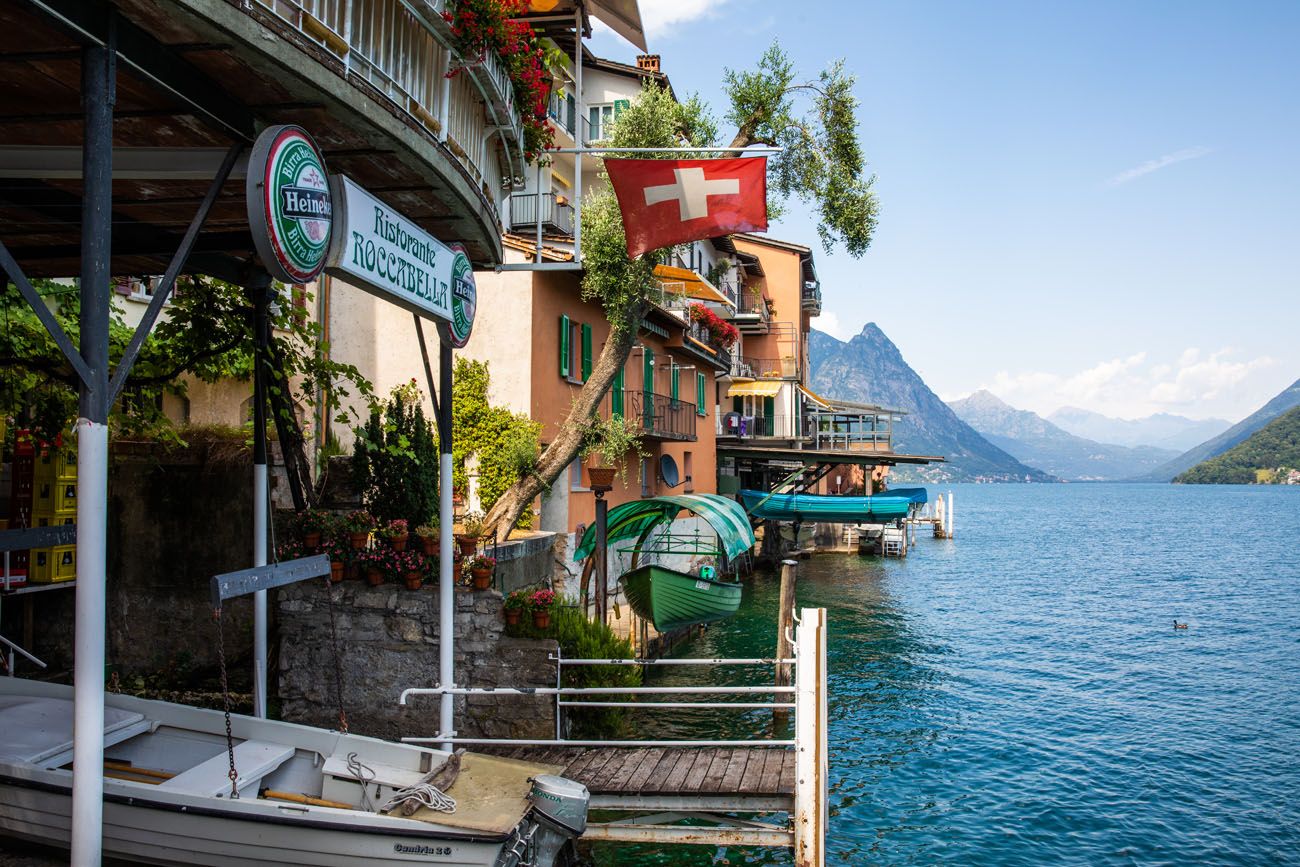 Here is the link to the official website where you can see the ferry schedule. It's complicated, since each boat has a slightly different route and timetable. As for purchasing tickets, you can do so online in advance, at the ticket booths at each port, or on board the boat. If you are not sure which ferry to take, I recommend speaking with the staff at the ferry port.
What We Did: We took the bus to Monte San Salvatore, hiked to Carona and then to Melide, and rode the boat back to Lugano, seeing Campione d'Italia along the way. We ended the day with a second round-trip ferry ride to Gandria.
2. UNESCO Castles of Bellinzona
In the town of Bellinzona, just 20 minutes north of Lugano, are three castles that are on the UNESCO World Heritage List: Castelgrande, Montebello Castle, and Sasso Corbaro Castle.
To get to Bellinzona, you can drive or you can take the train from Lugano. Once in Bellinzona, you can walk to all three of the castles, or you can take the mini-train, to minimize how much walking you do. You also have the option to add on a visit to the Villa dei Cedri Museum, which is a museum that contains works of art from Italy and Switzerland.
Learn more here.
3. Walk Across the Tibetan Bridge
Walk across one of the longest suspension bridges in Switzerland. This bridge, which is 270 meters long and is suspended 130 meters off of the grand, spans the valley between the communities of Sementina and Monte Carasso.
To get here, ride the Monte Carasso – Curzútt – Mornera cableway. The cableway starts in the town of Monte Carasso, which is located near Bellinzona. Ride the cableway to the first station, Curzútt, and from here it is about a 45-minute walk to the bridge.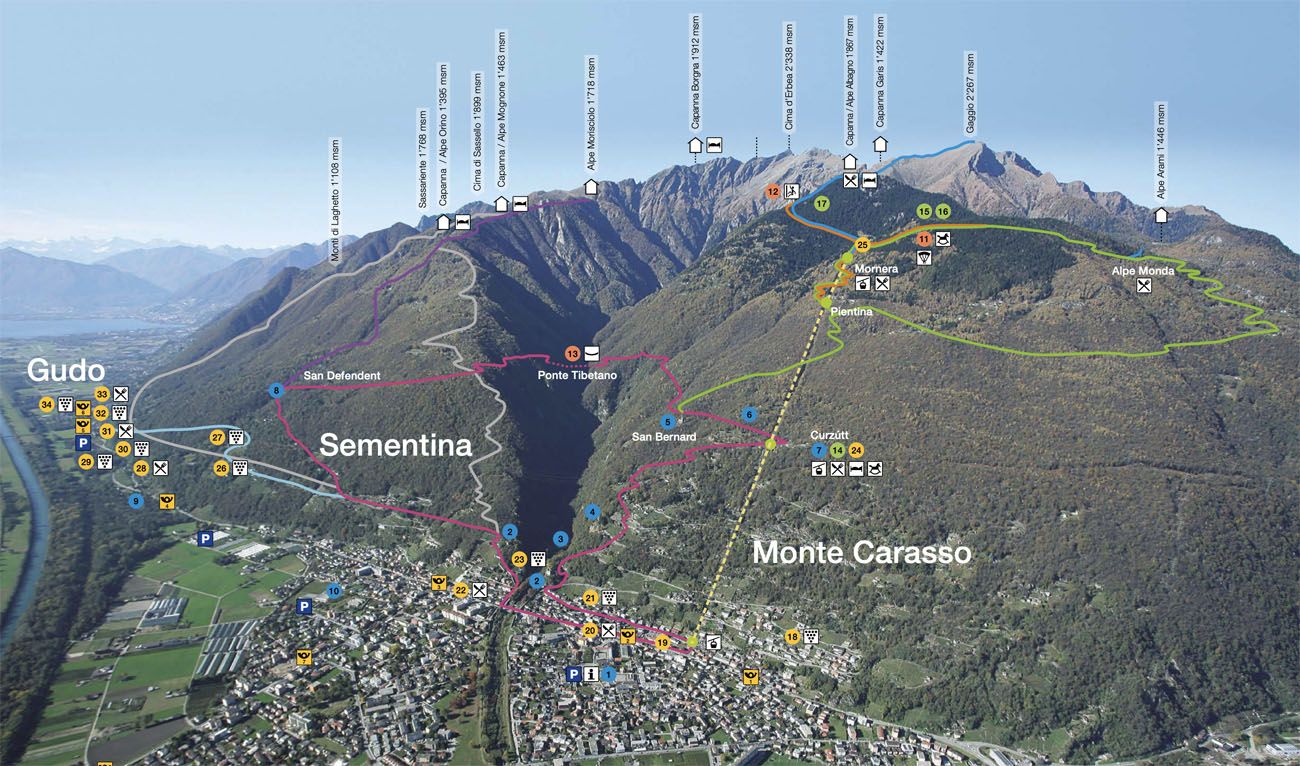 Map: bellinzonese-altoticini.ch
There is a restaurant at the Curzútt station, as well as at Mornera, the upper station of the cable way. There are also numerous hiking trails that wind their way through these mountains, as you can see on the map above.
It is recommended that you book your cableway tickets in advance. Learn more about the Tibetan Bridge here.
PRO TRAVEL TIP: The town of Monte Carasso sits just across the Fiume Ticino River from Bellinzona, so it is easy to combine the castles of Bellinzona and the Tibetan Bridge into the same day trip.
4. Ponte dei Salti & the Verzasca Valley
Ponte dei Salti is a medieval-style bridge that is located in the Verzasca Valley in southern Switzerland. It looks like something right out of a fairytale, this double-arched bridge that spans a crystal clear, aquamarine river. Right around the corner is the tiny town of Lavertezzo, and with its stone buildings and church, complements the bridge perfectly.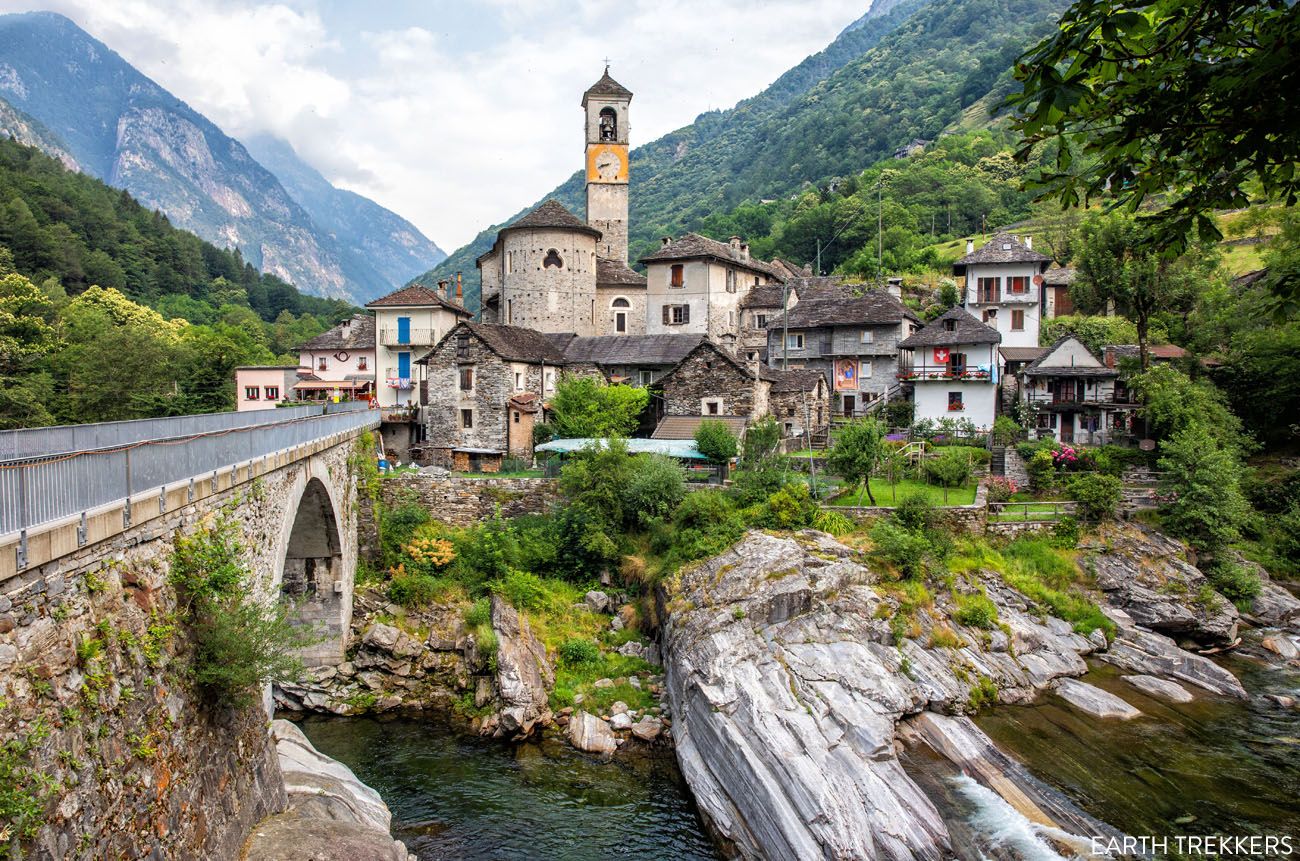 Lavertezzo | Best day trips from Lugano
On a hot, summer day, the Verzasca River is a great place to go for a swim. If you are looking for more adventure, you can walk on the hiking trail that follows the Verzasca River upstream. Go far enough and you could have a swimming hole all to yourself.
A visit to Ponte dei Salti and the Verzasca Valley makes a great summer day trip from Lugano.
5. Ascona and Locarno
Ascona and Locarno are two beautiful towns that sit side-by-side on the north end of Lake Maggiore. Both feature colorful old towns and beautiful lakeside promenades that are perfect for a leisurely stroll.
Ascona | Best day trips from Lugano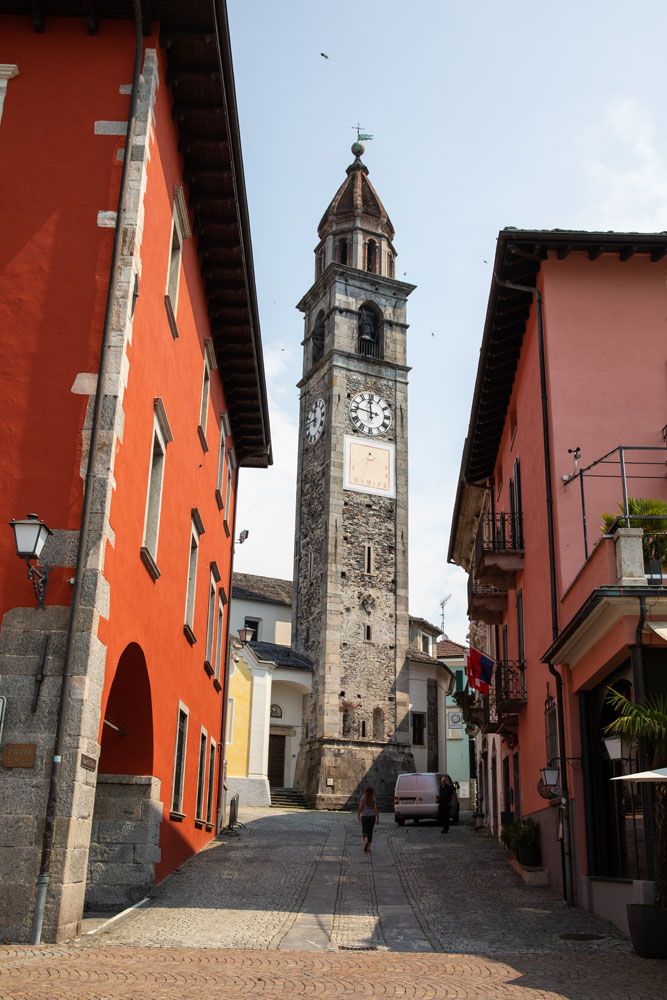 Ascona Old Town
Day Trip Idea: Spend the morning at Ponte dei Salti and the afternoon in Ascona and Locarno. These two towns are a wonderful place to have a late lunch or early dinner after spending time in the Verzasca Valley.
6. Monte Tamaro
Monte Tamaro makes one of the best day trips from Lugano, especially if you are traveling with kids. With zip lines, an alpine coaster, walking paths, and an adventure park for people of all ages and ability levels, you can spend a full day here and never run out of things to do.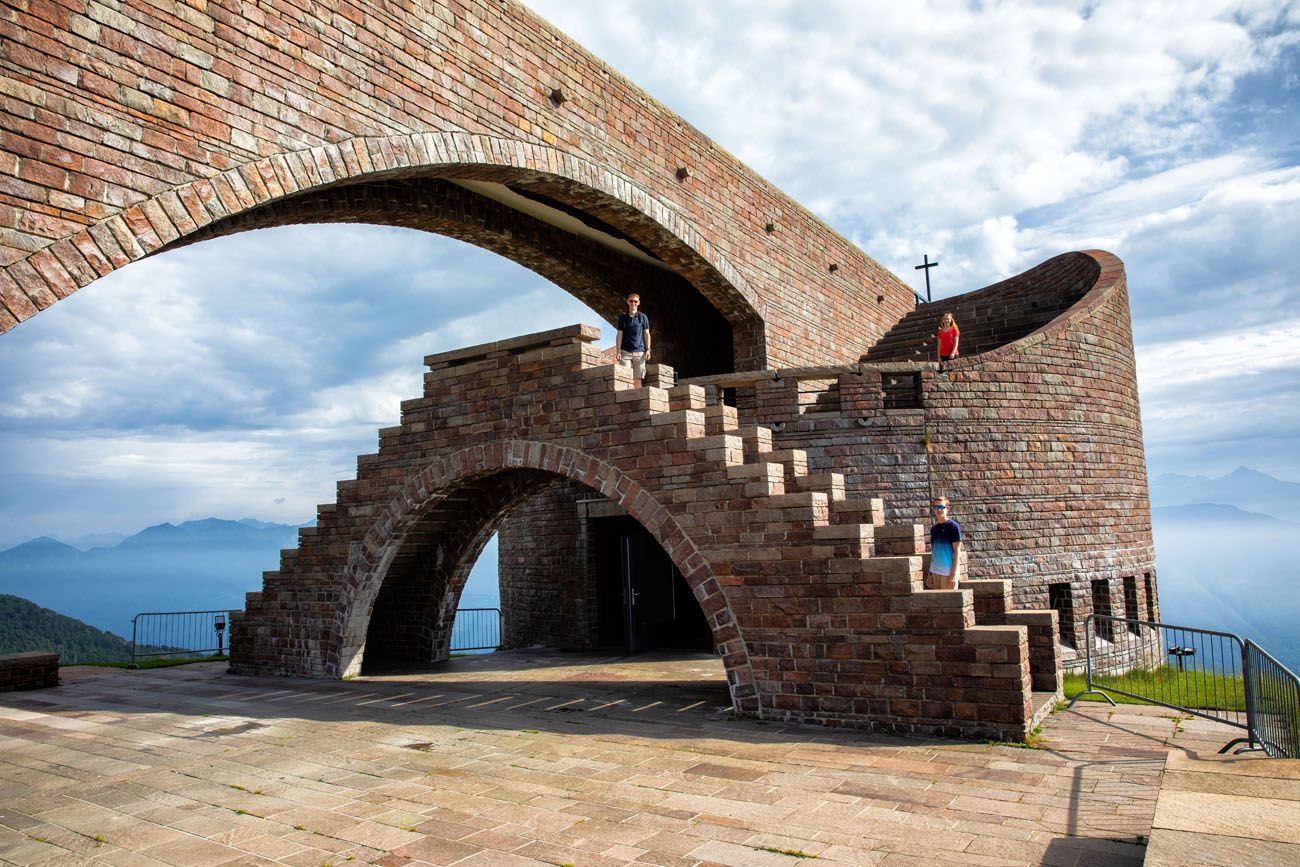 Santa Maria degli Angeli Chapel | Best day trips from Lugano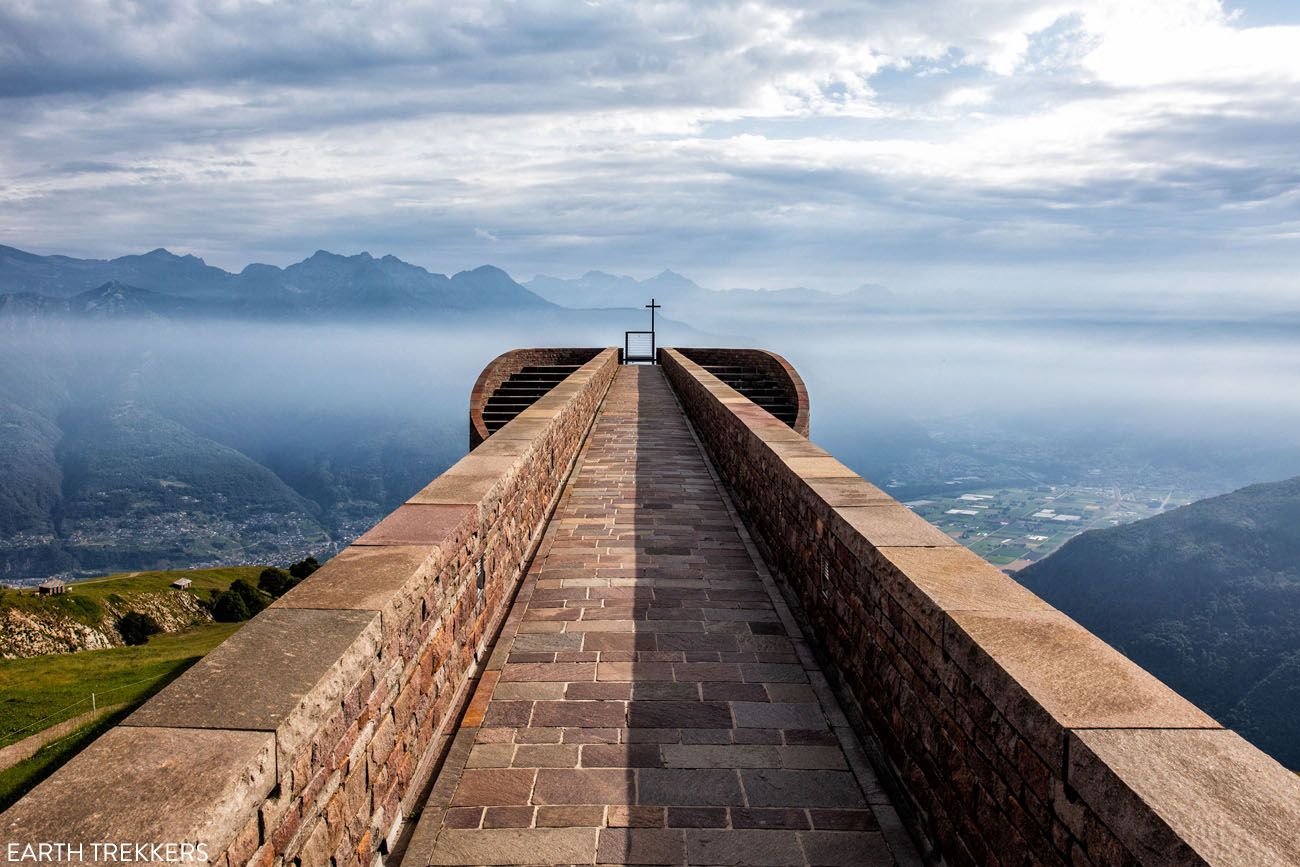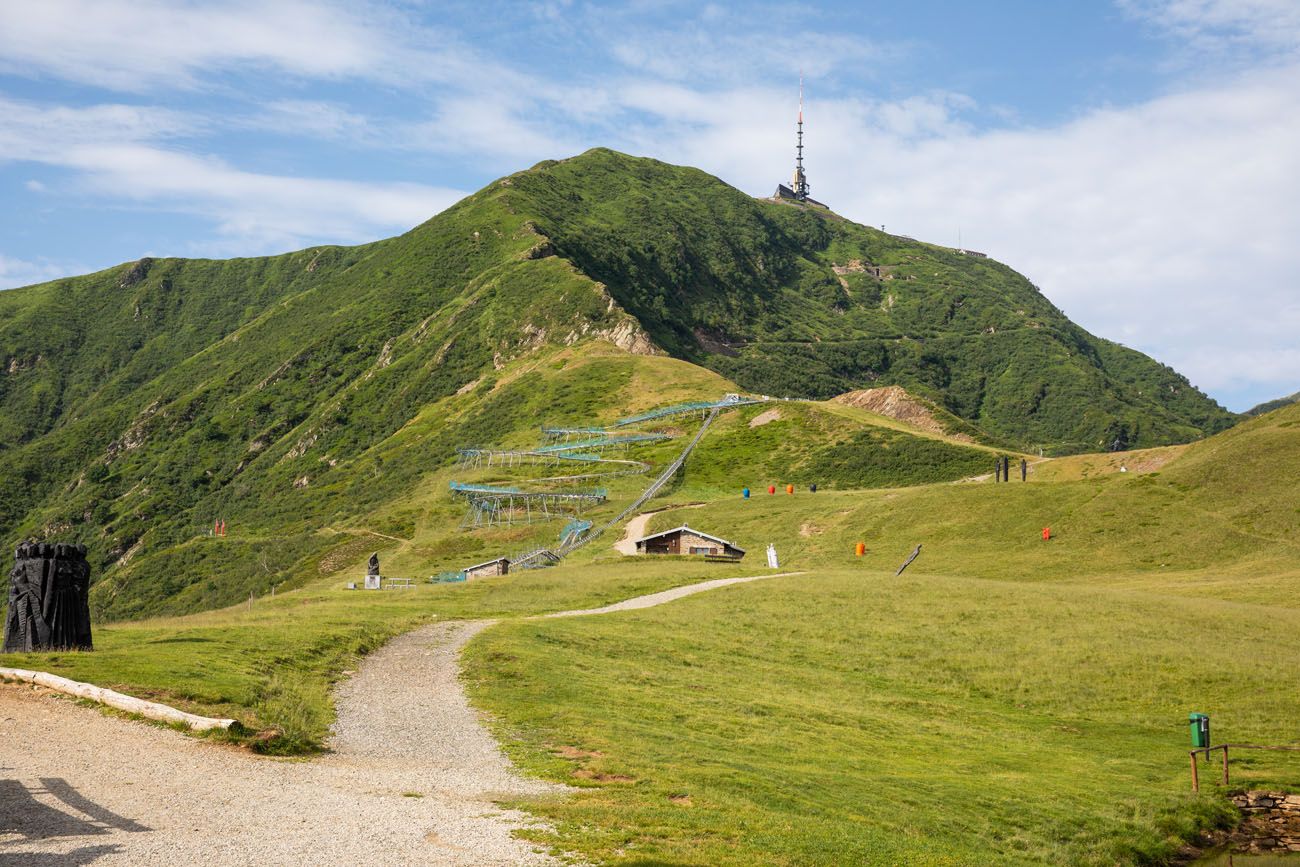 To get here, ride the Monte Tamaro cable car from the town of Rivera (25 minute drive from Lugano) to Alpe Foppa, the upper station. This is where you will find the alpine coaster, a restaurant, the start of many hiking trails, and the Santa Maria degli Angeli Chapel, a contemporary church that offers panoramic views of the pre-Alpine region.
Bonus for Kids: In Rivera, at the base of Monte Tamaro, is the Splash and Spa, a water park with wave pools and slides.
Visit the official Monte Tamaro website for timetables, updated pricing, and full details on how to get here.
7. The Monte Tamaro – Monte Lema Traverse
This spectacular point-to-point trail takes hikers up and over multiple peaks between Monte Tamaro and Monte Lema. It's a challenging day hike but well worth it for some of the most amazing views of this side of Switzerland.
The hike starts in Rivera. Ride the Monte Tamaro cable car to Alpe Foppa. From here, the hike begins. You will first summit Monte Tamaro and then follow the ridgeline to Monte Lema. Along the way, you will have views of Lake Maggiore, the Verzasca Valley, Lugano, and, on a clear day, the Matterhorn in the Swiss Alps.

Map: montetamaro.ch
This hike is 13 km and takes about 5 hours. Learn more here.
To do this, start in Rivera, ride the cable car to Monte Tamaro, and hike to Monte Lema. Ride the cable car from Monte Lema down to the town of Miglieglia. There is a 5:15 pm bus that will shuttle you back to Rivera. Learn more here.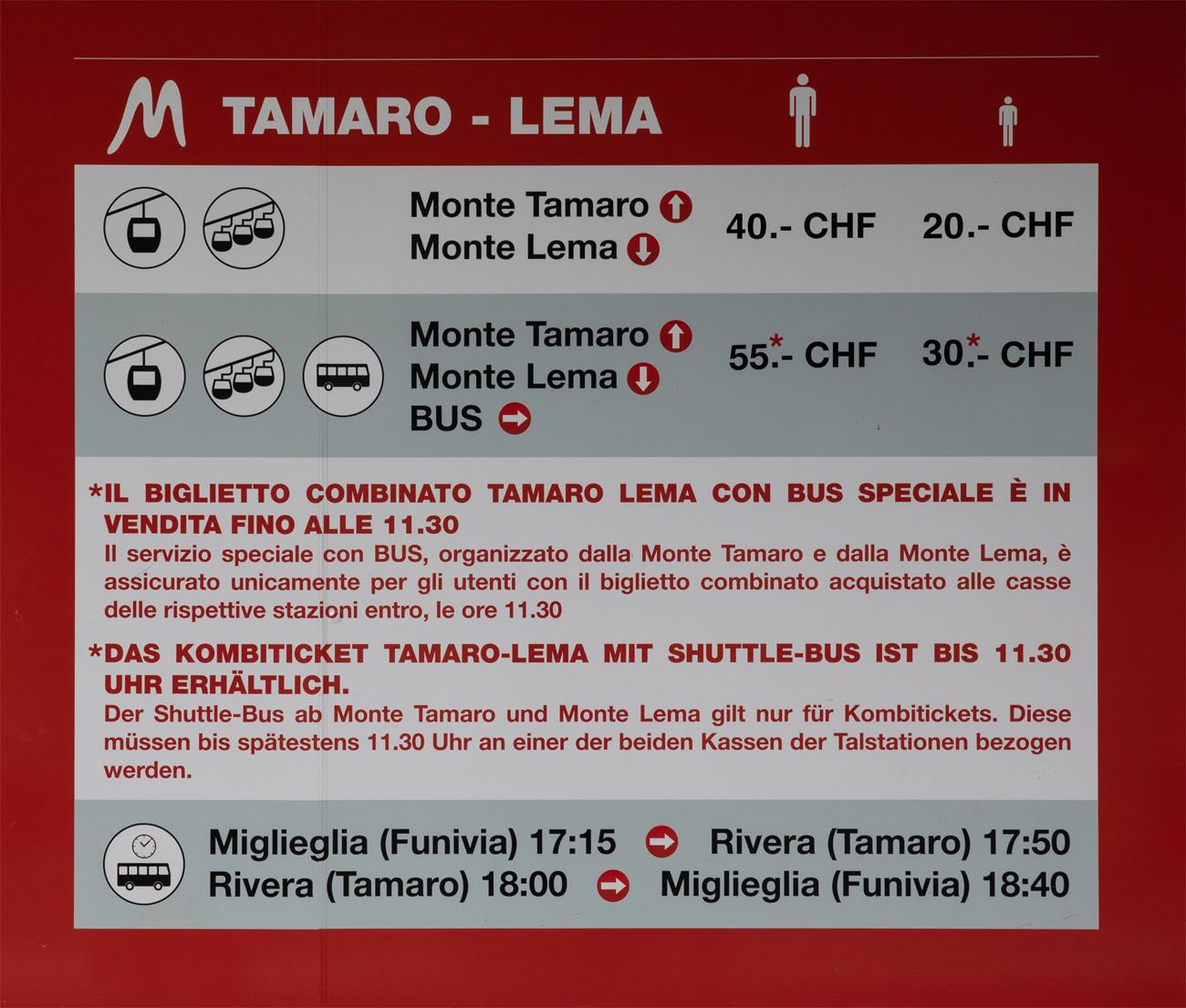 Prices for the cable car and shuttle bus (photo taken in 2019 but prices are still accurate as of March 2022)
8. Monte Generoso
Monte Generoso is a mountain that is located on the border between Italy and Switzerland. It sits between Lake Lugano and Lake Como, not far from Lugano. From this mountain peak, you get spectacular panoramic views of the Gran Paradiso mountains in northern Italy and the Swiss Alps.
To get here from Lugano, ride a boat across Lake Lugano to Capolago. From Capolago, ride the train to the summit of Monte Generoso. There are walking trails, a restaurant, and an observatory on the peak of Monte Generoso.
Get more information about Monte Generoso here, including the timetables and prices for the train.
9. Lake Como
A visit to Lake Como is one of the best day trips from Lugano.
This lake is a slice of Italian paradise. It is where the rich and famous vacation in luxurious villas and visitors flock to the colorful lakeside towns.
Spend the day wandering the picturesque streets of Bellagio, Varenna, and Menaggio, cruise past opulent villas, stroll through botanical gardens, and dine at cafes with beautiful views of the lake.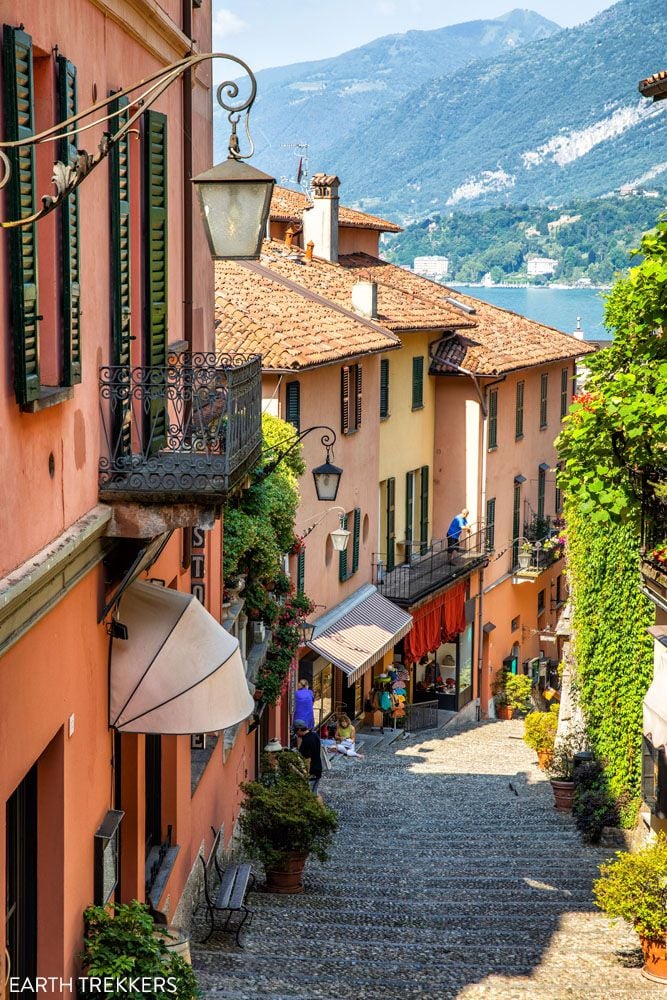 Bellagio | Best day trips from Lugano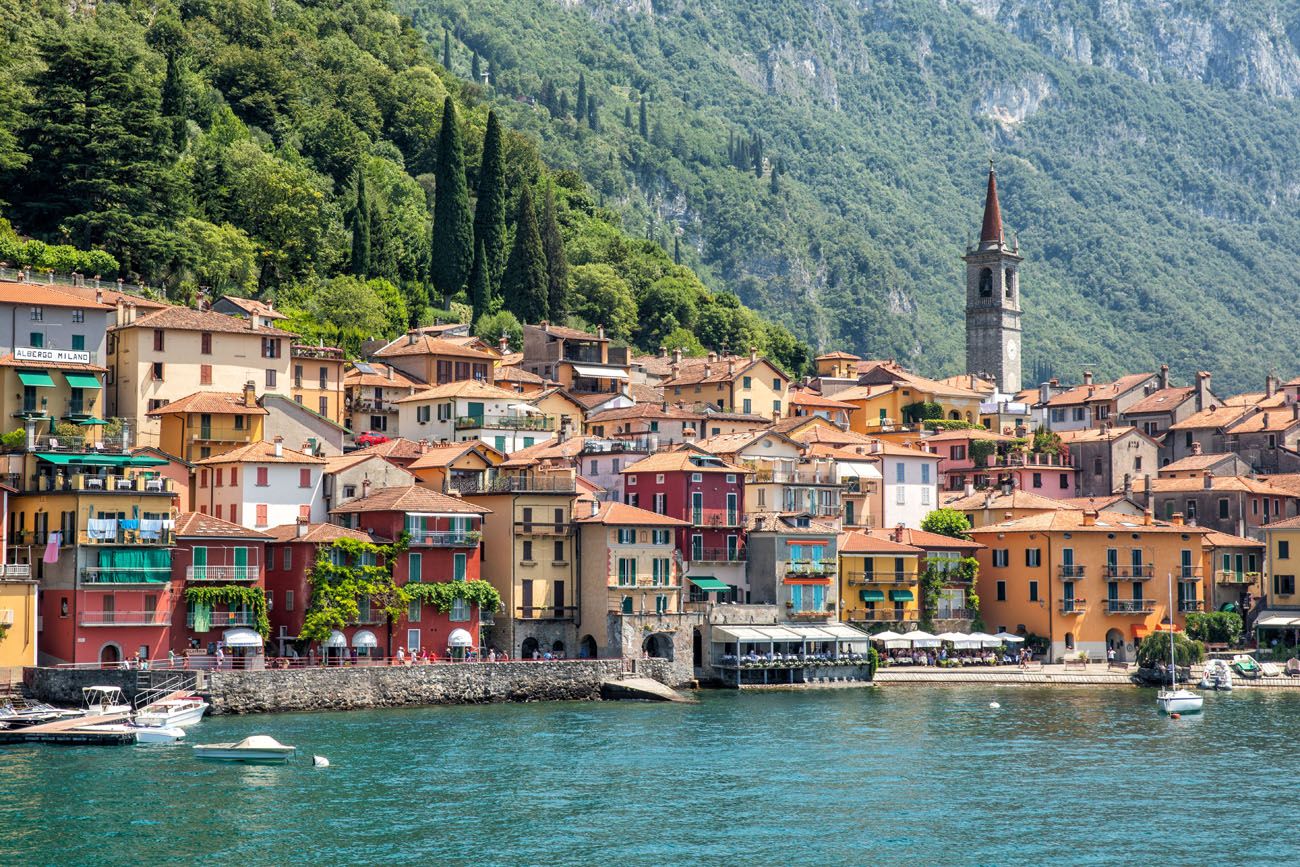 Varenna | Best day trips from Lugano
From Lugano, you can get to Lake Como by car or by bus. Then, use the handy ferry to hop from town to town.
10. Milan
Milan also makes a great day trip from Lugano. It is the home of Leonardo da Vinci's "Last Supper," one of the most famous paintings in the world. Milan is also home to the Duomo, world-class museums, and trendy shopping areas.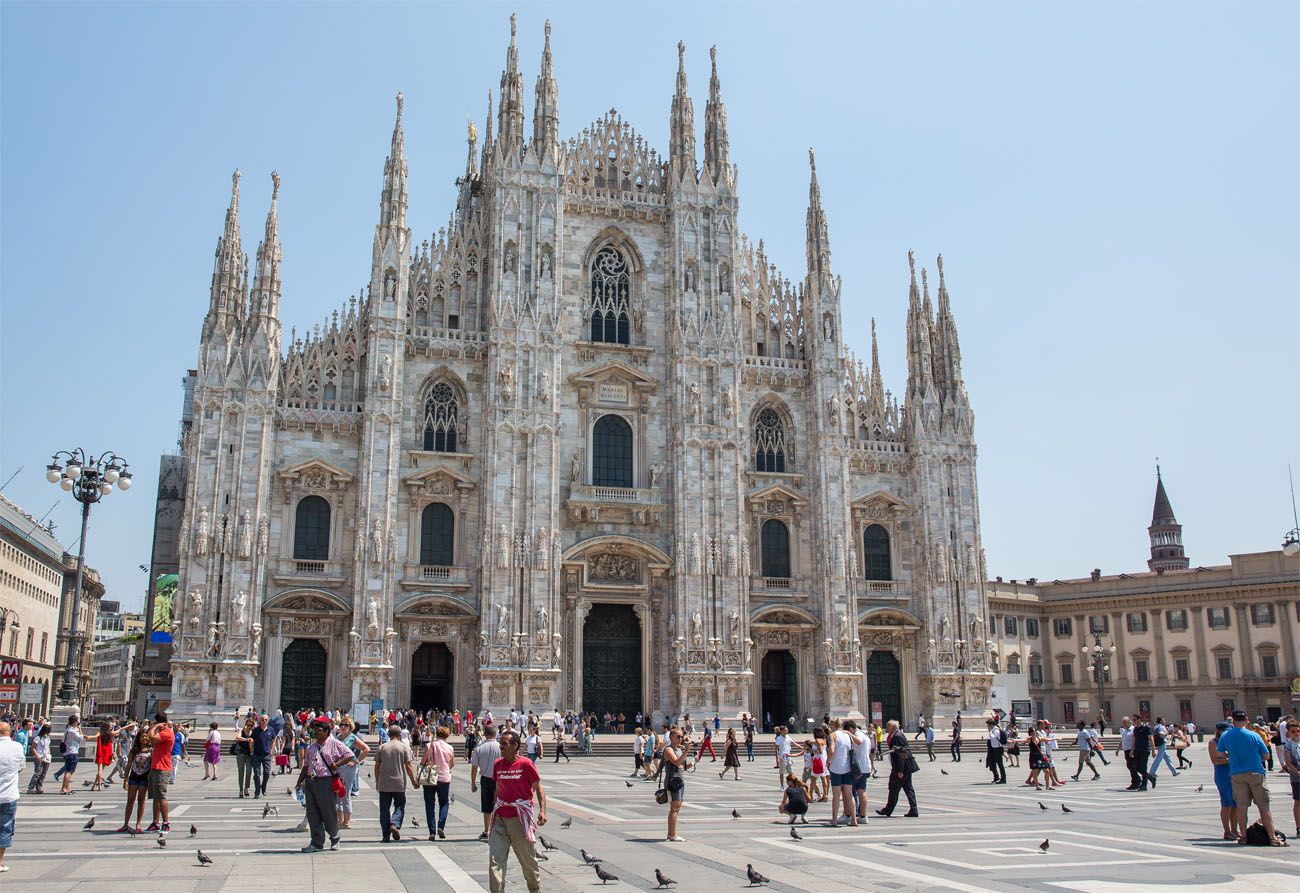 Milan Duomo | Best day trips from Lugano
Milan's main sights are located within a small area, making it easy to see the best of Milan in just a short period of time.
By train, it takes just an hour to travel from Lugano to Milan. Get prices and the timetable for your dates of travel on raileurope.com.
If you have any questions about these day trips from Lugano, let us know in the comment section below.
More Places to Go in Switzerland
SWITZERLAND ITINERARY: If your visit to Lugano is part of a bigger trip to Switzerland, check out our Switzerland Itinerary, which has suggestions on what to do if you have 7 days, 14 days, or even longer.
LAUSANNE: Lausanne is another beautiful Swiss city with lots of great things to do and it also is a great home base for day trips in the area, such as Gruyères and Chateau de Chillon.
HIKES IN ZERMATT: For a full list of hikes, check out our guide Best Hikes in Zermatt. We also have trail guides for the Five Lakes Trail, the Breithorn summit, how to hike to Hörnlihütte, how to hike the Matterhorn Glacier Trail, and the hike from Furi to Gorner Gorge to Zermatt.
LUCERNE: Learn how to spend one perfect day in Lucerne with a trip to Mt. Pilatus.
JUNGFRAU REGION: If you are planning a trip to the Jungfrau region, check out our Guide to the Jungfrau Region, which includes maps and important travel planning information and our Jungfrau Itinerary, which has itinerary suggestions for one day to one week. We also have a separate article about the best things to do in the Jungfrau region. Get more information on where to stay in the Jungfrau region, how to visit Jungfraujoch, and how to add on the thrilling Mürren Via Ferrata to your visit.
EUROPE TRAVEL INSPIRATION: For more great ideas on where to go in Europe, check out our article 30 Beautiful Places to Visit in Europe. You can also get more travel ideas in our 10 Days in Europe itinerary guide, which has 10 great itineraries for your next trip to Europe.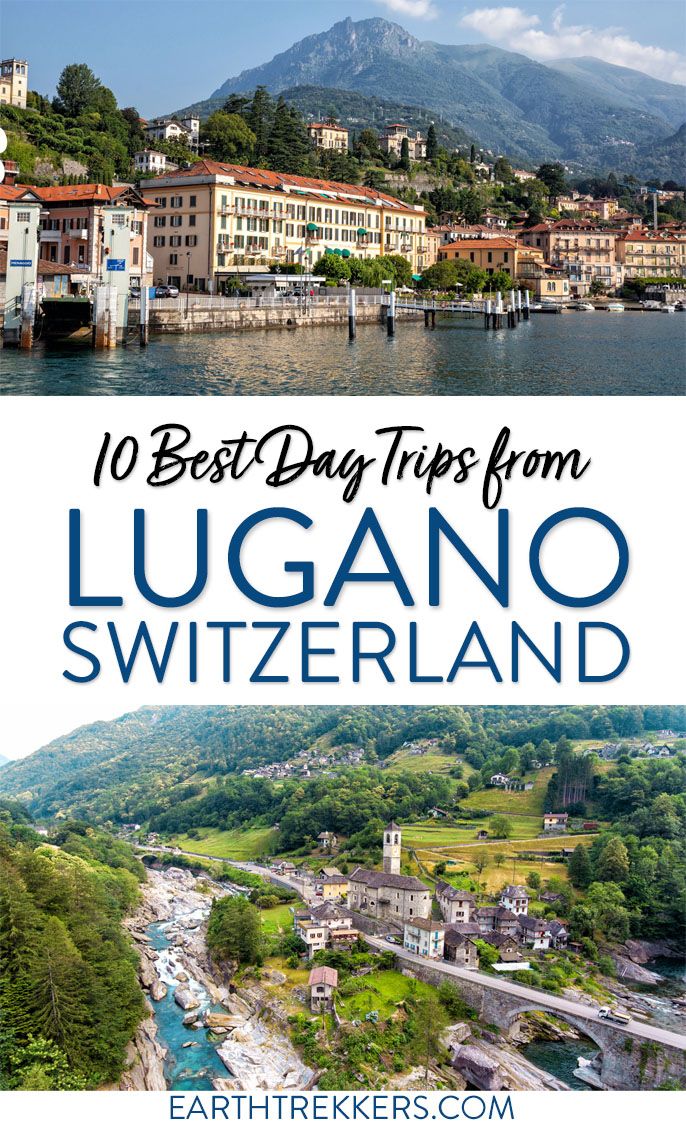 All rights reserved © Earth Trekkers. Republishing this article and/or any of its contents (text, photography, etc.), in whole or in part, is strictly prohibited.