The Milford Sound, one of New Zealand's most popular sights, is located just a few hours away from Queenstown on the South Island. Before arriving in Queenstown, we heard that you cannot visit New Zealand without visiting Milford Sound. It would be like going to Paris and not seeing the Eiffel Tower. After seeing tons of photos on line and hearing all of the hype about Milford Sound, it made the top of our list of things to visit during our New Zealand tour.
Day Trip: Te Anau to the Milford Sound
The Milford Sound can be visited as a day trip from Queenstown, but this makes for a very, very long day. Board a bus for a 4 hour scenic road trip, arrive in the Milford Sound, board a boat for an hour and a half cruise, and then repeat the same four hour ride to get you back to Queenstown. Yes, it is doable, but this did not sound like fun for the four of us.
Instead, a trip to the Milford Sound is a perfect day trip from the much closer town of Te Anau. Staying in Te Anau allows for a leisurely two hour ride to the sound with plenty of time for ooohs and aaahs at the various scenic points, more time to explore Milford Sound, and even time enough for a fairly strenuous hike on the way back to Te Anau.
The very small town of Te Anau is located two hours south of Queenstown and is also just two hours away from the Milford Sound. This splits the distance between the two destinations, making for much more enjoyable time touring this area.
We spent two nights at the Alpenhorn Motel in a one bedroom apartment with a kitchenette, giving us our first chance to prepare basic meals in seven months. Since we were here during the beginning of the off season, we were the only guests at the motel.
On the Drive from Te Anau to the Milford Sound
The day we visited the Milford Sound, we were up and out the door by 8:15 am. This gave us three hours to drive the 120 km to the Milford Sound with plenty of time for photo opportunities along the way. At 11:15 am we had a cruise booked for our tour of the Milford Sound.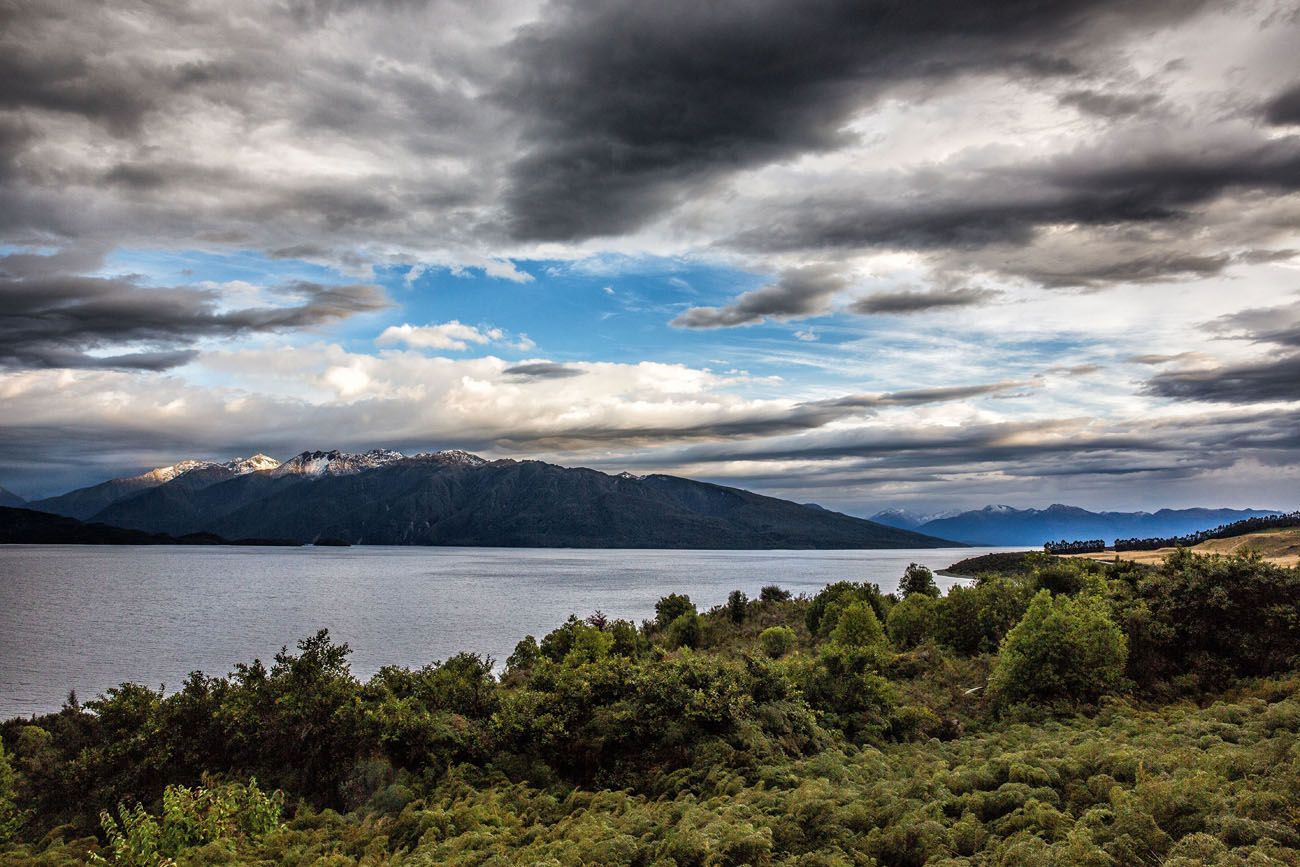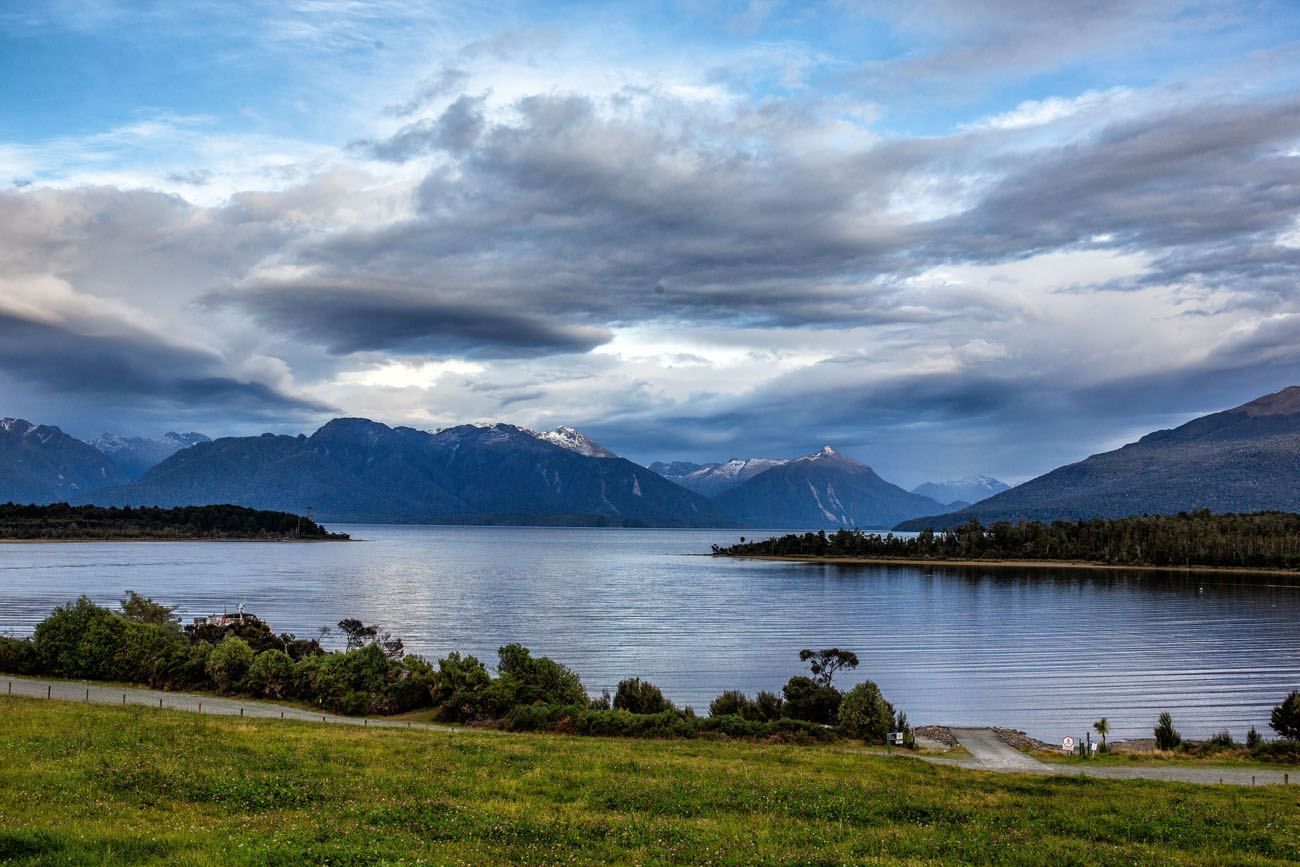 There are various viewpoints along the way. Our favorites were Mirror Lake, a small, quiet lake with a perfect reflection of the nearby mountains, as well as The Chasm, a twenty minute out and back walk to see water rushing through a gorge which is quite spectacular.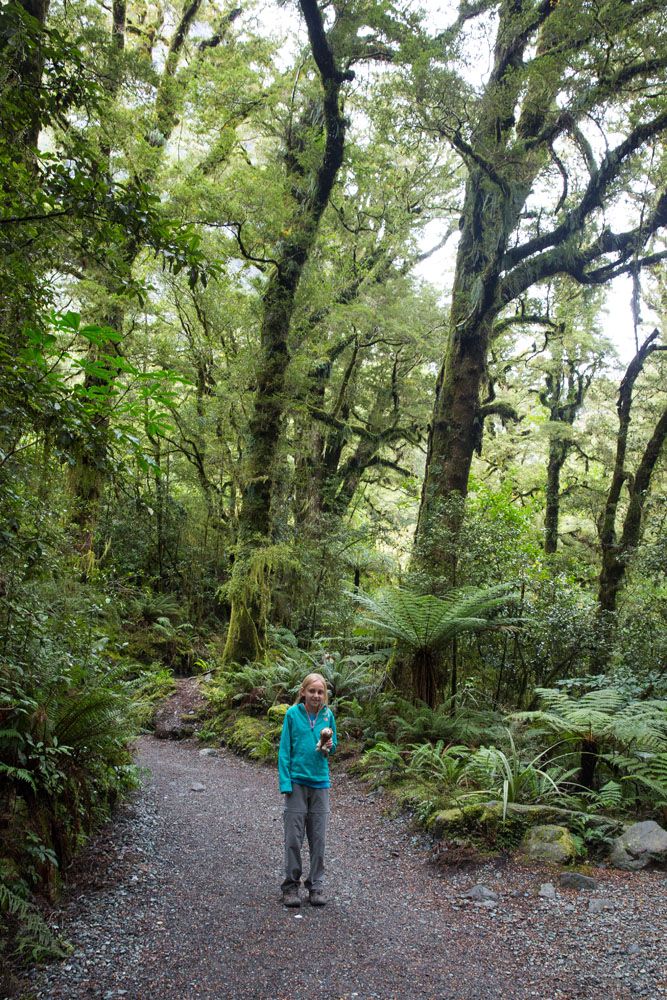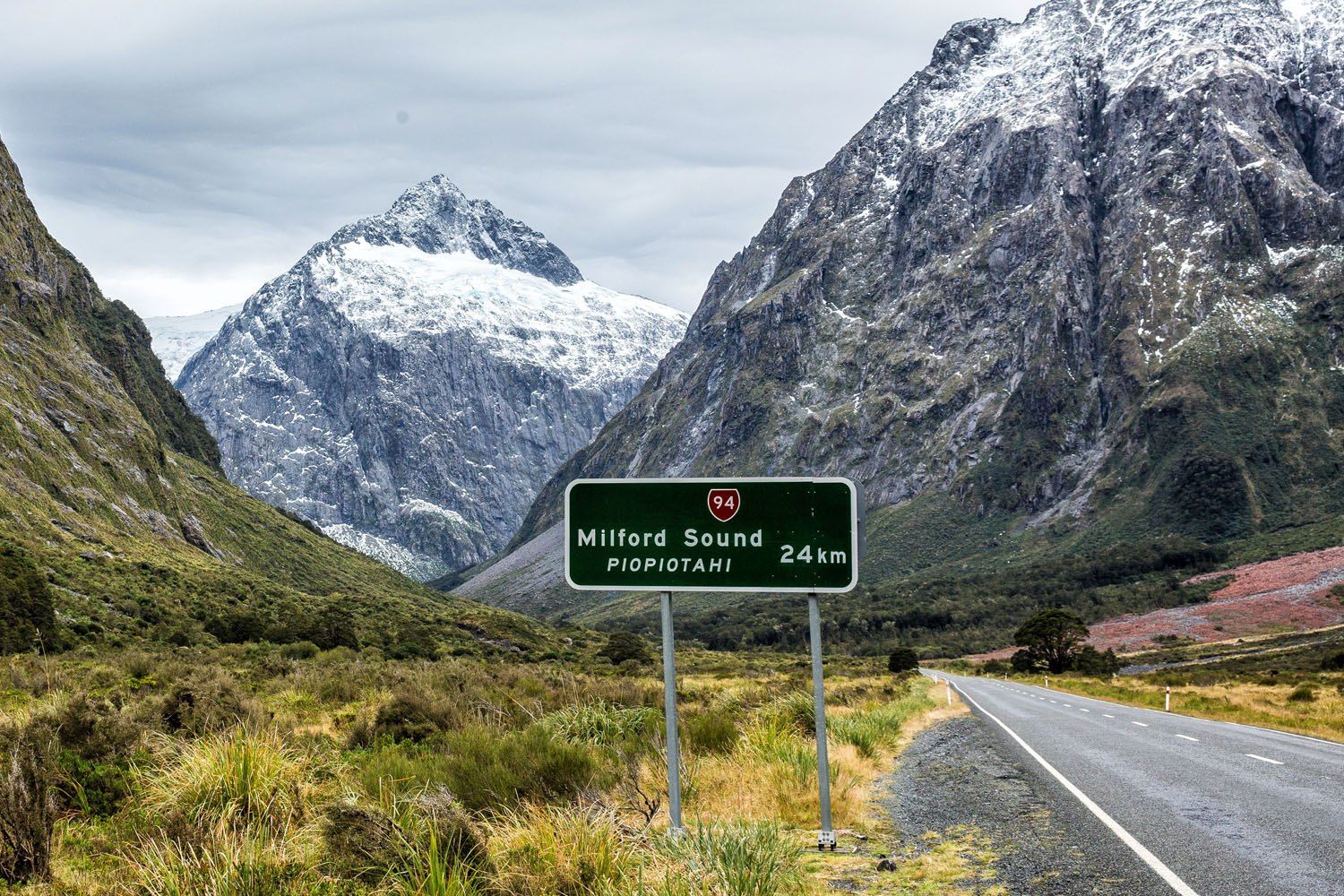 Prior to arriving at the Milford Sound we traveled through the Homer Tunnel, a one way, ancient looking tunnel. It was dimly lit and dripping with recent rainwater, quite an interesting experience. We hit the timing of the lights just right, but it can take up to twenty minutes to pass through the tunnel, especially during high season.
The Milford Sound
We arrived at the Milford Sound and had some extra time before our cruise; just enough time to take a quick walk to a scenic point. As we had approached the Milford Sound, our partly sunny skies deteriorated into overcast skies, but the wavy, blanket of clouds added to the drama of the scene. The Milford Sound gets six meters of rain per year, so to not have a rainy day we were quite thankful.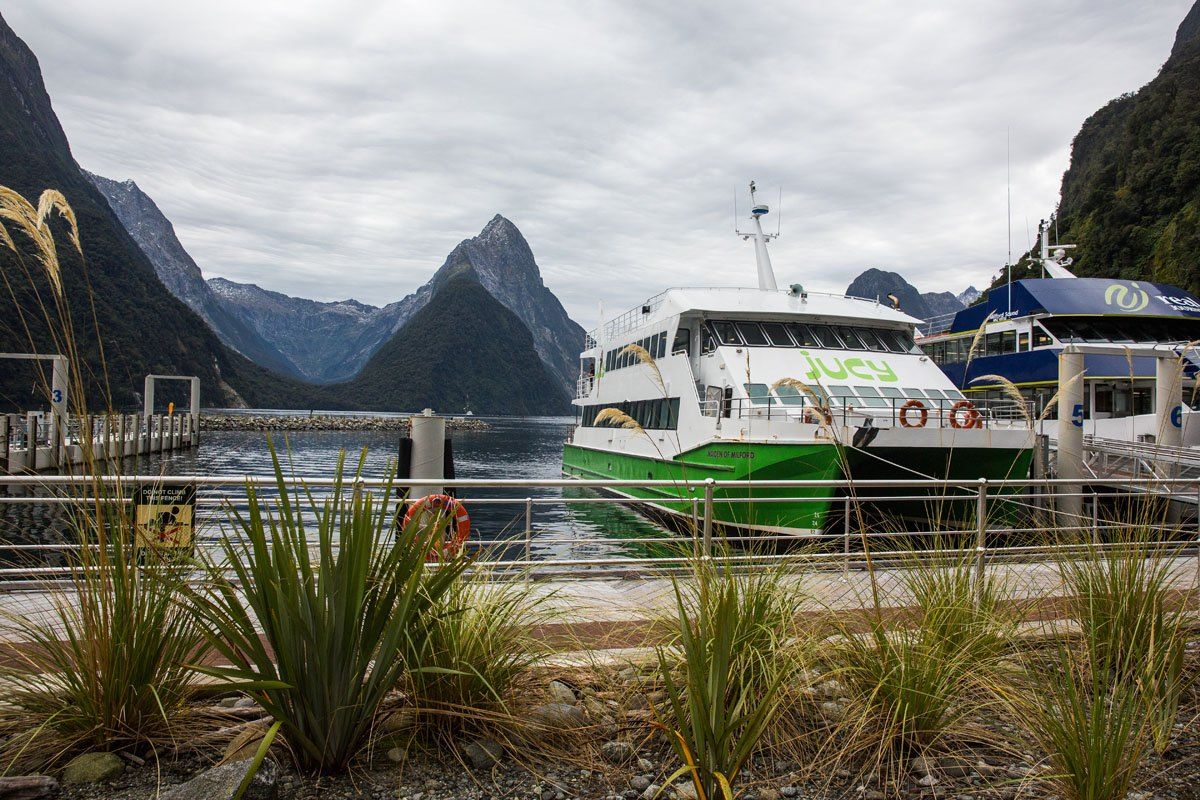 There are five or six tour companies offering an hour and a half tour of the Milford Sound, all with nearly identical itineraries. We chose Jucy because they offered the tour at a cheap price. We were seeing all of the same things as the other tours, so why pay more? At 11:15 we were on our way, taking our hour and a half tour of the Milford Sound.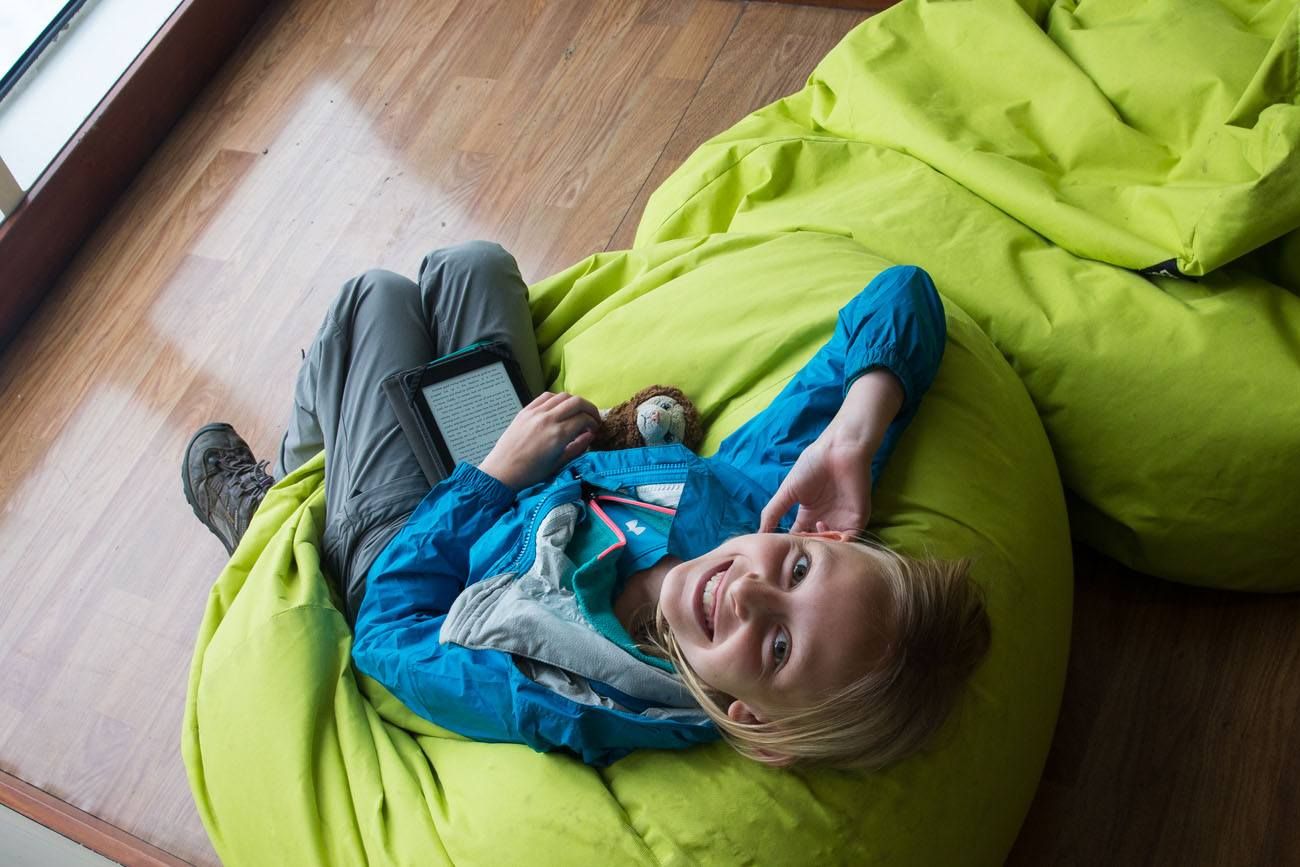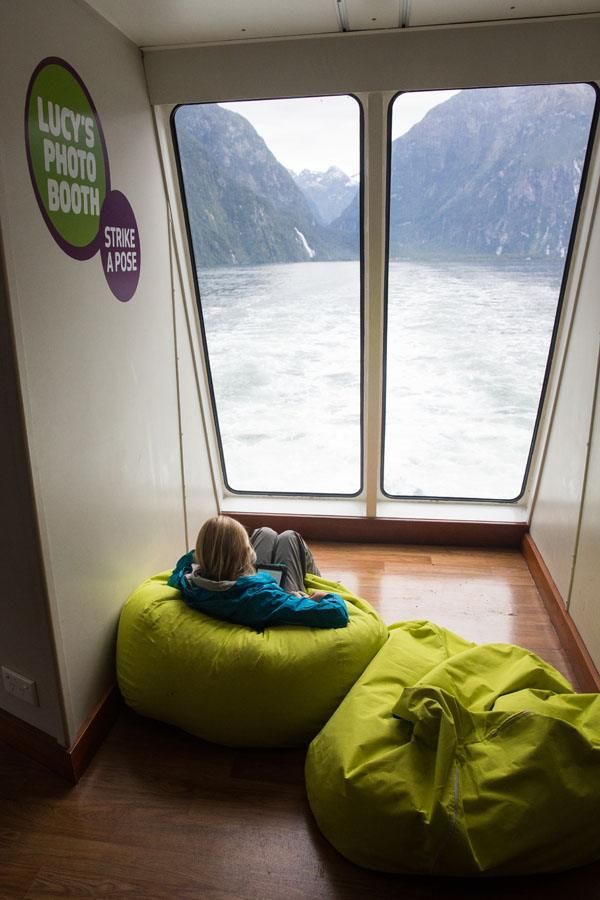 To be honest, we all thought the Milford Sound was beautiful and worthwhile to see, but it did not live up the hype we had been hearing about. We cruised along a fiord, with tall mountains on either side of us, with waterfalls, native plant life, and even some seals and a quick look at the Tasman Sea, but it was not as amazing as we were expecting. In a lot of ways, it had us reminiscing of our cruise on the fjords in Norway two years before this trip. These two places look almost identical. Add in chilly, overcast conditions and two bored kids on both visits and we have a good case of déjà vu.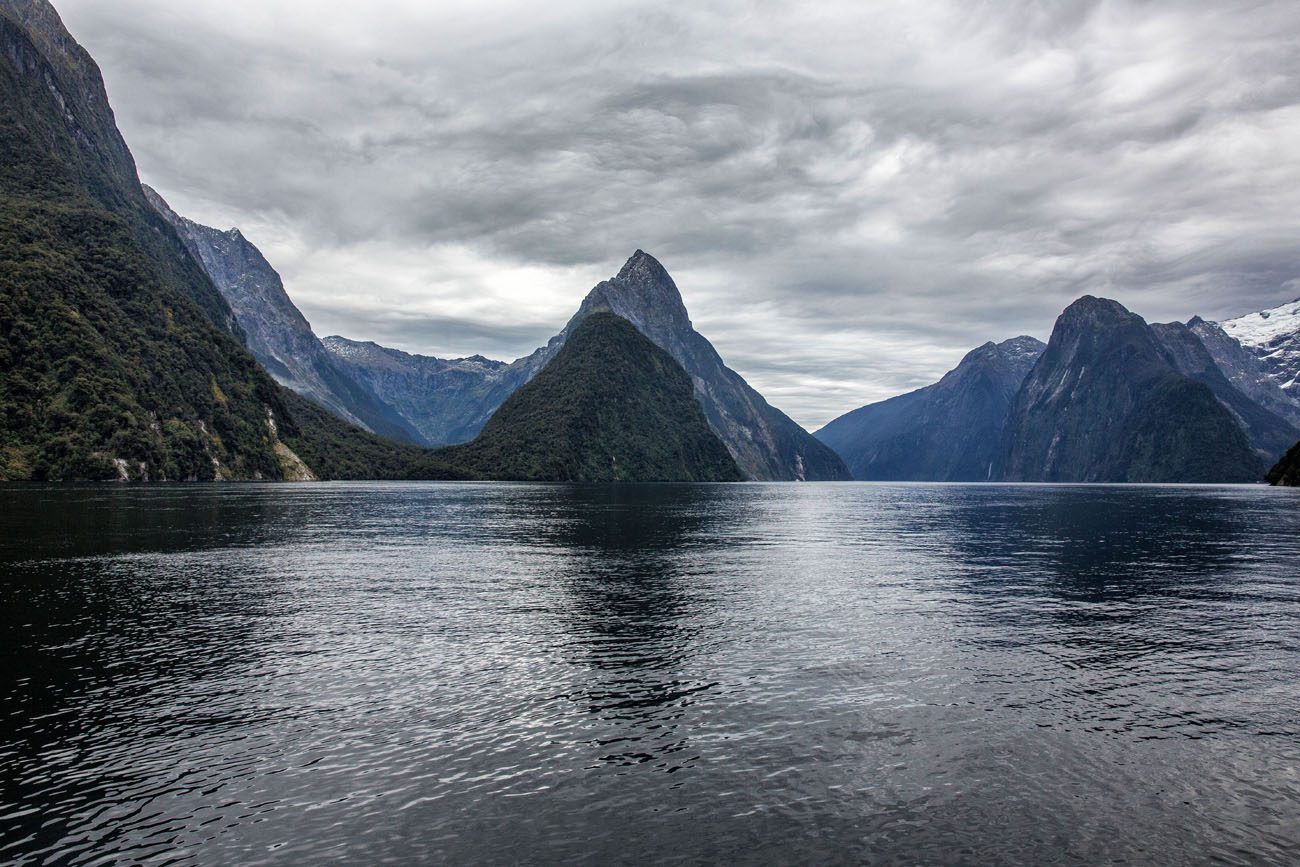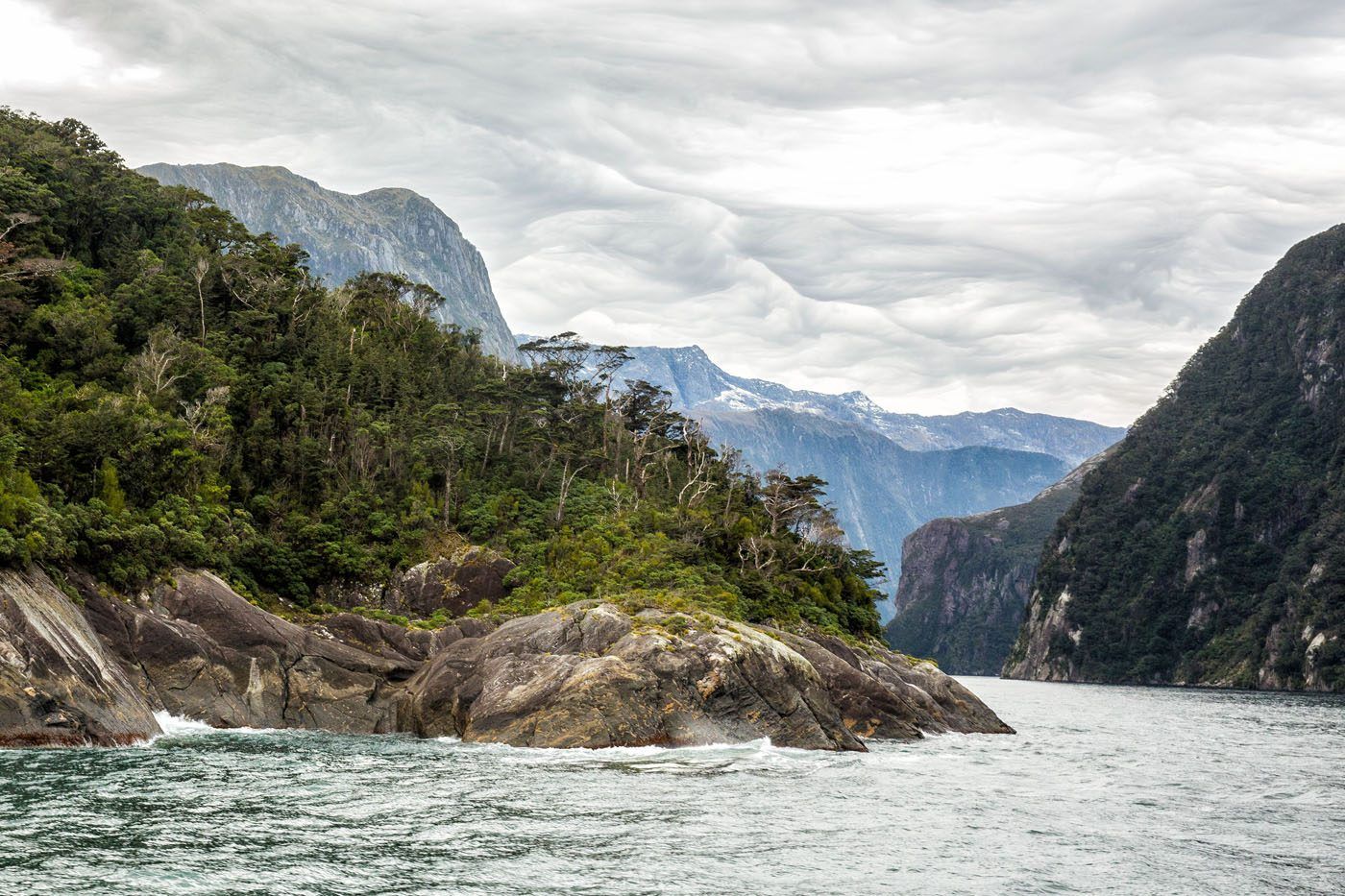 After our cruise was over we started our drive back to Te Anau. Since we are avid hikers we were anxious to get our hiking shoes dirty in New Zealand. Time to go tramping!
Key Summit Hike
Not far past the Homer Tunnel on the way back to Te Anau is the Divide car pack. It is here that people can start the world famous Routeburn Track, a multi-day hike that takes trampers through some of New Zealand's most spectacular scenery.
We hiked the Key Summit Hike, a three hour hike that took us on a portion of the Routeburn Track and then higher to a summit point with amazing views of New Zealand.
It took us about an hour to get to the summit. The first portion of the hike took us through New Zealand's temperate rainforest. Once we got high enough, we entered alpine scenery, with shrubbery and stunning mountain views. It was windy and quite chilly and it didn't take long until Kara was freezing and cranky. The rest of us enjoyed the views…more amazing New Zealand views. Wow, we love it here!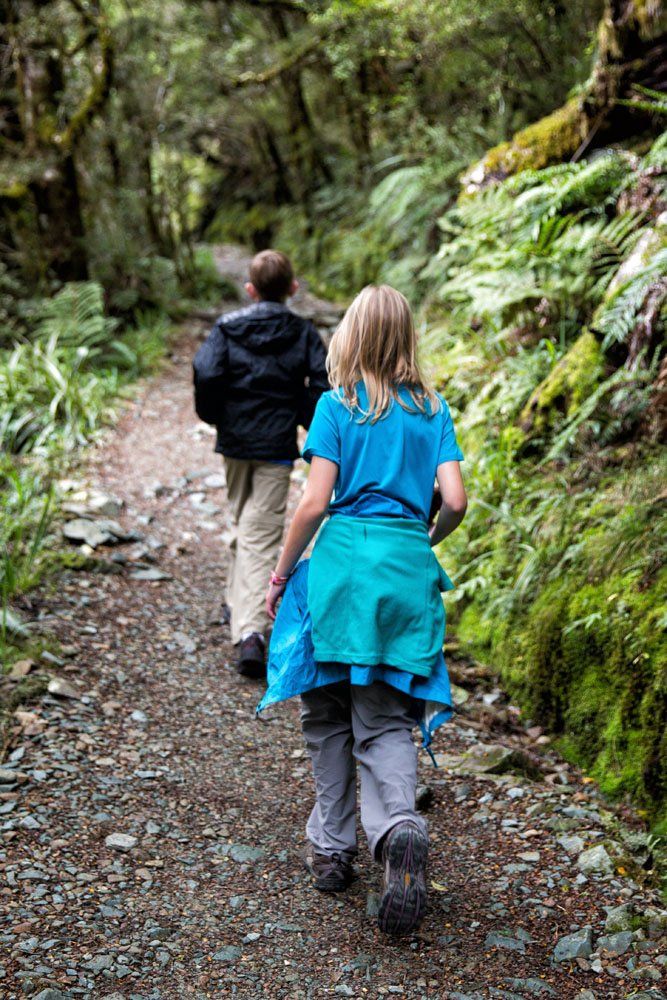 After some photos on the mountaintop, including a couple goofy Earth Trekker photos, we walked back down to our car, completing the entire hike in exactly three hours.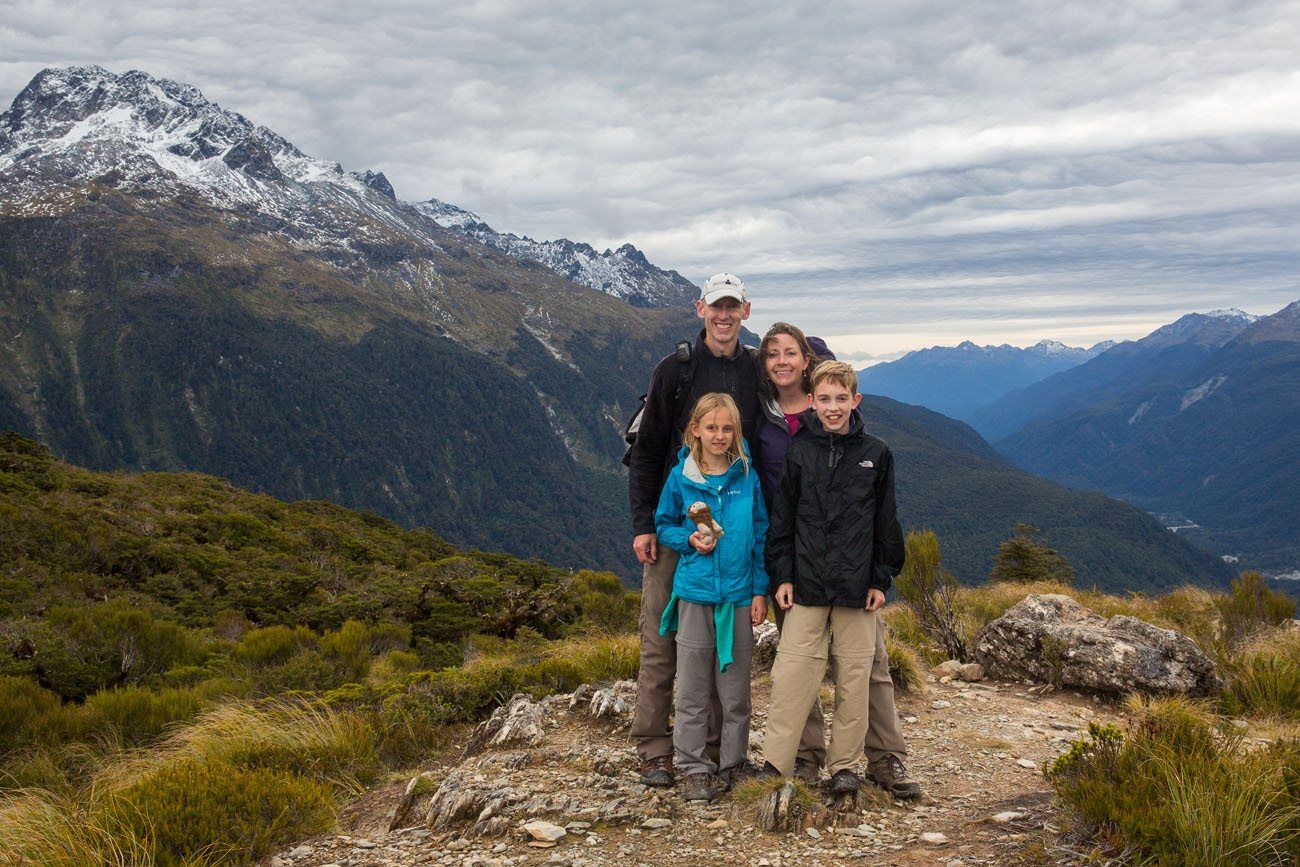 For those driving out to the Milford Sound and are looking for a short hike to really get a good view of the scenery in this part of New Zealand, this hike is unbeatable. I highly recommend it. We all enjoyed the views from the Key Summit more than the views from the Milford Sound cruise. Well, maybe except for Kara, who had quite the warm, comfy spot on the cruise and later had hands as cold as ice while we were hiking. This was our first taste of tramping in New Zealand and we were all eager for more.
We reached the town of Te Anau by 6 pm, just in time for another "home cooked" meal while watching a DVD on the TV. What a spectacular day!
Things To Know: Te Anau to the Milford Sound
We stayed at Alpenhorn Motel and loved it here. This place is great for families, with a bedroom for the kids, a kitchenette with microwave and cooktop, and a living area with TV, DVD, and free movies to borrow from the office. It was clean and quiet and conveniently located in Te Anau.
Jucy is the company we used for our Milford Sound cruise. For our family of four in April 2015 we paid $119 NZD ($75 USD). We got an Easter special one kid free deal…so Kara got a free ride on a beanbag, the best seat on the boat!
The town of Te Anau has a well stocked grocery store, heaps of small restaurants, and even a Subway restaurant. There is a waterfront area in town with great views across the Te Anau Lake.
It takes roughly two hours to reach Te Anau from Queenstown, not allowing time for any stops. Our drive took three hours because we stopped for so many photos. I couldn't help it! Around every turn was another fabulous view! Check out our post: Wow!
The drive from Te Anau to the Milford Sound takes about two and half hours, allowing a few very short stops for scenic views and photos. We gave ourselves three hours, stopped at Mirror Lake and The Chasm, and still had a half hour to spare at the Milford Sound before boarding our boat. It was also low season so we did not have to deal with traffic or a long wait at the tunnel. If you are driving from Te Anau, I would give yourself three hours or more, just to make sure you reach the Milford Sound in time for your cruise.
The Key Summit hike from the Divide car park is a three hour return hike. It is an easy hike that anyone with average fitness can complete. It is a constant, steady climb up to Key Summit. Rarely is it steep, just be prepared for a steady, uphill walk. It can be a lot colder and windier at the top so make sure that you have plenty of warm clothes, especially during the cooler months. We loved this hike, even Kara and her frozen hands.
---
More Information for Your Trip to New Zealand
DOUBTFUL SOUND: How do you visit Doubtful Sound and is it worth it? Find out the answers, and more, in our guide to Doubtful Sound.
SOUTH ISLAND: On the South Island of New Zealand, drive the Southern Scenic Route, go bungy jumping in Queenstown, hike the Hooker Valley Track, and visit Franz Josef and Glacier Country.
NEW ZEALAND ROAD TRIP: With 3 weeks in New Zealand, visit the highlights on a road trip to the North Island and South Island. If you have less time, you can shorten this itinerary by spending 2 weeks on the South Island.
BEST OF NEW ZEALAND: There are many wonderful things to do in New Zealand, such as bungy jumping and jet boat riding in Queenstown, touring the Marlborough wine region, visiting Aoraki/Mt. Cook, and hiking the Tongariro Alpine Crossing.
TRAVEL INSPIRATION: For more travel ideas, here are 10 unique destinations to put on your travel wish list. If Europe is calling your name, here are 25 itineraries that just take a week of your time. And if you have plans to visit the United States, don't miss our article about the Best Road Trips in the USA.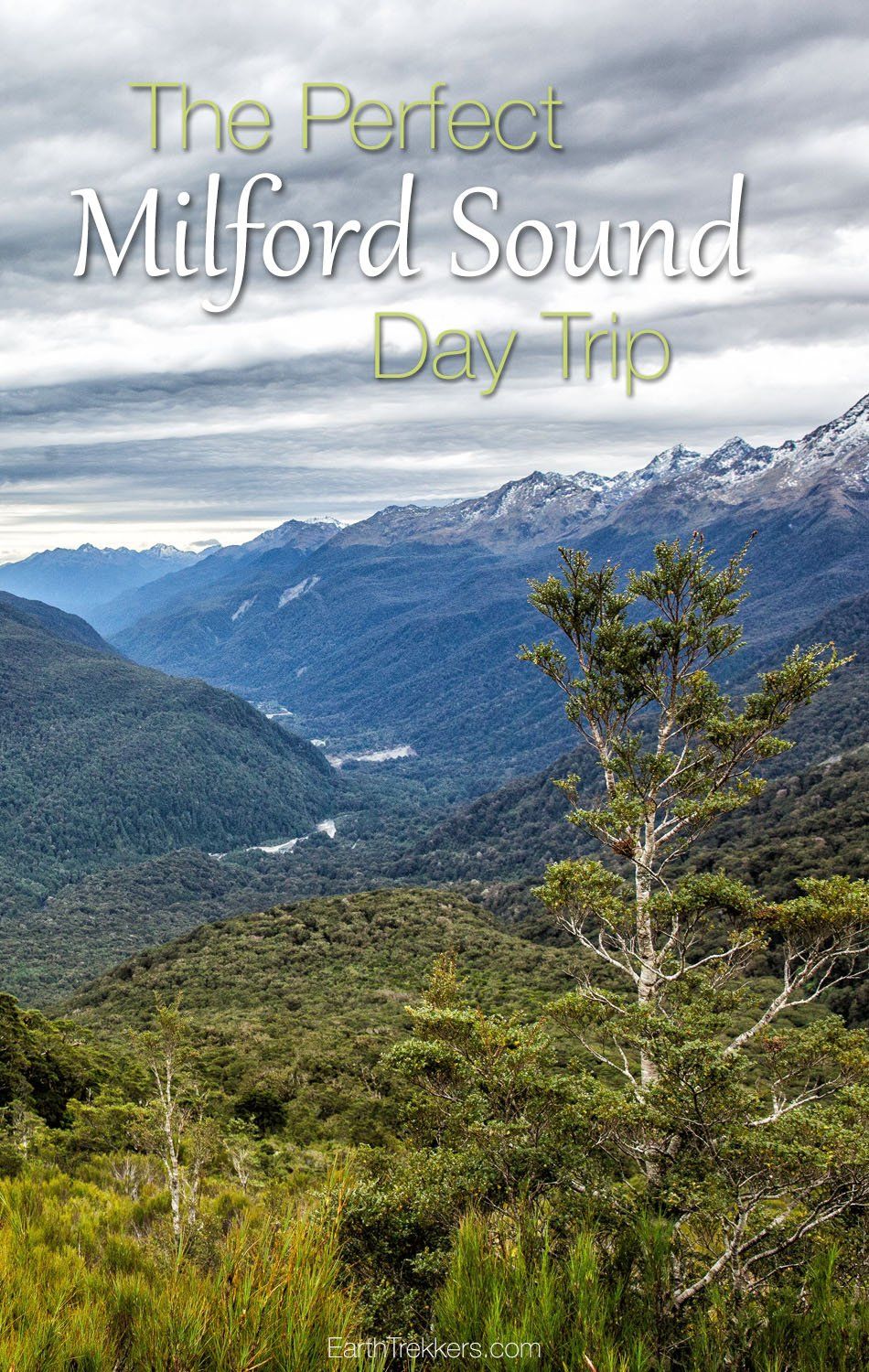 Note: This post contains affiliate links. When you make a purchase using one of these affiliate links, we get paid a small commission at no extra cost to you.
All rights reserved © Earth Trekkers. Republishing this article and/or any of its contents (text, photography, etc.), in whole or in part, is strictly prohibited.