This fun hike takes you through dense forests and past several alpine lakes before delivering you to the Tolmie Peak Lookout, for a spectacular view of Mt. Rainier. This hike is located in the northwest corner of Mount Rainier National Park, and due to its more remote location, gets less visitors than many other places in the park.
You'll love this hike if you want amazing views of Mt. Rainier and like the idea of going off-the-beaten-path to escape the crowds.
Tolmie Peak Hiking Stats
Distance: 5.6 miles (out-and-back)
Total Elevation Gain: 1,633 feet (roughly 75% of this is on the way to Tolmie Peak lookout)
Starting Elevation: 5,100 feet
Highest Elevation (Tolmie Peak Fire Lookout): 5,900 feet
Difficulty: Moderate
Length of Time: 2.5 to 4 hours
The hiking stats listed are for the round-trip hike to the Tolmie Peak lookout. You can extend this hike, continuing on to Tolmie Peak. This extra little bit adds about 0.8 miles out-and-back with minimal elevation gain.
When to Go: This hike can be done from June through October, when the access road to the trailhead is open.

Tolmie Peak Elevation profile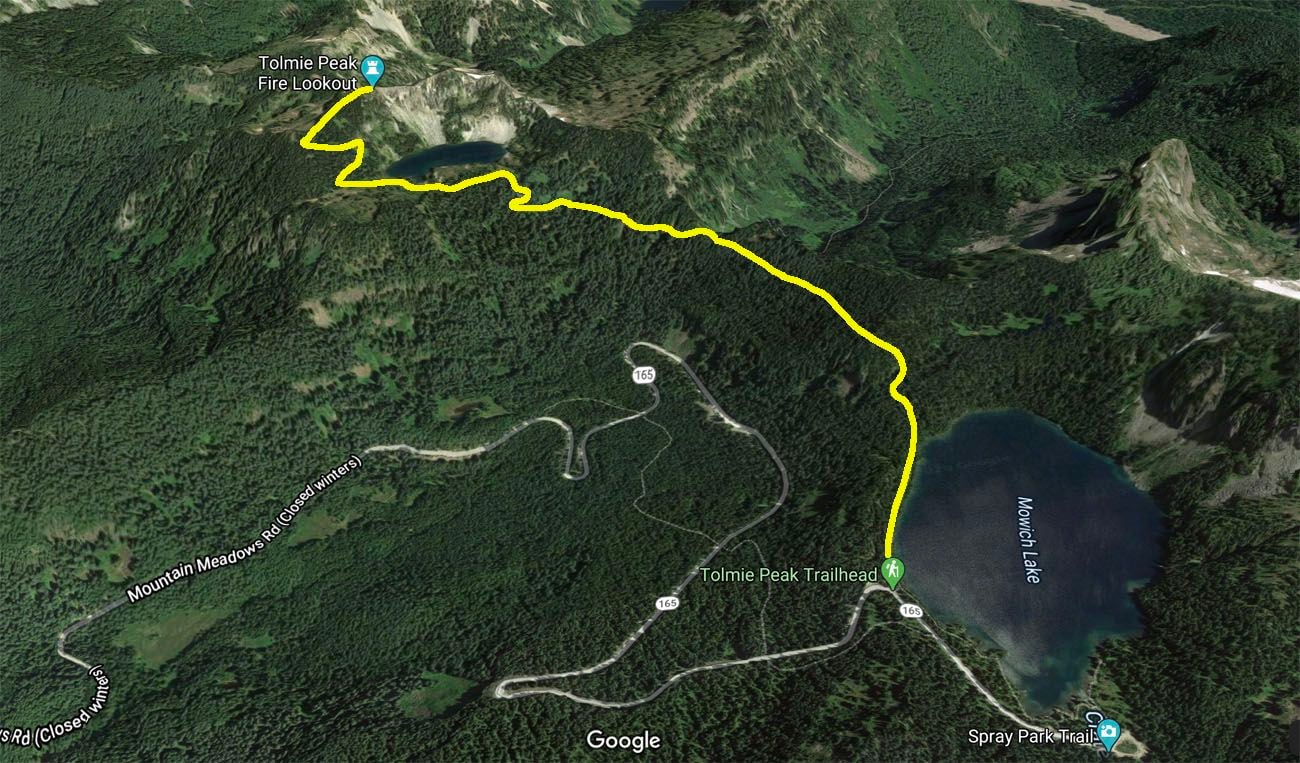 Please practice the seven principles of Leave No Trace: plan ahead, stay on the trail, pack out what you bring to the hiking trail, properly dispose of waste, leave areas as you found them, minimize campfire impacts, be considerate of other hikers, and do not approach or feed wildlife.
Tolmie Peak Hike
Step-By-Step Trail Guide
Getting to the Trailhead
The trailhead is located on Mowich Lake Road (aka Mountain Meadows Road). This is a 17-mile gravel road that is rough in some spots. However, you do not need a 4×4 for this road. It is suitable for standard cars.
This road opens in June or July, depending on snowfall, and then closes in October or November. Check the road status on the National Park Service website before you go.
There is no park entrance booth for this hike. A few miles before you reach the Tolmie Peak Trailhead, there is a self-pay station, if you do not already have a Mt. Rainier National Park entrance pass or an America the Beautiful Pass.
The trailhead is marked on Google Maps (Tolmie Peak Trailhead). At the trailhead, the road is wide enough for cars to park single file along the side of Mowich Lake Road.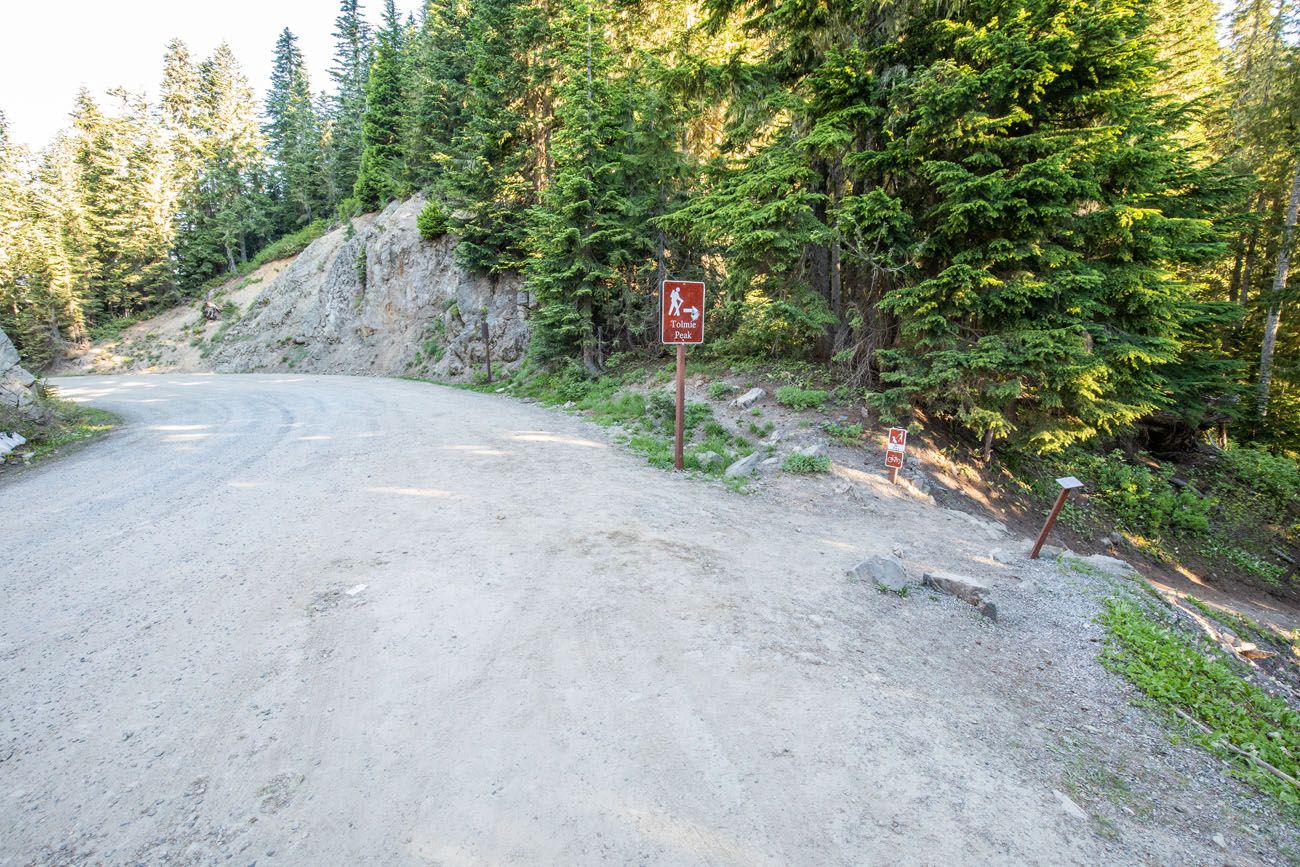 Hiking to Tolmie Peak Lookout
The trail starts beside Mowich Lake. At first, it's an easy, flat stroll next to the lake. Enjoy this flat section. It lasts approximately one mile and once you get past this section of trail, you will either be hiking up or down hills, inclines that are rather steep in spots.
At the one-mile point, the trail switchbacks down through the forest. It doesn't last long, and before you know it, you'll start the steady climb up to Tolmie Peak.
At the bottom of the short descent, you will now regain the elevation you just lost, as you hike up the switchbacks through the forest. This hike up the switchbacks through the forest lasts roughly one mile.
The trail briefly levels out at Eunice Lake. Lakeside, if you look up at the rocky peak in front of you, you can see the fire lookout. Eunice Lake is a nice place to stop and catch your breath before the final climb to Tolmie Peak.
Eunice Lake with the fire lookout at the top of the rocky cliff
The final climb is the hardest of the hike but it's worth it. Through the clearings in the trees, make sure you look out to Mt. Rainier. It is an awesome view.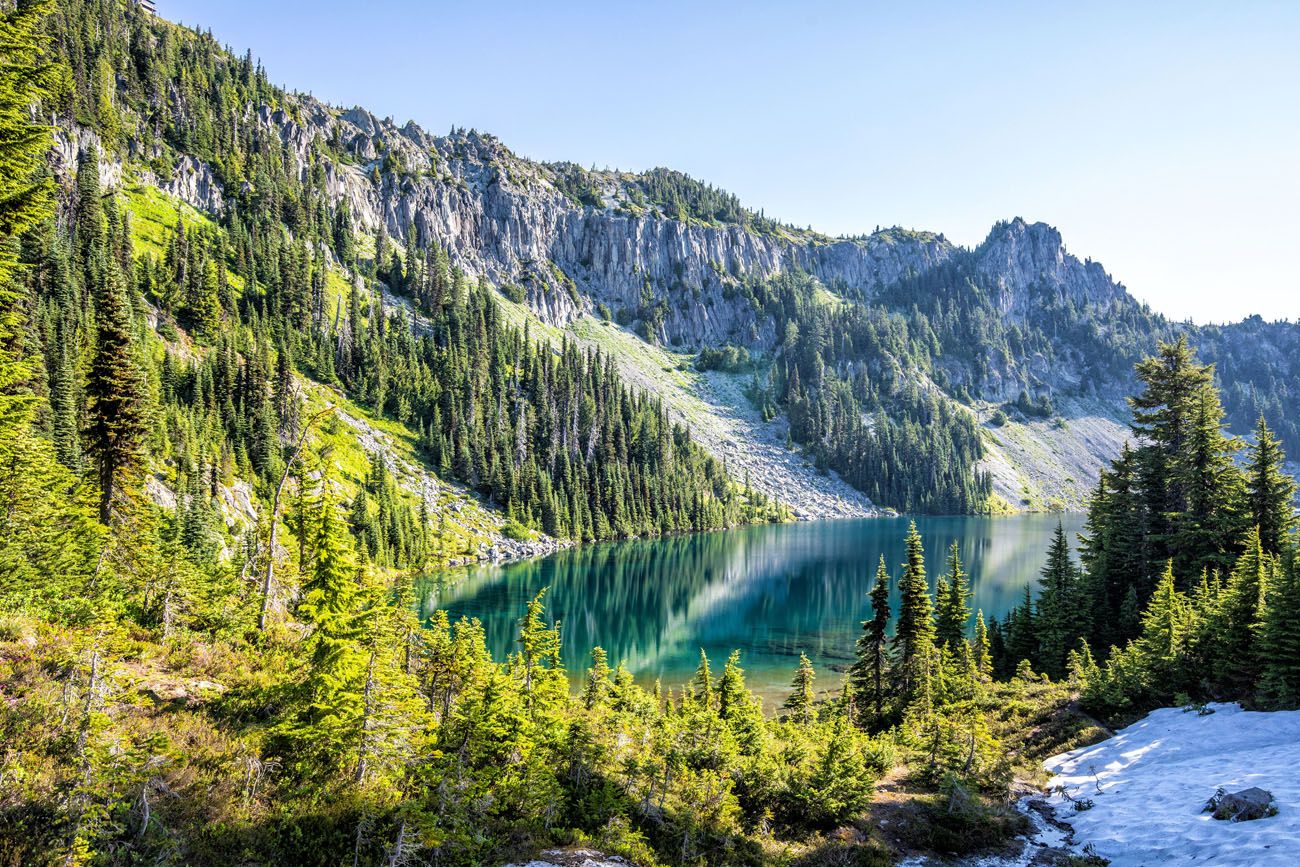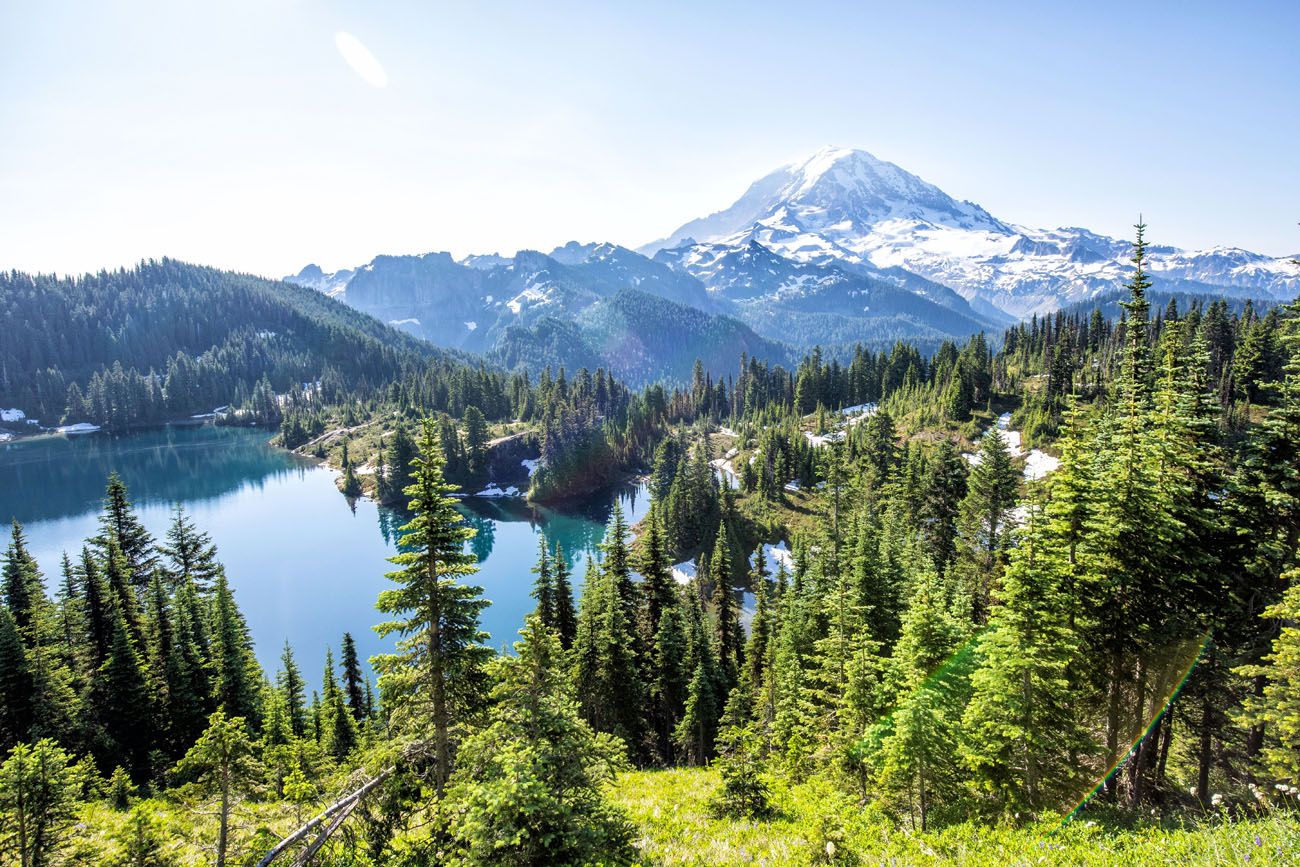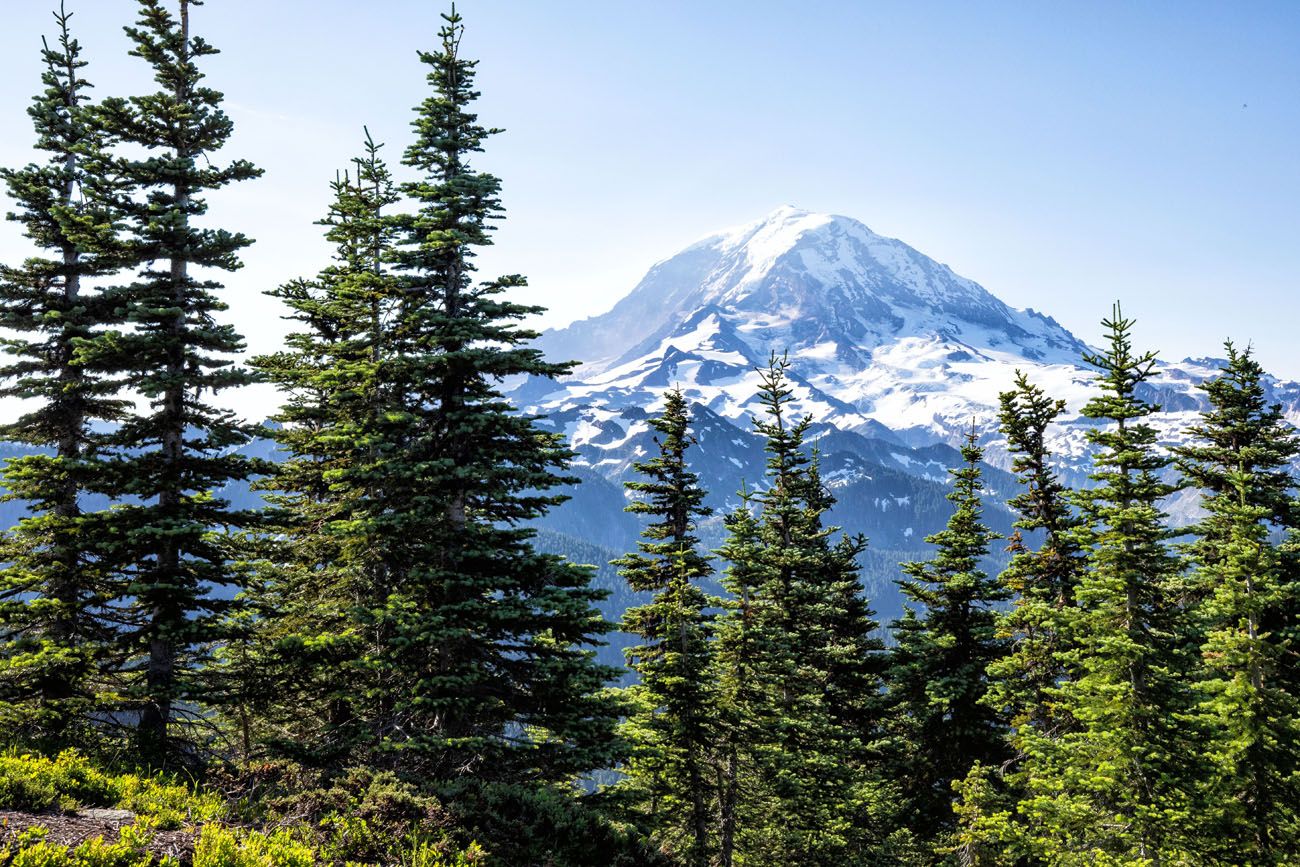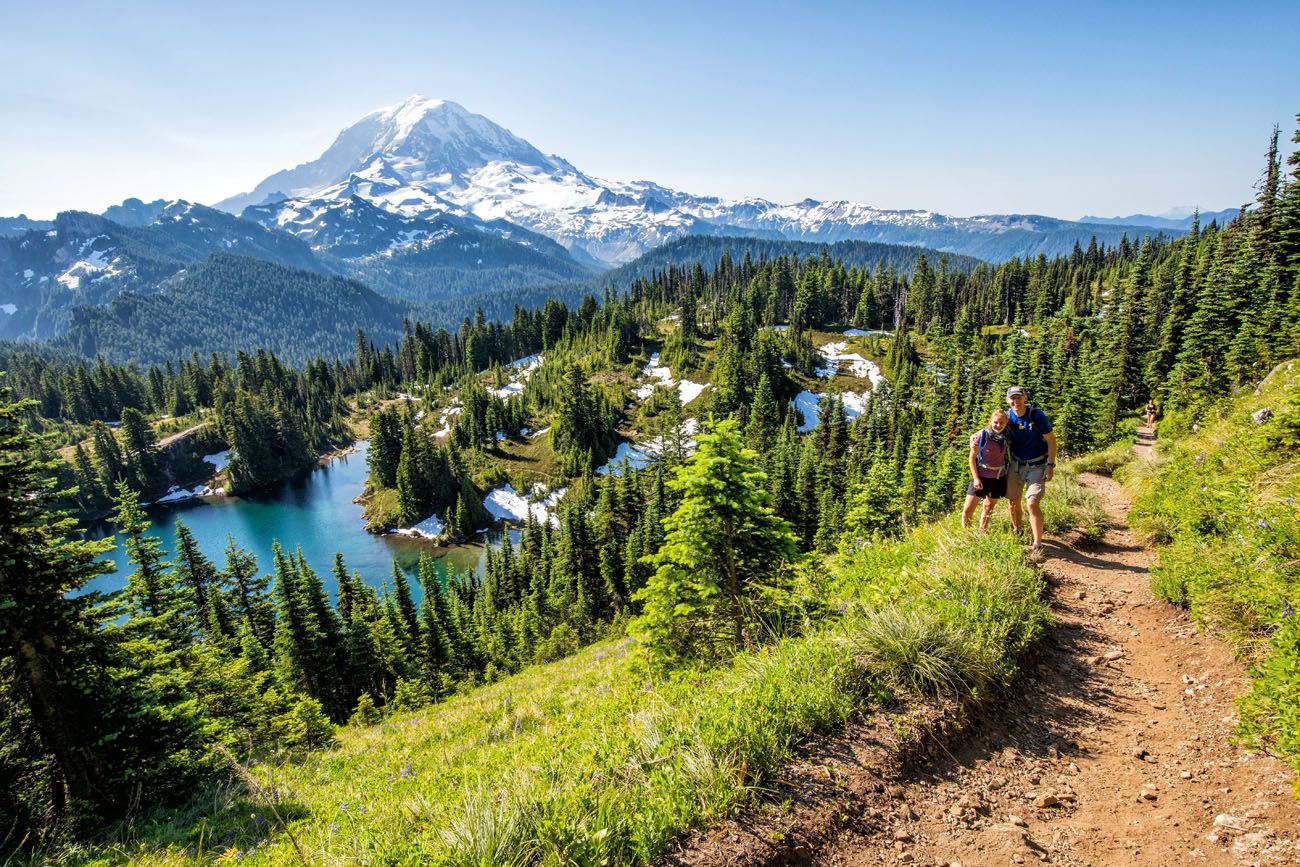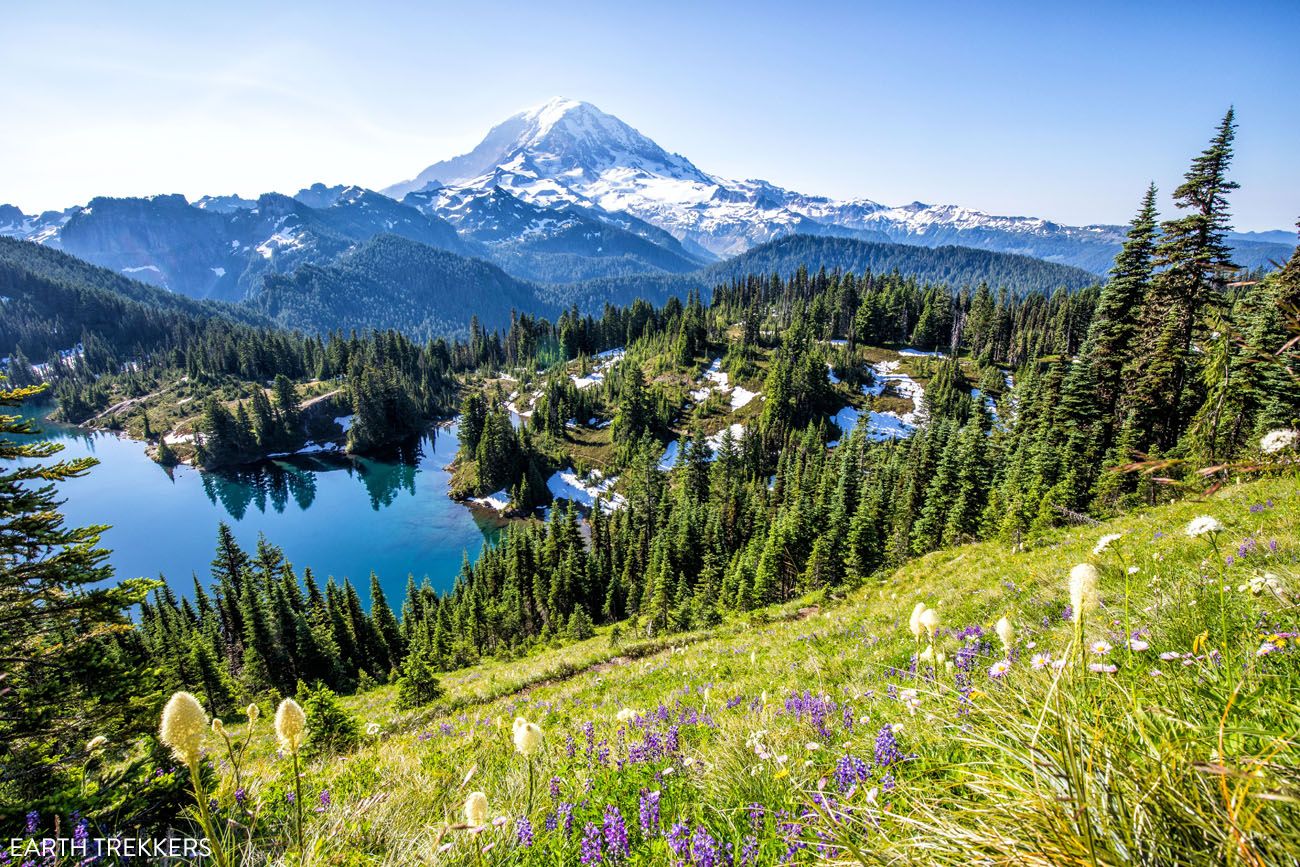 After almost 3 miles of hiking and a long, steady uphill climb, you arrive at Tolmie Peak fire lookout tower and its spectacular view of Mt. Rainier. You can climb the lookout, peer inside of the building (it is now a historical landmark), and enjoy those amazing views you worked so hard for.
If you want to keep going, you can follow the trail to the northeast, for about a half mile, to reach Tolmie Peak.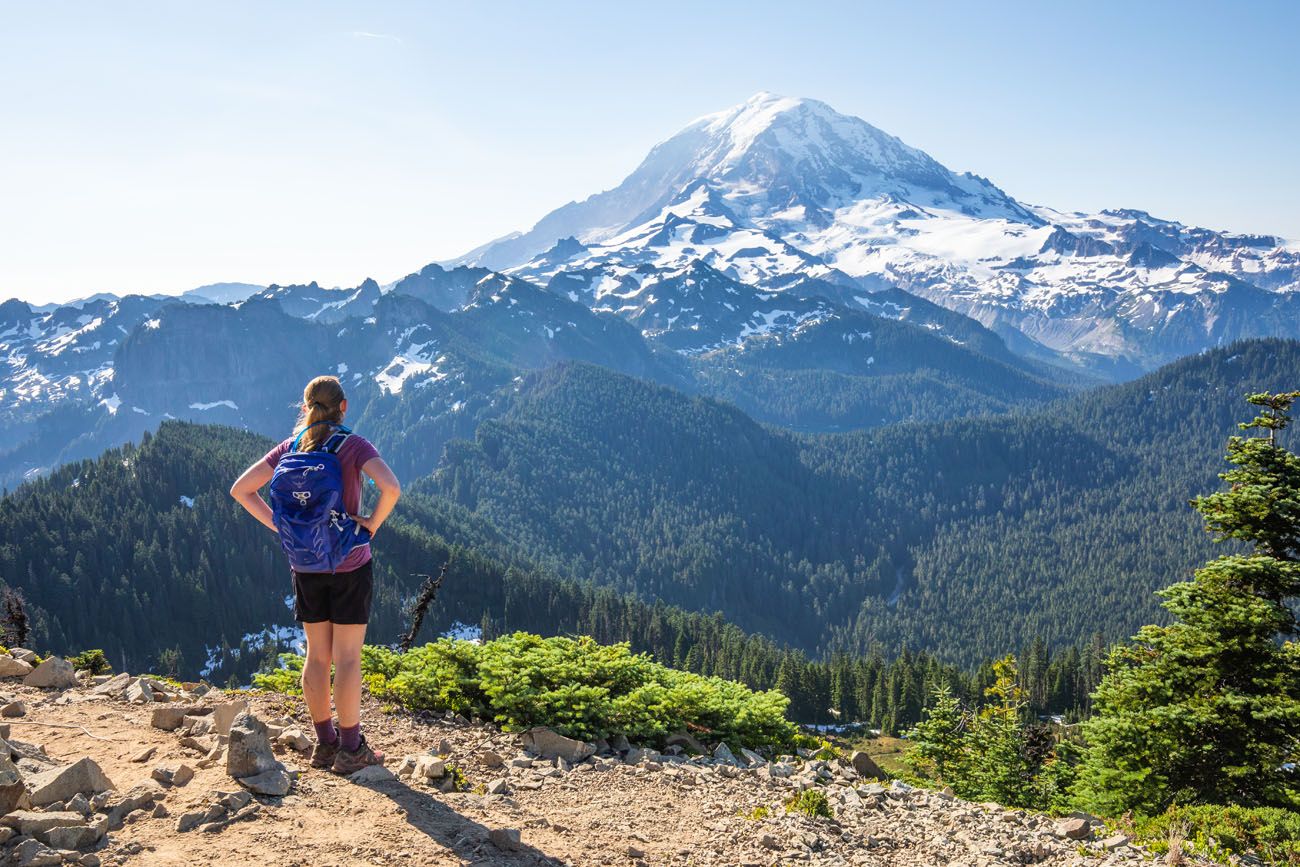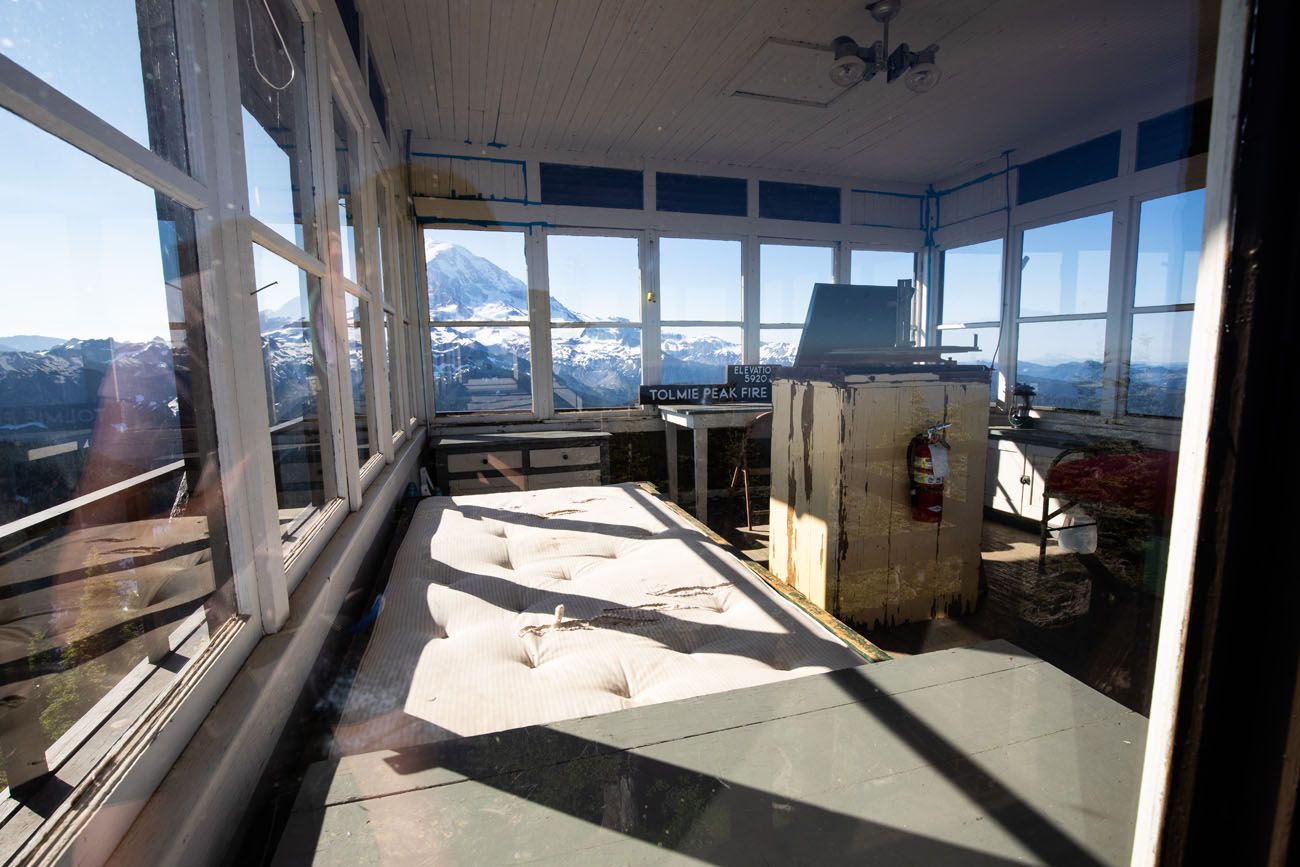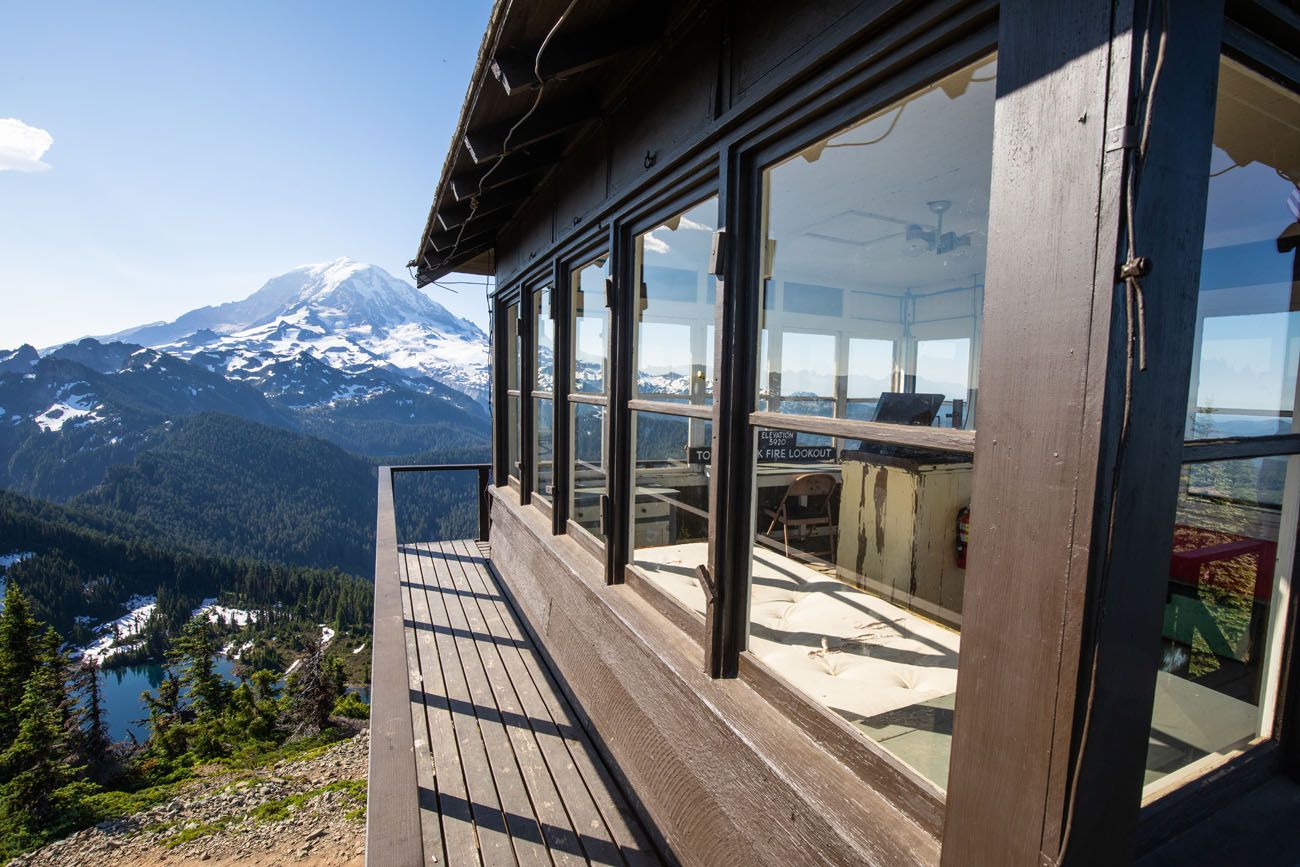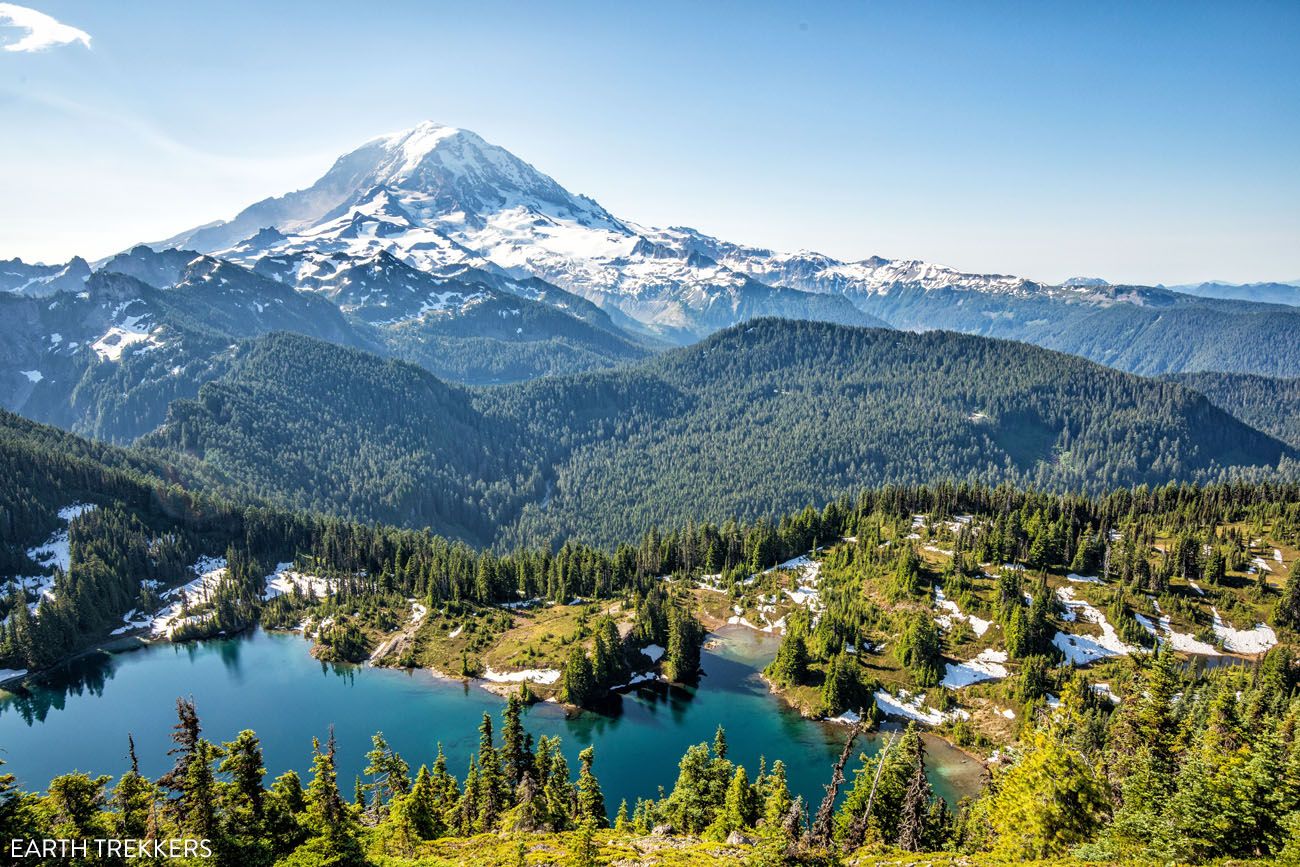 Tips to Have the Best Experience
Get updates on the road status and trail closures on the official National Park Service website before you go.
Leave no trace. When you are in the park, practice the seven principles of Leave No Trace. This includes packing out what you bring into the park, be considerate of other hikers, stay on the trail, and do not remove anything from the park.
The meadows around Eunice Lake are fragile and easily damaged. Stay on the trails to avoid further damage to the fragile plant life.
Do not expect your cell phone to work. We had zero cellular service on this hike, with the exception of a weak signal on Tolmie Peak. There is also no cellular service once you get past Carbondale, which means you won't get reception for most of the drive to the Tolmie Peak trailhead. Don't depend on your phone to call for help, talk to friends, or to send photos to friends and family.
What to Bring on the Hike
Hiking shoes. We recommend hiking shoes. When we did this hike (July 2020), we hiked through patches of snow and large sections of muddy trail. You can get by with a sturdy pair of walking shoes, but I would leave the Converse sneakers and flip flops at home.
Water and snacks. At least 1.5 liters of water in the summer.
Sunscreen, hat, and sunglasses. Once you reach Eunice Lake there is very little shade on the trail.
Camera. Even a smartphone will do.
---
If you have any questions about hiking to Tolmie Peak, let us know in the comment section below. Happy hiking!!
More Information about Washington
MOUNT RAINIER NATIONAL PARK: Check out our Mount Rainier National Park Travel Guide for important travel planning tips, sample itineraries, advice on when to go, where to stay, and more.
HIKES IN MOUNT RAINIER: Other popular hikes in Mount Rainier include the Skyline Trail, the Mount Fremont Hike, and the hike from Summerland to Panhandle Gap. You can see the full list in our article Best Hikes in Mount Rainier.
MOUNT RAINIER ITINERARY: In our Mount Rainier Itinerary, learn how to plan your time here, whether you have just a few days or longer.
WASHINGTON ITINERARY: Take the guesswork out of planning your trip to Washington with our Washington Road Trip Itinerary.
NATIONAL PARKS: In our Guide to the US National Parks, get the full list of national parks with important travel planning information, such as things to do in the parks and sample itineraries.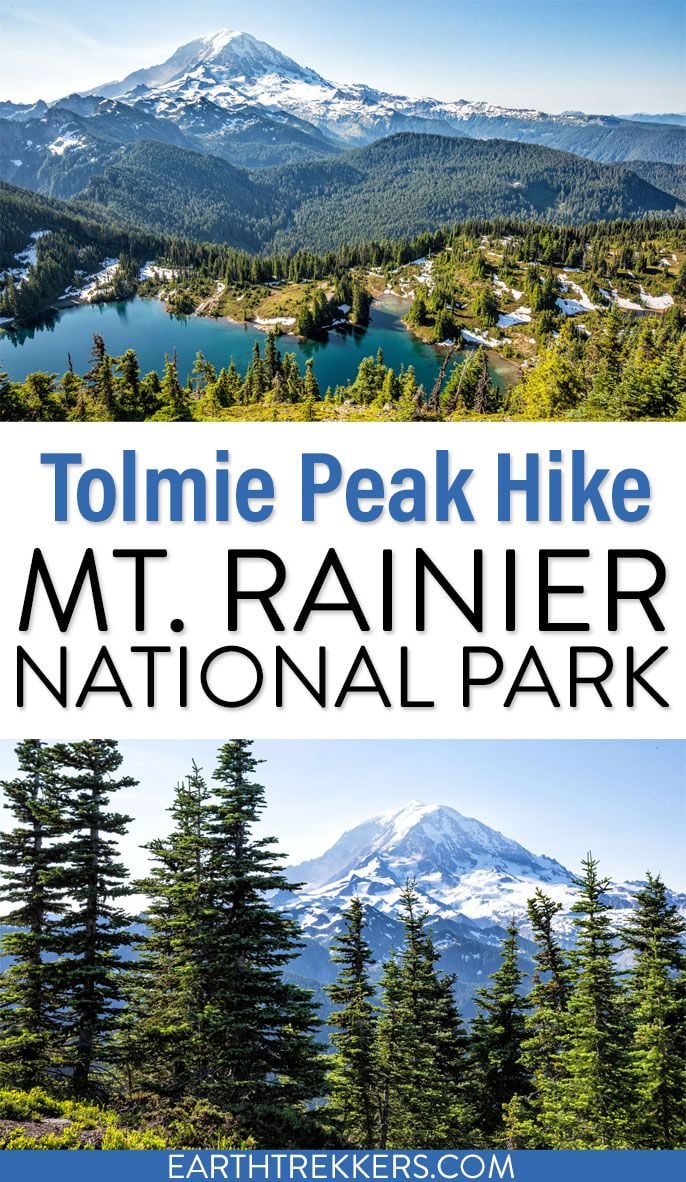 All rights reserved © Earth Trekkers. Republishing this article and/or any of its contents (text, photography, etc.), in whole or in part, is strictly prohibited.