In Mount Rainier National Park, hiking the Summerland Trail to Panhandle Gap is on the longer and more difficult side, but it has a little bit of everything…old growth forests, fields of wildflowers, views of Mount Rainier, the chance to spot wildlife, high alpine views, and panoramic views out to Mount Adams.
I wouldn't classify the Summerland Trail as off-the-beaten-path since it gets a fair amount of foot traffic in the summer months, but you will see far less people on this hike than on the trails that start in Paradise or Sunrise.
You will love this hike if you like the idea of walking through a wide variety of terrain, want close-up views of Mount Rainier and out to Mount Adams, and don't mind a long, challenging hike.
Summerland Trail to Panhandle Gap Hiking Stats
Distance: 12 miles out-and-back
Difficulty: Strenuous
Total Elevation Gain: 3,150 feet
Starting Elevation (Trailhead at Fryingpan Creek): 4,000 feet
Elevation at Panhandle Gap: 6,800 feet
Length of Time: 5 to 7 hours
When to go: The best time to do this hike is from mid-July through mid-September, when most of the trail is free of snow.
This hike includes part of the Wonderland Trail, a 93 mile trail that circles Mount Rainier. Typically, it takes 9 to 13 days to hike the full distance of the Wonderland Trail. The short hike through Summerland to Panhandle Gap is a great way to experience a short section of the Wonderland Trail.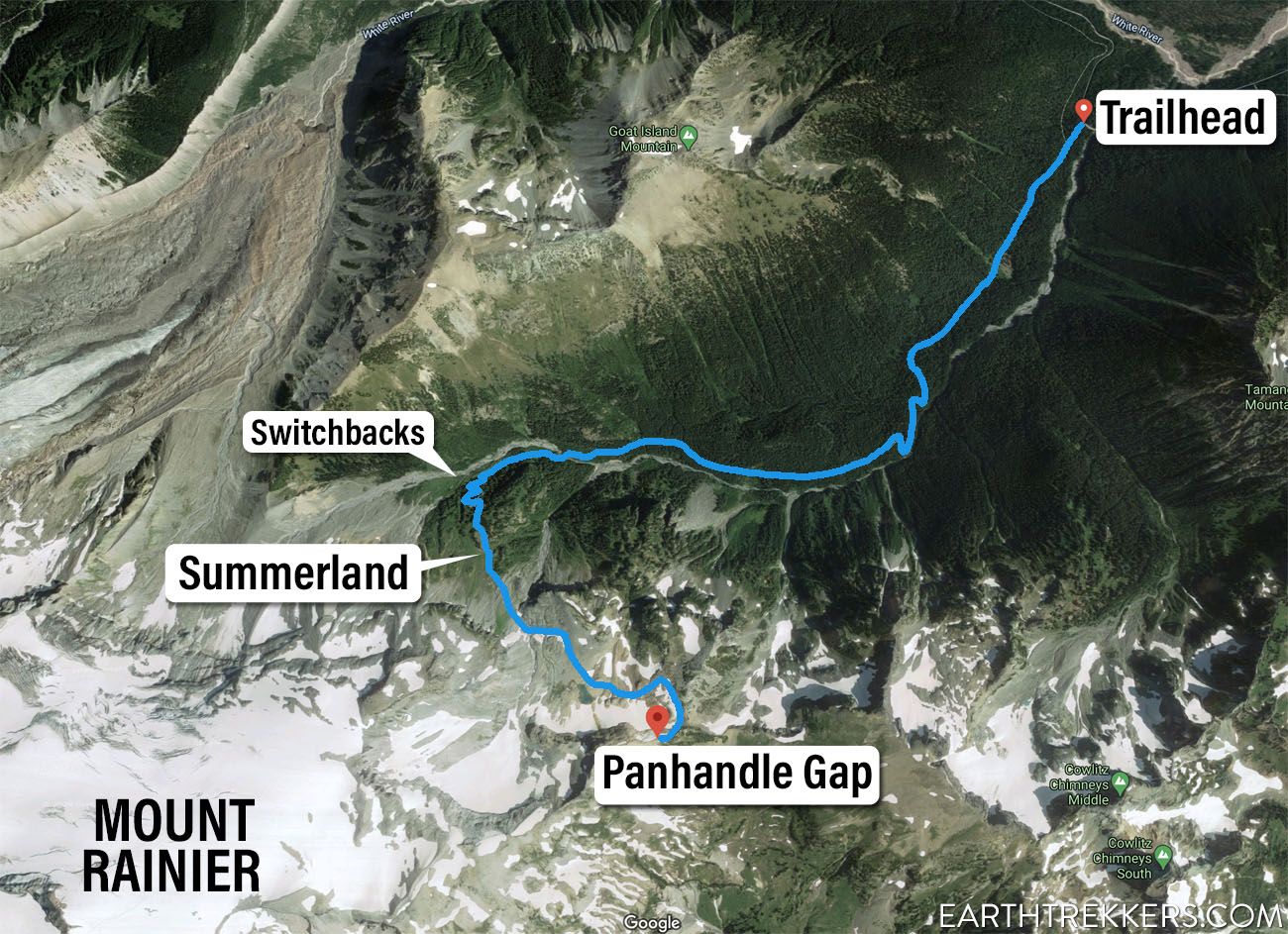 Elevation profile
Please practice the seven principles of Leave No Trace: plan ahead, stay on the trail, pack out what you bring to the hiking trail, properly dispose of waste, leave areas as you found them, minimize campfire impacts, be considerate of other hikers, and do not approach or feed wildlife.
How to Hike the Summerland Trail
Step-By-Step Trail Guide
Getting to the Trailhead
The trailhead is located on Sunrise Park Road (also called White River Road), 4.3 miles from Mather Memorial Parkway and 11.2 miles from the Sunrise Visitor Center.
There is a small parking lot at the trailhead, with spots located on either side of the road. There are approximately 25 spaces here. Additional parking can be found on the turnouts along Sunrise Park Road. From these turnouts, you could end up walking a very short distance or a half mile or more to get to the trailhead.
We arrived at 7:30 am on a Saturday in July and were lucky enough to get the last space in the parking lot. The number of visitors on the weekend was enormous. We found that Mount Rainier National Park gets extremely busy on Saturdays and Sundays with much lighter traffic on weekdays. So, on weekdays, you might not have to get here so early to get a space.
On the Summerland Trail to Panhandle Gap
Through the Trees
The first half of the hike is relatively easy. It is a beautiful, peaceful walk through old growth forests of evergreen trees. A few times, there will be a break in the trees and you will have views of wildflowers, but these views don't last long.
For the most part, this walk in the woods is a steady uphill walk. It's nothing too challenging, just a steady gain in elevation.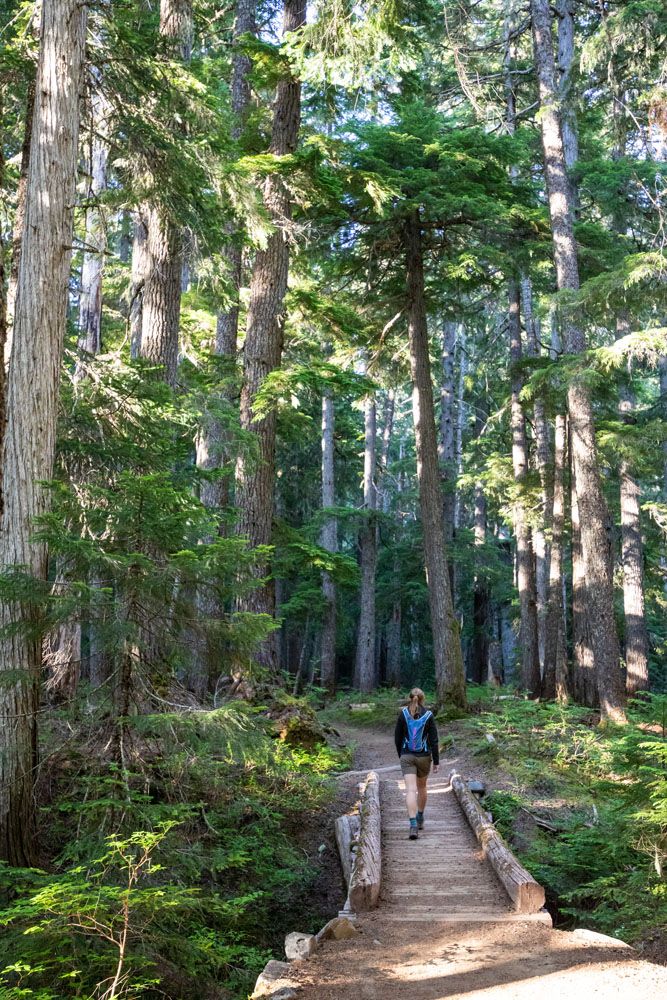 Summerland
Once you emerge from the trees, you are roughly halfway through the hike, at least in terms of mileage. But there is still a lot of uphill elevation gain in your future.
This next part of the trail is beautiful. It's an uphill walk (but nothing too strenuous) through fields of wildflowers. You will be hiking directly towards Mount Rainier and the warm sun can feel great, even in the summer months, if you got an early start (it can be chilly in the forest!!).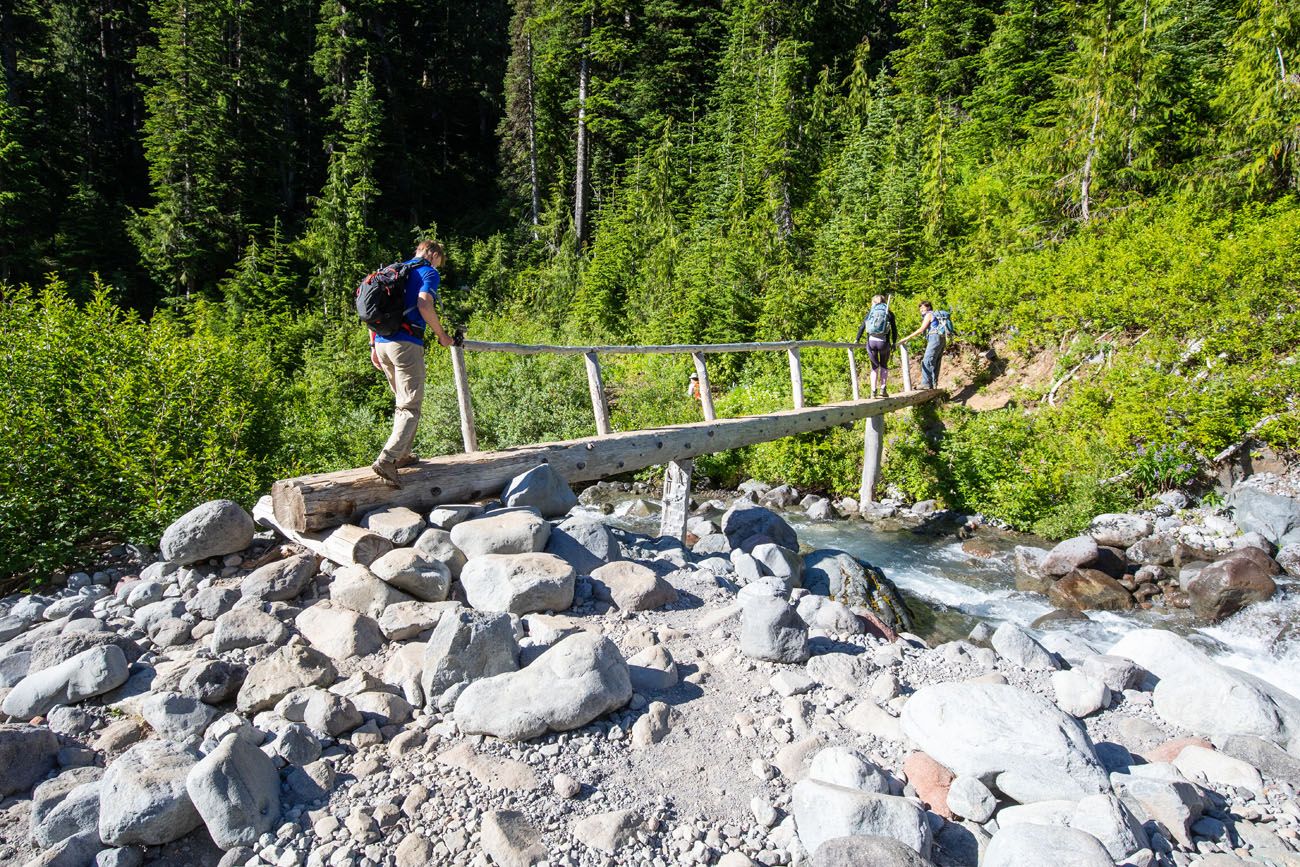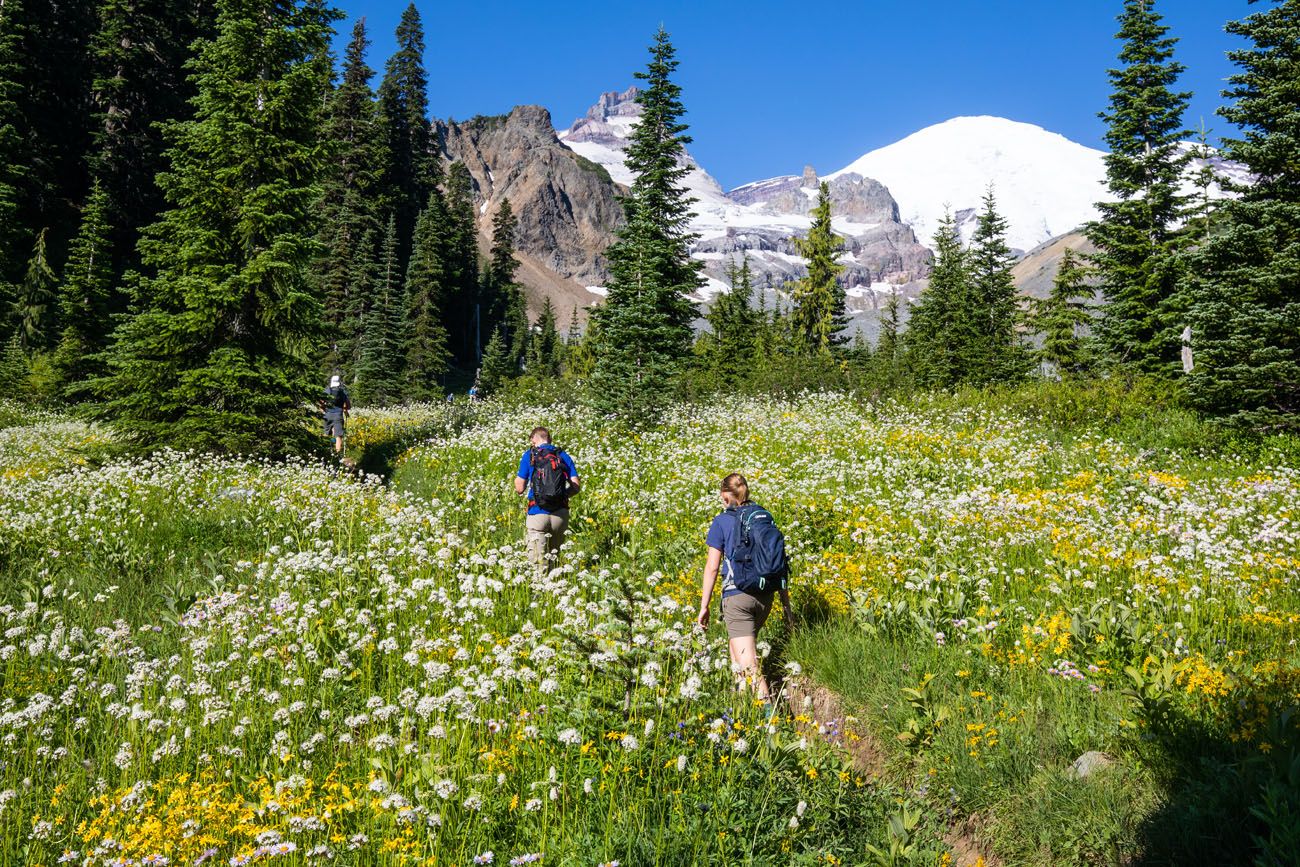 Then you reenter the forest and seriously gain some elevation as you hike up a series of switchbacks. This is one of the most tiring parts of the hike but it doesn't last too long.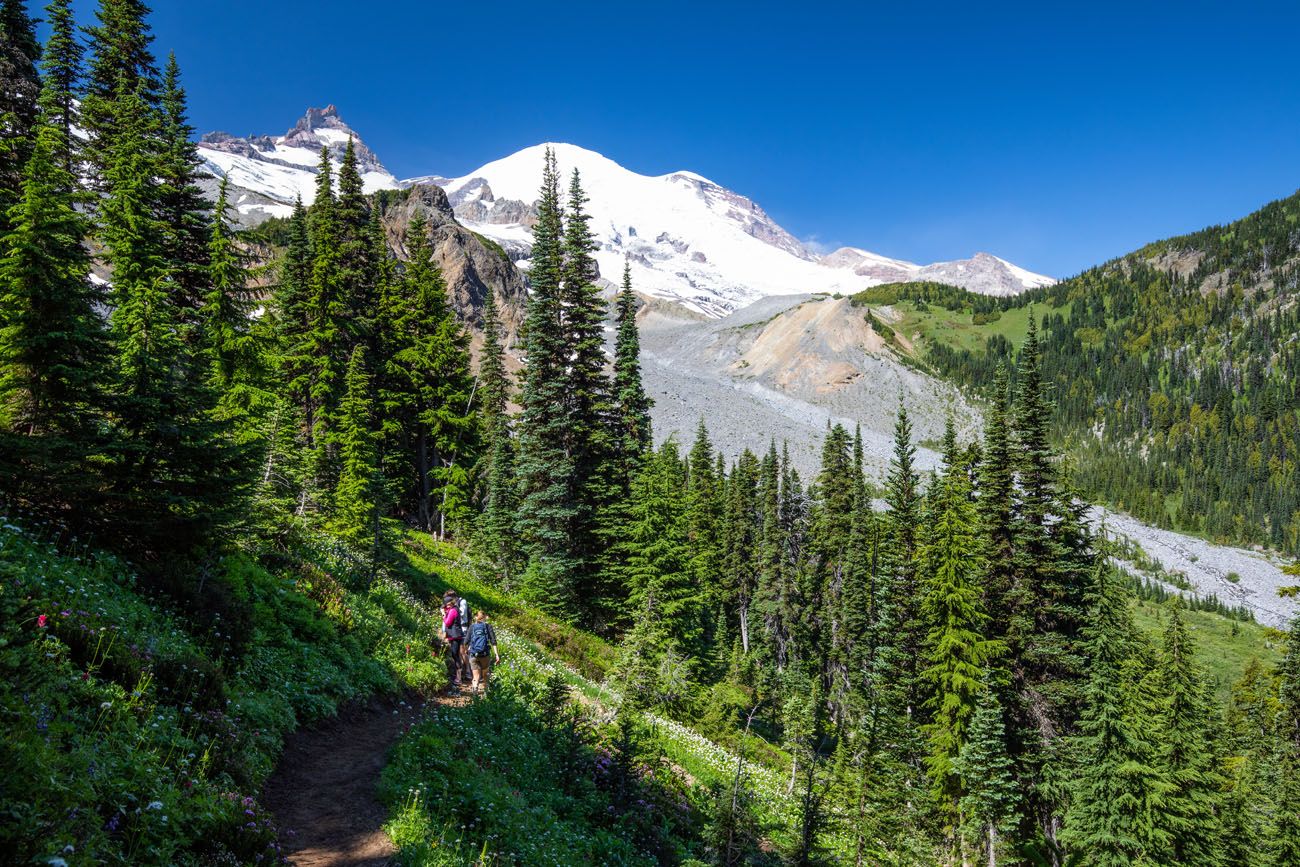 At the top of the switchbacks, about 4.5 miles into the hike, you reach Summerland. Just off the trail are campgrounds and a bathroom, if you need one. This is the only toilet on the trail.
Briefly, the trail levels out. The trail meanders through more fields of wildflowers and you will cross a small creek. We saw marmots here and it is also possible to see black bear.
Hiking to Panhandle Gap
Once you cross the creek, the trail begins to climb again. It's 1.5 miles to Panhandle Gap and during that time you will rapidly gain another 1000 feet of elevation. This last section of trail is the toughest of the day but it truly does reward you for your efforts.
As you climb out of the meadows, the terrain becomes rocky and most, but not all, of the flowers and vegetation disappear. From July into August, you may still have to hike across fields of snow.
The trail gets trickier to follow, now that most of the vegetation is gone. The trail is lined with small boulders, so pay attention to where you are walking, because it can be easy to wander off of the trail in spots.
There will be several creek crossings and some will have a log bridge in place.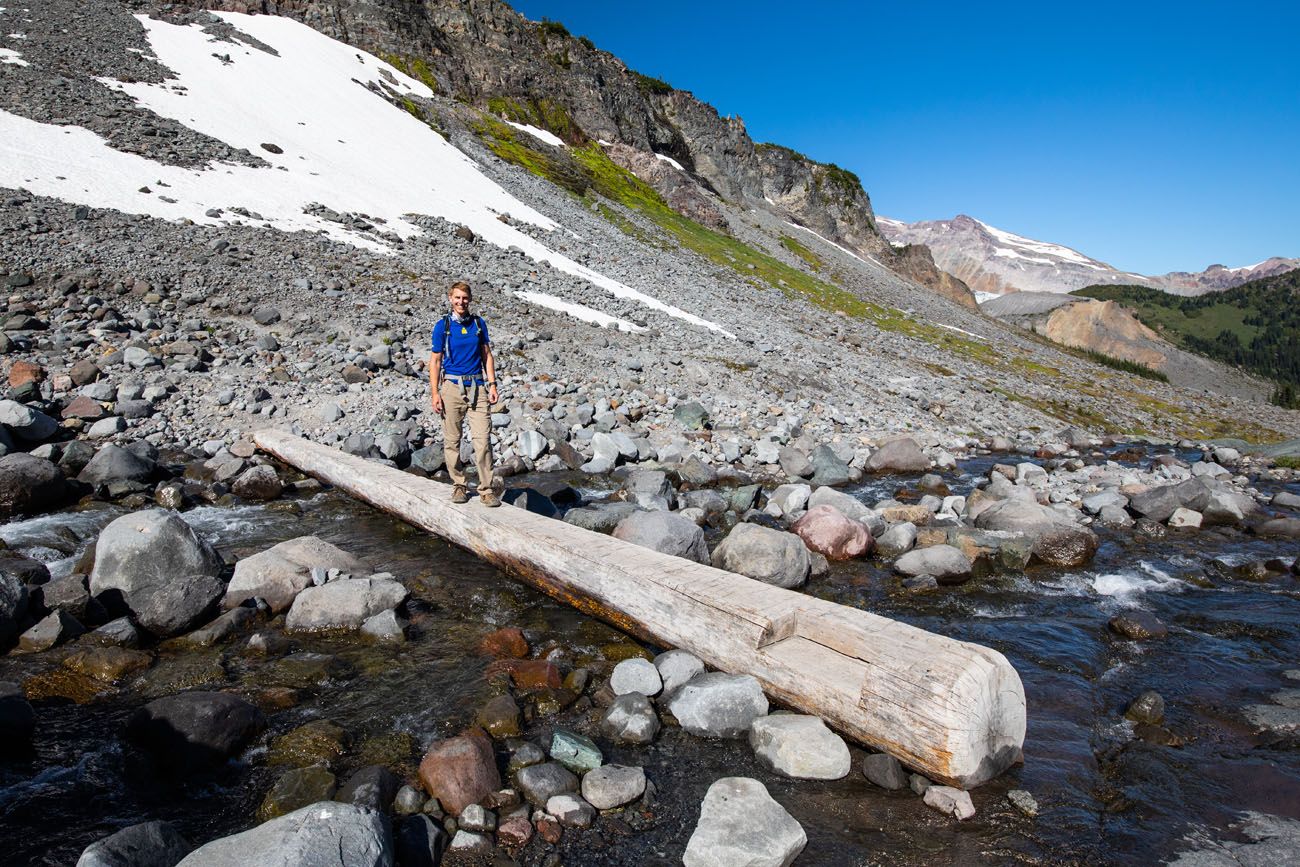 The higher you go, the better the view. It gets easier to see Mount Rainier as you gain elevation on the trail. In fact, the entire region opens up and you are treated to wonderful views of Mount Rainier and Summerland.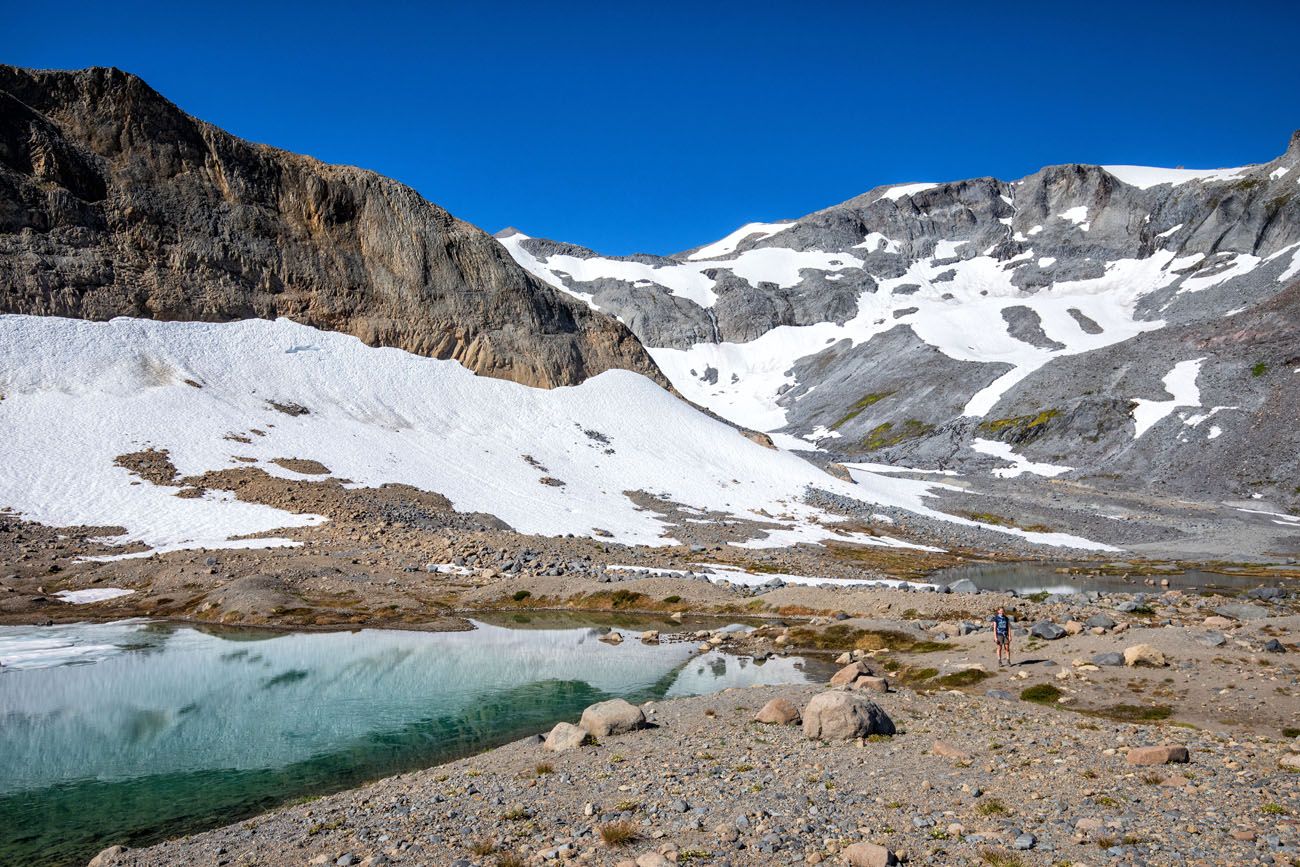 The final section of trail is the most challenging. It's steep and tiring and when we did this, the sections of snow made hiking somewhat treacherous. If you don't feel comfortable hiking across these sections of snow, or if you just don't have the energy to go farther, I don't think you miss out on much by not going all the way to Panhandle Gap. The views from just below Panhandle Gap are incredible and we actually liked this lower spot more than on the saddle. But keep reading and you can see our photos and determine for yourself if you think it is worth it.
The final quarter mile of the hike is a tiring climb up over dirt and rocky trails. When we did this, there were two snowfields to cross. A narrow trail was stomped out by the feet of hikers who did this before us, but it is narrow and slippery, and there is the chance of sliding off the trail and down the snowy slope. Judging by the marks in the snow next to the trail, it looked like a few people did slide down the snow, but I can't be sure if it was by accident or done on purpose.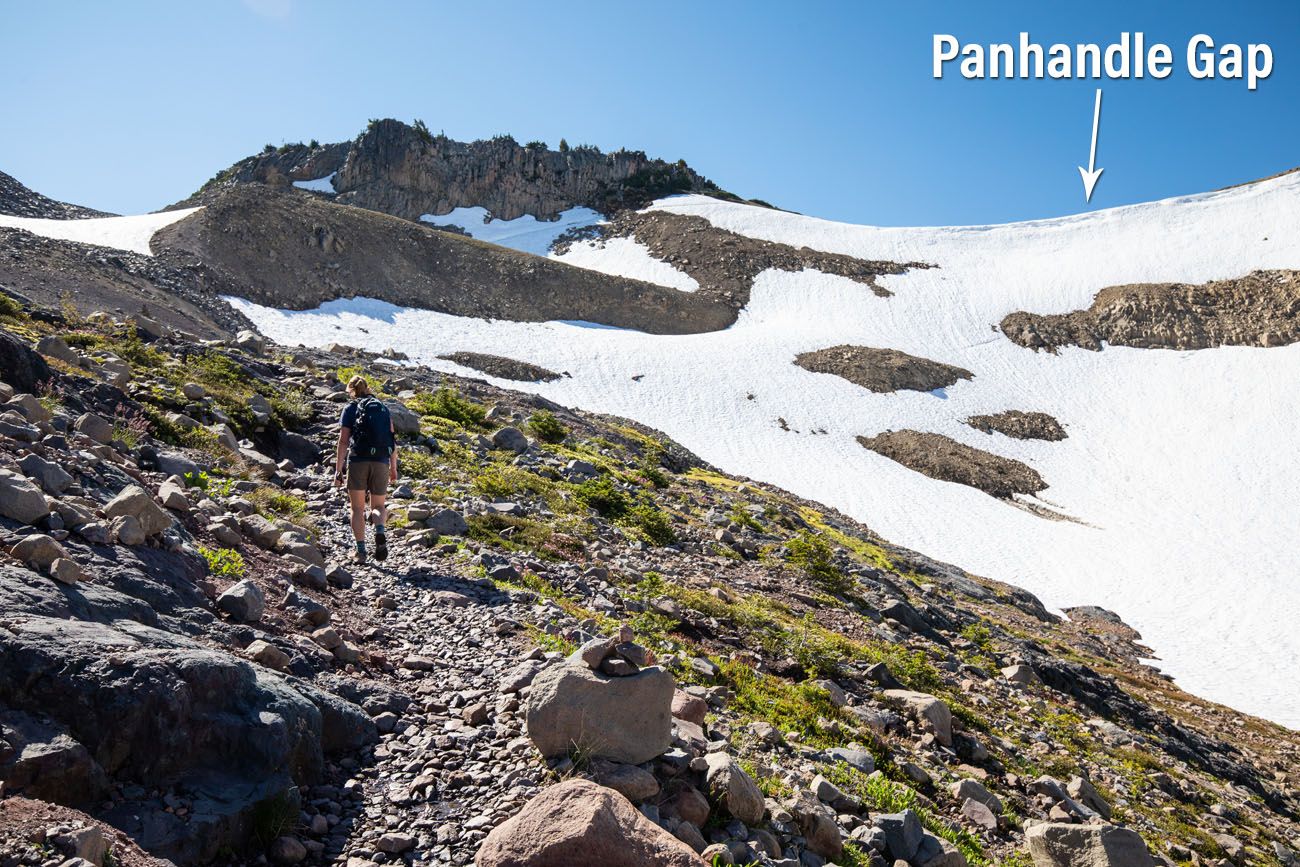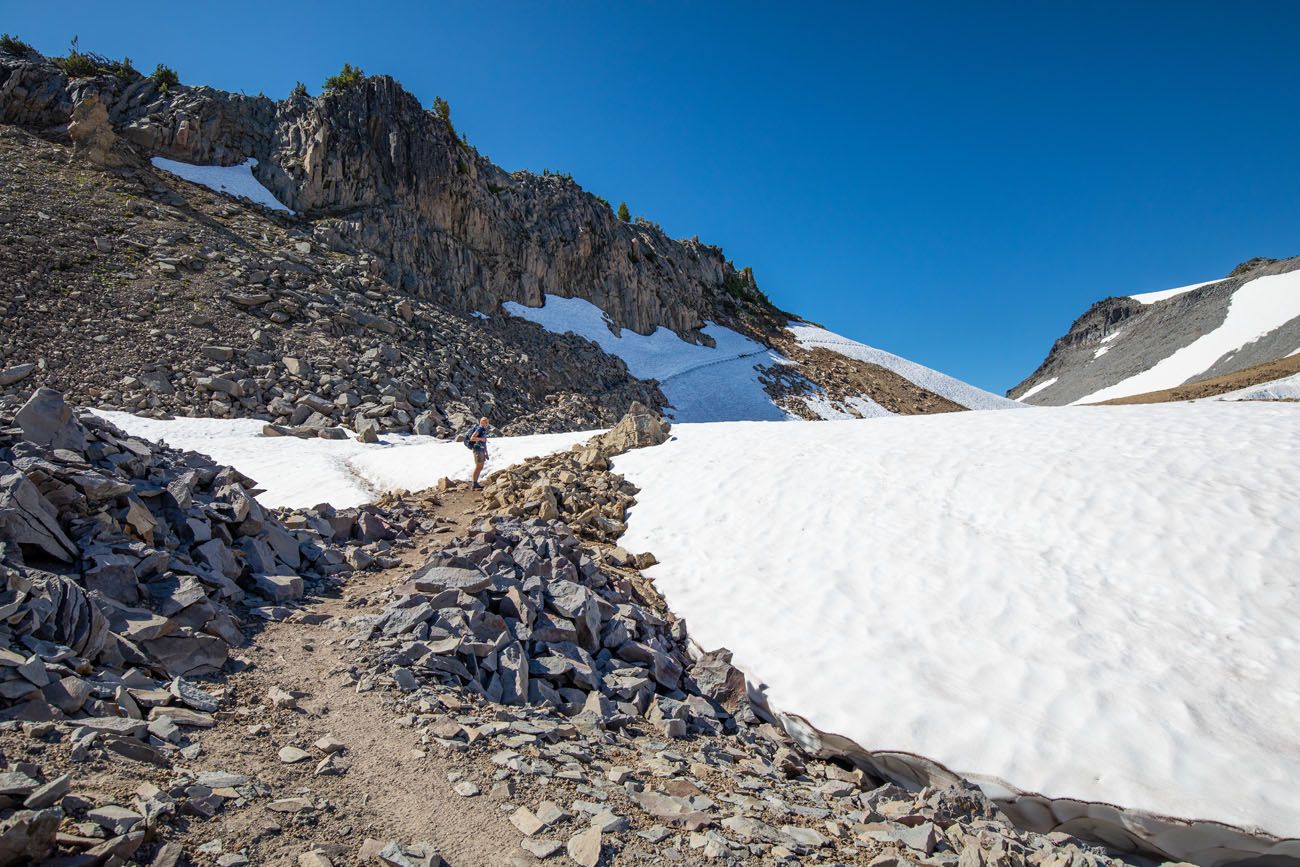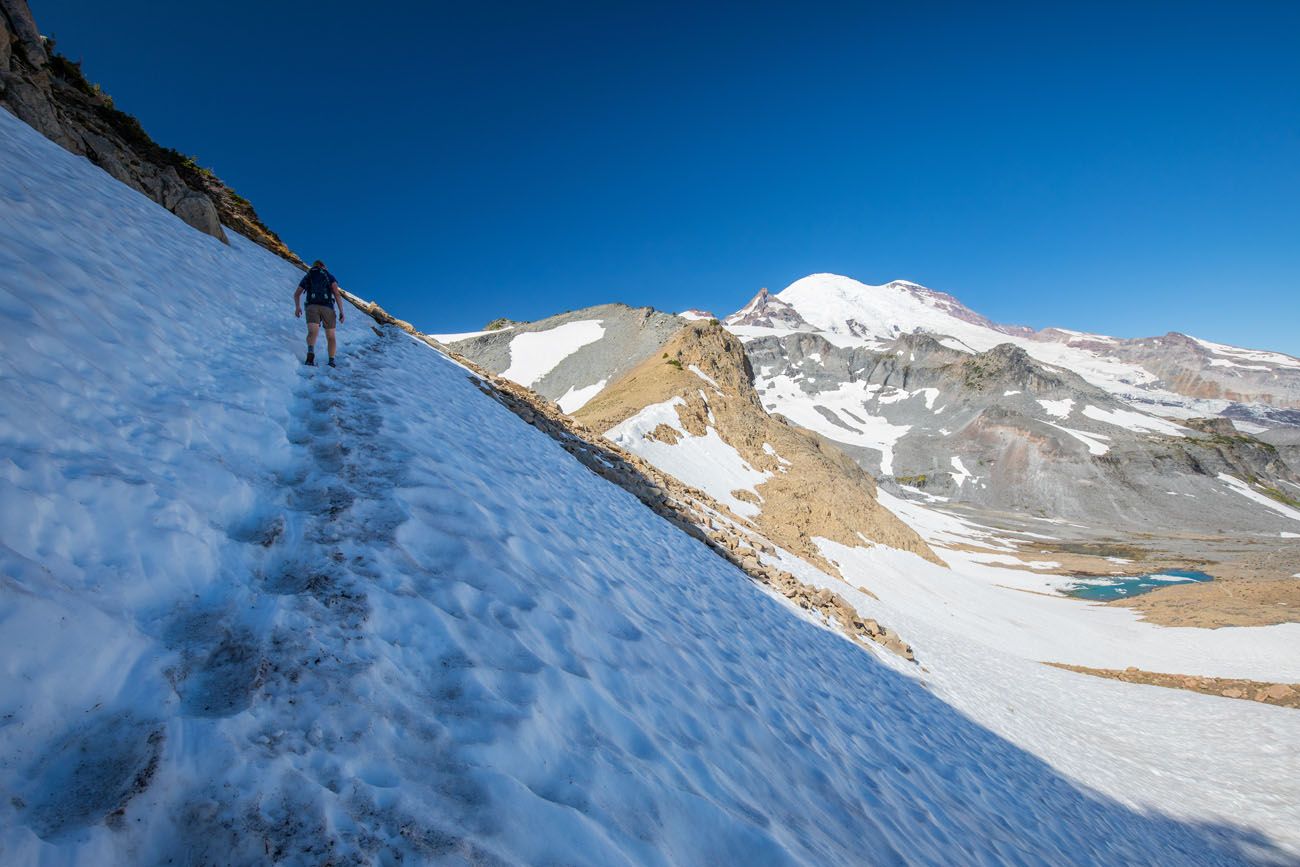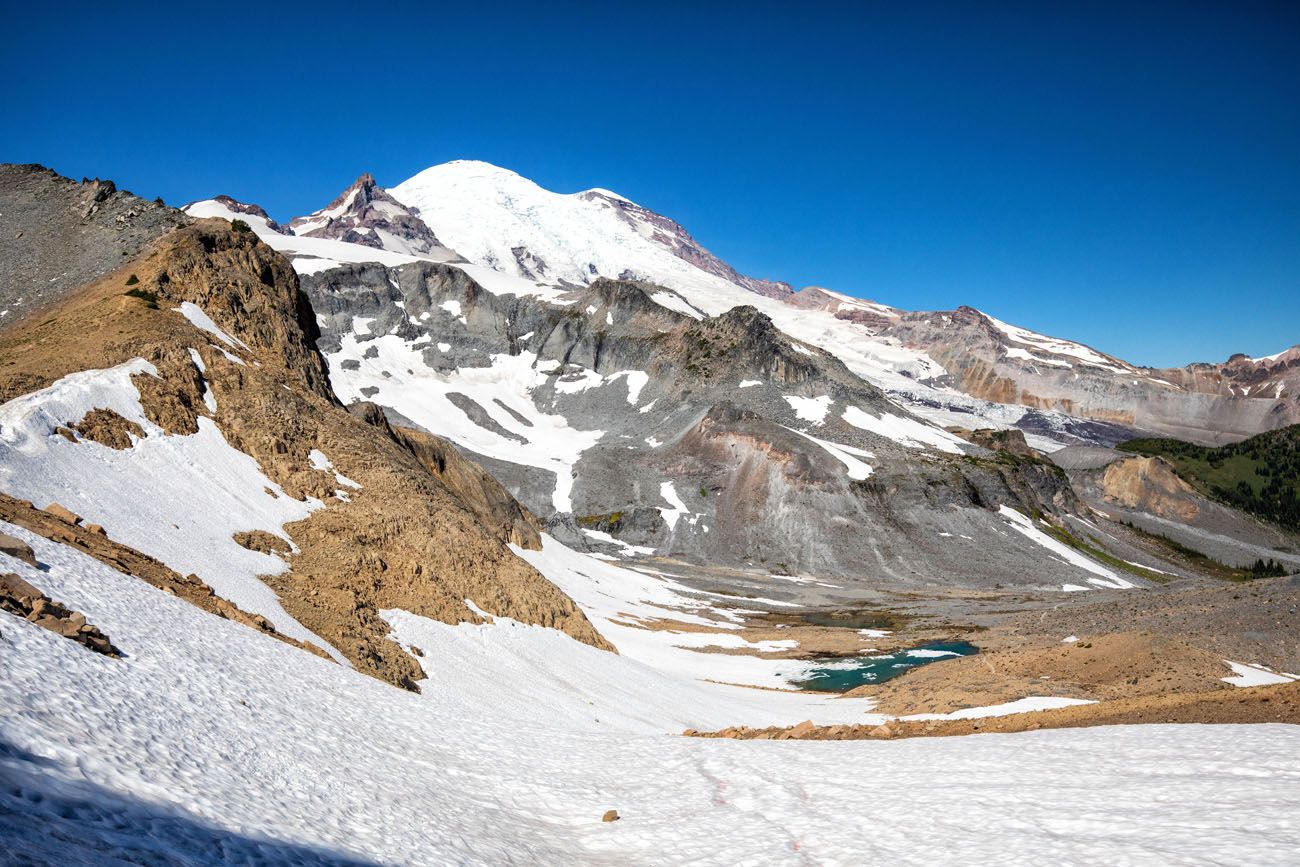 View of Mount Rainier from the trail.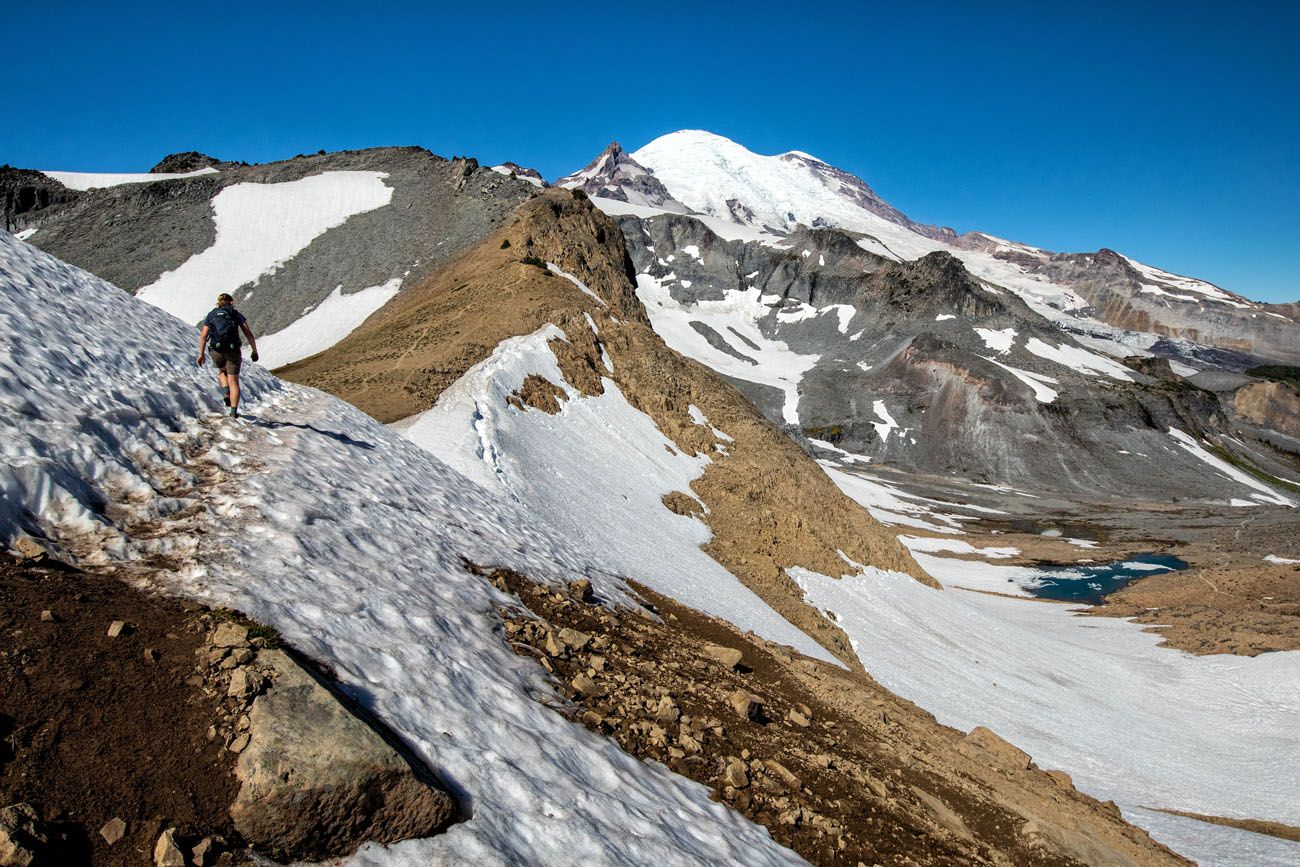 Once on the saddle, you can stop here and take in the view. To the south, you can look out to Mount Adams. To the west is Mount Rainier. And to the north you can look back to Summerland and over the trail that you just hiked.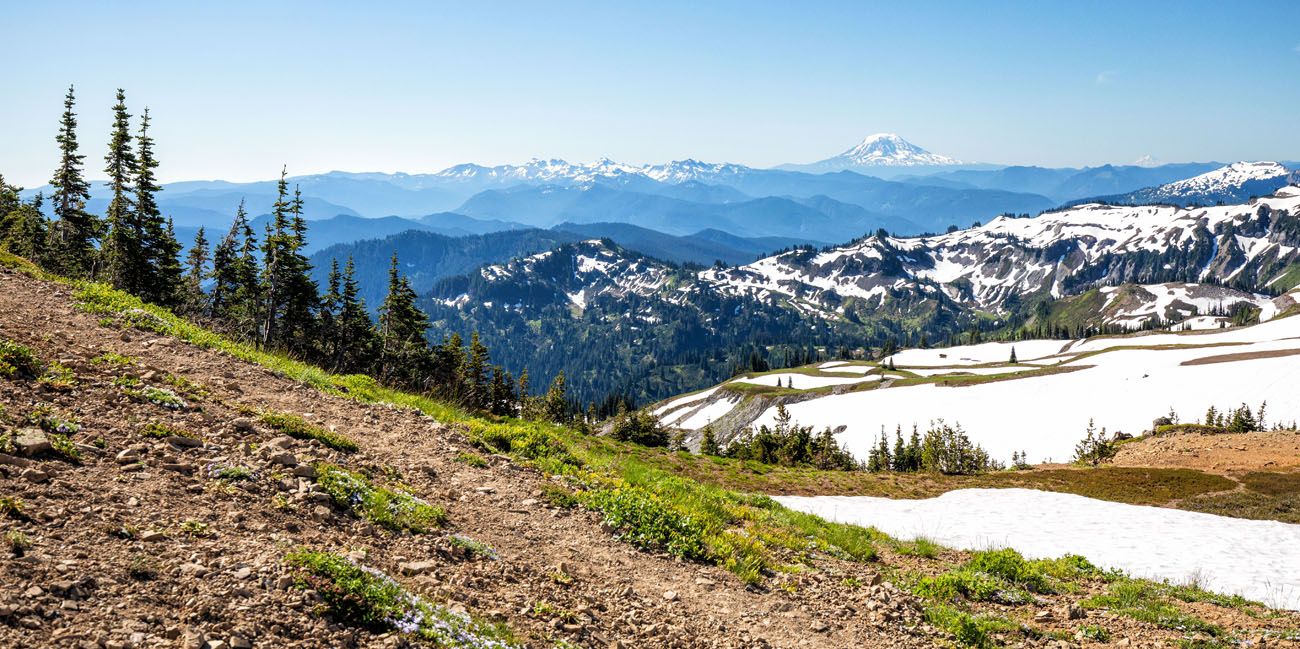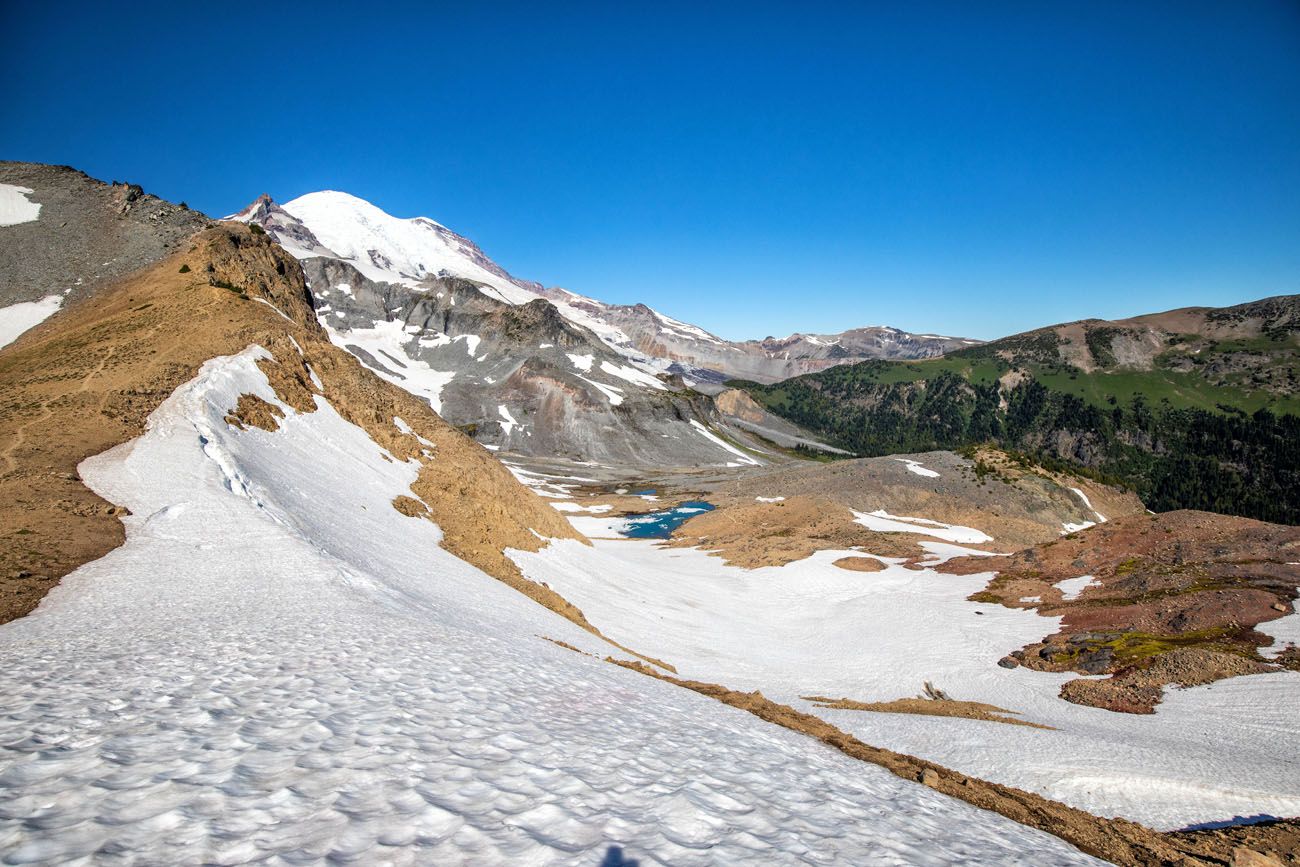 From the saddle, you have the option to hike farther uphill, towards Mount Rainier. We did this but the view doesn't change much, so if you are exhausted, you can skip this final climb. Kara climbed up on the rocks next to the trail and had great views of Mount Adams off in the distance.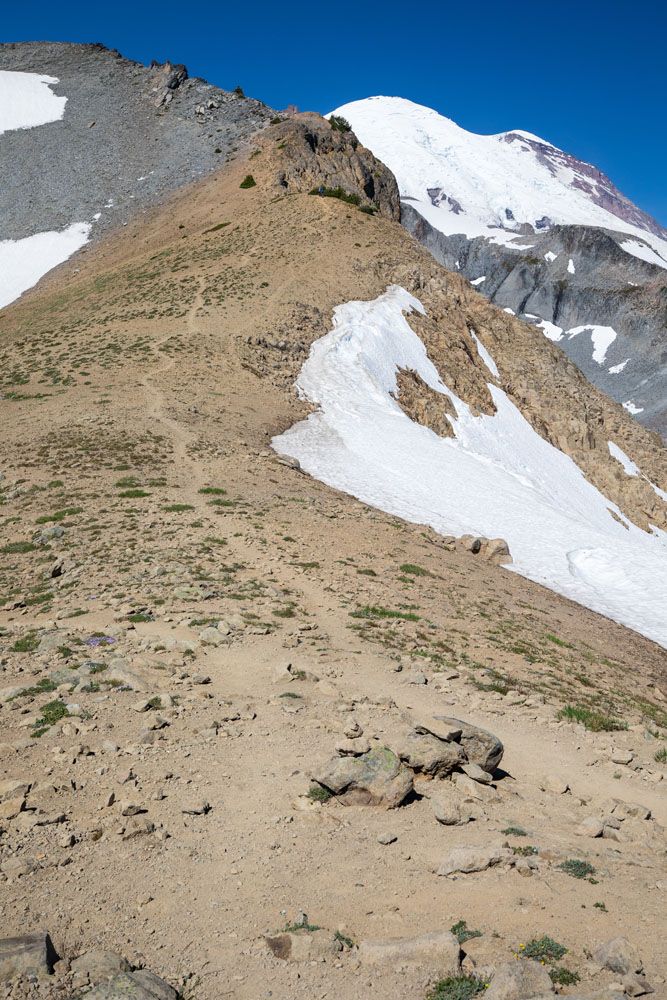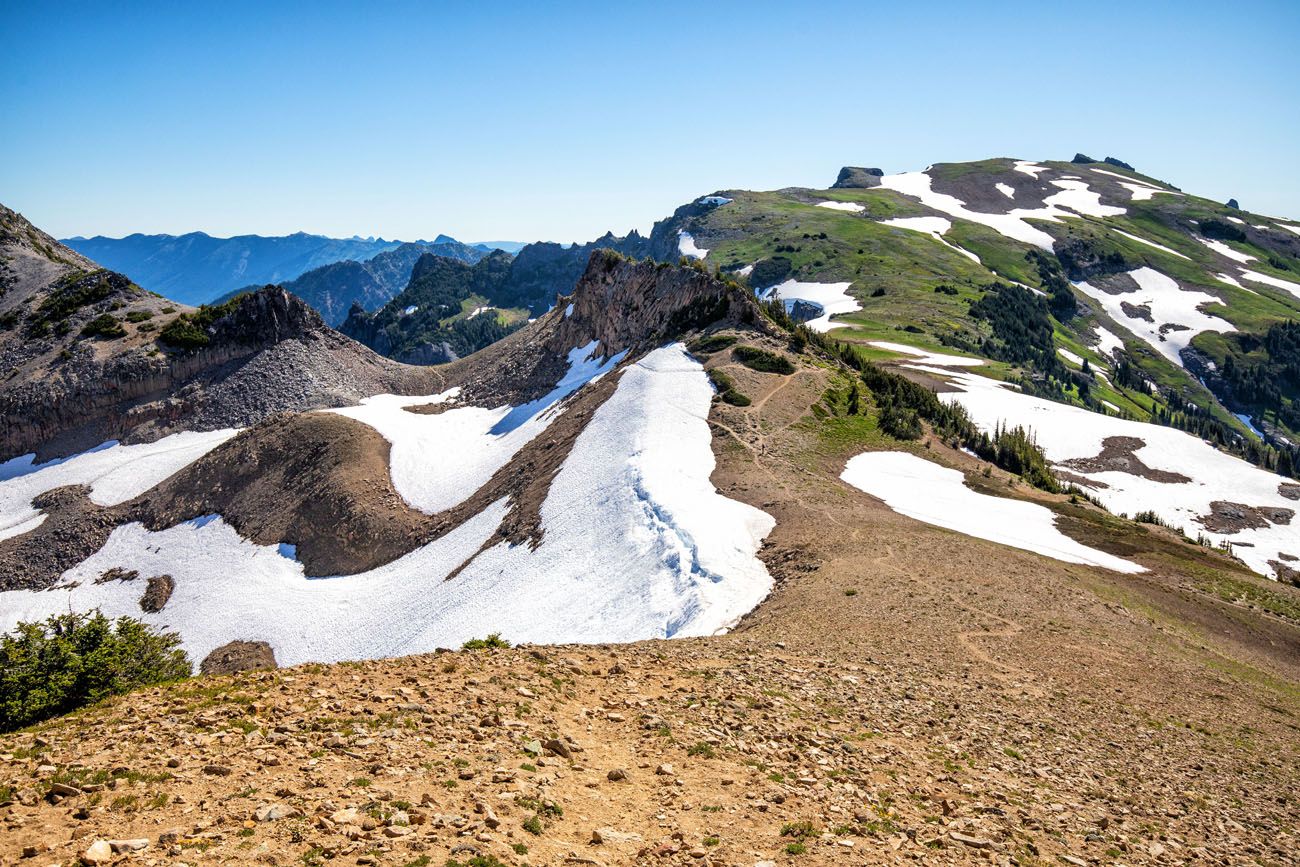 To get back to your car, retrace your steps along the same trail. Have care on the snow fields. Now that you are hiking downhill, it's easier to slip and fall. If you have them, crampons, yak trax, or an ice axe would be helpful on these sections.
Tips to Have the Best Experience
As you plan your trip and just before your visit, get updates on road closures and trail conditions on the National Park Service website.
To get a parking space, plan on arriving by 7 am, especially if you plan to hike to Panhandle Gap in the summer.
We spent six days in Mt. Rainier National Park in July. On most mornings, clouds lingered over the mountains and didn't disappear until mid to late morning. However, on the day we did this hike, we got very lucky, and the clouds lifted by 7:30 am. Check the weather forecast before you do this hike and know that there is a chance that you might not have much visibility until mid-morning.
Leave No Trace. When you are in the park, practice the seven principles of Leave No Trace. This includes packing out what you bring into the park, be considerate of other hikers, stay on the trail, and do not remove anything from the park.
Do not expect your cell phone to work. For most of this hike we had zero cellular service. There were a few spots in clearings or at higher elevations where we got a few bars of LTE or 3G, just enough to send a text message. But don't depend on your phone to call for help, talk to friends, or send photos to friends and family.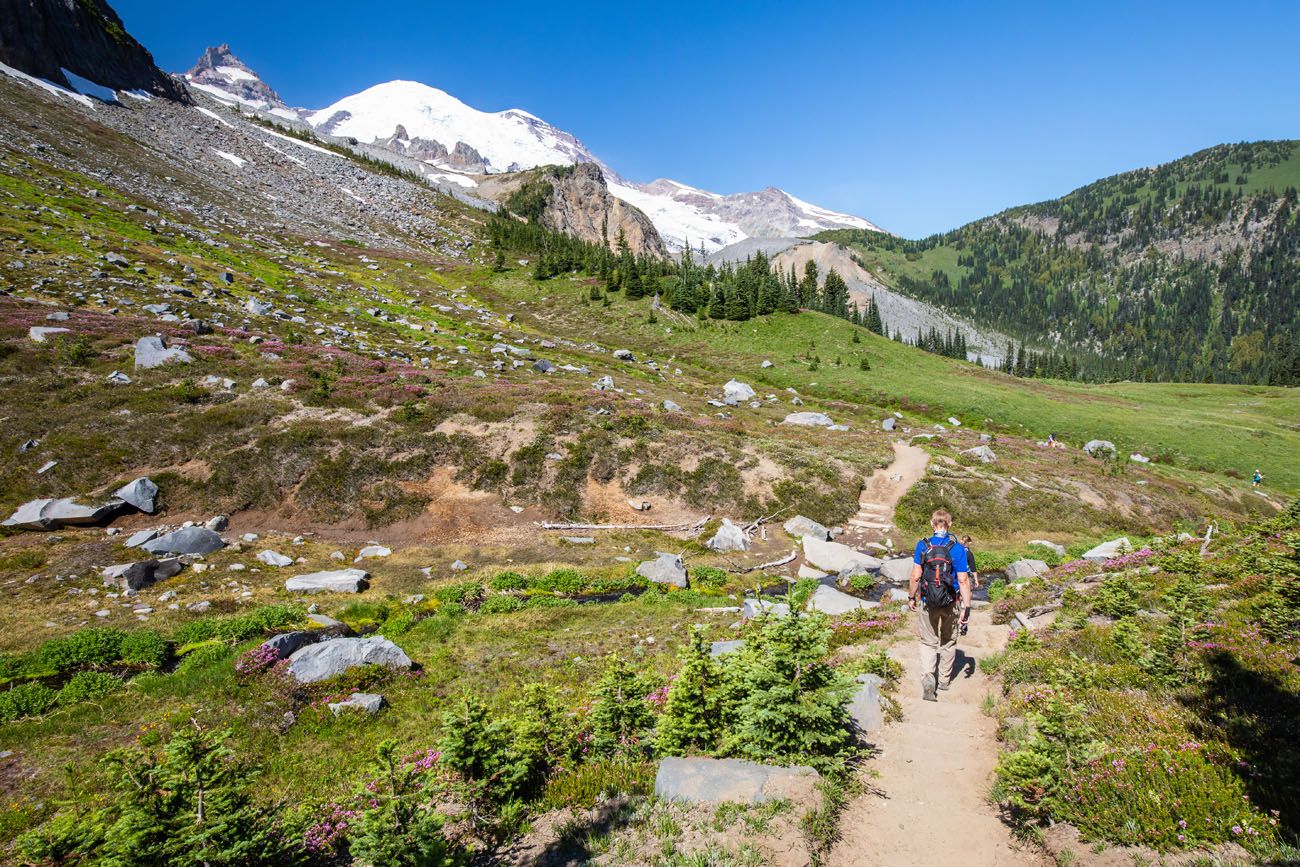 Hiking back through Summerland
What to Bring on the Hike
Hiking shoes. Don't do this hike in anything other than hiking shoes or hiking boots. There's a good chance you will hike through snow, even in the summer.
Hiking poles. Hiking poles take the stress off of your legs and help to ease leg pain and fatigue. They also help you keep your balance on the snow crossings.
Crampons, yak trax, or an ice axe can be helpful for the snow crossings.
Water and snacks. At least 3 liters of water in the summer.
Sunscreen, hat, and sunglasses. For more than half of this hike you will be exposed to the sun, with very little shade.
Camera. Even a smartphone will do.
Rain jacket or fleece. It's chilly at Panhandle Gap. Be prepared for all weather conditions, even snow in the summer months. Pack a rain jacket and/or fleece and even another layer of clothing.
---
If you have any questions about hiking the Summerland Trail to Panhandle Gap, let us know in the comment section below. Happy hiking!!
More Information for Your Trip to Washington
HIKES IN MOUNT RAINIER: Popular hikes in Mount Rainier include the Skyline Trail, Tolmie Peak, the Mount Fremont Hike, and the Silver Falls Loop. You can see the full list in our article Best Hikes in Mount Rainier.
NATIONAL PARKS IN WASHINGTON: In our guide to the Washington National Parks, we give an overview on all three parks, Mount Rainier, Olympic, and the North Cascades. Learn how to visit all three national parks in our Washington Road Trip Itinerary.
ENCHANTMENTS: The Enchantments is an epic hike in the Alpine Lakes Wilderness of Washington State. Check out our Enchantments Trail Guide and our guide to how to handle the logistics of hiking the Enchantments.
MORE GREAT HIKES: From hikes to the tallest peaks to beautiful coastal trails, read our Guide to the Best Day Hikes in the US National Parks. We also have an article listing 20 amazing day hikes from around the world.
NATIONAL PARKS: In our Guide to the US National Parks, get the full list of national parks with important travel planning information, such as things to do in the parks and sample itineraries.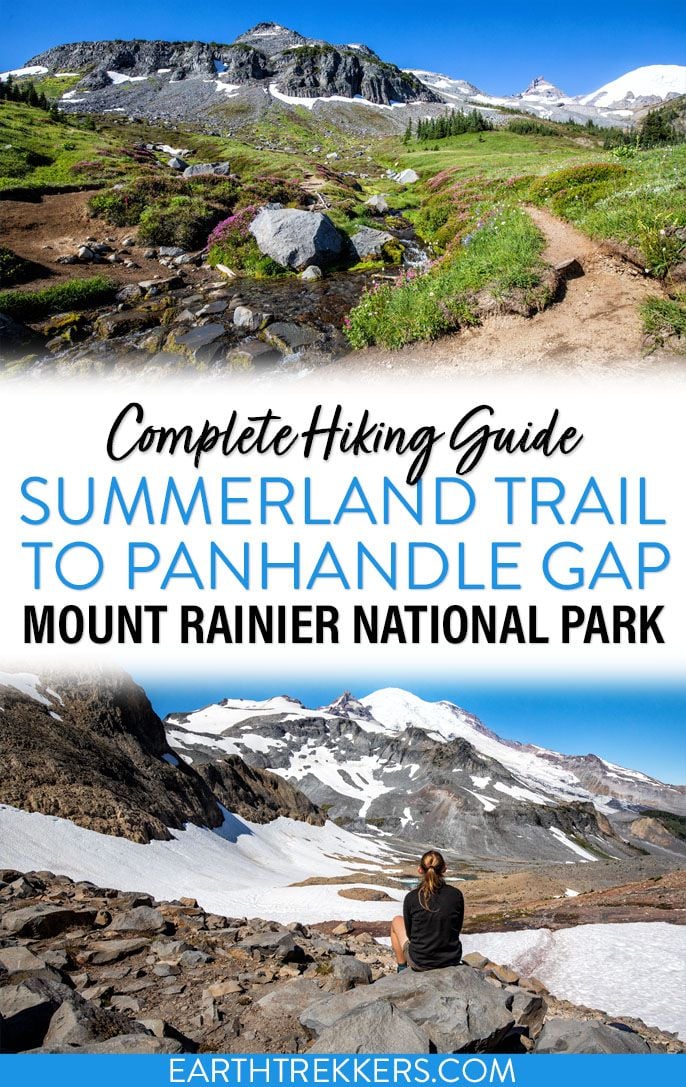 All rights reserved © Earth Trekkers. Republishing this article and/or any of its contents (text, photography, etc.), in whole or in part, is strictly prohibited.