Austin, known as the Live Music Capital of the World, is also home to a fabulous food scene. Barbecue and Tex-Mex reign supreme here but there is enough variety to keep everyone happy. From trailer park tacos to fine dining establishments, there is something here for everyone. Here is our list of Austin restaurants to try, as well as a few more recommendations from local residents.
10 Great Austin Restaurants to Try
Franklin Barbecue
Franklin Barbecue has been rated by some well-known travel sources (Bon Appetit and others) as the best barbecue in the United States.
If you want a taste of this epic barbecue, be prepared to wait in line. On weekends people wait in line for five hours or more. The wait is a little less on weekdays.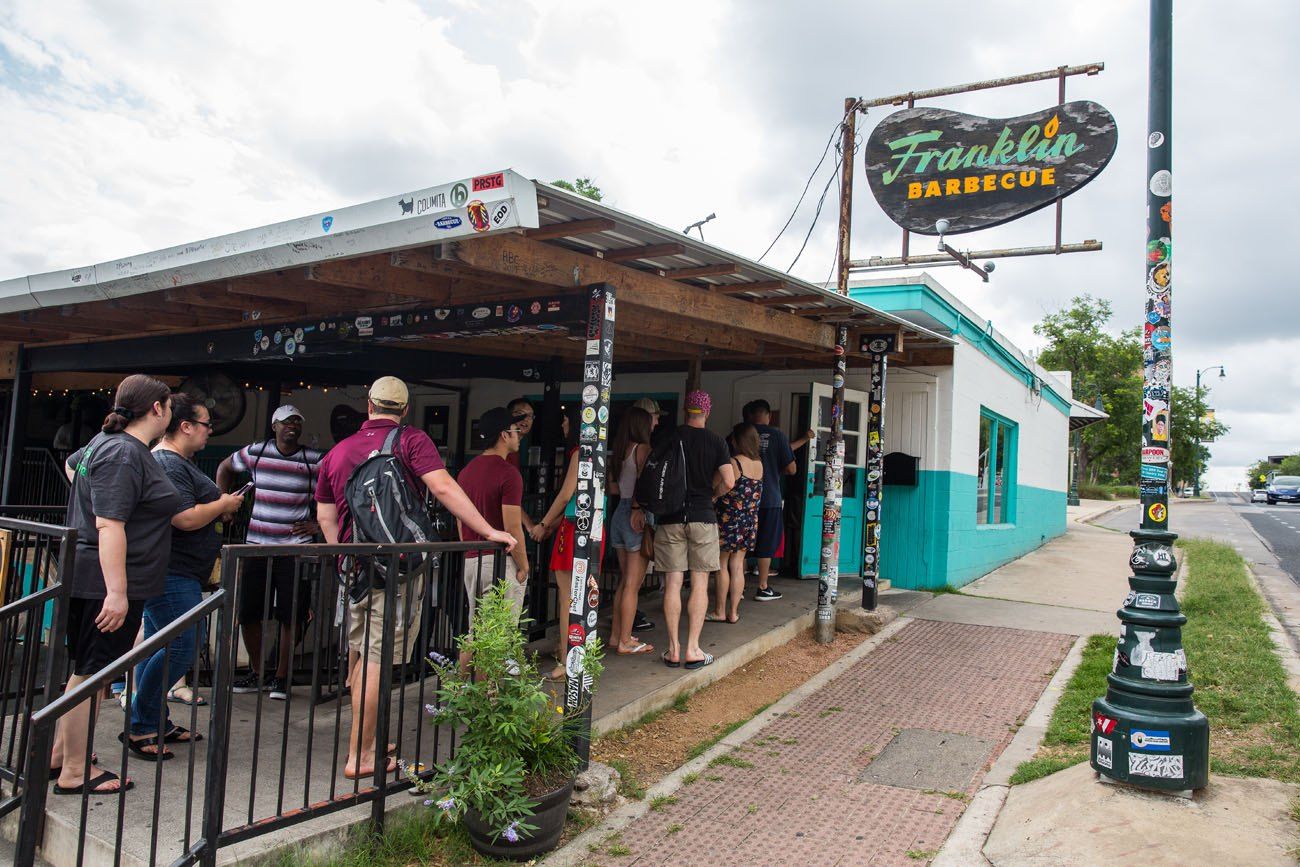 Franklin Barbecue officially opens for lunch at 11 am. People arrive as early as 5 am to be at the front of the line. Most people arrive between 7 and 7:30 am. Once the line is about two hundred people long, the staff hands the last person a sign. Beyond this person, the restaurant can't guarantee that barbecue will be left for people who arrive later in the morning.
Everyday, Franklin Barbecue sells out of food, usually during the early afternoon hours.
Tim and I joined the line on a Saturday morning at 9 am. The line wrapped through the parking lot and around the block. People were lounging in fold out chairs, drinking beer, and playing games. It felt more like a tailgate party than waiting in line for barbecue.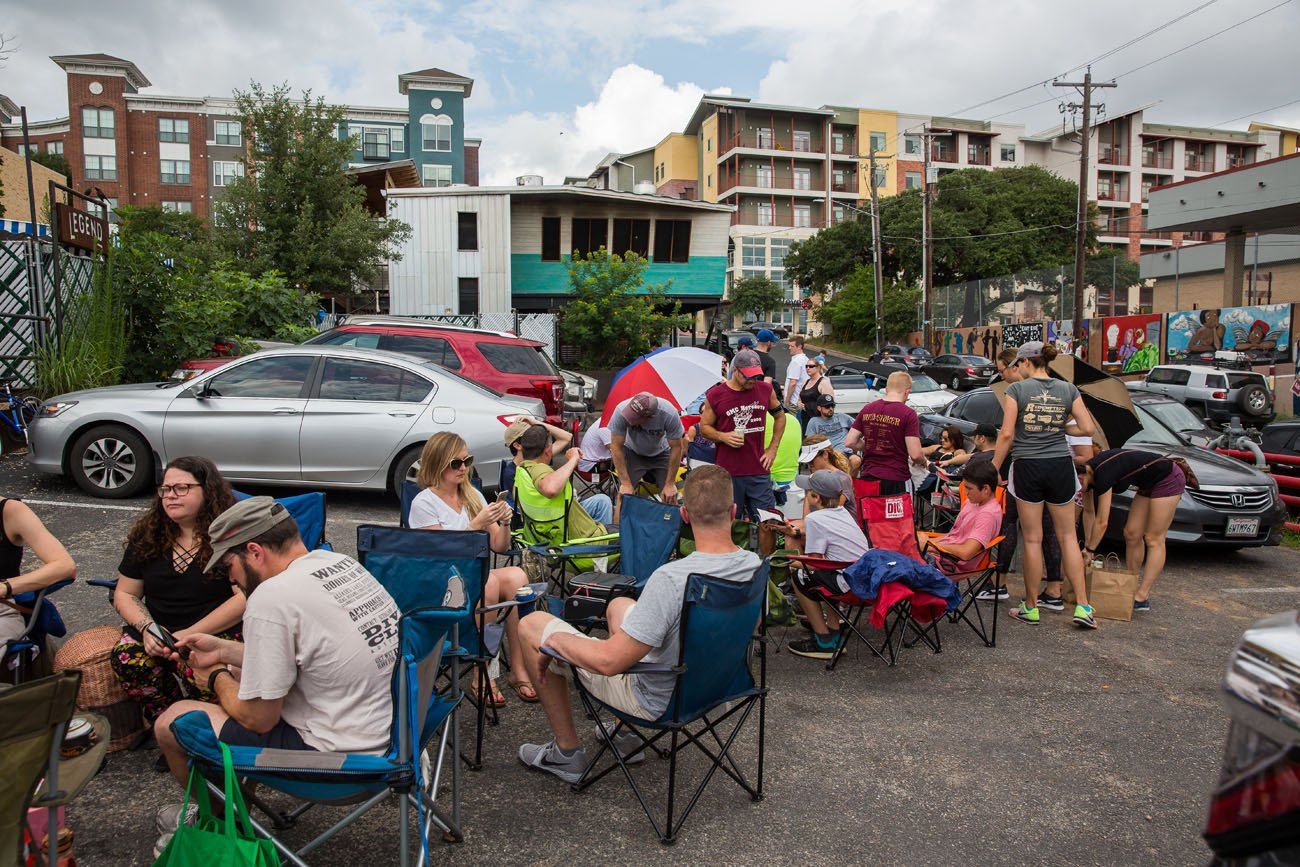 Franklin Barbecue has chairs and umbrellas you can use while you wait. There's a coffee shop, bathrooms, and Franklin Barbecue sells beer that you can drink while you wait in line. They even handed out mini barbecue sandwiches at noon to those of us still waiting in line.
At 11 am, we started slowly inching forward, finally getting served at 2 pm. Yes, we waited five hours for brisket, smoked turkey, pulled pork, and sausage.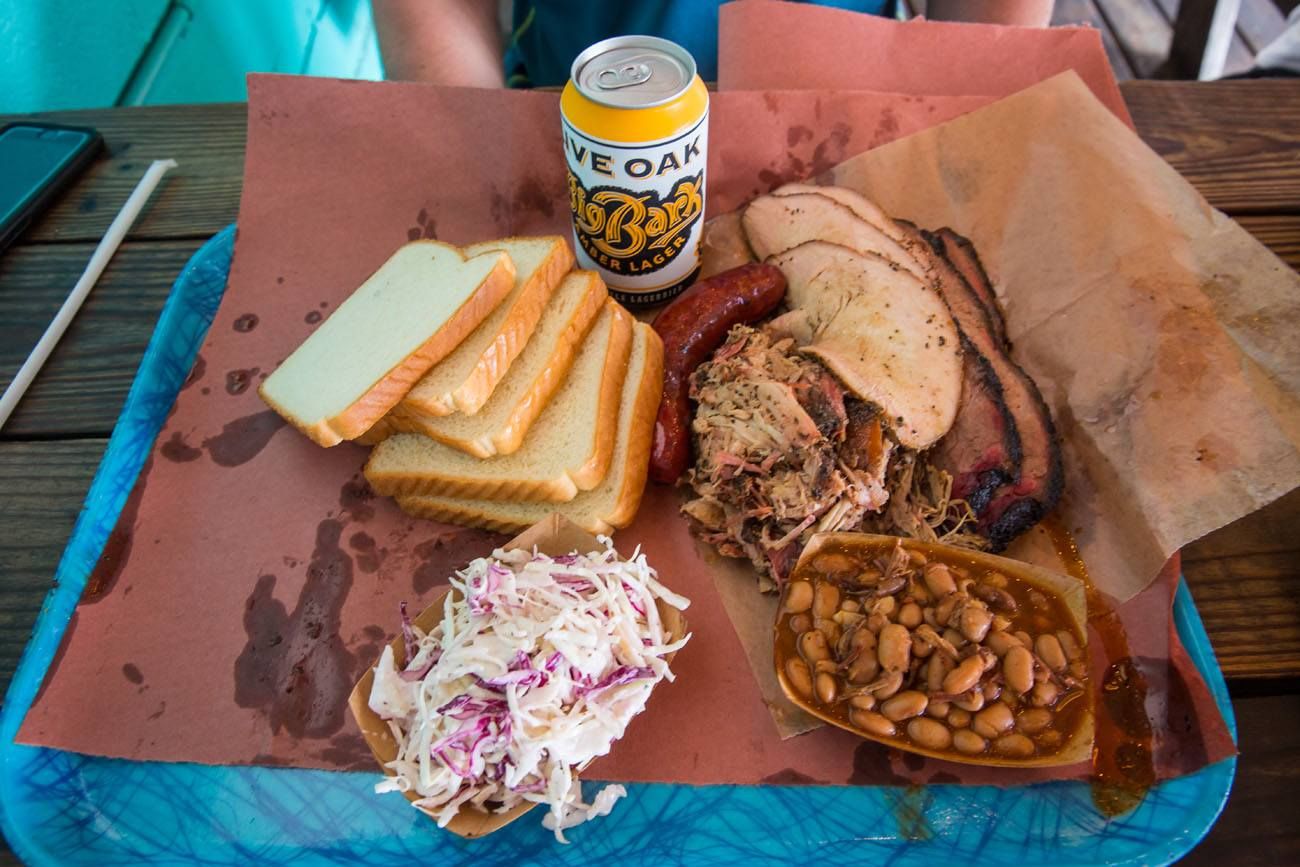 So how was it? It was amazing. Totally worth the wait.
I'm not enough of a barbecue aficionado to say that it's the best in the country, but it was pretty darn good. The pulled pork was the best we've ever had.
Before deciding to do this, you need to know that waiting in line is part of the experience. So, bring your fold up chairs, your cooler full of beer, and your friends, and join the party.
7 am seems the best time to get here. You are close enough to the front door that once Franklin Barbecue opens at 11 am, you don't have to wait too long to get inside.
As Franklin Barbecue grows in popularity, which it continues to do, people may start arriving earlier and earlier. Lines are longer now than they were a year ago. And Franklin Barbecue has no plans to serve more brisket than they already are. Part of why the reason why their brisket is so good is that they only use the best meat, and that can be hard to get.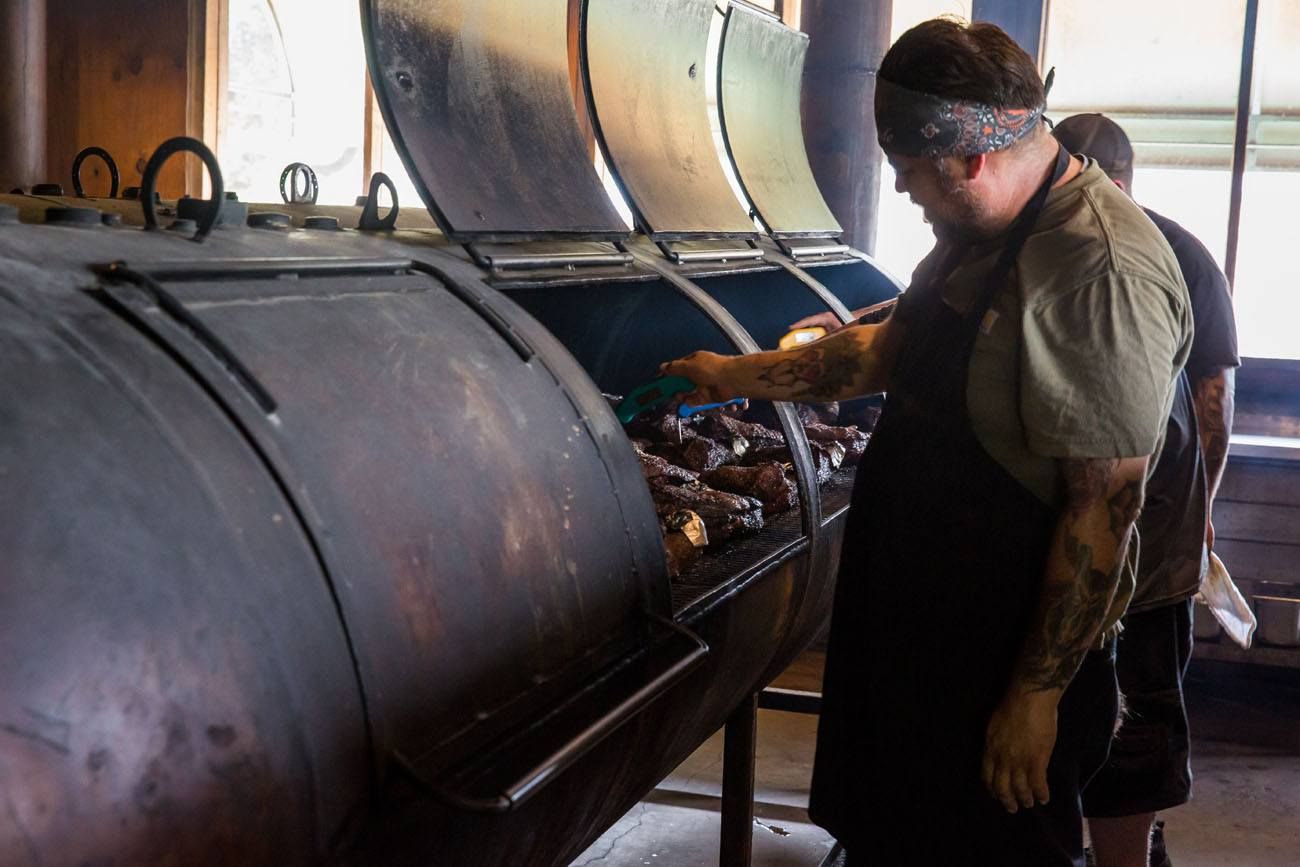 Torchy's Tacos
Tacos in a trailer park…unexpectedly delicious. Our experience at Franklin Barbecue was awesome, but this was my favorite meal in Austin.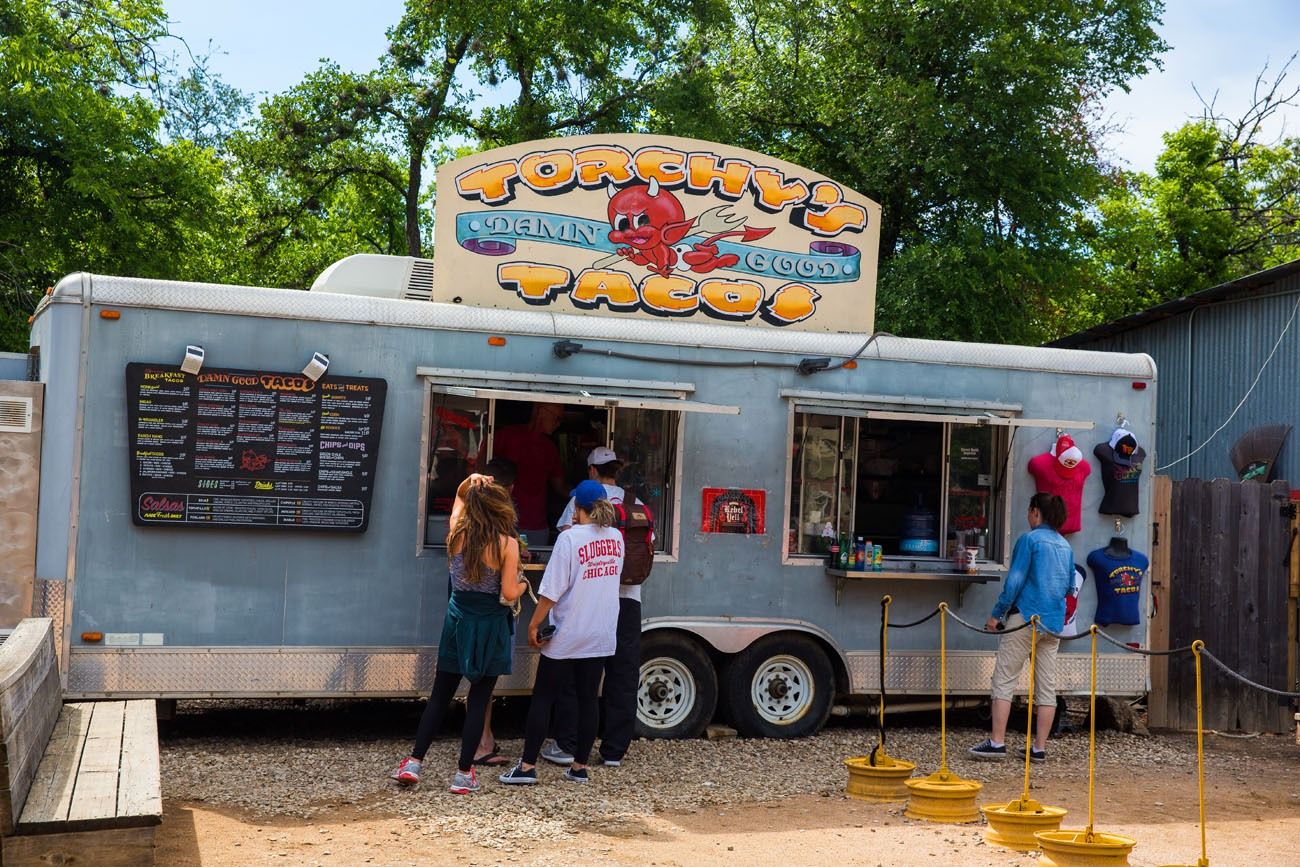 Torchy's Tacos started in a food truck in 2006. Since that time, they have grown at a supersonic rate, since their tacos are so damn good! Now they operate 30 stores spread throughout Texas and even into Oklahoma.
We ate at the Trailer Park location. Tim ate two of the breakfast tacos, which were great. I had the Democrat taco and the Trailer Park taco, trashy style. Both were phenomenal. If I lived in Austin I'd be here all of the time.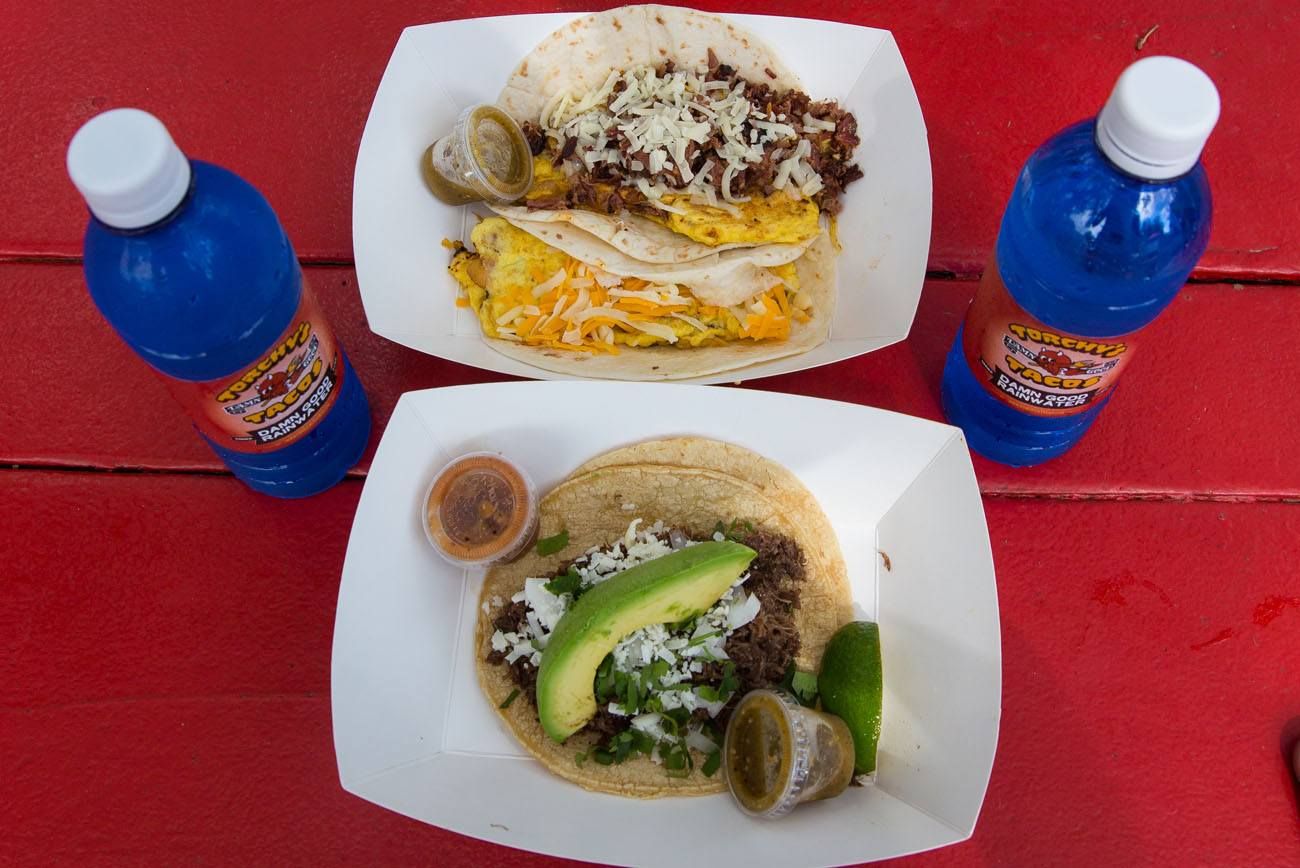 And if you are traveling on a budget, this is one of Austin's best cheap eats.
Where: Trailer Park, 1311 South First Street (there are 13 locations in Austin)
Website: torchystacos.com
Home Slice Pizza
Home Slice Pizza is another Austin institution. Here you can eat authentic NY style pizza, by the slice or by the pie. It's another great budget restaurant in Austin.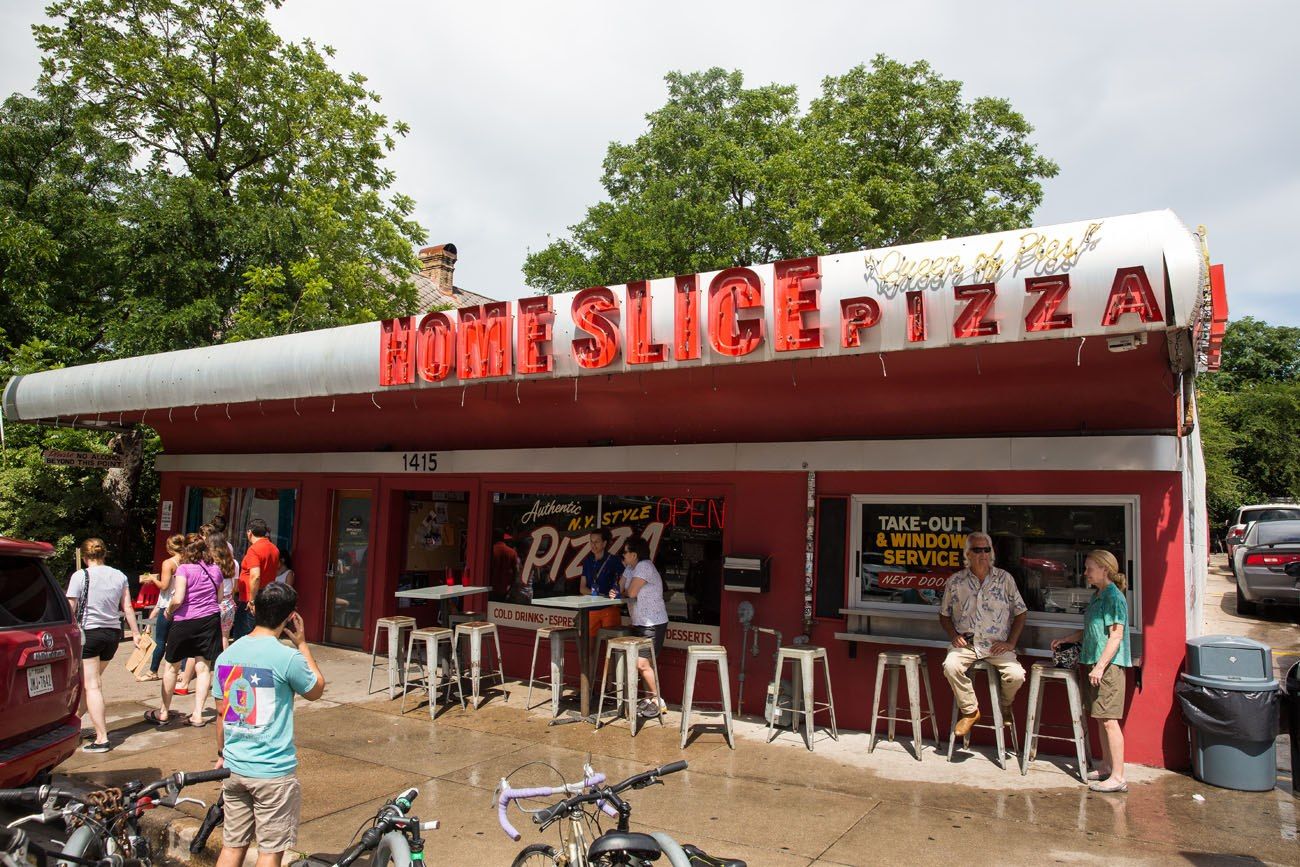 They get so much business that they opened up a second location just next door, called More Home Slice.
Hopdoddy Burger Bar
This is yet another hot spot in Austin. Hopdoddy almost always has a line, although the wait is not as long as at Franklin Barbecue!!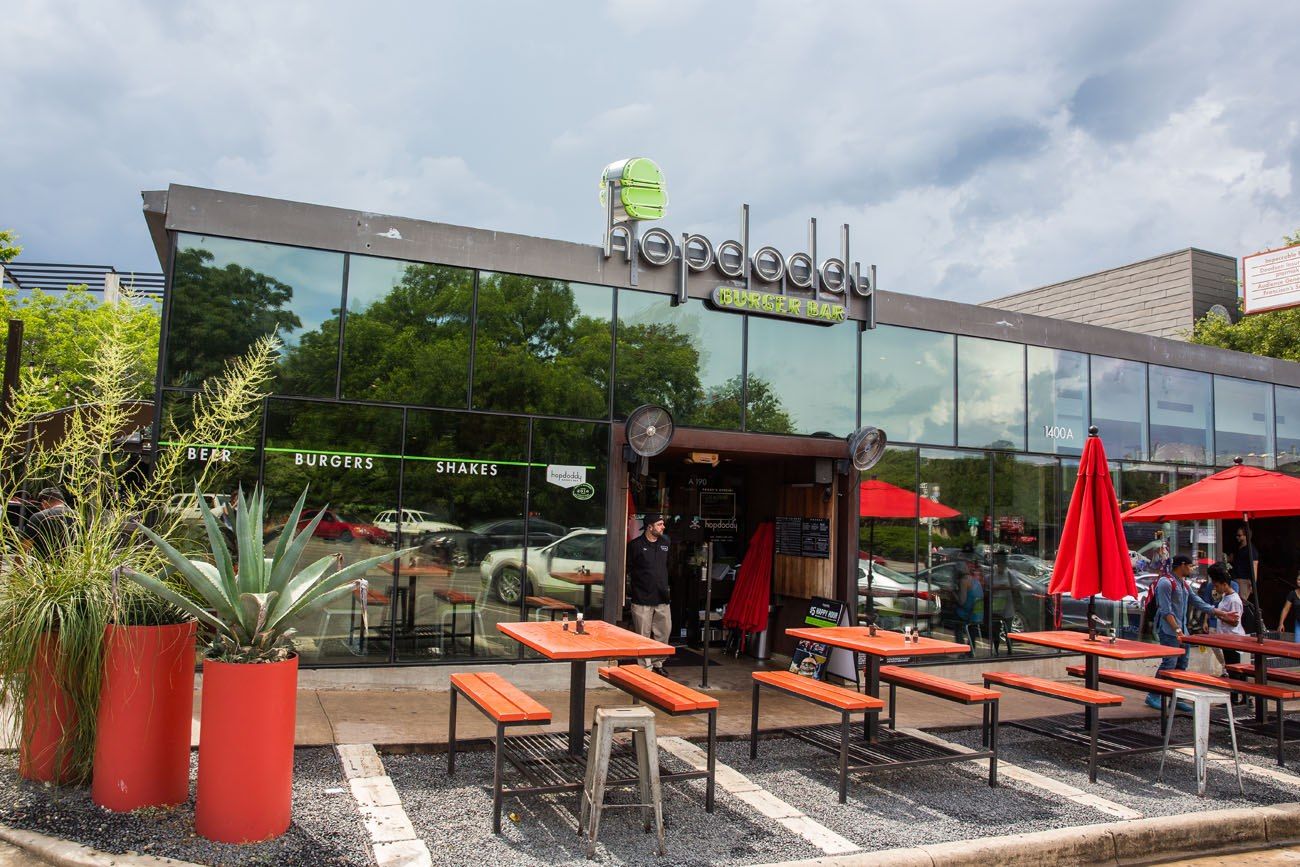 Go right after a thunderstorm…the rain washes the line away!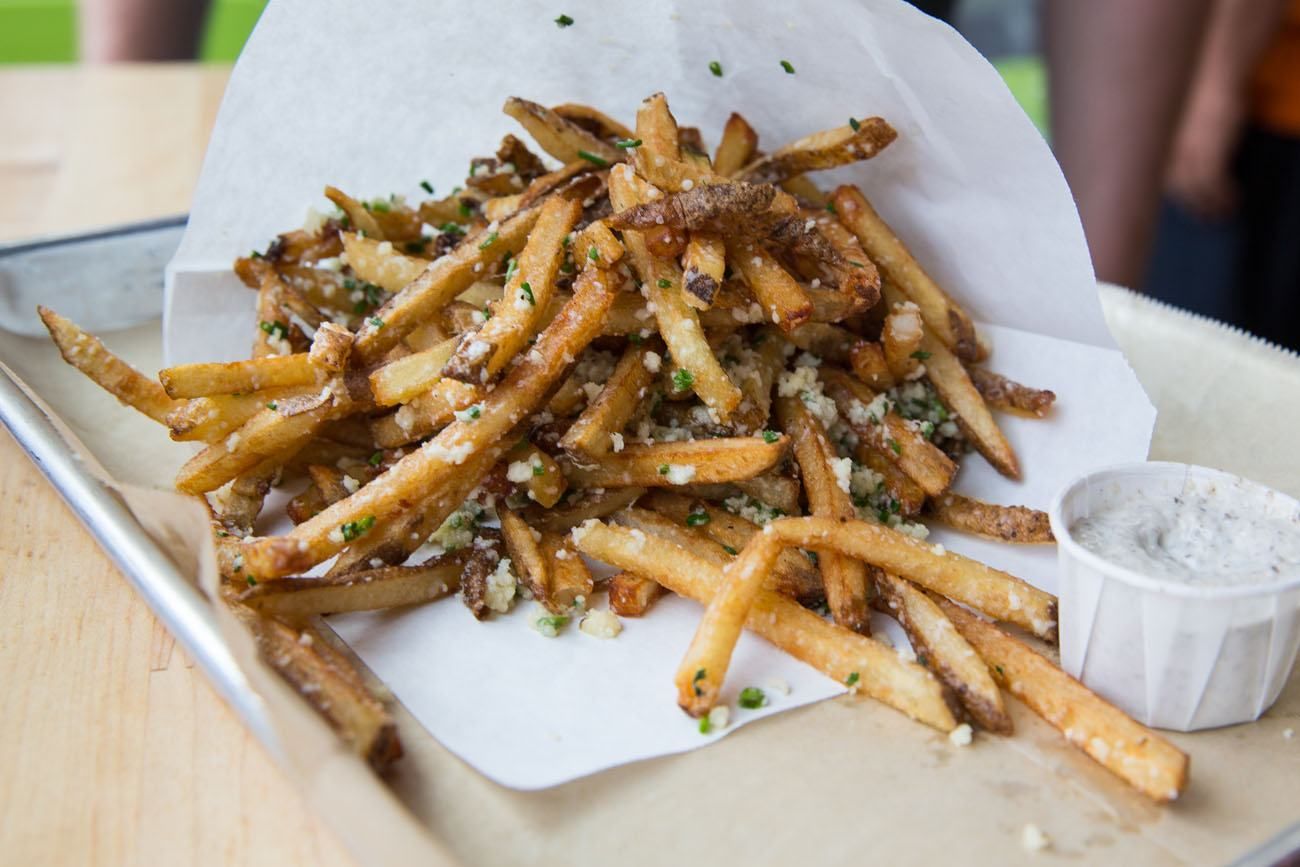 Hopdoddy serves gourmet burgers and has an extensive beer selection on tap. Tim and I split the Terlingua burger and the Parmesan Truffle Fries were amazing!
Website: hopdoddy.com

Banger's Sausage House and Beer Garden
What attracted us to Banger's was the over 100 beers on tap and their beer hall setting. Kind of like Oktoberfest in Texas. Only with barns and country-western music instead of men in lederhosen and Bavarian music playing in the background.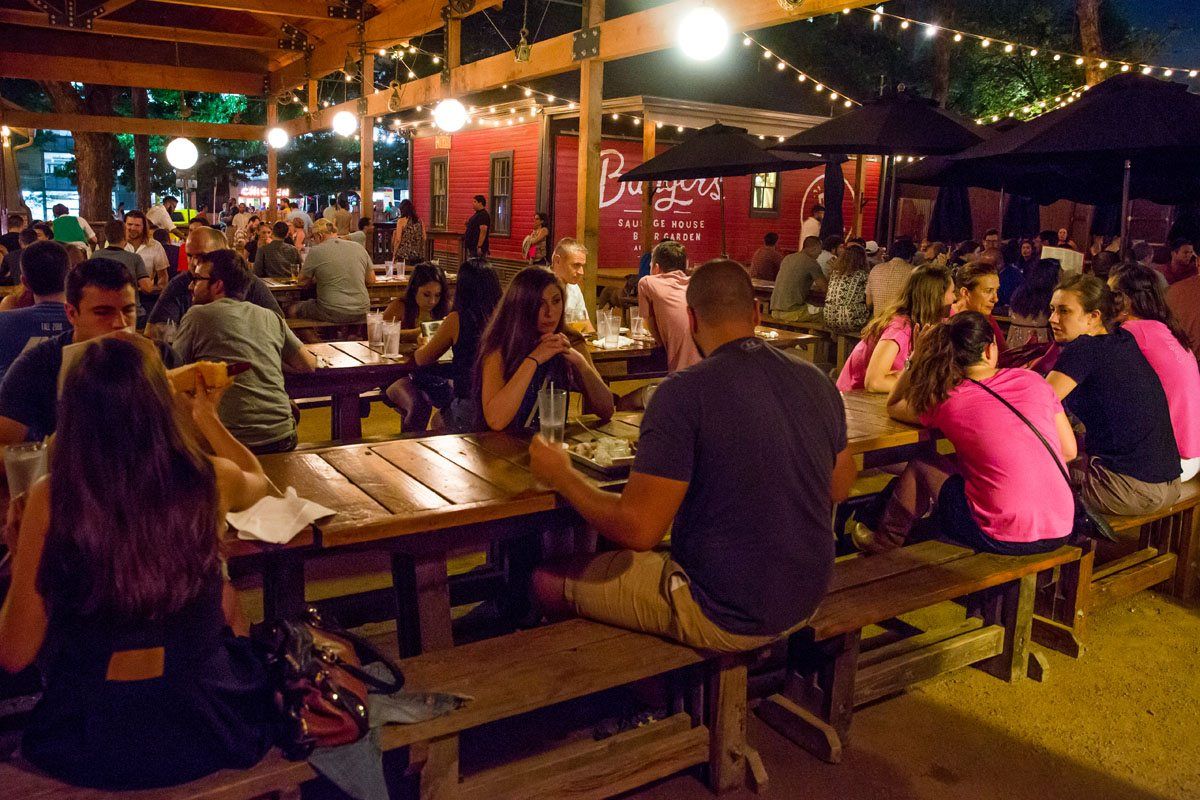 We had so much fun ordering off the beer list, with names like Clown Shoes Exorcism at Sunset and Jester King Funk Metal. But what we loved were the sausages. I had no idea that sausage could taste this good!!
Banger's serves traditional sausages, but they also offer sausage made from rabbit, Texas antelope, and barbecue bacon. They even serve a Vegan sausage. The Jalapeno Cheddar Bratwurst was amazing!!
Launderette
Launderette is a well-known Austin establishment. It was once a laundromat and now it is an upscale restaurant. With a gourmet menu and creative appetizers and entrees, this is a nice break from tacos and barbecue.
Launderette is located in residential neighborhood, a short drive from the center of Austin.
Website: launderetteaustin.com
Halcyon
Halcyon is a coffee shop/bar that we both really liked. It's a shabby chic kind of place, located in the heart of Austin not far from the South Congress Bridge. Halcyon was recommended to us as a good place to start the night, with their Long Island Iced Coffee drink.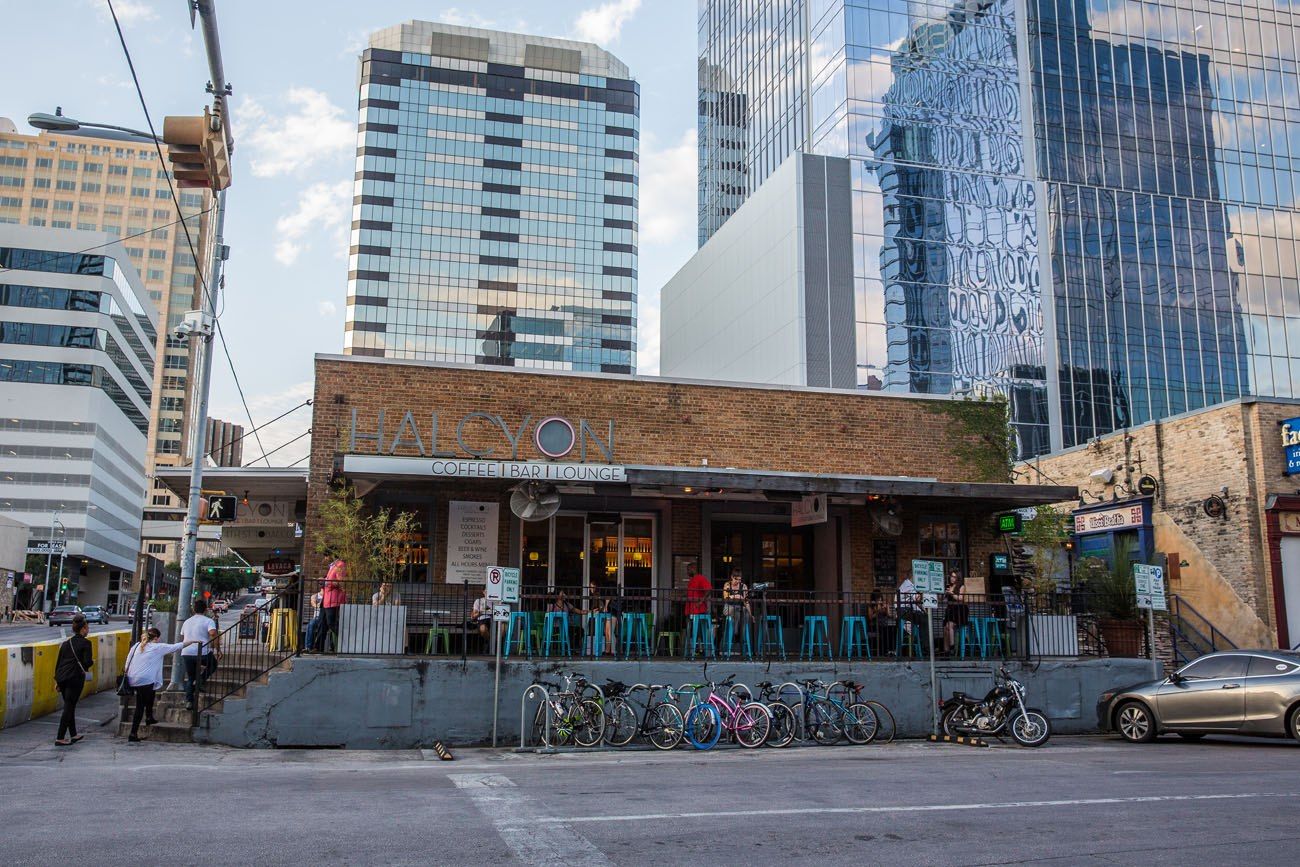 Website: halcyoncoffeebar.com
More Places to Try
Here are three places recommended to us by local Austin residents. Unfortunately, we never had time to eat here.
Cooper's BBQ
If you want really good barbecue but a five-hour wait at Franklin just is not in your game plan, then put Cooper's on your list.
Uchi
This contemporary Japanese restaurant gets rave reviews on Trip Advisor. The only reason we didn't eat here was because we could not get a reservation during our weekend in Austin. This restaurant is a little more expensive than the others on this list, but what you are getting is fresh fish and awesome Japanese cuisine.
Chuy's
This is a fun spot that serves Tex-Mex food. Eclectic décor, great food, just an all around cool little spot in Austin. This place is first on my list on a return visit to Austin.
Looking for more to do in Austin, Texas? Check out our post:
This concludes our food tour of Austin! Happy Eating!
---
More Information for Your Trip to Texas
AUSTIN & SAN ANTONIO: Learn about the Best Things to Do in Austin. If San Antonio is on your list, learn how to spend 24 Hours in San Antonio.
BIG BEND NATIONAL PARK: Check out our Big Bend National Park Travel Guide for important travel information, sample itineraries, and how to plan your visit. Don't miss our article Best Things to Do in Big Bend for great things to do in the park.
GUADALUPE MOUNTAINS: Read our article Best Things to Do in Guadalupe Mountains National Park for a full list of things to do, plus important information and helpful tips to plan your visit here.
BEST NATIONAL PARKS IN THE USA: Looking for your next big adventure? Read our article about the 15 Best National Parks, where we narrow down the long list into 15 must-see parks.
USA ROAD TRIPS: Planning your next big adventure in the USA? Check our our USA Road Trip Guide for travel ideas and sample itineraries.
All rights reserved © Earth Trekkers. Republishing this article and/or any of its contents (text, photography, etc.), in whole or in part, is strictly prohibited.