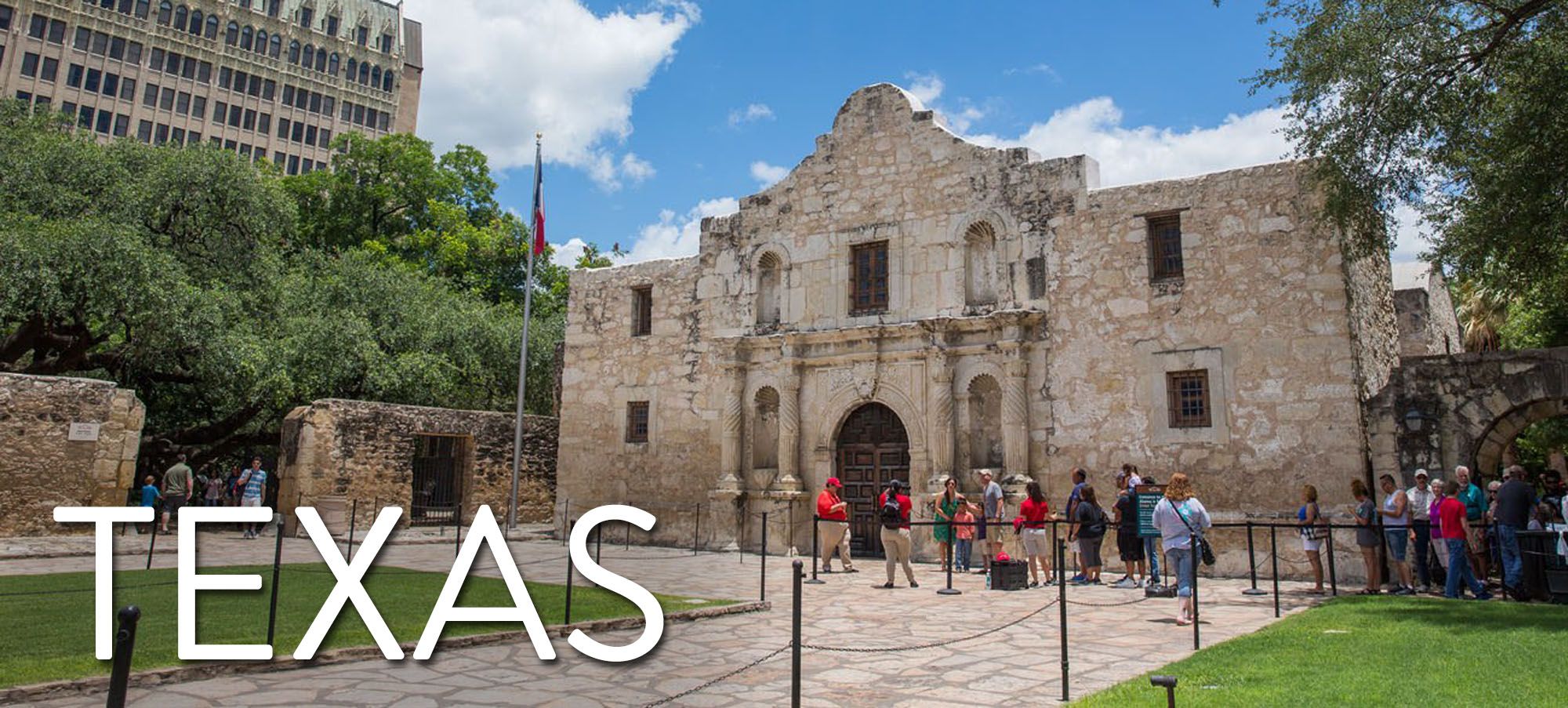 Vibrant canyons, remote deserts, extraordinary mountain ranges, white-sand beaches, historic towns, and bustling cities… Texas is a beautiful state with much to offer for outdoor enthusiasts and party goers alike.
San Antonio
is a fun city to visit in Texas, even if you have limited time. The River Walk and the Alamo are the highlights, but there are a few more great places to explore.
If you have just one day in San Antonio, you have just enough time to tour the best spots in the city. Here are five places to visit during your visit to San Antonio.
Texas & New Mexico Road Trip
On this 10-day Texas New Mexico road trip itinerary, you will visit four national parks plus make a quick detour to a gem of a state park that just might be one of the big highlights of the trip. Go hiking in Big Bend and Guadalupe Mountains, explore the underground wonderland of Carlsbad Caverns, and sled on dunes as white as snow at White Sands National Park.
Here are more ideas of things to see and do in the USA.
Big Bend National Park. Isolated, remote, wild, rugged…this is Big Bend National Park. Located on the southwestern corner of Texas, within the Chihuahuan Desert, is an extraordinary mountain range that is a haven for hikers, backpackers, and outdoor enthusiasts. Additionally, due to its remote location and low level of light pollution, Big Bend was designated as an International Dark-Sky Park in 2012. Thus, star gazing is a must in Big Bend!
Guadalupe Mountains National Park. Canyons, gypsum sand dunes, fossilized coral reefs, the Chihuahuan Desert, and some of the highest peaks in Texas…these are all things that you can see in Guadalupe Mountains National Park. The park is a hikers paradise with intriguing trails to the Top of Texas and through tight slot canyons. Here you can also explore the Salt Basin, an area of snow white sand dunes with an enchanting view of the Guadalupe Mountains.
Big Bend Ranch State Park. Big Bend Ranch State Park is awesome. It has all of the ingredients of a perfect outdoor destination: easy but fun hiking trails, low crowds, and a beautiful scenic drive. Plus, its small size makes it easy to explore if you are short on time.
Palo Duro Canyon State Park. Palo Duro Canyon State Park is the second largest canyon in the country, and one of the most beautiful locations in Texas. Here there are opportunities to hike, mountain bike, horse-back ride, and camp along the canyon's vibrant walls and around unique geological features.
Colorado Bend State Park. If you are looking to spend more time in the rugged outdoors, visit Colorado Bend State Park. With towering waterfalls, untamed hiking trails, beautiful swimming holes, and deep caves to traverse, this park is a nature-lovers paradise.
Padre Island National Seashore. Padre Island National Seashore is located on a 70 mile long barrier island in south-east Texas. With such a vast space and few roads, you can drive on the sand to find your own isolated beach paradise. Or, join the party at the National Seashore where there are restaurants, bars, and entertainment. On the beach you can camp, hike, swim, fish, and go boating.
Natural Bridge Caverns. Just outside of San Antonio lies Natural Bridge Caverns, Texas' largest commercial cave. The caverns contain large colorful formations, rooms longer than a football field, and deep winding passageways that travel down 180ft. Tours will guide you through the caverns. If you are looking for an adventure, certain tours take you climbing, crawling, and repelling through narrow passageways.
San Antonio. San Antonio is a city of history, beauty, and delicious food. Here you can learn about the battle between Mexican forces and Texas defenders, and you can see the sites of San Antonio's five Spanish missions. In the city, walk along San Antonio's urban waterway past soaring trees and Spanish and Mexican architecture. And, as the Culinary Capital of Texas, you won't want to miss San Antonio's fantastic restaurants.
Austin. ​​Austin Texas… the live music capital of the world. With over 250 live music venues spread throughout the city, there is always something going on here. Aside from the epic music scene, there are lots of other unique things to do in Austin. Learn the Texas Two Step, wait in line for some of the best barbecue in the country, or watch millions of bats soar into the air at dusk.
Amarillo. Located at the midway point of Route 66, Amarillo is a fascinating city bursting with outdoor adventure and Texan culture. Spray-paint on vintage cars rising out of the ground at Cadillac Ranch, visit the city's historic district, learn about Amarillo's history at outstanding museums, and challenge yourself to eat a 72 oz Texan steak at the Big Texan Steak Ranch.
Gruene Historic District. Within the city of New Braunfels lies Gruene, a historic old town that contains a dark history. Exploring Gruene makes for a great day-trip from Austin or San Antonio. Here you can learn about Gruene's past, shop at the old Gruene General Store, and enjoy live music at Texas's oldest dance hall.
Dallas. Lively nightlife, authentic Texan cuisine, the nation's largest arts district, live performances, and the home to the Dallas Cowboys. Here you can also learn the legacy of former president John F. Kennedy.
Houston. Explore one of Texas' biggest cities with over 150 museums, sports events, live music, large outdoor spaces, and a delicious culinary scene.
Fall and spring are the best times to visit Texas. Temperatures are mild during the day and cool at night. March is one of the busiest months because of the great weather conditions and the influx of spring break travelers. There is more rainfall during the autumn months, so if you want clear skies, spring is a slightly better time to visit Big Bend.
Summer and winter are the off seasons in Texas' Parks. From May through September it can get very hot, and during the winter months expect cold temperatures with near freezing conditions at night.
The 
US National Parks
 make an excellent travel destination, whether you are planning a cross-country road trip or a weekend getaway. In our guide to the national parks, get detailed trip planning information, advice on which parks to visit by season, and itineraries to help simplify your travel planning process.
Plan Your National Park Trip