Austin, Texas…the live music capital of the world. With over 250 live music venues spread throughout the city, there is always something going on here.
Aside from the epic music scene, there are lots of other unique things to do in Austin. Learn the Texas Two Step, wait in line for some of the best barbecue in the country, or watch millions of bats soar into the air at dusk.
Best Things to Do in Austin
#1 Enjoy the Live Music
If you arrive in Austin via the airport, your first taste of live music happens as soon as you step off the airplane. Yes, there is live music in the Austin-Bergstrom International Airport.
You can also find live music at restaurants and bars, concert halls, and even grocery stores. If you hit the town at night, live music spills out onto the streets from the bars and clubs located throughout the city.
And if that is not enough for you, Austin hosts a multitude of music festivals. Click here for a schedule of upcoming events.
#2 Dance the Texas Two Step
Put on your cowboy boots and head out onto the town for a night of dancing. There are several places around town for dancing the Texas Two Step, such as the White Horse and Poodies Roadhouse.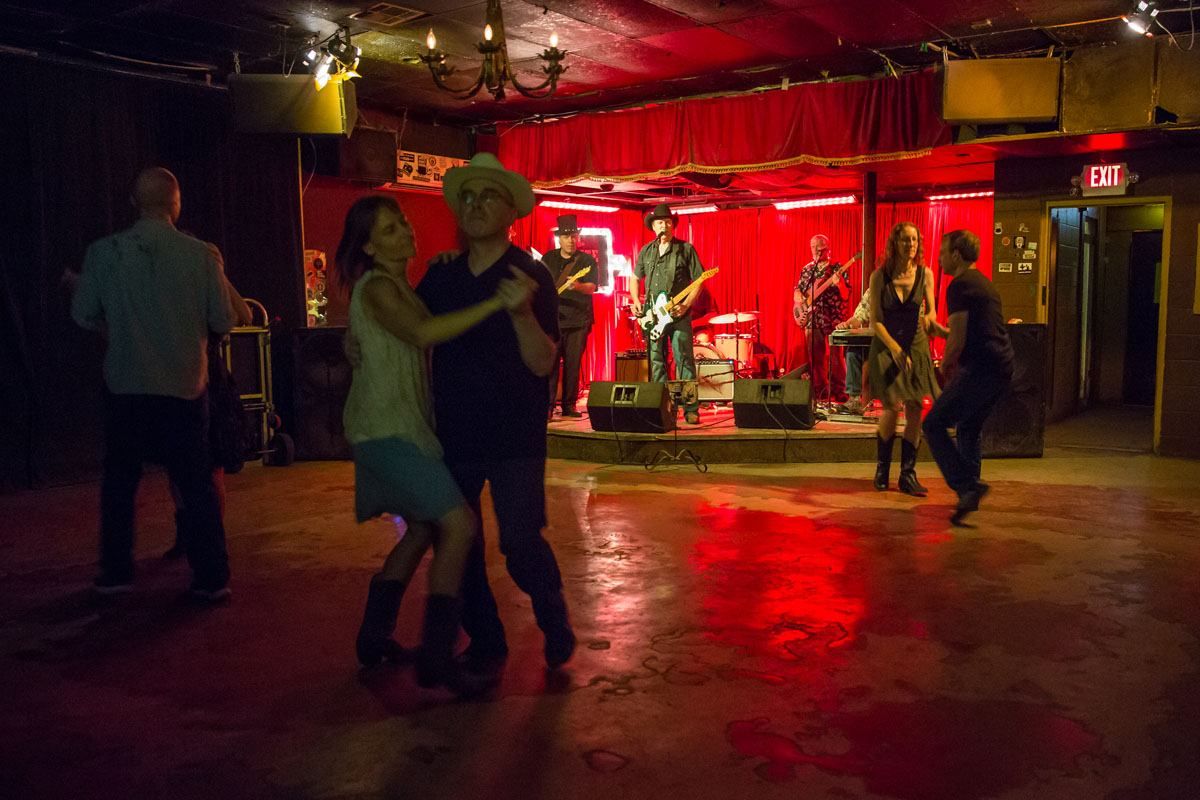 The White Horse | Best Things to do in Austin
Don't know how to dance the Two Step? No problem. Mosey on over to the Broken Spoke. They offer lessons every night between 8 and 9 pm Wednesday through Saturday.
#3 Wander the Shops and Restaurants on South Congress
This area of Austin has a funky vibe. With boutique shops, night clubs, and a handful of great restaurants, this is one of the coolest, hippest spots in town.
Have a drink at Hotel San Jose, eat a burger at Hopdoddy, and don't miss Amy's Ice Cream. Our favorite store was The Gypsy Wagon, an eclectic shop filled with unique gifts, home goods, and clothing.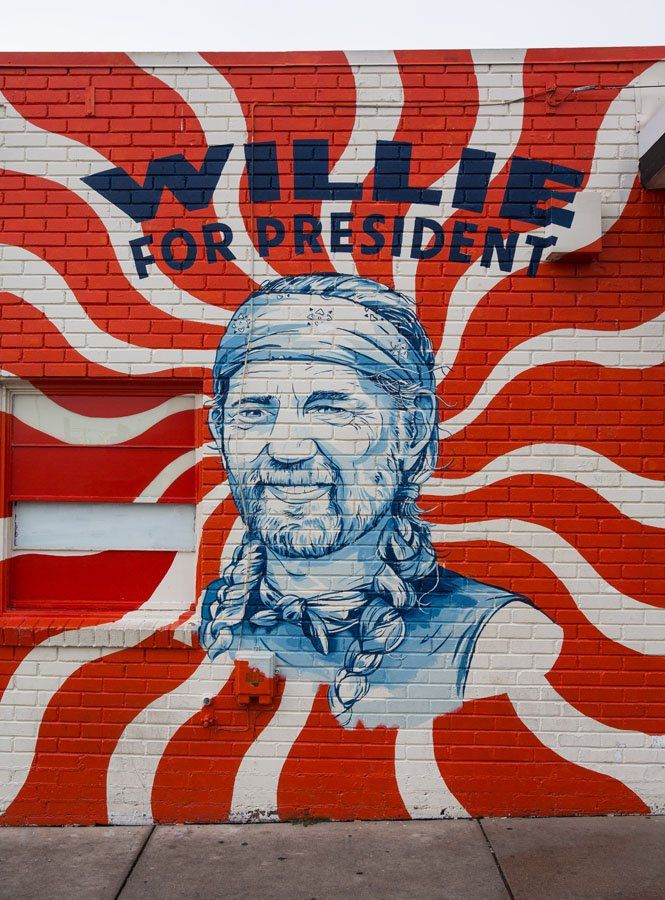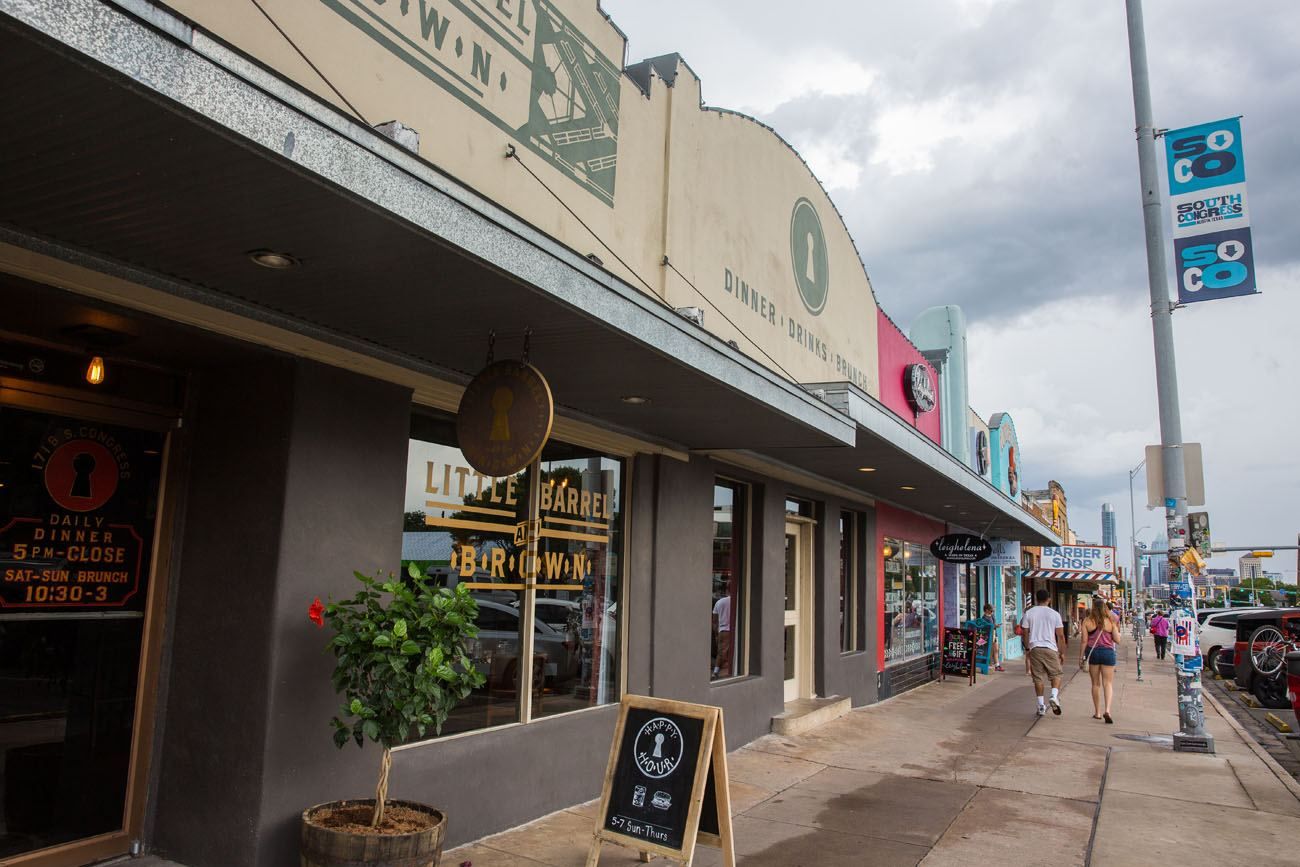 #4 Paddleboard or Kayak on Lady Bird Lake
Lady Bird Lake, a reservoir on the Colorado River, is the body of water located in the heart of Austin. From Zilker Metropolitan Park you can rent paddleboards, canoes, and kayaks, and spend several hours cruising up and down Lady Bird Lake. This is the perfect activity for a hot, sunny day in Austin.
There is also a ten mile trail around Lady Bird Lake called the Hike-and-Bike Trail, perfect for a stroll, jog, or bicycle ride.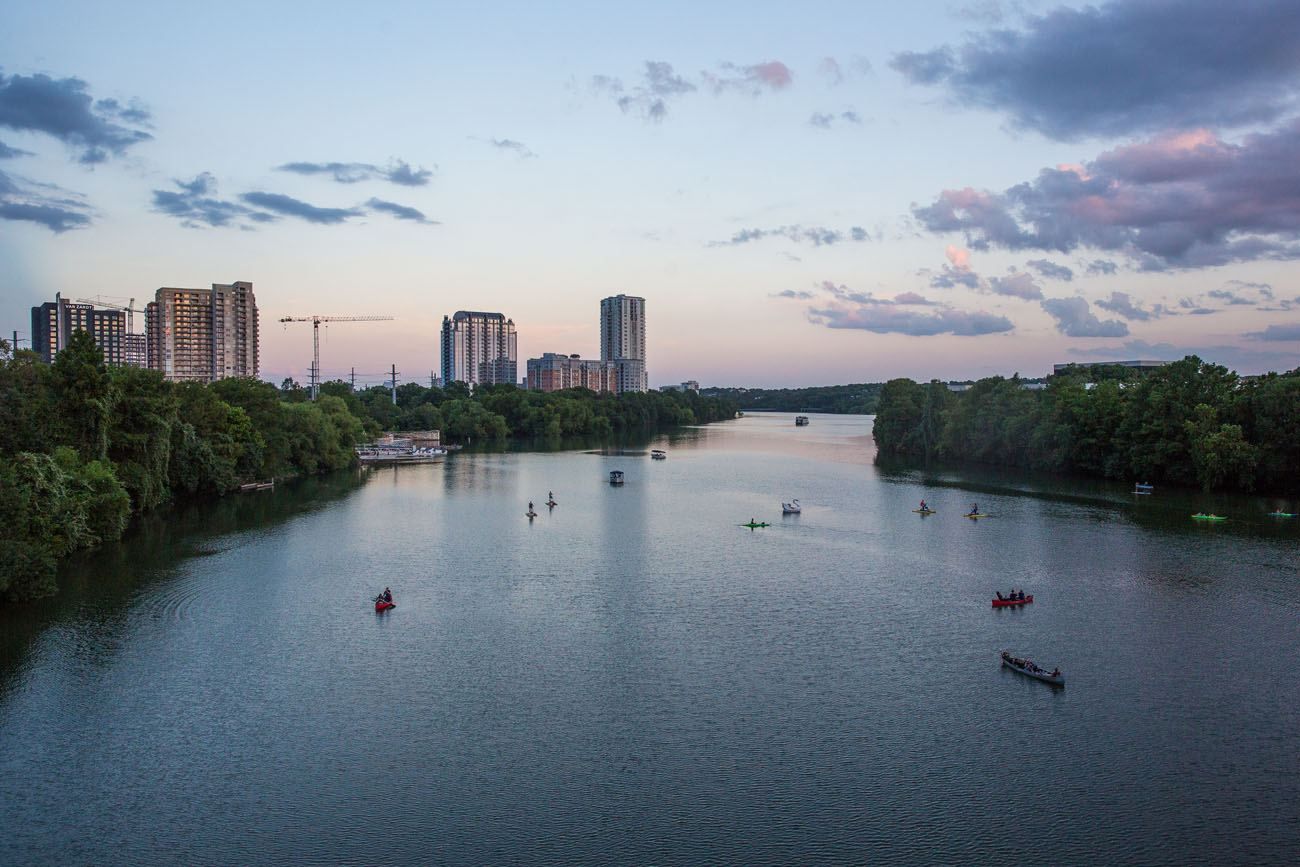 #5 Wait in Line at Franklin Barbecue
Franklin Barbecue has been rated by some well-known travel sources (Bon Appetit and others) as the best barbecue in the United States.
"It is the best. It is the finest brisket I've ever had." – Anthony Bourdain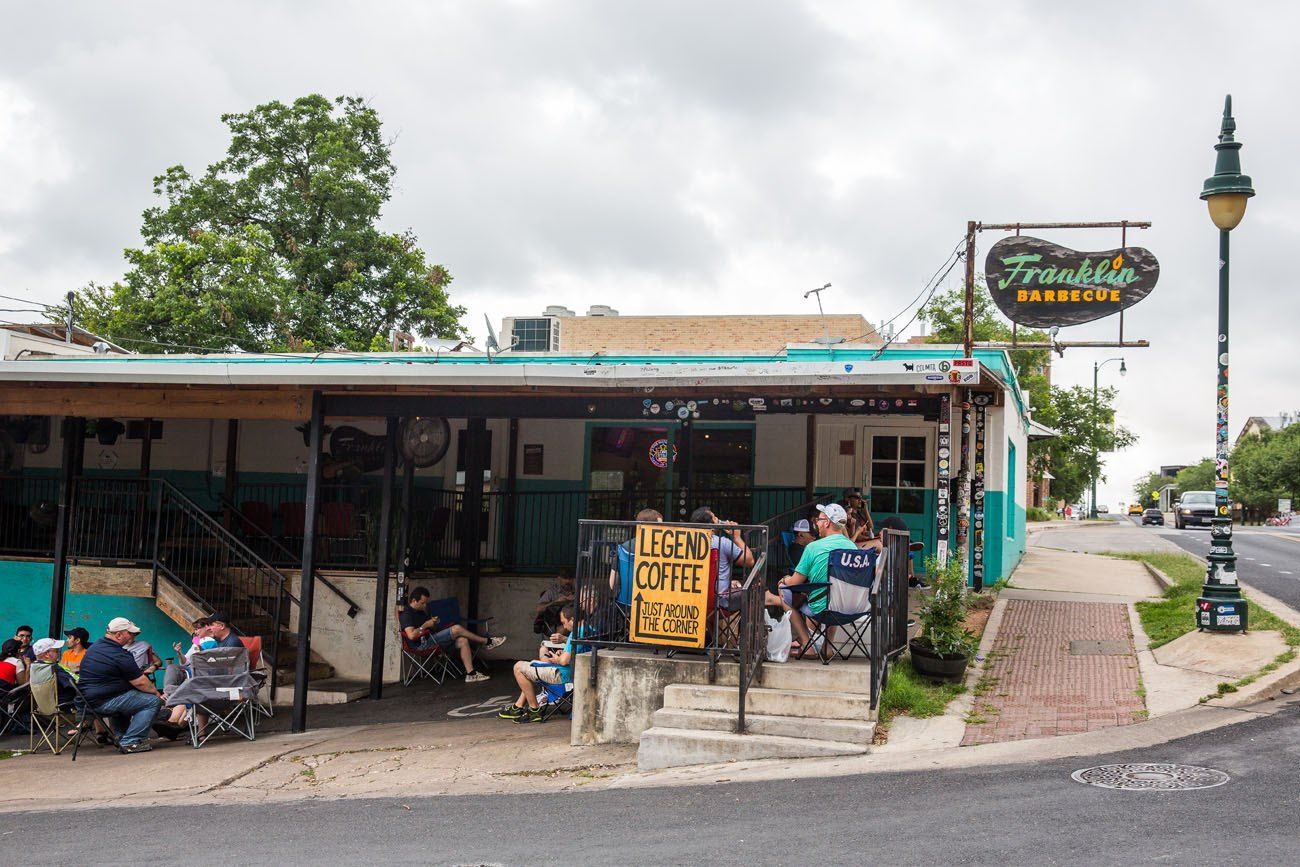 Franklin Barbecue | Best Things to do in Austin
If you want a taste of this epic barbecue, be prepared to wait in line.
How long? On weekends, five hours or more. A little less on weekdays.
We just had to join the line in order to find out what all of the fuss was about. On Saturday morning, Tim and I arrived at 9 am. The line wrapped through the parking lot and around the block. People were lounging in fold out chairs, drinking beer, and playing games. It felt more like a tailgate party than waiting in line for barbecue.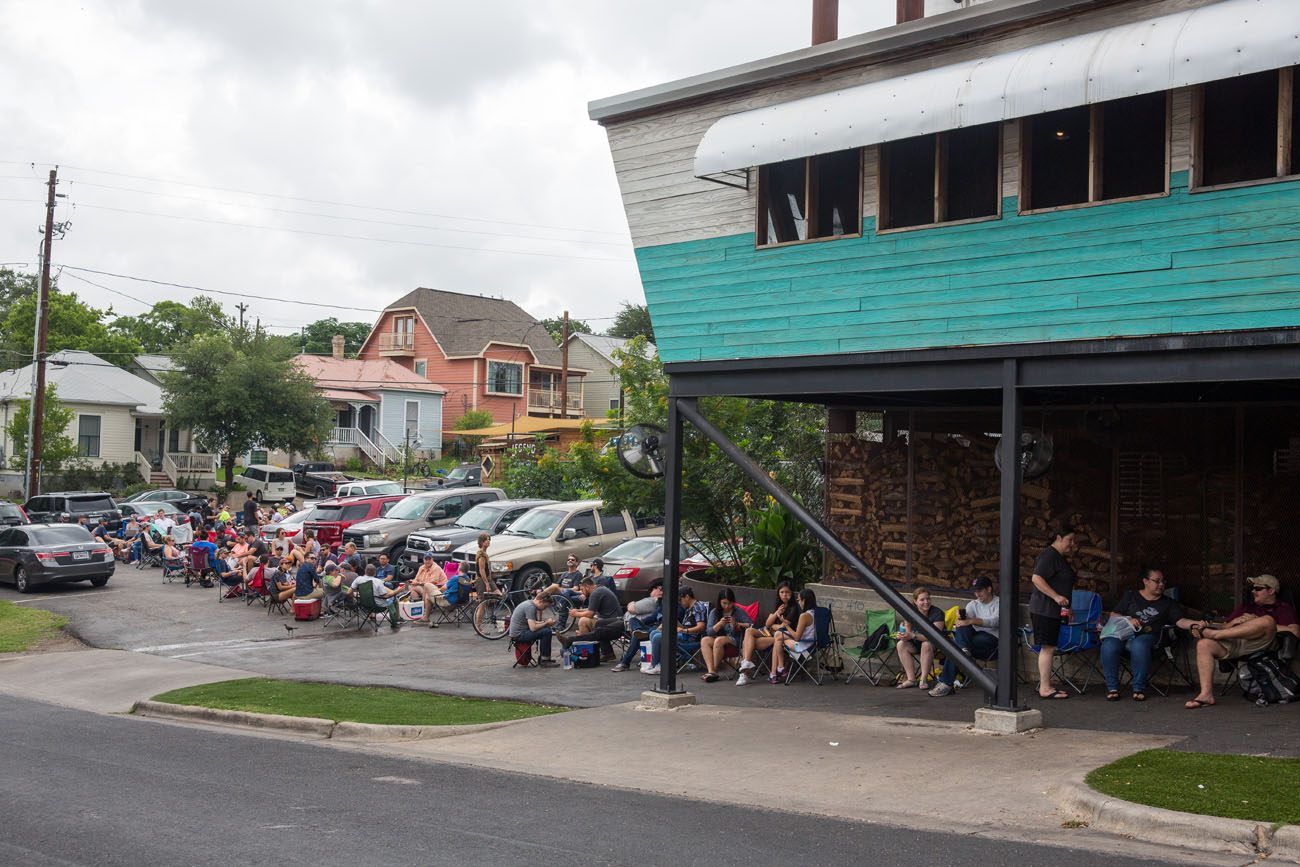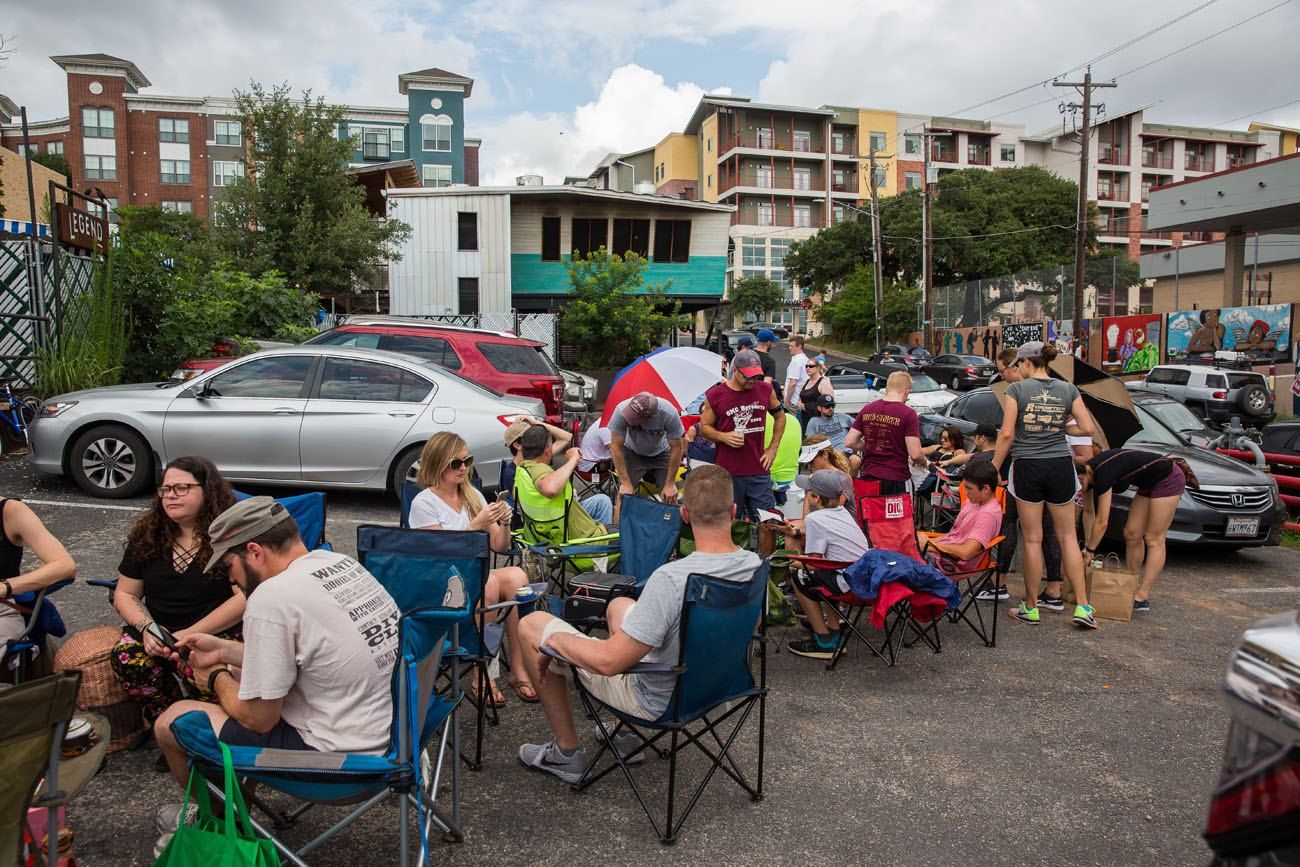 The line for Franklin Barbecue | Best Things to do in Austin
We were one of the last people in line before the Franklin Barbecue staff "closed" the end of the line. They seem to have a pretty good handle on how many people they can feed before they run out of barbecue.
And run out of food they do. Every day they sell out during the early afternoon hours.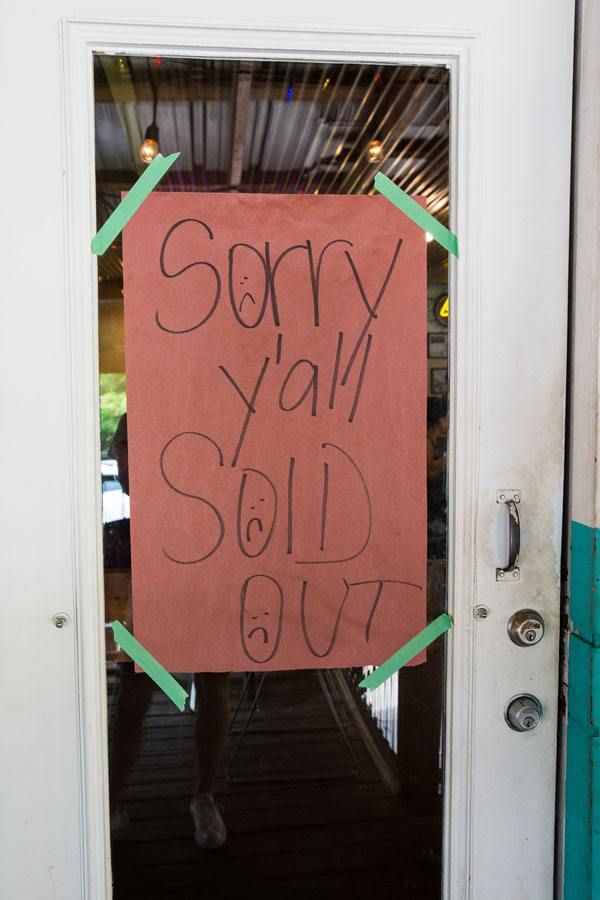 Franklin Barbecue officially opens for lunch at 11 am. People arrive as early as 5 am to be at the front of the line. Most people arrive between 7 and 7:30 am. Once the line has about two hundred people in it, the staff hands the last person a sign. Beyond this person, they can't guarantee that barbecue will be left for people who arrive later in the morning.
Franklin Barbecue has chairs and umbrellas that you can use while you wait. There's a coffee shop, bathrooms, and Franklin Barbecue sells beer that you can drink while you wait in line. They even handed out mini barbecue sandwiches at noon to those of us still waiting in line.
At 11 am, we started slowly inching forward, finally getting served at 2 pm. Yes, we waited five hours for brisket, smoked turkey, pulled pork, and sausage.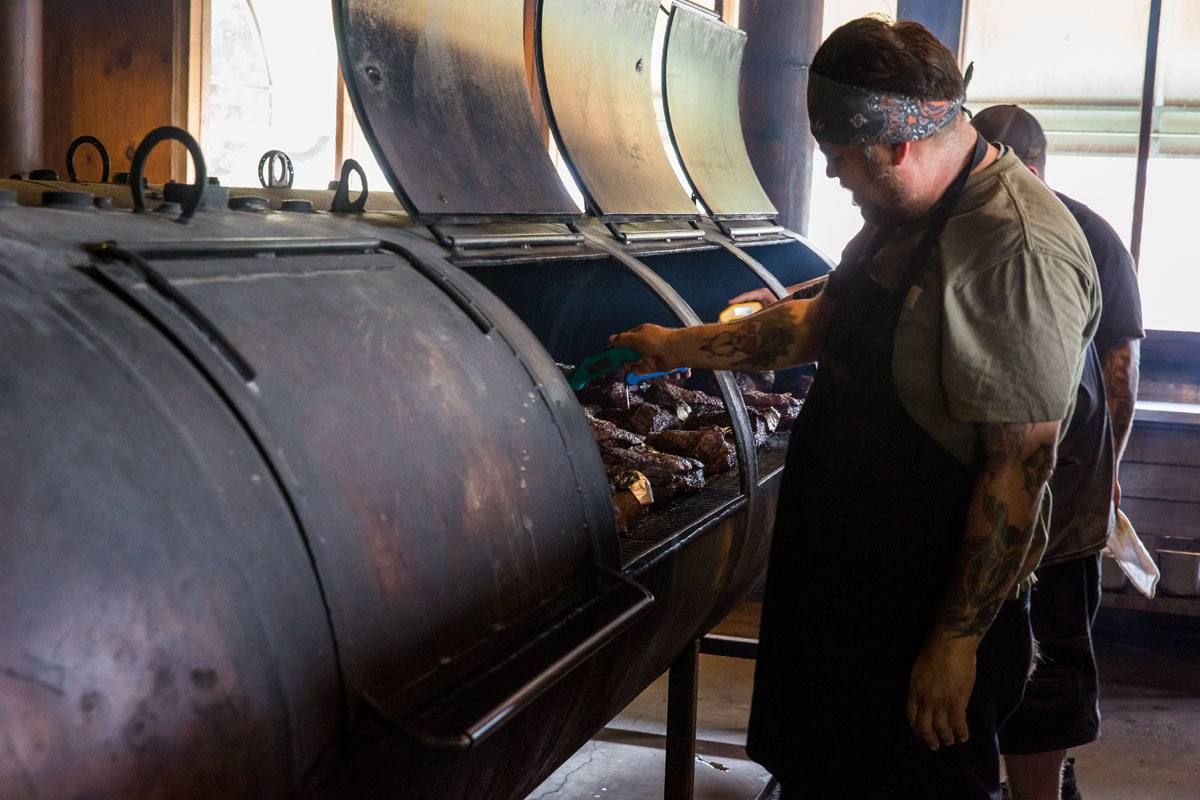 Cooking the brisket | Best Things to do in Austin
So, how was it? Amazing. Worth the wait.
Before deciding to do this, you need to know that waiting in line is part of the experience. So, bring your fold up chairs, your cooler full of beer, and your friends and join the party.
This was one of our favorite experiences while in Austin.
Franklin Barbecue is closed on Mondays. They also close several times per year for their annual vacation (August 1 to 10) and holidays. Visit their website for more information.
#6 Visit Austin's Swimming Holes
If it's summertime, cool off in one of Austin's swimming holes. In town, there is Barton Springs Pool, located in Zilker Metropolitan Park. This large, natural pool has a diving board and lots of space to lounge in the sun.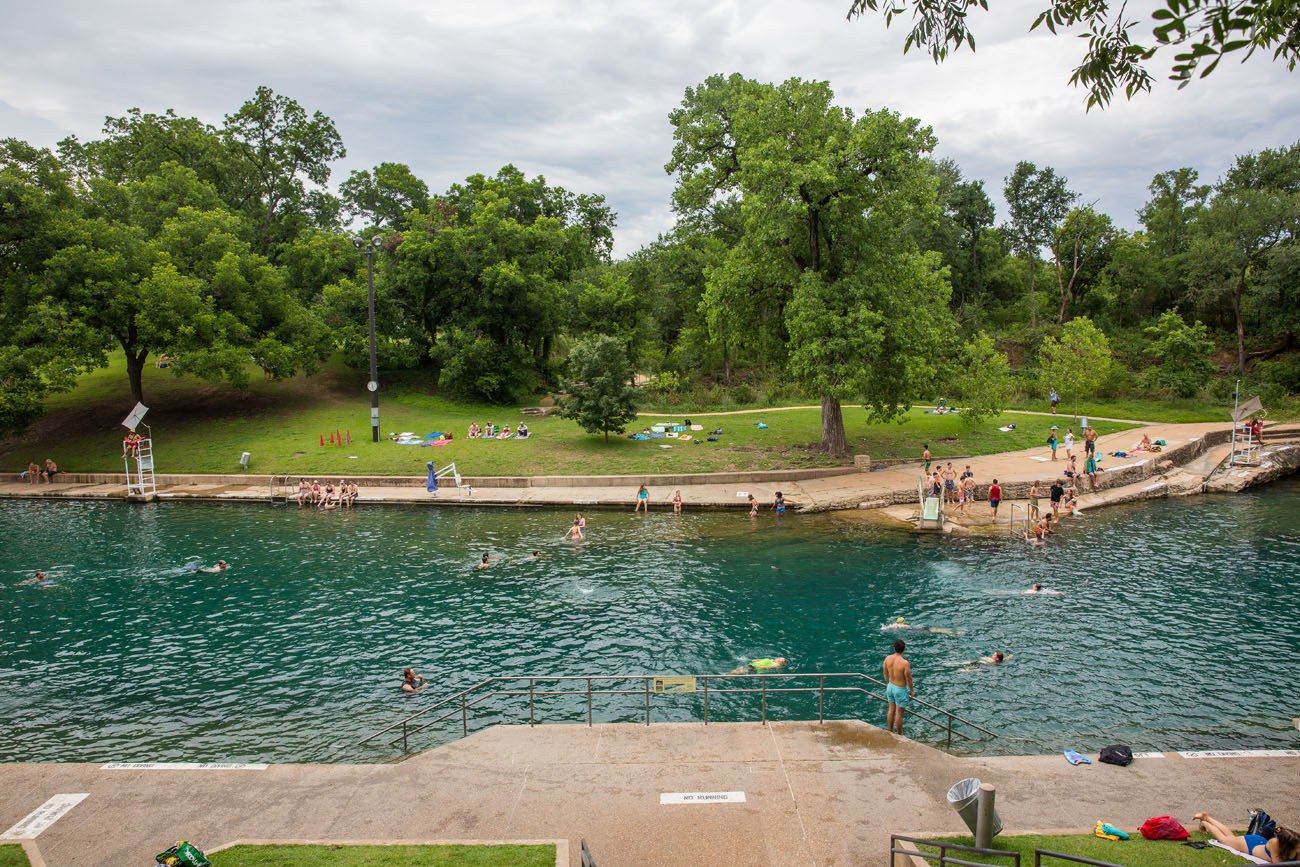 Hamilton Pool Preserve | Best Things to do in Austin
We heard great things about Hamilton Pool Preserve and they sell a limited number of tickets to keep crowds low. At the beginning of June, they were sold out for the next two weeks. This swimming hole can also close for high bacteria levels when the weather has been very warm. Click here to learn more and to reserve your tickets.
#7 Take in the View from Mount Bonnell
Mount Bonnell is the highest point in Austin. Drive up to this small park for a view over the city.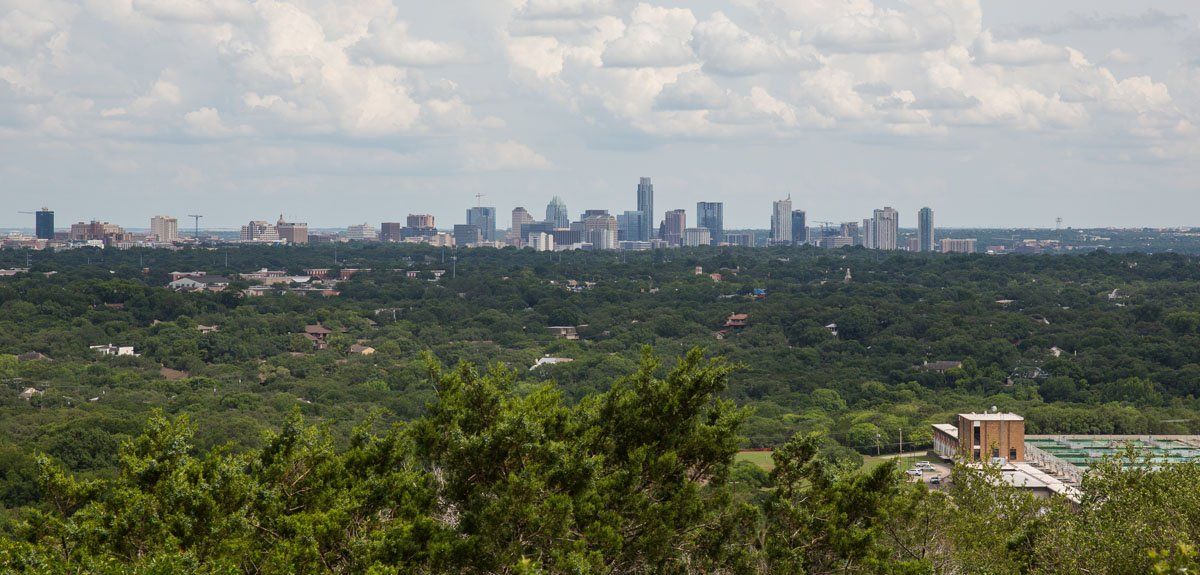 Mount Bonnell | Best Things to do in Austin
#8 Have a Drink at the Driskill Bar
The Driskill is a landmark in Austin. This hotel has a bar that is a popular spot to go and have a drink and enjoy some live music.
#9 Watch as the Bats Take to the Sky
Every night over one million bats fly out from underneath the South Congress Bridge and take to the sky. It seems like this is on everyone's list to see, since there are hundreds of people gathered on the bridge, in the parks along the water's edge, and on boats and kayaks on the river.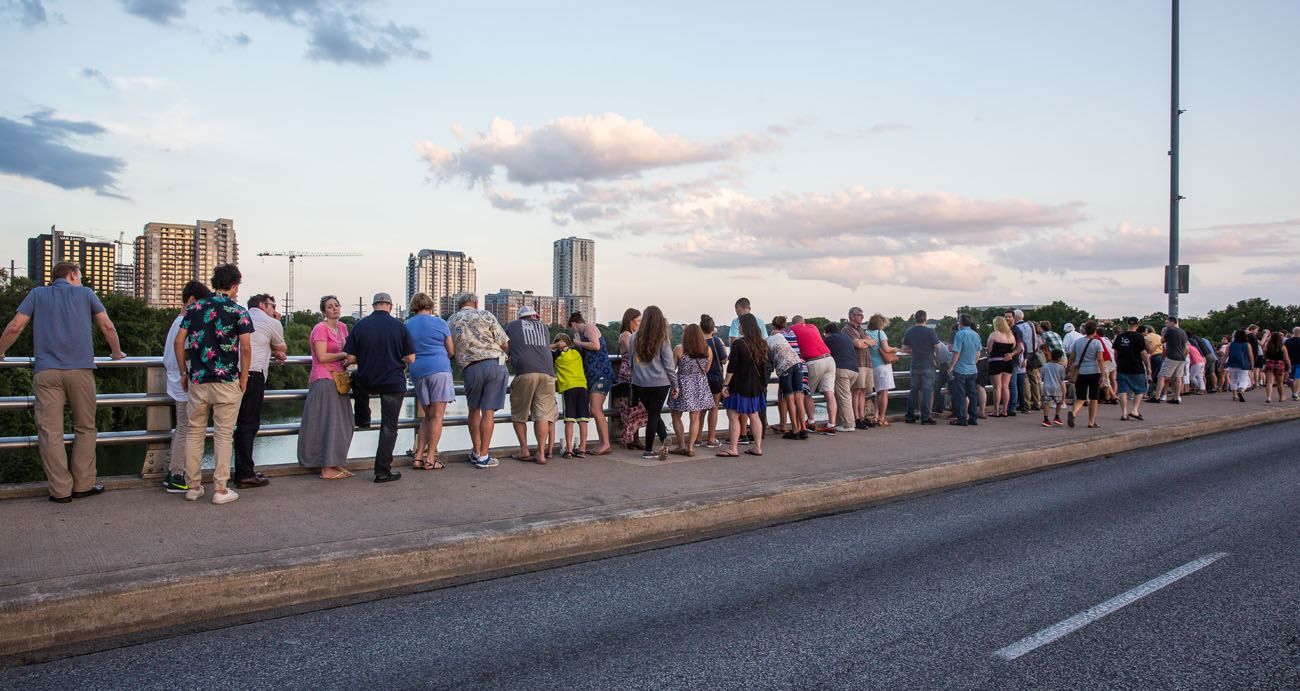 South Congress Bridge, early in the evening. Crowds were four people deep by the time the bats made their appearance.
We arrived at 8 pm, getting our spot on the eastern side of the South Congress Bridge. During the next 45 minutes, the bridge filled with curious tourists like us, and kayaks and small cruise boats got in position on Lady Bird Lake. Sunset was at 8:30 and at 8:50 pm the bats made their appearance.
Tim and I imagined thousands of bats pouring out from the length of the bridge, filling the sky. Instead, they all left in a thin stream at the far end of the bridge. We could see them, barely, off in the distance, as their silhouettes appeared in the distant sky.
For us, it was a letdown, but maybe our expectations were too high. I'm glad we did it, but it's a been there done that kind of thing. Maybe the view is better from down on the water, if you don't mind risking being air bombed by guano.
The bats make an appearance from early March to early November (in the winter they are in Mexico). The best months to see the bats are in late July and August, when the adults and the babies take to the sky.
#10 Go Bar Hopping
Austin has several neighborhoods popular for their late night scenes.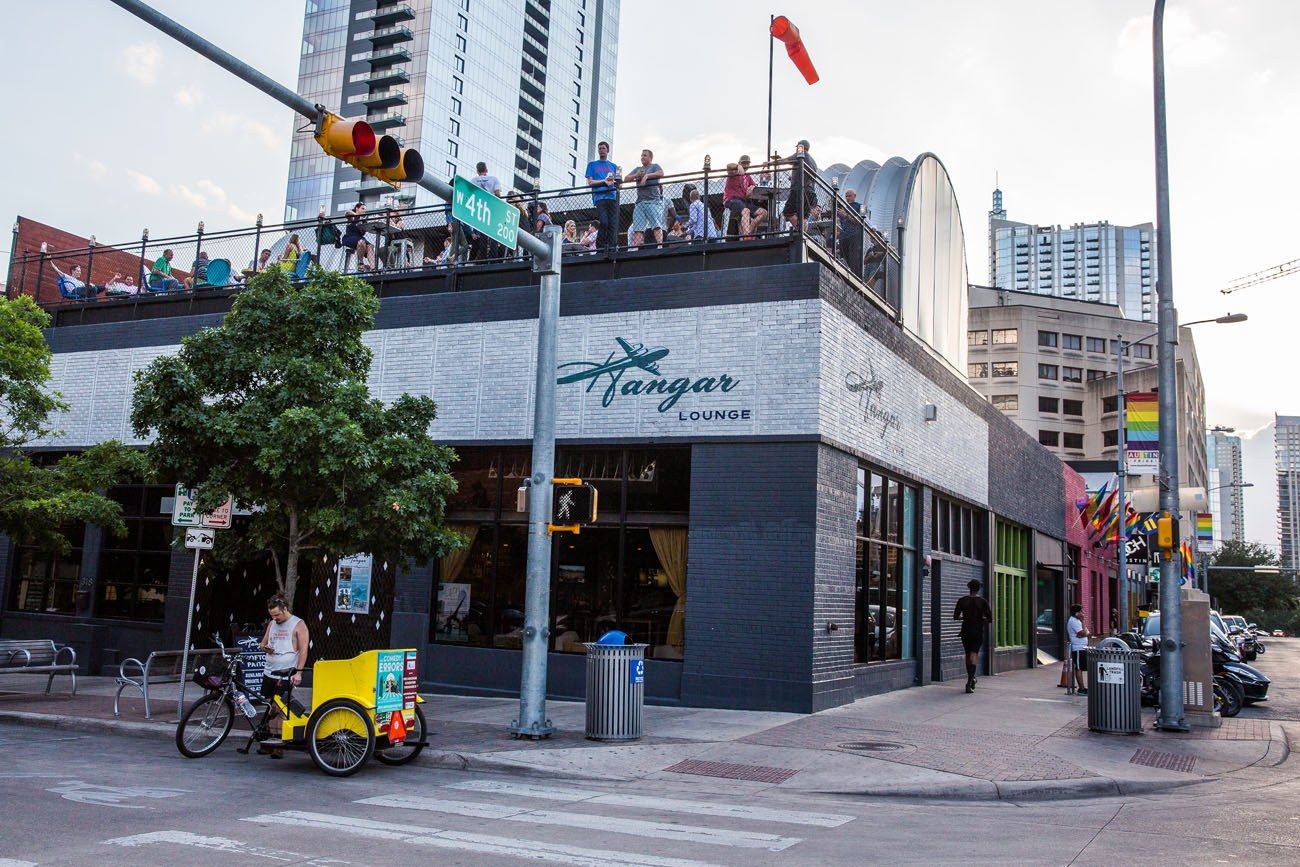 Sixth Street feels a lot like Bourbon Street in New Orleans. It's a pedestrian-only street during the late night hours, popular with college kids.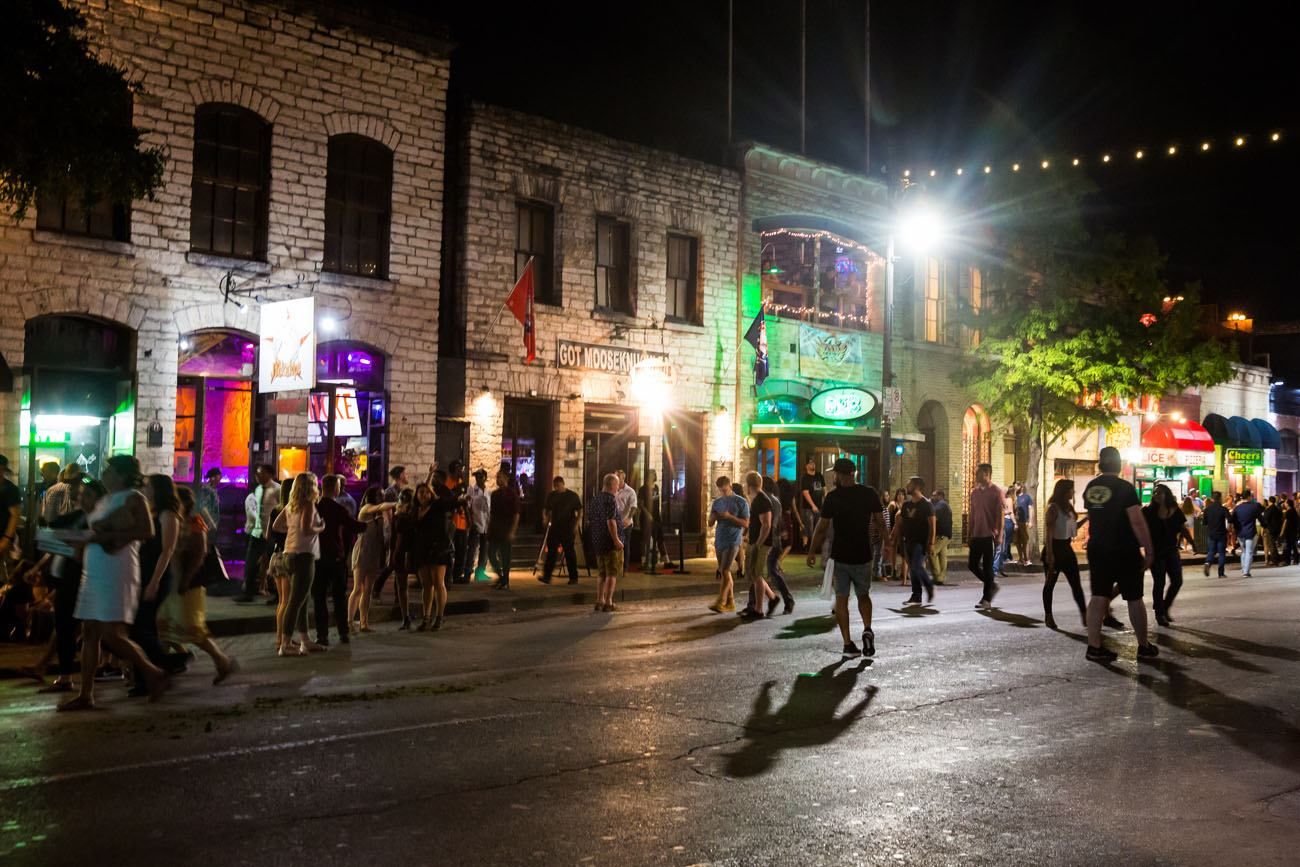 Sixth Street | Best Things to do in Austin
Rainey Street is another funky neighborhood in Austin. It still gets a young crowd, but there are some mellower joints and great restaurants if you don't want the loud, dance club vibe. We loved Banger's, with the best sausages ever and over 100 beers on tap.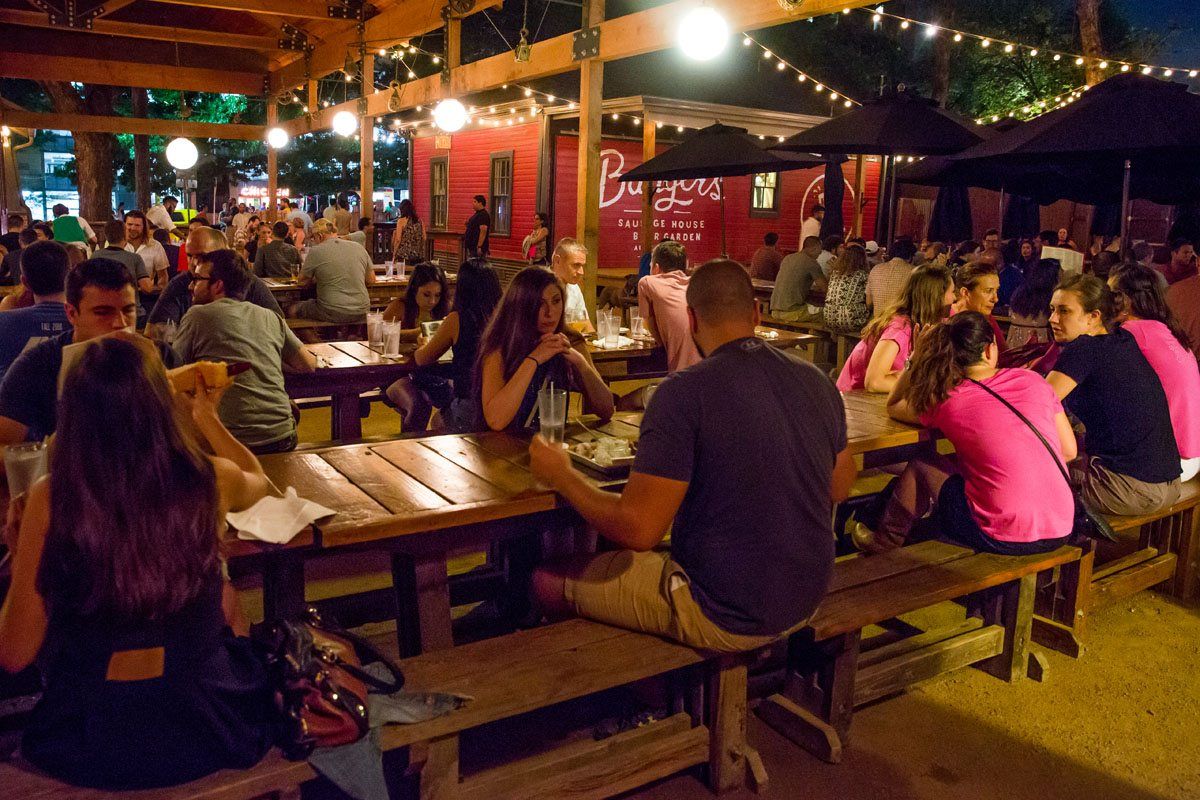 Bangers Sausage House | Best Things to do in Austin
East Sixth Street is growing in popularity. This was recommended to us by Austin residents we met in line at Franklin Barbecue, but Tim and I ran out of time and never made it out this way.
#11 Check out the State Capitol Building
Austin is the capital of Texas. You can take a self-guided tour or a group tour of the Capitol Building. Tours are free and offered daily except for major holidays.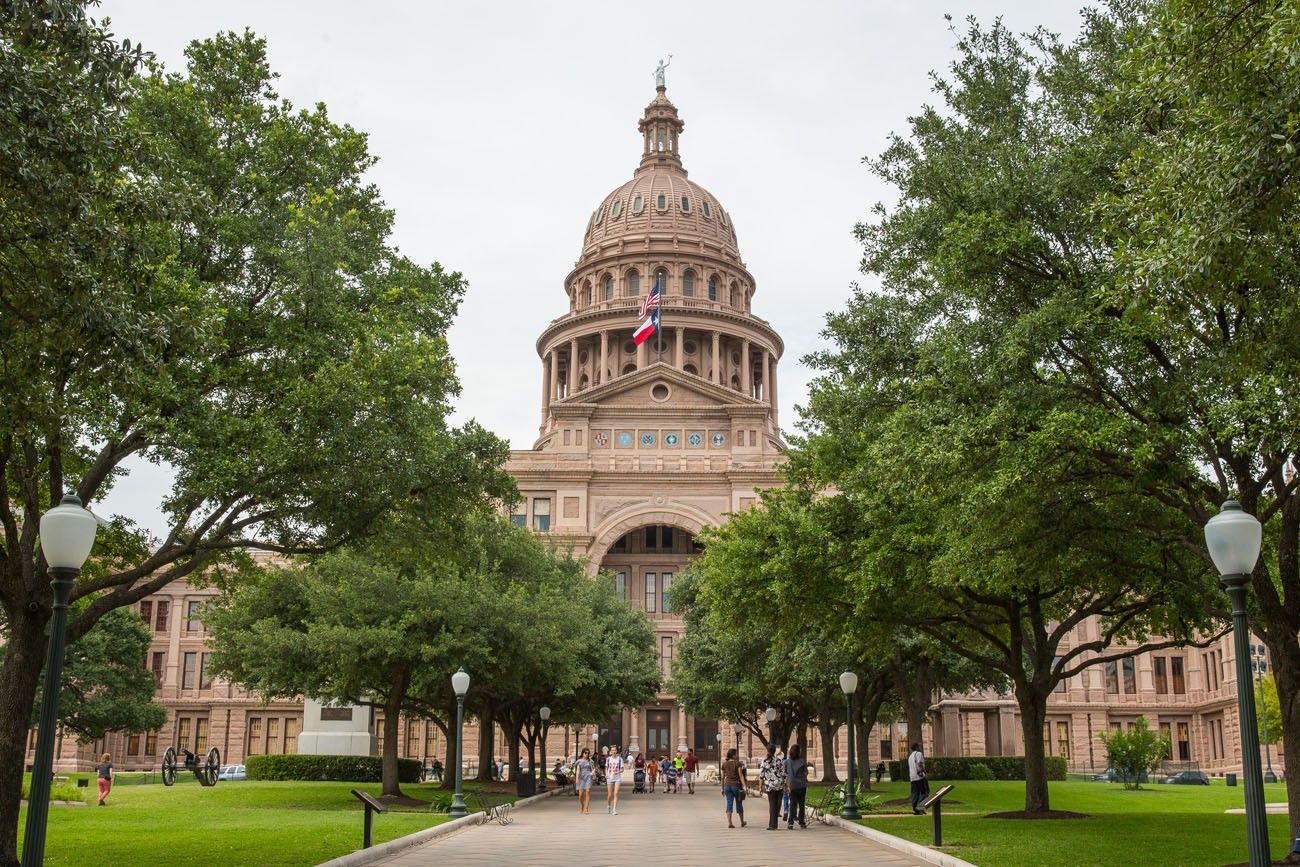 For more information, click here.
#12 LBJ Presidential Library
If you have an interest in history, this is a must-see. Take a step back in time to the 1960's and learn about the legacy of President Lyndon B. Johnson.
Plan your visit: LBJLibrary.org
#13 Get Nostalgic at Pinballz
If you need a break from the sightseeing, barbecue, and live music, how about a few hours playing old and new pinball games? With original games dating back to the 1970's and 1980's, Tim and I felt like kids again, with games like Centipede and Space Invaders and old pinball games we used to play when we were much younger.
Pinballz | Best Things to do in Austin
Pinballz has a good mix of old and new games. This is a small place located on the outskirts of town. For us, it was one hour of pure fun.
Tours of Austin
Here are several more ideas of how to spend your time in Austin, Texas.
---
If you have any questions about the best things to do in Austin, or if you want to share your experience, let us know in the comment section below.
More Information about Texas
AUSTIN & SAN ANTONIO: Learn about where to eat in our Austin Restaurant Guide. If San Antonio is on your list, learn how to spend 24 Hours in San Antonio.
BIG BEND NATIONAL PARK: Check out our Big Bend National Park Travel Guide for important travel information, sample itineraries, and how to plan your visit. Don't miss our article Best Things to Do in Big Bend for great things to do in the park.
GUADALUPE MOUNTAINS: Read our article Best Things to Do in Guadalupe Mountains National Park for a full list of things to do, plus important information and helpful tips to plan your visit here.
ROAD TRIP IDEA: Learn how to combine Guadalupe Mountains with White Sands, Carlsbad Caverns, and Big Bend National Park in our 10 day Texas Mexico Road Trip Itinerary.
USA ROAD TRIPS: Planning your next big adventure in the USA? Check our our USA Road Trip Guide for travel ideas and sample itineraries.
Note: This post contains affiliate links. When you make a purchase using one of these affiliate links, we get paid a small commission at no extra cost to you.
All rights reserved © Earth Trekkers. Republishing this article and/or any of its contents (text, photography, etc.), in whole or in part, is strictly prohibited.