Our twelve day tour through Chile and Argentina was quite the adventure.
There were moments we loved and moments we hated. This trip, for some reason, seemed so difficult. Never have we had so many things go wrong in such a short period of time.
We lived some of those travel horror stories that you hear about from other people and hope they never happen to you. Food poisoning, flight delays, and absurd waiting times to cross the Chilean-Argentinian border were just the beginning of our many misadventures.
I am not saying that we did not enjoy ourselves. We did make some awesome memories. Normally we dread flying back to the US, but this time it felt wonderful to step onto American soil again.
Keep reading to learn the good, the bad, and the ugly of our South American travels.
12 Days in South America
Day #1 Fly to Santiago, Chile
Our travels began at 6 pm with our first flight from BWI Airport to Atlanta. This flight, which normally takes an hour and a half, became a lot longer than that. Thunderstorms in the area delayed hundreds of flights arriving and departing Atlanta. After circling above the Atlanta airport three times we were redirected to Columbia, South Carolina for refueling. We finally landed in Atlanta at 11 pm. Fortunately, we were able to make our connecting flight to Santiago, Chile, which departed four hours late at 2 am.
Little did we know that this first flight would set the tone for the rest of the trip. We were constantly plagued by minor misadventures and unfortunate circumstances for the next eleven days.
Day #2 Arrive in Santiago, Chile
We arrived in Santiago on a very quiet Friday afternoon. It was the beginning of Easter weekend and the city was almost a ghost town. The four of us spent the day in a foggy, tired state and had very little motivation to get up and do anything. We did manage to get to Barrio Bellavista, one of Santiago's most colorful neighborhoods, for a bite to eat.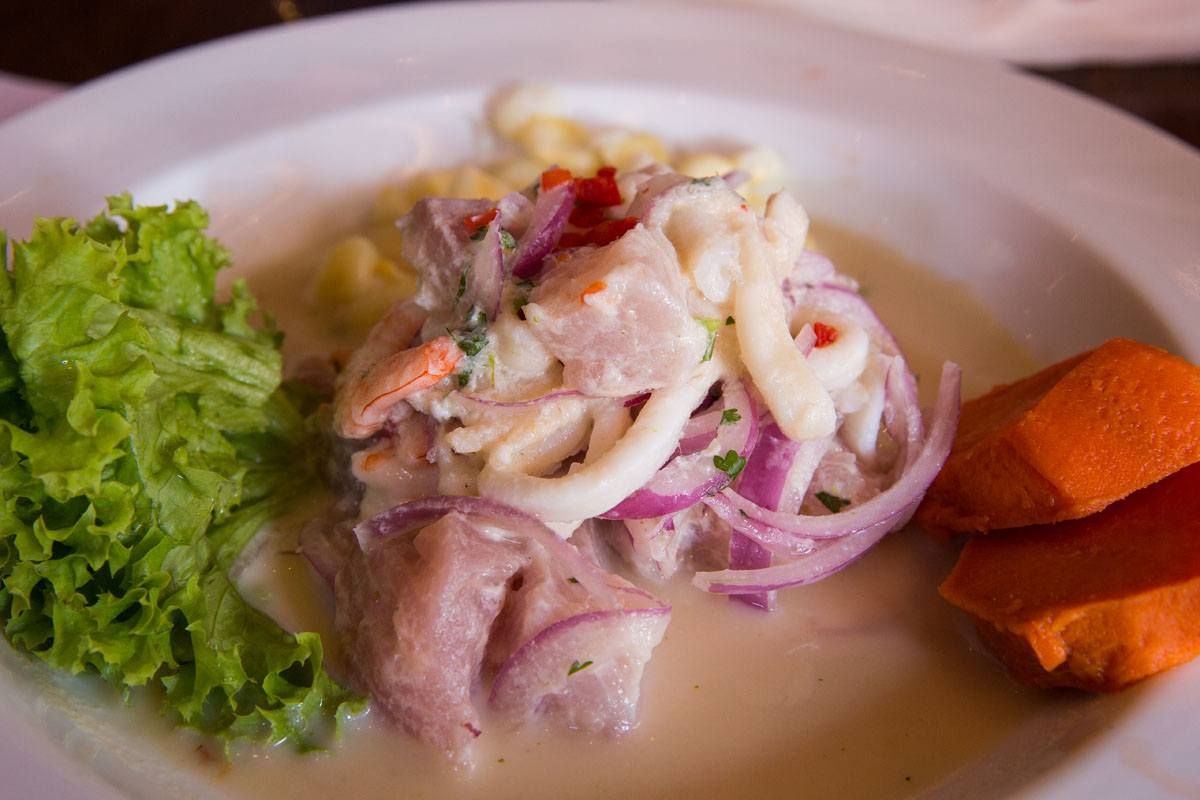 Here's a tip for traveling in Santiago: eat the Peruvian food. There is a large population of Peruvian immigrants in Chile and they have brought with them their exquisite cuisine. You can find very good, very cheap Peruvian food in Santiago and while we were here we ate as much as possible. Eat the ceviche and drink the pisco sours!
Tonight, it was an early bedtime for all of us. The real sightseeing begins tomorrow.
Where We Stayed in Santiago
We stayed in Santiago at Hostel Rio Amazonas. This hostel is wonderful. Take your pick from a single room, rooms with two twin beds, and rooms that accommodate three and four people, perfect for families or groups. Rio Amazonas is located in central Santiago, within walking distance of restaurants and many of the most popular sites in Santiago. If you are traveling on a budget, take a look at this property.
Day #3 Maipo Wine Region, Chile
This is when the fun starts! At least for the adults. Don't worry, there are a lot of fun activities planned for Tyler and Kara in the upcoming days.
We picked up our rental car and drove an hour south to the Maipo wine region of Chile. The drive was very easy until it became time to exit the highway. We drove for miles and miles, going way past the winery. For some reason there were no exits on our side of the highway. It was so strange! Eventually, we exited on a gravel and dirt road, something that looked like it had been constructed by the people living in the area. I guess they got tired of not being able to exit the highway, also!
We toured three wineries in Maipo: Viña El Principal, Concha Y Toro, and Viña Santa Rita. Visiting wineries in Chile and Argentina is different than in other countries. Most wineries here require visitors to schedule a tasting or a tour. The charge is usually $15 to $25 per person for this visit. It makes visiting the wineries more difficult because you have to figure out your schedule ahead of time and then stick with it. Yes, we learned a lot about the wine making process, but we prefer the Australian and South African experience that requires very little advance planning.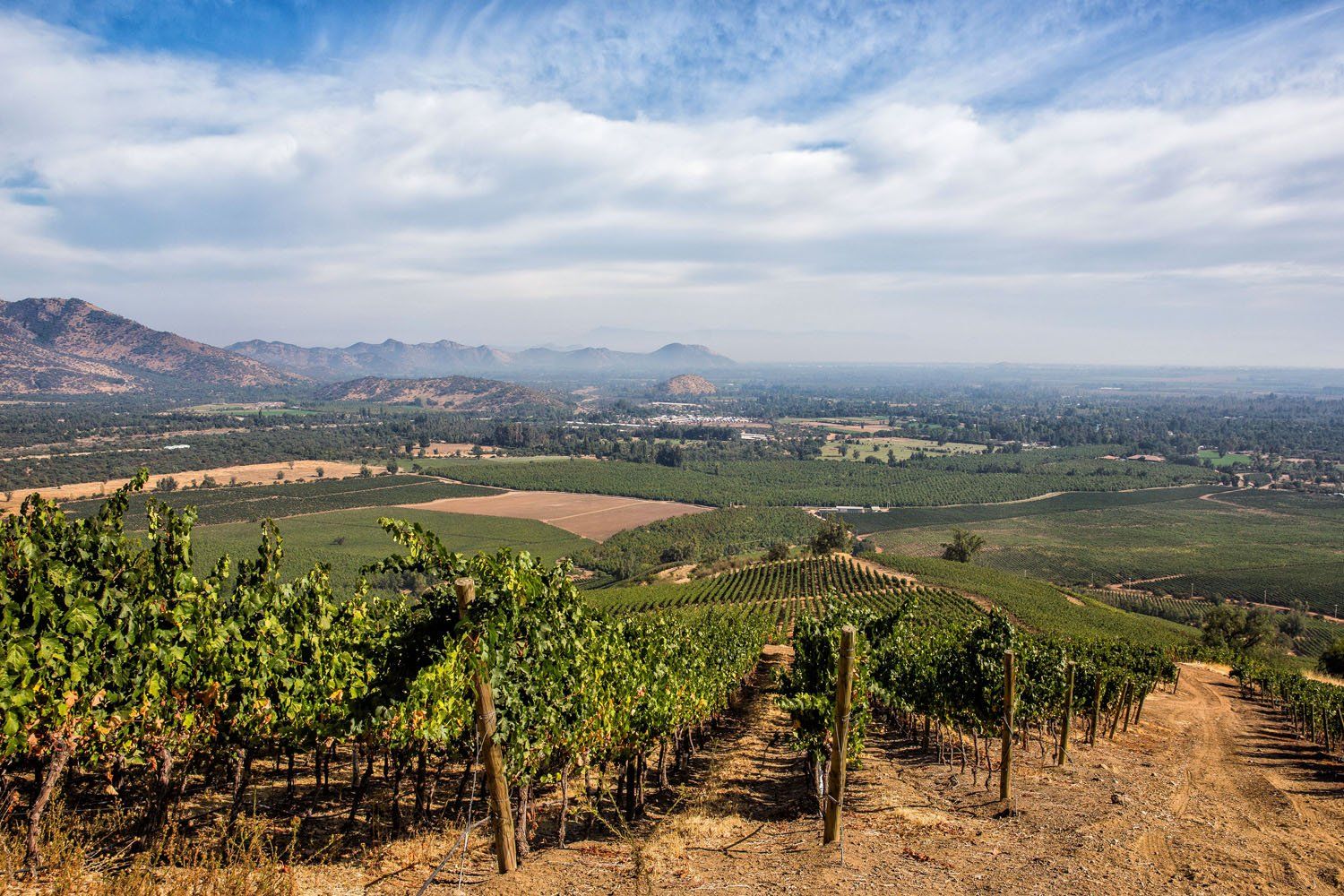 Day #4 Valparaiso and Viña Del Mar
Today was Easter Sunday. Santiago was still a ghost town. We drove an hour and a half to Valparaiso, stopping at the Veramonte winery for a wine tasting and a quick view of Casablanca Valley.
The four of us wandered the quiet, almost deserted streets of Valparaiso. It was a cloudy, gloomy day which may have been why Valparaiso did not live up to our expectations. Other travelers have raved about this very colorful city but we just weren't getting that same vibe here.
For more on our experiences in Valparaiso, read our post Photographing Valparaiso.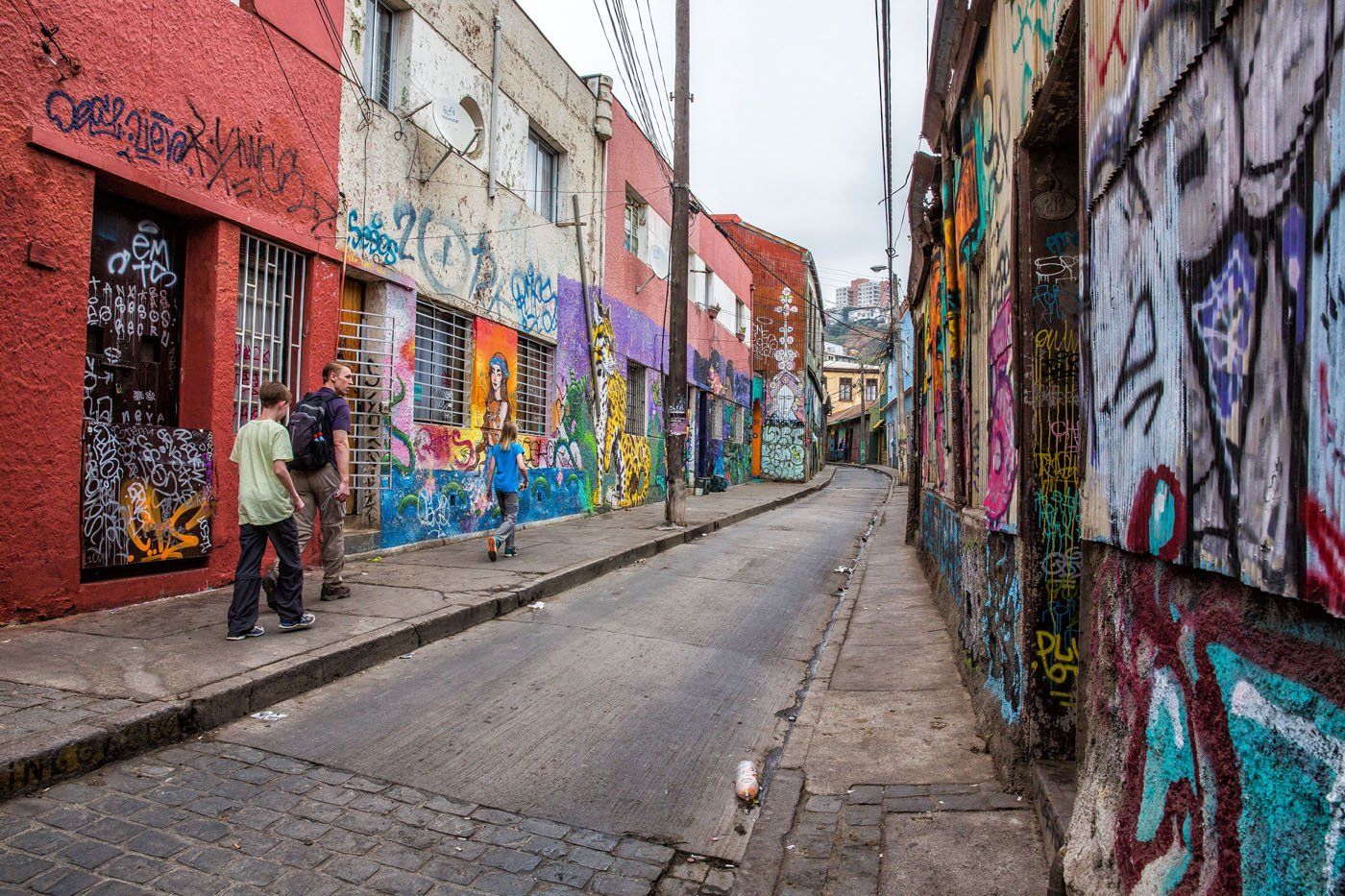 After our quick tour of Valparaiso, we drove fifteen minutes to Viña del Mar, a city we liked much more than Valparaiso. Viña del Mar is cleaner, livelier, and more upscale than Valparaiso. We ate more Peruvian food here which was delicious!
The drive back to Santiago was a nightmare. Hundreds of people were re-entering Santiago, causing a backup of epic proportions on the highway. We bypassed the highway, taking windy backroads instead, and it still took us over three hours to get to our hostel. It was torture but we did get to see some of the beautiful countryside that we would have missed from the highway.
Day #5 Drive over the Andes Mountains to Mendoza, Argentina
This was the day Tim and I were the most excited for…the drive over the Andes Mountains. It just seemed like such a cool, adventurous thing to do. And yes, this did live up to our expectations. Actually, the drive was so stunningly beautiful, it blew away our expectations.
Without including pit stops and the time to go through Immigrations at the border, the drive is estimated to take 5 hours. The entire drive, stops included, took us ten hours. We stopped for gas at a small town just north of Santiago, and this time we could not find an entrance ramp to get back onto the highway heading north. All entrance ramps only led south, back to Santiago. It was incredibly frustrating but eventually we found a way onto the highway heading in the correct direction.
The roads up into the Andes on the Chilean side are in very good condition. The views of the mountains are amazing.
Once we crossed into the Argentinian side we had to wait in a very, very long line of cars to get through Immigrations. The process is so inefficient and it took us two and a half hours to get our passports processed. That was by far the longest border crossing we have ever had to do, and we have done quite a few overland border crossings. We heard legendary tales from other travelers about wait times as long as six hours, making our two and half hours seem like nothing. Ha ha! Keep reading!!
The real beauty of the Andes, at least in this section of South America, lies on the Argentinian side. Oh my, these mountains are amazing. It was hard to make any real progress because we kept stopping to take photos. Even Kara was capturing the scenery on her iPod. All four of us stared up at these gorgeous mountains, in awe of what we were seeing. Despite the long border crossing, this drive was absolutely worth it.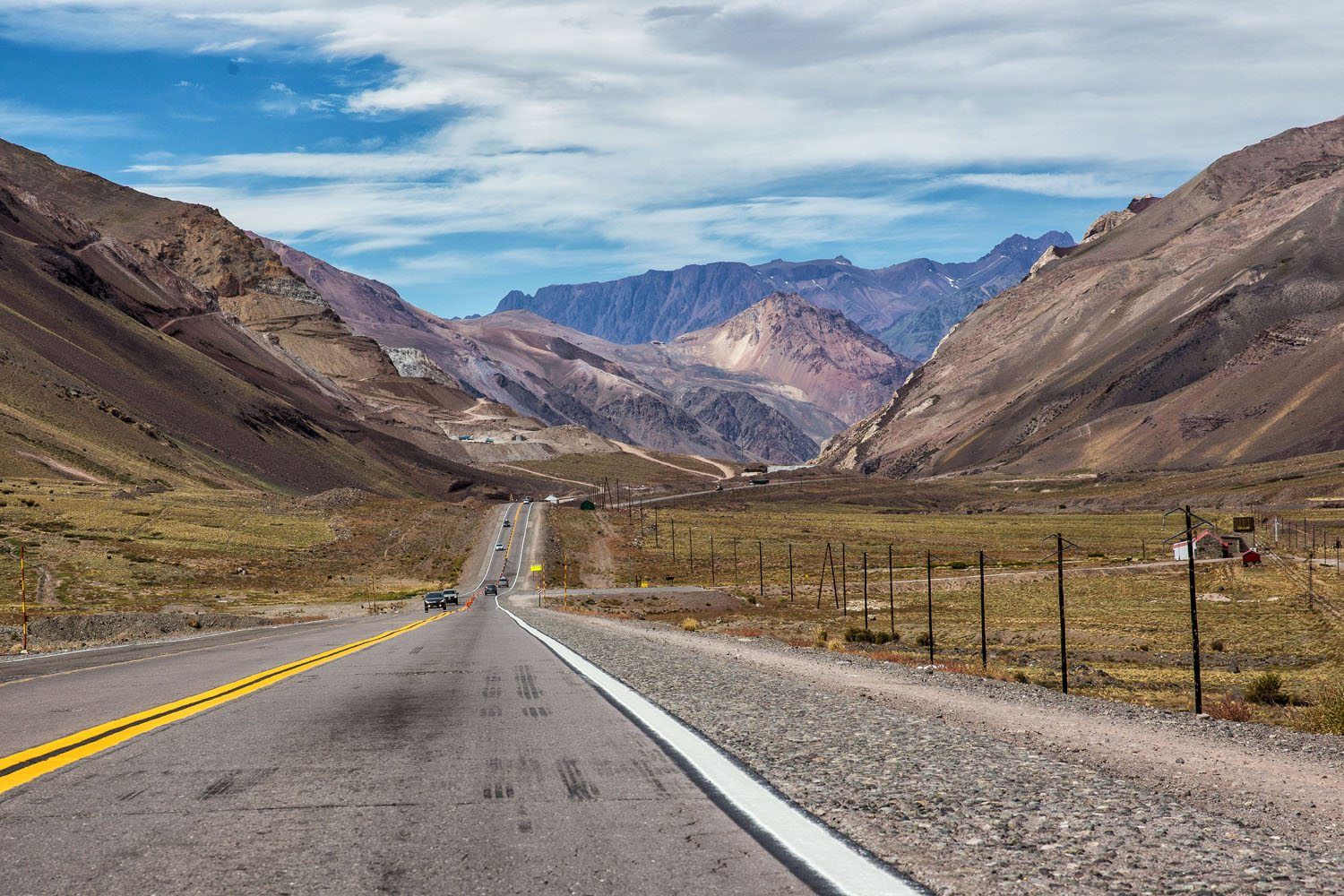 We arrived into Mendoza at 8 pm, checked into our hotel, and got settled.
Where We Stayed in Mendoza
We stayed at El Encuentro en Chacras de Coria in Chacras de Coria, Mendoza. This small, boutique hotel has a great location just outside of the main bustle of Mendoza. The staff is extremely helpful and can assist you with scheduling wine tours and activities. If you do not get enough wine during your tours and five course meals, the hotel has a wine cellar and a fantastic common area to relax in at the end of the day.
Day #6 Maipu and Lujan de Cuyo Wine Regions
Today was a low key day where we toured several wineries in the Maipu and Lujan de Cuyo wine regions around Mendoza. Our favorites were Clos de Chacras and Bodega Ruca Malen.
At Ruca Malen, we ate a five course meal paired with a wine tasting while sitting on the edge of the vineyard. The food, the wine, and the views were amazing. Tyler and Kara loved this lunch…the food was fantastic and this was totally different from our typical budget meals we tend to eat while traveling. Ruca Malen was something special.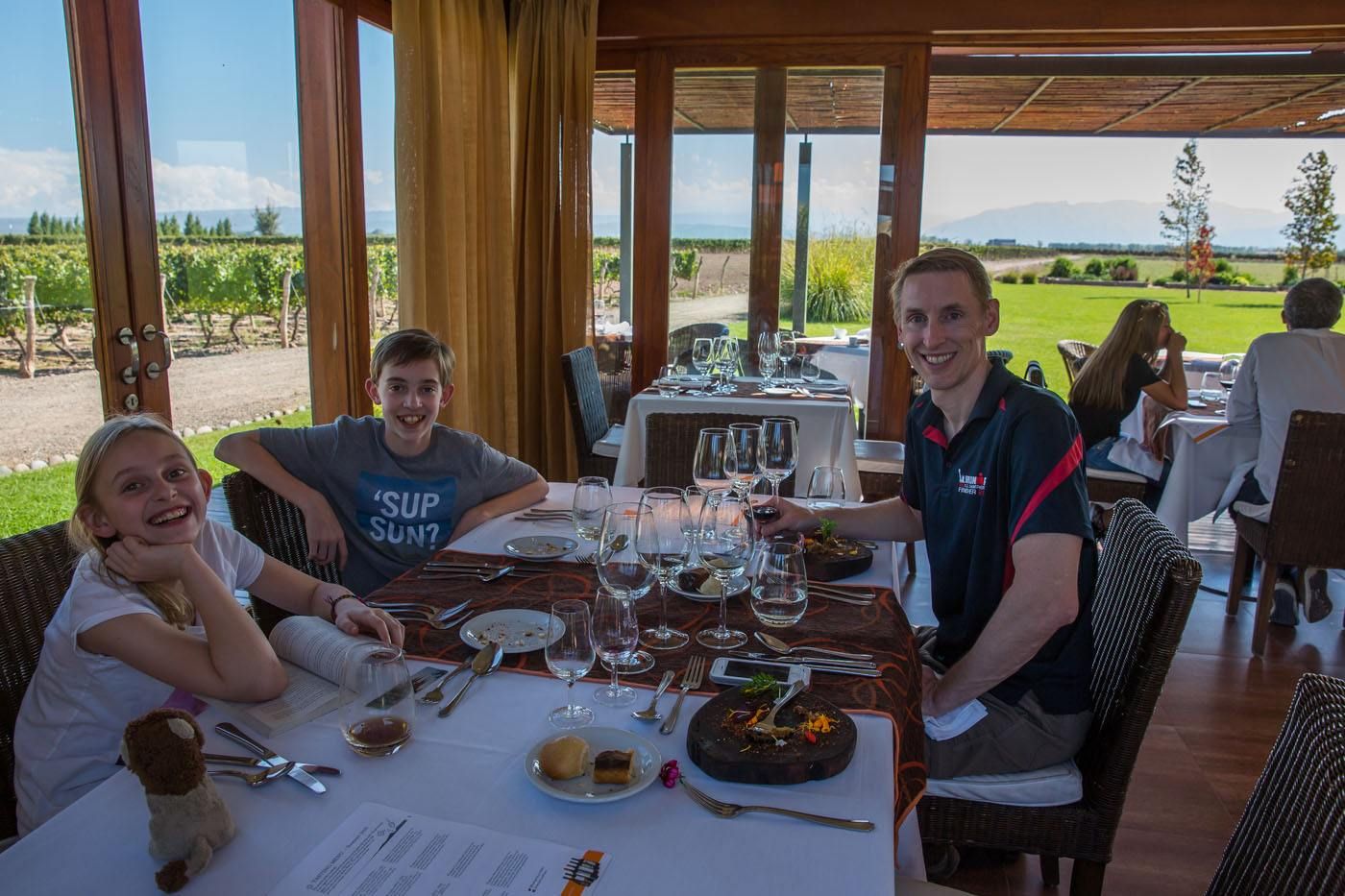 The area around Mendoza is beautiful. Not too far off in the distance are the Andes Mountains. It was autumn while we were here, with temperatures in the 70's or low 80's, and the leaves on the trees were just beginning to change to yellows and oranges. It is also harvest season at the wineries, so the grapes are ripe and purple and the wineries are a hubbub of activity.
The end of March into early April is a spectacular time to visit the wineries around Santiago and Mendoza.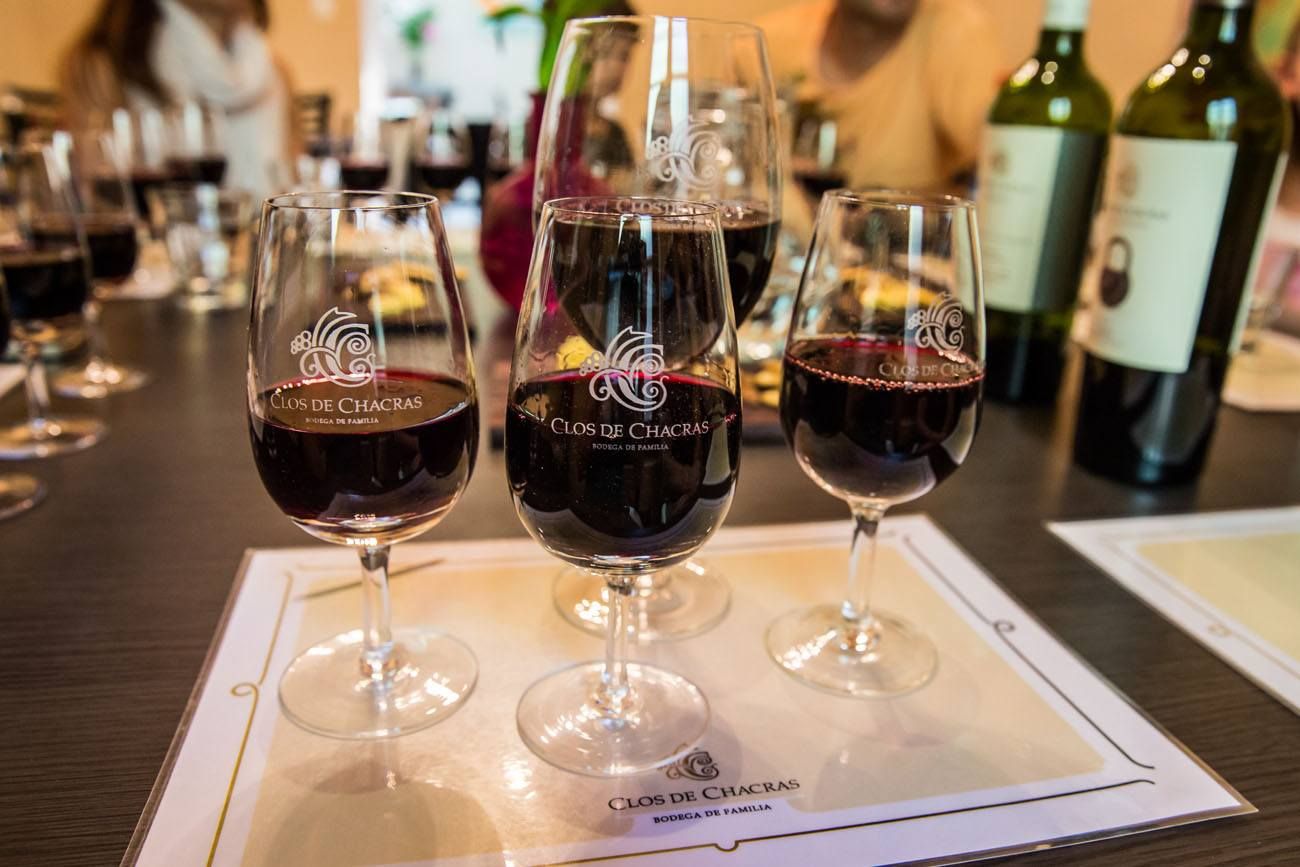 Day #7 Rock Climbing with Andes Vertical
We spent a full day rock climbing near Mendoza. We hired Andes Vertical, one of the most popular trekking and rock climbing companies in the area. Frederico was our guide and instructor for the day and we all had a blast. Kara got a chance to show off what she has been learning during her rock climbing classes and she did great. This day was just pure fun for our entire family.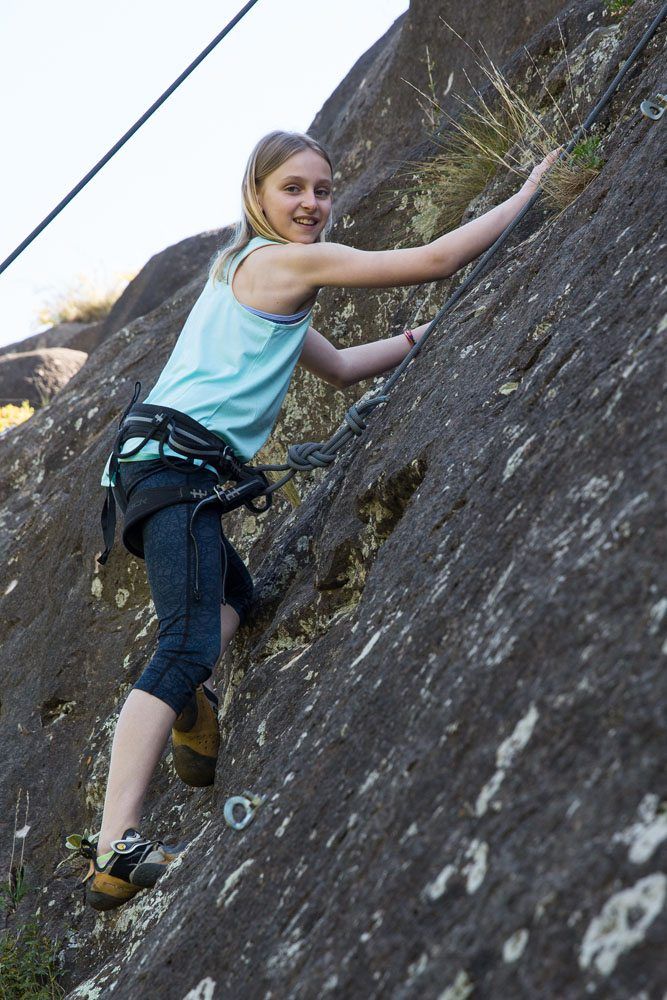 Day #8 White Water Rafting and Horseback Riding
Let the adventure activities continue! We went white water rafting on the Mendoza River with Potrerillos Explorer and loved every minute of it. Angelo, our guide, is from Australia, and talking with him we almost felt like we were back in Queensland again. Tyler and Kara have previously gone white water rafting in Bhutan but it was the dry season and the rapids were small. That was the perfect introduction for them. Today, we rafted class 3 rapids and loved it. For Tyler, this was the highlight of the trip.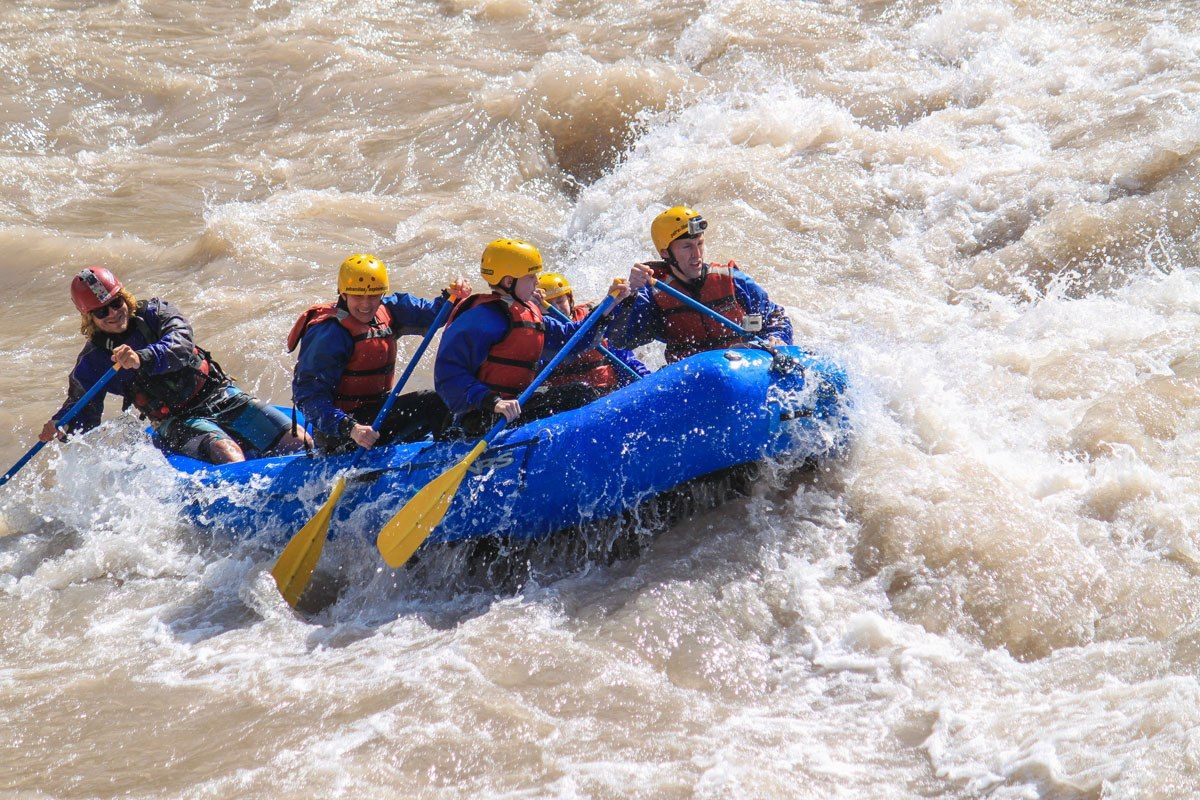 We ended the day with a sunset horseback ride through the hills to the east of Mendoza. As our horses took us up and over the hills, we watched the sunset over the area. For dinner we ate asado beef, drank lots of wine, and listened and sang along as our host played music on his guitar.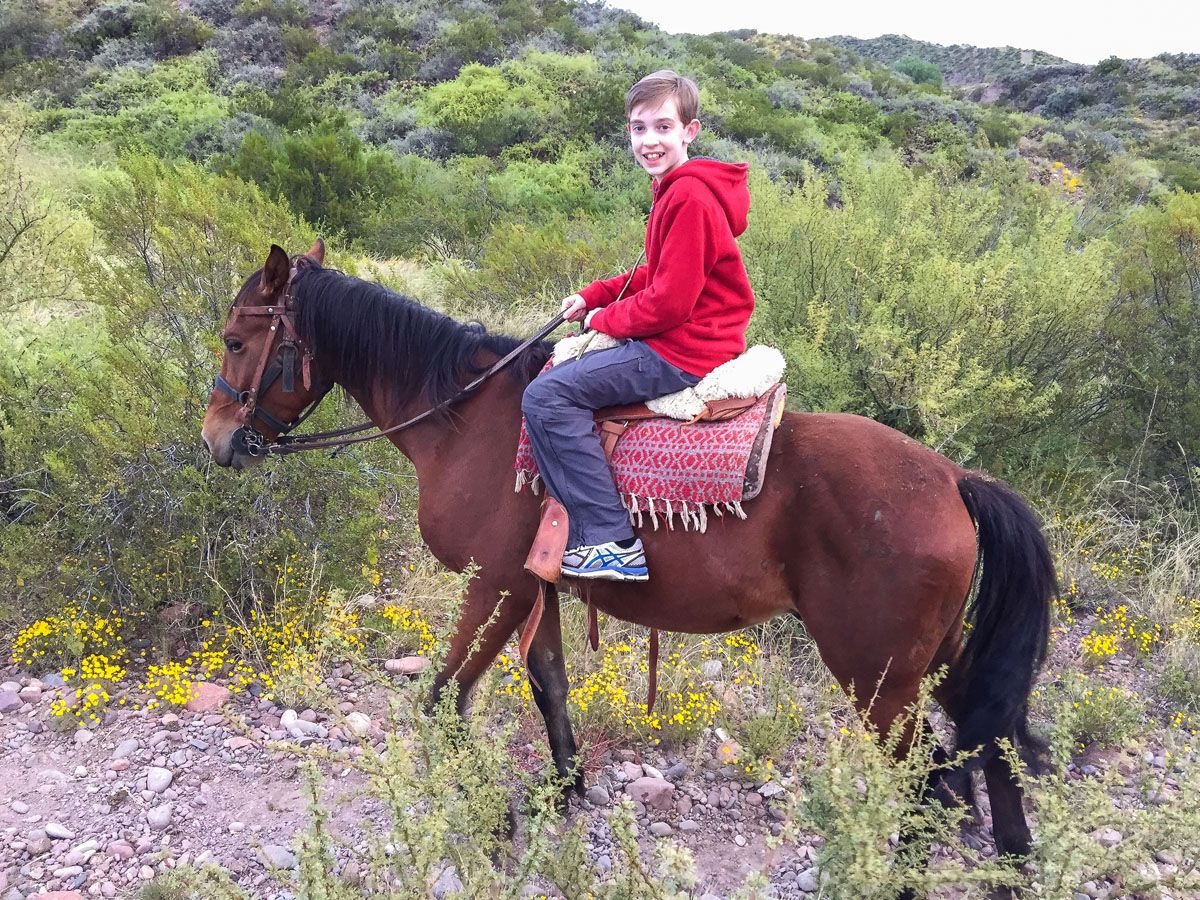 It was a long but very fun day for all four of us.
Day #9 Uco Valley Wine

Region
Valle de Uco is the best wine region in Mendoza, Argentina. It is also the least visited because it is over an hour away by car. As in Maipo, Chile, all visits have to be scheduled in advance.
This was, by far, our favorite wine region in Chile and Argentina. The area is gorgeous, with the Andes as a backdrop and vines bursting with purple grapes as far as the eye can see. In Uco Valley we toured Andeluna, Salentein, and Domaine Bosquet, with lunch at Bodega La Azul. The entire experience was awesome (and delicious). For wine lovers on a vacation in Mendoza, Uco Valley is not to be missed!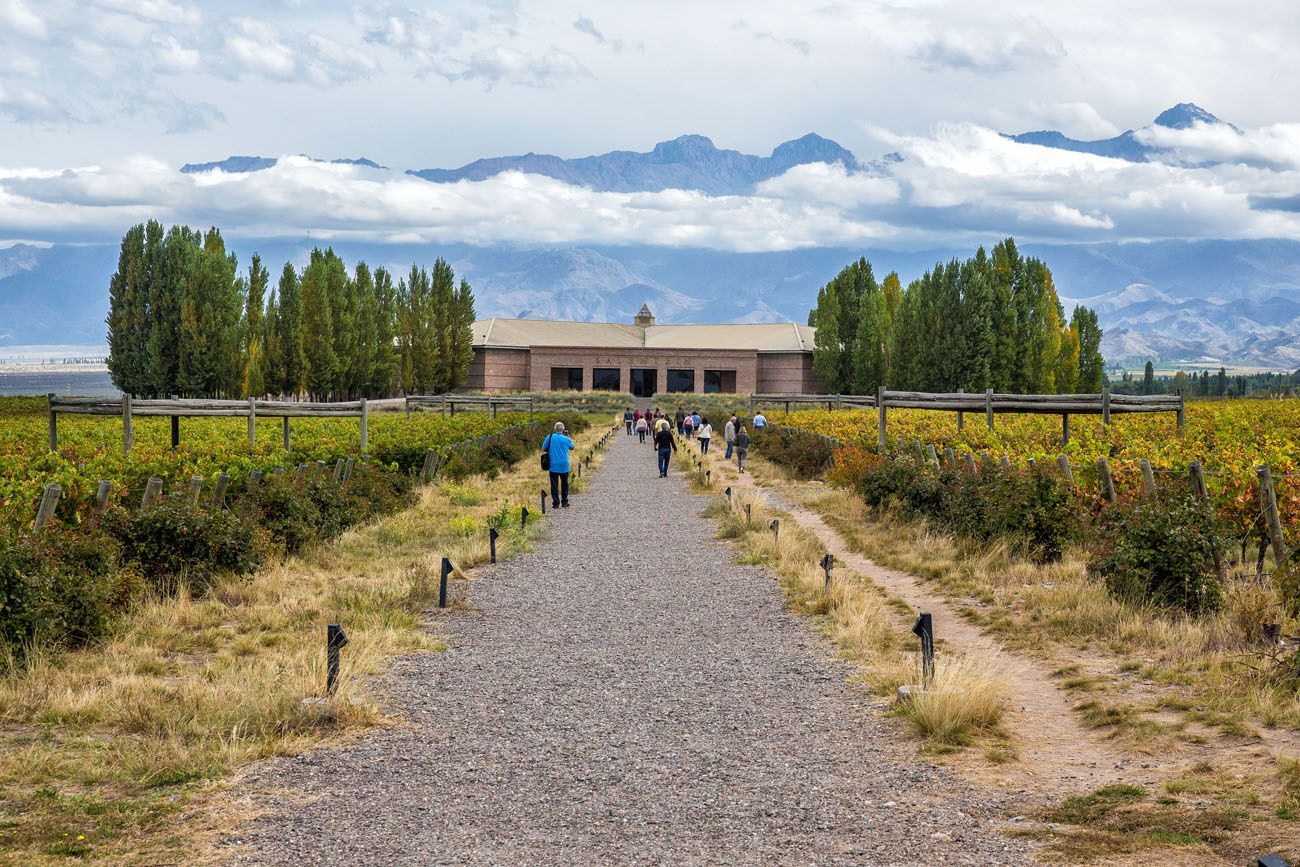 Day #10 Hike to Aconcagua Base Camp and Drive to Santiago, Chile
When planning our days we knew that this day was going to be a long one. But we had no idea how awesome and how frustrating it would turn out to be.
It takes roughly two and a half hours to drive from Mendoza to the Chilean border. Again, we were driving through the amazing Andes in Argentina, and no, we would never get tired of these views. What a gorgeous drive, dare I say one of the most beautiful we have ever done?
The tallest mountain in the Andes is Mount Aconcagua. In fact, Aconcagua is the tallest mountain in both the Southern Hemisphere and the Western Hemisphere. We were told that the best hike to do in this region of Argentina was the hike to Confluencia, the first base camp on the way to the summit of Mount Aconcagua. We were all for it!
The 16 km (10 mile) hike took us three and a half hours to complete. We were hiking above 10,000 feet so we were definitely feeling the effects of the altitude, making us nostalgic for our trek to Everest Base Camp a year and a half ago. This hike truly is epic. We got more of those amazing views of the Argentinian Andes and Mt Aconcagua. With the hiking and climbing season coming to an end, we saw only three other people on the trail and two of them were park rangers. For avid hikers, this is definitely one to put on your list!!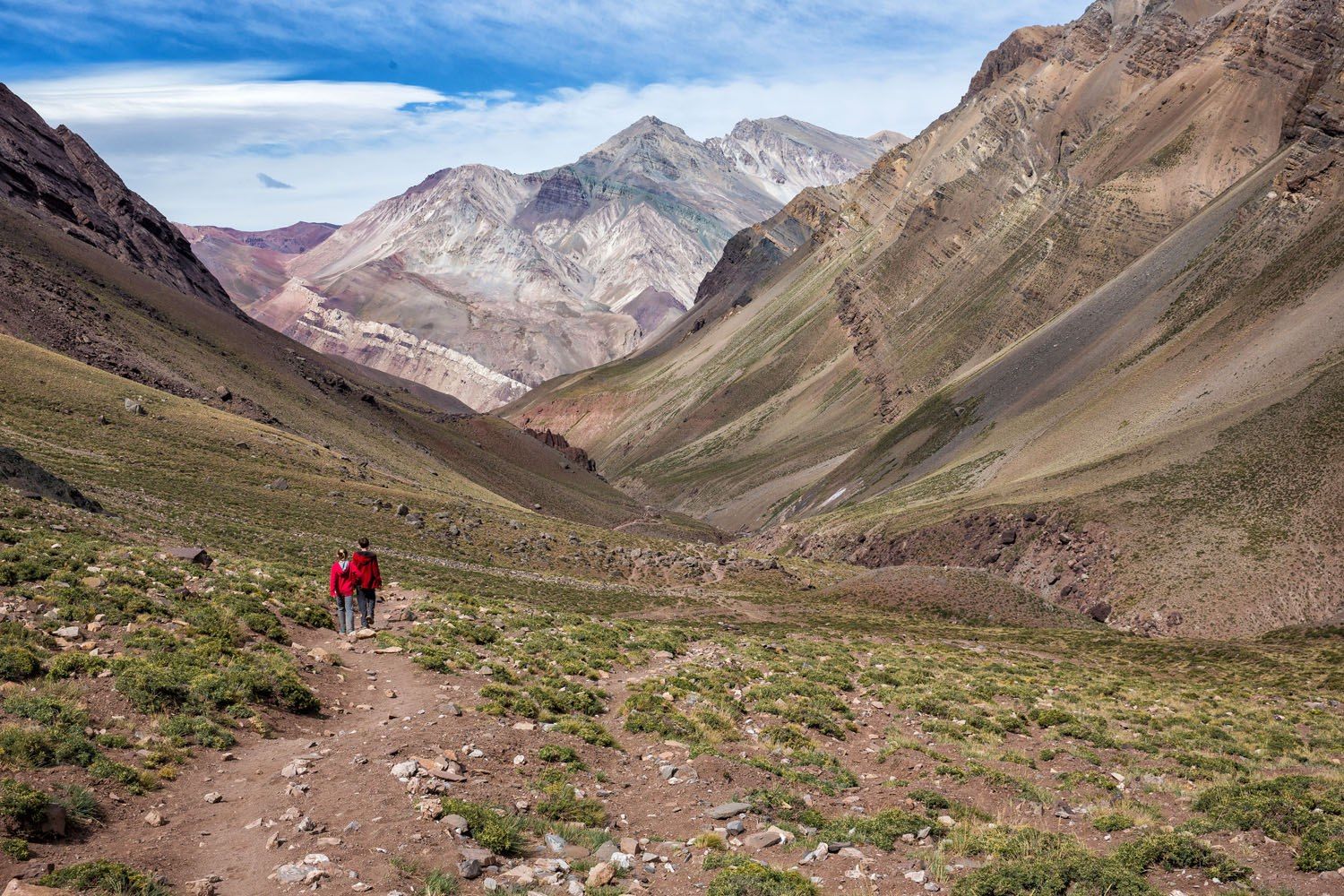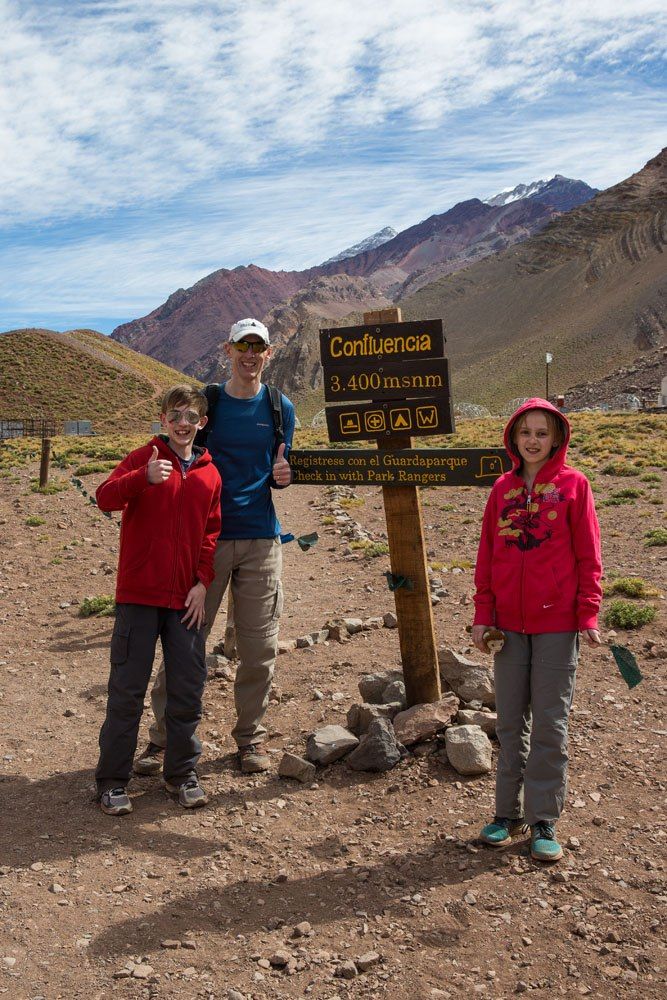 It was around 2 pm as we approached the Chilean border in our car. Traffic was backed up for 13 km…people waiting to get processed through Immigrations in order to enter Chile. The Immigration office is actually located six kilometers inside the Chilean border.
The idea of sitting in this insanely long line of cars seemed preposterous! So, rather than sitting and waiting in line, we went on a major adventure. We drove on unpaved roads (in our little Chevy Cruze) up and over the Andes. It was a white-knuckle, thrilling, crazy experience. We have driven on a lot of crazy roads but nothing like this. It was an epic adventure. And we survived.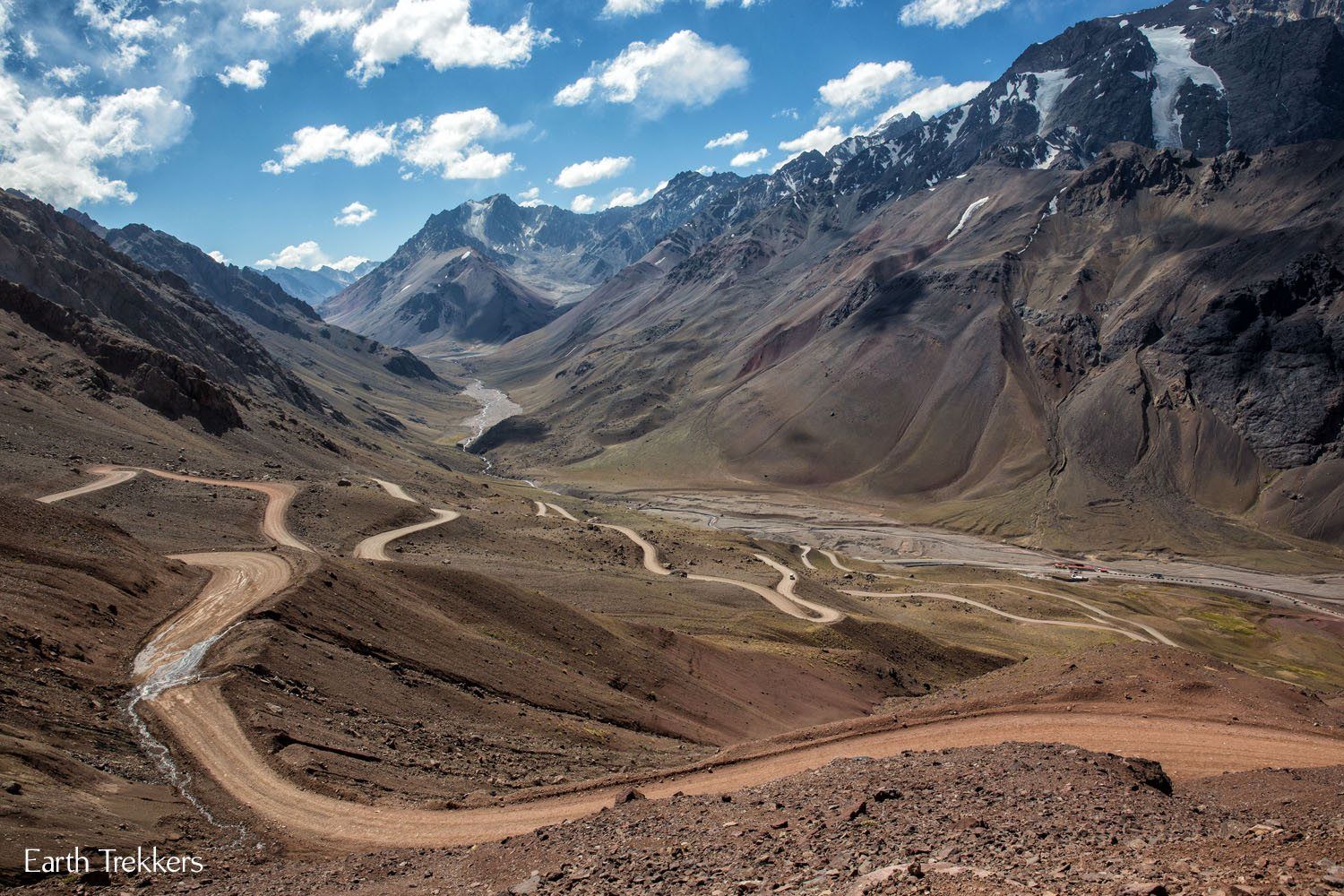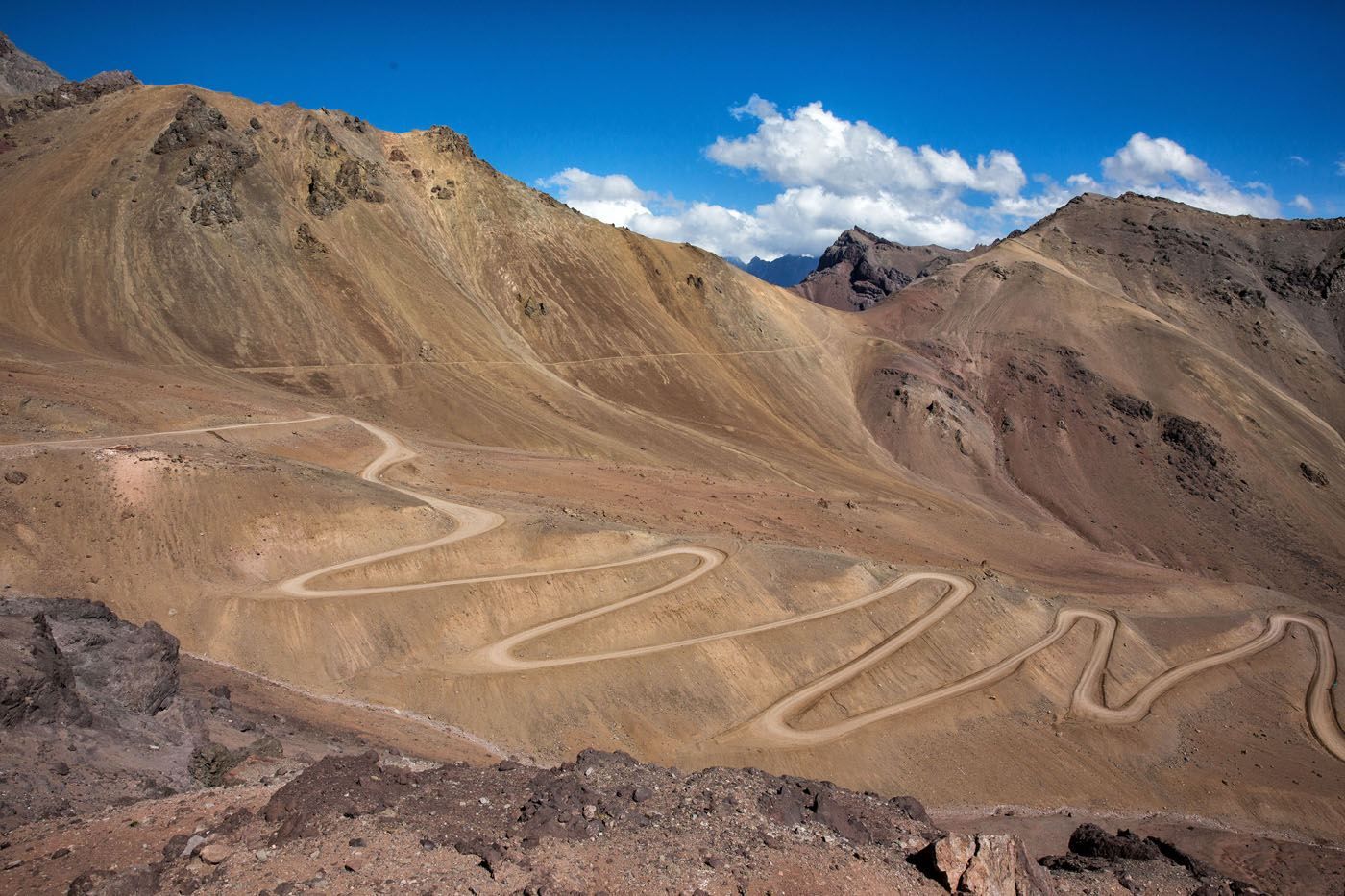 On the Chilean side, we joined that long line of cars heading towards Immigrations. Traffic inched forward at a painfully slow pace. It was unbelievable what we were sitting in. It took us five and a half hours to reach the Immigrations office and get our passports processed.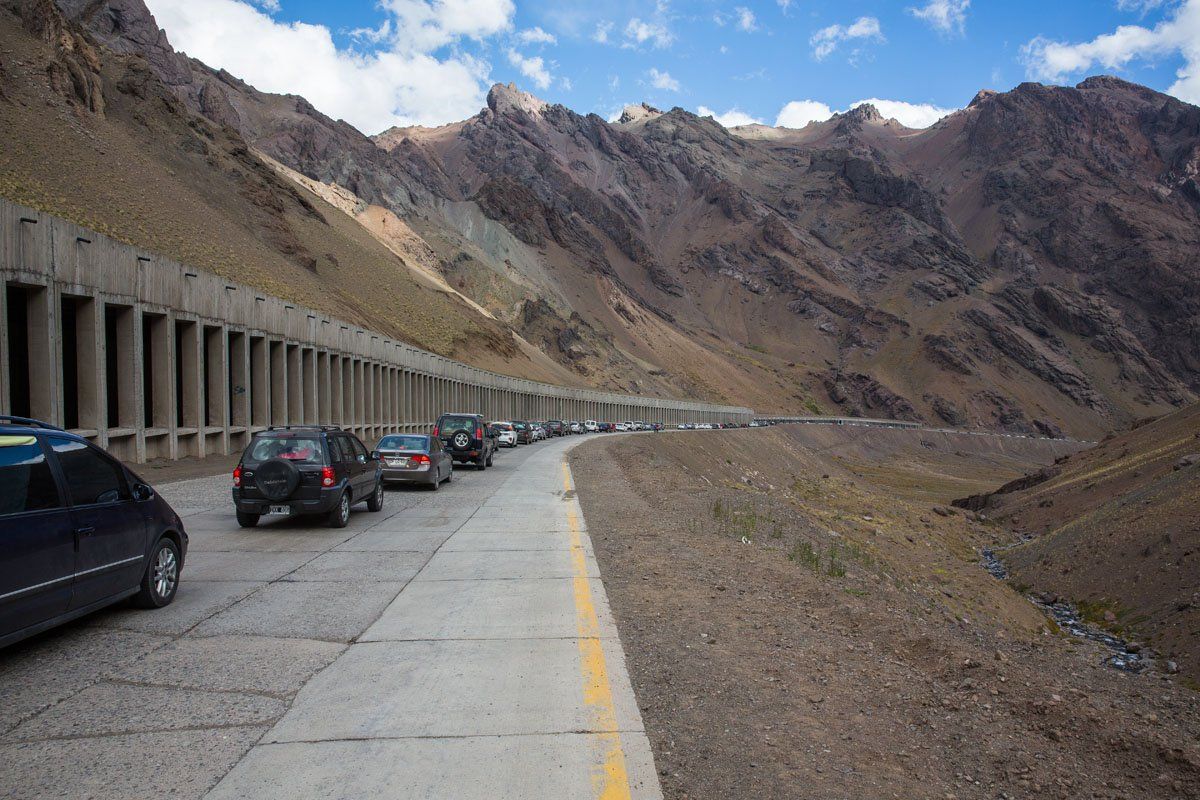 But the fun doesn't end there. Three hours into our wait, Kara starts throwing up. One time she could not even make it out of the car in time. So there we were, trapped in an unending, unmoving line of cars, with a child getting sick on the side of the road. It was an incredibly frustrating experience.
At 9:15 pm we were finally through Immigrations and on our way. Time to find some food! Remember, earlier in the day we completed a 10 mile hike and we still had not eaten lunch yet!
We were thrilled to reach Santiago just before midnight, exhausted, nauseated, and more than ready to go home.
Day #11 Recuperate, Fly to USA
This was our day to see the sights in Santiago. What did we do? Absolutely nothing!
Kara was exhausted and running a fever and the rest of us were just completely unmotivated to get up and do anything. So much for seeing San Cristobal Hill, the markets in Santiago, and Plaza de Armas. We hibernated in our hotel room, happy to be doing nothing.
At 5 pm we checked out of our hotel. At 8:40 pm we were in the sky, flying back to the good ole USA.
Day #12 Arrive Home
We arrived in Atlanta at 5:30 am, caught a second flight, and reached BWI at 9 am. It was Monday but we let Tyler and Kara play hookie, even though they could have gone to school late. All of us were groggy from the overnight flight.
So, our South American adventure is over. It was quite the mix of good and bad moments. Yes, we had some bad luck along the way but it was nice exploring the world as a family again. We will cherish these moments later in life, even the frustrating border crossings and travel delays.
---
More Information for Your Trip to South America
CHILE: Learn more about how to tour the wine regions in Chile, see photographs from Valparaiso, and how we spent our time in Santiago.
ARGENTINA: Tour the wine regions in Mendoza, go white water rafting and rock climbing, and hike to Aconcagua Base Camp. See the full list in our article Best Things to Do in Mendoza.
PERU: This 10 day Peru Itinerary is one of our favorite 10 day trips from anywhere around the world. Visit Machu Picchu, journey into the Amazon, and explore the sites around Cusco.
TRAVEL INSPIRATION: For more travel ideas, here are 10 unique destinations to put on your travel wish list and 10 bucket list destinations from around the world.
Note: This post contains affiliate links. When you make a purchase using one of these affiliate links, we get paid a small commission at no extra cost to you.
All rights reserved © Earth Trekkers. Republishing this article and/or any of its contents (text, photography, etc.), in whole or in part, is strictly prohibited.