Whitewater rafting in Mendoza, Argentina is one of the most popular adventure activities in this part of the country. We spent the morning with Potrerillos Explorer Rafting, one of the premiere rafting companies in Mendoza. We had a blast and this was one of our highlights of our recent trip to Argentina.
Whitewater Rafting in Mendoza, Argentina
The prime spot for whitewater rafting in Mendoza is the Mendoza River. This is the same river that irrigates the Maipu and Lujan de Cuyo wine regions of Argentina. The part of the river we rafted sits to the west of the Potrerillos Dam.
We drove one hour from Mendoza to Potrerillos, the location of Potrerillos Explorer Rafting. Here we met our guide for the day, Angelo from Australia. He got the four of us fitted into wetsuits, helmets, and life preservers. We were in Argentina at the beginning of April, which is the start of autumn. Temperatures during the day were a very pleasant 75 degrees but the water we would be rafting in was snow melt from Mount Aconcagua. The water was going to be chilly!!
We boarded a bus and were driven fifteen minutes upriver to where our rafting adventure began. On the way to our rafting spot, Angelo gave us a safety briefing and got us excited for our trip down the river.
Tyler and Kara have been white water rafting one time before this when we went whitewater rafting in Bhutan. At the time, the water level was low and the rapids were small, the perfect introduction for our two kids on the river. Today, things would be much different. Today we would be rafting class III rapids. Things were going to be much more exciting and even a little bit dangerous.
On the shoreline, we smiled for the camera and then climbed into our raft.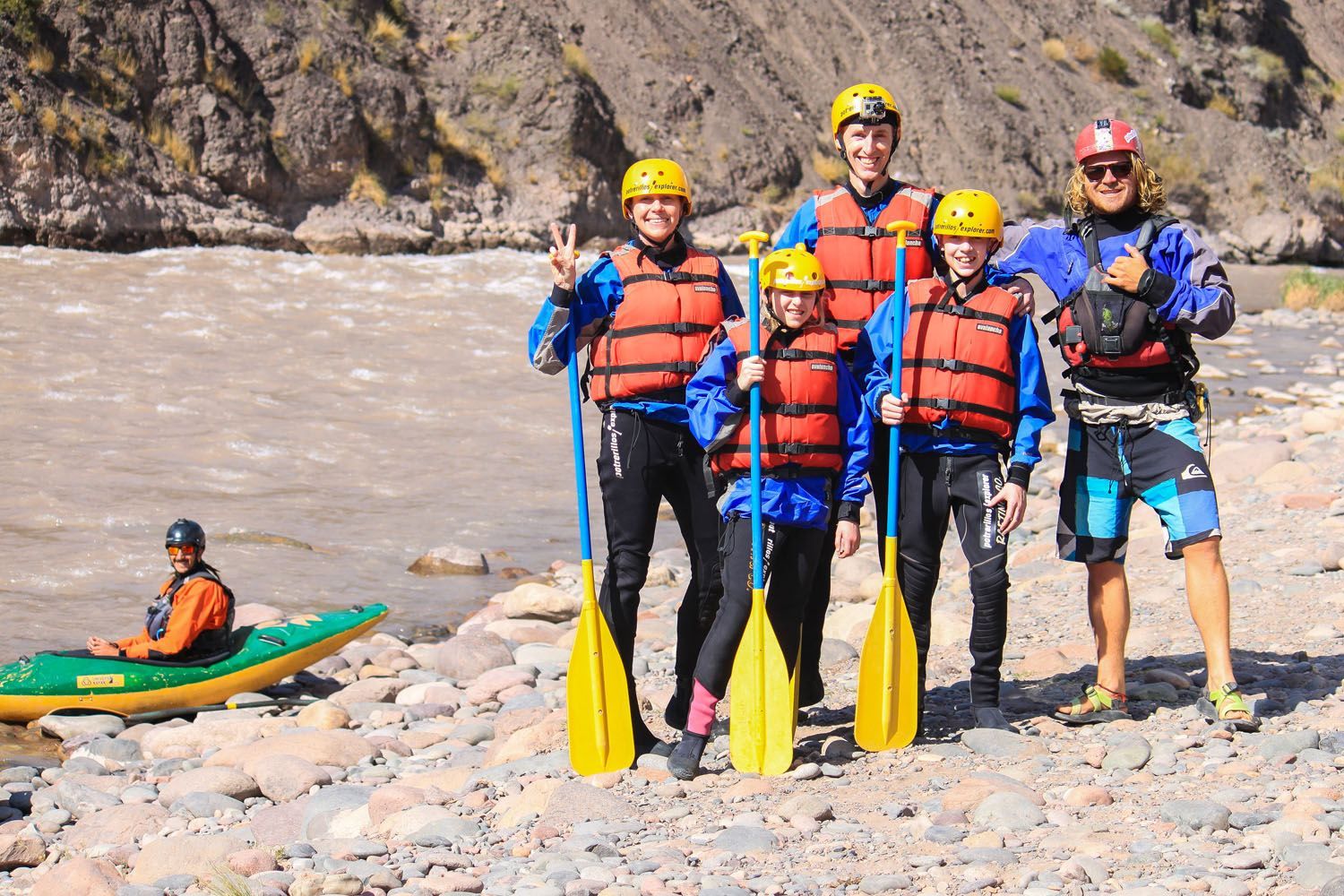 Our trip down the river would last about an hour and take us 12 km (7.5 miles). Angelo would give us commands and we would do our best to do as we were told. Along the way, we hit some larger rapids, having us bouncing around, laughing, trying our best to not plunge into the icy cold water. Tyler and Kara loved the entire trip down the river and this would be Tyler's favorite activity while in Mendoza.
We took photos with a small, waterproof camera and Potrerillos Explorer had a photographer that captured the highlights of our journey from the shoreline. Here are some of our best photos of the day. Does it look like we had a good time?!!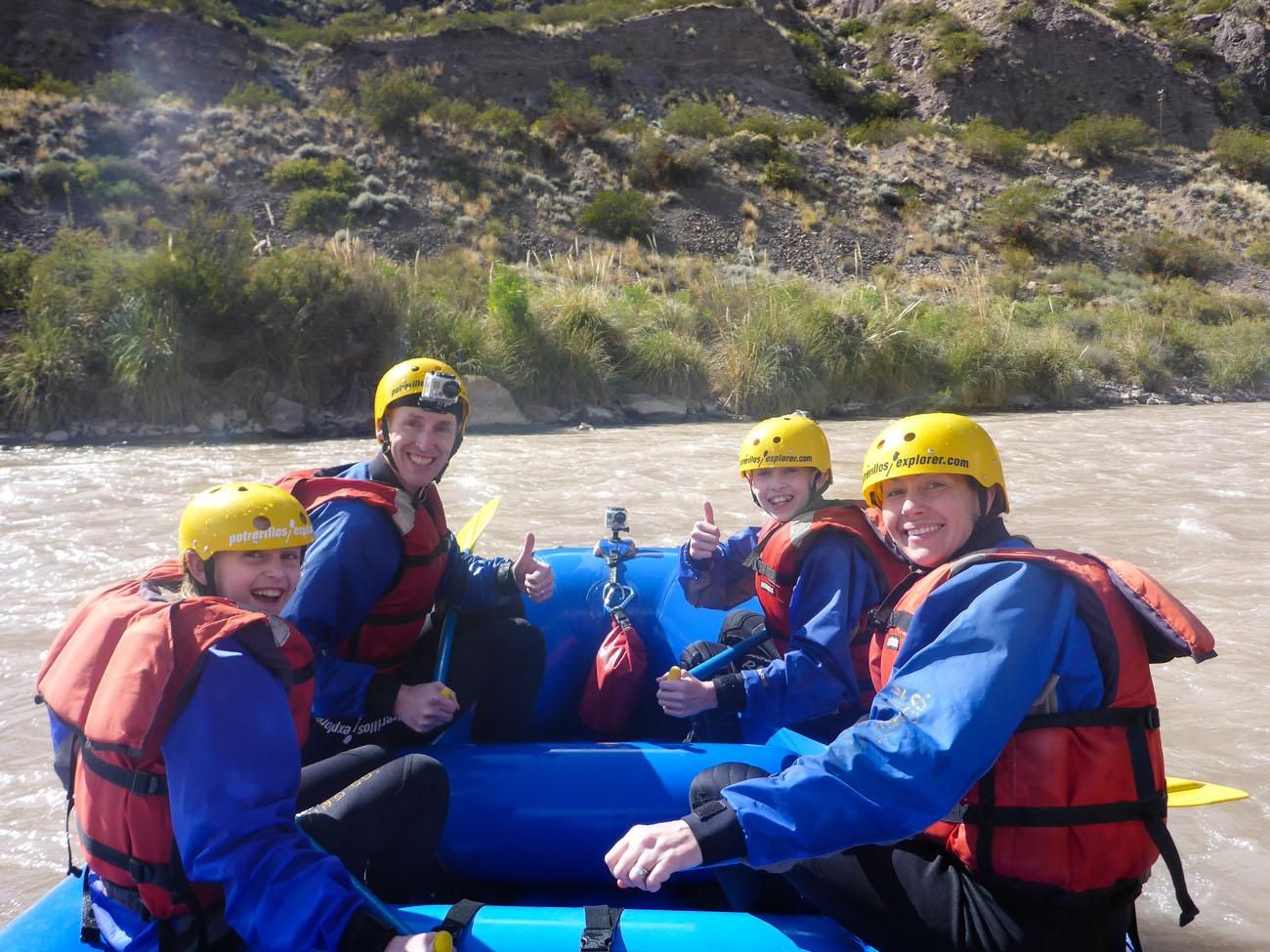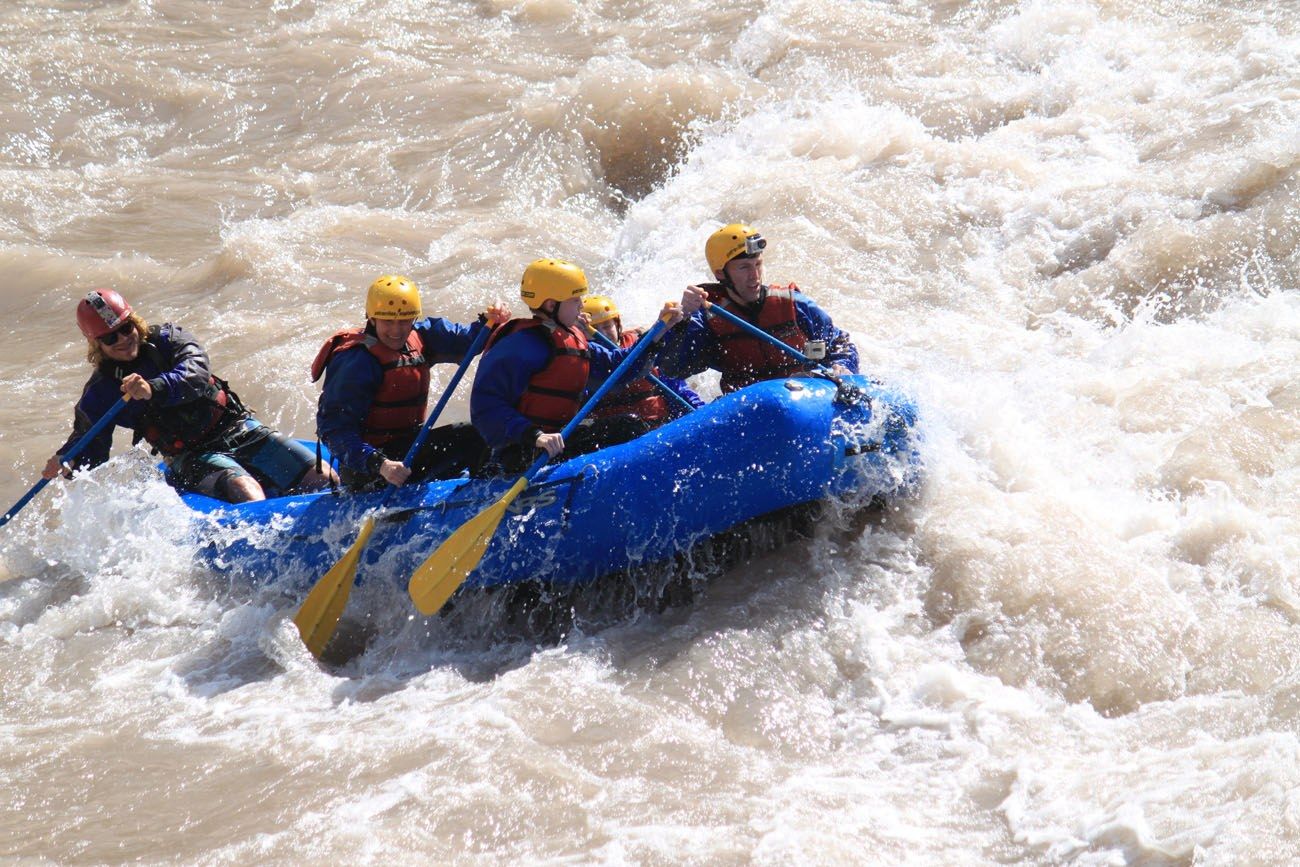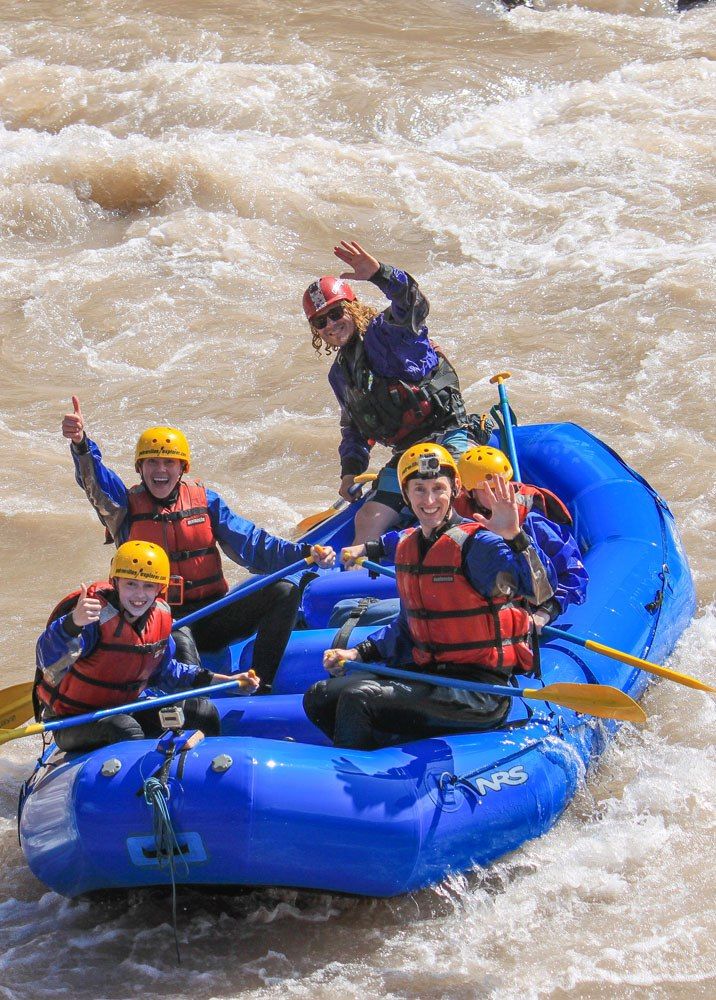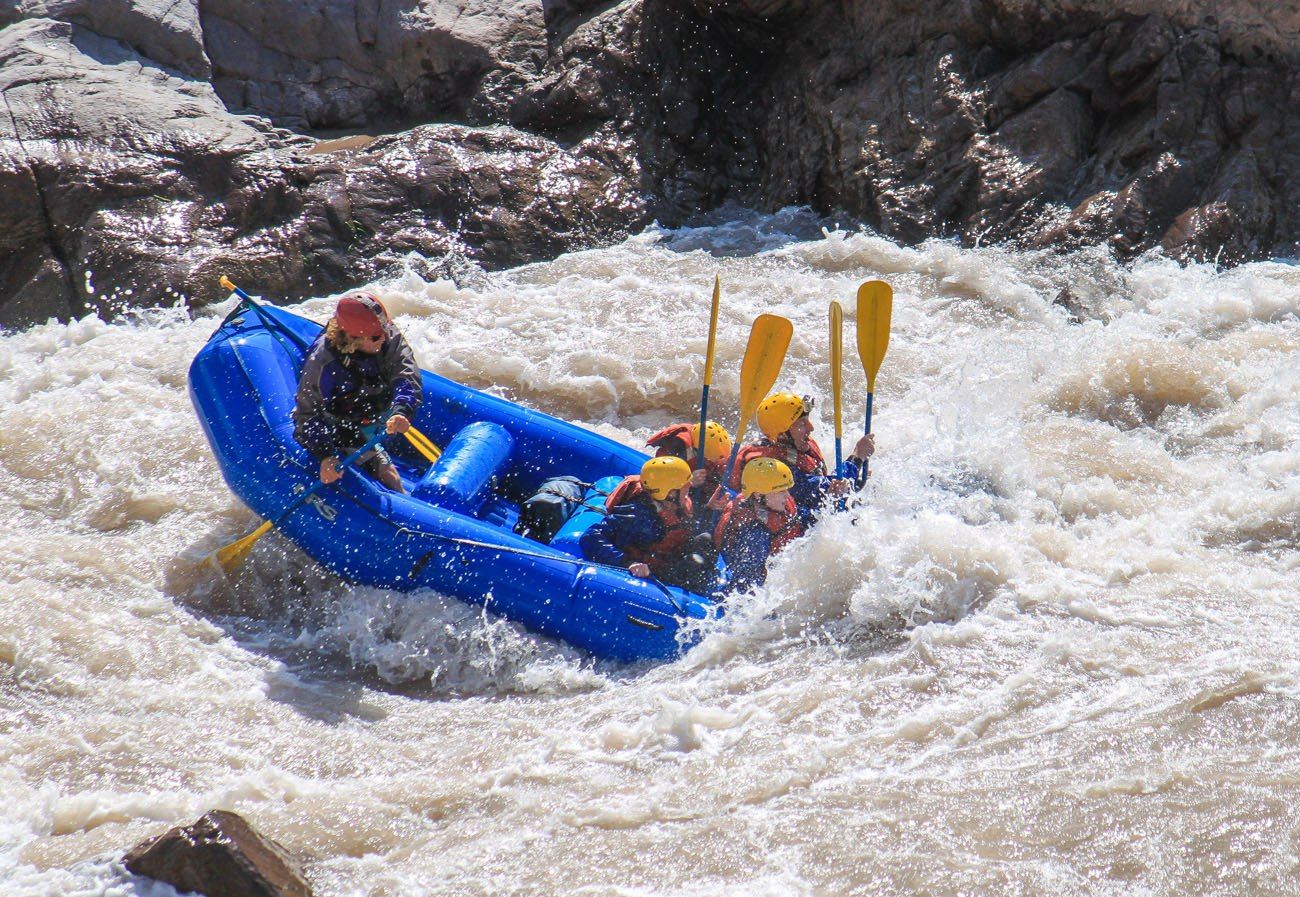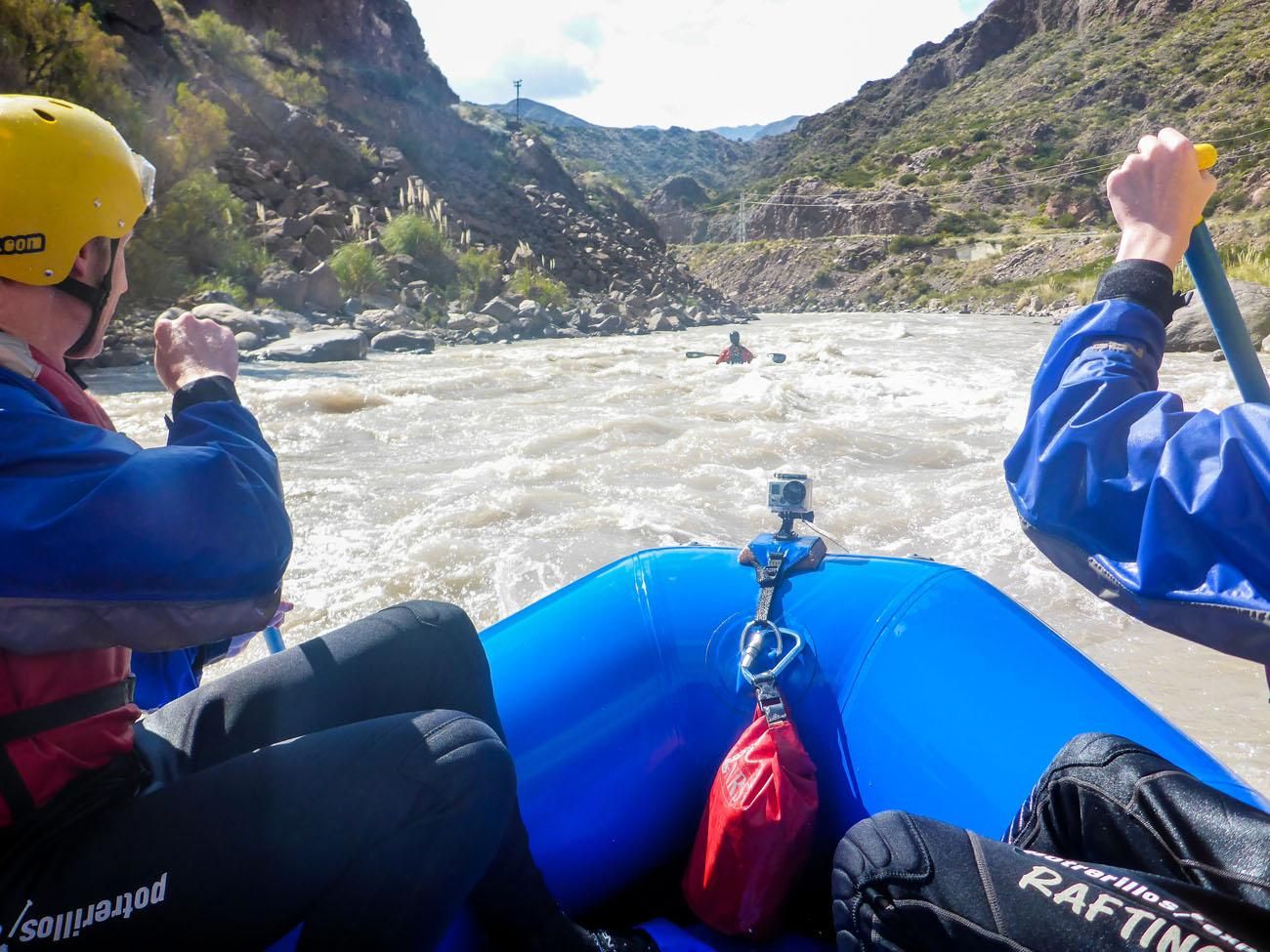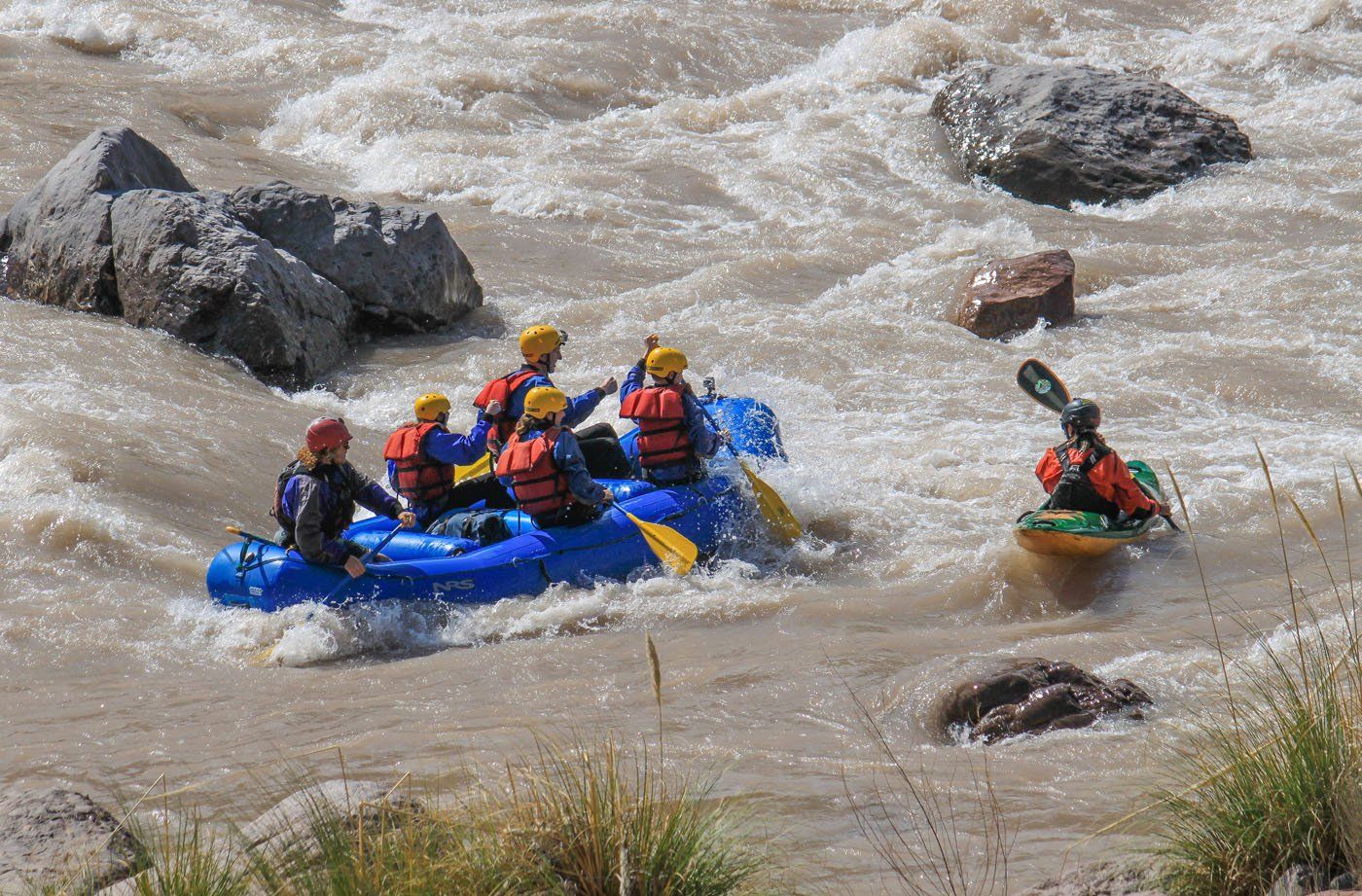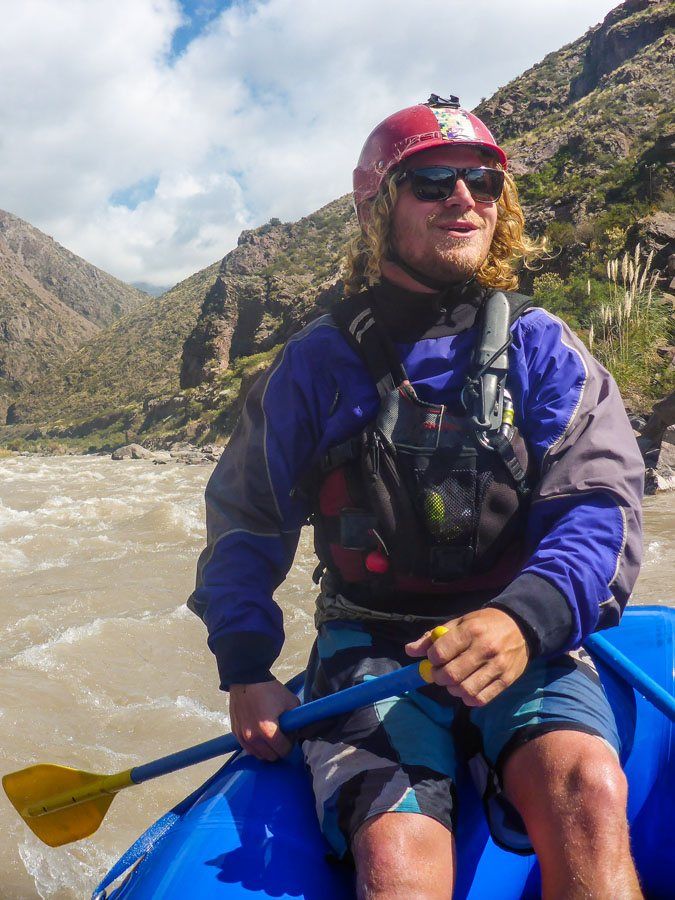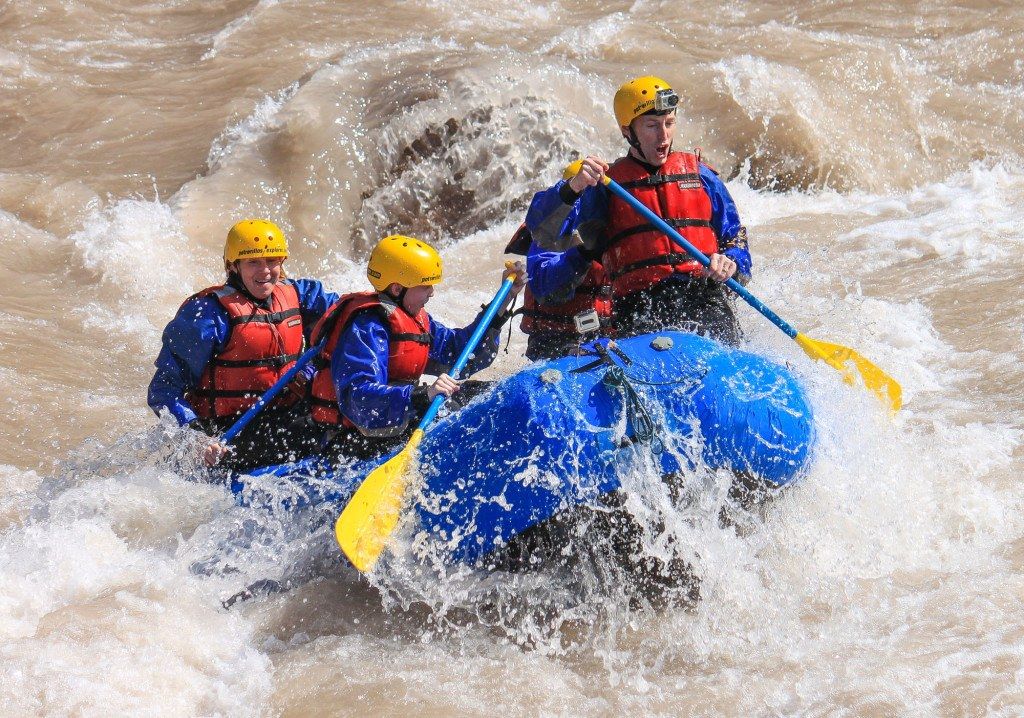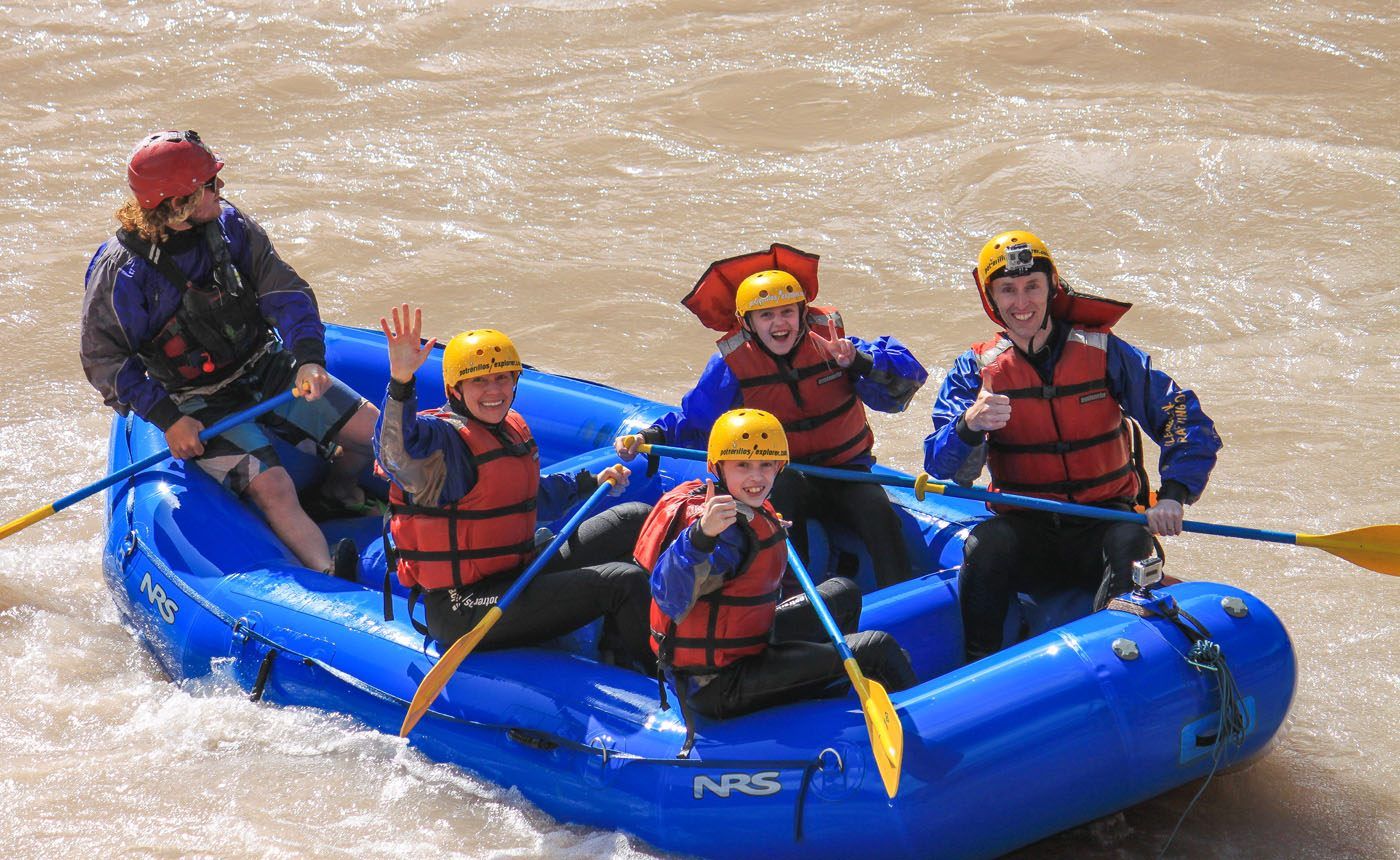 Doesn't that look like so much fun?! Here's another taste of what it was like…
Whitewater rafting in Mendoza with Potrerillos Explorer Rafting was a blast! If you are planning a visit to Mendoza, Argentina, put this on your list of things to do. We loved it!!
And Now That We Worked Up an Appetite…
The same man who was our photographer for Potrerillos Explorer also runs a fantastic restaurant called La Escondida in the very small town of Potrerillos. This is the perfect spot for lunch or dinner after rafting. La Escondida is just a one minute walk from the Potrerillos Explorer Rafting office. We ate prosciutto, cheese, and olives as an appetizer and then dined on asado beef and chicken, empanadas, and bread. The adults drank Malbec wine. It was delicious and no joke it was one of our best meals in South America.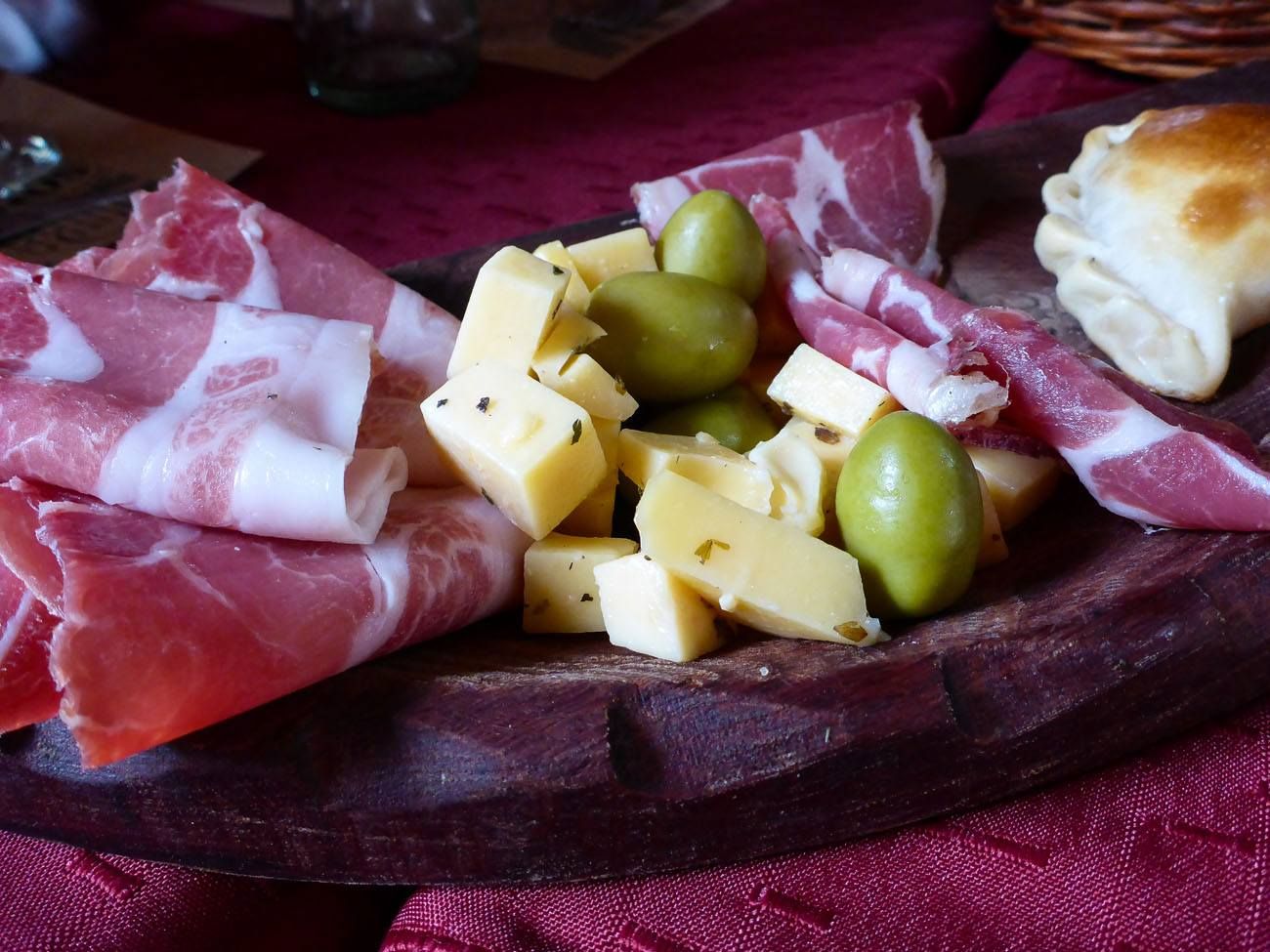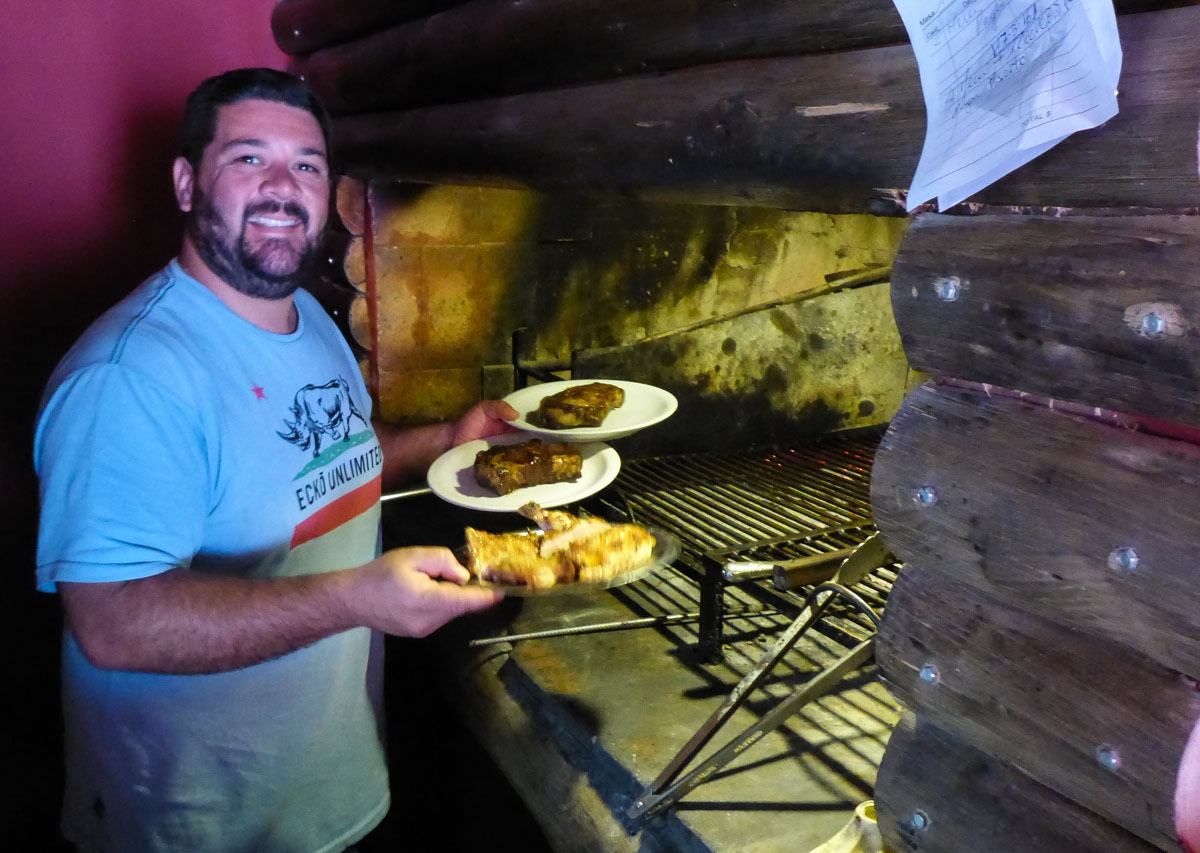 About Potrerillos Explorer Rafting
We chose to go whitewater rafting with Potrerillos Explorer Rafting because of their rave reviews on Trip Advisor. After our experience, they deserve all of these rave reviews! They are located in Potrerillos. If you do not have a car they can pick you up from your hotel in Mendoza. It takes about an hour to get from Mendoza to their office.
The staff was very professional and all of their equipment is in excellent condition. We wore what looked to be almost brand new wetsuits and life preservers that were clean and dry. So many times, with other companies, we have used smelly, damp, mildewy equipment but we did not see this with Potrerillos Explorer.
Angelo, our guide, kept us safe but also made sure we had a great time. There was backup kayak support just in case we flipped our raft and plunged into the river. We got videos from a GoPro camera mounted to the front of the raft, a nice touch. And we loved the photos (and the lunch) from their photographer.
Potrerillos Explorer Rafting offers ½ day, full day, and two day rafting excursions. They also offer a wide range of adventure activities, such as rock climbing, zip lining, kayaking, and ATV riding, just to name a few.
So, does this look like something you would like to do? For a vacation with the perfect mix of wine tastings and adventure activities, put Mendoza, Argentina on your list. And if you decide to go whitewater rafting, contact Potrerillos Explorer Rafting!
Where We Stayed
We stayed at El Encuentro en Chacras de Coria in Chacras de Coria, Mendoza. This small, boutique hotel has a great location just outside of the main bustle of Mendoza. The staff is extremely helpful and can assist you with scheduling wine tours and activities. If you do not get enough wine during your tours and five course meals, the hotel has a wine cellar and a fantastic common area to relax in at the end of the day.
---
More Information for Your Trip to Argentina
MENDOZA, ARGENTINA: Tour the wine regions in Mendoza, go rock climbing, and hike to Aconcagua Base Camp. See the full list in our article Best Things to Do in Mendoza.
MENDOZA, ARGENTINA: Learn how to put together the top experiences and plan your Mendoza Itinerary.
DRIVING SANTIAGO TO MENDOZA: Find out what it is like to drive from Santiago, Chile to Mendoza, Argentina and if it is worth it. We also have a guide on how to drive to Cristo Redentor, a white knuckle but beautiful drive on dirt roads that cross the Andes.
ARGENTINA & CHILE: Find out how we combined Santiago and Mendoza into an awesome 12 day trip.
ADVENTURE TRAVEL: Here are 50 adventures to turn your next trip into an epic travel experience.
Note: This post contains affiliate links. When you make a purchase using one of these affiliate links, we get paid a small commission at no extra cost to you.
All rights reserved © Earth Trekkers. Republishing this article and/or any of its contents (text, photography, etc.), in whole or in part, is strictly prohibited.