The Mendoza wine region is hot right now! This is the fastest growing wine producing region in the world and it is Argentina's most popular spot to travel to for wine tours and tastings.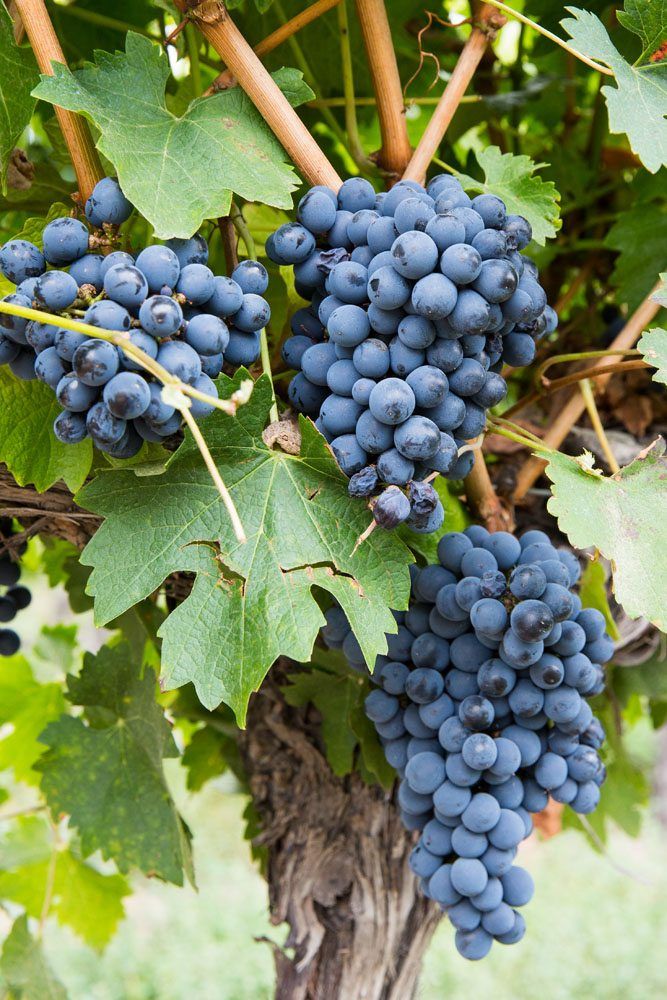 Located in the shadow of Mt Aconcagua, the vineyards in the Mendoza wine region are at one of the highest elevations in the world. Receiving little rainfall per year, the vines are irrigated with runoff from melted glaciers in the Andes.
Primarily, it is Malbec that is grown, a grape that thrives in the high altitude, arid region of Mendoza. Other varietals include Tempranillo, Cabernet Sauvignon, and Chardonnay.
There are three wine producing areas in the Mendoza wine region to visit: Maipu Valley, Lujan de Cuyo, and Uco Valley. It takes a minimum of two days to be able to visit all three regions. Keep reading to learn about each region, our recommended wineries, and how to plan your visit.
Mendoza Wine Regions
Maipu Valley
This wine region is located in and around the city of Mendoza. This is the easiest Mendoza wine region to visit. Most wineries here can be visited without a reservation. There is usually no need to call and schedule a tasting or tour in advance as most places will welcome walk-in visitors. Plus, for those without a car, this area is compact enough that it can be toured by bicycle.
With the name Maipu Valley, it sounds like you would be cycling through a picturesque countryside. You should know that a large portion Maipu Valley is located in the town of Mendoza, so you will also be cycling along the city streets. Yes, cycling can be done, but we were happy to have our car.
Recommended Wineries in Maipu Valley
Clos de Chacras
This is a family owned winery in the Chacras de Coria area of Mendoza. For us, this was one of our favorite wine tastings in all of Mendoza.
We arrived without a reservation at 10 am (is that too early to start wine tasting?). We elected to skip the tour and go right to the tasting (we had two kids that wanted to go on as few tours as possible).
We were paired up with two other couples for the wine tasting. Put some adults together, throw in some wine, and a half hour later you will all be the best of friends.
Sitting around a large table, we tried four wines, all of them delicious, as the sommelier filled us in with the details of what we were tasting. She was more than happy to top off our glasses with our favorite wine. For Tim and I, that was the Gran Estirpe 2010 Malbec, good enough to purchase a bottle to take home.
At Clos de Chacras, there is a fee for the wine tastings and tours. They also have a restaurant that serves lunch and dinner that gets rave reviews. Visit the Clos de Chacras website to learn more.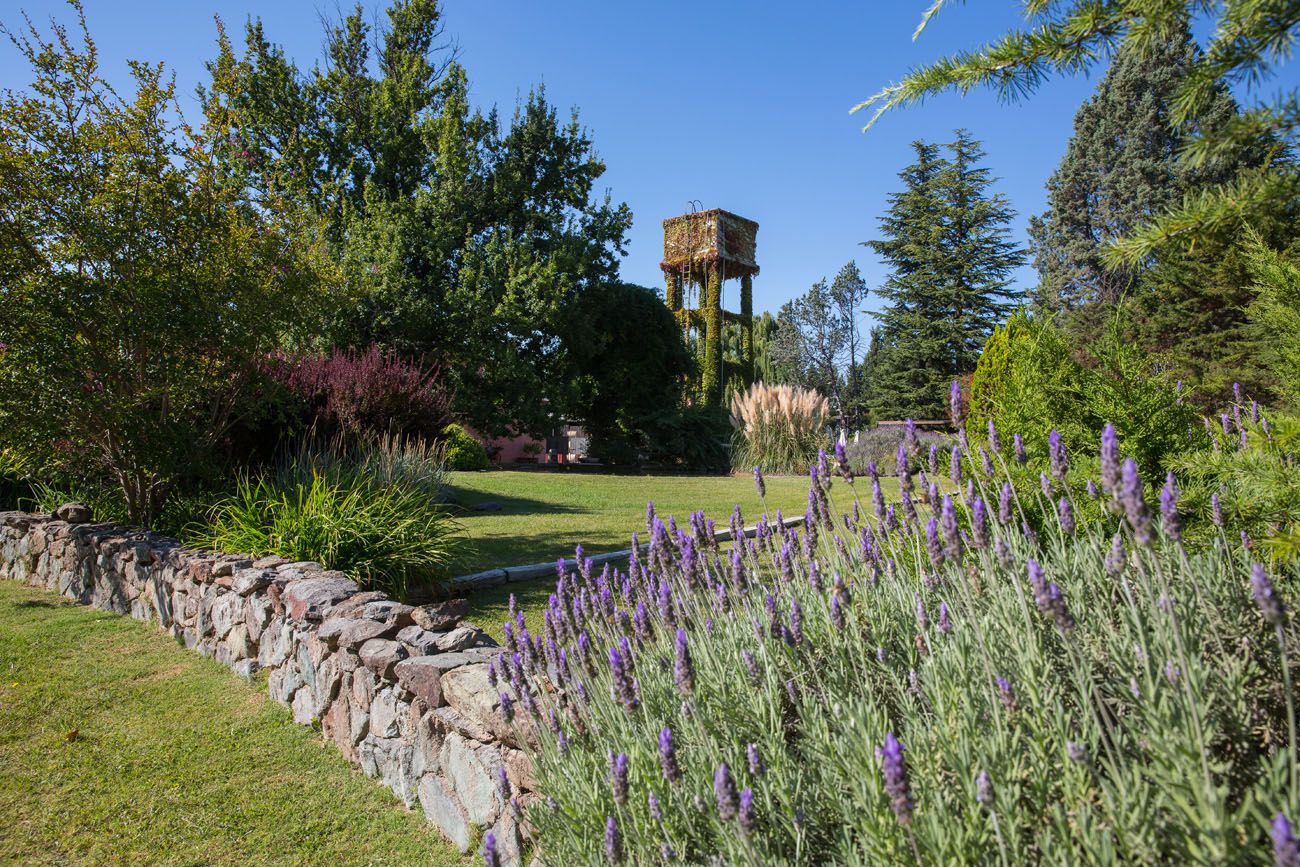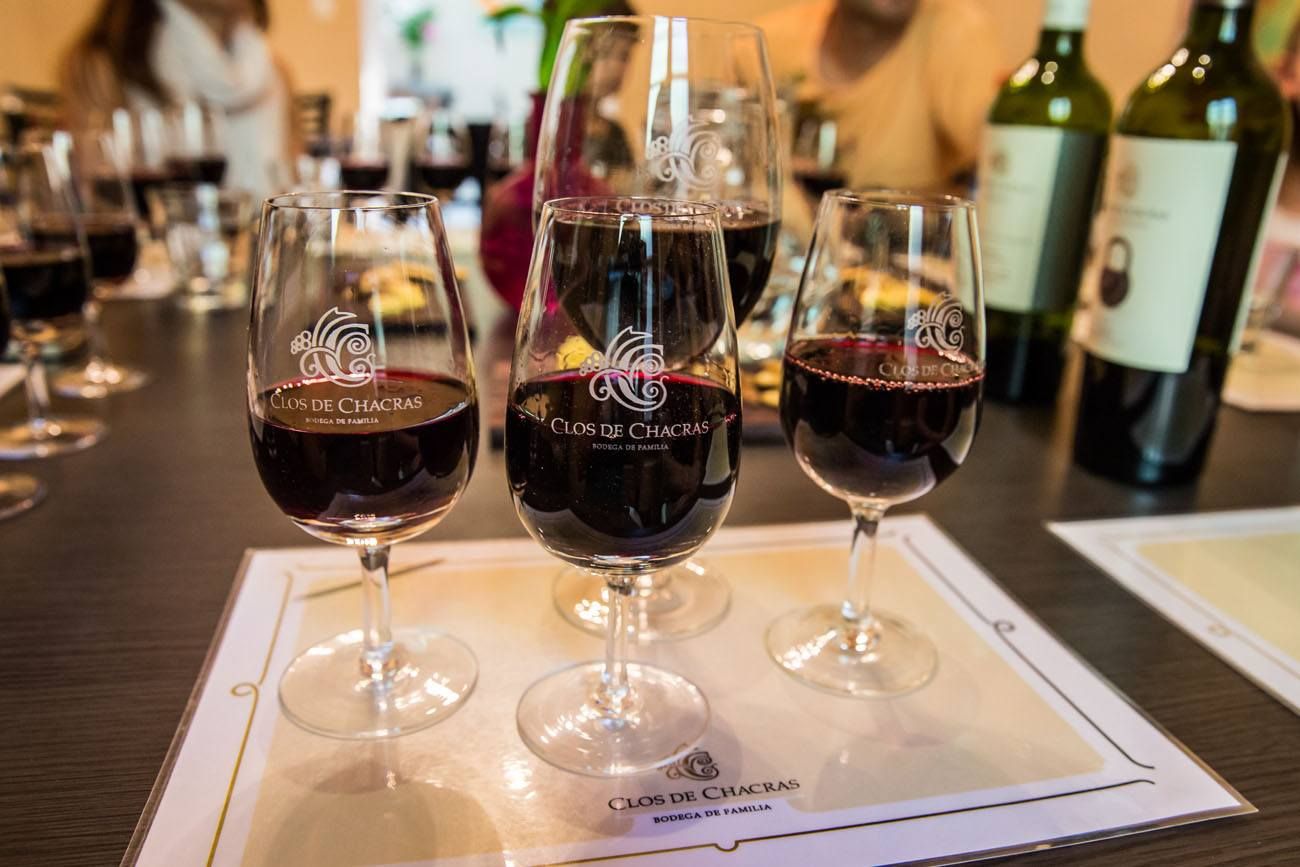 Tempus Alba
This is another family owned winery. They offer free, self-guided wine tours with no reservation required. You can also take a private tour, dine in their restaurant, or taste wine at the wine bar. For more information, visit the Tempus Alba website.
Bodega La Rural
The Rutini family has been producing wines here since 1885. You can tour the winery and visit the Wine Museum which contains 4,500 historical artifacts related to the production of wine. Learn more here.
Trapiche
This is probably the biggest name in Maipu Valley. In fact, if you look on the Trapiche website, they boast that they are the largest exported premium brand in Argentina.
Lujan de Cuyo
The Lujan de Cuyo region is south of the city of Mendoza, about thirty minutes away by car. To visit this area you will need your own car or a private driver. For many wineries, having a reservation in advance is a necessity. We had read otherwise (and our hotel also told us that advance reservations were not necessary), so did not set up our reservations in advance. This made for a very frustrating day since we could not even get past the front gate of many of the wineries here.
Recommended Wineries in Lujan de Cuyo
Archaval Ferrer
This is a relatively new winery, opening in 1995. This is a beautiful winery in a gorgeous setting. Reservations for their tour and tasting is highly recommended. We arrived here early enough in the day that we were given the option to wait one hour for their next tour, but chose to move on to the next winery instead. I have read that their barrel tastings are amazing.
For more information, visit the Archaval Ferrer website.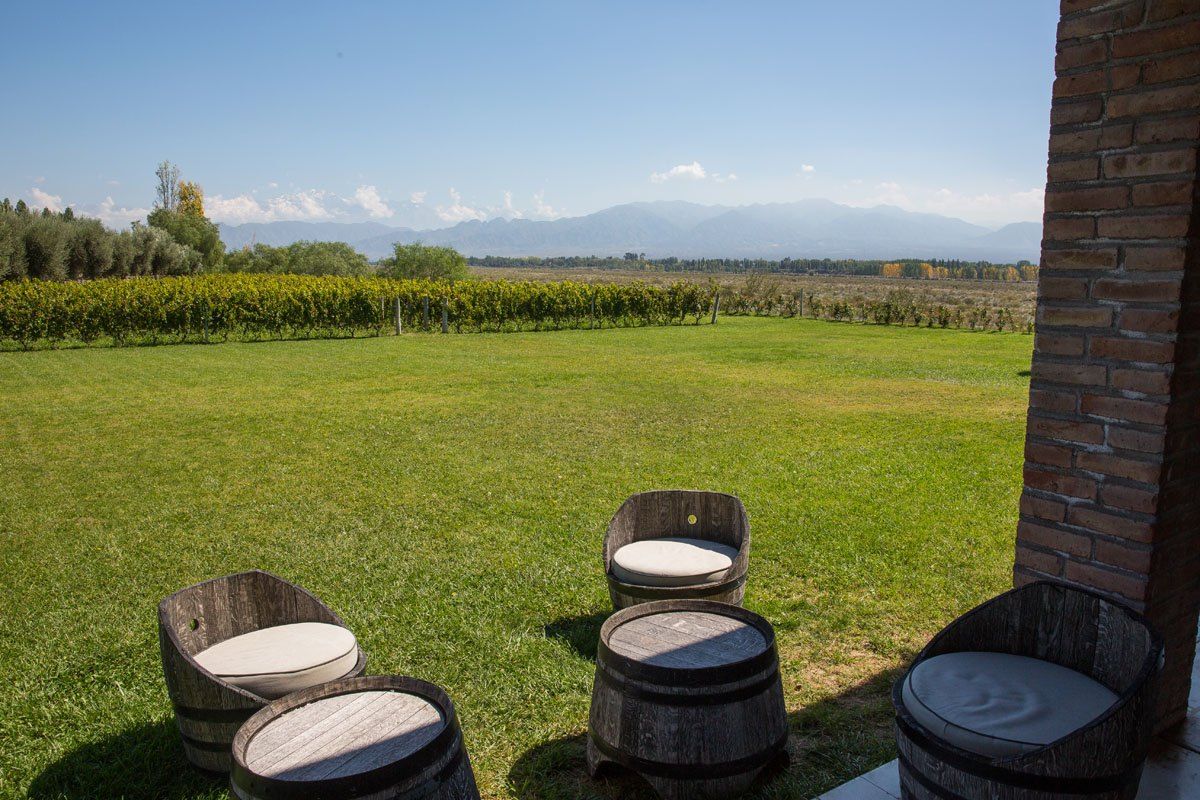 Carmelo Patti
This is a winery we missed and I regret it. I have only heard rave reviews about Carmelo Patti. This is a grassroots winery where the owner, Carmelo Patti, will personally take you on a tour of his facility (although he does not speak English). Still, that does not keep people from raving about this tour. If you want a personalized experience, visit Carmelo Patti.
Ruca Malen
For an exquisite lunch with wine pairings, visit Ruca Malen. We had one of our best meals in Argentina at this winery. While sitting out in the vineyard, dine on a five course meal with wine pairings. The food was delicious and very creative and the wine was phenomenal. Ruca Malen was the highlight of the day, and even Tyler and Kara enjoyed this…a fancy meal overlooking Ruca Malen's vineyard, with the the mountains off in the distance.
We were able to dine here without a reservation. Tip: there are two seating areas, an indoor area when you first enter the building, and a solarium in the back. Ask to be seated in the solarium…the views are better, it's quieter, and it is a more intimate experience.
For more information, visit the Ruca Malen website.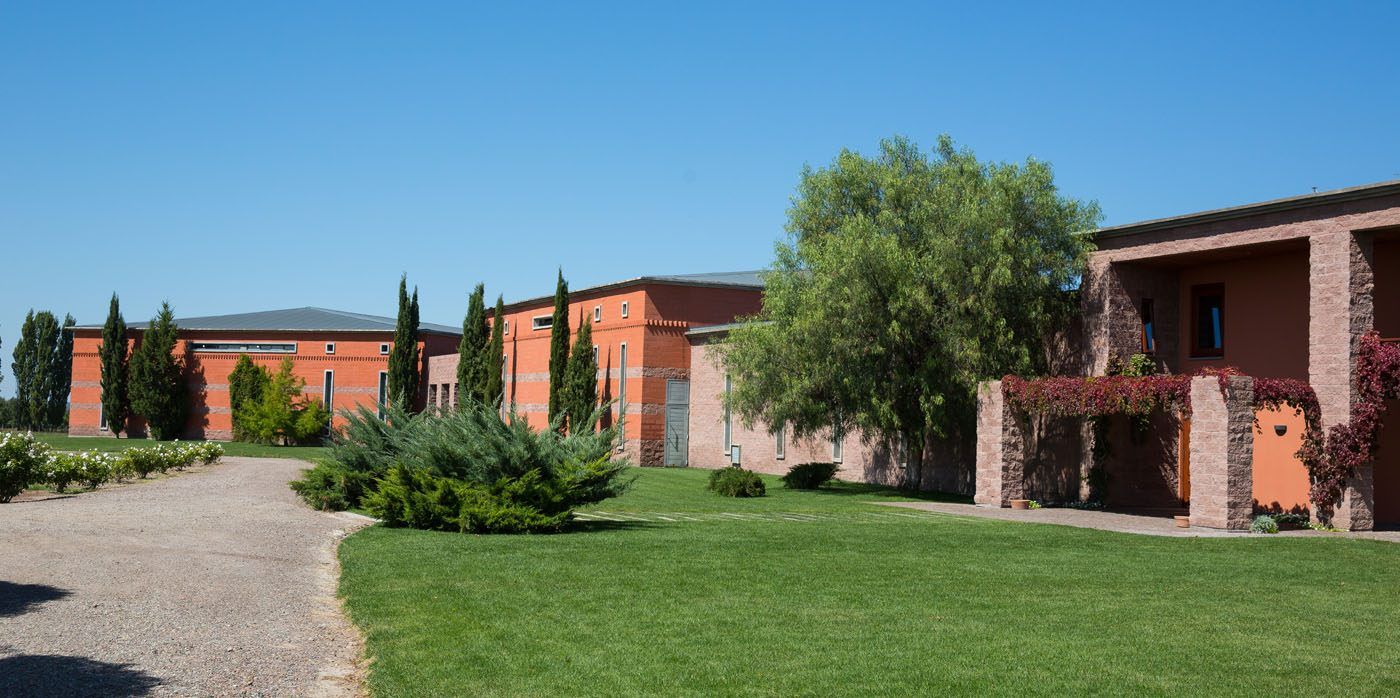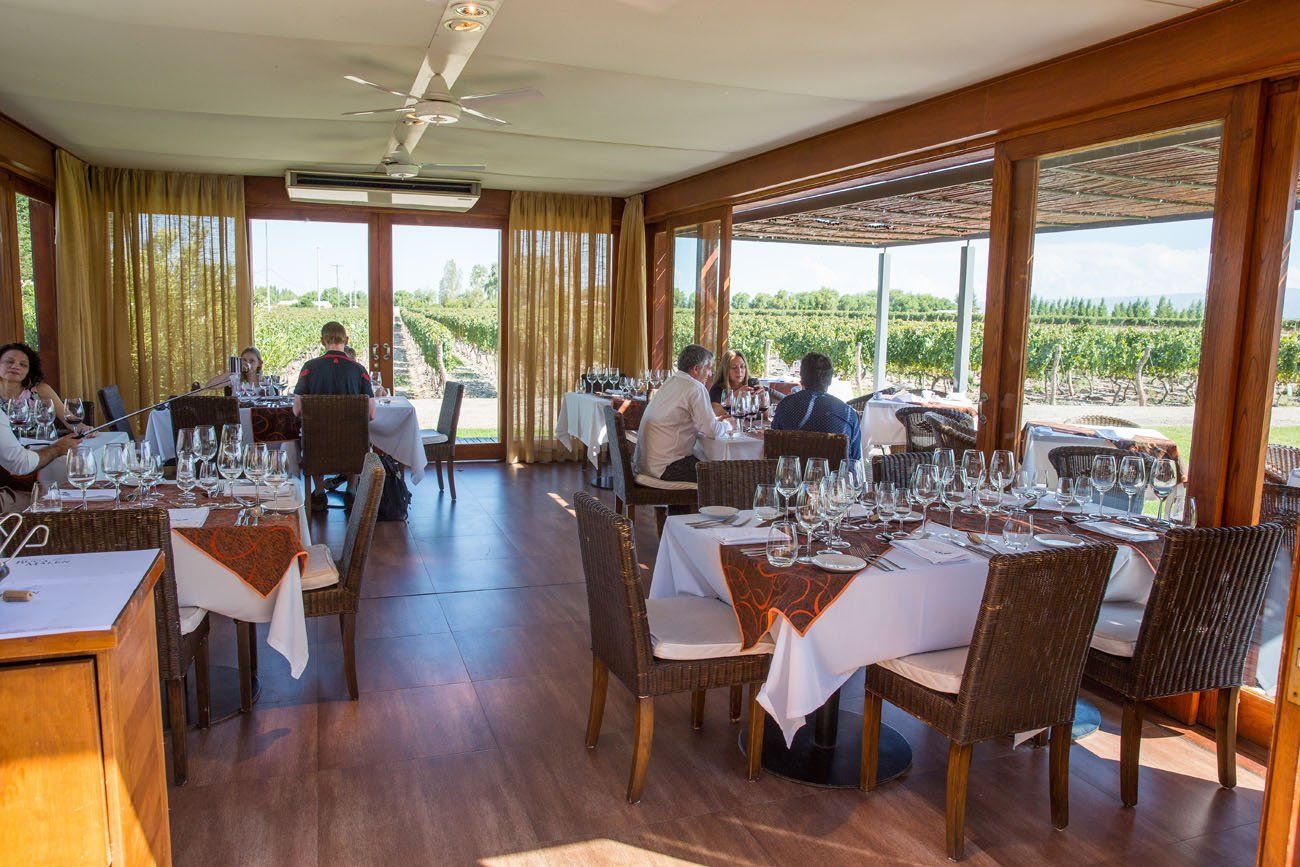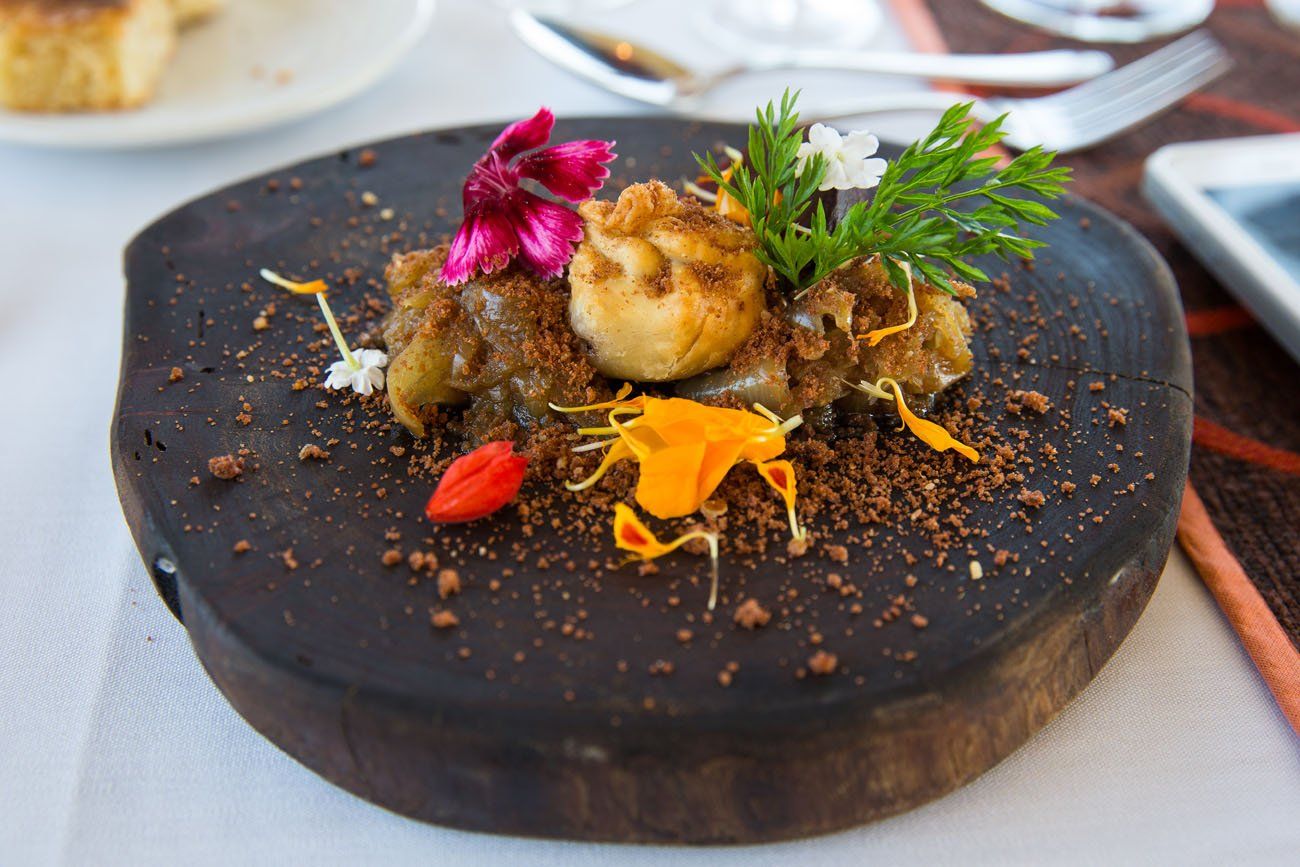 Catena Zapata
Catena Zapata was the first winery to score a 98 point wine with Robert Parker (the Nicolas Catena Zapata 2008). The winery is designed to look like a Mayan pyramid. Tours are offered daily just make sure you make your reservation in advance!
Uco Valley
Located the farthest from Mendoza, 75 minutes away by car, most people never make it this far. That's a shame. This is the premiere Mendoza wine region and it is not to be missed! It is worth the drive. Because of the distance, visiting this wine region will take one full day of your time.
To get here, you will leave the city life behind, driving through a more rural region of Argentina. On a sunny day, the Andes Mountains to the west makes an incredible backdrop for this wine region.
All wineries require advance reservations.
Recommended Wineries in Uco Valley
Andeluna
This is a modern, state-of-the-art winery. A tour here includes tasting the grapes right off of the wines (during harvest season), a visit to the winemaking facilities, and ends with the tasting. Tim and I loved seeing the laboratory, the coolest science job ever! The "wine scientist" was checking pH levels and alcohol content of the wines, wine bottles were arranged across the tables, wine was bubbling away in beakers, all with a view out the window, across the vineyard, to the Andes Mountains. Nice!
Our tour ended with wine tastings, our favorite being the Chardonnay. They also serve lunch here which is very highly rated.
Visit the Andeluna website for more information.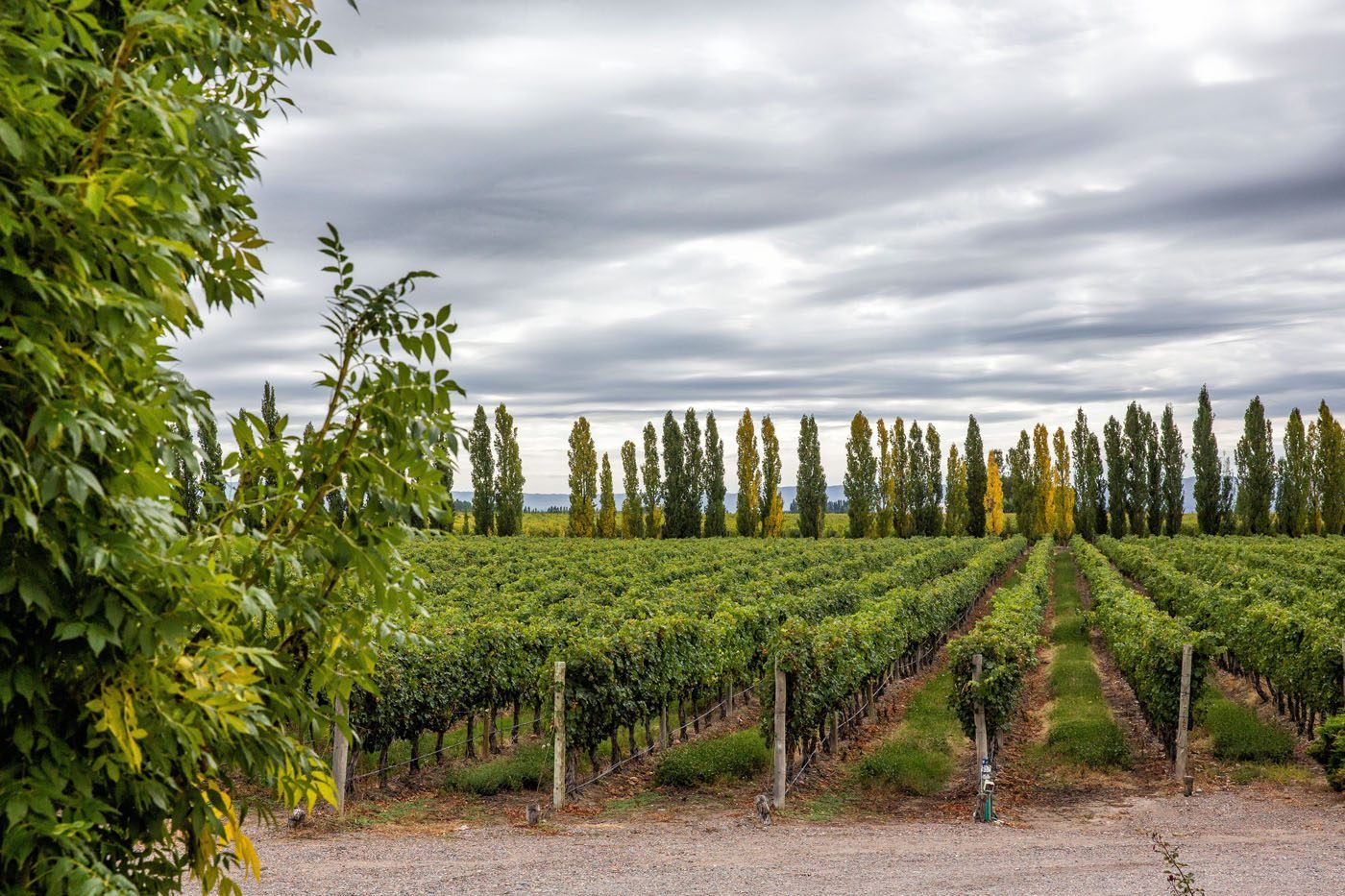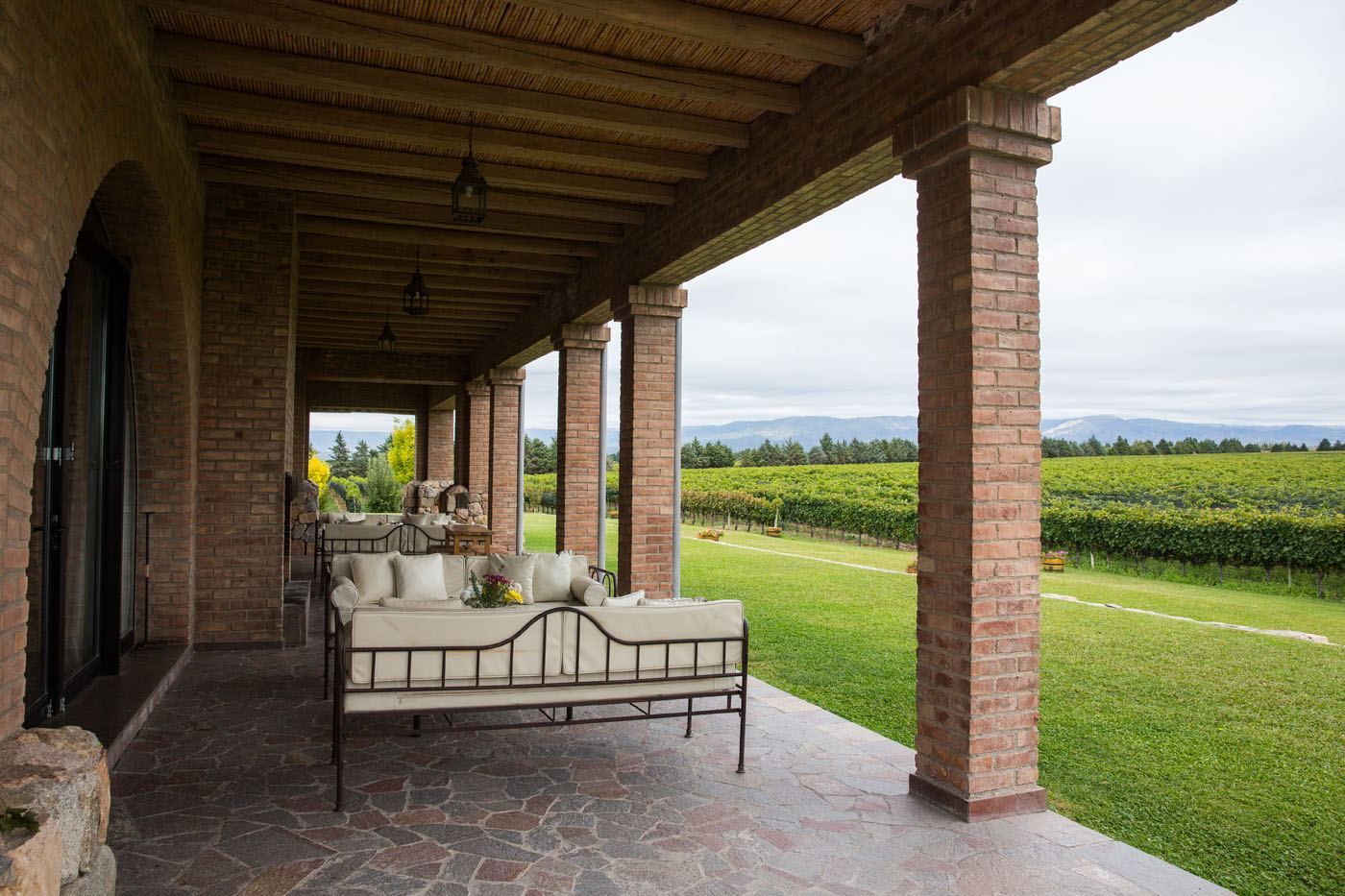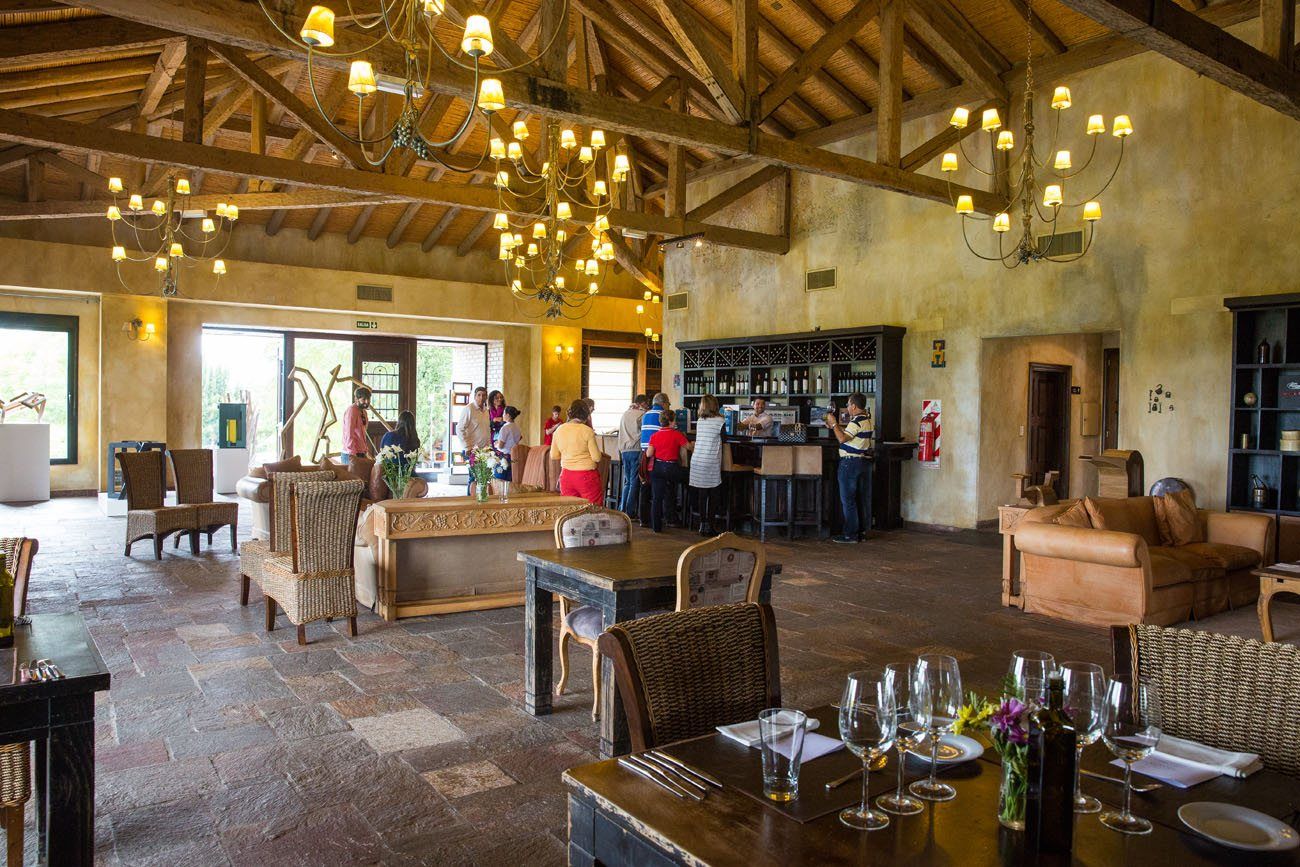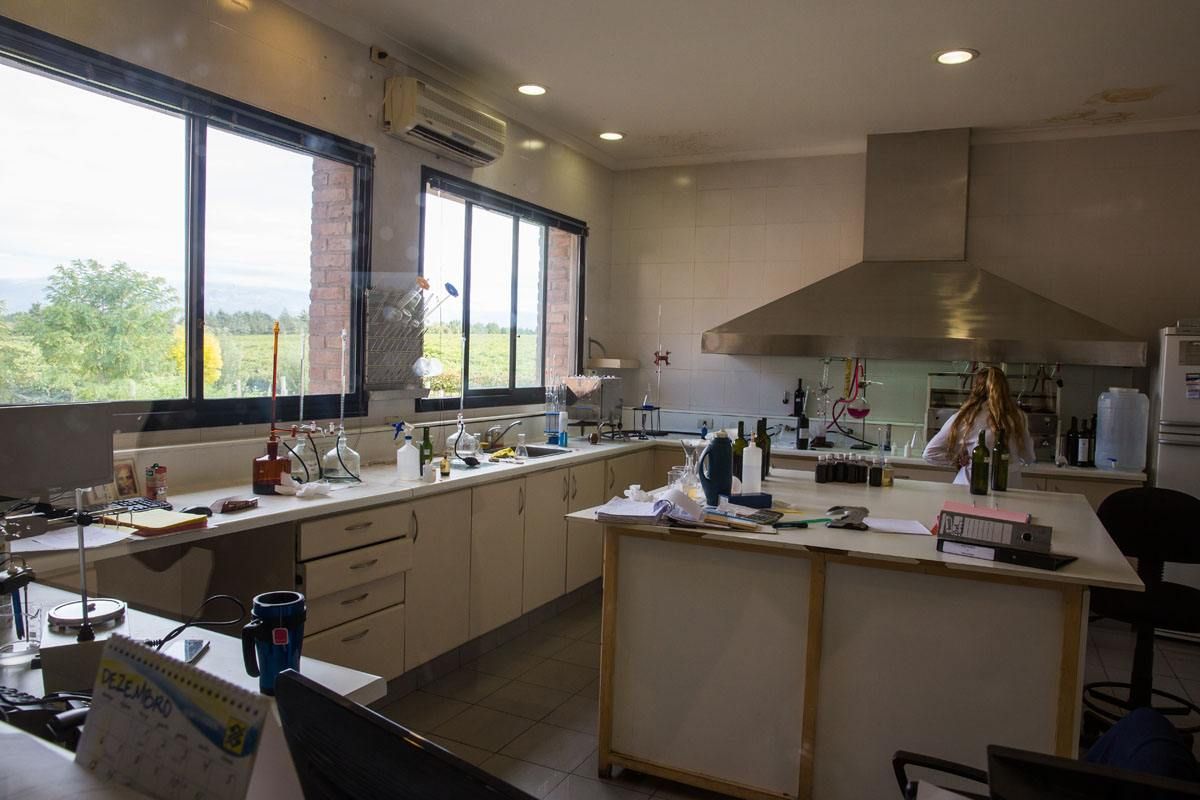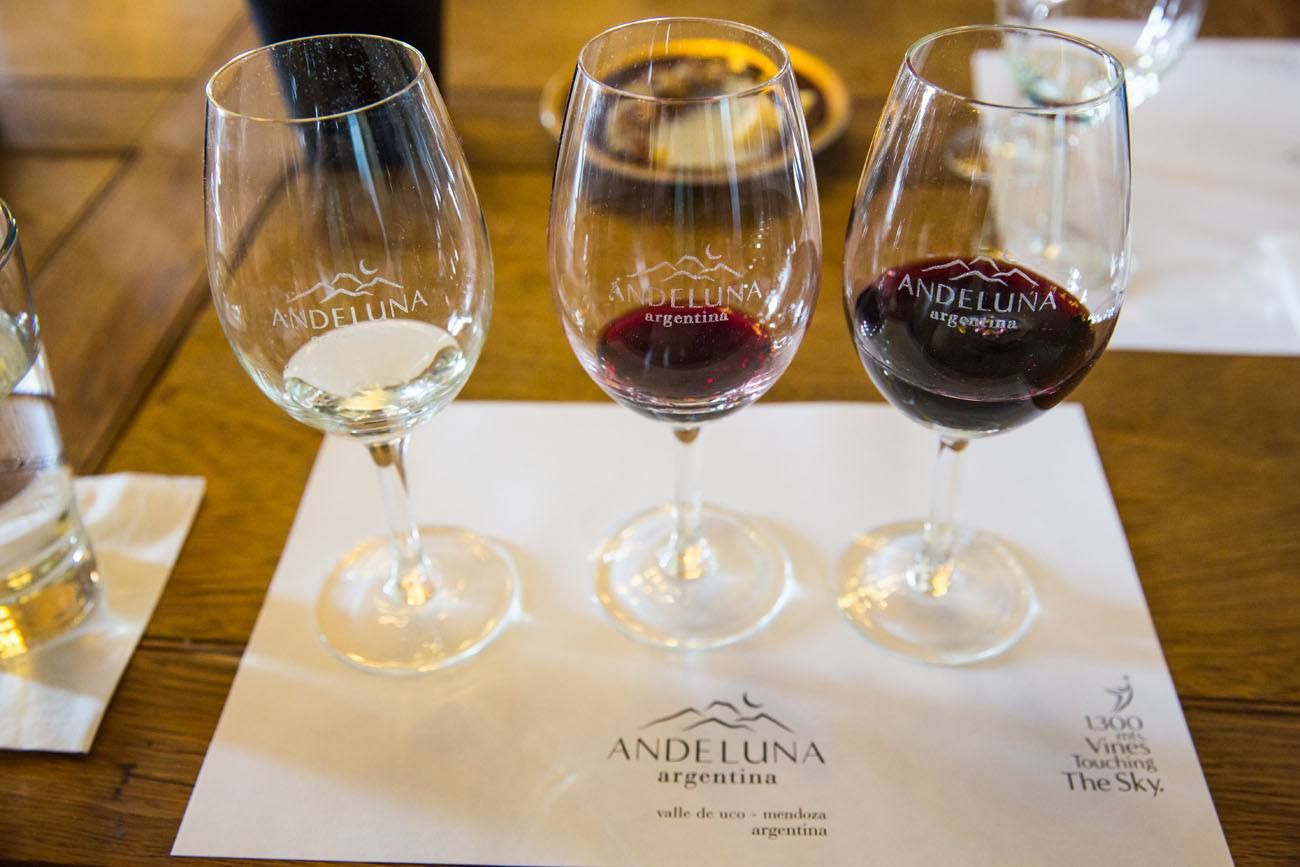 Bodega La Azul
This is a very small winery, a very unassuming place, that serves an extraordinary five course lunch with wine pairings. It is worth driving from Mendoza to Uco Valley just for this meal. We heard rave reviews about the restaurant and did not want to miss it.
When we arrived for our lunch reservation, we were wondering if we were in the right place. Arranged on a gravel patio were colorful wooden tables and chairs, sitting under a canvas cover. The word "rustic" would describe the setting, a much different experience than the upscale nature of Ruca Malen or Andeluna. Do not let looks turn you away, the food was fabulous and the wine was even better.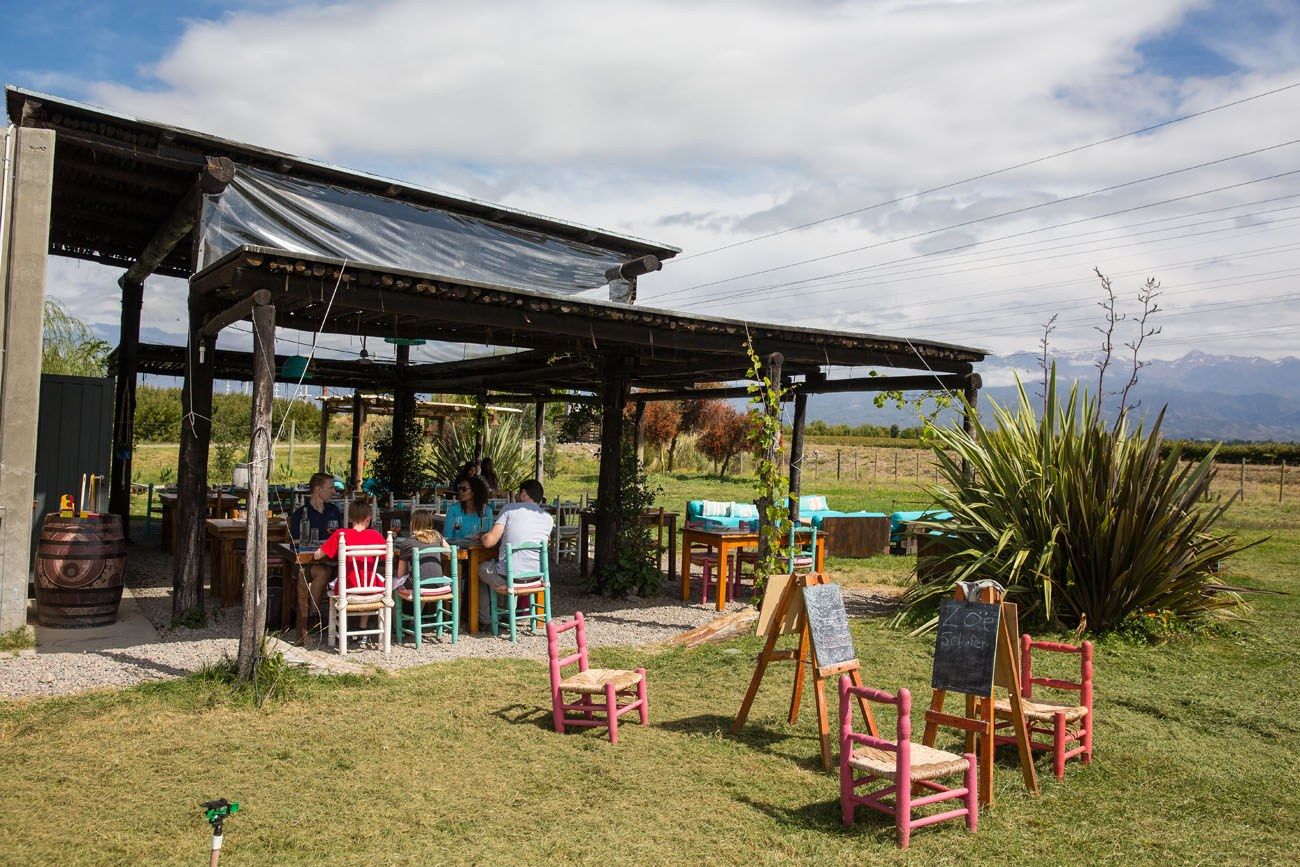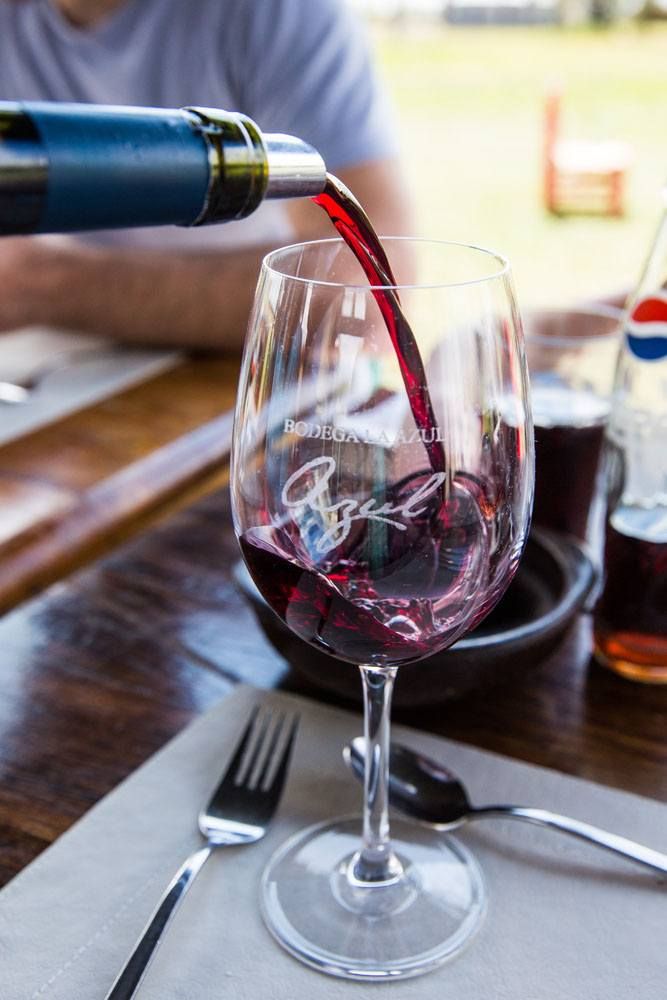 Salentein
Salentein is home to one of the most impressive wine cellars in the Mendoza wine region. This is a huge wine producing facility, containing 5000 barrels of wine, three tasting rooms, and the Primus Room, a room filled with giant oak casks. Salentein is one of the biggest producers of wine in the region. Even though it is one of the oldest wineries in Mendoza it is also very modern. The winery is shaped like a cross, a reflection of Salentein's spiritual nature.
For more on Salentein, visit their website.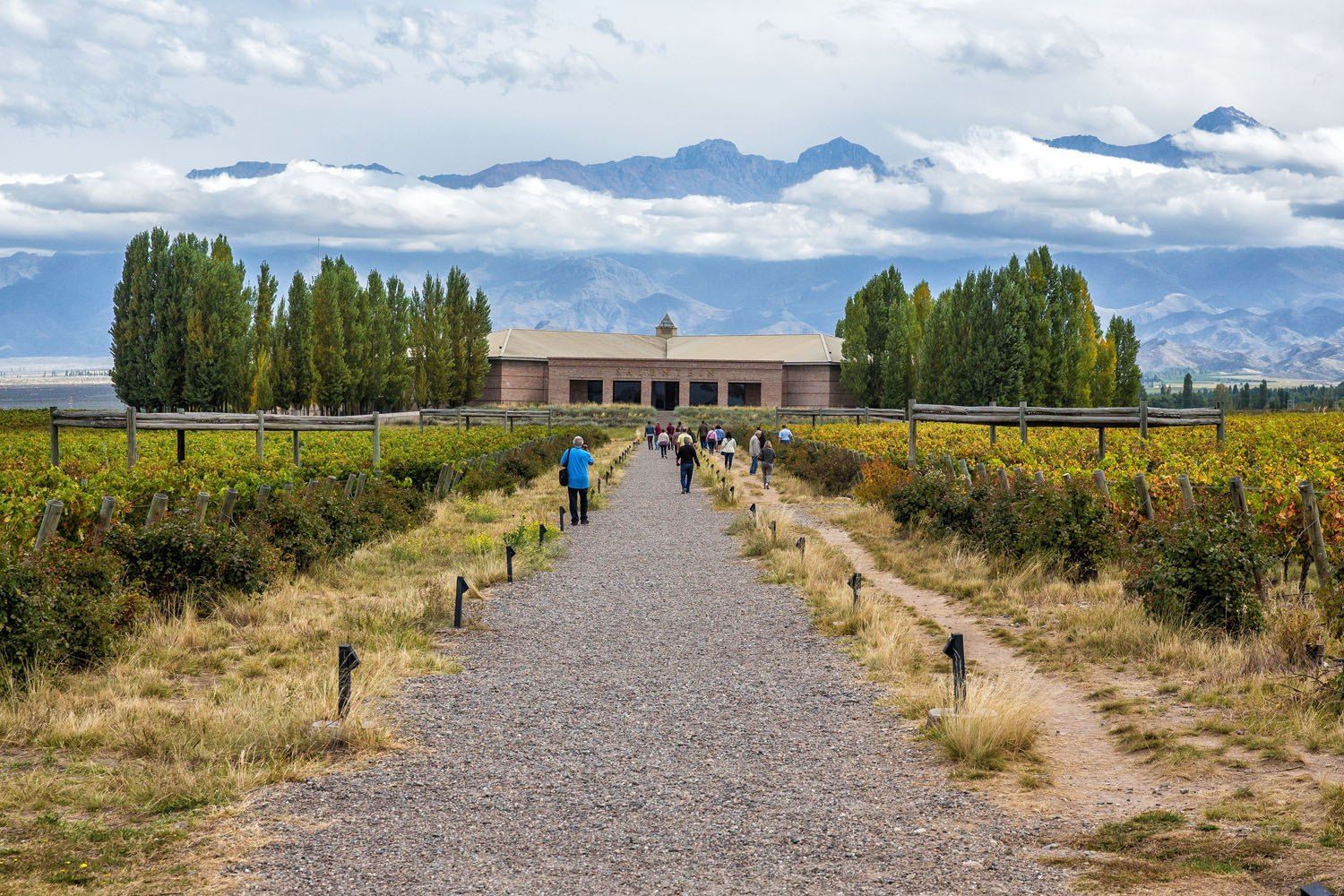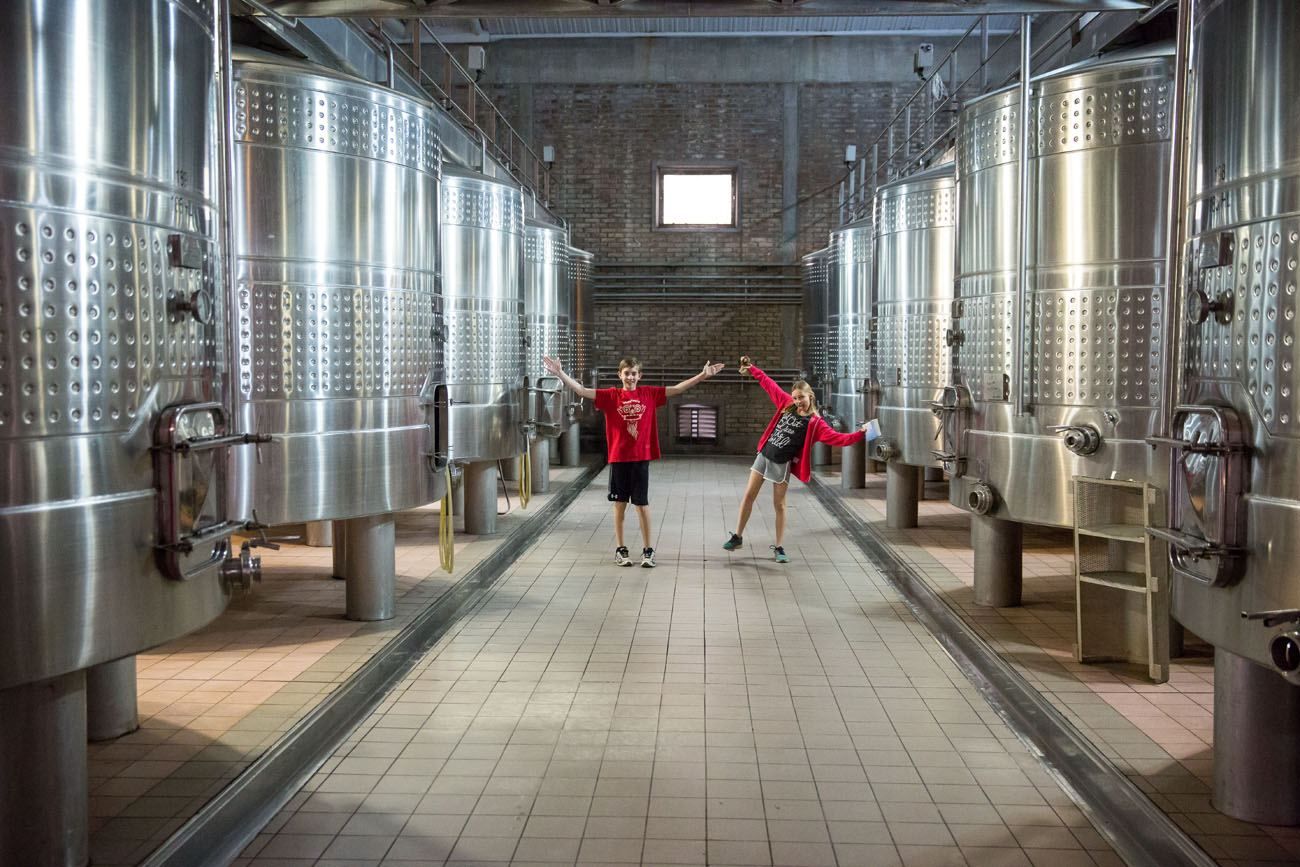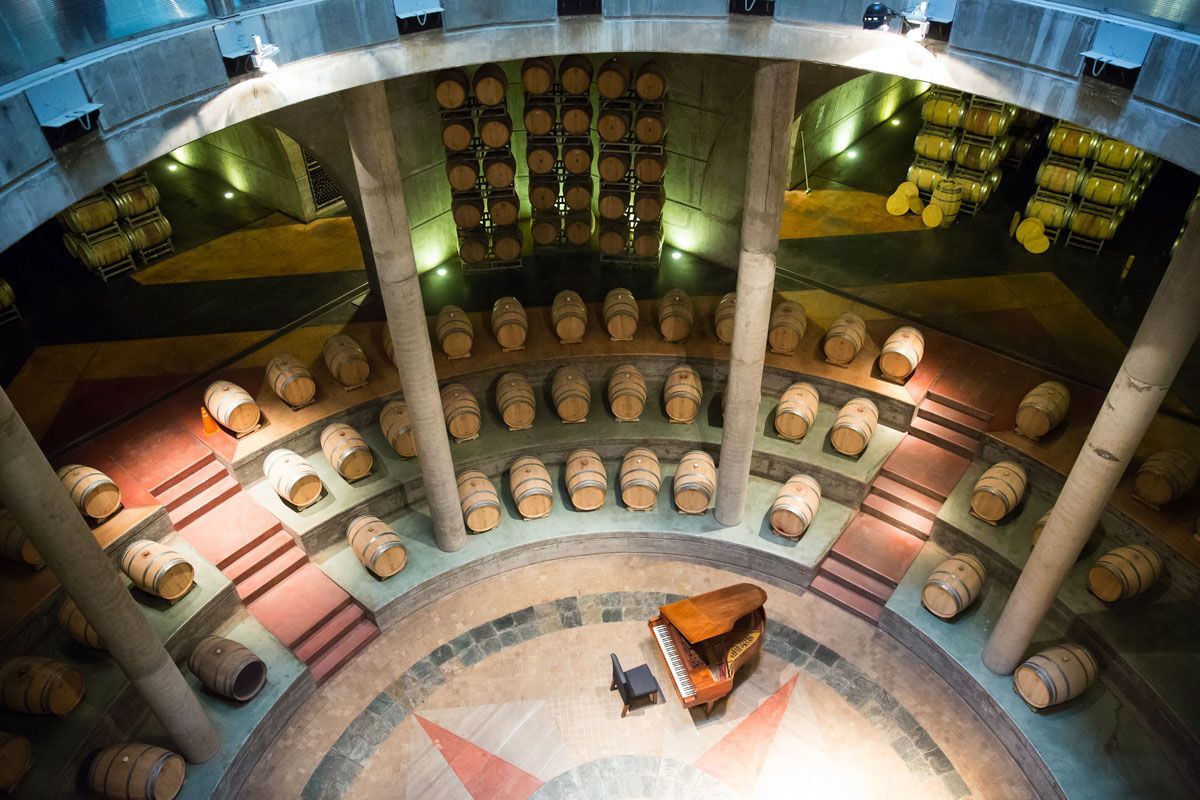 Domaine Bosquet
Domaine Bosquet is a small, family owned winery. This place feels much different than Andeluna or Salentein. We did not take their tour, since by now it was very late in the day, but I did do a wine tasting, which honestly was nothing special. They have a restaurant, Gaia Restaurant, that serves a five course meal with wine pairings.
For more information, visit the Domaine Bosquet website.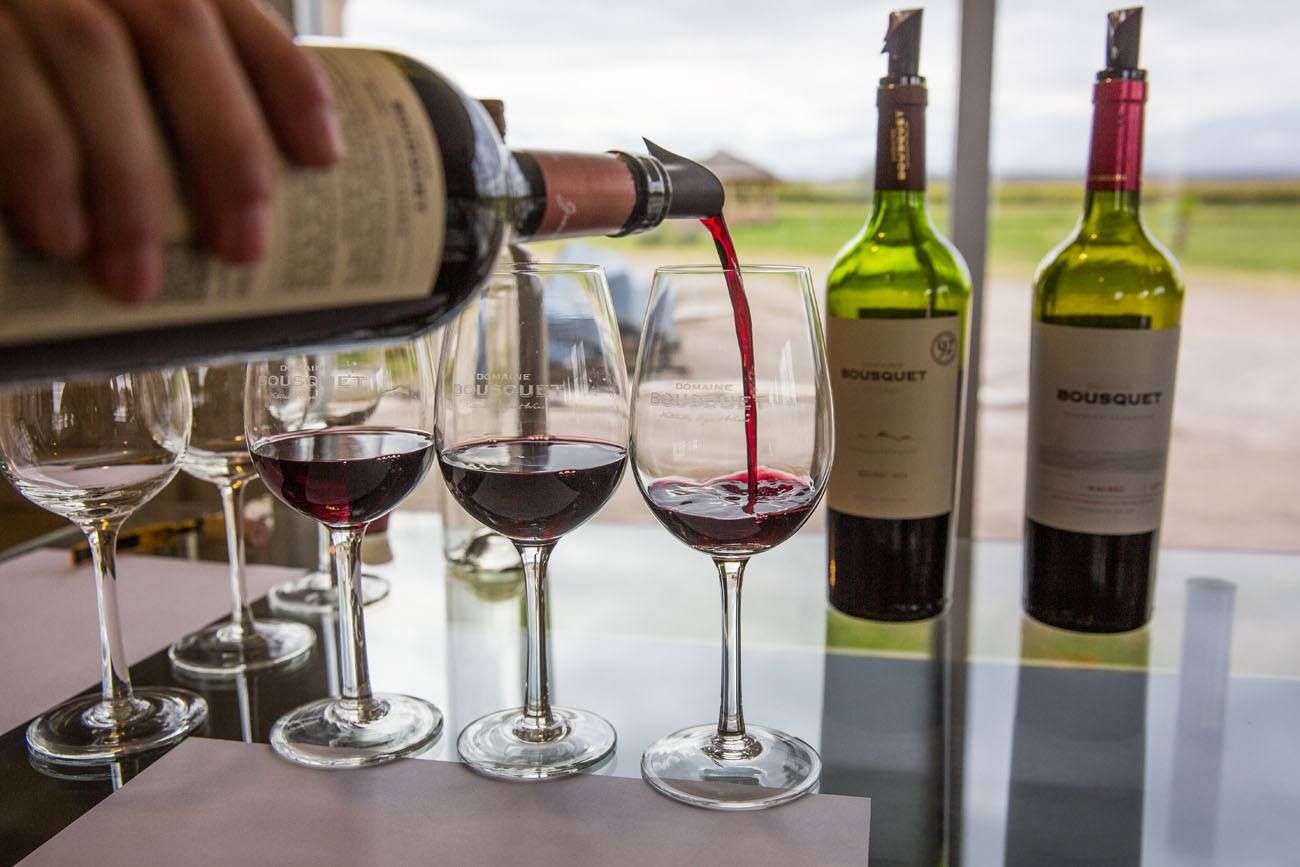 Our Wine Tasting Itinerary in Uco Valley
Here is our schedule, which worked relatively well. Lunch at Bodega La Azul took two hours, so we were a few minutes late to the wine tour at Salentein. We had to skip the wine tasting at Salentein in order to make our wine tasting at Domaine Bosquet.
11:00 am: Wine tasting and tour at Andeluna

1:00 pm: Lunch at Bodega La Azul

3:00 pm: Wine tour and tasting at Salentein

4:00 pm: Wine tasting at Domaine Bosquet
If I had to do it again, I would skip Domaine Bosquet and finish the wine tour and tasting at Salentein.
The wineries in Uco Valley are clustered together, so it only takes a few minutes to drive from one winery to another.
How to Schedule Wine Tours and Tastings
The easiest way to schedule the tours is by emailing the wineries in advance. Most wineries have a set schedule for their tours and you can piece these together as your schedule allows. Your hotel can help you make reservations, also.
I highly recommend visiting the Experience Mendoza website. They list many more wineries than we can cover in this post. From their menu bar, scroll over "Things To Do" and click "Wineries." This will take you to a page where you can explore all of the different regions and their wineries.
There are also tour companies that offer winery tours with tastings. Some tours also include lunch.
Tips for Touring the Mendoza Wine Region
Some wineries are not open on Saturday or Sunday.
Plan on visiting no more than three to four wineries per day. Yes, you will have to pay for tastings, but you get a generous pour of wine. During a wine pairing meal, you will typically taste five or six glasses of wine.
Hiring a driver is ideal since everyone in your party will be able to sample the wine. We had our own car and Tim was our driver. He still was able to sample the wine (but not as much as me).
If you are traveling with kids to the Mendoza wine region, it is possible to go on wine tours. Depending on the winery, kids can be free or offered a discounted price. Bring things for your kids to do while they are waiting. It's not the most fun experience with them, but you can make up for it by taking your (older) kids horseback riding, whitewater rafting, or rock climbing during the week.
When scheduling your reservation, inquire if the winery accepts cash or credit cards so you know how to pay. Some wineries only accept cash.
Where We Stayed
We stayed at El Encuentro en Chacras de Coria in Chacras de Coria, Mendoza. This small, boutique hotel has a great location just outside of the main bustle of Mendoza. The staff is extremely helpful and can assist you with scheduling wine tours and activities. If you do not get enough wine during your tours and five course meals, the hotel has a wine cellar and a fantastic common area to relax in at the end of the day.
---
If you are planning a trip to Mendoza and have questions, let us know in the comment section below. And if you visited a winery and would like to share your experience, we would love to hear that too!
More Information for Your Trip to Mendoza
MENDOZA, ARGENTINA: Go white water rafting, rock climbing, and hike to Aconcagua Base Camp. See the full list in our article Best Things to Do in Mendoza.
MENDOZA, ARGENTINA: Learn how to put together the top experiences and plan your Mendoza Itinerary.
ARGENTINA & CHILE: Find out how we combined Santiago and Mendoza into an awesome 12 day trip.
TRAVEL INSPIRATION: For more travel ideas, here are 10 unique destinations to put on your travel wish list. If Europe is calling your name, here are 25 itineraries that just take a week of your time. And if you have plans to visit the United States, don't miss our article about the Best Road Trips in the USA.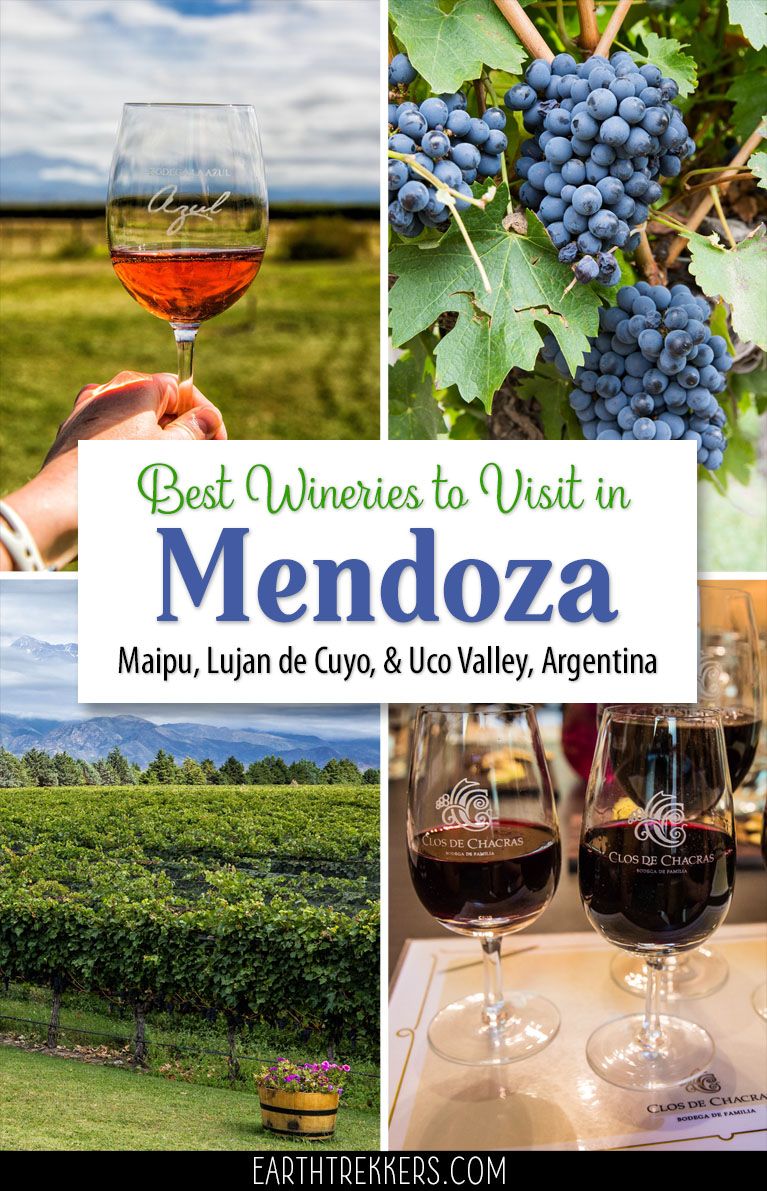 Note: This post contains affiliate links. When you make a purchase using one of these affiliate links, we get paid a small commission at no extra cost to you.
All rights reserved © Earth Trekkers. Republishing this article and/or any of its contents (text, photography, etc.), in whole or in part, is strictly prohibited.