People from around the world travel to Siem Reap, Cambodia to tour Angkor Wat, the world's largest religious monument. We were no different. We had a week to explore Siem Reap and all it had to offer.
Before traveling here, we were familiar with Angkor Wat, but we did not know much about the surrounding temples, of which there are many. What we were surprised to find is that seeing Angkor Wat is good, but the other temples are so much better! Like Bagan in Myanmar, the area around Siem Reap is littered with temples, now crumbling ruins located in the hot, Cambodian jungle.
Tyler and Kara were not thrilled with the idea of visiting more temples, but here it was different. Here they could pretend that they were Indiana Jones, exploring lost cities, playing hide and seek amidst towering trees and 1000 year old temples, spying on their parents through stone doorways and alleyways.
Angkor Wat at Sunrise
Our multi-day tour started with sunrise views of Angkor Wat. Who knew that waking up before the crack of dawn to look at a temple would be so popular, but we joined hundreds of other tourists (and their tuk tuks and tour buses) who were all doing the same thing.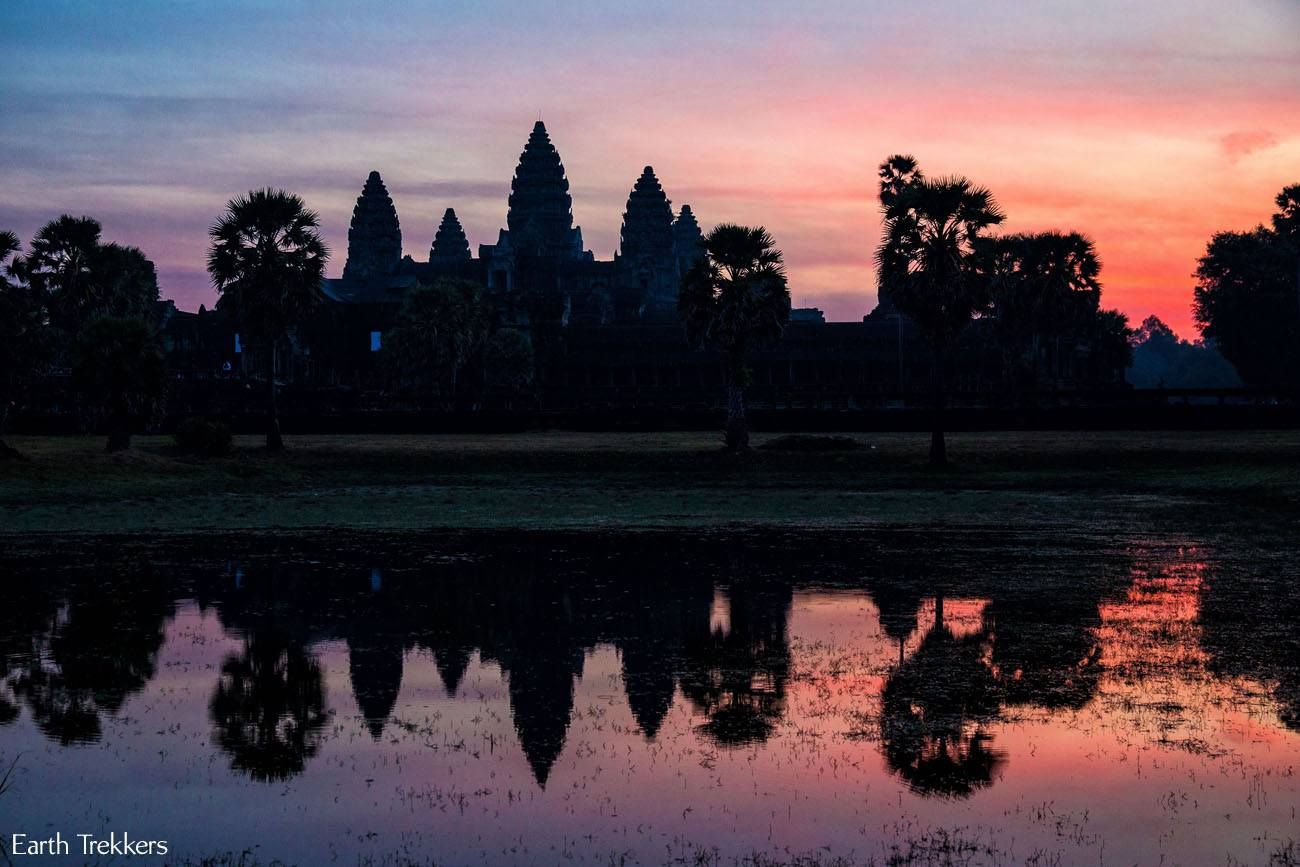 After watching the sunrise, we spent some time walking through Angkor Wat.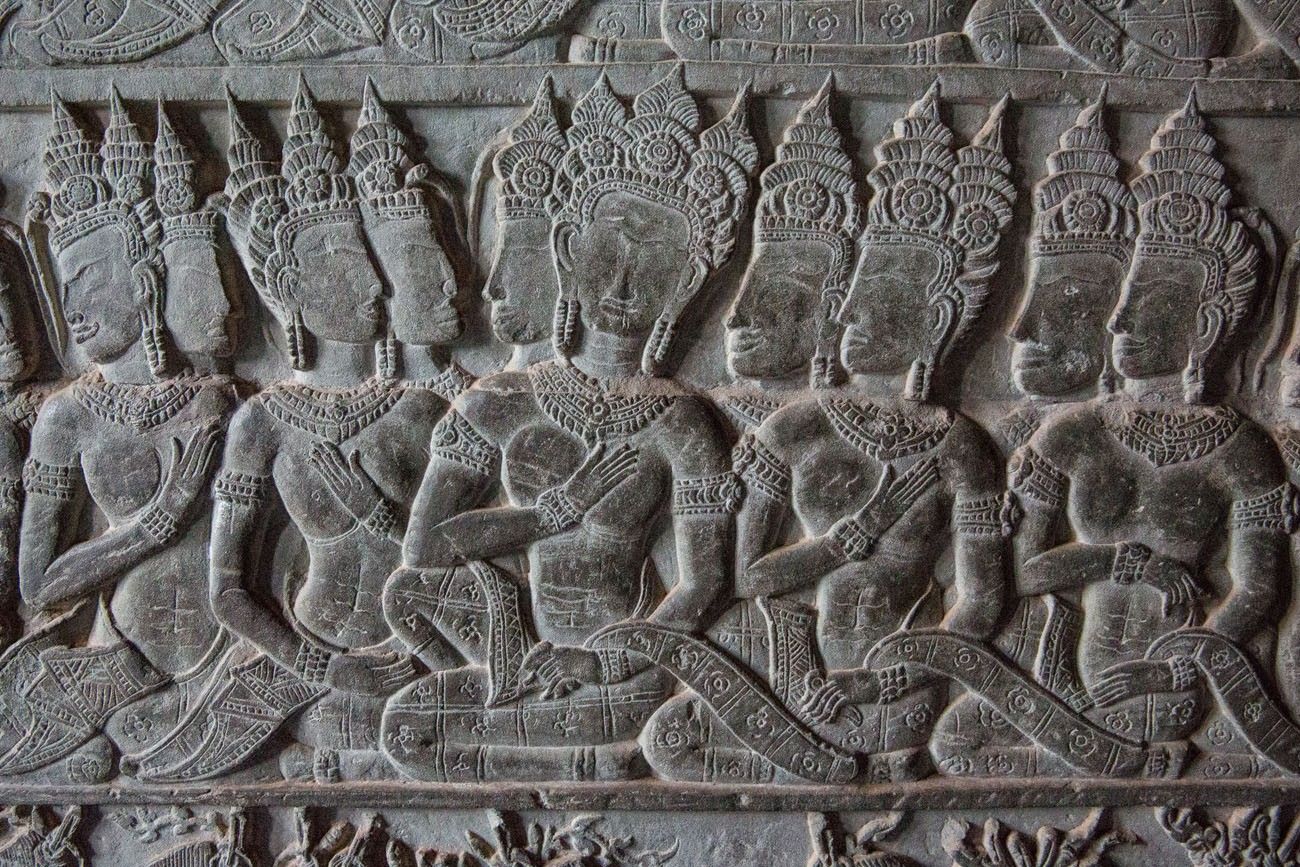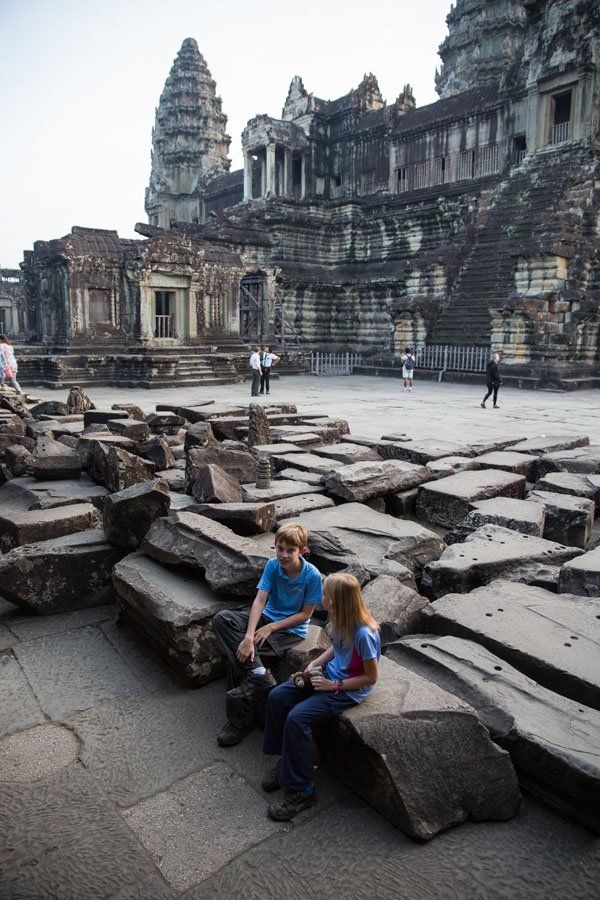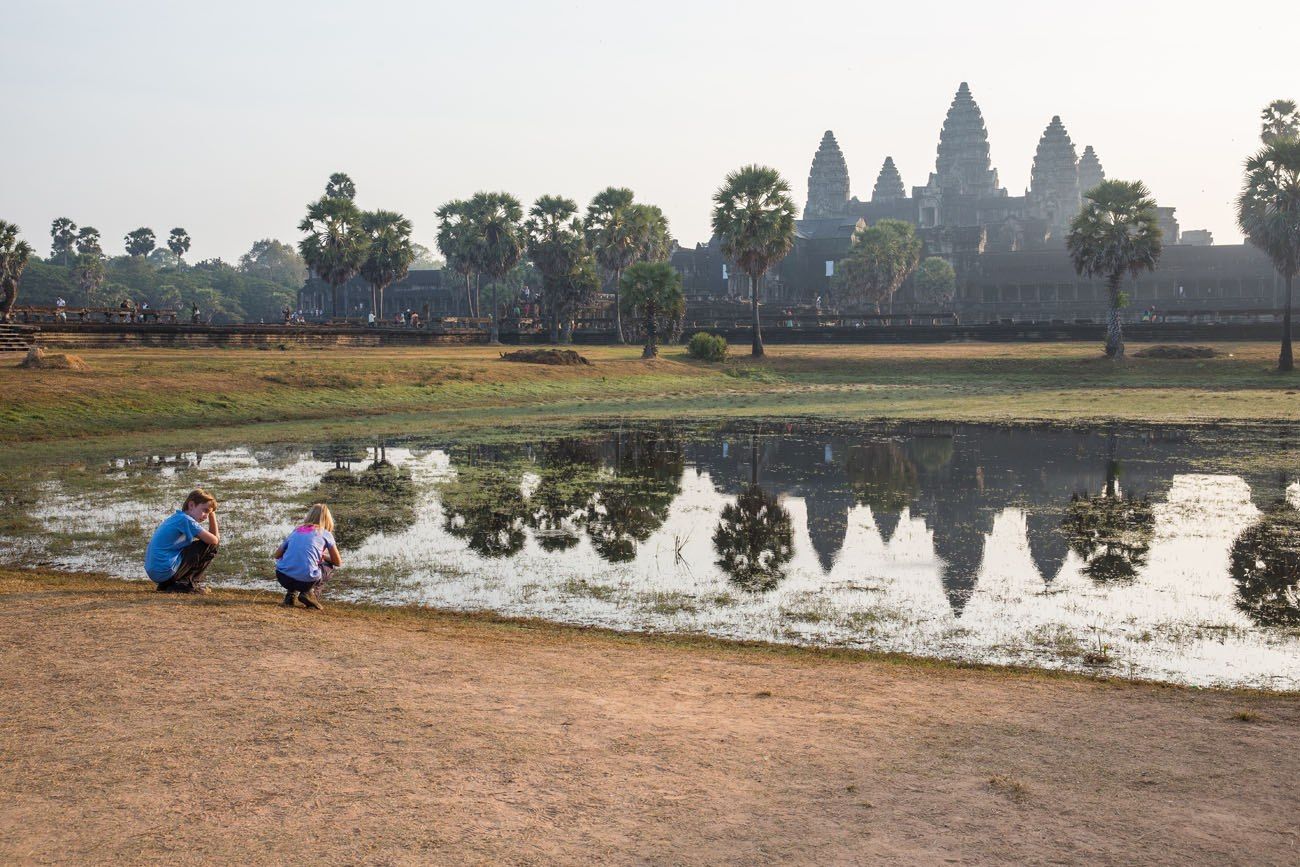 Angkor Thom
After visiting Angkor Wat, we headed north to the area called Angkor Thom. We were getting around by tuk tuk, a very popular method of transportation in Siem Reap, Cambodia.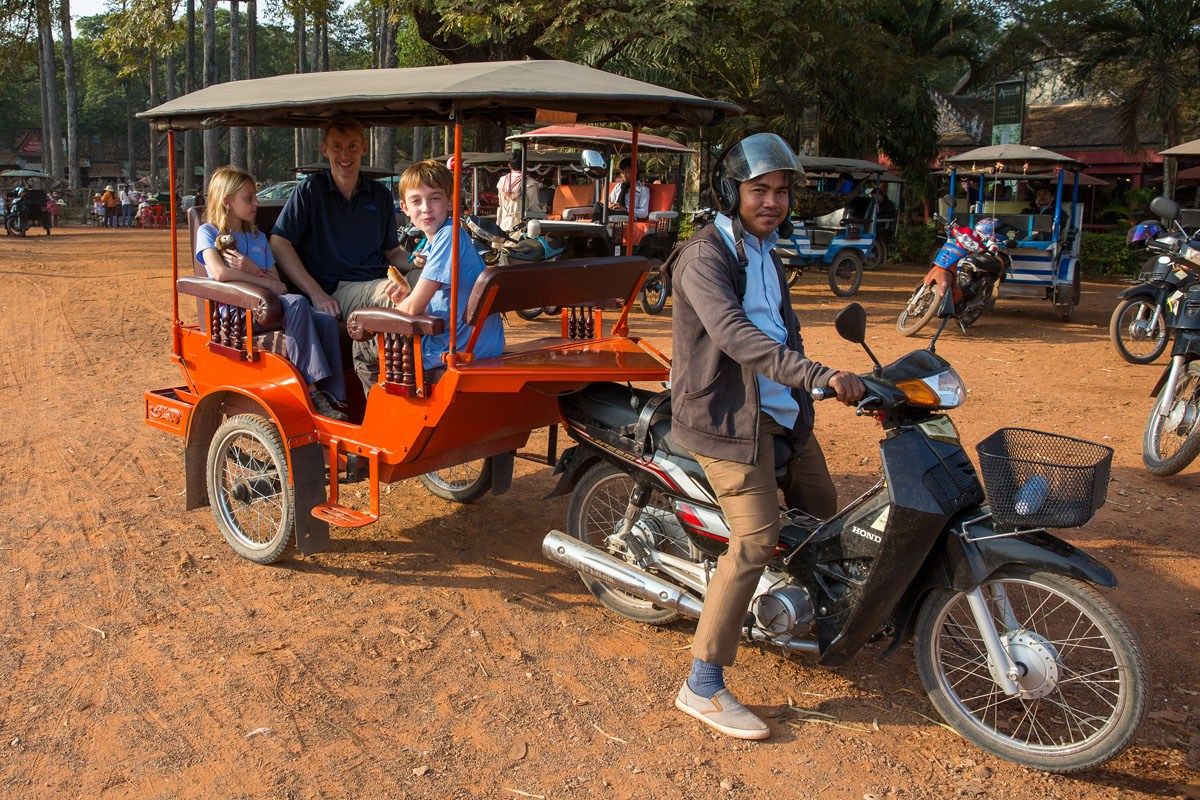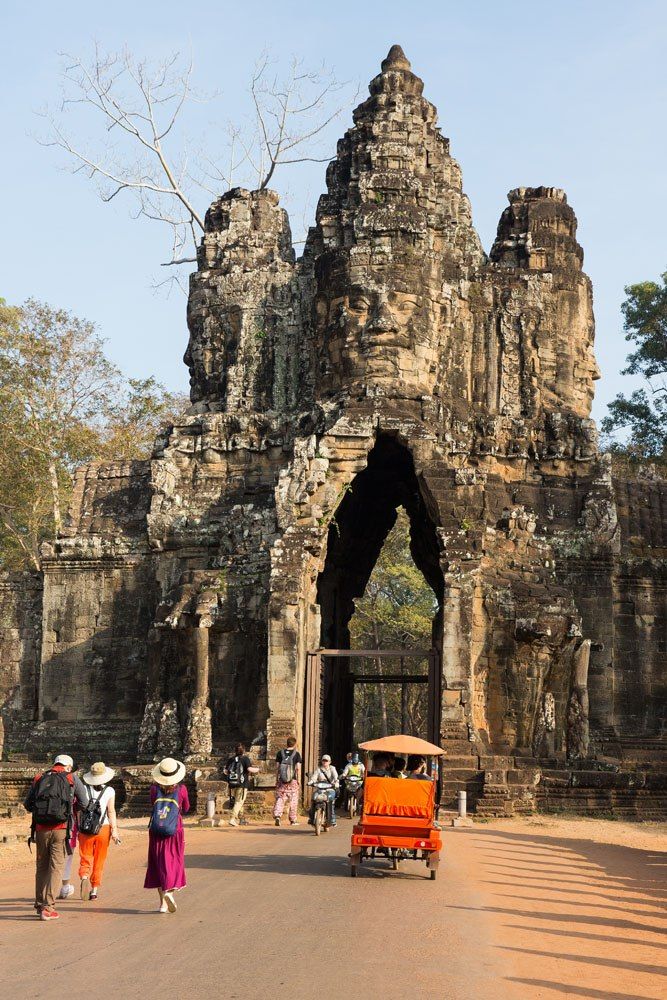 A moat surrounds Angkor Thom and the bridge over the moat is guarded by warriors on one side and demons on the other.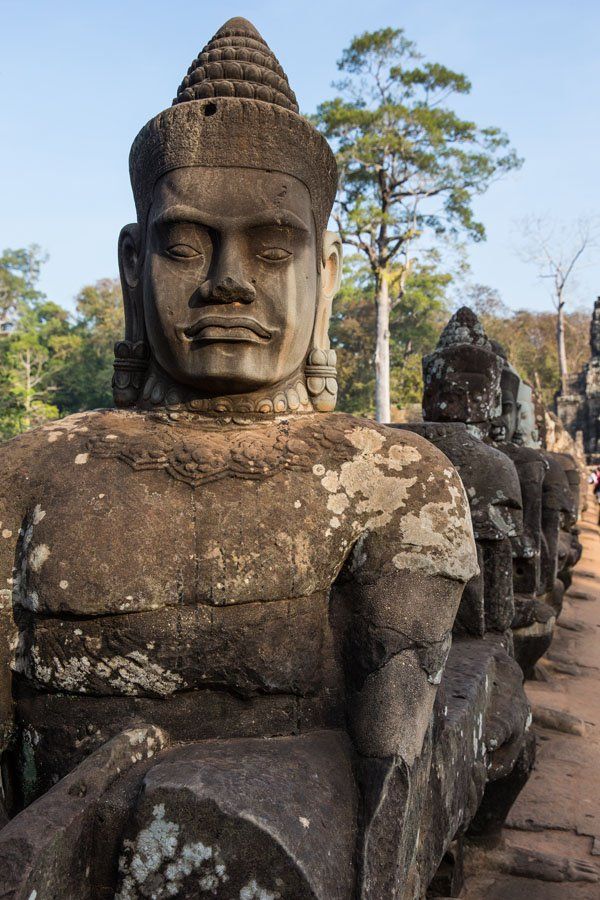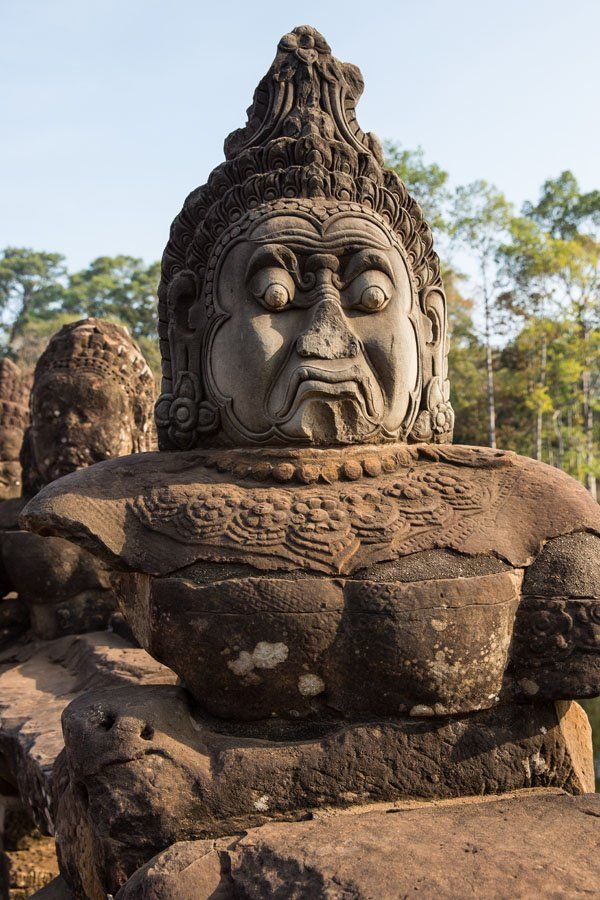 Bayon, Our Favorite Spot in Siem Reap
Next we saw our favorite spot, Bayon. In the 1700's, after Jayavarman VI defeated his enemy, he spent the rest of his life building temples. Bayon was one of these temples.
Here were over 50 giant faces carved into the rocks, the faces a blend of Jayavarman's face with that of the Buddha. These giant heads stared down at us…very cool and a little eerie, and it's such a unique place. Tim and I liked it so much that we returned on our own one morning by bicycle to see it again before the hoards of tourists arrived.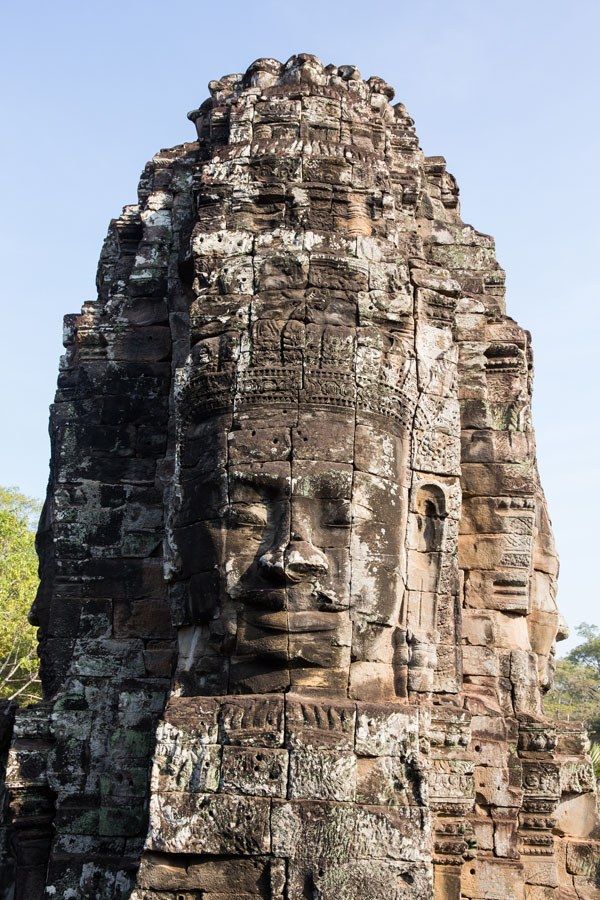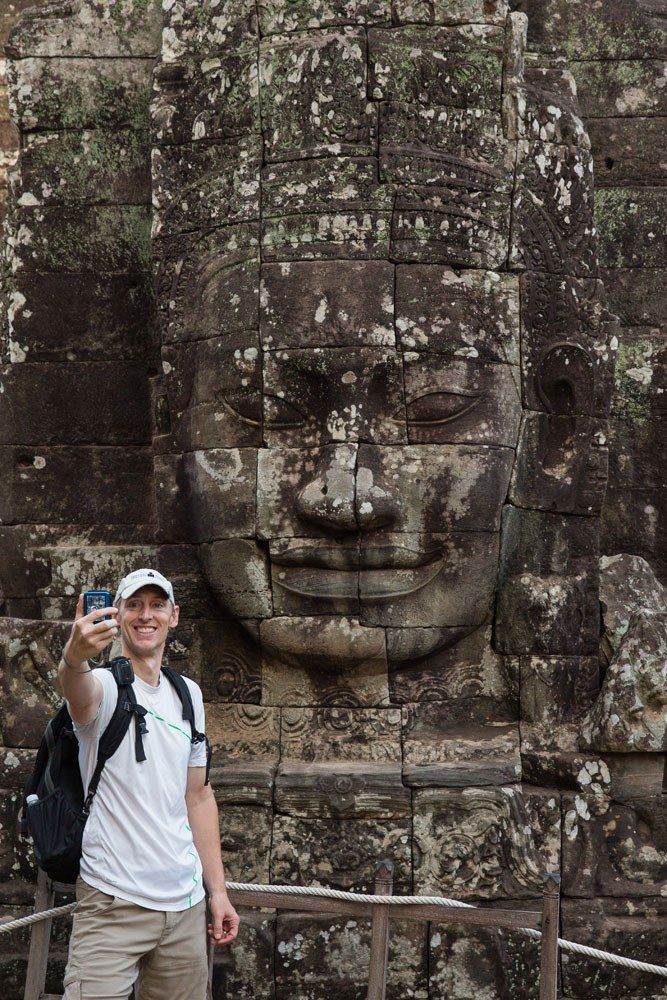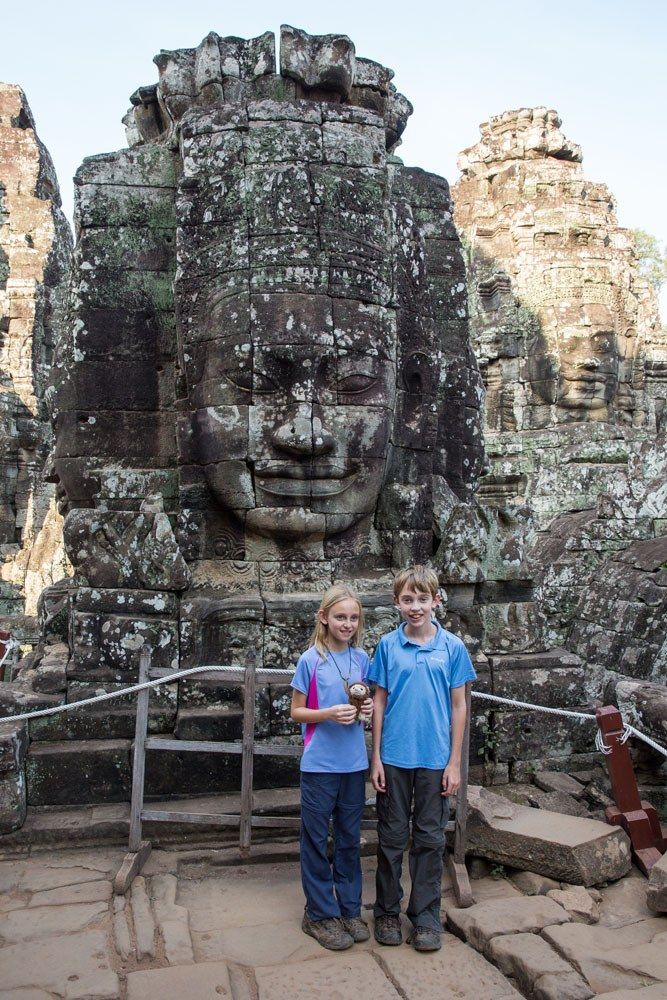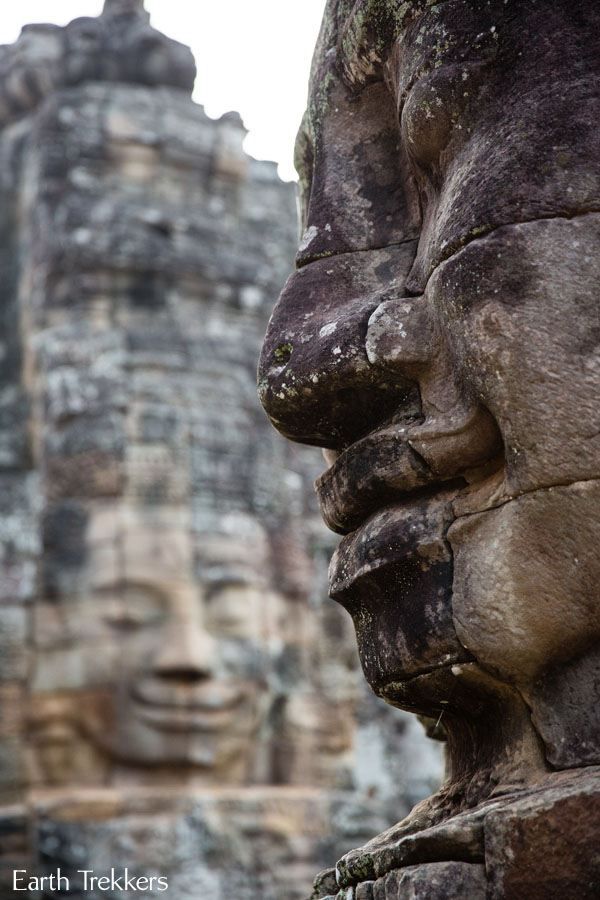 At Bayon there were also carvings on the walls, like this one.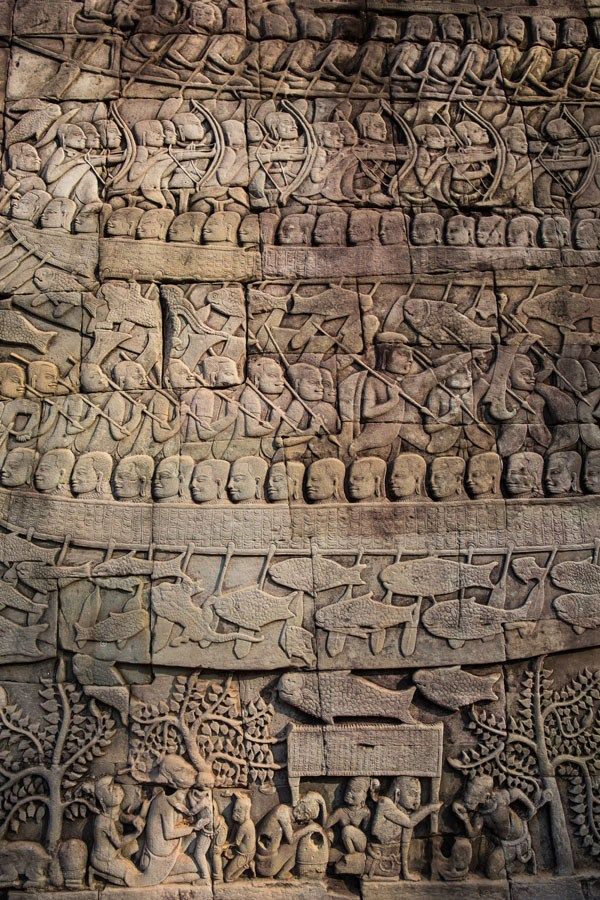 More of Our Favorite Photos
This was taken on a quick stop at Chau Say.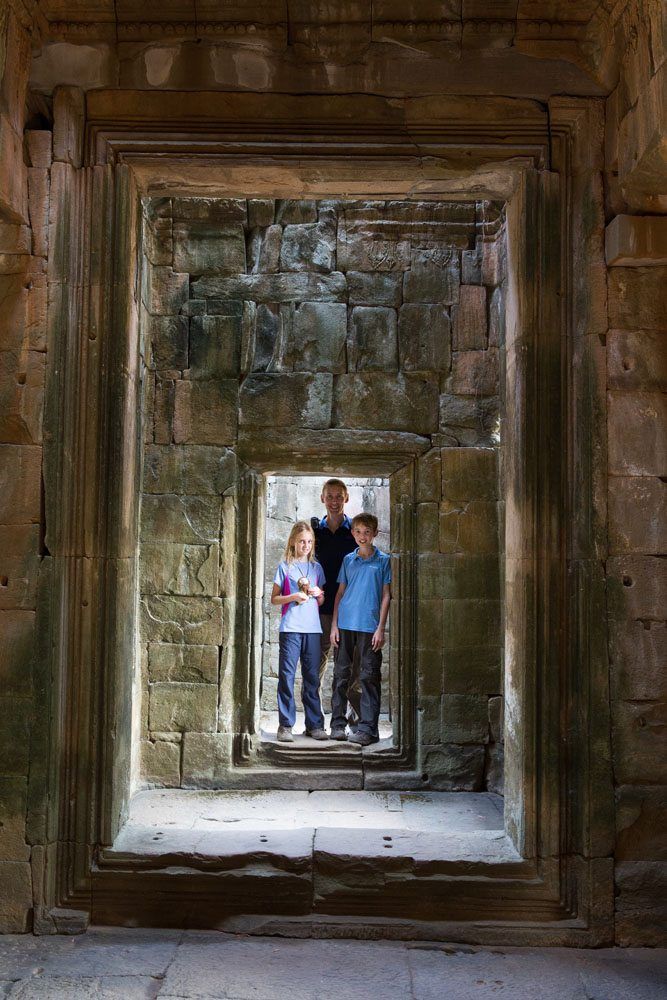 We climbed a lot of steps, like here at Ta Keo.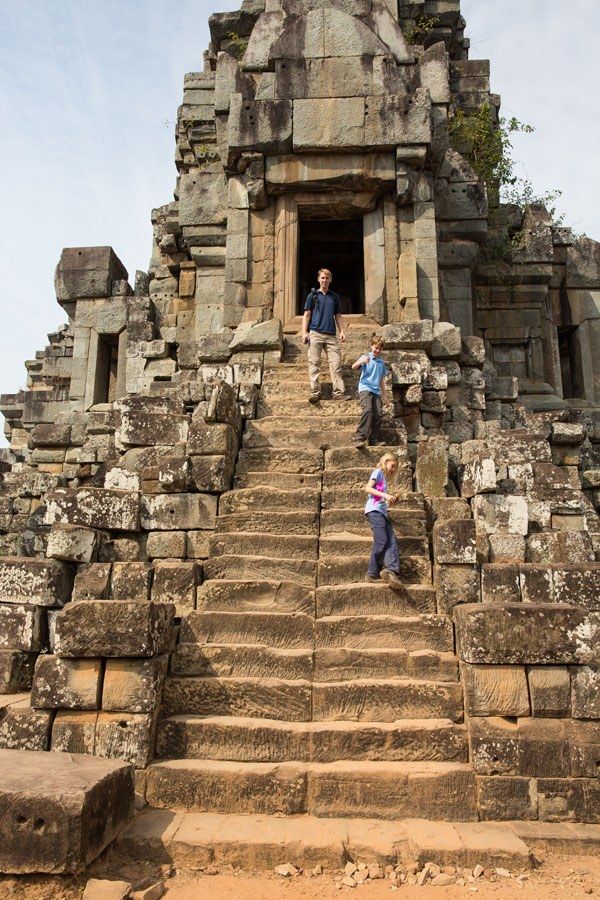 Ta Phrom, Another Amazing Spot in Siem Reap
Next was another of our favorites, Ta Phrom. Here, the walls are really crumbling, everything is covered with moss, and tall trees towered over our heads. These same trees have taken root in the walls of Ta Phrom, sometimes growing directly on the buildings.
This place looked so cool and so mysterious that it did not seem real; it felt like we were on a movie set. In fact, we were. "Tomb Raider," starring Angelina Jolie, was filmed here over ten years ago.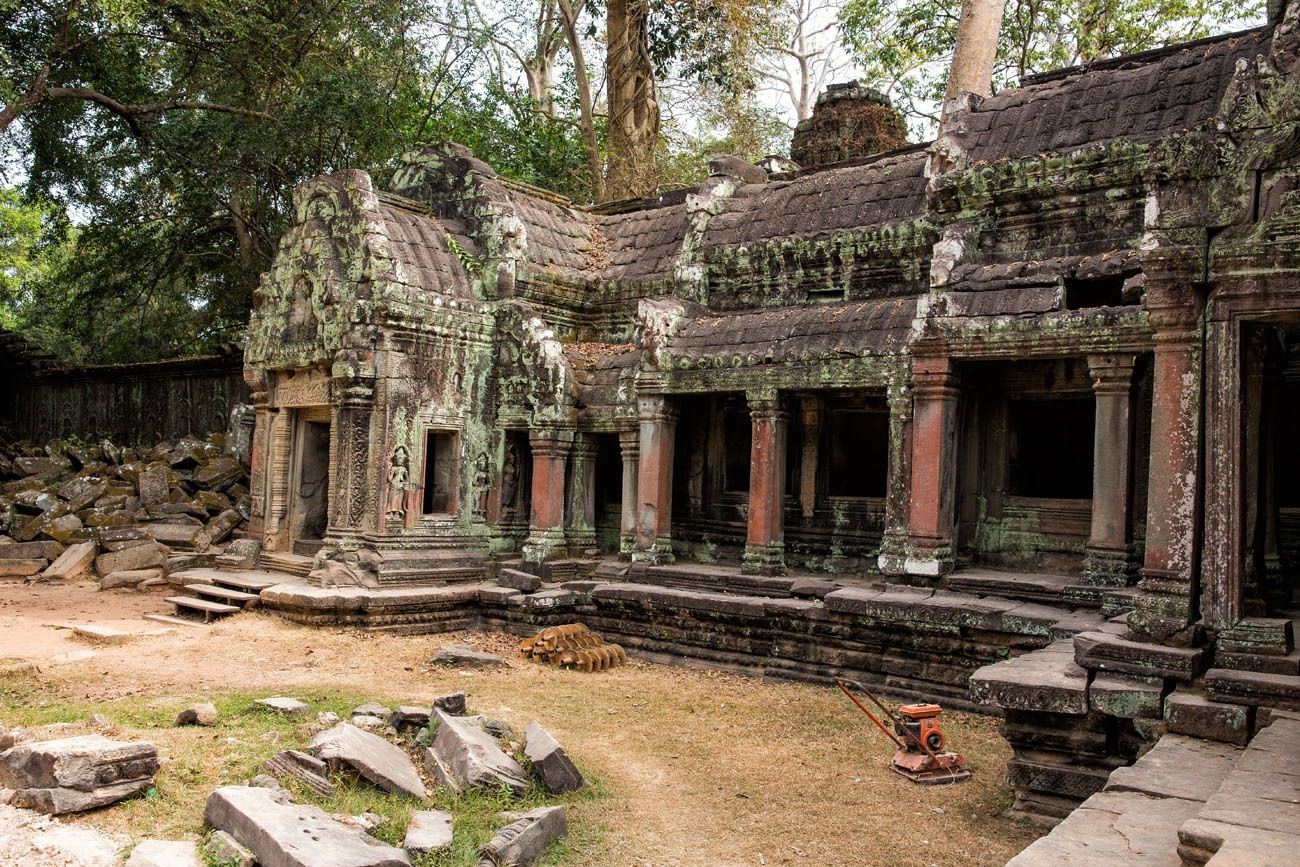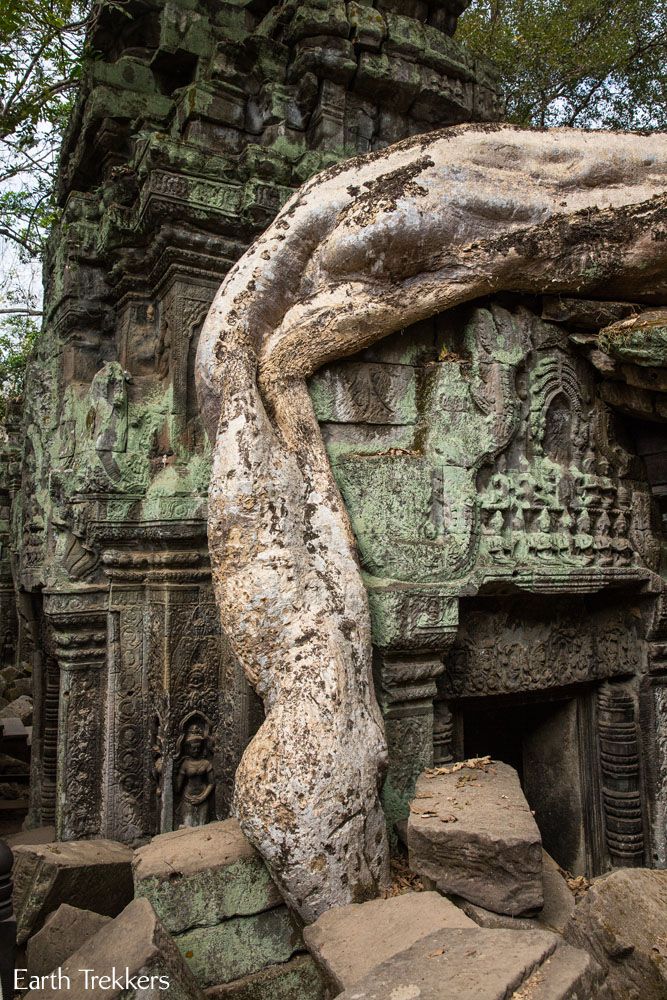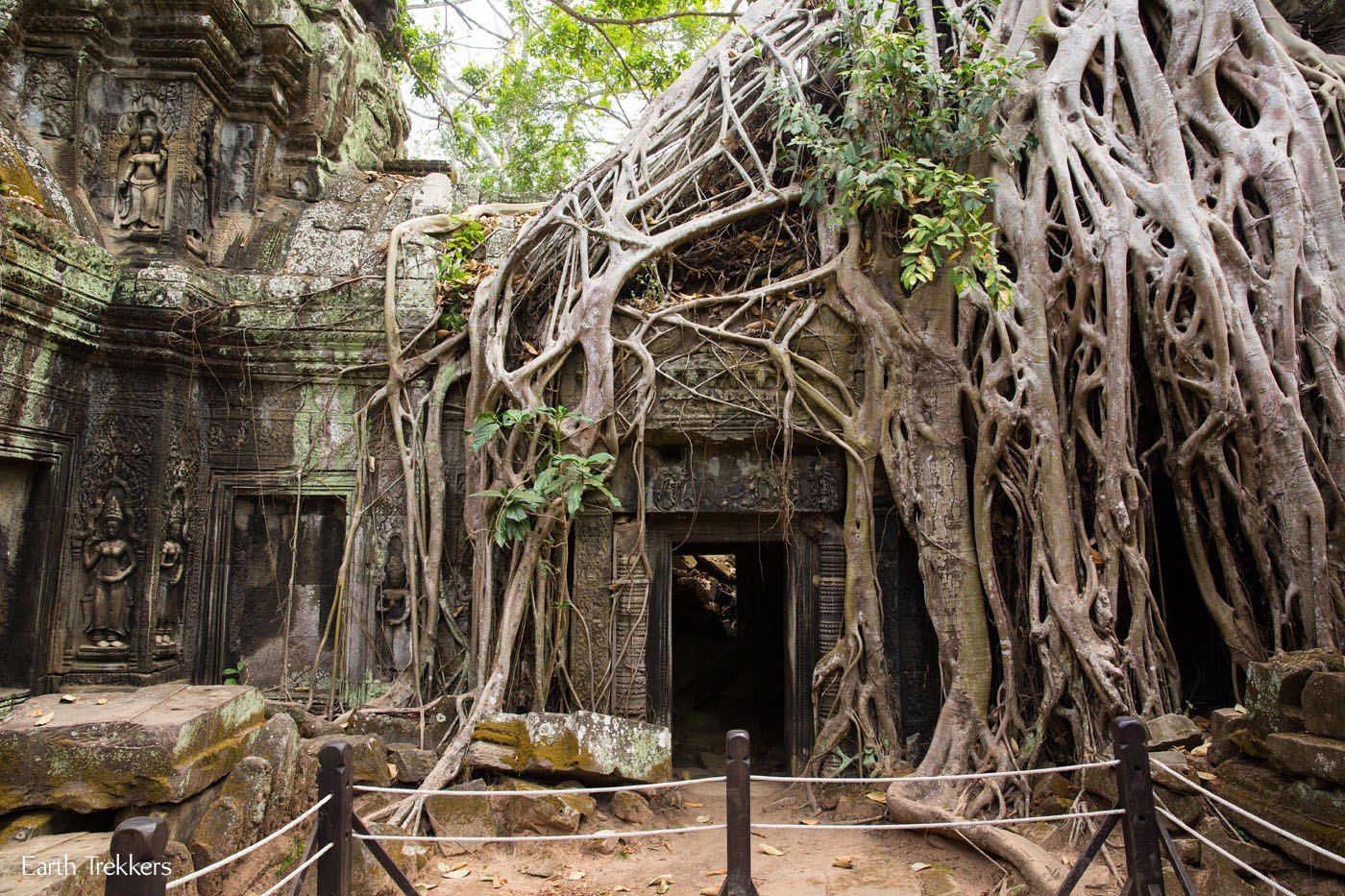 This place was very crowded while we were here, as you can see.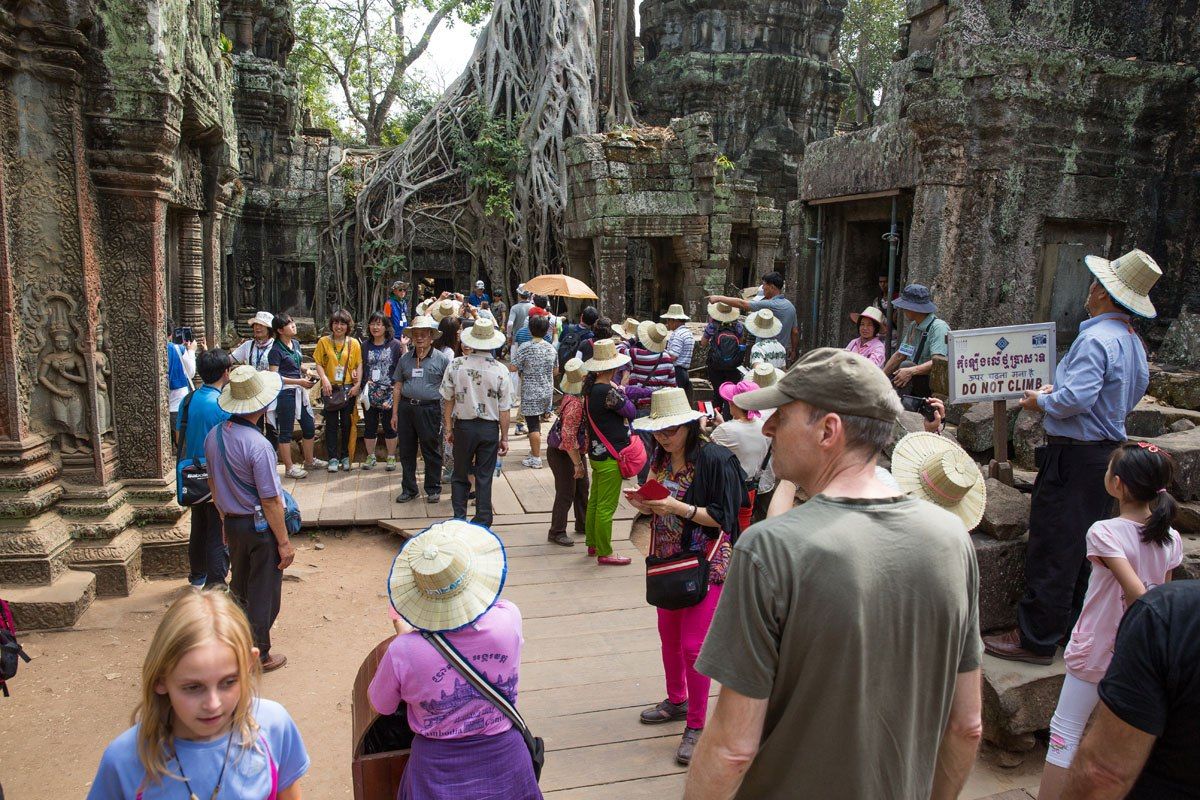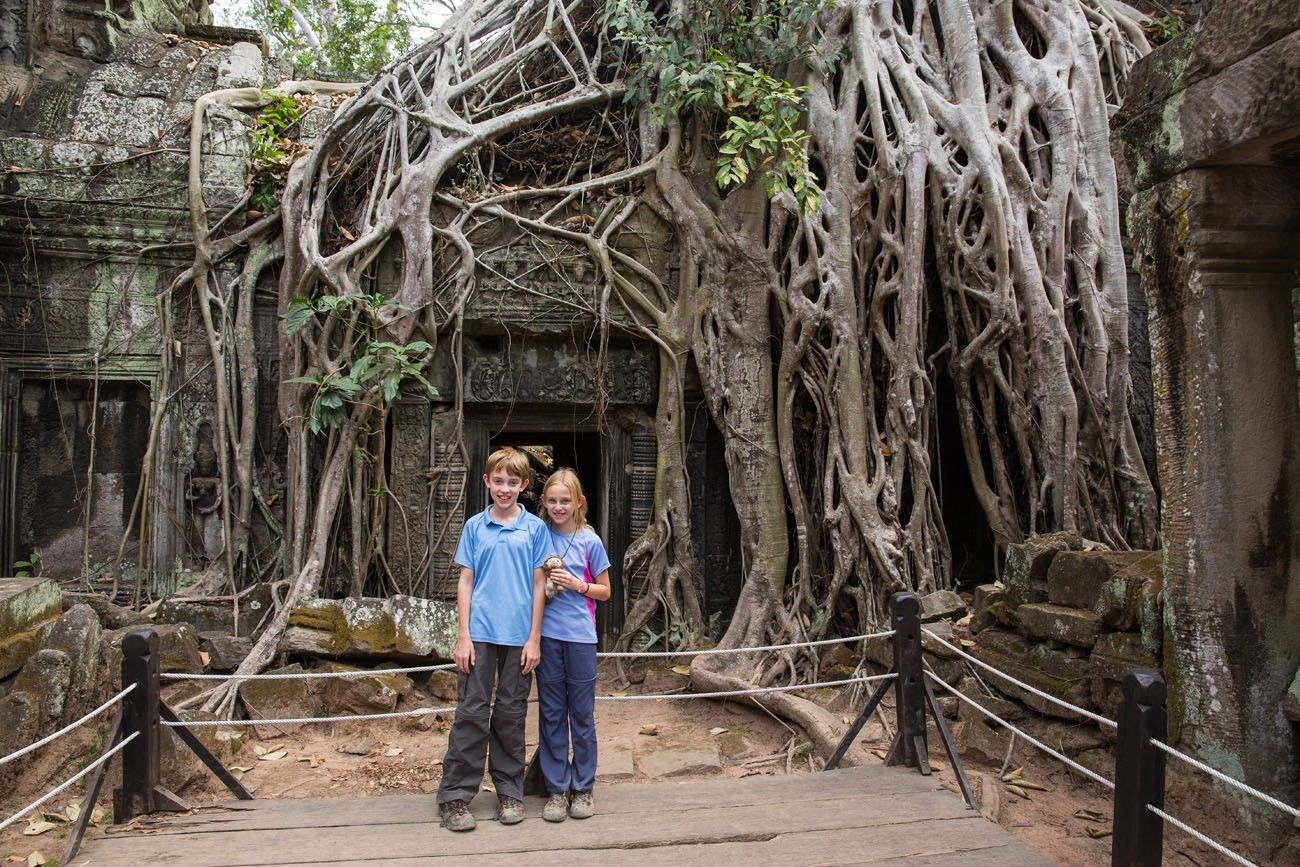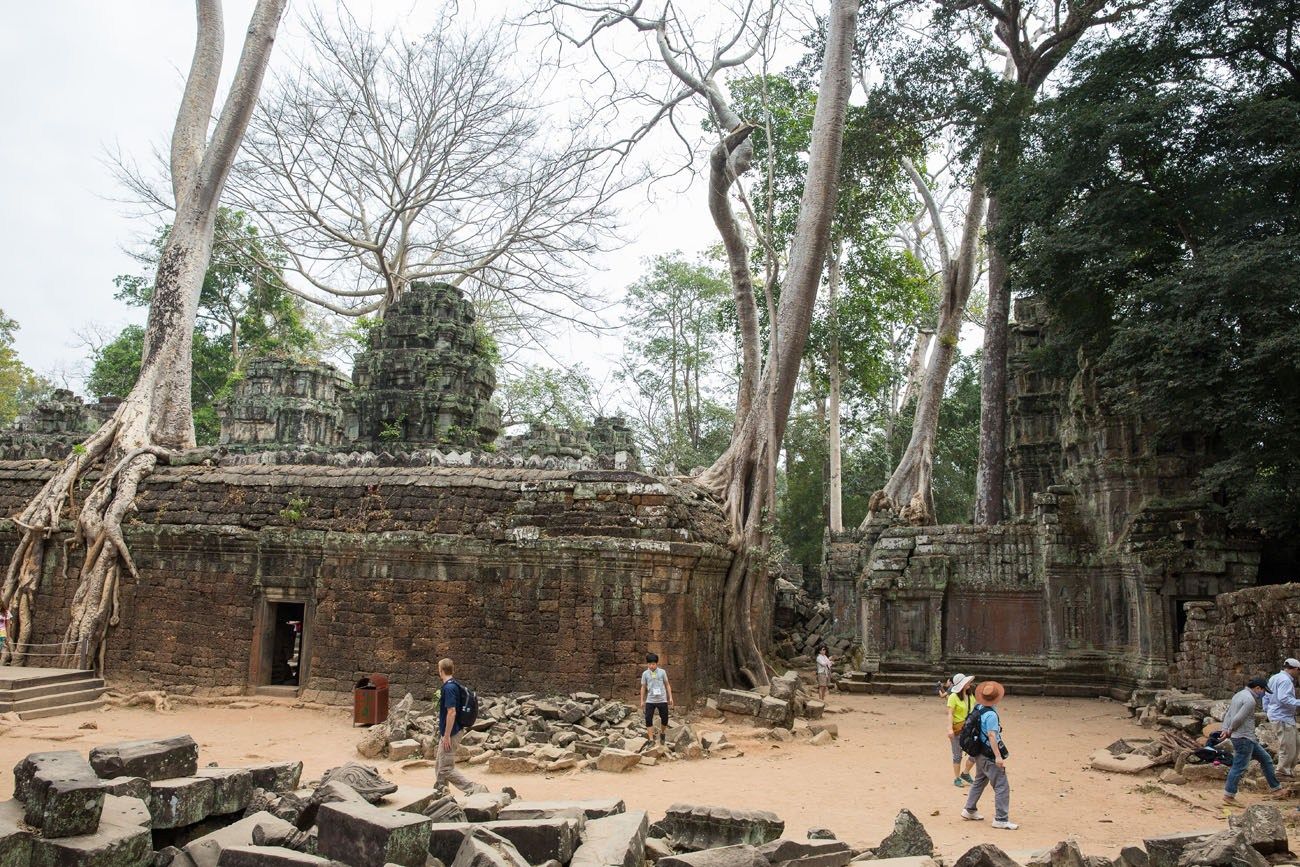 Outside of most temples were shops selling coconuts, pineapple, cold drinks, and food.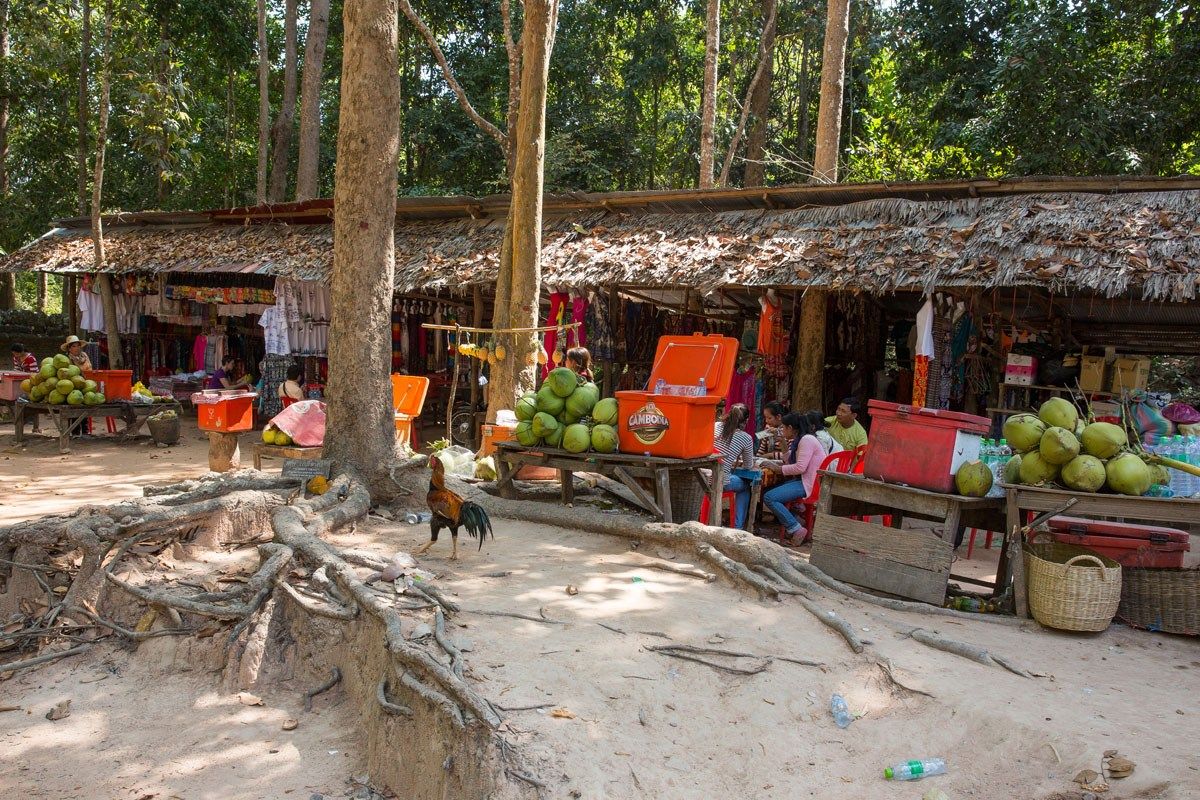 Banteay Srei
Our second day started at Banteay Srei, a one thousand year old temple located one hour away from Siem Reap by car.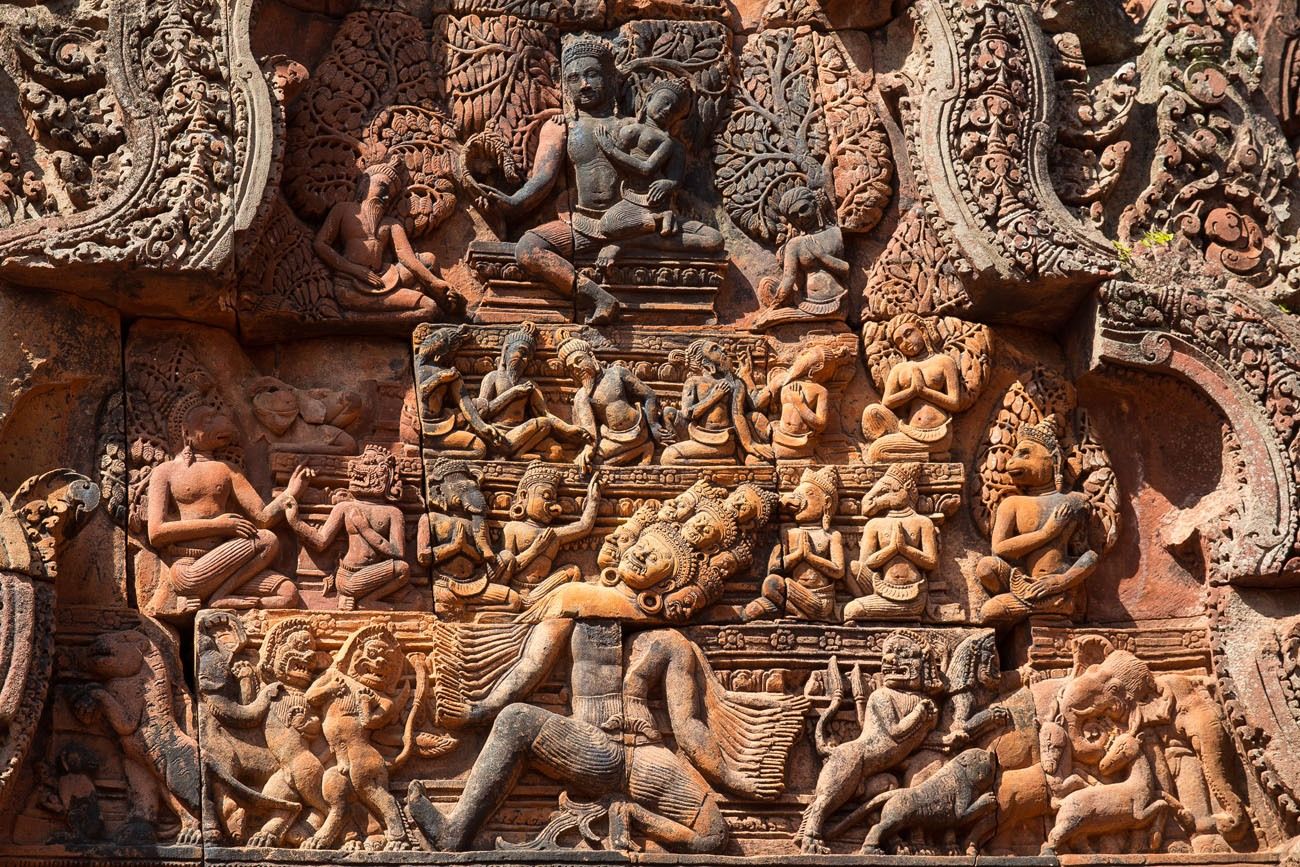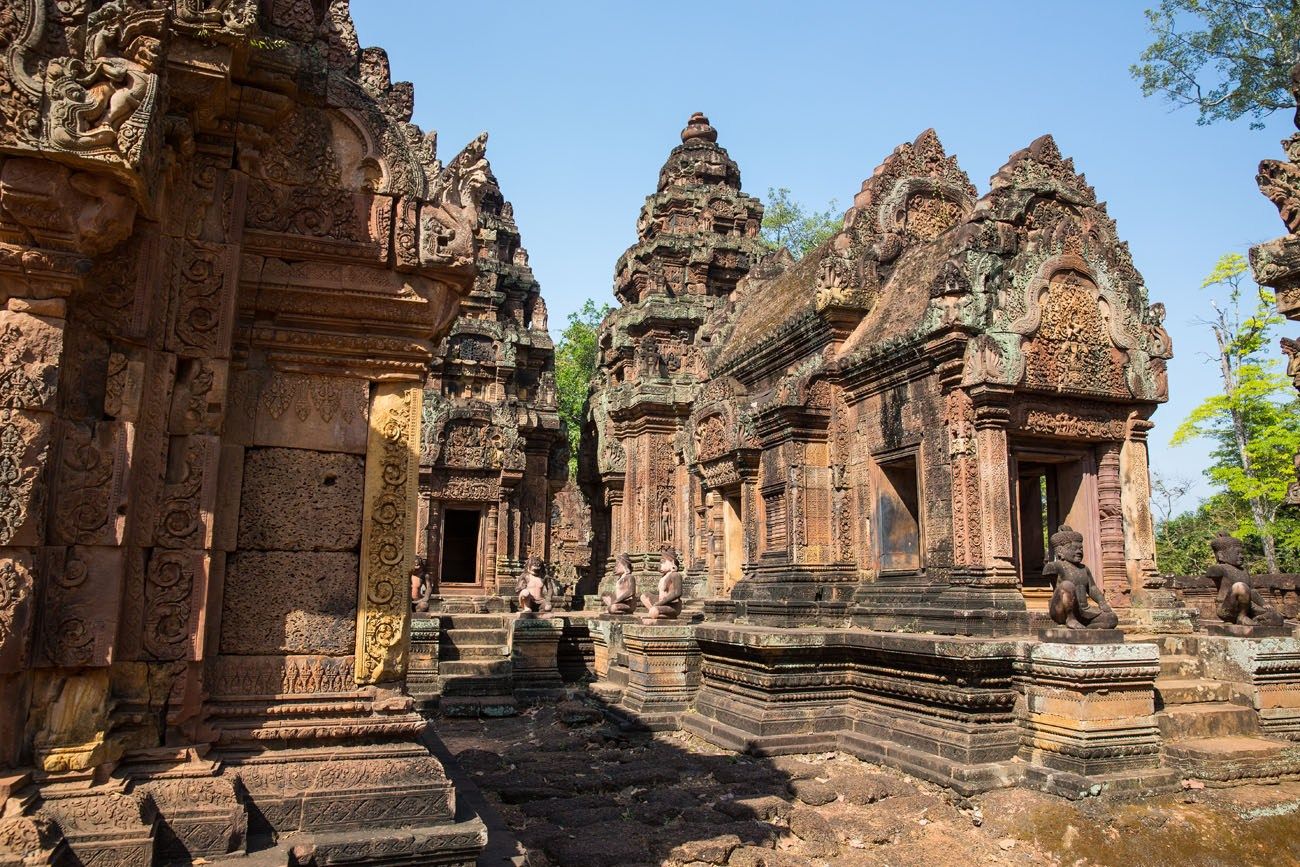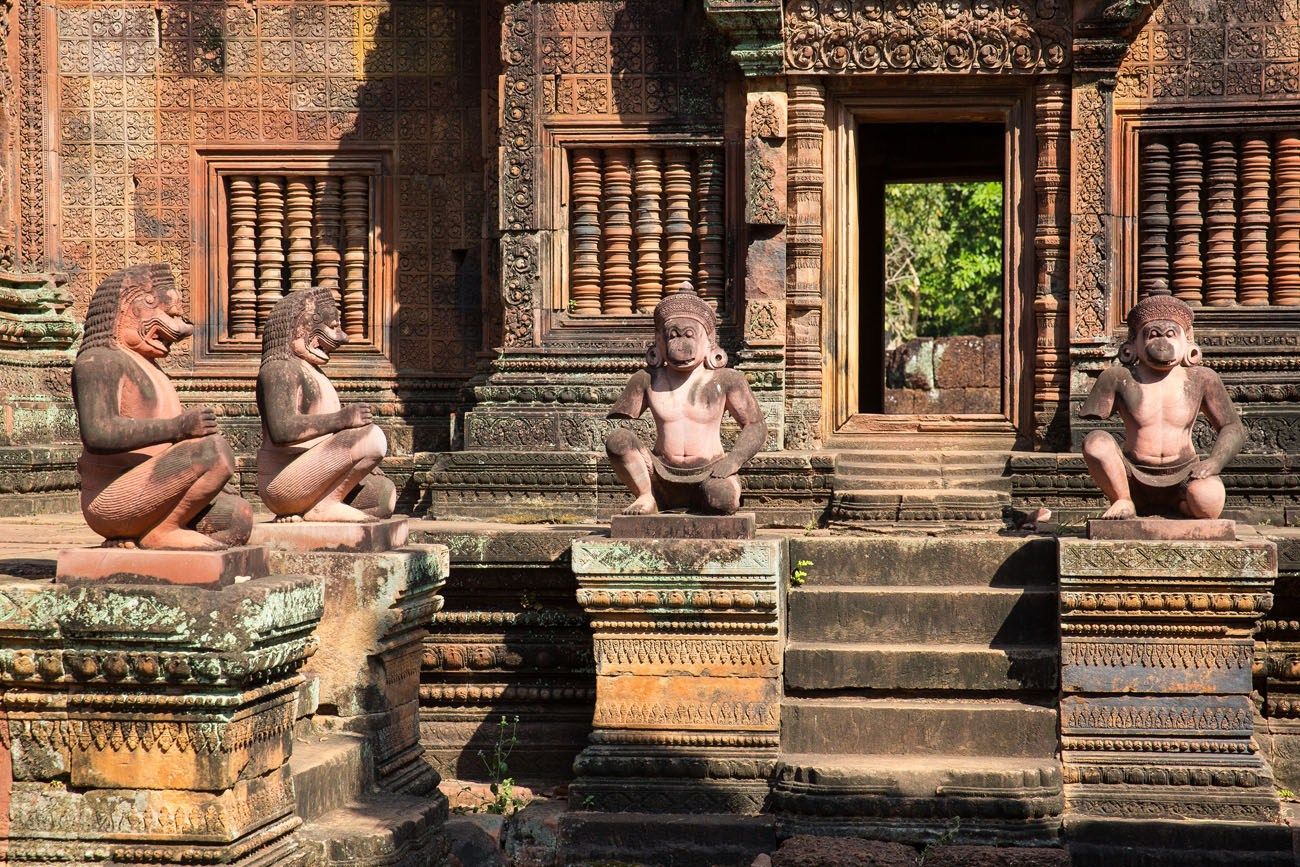 Preah Khan, Best Temple for Kids
Next we visited Preah Khan, our favorite temple for exploring. There were only a few tourists here, the temple was large and had great nooks and crannies to explore, and we could hear bats everywhere. There were bat droppings on the floor and we could hear the bats squeaking above our heads, adding to the mystery of the place.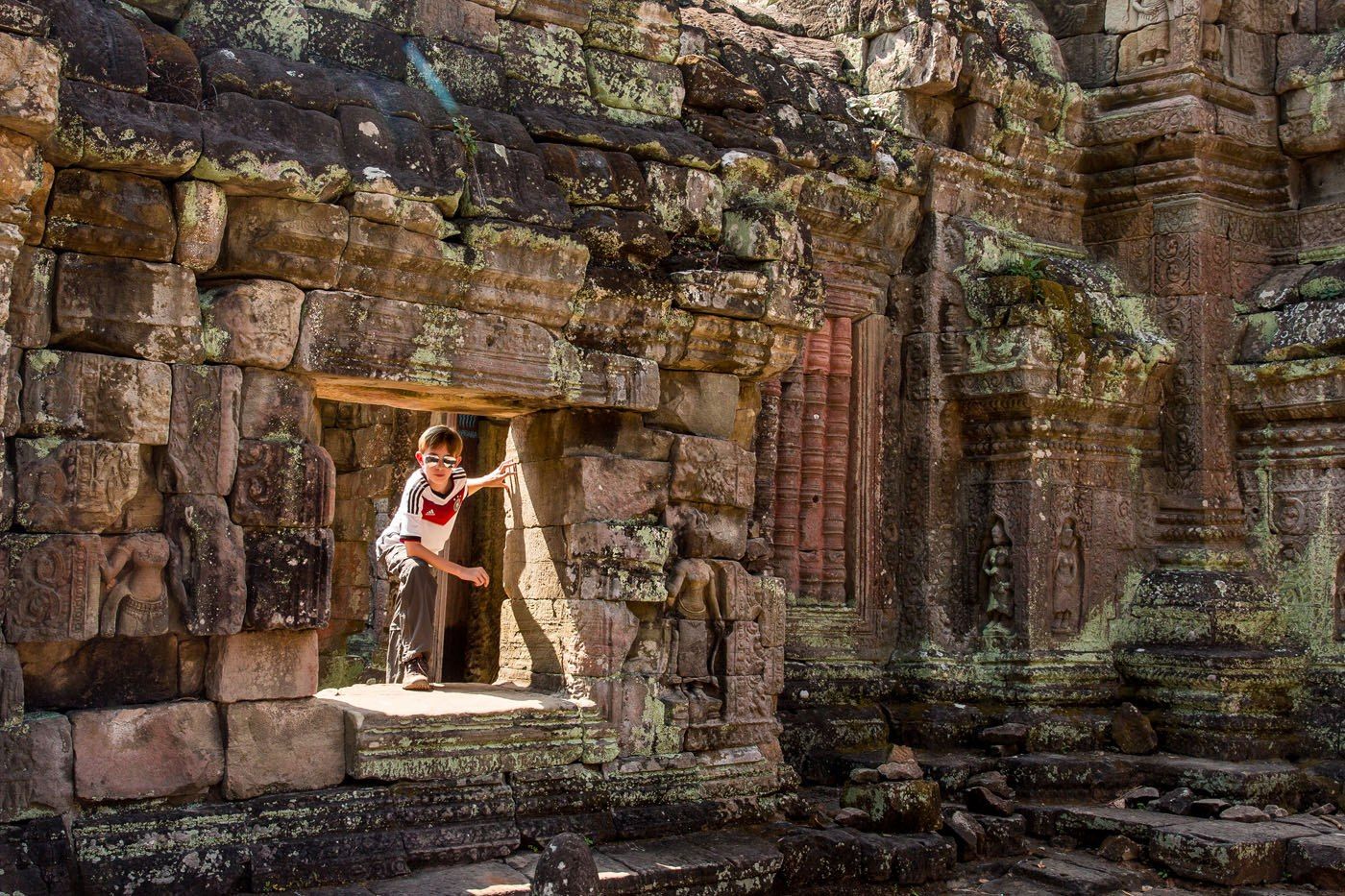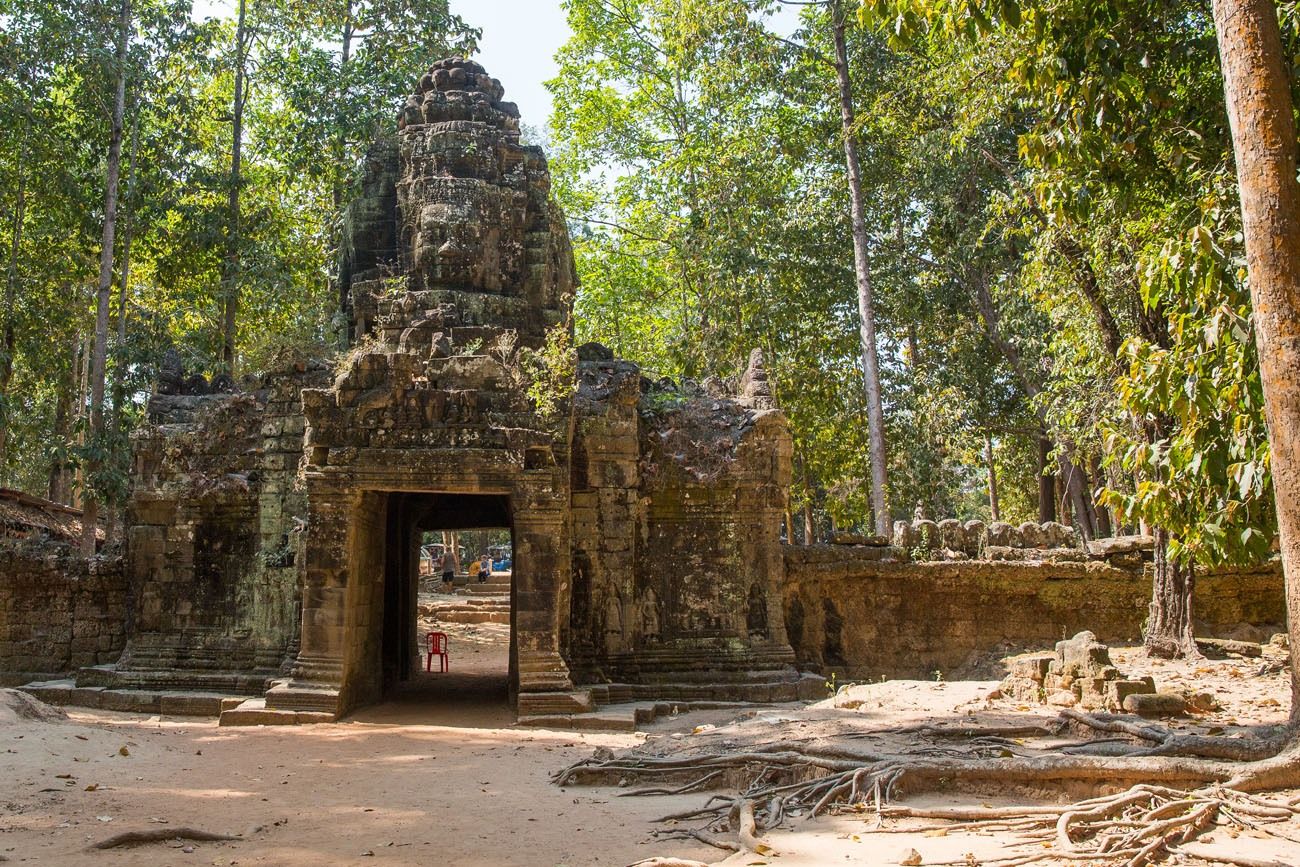 We saw many more temples than what is shown here, much to the delight of Tyler and Kara. Ha ha! Once again we were surprised with how much we liked it here. Angkor Wat and the surrounding temples are great and Siem Reap is an awesome town to visit.
We were very sad to leave here, but from here we travel south to Phnom Penh, the capital of Cambodia, and then further south to Kampot. It's always fun traveling somewhere new!
---
More Information about Cambodia & Southeast Asia
PLACES TO GO IN CAMBODIA: In Cambodia, explore the temples in Siem Reap, spend some in Kampot, and visit Phnom Penh.
SOUTHEAST ASIA ITINERARY: If your visit to Thailand is part of a bigger trip through Southeast Asia, don't miss our 3-month Southeast Asia itinerary and travel planner.
TRAVEL BLOGGING: This website started with a trip around the world and has become one of the most popular travel sites on the internet. Learn more about what it is like to run this website in our article My Life as a Travel Blogger.
TRAVEL INSPIRATION: For more travel ideas, here are 10 unique destinations to put on your travel wish list. If Europe is calling your name, here are 25 itineraries that just take a week of your time. And if you have plans to visit the United States, don't miss our article about the Best Road Trips in the USA.
All rights reserved © Earth Trekkers. Republishing this article and/or any of its contents (text, photography, etc.), in whole or in part, is strictly prohibited.