The Northwestern Fjord Cruise is one of the best ways to experience Kenai Fjords National Park. You will venture further into Kenai Fjords National Park than any other cruise. By doing so you will maximize your chances of seeing a variety of marine and other wildlife, witness the allure and power of glaciers, and observe the natural surrounding beauty that makes this national park so special.
During this full day excursion from Seward, Alaska you will cruise through Resurrection Bay and into the Gulf of Alaska before turning into Harris Bay and entering the Northwestern Fjord. Along the way you will cruise past Fox Island, Bear Glacier, and the Chiswell Islands. And within the Northwestern Fjord itself you will have the opportunity to observe three tidewater glaciers (Northwestern, Anchor, and Ogive), and watch calving events on the Northwestern Glacier face.
Along the way the captain will keep an eye out for whales, porpoise, otters, seals, eagles, puffins, and more! And you will visit Cataract Cove to enjoy its many breathtaking waterfalls.
During this cruise you can truly experience some of the best scenery and wildlife that Kenai Fjords National Park has to offer. And you will be entering an area of the national park so remote that it is estimated that only 500,000 people in the world have been here.
Northwestern Fjord Cruise Route
Only two companies offer cruises to the Northwestern Fjord and their routes are the same. We have created our own version of the route map here for your reference. Our map helps put in perspective how far into Kenai Fjords National Park you will explore during this cruise. Kenai Fjords National Park is best explored by boat or air, since exploration via foot and car is limited to the Exit Glacier area.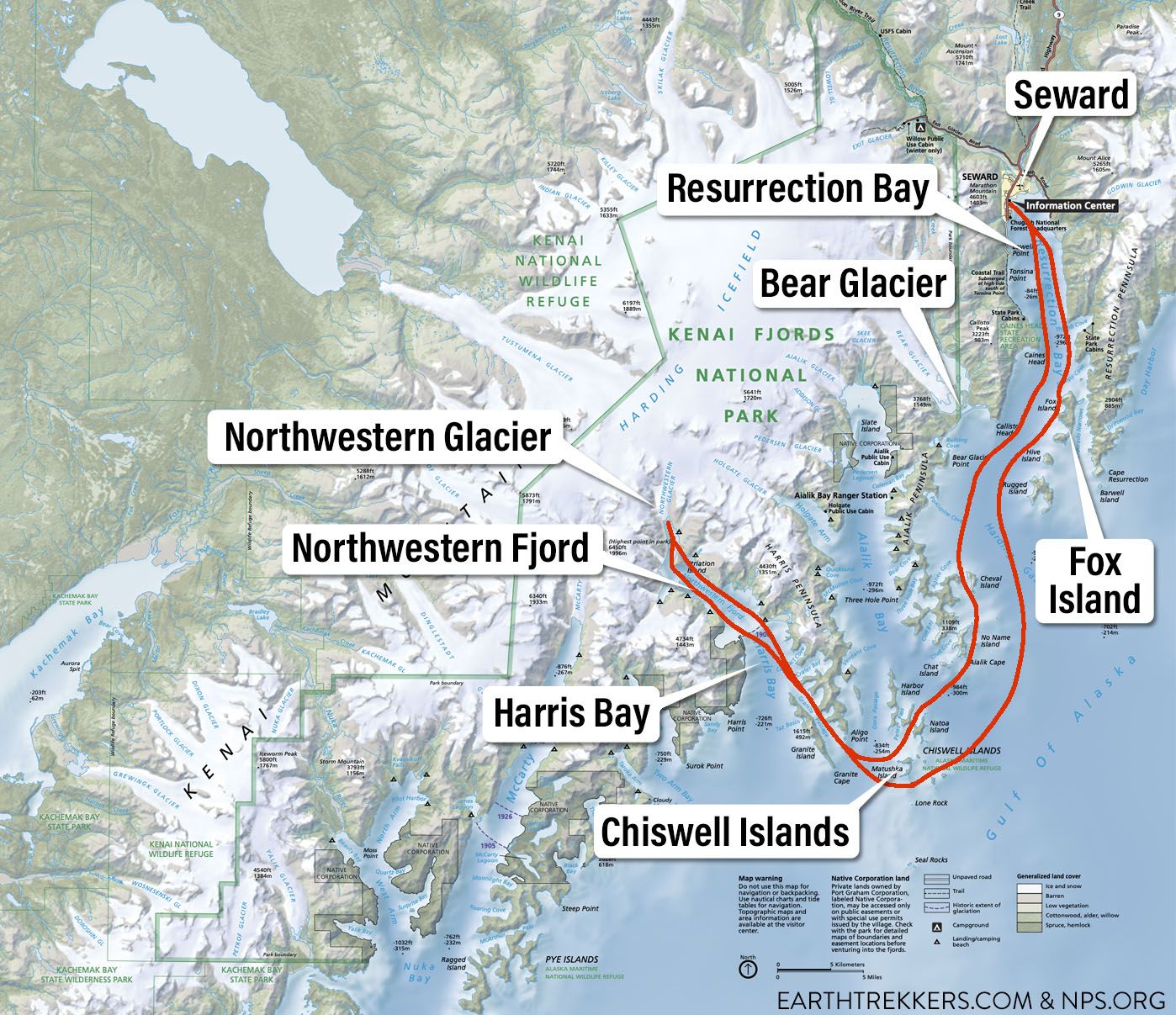 This National Park Service map has been altered to show the cruise route and points of interest.
Northwestern Fjord Cruise Companies
Kenai Fjords Tours and Major Marine Tours are the only two companies that offer cruises to the Northwestern Fjord.
Kenai Fjords Tours
Departure Time: 9 am
Tour Duration: 8 hours
Boat Type: Catamaran, up to 150 passengers
Regular Price: prices start at $215 per person plus tax & fees (0 – 1 year old free)
Lunch: Included
Fully narrated
Major Marine Tours
Departure Time: 9 am
Tour Duration: 8.5 hours
Boat Type: Single hull, up to 60 passengers
Regular Price: $269 per person plus tax & fees (must be 12 years or older)
Lunch: Included
Fully narrated
Tours are generally only offered in June, July, and August. From year to year, each tour company may add or subtract a few days at the beginning or end of that timeframe.
Be sure to check the individual tour company websites for any updates to pricing, dates of availability, and any other details about their respective cruises.
How to Decide which Tour Company to Use?
If you are traveling with children under the age of 12 then you only have one choice: Kenai Fjords Tours. Otherwise, there are only minor differences between the two companies.
Kenai Fjords Tours uses a catamaran, which can be more stable than the single hull boat used by Major Marine Tours. The catamaran carries more people but there is also more room for those people to spread out. I especially liked how there is an indoor and outdoor areas on both the upper and lower decks of the catamaran. Kenai Fjords Tours also claim that their boat is faster and thus they promote their excursion as being 1.5 hours shorter than the Major Marine Tours option.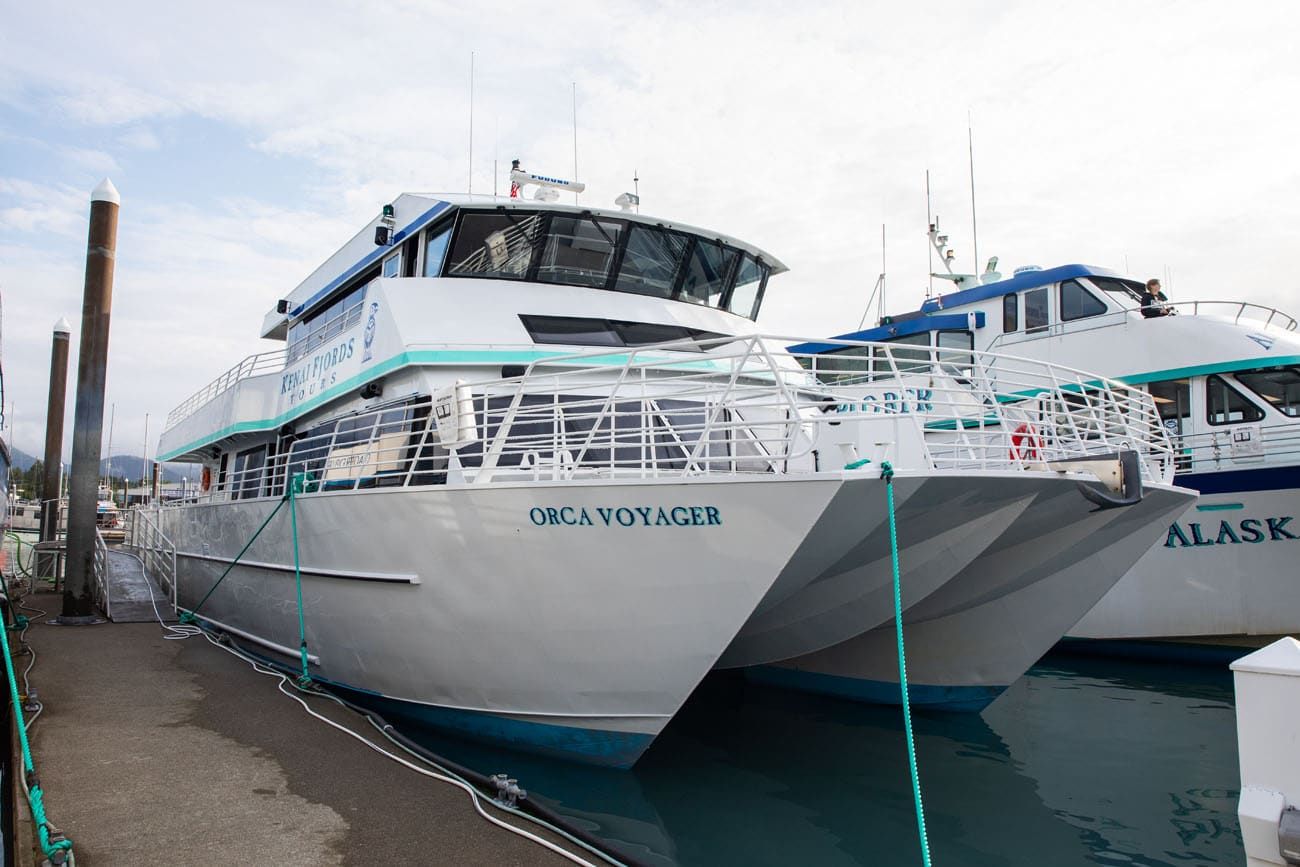 Orca Voyager, the Kenai Fjords Tours catamaran
Major Marine Tours takes advantage of their smaller boat by promoting it as a more intimate experience with wildlife and scenery. Their 12 and over age restriction might also make the experience more enjoyable for some people. And while their boat is slower than the Kenai Fjords Tours catamaran, that could give you more opportunity to spot wildlife.
Major Marine has a list of their boats here. When we researched them, they were using the Orca Song and the Viewfinder interchangeability to operate their Northwestern Fjord Cruises.
But there is one more factor to consider when deciding which Northwestern Fjord Cruise to choose.
Kenai Fjords Tours is a part of the Alaska Collection, which is a part of the Pursuit Collection. They could be offering a discount if you book multiple excursions, or a combination of excursions and accommodations, that are offered under their umbrella of services. For example, the Seward Windsong Lodge, located a few miles from the Seward harbor, is a part of the Alaska Collection.
Similarly, Major Marine Tours is affiliated with the Harbor 360 Hotel, located right at Seward harbor, and therefore they might offer a discount for booking their Northwestern Fjord Cruise excursion and accommodations at the Harbor 360 Hotel together.
Check their respective websites for updates and details on promotional offers.
Both tour companies get excellent reviews, so whichever you pick you are likely to have an awesome experience.
How We Chose Our Tour Company
We took the Northwestern Fjord Cruise with Kenai Fjords Tours.
The idea of the shorter 7-hour cruise vs. an 8.5-hour cruise (when we did this, the Kenai Fjords cruise was 7 hours) appealed to us. We also like the layout of the catamaran with inside and outside areas on both the upper and lower decks. On top of that we were able to take advantage of a promotional offer through the Alaska Collection that discounted our cruise and lodging at the Seward Windsong Lodge. Plus, we were booking accommodations at Denali National Park through the Alaska Collection.
Furthermore, the Harbor 360 Hotel, which is affiliated with Major Marine Tours, was sold out for our preferred travel dates so we wouldn't have been able to take advantage of their promotional offer if we booked with them.
Therefore, we selected the Northwestern Fjord Cruise offered by Kenai Fjords Tours. And we are so glad we did! Everything about the experience, from start to finish, was perfect!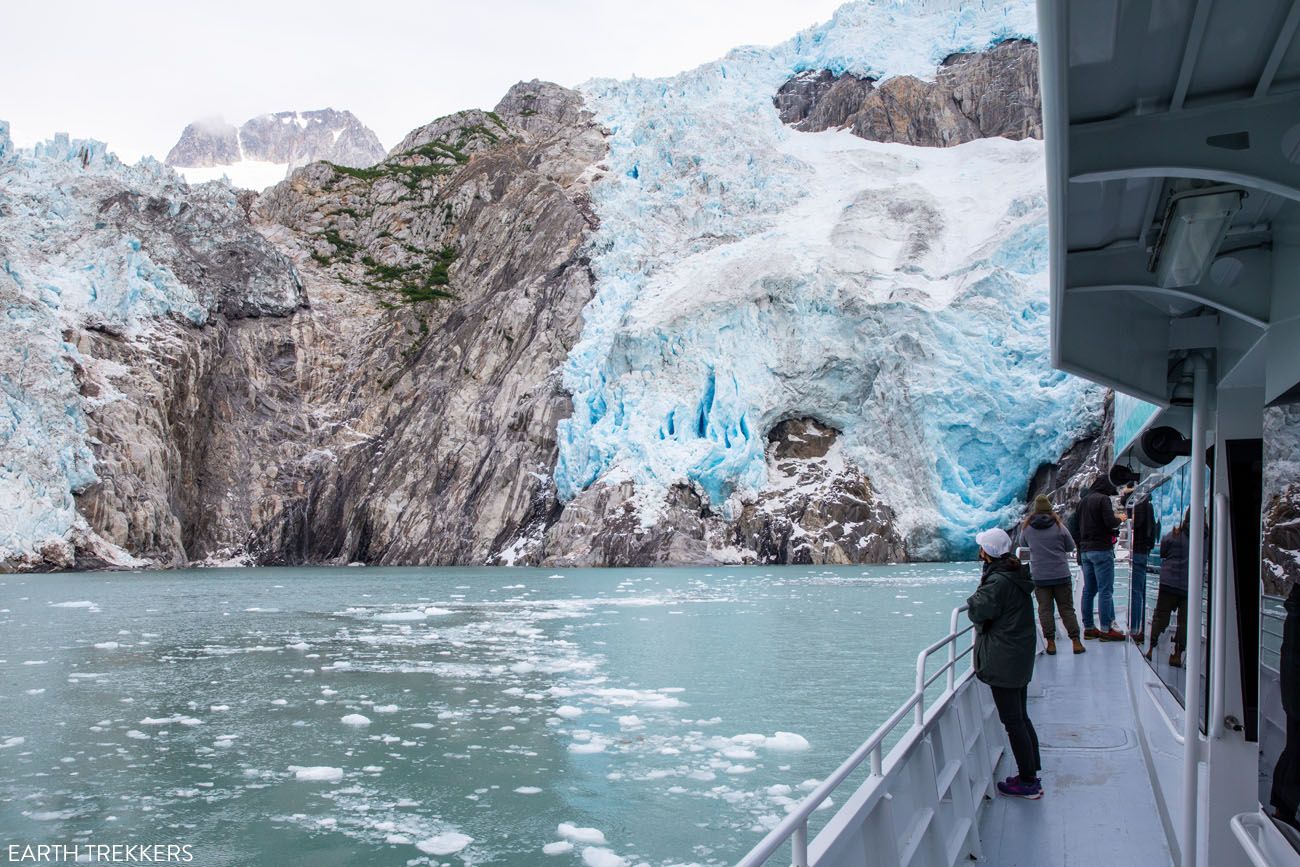 Northwestern Glacier
Cruising to Northwestern Fjord: About Our Experience
Boarding the Boat
We took this cruise on July 7.
We stayed at the Seward Windsong Lodge which is a few miles away from the Seward harbor. We drove to the Kenai Fjords Tours designated free parking area in Seward, arriving just before 8 am, and used their free shuttle service to get to the harbor a short distance away. At the harbor we checked in and then waited at the marina for them to start boarding the boat, called the Orca Voyager.
We got in line early so that we could be one of the first to board and claim the indoor seats that worked best for us. All seats on the Orca Voyager have a table, mostly in 4 or 6 seats to a table configuration. In the back corner of the upper deck, we found a table that only had 2 seats and they were next to the door to the outside deck which provided quick in and out access as needed. It was ideal for us. We could warm up inside and dart outside with the camera when wildlife or something scenic was spotted.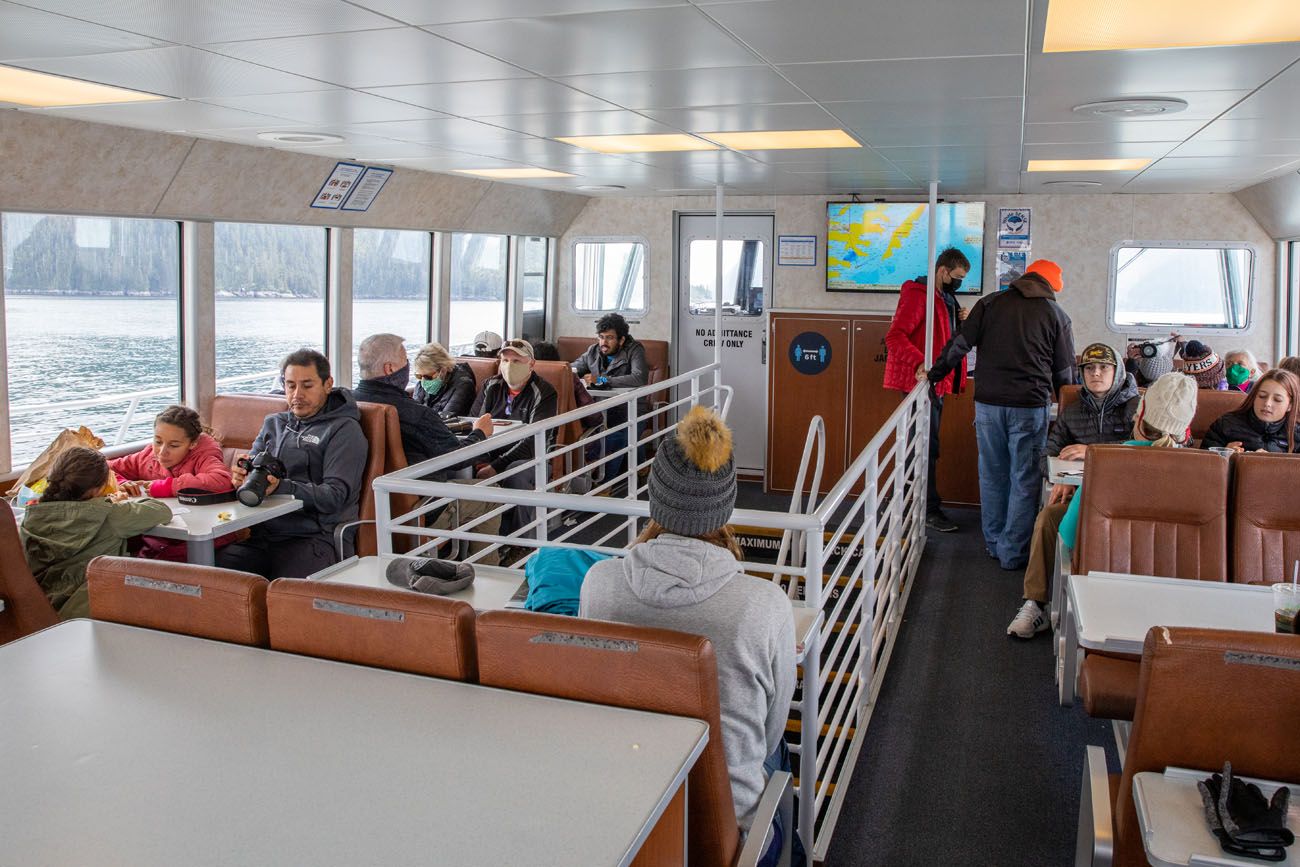 The inside top level of the Orca Voyager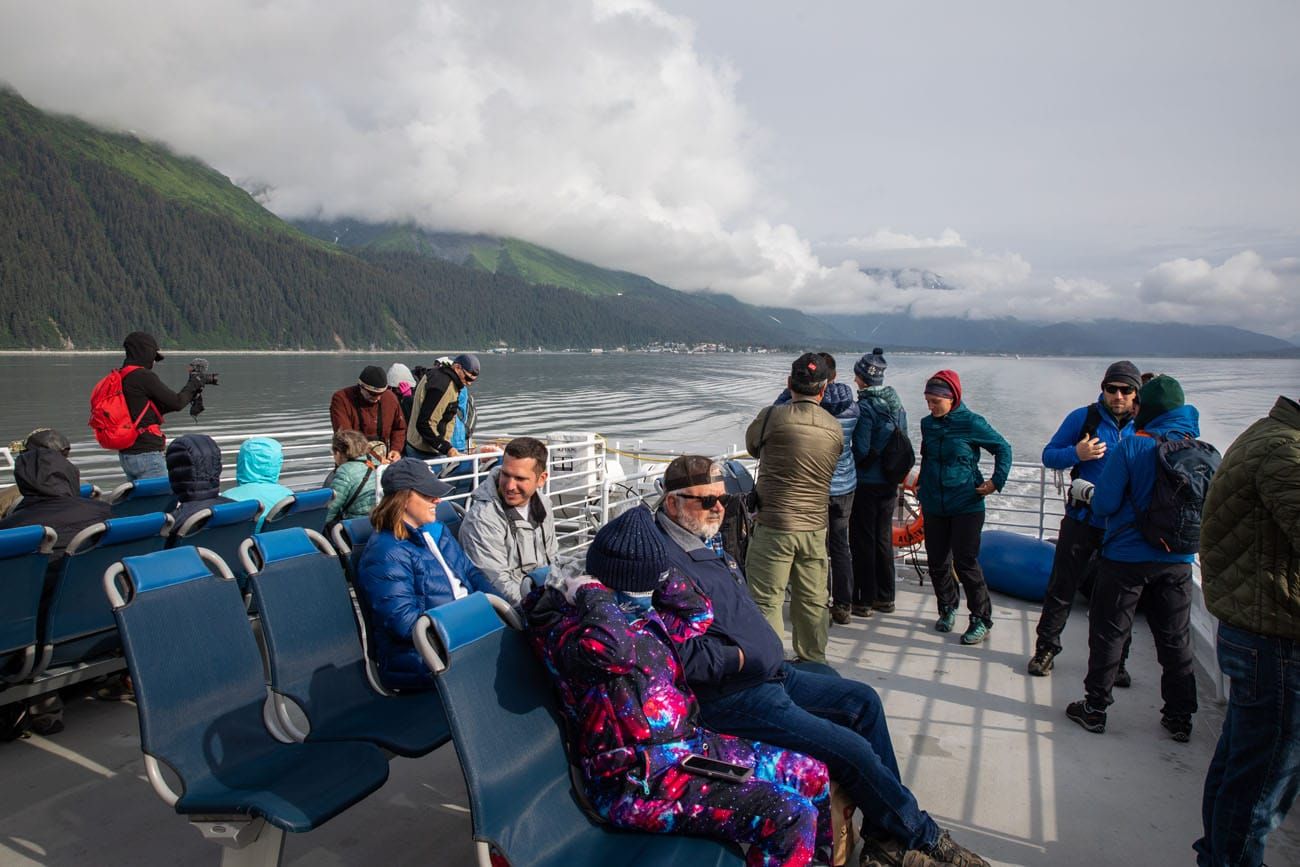 Outside seating on the back of the Orca Voyager
Resurrection Bay
We cruised through Resurrection Bay where we spotted a bald eagle and otters and then made a quick stop at Fox Island only to drop off some kayakers, but it gave us the opportunity to see Fox Island up close from the boat. We were curious since some other cruises emphasize this island.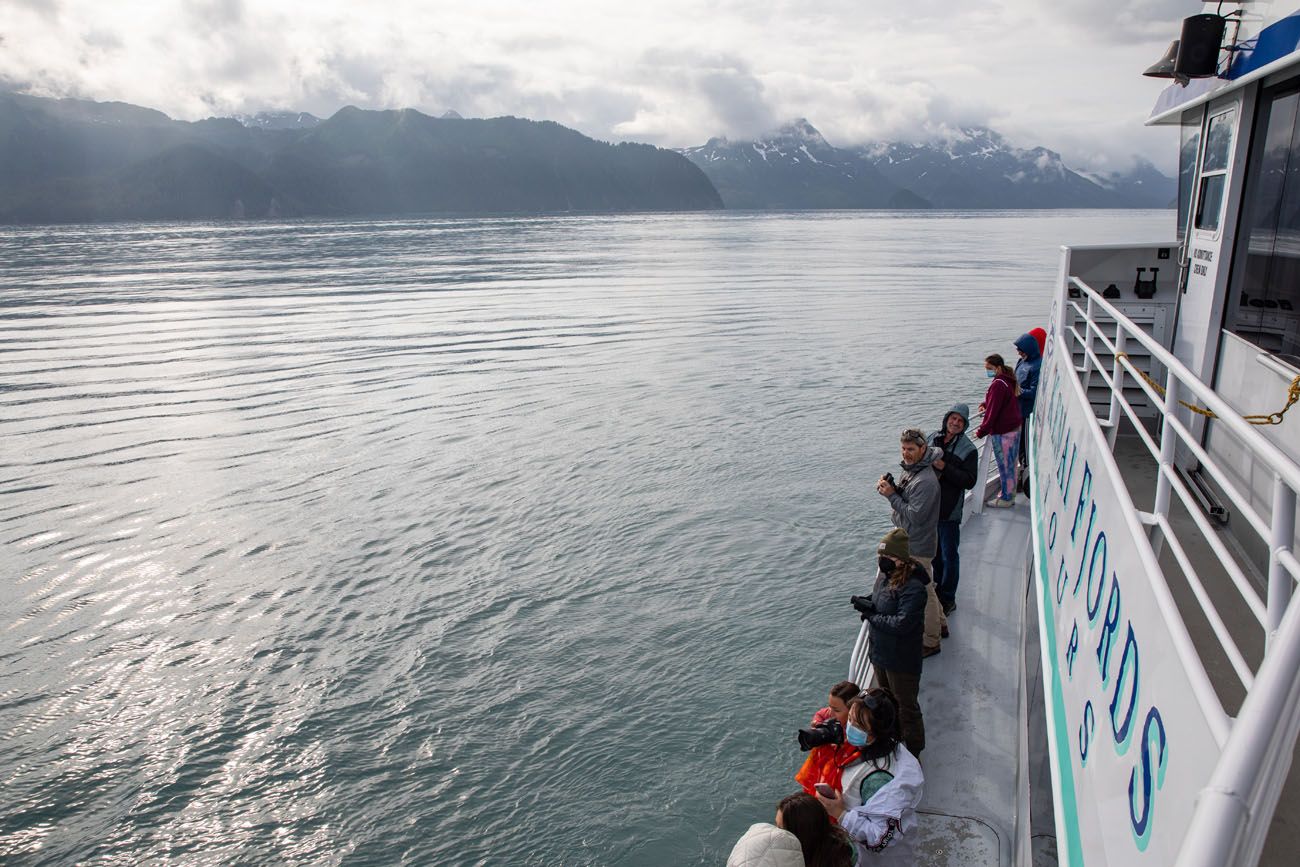 Resurrection Bay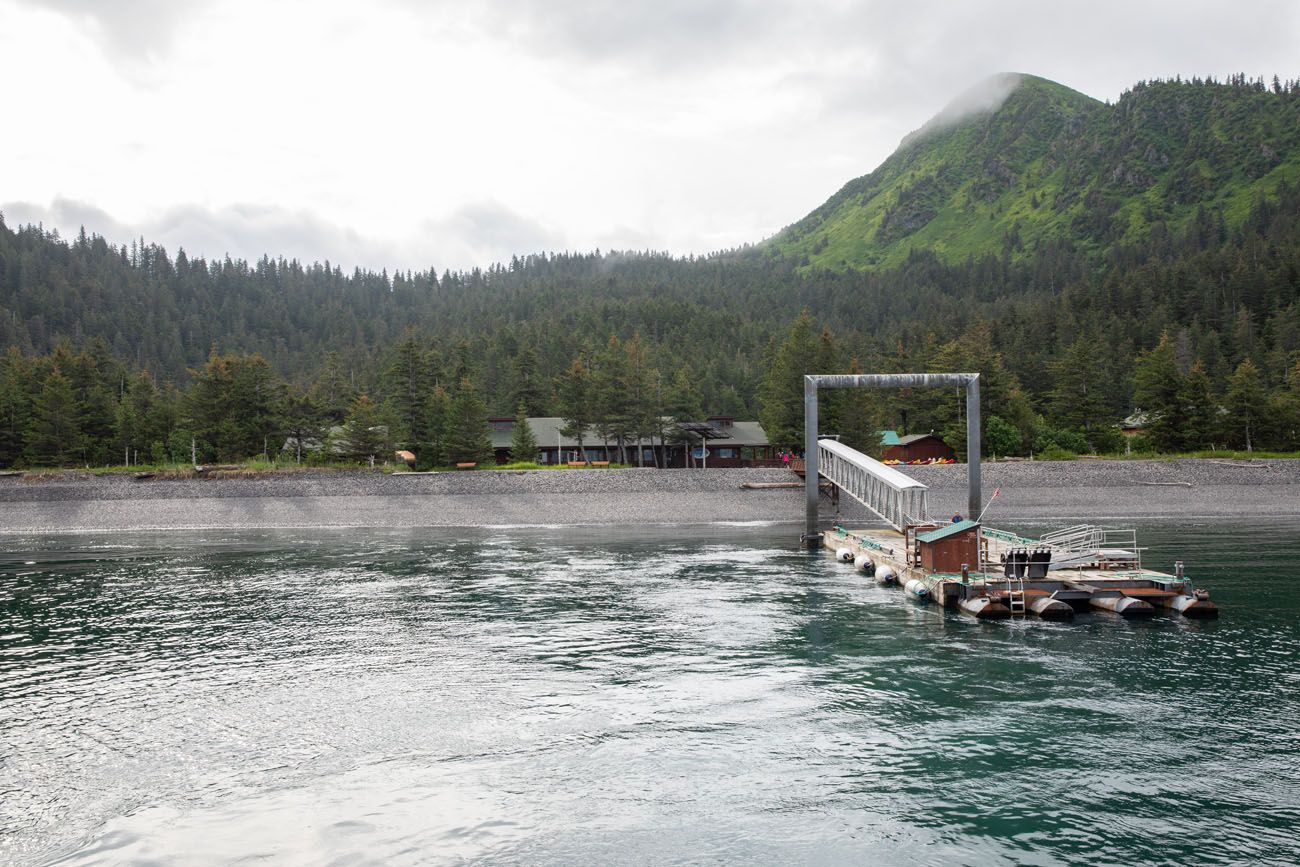 Fox Island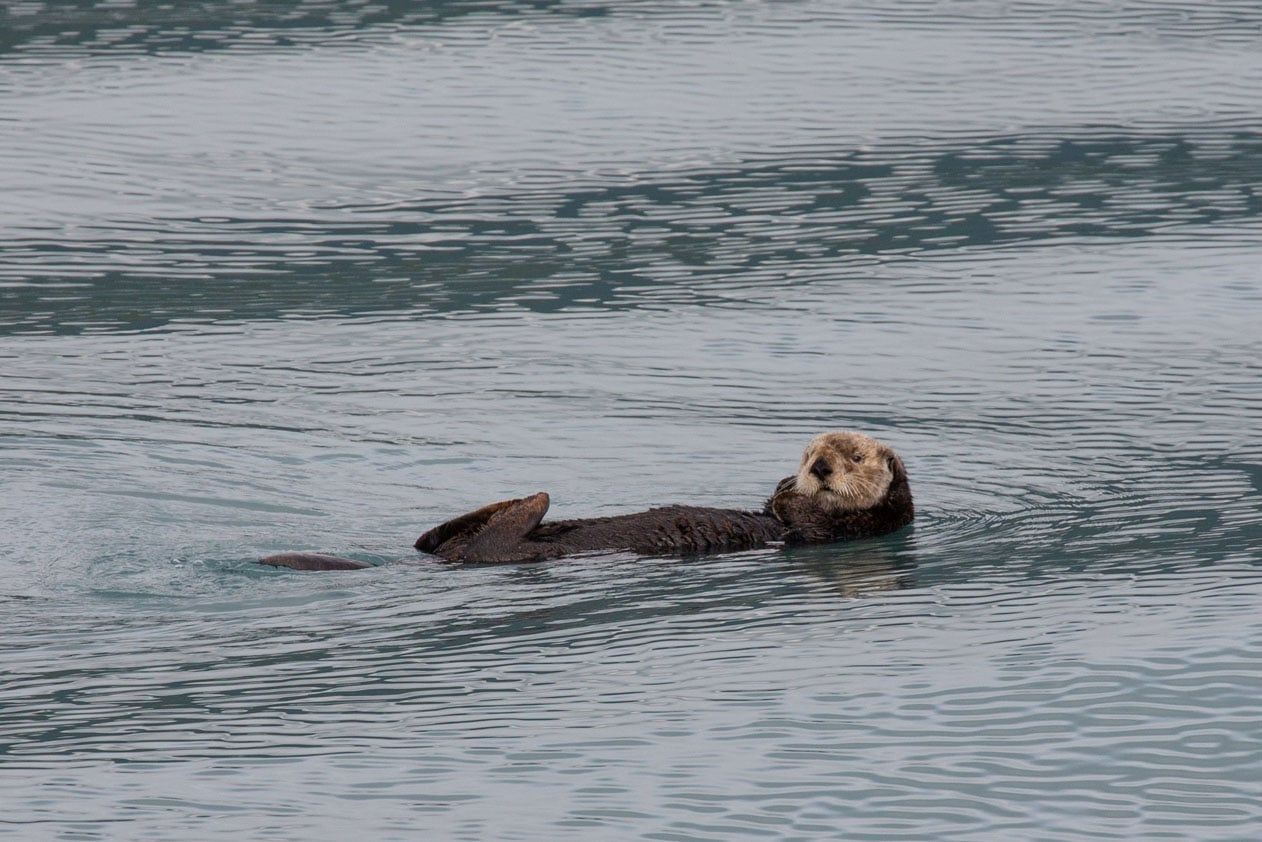 Sea Otter | Northwestern Fjord Cruise
We then cruised past Bear Glacier, which you see in the distance. This is the largest glacier being fed by the Harding Icefield. It is also the fastest retreating glacier within Kenai Fjords National Park.
Gulf of Alaska & Harris Bay
In the Gulf of Alaska, we were able to see fin whales, the second largest living animal on Earth. Unfortunately, only a small portion of their body would breach the surface so you couldn't get a sense of their enormous size. But they were still there later in the day when we were returning to Seward, so we got to see them twice.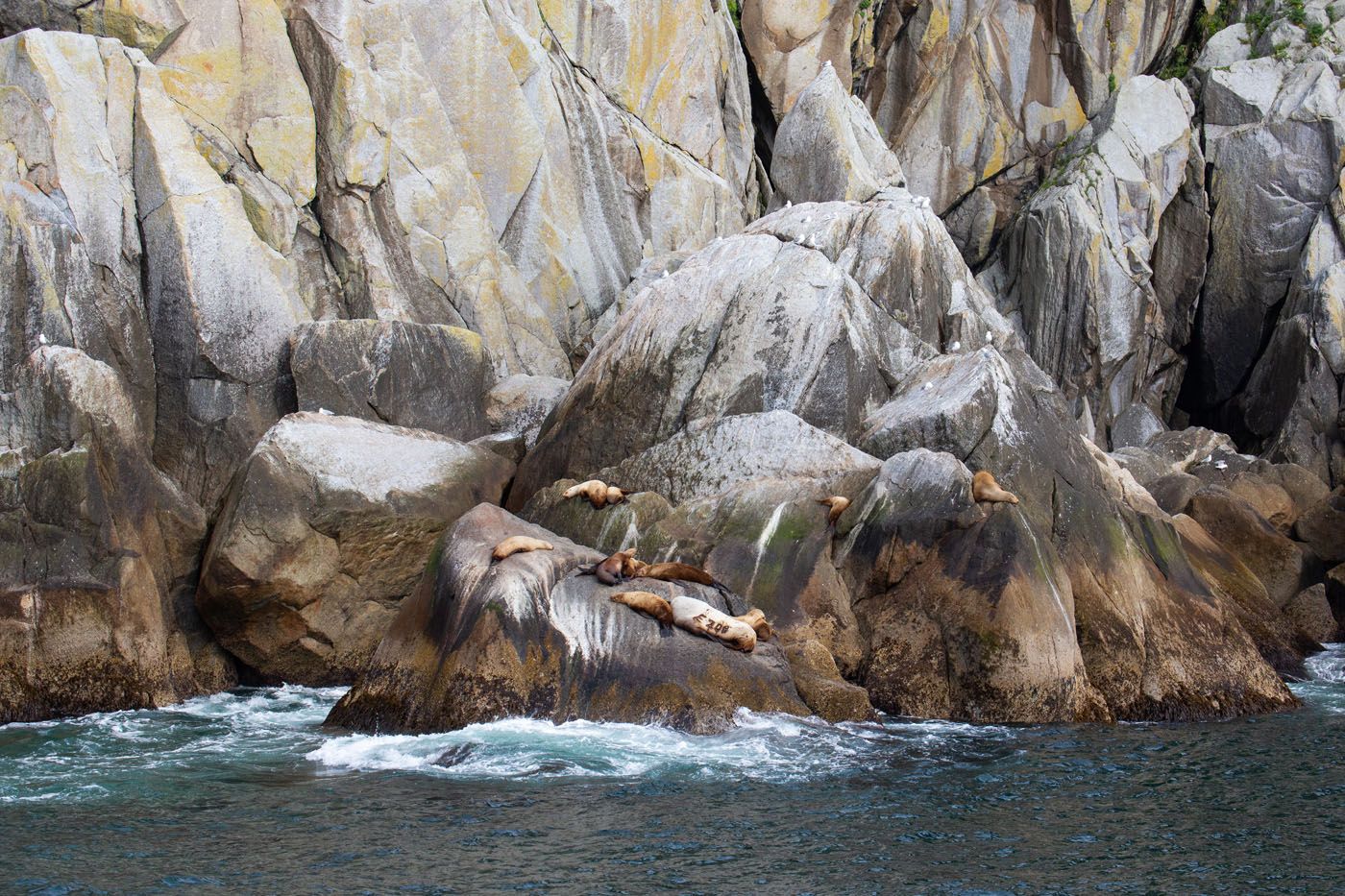 Sea loins on the rocks in Resurrection Bay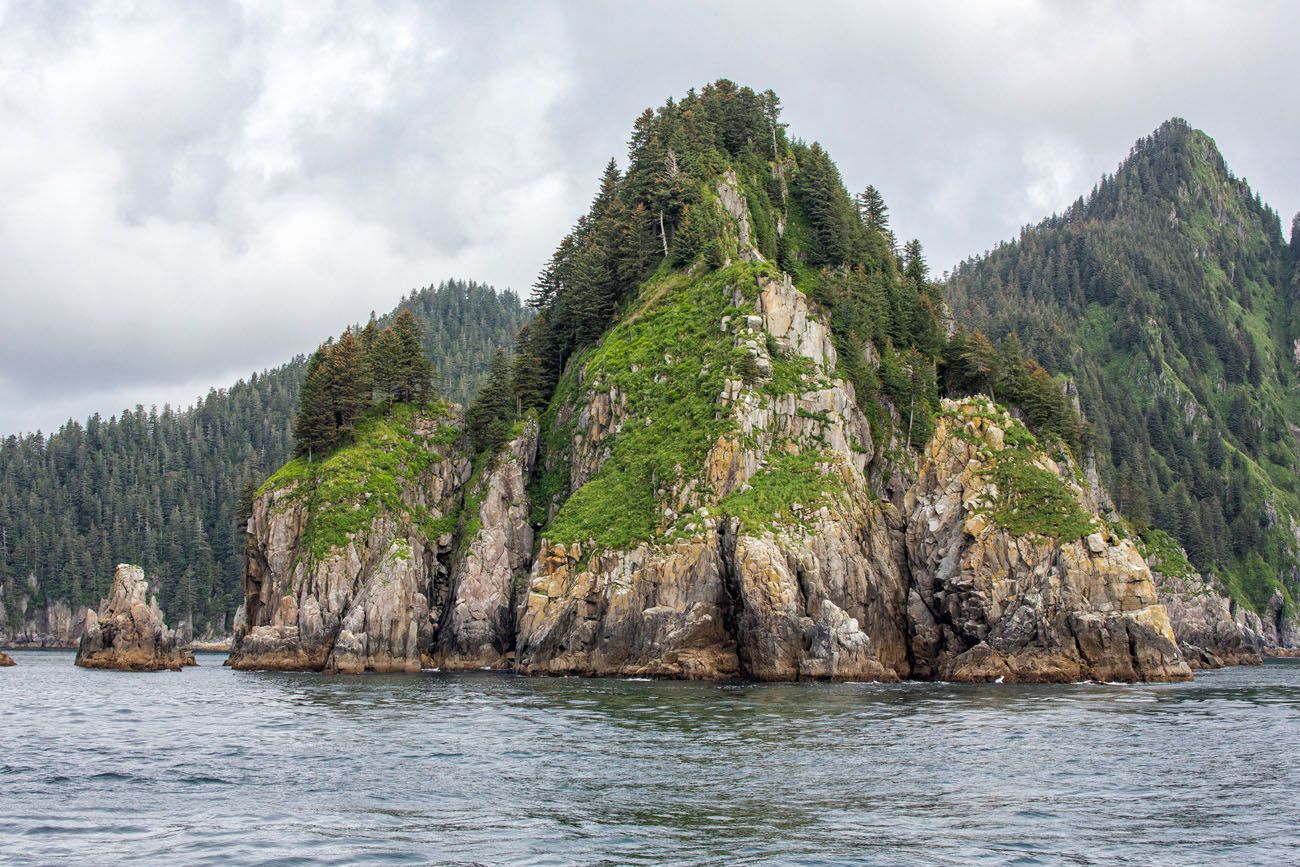 Coastline of Resurrection Bay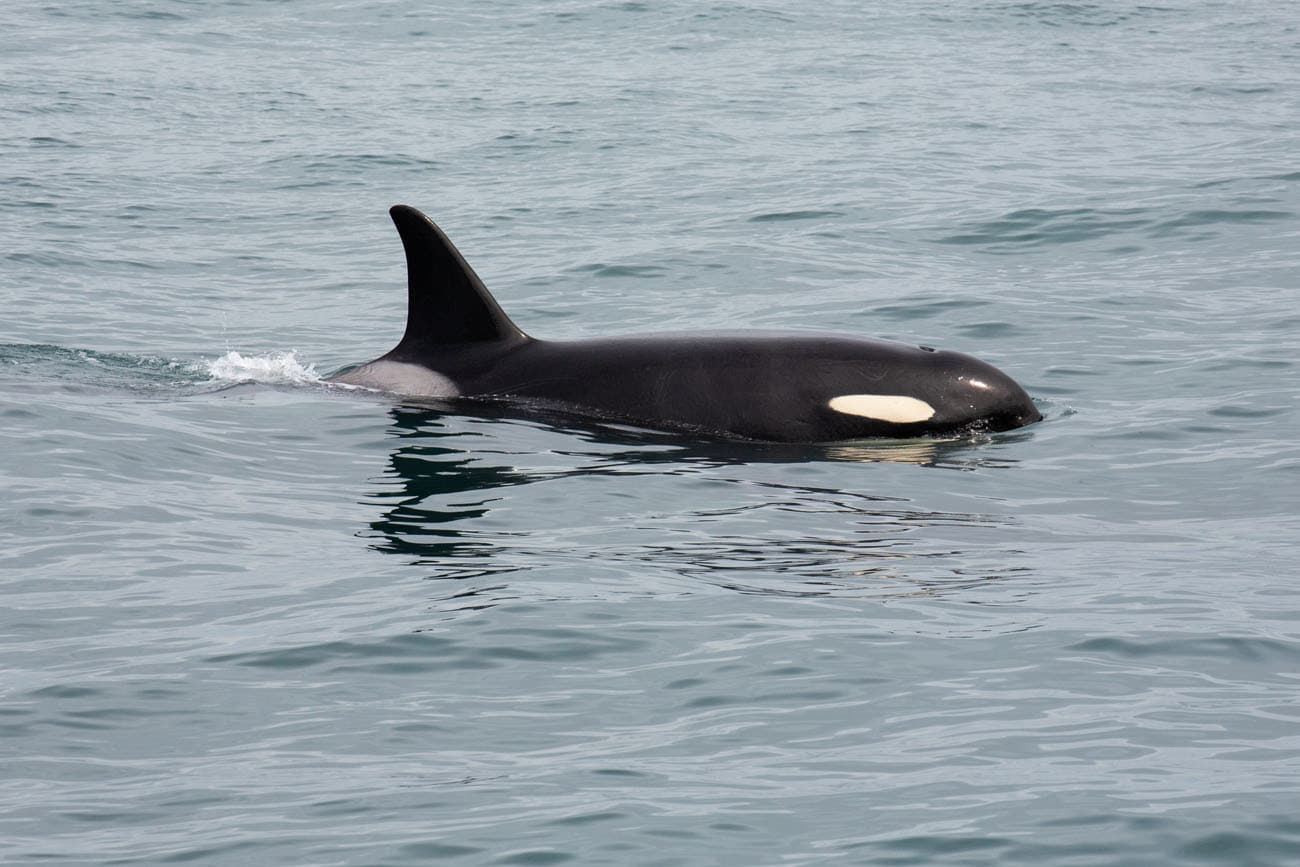 Orca
Once we turned into Harris Bay, we started spotting pods of Orcas. These were the highlight of the day as a large portion of their bodies would breach the surface momentarily as they swam. And we kept seeing more and more pods of them, so many that the captain of our boat couldn't believe how many we were seeing.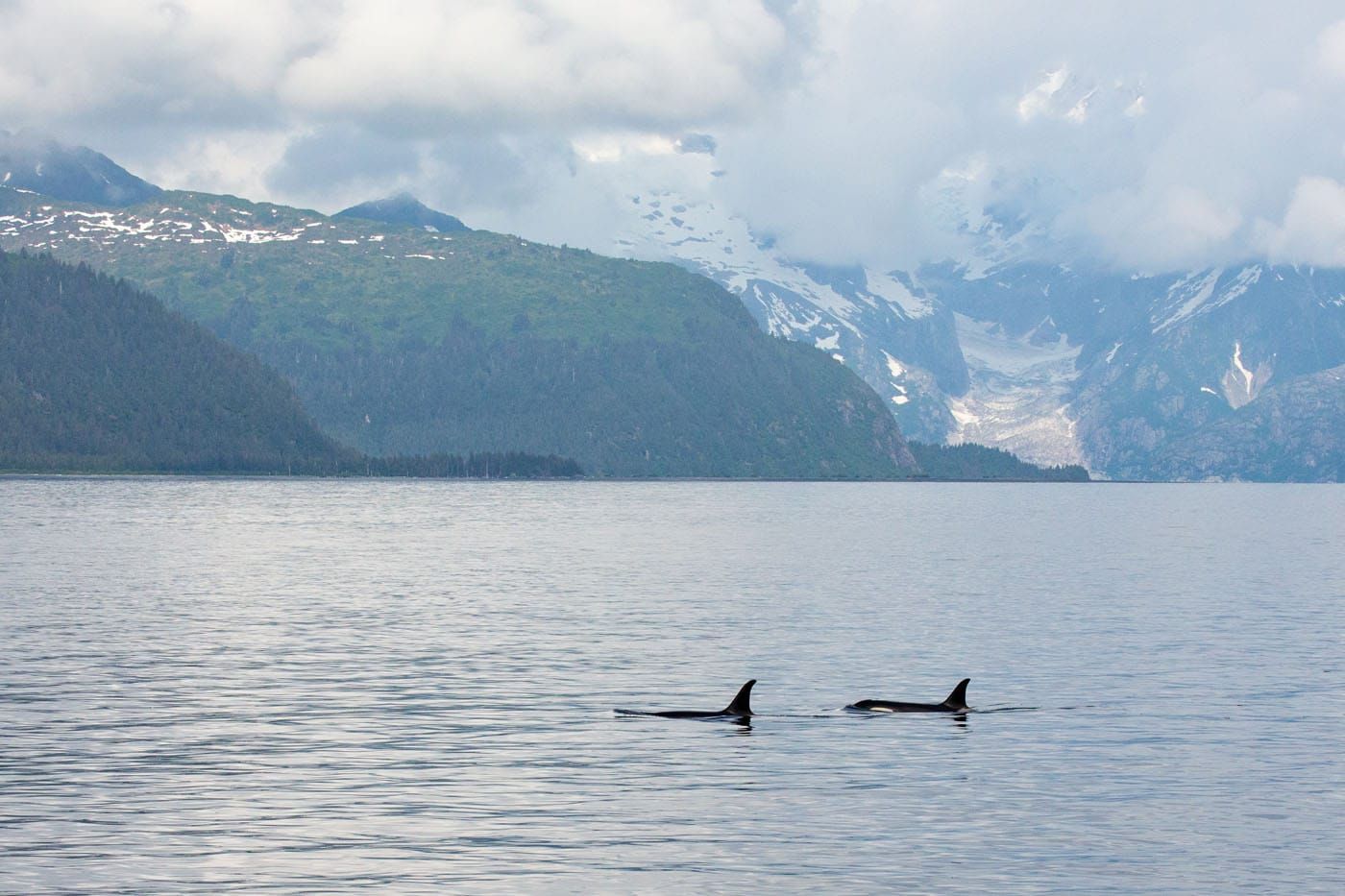 Orcas in Harris Bay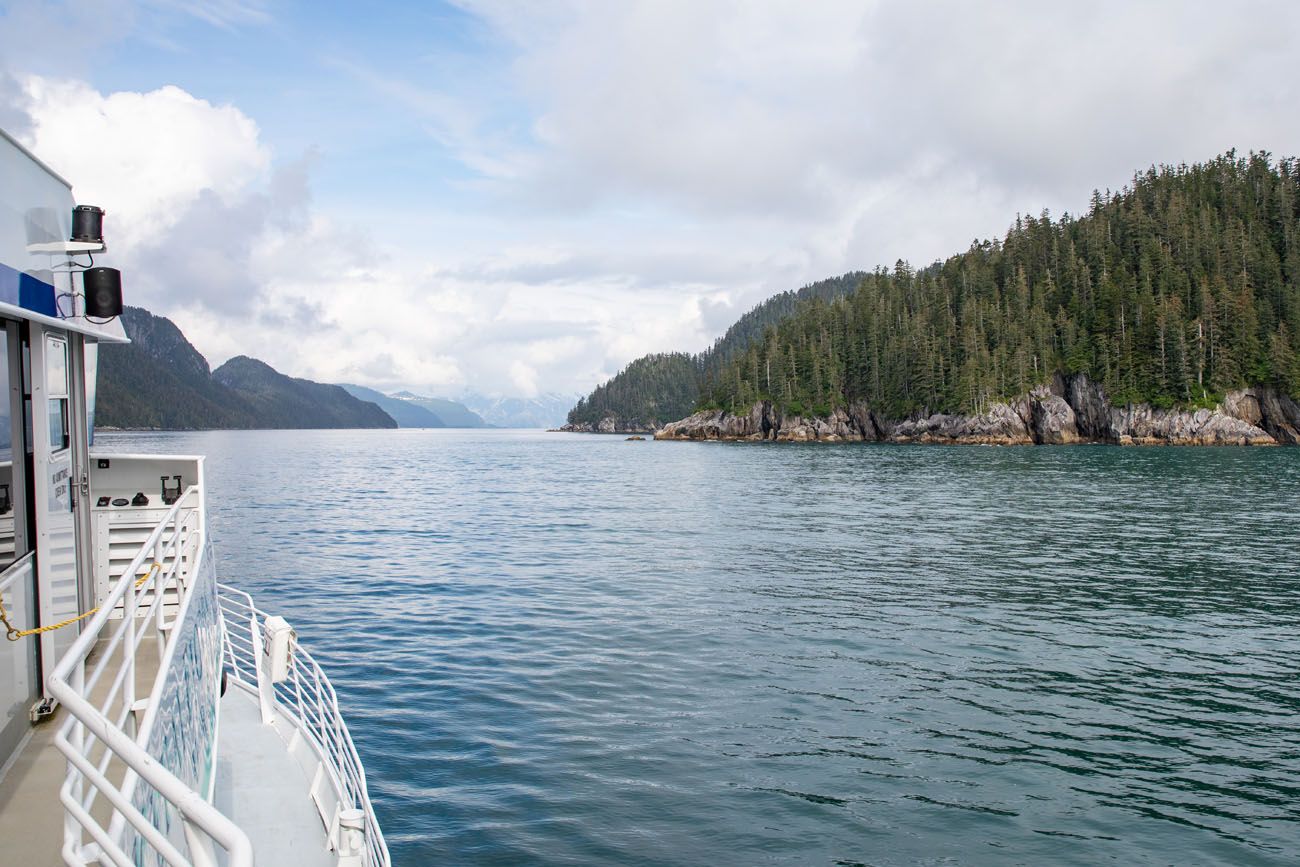 Harris Bay | Northwestern Fjord Cruise
Northwestern Fjord
As we traveled into the Northwestern Fjord, we crossed the point where we were now cruising above the moraine of the retreating Northwestern Glacier. This is a very remote part of Kenai Fjords National Park and it is estimated that only 500,000 people been here, since commercial tours to this area didn't start until the 1980's.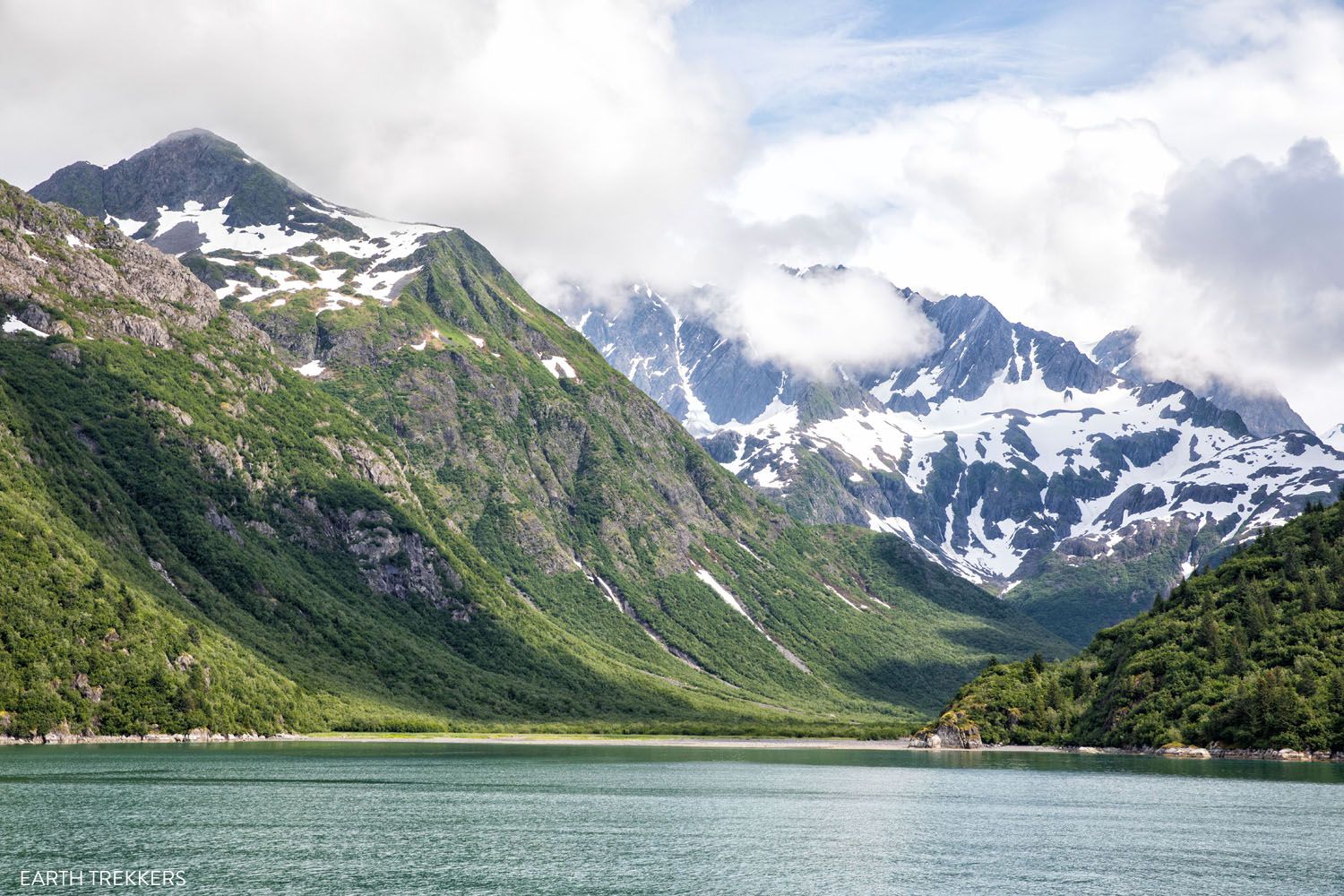 Coastal scenery in the Northwestern Fjord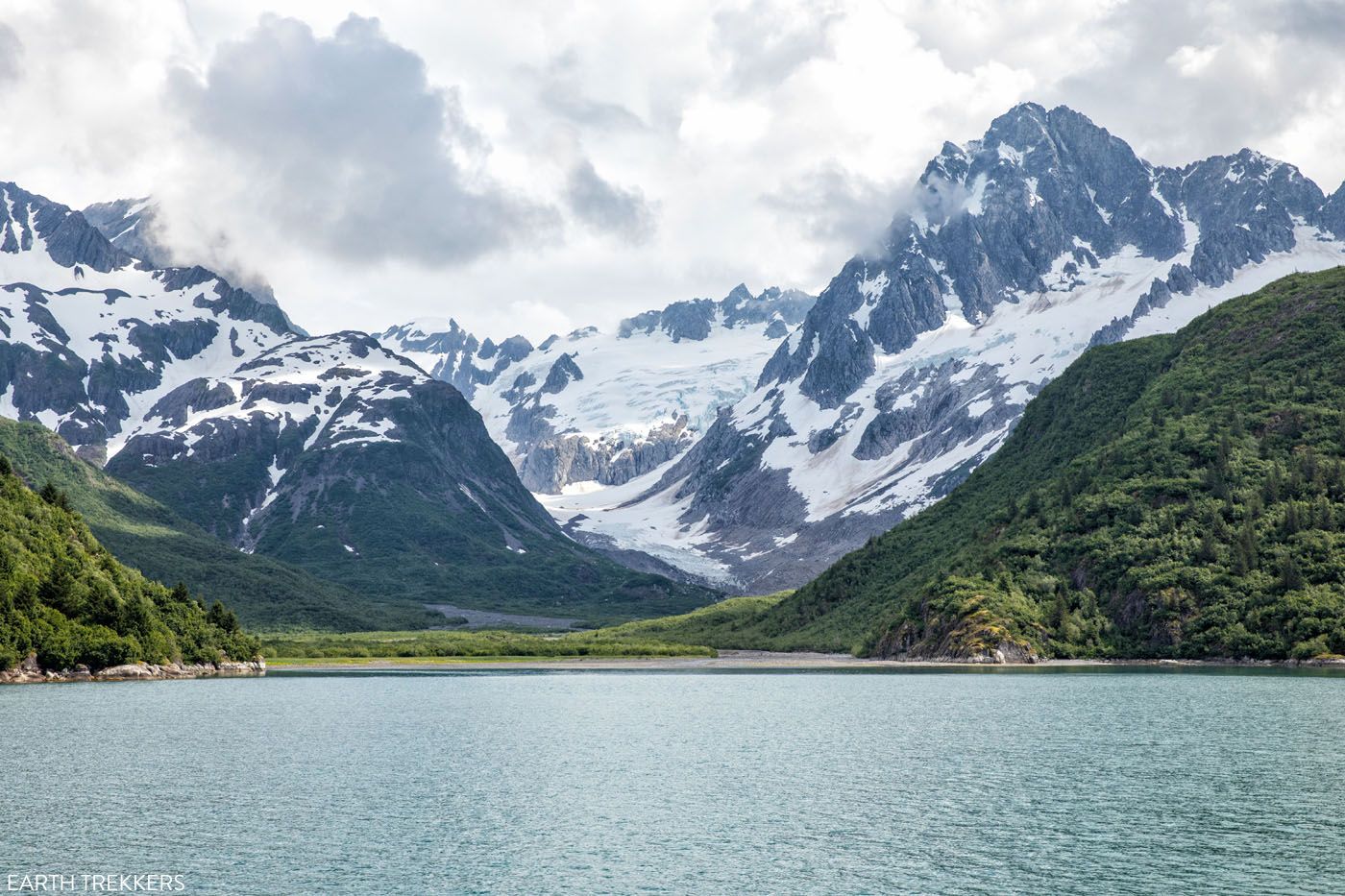 Northeastern Glacier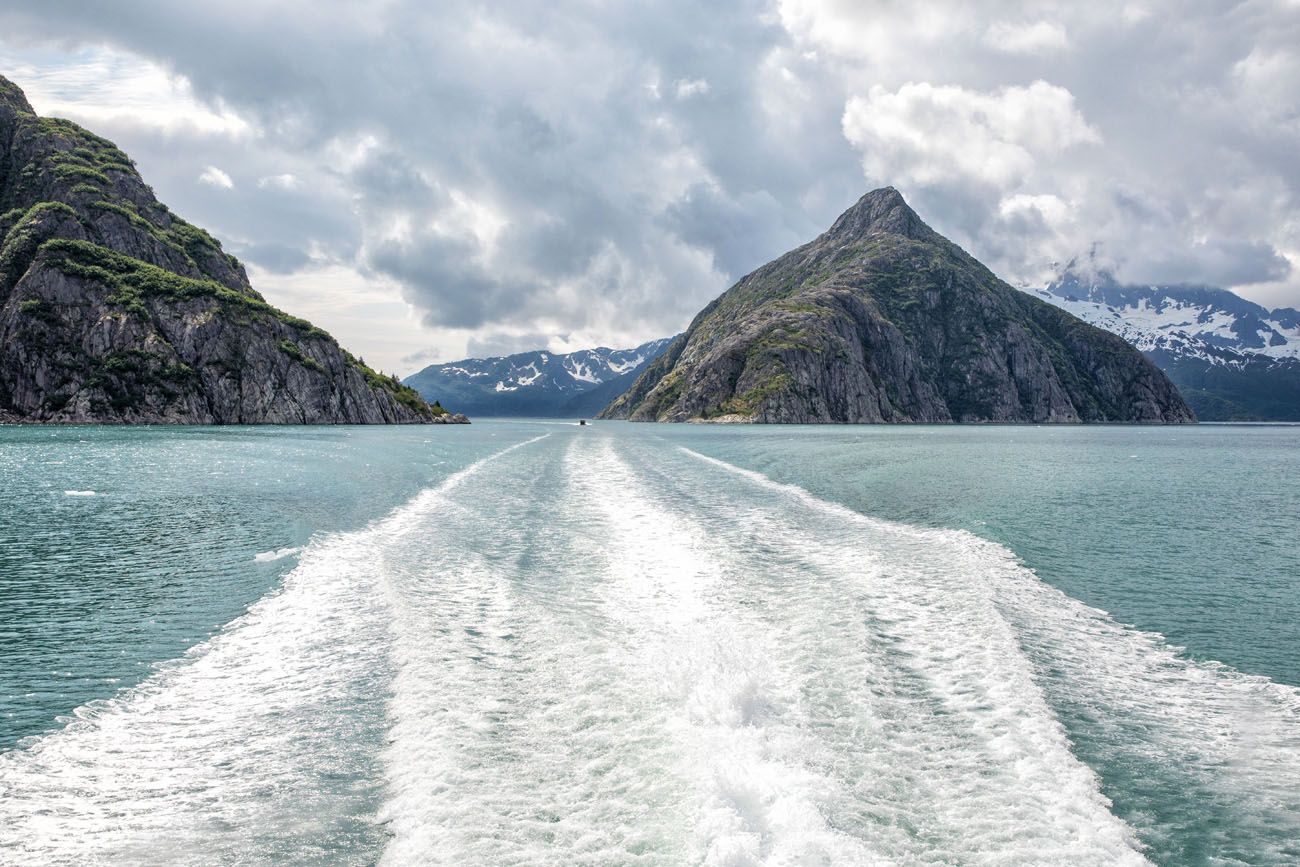 Northwestern Fjord
At the end of the Northwestern Fjord, we watched as the glacier calved at the Northwestern Glacier face. Meanwhile, we also got to see some harbor seals hanging out on the ice chunks that were once part of the Northwestern Glacier.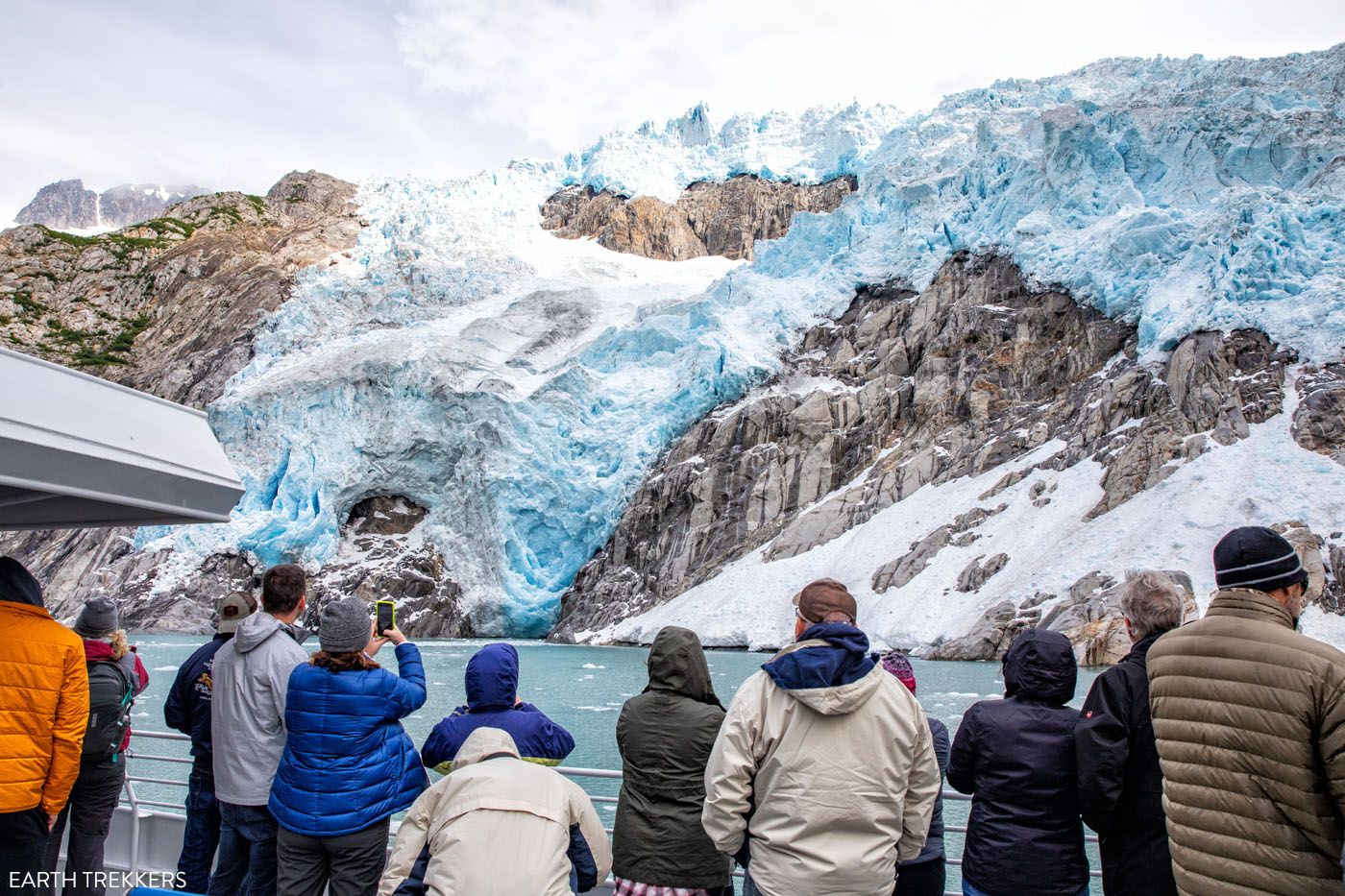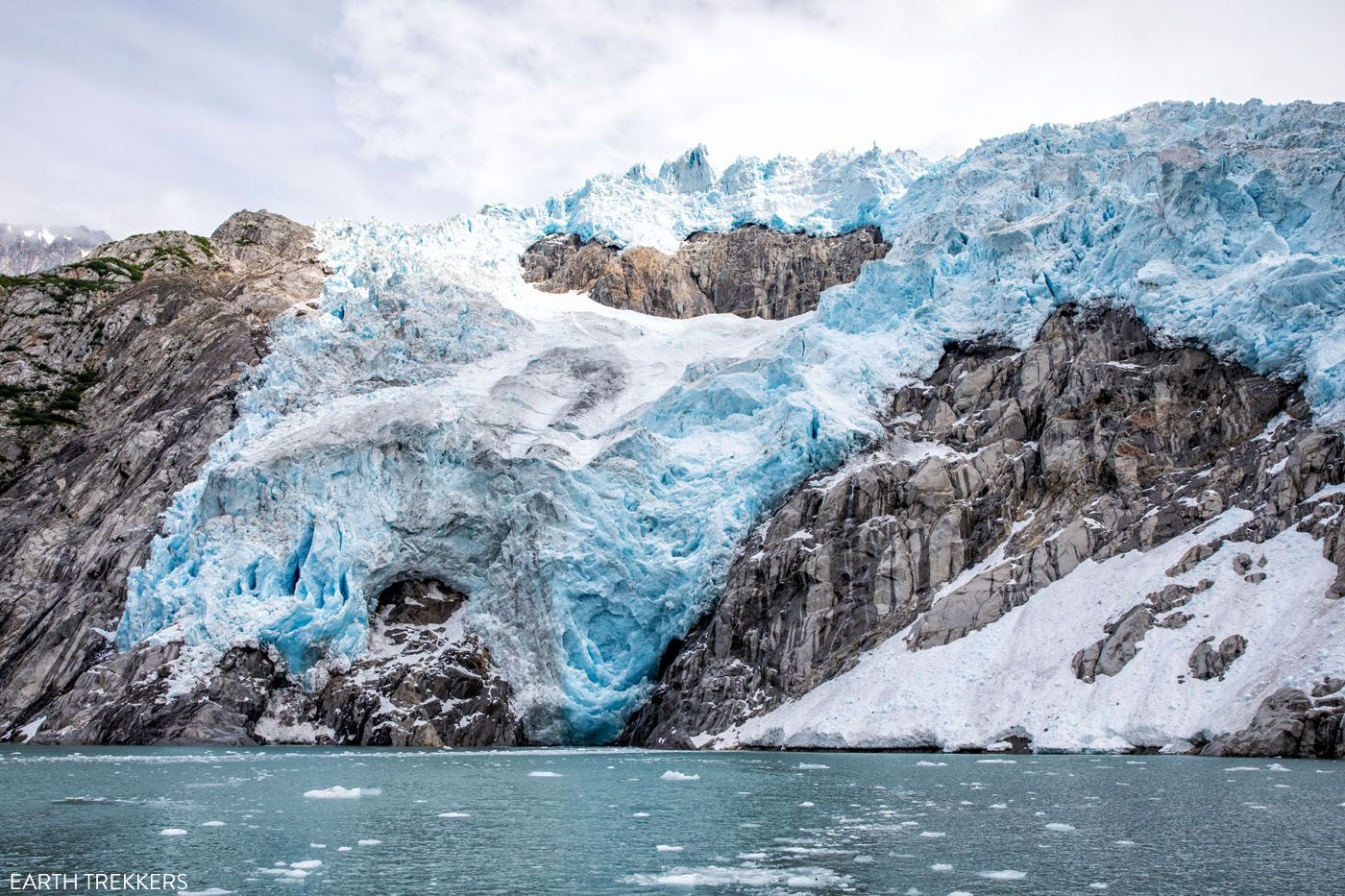 Northwestern Glacier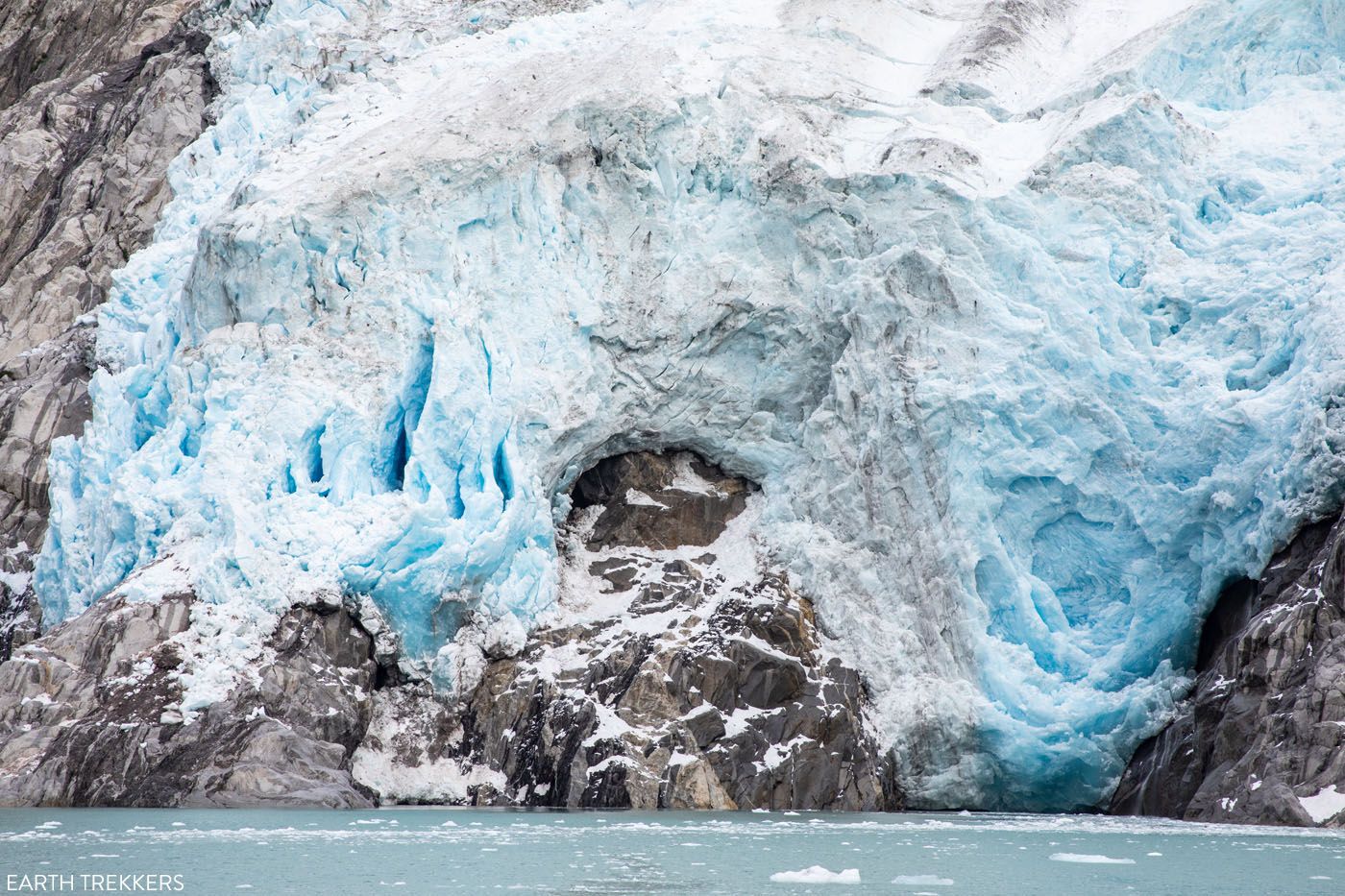 Northwestern Glacier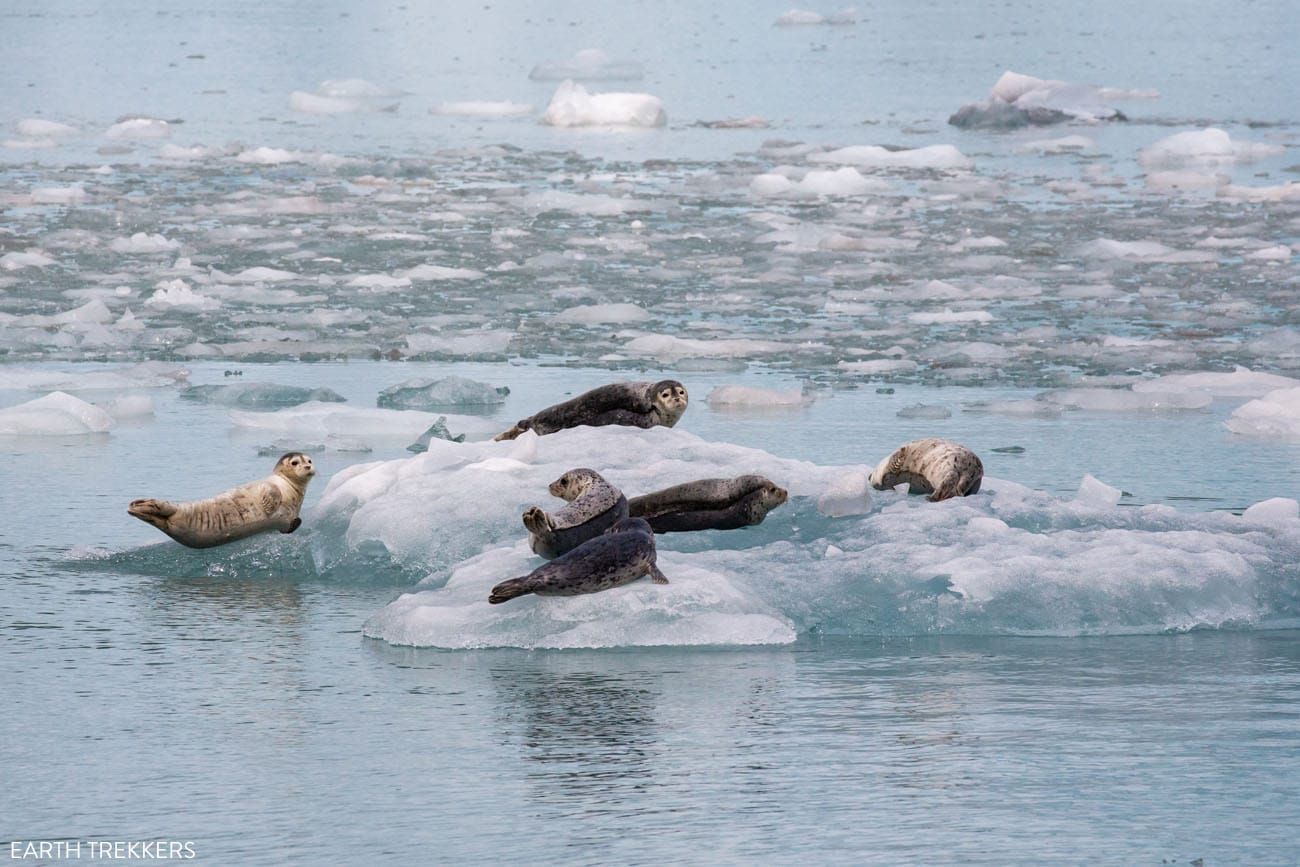 Harbor seals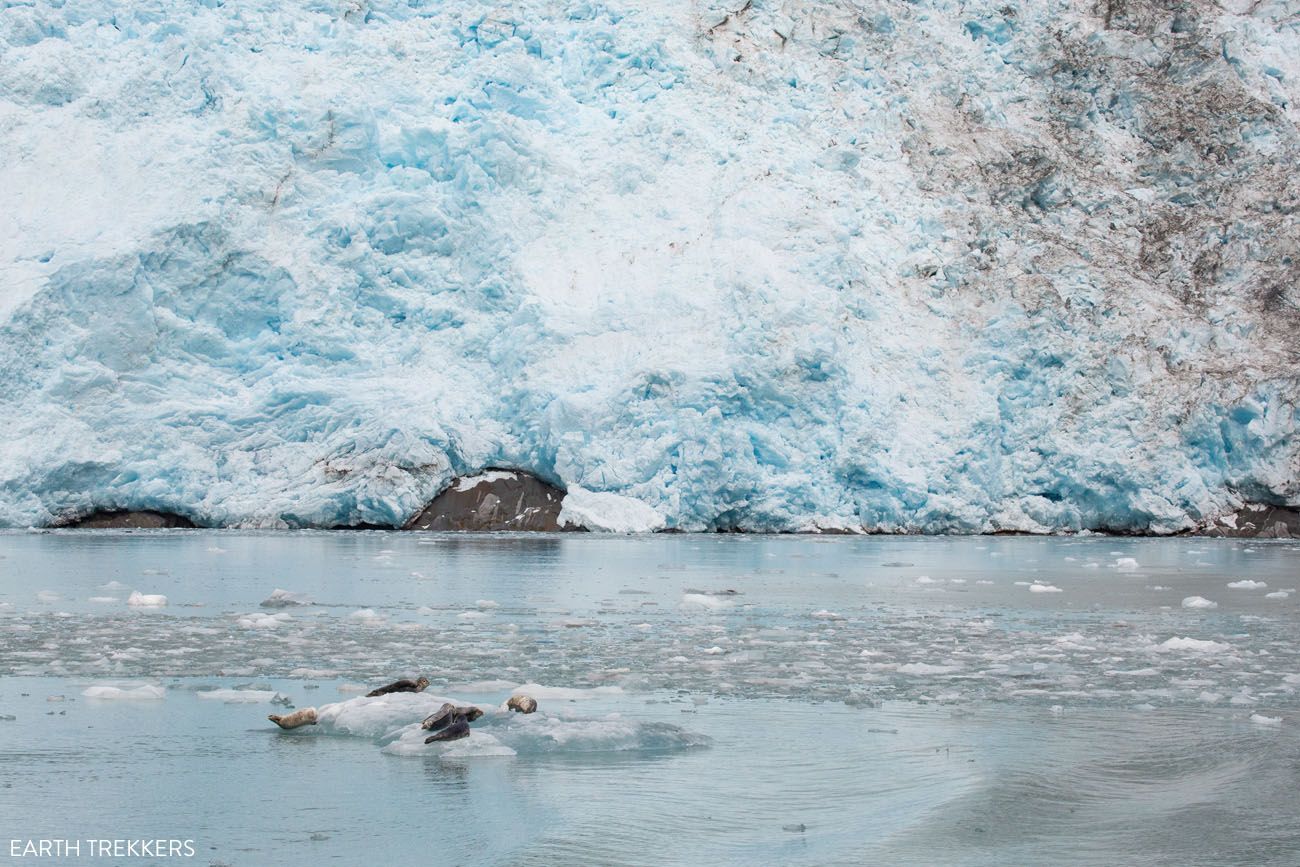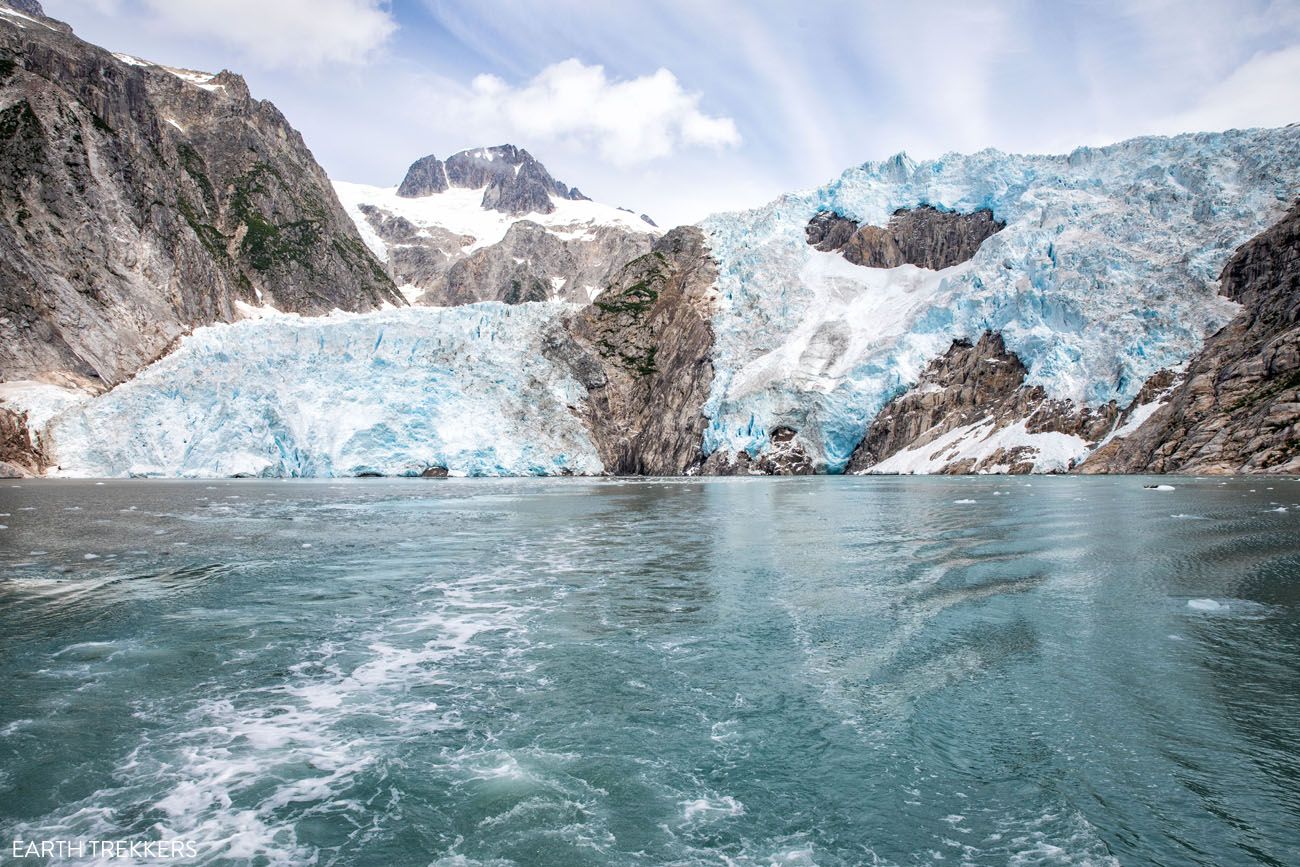 One last view of the Northwestern Glacier
While we were in the Northwestern Fjord, we did briefly see the Major Marine Tour boat, called the Viewfinder. They were approaching the glacier face at about the time we were leaving. After seeing the smaller size of their boat, we were glad we selected to take the Northwestern Fjord Cruise with Kenai Fjords Tours.
Return to Seward
On the return to the Gulf of Alaska, the captain pointed out two other tidewater glaciers within the Northwestern Fjord, the Anchor and Ogive Glaciers. We also stopped to watch humpback whales feeding.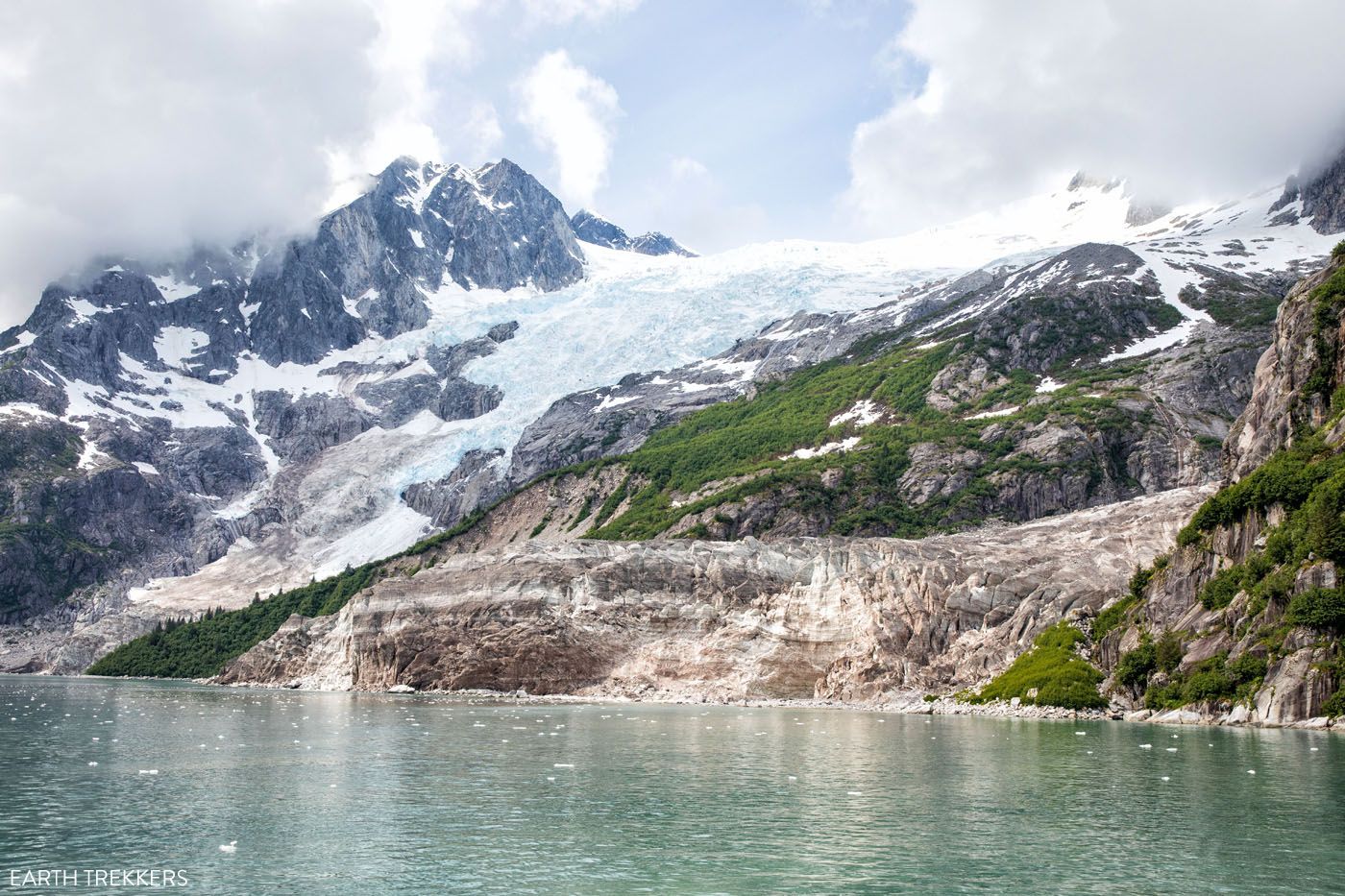 Anchor and Ogive Glaciers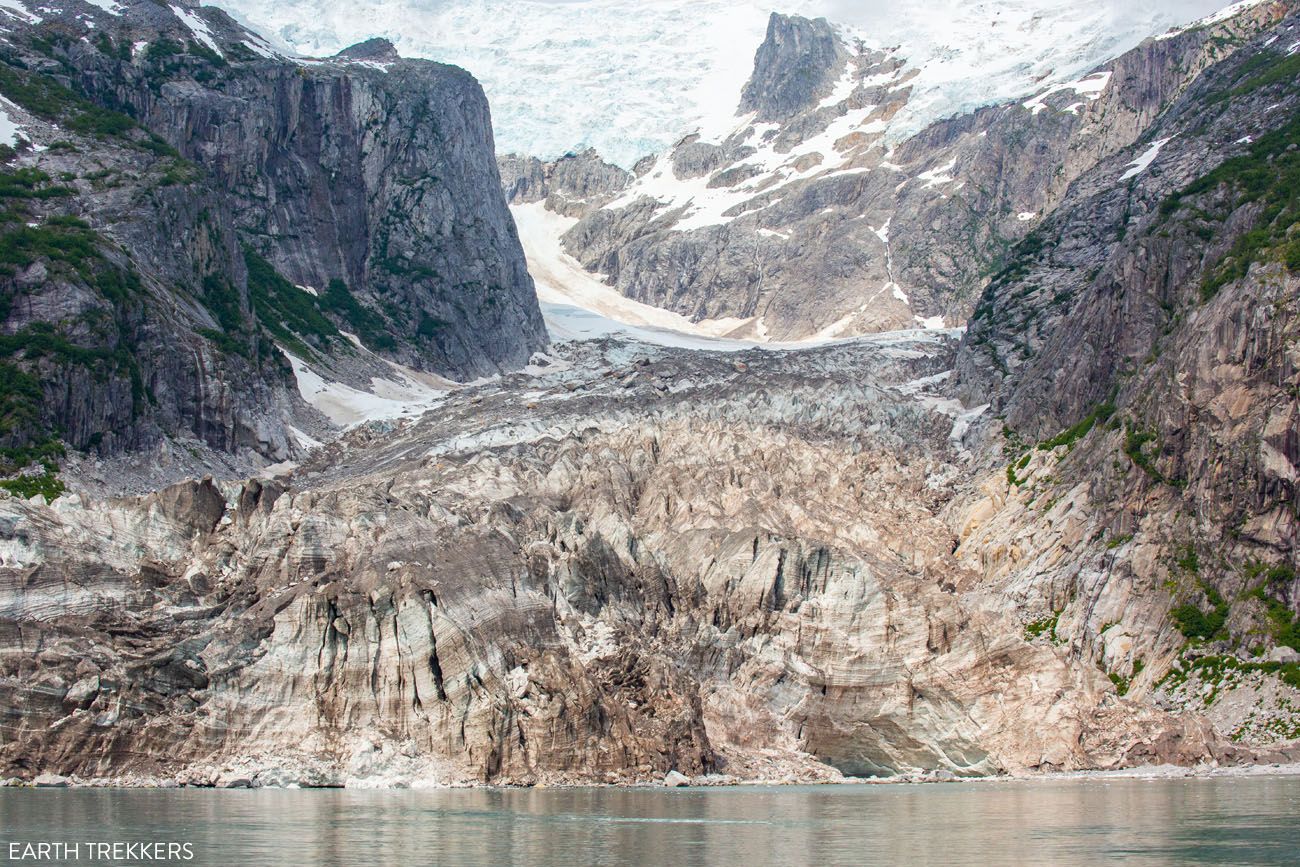 Ogive Glacier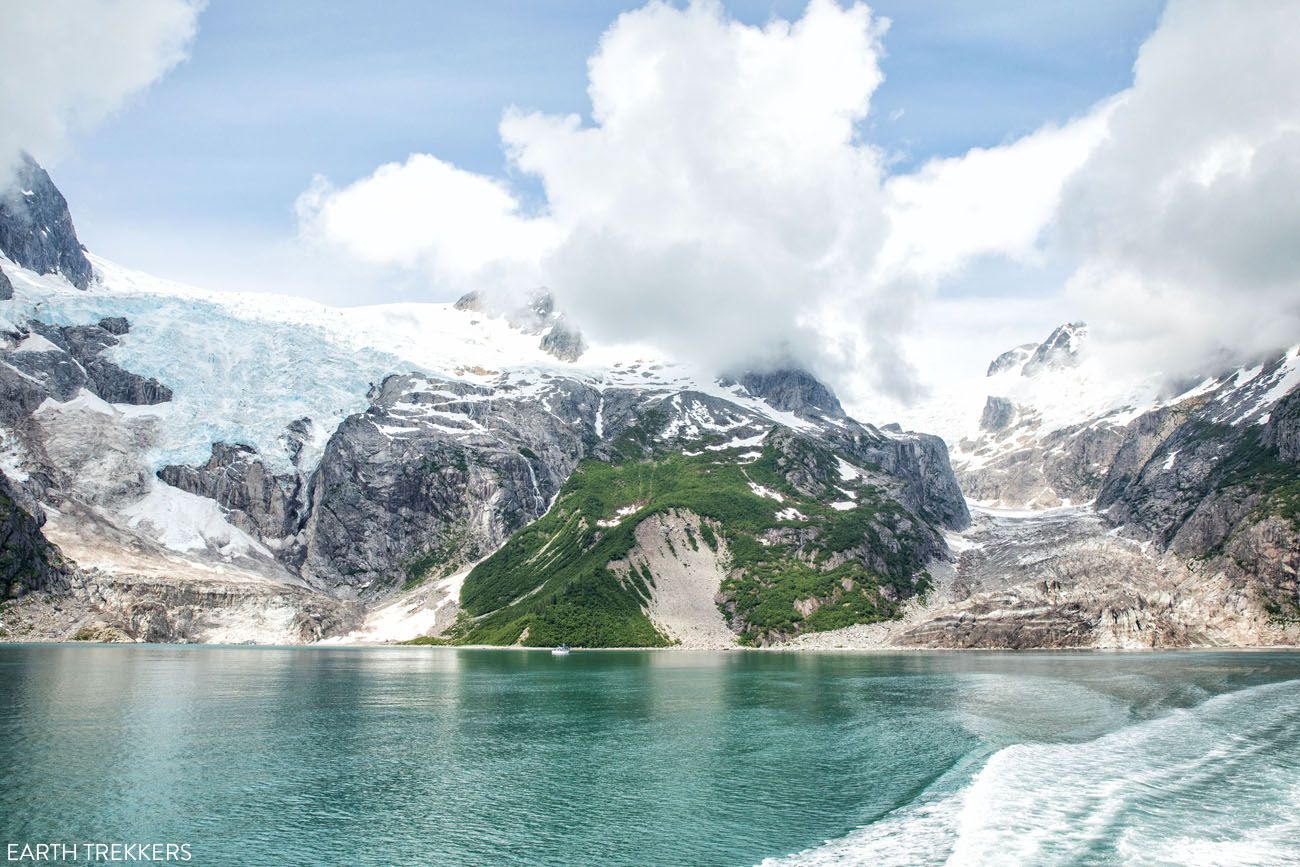 Anchor and Ogive Glaciers
We also pulled into Cataract Cove to see the beautiful waterfalls.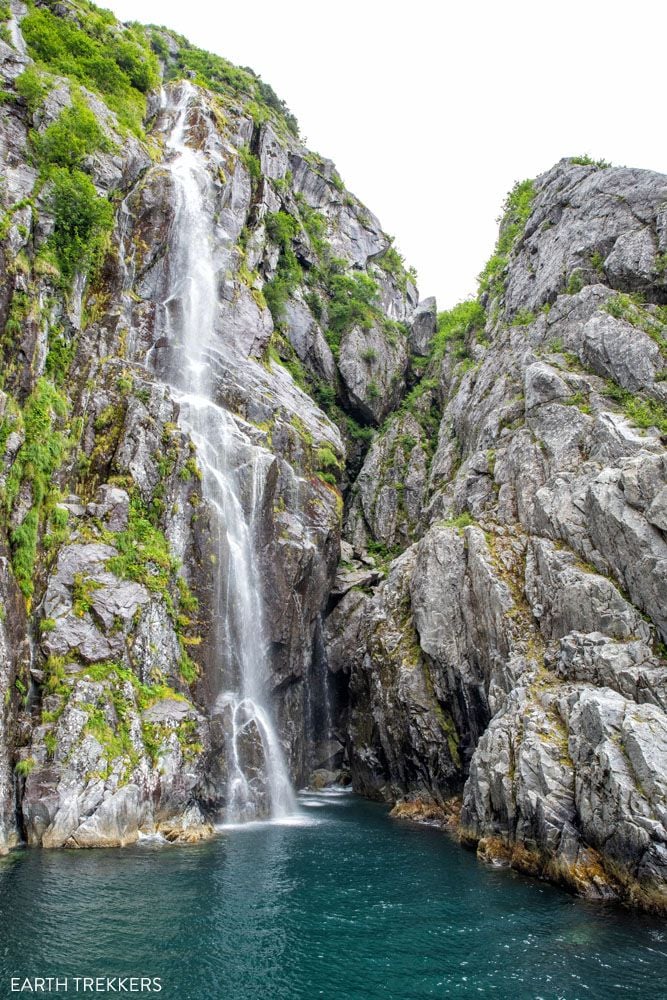 Cataract Cove | Northwestern Fjord Cruise
As we continued our return to Seward, we saw puffins, more sea lions, fin whales, and humpback whales.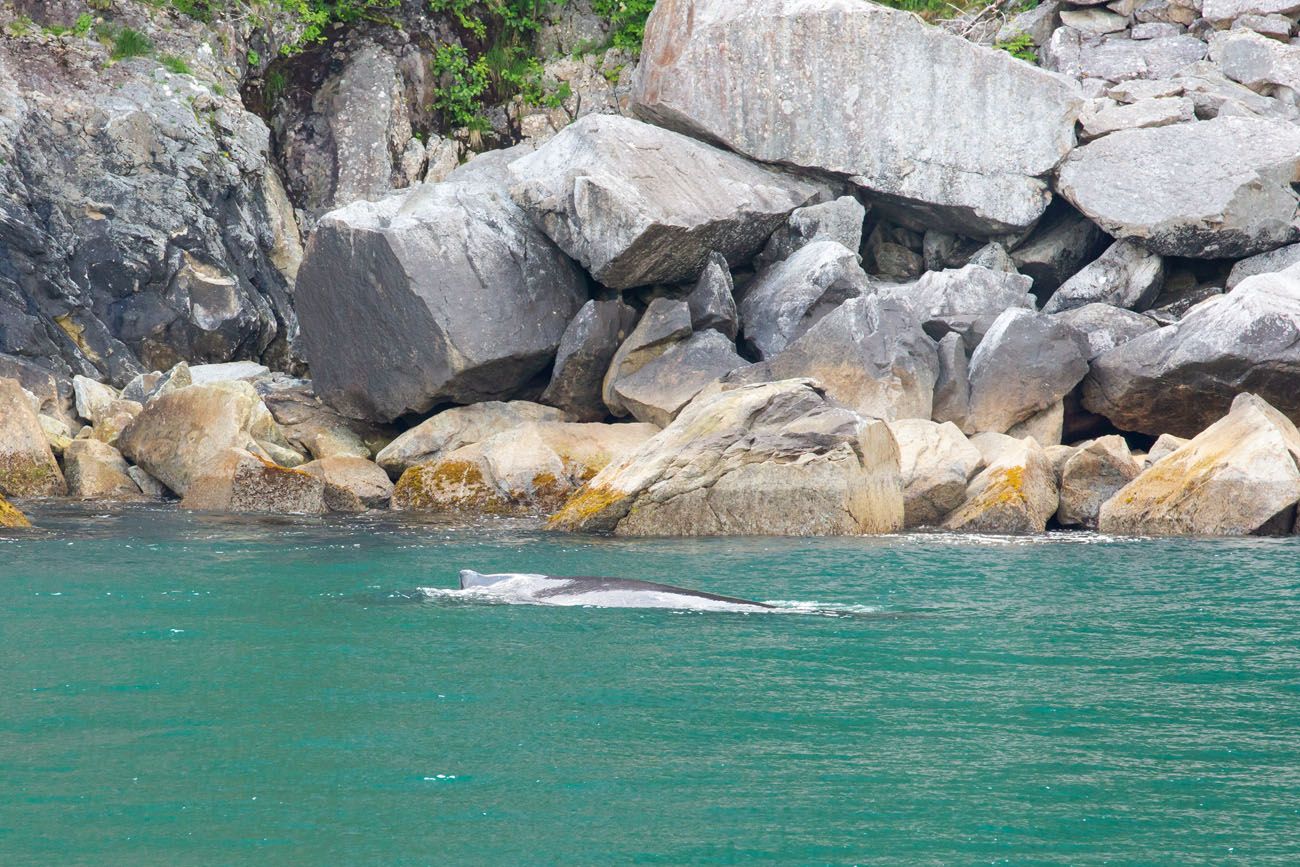 Humpback Whale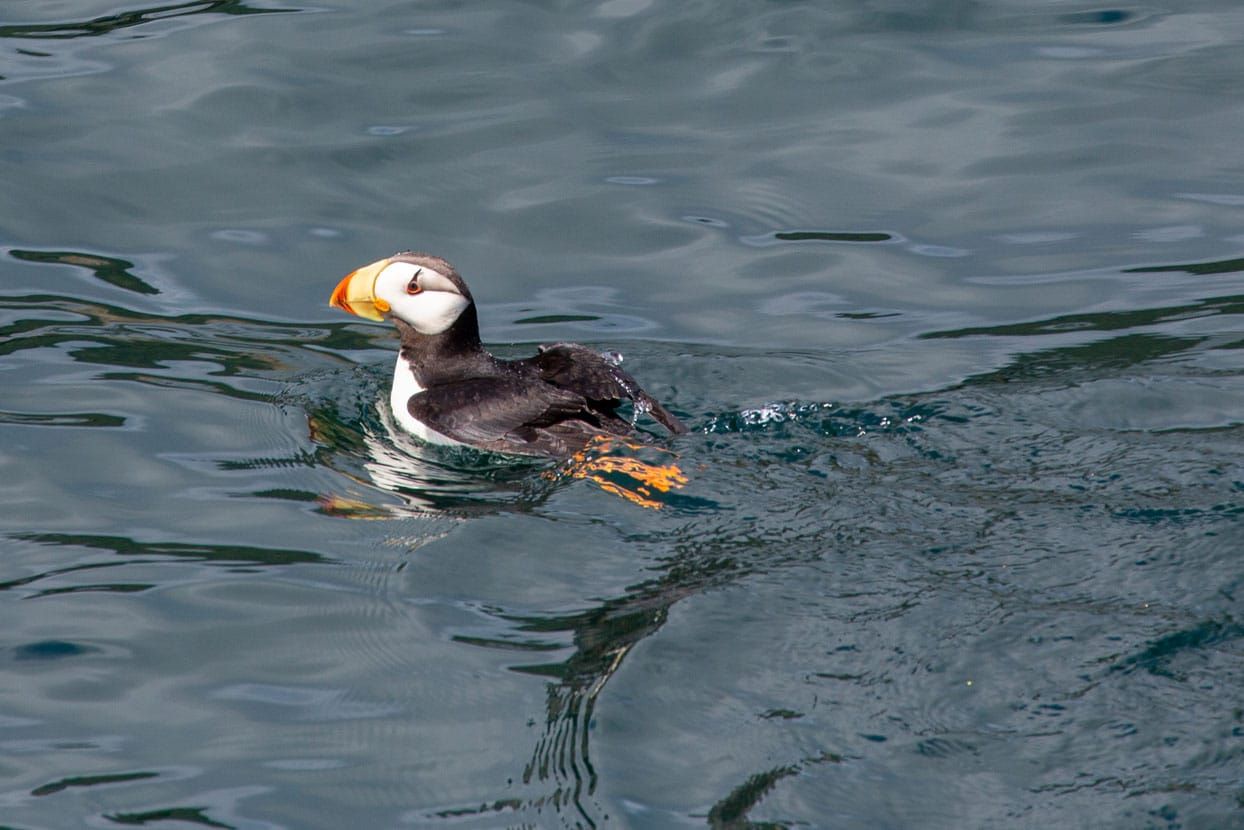 Puffin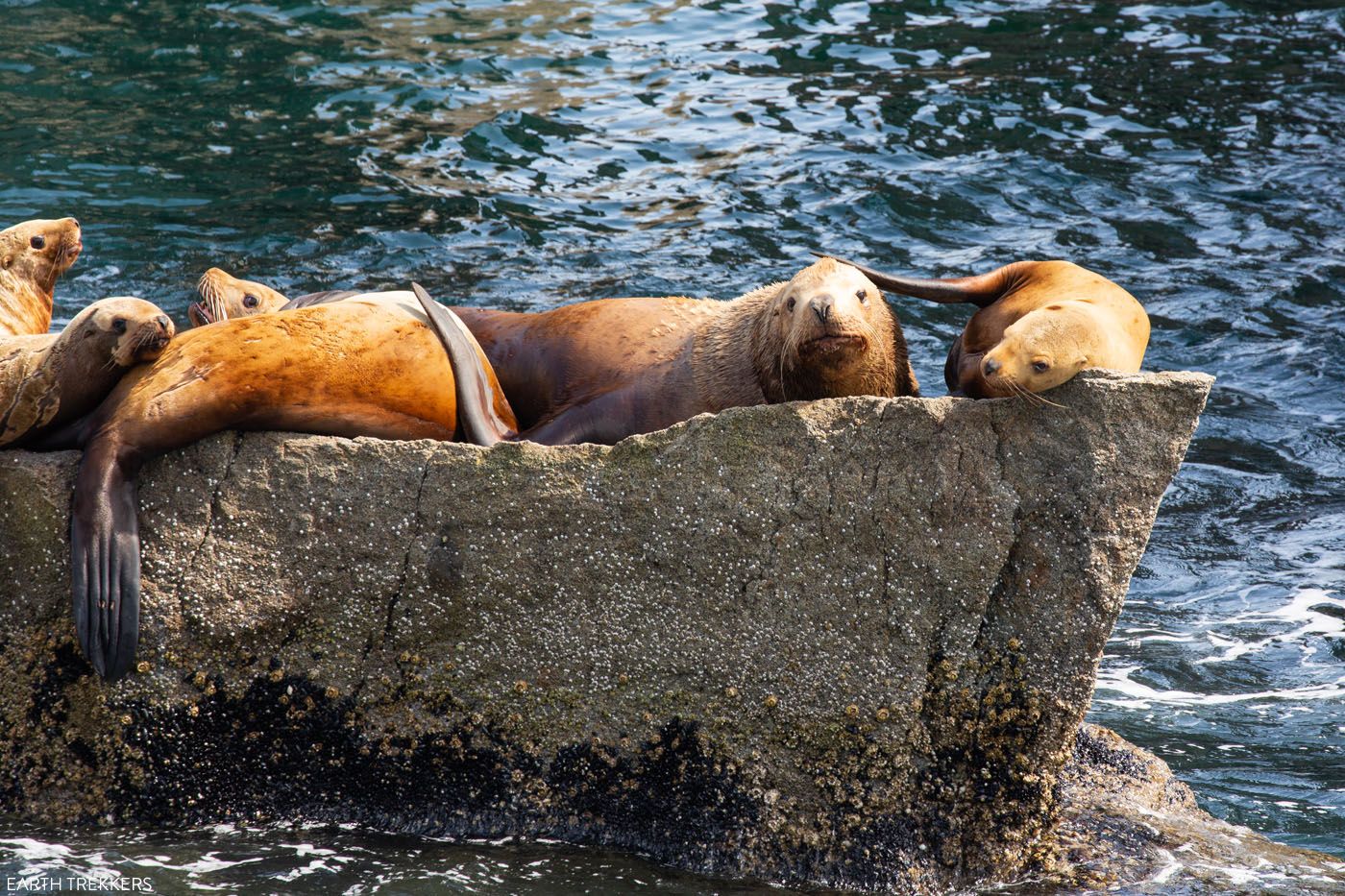 Sea Lions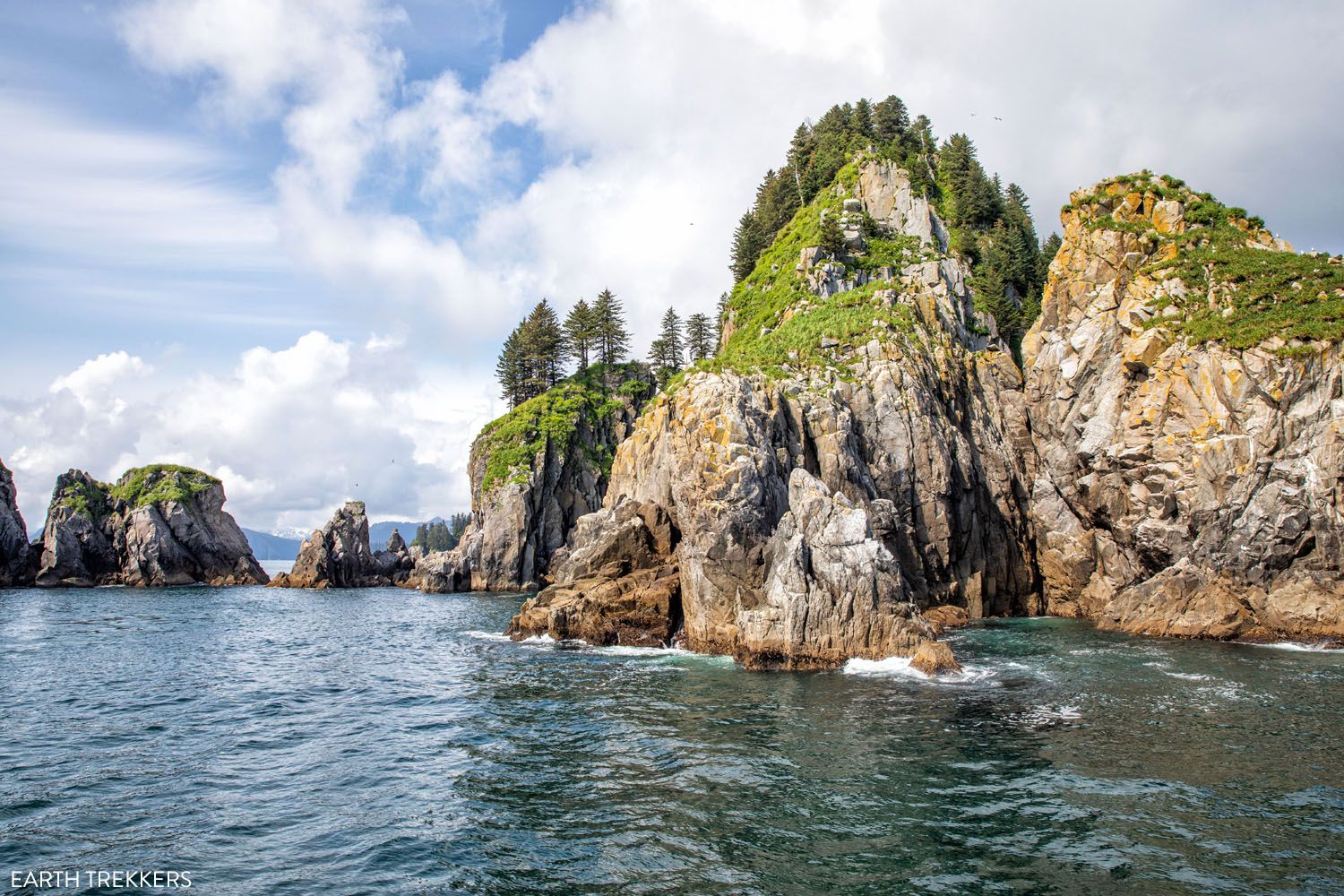 Chiswell Islands | Northwestern Fjord Cruise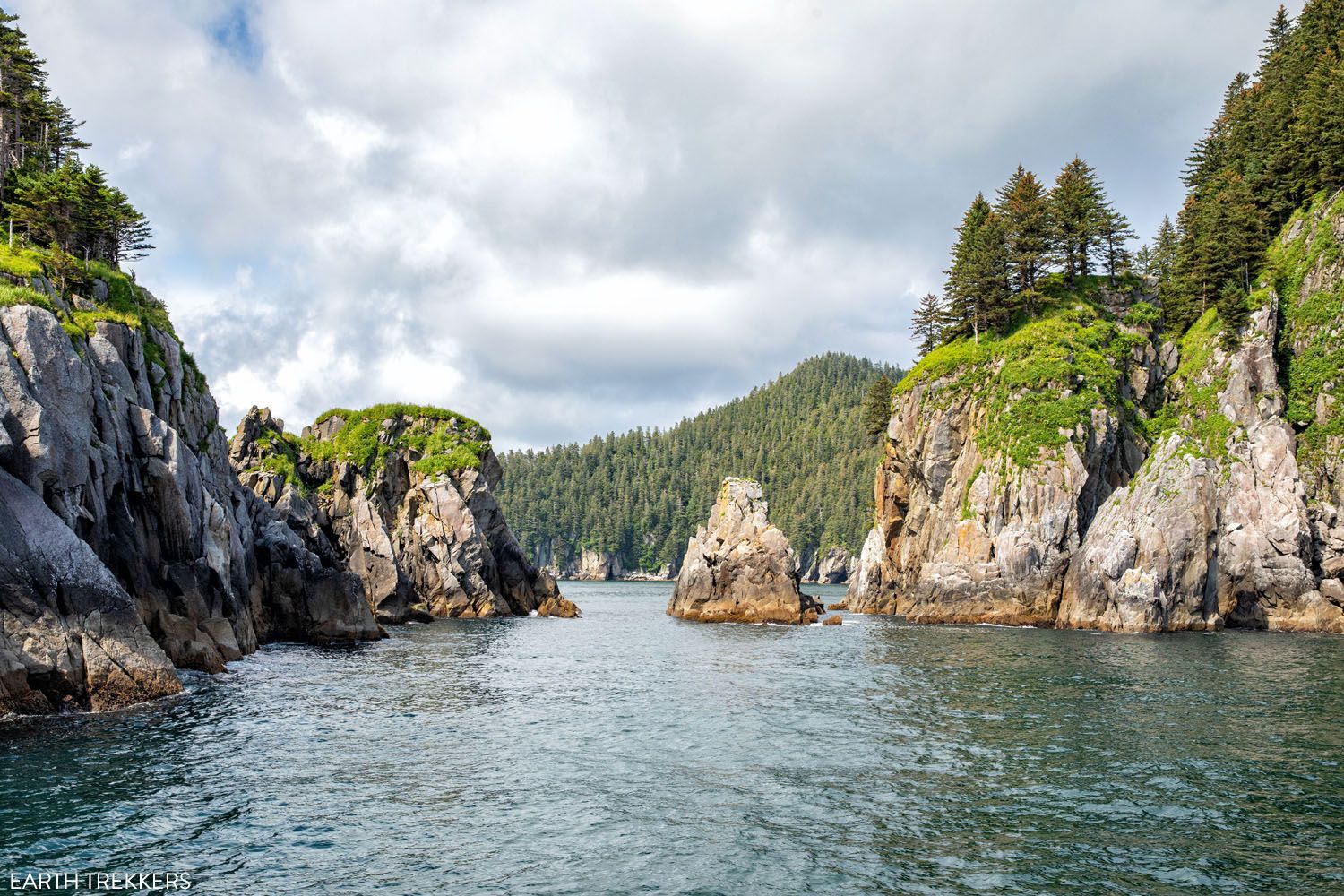 Chiswell Islands | Northwestern Fjord Cruise
Overall, we had an amazing day and wonderful time. Our captain's ability to spot wildlife and his narration throughout the cruise were excellent.
Food & Drinks on the Cruise
The lunch (a chicken wrap with potato chips and a granola bar) was delicious, and we also took advantage of the snack bar onboard to buy hot chocolate and coffee with Bailey's Irish Cream. It looked like they also sold beer and candy.
The lunch was included in the ticket price but anything purchased from the snack bar is an additional fee.
There are also had bathrooms onboard.
What Wildlife Can You Potentially See?
You have the potential to see wildlife such as orca whales, humpback whales, fin whales, Dall's porpoise, Steller sea lions, harbor seals, otters, puffins, eagles, and many species of seabirds.
While we were in Resurrection Bay, we saw a bald eagle and otters. In the Gulf of Alaska, we saw Dall's porpoise, fin whales, puffins, and other seabirds. In Harris Bay and the Northwestern Fjord, we saw orca whales, humpback whales, and harbor seals.
We had a particularly great day for seeing orca whales. We were seeing so many pods of orca whales that the even the captain of our boat was getting excited about how many we kept seeing.
Of course, every trip will be different, and you never know what you will see on your cruise.

Is the Northwestern Fjord Cruise Worth It?
Yes! I have to admit, Julie and I weren't thrilled about the idea of spending 8 hours on a boat. In fact, neither were Tyler or Kara, who chose to skip the cruise and watch the Mount Marathon race instead, which was going on the very same day.
However, this cruise blew away our expectations. The wildlife sightings were amazing and every few minutes it seemed as if our captain was spotting something new.
And to cruise the Northwestern Fjord, see the calving of the massive glaciers, and to see harbor seals floating on the ice, was an unforgettable experience. We are very glad we did it, and this cruise rounded out our entire visit to Kenai Fjords National Park.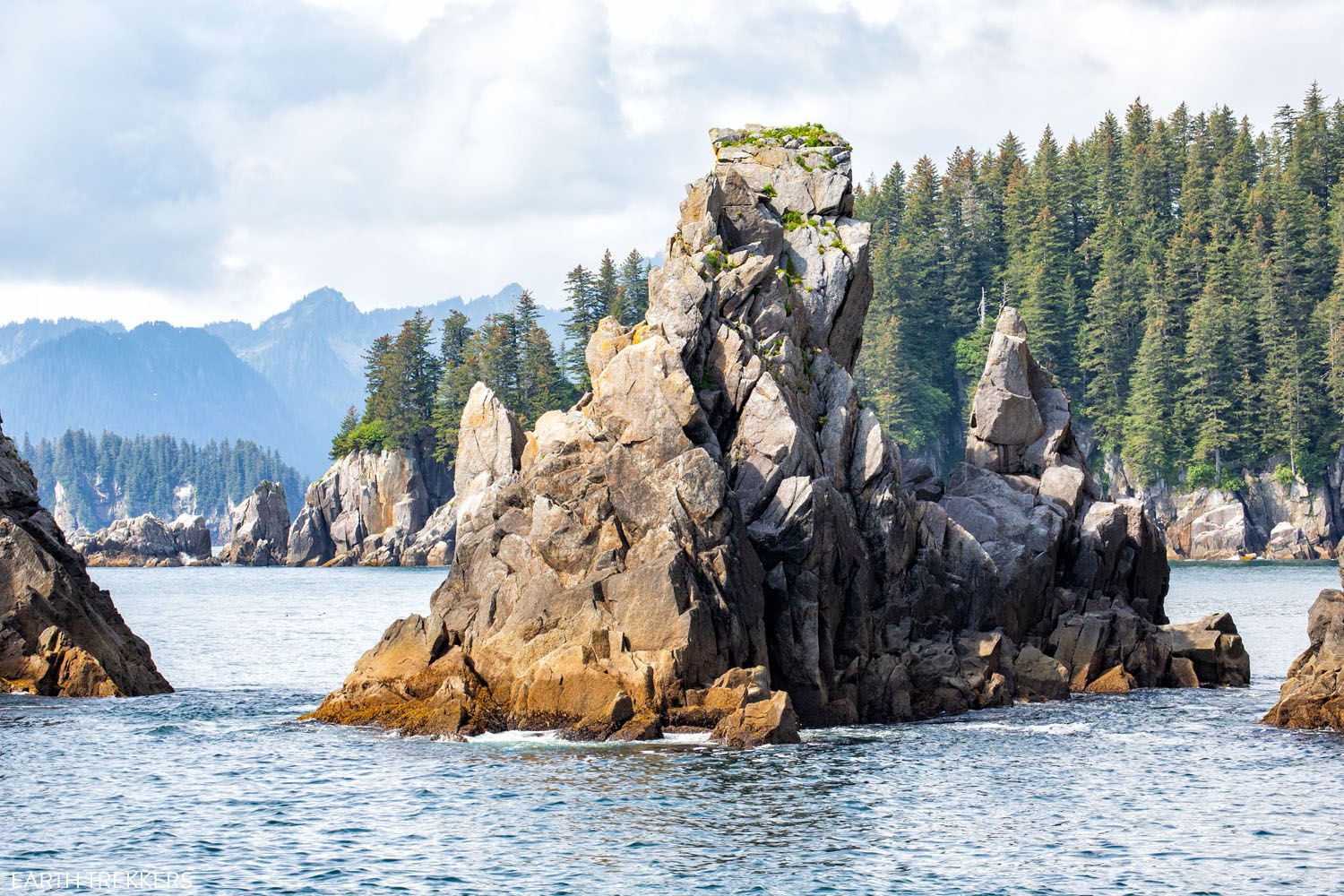 Chiswell Islands
Tip to Have the Best Experience
Book in advance. There is a fixed number of passengers allowed on each boat so don't delay reserving your seat.
Dress in layers. Expect temperatures to be between 50 and 70 degrees. It is a good idea to dress in layers and bring a hat and gloves just in case they are needed. Even if the forecast is on the warmer and sunnier side it is still a good idea to have extra layers with you, especially while you are in front of the Northwestern Glacier as the wind blowing down from the Harding Icefield and across the glacier can chill the air.
Sun protection. Sunscreen and sunglasses.
Be prepared for rain & wind. Coastal weather can bring rain and wind to the area, in fact our cruise operator suggested that we be prepared for "ever present rain and wind". You might consider rain pants in addition to a rain jacket/coat.
Be prepared for rough seas. Bring seasickness medications with you just in case. If you are prone to sea sickness, then you should consider a cruise that stays within Resurrection Bay and doesn't enter the Gulf of Alaska since rougher seas are more likely in the Gulf or Alaska.
Bring snacks. Lunch is provided but it was nice to have a few of our own snacks available since it was a long day. The Kenai Fjords Tours catamaran did have a snack bar onboard where items like candy, coffee, hot chocolate, and beer could be purchased.
Bring a zoom lens for your camera. The captain needs to maintain a safe distance from the marine life as to not disturb the marine life and the safety of the animals and everyone onboard the boat. Wildlife was visible with the naked eye, but we found photography was better with a zoom lens.
Arrive early. Be one of the first onboard to pick out your seats. Some of the people that arrived closer to the departure time had to split up or had to sit outside the entire time.
Cellular Service. Don't expect to have cellular service during this cruise.
---
If you have any questions about the Northwestern Fjord Cruise, or if you want to share your experience, let us know in the comment section below.
Where are You Going Next?
If this is part of a bigger road trip to Alaska, here is more information to help you plan your trip.
KENAI FJORDS NATIONAL PARK: While in Kenai Fjords National Park, more things to do include hike the Harding Icefield Trail, go ice climbing on the Exit Glacier, or go kayaking in front of Aialik Glacier.
BEST OF WRANGELL-ST. ELIAS: Top experiences in Wrangell-St. Elias include hiking the Root Glacier Trail, taking a flightseeing tour, and hiking to Bonanza Mine. For the full list, read our article Best Things to Do in Wrangell-St. Elias.
DENALI: Eielson is one of the most spectacular areas in Denali to visit since it offers some of the best views of Denali. Taking a Denali flight seeing trip is also a great thing to do, as are hiking one of the many trails in the park. Get the full list in our article Best Things to Do in Denali.
KATMAI NATIONAL PARK: In our article Best Things to Do in Katmai, we cover the top experiences in the park. For a unique experience, take a photography tour to capture the action at Brooks Falls from Brooks River and learn how to see the bears at Brooks Falls. You can also visit the Valley of 10,000 Smokes, the site of one of the world's largest volcanic eruptions in recent history.
ALASKA ITINERARY: Take the guesswork out of planning your trip to Alaska with our Alaska road trip itineraries.
UNITED STATES: We have TONS of information about places to visit in the United States in our USA Travel Guide. In our Guide to the US National Parks, get the full list of national parks with important travel planning information, such as things to do in the parks and sample itineraries.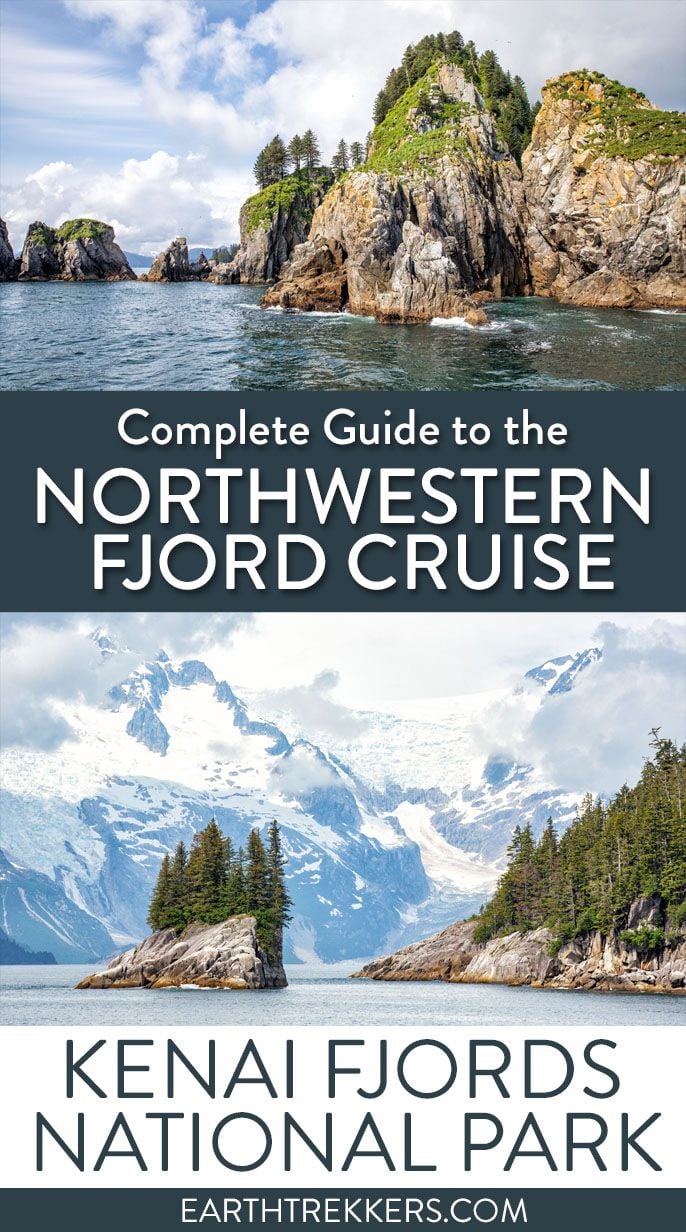 All rights reserved © Earth Trekkers. Republishing this article and/or any of its contents (text, photography, etc.), in whole or in part, is strictly prohibited.