Travel to Poland, a country filled with beautiful cities, delicious food, and a powerful history. Take a tour through Auschwitz-Birkenau, experience Poland's history at its many museums, and explore the streets of Poland's vibrant cities. Or, if you prefer, Poland has many great hiking trails in the Tatras Mountains. So, whether you are looking to step into the past or climb to the country's highest peaks, Poland is the place for you.
Official Language: Polish
Population: 38 million
Capital City: Warsaw
Currency: Złoty (PLN)
Power Outlet: Types C and E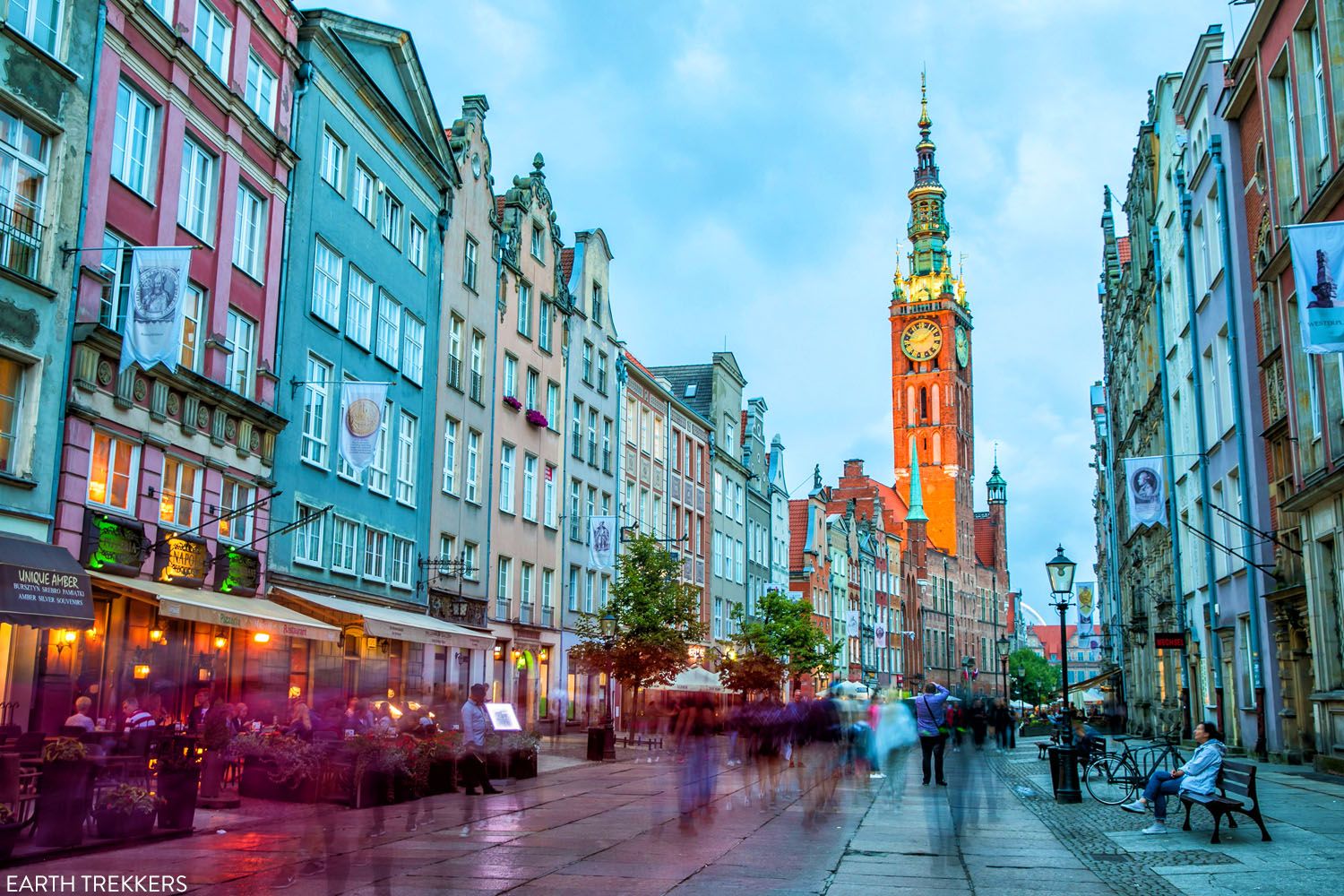 On this 10 day Poland itinerary, visit three of Poland's most famous cities. Start in Gdansk, a beautiful city on the Baltic Coast, where you can stroll through the colorful old town and day trip out to the Baltic beaches or Malbork Castle. Next, journey to Warsaw, a city with a tumultuous past and a very bright future. Finally, the journey ends in Krakow, a city that is the favorite of many travelers to Poland.
Plan your visit to Krakow. Learn about the best things to do in Krakow, where to stay, and how to plan your time. 
Auschwitz-Birkenau, also simply called Auschwitz concentration camp, is the largest of the Nazi concentration camps. Located in southern Poland, Auschwitz-Birkenau is usually visited as a day trip from Krakow. 
To help you plan your visit to Auschwitz-Birkenau, we cover everything you need to know, from scheduling tours, arranging transportation, and what to expect while you are here.
Warsaw is well worth a visit on even the fastest itineraries through Poland. Walk through the historic old town, sample Polish food, and get an eye-opening history lesson at several world-class museums.
Gdansk is a beautiful city located on the Baltic Sea. It is often overlooked by many travelers to Poland, in favor of the more popular spots like Warsaw, Krakow, and Wroclaw. However, this city is well worth the journey north. In fact, it's our favorite Polish city.
Journey high into the Carpathian Mountains by hiking the trails in the Polish Tatras. If you like the great outdoors, it just may be the highlight of your trip to Poland.
Zgorzelec is a small Polish town that sits on the Lusatian Neisse River. On the opposite side of the river is the German town, Görlitz. We visited

Görlitz

and Zgorzelec on a wonderful day trip from Berlin, Germany.
Europe Travel Inspiration & Practical Info
Do you dream of visiting world-class cities like Paris, Barcelona, or Venice? Or would you rather hike the Alps, go on a scenic train ride, explore the beautiful beaches and coastal towns in southern Europe, visit fairytale towns and castles, island hop in Greece, or go on an unforgettable road trip in northern Europe?
In this article we list 25 ways to spend one week in Europe. 
Top Experiences in Poland
Krakow: With its large market square, colorful streets, historic sites, and abundance of amazing, budget friendly restaurants, Krakow is a favorite stop for many people on their tour through Poland. 
Warsaw: Walk through the historic old town, sample Polish food, and get an eye-opening history lesson at several world-class museums in the beautiful city of Warsaw.
Gdansk: Gdansk is one of Poland's most beautiful and historic seaside cities. Here you can explore the vibrant Old Town, relax on the Baltic coast, and enjoy the delicious food of Gdansk.
Malbork Castle: Malbork Castle is Poland's most famous castle. It's also the largest castle in the world, classified by surface area. Located just a short distance from Gdansk and easily accessible by train, Malbork Castle is one of the best day trips to take from Gdansk.
Visit Gdynia and Sopot from Gdansk: Collectively, the cities of Gdansk, Gdynia, and Sopot make up what is called the Tri-City. These three cities sit along the Baltic Coast. Sopot is a ritzy, coastal town famous for its beaches and nightlife. Gdynia is a smaller, quieter town with a beach, a harbor, and several unique museums. From Gdansk, you can day trip to Gdynia and Sopot in one day. 
Visit the Museum of the Second World War: This fascinating museum covers the events that led up to WWII and the impact the war had on Poland. This is one of the best museums in Poland and it is a must-visit, even if you are not a museum lover. 
Auschwitz-Birkenau: Take an emotional and thought-provoking visit to the largest of the Nazi concentration camps.
Go hiking in the Polish Tatras from Zakopane: Zakopane is Poland's gateway city for exploring the mountain range known as the Tatras. From Zakopane, you can take your pick from quick, easy hikes to longer all-day affairs that have you climbing among the tallest mountain peaks.
How Many Days Do You Need in Poland?
For the best experience, plan on spending 7 to 10 days in Poland. With 7 days, you have just enough time to visit three cities (Krakow, Warsaw, and Gdansk). Add on 3 more days, for a total of 10, to add on day trips to places such as Malbork Castle and Auschwitz-Birkenau.
With even more time, you can visit the smaller cities in Poland, go to the beach, go hiking in the Tatras, or explore off the beaten path destinations. 
If you only have a few days in Poland, we recommend choosing one city and doing day trips from here.
Best Time to Visit Poland
May through September is the best time to visit Poland, if you are looking to travel when the weather is warm. Hiking conditions are also best during this time. However, June through August is the most crowded time to visit, so if you are looking to avoid crowds, we recommend visiting in May or September.
Poland in winter months can be a beautiful time to visit. Poland would be a great place to spend Christmas, as they hold many Christmas celebrations and Christmas markets throughout the country. Poland is also a great destination for skiing, ice-skating, and winter hiking through snow-covered mountains.