Auschwitz-Birkenau, also simply called Auschwitz concentration camp, is the largest of the Nazi concentration and death camps. Located in southern Poland near Krakow, this museum attracts over 2 million visitors per year. A visit here is somber, emotional, and thought provoking. In this guide, learn how to visit Auschwitz on a day trip from Krakow.
There are numerous options for getting to and touring Auschwitz-Birkenau. To help you plan your visit, we cover everything you need to know, from scheduling tours, arranging transportation, and what to expect while you are here.
A Brief History of Auschwitz-Birkenau
Auschwitz-Birkenau is made up of three parts: Auschwitz I, Auschwitz II-Birkenau, and Auschwitz III-Monowitz.
Auschwitz I, the buildings of which were part of a former military base, opened in 1940 as a detention center to hold Polish political prisoners. The role quickly changed and Auschwitz I became a concentration camp and the site where mass exterminations were carried out.
Auschwitz II – Birkenau was opened in 1941, to keep up with the large numbers of political prisoners and Jews that were being deported to Auschwitz.
Auschwitz-Birkenau became the primary site of the Nazi's "final solution to the Jewish problem." The statistics are sobering. It is estimated that 1.3 million people were sent to Auschwitz and of these, 1.1 million died. Most people deported to Auschwitz were sent immediately to the gas chambers. Those who did not die in the gas chambers died of other causes, including starvation, infection, medical experimentation, and forced labor.
In January 1945, Auschwitz – Birkenau was liberated with the arrival of Soviet troops.
How to Get to Auschwitz-Birkenau
Most people who visit Auschwitz-Birkenau do so on a day trip from Krakow.
Auschwitz-Birkenau is 75 kilometers west of Krakow. You can get to Auschwitz-Birkenau by car, bus or train. The closest town to Auschwitz is Oswiecim.
By Bus
The bus is the cheapest method of transportation but it can also be time consuming.
One-way tickets cost approximately 12 PLN and the journey takes 1 hour and 45 minutes. There are several bus companies to choose from and they leave from the bus station next to Krakow train station. Drop off locations near Auschwitz depends upon the company you choose.
Click here to see the bus timetables.
By Train
There are direct trains that connect Krakow to Oswiecim, the city that is located 2 km from the Auschwitz concentration camp. It takes 1.5 to 2.5 hours to get to Oswiecim from Krakow. You also have to factor in travel time to the Krakow train station and from the Oswiecim station to Auschwitz. Train tickets cost approximately 15 PLN one-way. Click here to see the train timetables.
By Car
If you have your own car, it takes about 1 hour and 15 minutes to drive to Auschwitz-Birkenau from Krakow.
By Private Driver
If you do not have your own car but do not want the time-consuming train or bus option, consider hiring a private driver. You are paying more for the convenience, but you are also saving time.
Krakow Direct gets rave reviews and we saw a lot of their vans during our visit to Auschwitz. They operate Mercedes vans which looked almost brand new. They charge 51 euros per person for a group tour or 182 euros for a private tour.
Website: krakowdirect.com
By Tour
Joining a tour from Krakow is the most convenient but most expensive option. By joining a tour, your transportation and visit to Auschwitz-Birkenau is covered. The tour company arranges your transportation and your guided tour of Auschwitz.
If you are planning your visit at the last minute, joining a tour guarantees you a ticket into Auschwitz.
Verdict: Which Method Should You Choose?
If you are traveling on a budget, the bus is the cheapest option. For as little as 25 PLN, you can get to and from Auschwitz. However, you will have to arrange your own tickets and tour of Auschwitz.
For the most convenient option, join a small tour group to Auschwitz. The price to arrange a private tour is just slightly more expensive than arranging your own driver and guide. It's a small price to pay have your day run smoothly with very little effort on your part.
How to Visit Auschwitz-Birkenau
Basic Information
Admission: Admission to Auschwitz-Birkenau is free, however, you have to pay for the guided tour with an educator.
Guided Tour with an Educator: 80 PLN in Polish; 90 PLN in other languages, including English
Hours of Operation: Daily 7:30 am to 7 pm June, July, and August; reduced hours the remainder of the year. Closed on January 1, Easter Sunday, and Christmas. The museum can close during official state visits. Click here for full operating hours and possible closures.
Visiting Auschwitz-Birkenau without a Guide
Time slots are available to tour Auschwitz-Birkenau without a guide. These time slots are available in the late afternoon. It is free to tour Auschwitz-Birkenau without a guide but you do need to reserve your time slot in advance. On the official website, these time slots are referred to as a Tour for individuals without an educator.
Visiting Auschwitz-Birkenau with a Guide
Guided tours of Auschwitz-Birkenau last approximately 3.5 hours. Multiple tours are offered per day in Polish, English, Italian, Czech, German, French, and Slovak. On the official website, these are referred to as a General Tour.
You can book your tickets in advance on the official Auschwitz website (preferred method!!) or when you arrive at the main entrance (but you will most likely wait in line with the risk that all of the tours are booked).
A guided tour costs 90 PLN per person (in English) and covers your educator (tour guide) and audio guide.
To book your tickets online, visit the official website. Tickets can be booked online up to 5 days before your visit. If you need to book your tickets less than 5 days in advance, you can contact the museum via email.
PRO TRAVEL TIP: Tickets can be booked up to three months in advance. In order to get the time slot you want, make your booking as far in advance as possible.
What If You Do Not Reserve Your Tickets in Advance?
It is possible to show up at Auschwitz-Birkenau and purchase your tickets on the spot. But you have to be willing to wait in line, risk getting put into a tour several hours after your arrival, and risk not getting a ticket at all.
There is a ticket booth, a white information booth, which sells the remaining tickets for the day. Just look for the long line snaking out into the parking lot and you know that you are in the right spot.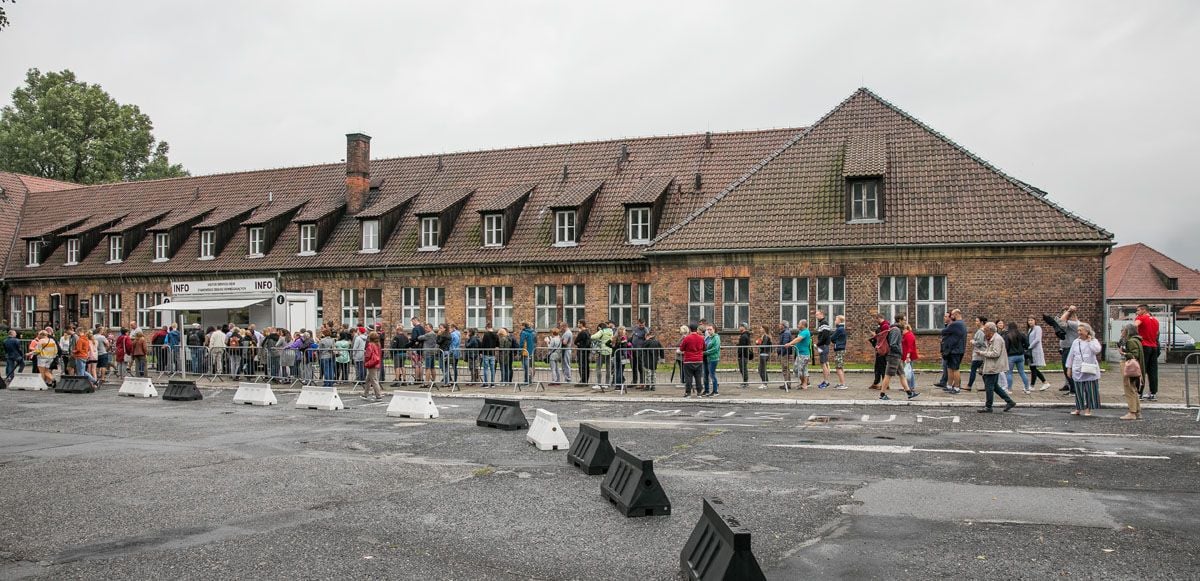 The waiting time to get tickets can be just a few minutes or it can be an hour or longer. During our visit (mid-July) it was a rainy day, so crowds were lower. The line was short and lots of spots were still available for the remainder of the day. But on weekends during peak season, you probably will not be so lucky.
If you can, reserve your tickets in advance. This saves you waiting in the ticket line and you can get the time slot you prefer.
What to Expect at Auschwitz-Birkenau
There are two parts to a visit to the Auschwitz concentration camp: Auschwitz I and Birkenau. On the guided tour with an educator, it takes about 1.5 hours to visit Auschwitz and 1 hour to visit Birkenau, with a 15-minute break in between.
You tour starts with a quick pass through security and a short line to get your audio guide.
This audio guide is really just a pair of headphones that allows you to hear your guide. With these headphones, you can easily hear everything your educator says and he or she doesn't have to yell out to the 30 people in your group for the next 3 hours. Plus, you can still hear your guide when they are out of sight (which does happen as you tour the buildings).
Auschwitz I
Auschwitz I is the original concentration camp. While you are here, you will tour the barracks, view black and white photographs taken while the camp was in operation, view the prison cells, and learn some harrowing statistics.
Without going into too much detail, since you will learn all about this on the tour, here are a few photos, just so you know what to expect.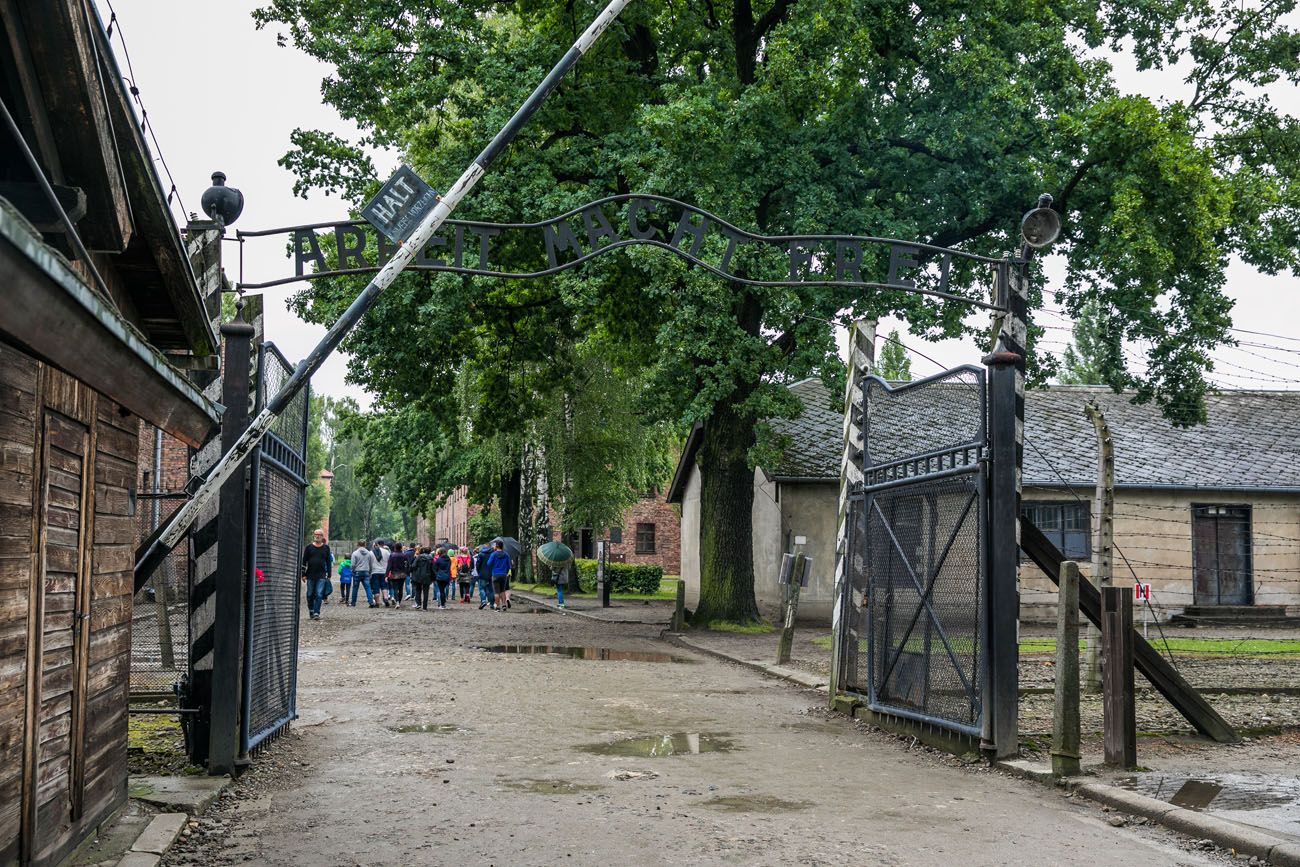 The tour starts with a walk through the gate "Arbeit Macht Frei" which means "work sets you free." This, of course, was a lie.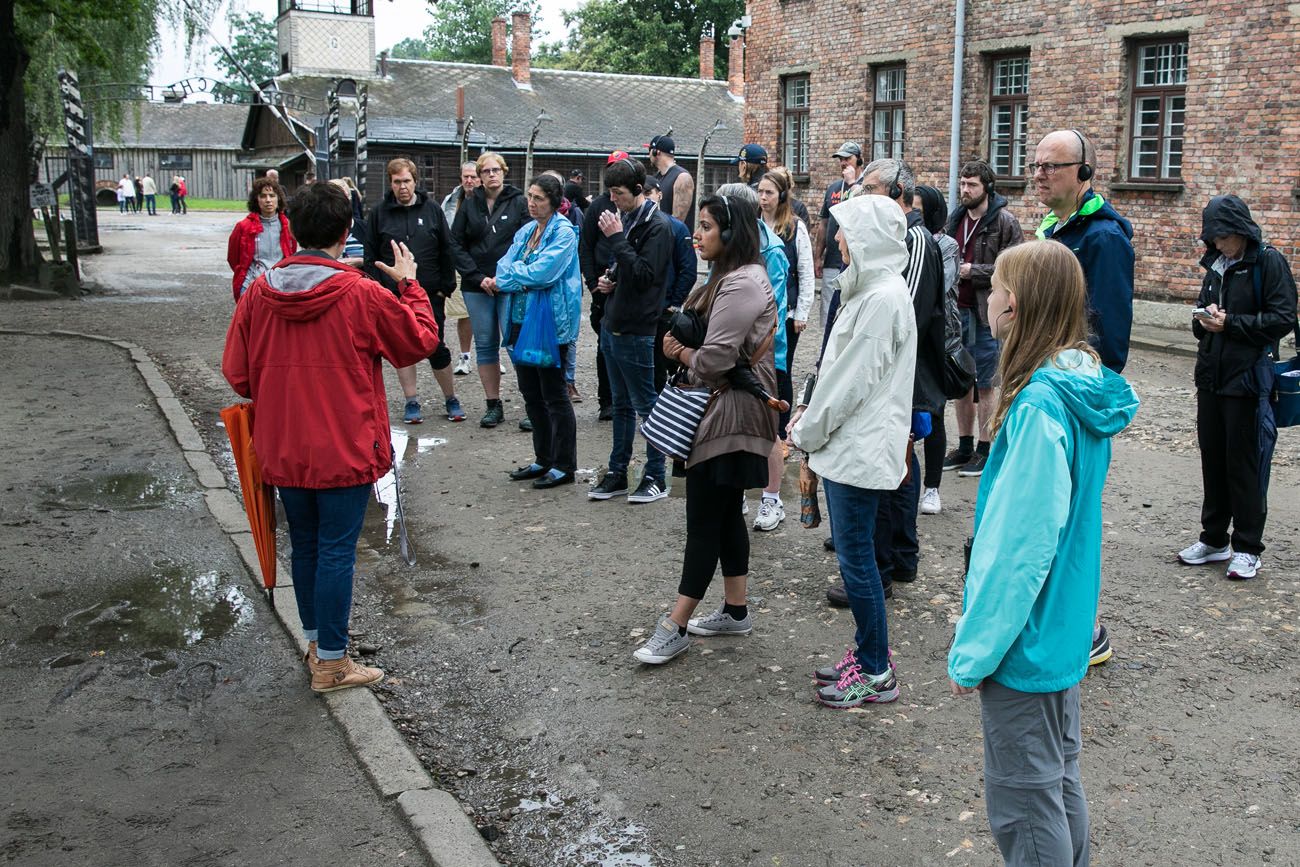 Here is our tour group. There were many tour groups on the day we visited, one entering the site right after the other.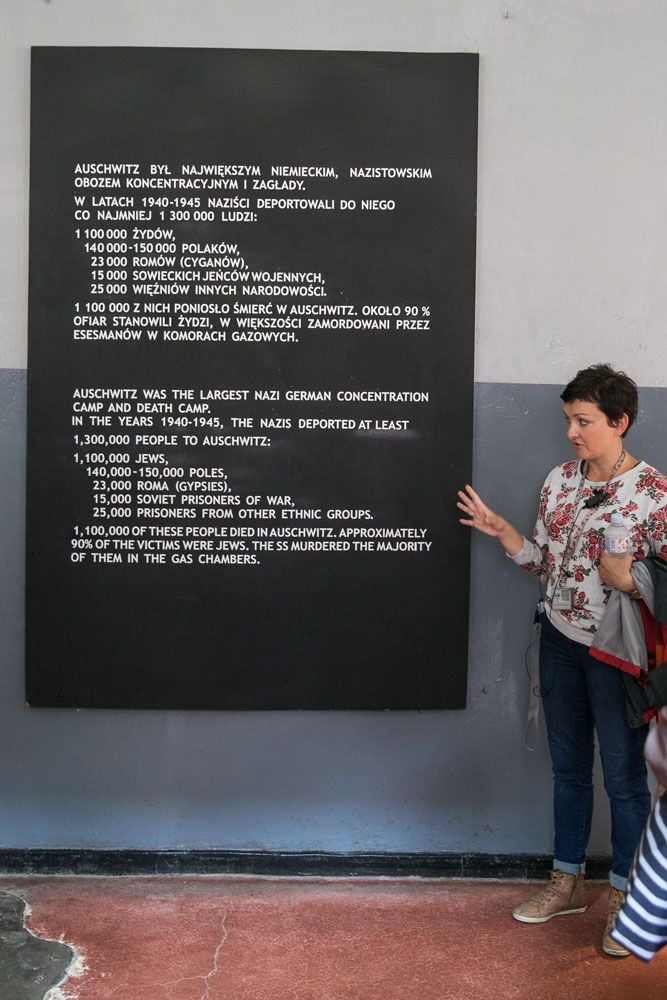 Sobering statistics about the death toll.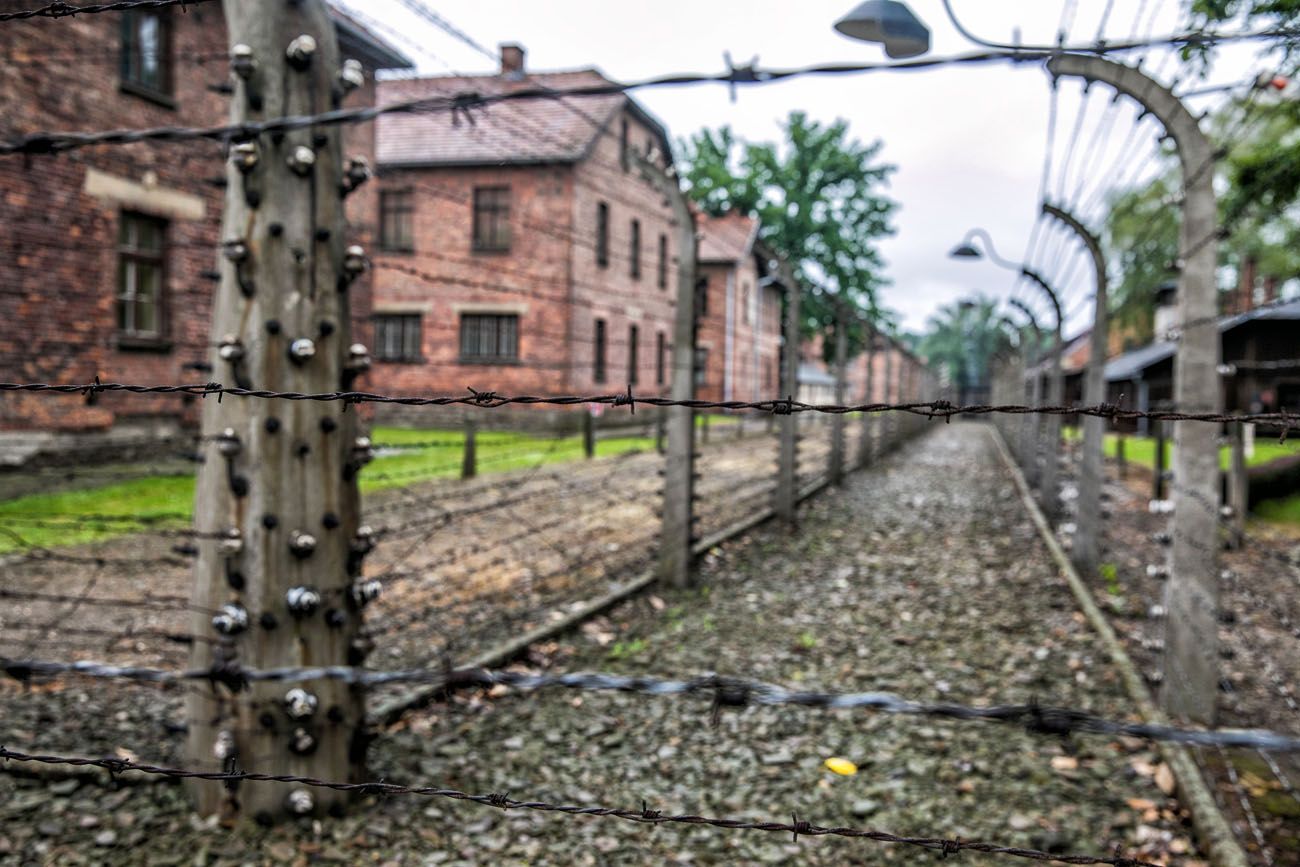 Barbed wire and the electrified fences.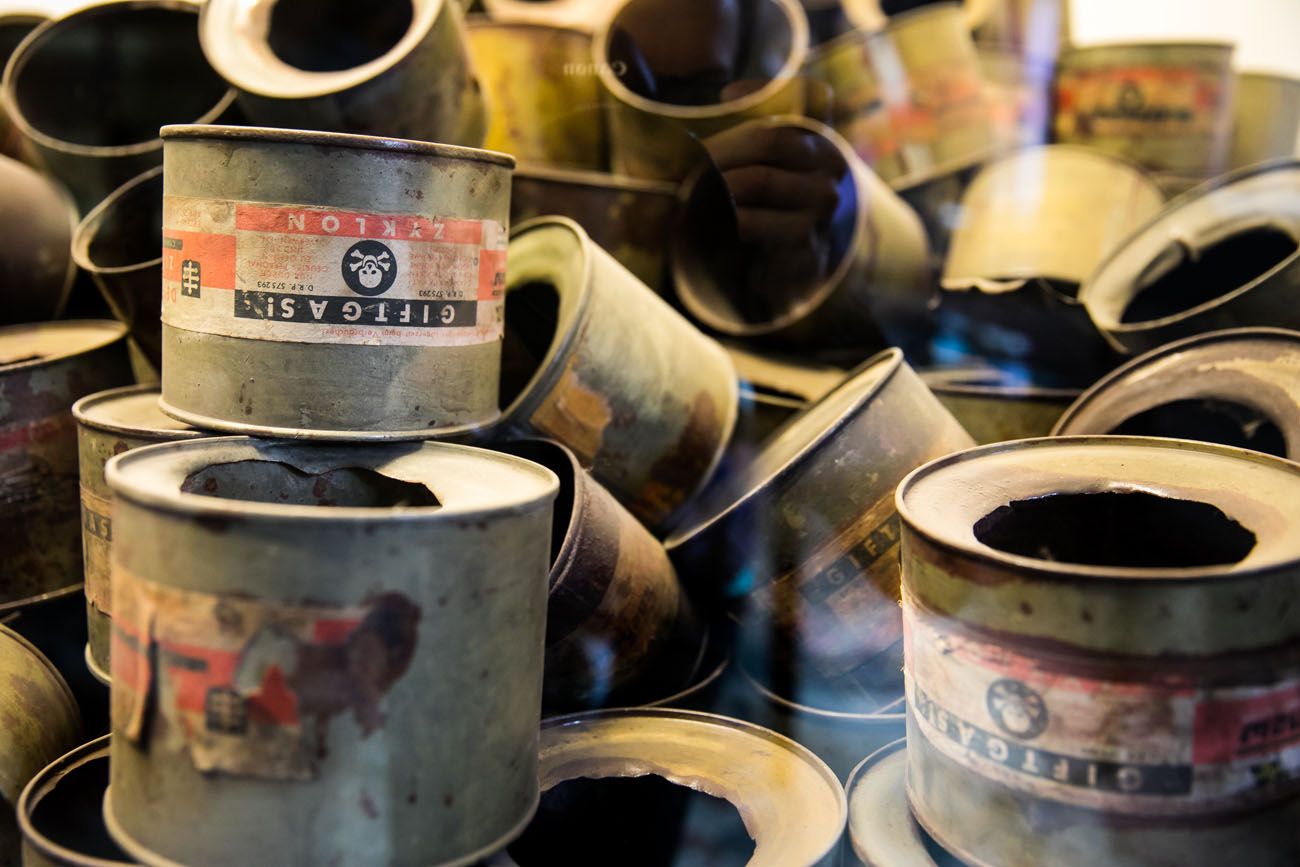 A collection of the Zyklon canisters which held the pellets used in the gas chambers.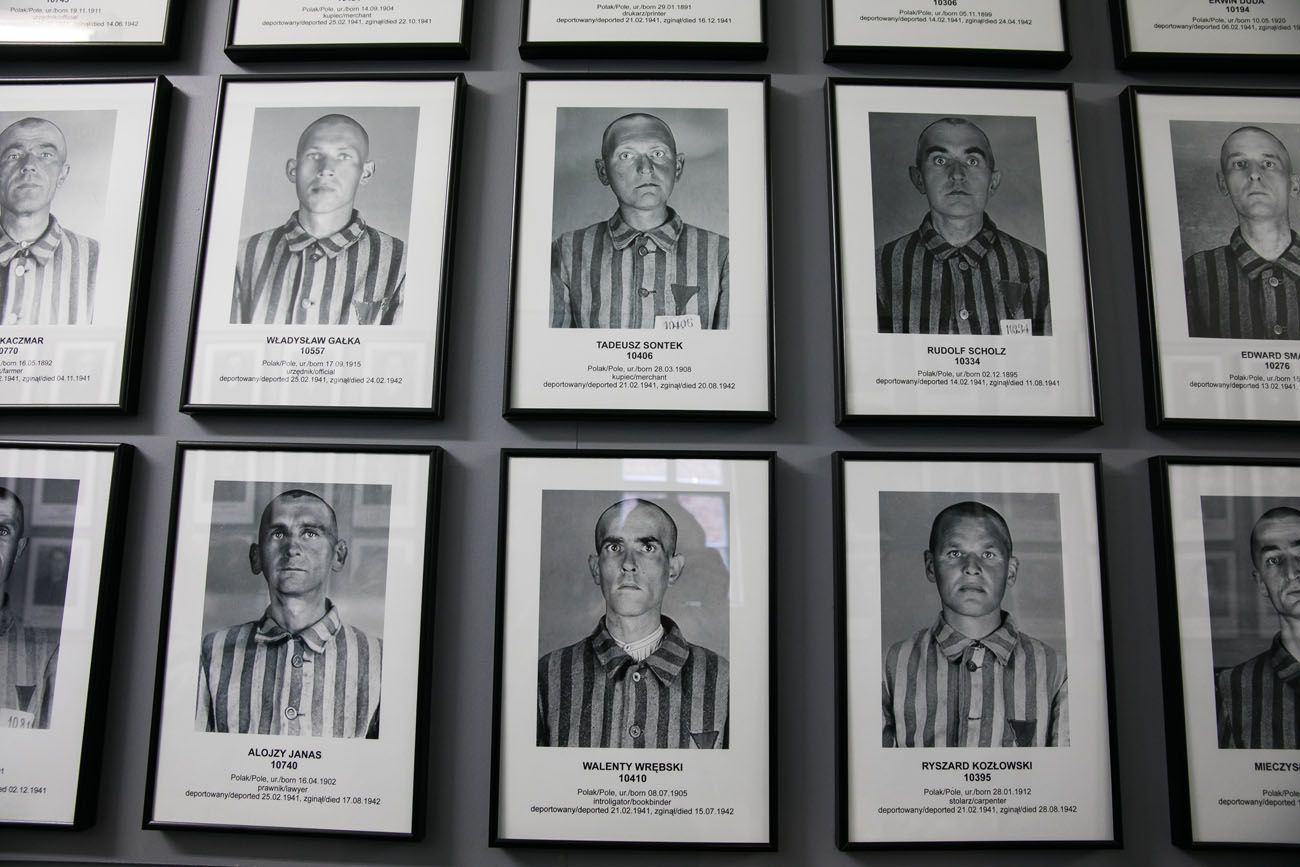 During the tour, you will walk down a long hallway where hundreds of photographs of the victims are hanging.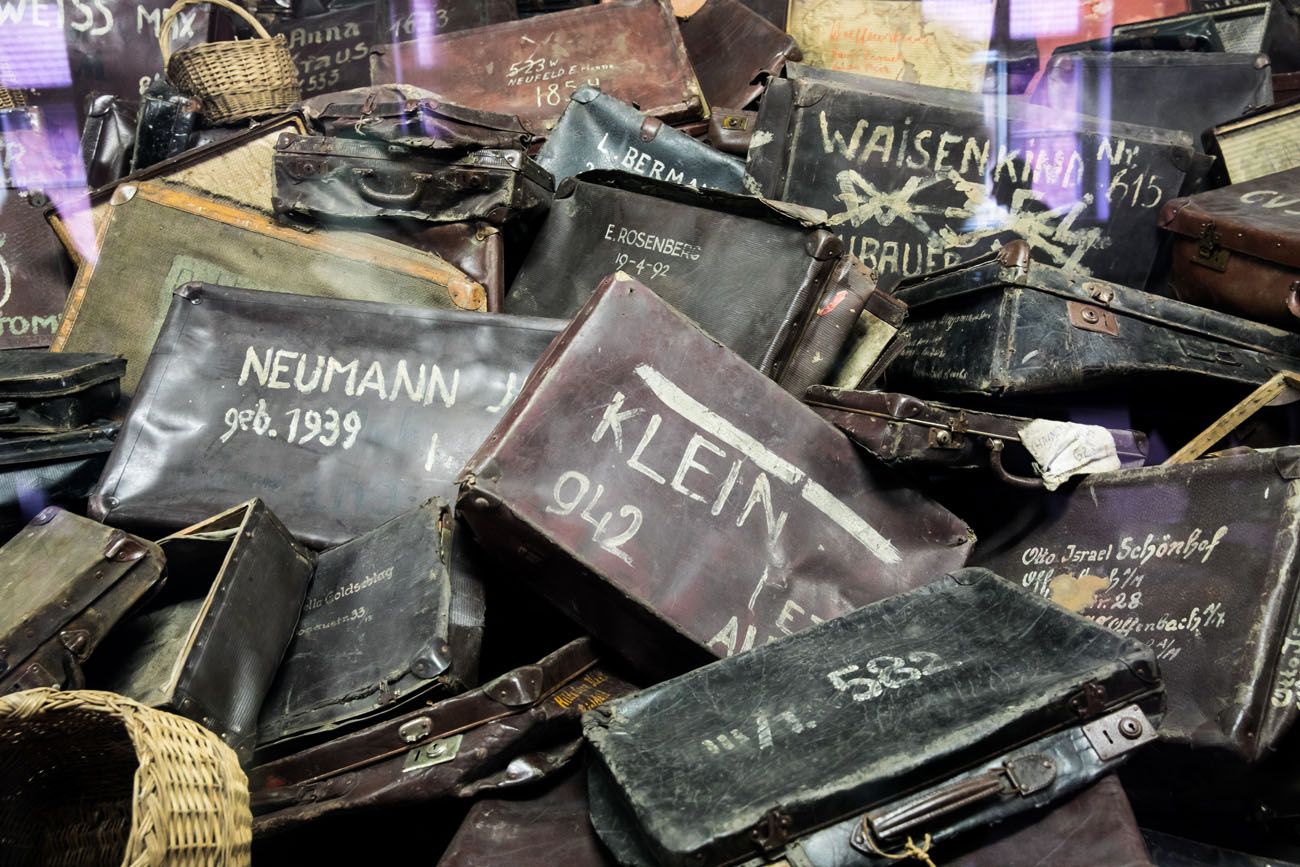 The luggage of the deportees to Auschwitz. Upon arrival, belongings were gathered up, sorted, and clothing, gold, shoes, and items of value were taken by the Nazi's and sent back to Germany.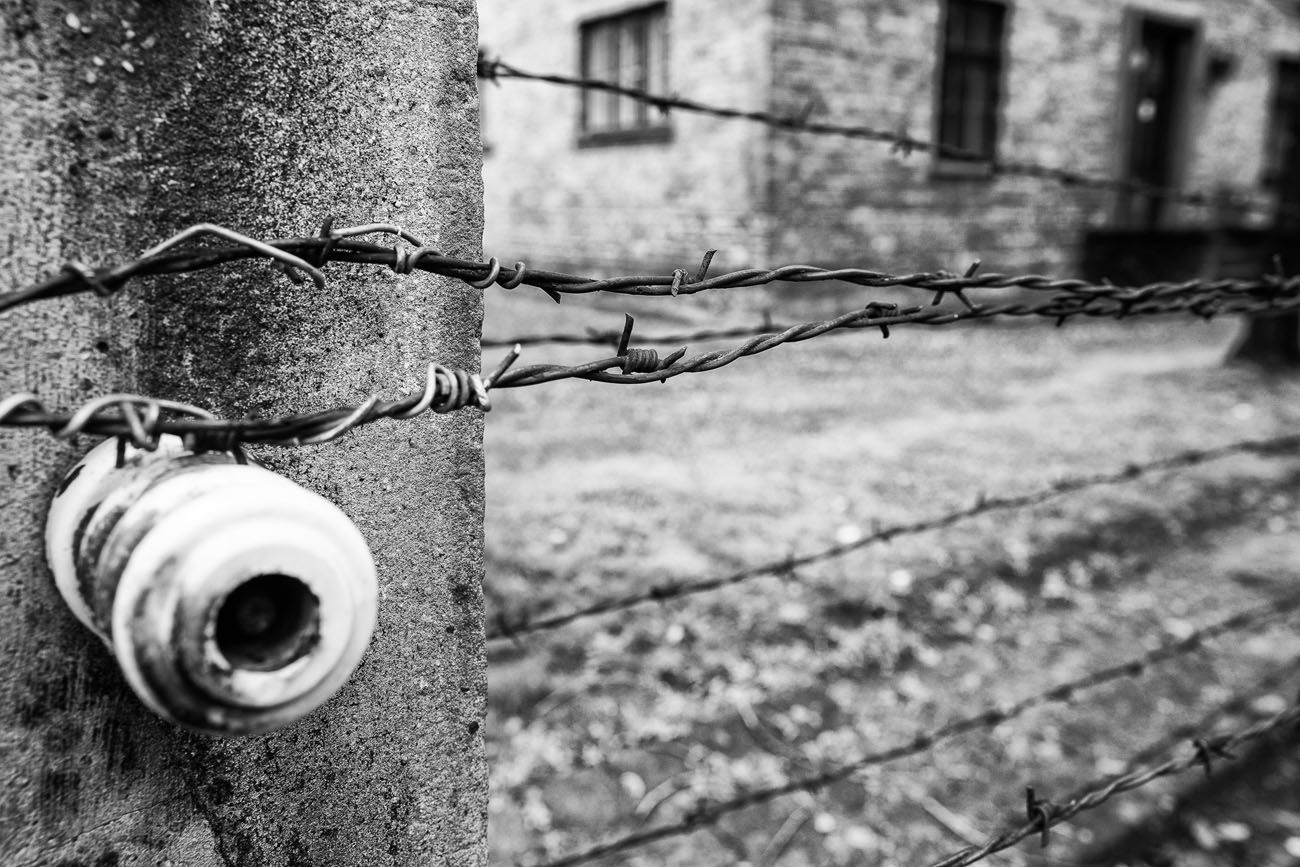 Barbed wire on the electrified fences.
Halt sign and a watch tower.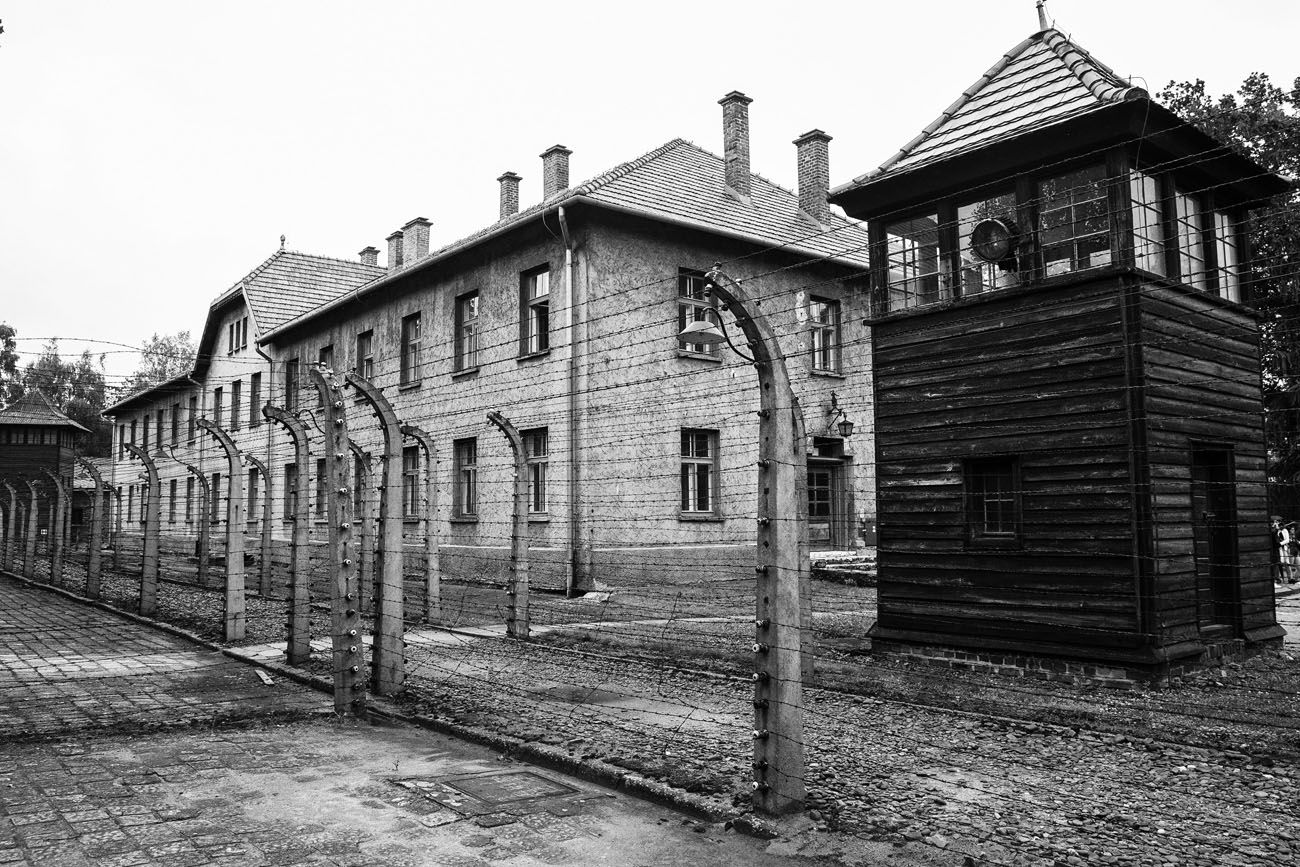 Barracks in Auschwitz I.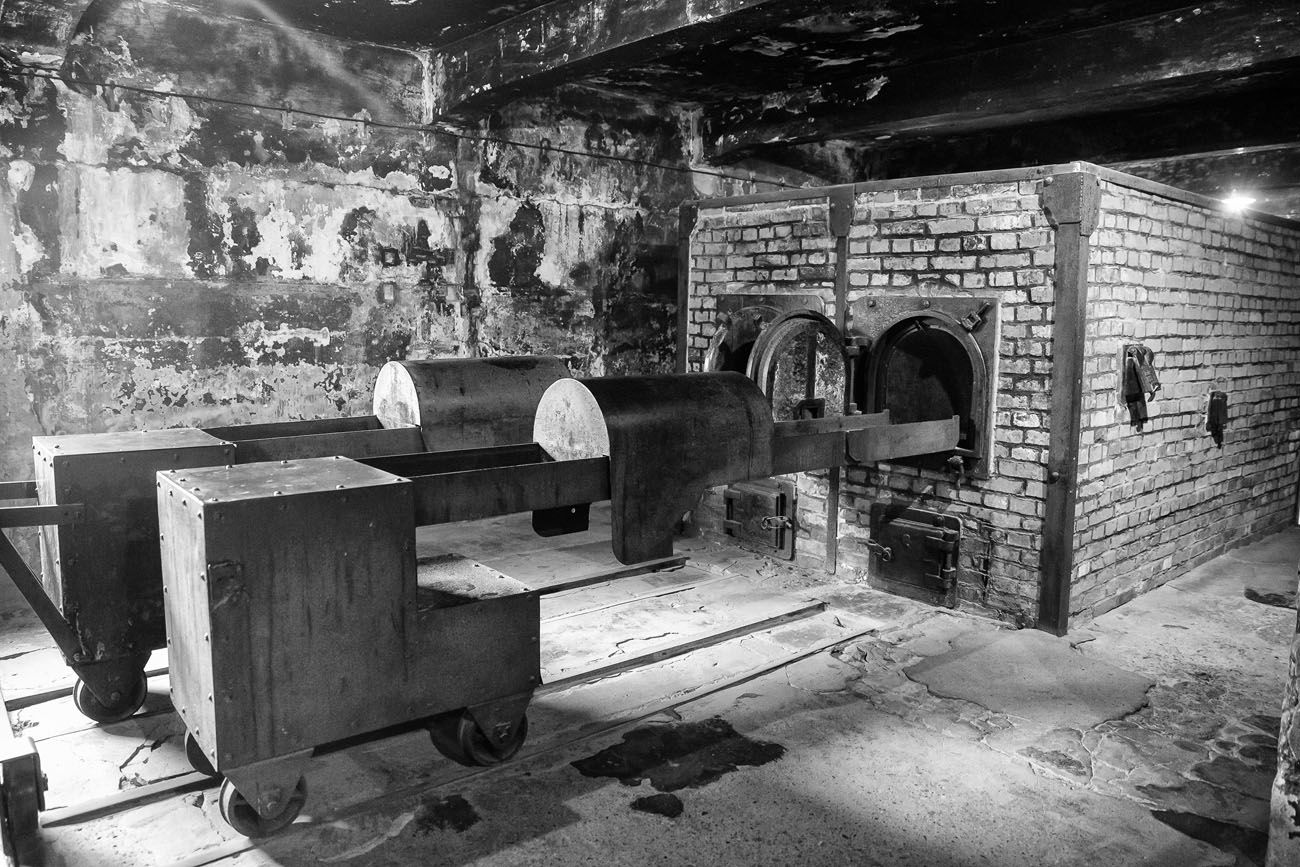 A view of the crematorium.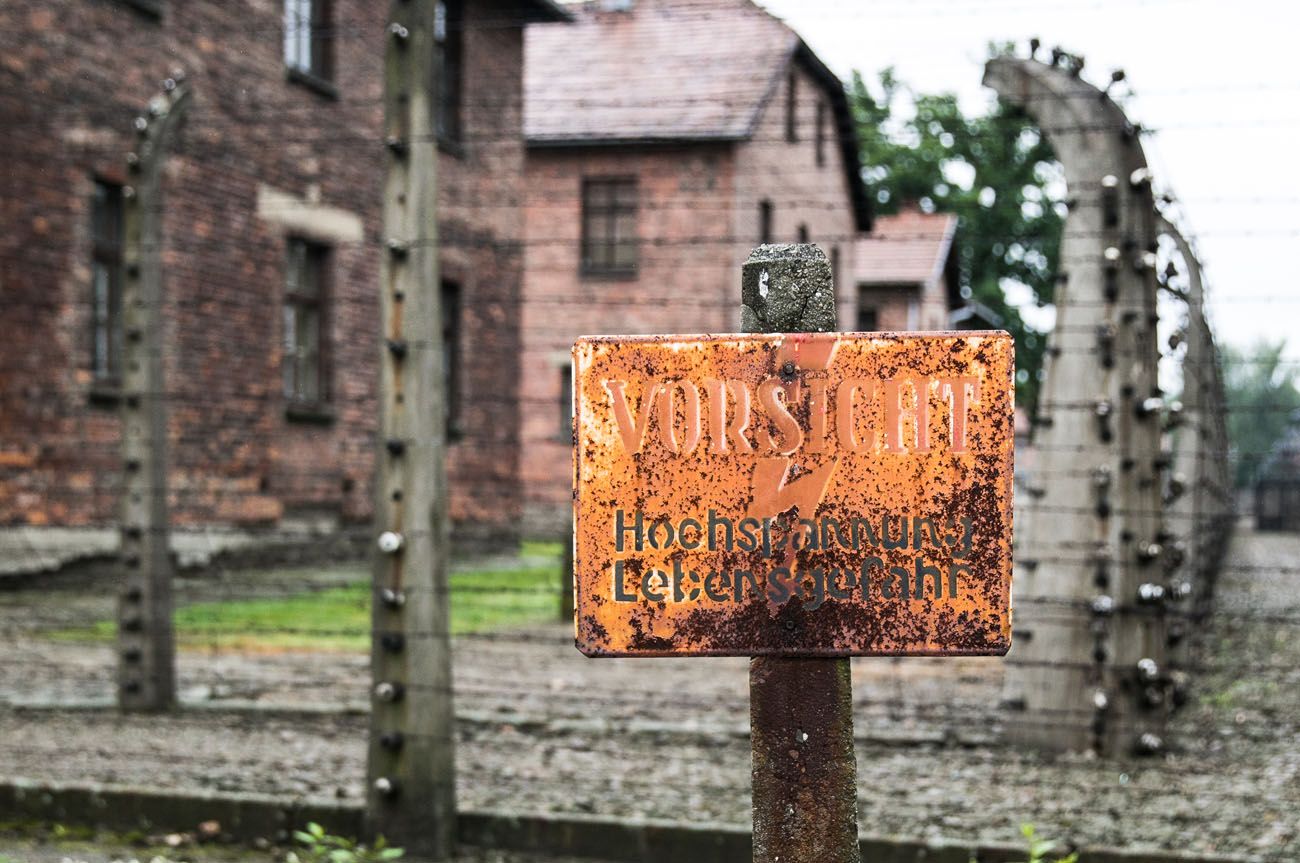 Birkenau
Auschwitz I and Birkenau sit a few kilometers apart. If you are on a tour or have a driver, they will shuttle you between the two sites. If you are traveling independently, there is a shuttle bus that runs every 10 minutes between the sites, and it's free.
Birkenau is massive. This is the camp that was built in 1941 to house the huge number of deportees from Europe. Just before liberation in January 1945, the Germans blew up most of the barracks and the crematoriums to hide their crimes, but this is still well worth the visit. It's seeing the sheer size of Birkenau where you really get the sense of how big of an operation this was. It can be a very unsettling experience.
Again, here is a tour through Birkenau in photos.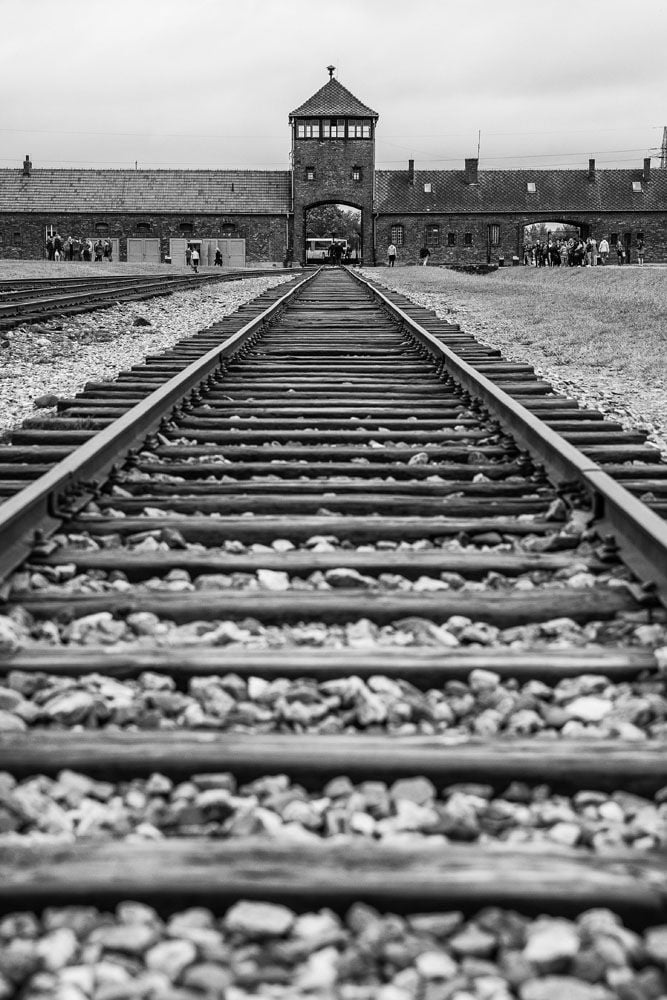 By the thousands, people were transported to Birkenau by train, on the very tracks in this photo.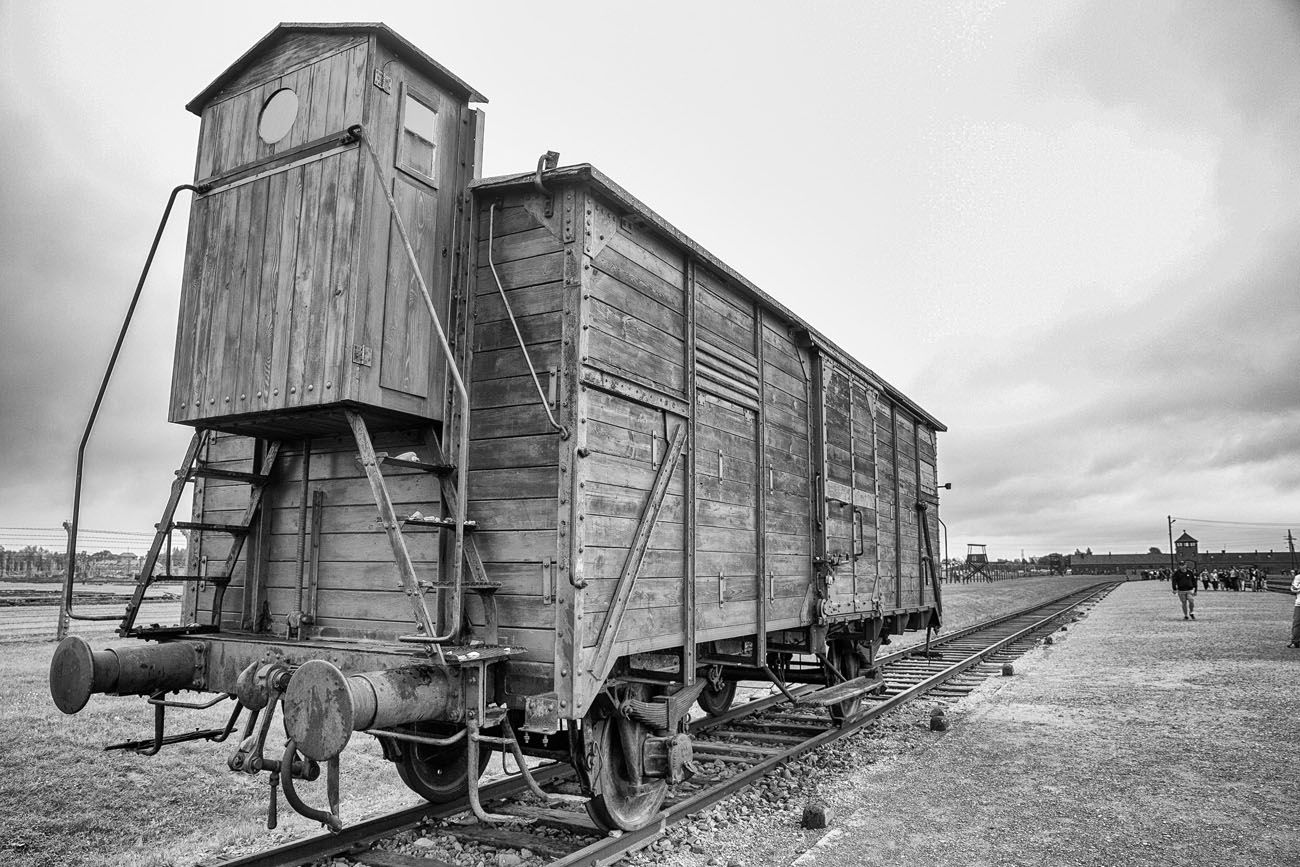 Original cattle car that was used to transport deportees.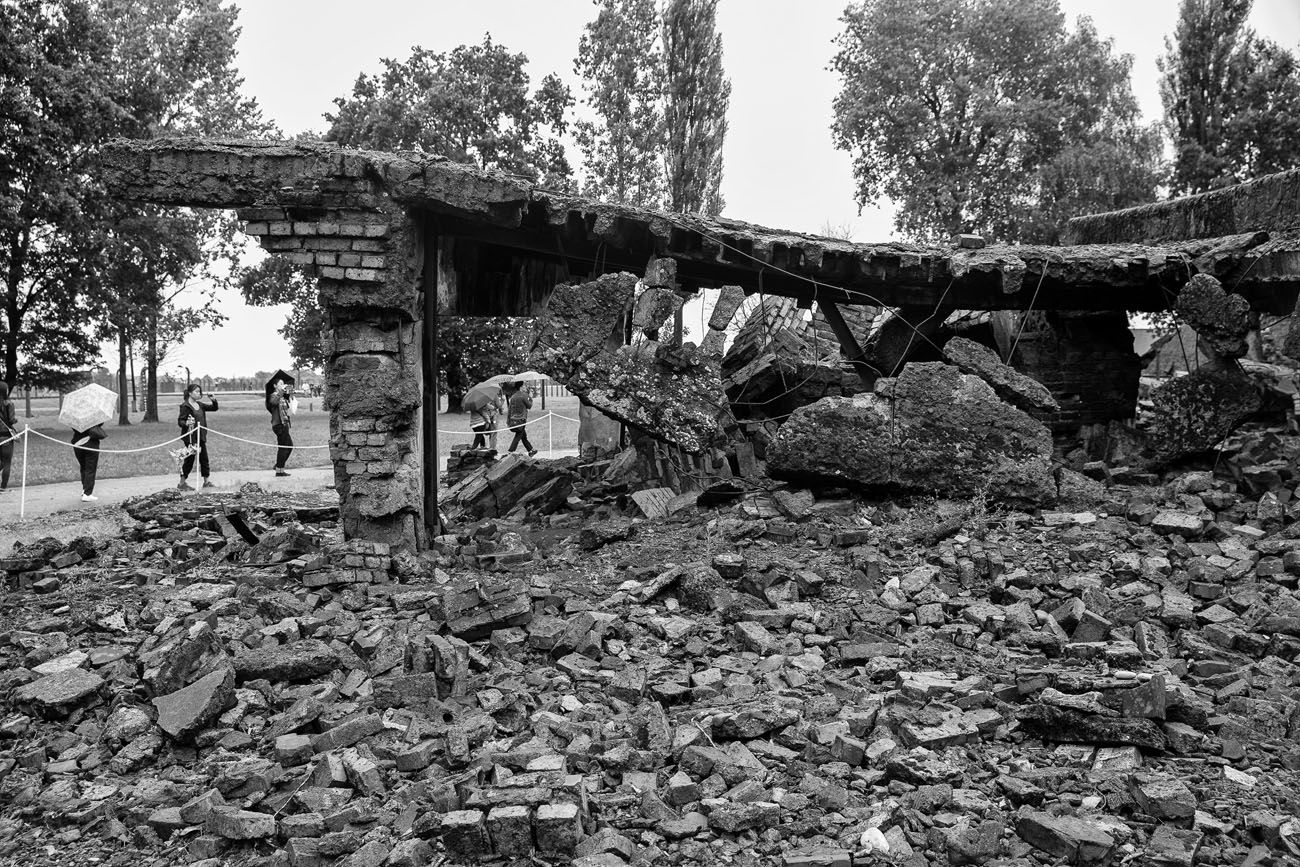 The Nazi's dismantled the crematoriums and many of the barracks just before the arrival of the Soviet troops. What remains are these ruins, still untouched since 1945.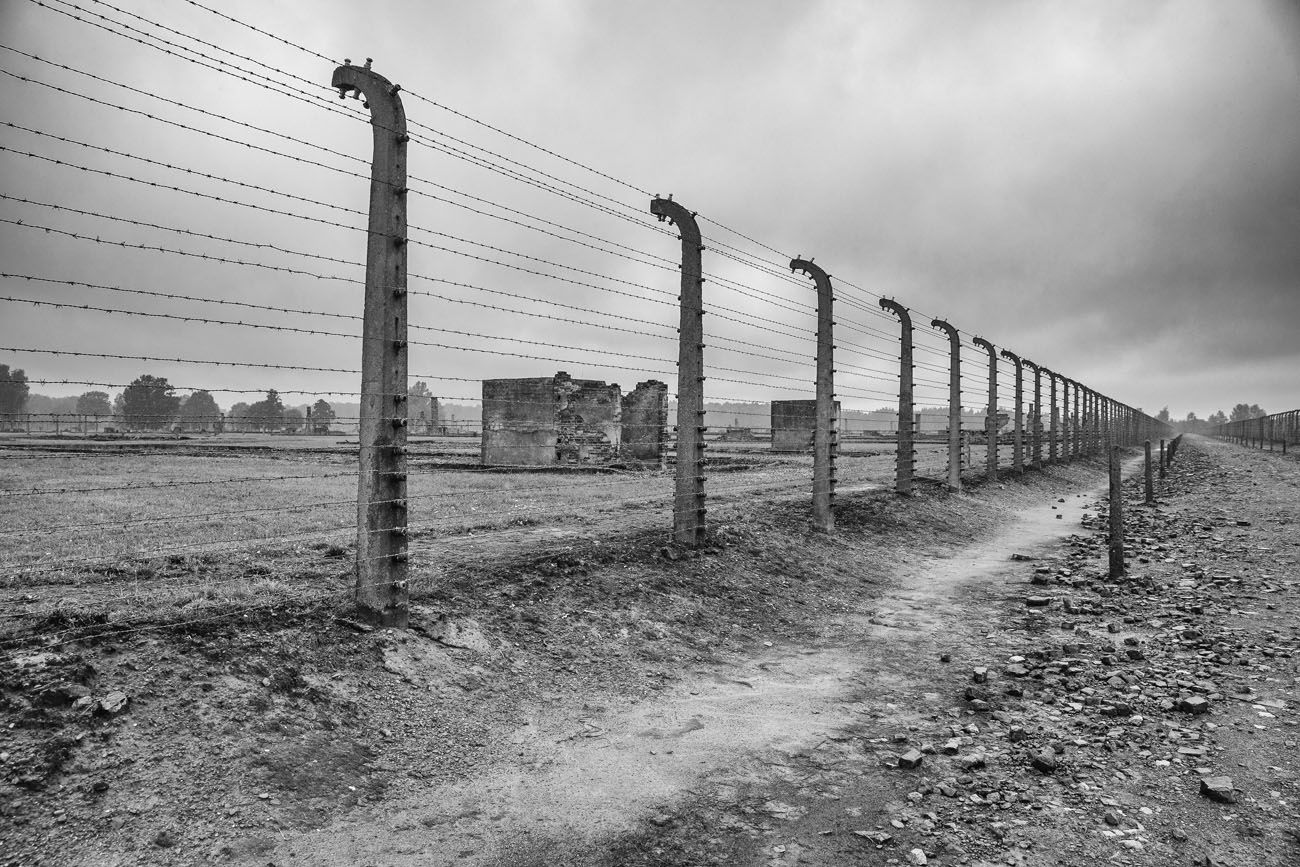 Beyond this barbed wire fence, just the foundations of the mens barracks remain.

Birkenau is enormous and in this photo you can get a sense of the size of this place.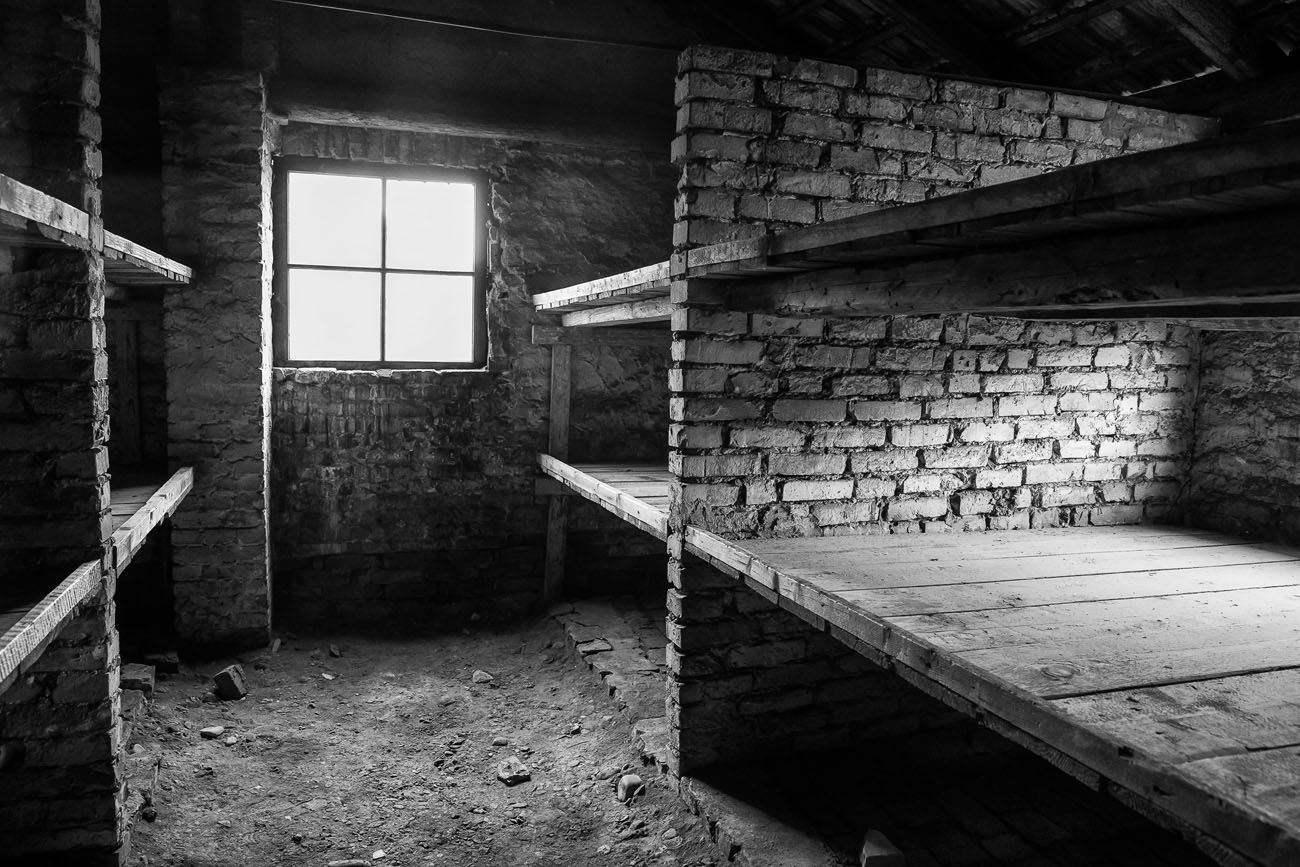 A view of the living conditions in the women's barracks. More than ten women would share one of these platforms. Each barrack would hold up to 600 people.
The tour ends at Birkenau. If you arrived by private driver or tour, you will be taken directly back to Krakow from here. If you arrived by bus, train, or your own car, you will have to take the shuttle back to Auschwitz I and then get to the bus or train station.
Helpful Tips for Visiting Auschwitz
Backpacks and handbags cannot exceed 30x20x10 cm (about the size of piece of paper). Basically, you cannot carry anything other than a small purse. You can leave your bags in your car or in the luggage storage facility near the main entrance.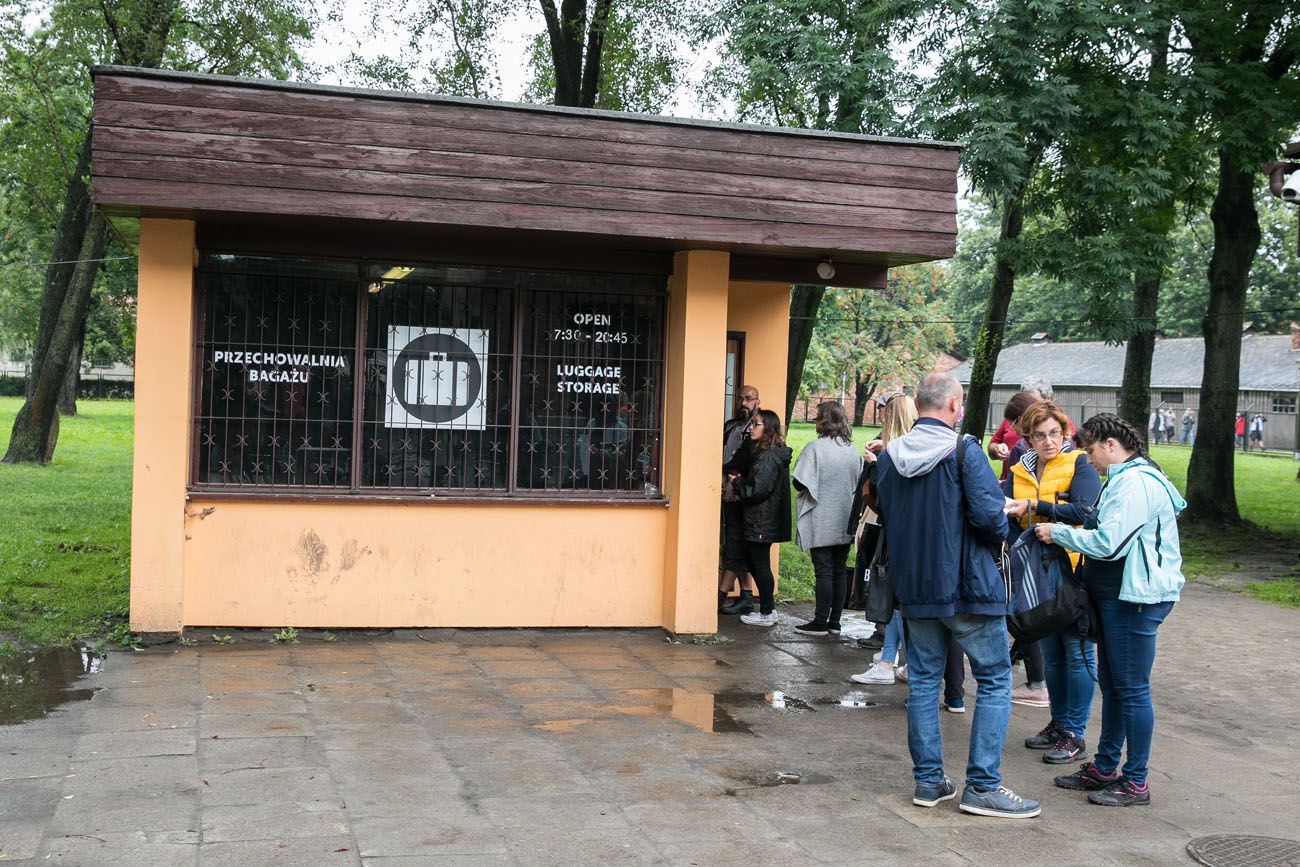 To use the toilets, you will have to pay 2 PLN.
Wear a comfortable pair of shoes than can get dirty. For most of the visit you will be outside. The paths are a mix of dirt and stone, so the surfaces are rough and uneven. If it is raining, be prepared to dodge mud puddles. It rained for several days before our visit and many of the trails were muddy.
It is not recommended that children under 14 years of age visit the museum. During our visit, Kara was 13, just 1 month shy of turning 14. We saw several children younger than Kara during our visit.
Auschwitz-Birkenau: Frequently Asked Questions
Do we have to book a time slot if we don't want to use a tour guide? Or can we just show up and buy tickets on the same day?
If you want to tour Auschwitz-Birkenau without a guide, you will still need to book a time slot in advance. In the afternoon, time slots are available to tour the site without a guide (called tour for Individuals without an educator). This is an extremely popular option and these time slots get reserved in advance, so if this is something you want to do, make your reservation as soon as you know your dates of travel.
I want to take a guided tour of Auschwitz-Birkenau but all of the time slots are reserved for my dates of travel. What should I do?
I recommend checking with GetYourGuide. They offer lots of guided tour options and you might be able to book a tour with one of their operators. It will be slightly more expensive, but you could also have the added convenience of having your transportation arranged as well.
Once the guided tour is finished, are you permitted to walk around Auschwitz-Birkenau on your own?
No. Once the tour is over, you will exit Birkenau. If you want to walk around on your own after the tour, you will also have to book an unguided tour of Auschwitz-Birkenau.
I would also like to visit the Wieliczka Salt Mines. Can I do this on the same day?
Yes. There are several tour companies that offer a day trip from Krakow where you can visit Auschwitz-Birkenau and the Wieliczka Salt Mines on the same day. Click here to learn more.
I also plan to spend a few days in Krakow. Do you have recommendations on how to plan my time?
For information on what to do in Krakow, read our post Best Things to Do in Krakow. And for ideas on how to plan your time, take a look at our 3 Days in Krakow Itinerary.
Recommended Books about Auschwitz
To make the most of your visit, it's a good idea to learn a little background before you visit Poland. Night by Elie Wiesel is a short, unforgettable memoir by the author, who was a survivor of Auschwitz. The Tatooist of Auschwitz is a true story based on the experiences of Lale, a man who survived imprisonment in Auschwitz for over two and a half years.
Comment below if you have any questions about how to visit Auschwitz or if you have any advice for our readers.
---
More Information about Poland
KRAKOW: Discover what there is to do in our article Best Things to Do in Krakow. Plan your visit with our 3 Day Krakow Itinerary and get hotel recommendations in our guide on Where to Stay in Krakow.
WARSAW: For a list of the top experiences, take a look at our guide to the Best Things to Do in Warsaw and learn how to plan your time with our 2 Day Warsaw Itinerary.
GDANSK: Start off with our list of the Best Things to Do in Gdansk. We also have 3 different ways on how to spend 2 Days in Gdansk, a Gdansk Hotel Guide, and information on how to day trip to Malbork Castle and how to day trip to Sopot and Gdynia.
POLAND ITINERARY: In our 10 day Poland Itinerary, visit Gdansk, Warsaw, and Krakow.
TATRAS: If you like hiking, consider spending a few days in the High Tatras. Learn how to hike to Koscielec from Zakopane, how to hike to the summit of Rysy (the tallest mountain in Poland), and whether you should visit the Tatras from Poland or Slovakia.
Note: This post contains affiliate links. When you make a purchase using one of these affiliate links, we get paid a small commission at no extra cost to you.
All rights reserved © Earth Trekkers. Republishing this article and/or any of its contents (text, photography, etc.), in whole or in part, is strictly prohibited.