If you are planning a trip to Poland, most likely Krakow is high on your list of cities to visit. Krakow is a beautiful city with a story to tell. It is the perfect mix of historical sites, affordable restaurants, museums, vodka bars, tower climbs, and boutique shops. With 3 days in Krakow, explore the highlights of the city and day trip out to one of Europe's most thought-provoking and somber museums.
In this post, we share with you detailed daily itineraries, with walking maps, hours and prices of attractions, and tips to help save you money and avoid long lines. This Krakow itinerary is designed to give you the best experience possible and to take all of the guesswork out of your travel planning.
If you have any questions, let us know in the comment section below and we would be happy to help!
Let's get started.
Krakow Itinerary: Day 1
Wawel Castle & the Old Town
Walking distance: 1.6 km (1 mile)
How to Use This Map: Click the tab in the top left hand corner of the map to view the layers (points of interest, restaurants, and the walking route). You can click the check marks to hide or show layers. If you click the icons on the map, you can get more information about each point of interest. If you click the star, this Krakow itinerary map will be added to your Google Maps account. To view it on your phone or computer, open Google Maps, click the menu button, go to "Your Places," click Maps, and you will see this map on your list.
Wawel Castle
Sitting atop a hill just south of the Old Town is Wawel Castle and Wawel Cathedral. There is a lot to do here and you could easily spend at least half of a day visiting all of the sites. Fortunately, the way the ticket system is designed, you only pay for the attractions you want to visit.
PRO TRAVEL TIP: We recommend visiting Wawel Castle first thing in the morning. There are a limited number of tickets for sale and on busy days, these do sell out early (you cannot purchase tickets in advance). Also, by getting here at opening time you can avoid the midday crowds.
Wawel Castle Grounds
You can stroll the Wawel Castle grounds for free. And for many people, this may be enough. This is a beautiful spot to visit, with a unique cathedral, manicured gardens, and an assortment of historic buildings. The castle grounds open at 6 am, so you can really get here early if you want.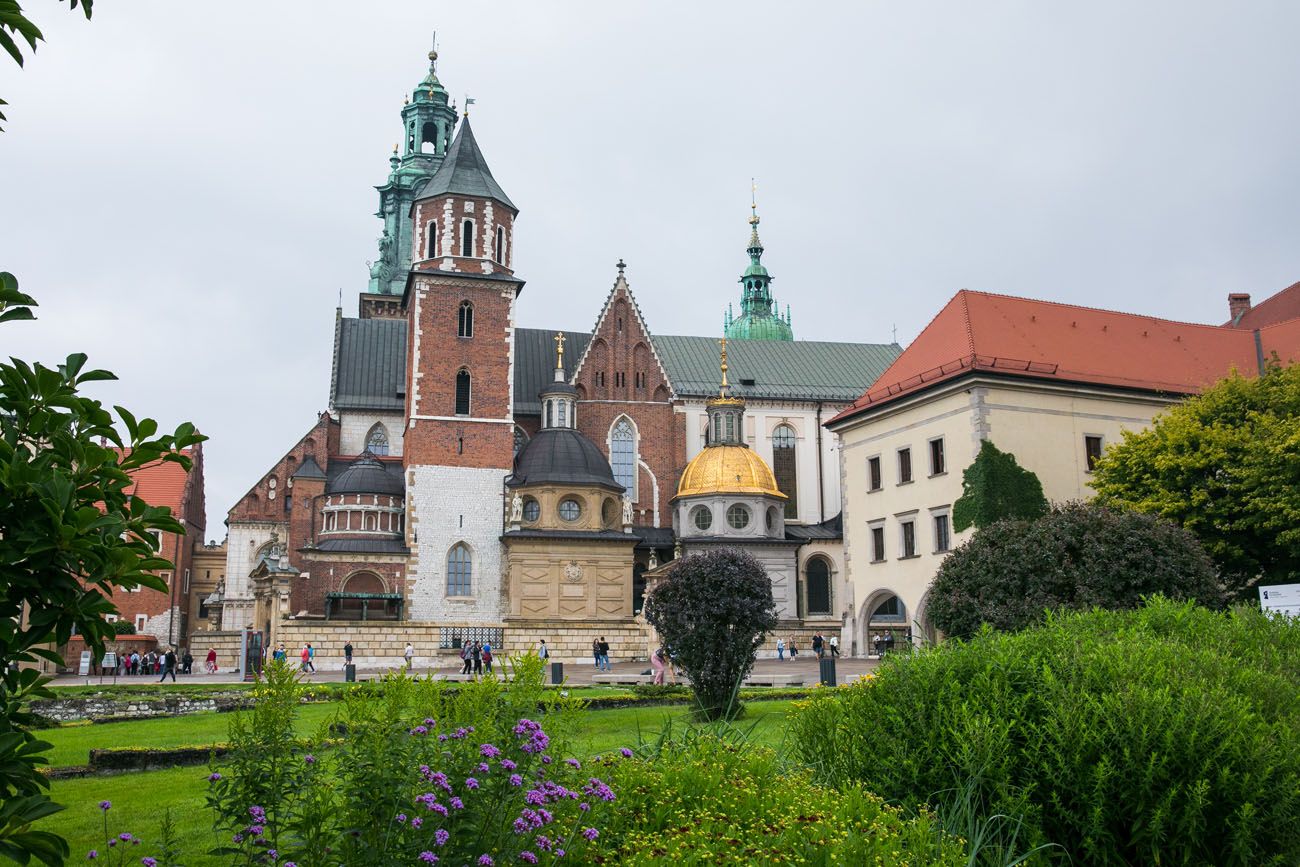 Wawel Cathedral
Wawel Cathedral is Poland's Westminster Abbey. Buried within the tombs of the church are some of Poland's most important people.
You can enter the Wawel Cathedral for free, but without a ticket, you will not be able to visit the paid sites. The paid sites include the Pope John Paul II Museum, small chapels, the crypt, and the Sigismund Bell Tower. To get to the top of the Sigismund Bell Tower, it's 70 very steep, wooden steps for decent views over Krakow.
Website: Visit the official website for updated hours and pricing.
Important Note: If you have plans to visit Krakow on a Sunday, consider rearranging the order of this itinerary so day #1 is not on Sunday (due to limited hours at Wawel Cathedral and St. Mary's Basilica).
Wawel Castle Museums
For those who want to learn more, there are several museums sprinkled throughout Wawel Castle. These include the State Rooms, the Crown Treasury and Armory, the Royal Apartments, Sandomierska Tower, and more. To make the ticket process complicated, each of the sites has its own ticket. Only a limited number of tickets are sold per day so get here in the morning before tickets sell out. Learn more on the official website.
PRO TRAVEL TIP: Skip the first ticket office you come to as you walk up the large ramp to the castle grounds (the Herbowa Gate entrance). Even early in the morning, lines can be long and they are very slow moving. Walk past the cathedral, into the castle grounds, and head to the visitor center on the far side. There is another ticket office here and it is usually less crowded than the one on the ramp.
Hours: Hours vary by season. On most weekdays of the year, the ticket offices open at 9 am. On weekends, the ticket office opens at 9:30 am. Check the official website for updated hours, pricing, and holidays.
For a scenic walk back to the Old Town, walk from the castle grounds towards the Vistula River. As you walk along the Vistula River towards the Old Town, you will pass the Wawel Dragon (Smok Wawelski), a fire breathing statue of a dragon.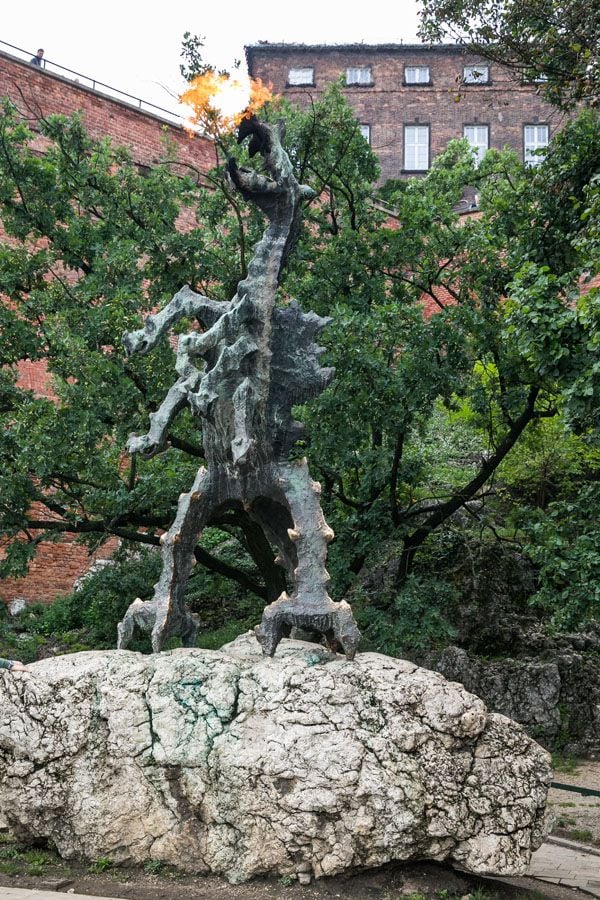 Wawel Dragon | 3 Days in Krakow Itinerary
Historic Old Town
From Wawel Castle, walk up Kanonicza Street, the oldest street in Krakow.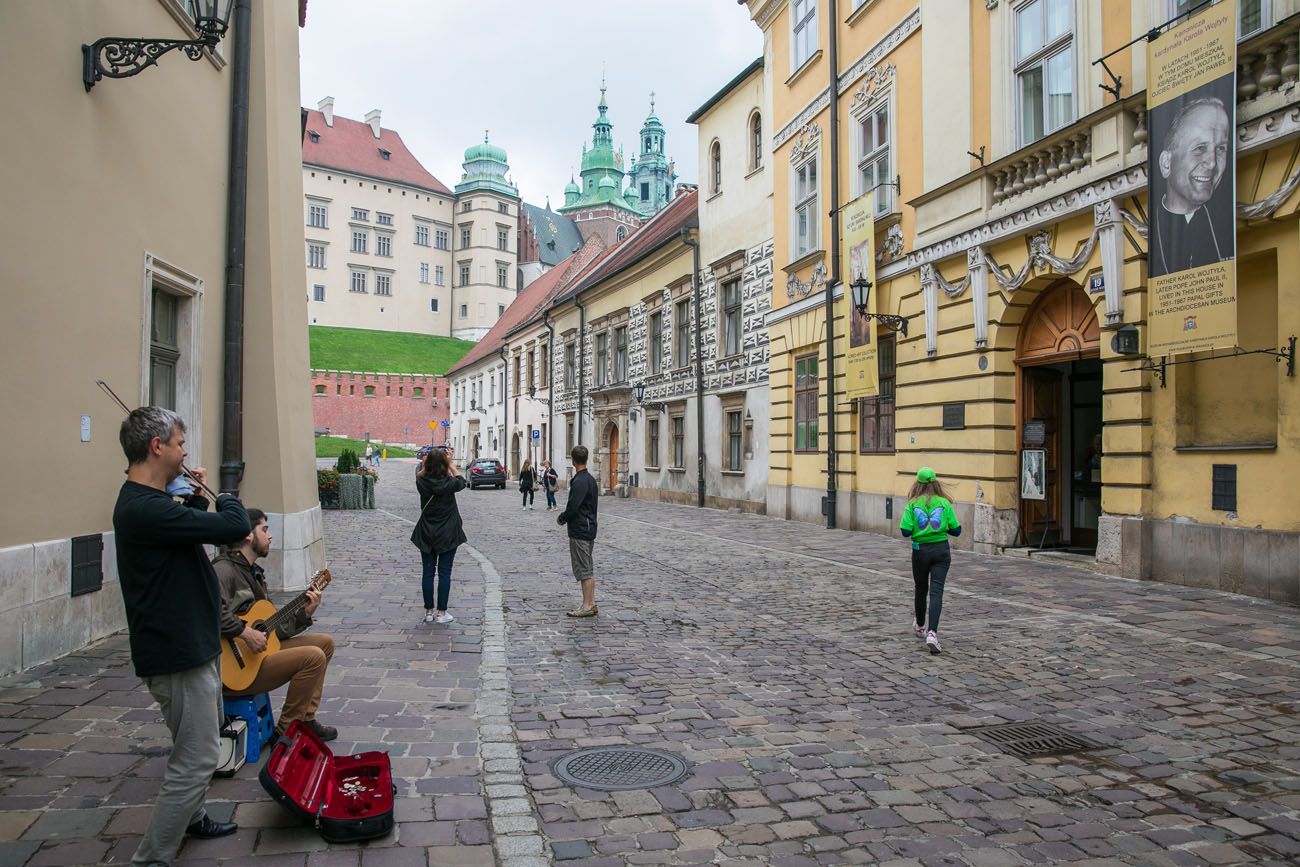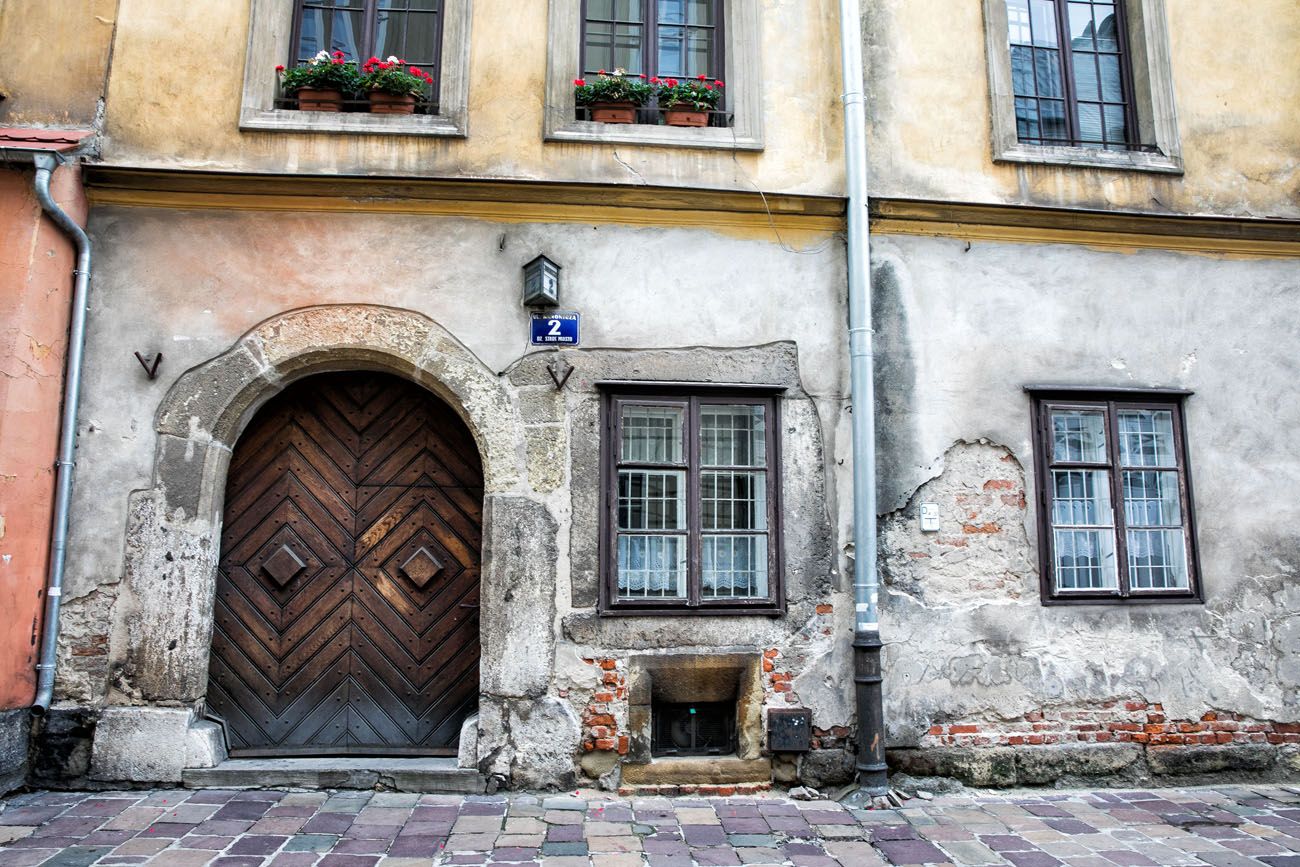 Grodzka Street
Once on Grodzka Street, it is worth detouring a short distance to see two historic churches in Krakow. The Church of Saints Peter and Paul is lined with marble statues of 11 of the apostles (Judas is missing). Built between 1079 and 1098, St. Andrew's Church is one of the oldest buildings in Krakow.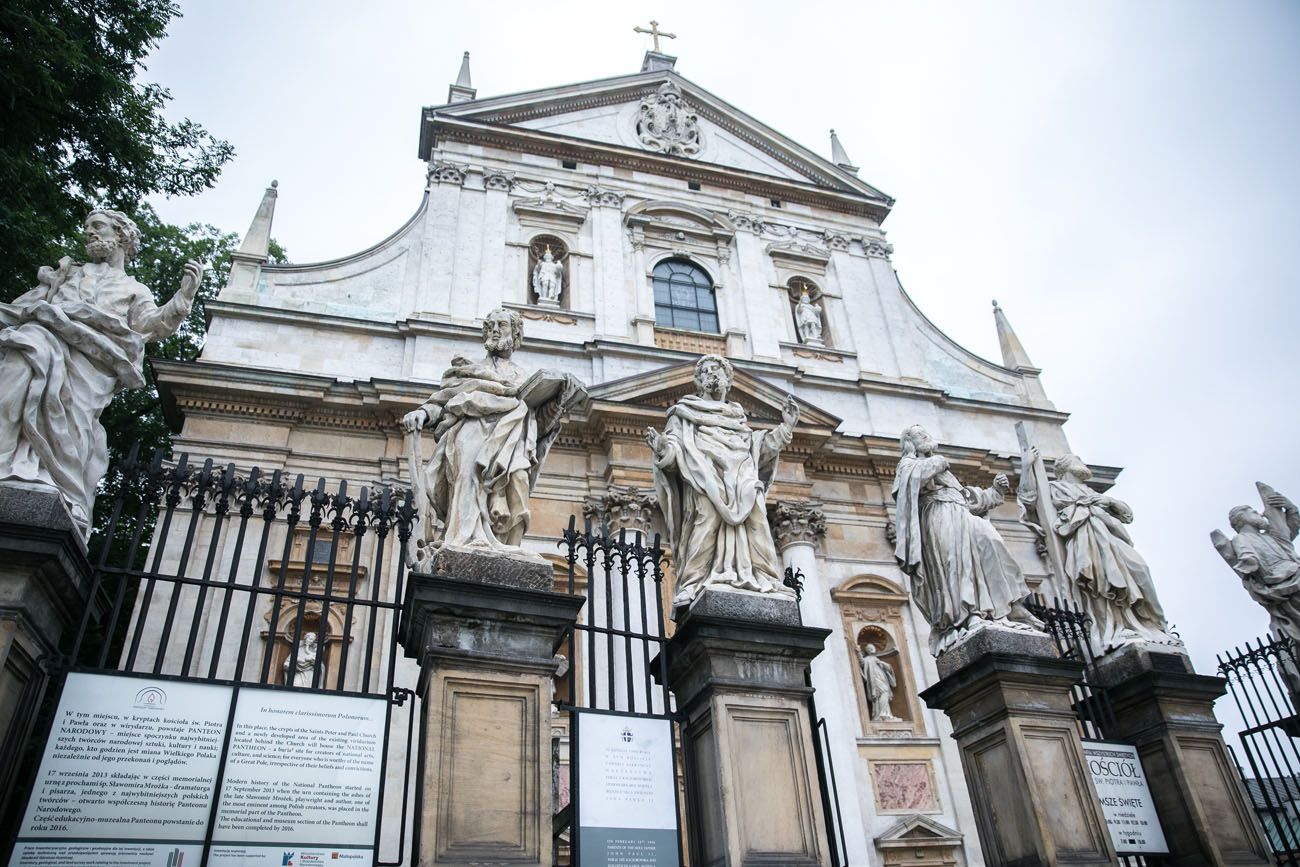 Church of Saints Peter and Paul | 3 Days in Krakow Itinerary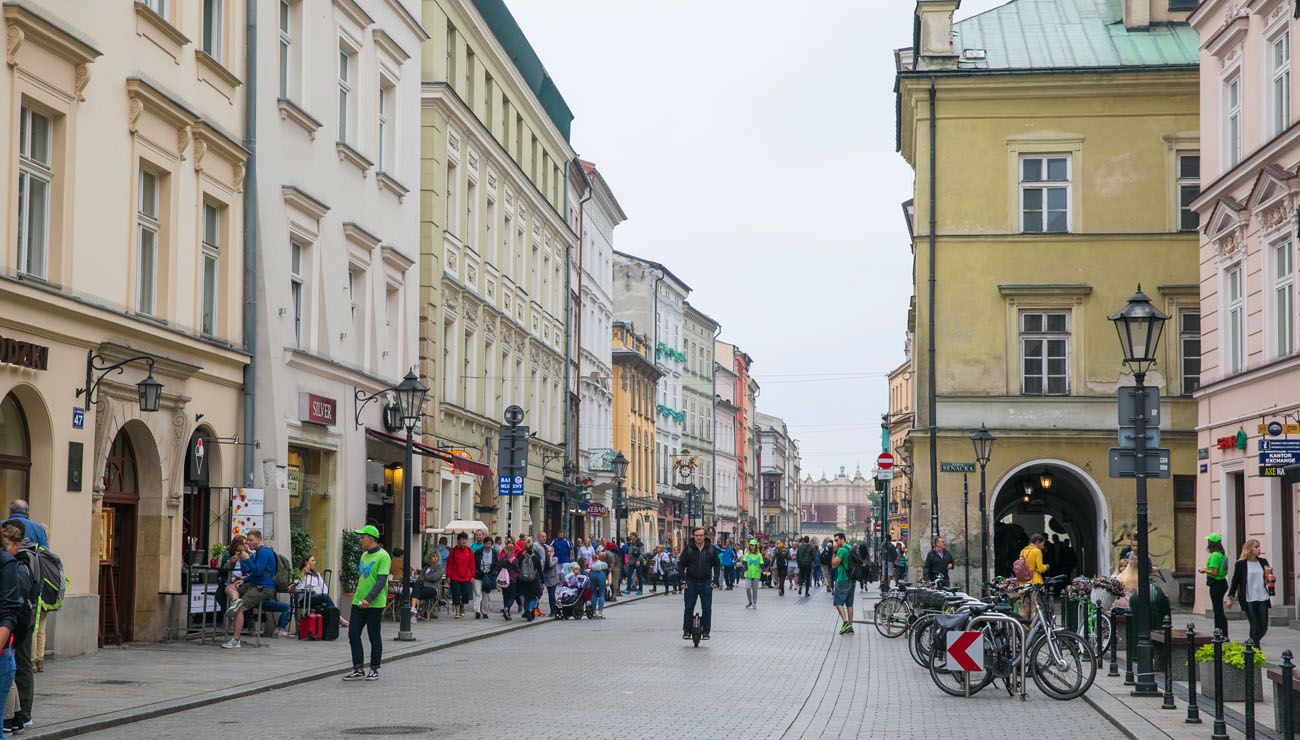 Grodzka Street | 3 Days in Krakow Itinerary
Lunch
By now, it is probably getting close to lunchtime. Here are two restaurants to try on Grodzka Street.
Miod Malina is a highly rated restaurant that serves Polish and Italian food. It opens at noon for lunch.
Pod Aniolami serves traditional Polish food and marinated, grilled meats. Dine in a Gothic cellar for a unique experience. They open at 12:45 pm.
For more information about Krakow, read our article about the best things to do in Krakow, which covers many of these sites in greater detail than this post. Plus, it gives you a few more spots to consider adding to this Krakow itinerary, if you have more than 3 days in Krakow.
Main Market Square (Rynek Glowny)
The Main Market Square was the largest medieval market square in Europe. It was built in the 13th century after the city was demolished by the Tatars. Since then, the Main Market Square has been one of the most important sites in the city for trade.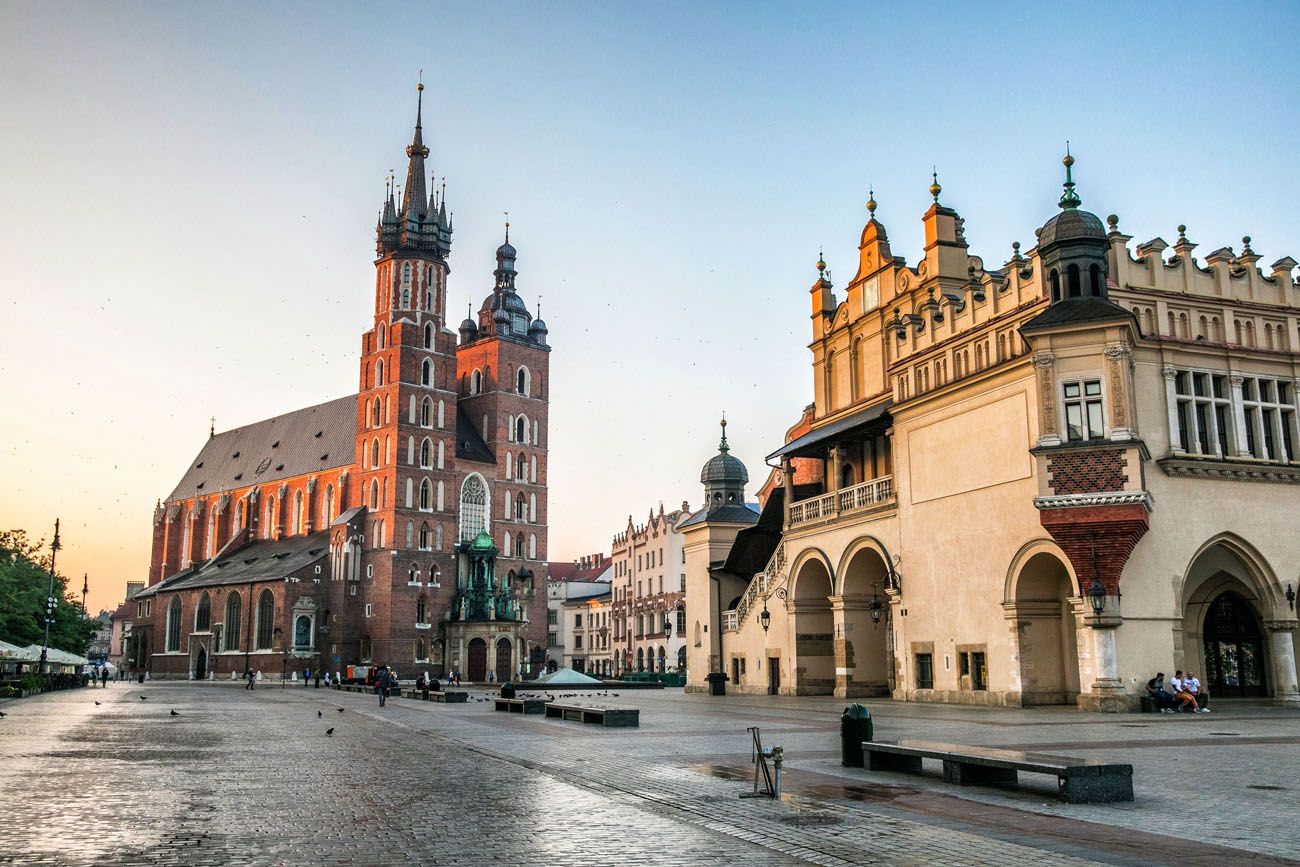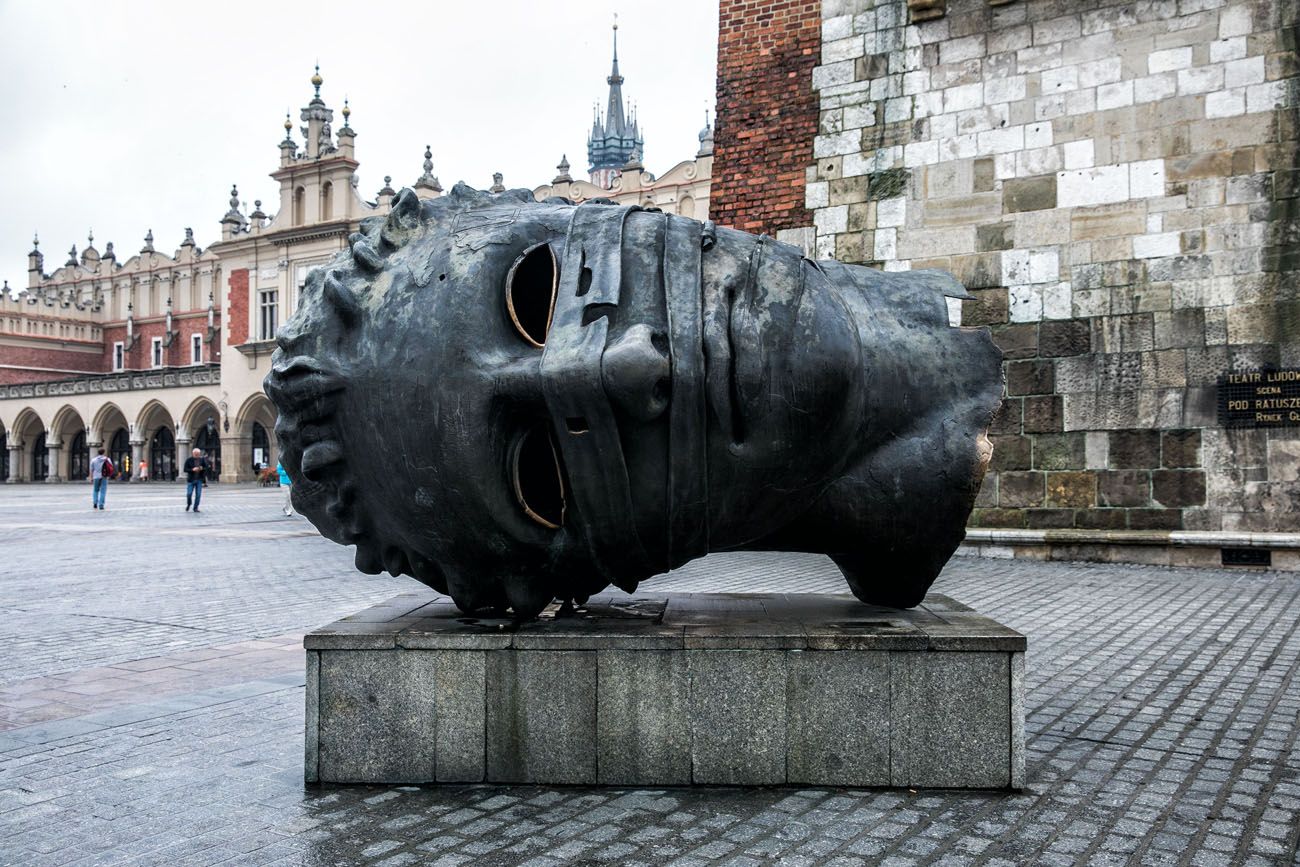 The Cloth Hall
This is the centerpiece of the Main Market Square. This once important trading center is now filled with souvenir shops.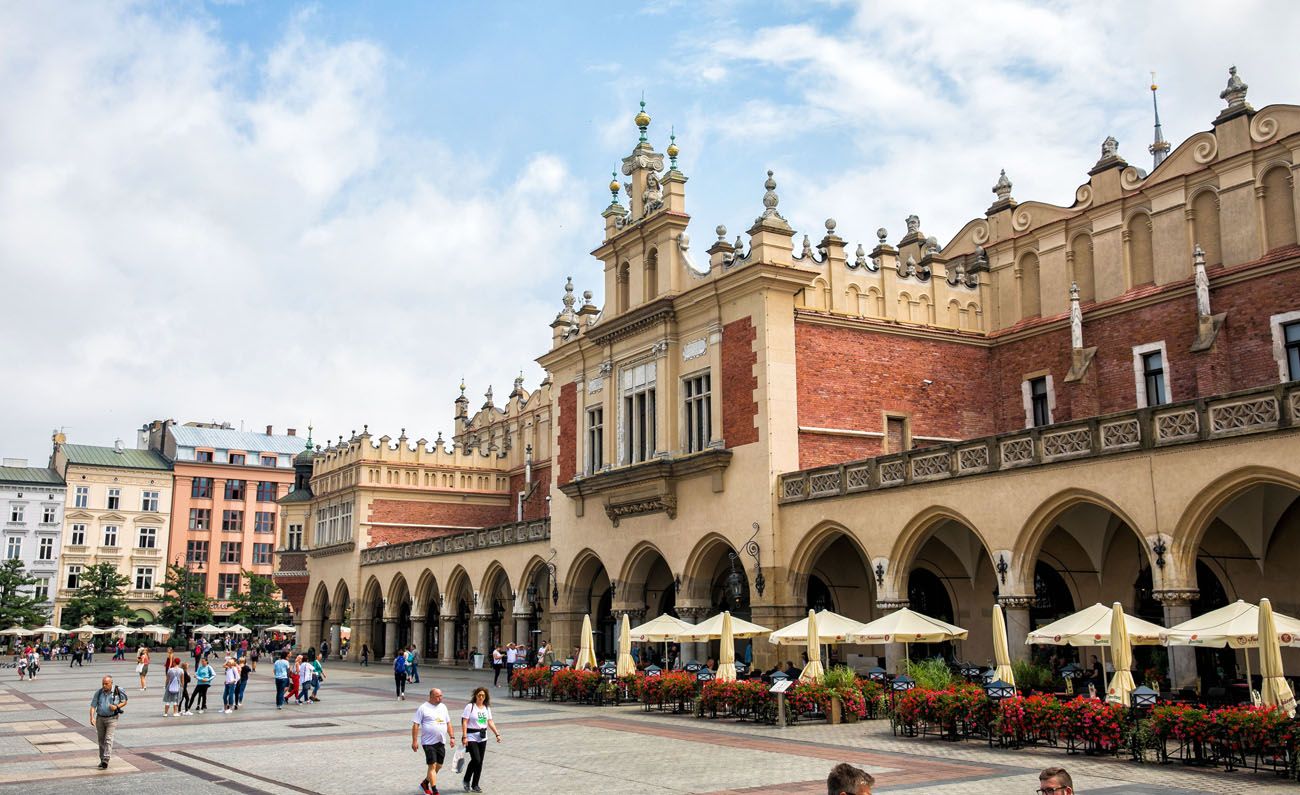 Cloth Hall | 3 Days in Krakow Itinerary
St. Mary's Basilica (Kosciol Mariacki)
This is one of Krakow's most famous sites. To enter the church, you will have to pay a fee, but it's worth it to see the bright blue ceiling and the Gothic altarpiece. If you want to take photos, it costs a few more zloty.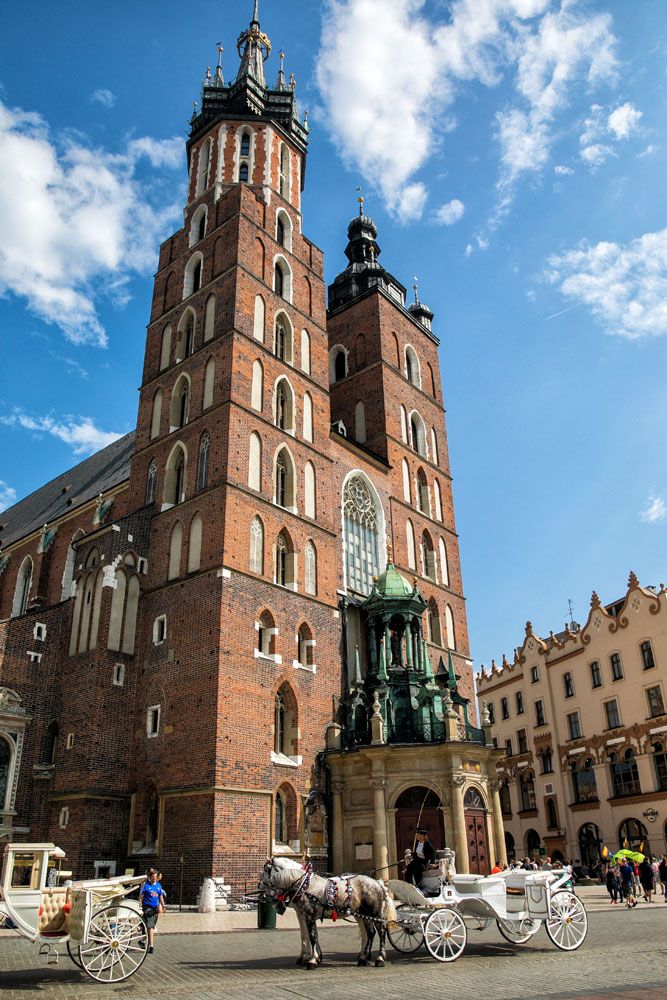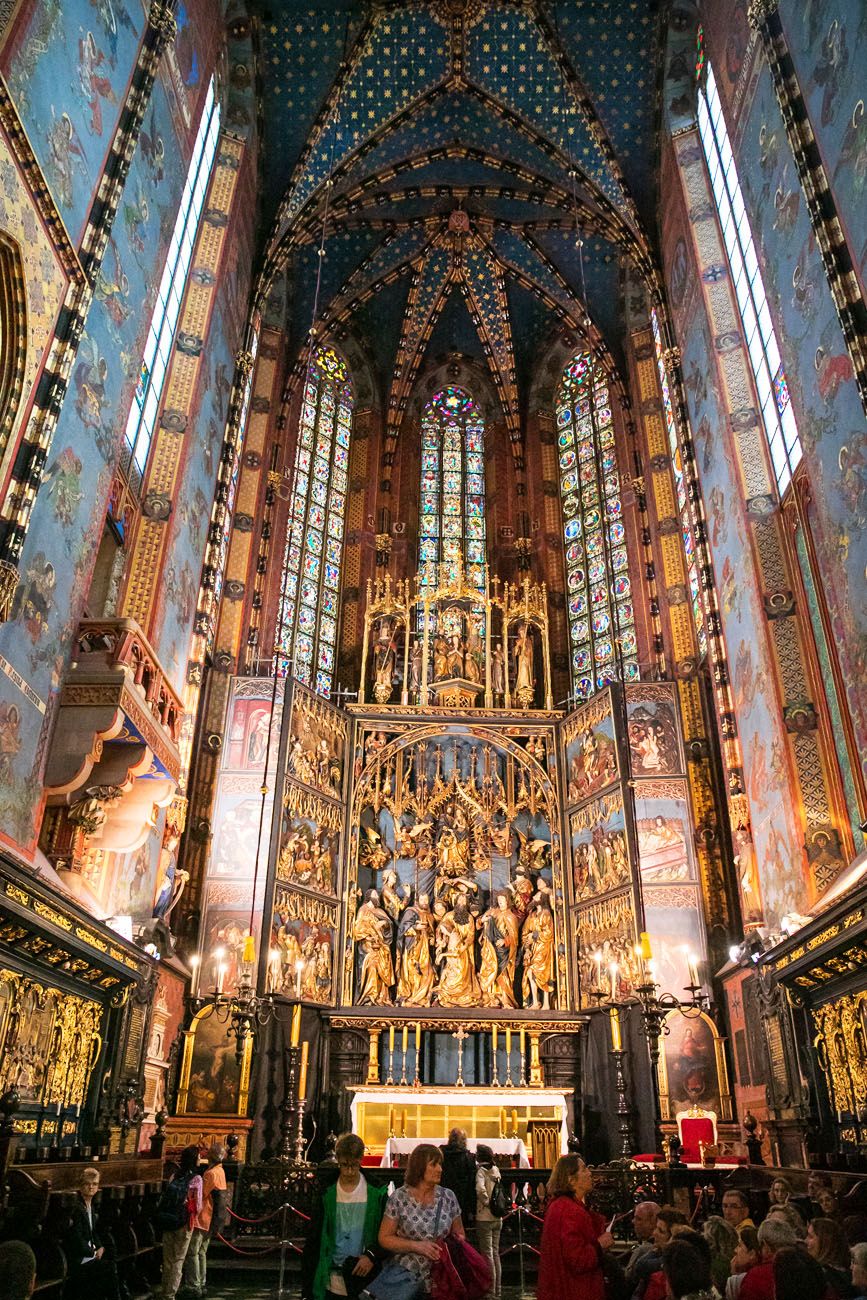 For the best view over Krakow, climb 239 steps to the top of the tower and if you get your timing right, you can watch and listen as the bugler plays the hejnal from the tower window. Read our Krakow post for the full details.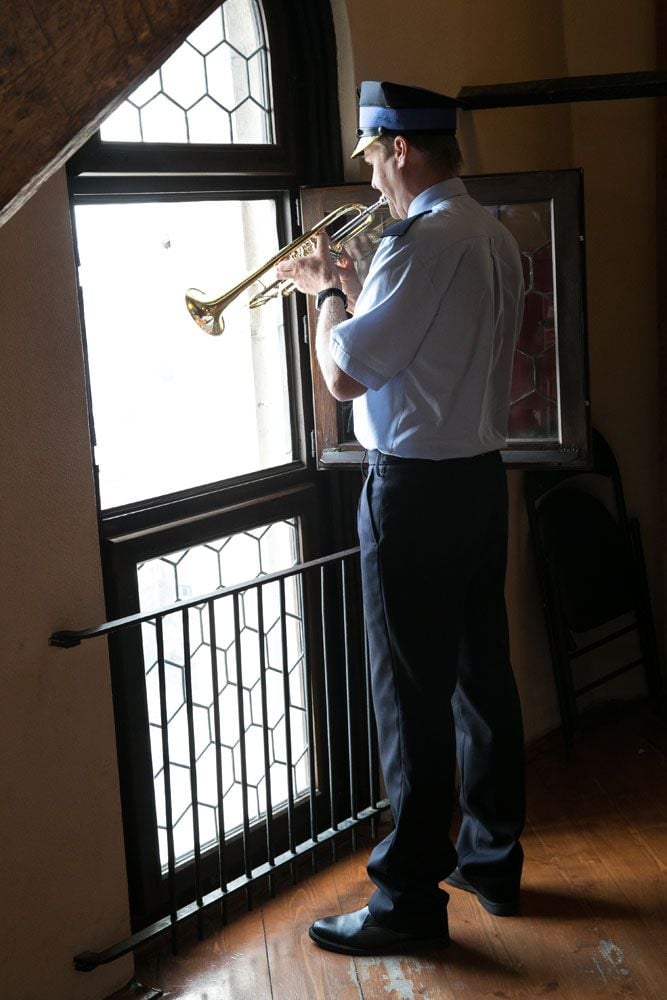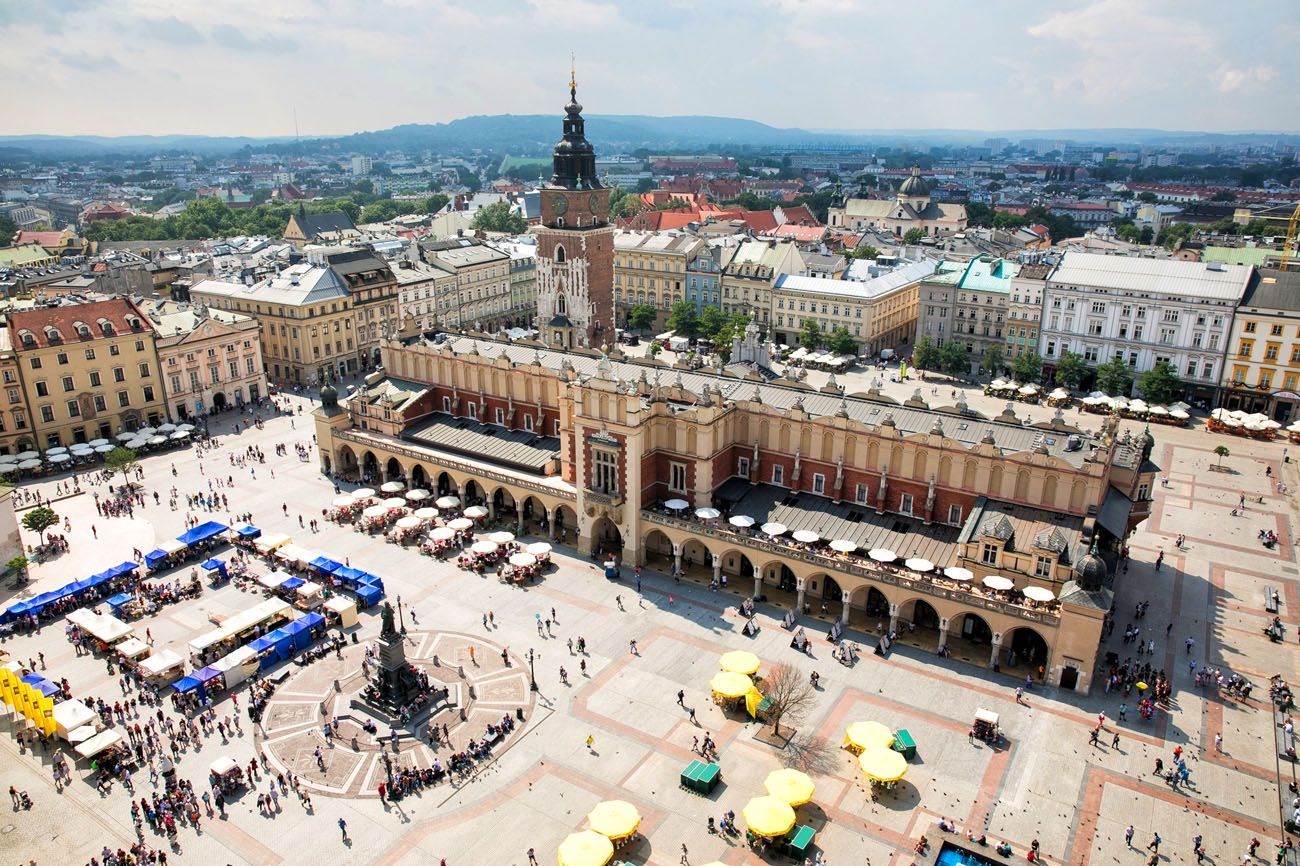 View from St. Mary's Basilica | 3 Days in Krakow Itinerary
You can only climb the tower if you make a reservation in advance. Only 10 people are permitted to climb the tower every 30 minutes. To make your reservations, visit the ticket office located on Mariacki Place next to St. Mary's Basilica.
Website: Visit the official website for updated hours and pricing.
PRO TRAVEL TIP: If you want to climb the Bell Tower, I recommend going the ticket office right at opening time so you can reserve your tickets. They do sell out quickly. However, the problem is getting in line at both Wawel Castle and St. Mary's Basilica at 9 am. If you are traveling in a group, send one person (whoever walks the fastest) to purchase the bell tower tickets while the rest of your group gets in line for tickets at Wawel Castle at 9 am. Regroup and tour the castle together. This is how we did it. A time slot from 2:00 to 2:30 pm works well for this itinerary.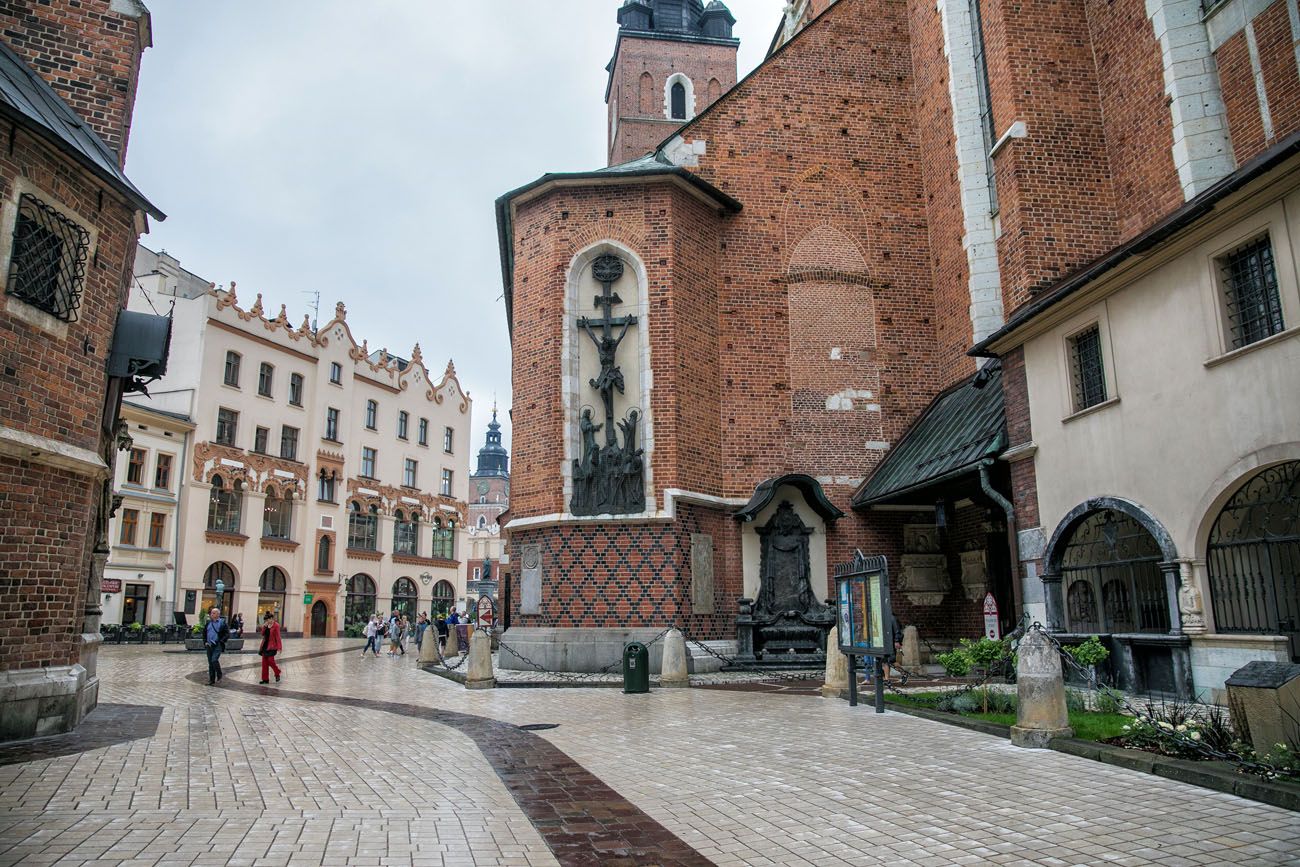 Mariacki Place | 3 Days in Krakow Itinerary
Town Hall Tower
Climb the Town Hall Tower for another great view of Krakow. However, if you only have the time (or the energy) for one tower climb, St. Mary's Basilica is the winner.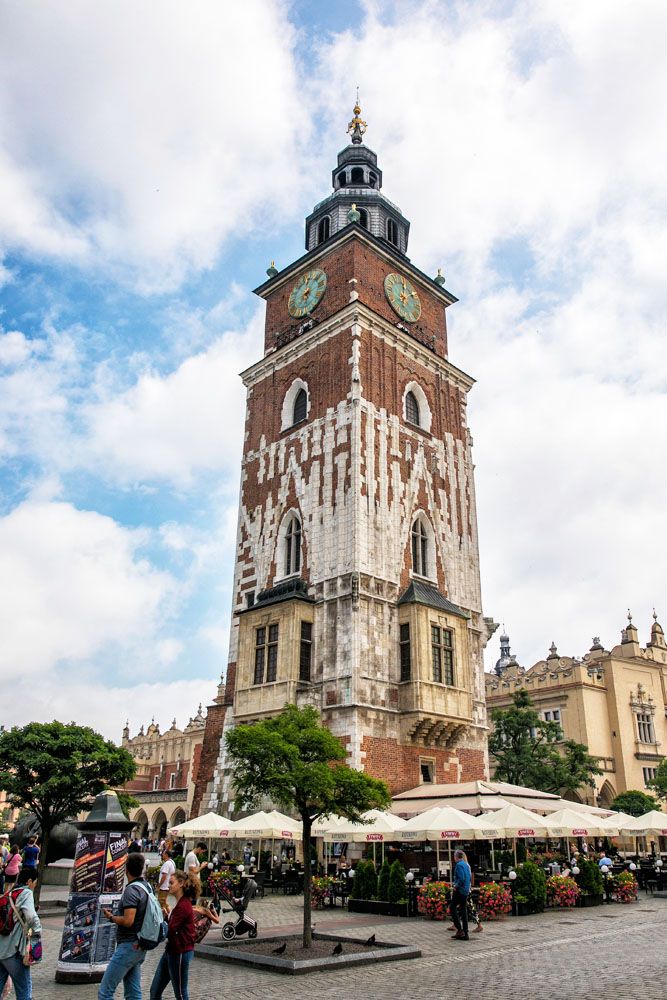 Rynek Underground Museum
Descend beneath the Main Market Hall to this state-of-the-art museum. Eleven years ago, portions of the Main Market Hall were excavated, unearthing ancient market stalls, artifacts, and a cemetery. In 2010, these archaeological treasures were transformed into a museum. Now, video displays and digital reconstructions take you back to the middle ages in Krakow.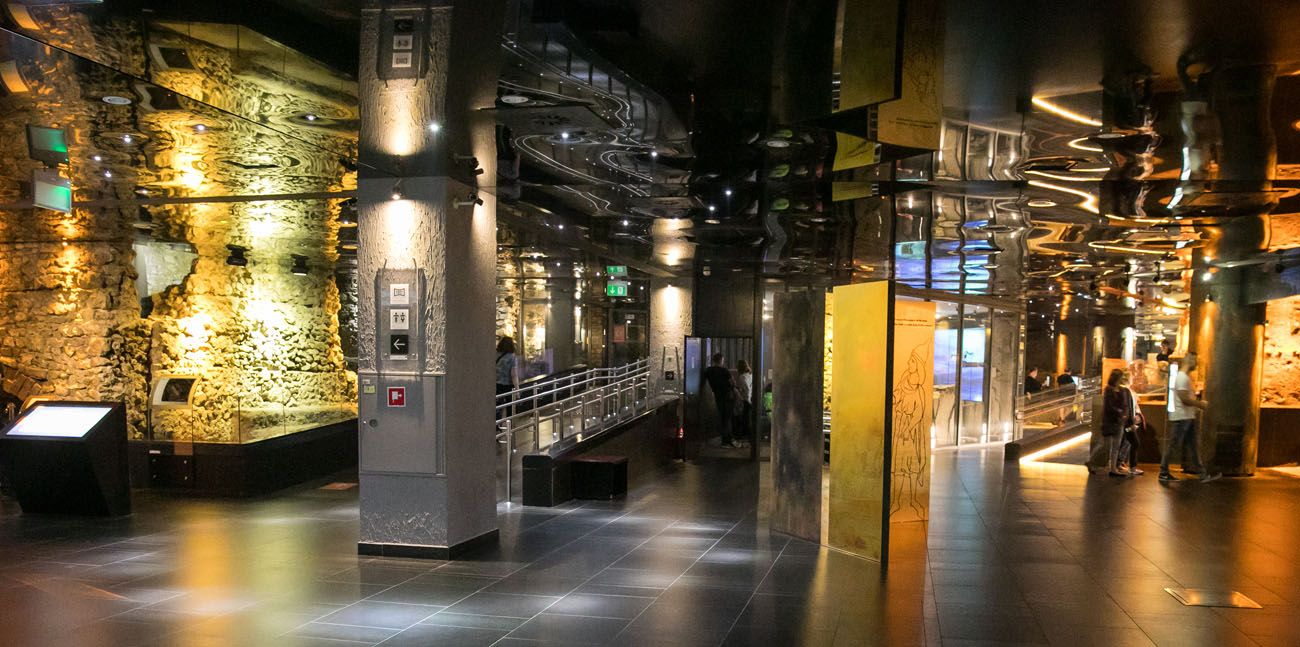 Enter from the Cloth Hall near St. Mary's Basilica.
Planning Your Time: Up to 30 people are admitted every 15 minutes. For operating hours, cost, and to reserve your time slot in advance, learn more here. Admission is free on Tuesday, so expect larger crowds on this day.
Florianska Street
Florianska Street is one of Krakow's most famous streets. It runs from the Main Market Square to Florian's Gate. It is just three blocks long and filled with boutique shops, souvenir shops, convenience stores, and a few restaurants.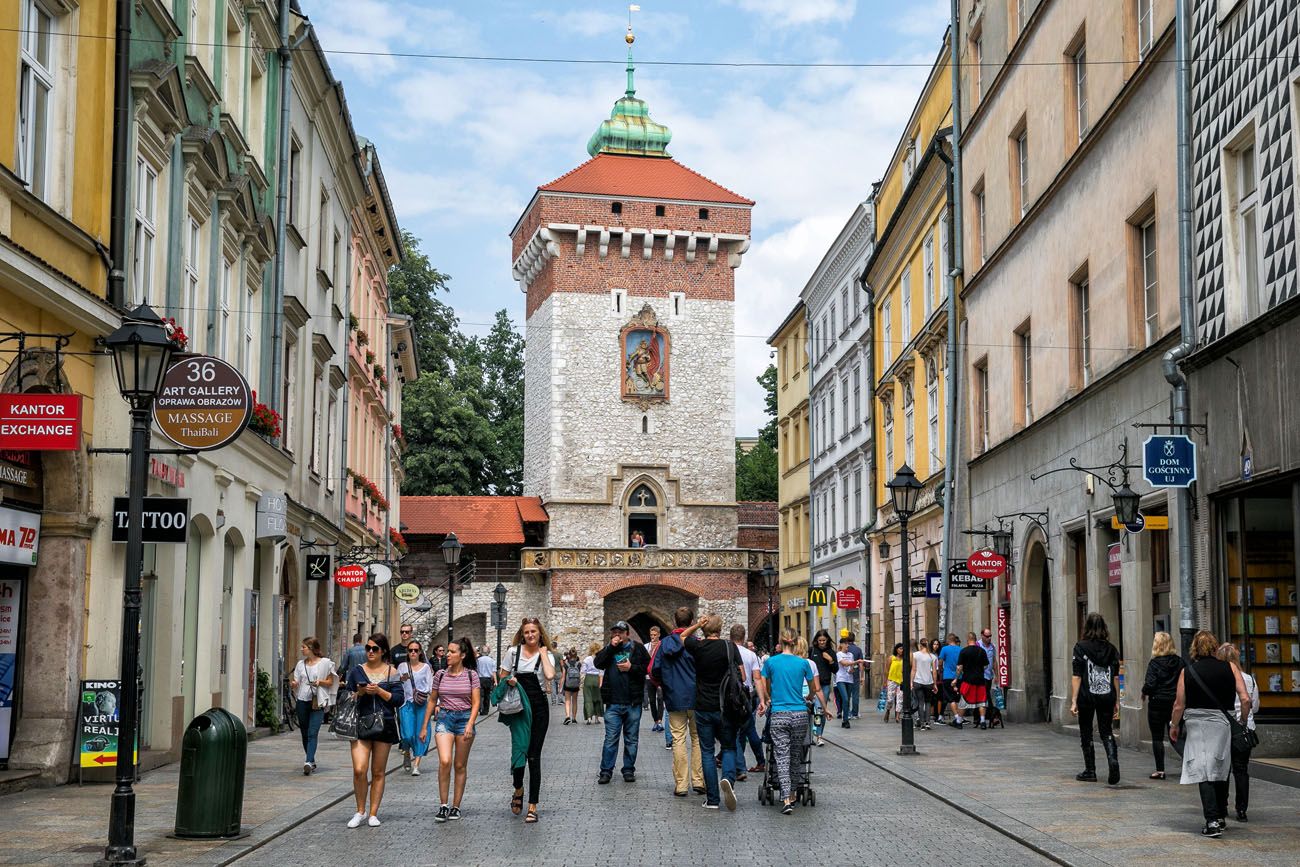 Florianska Street | 3 Days in Krakow Itinerary
Florian's Gate, the Defence Trail, and Barbican
At the top of Florianska Street is Florian's Gate and the ancient medieval walls that line a portion of the old town.
You can walk along the top of the walls. It's quick, it's cheap, and it offers an interesting view down Florianska Street to St. Mary's Basilica.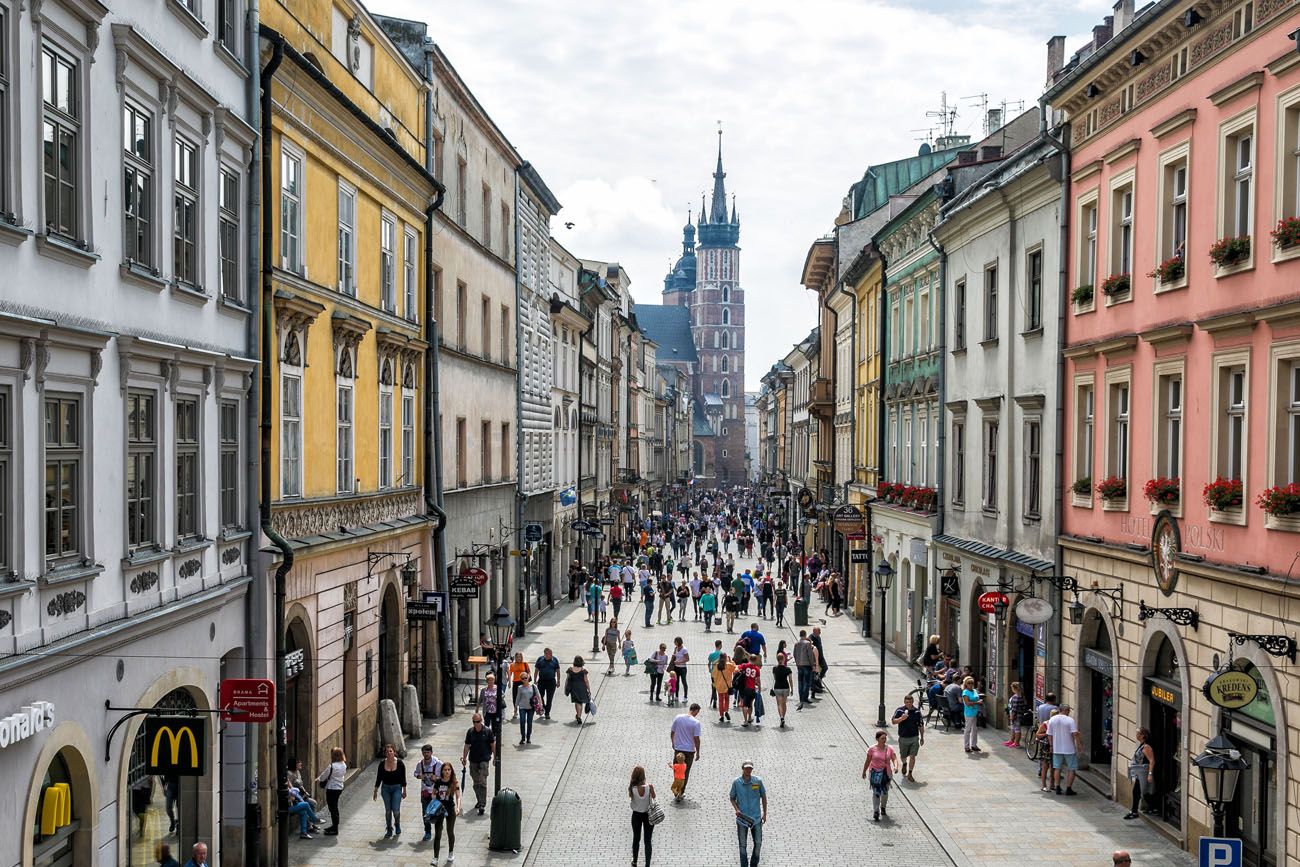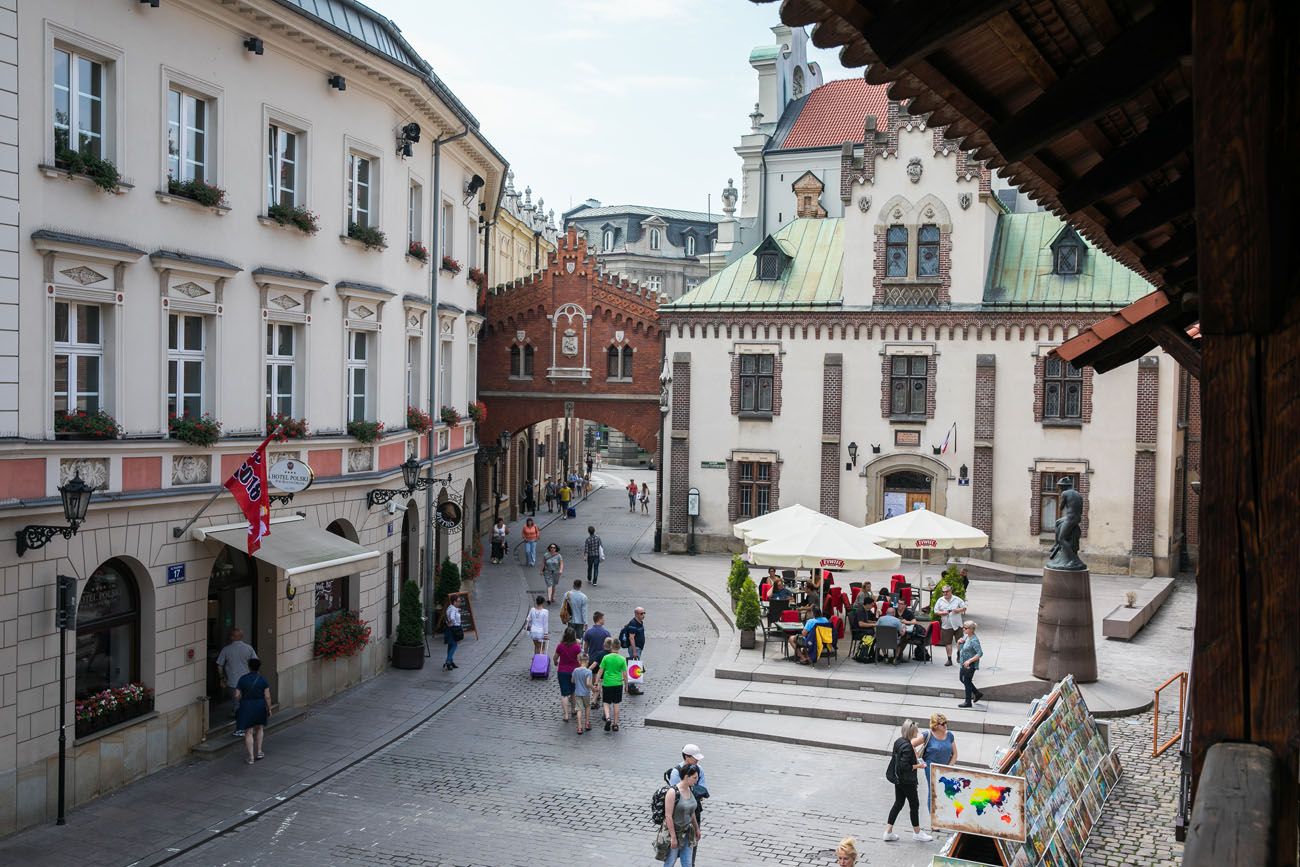 Barbican is a round, defensive fort that sits just outside of the old town. It is really not all that exciting inside and skippable if you are low on time or energy. You simply walk a loop on the interior of the fort. Walking the walls at Florian's Gate is more interesting. However, both of these are covered in the same ticket.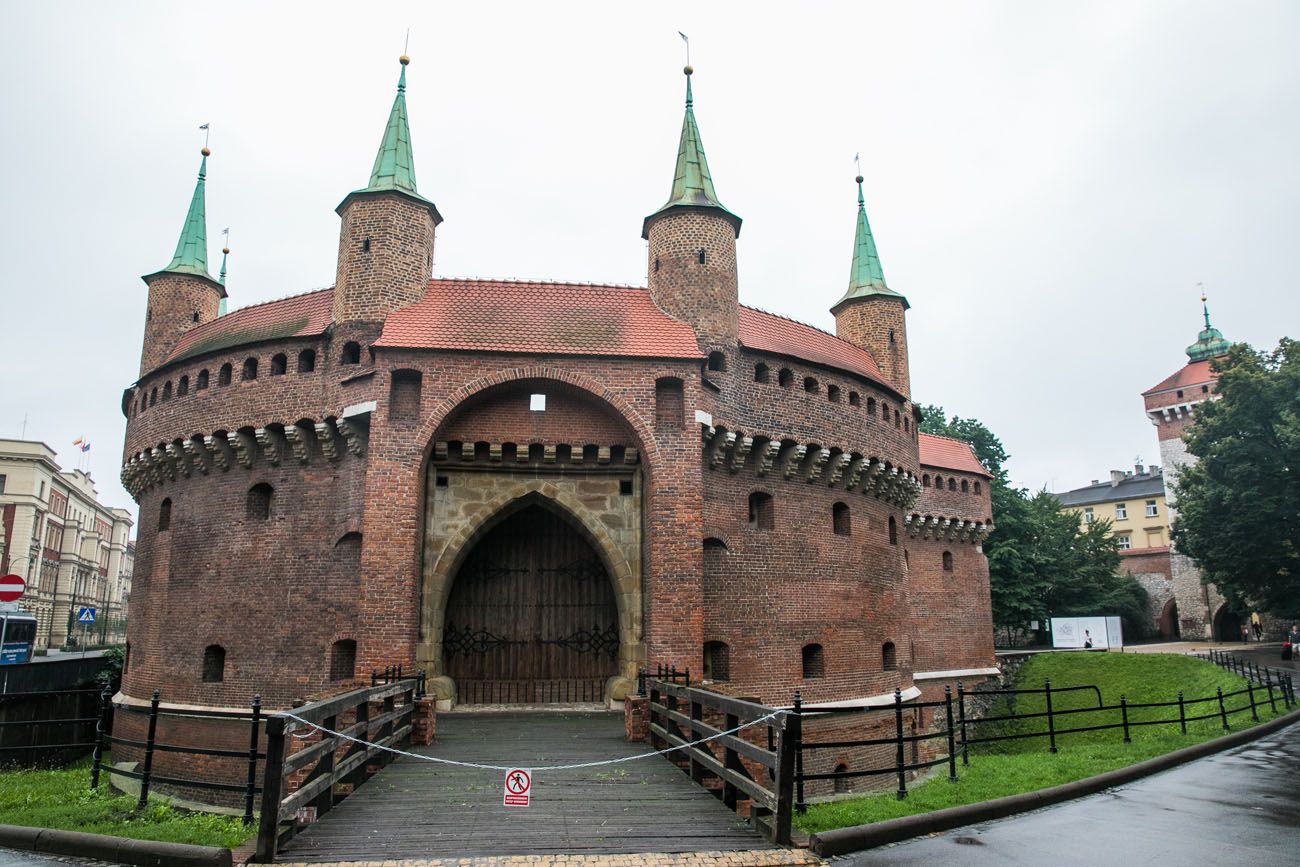 Barbican | 3 Days in Krakow Itinerary
Optional: Krakow in 15 Minutes
Is 15 minutes too long for an overview on the history of Krakow? "Krakow in 15 Minutes" is a small, underrated museum where you can watch a 15-minute multimedia presentation about the history of Krakow. During our visit, we were the only visitors so we had the theater to ourselves. They are located on Pawia Street, just a short walk from Barbican. Here is a link to the official website to learn more.
Dinner and Drinks
End the day with dinner and drinks in the Old Town.
Cyrano de Bergerac is a Michelin-starred restaurant. This is a great experience and a wonderful way to have a gourmet meal without breaking the bank. Advance reservations are recommended. We ate here an it was a phenomenal experience (and our first time eating at a Michelin-starred restaurant).
The Black Duck (Czarna Kaczka) is another highly rated Polish restaurant in the old town.
If you like Italian, Bosciaola was our favorite but we also liked Le Grand Mamma.
Moaburger is a New Zealand burger joint. It's fast, it's delicious, and it's a great cheap eat in Krakow.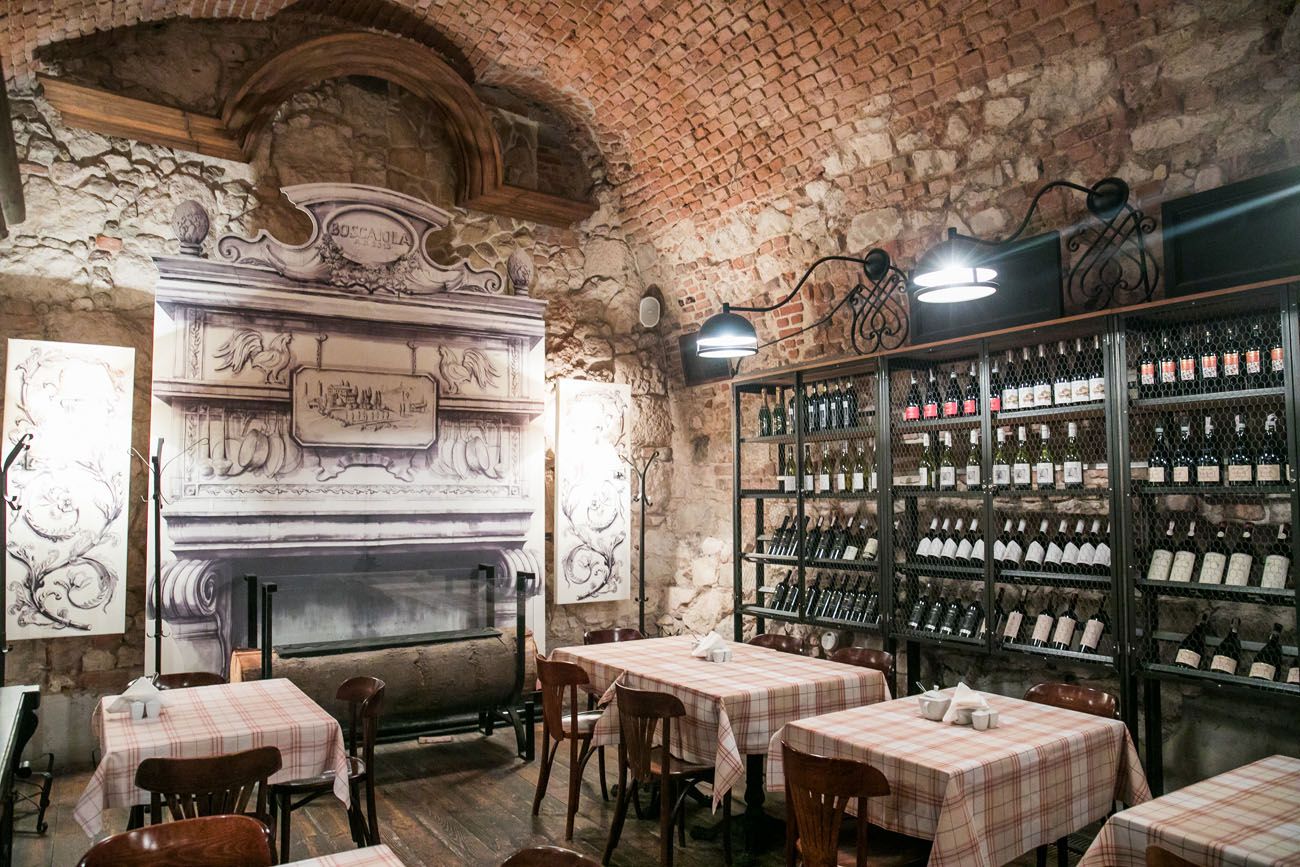 Bosciaola | 3 Days in Krakow Itinerary
---
Krakow Itinerary: Day 2
Jewish Quarter and Kazimierz
Today we journey just a short distance away from the Old Town to the Jewish Quarter and Kazimierz.
Walking distance: 1.6 km (1 mile)
Oskar Schindler's Factory
Oskar Schindler is a German who is credited with saving 1,200 Jews during Nazi occupation of Krakow. You can learn all about his story at the original enamel factory, which is now a museum.
Online Tickets: It's best to purchase your tickets online in advance. We got here right at opening time and just barely missed waiting in a very long line.
Getting Here: From the Old Town, it is a 2.6 km walk (30 minutes). You can take the tram from Krakow Glowny to Krakow Zablocie and walk 5 minutes to the factory. Or you can take a taxi or Uber. We used Uber frequently in Poland and it was much cheaper than taxis.
Ghetto Heroes' Square
From Oskar Schindler's Factory, walk to Ghetto Heroes' Square. During the time of the Krakow Ghetto, this was the largest open space in the ghetto, the spot where people could escape the overcrowded tenements. Later, this same space became the site of heartbreak, when families were torn apart during deportation.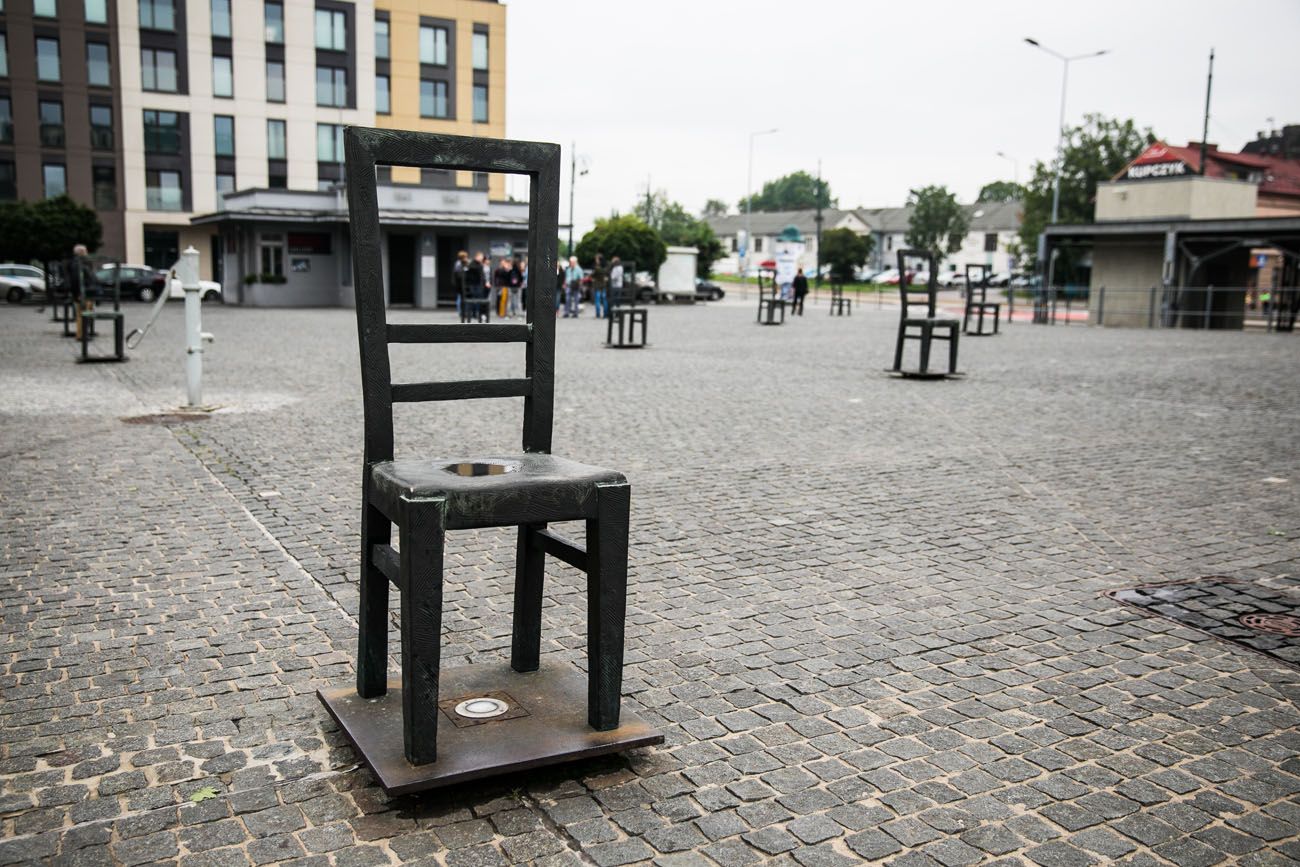 Ghetto Heroes' Square | 3 Days in Krakow Itinerary
In 2005, the square was renovated and laid out with large, metal chairs that represent the 68,000 people who were deported from here.
Kazimierz
Cross the Vistula River and enter Kazimierz. This neighborhood was once the heart of the Jewish community in Krakow. Now, Kazimierz is a funky mix of synagogues, souvenir shops, excellent restaurants, and small boutiques. This is a very cool area to spend a few hours or even the rest of the day. And with its grittier, edgier vibe, it feels a lot different here than walking through the Old Town of Krakow.
Visit the Old Jewish Cemetery at Remu'h Synagogue, see Schindler's List Passage, go shopping, and explore the neighborhood.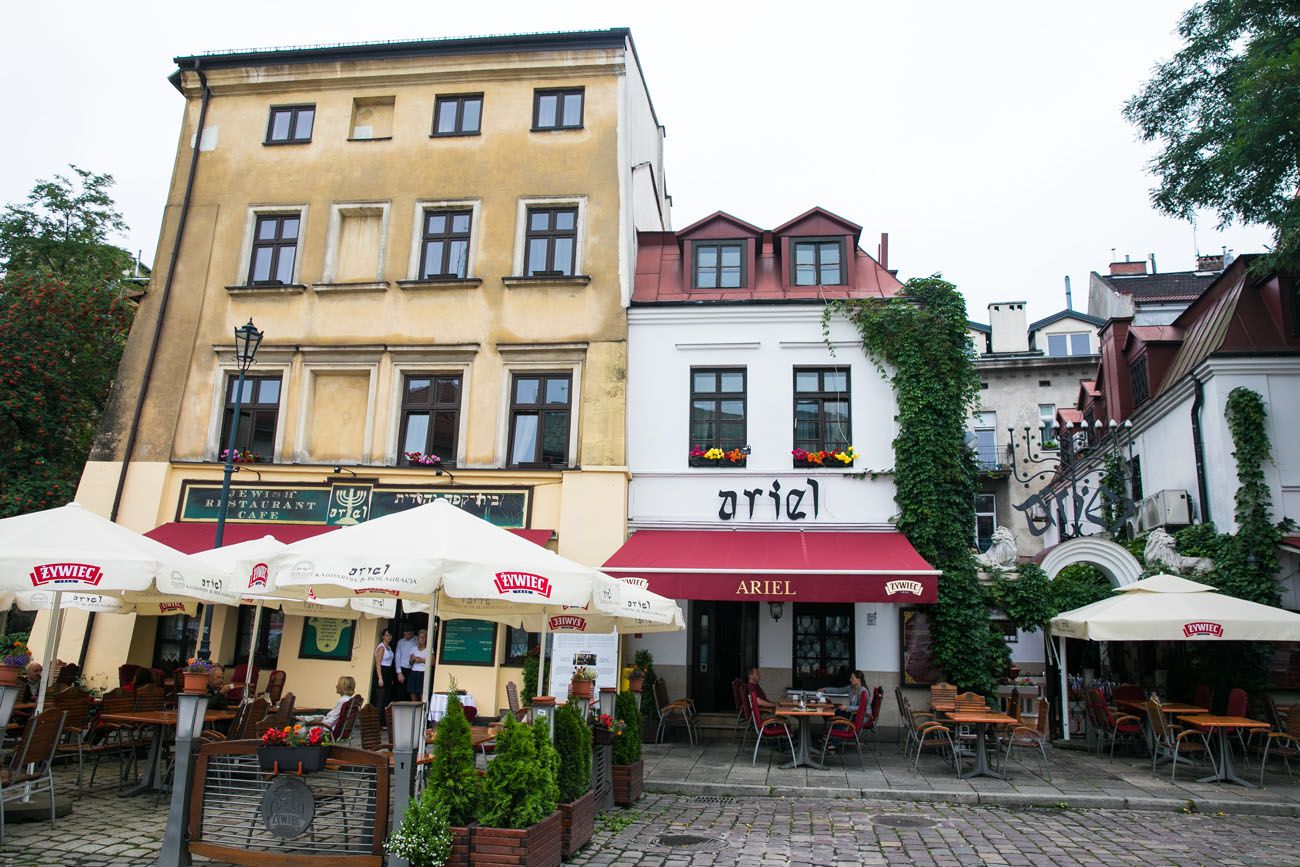 Kazimierz | 3 Days in Krakow Itinerary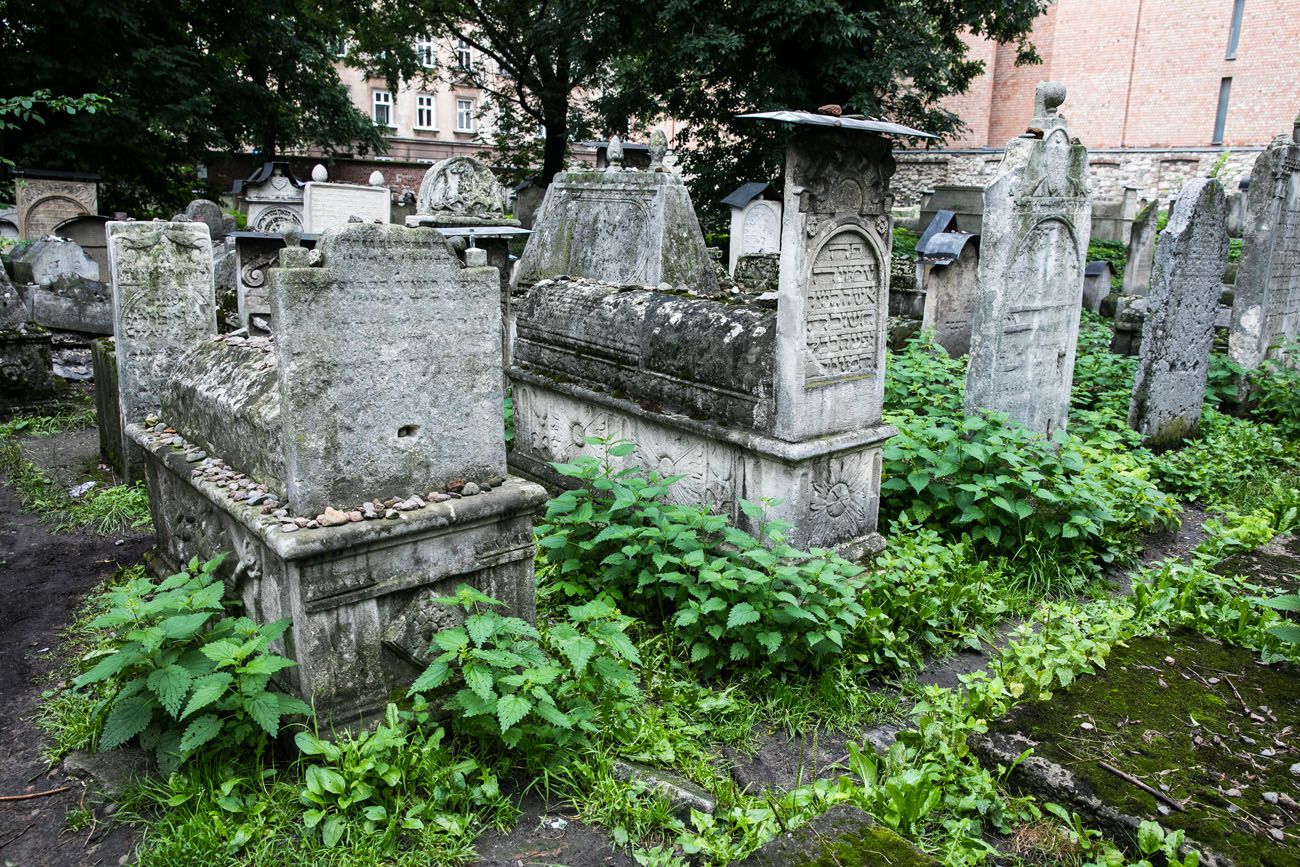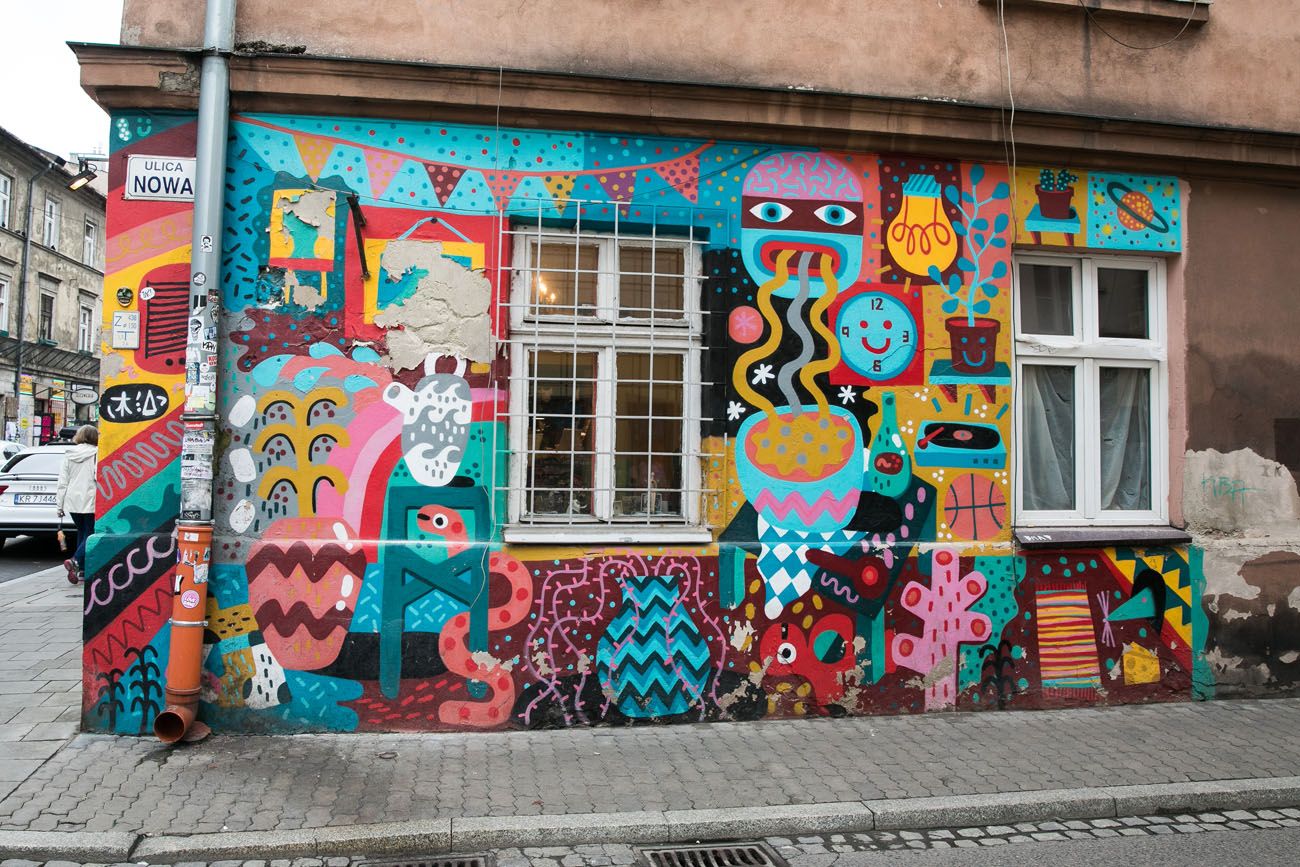 For lunch, we recommend Starka Restaurant, a great restaurant that serves traditional Polish food and homemade vodka.
It is a 20 minute walk to get back to the Main Market. On the wall you will pass the Pinball Museum. This "museum" contains a collection of old and new pinball machines that you can play. It's a great spot for kids and kids at heart.
End the day with dinner and drinks in Kazimierz or the Old Town. There are several bars in Krakow where you can sample vodka. Our favorite was Wodka Bar in the Old Town.
Krakow Itinerary: Day 3
Day Trip to Auschwitz-Birkenau
On this Krakow itinerary, you will spend one day on a day trip to Auschwitz-Birkenau.
Auschwitz-Birkenau, also simply called Auschwitz concentration camp, is the largest of the Nazi concentration and death camps.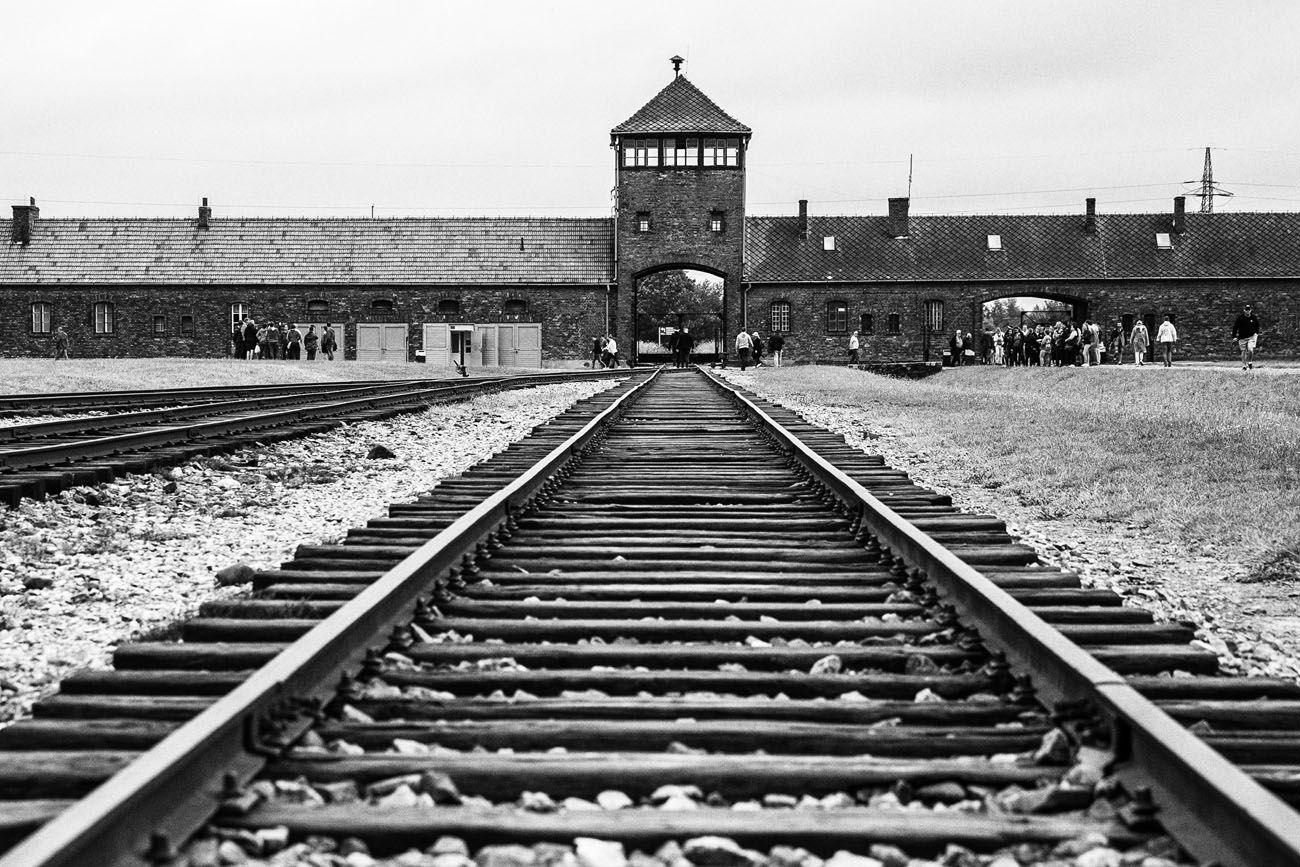 A day trip to Auschwitz-Birkenau will take about six to eight hours of your day, depending on the mode of transportation you choose (bus, train, private driver, or tour).
You also have the option to add on the Wielickza Salt Mines. This underground salt mine is filled with sculptures carved from salt. A day trip to Auschwitz-Birkenau and the Wielickza Salt Mines takes roughly 10 hours.
How Much Time Should You Spend in Krakow?
3 days in Krakow is the perfect amount of time to tour Wawel Castle, visit the top sights in the Old Town, get a history lesson in Kazimierz, and day trip to Auschwitz-Birkenau.
If you have less than 3 days in Krakow, you can do this same itinerary, with some modifications. With 2 days in Krakow, spend your first day exploring the Old Town and take your pick between Wawel Castle or the Jewish Quarter. On day 2, day trip to Auschwitz. In the afternoon, visit the Wielickza salt mine or spend the late afternoon and evening in Krakow, either at dinner or spending more time in the Old Town.
Where to Stay in Krakow
Unlike Gdansk and Warsaw, where most of the main sites are clustered in one area, the main sites in Krakow are more spread out. You can stay right in the Old Town, but there are several other great neighborhoods to consider. We stayed at the Mint Luxury Apartments in the Old Town, but for more recommendations, read our Krakow Hotel Guide.
---
Do you have any questions about spending 3 days in Krakow or how to plan your Krakow itinerary? Ask us in the comment section below or feel free to add your experience.
More Information about Poland
KRAKOW: Discover what there is to do in our article Best Things to Do in Krakow. Get hotel recommendations in our guide on Where to Stay in Krakow.
AUSCHWITZ-BIRKENAU: Learn how to plan your visit to Auschwitz-Birkenau on a day trip from Krakow.
POLAND ITINERARY: In our 10 day Poland Itinerary, visit Gdansk, Warsaw, and Krakow.
WARSAW: For a list of the top experiences, take a look at our guide to the Best Things to Do in Warsaw and learn how to plan your time with our 2 Day Warsaw Itinerary.
TATRAS: If you like hiking, consider spending a few days in the High Tatras. Learn how to hike to Koscielec from Zakopane, how to hike to the summit of Rysy (the tallest mountain in Poland), and whether you should visit the Tatras from Poland or Slovakia.
EUROPE TRAVEL INSPIRATION: Get more travel ideas in our article 10 Days in Europe itinerary, which has 10 itineraries for your next trip to Europe. If you have less time, we also have an article that lists 25 different ways to spend one week in Europe.
Note: This post contains affiliate links. When you make a purchase using one of these affiliate links, we get paid a small commission at no extra cost to you.
All rights reserved © Earth Trekkers. Republishing this article and/or any of its contents (text, photography, etc.), in whole or in part, is strictly prohibited.