Gdansk is a beautiful city located on the Baltic Sea. It is often overlooked by many travelers to Poland, in favor of the more popular spots like Warsaw, Krakow, and Wroclaw. However, this city is well worth the journey north. In fact, it's our favorite Polish city.
On the fastest of itineraries, Gdansk can be zipped through in one day. However, if you want the best experience, plan on spending at least two to three days here. This gives you enough time to explore the old city, visit two of the best museums in Poland, and eat your heart out at some amazing restaurants. You can also take several day trips, if you have more time. Get your Baltic beach time in at Sopot and Gydnia or visit Malbork, one of the largest castles in Europe.
A Brief History of Gdansk
Knowing a bit of background information is very important to truly appreciate a visit to Gdansk.
For hundreds of years, the city of Gdansk bounced back and forth from being German territory and Polish territory. While under German rule, the city went by the name Danzig.
On September 1, 1939, the first fighting of World War II began just outside of Gdansk. The German forces won an easy victory, not only in Gdansk, but in all of Poland. For the duration of World War II, Poland suffered under Nazi rule, until it was "liberated" by the Soviets in 1945.
In 1980, in the Gdansk shipyards, the Solidarity trade union movement began. This peaceful movement was one of the first major rebellions against the communist regime and ultimately led to the downfall of communist rule in 1989.
At the end of WWII, Gdansk endured heavy air raids by the Allied troops and the Soviets. The city was rebuilt in the 1950's and 1960's. Architects did not want to rebuild the city with the original Germanic architecture that was part of the city's pre-war appearance. Now, the city looks more Dutch and French than German, much different than it did in 1939.
Best Things to Do in Gdansk
Walk the length of Dlugi Targ
Dlugi Targ, also known as the Long Market or Royal Way, is the main thoroughfare through Gdansk. The entire street is only 500 meters long, so you can walk it in just 10 minutes, but for the best experience, there are some things to stop and see along the way.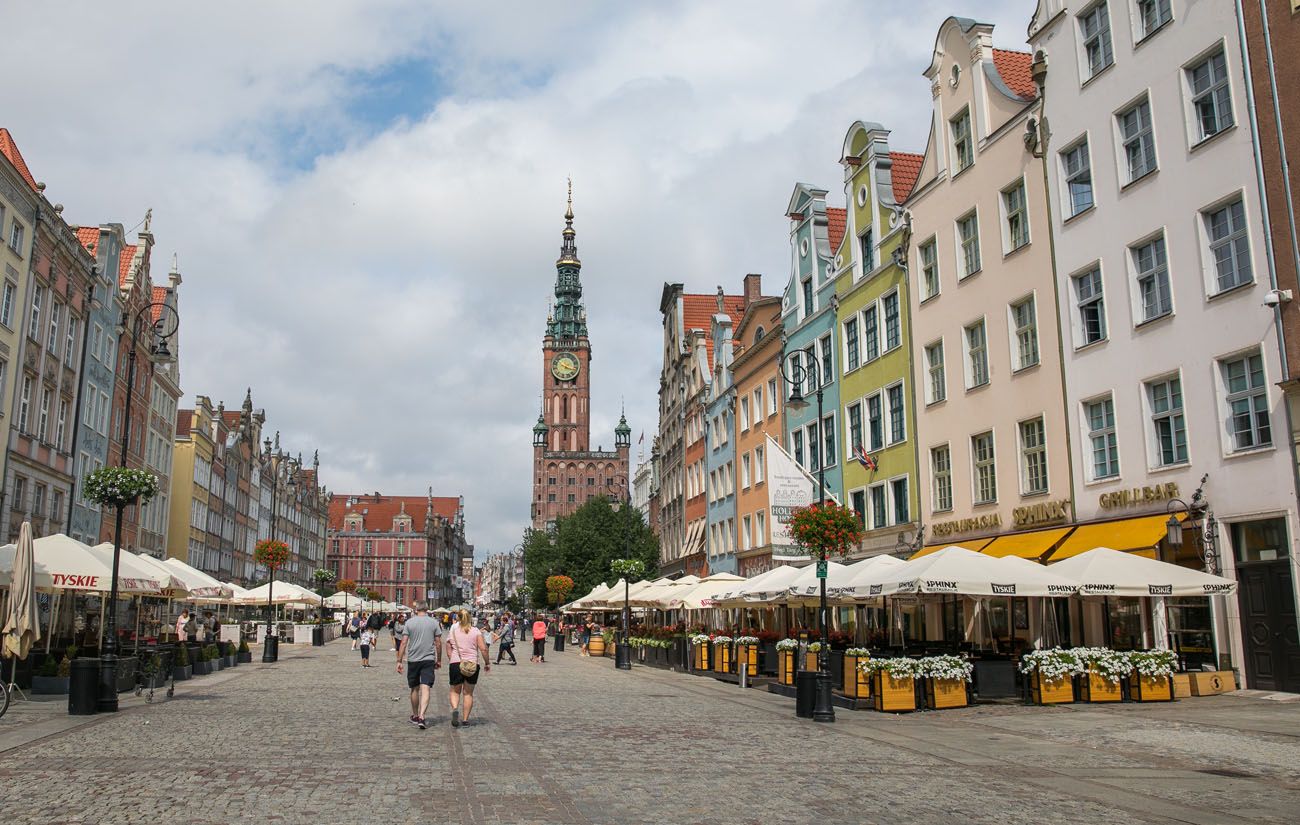 Dlugi Targ | Best Things to Do in Gdansk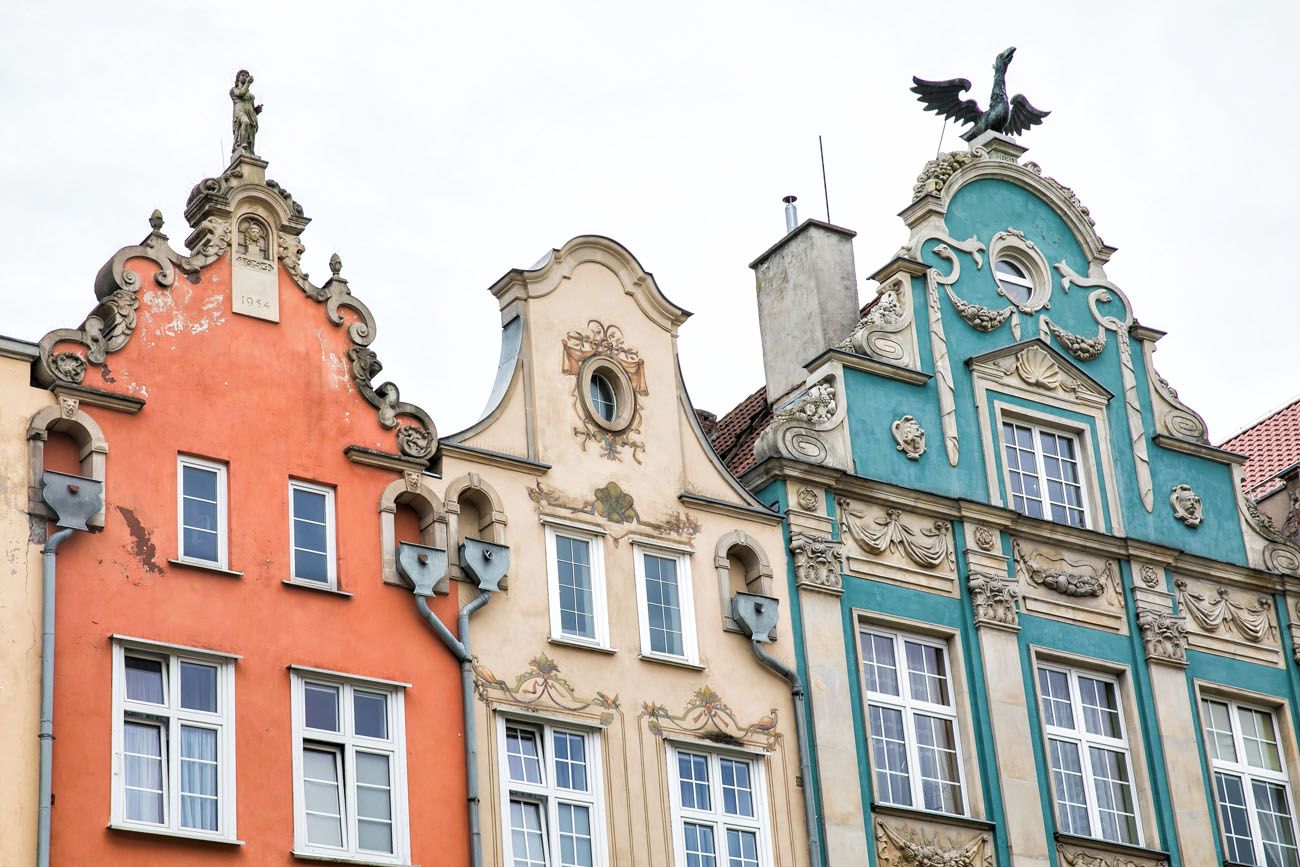 As you walk down Dlugi Targ, here are the best places to visit:
The Golden Gate sits at the western end of the street. As you look down Dlugi Targ, you can see cafes and shops lining the street and the iconic Town Hall tower. During the day, this can be a crowded place. But at night or during the early morning hours, it is quiet and peaceful.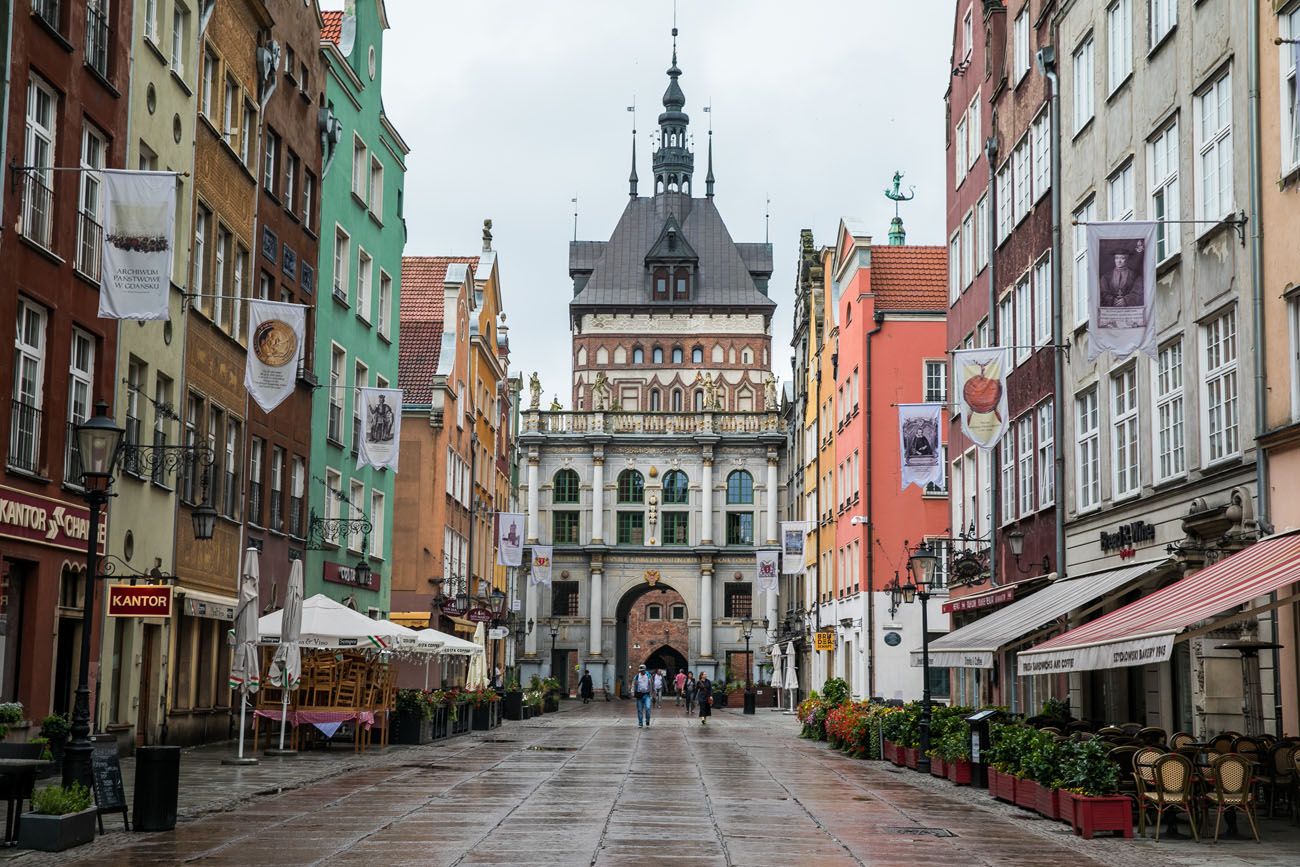 Dlugi Targ and the Golden Gate in the morning | Best Things to Do in Gdansk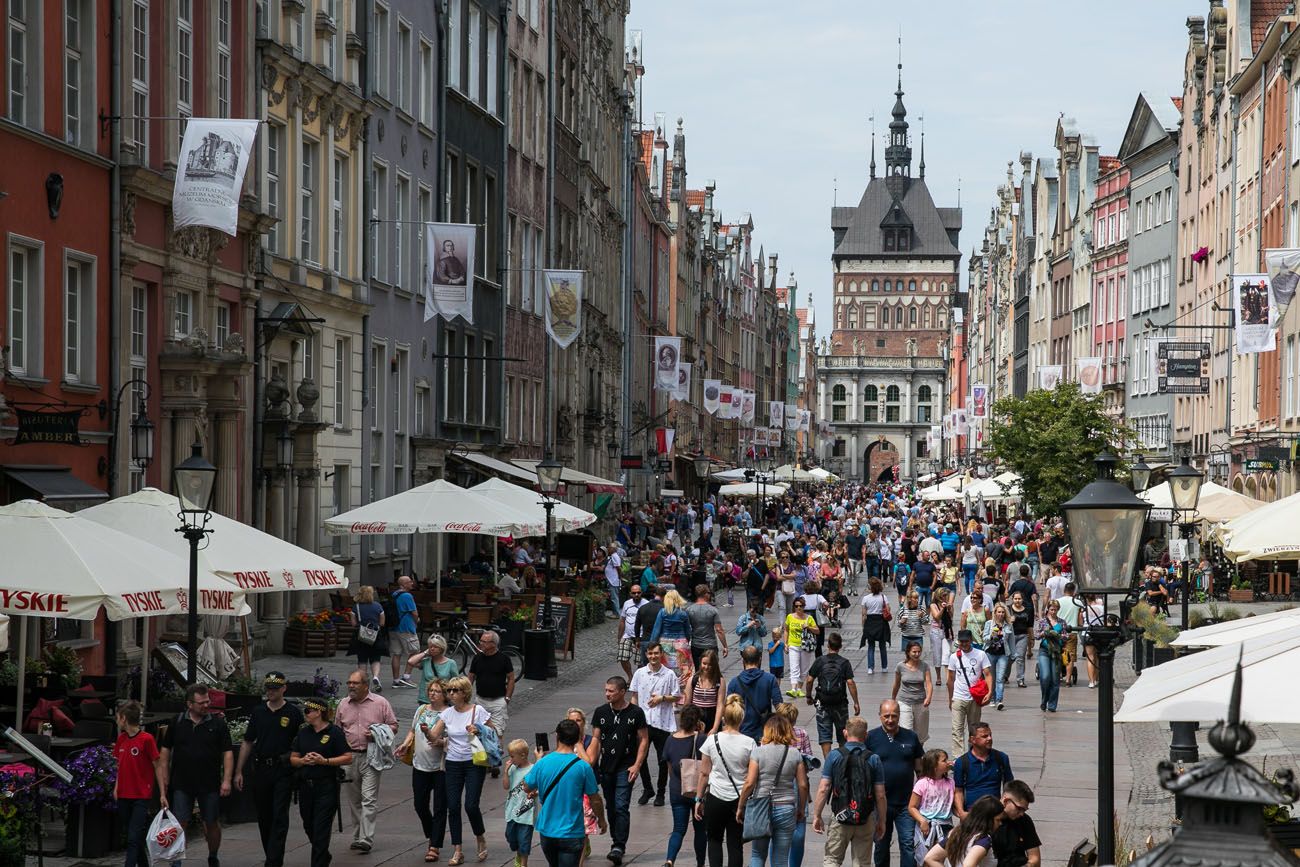 The crowds on Dlugi Targ midday in July.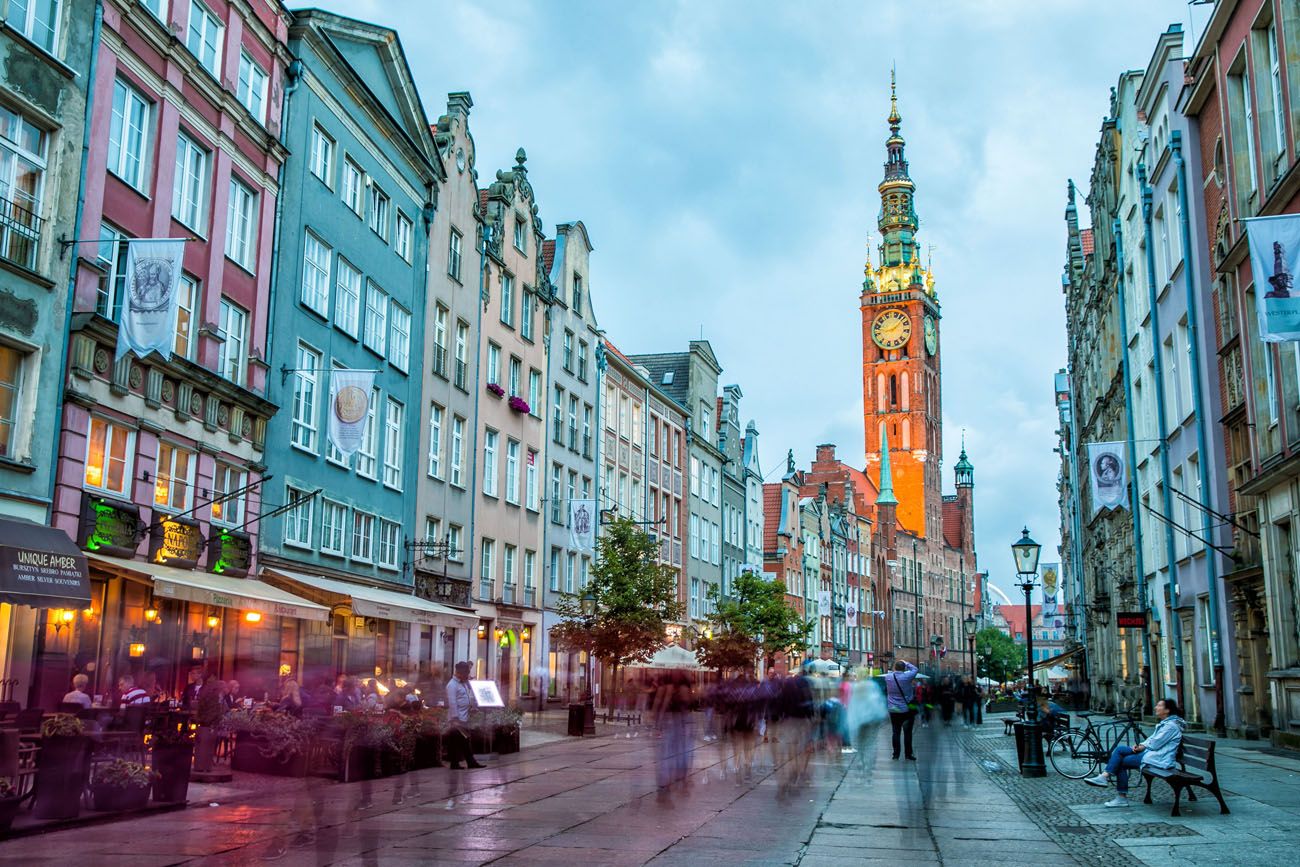 Looking down Dlugi Targ from the Golden Gate at sunset. | Best Things to Do in Gdansk
Bar Mleczny Neptun. This is a milk bar, a Polish "cafeteria." These milk bars popped everywhere after World War I, as a way for the Polish people to get nourishing meals at cheap prices. Now, these are rare to find in city centers, although a few still remain. If you want to try a cheap, local meal or want to take part in a Polish tradition, Bar Neptun is one of the best milk bars in Gdansk.
Main Town Hall. Visit the museum and/or take in the view from the top of the tower.
Neptune Fountain. The Neptune fountain is a very popular photo spot in Gdansk. It always had a group of camera wielding tourists around it (and we were no different!).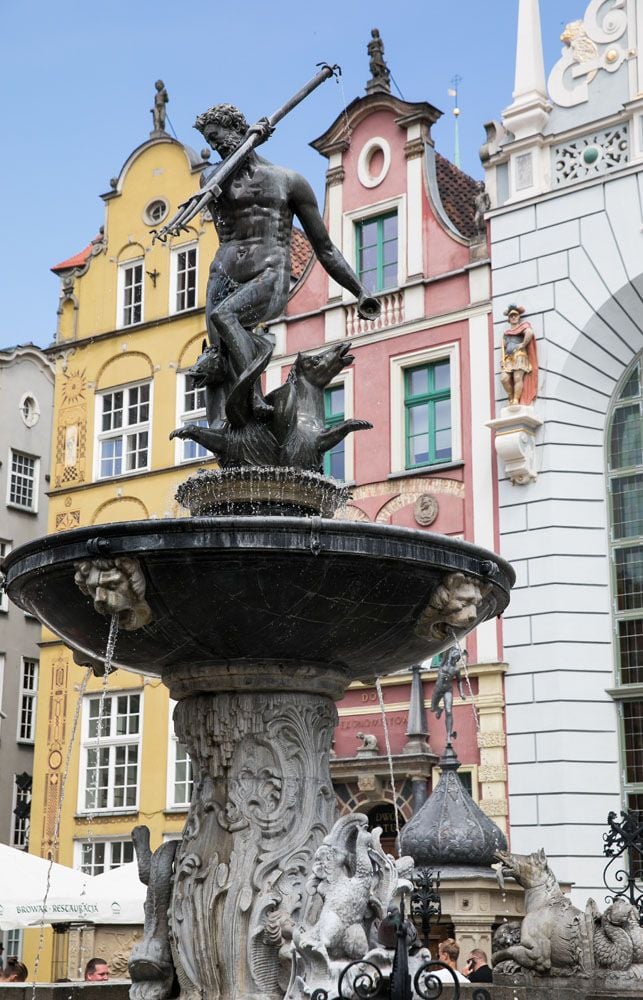 Neptune Fountain | Best Things to Do in Gdansk
Artus Court. Just behind the Neptune fountain is Artus Court, which was once a meeting place for merchants and dignitaries. It is now a museum.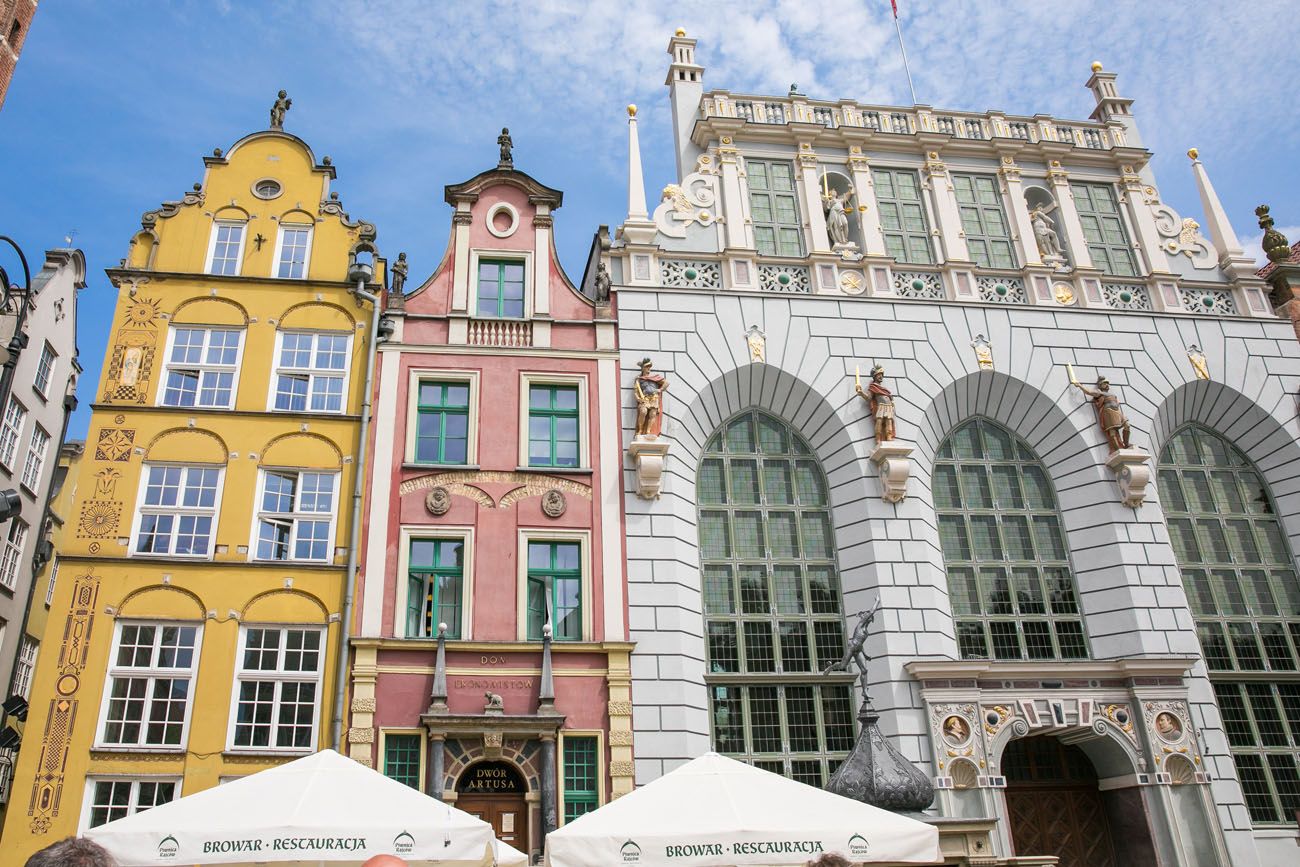 Artus Court is the light blue building on the right.
Dlugi Targ ends at the Green Gate. Once you pass through here, you step out onto the Green Bridge (Zielony Most) and the waterfront of Gdansk.
You can combine all of these sights together on a private walking tour of Gdansk. This highly rated tour can be customized to fit your interests. With a knowledgeable guide, visit the highlights of Gdansk, discover hidden gems, and get tips about food and restaurants in the city.
The Main Town Hall (Ratusz Glownego Miasta)
The Main Town Hall is located on Dlugi Targ, next to the Neptune fountain. Just look for the green, Gothic clock tower and you are in the right place.
For the best view over Gdansk, climb to the top of the tower. From here, you can look down at the entire stretch of Dlugi Targ, across the Motlawa River, and on a clear day, out to the Baltic Sea.
Also in the Town Hall is the Gdansk History Museum, worthwhile for history lovers.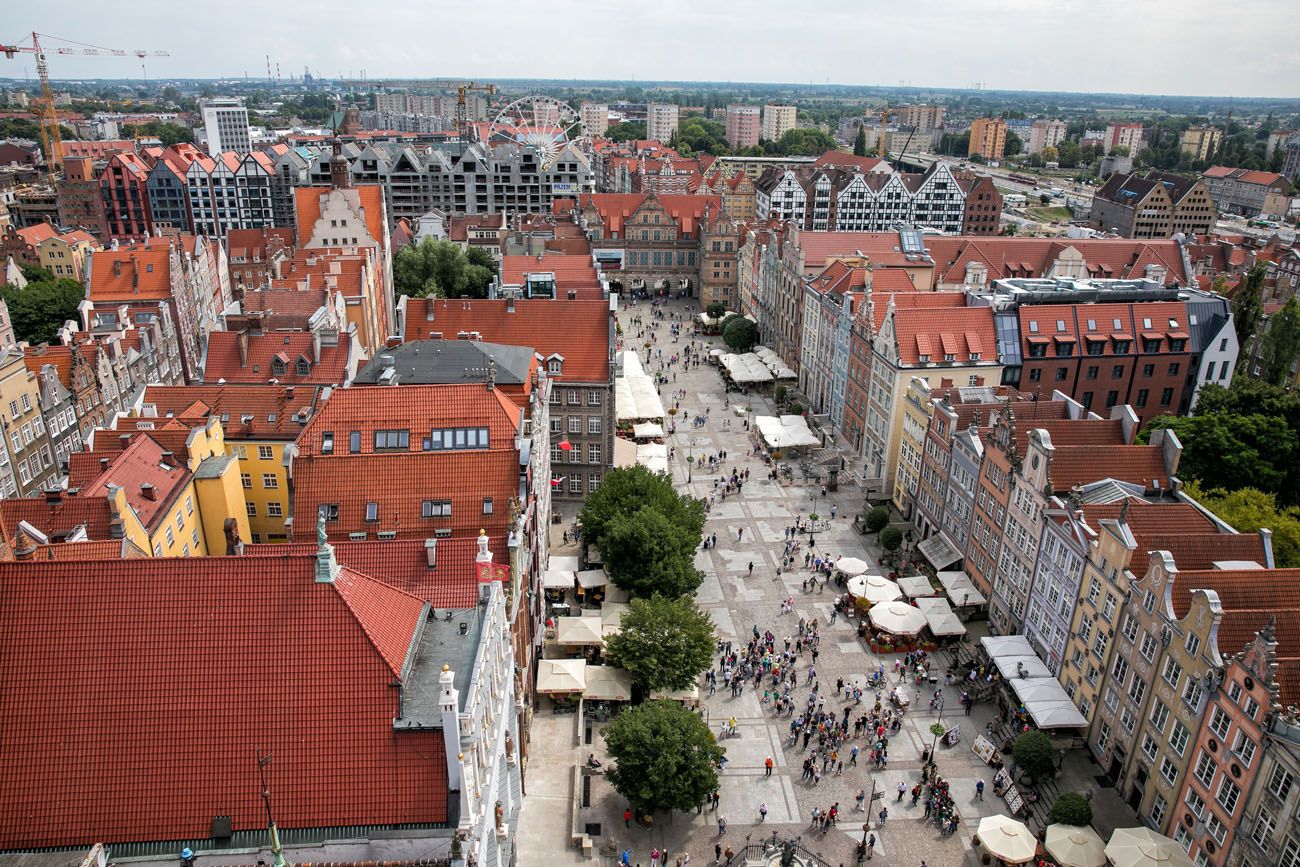 View of Dlugi Targ from the Main Town Hall | Best Things to Do in Gdansk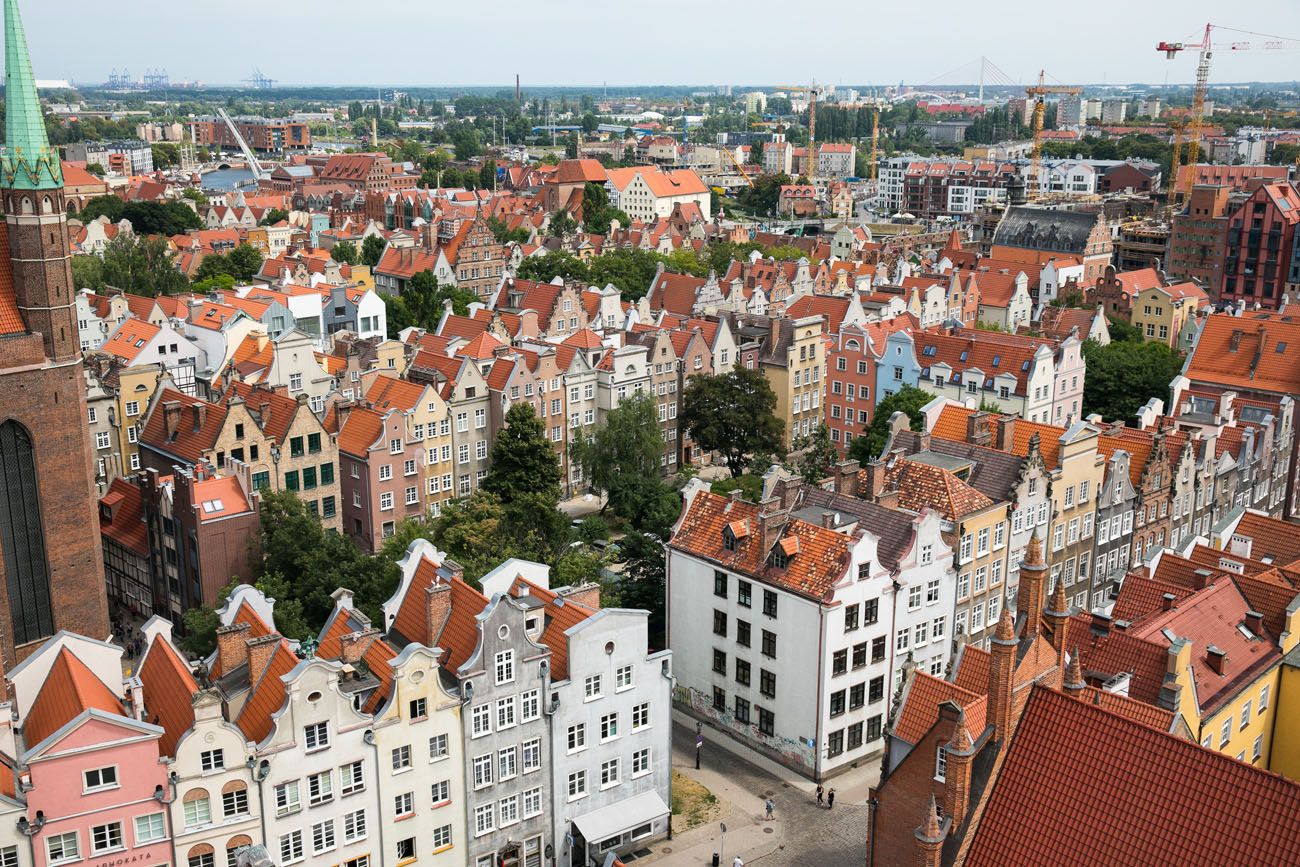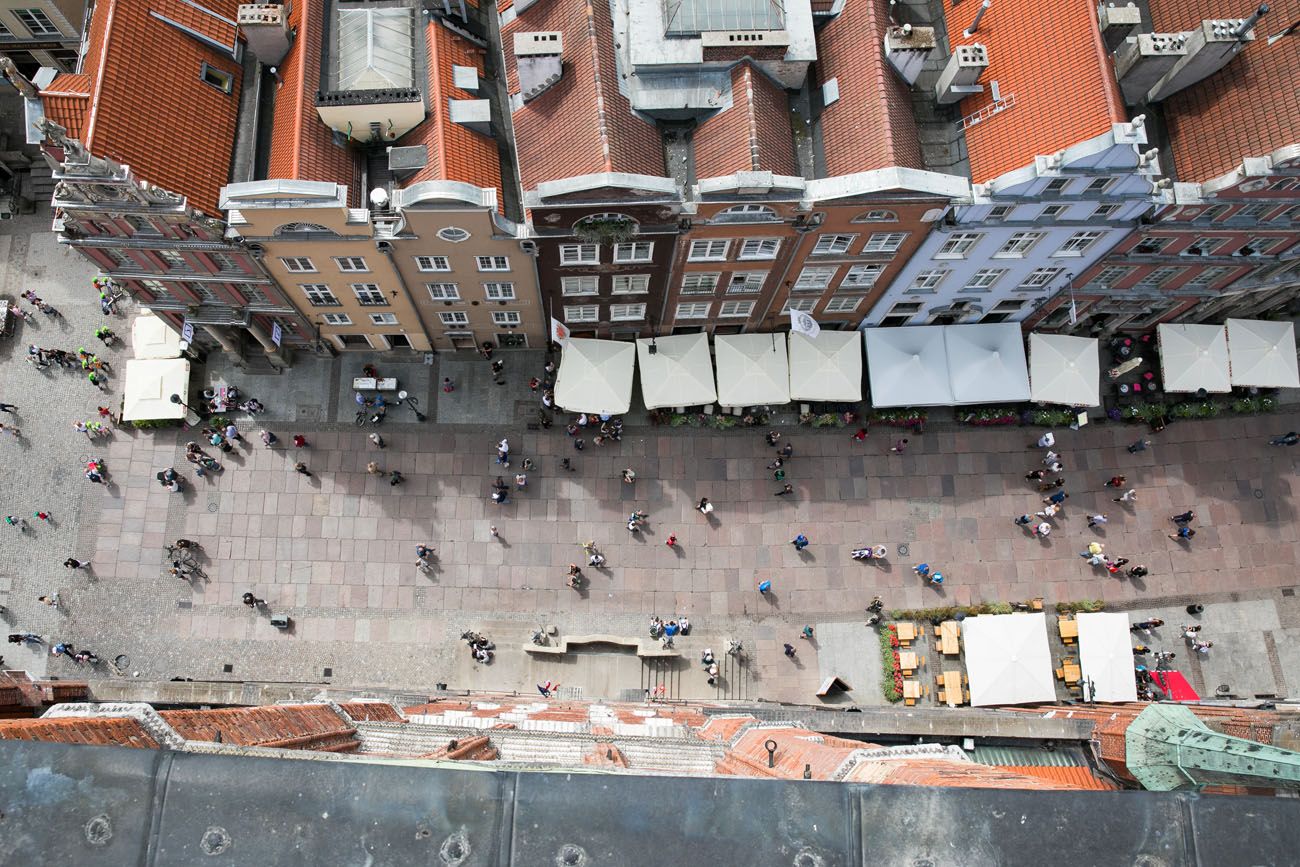 St. Mary's Church
St. Mary's Church dominates the old town of Gdansk. It is one of the largest brick churches in the world. As far as churches and cathedrals go, it ranks low in beauty and grandeur (in my opinion). The interior of the church was whitewashed after WWII, hiding the frescoes underneath, and leaving a rather drab, forlorn appearance.
For another great view of Gdansk, climb the 408 steps to the top of the bell tower. It's a long, thigh-burning climb to the top but worth it if you like this kind of thing. I'm glad we did it, but the view from the Town Hall tower is our favorite.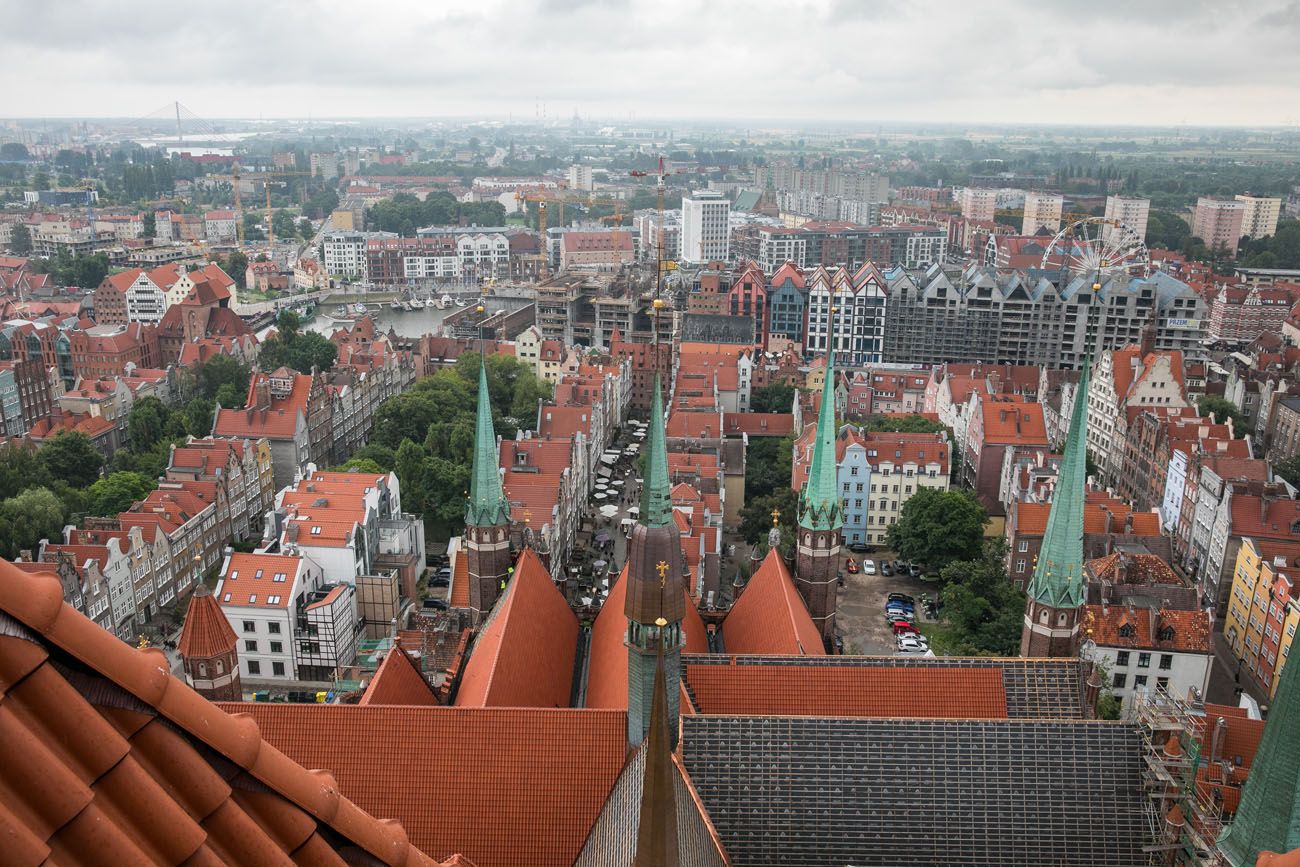 View from St. Mary's Church | Best Things to Do in Gdansk
The Waterfront and Motlawa River
This is just as nice (and maybe even better) than Dlugi Targ for a nice stroll. For the best views (and just a little more walking), I recommend walking down both sides of the Motlawa River.
From the Green Gate, cross the Green Bridge and walk north along the river. On this side of the river, lots of construction is going on. Huge, concrete skeletons of futures buildings are being erected. Ignore those and look across the river to the beautiful waterfront.
One building that stands out is the crane (Zuraw). This crane was used hundreds of years ago to load cargo into ships. The hulking mass is a symbol of Gdansk's days as an important trading city. If you are interested, you can take a tour of the crane.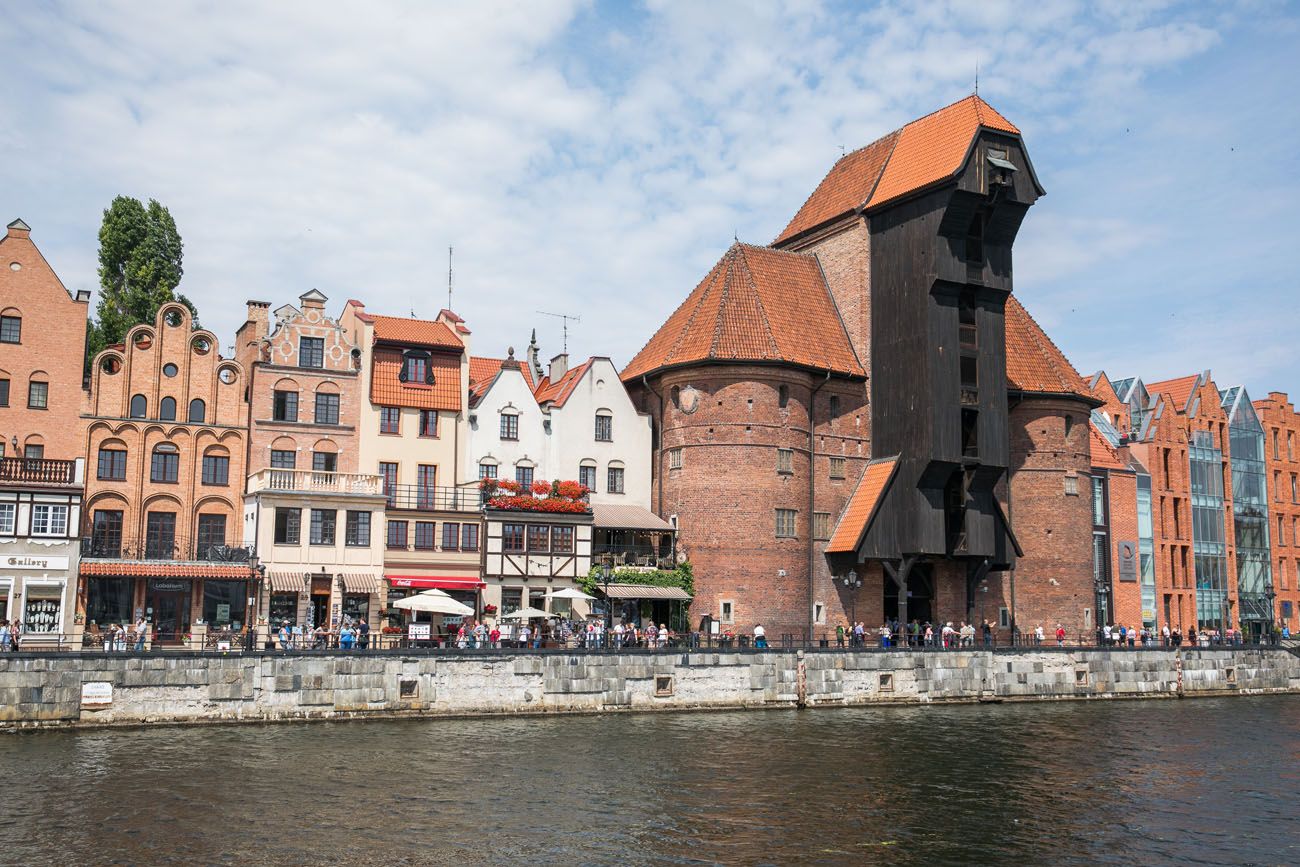 Zuraw | Best Things to Do in Gdansk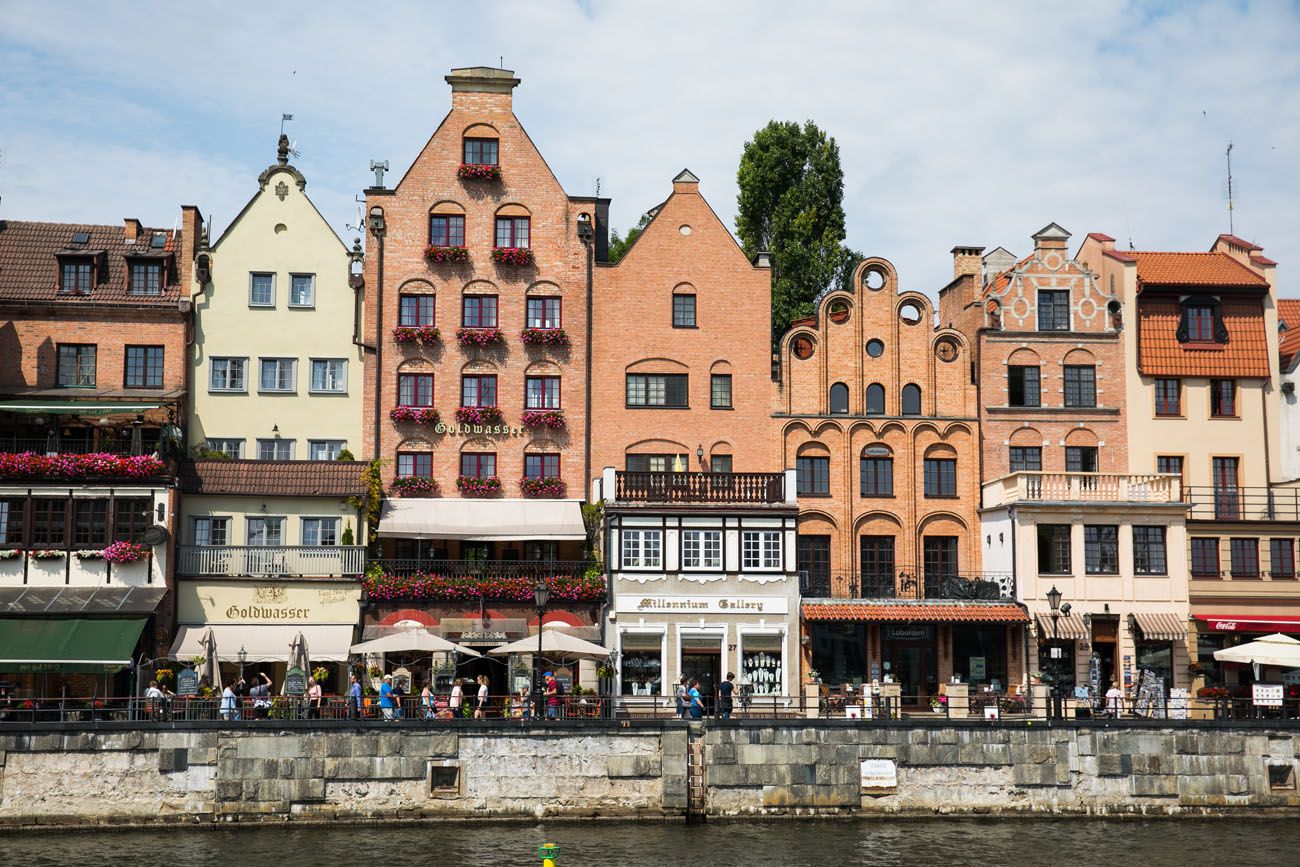 Waterfront | Best Things to Do in Gdansk
Cross back over the river and walk down Dlugie Pobrzeze, the street that runs along the brick buildings. This walk takes you past some very nice restaurants and shops. If you continue on, you can cross the pedestrian drawbridge and take a photo at the Gdansk sign.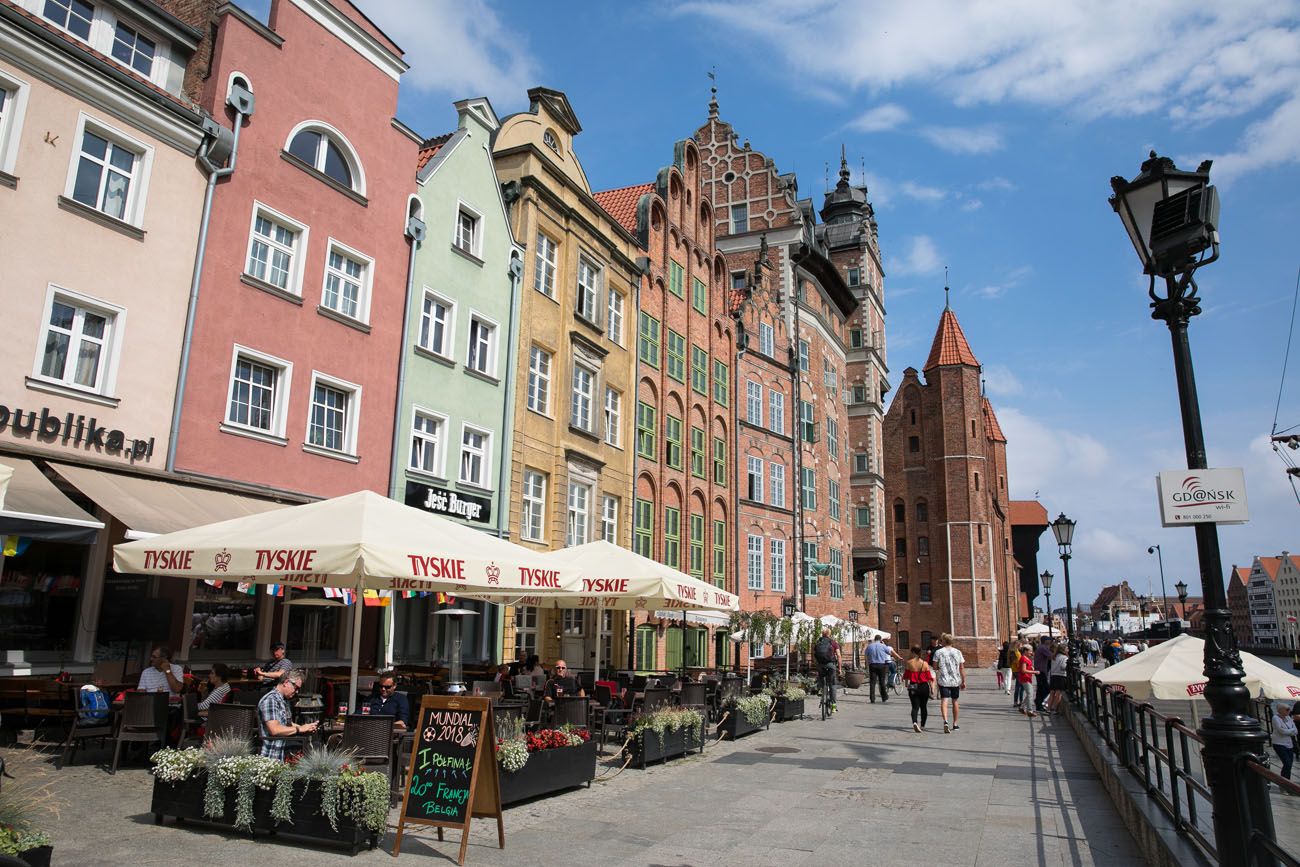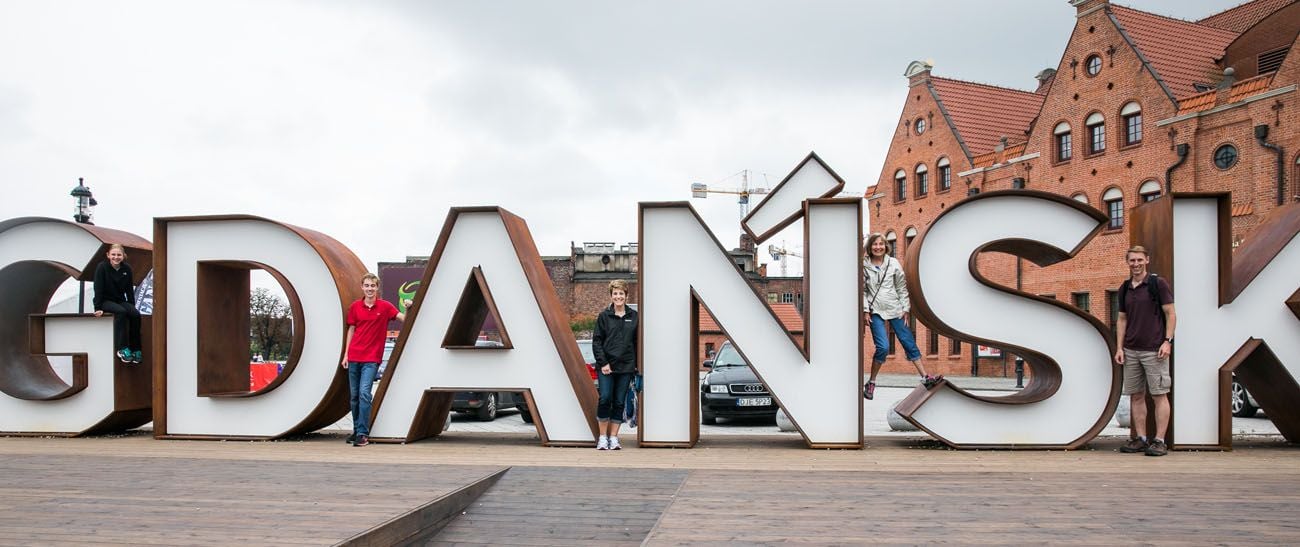 For a different perspective of the city, you can also cruise from the Shipyard to Motława River and the Old Town on a historical Polish boat. People love this experience and we would love to do this on a return visit to Gdansk.
Stroll Down Mariacka Street
Mariacka Street is one of the coolest streets in Gdansk. This street retains some of Gdansk's old architecture, with oversized porches spilling out onto the street. Look for the gargoyle heads, called "pukers," that spray out water during rainstorms.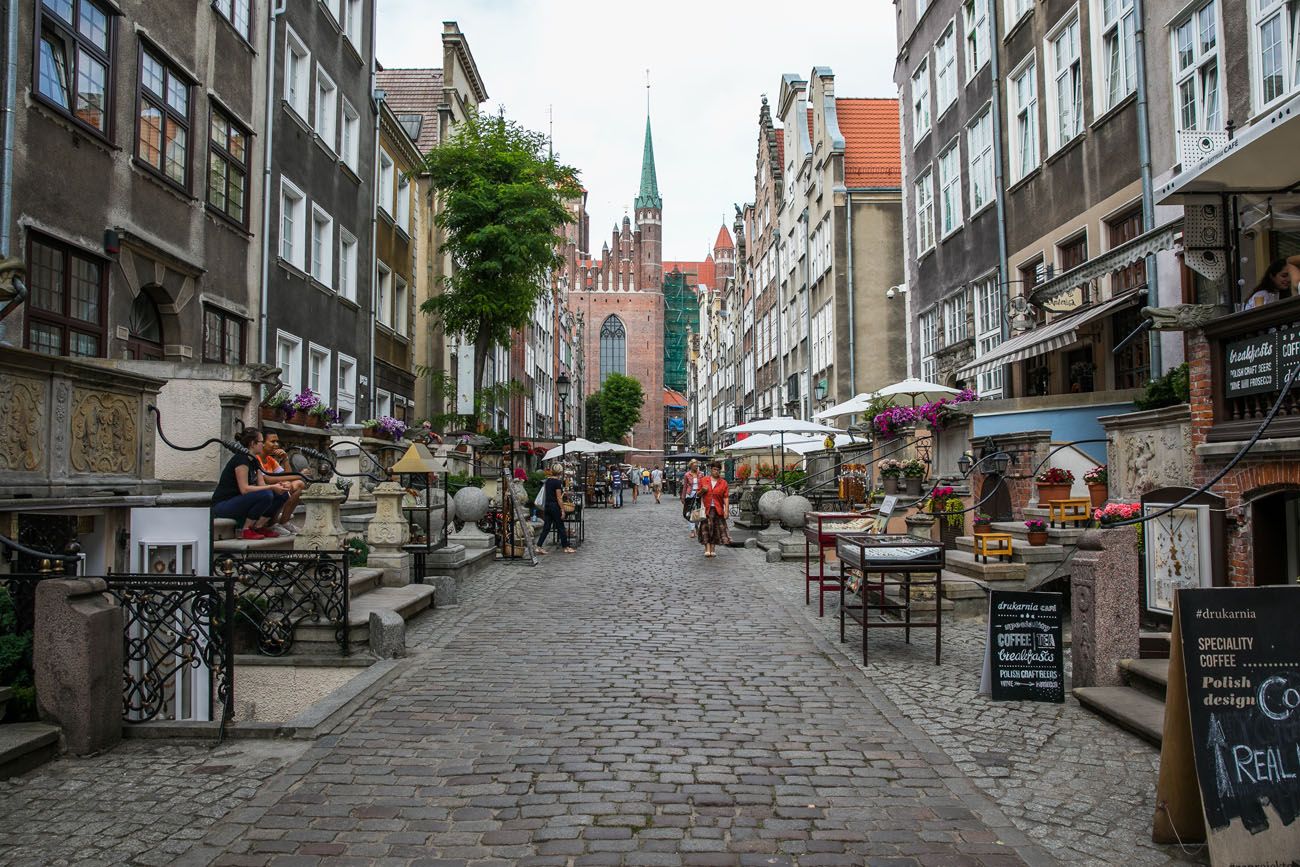 Mariacka Street | Best Things to Do in Gdansk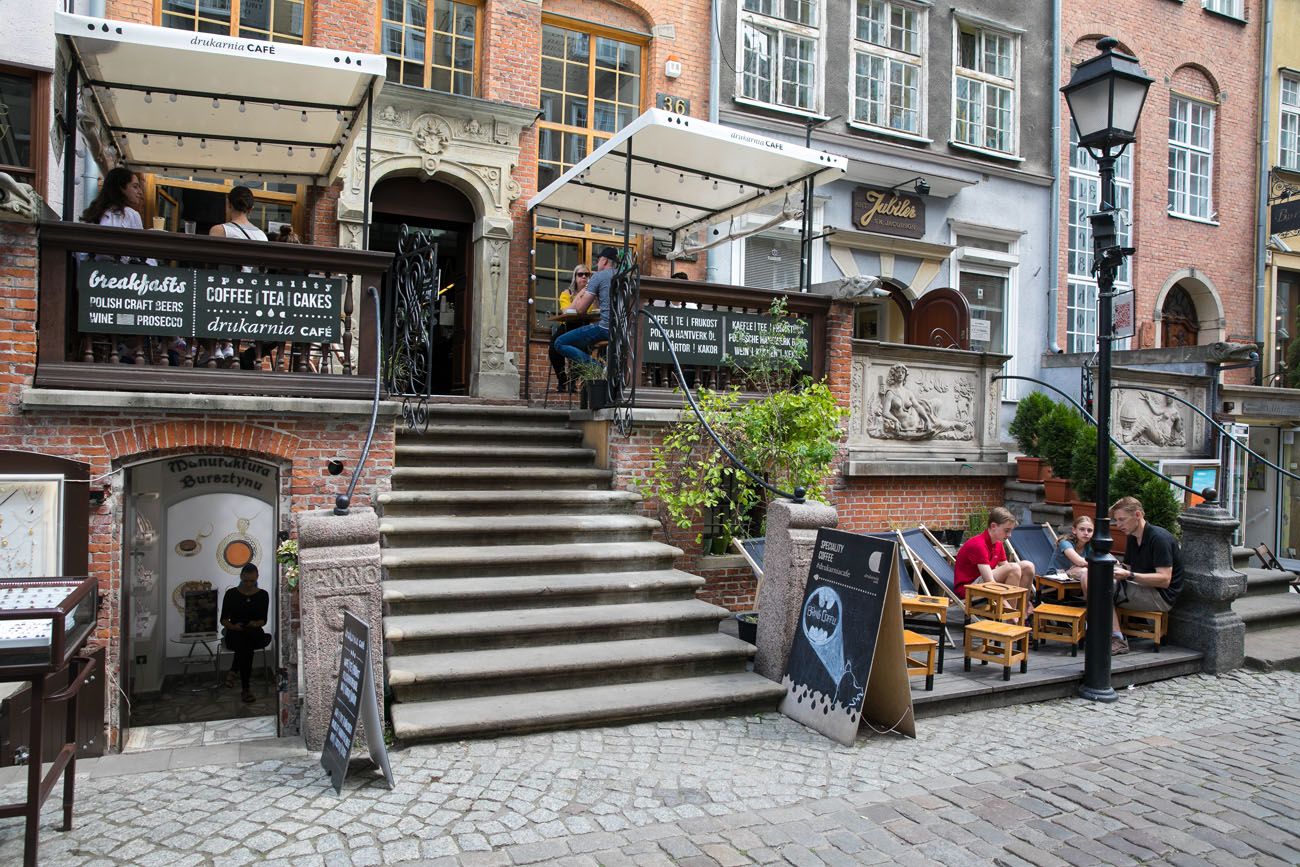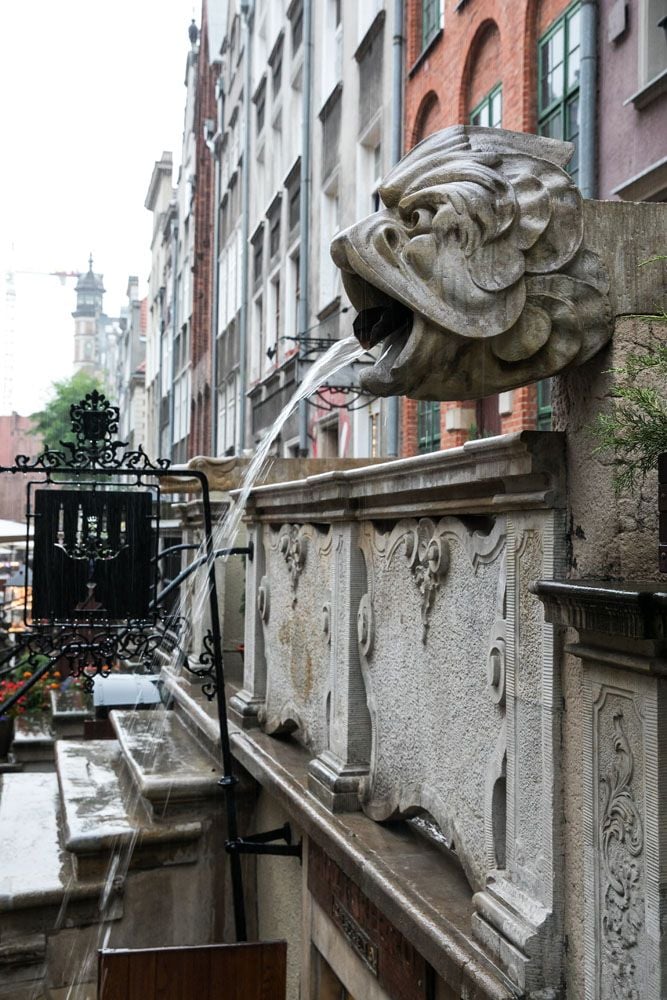 This street is one of the best places in the city to go shopping for amber. We also had great coffee here at Drukarnia Cafe. Wine bar Literacka is a cozy place to take a break and enjoy a glass of wine. It is also a great place to take cover from a rainstorm if you came to this street to see the pukers, like I did!
Climb the St. Catherine's Church Tower
Here is our off-the-beaten-path tower climb. Not mentioned in any guidebook we read, we just happened to stumble across this as we walked back into the city from the Solidarity Center.
You can climb the tower of the St. Catherine's Church for a unique perspective, and a very unique experience. This is unlike any other tower climb we have done. Rather than a narrow stone spiral staircase or old rickety, wooden steps, you climb wide metal steps through rooms that are lit with colorful neon lights. On exhibit are gears, weapons, and historical artifacts. It's rather odd, but refreshing in its uniqueness.
View from St. Catherine's Church | Best Things to Do in Gdansk
View from St. Catherine's Church | Best Things to Do in Gdansk
European Solidarity Center (Europejskie Centrum Solidarnosci)
In this nearly brand new, well-laid out museum, learn about the historical events of the Polish opposition to communist rule.
First you will see the Monument of the Fallen Shipyard Workers of 1970, which commemorates the 42 people who were killed in 1970.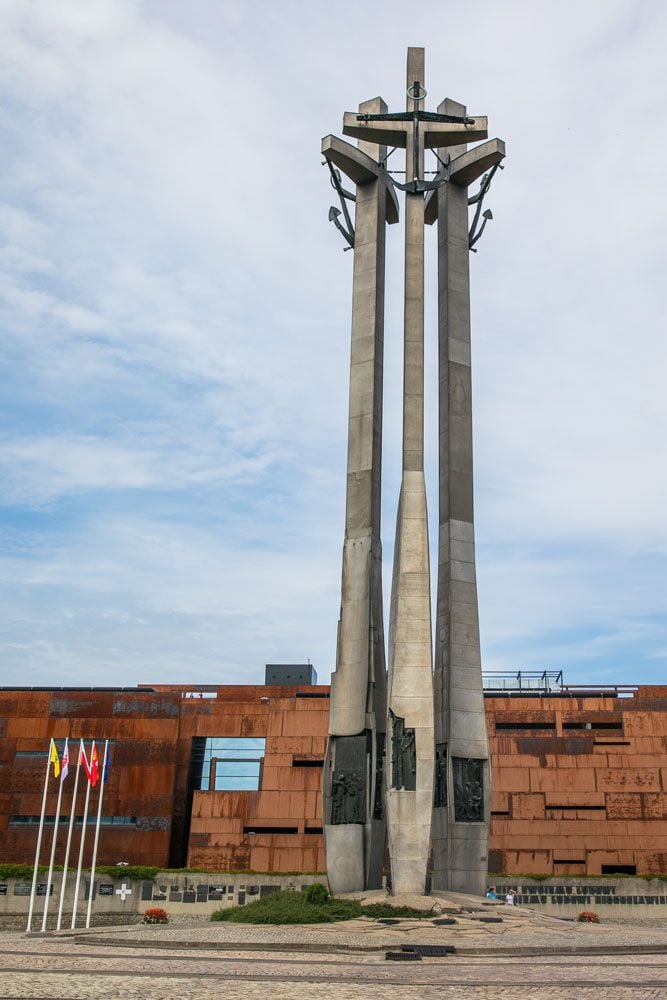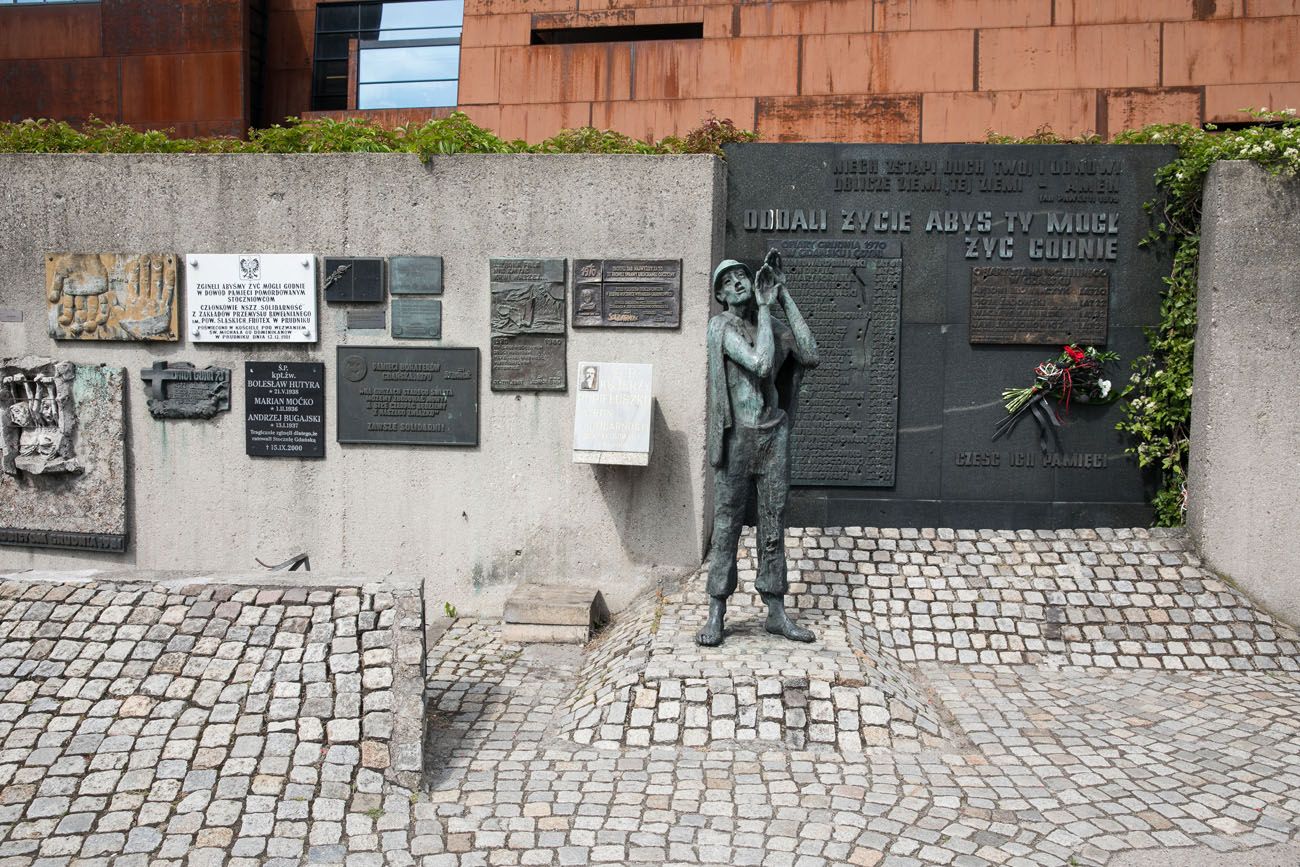 Next, take a look at the gate with the sign Stocznia Gdanska. This is the entrance to the shipyards and a symbol of the solidarity movement (Solidarnosc).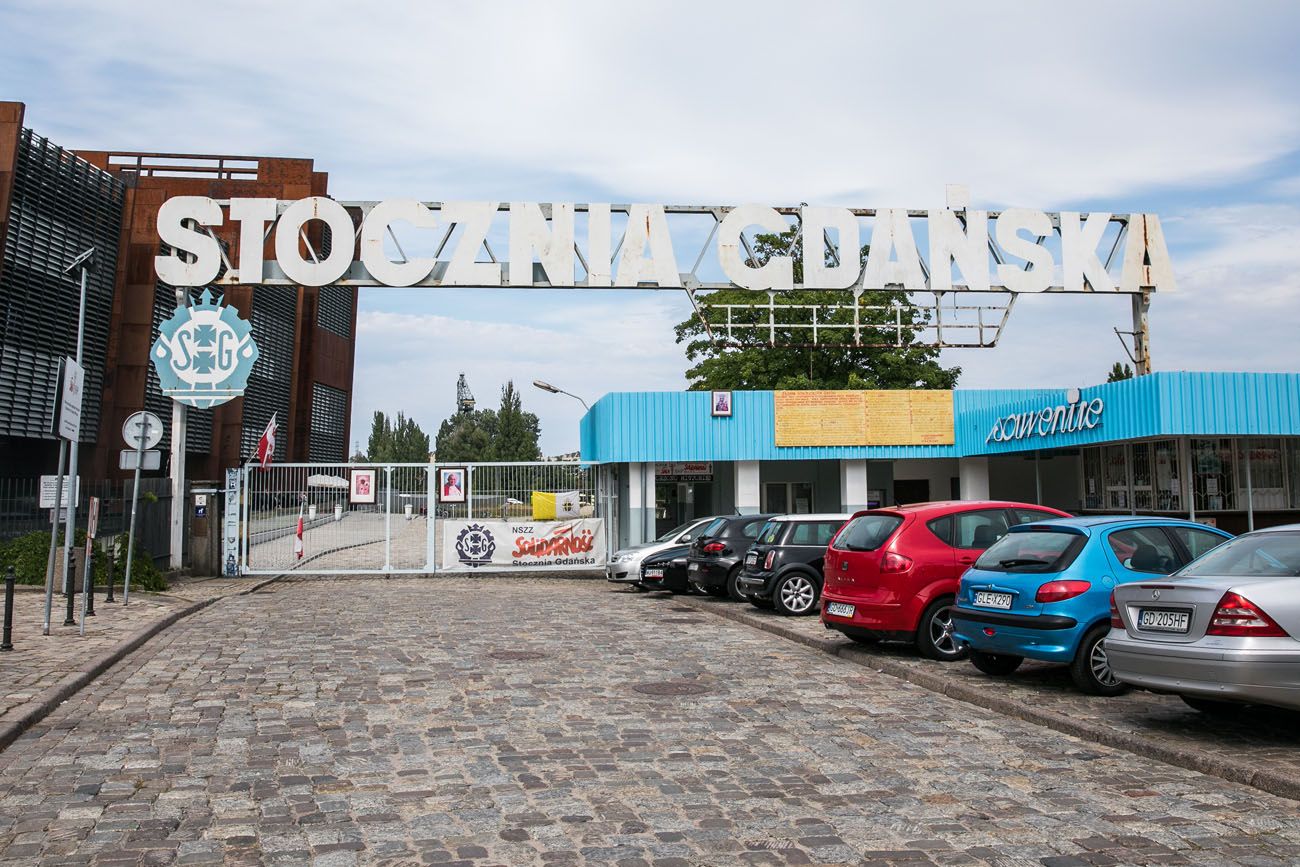 Once inside of the museum, step back in time and learn about the events that led to the solidarity movement and how this peaceful process helped to change Poland from a communist state to a democratic one. Solidarnosc was one of the important factors that led to the fall of communism, not only in Poland, but in other central and eastern European countries.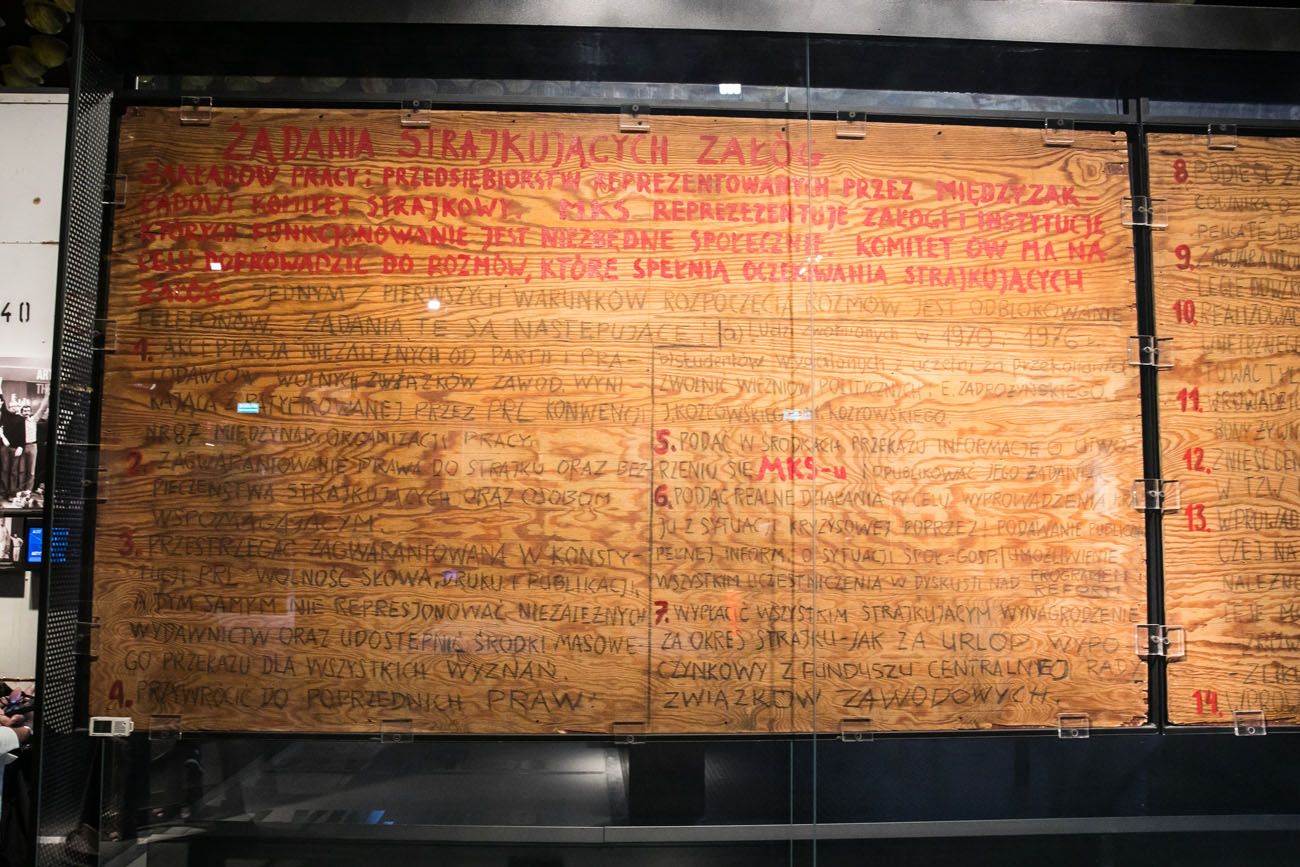 This is the original copy of the 21 demands of the strike committee. This is one of the most important artifacts inside the museum.
Website: For updated hours and pricing, visit the official website.
The Museum of the Second World War
Almost brand new (it just recently opened in 2017), this museum covers the events that led up to WWII and the impact the war had on Poland.
This is one of the best museums in Poland and it is a must-visit, even if you are not a museum lover. World War II deeply affected Poland and this museum does an excellent job educating visitors about this very important piece of Polish history.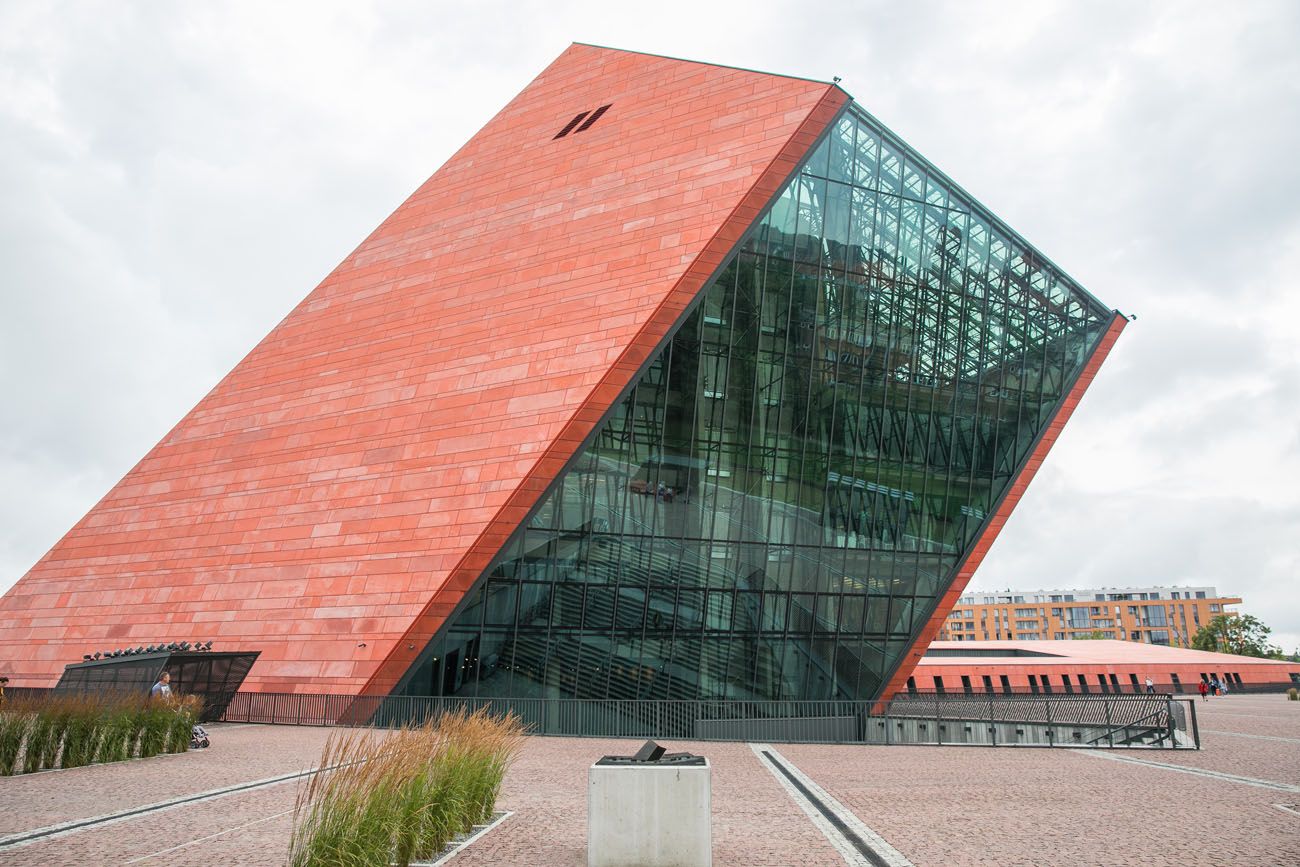 Museum of the Second World War | Best Things to Do in Gdansk
On average a visit lasts about three hours. For the best experience, get here right at opening time, before the museum fills with visitors. You can book your tickets online in advance to save you from having to wait in the ticket line. During our visit in July, we arrived at 9:30 am, when the ticket line opens, and had no problems getting tickets.
Website: For updated pricing and hours, visit the official website.
Note: Expect larger than normal crowds on Sunday and Tuesday, the day before and after Monday, when the museum is closed.
If you want to learn more about WWII and Gdansk, this two-hour guided tour includes both a visit to the Post Office Museum and the Museum of the Second World War (with the extended option). The price of the tour includes a licensed guide, transportation, and tickets to both museums.
Eat Your Way through Gdansk
One of our favorite things to do in Gdansk was to eat. There are so many great restaurants to choose from and new foods to try. Plus, food and alcohol is relatively cheap, so we dined in several fine dining restaurants without breaking the bank.
We ate at so many places in Gdansk that it deserves its own article, but in the meantime, I'll list a few of our favorites. Pierogarnia Mandu Centrum is the place to go for dumplings. We had a wonderful meal with a great view at Goldwasser Restaurant, overlooking the Motlawa River. And if you want to give Lithuanian food a try, go to Familia Bistro.
On this highly rated food tour, sample up to 13 different Polish foods, sip on vodka, and stroll through the Old Town.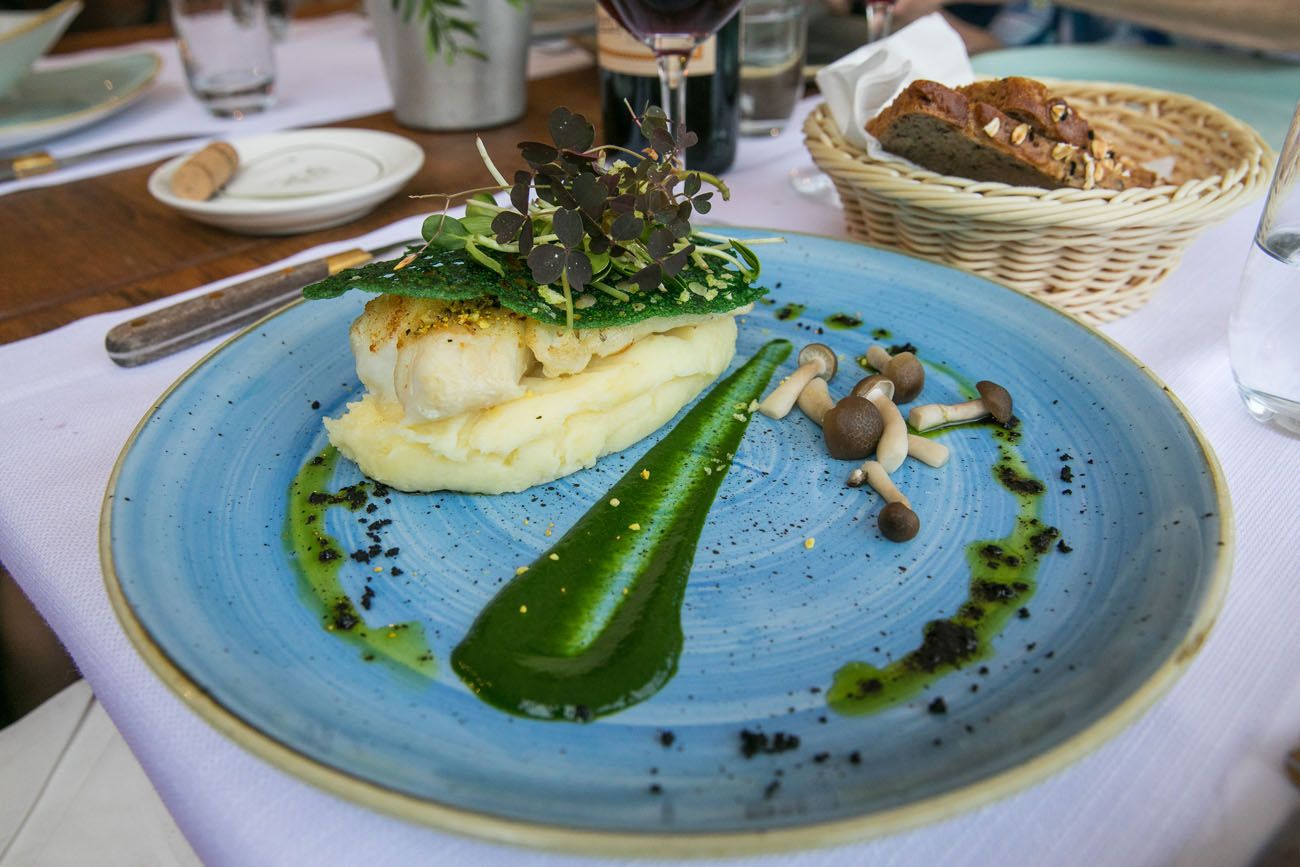 Dinner at Goldwasser | Best Things to Do in Gdansk
Wander Away from Dlugi Targ
Dlugi Targ, that main thoroughfare running through the heart of the old town, is a great place to spend some time. But if you wander the side streets, even just a few blocks away, you may stumble across some cool spots in Gdansk. There are artistic statues, murals painted on buildings, Polish men and women hanging out on benches and in small courtyards, and old churches and buildings to see.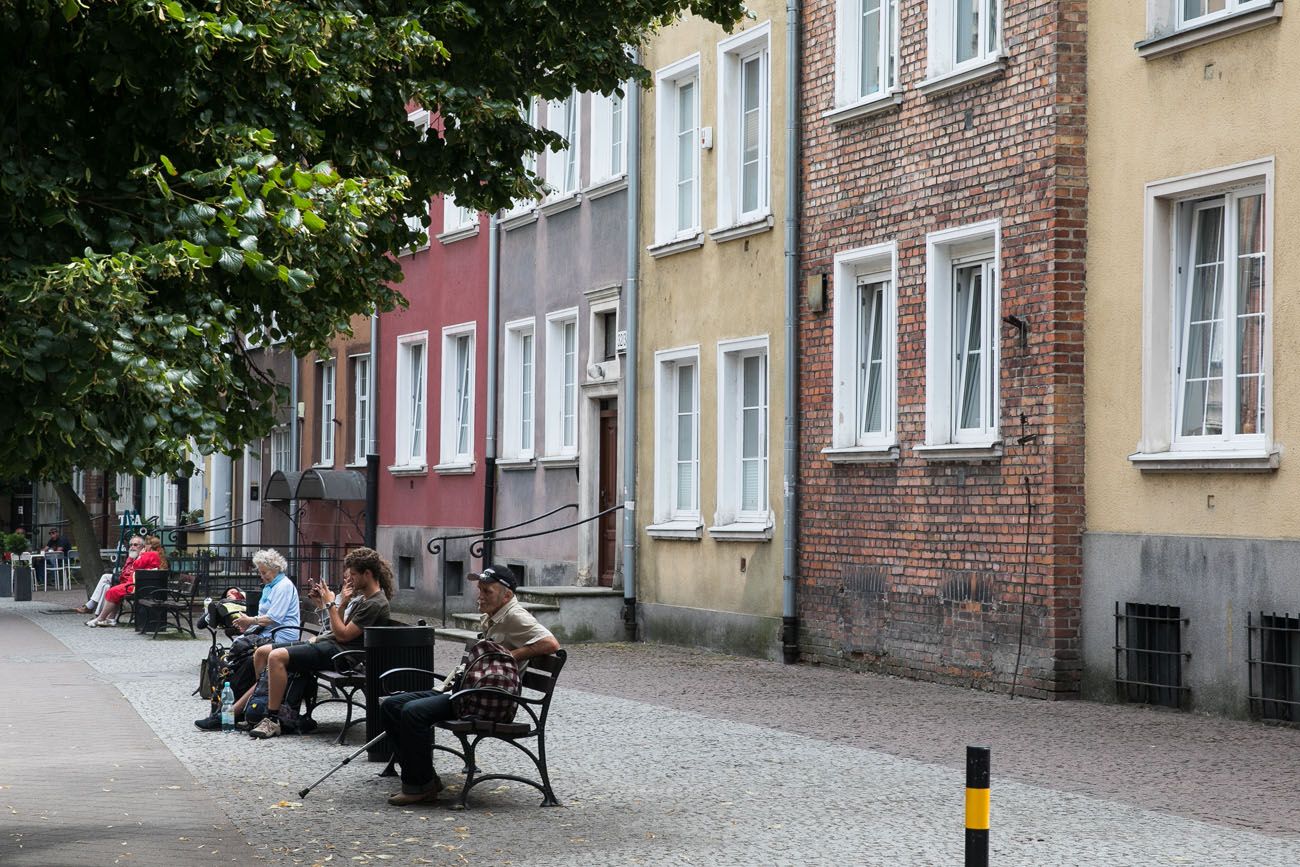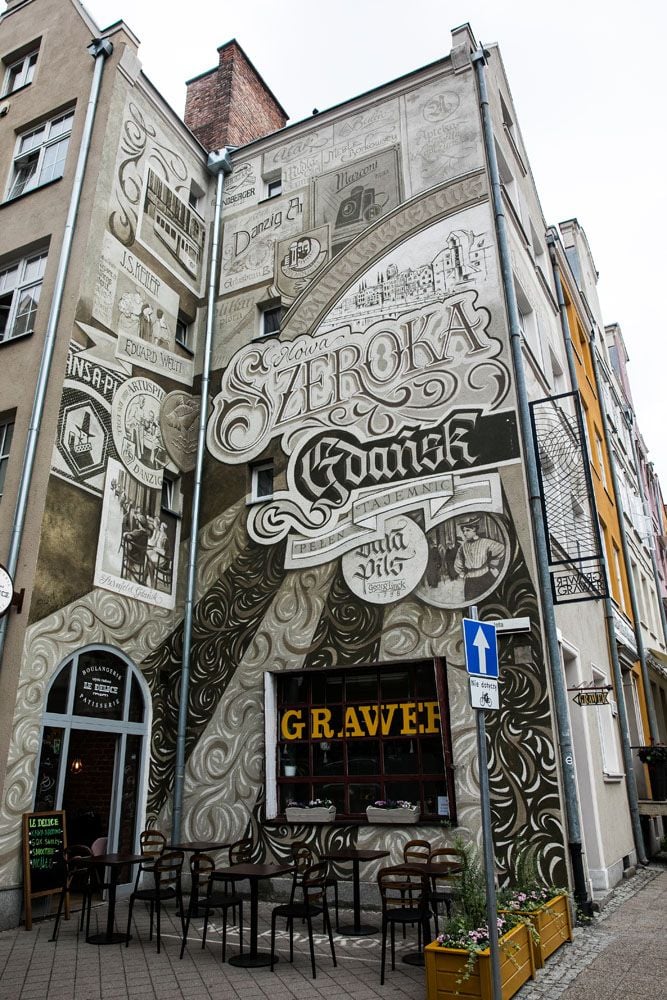 Street Art | Best Things to Do in Gdansk
We always felt very safe in Gdansk, and several mornings we would go on a run through town and come across all kinds of neat stuff I never saw or read about in blogs and guidebooks. If you come across anything interesting, share your experience in the comment section below!
Have fun exploring Gdansk!
Need Some Ideas for a Day Trip?
During your stay in Gdansk, there are two day trips to consider.
Malbork Castle is one of the largest castles in the world. It's just a short train ride away from Gdansk and our favorite day trip location from the city. Learn how to visit Malbork Castle independently in our Guide to Malbork Castle. This highly-rated guided tour from Gdansk also includes your transportation.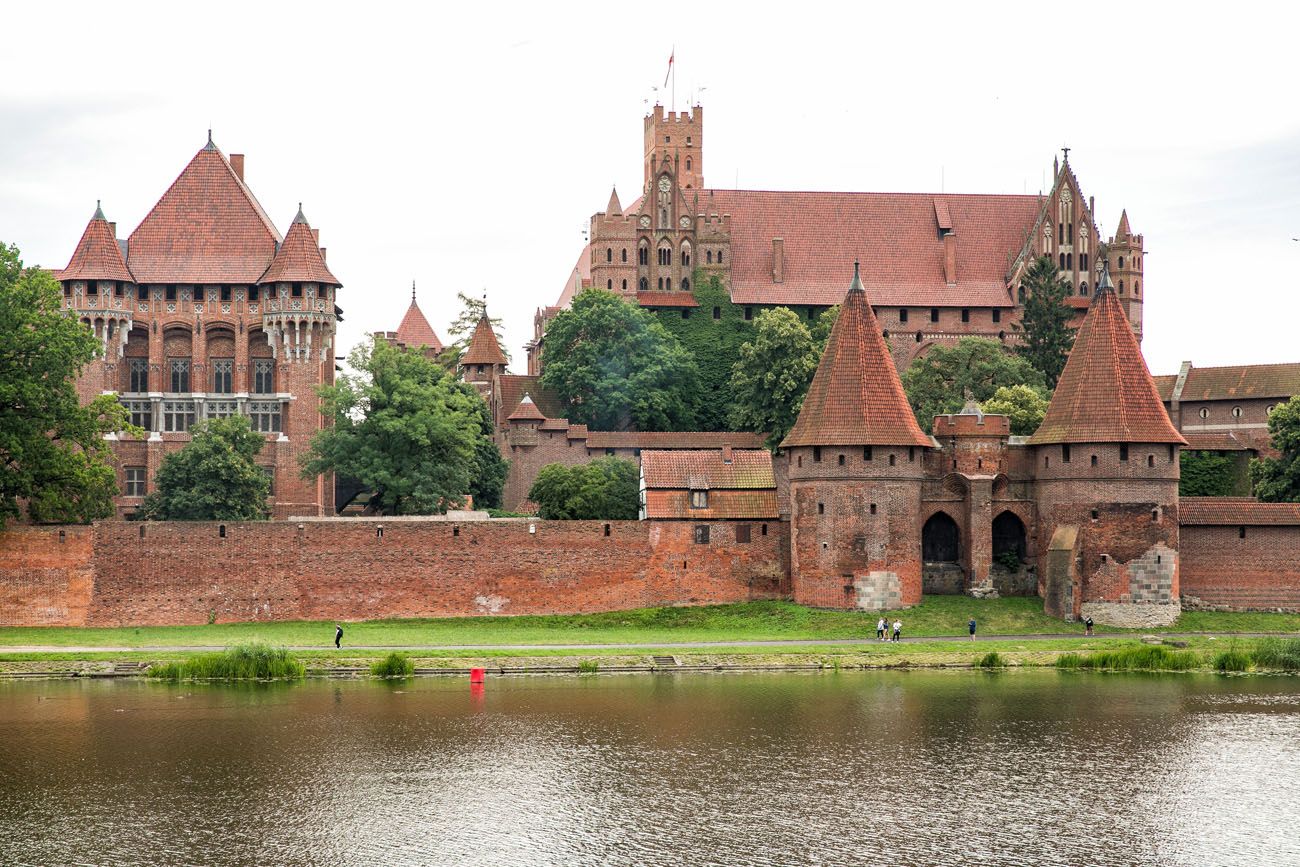 The Tri-City refers to the three cities of Gdansk, Sopot, and Gdynia, which line the Baltic Coast. Sopot is a ritzy beach resort town and Gdynia offers quieter beaches and a few museums to visit. If you are visiting in the summer and want to check out the beach, a visit to Sopot may be worth it. We did this independently and got around by Uber, which was cheap and convenient. But if you prefer to simplify things, this private tour includes your transportation, a guide, and a visit to all three cities.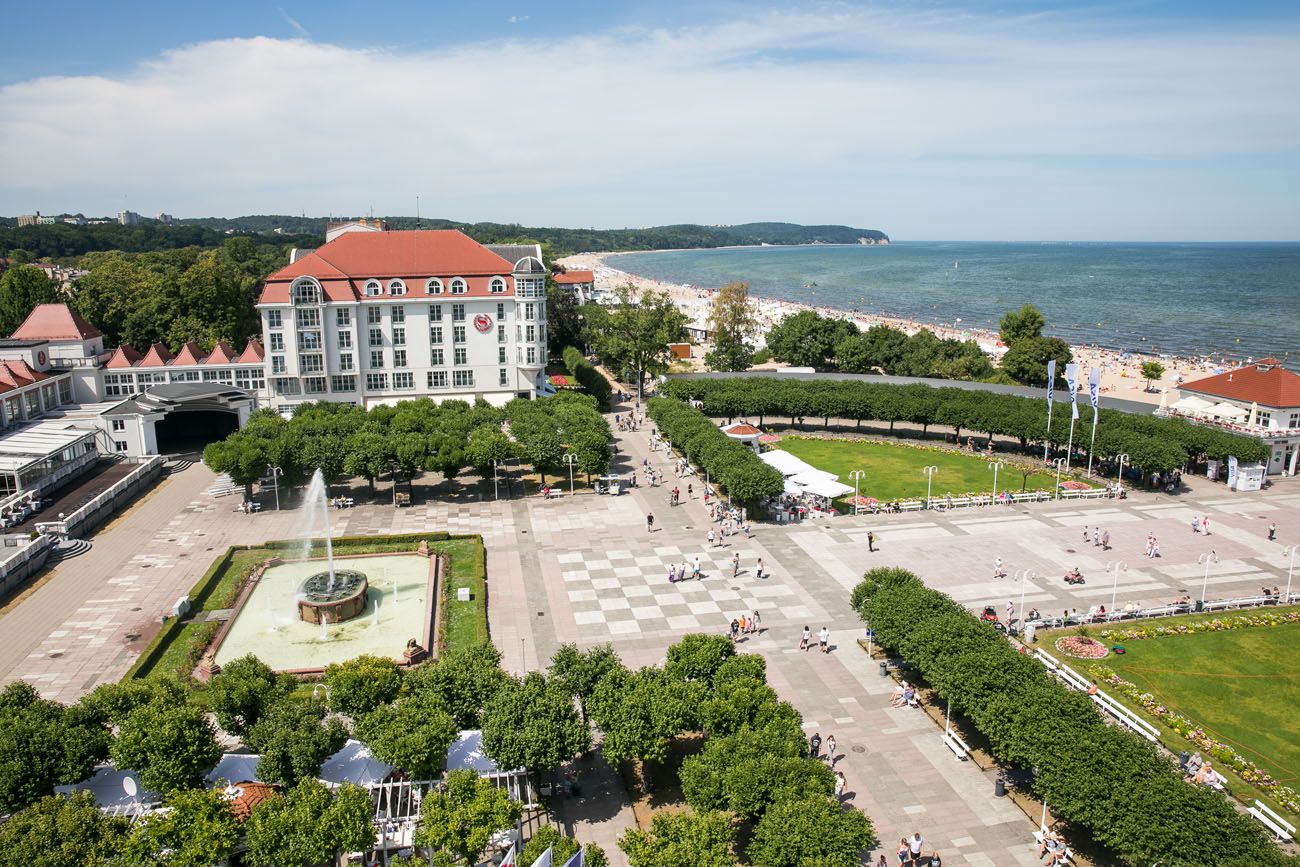 Plan Your Time in Gdansk
Looking for a recommendation on how to plan your time in Gdansk? In our Gdansk Itinerary, we provide three different ways to spend two days in the city, including day trips to Malbork Castle and the Tri-City. If you have more than two days (that's great!) we also give recommendations on how to spend up to four days in Gdansk.
Tours of Gdansk
If you prefer to visit Gdansk with a guide or are looking for unique things to do, here are several highly rated tours of Gdansk.
Where We Stayed
We stayed at an apartment called Family Luxury Nature Apartment. We had a two-bedroom one-bathroom apartment with a small kitchen, living room, and a washing machine. From the apartment, it was just a five-minute walk to get to the Neptune fountain.
This place worked great for us…excellent location, plenty of space for our family of four, and the wifi worked great. Our only complaint, and it's relatively minor, is that we could easily hear the hourly tolling of the bells at St. Mary's Church. And yes, they ring every hour all night long. The apartment does not have air-conditioning, since it never gets too hot in Gdansk. But one or two nights we tried to sleep with the windows open and were awoken every hour by the bells. The bells won and we slept with the windows shut.
Another recommendation is the Radisson Blu. Our mothers, Kathy and Valerie, visited Poland with us, and this is where they stayed in Gdansk. The hotel is located on Dlugi Targ near the Green Gate, another prime spot to be in Gdansk. This hotel is slightly more expensive than our apartment, but what you are getting is a five-star experience in the heart of Gdansk.
If you need more recommendations on where to stay in Gdansk, we have an entire article about where to stay in the old town, with recommendations for budget travelers, families, couples, and more.
---
Are you planning a trip to Poland? If you have any questions about Gdansk or want to share your experience, comment below!
More Information for Your Trip to Poland
GDANSK: We have 3 different ways on how to spend 2 Days in Gdansk, a Gdansk Hotel Guide, and information on how to day trip to Malbork Castle and how to day trip to Sopot and Gdynia.
POLAND ITINERARY: In our 10 day Poland Itinerary, visit Gdansk, Warsaw, and Krakow.
KRAKOW: Discover what there is to do in our article Best Things to Do in Krakow. Plan your visit with our 3 Day Krakow Itinerary and get hotel recommendations in our guide on Where to Stay in Krakow.
AUSCHWITZ-BIRKENAU: Learn how to plan your visit to Auschwitz-Birkenau on a day trip from Krakow.
WARSAW: For a list of the top experiences, take a look at our guide to the Best Things to Do in Warsaw and learn how to plan your time with our 2 Day Warsaw Itinerary.
EUROPE TRAVEL INSPIRATION: Get more travel ideas in our article 10 Days in Europe itinerary, which has 10 itineraries for your next trip to Europe. If you have less time, we also have an article that lists 25 different ways to spend one week in Europe.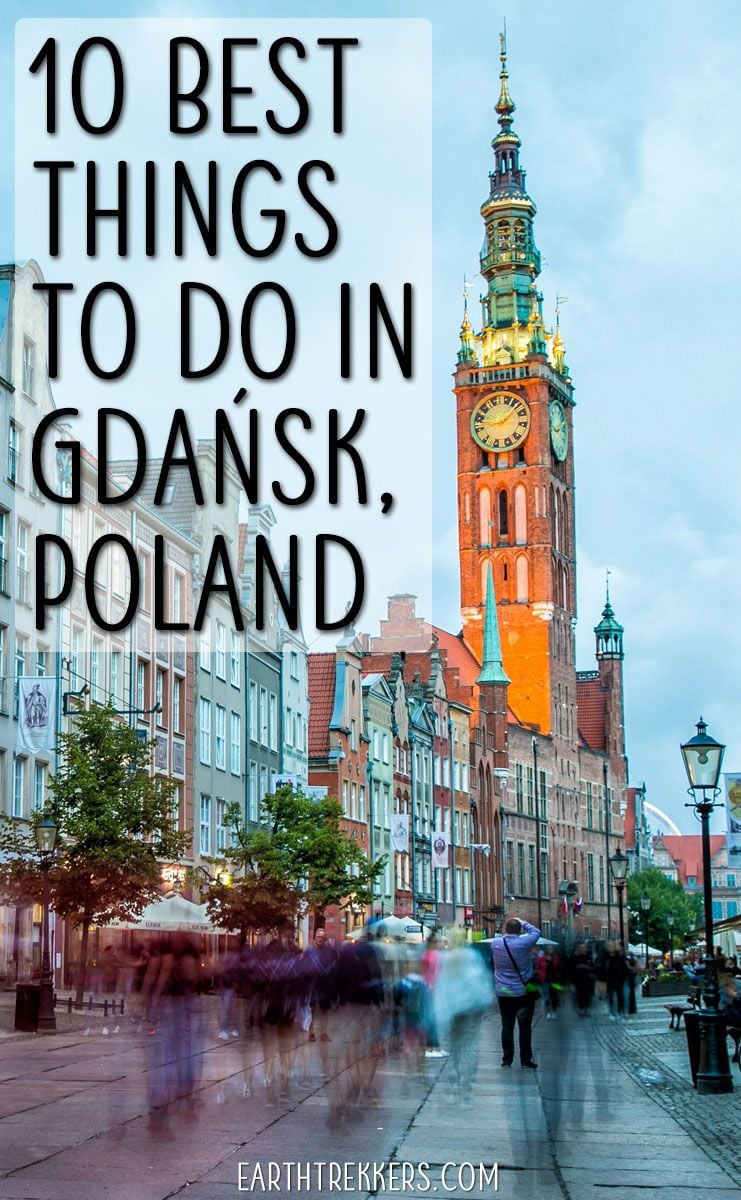 Note: This post contains affiliate links. When you make a purchase using one of these affiliate links, we get paid a small commission at no extra cost to you.
All rights reserved © Earth Trekkers. Republishing this article and/or any of its contents (text, photography, etc.), in whole or in part, is strictly prohibited.