While researching what to do in the Slovakian Tatras, I stumbled across this cool spot called Slovak Paradise. Located in Slovensky Raj National Park, this is a very unique outdoor obstacle course. With long, wooden ladders and metal catwalks attached to vertical cliffs, you can spend days hiking and climbing through gorges and up waterfalls.
It looked like the perfect place to take a break from hiking the Tatras.
Unfortunately, I could not find much information on the internet to help us plan our visit. Even so, we decided to give up one of our valuable Tatras days to explore this park.
So, with absolutely no plan, we just showed up and stumbled through Slovak Paradise. We made a bunch of mistakes and didn't quite have the awesome experience we were hoping for, but we learned a lot along the way.
I am going to share with you what we learned so you can have a much better experience.
Numerous people have written in with trip reports, recommended trails, and updated information. At the end of this article, I recommend that you take a look at the comment section to read this valuable information. And if you have information that you would like to add, feel free to add your own comment at the end of this article. We really appreciate it! 🙂
Slovak Paradise National Park
Slovak Paradise National Park also goes by the name Slovensky Raj National Park and Narodny park Slovensky raj. It is located just a few kilometers south of Poprad and it's just a short drive away from the Tatras.
There are over 300 km of hiking trails here and 350 caves! The Dobšinská Ice Cave, a UNESCO World Heritage Site, is located here.
The Hornad River and tributaries have carved away gorges and canyons in the park. These gorges are equipped with ladders, bridges, and platforms, which create the unique hiking experience you get here.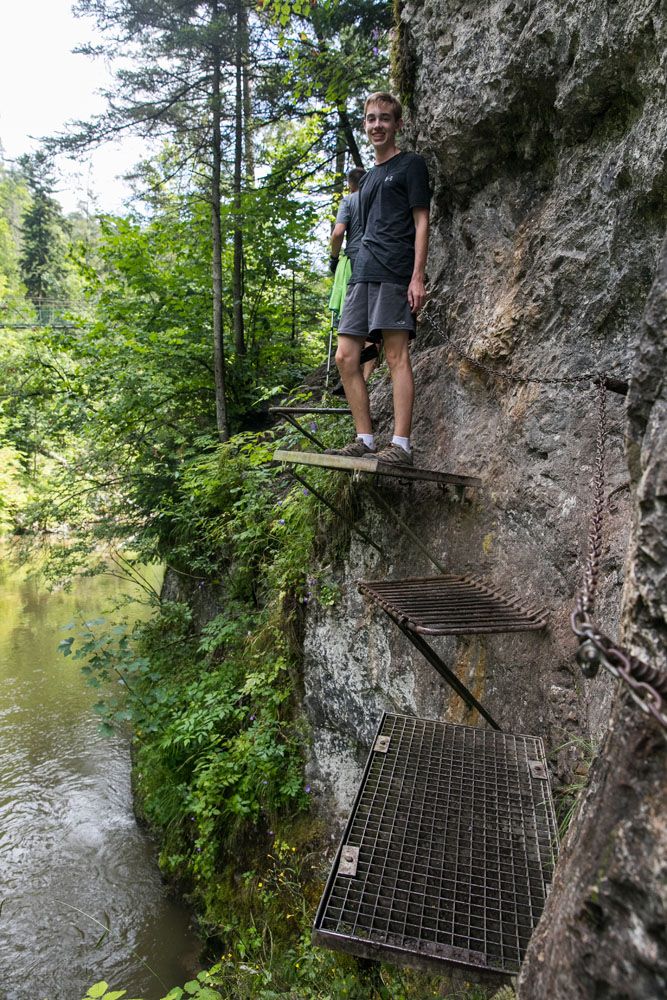 The trick to having the best experience is choosing which gorge you want to explore.
This park is a lot larger and the hiking trails are a lot longer than we expected. We visited Slovak Paradise in between big hiking days in the Tatras. Today was our "break," and even though we cut our hike short, we still ended up hiking over 11 km (7 miles).
Best Things to Do in Slovak Paradise
Prielom Hornádu
This is one of the most popular hiking trails in Slovak Paradise. It's also one of the longest.
This is the trail that we hiked. I chose it simply because it looked awesome on Google image searches. The metal platforms and wooden ladders looked like a blast.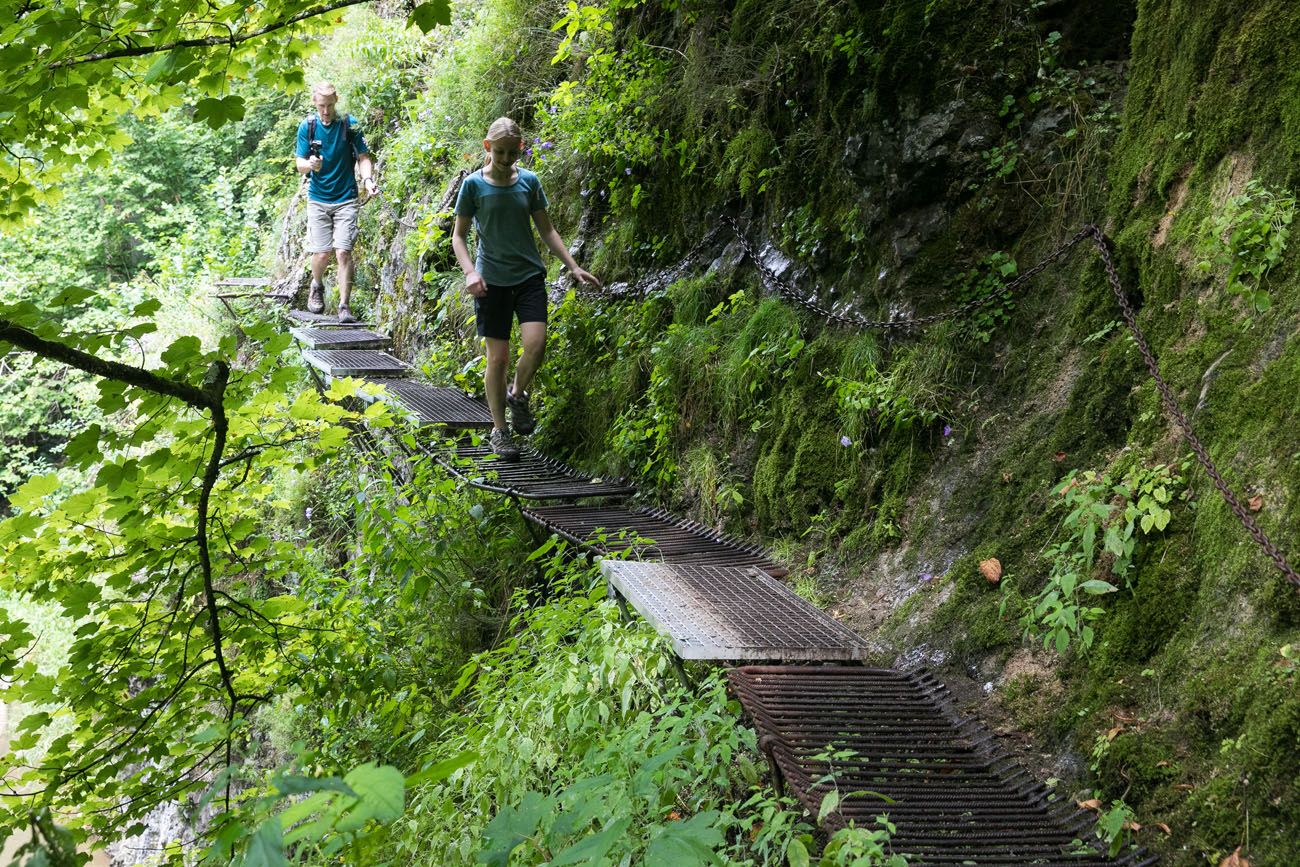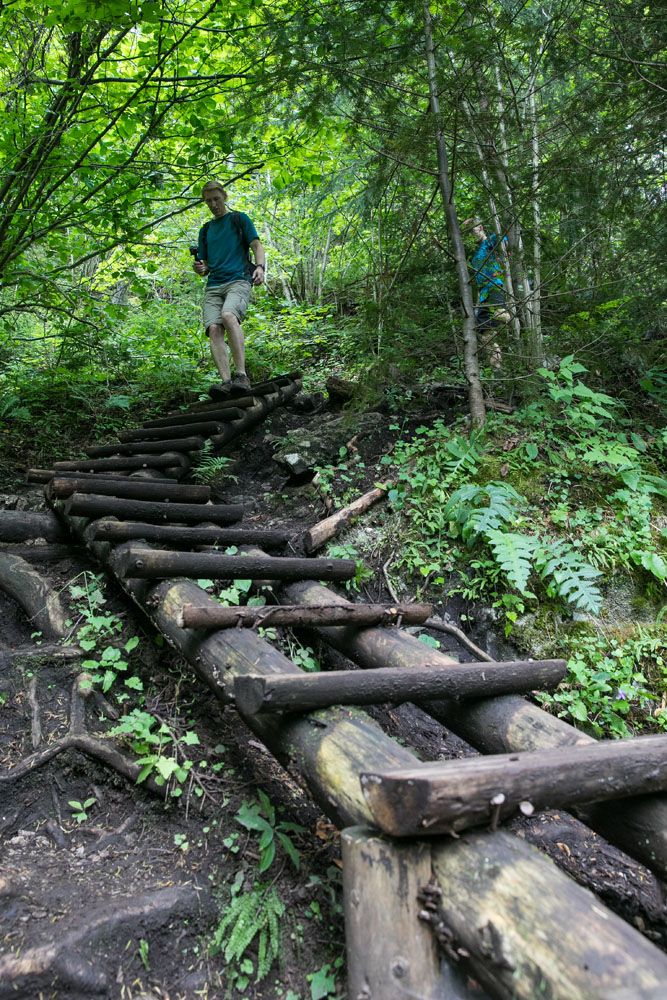 But I was also surprised to learn how long it is. It wasn't until we started hiking the trail that we learned what we were in for. It's almost 18 km (11 miles) round trip with an estimated hiking time of 5.5 hours. Normally, that wouldn't bother us. But we were desperately ready for an easy day, since we did two big hikes leading up to this (Koscielec in the Polish Tatras and Vel'ká Svišt'ovka in Slovakia) with plans to hike to the summit of Rysy tomorrow. Choosing one of the longest gorges in the park was one of our "mistakes." We did figure out how to shorten the hike and I give the details of our experience later in this article.
Tomášovsky Viewpoint
Located along the Prielom Hornádu trail, this viewpoint offers awesome views over the park and out to the Tatras.
Kysel
This was my first choice for a hike in Slovak Paradise. However, a portion of the hike is a via ferrata, so you will either need proper gear or you will need to hire a guide.
We asked about hiring a guide at the main ticket booth. However, the ticket attendant only spoke Slovakian. Another hiker who spoke limited English translated for us and we were told that the earliest we could hire a guide was 7 pm the same day. 7 pm to start a long hike? I think something got lost in translation.
This was posted at the ticket booth…more information about the via ferrata. We did not call the number because we did not have SIM cards for our phone. You could try calling this number before your trip, or, if they only speak Slovakian, your hotel staff may be able to assist you.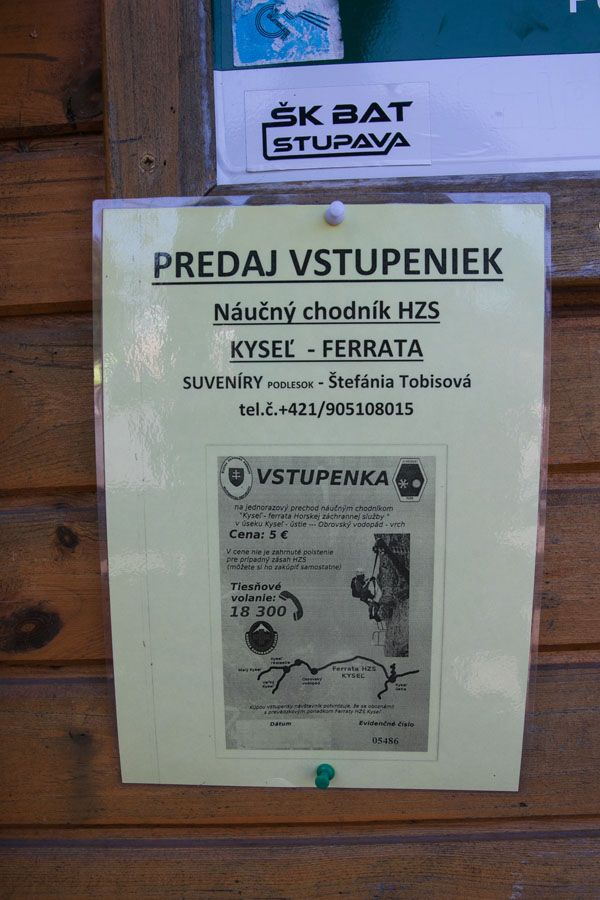 For more information, check out this post about hiking the Kysel via ferrata.
Sucha Bela
In hindsight, this is the gorge I wish we hiked through, instead of Prielom Hornádu. It takes about 3.5 hours round trip and you get to climb long, skinny ladders along waterfalls. Looking at photos online, expect to get your feet wet!
Piecky
This beautiful gorge features the longest ladder in Slovak Paradise.
Dobšinská Ice Cave
This is one of the largest ice caves in the world. Unfortunately, we missed seeing this. Learn more here.
To get here, it is a 40-minute drive from the main entrance and parking area for Slovak Paradise.
Expedition Slovakia has an excellent list of the best hikes to do in Slovak Paradise if you want more information.
Our Experience Hiking Prielom Hornádu
We arrived at Slovak Paradise at 8 am. We parked, bought our entrance tickets, unsuccessfully tried to hire a guide to hike Kysel, and then picked out our second option from the large trail map near the entrance.
It's a 1400 meter walk to get from the park entrance to the trailhead for Prielom Hornádu. Most of this walk is on a flat, asphalt and gravel road. When the road ends, keep following the blue trail through the woods.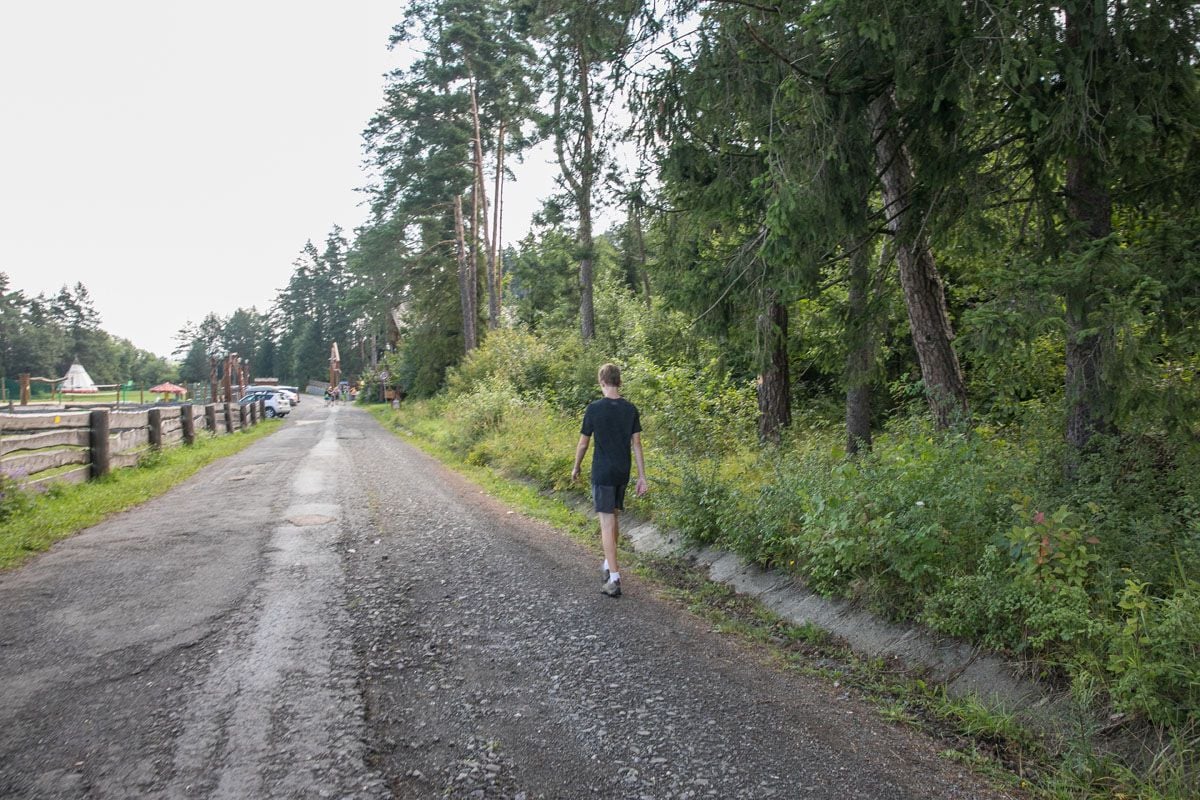 The trail starts on the far side of this blue, metal bridge.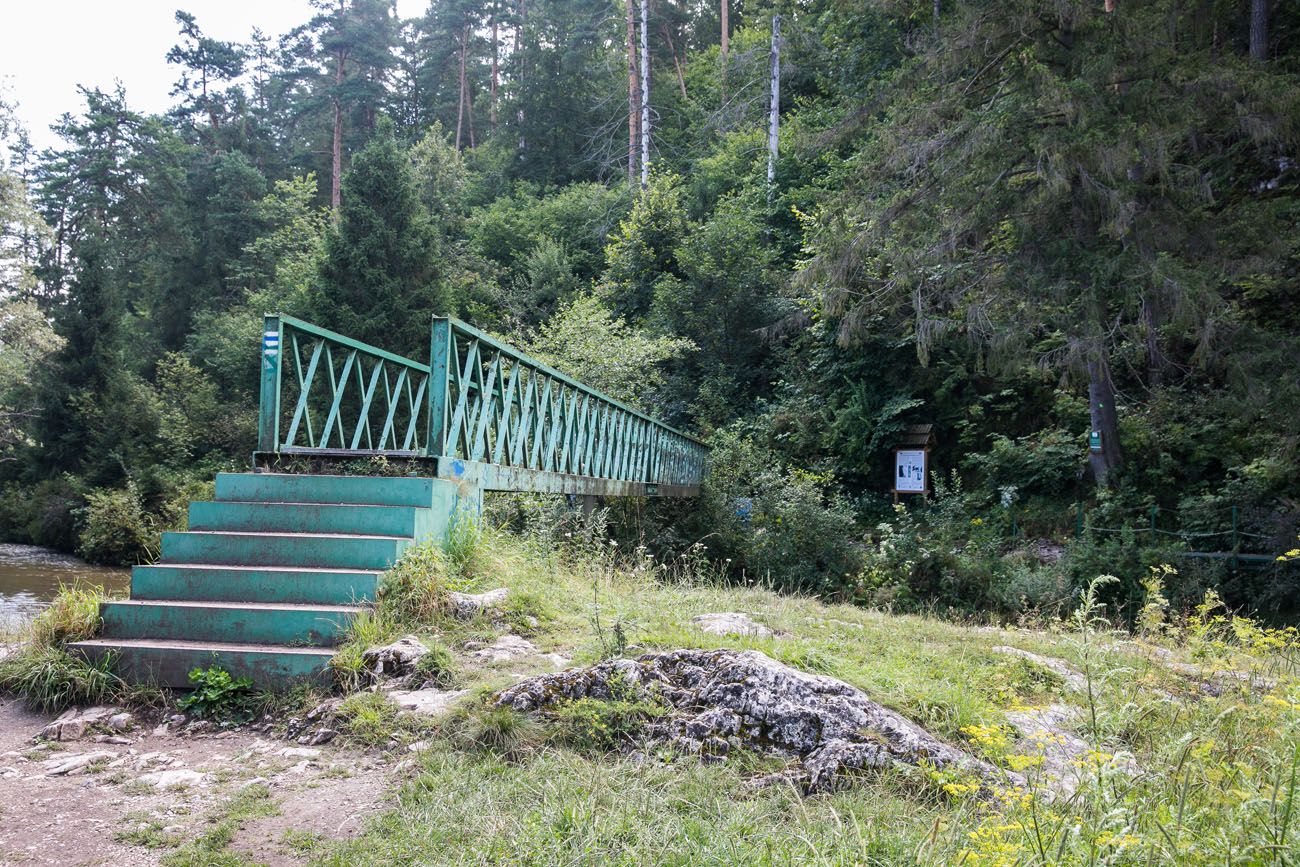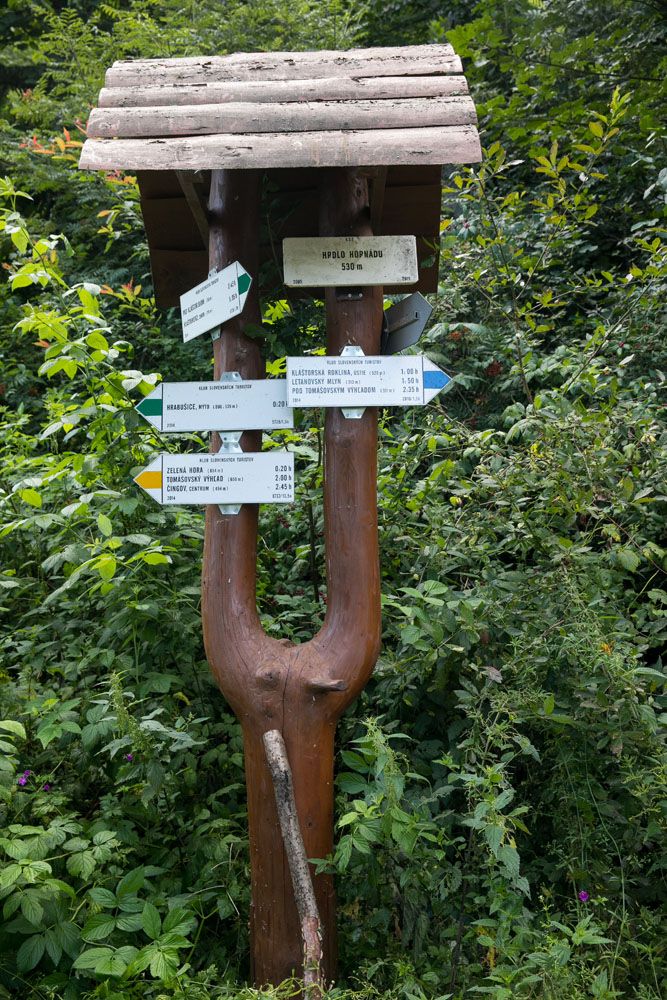 Most of the Prielom Hornádu trail is simply a singletrack trail through the forest. When we did this, the trails were very muddy and slippery. I don't know if it's normally this way, but Slovakia did receive a lot of rain prior to our visit.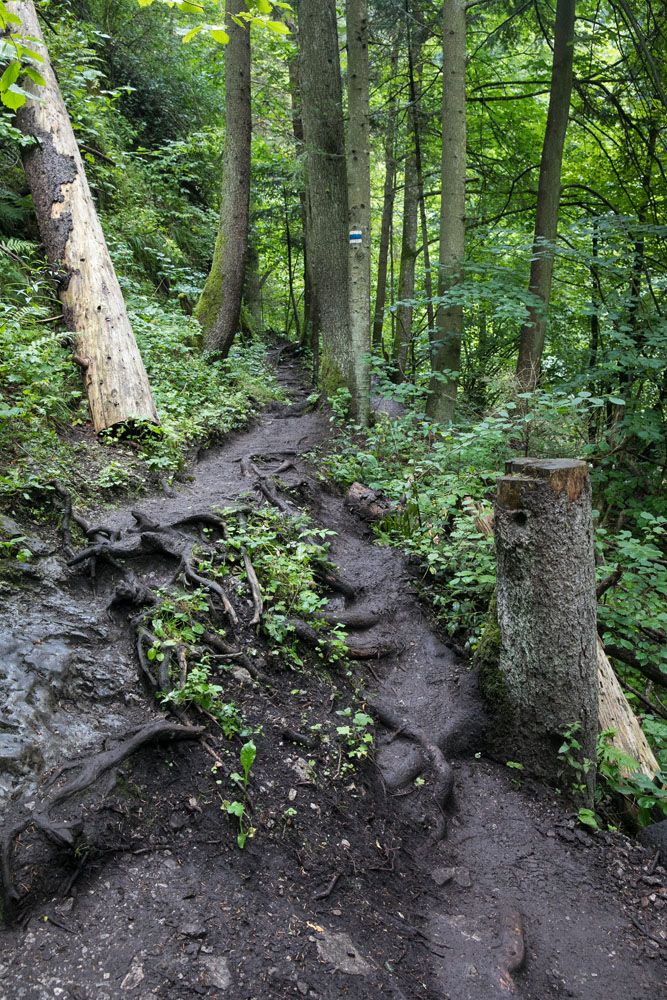 Hiking along the Prielom Hornádu gorge is mostly a walk in the woods with the occasional obstacle. The obstacles are lots of fun and the metal catwalks over the river were our favorites. But these obstacles are few and far between. You have to be prepared to hike many kilometers in the woods with occasional obstacles.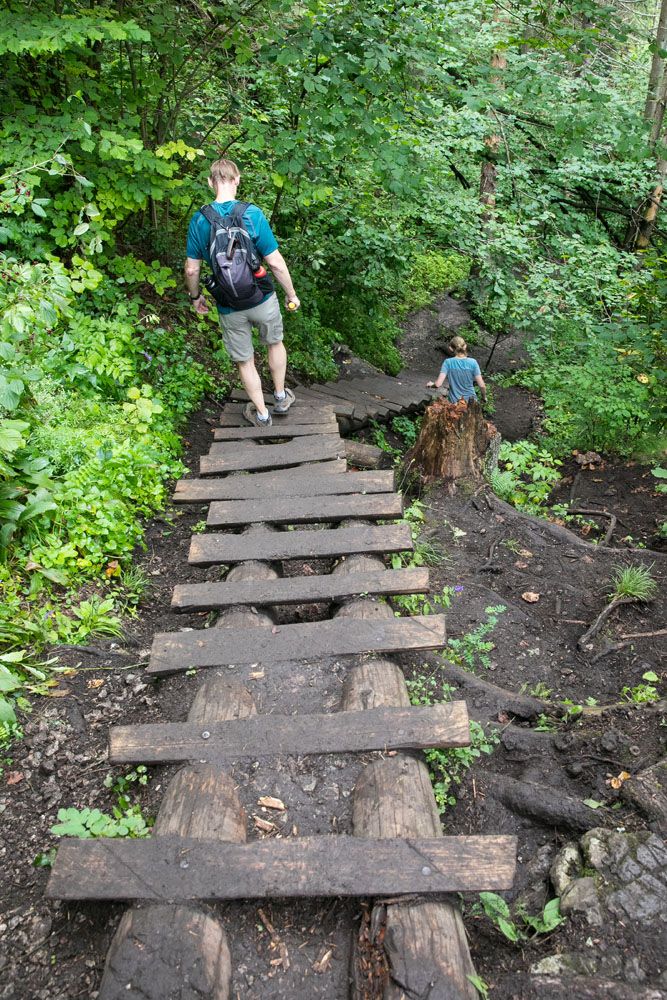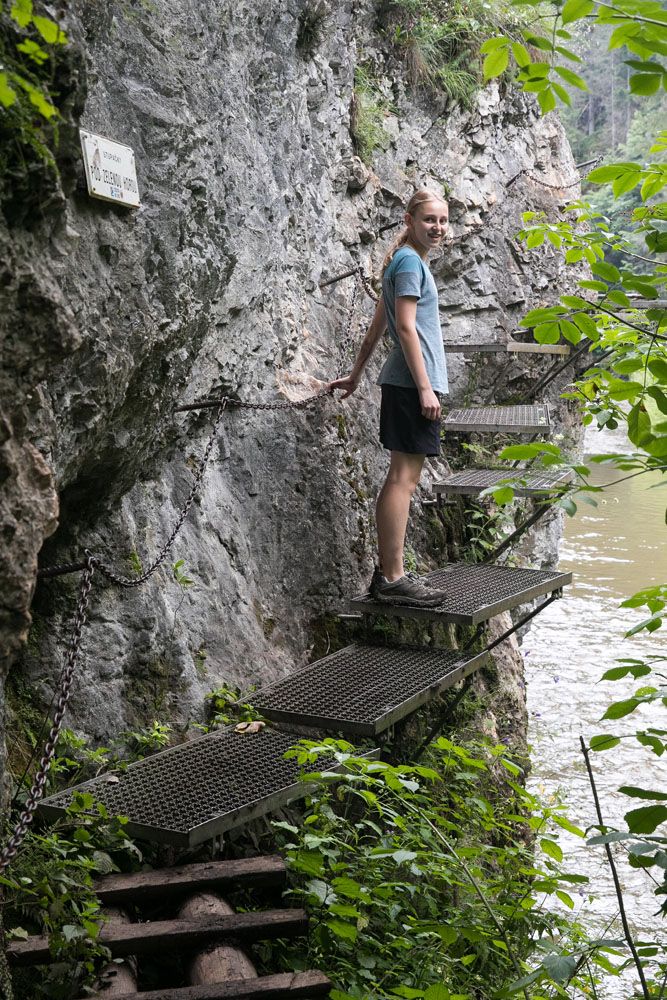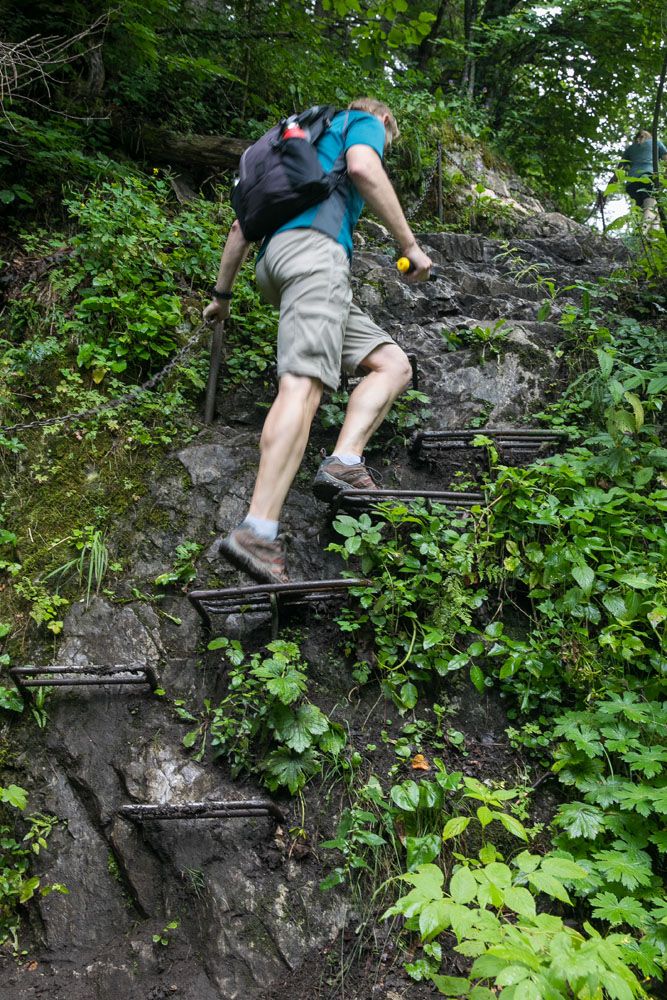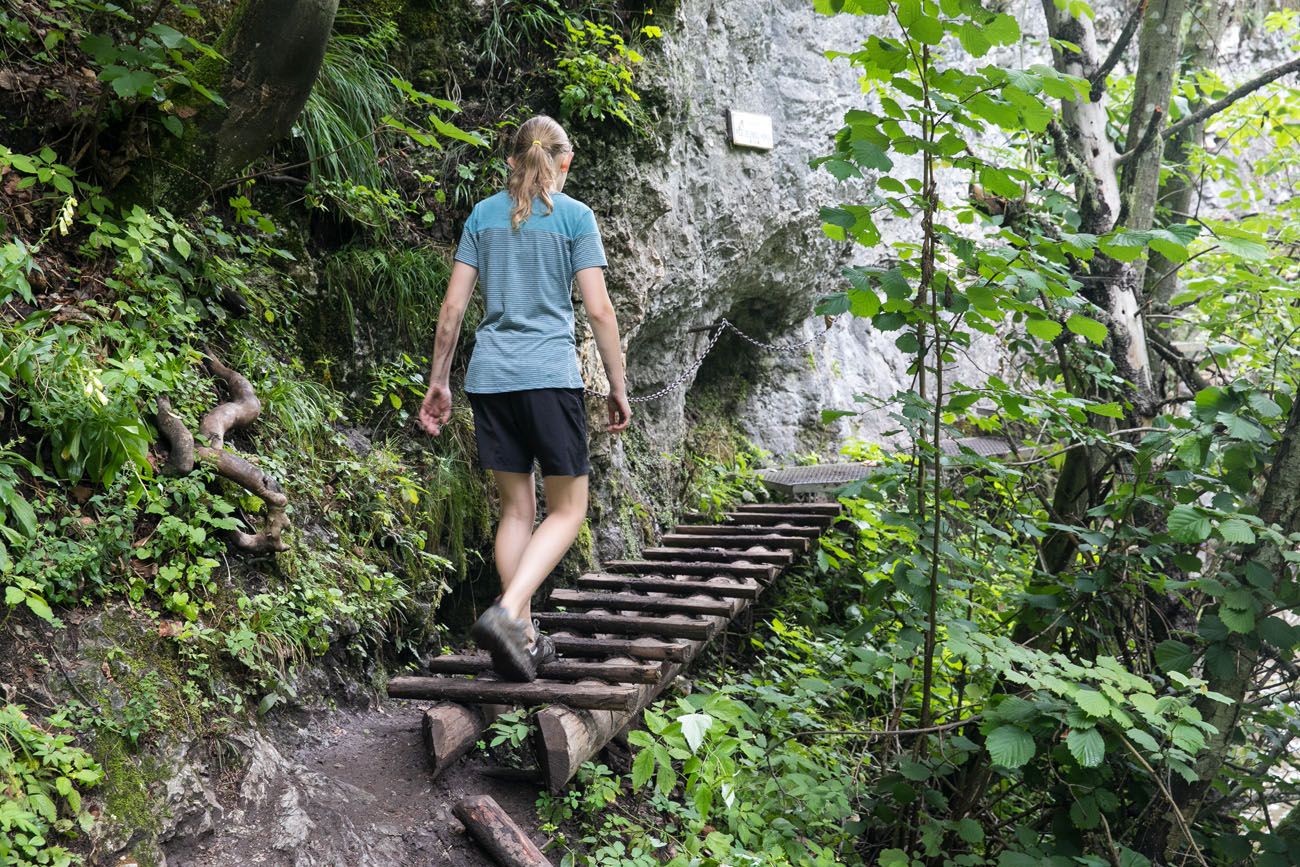 After awhile, it gets repetitive and even a little boring, at least in our experience. And this is why I wish we picked a shorter gorge.
Fortunately, there are "bail out points" so you don't have to hike the entire 18 km loop.
We took the bail out 1 hour into the hike, at Kláštorska Roklina. We chose the yellow trail, a shorter and steeper trail than the green trail. Both end at the Kláštorisko Lodge. At Kláštorisko, there are also the ruins of a 13th century monastery. From here, it was a long, monotonous, downhill hike (1.5 hours) towards the main entrance.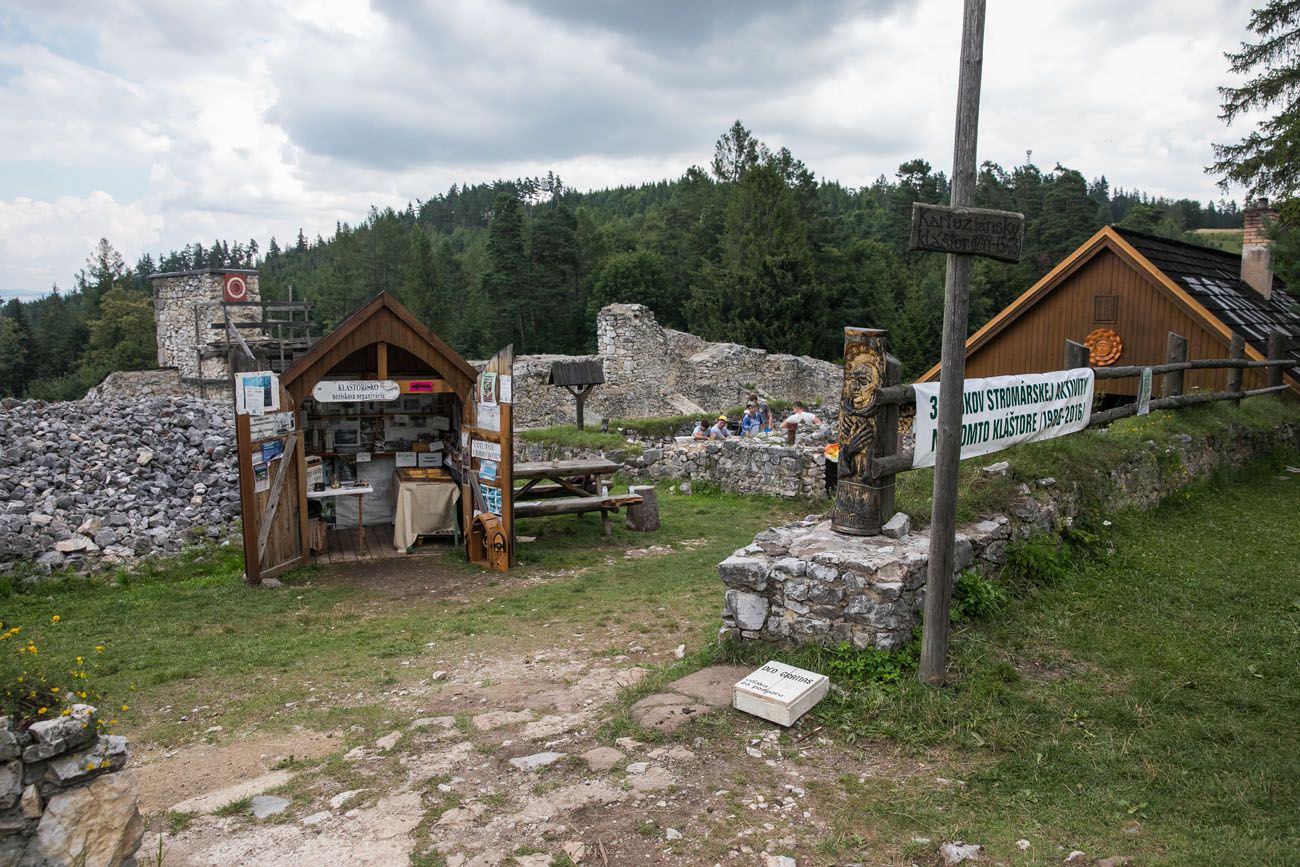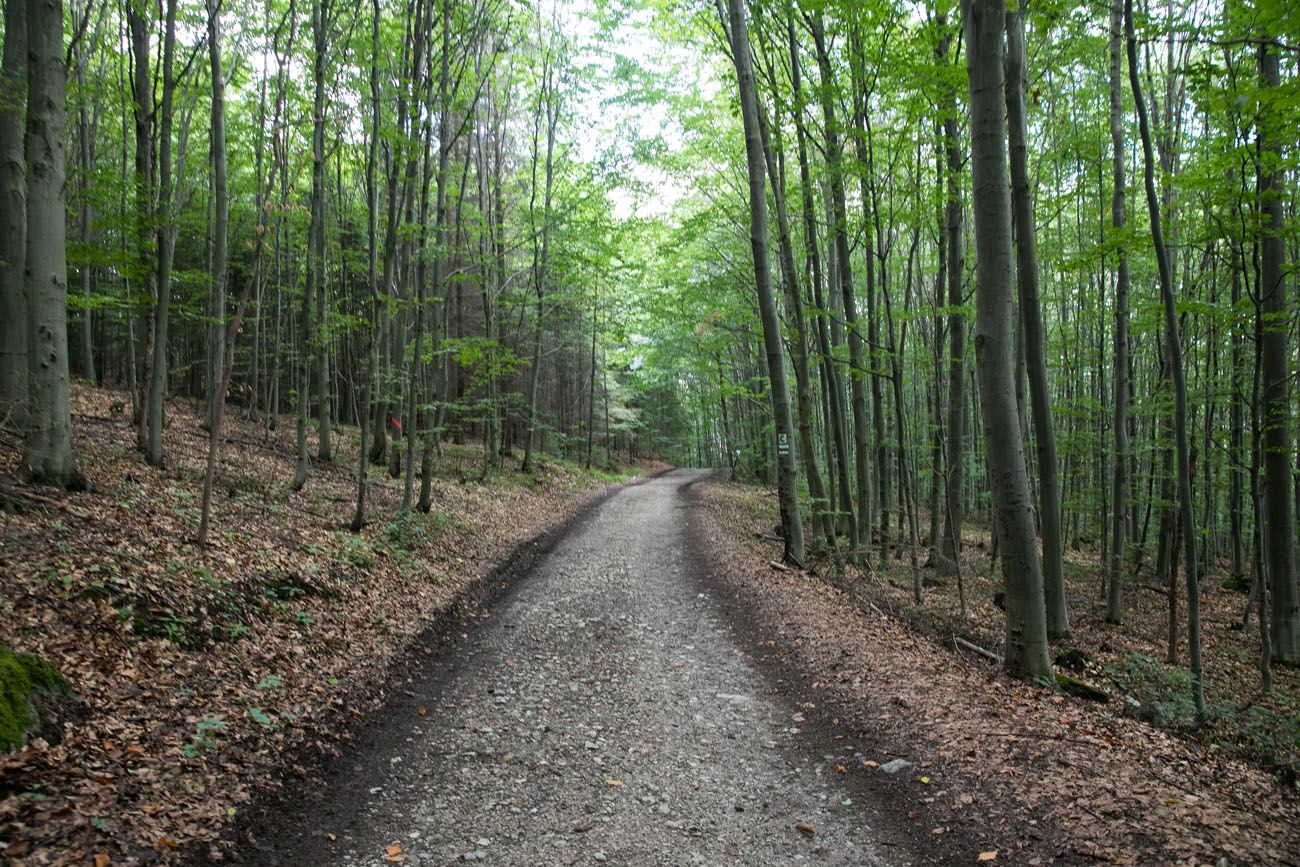 We ended up back on the asphalt road. We ate a late lunch at a restaurant called Ranc Podlesok. It had outdoor seating and a wonderful view of the Tatras. The pizza was pretty good and this was our first experience drinking Kofala, Slovakia's version of Coca-Cola.
Planning Your Visit
Slovak Paradise is located near Poprad. The main entrance is located off of route 3227. On Google Maps, the main parking lot is labeled Parkovisko Hrabusice Podlesok. We paid €3 to park in 2018.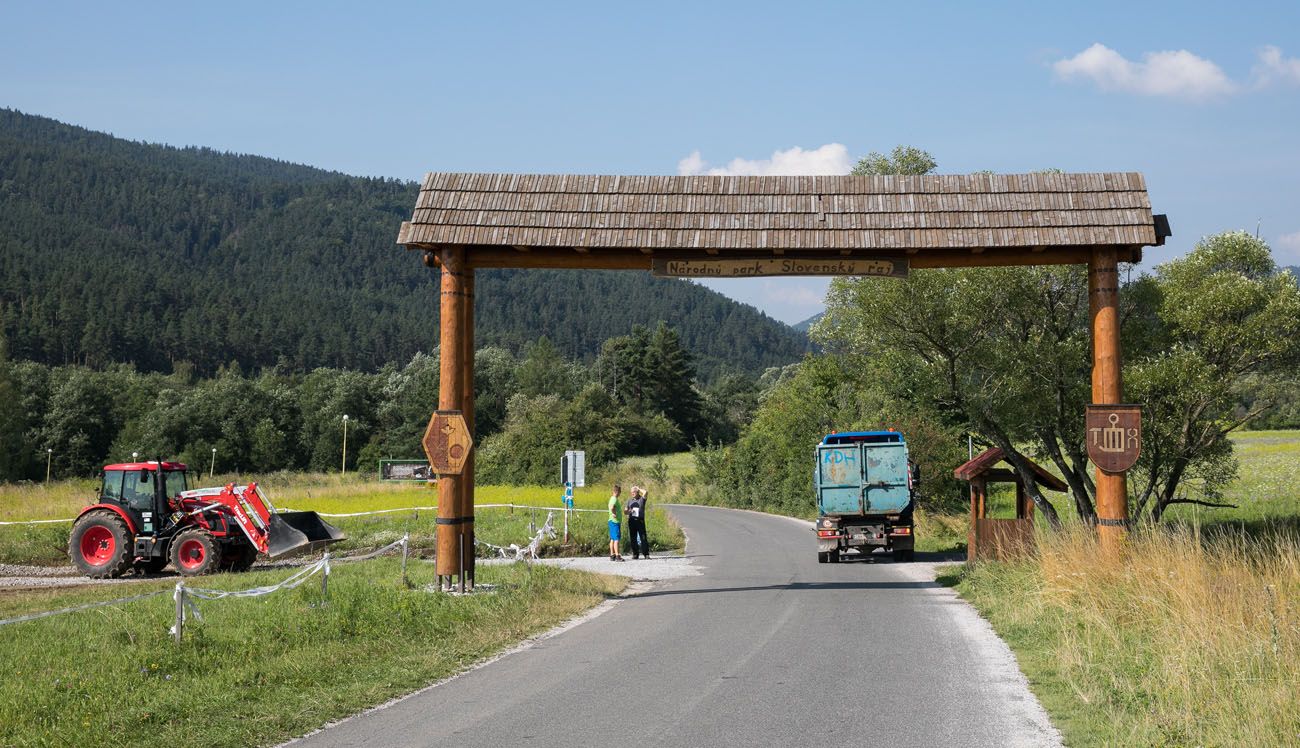 Driving Distances from Nearby Towns:
Poprad: 16 km, 20 minutes

Tatranska Lomnica:

36 km, 35 minutes

Strbske Pleso:

51 km, 40 minutes
There is a ticket booth next to the parking lot. We paid a total of €4 for our family of four (€1.50 per adult and €.50 per child).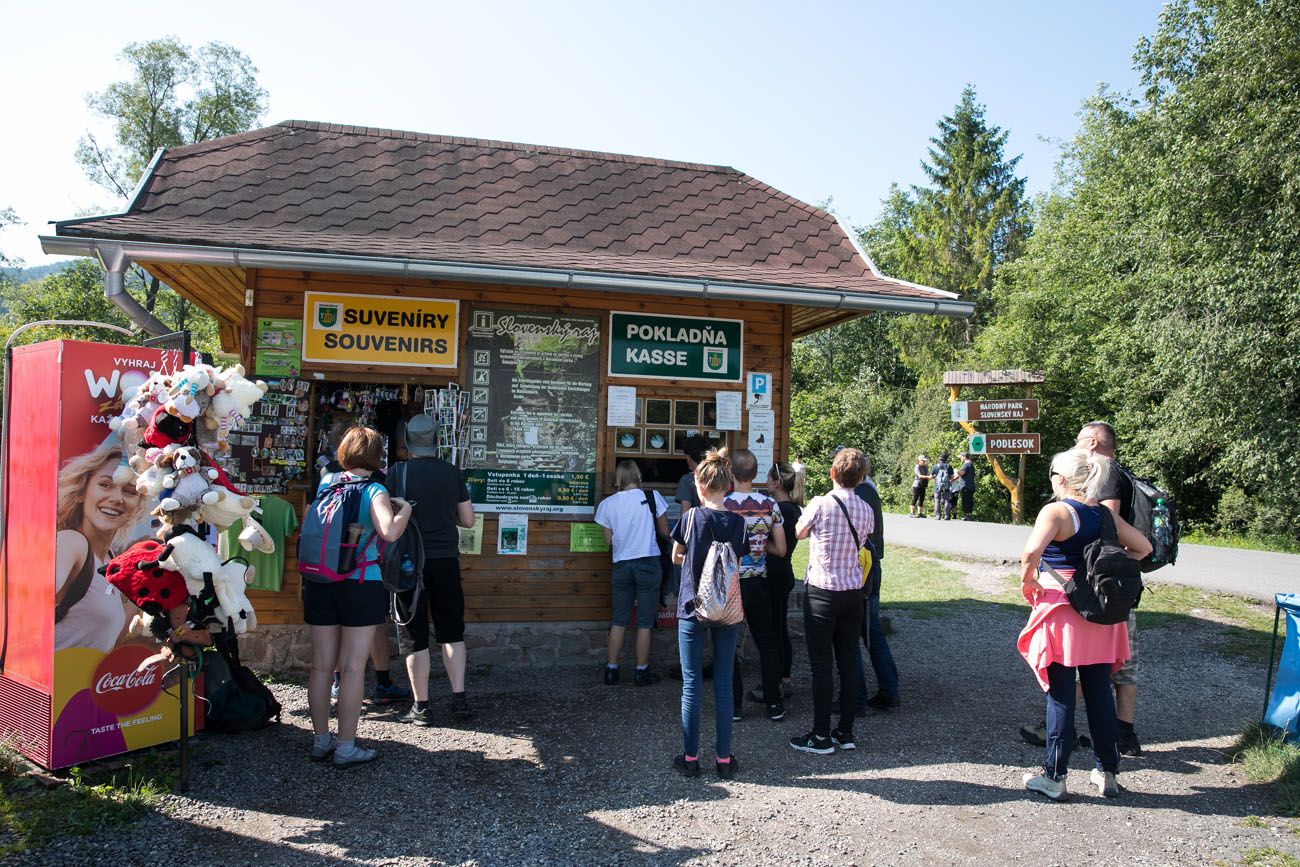 We also paid €5.50 for a map of the park.
Walk 100 meters into the park and you will see the large map of the park. Take a photo of it with you phone or camera in case you need to reference it later. There is also a restaurant and bathrooms here.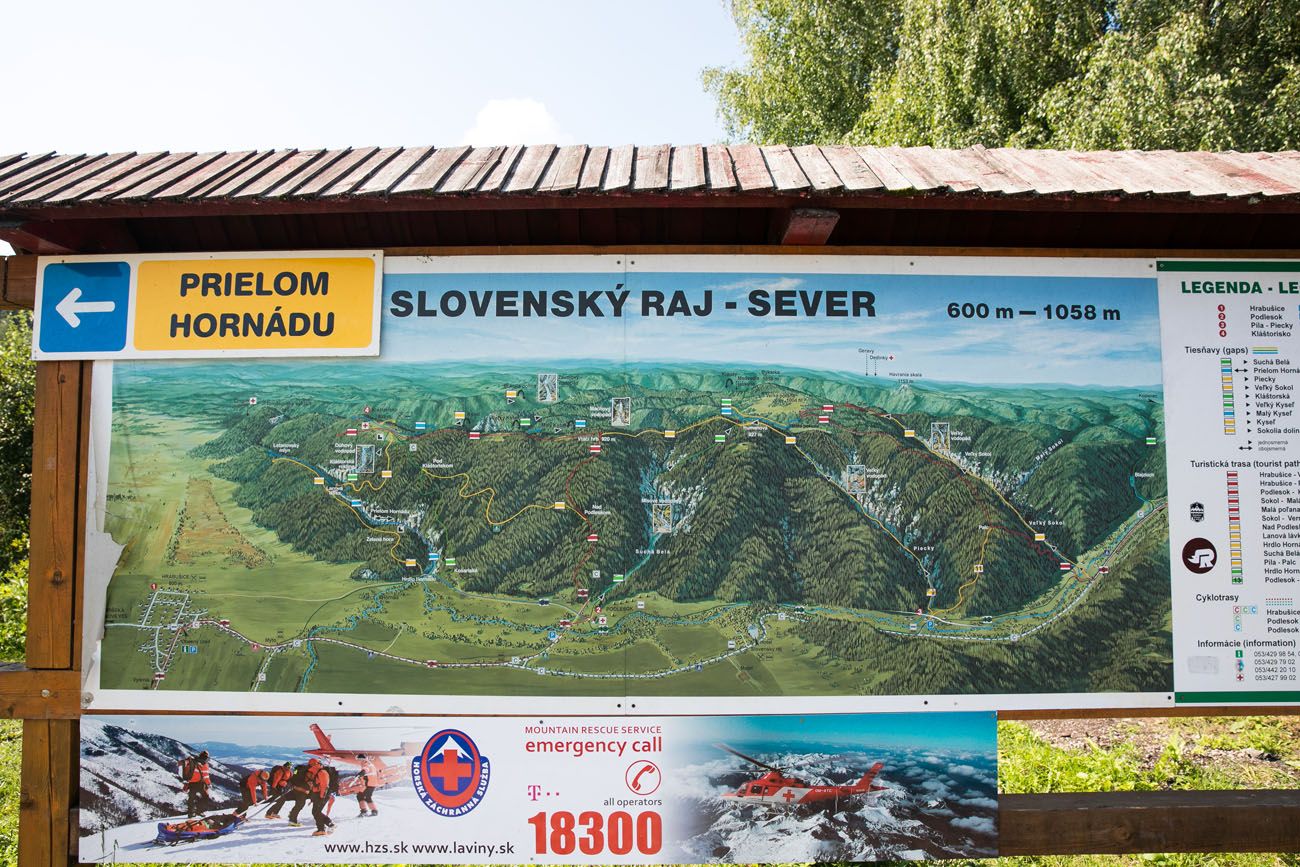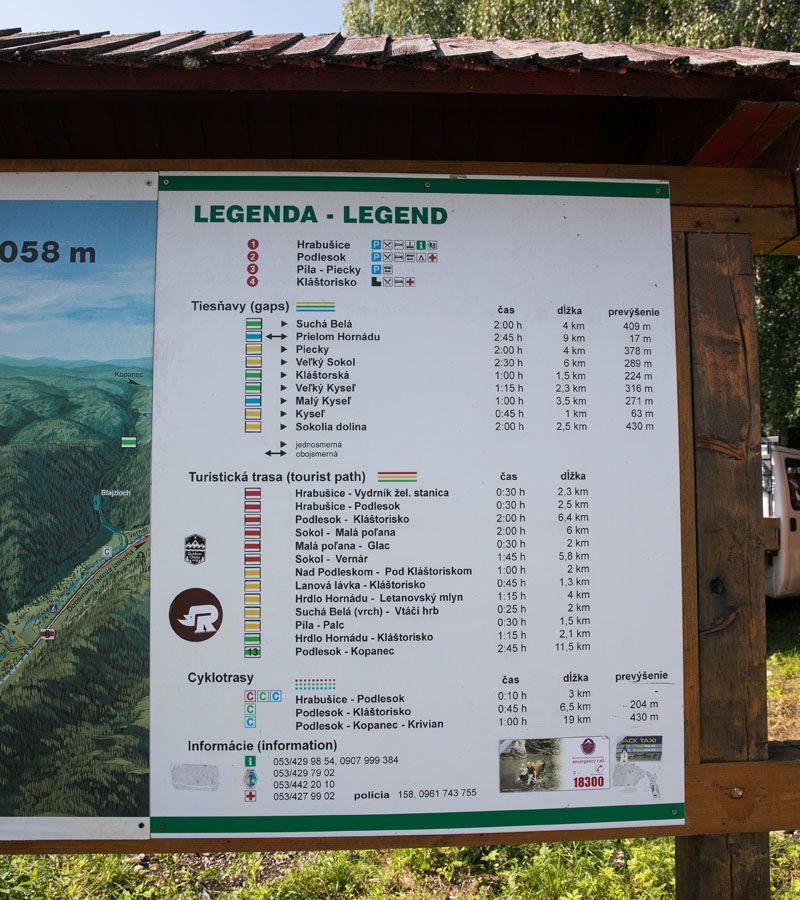 PRO TRAVEL TIP: The distances and times on the map legend are one-way estimates. You also have to factor in the time and distance it takes to walk to the start of the gorge. We thought we were doing a 3-hour hike. It wasn't until we were at the trailhead that we learned it was double that length. It was a big, unpleasant surprise!
Tips to Have the Best Experience
Plan on spending most of the day here. Even the shorter gorges will take 3 to 4 hours of your time. If you also want to visit the ice cave, it takes 45 minutes to drive there from the main entrance into the park.
There is a chance your feet will get wet. For some gorges, it looks as if you hike through the water.
I read online that the gorges are one-way only. However, we saw a number of people doing this in the opposite direction.
Purchase a hiking map at the ticket booth. They are cheap and a nice resource to have if you change your plans mid-hike like we did. I took a photo of the main map before we started, but it didn't offer enough detail to help us navigate through the park once we changed our plans.
We saw a lot of kids on the Prielom Hornádu trail. Young ones, too…maybe as young as 5 years old. The youngest kids needed a lot of assistance from their parents, but they were doing it. Some kids loved the obstacles and others seemed a little scared. If you are traveling with adventurous kids, this is a place that may be worth exploring.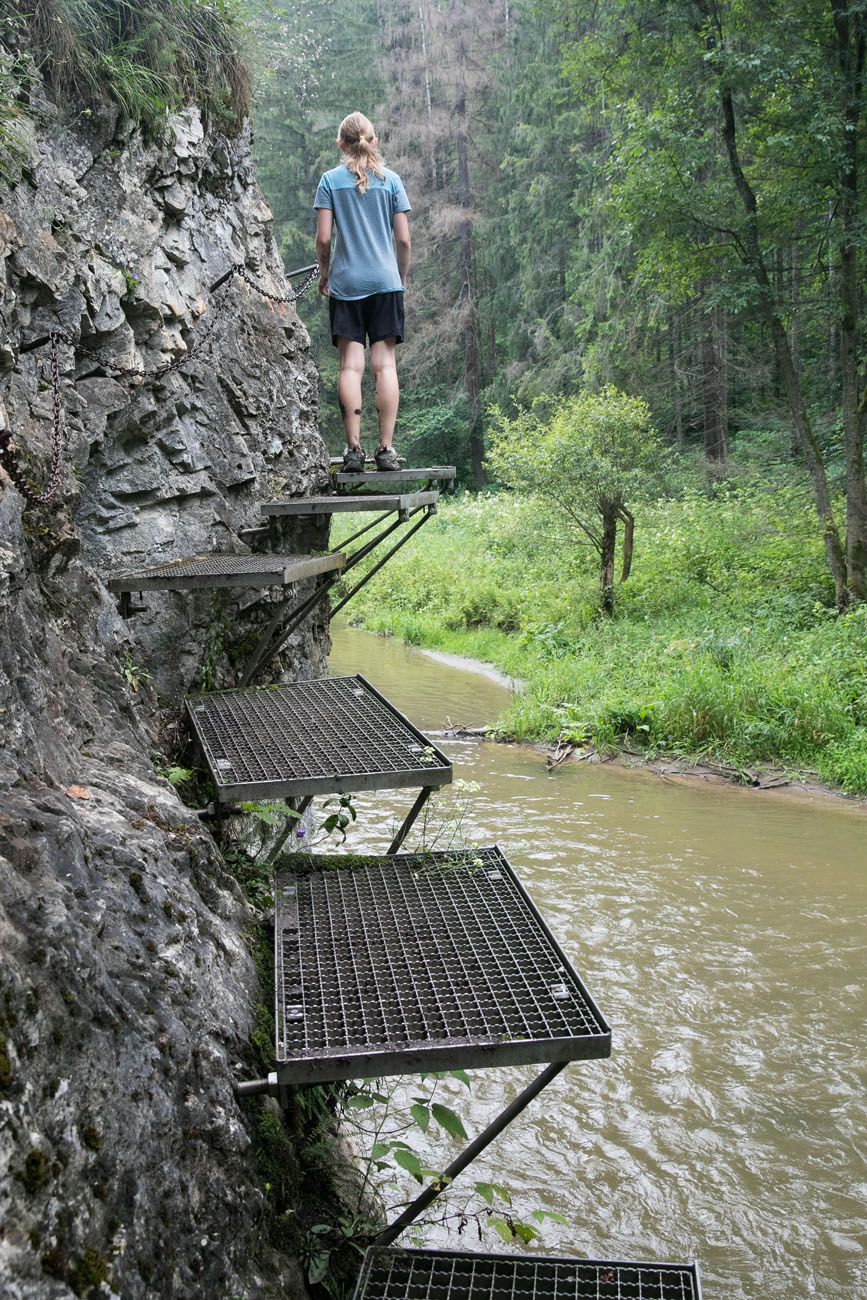 Where We Stayed
We stayed at Villa Meribel in Tatranská Lomnica. This place is awesome! We had a two bedroom two bath apartment with a small kitchen and living area. Tatranská Lomnica is a great home base for hiking the Tatras. There are several restaurants and a grocery store in town. There is also a toboggan, a great place to take kids if you are traveling as a family.
---
Have you been to Slovak Paradise? We would love to hear about your experience and I am sure that our readers would love it too. Comment below about what you did and feel free to add any advice.
More Information for Your Trip to Slovakia
TATRAS: If you like hiking, consider spending a few days in the High Tatras. Learn how to hike to Koscielec from Zakopane, how to hike to the summit of Rysy (the tallest mountain in Poland), and whether you should visit the Tatras from Poland or Slovakia. If you have plans to also visit Slovakia, don't miss our guide to the High Tatras in Slovakia.
BRATISLAVA: If you have plans to visit Bratislava, take a look at our article Best Things to Do in Bratislava.
POLAND: Learn about the best things to do in Krakow, how to spend 2 days in Warsaw, and the best things to do in Gdansk. Put this all together with our 10 Day Poland Itinerary.
MORE GREAT HIKES IN EUROPE: From thrilling trails in the Alps to easy walks along the coast, read our article 20 Best Hikes in Europe for some beautiful hiking trails to put on your travel wish list.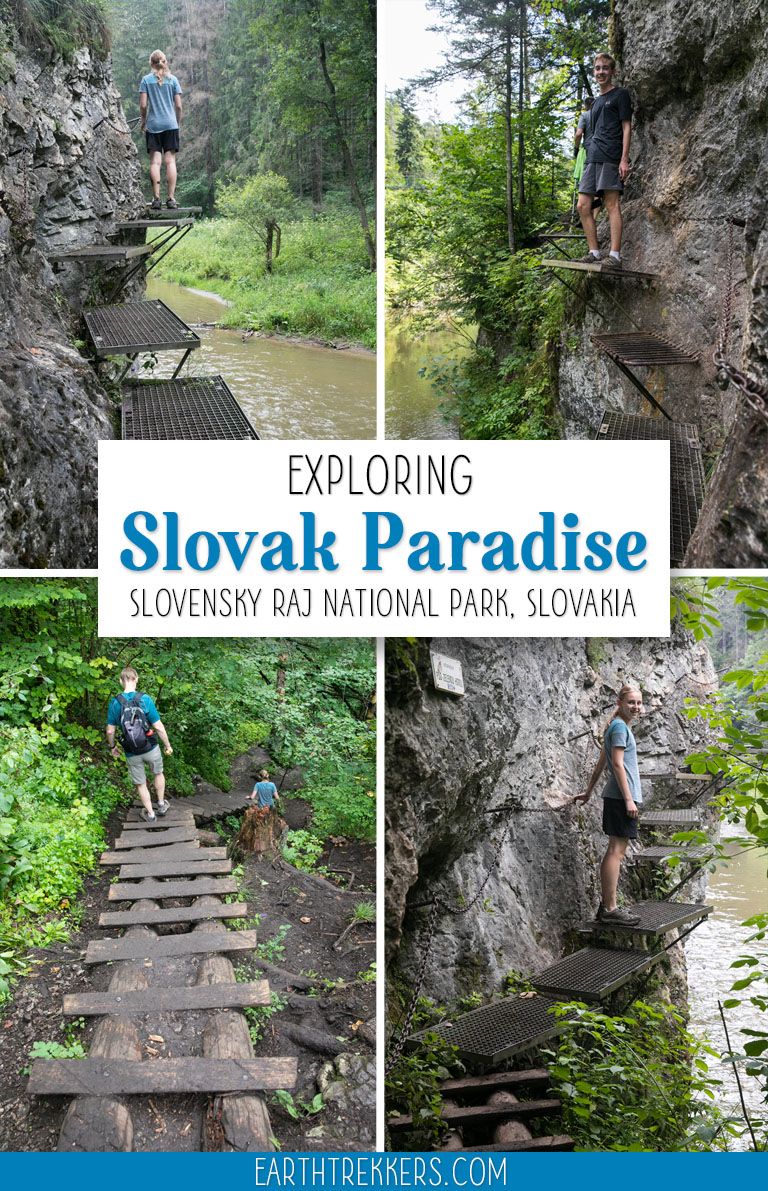 Note: This post contains affiliate links. When you make a purchase using one of these affiliate links, we get paid a small commission at no extra cost to you.
All rights reserved © Earth Trekkers. Republishing this article and/or any of its contents (text, photography, etc.), in whole or in part, is strictly prohibited.