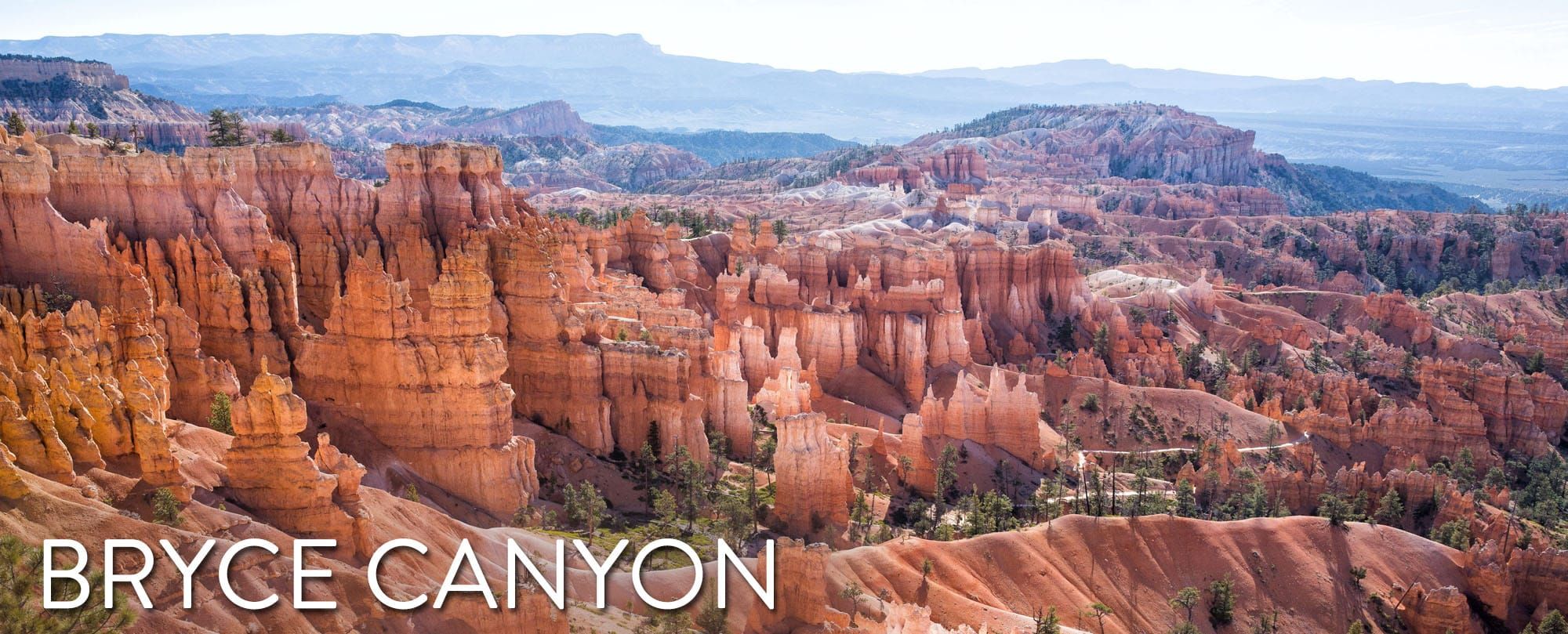 Bryce Canyon is a small national park with a huge wow factor. The moment you step up to the rim and gaze across the hundreds of hoodoos, spires, and rock formations, it will take your breath away.
Bryce Canyon National Park is a fantasyland of hoodoos, sandstone pillars, and bizarre looking rock formations. It is an extraordinary place to visit and its unique landscape sets it apart from other national parks.
This national park is small and very easy to visit. Take in the views from the rim, hike a trail or two, or fill your camera's memory card with beautiful photos.
BRYCE CANYON NATIONAL PARK STATS
Founded: February 25, 1928
Annual Visitors: 2.1 million in 2021
Size: 36,000 acres
Location: Utah
Entrance Fee: $35, valid for 7 days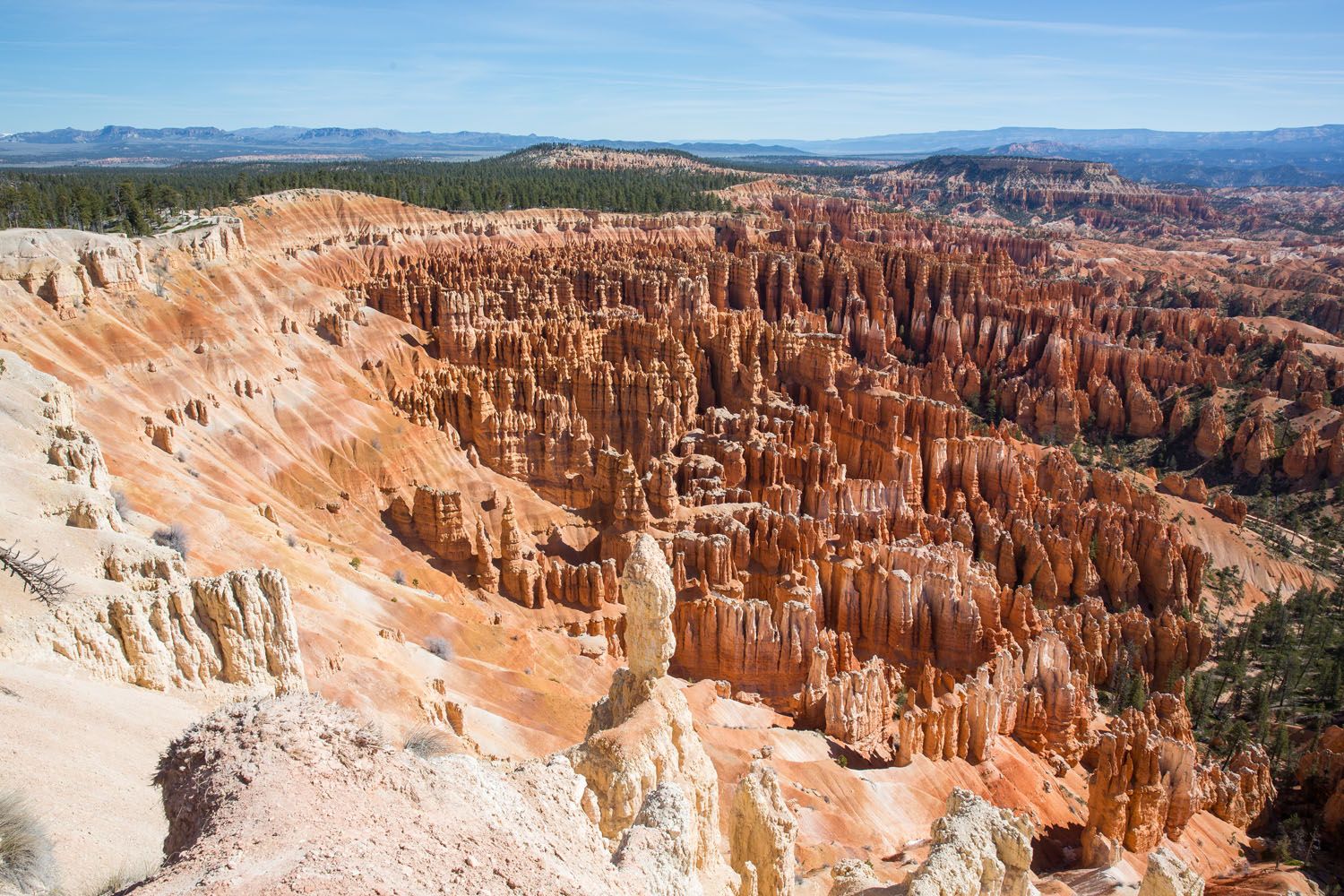 Top Experiences in Bryce Canyon
Walk the Rim Trail. This short trail runs along the rim of Bryce Canyon. From here, you can take in the view from multiple viewpoints, such as Sunrise and Sunset Points. It's flat and easy to walk and one of the best experiences in the park.
Watch the Sunrise. Watching the sunrise over Bryce Canyon is amazing. As the sun rises, it illuminates the hoodoos and spires in a golden light. In the national parks, this is one of the best sunrise experiences and it's worth rolling out of bed early to see this.
Hike the Queen's Garden and Navajo Loop Trail. This hike is just under 3 miles long. It's short, it's tons of fun, and it's great for all ages. Hike past hoodoos, through small tunnels in the rock, and enjoy great views of Bryce Canyon every step of the way.
See Thor's Hammer. Thor's Hammer is one of the most photographed hoodoos in Bryce Canyon. You will hike past it on the Two Bridges Trail, part of the Queen's Garden and Navajo Loop Trail mentioned above.
Hike through Wall Street. Wall Street is a slot canyon in Bryce Canyon that can be added to the Queen's Garden and Navajo Loop. Just be aware that Wall Street is closed during the winter months.
Hike the Peekaboo Loop Trail. This 4.8-mile trail takes you through a valley that is filled with pink and orange hoodoos.
Inspiration Point & Bryce Point. For panoramic views of the Bryce Canyon amphitheater, visit these viewpoints.
Rainbow & Yovimpa Points. These two viewpoints look out over a different section of Bryce Canyon. They are nice but not quite as good as the views from the Rim Trail or Inspiration and Bryce Points.
What's a Hoodoo?
"Hoodoo" can also be defined as a tall, thin spire of rock that protrudes from the bottom of an arid drainage basin. Geologically, hoodoos are found all around the world, but they occur in the most abundance in Bryce Canyon. Here, hoodoos are the main ingredient of this unique landscape. The thousands of hoodoos in Bryce are what attracts so many visitors every year.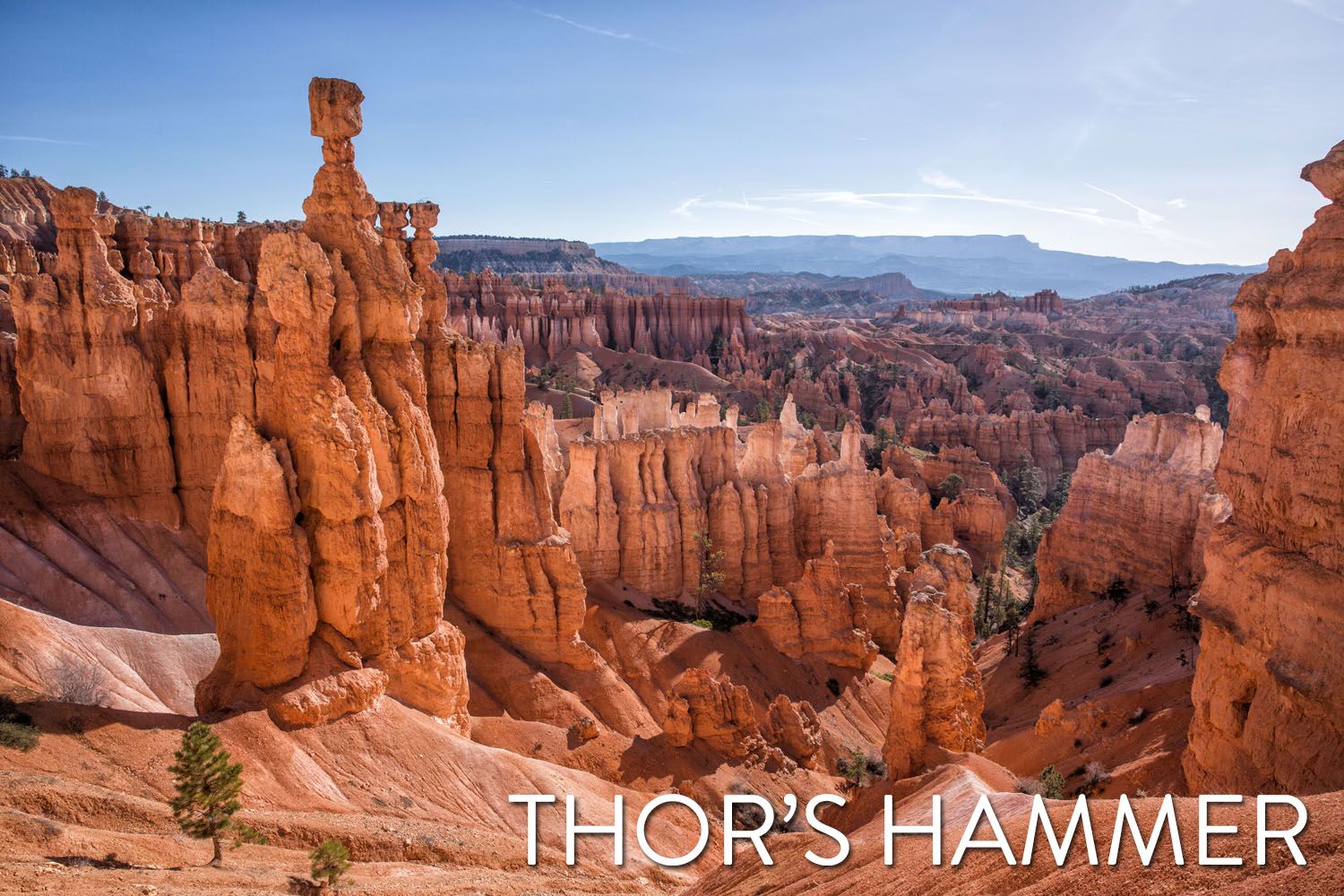 Learn More about Bryce Canyon
How Much Time Should You Spend in Bryce Canyon?
Bryce Canyon is a relatively small, compact park. One day is all you need to visit the highlights, which include the viewpoints along the rim and hiking the Queen's Garden and Navajo Loop Trails.
With more time, you can add on more hikes, such as the Peekaboo Loop Trail and the Fairyland Trail.
Best Time to Visit Bryce Canyon
The best time to visit Bryce Canyon National Park is in the spring (March through May) and the fall (mid-September through November), when temperatures are mild and crowds are below their peak.
Bryce Canyon sits at a higher elevation than the other national parks in Utah, keeping temperatures cooler here all year long. During the winter months, snow is a very good possibility and if you don't mind cold temperatures, Bryce Canyon is a magical place to visit when it is covered in a blanket of snow.
WINTER: During the winter months, the average high barely gets above freezing. Daytime high's are in the mid to upper 30's and the lows are in the teens. 18 to 20 inches of snow can fall each month. However, visitation is at its lowest for the year.
SPRING: By the end of March, the average high is about 50°F and by the beginning of June, you can expect temperatures of 70°F during the day. Snow is likely in March and April could still get an inch or two. May is a beautiful time to visit Bryce Canyon, but visitation also really picks up. Crowd levels double from April into May.
SUMMER: The weather is warm, with average daytime highs hitting 80°F. During unusually warm weather, it's possible for the temperature to get up well into the 90's. August tends to be the wettest month but rain usually occurs as an afternoon thunderstorm. Crowds are very high from June through September, peaking in July.
FALL: Temperatures cool off and crowd levels diminish. Like the spring months, temperatures range from 70°F to 50°F, depending on month. October is a beautiful time to visit Bryce Canyon, with great weather and lower crowds than the summer months. Crowds dramatically drop off in November, so if you want some solitude and a chance to see Bryce Canyon with a dusting of snow, November is a good month to plan your visit.
In our US National Parks Month-By-Month Series, Bryce Canyon appears in March, April, and November.
USA Road Trip Ideas
If you are planning a trip to Utah, we have several road trip itineraries that include Bryce Canyon National Park and the top sights in Utah.
Utah's Mighty 5 is a collection of five national parks in Utah (including Bryce Canyon National Park). With 7 to 10 days, you can visit all of them on one great road trip.
With two weeks in the American Southwest, go on an epic road trip to the Grand Canyon, Monument Valley, Zion, Bryce Canyon, Capitol Reef, Canyonlands, and Arches National Park.
In our Utah National Parks Itinerary Guide, we give an overview of five different ways to visit Utah's Mighty 5, ranging from 7 to 14 days.
Places to Go near Bryce Canyon
If you are looking for more things to do in the area, you can explore a colorful state park, hike through a slot canyon, go on a scenic drive. Here are 3 places to visit just a short drive from Bryce Canyon National Park.
Map of Bryce Canyon National Park

In our US National Parks List, get information on all of the US national parks, including interesting facts, the most and least visited national parks, and a FREE printable national parks checklist with map.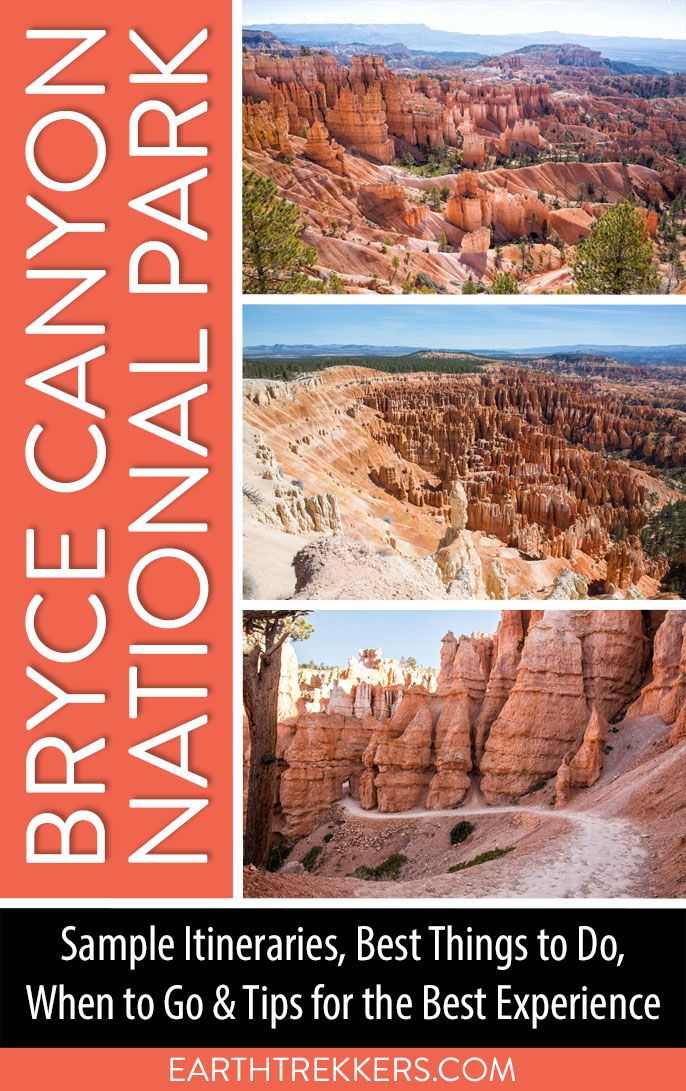 Note: This page contains affiliate links. When you make a purchase using one of these affiliate links, we get paid a small commission at no extra cost to you.
Visit More National Parks