Bryce Canyon National Park…a fantasyland of hoodoos, bizarre rock formations, and sandstone pillars. This is a crazy beautiful place, and its unique landscape sets it apart from other national parks. Although Bryce may not have the same sweeping, expansive vistas as the Grand Canyon, it's still a breathtaking experience the first time you see this view.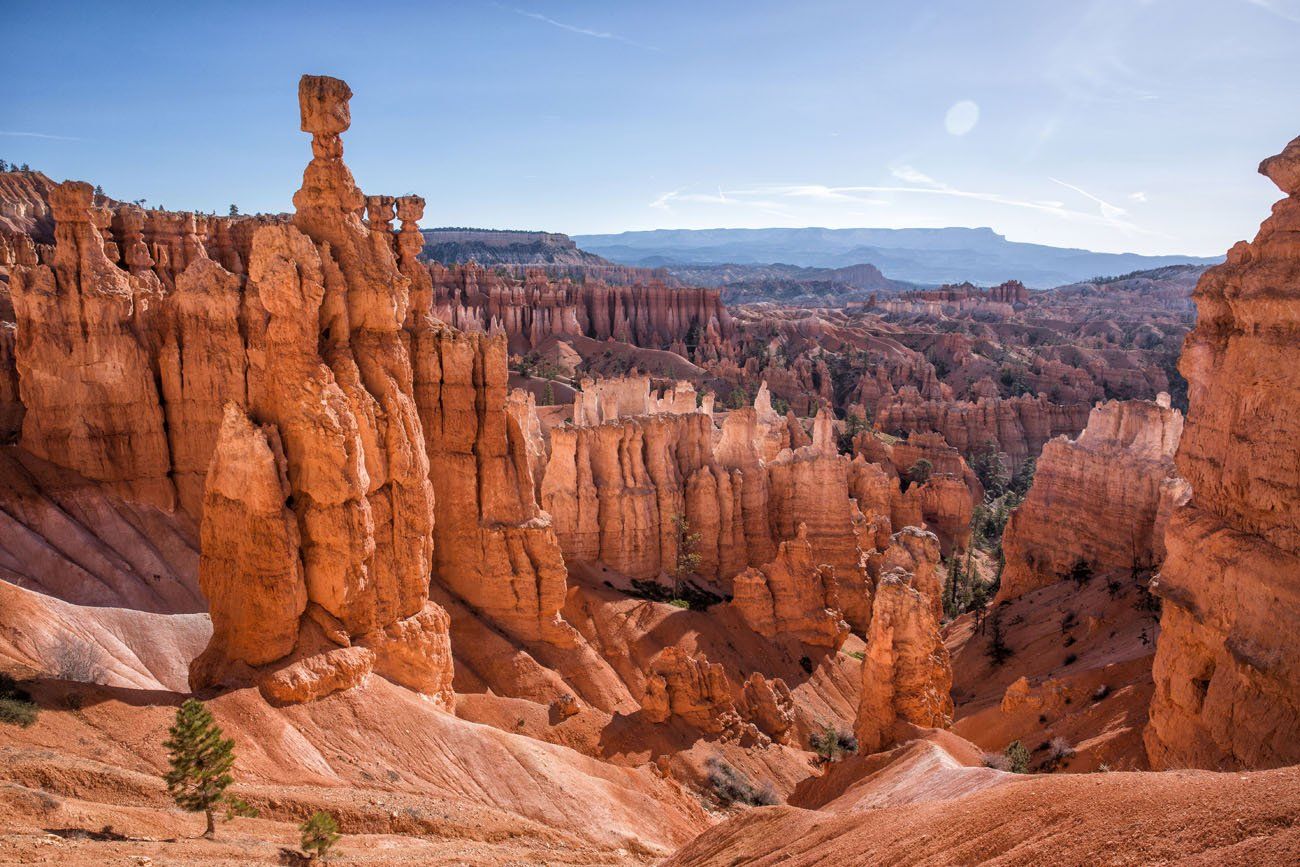 What Makes Bryce Canyon Such a Great Place to Visit?
Bryce Canyon is compact, at least for a National Park. One day is all you need to explore this park. With one day, you can hike through a garden of hoodoos, take in the view from multiple viewpoints, and thoroughly explore the park.
If you have less than one day, that's OK too. We spent half a day here, which was just enough time for a 3 mile hike and stops at all of the popular viewpoints. We lay out our itinerary later in this post.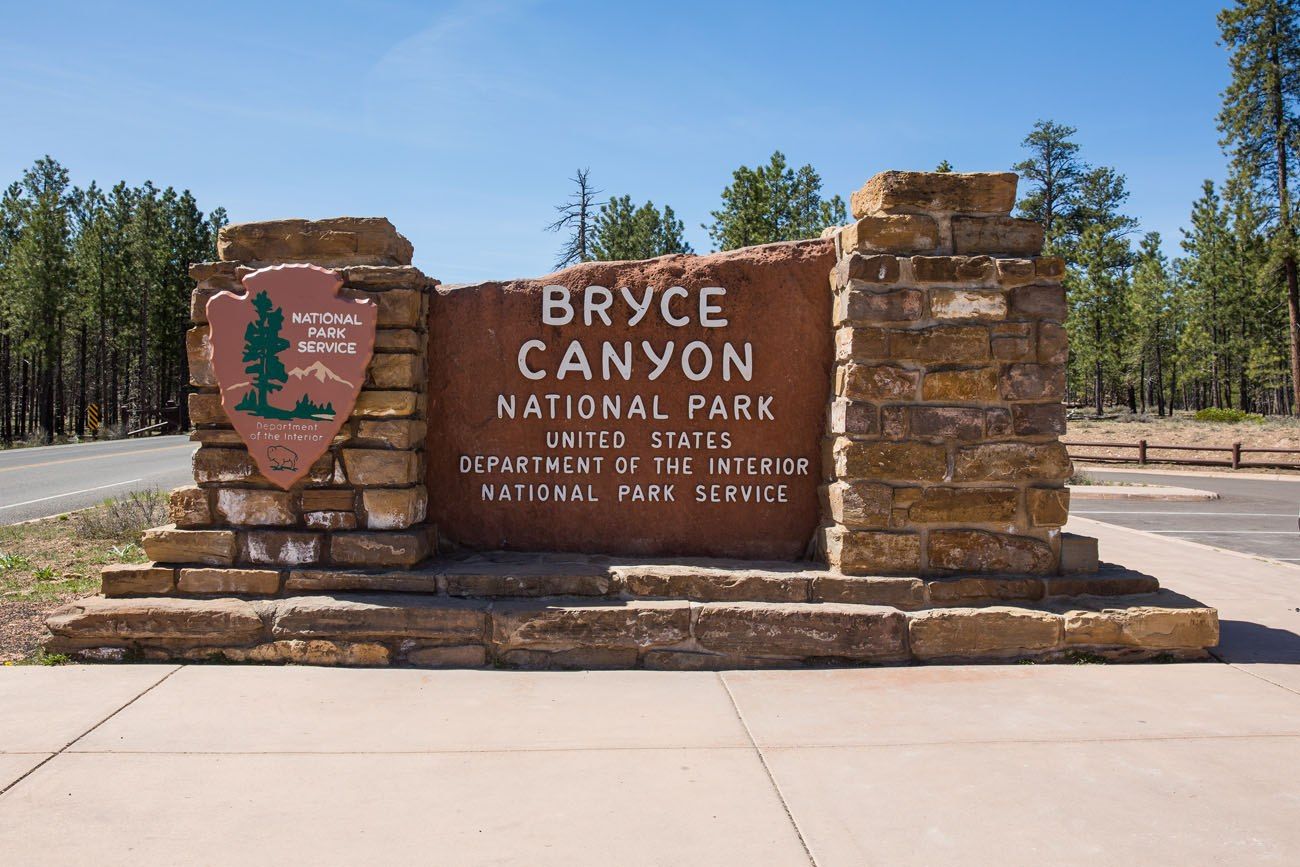 What is a Hoodoo, You Say?
Bryce Canyon is filled with hoodoos. So, what's a hoodoo?
"Hoodoo" can be defined as witchcraft, a combination of voodoo and folk magic, usually used in the deep south of the United States.
"Hoodoo" can also be defined as a tall, thin spire of rock that protrudes from the bottom of an arid drainage basin. Geologically, hoodoos are found all around the world, but they occur in the most abundance in Bryce Canyon. Here, hoodoos are the main ingredient of this unique landscape. The thousands of hoodoos in Bryce are what attracts so many visitors every year.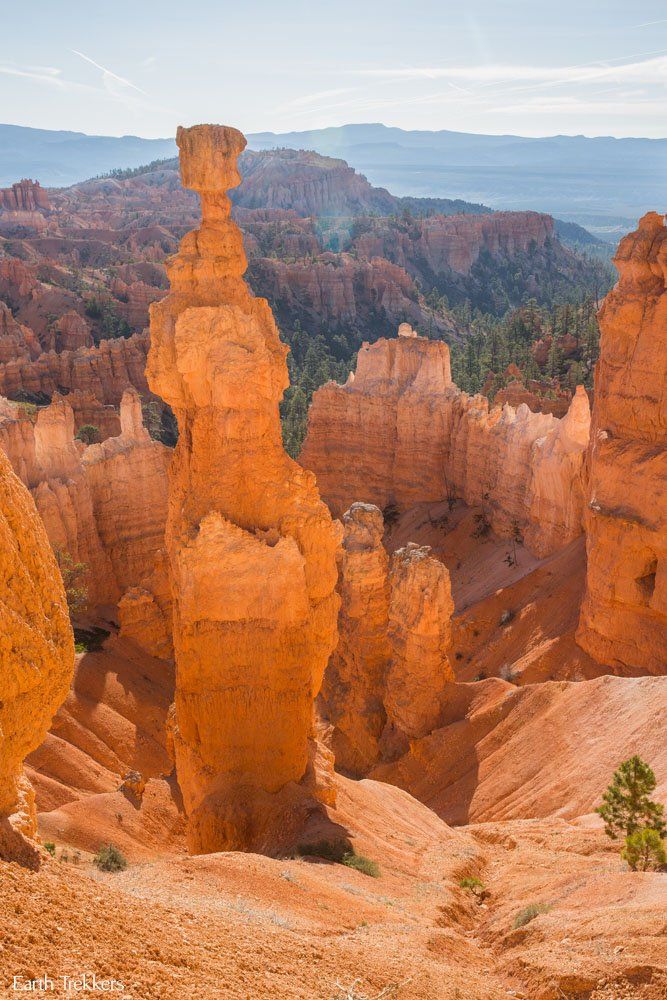 Thor's Hammer
Hoodoos form where soft rock, like sandstone, is covered in a thin layer of harder rock. Weathering processes then erode these rocks into the pinnacles that we see today.
Around the world, hoodoos can also be found in Cappadocia, Turkey (the famous fairy chimneys), Devil's Garden in Grand Staircase-Escalante, Goblin Valley State Park, Provence, France, and Wadi Rum, Jordan.

Best Things to do in Bryce Canyon
Visitor Center
If you arrive in Bryce Canyon after 8 am, make this your first stop. Pick up a free map of the park, discuss your plans with the park rangers, and shop for souvenirs, if you wish.
Note: the Visitor Center does not open until 8 am, so if you are here early, you will be unable to pick up a copy of the map.
Enjoy the View
The main part of Bryce is shaped like an amphitheater. The viewpoints are along the upper rim of the amphitheater, looking down into the valley of hoodoos, forests, and hiking trails.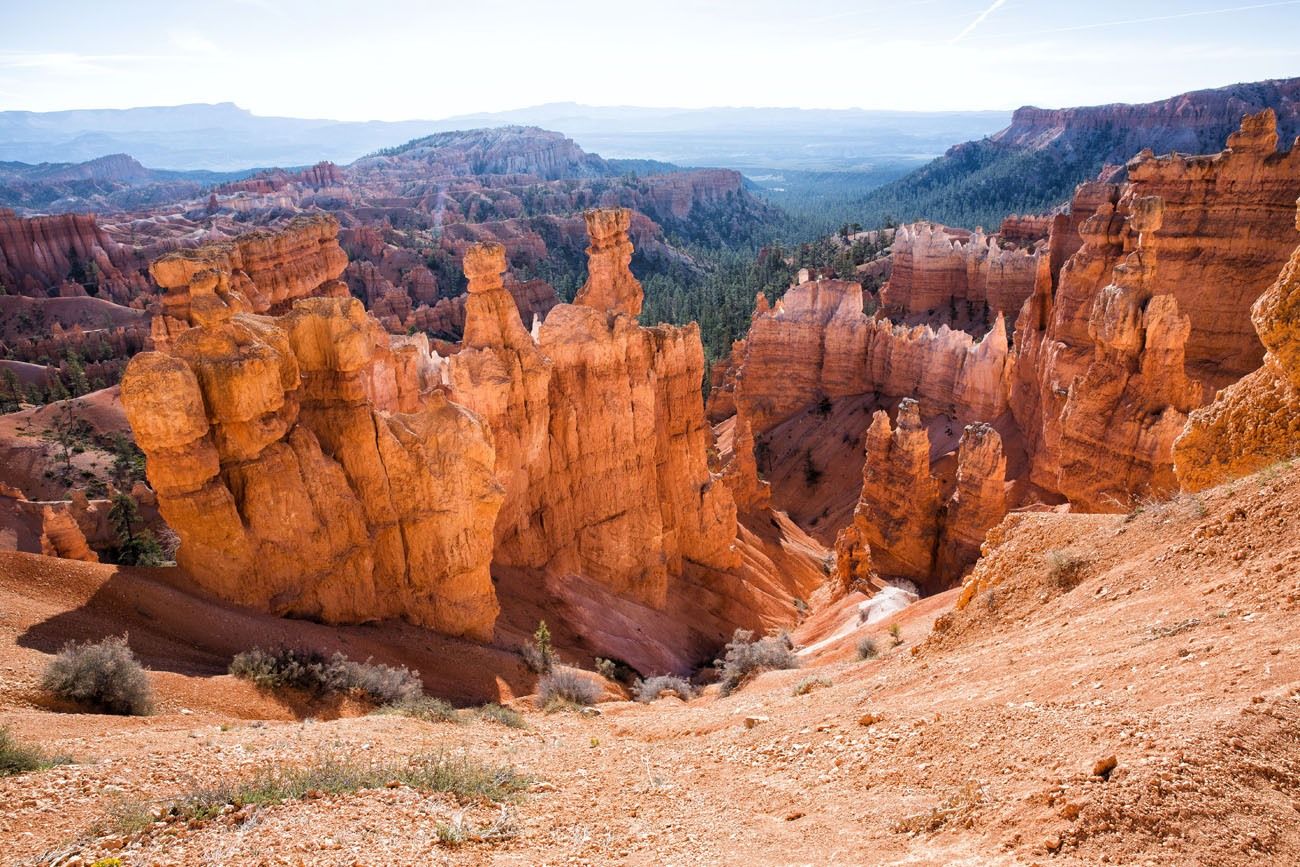 You can walk the Rim Trail to these viewpoints, or drive or take a shuttle to each of them, depending on your preference.
The viewpoints we recommend are Sunrise Point, Sunset Point, Inspiration Point, and Bryce Point.
Go Hiking
Bryce is filled with short, incredibly scenic trails. The most popular trail is the Queens Garden Trail, but there are several other great trails to explore as well.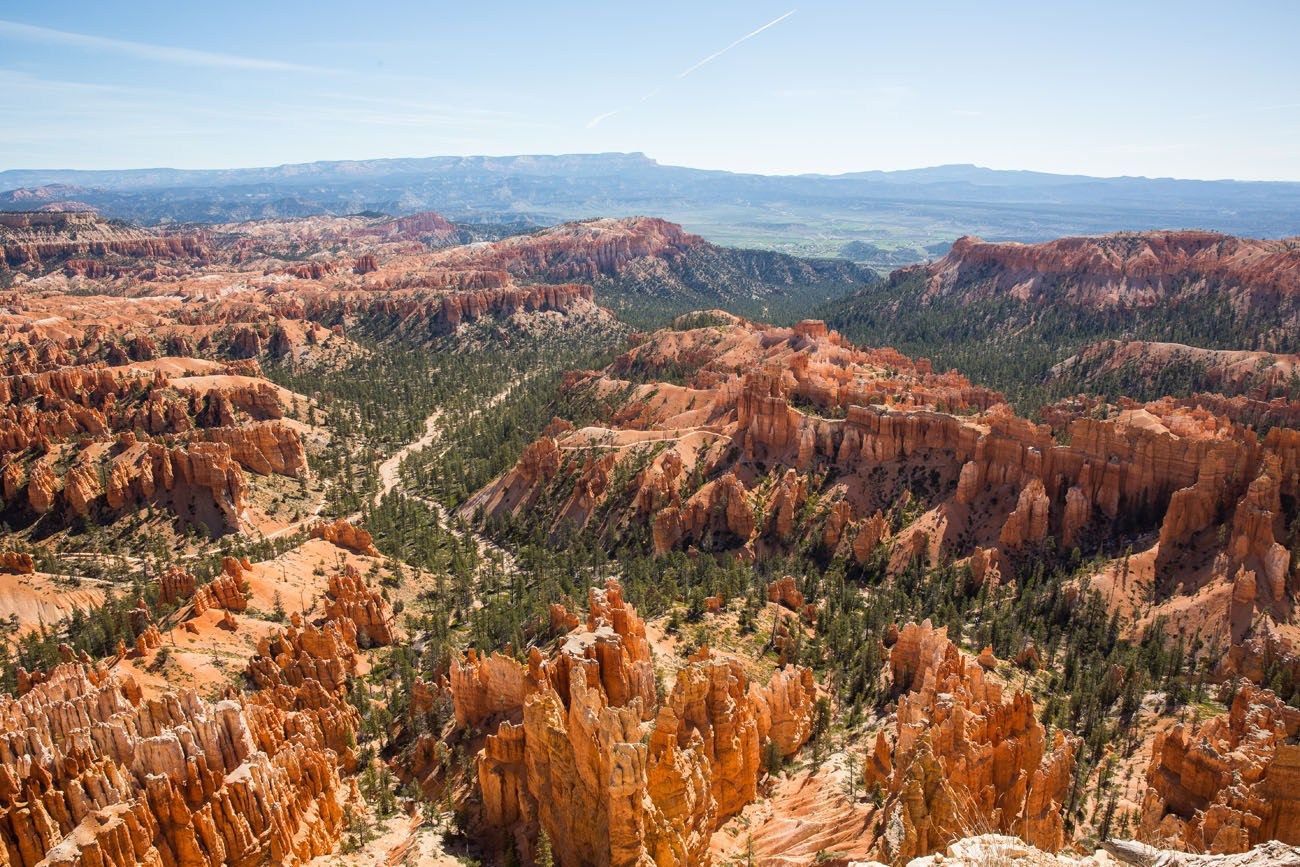 Bryce Canyon Itinerary
The best way to get the full Bryce Canyon experience is to mix short hikes with the scenic viewpoints.
Tim and I visited Bryce Canyon in early May as part of a road trip through Utah and Arizona. We spent only half a day here, leaving the afternoon free to explore nearby places (Kodachrome Basin State Park and Willis Creek slot canyon).
Here is our one day itinerary for touring Bryce Canyon. The first part of the day will include Bryce's must-see spots. The afternoon is spent going off-the-beaten-path in Bryce Canyon, or you can do what we did…leave Bryce and visit a nearby destination.
Arriving in Bryce Canyon
Get here as early as you can. Bryce Canyon is open 24 hours per day, which means that you do not have to wait for the entrance to open in order to get into the park. Before sunrise, there will not be a ranger at the fee booth. You can drive right in, tour Bryce, and pay your fee later in the day.
By getting here early, you can walk some of the trails before they get crowded.
Sunset Point
Park in the large parking lot labeled for Sunset Point. Enjoy the view!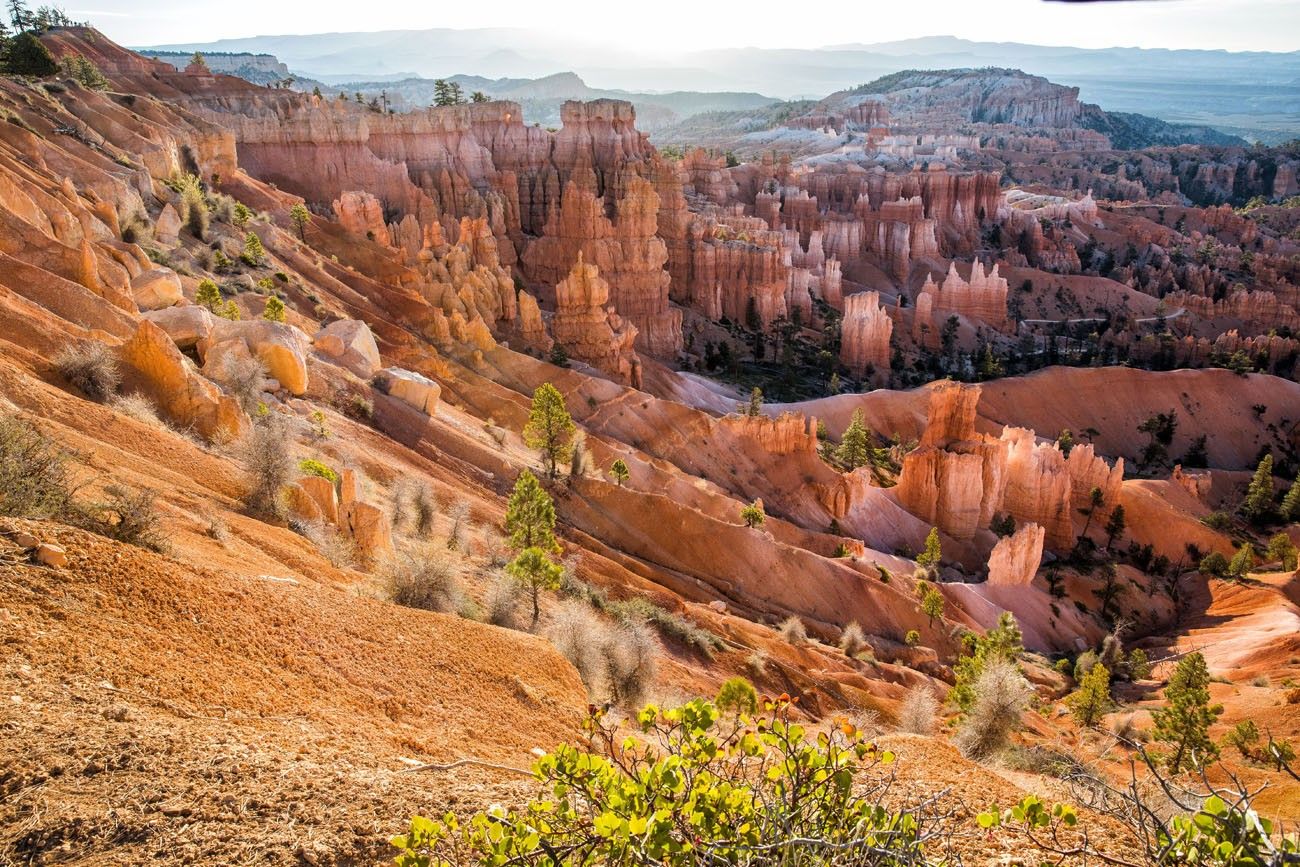 Sunrise Point
From sunset point, walk north on the Rim Trail, towards Sunrise Point. This is a flat, easy to walk trail with an awesome view over Bryce.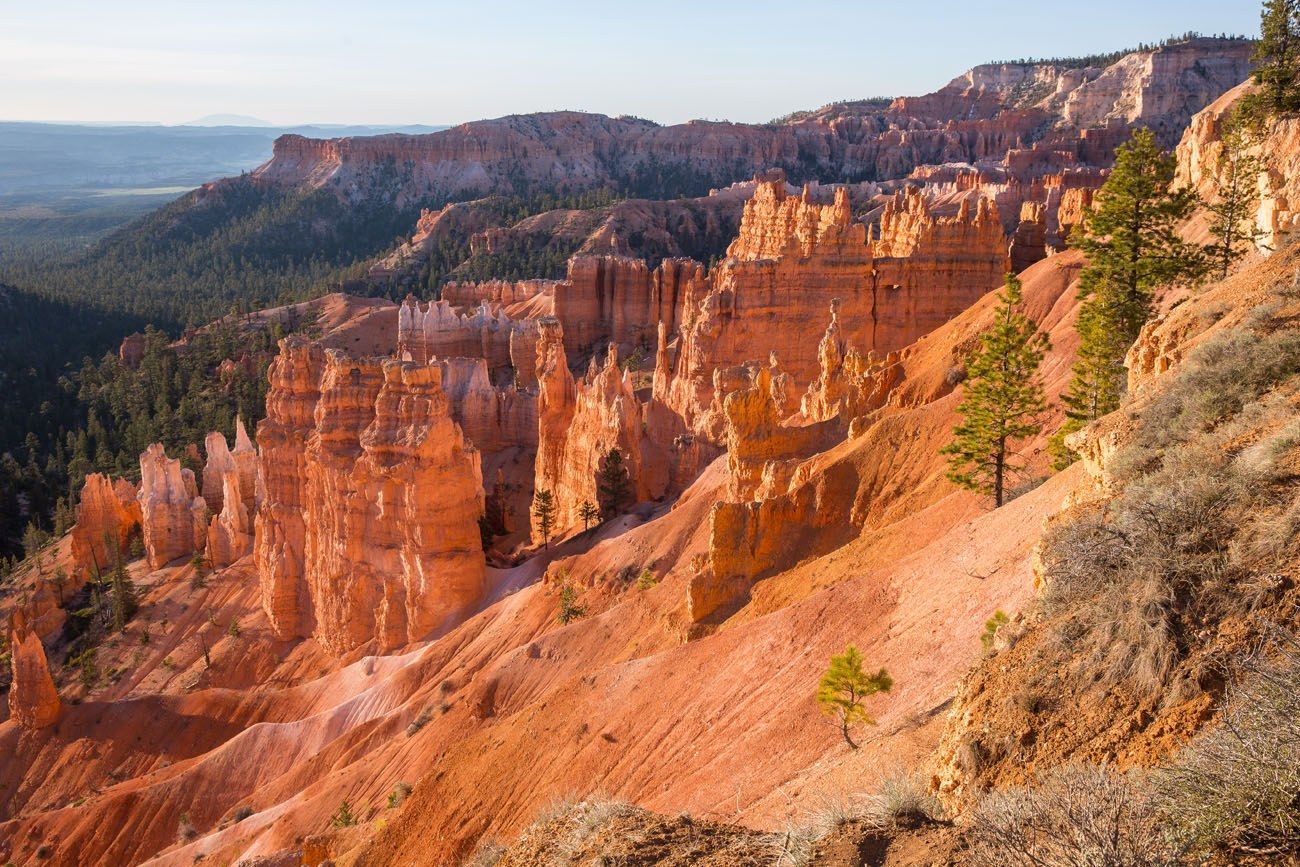 Queens Garden/Navajo Loop Trail
After taking in the view from Sunrise Point, it's time to go hiking. The Queens Garden Trail descends down into the valley amidst a garden of hoodoos and rock formations. It's a gorgeous, relatively easy walk, perfect for all ages and ability levels.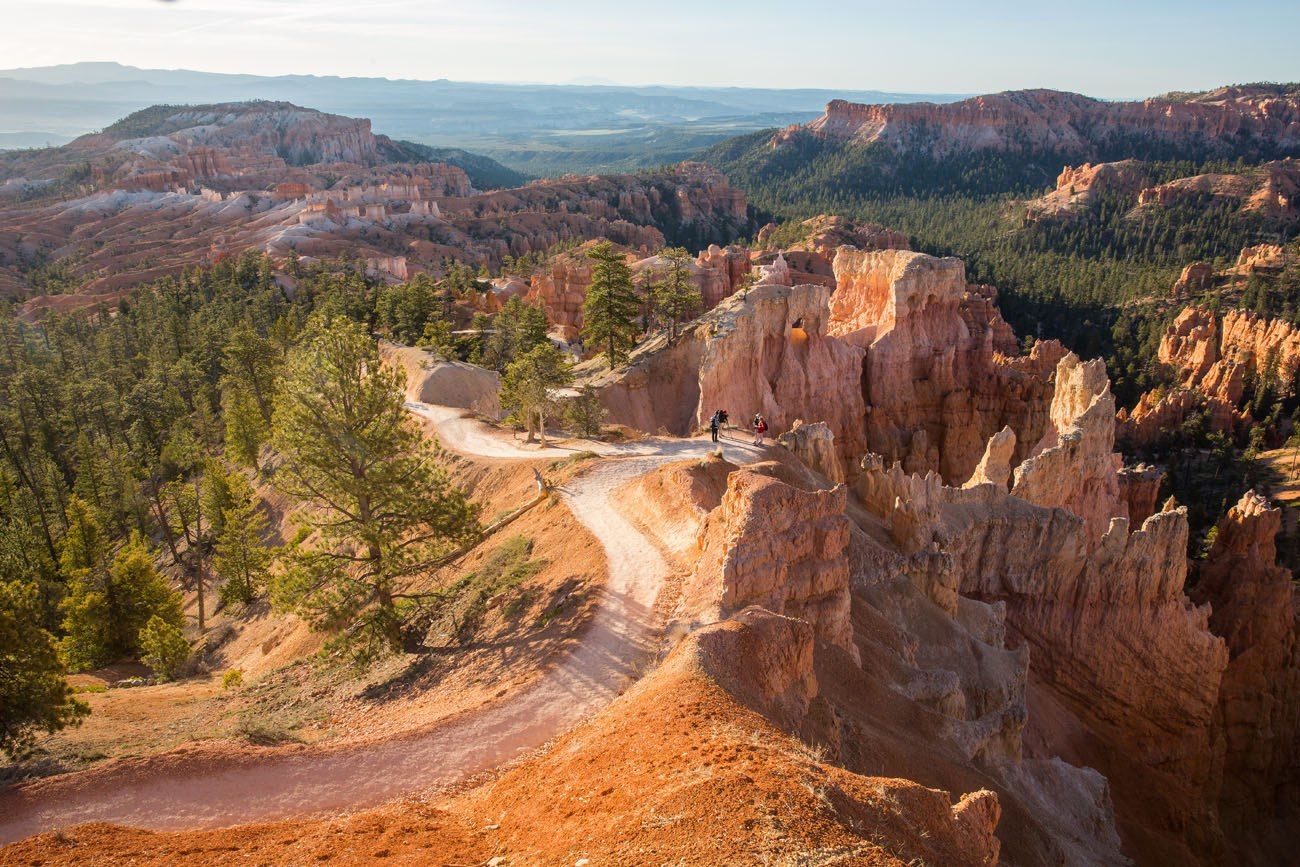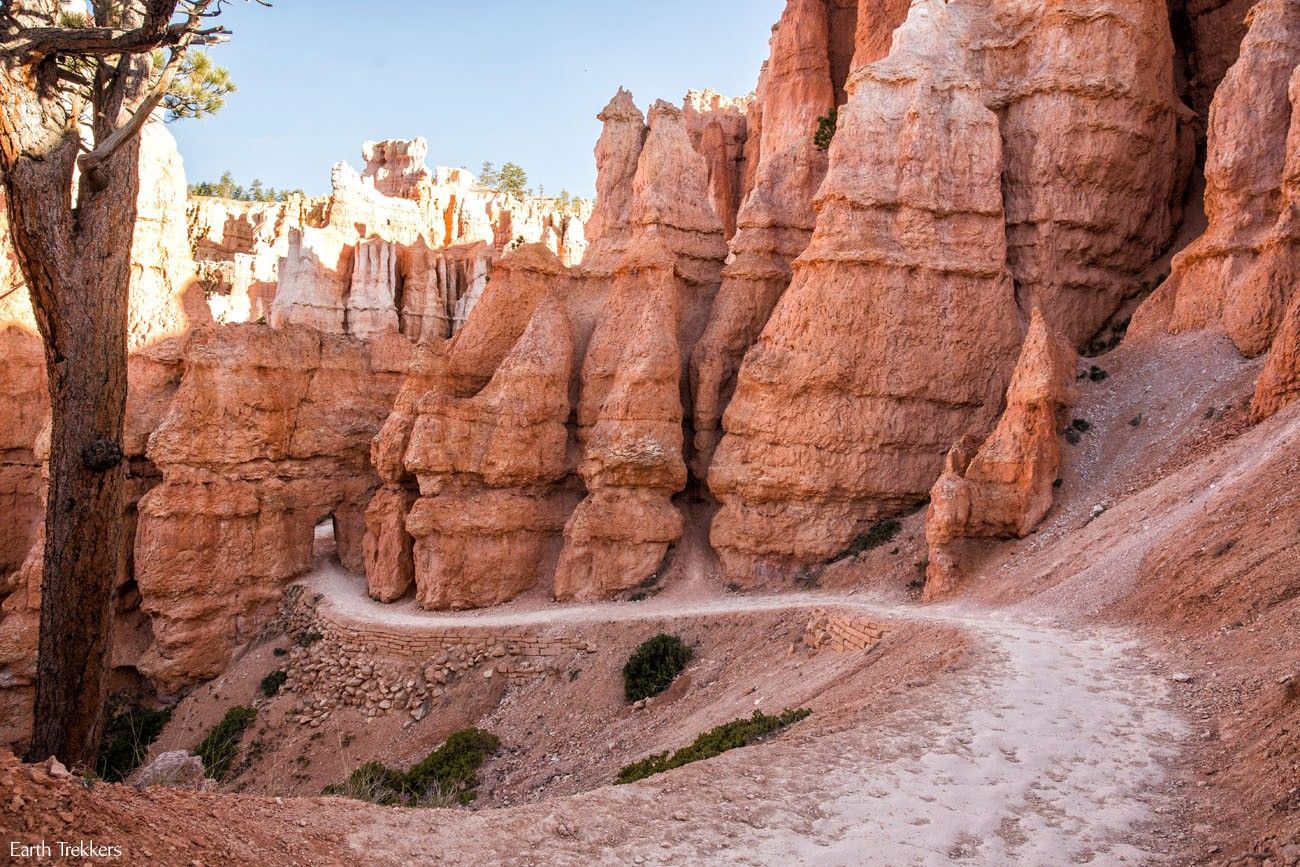 After walking the Queens Garden Trail, you can turn around and retrace your steps back to Sunrise Point. But we recommend hiking further. At the end of the Queens Garden Trail, follow signs to the Navajo Loop Trail. This part of the trail is mostly flat and takes you through a forest, a different landscape than the world of hoodoos.
The Navajo Loop Trail ascends back up to the rim. It's a bit strenuous but the views along the way are magnificent.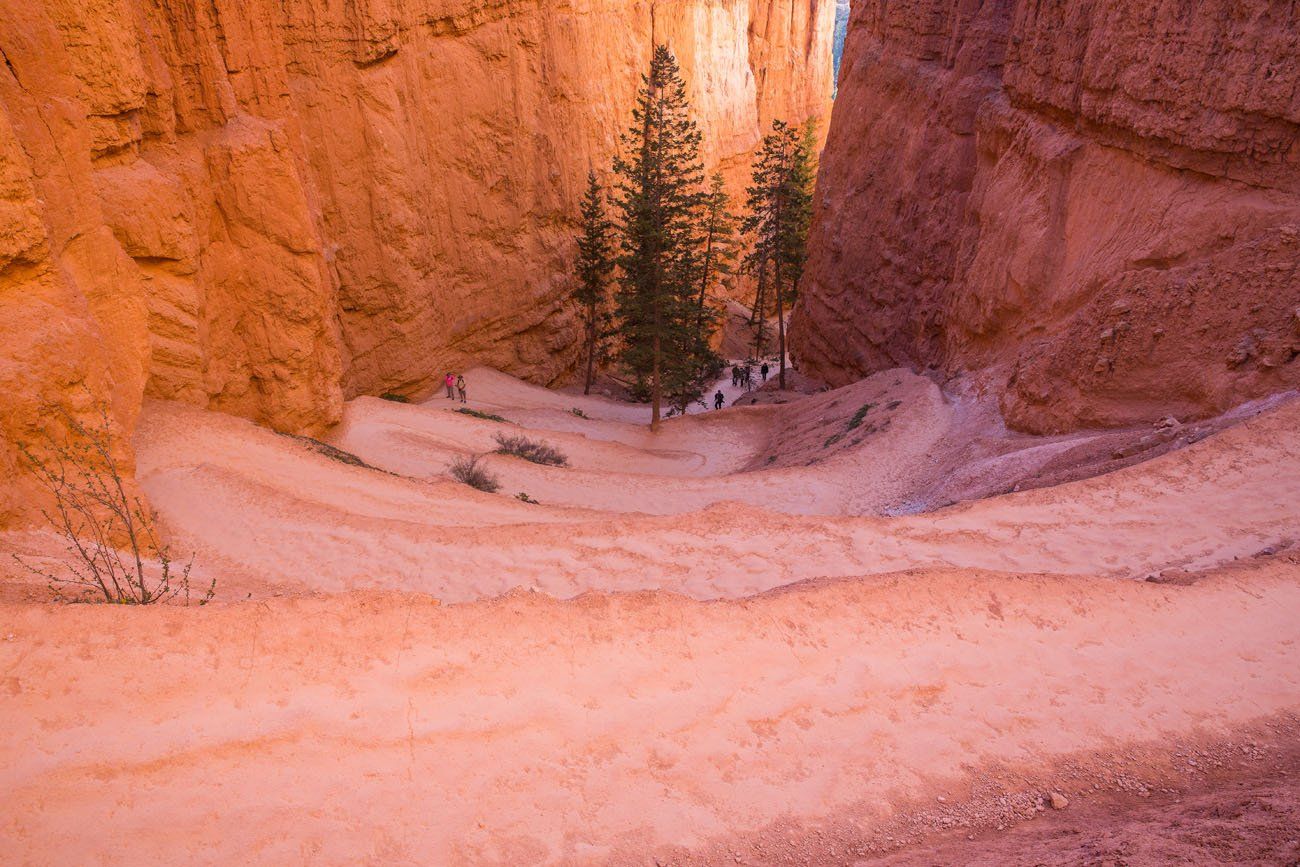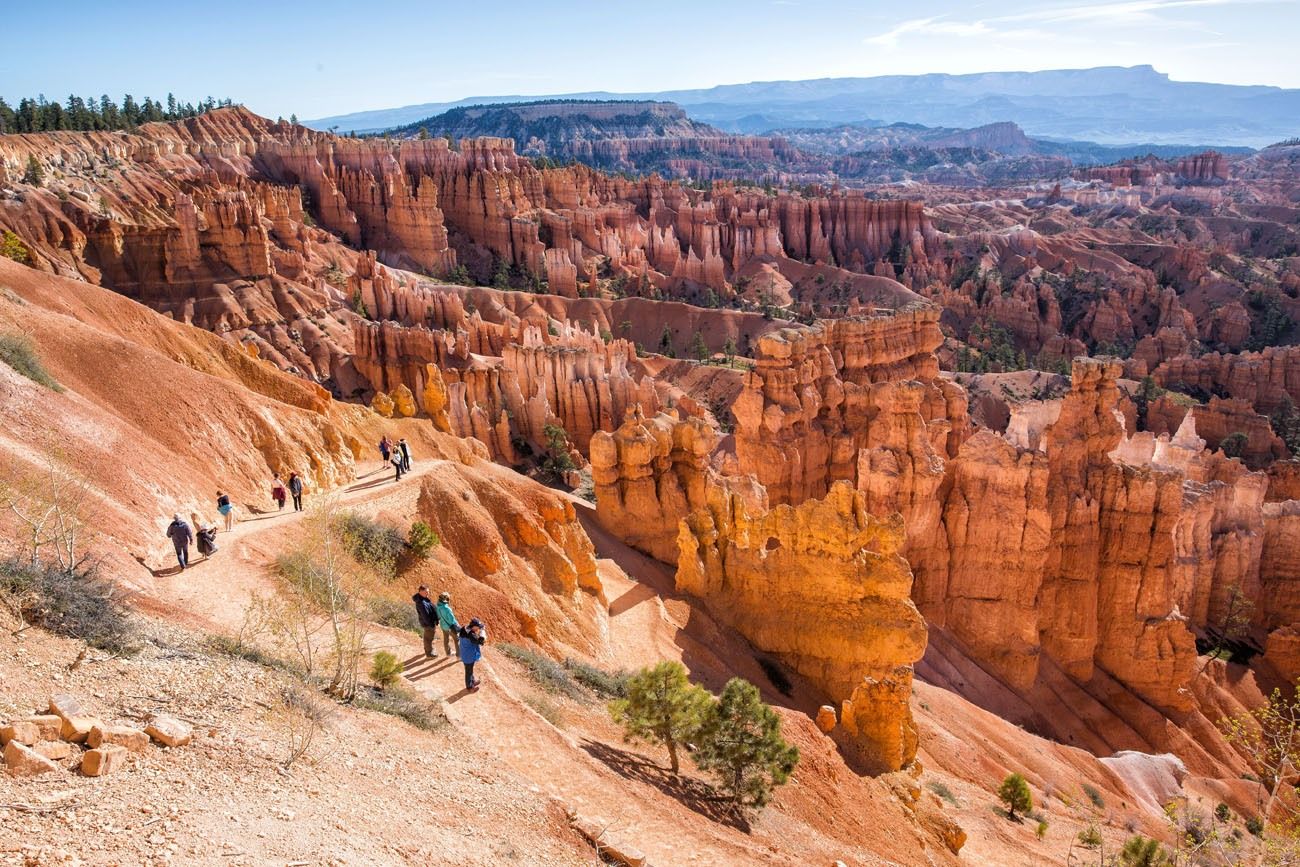 Inspiration Point
Hop back into your car and drive the short distance to Inspiration Point. Now that's a lot of hoodoos!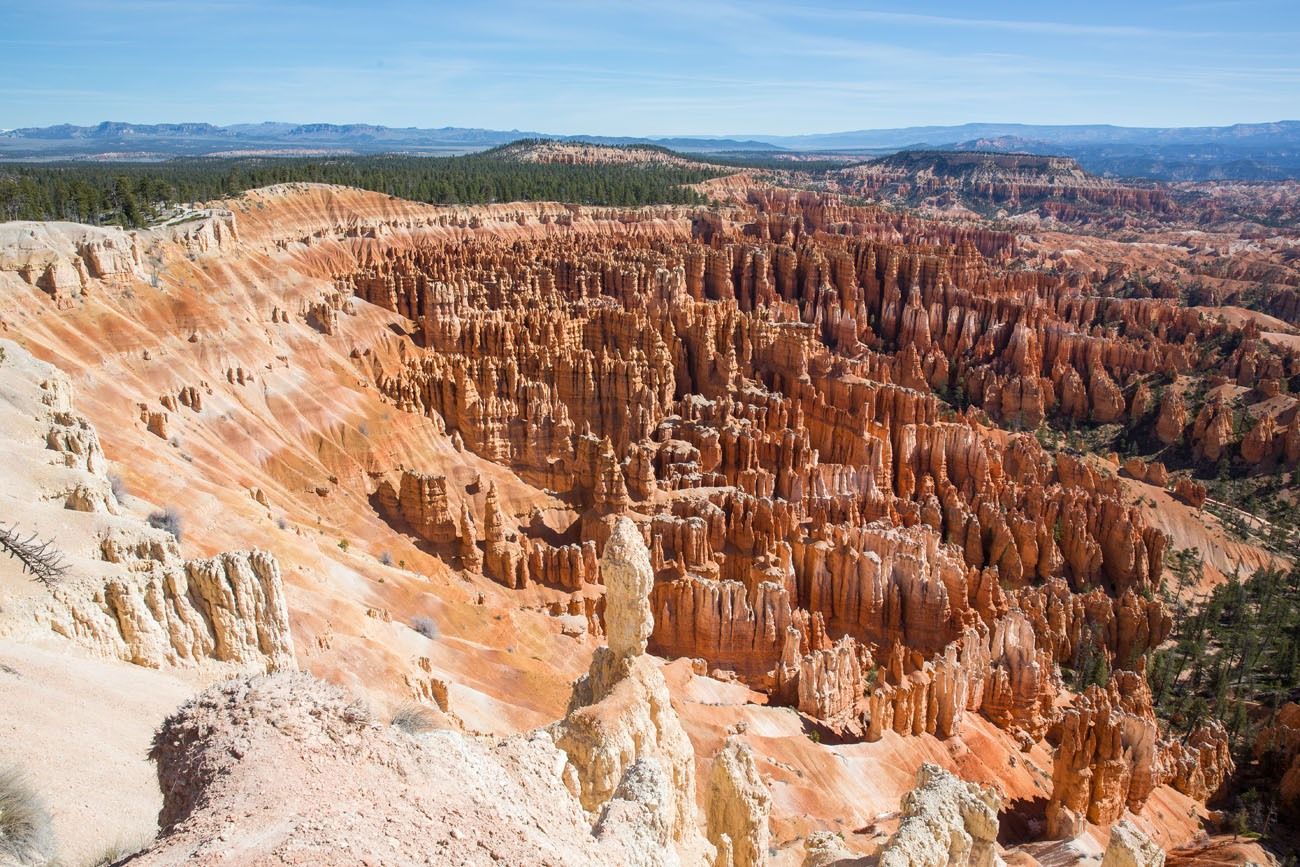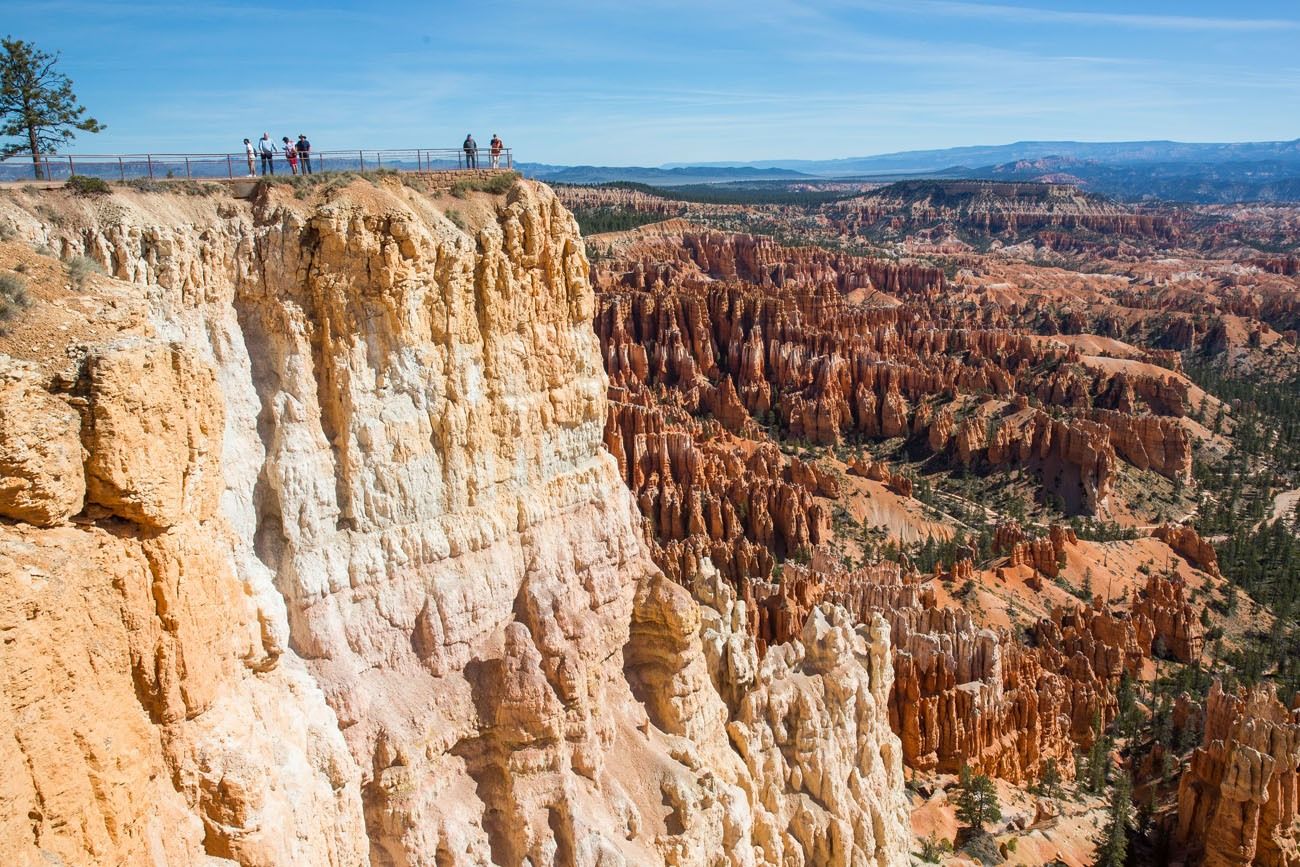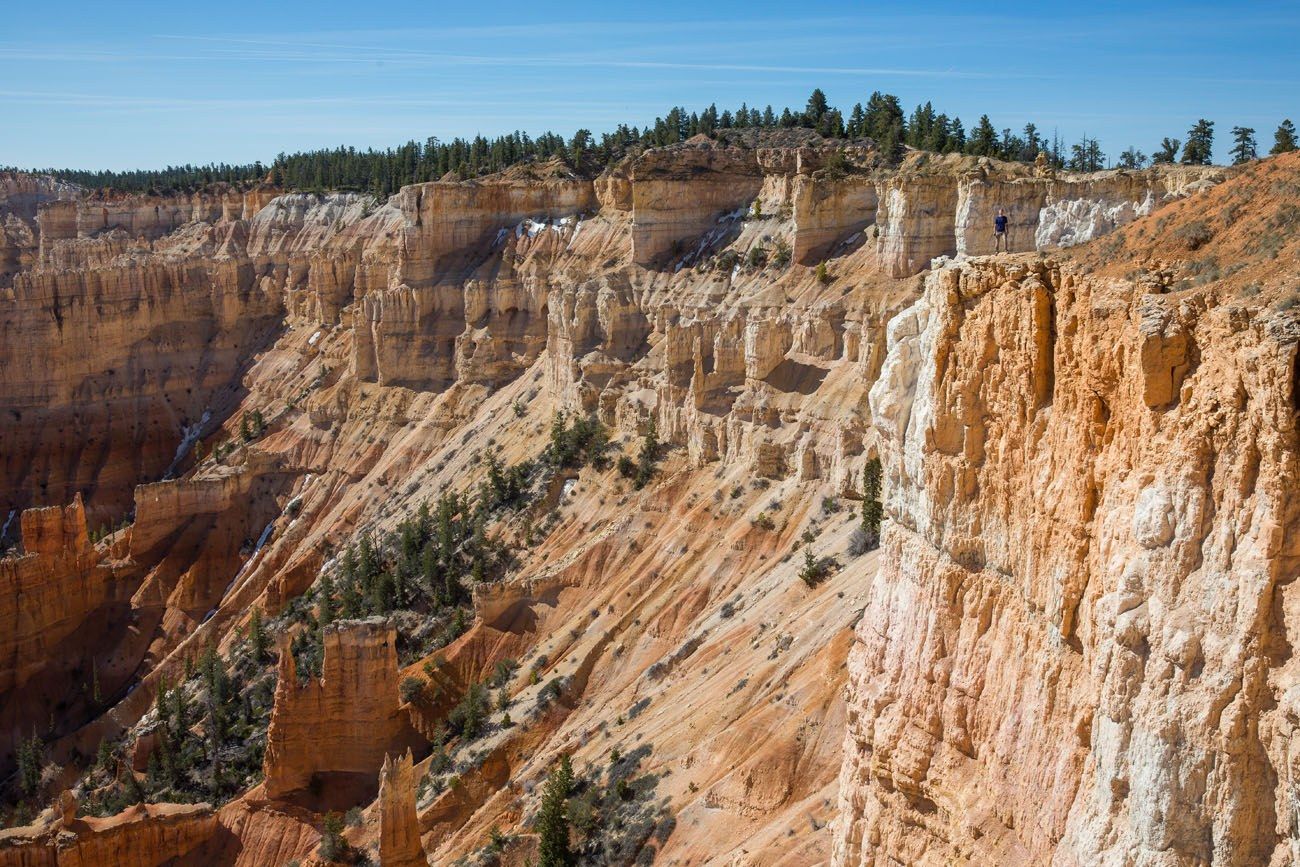 Can you find Tim?
There are two viewpoints at Inspiration Point. Right next to the parking lot is the first view. This one is good, but walk uphill for about 5 minutes to upper Inspiration Point. It's worth the walk and this may be the best view in park.
Bryce Point
A little further down the road is Bryce Point. The view is similar to Inspiration Point.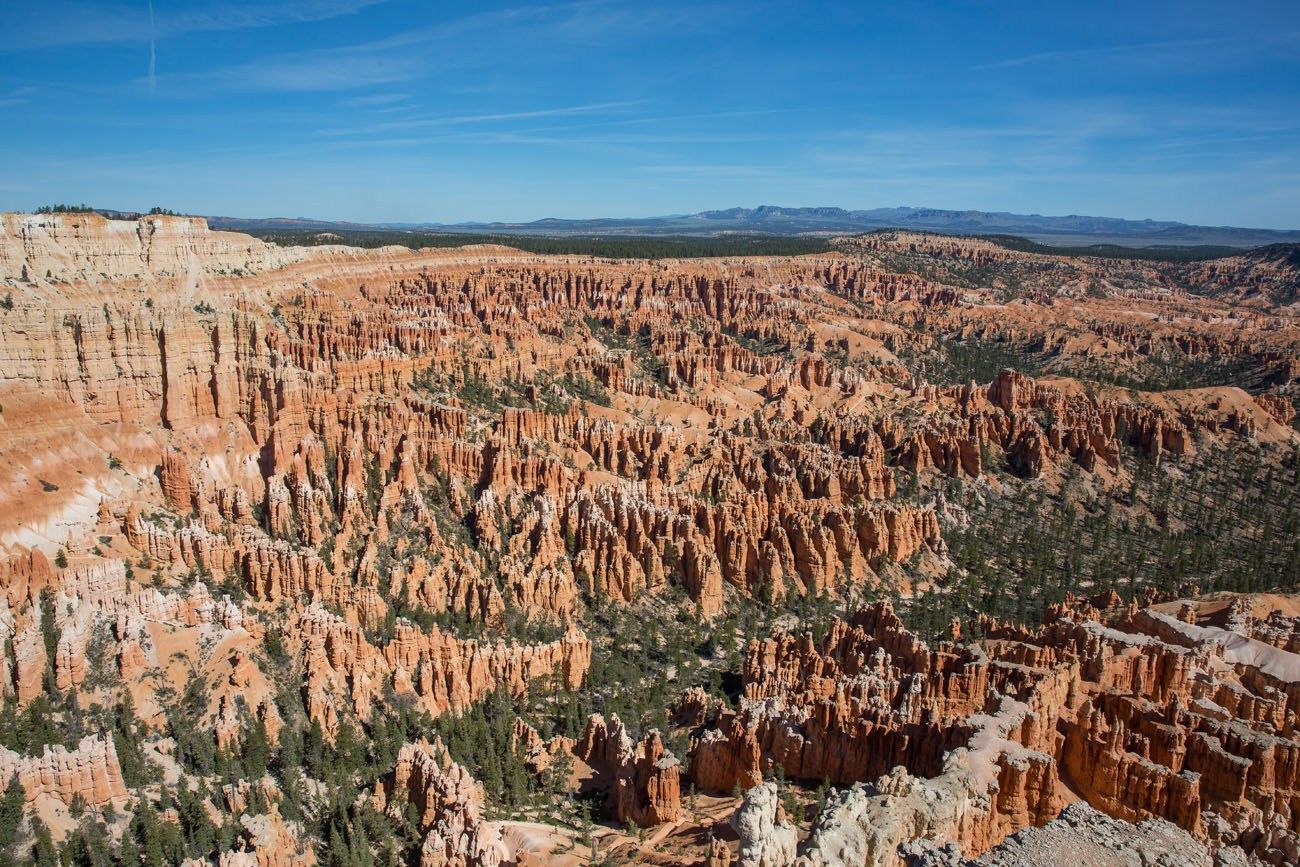 By now, you have seen the the most popular sites in Bryce. However, if you haven't gotten your fill of hiking trails and hoodoos yet, there is still more to see.
While in Bryce Canyon, please practice the seven principles of Leave No Trace: plan ahead, stay on the trail, pack out what you bring to the hiking trail, properly dispose of waste, leave areas as you found them, minimize campfire impacts, be considerate of other hikers, and do not approach or feed wildlife.
With More Time
Rainbow Point and Yovimpa Point
Located as far south as you can drive in Bryce, this viewpoint is good, but not nearly as great as Inspiration Point or the views from the Rim Trail. To get here, it takes about 20 minutes of driving from Bryce Point. On the way here, you can also stop at Natural Bridge for a photo-op.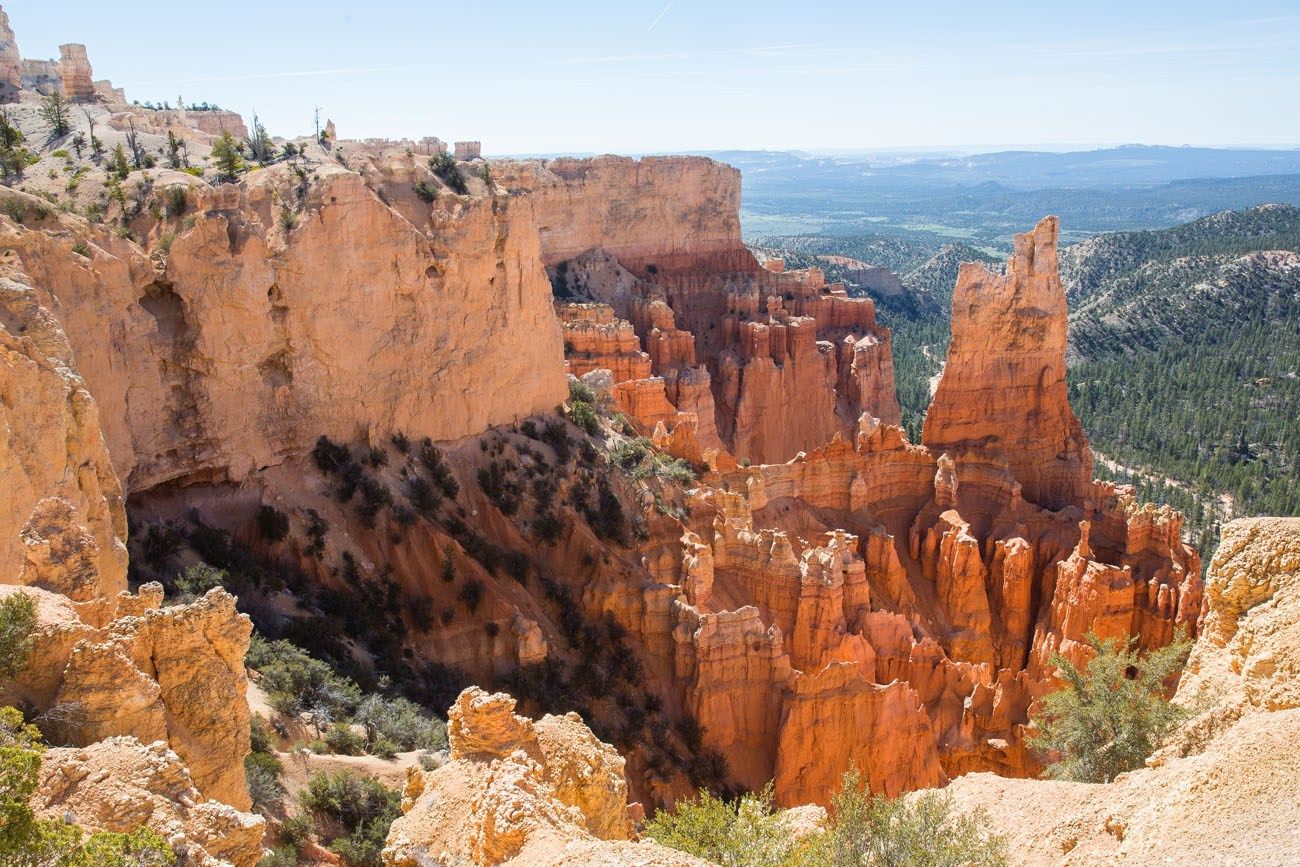 Peekaboo Loop Trail
The Peekaboo Loop Trail is a 4.8 mile trail through a valley filled with pink and orange hoodoos. We did not do this hike, since we left the park early, but it looks like a lot of fun.
The hike starts at Bryce Point. You will descend 1 mile down into the valley, walk the 3 mile loop through the hoodoos, and then climb the last mile back to Bryce Point. This trail tends to be less crowded than Queens Garden or the Navajo Loop Trails.
Fairyland Loop Trail
This is the longest hike on this list. It's an 8 mile hike, starting and ending at Fairyland Point in the northern part of Bryce. This hike is labeled as strenuous because of its length and elevation changes. If you want to get away from the crowds, this is the hike for you.

Our One Day Bryce Canyon Itinerary
Here's what we did. This was a very busy but awesome day in Utah.
We entered Bryce Canyon at sunrise. We hiked the Queens Garden and Navajo Loop Trails, and then visited Inspiration Point, Bryce Point, and Rainbow Point. After having lunch in the town of Bryce, we drove to Kodachrome Basin State Park and did two short hikes here. At 4 pm, we hiked Willis Creek slot canyon and had a fabulous experience!! We highly recommend this hike if you are looking for something else to do in the area. From Willis Creek, it was a 2-hour drive to Zion National Park.
Planning a trip to Utah's national parks? Don't miss our Mighty 5 travel guide. Learn how to plan a road trip through all five parks with details on the best things to do, where to stay, and more.
Helpful Tips for the Best Experience
Get Here as Early as Possible
Getting here early has its advantages. If you are here early, you can avoid a lot of tourist traffic on the trails and at the viewpoints. Most people arrive between 9 to 10 am. Before this time, the park is very quiet and therefore, a very nice experience for those who are here early.
Best Time for Photography
Sunrise is the best time to be in Bryce Canyon for photography. The landscape is awash in a soft, warm, reflective light. Later in the day, the sun casts long shadows, which makes photography challenging.
Each viewpoint offers something different, but for sunrise I would recommend Inspiration Point or Bryce Point (for wide vistas of the park) or Sunset Point, for a closer view of the hoodoos. Ironically, I would not recommend Sunrise Point because this spot does not offer those wide, expansive views of thousands of hoodoos like Inspiration Point.
Best Time of Year to Visit
Bryce Canyon makes a great destination all year long. In the winter months, the hoodoos get a dusting of snow, a magical time to be here. Spring and fall generally has pleasant weather and smaller crowds than the busy summer months. Since Bryce sits at such a high elevation (8,000 feet), this park stays cool, even during the summer months.
Where to Stay
There is only one lodge, the Bryce Canyon Lodge, available inside of the park, so if you want to stay here, reservations need to be made far in advance. There are also several campgrounds located inside of Bryce Canyon.
In the town of Bryce there are several hotels and restaurants, just a few miles from the entrance to the park. The top pick here is the Best Western Plus.
Tropic is a small town that is located 15 minutes away from the entrance into Bryce Canyon National Park. This town has a great selection of small properties where you can stay in a bed and breakfast, cabin, or motel. Bryce Country Cabins, Happy Trails BnB, and Bybee's Steppingstone Motel all get very good reviews.
---
Have you been to Bryce Canyon? What was your favorite experience? Comment below!
More Information about Utah
UTAH'S MIGHTY 5: Utah's Mighty 5 is a collection of five national parks in Utah. Learn more about the parks and how to plan your visit in our Guide to Utah's Mighty 5.
AMERICAN SOUTHWEST ITINERARY: If you have 10 days, learn how to road trip through the American Southwest, visiting several national parks, state parks, and scenic spots in Arizona, Utah, and Nevada.
GRAND STAIRCASE-ESCALANTE: In Grand Staircase-Escalante, hike Peek-A-Boo and Spooky Gulches, explore Devils Garden, and hike through Zebra Slot Canyon.
HIKES IN ZION: Observation Point, Angels Landing, Canyon Overlook, and the West Rim Trail are some of the top hiking trails in Zion. For the full list, read our Best Hikes in Zion guide.
UNITED STATES: We have TONS of information about places to visit in the United States in our USA Travel Guide. In our Guide to the US National Parks, get the full list of national parks with important travel planning information, such as things to do in the parks and sample itineraries.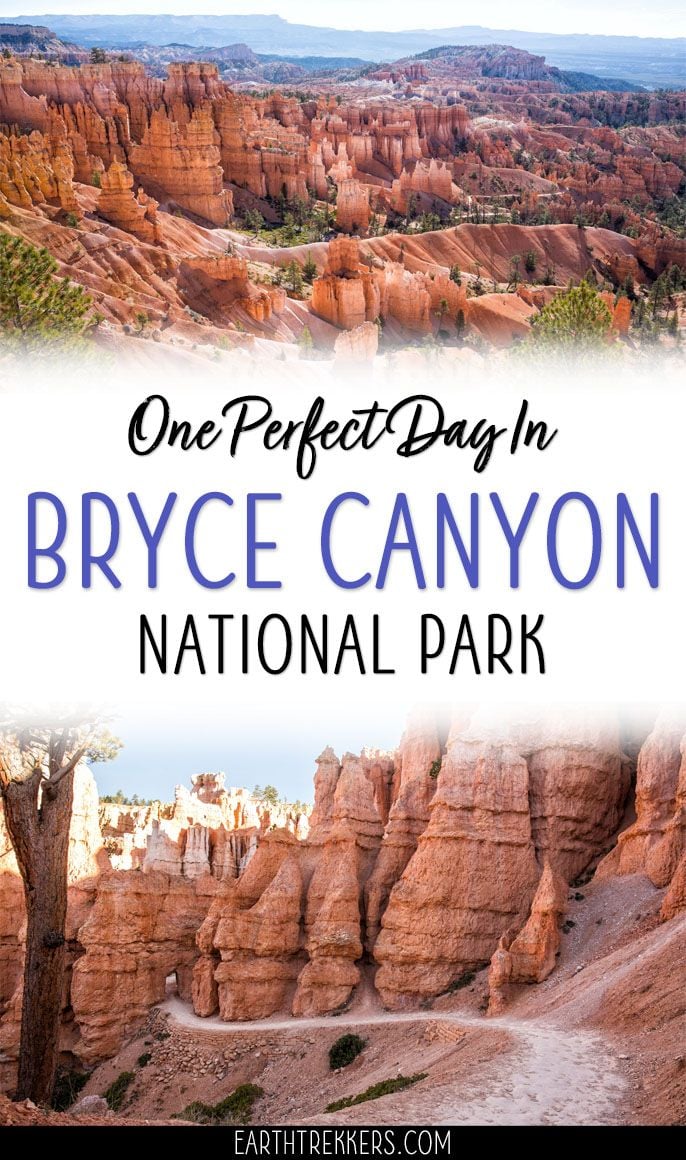 Note: This post contains affiliate links. When you make a purchase using one of these affiliate links, we get paid a small commission at no extra cost to you.
All rights reserved © Earth Trekkers. Republishing this article and/or any of its contents (text, photography, etc.), in whole or in part, is strictly prohibited.