The hike along the Willis Creek Slot Canyon is so much fun! And to think that we almost skipped this hike.
After a long day of hiking and exploring both Bryce Canyon National Park and Kodachrome Basin State Park, we wondered if we should tack on Willis Creek to the end of our day. Would it be worth it?
The answer is yes. Willis Creek was a blast to hike. Hiking within the narrow canyon, hopping and skipping over the creek, and watching as the canyon walls steadily grew higher and higher over us as we headed downstream was such a great experience.
Willis Creek is fun to explore. It's easy, it's great for all ability levels and ages, and with the creek and high canyon walls, you can stay cool (almost) even during the hotter summer months.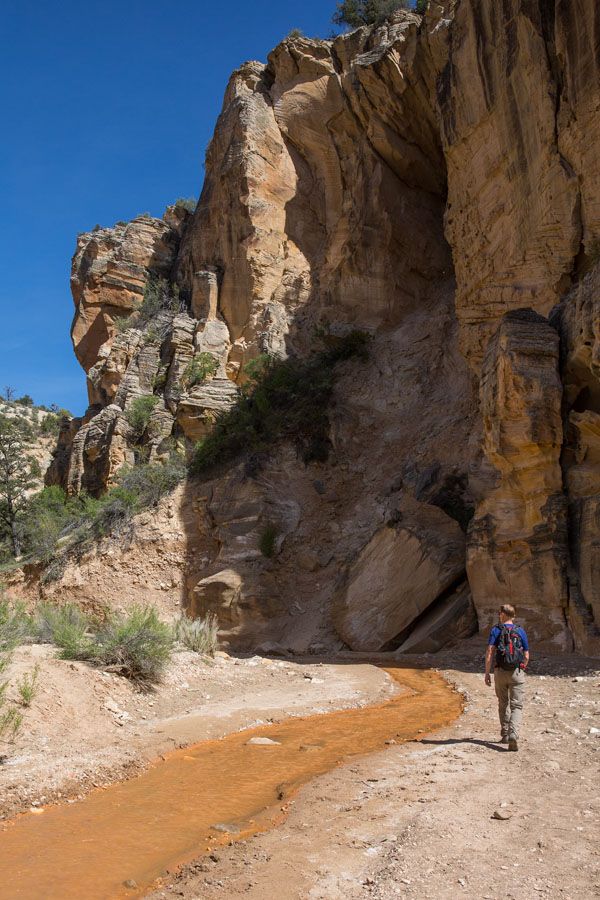 Willis Creek Hiking Stats
Distance: 3+ miles (out and back)
Elevation Gain: Minimal
Difficulty: Easy
Length of Time: 1.5 – 3 hours

When to go:

You can hike Willis Creek all year. The best time for this hike are during the spring and fall, when temperatures are mild. Expect very high temperatures midday during the summer. In the winter, it will be cold but crowds will be at their lowest.
Getting to the Willis Creek Trailhead
Willis Creek is located within Grand Staircase-Escalante National Monument. The closest town is Cannonville. From Cannonville, head south on Kodachrome Road, which becomes Cottonwood Canyon Road. Before arriving at Kodachrome Basin State Park (and before crossing over the Paria River), turn right on BLM 500, also named Skutumpah Road.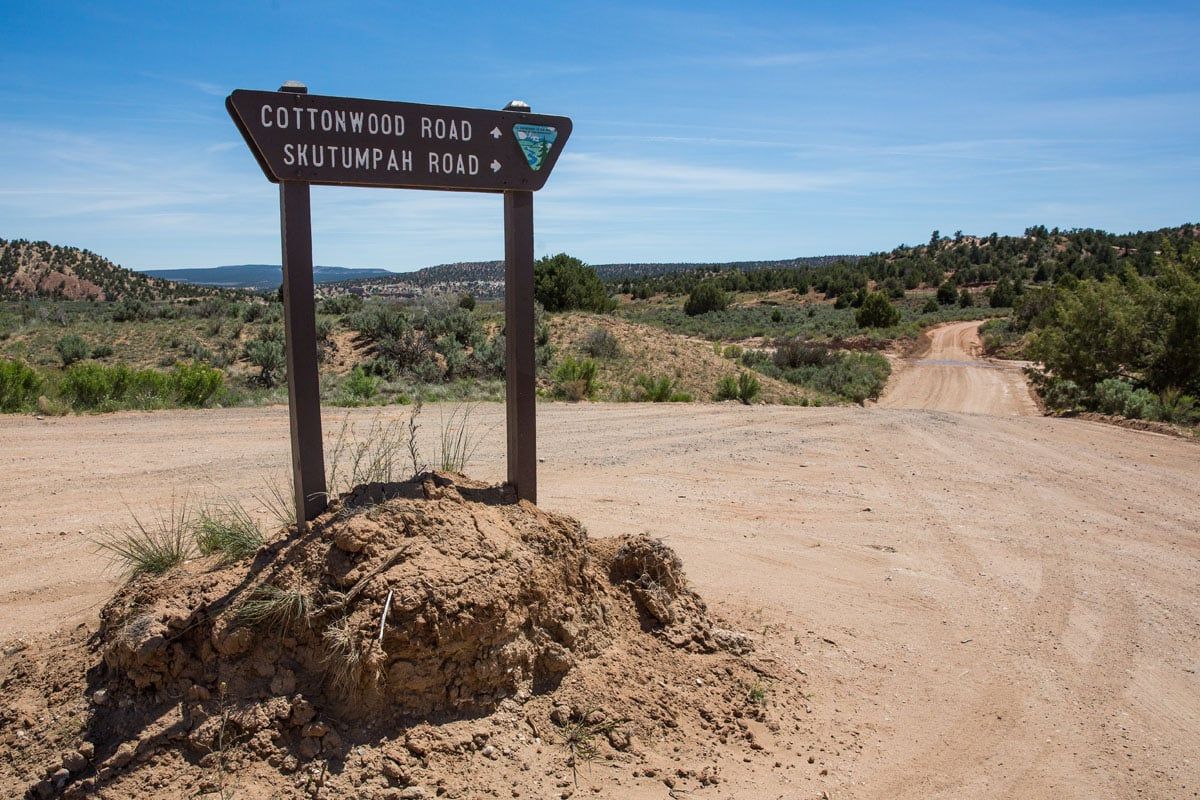 Skutumpah Road is a well groomed dirt road that takes you to the trailhead. Cars should be able to drive on this road, although a SUV or 4×4 is ideal. During wet, rainy weather, this road may be impassable, even if you have a 4×4.
Follow Skutumpah Road for 5.8 miles (about 20 minutes of driving) to a car park on the right hand side of the road.

This is the elevation profile for the drive from the intersection of Cottonwood Canyon Road and Skutumpah Road to the parking lot at the trailhead (one-way). Some people report difficulties driving up the steeper sections of the road, and with this elevation profile, you can get an idea of what to expect. We do not have an elevation profile for the Willis Creek hike, since it is mostly flat.
Important Update: In recent months, we have heard numerous reports about the road conditions on Skutumpah Road. Make sure you read the comments below to get updated reports on the road conditions. And if you hike Willis Creek, feel free to write back in with your experience on the road and the trails, to help other hikers. Thanks!
The GPS coordinates for the trailhead are 37.483062, -112.096760.
From the car park, cross the road to get to the trailhead.
Hiking Willis Creek Slot Canyon
Step-By-Step Trail Guide
After following the trail for about 200 meters through brush and small trees, the trail dips down to Willis Creek. For the rest of the hike, you will be walking alongside or in Willis Creek.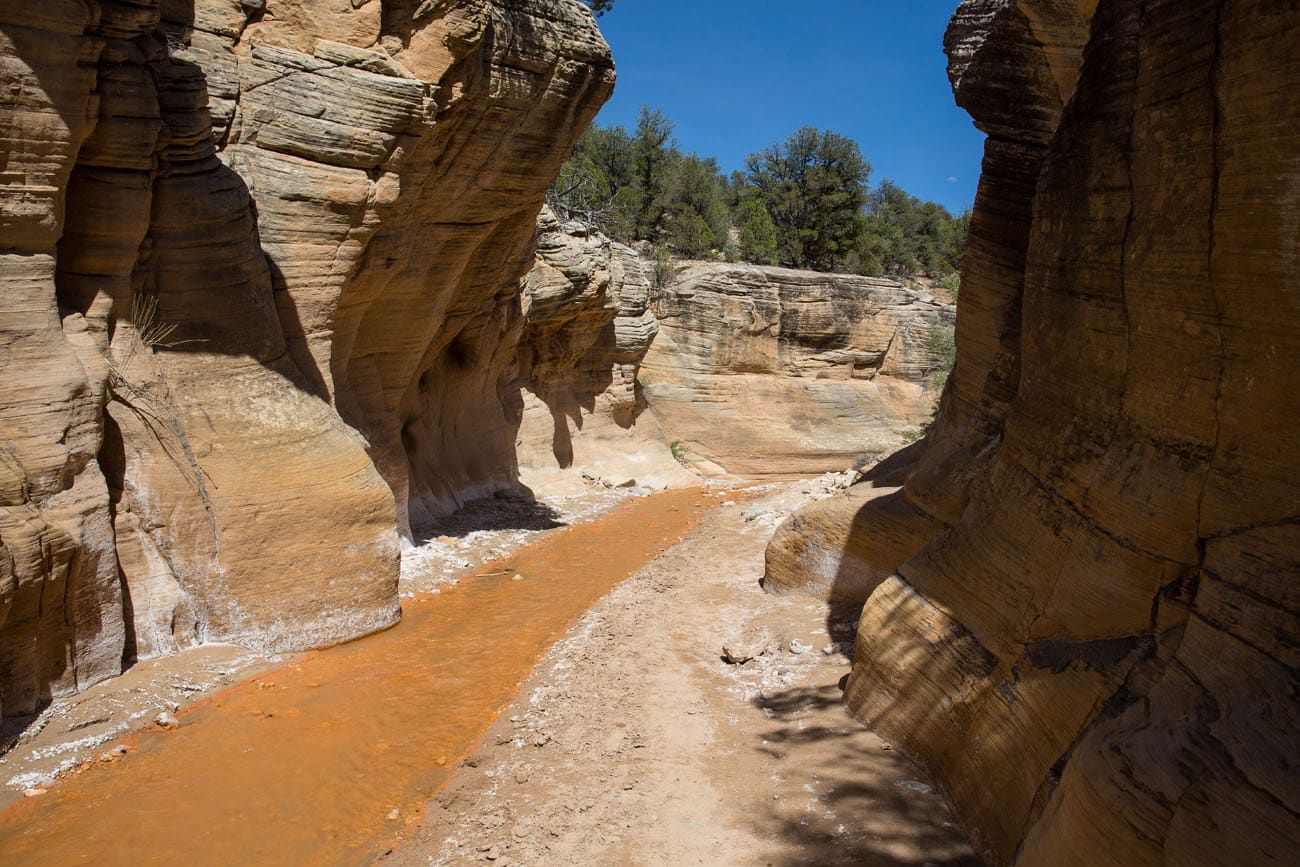 At first, the canyon walls are not very high, and the canyon is relatively wide. But this changes the further you hike.
It does not take long for the canyon to get narrow. This is when it gets really fun! Tim and I tried our best to keep our feet dry, since we only had one pair of hiking shoes and several days of hiking to go. It kept things fun, hopping and skipping across the creek.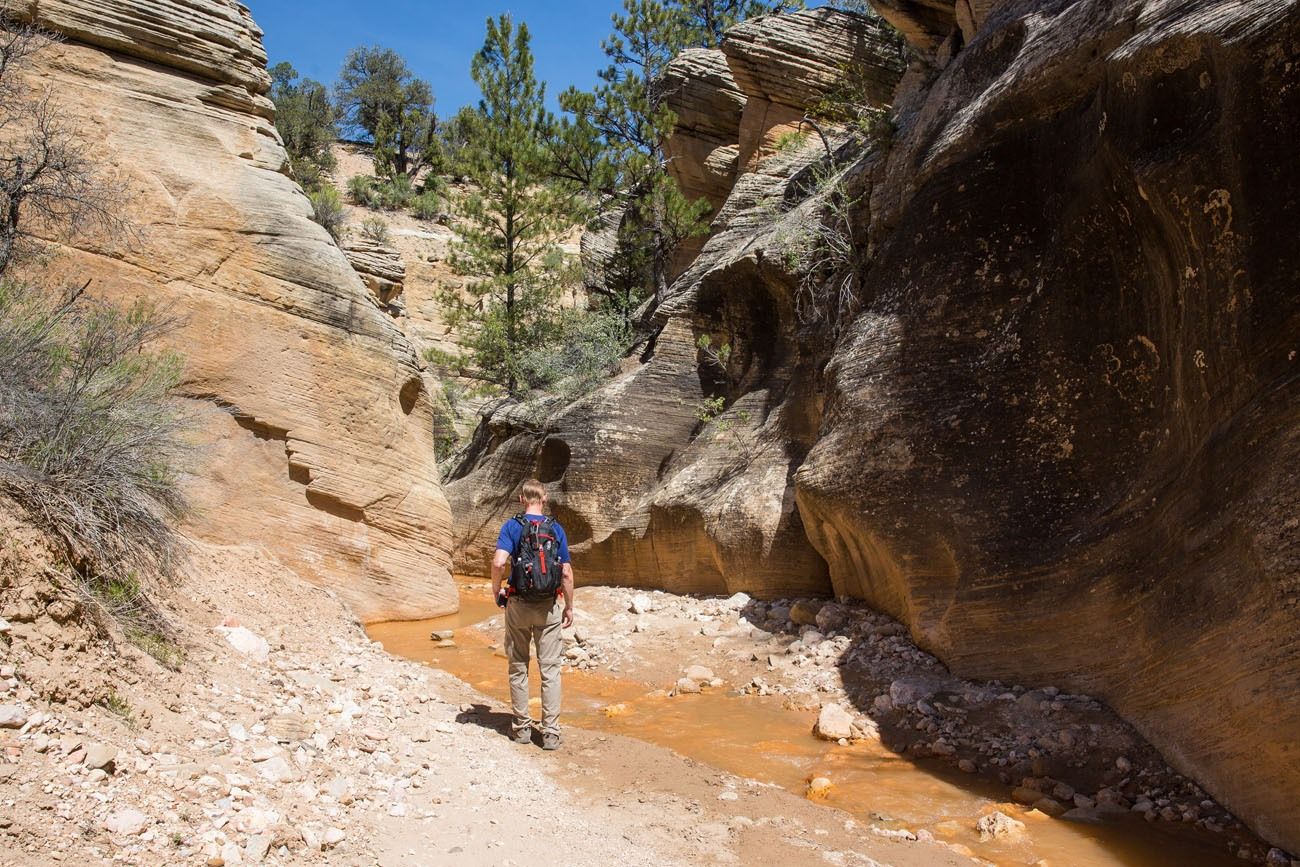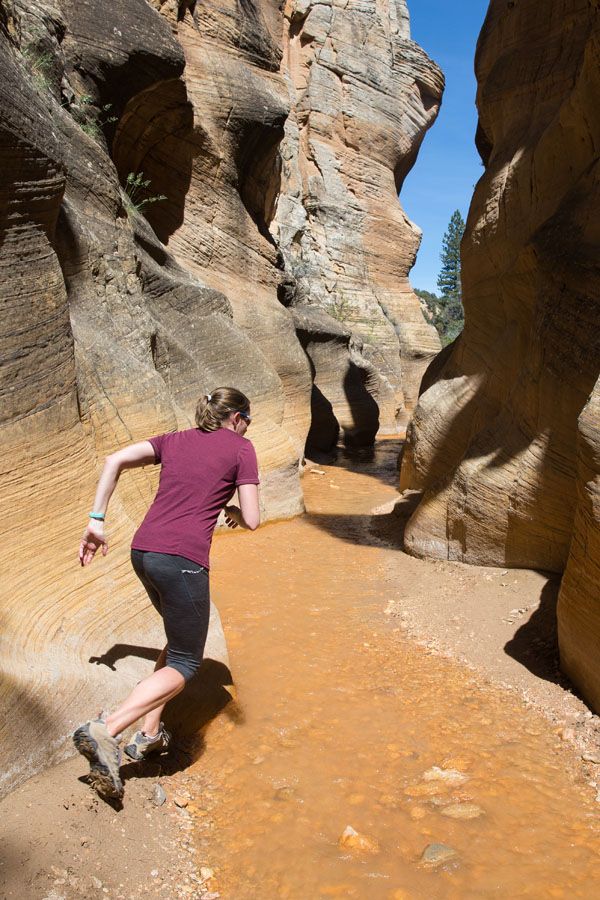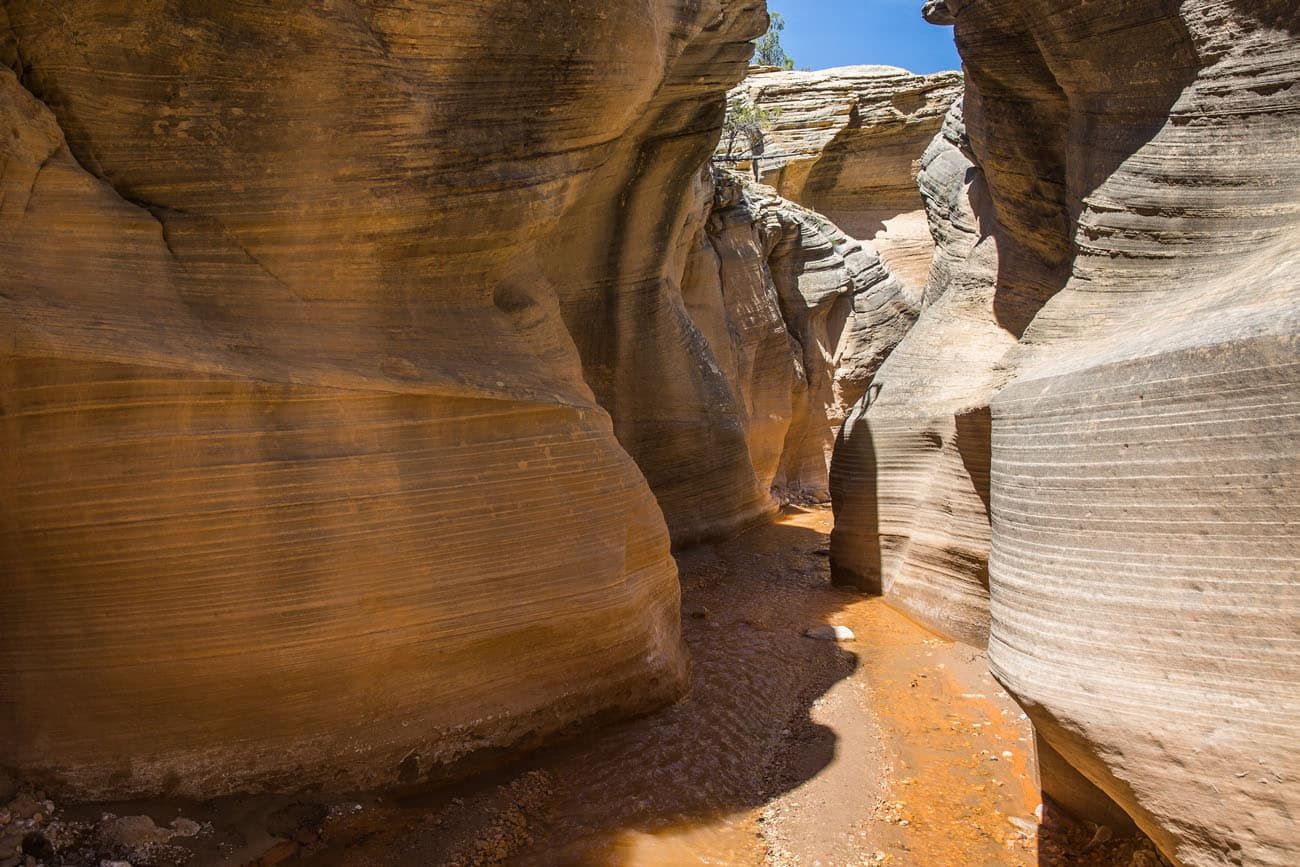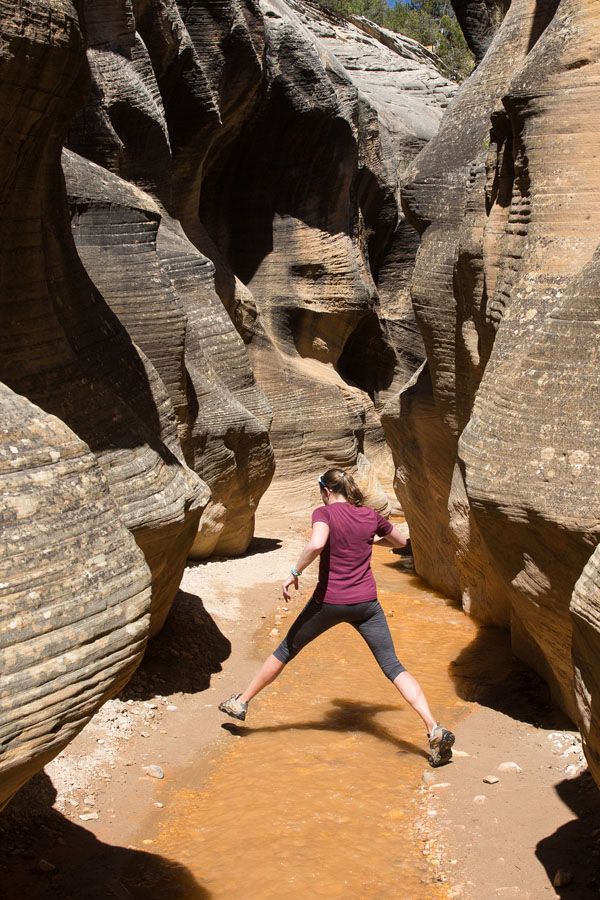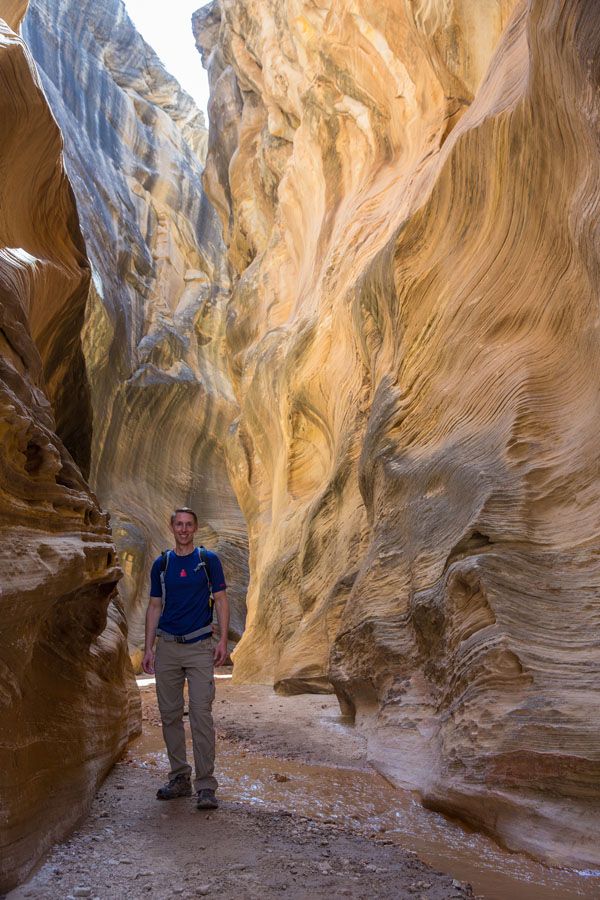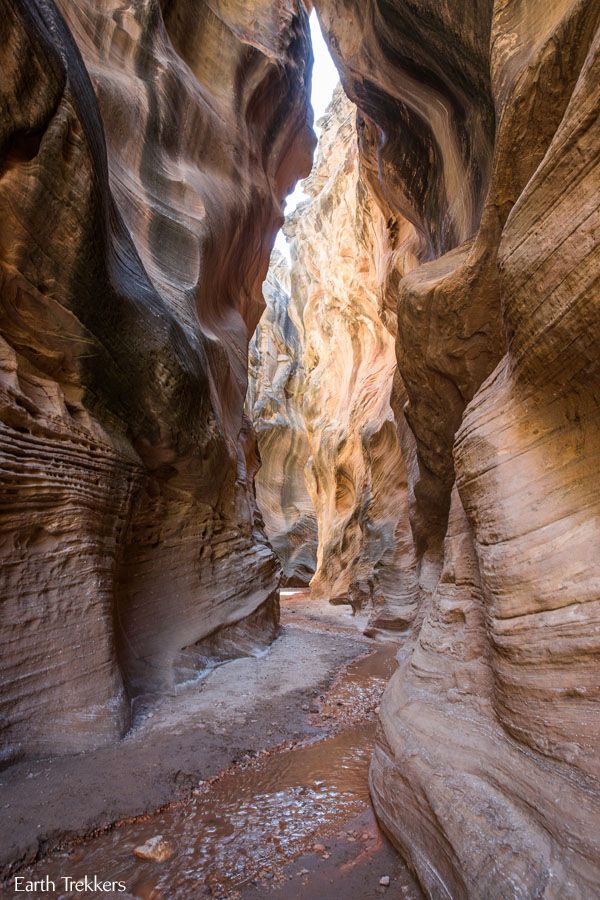 In some places, the canyon widens, which is nice, but the best parts of the hike are when the walls close in on you and make you feel so tiny. We felt like kids again, out exploring. During our hike, we only saw a handful of other people, making this an even better experience.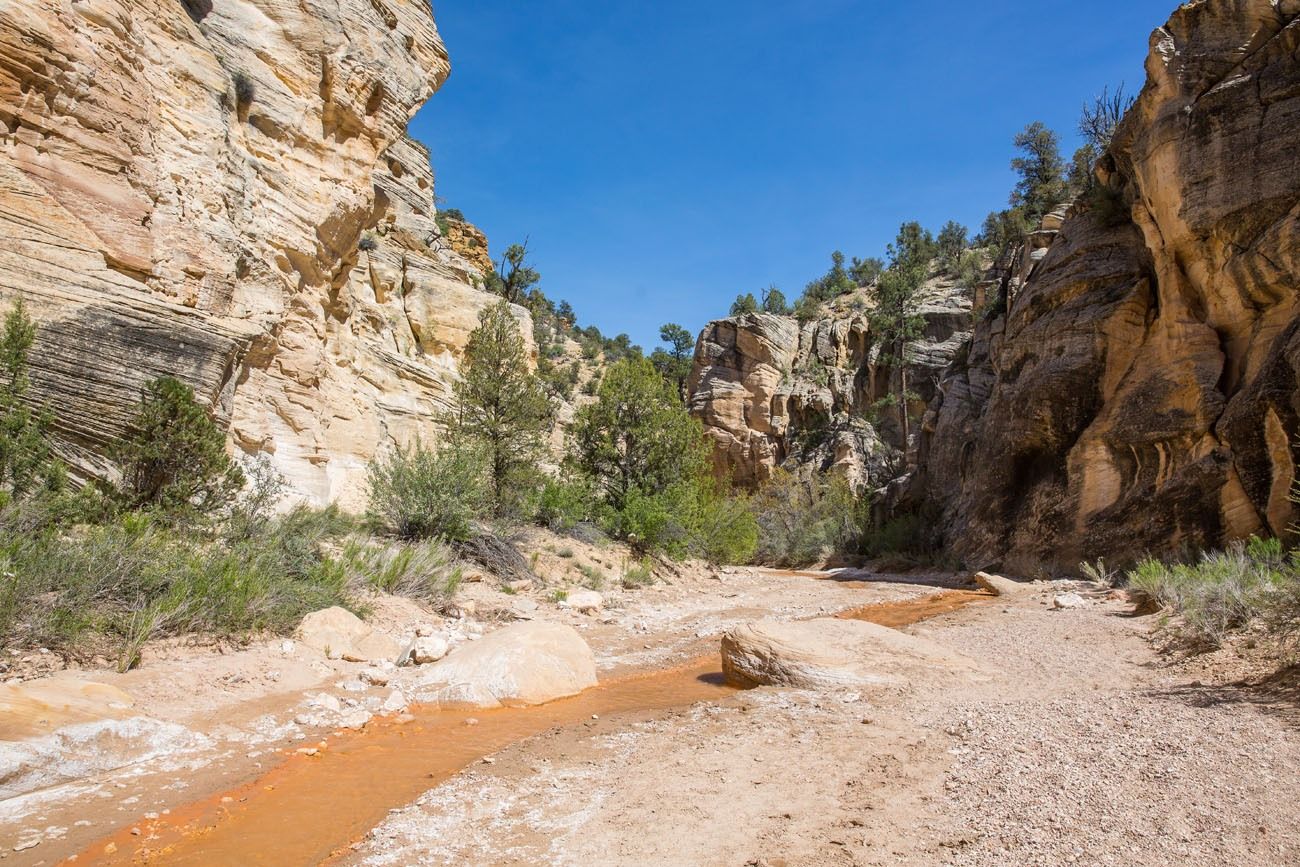 You have the option to hike all of the way to Sheep Creek. However, the slot canyon ends at 1.4 miles. Beyond this, the canyon widens and even though its scenic, it can get monotonous. If you do not have a GPS with you, once you get to this gigantic rock in the creek, the slot canyon portion of the hike is over. You can keep going or turn around here, the choice is yours.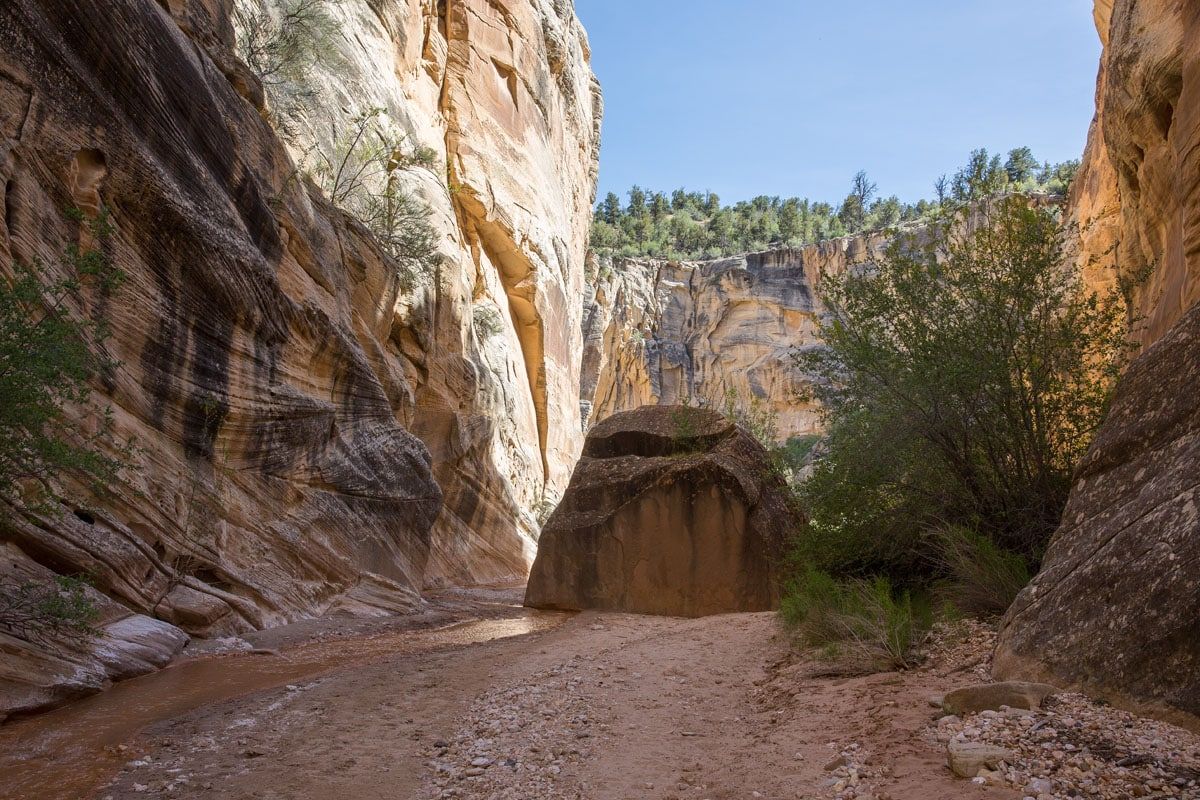 About Our Experience
Willis Creek can be combined with other parks in the area.
We started our day at sunrise at Bryce Canyon. After spending six hours in Bryce, we drove out to Kodachrome Basin State Park where we did two hikes (Shakespeares Arch-Sentinel Trail and Angel's Palace Trail). Later in the afternoon, around 4 pm, we started the Willis Creek hike. We almost did not do this hike, thinking it would be a bust after amazing Bryce Canyon and hiking in Kodachrome, but Willis Creek surprised us. This hike is pure fun and with very few people here, it was a great experience.
If you are wondering if Willis Creek is worth it, it really is! It's fun, it's easy, and it only takes a few hours. If you are traveling with kids, they are going to have a blast! Why not add it to your list if you are in the area?
We hiked this trail in May 2017.
Driving Times to Nearby Destinations:
Bryce Canyon National Park: 24 miles, 50 minutes
Kodachrome Basin State Park: 10 miles, 30 minutes
Zion National Park: 91 miles, 2 hours
Escalante: 43 miles, 1.25 hours

Important Things to Know Before You Go
Flash Floods. Since you are hiking through a slot canyon, flash floods are a danger. Make sure you check the weather forecast before you start the hike. Don't hike if thunderstorms are in the area.
Shoes. There is a good chance you feet will get wet. You need to wear a sturdy pair of shoes, like hiking shoes, tennis shoes, or sandals designed for hiking (Keen sandals).
Bring lots of water. Bring several liters of water per person, especially during the summer months.
Sunscreen. Even though you are hiking through a canyon, you will still be exposed to the sun for most of the hike. Make sure you are wearing sunscreen.
Please practice the seven principles of Leave No Trace: plan ahead, stay on the trail, pack out what you bring to the hiking trail, properly dispose of waste, leave areas as you found them, minimize campfire impacts, be considerate of other hikers, and do not approach or feed wildlife.
---
If you have any questions about hiking Willis Creek, or if you want to share your experience, either on the hiking trail or the road to get here, let us know in the comment section below.
More Information about Utah
UTAH ITINERARY: In our Utah National Parks Road Trip Guide, we cover multiple ways to road trip through the national parks in Utah.
ZION NATIONAL PARK: Check out our Zion National Park Travel Guide for important travel planning tips, sample itineraries, advice on when to go, where to stay, and more.
GRAND STAIRCASE-ESCALANTE: In Grand Staircase-Escalante, hike Peek-A-Boo and Spooky Gulches, explore Devils Garden, and hike through Zebra Slot Canyon.
GOBLIN VALLEY: Goblin Valley is a small state park packed with unique rock formations that's a fun place to explore, especially for kids. Nearby you can also hike through Little Wild Horse slot canyon.
MONUMENT VALLEY: Get the details on what to do and how to plan your visit in our Guide to Monument Valley. We also have information on Teardrop Arch and a sunrise photography tour of Monument Valley.
USA ROAD TRIPS: Planning your next big adventure in the USA? Check our our USA Road Trip Guide for travel ideas and sample itineraries.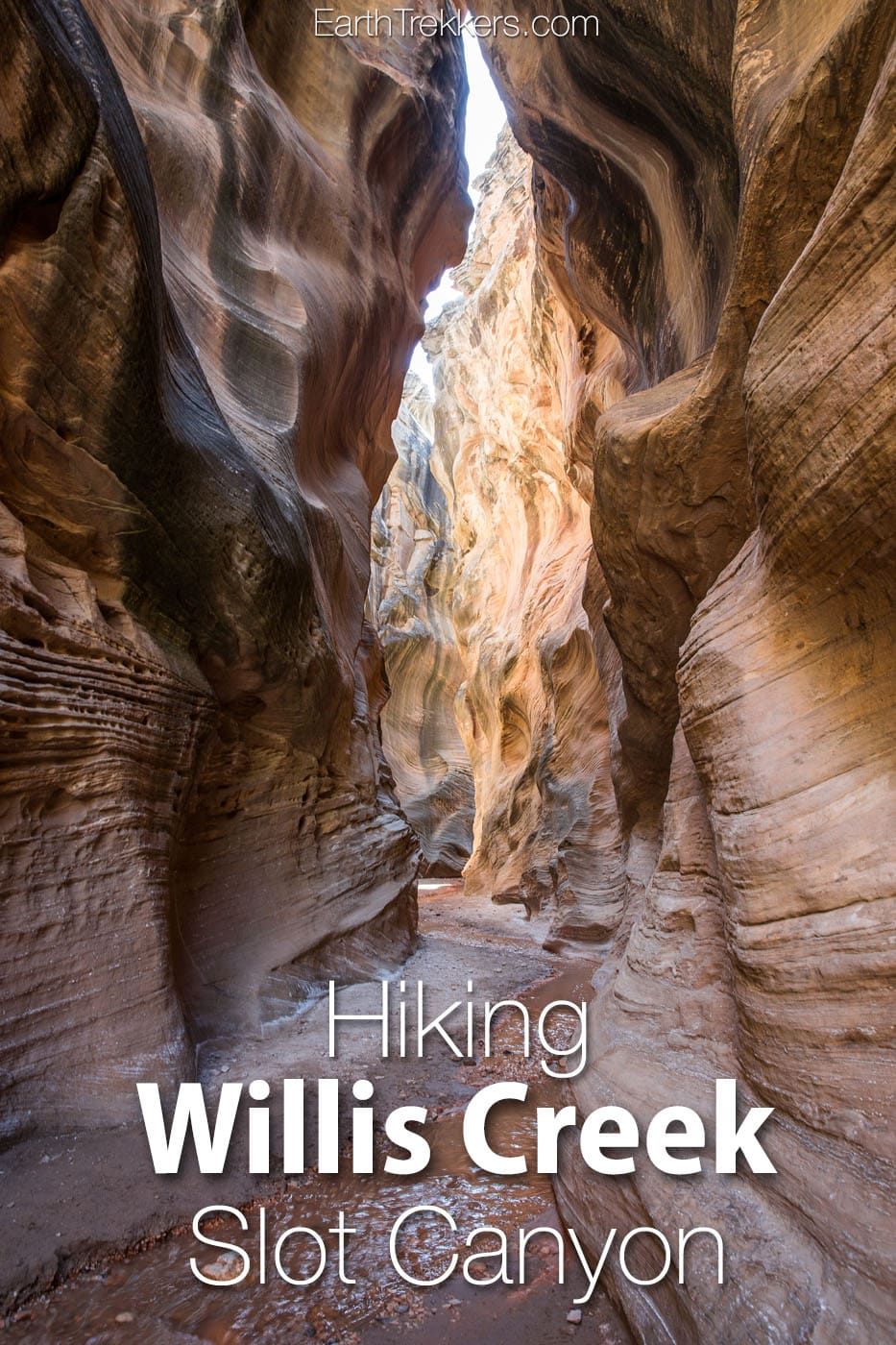 Note: This post contains affiliate links. When you make a purchase using one of these affiliate links, we get paid a small commission at no extra cost to you.
All rights reserved © Earth Trekkers. Republishing this article and/or any of its contents (text, photography, etc.), in whole or in part, is strictly prohibited.