Bryce Canyon National Park may be small in size but it has an enormous wow factor. With its orange and pink hoodoos and sandstone rock formations, Bryce Canyon is one of the most unique national parks in the United States. By hiking Bryce Canyon and visiting its numerous viewpoints, you can have the best experience here.
There are numerous hiking trails in Bryce Canyon. Some are less than one mile in length and take an hour or less, while others are all day affairs.
The most popular trails are the Queens Garden Trail and the Navajo Loop Trail. On these two trails, get up close with the hoodoos, see Thor's Hammer, and walk through canyons, arches, and forests of pine trees.
This hike combines Queens Garden with the Navajo Loop Trail and a portion of the Rim Trail, for the overall best hiking experience in Bryce Canyon.
Hiking Bryce Canyon
Facts About the Hike
Distance: 2.75 miles
Total Ascent: 620 feet
Difficulty: Moderate
Length of Time: 2 – 3 hours
Elevation profile
Please practice the seven principles of Leave No Trace: plan ahead, stay on the trail, pack out what you bring to the hiking trail, properly dispose of waste, leave areas as you found them, minimize campfire impacts, be considerate of other hikers, and do not approach or feed wildlife.
Sunset Point
Sunset Point is the starting and ending point for this hike. Park in the parking lot at Sunset Point. When you step out to the overlook, be prepared to be amazed!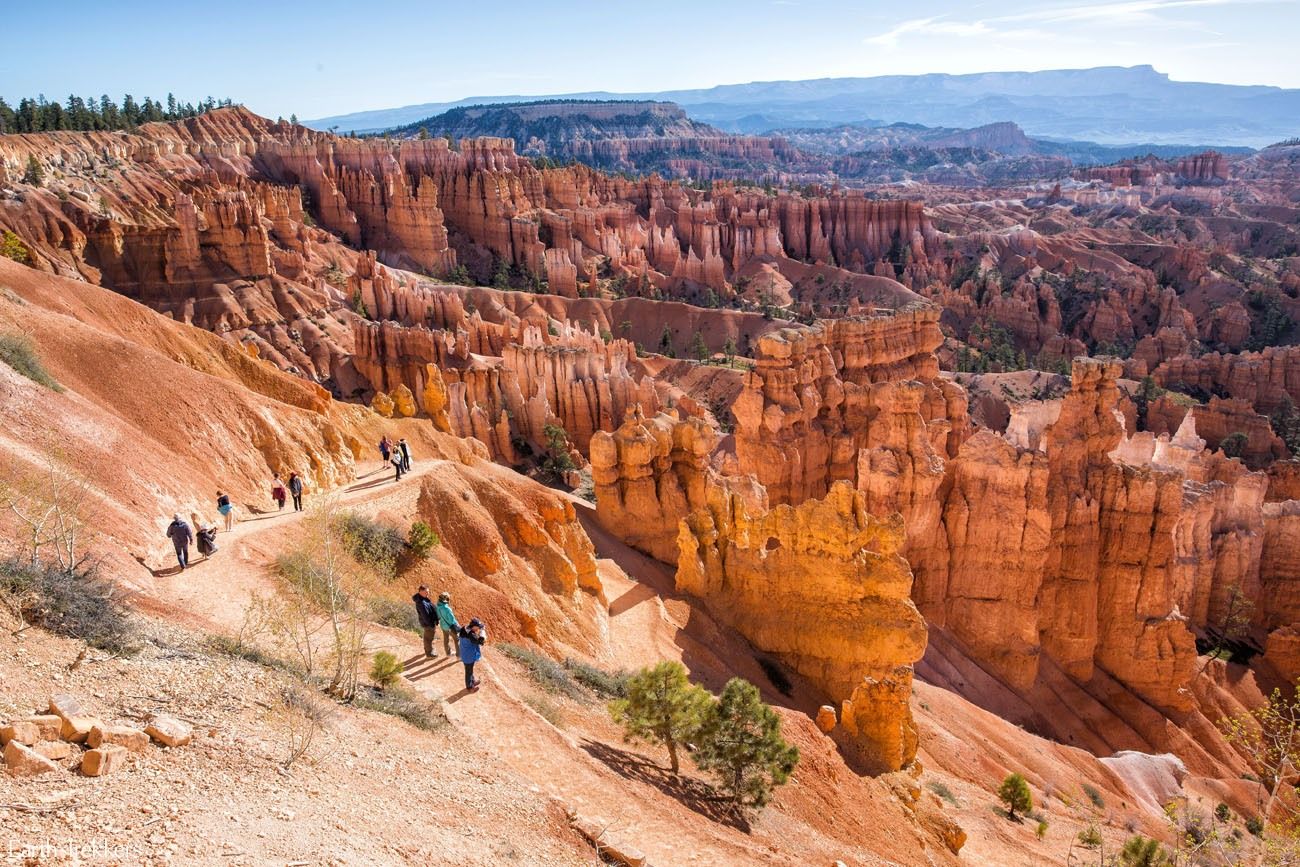 Sunrise Point
From Sunset Point, walk north on the Rim Trail, towards Sunrise Point. This is a flat, easy to walk trail with an awesome view over Bryce.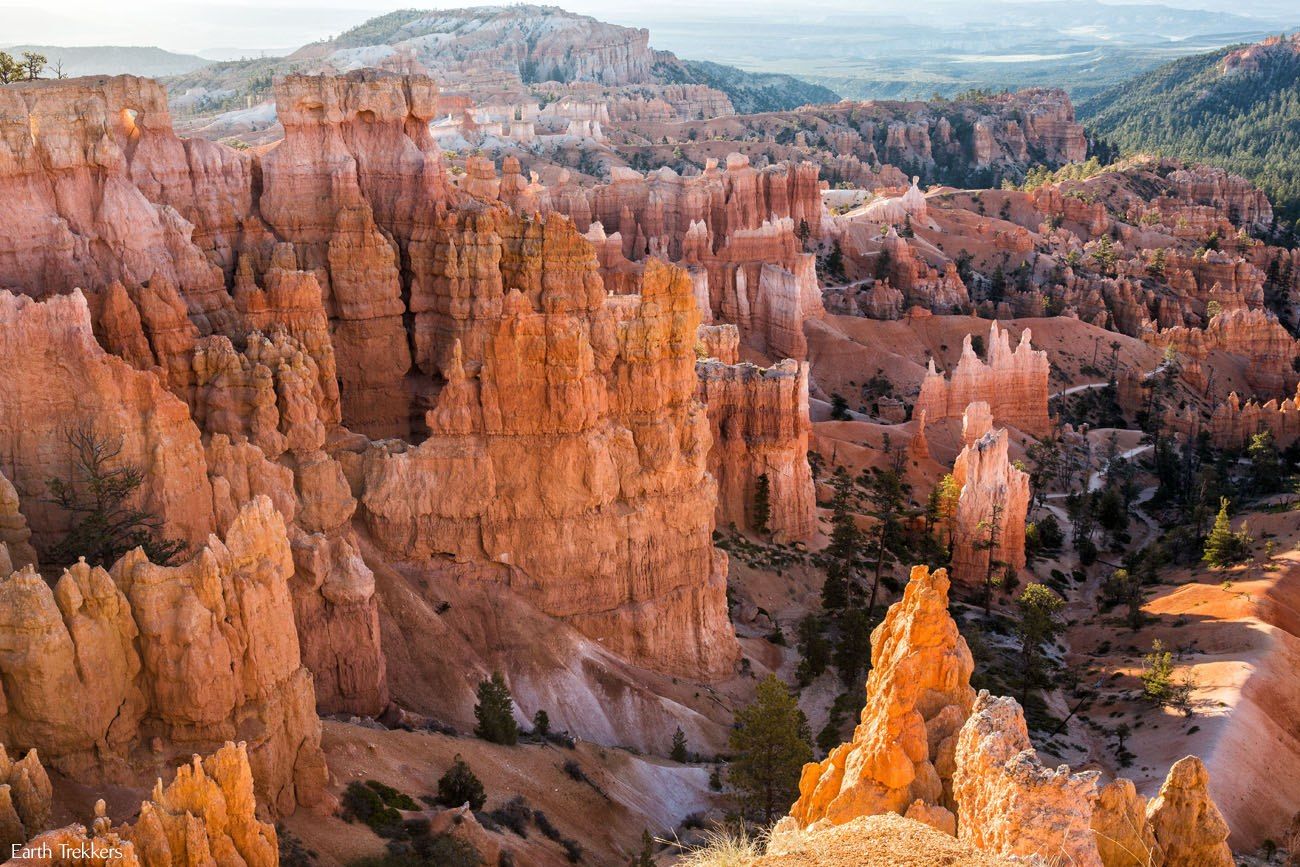 Queens Garden Trail
The Queens Garden Trail starts at Sunrise Point. From here, it is an easy, 0.8 mile hike down into the valley of Bryce Canyon. Before you know it, the hoodoos will be towering overhead. Enjoy the winding trails, walk through the arches carved into the rocks, and photograph the amazing views.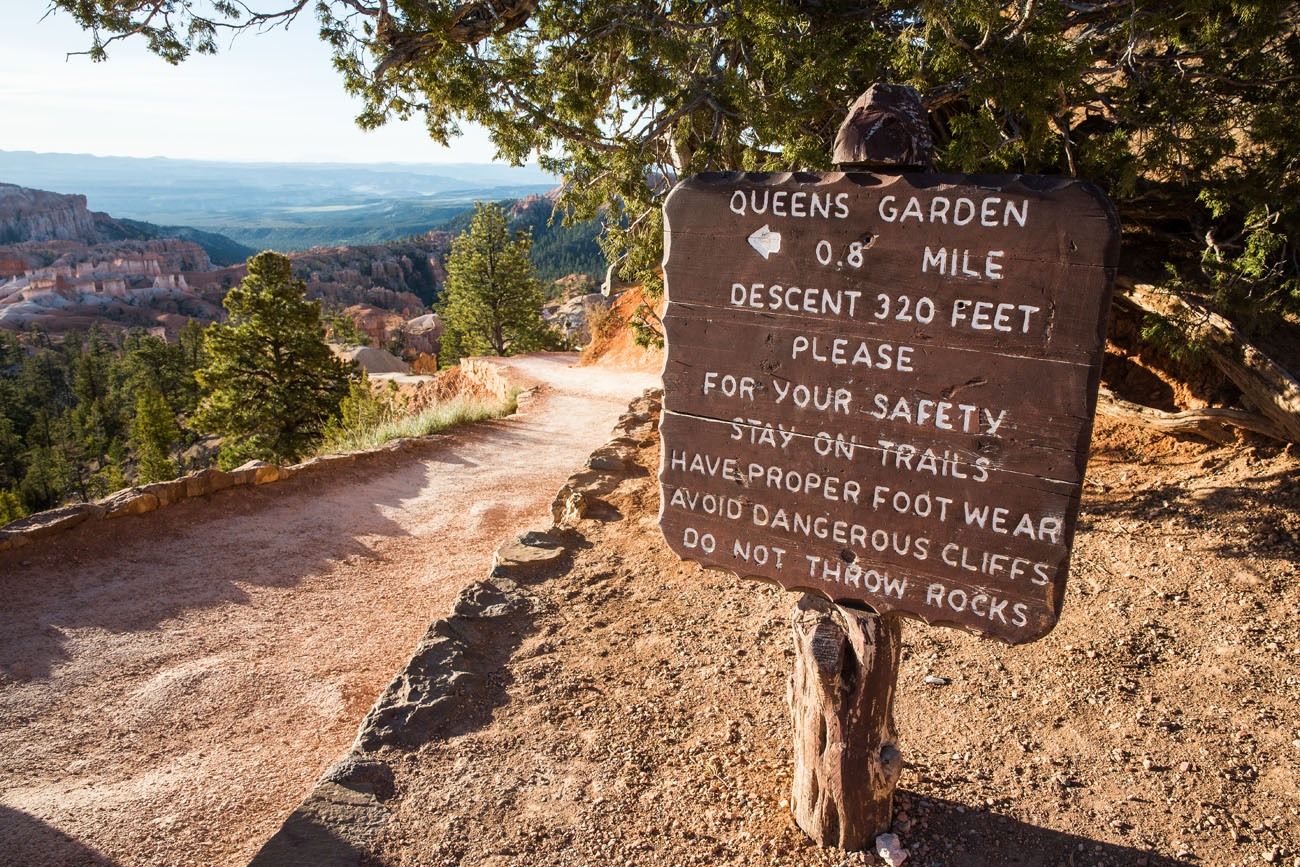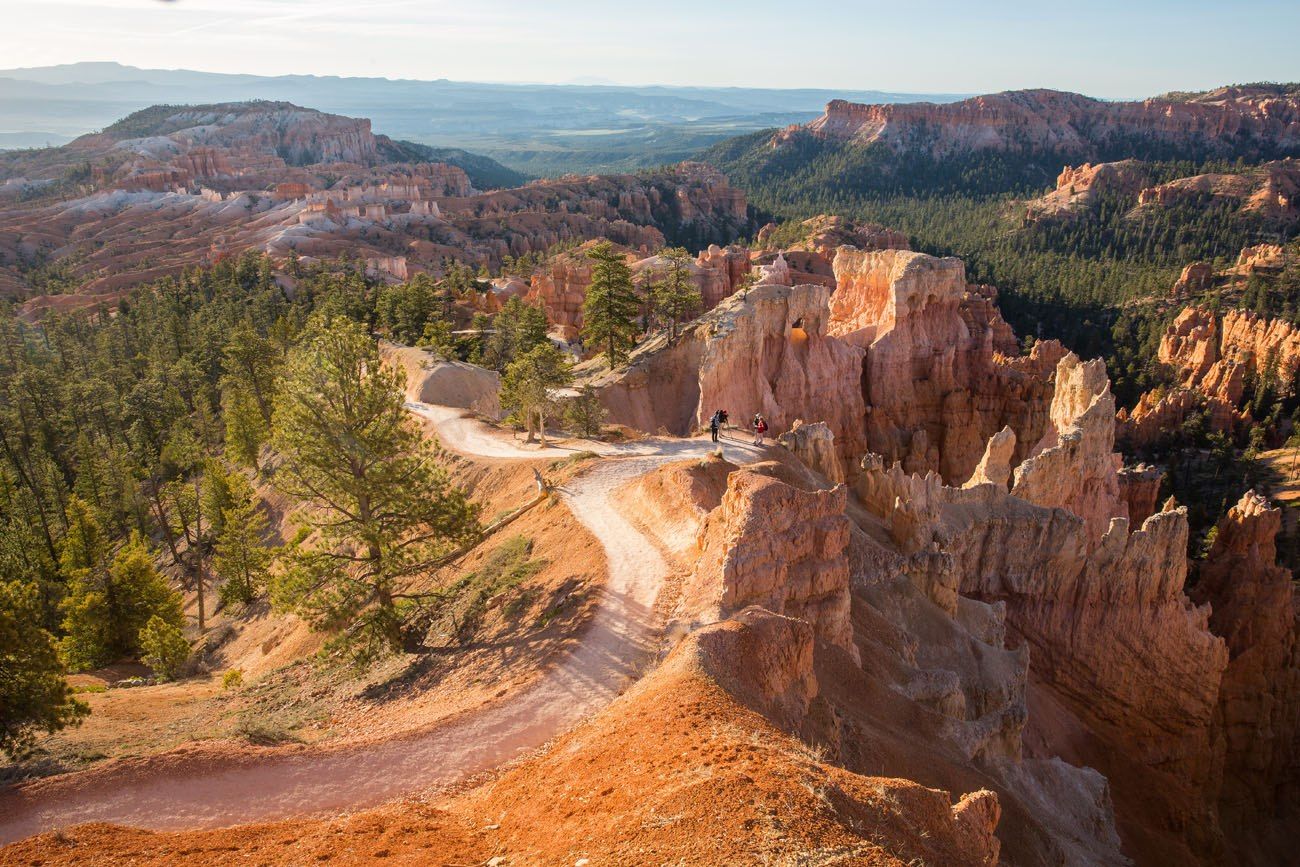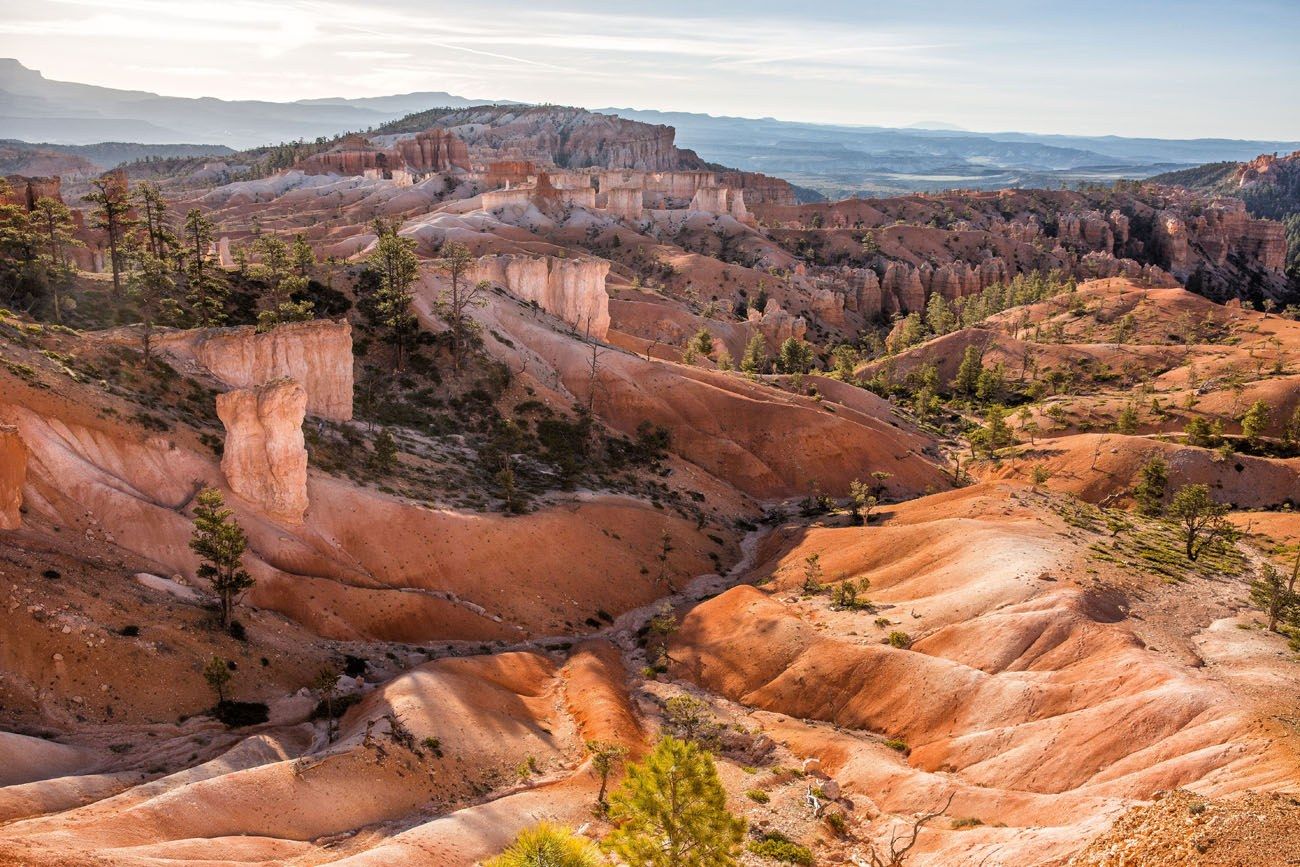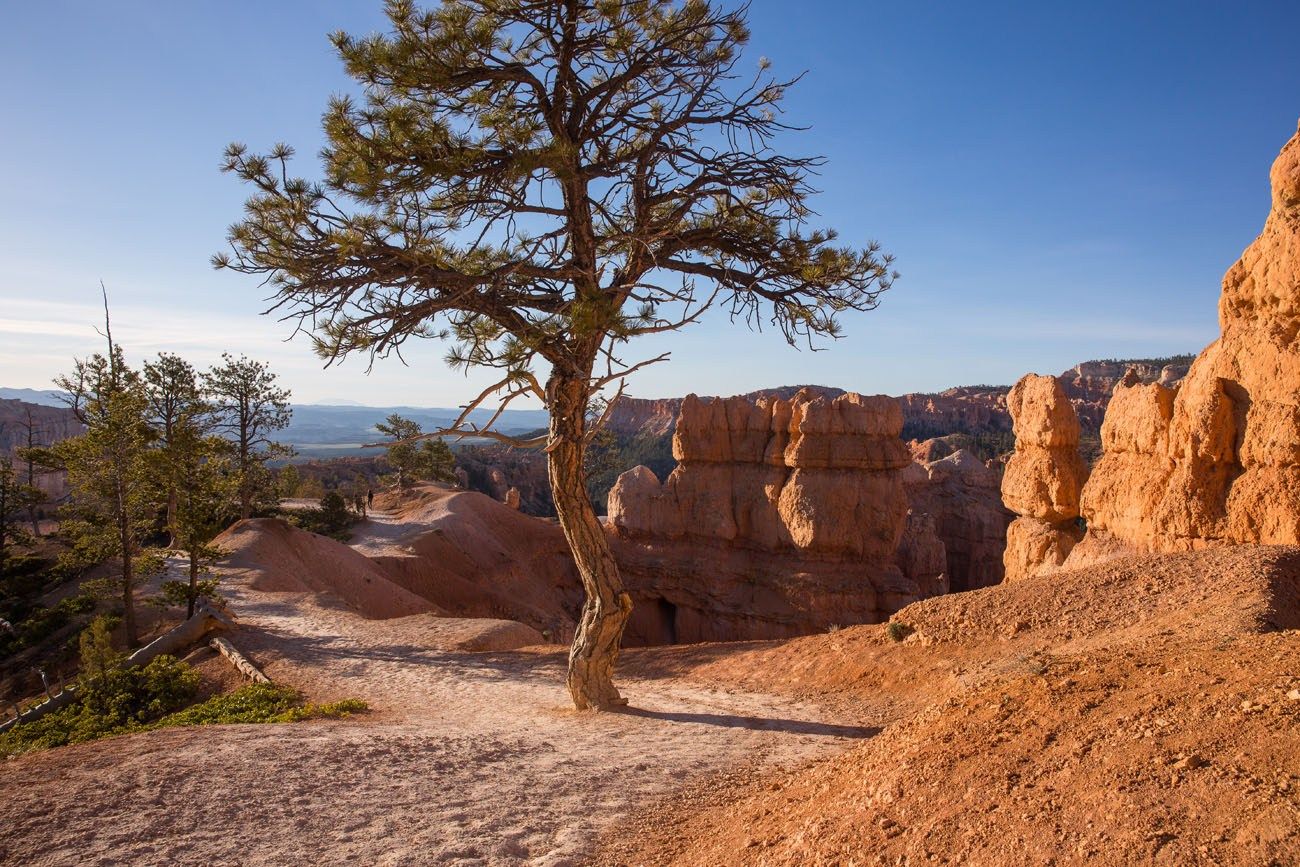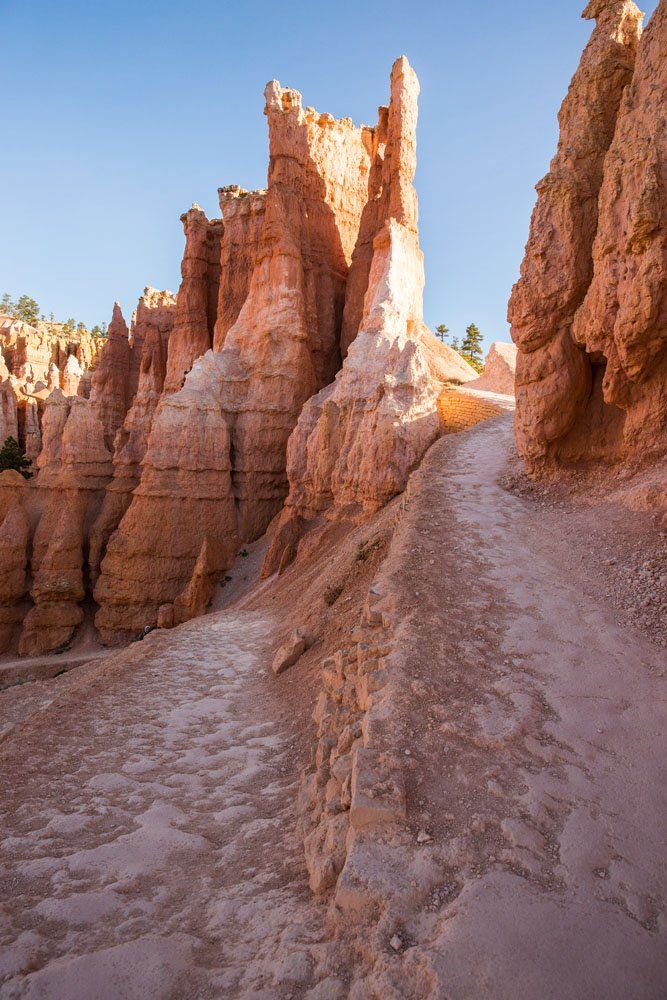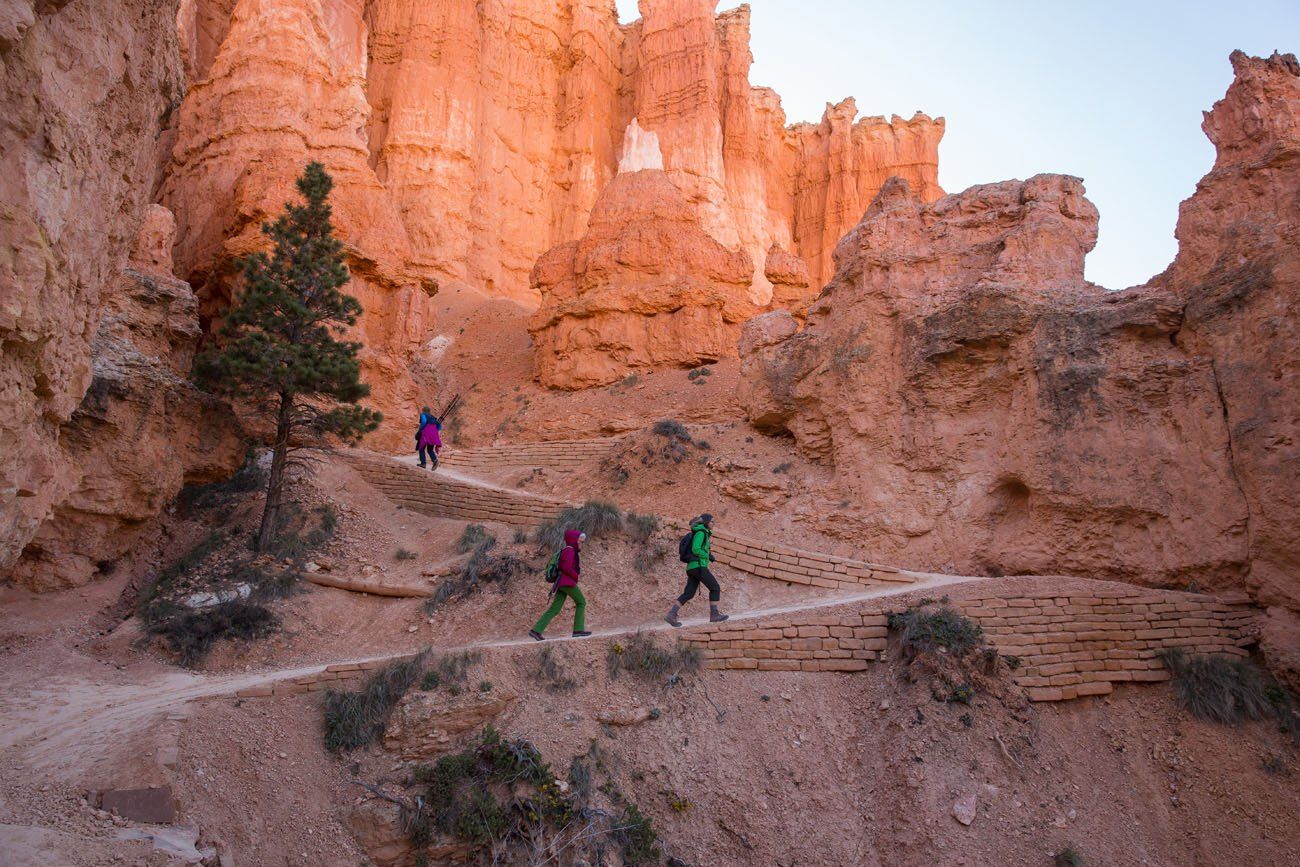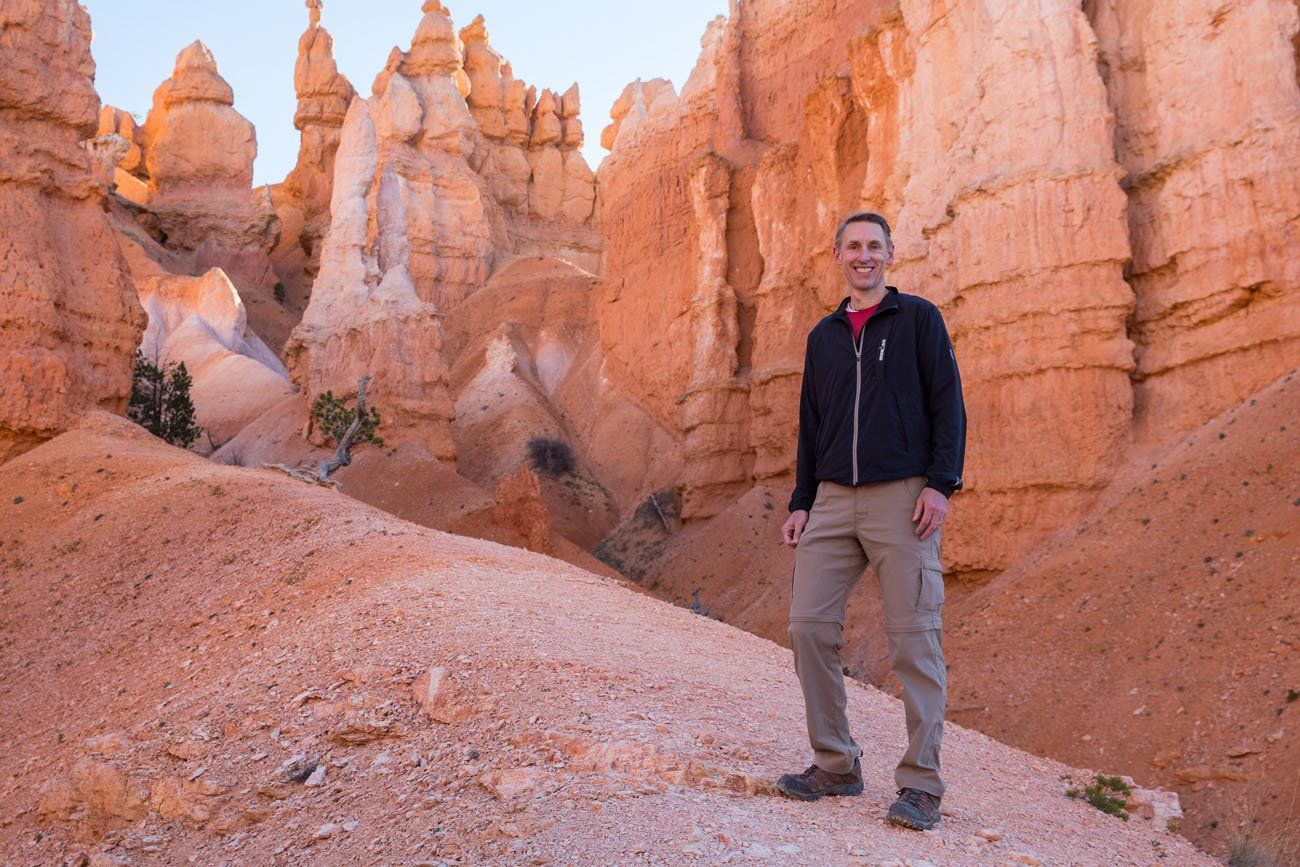 There comes a point where the trail comes to a fork. Follow the signs to stay on the Queens Garden Trail. It takes just two minutes to walk to end of this trail. Here's what you will see.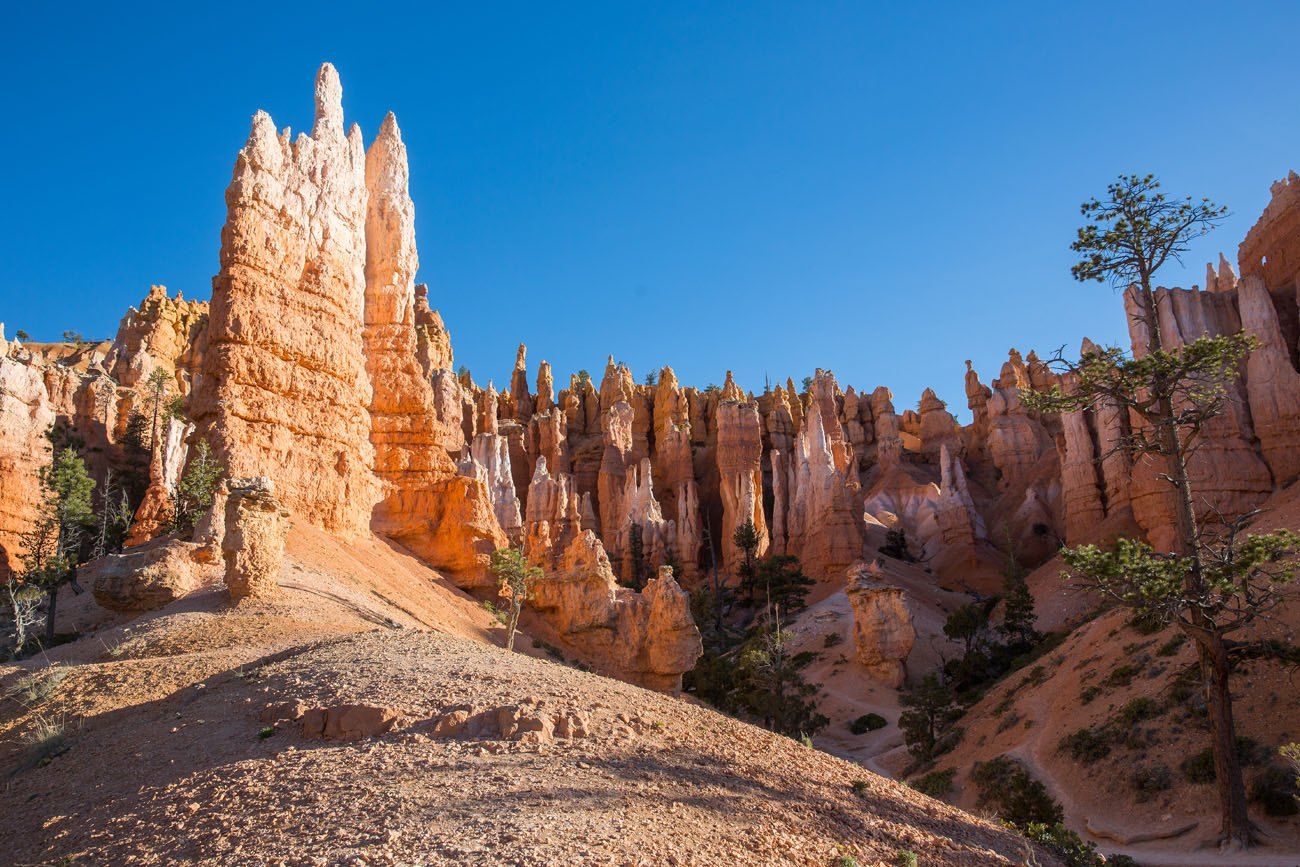 Retrace your steps back to the fork and then follow the signs to the Navajo Loop Trail. This valley trail is 0.7 miles long and connects the Queens Garden Trail with the Navajo Loop Trail. Most of the trail is through pine forests. It's relatively flat and easy to walk.
Navajo Loop Trail
The Navajo Loop Trail makes a loop, starting and ending at Sunset Point. The popular things to see on this trail are Thor's Hammer, Wall Street (the only slot canyon in Bryce), and Two Bridges. Since you will be joining this trail halfway into the loop, you have a decision to make: take the Wall Street branch or take the Two Bridges/Thor's Hammer branch.
During our visit, Wall Street was closed, forcing us to hike up via Two Bridges. However, if Wall Street is open during your visit, we recommend taking this branch. Wall Street is an awesome section of trail and I am bummed we missed out on seeing this. Note: Wall Street is closed during the winter months. It was still closed during our visit in early May.
Either way you choose, it is a strenuous 0.6 mile hike to the top with 550 feet of climbing.
Here are photos from Two Bridges branch of the Navajo Loop.
Two Bridges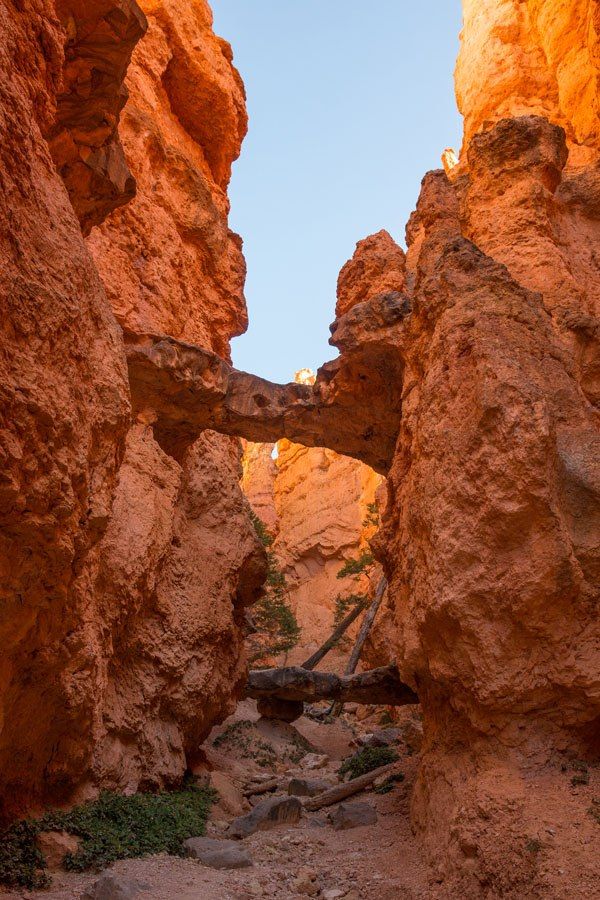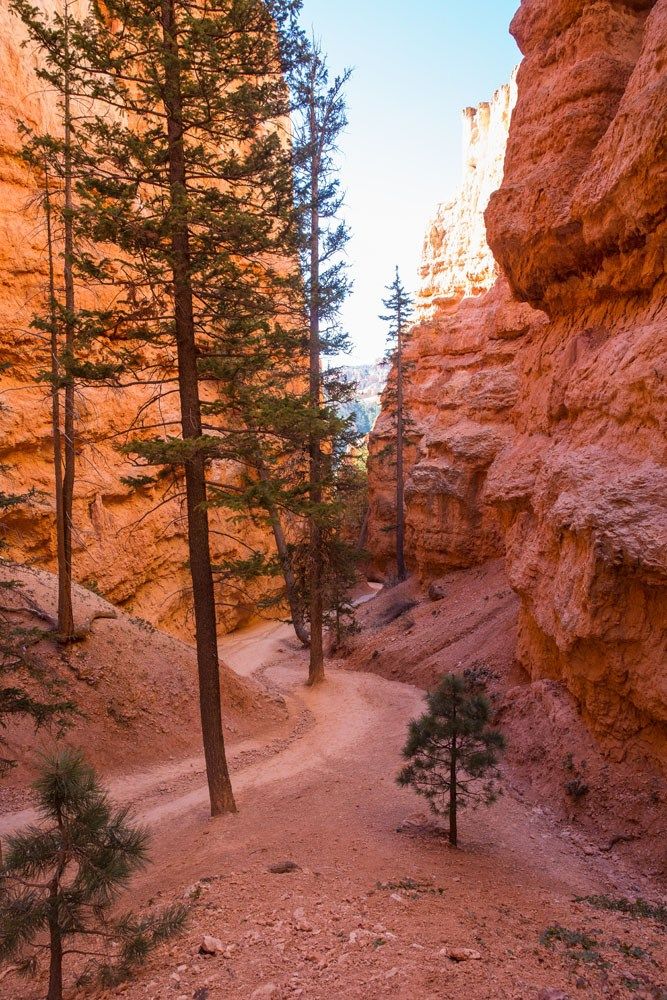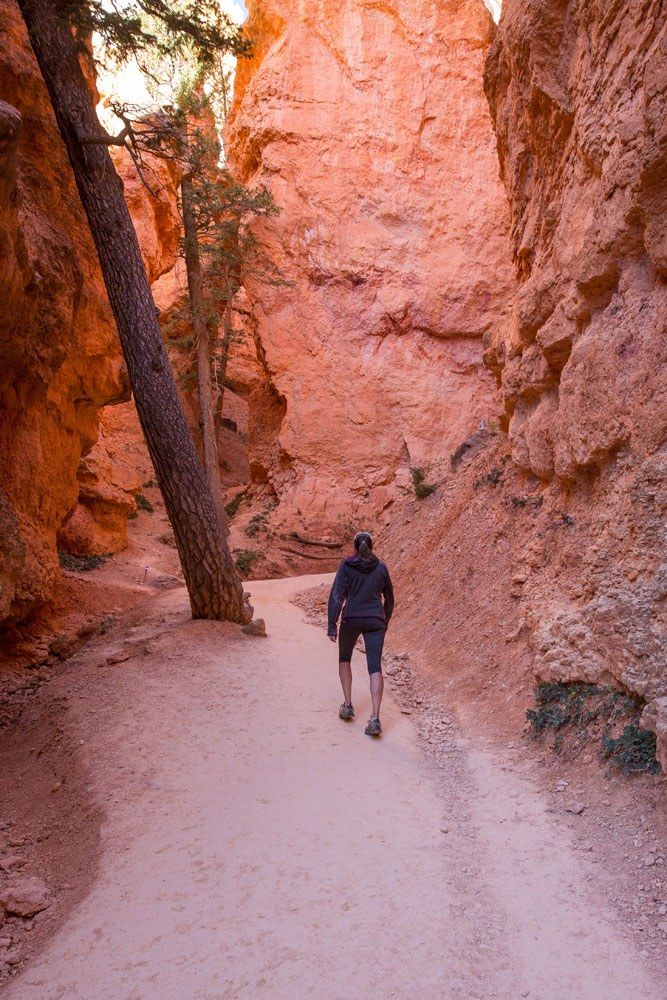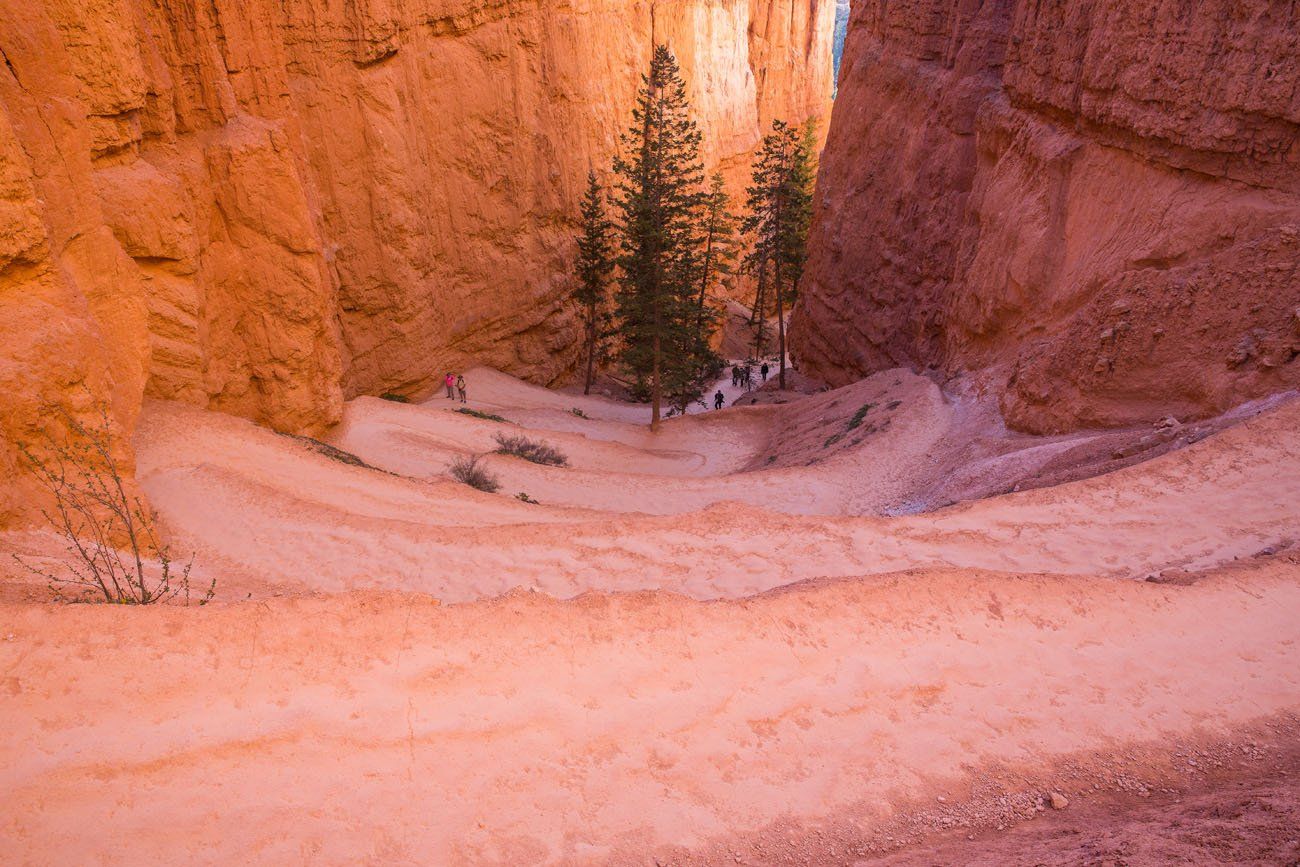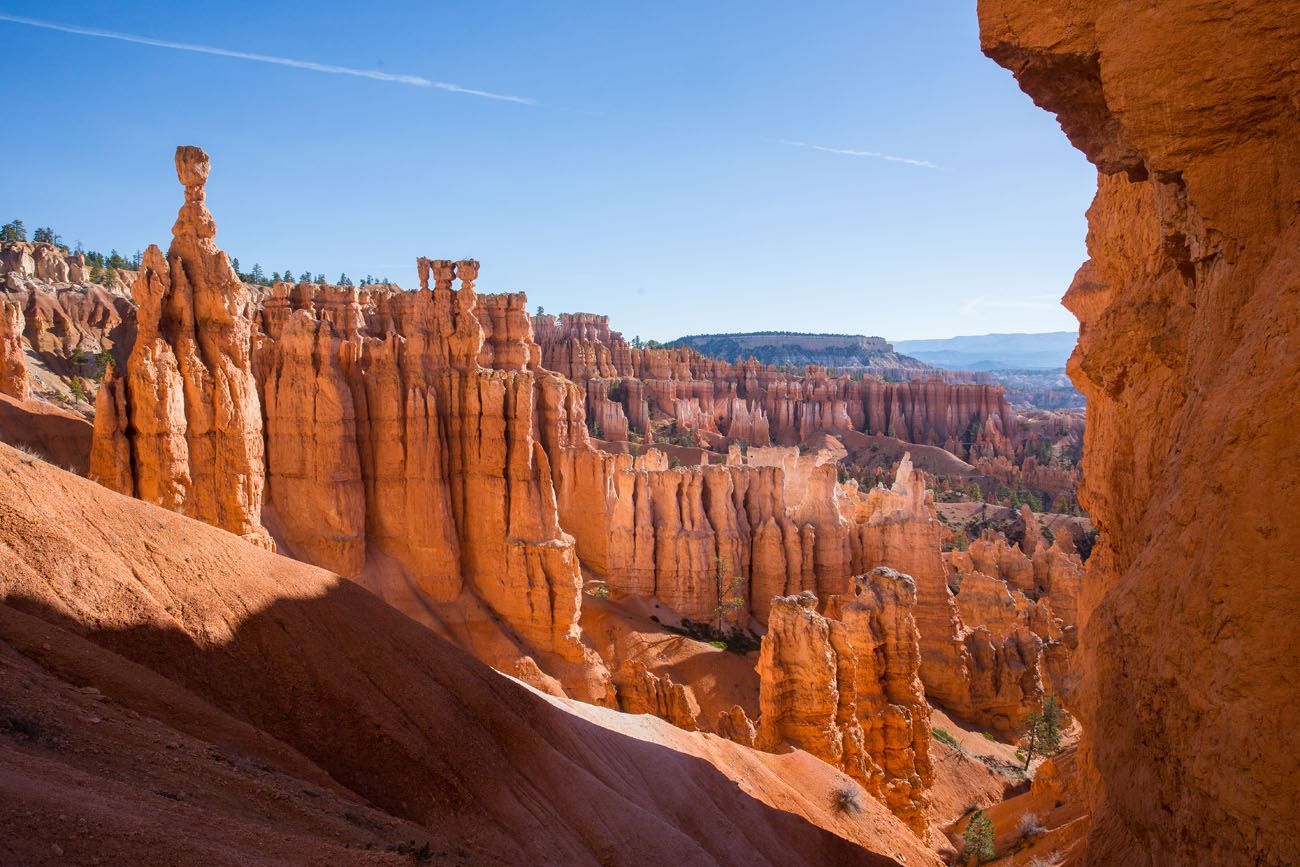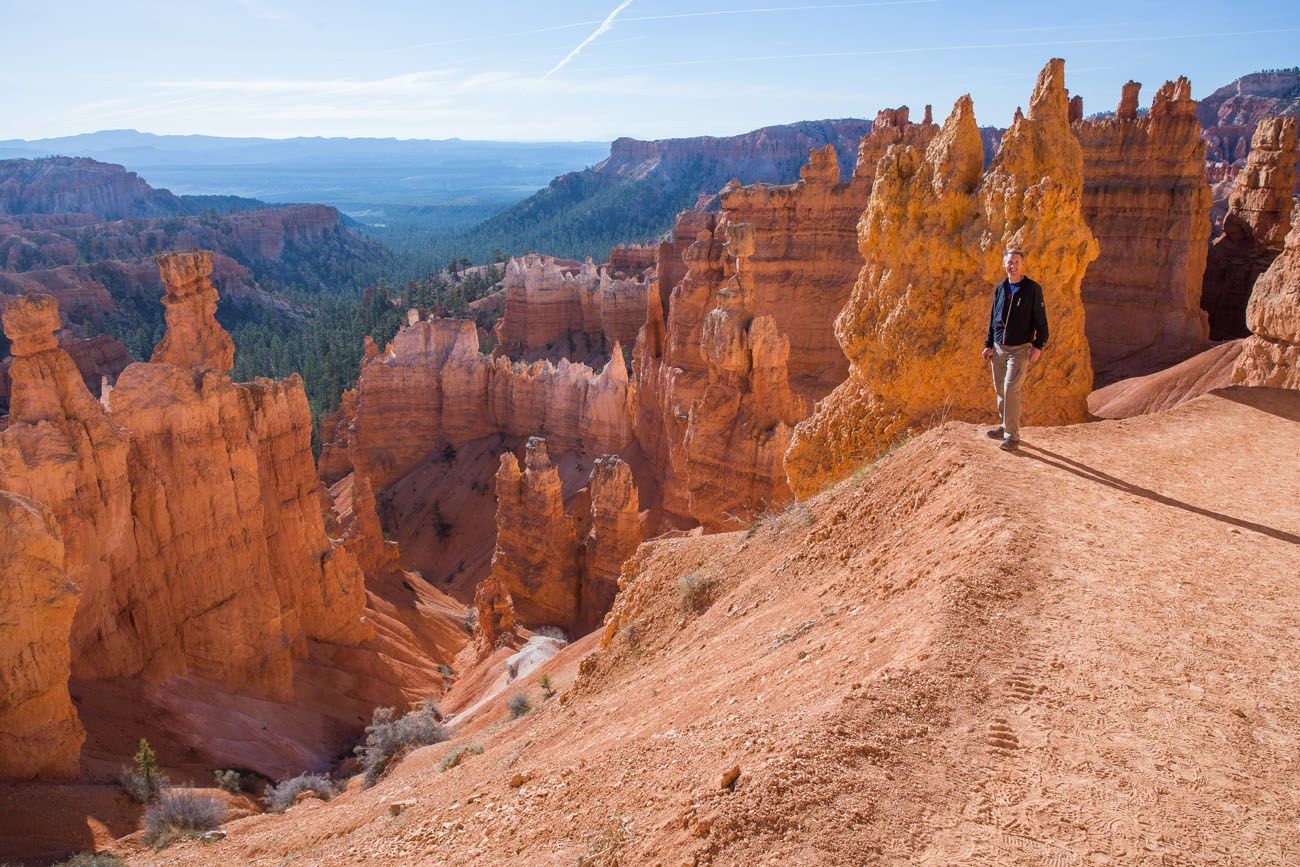 Once you are back at Sunset Point, the hike is over. If you hiked up Wall Street, you should make a short detour and see Thor's Hammer. It's one of the most photographed hoodoos in the park and worth seeing. From Sunset Point, walk down the Two Bridges branch just a short distance until you get to Thor's Hammer.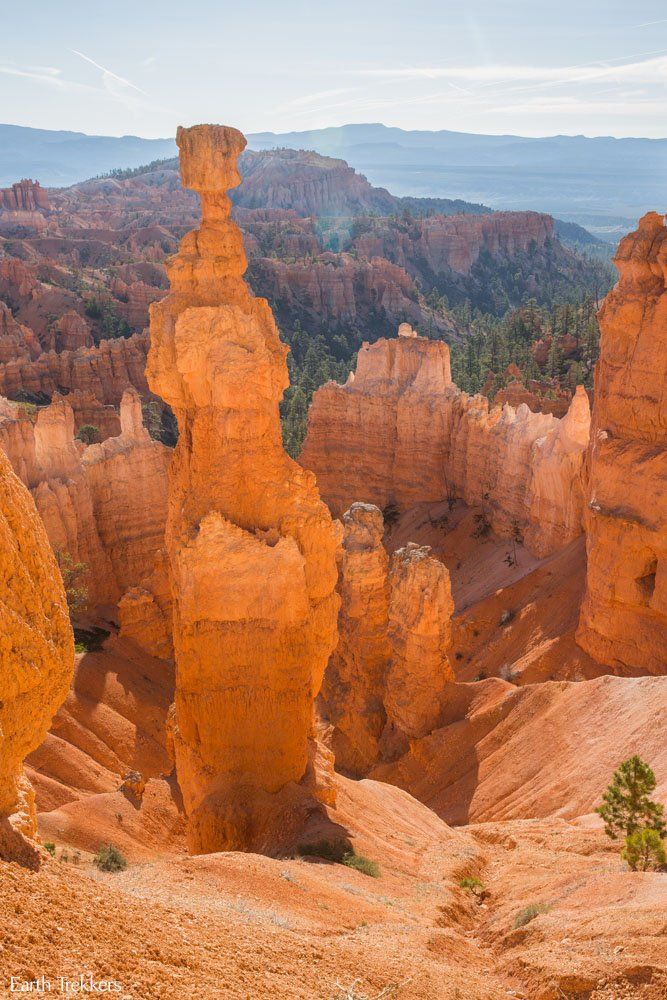 How to Have the Best Experience
You can do this hike in reverse. From Sunset Point, hike down the Navajo Loop Trail and up the Queens Garden Trail. By going this way, you avoid hiking up the switchbacks on the Navajo Loop Trail.
Getting here early has its advantages. Avoid the crowds on the trails and avoid the midday heat during the summer months.
Bring plenty of water, especially when the weather is warm.
Bryce Canyon sits at a relatively high elevation, 8,000 feet. It is normal to feel out of breath here, even with short climbs. The final climb out of the amphitheater can be tough, so expect to take several breaks to catch your breath on the way back up.
Bring a jacket. Even during the summer months it can be chilly here, especially early and late in the day.
Planning a trip to Bryce Canyon? Check out our Bryce Canyon Travel Guide, and learn about the best views of the park, how to manage your time, and where to stay.
---
Have you been to Bryce Canyon? If you have any questions, comment below!
You Might Also Like: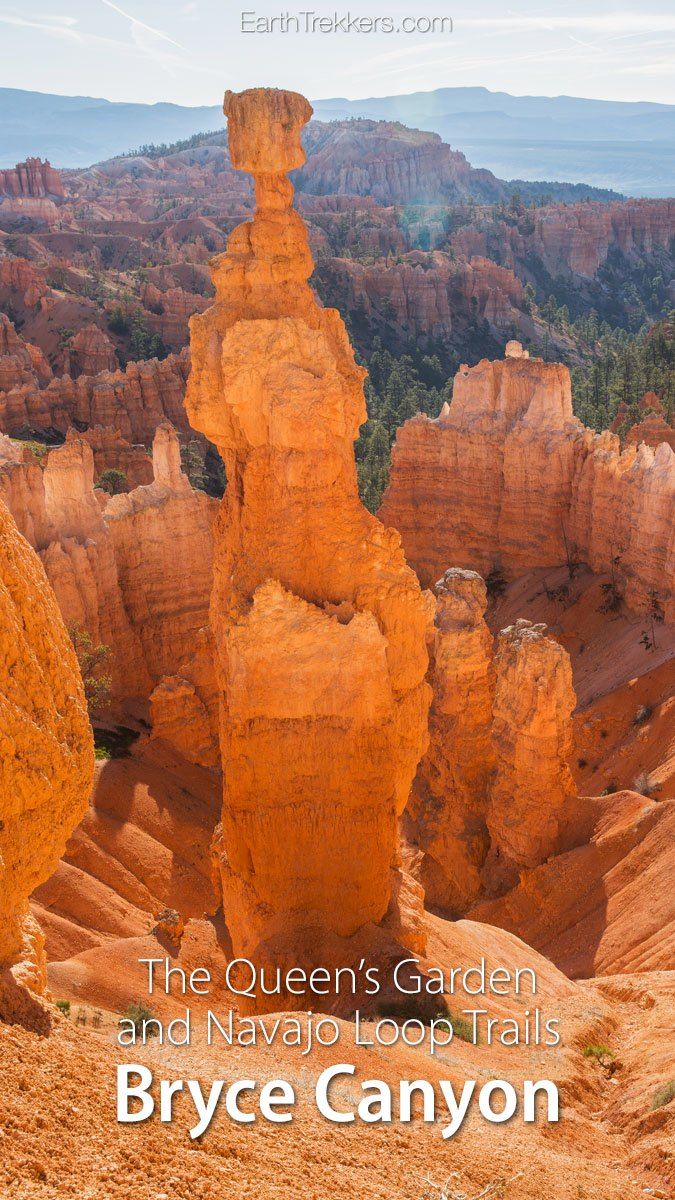 All rights reserved © Earth Trekkers. Republishing this article and/or any of its contents (text, photography, etc.), in whole or in part, is strictly prohibited.