Cottonwood Canyon Road is a scenic, unpaved road that travels through Grand Staircase-Escalante National Monument. It connects the town of Cannonville with Highway 89, just west of Big Water.
Tim and I drove this road during our road trip through Arizona and Utah. Since we were traveling from Page, Arizona up to Escalante, Utah, Cottonwood Canyon Road was the perfect shortcut through Grand Staircase-Escalante. It was a great decision, as this route saved us the time of driving much longer distances on the highways and we got to see a beautiful part of Utah.
Cottonwood Canyon Road Stats
Distance: 46 miles one way
Road Conditions: Most of the road is a dirt and gravel surface. For nine miles, from Cannonville to Kodachrome Basin State Park, the road is paved.
Endpoints: Cottonwood Canyon Road starts (or ends, depending on the direction you are traveling) in Cannonville. It ends at Highway 89 just west of Big Water (GPS coordinates: 37.104983, -111.846877).
When to go: Year round, although the road can be impassable after it rains, even in a 4×4.
Length of Time for the drive: Roughly 2 hours, but this depends on how often you stop to take photos or enjoy the views.
How to Use This Map: Click the tab in the top left hand corner of the map to view the layers (points of interest and the driving route). You can click the check marks to hide or show layers. If you click the icons on the map, you can get more information about each point of interest.

If you click the star next to the title of the map, this map will be added to your Google Maps account. To view it on your phone or computer, open Google Maps, click the menu button, go to "Your Places," click Maps, and you will see this map on your list.
Our Experience
We drove Cottonwood Canyon Road from south to north. Our journey took just under two hours and we did stop frequently for photos and for a visit at Grosvenor Arch.
During our drive, there were very few other cars on the road. It is a beautiful drive through desert and mountainous terrain. Cows graze alongside the road, you are treated to numerous panoramic vistas, and there are several spots where the scenery is just amazing.
Photos from Cottonwood Canyon Road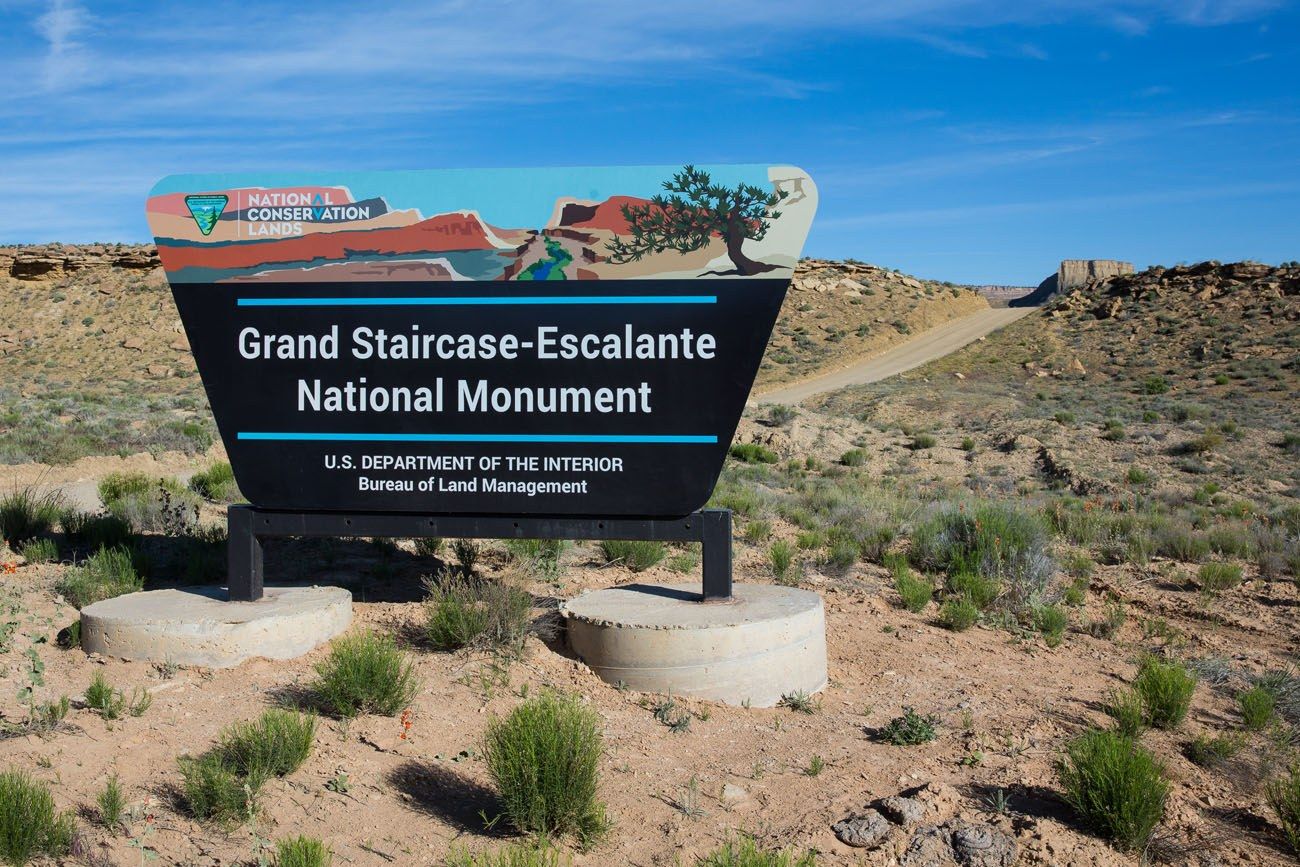 Turning onto Cottonwood Canyon Road from Highway 89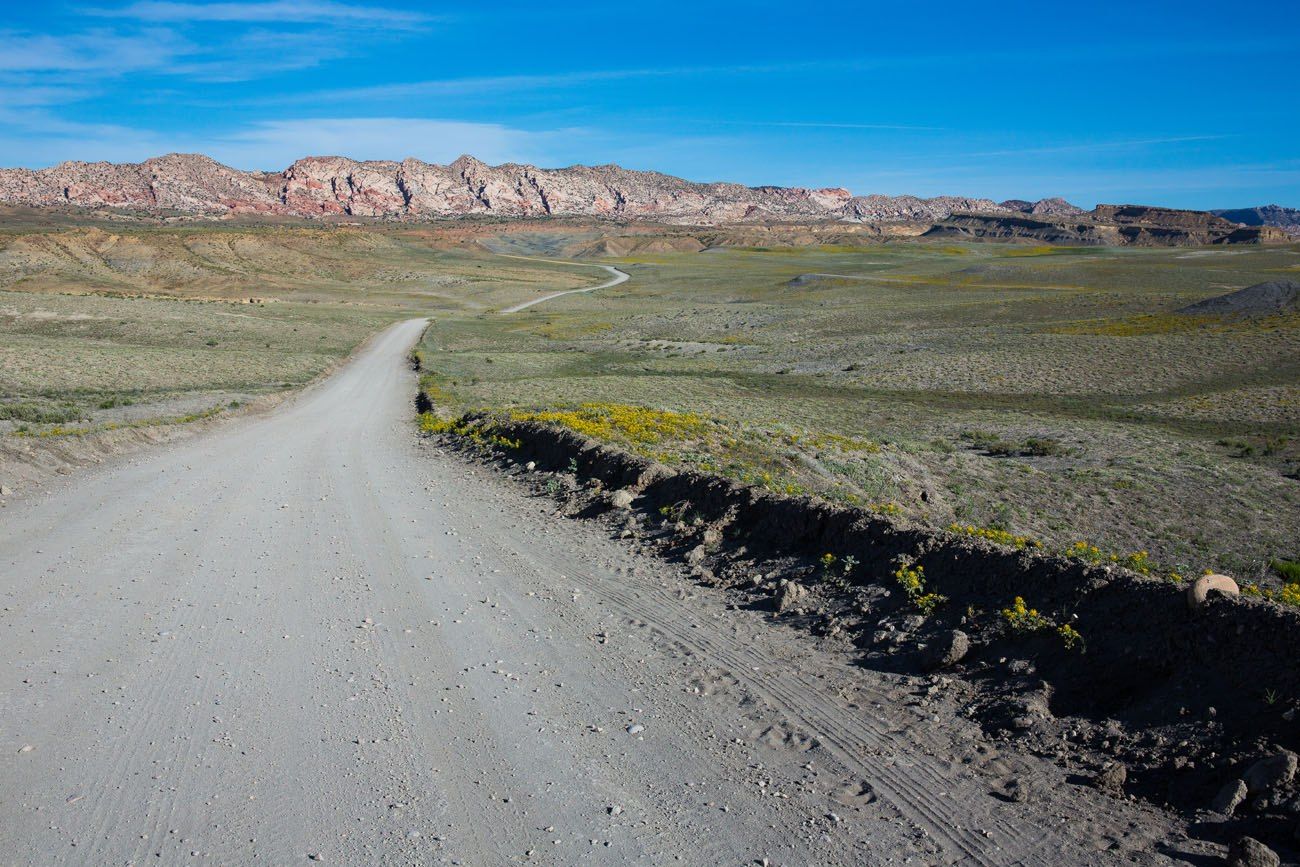 At first, the road is relatively flat and the views are expansive.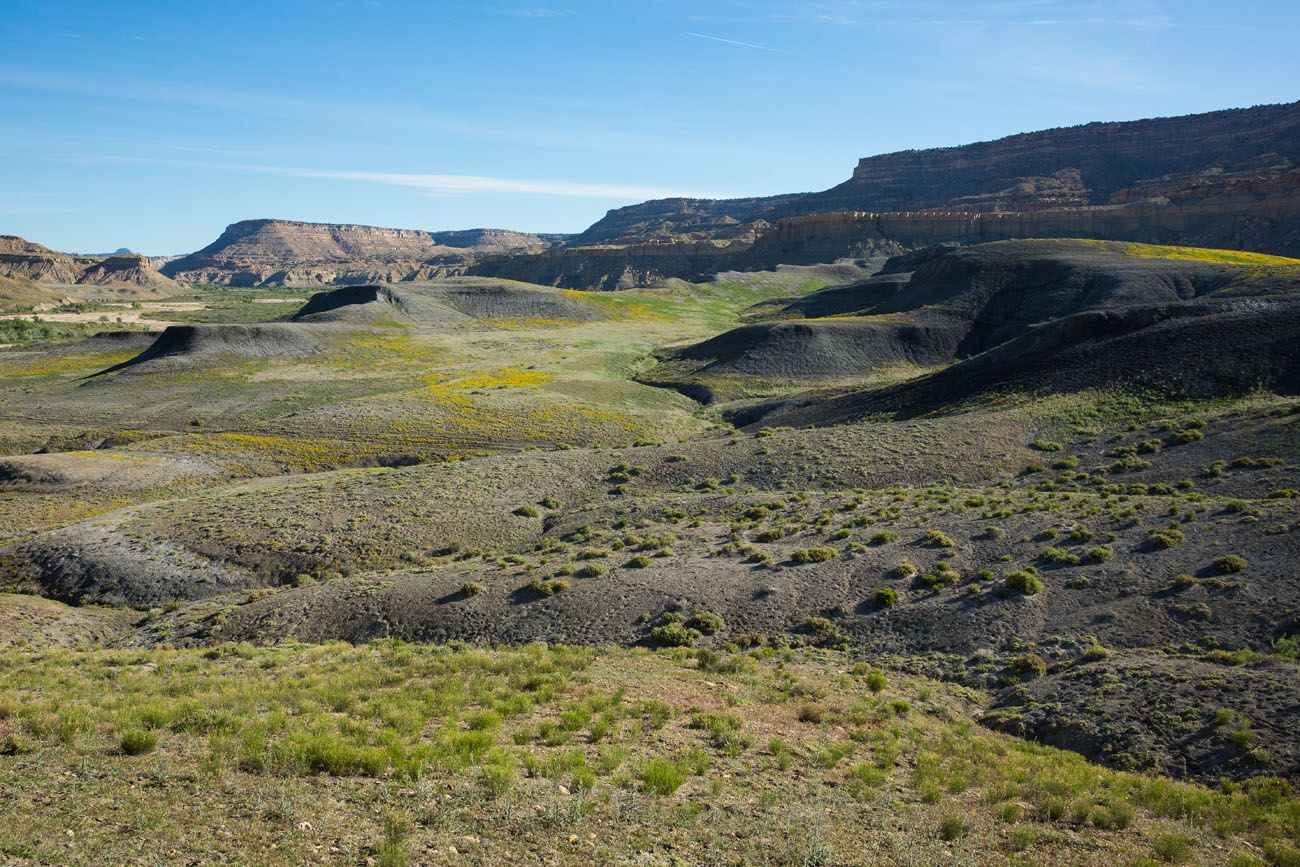 We were amazed to see so much greenery here.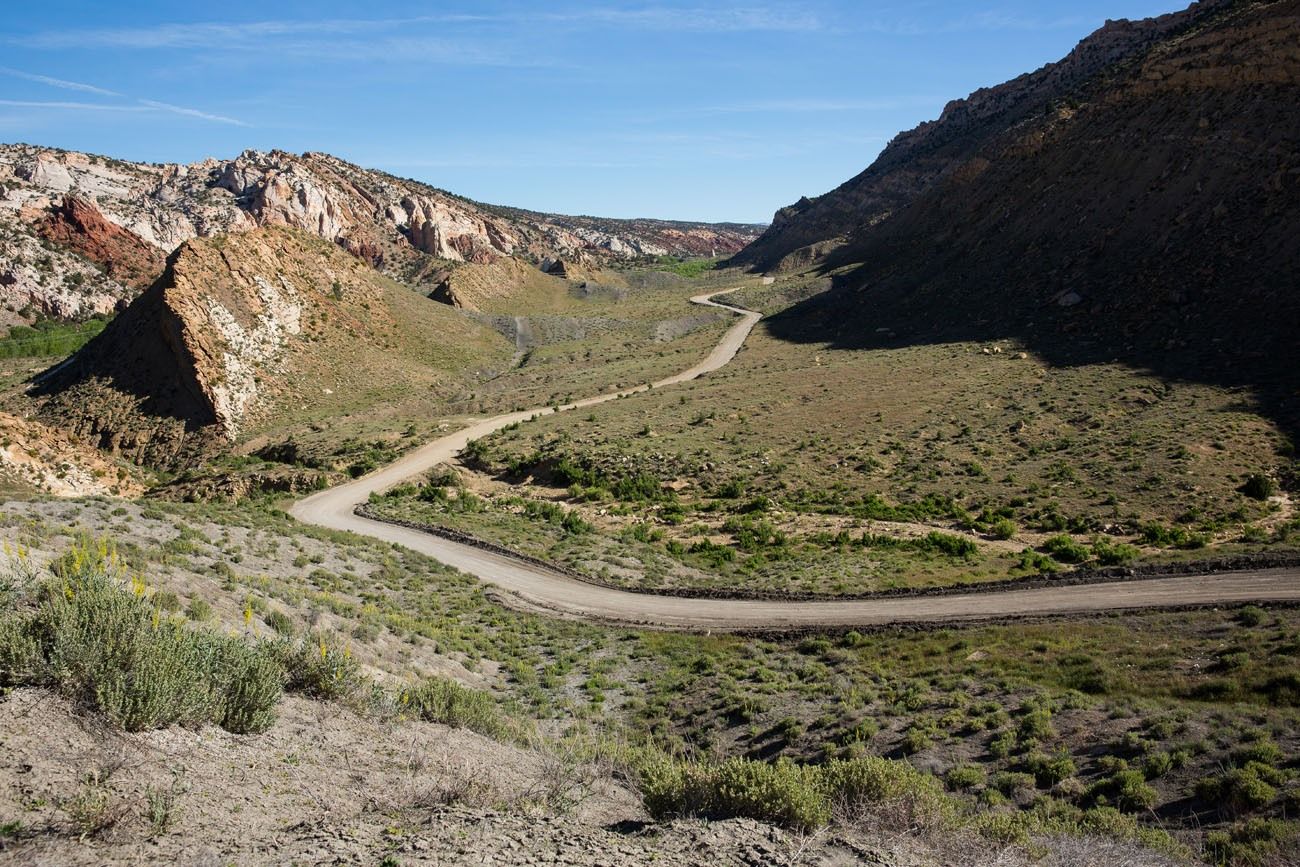 Entering the canyon.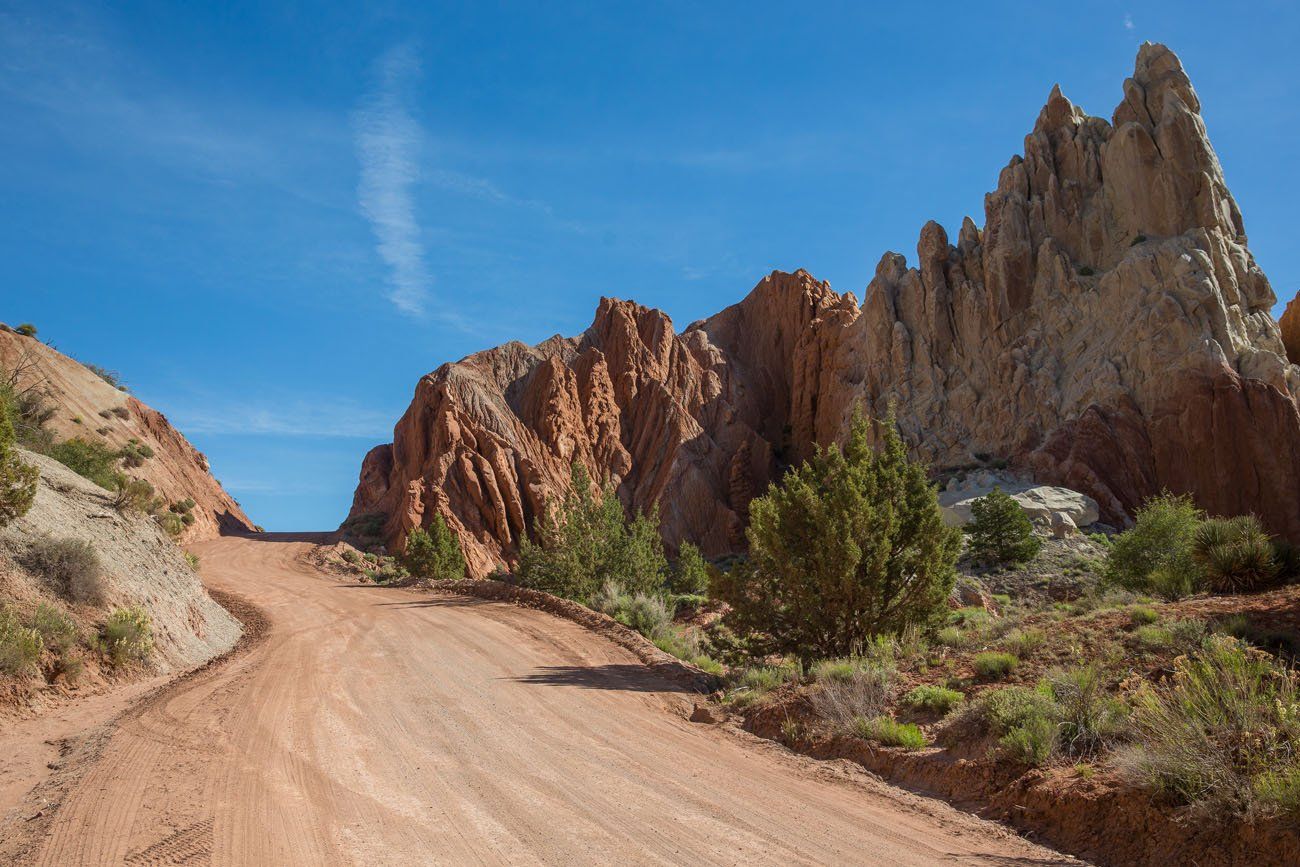 About halfway into the drive, the scenery is really amazing.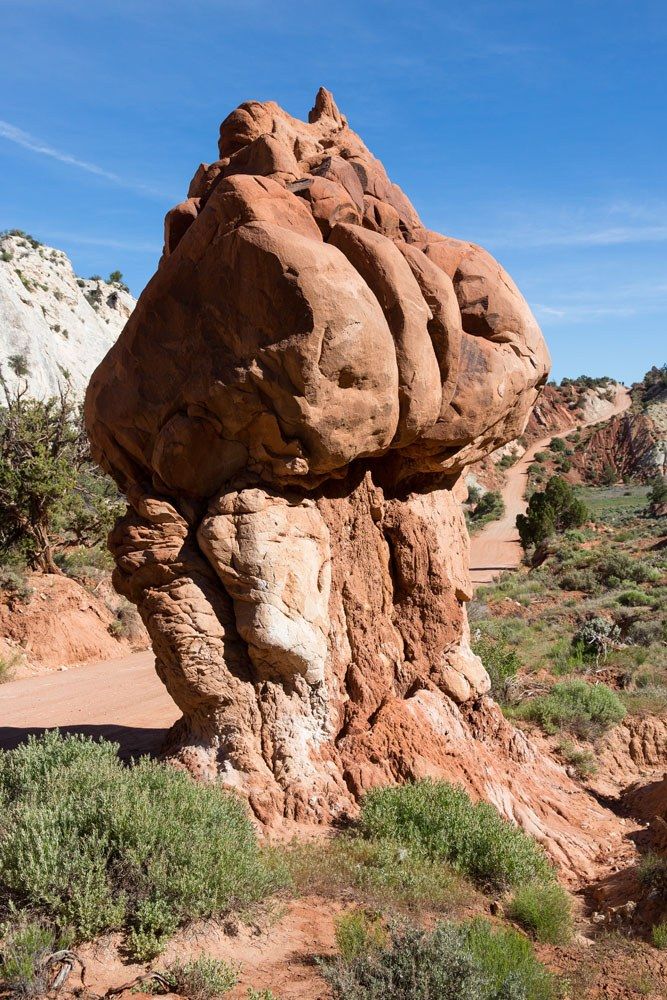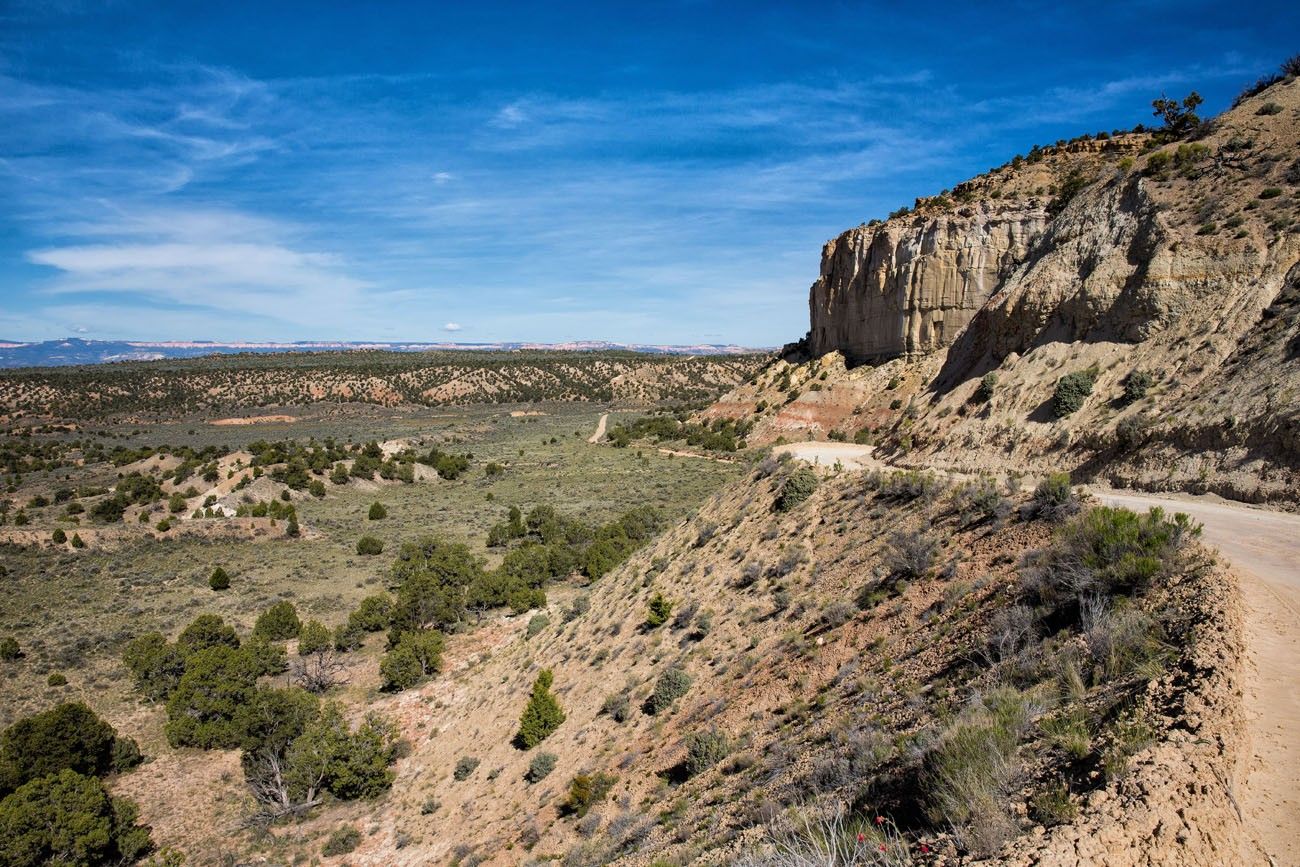 Approaching Kodachrome Basin State Park.
Things to Do on Cottonwood Road
There are several trails and viewpoints to visit during the drive.
Grosvenor Arch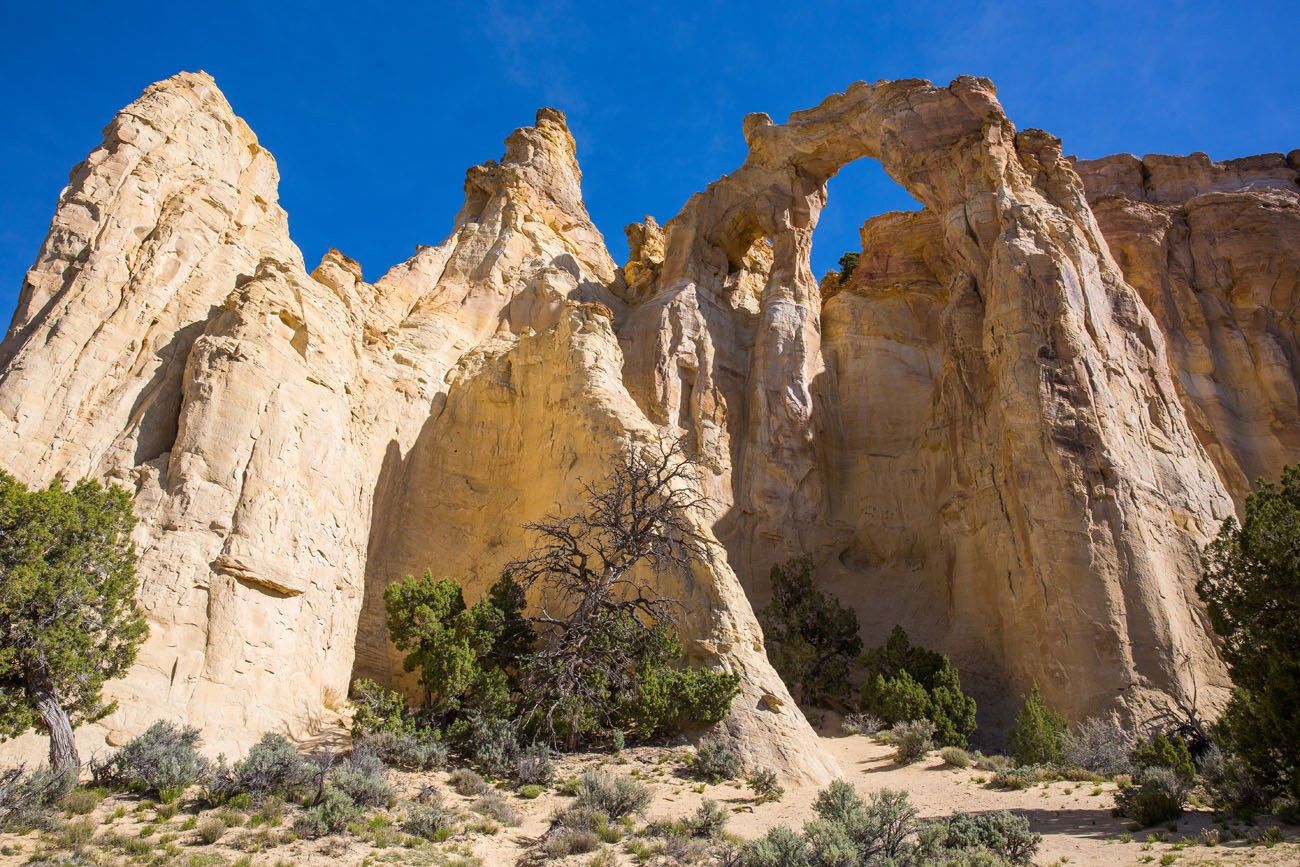 This quick detour is worth it to see these giant, sandstone arches (if you look closely, there are two arches up there). From Cottonwood Canyon Road, it takes just a few minutes to drive to this viewpoint, and then it is just a short walk to get to the arch.
Getting Here: Grosvenor Arch is 30 miles north of Highway 89 and 16 miles south of Cannonville. The GPS coordinates for the parking lot are 37.454383, -111.833030.
Cottonwood Wash Narrows
This easy, 3-mile hike wanders through a narrow sandstone canyon. You will be walking through a creek. Depending on recent weather conditions, the floor of this canyon could be filled with water so your feet can get wet.
Yellow Rock
This is another short and easy hike that takes you on top of a giant, yellow sandstone rock. From the top, enjoy panoramic views of the area. It is 2.5 miles round trip and takes about 3 hours. The trailhead is at Hackberry Wash, 14 miles north of Highway 18 on Cottonwood Canyon Road.
Hackberry Canyon
This short hike through a slot canyon shares the same trailhead and parking lot with Yellow Rock. It is 4 miles round trip and the slot canyon floor may be covered in shallow water, so your feet may get wet.
Cottonwood Canyon Narrows
This trail takes you through a narrow gorge of Cottonwood Creek. The hike is 3 miles round trip and takes about 2 hours. The trailhead is 25.5 miles north of Highway 89 and 20.5 miles south of Cannonville. See the Visit Utah website for more information.
Things to Know Before You Go
What kind of vehicle do you need?
You can do this drive in a 2WD car. During our drive, the road was in good condition, mostly flat with very few ruts or bumps along the way. We saw several cars on this road and they were driving without any difficulties. Having a 4×4 is ideal but not necessary.
I recommend checking road conditions at the Visitor Center before you drive on Cottonwood Canyon Road (especially if you do not have a 4×4). Road conditions can change from month to month, year to year, depending upon weather conditions and maintenance. When we did this in 2017, the road was in excellent condition. However, that is not always the case. In Cannonville and in Big Water (at the start and end of this drive) there is a Visitor Center where you can get updated information.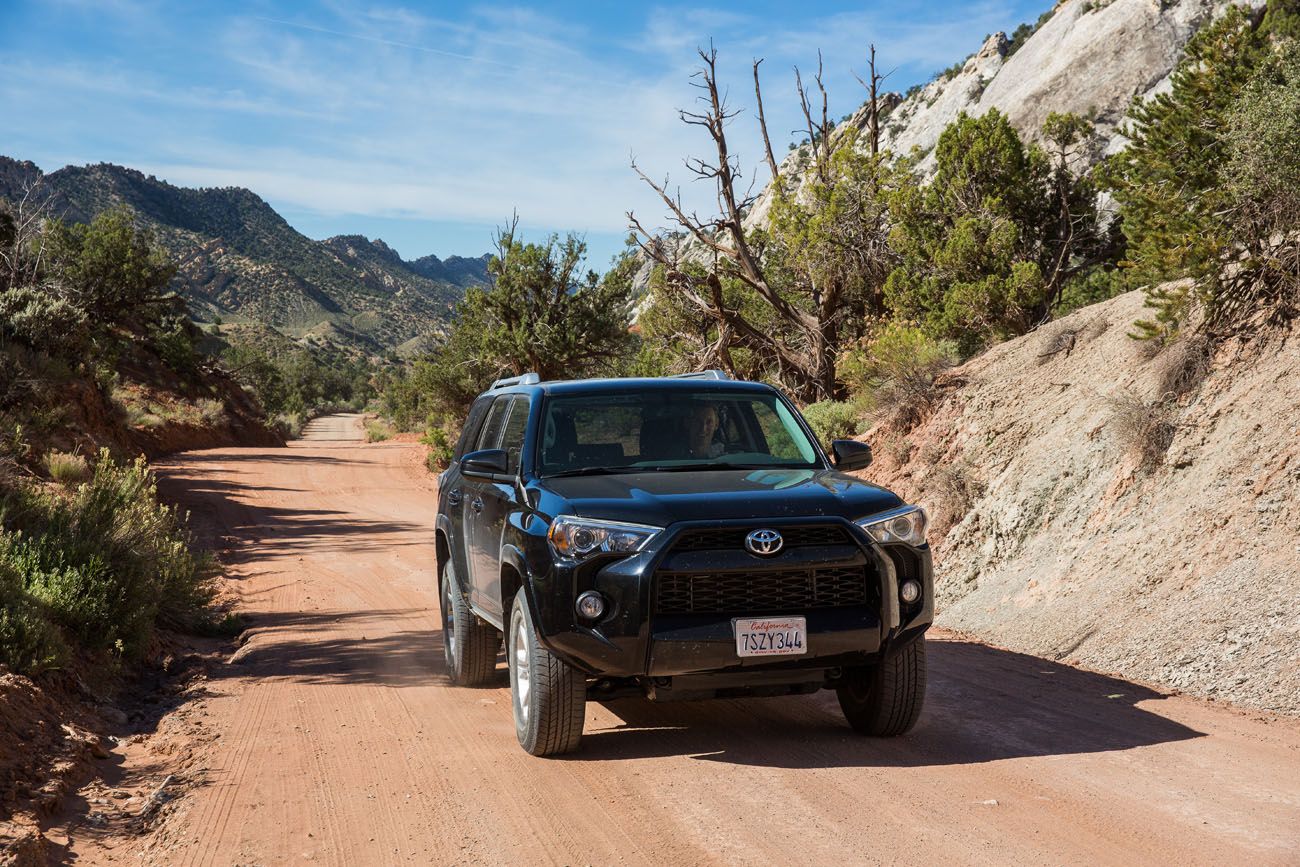 If it Rains, the Road may be Impassable
If it recently rained, Cottonwood Canyon Road can be impassable, even if you have a 4×4. You will have to take a detour around Cottonwood Canyon Road.
More Things to do in the Area
We did not do any of the short hikes located right on Cottonwood Canyon Road, although we did make the short detour out to Grosvenor Arch. We had limited time, time we were saving for Hole-in-the-Rock Road and the hikes to Zebra Slot Canyon and Peekaboo and Spooky Gulches. For us, Cottonwood Canyon Road was a scenic shortcut between Page, Arizona and Escalante, Utah.
There is plenty more to see and do in Grand Staircase-Escalante. This place is huge and absolutely amazing to explore. It does not have the same popularity as nearby Bryce Canyon and Zion, so the trails are less crowded and this part of Utah feels more remote.
One hike that we did not have time for (but is first on our list on a return visit here) is Coyote Gulch. This is an all day hike, almost 11 miles in length, but some people split the hike into 2 days as a backpacking trip.
---
If you have any questions about driving Cottonwood Canyon Road, let us know in the comment section below.
More Information about Utah
UTAH ITINERARY: If you need ideas on how to plan your road trip through Utah, check out our 7 to 10 day Mighty 5 Itinerary, our Arches, Canyonlands, and Capitol Reef Road Trip, and our 14-day American Southwest Itinerary.
BEST OF ARCHES: While in Arches National Park, top experiences include the Devils Garden Trail and a visit to Delicate Arch. Get the full list in our Best Things to Do in Arches guide.
WHITE RIM ROAD: The White Rim Road is a 100 mile road that loops around the Island in the Sky District of Canyonlands National Park. It is one of the best national park experiences. Learn how to plan your trip in our Guide to the White Rim Road and how to spend one day on the White Rim Road.
SCENIC DRIVES IN CAPITOL REEF: Driving through Cathedral Valley is a an amazing one day road trip through the northern section of the national park. Lesser known but no less spectacular is the a drive where you Loop the Fold and visit slot canyons and remote corners of the park.
KODACHROME BASIN STATE PARK: Kodachrome Basin State Park is located near Bryce Canyon and is filled with short but sweet hiking trails. A visit here can be easily combined with the Willis Creek hike.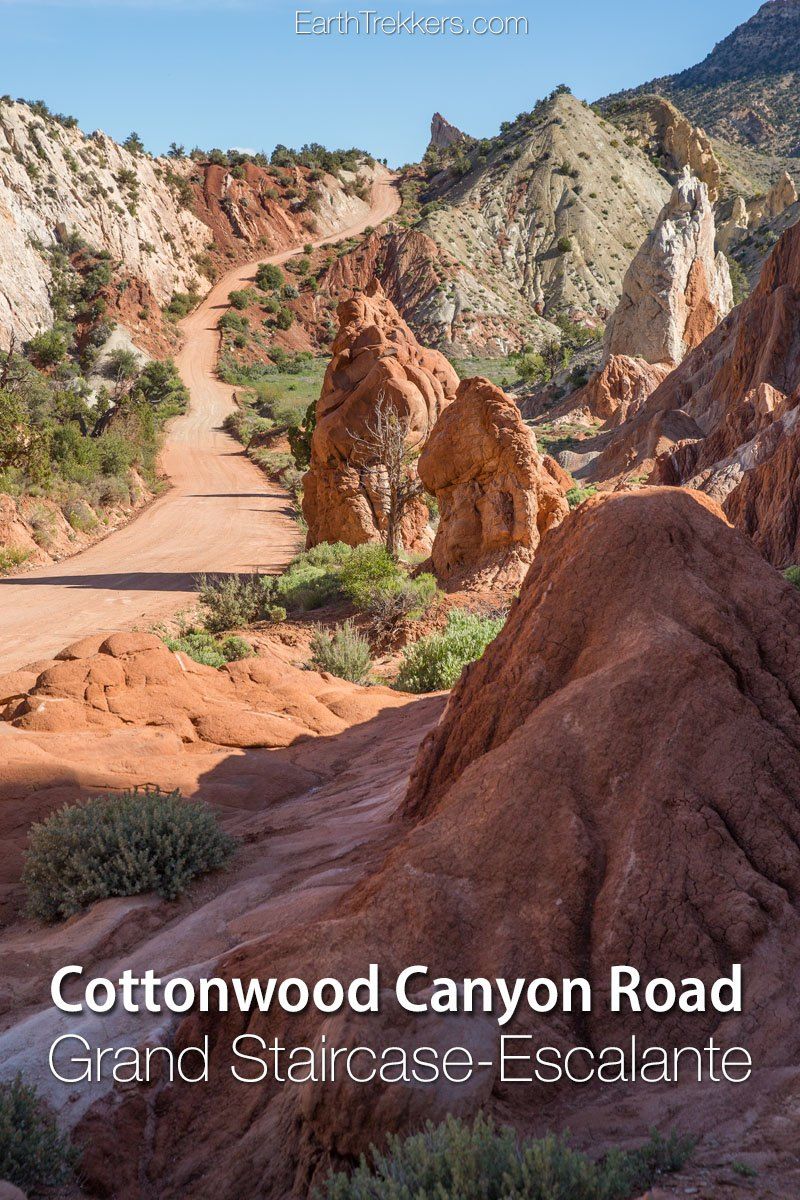 All rights reserved © Earth Trekkers. Republishing this article and/or any of its contents (text, photography, etc.), in whole or in part, is strictly prohibited.