The Cinque Terre is one of Italy's most scenic spots. It is here that five colorful, gorgeous towns precariously sit on the hills that tumble into the Mediterranean Sea. The popularity of the Cinque Terre has exploded in recent years, with photos of Riomaggiore and Vernazza plastering the internet.
The Cinque Terre is one of our favorite spots in Italy. In fact, we preferred the Cinque Terre over the Amalfi Coast on our first visit to Italy. The Cinque Terre is just as scenic as the Amalfi Coast but it is much easier to get around, especially during the summer months, when so many tourists
flock to Italy.
For budget travelers, there is a way to visit Cinque Terre without spending a fortune, and we are going to tell you how.
The Cinque Terre for Budget Travelers
Stay in La Spezia
La Spezia is a small city that sits just to the south of the five towns of the Cinque Terre. Most travelers will arrive in La Spezia by train before catching a second train to one of the five towns.
Accommodations are significantly cheaper in La Spezia than in the Cinque Terre. Sure, it may not be as scenic or as romantic as staying in Manarola or Vernazza, but it does not take long to get to these towns by train. In fact, it takes only 9 minutes to get to Riomaggiore, the first of the five towns on the train route.
We stayed in Hotel Birillo, a small, budget hotel. It was decent, with small rooms, an interesting bathroom (you actually had to walk through the shower to get into the bathroom…LOL), but it was only a five minute walk to the train station.
Hike the Cinque Terre
Hiking is the cheapest way to get from town to town and you can't beat these views.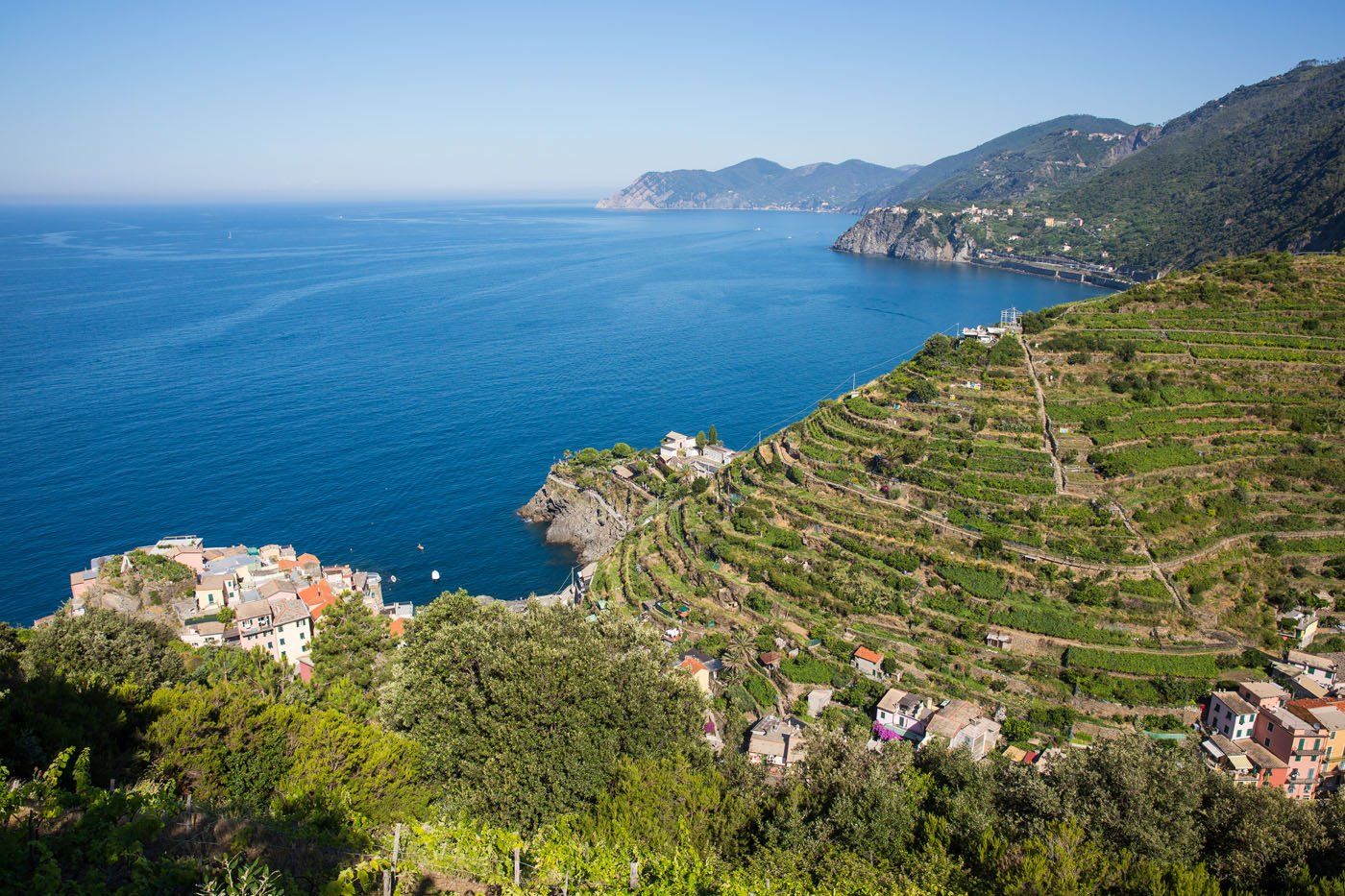 It takes a full day to hike the entire length of the Cinque Terre but it is an awesome experience. One of the best parts of hiking here is making a pitstop in each town for a gelato break. Yum!
Please note, it is not unusual for a section (or two) of the hike to be closed because of rockslides. The main routes are relatively flat so they are not too strenuous. If the main route is closed, you can skip to the next town by train or hoof it up and over the mountains, taking an alternate hiking route. Climbing the hillsides is tiring and can be very hot during the summer months. But you will have these trails almost to yourself and you will be rewarded by stunning views of the coastline.
In order to hike the Cinque Terre, you will have to purchase either the "Cinque Terre Card" or the "Cinque Terre Card Treno."
The Cinque Terre Card gives you access to all of the hiking paths and access lifts.
The Cinque Terre Treno Card adds train travel to the Cinque Terre Card. With the Treno Card, you get unlimited train travel between Levanto and La Spezia. For updated prices, see the official website.
Go to the Beach
This is the perfect way to cool off after a day of hiking. Monterosso al Mare has the largest beaches and the only beach with sand in the Cinque Terre. What's even better is that it is free!!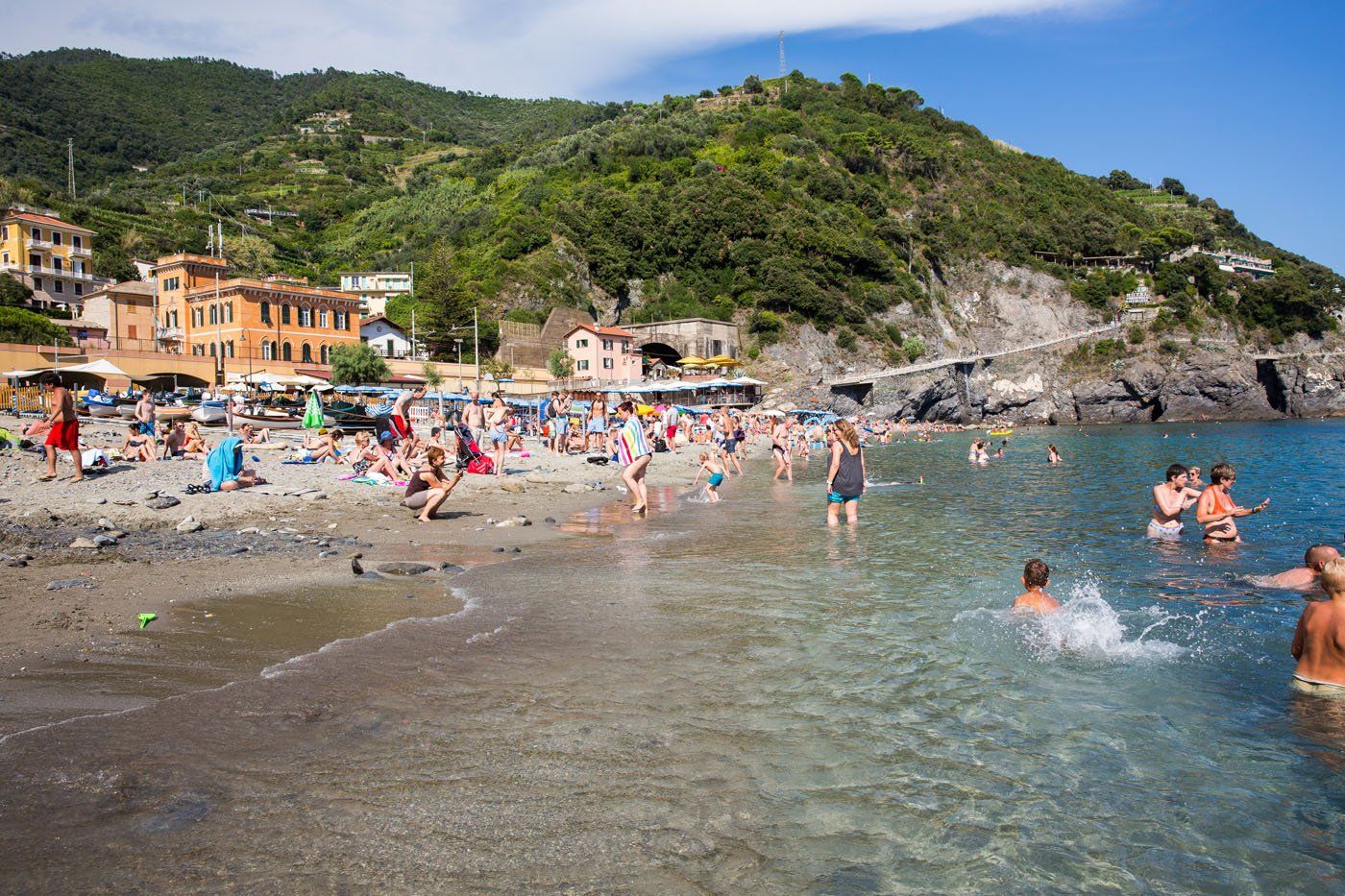 The beaches in Monterosso are free, but there are private beaches as well. You will have to pay extra for an umbrella and beach chair, but it sure does look nice!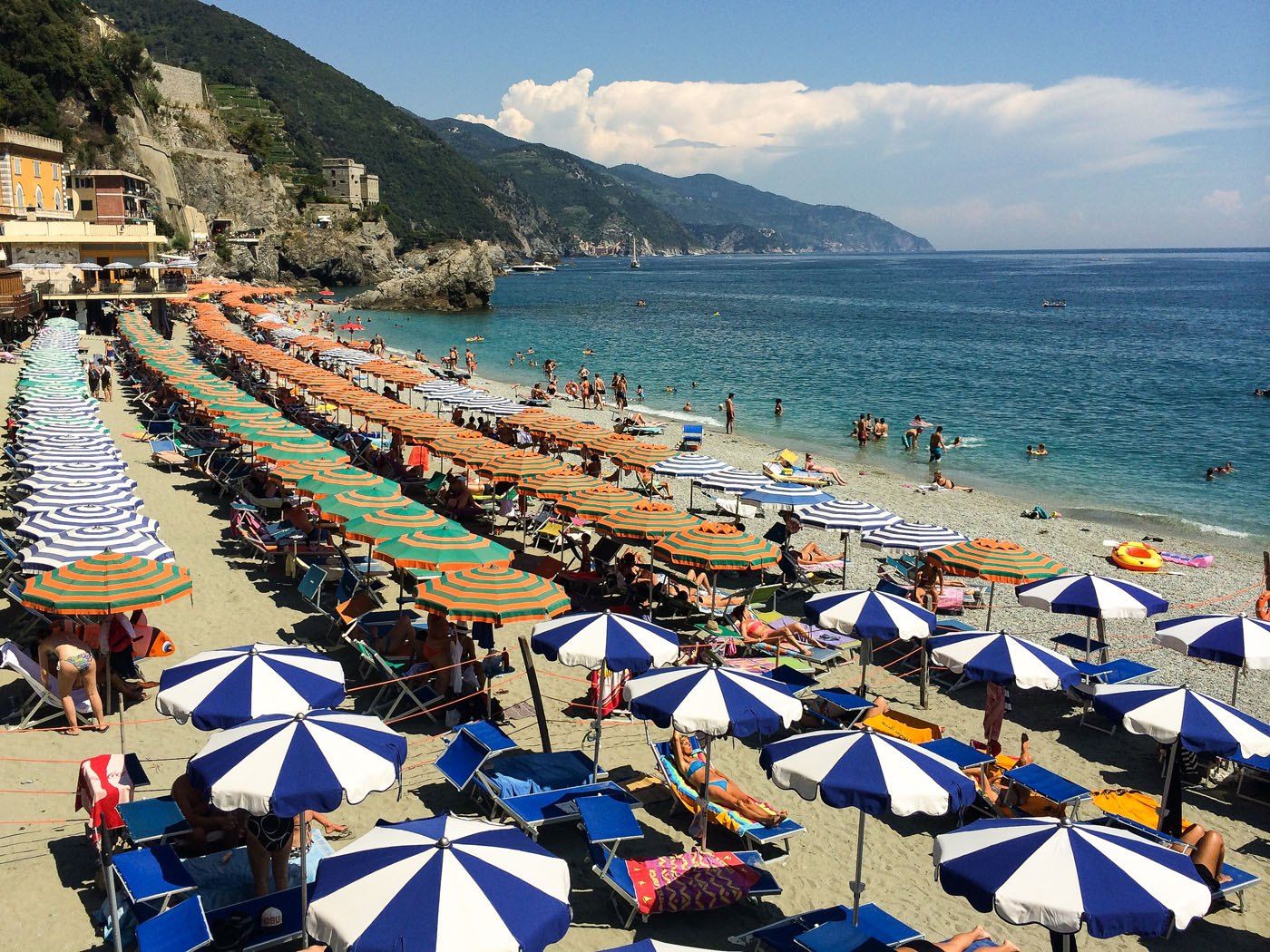 Each town has a "beach." In Manarola, people lay their towels out on the hard concrete down by the water.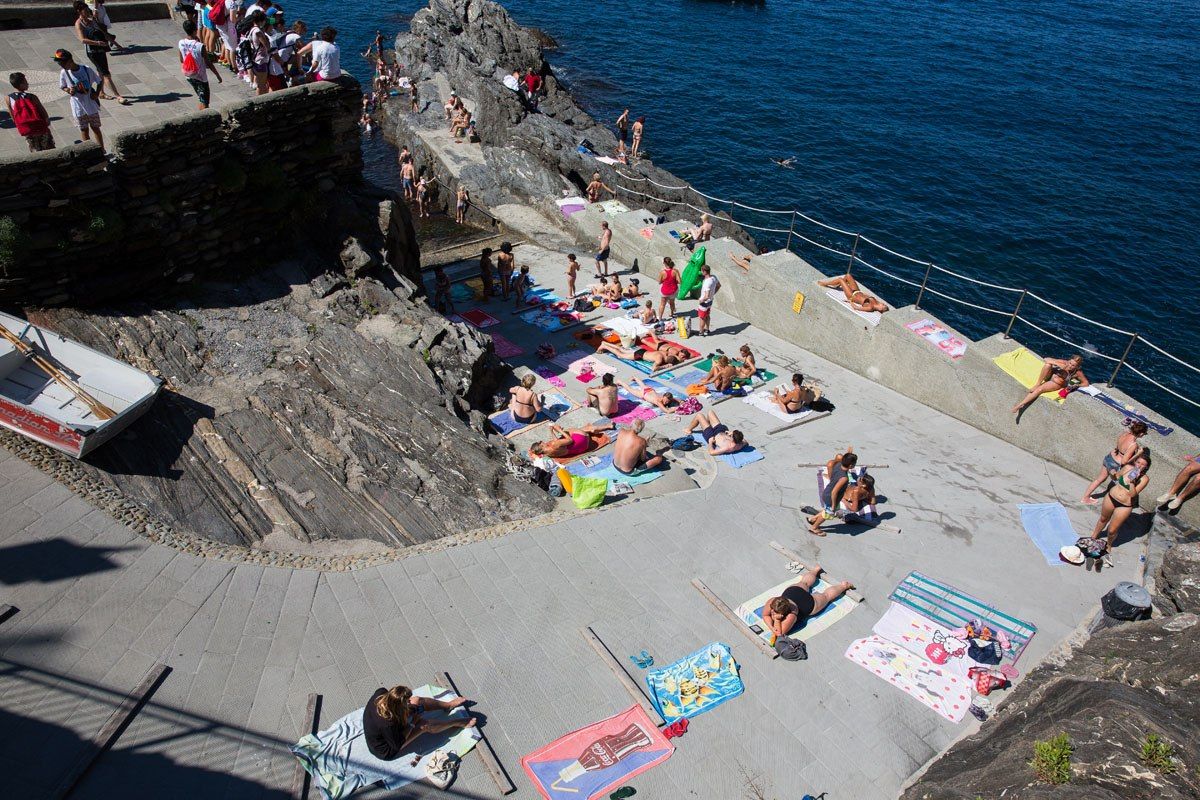 If you are traveling with kids, it's worth spending your money on one of these paddle boats with a slide. I think Tyler and Kara's favorite memory from Italy was our one hour rental with this super fun contraption.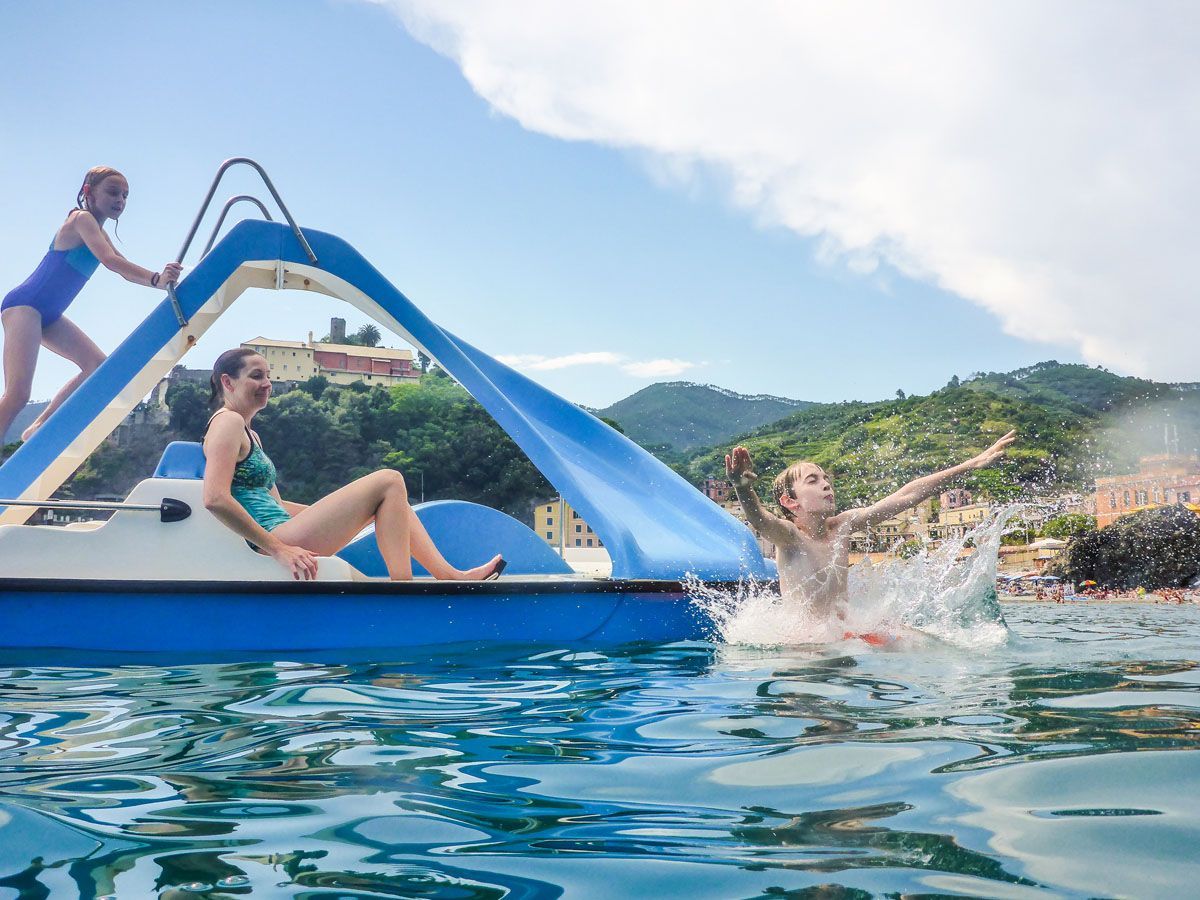 Use the Train to Get Around
If you purchase the Cinque Terre Treno Card your train travel will be included for the one or two days you have this pass.
If you elect not to purchase the Treno Card then you can purchase single tickets at €2 each. For those spending at least 36 hours in the Cinque Terre, the weekly pass may be a good option. For €11 you get unlimited train travel for one week with the start day being Monday.
The trains are run by Trenitalia. For more information on pricing and timetables, check out www.trenitalia.com.
Cheap Eats in the Cinque Terre
Buy your food at co-ops and grocery stores. The grocery stores and markets are stocked with fresh fruit, bread, chocolate, and snacks…the perfect food to fuel your journey through these five towns. Assemble a picnic lunch, grab a bench with a scenic view, and enjoy your meal.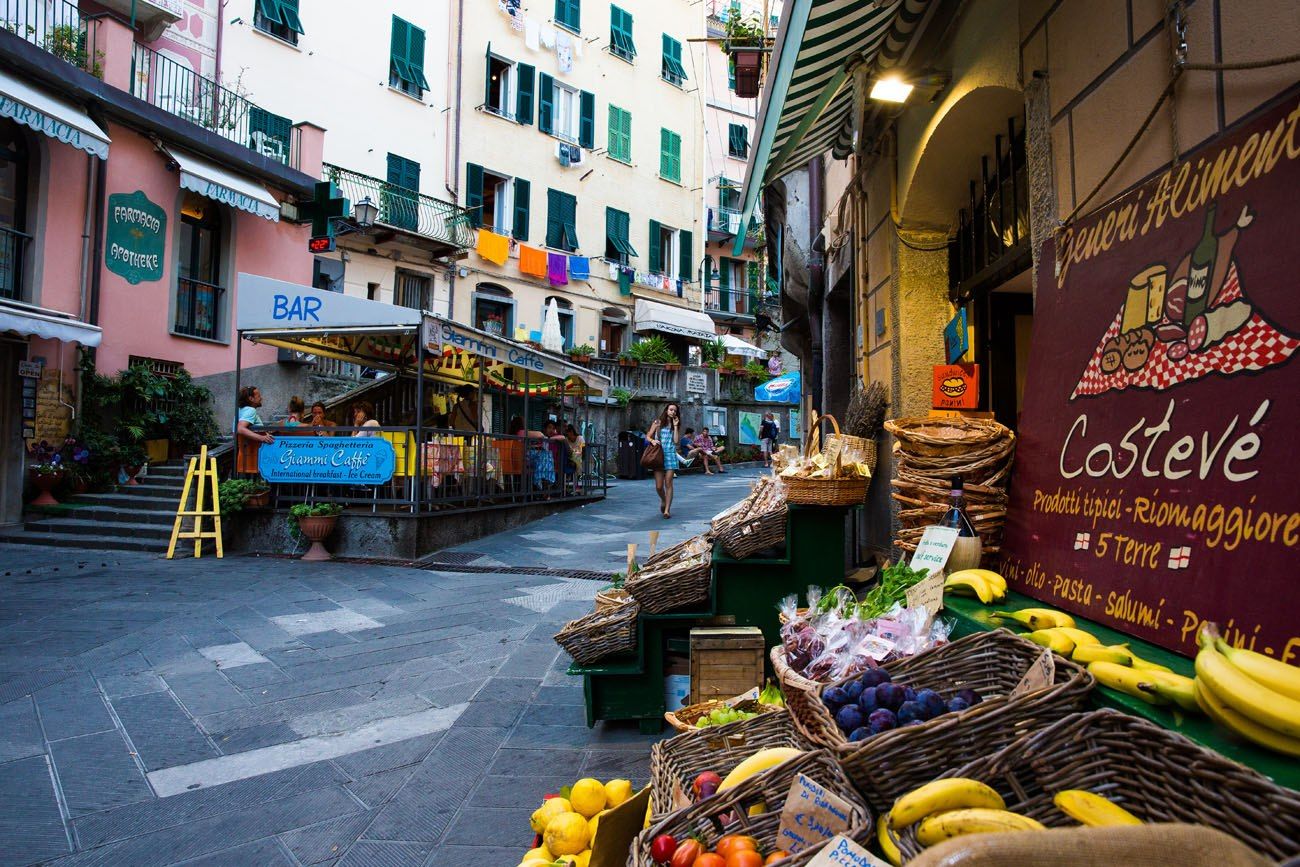 Eat pizza and sandwiches. They are delicious, cheap, and you can find them everywhere.
Go to a focacceria. For just a few euros you can have warm focaccia bread. Yum! Add to your meal some fresh fruit or deli meat and you have a tasty, cheap meal.
Eat the gelato. In every town. Seriously.
Many restaurants can be expensive, but for those travelers on a budget, dining at a nice restaurant, eating seafood while overlooking the Mediterranean Sea, may be worth the splurge.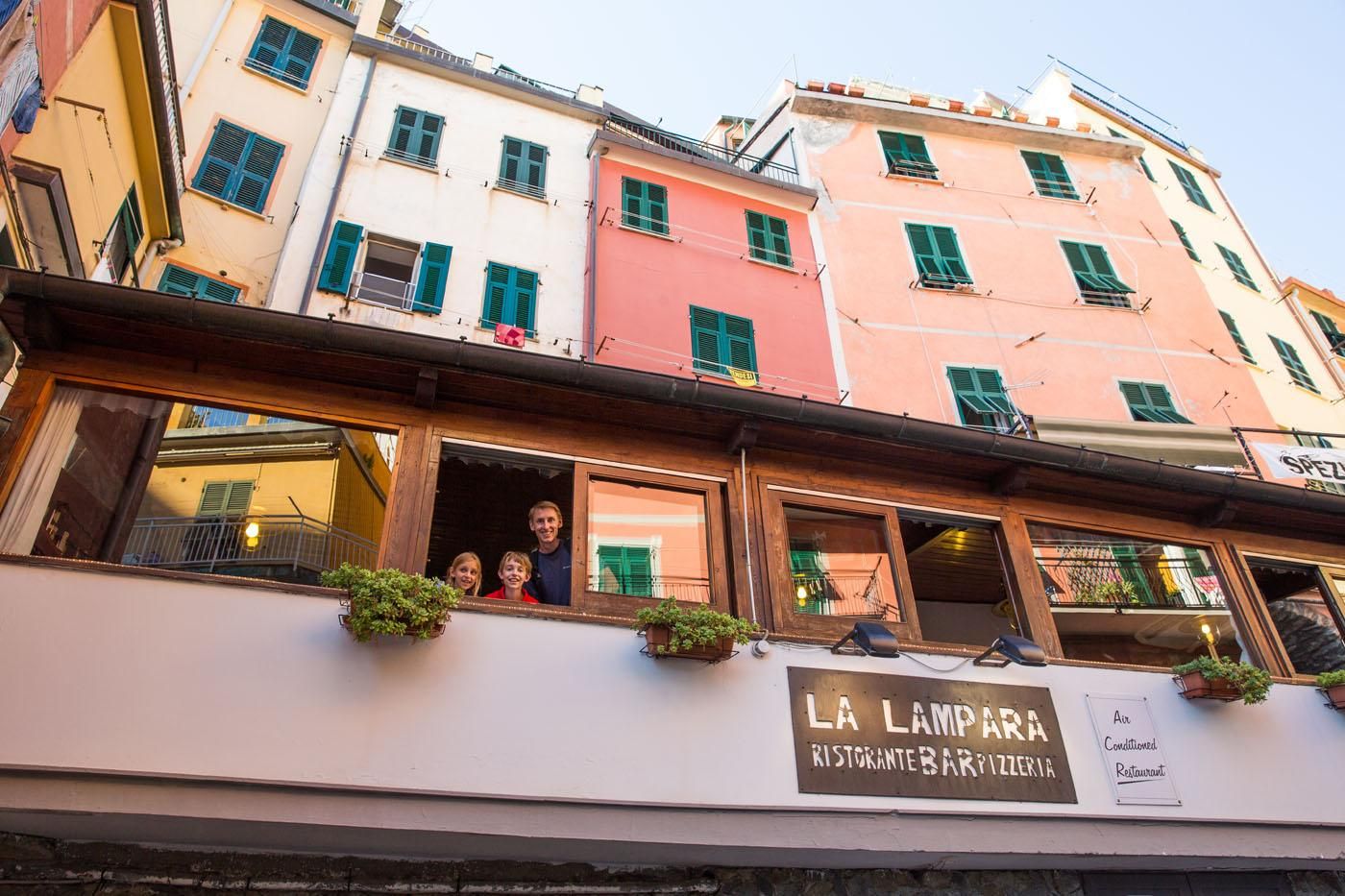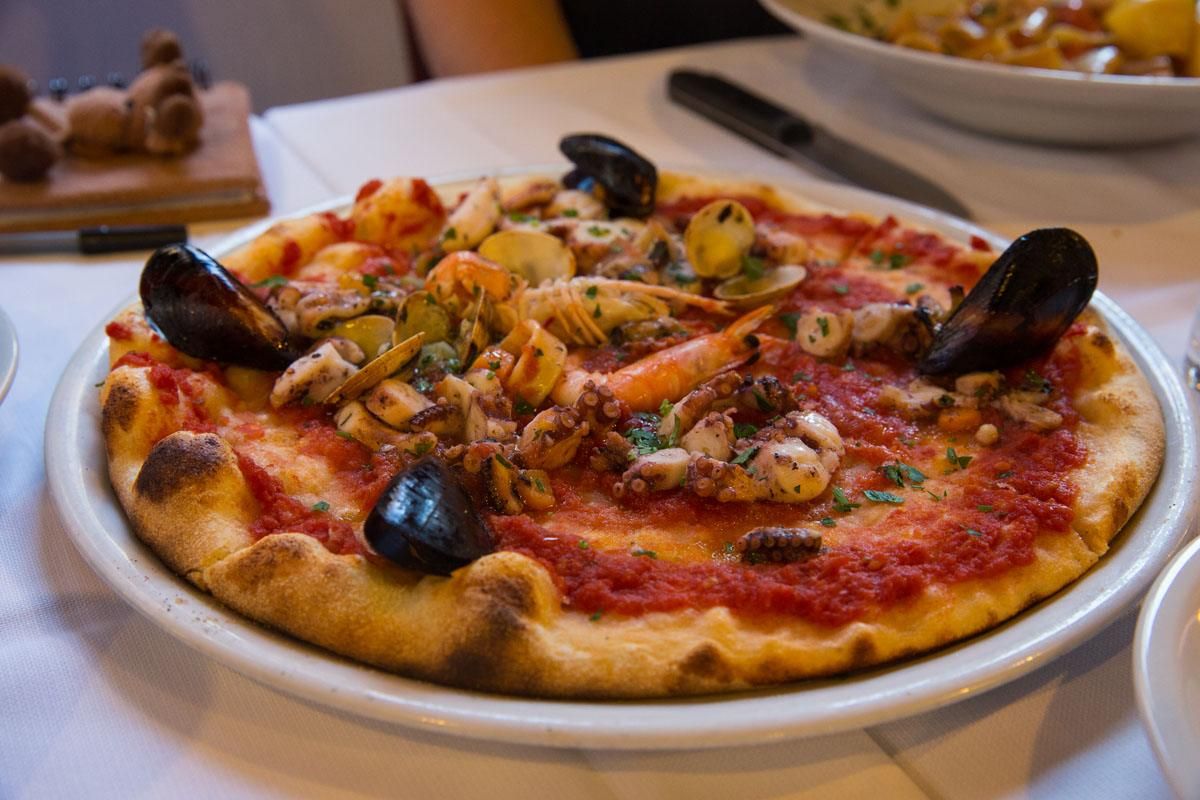 Have fun exploring the Cinque Terre!
---
Do you have any questions about visiting the Cinque Terre on a budget? Let us know in the comment section below!
More Information for Your Trip to Italy
CINQUE TERRE:Don't miss our guide about how to hike the Cinque Terre.
PISA: Learn how to visit the Leaning Tower of Pisa while traveling from Florence to the Cinque Terre.
AMALFI COAST: Pick out which towns you want to visit in our article about the best towns to visit on the Amalfi Coast. If you are active and adventurous, one of the best things to do on the Amalfi Coast is hike the Path of the Gods. We also have a 3-day Sorrento Itinerary, best things to do in Capri, and where to stay on the Amalfi Coast.
DOLOMITES: In our article Best Hikes in the Dolomites, we cover 15 epic trails in the Dolomites. Which ones do you want to do?
NORTHERN ITALY: Verona is a beautiful city to add to your Italy itinerary and we also have a detailed guides on Lake Garda and how to day trip to Lake Como and Bellagio. In our Northern Italy Itinerary, visit Venice, the Dolomites, Verona, Milan, and Lake Como.
We have TONS more information about Italy in our Italy Travel Guide, including Rome, Florence, Venice, Tuscany, the Dolomites, the Amalfi Coast, the Cinque Terre, and Puglia.
Note: This post contains affiliate links. When you make a purchase using one of these affiliate links, we get paid a small commission at no extra cost to you.
All rights reserved © Earth Trekkers. Republishing this article and/or any of its contents (text, photography, etc.), in whole or in part, is strictly prohibited.