Why go to Milan? It's the home of Leonardo Da Vinci's "Last Supper," one of the most famous paintings in the world. Milan is also home to the Duomo, world-class museums, and trendy shopping areas. If you like the idea of spending a few hours in Milan while traveling through Italy, in this guide learn how to plan your Milan day trip from Florence, Venice and the Cinque Terre.
Places to Go on Milan Day Trip
Spending one day in Milan can be done as a day trip when traveling between two Italian cities. We spent several hours in Milan, stopping here midday while traveling between the Cinque Terre and Venice. Milan's main sights are located within a small area, making it easy to see the best of Milan in a short period of time.
Duomo di Milano
The Milan Cathedral is the 3rd largest cathedral in the world and the 2nd largest in Italy. It took over 500 years to complete construction and changes have been made as recently as the 1900's.
The Cathedral, the Baptistery, and the Treasury can all be visited, but the best part of visiting the Duomo is getting a chance to walk on the rooftop. From here you can see the flying buttresses, spires, and have awesome views over Milan. You can even see the Alps on a clear day.
The Duomo, one of the best places to visit on a day trip to Milan | Milan Day Trip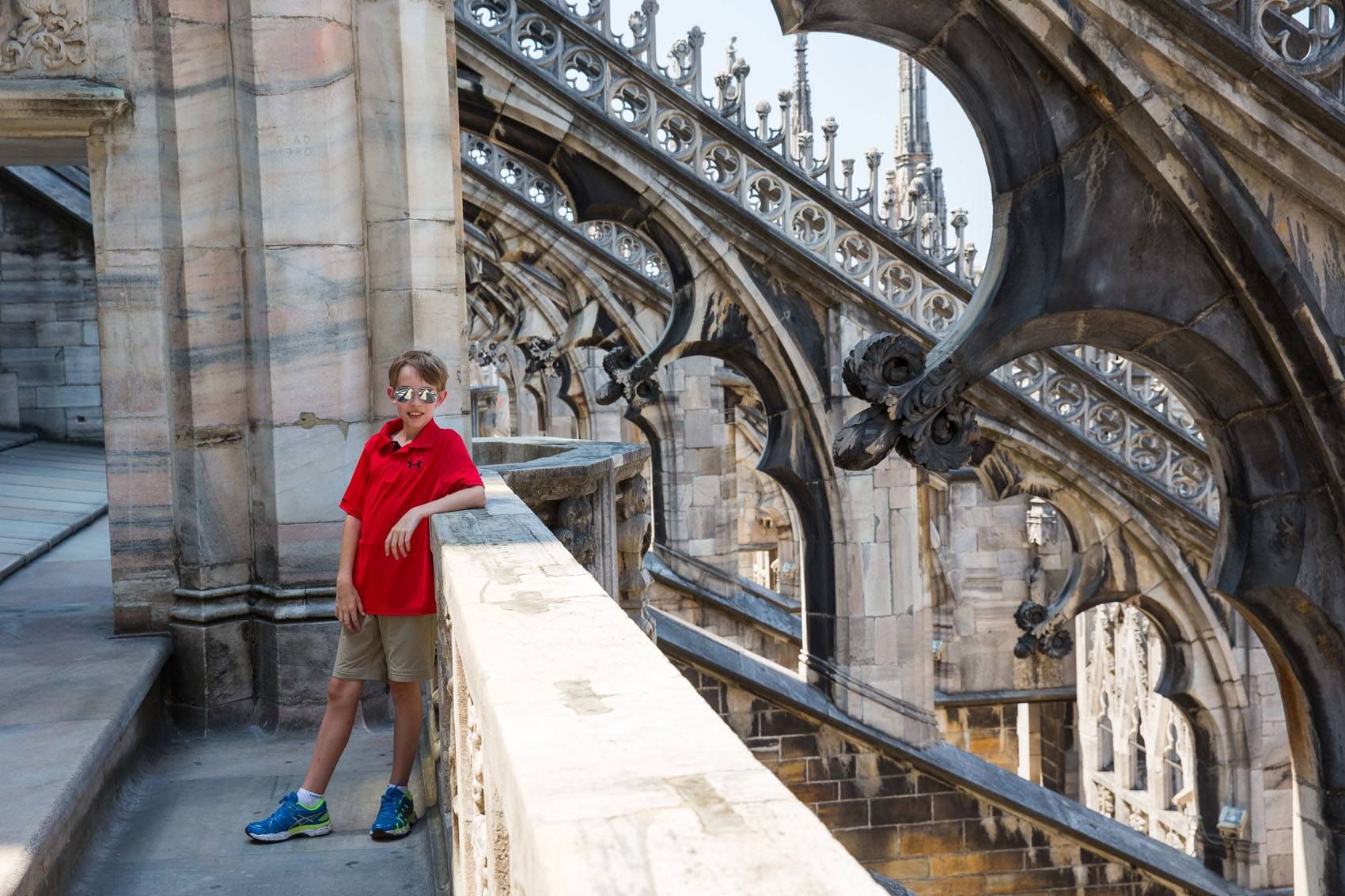 Tyler on the rooftop of the Duomo | Milan day trip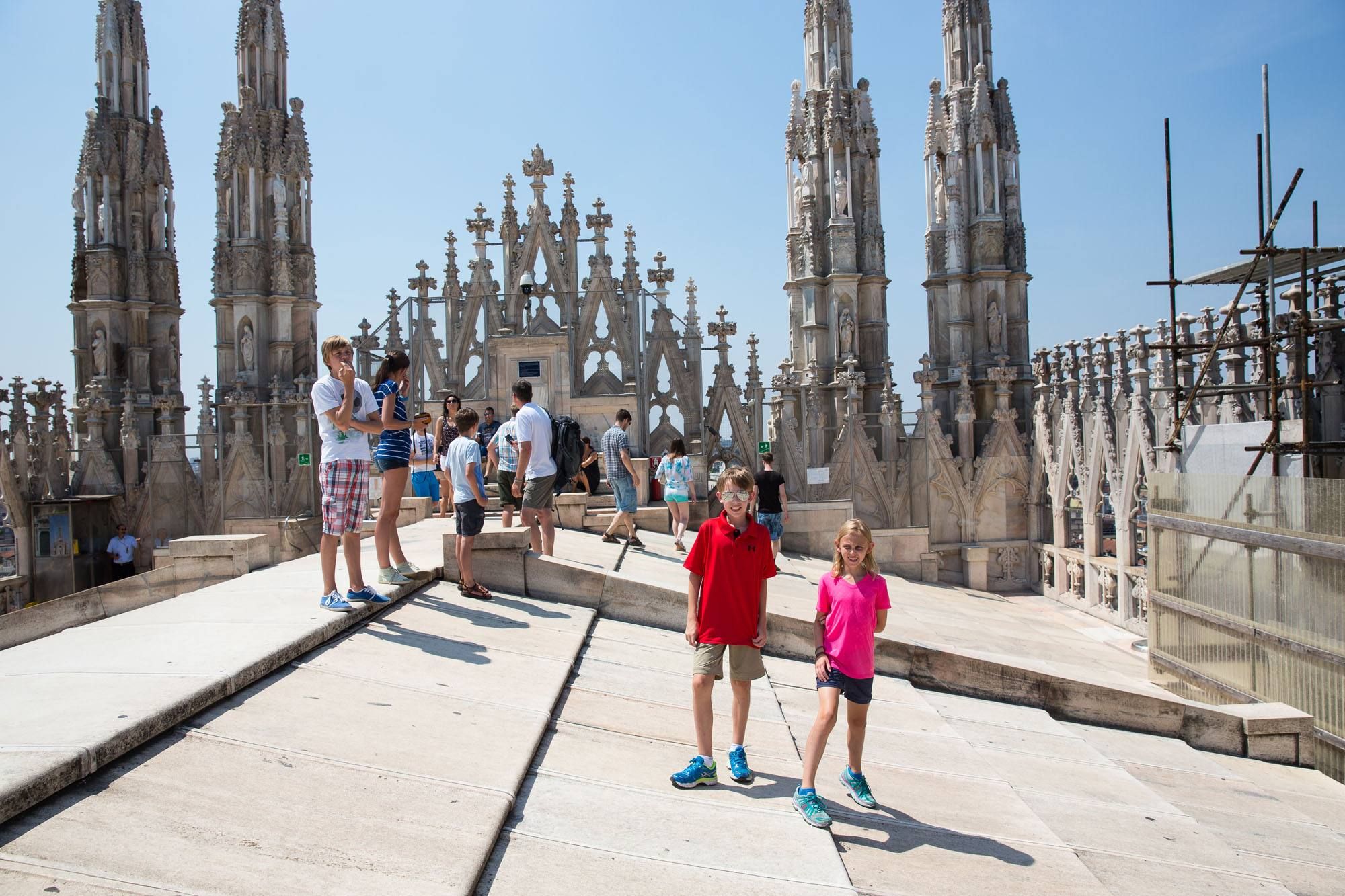 Another view of the Duomo rooftop | Milan day trip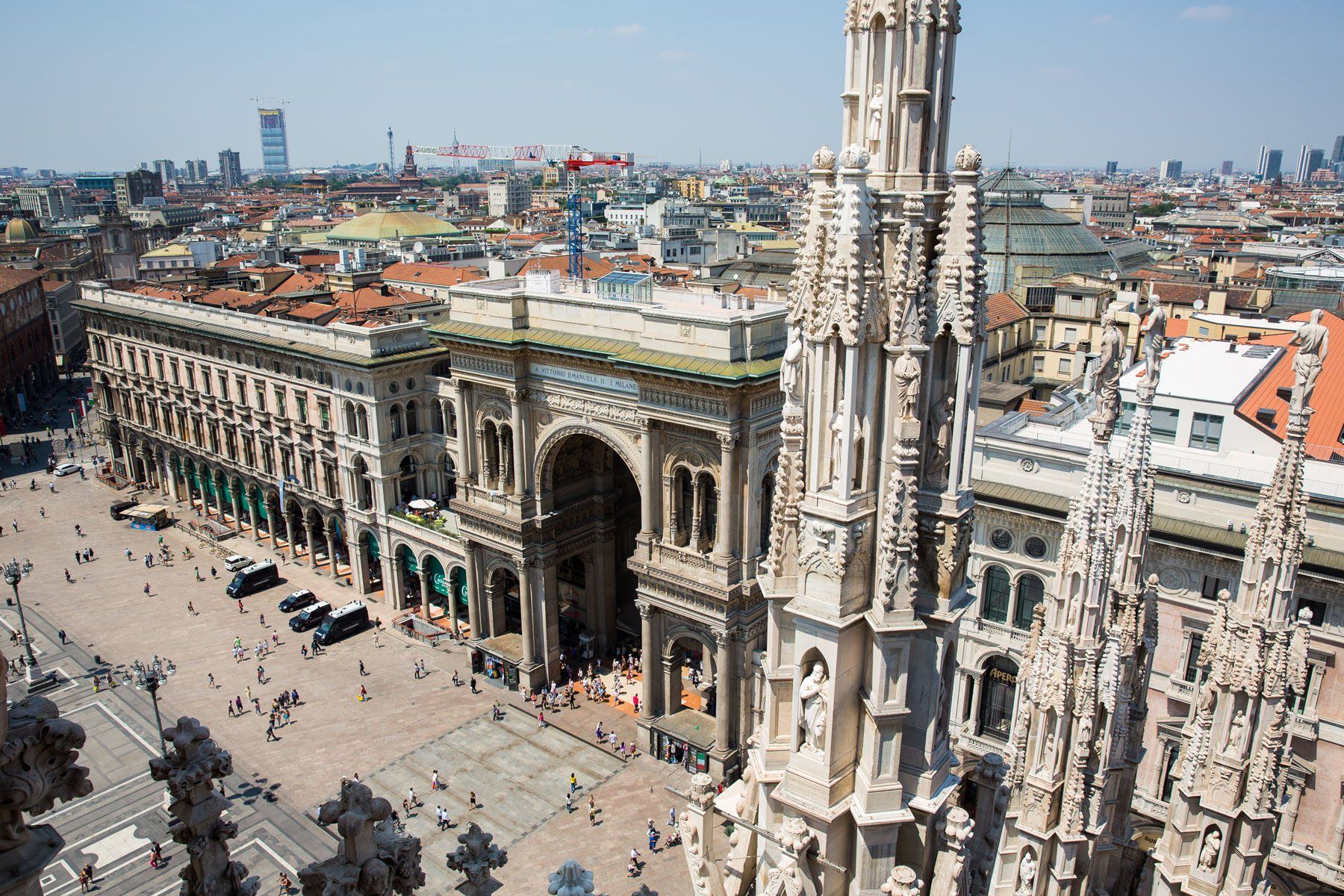 View from the Duomo terrace | Milan day trip
How To Visit the Duomo
The lines to climb to the rooftop, also called the terrace, can be very long, especially midday. To avoid waiting in long lines, you can either take the stairs to the rooftop (which typically has shorter lines than the elevator line), take a skip-the-line tour, and purchase your tickets online in advance.
Below we list prices and hours. Check the official website before you go for any changes since our last update. Here is the link to purchase your tickets in advance.
Visiting the Roof Top Only
Hours:

9 am to 7 pm, last admission at 6:10 pm

Cost:

by stairs €10, by elevator €15
Fast Track Tickets (Skip the Line): €24
Visiting the Cathedral & Museum
Hours: 9 am to 7 pm, last admission at 6:10 pm; Duomo museum is closed Wednesdays

Cost:

€7
Visiting the Cathedral, Roof Top & Duomo Museum
Hours: 9 am to 7 pm, last admission at 6:10 pm
Cost: by stairs €15, by elevator €20

Fast Track Tickets (Skip the Line):

€24
Tours of the Duomo
Here are several skip-the-line tours of the Duomo.
Da Vinci's "Last Supper"
Leonardo Da Vinci painted the "Last Supper" on the refectory wall of the convent of Santa Maria delle Grazie. He worked on this painting from 1494 to 1498, painting the mural directly onto the wall. It has undergone several restorations and even survived a bombing during WWII.
To keep the "Last Supper" at the appropriate temperature and humidity, only 30 people are allowed to enter the room every 15 minutes. Tickets must be purchased in advance in order to see the "Last Supper."
Purchasing Tickets for the "Last Supper":
Tickets can be purchased on the VivaTicket website. The "Last Supper" is listed as Cenacolo Vinciano. Tickets are released in batches every three months. On noon on March 14th 2023, tickets were released for May, June, and July.
PRO TRAVEL TIP: Purchase your tickets as soon as possible!! We booked our tickets on the first possible day at the moment they were released and they were literally disappearing as we were picking out our time slot. These tickets sell out within hours of going on sale, so mark the date and time on your calendar so you can purchase your tickets as soon as they become available.
Tickets cost €15 including the reservation fee. Children under the age of 18 years are free, with concessions made to EU residents. You are limited to purchasing only 5 tickets per booking.
Once you purchase your tickets, print a copy of the receipt. You will show this receipt and a copy of your ID to the ticket office at Santa Maria delle Grazie to get your official tickets. This will have to be done 30 minutes prior to your scheduled appointment.
At your appointment time, you will enter the convent refectory. On the far wall is Da Vinci's "Last Supper." Benches are provided and taking photographs are prohibited. You will have exactly 15 minutes to view the painting before asked to exit the room.
Dress code: Information on this is conflicting. I have read that shoulders and knees must be covered, which means long pants for men and women. There were many places in Italy where the dress codes were ignored but we never wanted to take the chance and get turned away. Italians rarely wear short pants anyway, especially the men, and you will blend in and look nicer in long pants.
What if you couldn't reserve tickets online? Here are tours to Santa Maria delle Grazie to see the "Last Supper." Most likely, you will have to make a reservation through a third party seller, since tickets sell out almost immediately once they are released. This highly rated one hour tour through GetYourGuide also has the advantage of being fully refundable up to 24 hours in advance (as of May 2023), should your plans change.
Galleria Vittorio Emanuele II
This is the oldest shopping mall in Italy. It contains luxury stores, fancy restaurants, and trendy places to get a drink. Located right on the Duomo Square, it is worth at least strolling through the mall and doing a little window-shopping.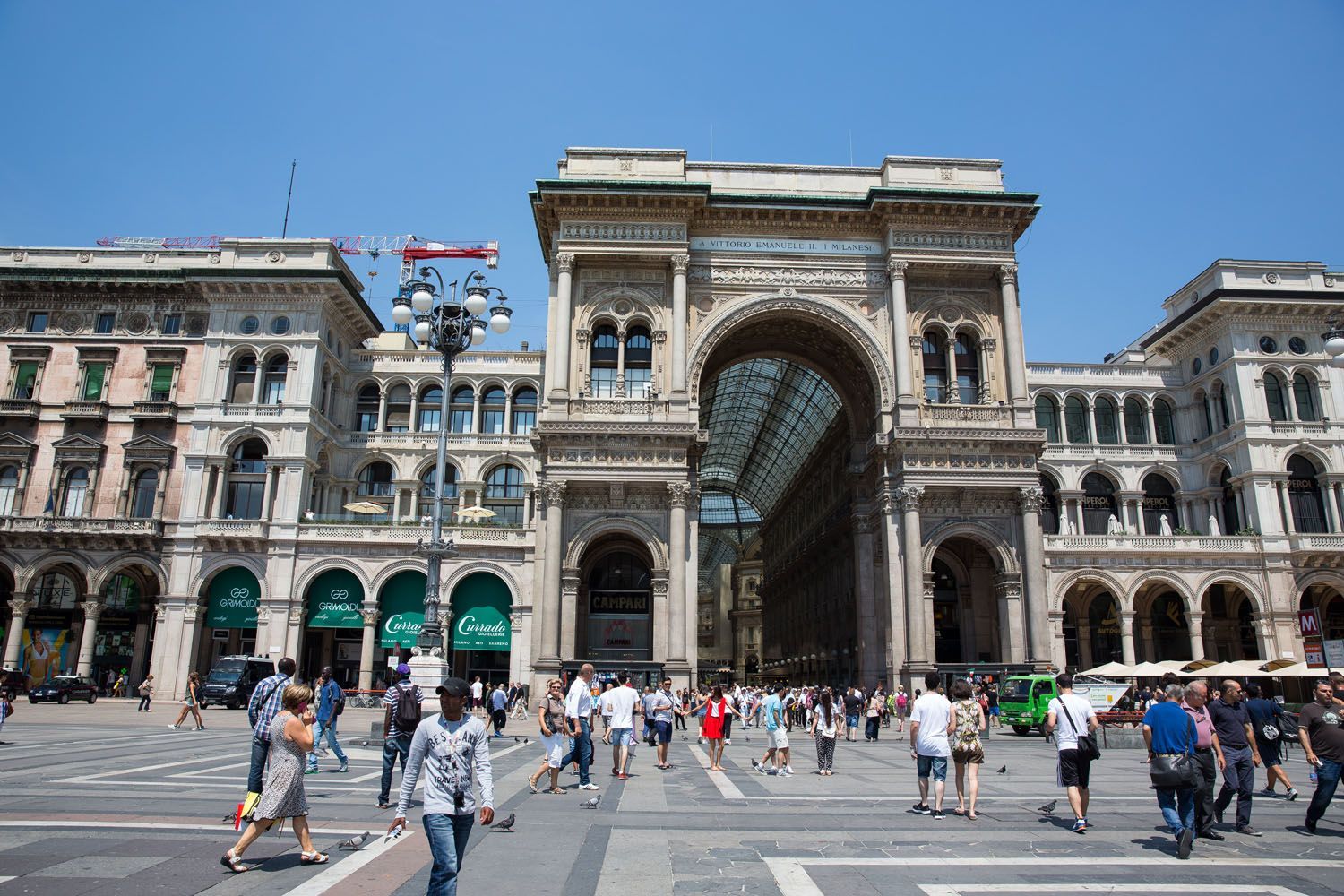 Galleria Vittorio Emanuele II | Milan Day Trip
How To Get Around Milan
Milan has an excellent public transportation network. To get between the train station and Milan's top sights the metro is sufficient.
To get from the main train station, Milano Centrale, to Santa Maria delle Grazie, take the metro. Take the green line five stops to Cardona (direction Abbiategrasso) and from here it is just a short walk to the church.
To get from the train station to the Duomo, take the green line five stops to Cardona, transfer to the red line, and take this 3 stops to Duomo (direction Sesto).
Taxis are more convenient if you are not used to using public transportation, but taxis can also be very expensive in Milan, not to mention slow, as they tend to get stuck in traffic.
How to Plan Your Milan Day Trip
Most large cities in Italy are a 2 to 3 hour train ride away from Milan. You can take an 8 am train from one city, arrive in Milan by 11 am, spend three to four hours in the city, and then board a second train mid-afternoon to your next destination.
Here are approximate durations for traveling between Milan and other cities in Italy. Please note: times can vary depending on the time of day and the type of train. Italy has several different classes of trains, ranging from high-speed trains to slower regional trains.
Milan to Florence: 2h 45m
Milan to La Spezia (Cinque Terre): 3h to 4h
Milan to Venice: 2h to 3h
Milan to Bologna: 1h to 3h
Milan to Verona: 1h to 1.5h
Milan to Rome: 3.5 to 4.5h (on the Frecciarossa, the high speed train)
Arriving in Milan
Train stations in Italy have offices where you can stow your luggage for a few hours, freeing you up to walk around the city. Once you disembark your train, follow the signs to Deposito Bagagli. You can leave your bags here for a small fee. You will be given a deposit slip…don't lose it!
One Day in Milan Itinerary (in Just a Few Hours)
From the train station, take the metro to Santa Maria delle Grazie for your scheduled viewing of the "Last Supper." Remember to arrive 30 minutes before your appointment.
Next, take the metro to the Duomo. From Duomo Square, visit the Duomo and the Galleria Vittorio Emanuele. It is best to book your tickets to tour the Duomo and the rooftop online in advance.
The restaurants inside the Galleria look fabulous, but if these are outside of your price range, we found many smaller restaurants on the streets behind the Galleria.
From the Duomo Square, take the metro back to the train station in time for your next departure.
---
If you have any questions about how to plan your Milan day trip, let us know in the comment section below.
More Information for Your Trip to Italy
NORTHERN ITALY: Verona is a beautiful city to add to your Italy itinerary and we also have a detailed guides on how to day trip to Lake Como and Bellagio. Learn how to combine Milan, Lake Como, Verona, the Dolomites, and Venice into a 10 day trip to Italy.
LAKE GARDA: Get started with our article Best Things to Do in Lake Garda. Learn how to plan your time with our Lake Garda Itinerary. We also have information about things to do in Sirmione and Riva del Garda.
VENICE: Learn more about what to do in Venice in our Venice Bucket List. To help you plan your time, we have a detailed one day Venice itinerary and a 2 day Venice itinerary.
FLORENCE: If you are planning your first visit to Florence, don't miss our guide to the 10 Best Things to Do in Florence and how to spend two days in Florence. We also have guides about the best rooftop bars in Florence, the best viewpoints in Florence, and how to visit the Florence Cathedral.
CINQUE TERRE: One of the best experiences in the Cinque Terre is to hike between all five towns. If you are traveling on a budget, get our money saving tips for the Cinque Terre.
BEST OF ITALY: In our guide to the Best Places to Visit in Italy, we list 25 beautiful destinations to consider for your next trip to Italy.
We have TONS more information about Italy in our Italy Travel Guide, including Rome, Florence, Venice, Tuscany, the Dolomites, the Amalfi Coast, the Cinque Terre, and Puglia.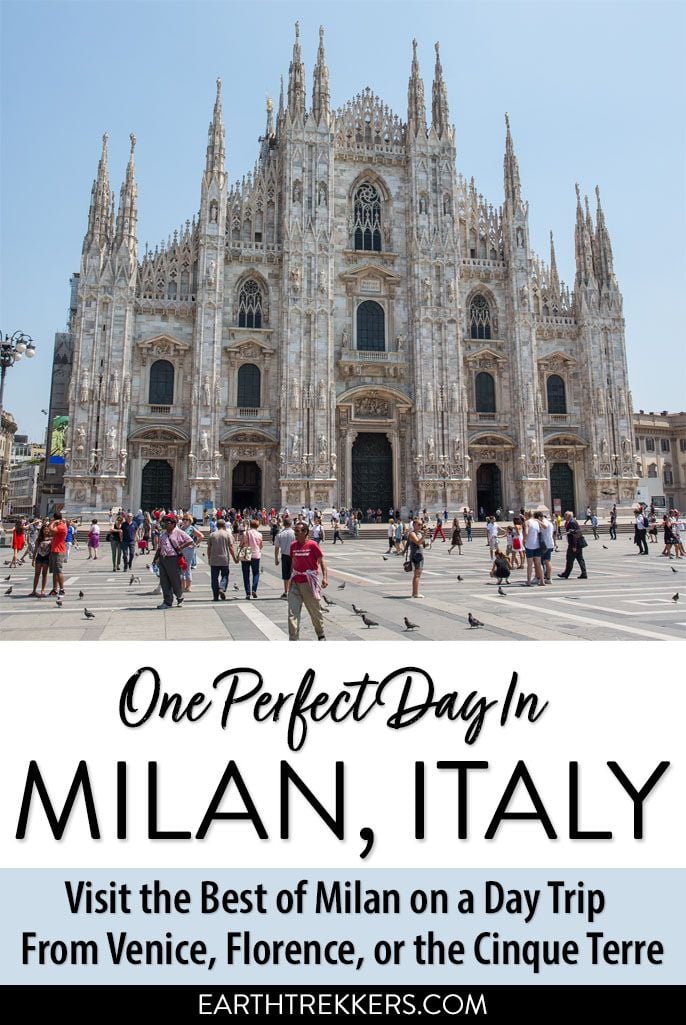 Note: This post contains affiliate links. When you make a purchase using one of these affiliate links, we get paid a small commission at no extra cost to you.
All rights reserved © Earth Trekkers. Republishing this article and/or any of its contents (text, photography, etc.), in whole or in part, is strictly prohibited.