It has been said that Copenhagen is the happiest city in the world. Denmark is a country with a high GDP per capita and a national health care system. In Copenhagen fifty percent of people ride a bike to work. These happy, healthy people volunteer regularly and have the highest percentage of voters during elections compared to any other democratic country in the world. Add in the best restaurant in the world, Noma, and the world's first amusement park in the heart of the city, and you have a great family destination in Europe.
Our tour of Scandinavia in August 2013 started with a three day visit to Copenhagen. We flew direct from Dulles to Copenhagen on SAS Airlines, arriving in Copenhagen at 7 am. We went directly to our hotel (the Crowne Plaza near the airport). Tim booked the hotel room so we could check in at 8 am and get some sleep before sightseeing. There was no way we were going to drag two tired kids around Copenhagen without some sleep first.
After a much needed four hour nap we were out the door. It was a ten minute metro ride from our hotel into the heart of the city. Copenhagen is a fairly compact city with most of the big sites accessible by foot or bicycle. An easy to use metro system also links the main sites together.
We exited the metro at Kongens Nytorv station and took a five minute walk to Nyhavn. This is iconic Copenhagen.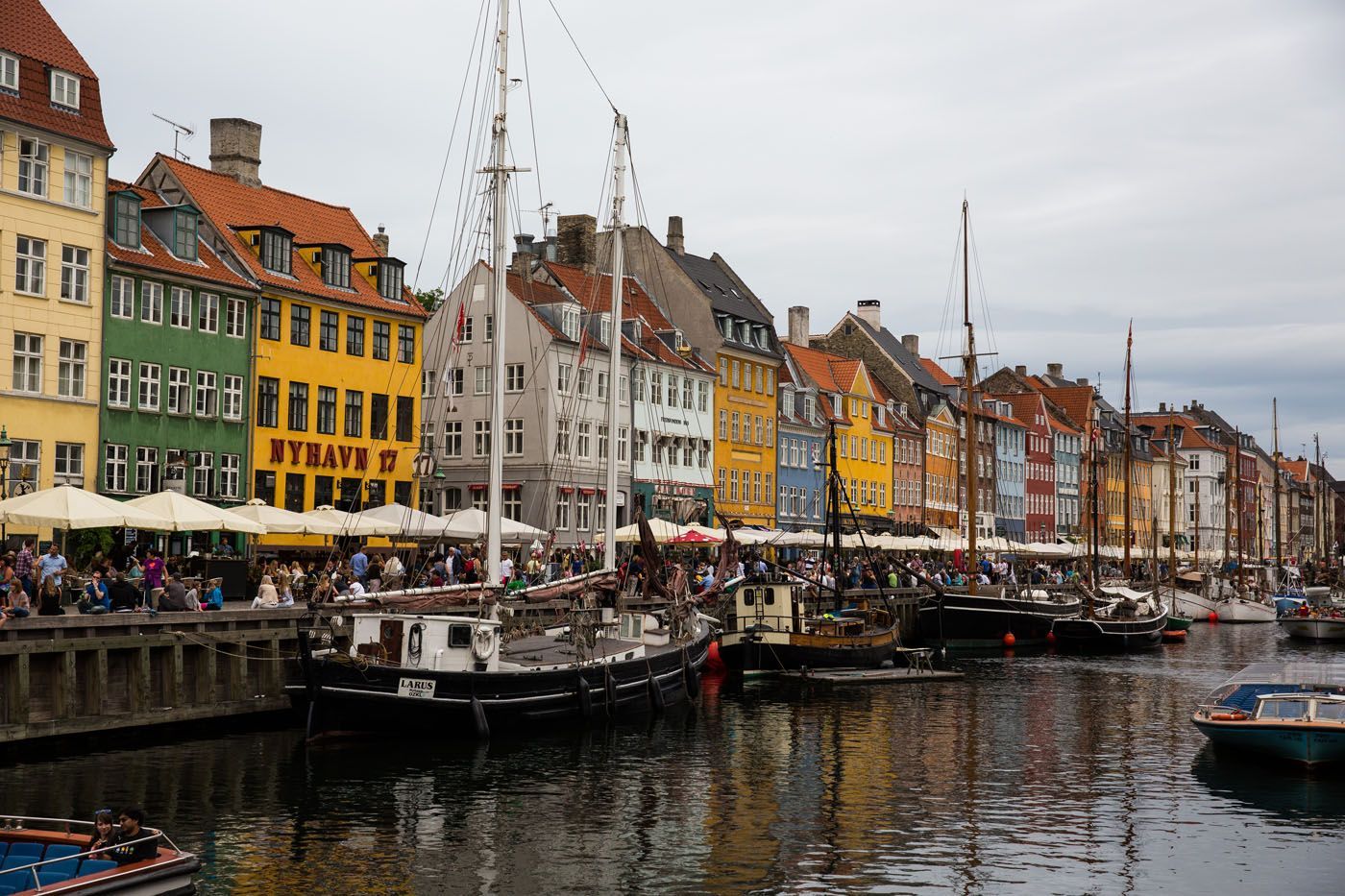 In Nyhavn we bought tickets for a one hour canal cruise around Copenhagen. This was the perfect activity to do today since we were all still tired from the time change and long flight. The cruise took us out to the harbor for views of the Little Mermaid and then through the canals of Copenhagen.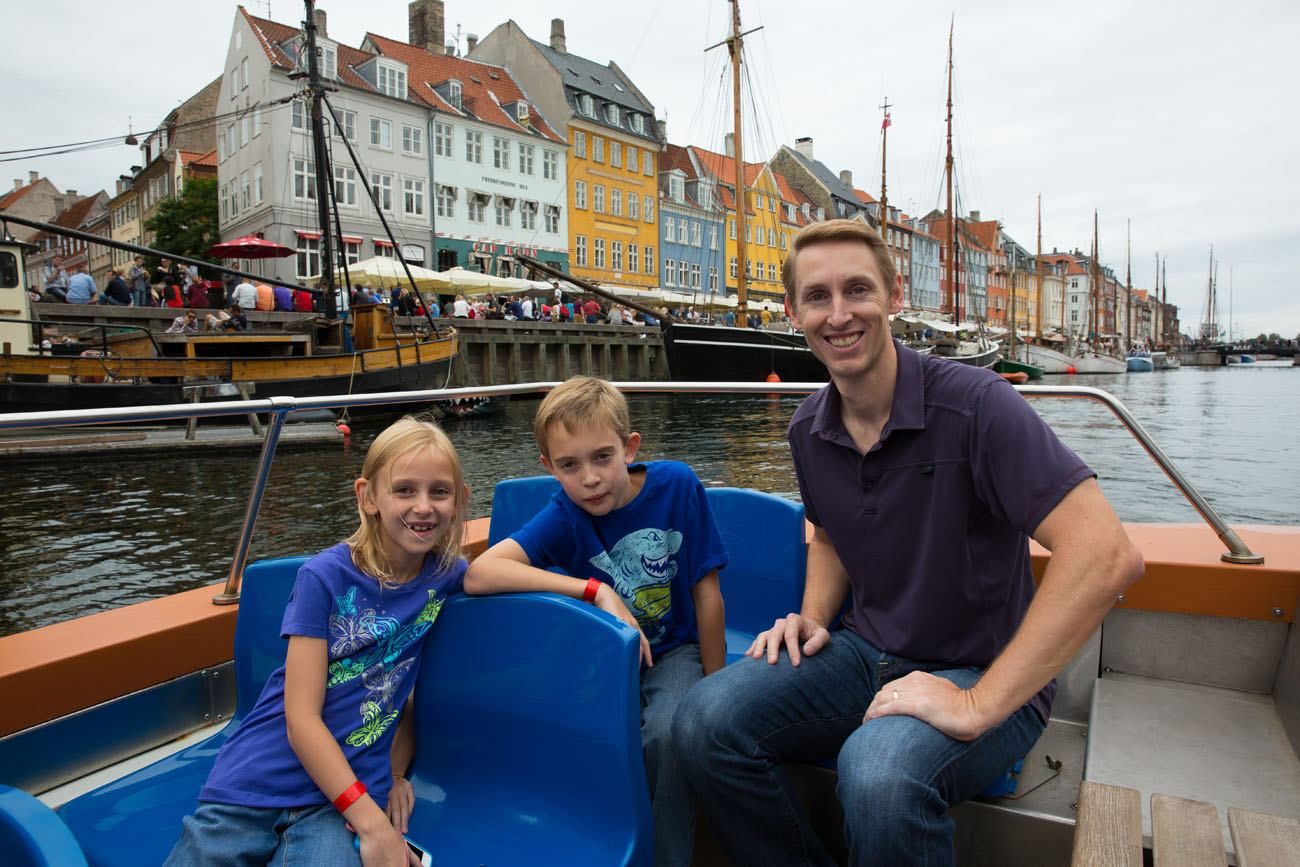 We ate dinner in Nyhavn. The food was mediocre and overpriced but sitting outside in Nyhavn at an outdoor cafe was a great experience. We ended the day by climbing the Round Tower for views over Copenhagen.
Tyler and Kara loved climbing the spiral walkway to the top of the tower and hiding in alcoves along the way to jump out and scare us as we passed by. We spotted Tivoli Gardens, the thing they were looking forward to most while in Copenhagen.We started our second day by climbing the spire of Vor Frelsers Kirke. Tyler and Kara really liked climbing the steep staircases through the bell tower and the outdoor spiral staircase. This staircase was metal plated with golden railings. It was very windy and as we wound our way up to the top we had 360° views of Copenhagen.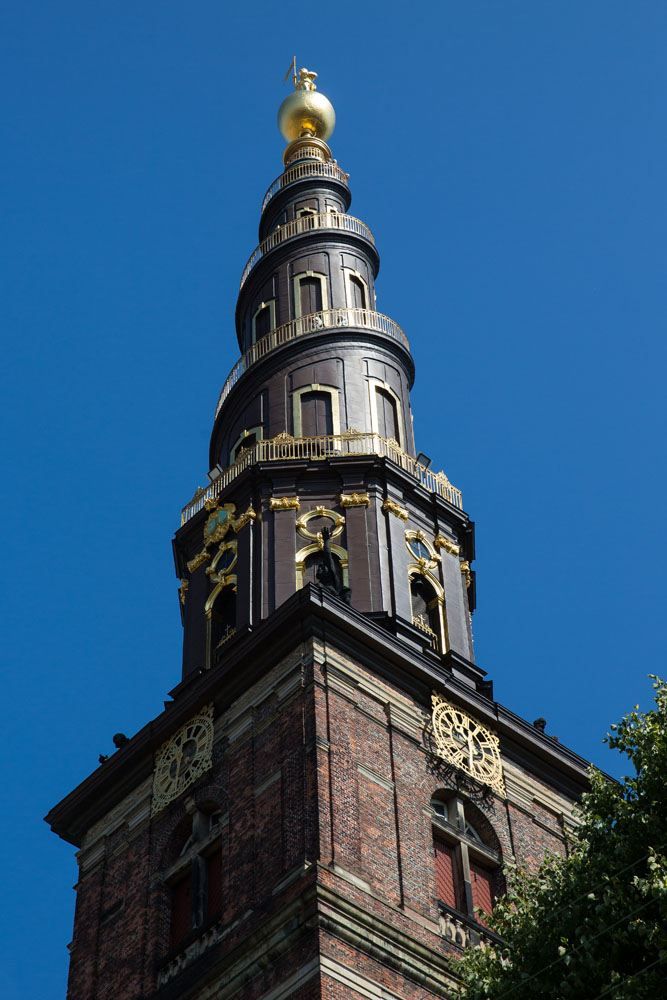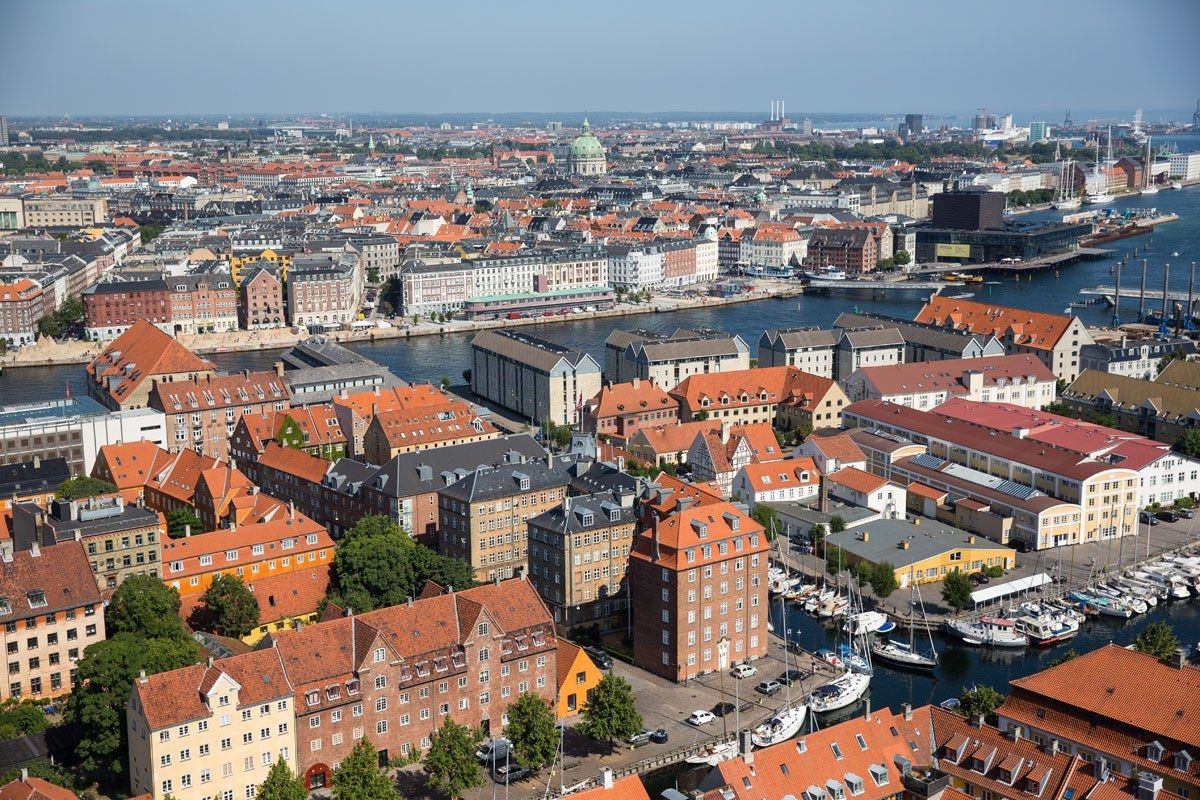 From Vor Frelsers Kirke we made a quick detour to Christiana to walk through "The Green Light District." Christiana is an area where marijuana and other "soft" drugs are sold. There were signs every five feet warning people not to take photos, or to run, for that matter. The buildings were run down and completely covered in graffiti and colorful murals. There were overgrown weeds and torn up pavement everywhere. It is a cool, colorful place but I am not really sure what Tyler and Kara thought of it.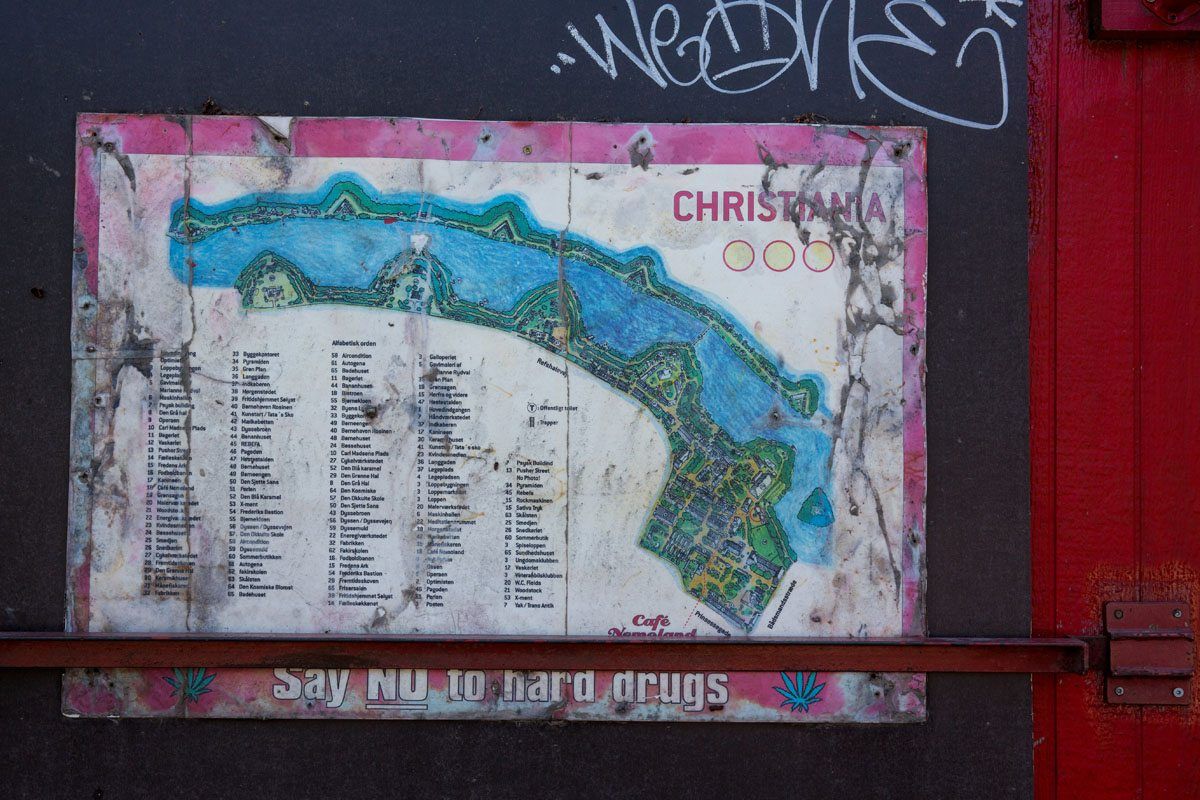 We spent part of the afternoon strolling down Stroget, Copenhagen's pedestrian only shopping street. Strolling down Stroget was nice but crowded. We did a little souvenir shopping and had a late lunch followed by an ice cream break. The walk ended at City Hall and from here we were in sight of Tivoli Gardens, the much anticipated destination of our kids.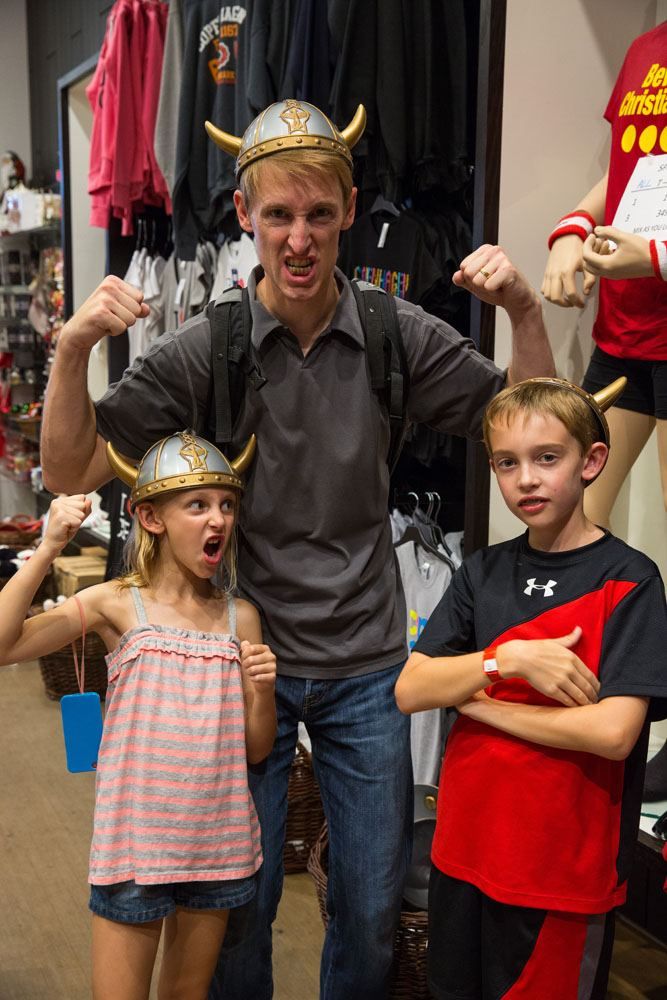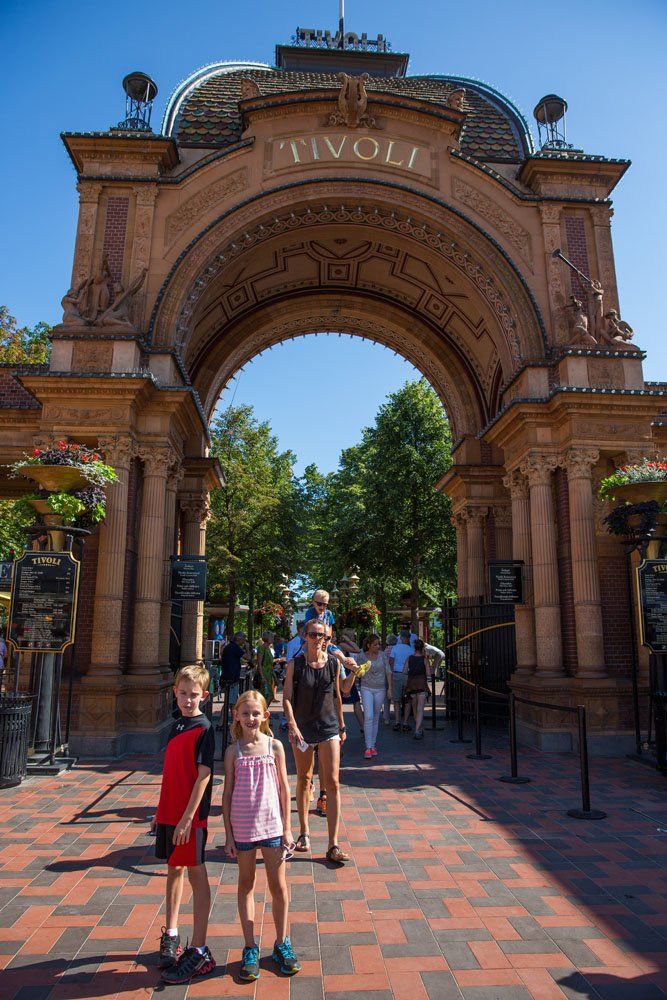 Tivoli Gardens is a beautiful amusement park, with lots of trees, flowers, and rides packed into a small area in the city center of Copenhagen. There are two ticket options for entry into Tivoli. You can purchase a ticket allowing you to enter the park or you can purchase a ticket to enter and ride the rides all day. To save money, we bought "ride all day" tickets for me, Tyler, and Kara, while Tim bought a ticket to enter the park.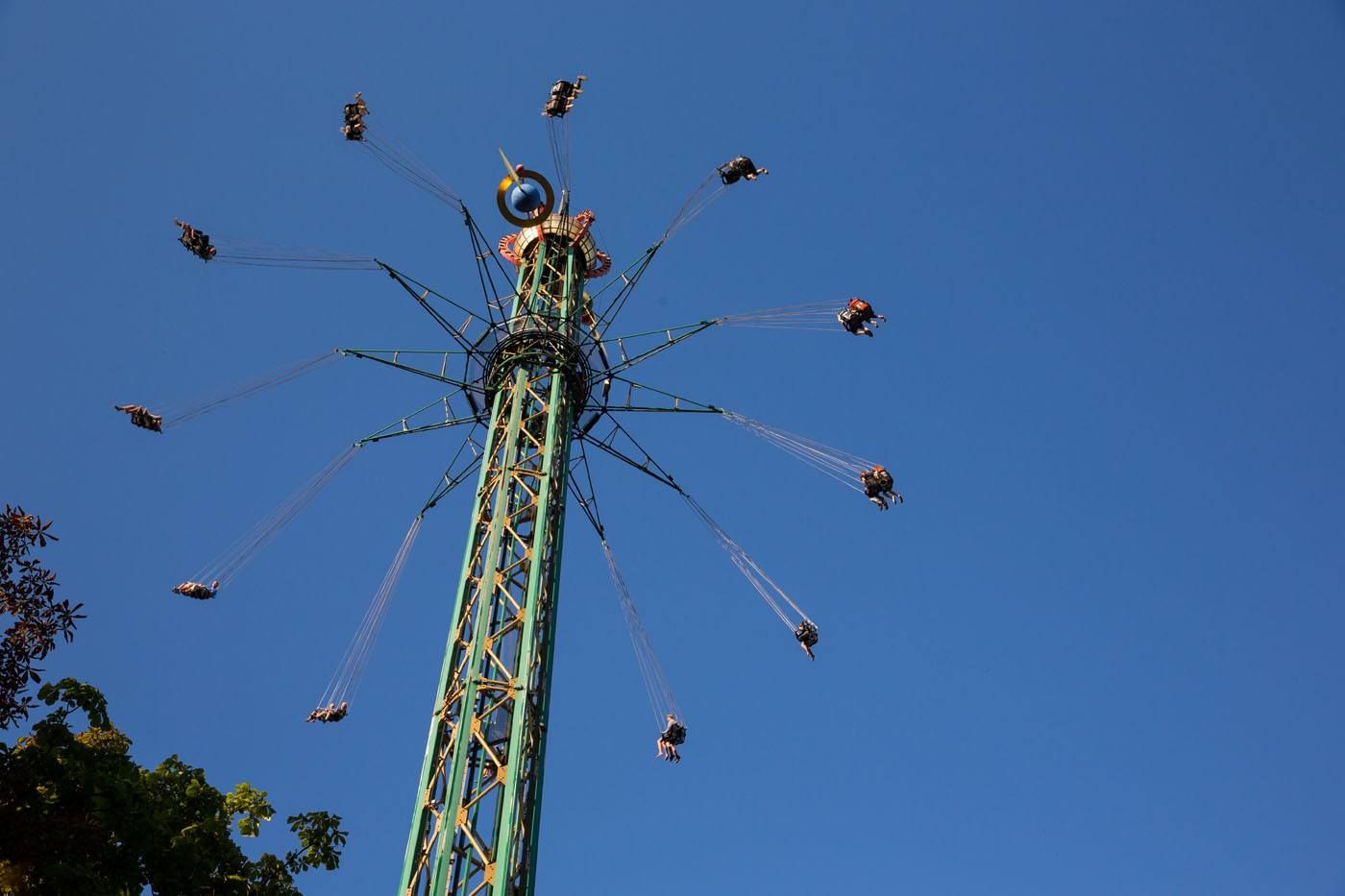 Tyler and Kara of course loved the rides. Some of the best were Odin Express, The Star Flyer that took us high into the sky for the best views of Copenhagen yet, and the 100 year old roller coaster with lots of short, quick hills. Kara loved Aquila, where we flew like a bird doing loops and flying upside down. Tyler loved the laser obstacle course and wished we had something like it back at home. At 9 pm we said good-bye to Tivoli and took the metro back to our hotel.
Our third day started with lunch at Ravelinen. Here we ate traditional Danish food. We had a hard time figuring out what to eat; our choices were cold fish, pickled herring, some relatively "typical" meat dishes, with lots of pickled side dishes. We all tried the pickled herring which was surprisingly good. Tim got smoked salmon which was delicious and Tyler and Kara split a meatball dish that they both enjoyed.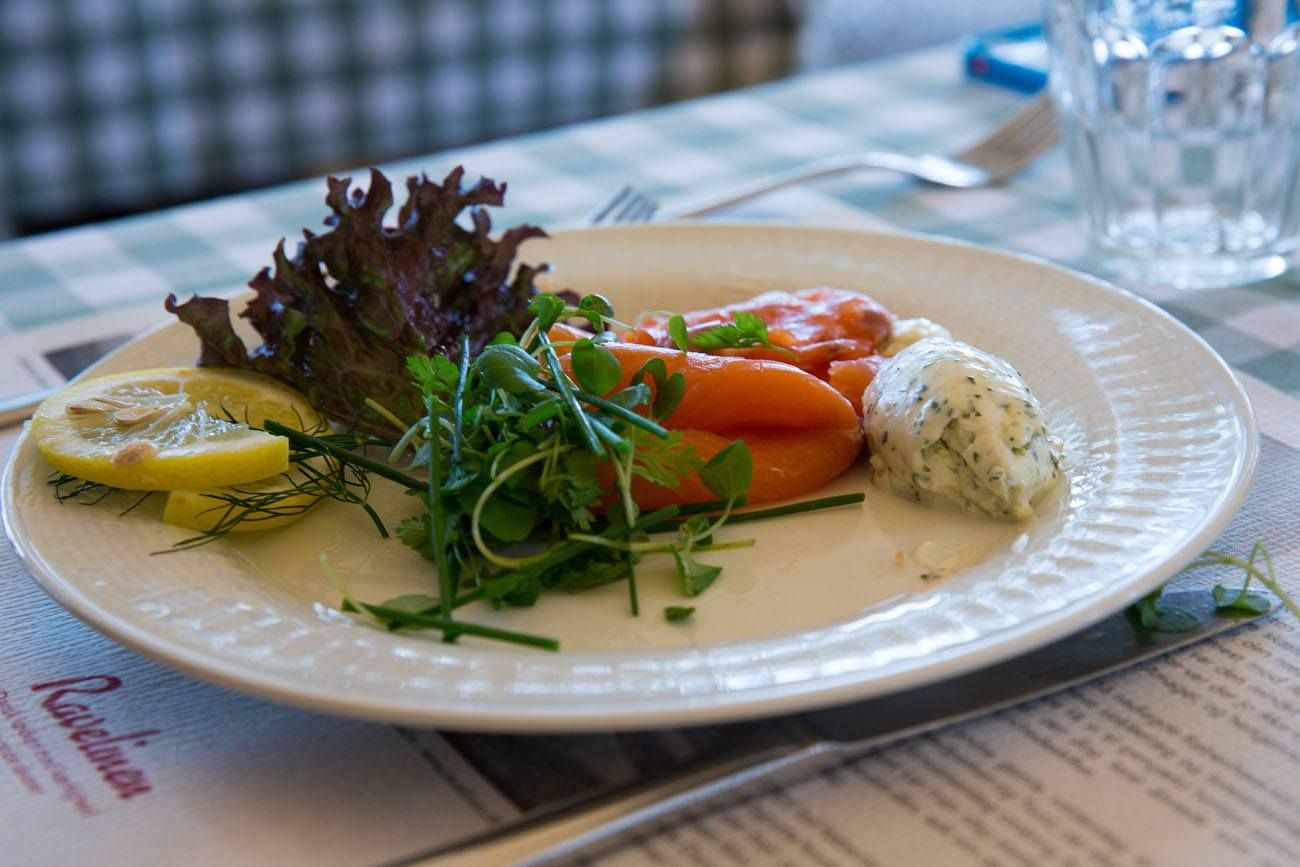 Our final adventure was cycling through Copenhagen. Kara was most excited about this idea. We found a bike rental shop at the end of Nyhavn. Copenhagen Bicycles is owned by an expat American who moved to Europe in 2002 to "escape" the USA. The four of us got fit with bikes and we were on our way. Tim and I were a little nervous about cycling through the city streets with the kids but they did great. I led the way, paying attention to street lights, cars, other cyclists, and pedestrians.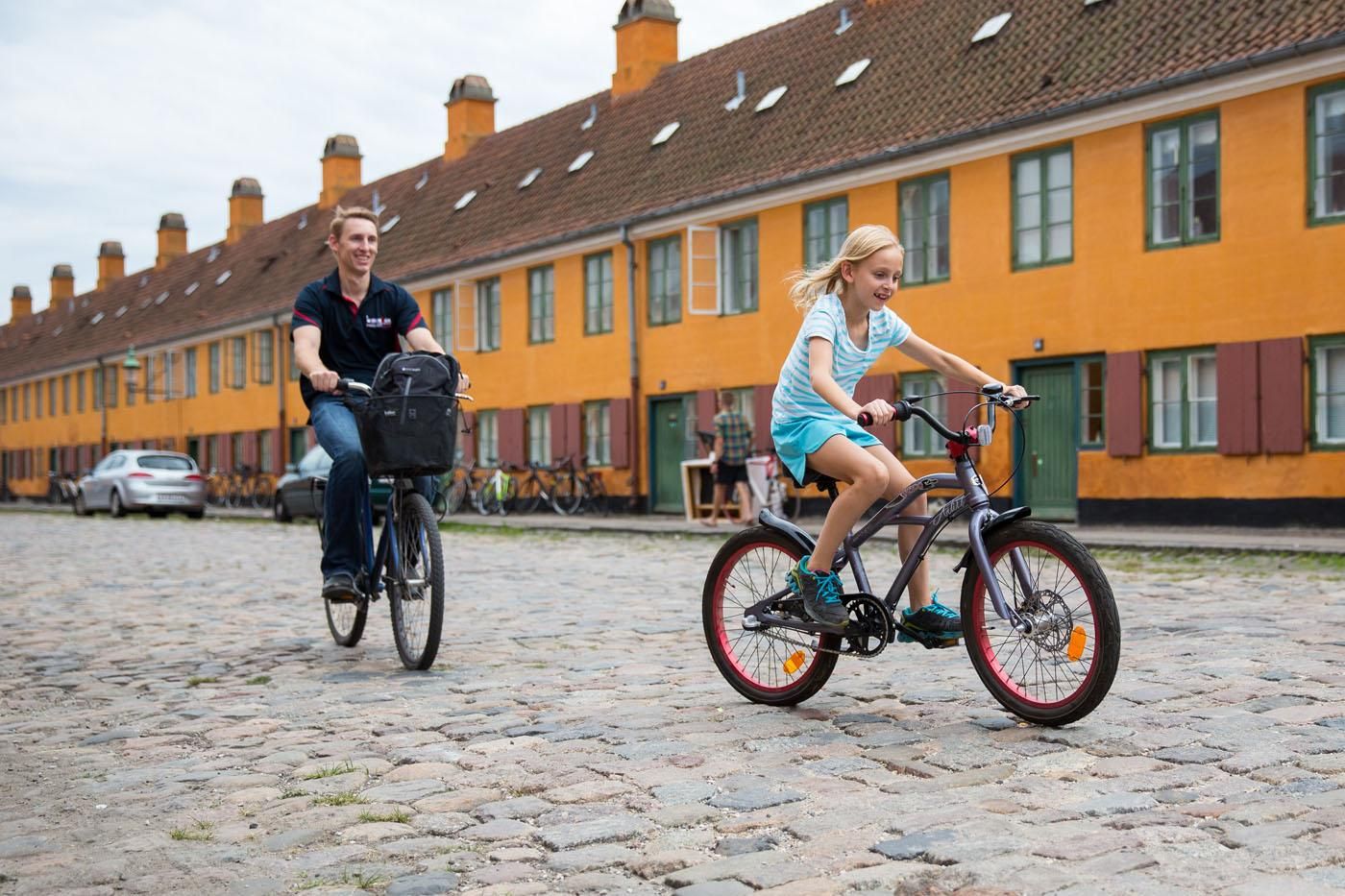 Cycling through the city was easy and uneventful. The bike paths were wide and well marked and we had our own bicycle traffic lights. We cycled through cobblestoned city streets, made our way to the Little Mermaid, and waited out a passing rain shower under a very large tree. We also found Amelienborg Palace. While standing there with our bikes other tourists took our photos. I guess we really do look Scandinavian!
We returned our bikes in Nyhavn at 5 pm. We had a flight to Stockholm in just a few hours. So we strolled up Nyhavn one last time and took the metro to our hotel.
We Recommend:
For more on Copenhagen: Making the Best of a Layover in Copenhagen or One Perfect Day in Copenhagen.
We stayed at the Crowne Plaza Copenhagen Towers hotel. For a relatively cheap price we had two interconnecting rooms with a location near the airport and with easy access into the city center. The hotel offered a free, ten minute shuttle ride to and from the airport. Their prices were cheaper than other hotels in the city center of Copenhagen, but it was only a ten minute metro ride into the city. I would definitely stay here again.
Ravelinen restaurant is a great place for traditional Danish food. It can be a little hard to find. It is located in Christianshavn which is a little ways from the city center of Copenhagen. We took the metro to the Christianshavn station then walked down Torvegade away from the city center. Torvegade crosses over a body of water and the restaurant is located off to the left on a tiny island.
No trip to Copenhagen with kids would be complete without a visit to Tivoli Gardens. For a link to the Tivoli Gardens site click here.
---
More Information for Your Trip to Denmark
NORWAY: For a list of top experiences in Norway, don't miss our Norway Bucket List. If you are a hiker, we also have a hiking guide with 14 epic day hikes to do in Norway.
SWEDEN: Learn how to spend one perfect day in Stockholm and how to day trip to Sandhamn.
NETHERLANDS: Learn how to spend 2 perfect days in Amsterdam and the best things to do in Amsterdam. We also have a guide on Where to Stay in Amsterdam and how to visit Utrecht and The Hague.
LONDON: Start with our article Best Things to Do in London for ideas of what to do in London. Plan your time in the city with our 5 Days in London Itinerary. We also have a a guide on Where to Stay in London and the best things to do in London at Christmas.
Note: This post contains affiliate links. When you make a purchase using one of these affiliate links, we get paid a small commission at no extra cost to you.
All rights reserved © Earth Trekkers. Republishing this article and/or any of its contents (text, photography, etc.), in whole or in part, is strictly prohibited.