For hikers and outdoor enthusiasts, this Norway itinerary is perfect. In 10 days, you will be able to do four amazing hikes. Be daring and stand on Kjeragbolten, hike out to Trolltunga and pose for the camera, enjoy epic views out to the Atlantic Ocean from Romsdalseggen, and hike Norway's most popular hike, Pulpit Rock. Mixed in with the hiking days are visits to quaint coastal towns, scenic drives along the fjords and through the world's longest tunnel, and a chance to experience some of the best that Norway has to offer.
Norway is a gorgeous country, and on this itinerary you get to see it via car, ferry, airplane, train, and your own two feet. In our opinion, there is no better way to see Norway than by hiking!
This Norway Itinerary is Perfect for:
Epic hiking
Scenic Drives
Fjords
Quaint Coastal Towns
How to Use This Map: Click the tab in the top left hand corner of the map to view the layers (points of interest, hiking trails, and cities). You can click the check marks to hide or show layers. If you click the icons on the map, you can get more information about each point of interest.

If you click the star next to the title of the map, this map will be added to your Google Maps account. To view it on your phone or computer, open Google Maps, click the menu button, go to "Your Places," click Maps, and you will see this map on your list.
Day 1
Arrive in Oslo, Fly to Stavanger
Arrive in Oslo and catch a connecting flight to Stavanger. Stavanger will be your home base for the next three nights. From here, you will hike to Pulpit Rock and Kjeragbolten. I recommend renting a car at the airport. It is possible to reach both Pulpit Rock and Kjeragbolten using public transportation but having a car will give you more flexibility in your schedule.
Have dinner, get some rest, and tomorrow will be the first Norwegian hike.
Where We Stayed in Stavanger: The Comfort Square Hotel. This modernly decorated hotel (with interesting artwork) is located within the heart of Stavanger. Take-away breakfast is available, perfect if you want to grab breakfast and get an early start hiking.
---
Day 2
Hike to Pulpit Rock
Get an early start to beat the crowds. You can drive directly to Pulpit Rock from Stavanger with the recent opening of a new tunnel. If you do not have a rental car you can get to Pulpit Rock by bus. Get the details in our post about Pulpit Rock.
The hike to Pulpit Rock is Norway's most iconic hike, with views of the Lysefjord and this slab of rock that almost looks like it is from another planet. This giant monolith is also known as Preikestolen.
The hike is five miles round trip, the shortest on this Norway itinerary. It is an easy hike that anyone with average fitness can do, including children. Since it is Norway's most popular hike, expect lots of crowds, especially during the peak travel season from June through August.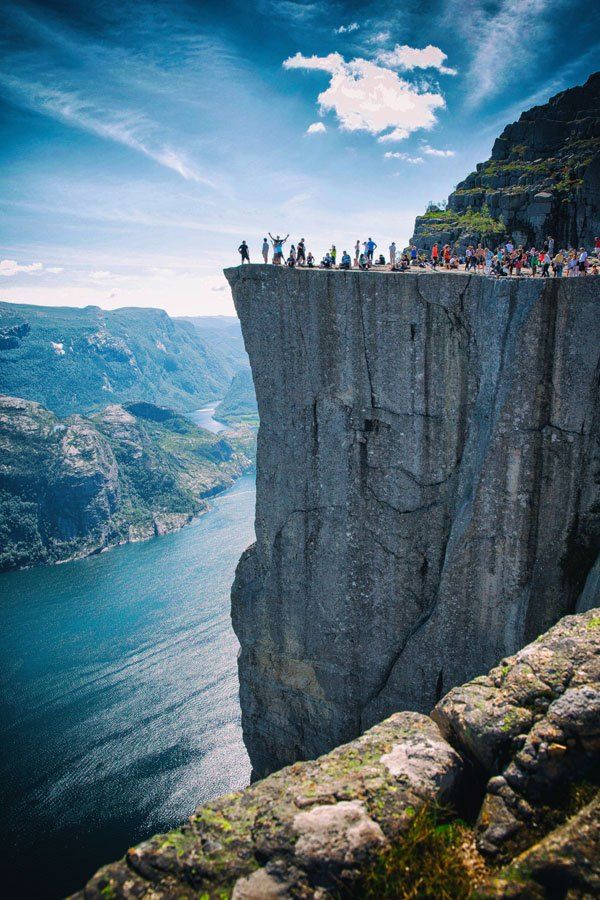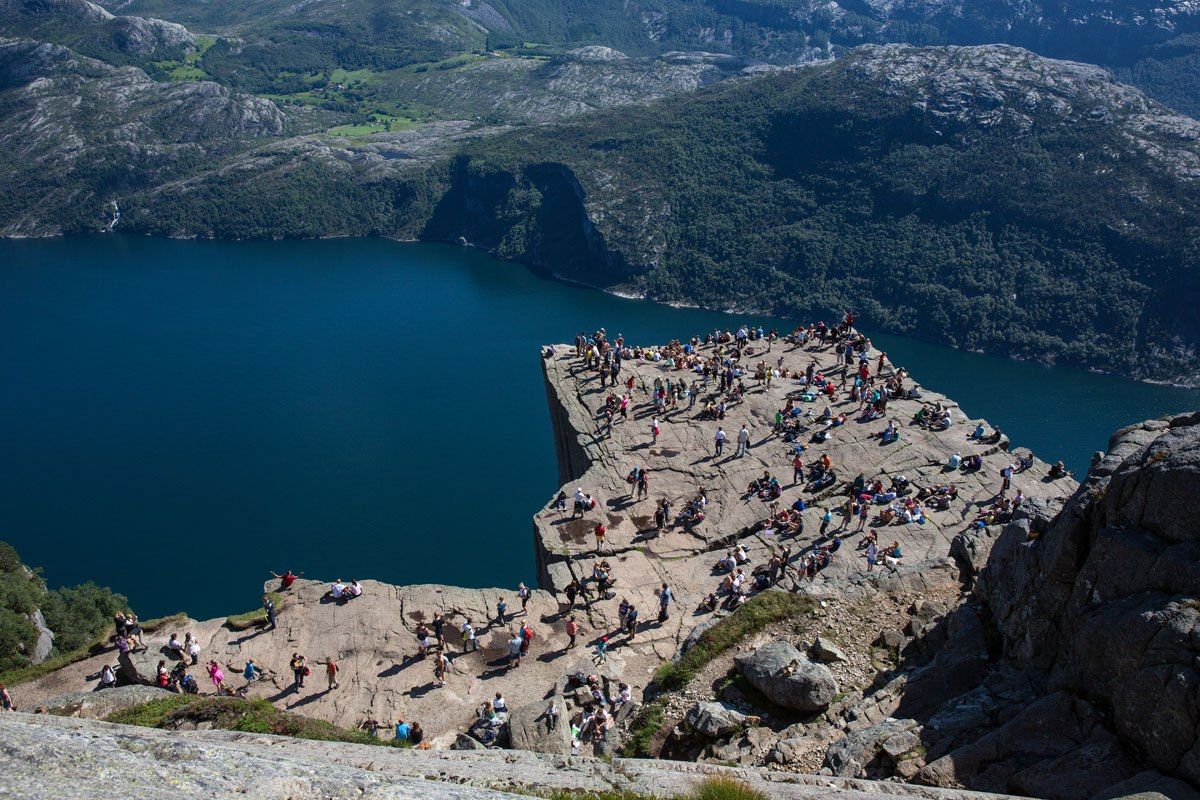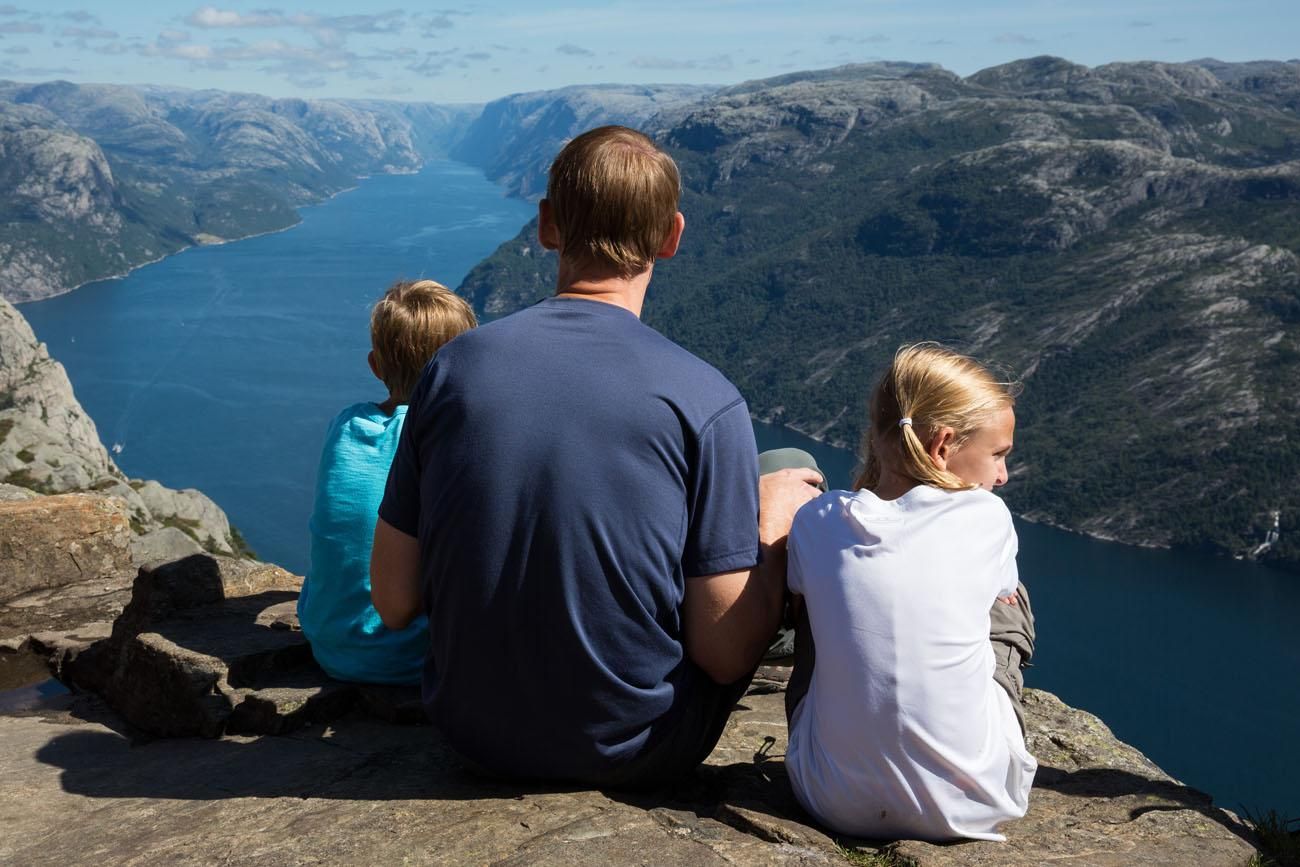 Return to Stavanger. We ate at ND Sorensen's Dampskibsexpedition Pub. The food was fantastic but it was expensive. Well, this is Norway, one of the most expensive destinations in the world. Expect to pay $30 to $40 for an entrée and $10 for a beer.
---
Day 3
Kjeragbolten Hike
This was our favorite day while visiting Norway. The hike to Kjeragbolten is epic, with some of the best views of the fjords in Norway along with that chance to step out onto the boulder…if you so dare!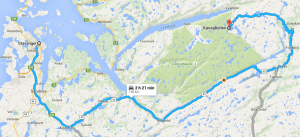 Kjeragbolten is located two hours away from Stavanger (140 km) and there are two ways to get there: a bus service that only runs during the peak summer months, or by rental car. We chose the rental car option. For four people this was more economical and more convenient.
The hike to Kjeragbolten is 12 km round trip, taking hikers between 5 and 7 hours to complete the hike. It is longer and more strenuous than Pulpit Rock, with sections of rock scrambling and chain-assisted climbing, which made this the favorite hike in Norway for Tyler and Kara. The views along the way are unbelievable. Even if you have no plans to step out onto Kjerag, this hike is still absolutely worth it for the views along the way.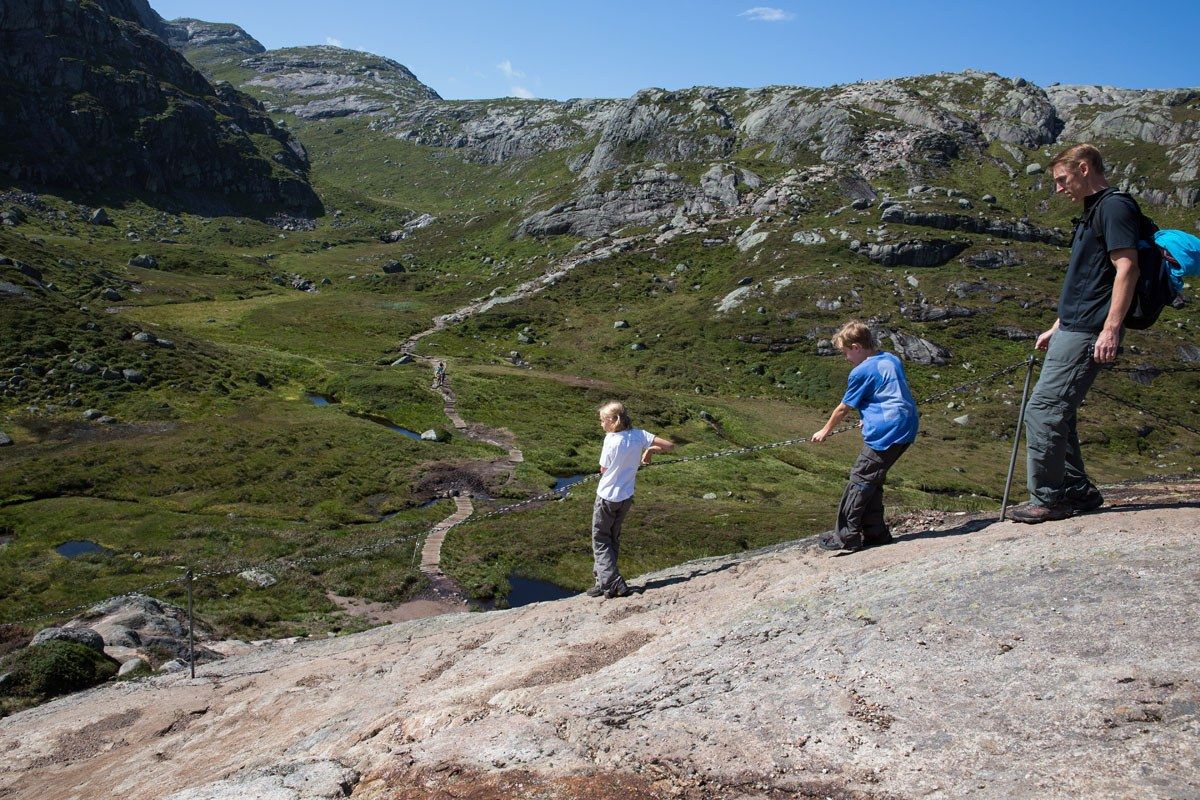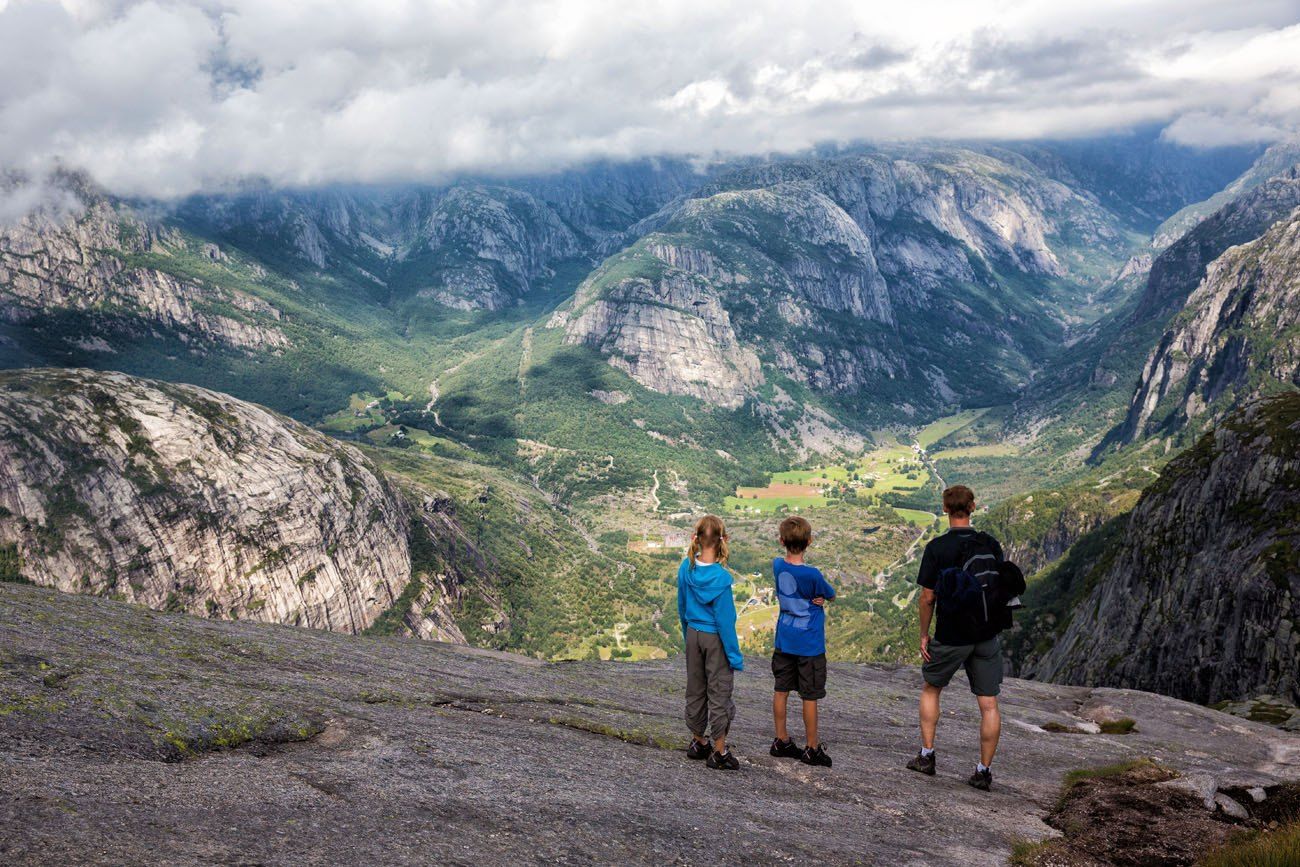 The infamous boulder is wedged between two rock faces 1000 meters off of the ground. It's a crazy thing to do but one of our favorite traveling memories, for sure!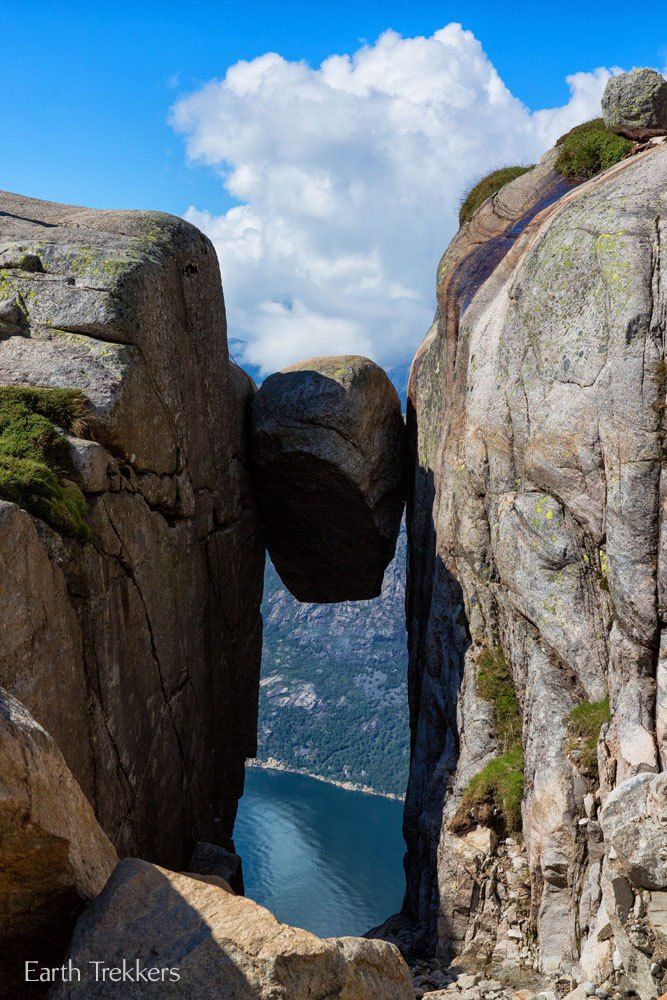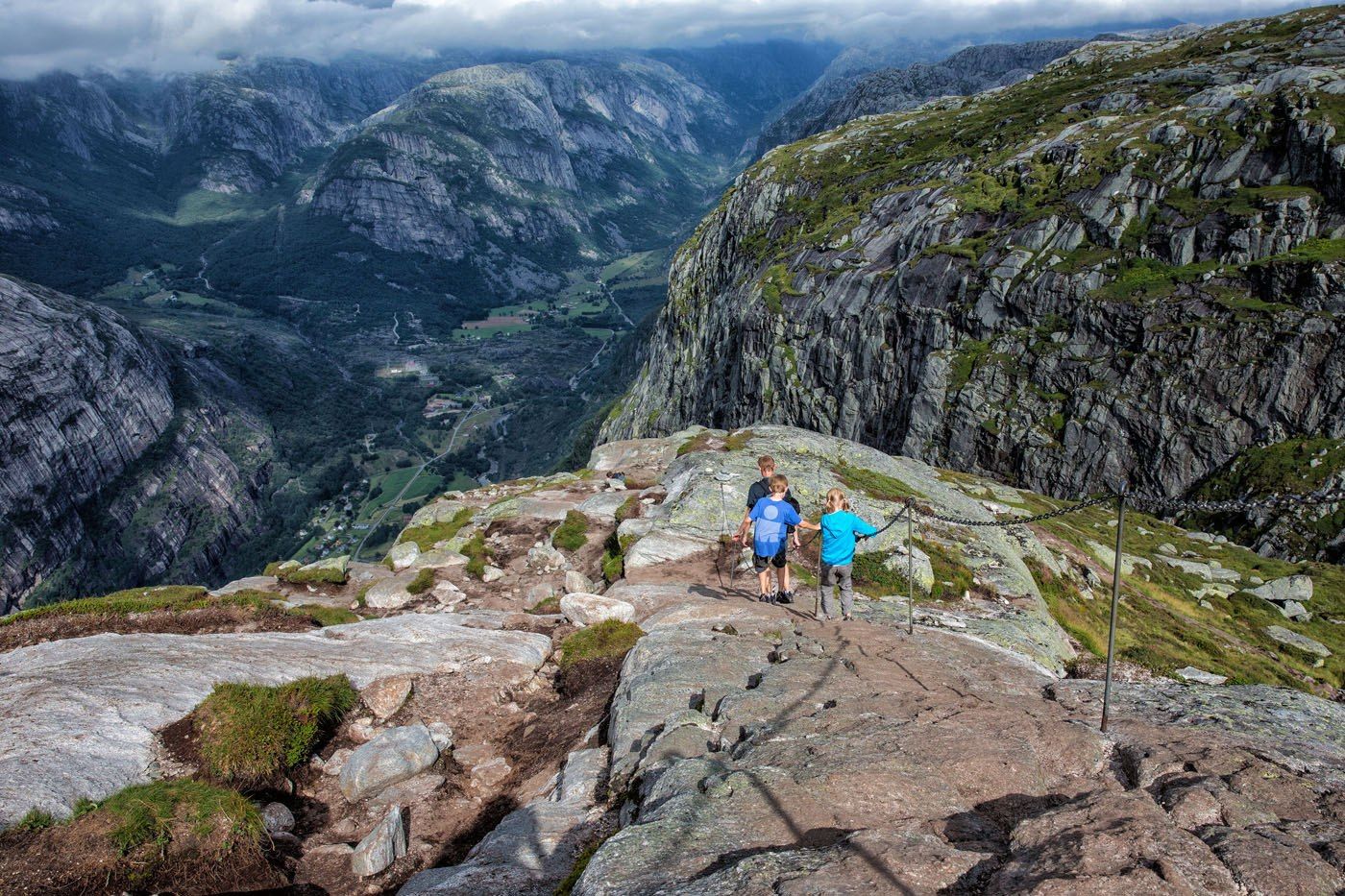 After the Kjeragbolten hike, if you are up for another adventure, then you might consider driving down (and then back up) Lysevegen Road. It is a narrow road with 32 sharp bends, an average gradient of 9.4%, and an elevation difference of more than 800 meters (2600 ft) over only 5.8 km (3.6 miles). And if that isn't crazy enough then there is a tunnel near the bottom that turns 340 degrees.
If you are up for this adventure, like we were, then when you pull out of the Kjerag parking lot turn left and you'll start going down this dangerous, windy, switchback road almost right away. This road connects the Kjeragbolten car park with the town of Lysebotn.
Drive two hours back to Stavanger, return the rental car, and get a good night's sleep.
---
Day 4
Bergen, Norway
Take a morning flight from Stavanger to Bergen. It is possible to take a bus or a ferry to Bergen, but this takes five hours and you need that time today to tour Bergen.
Once in Bergen, rent another car. You will have this car until you reach Ålesund on day 10.
Most of the day is available for exploring Bergen, a coastal town that was once a German settlement. Have lunch at the fish market, wander the cobblestoned streets, take the funicular up the hillside for the best views over Bergen, and explore Bryggen, the location of the Hanseatic houses along the harbor.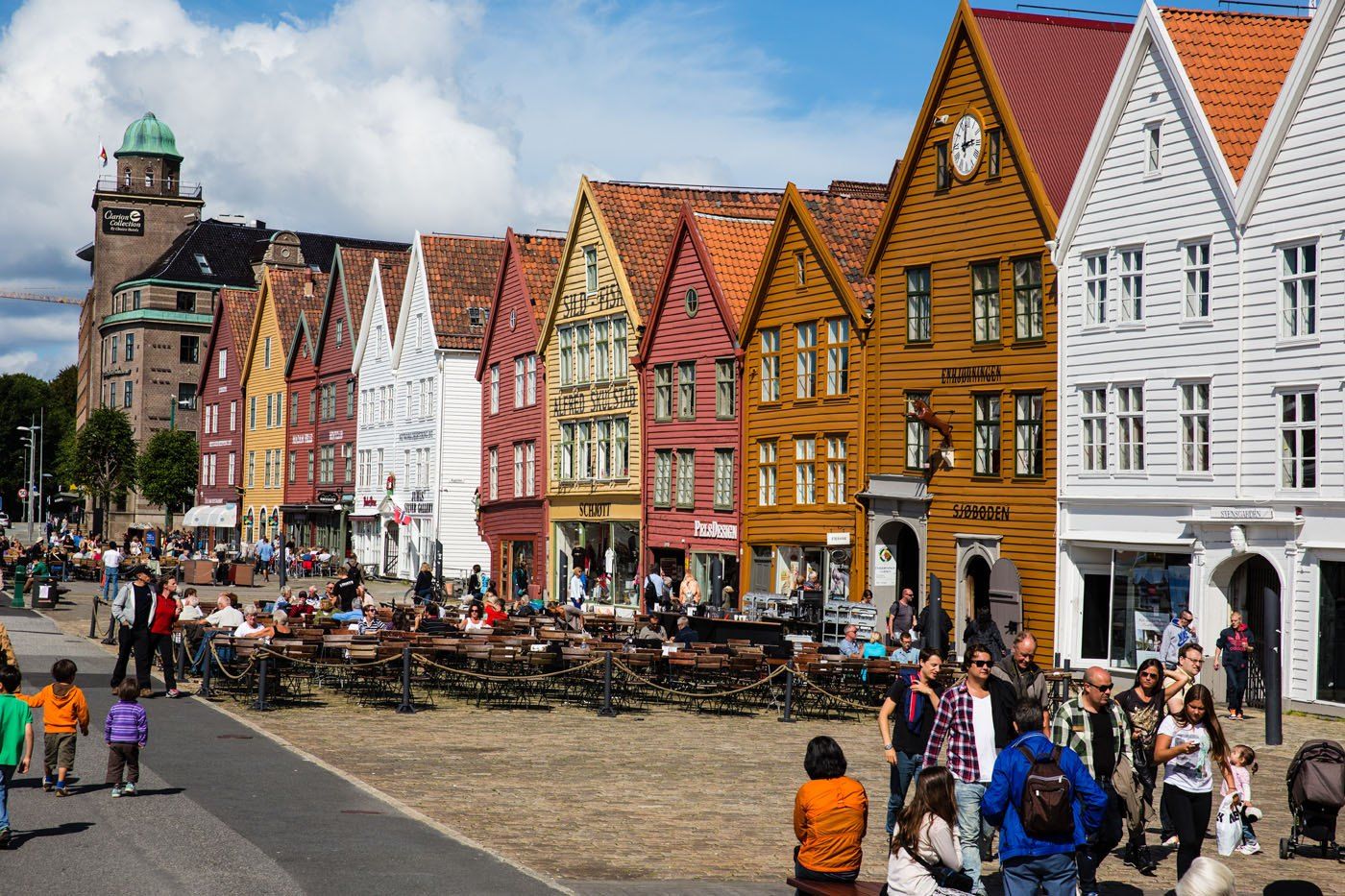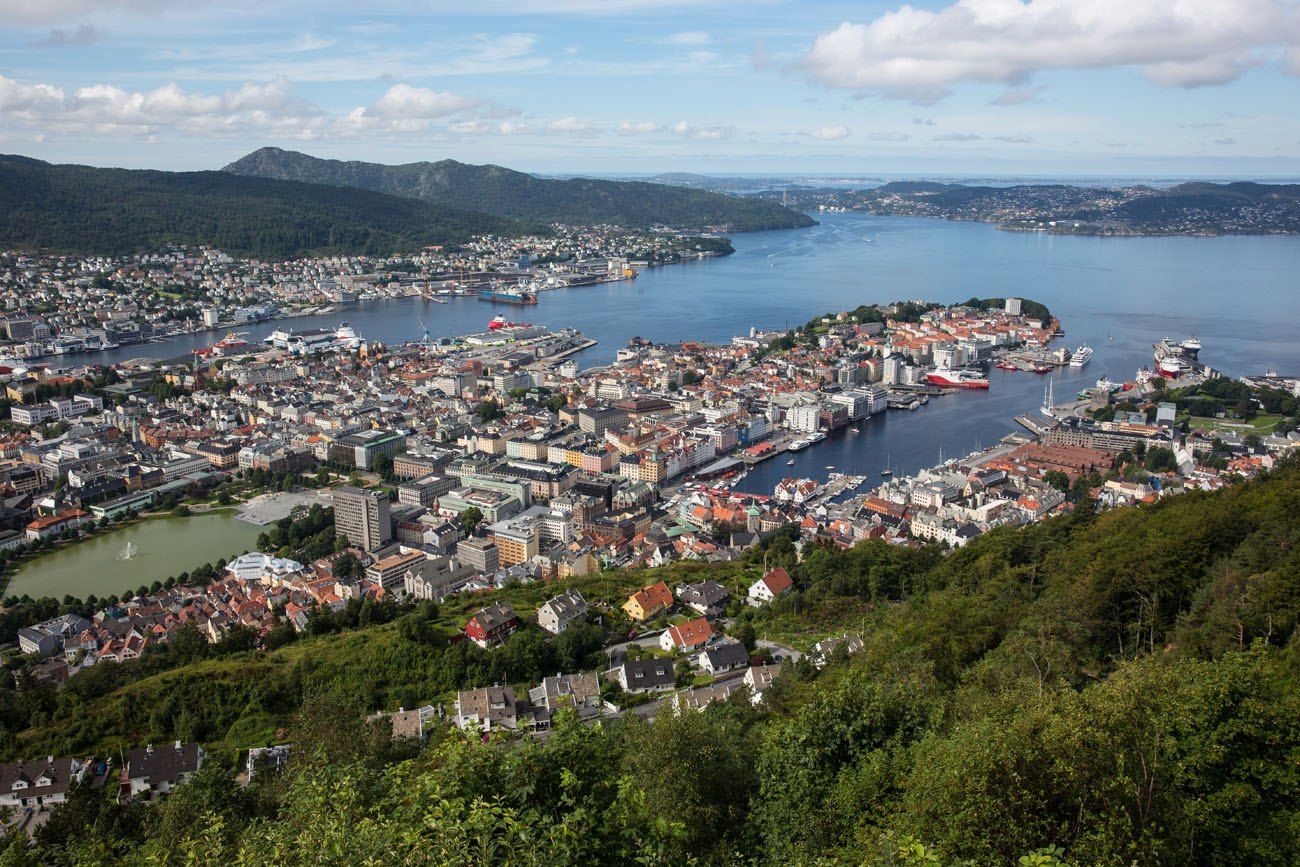 Once finished in Bergen, you will drive to a town near the Trolltunga hike.
You have several options where to stay near the Trolltunga hike. Odda and Tyssedal are the two towns located closest to the hike. From Bergen, it takes about three hours to drive to these towns.
You can also stay in Kinsarvik or Eidfjord. These two towns are north of Trolltunga, so you will have a longer drive to get to the trailhead for Trolltunga. However, since you are farther north, you will do less driving on day 6 when you go to Flåm.
On the drive, there are two waterfalls you can stop and visit. Steinsdalsfossen is a waterfall that is visible from the road. You can follow the footpath behind the waterfall. Twenty minutes east of Eidfjord is Vøringsfossen, a stunning waterfall that you can hike to. There is now a footbridge that crosses the river, offering views of the waterfall.
---
Day 5
Trolltunga
Today is another day of epic hiking and a chance to see more of iconic Norway.
If you stayed in Eidfjord or Kinsarvik, it is an hour drive south to Tyssedal and the start of the Trolltunga hike. The views along the way were some of my favorites in Norway.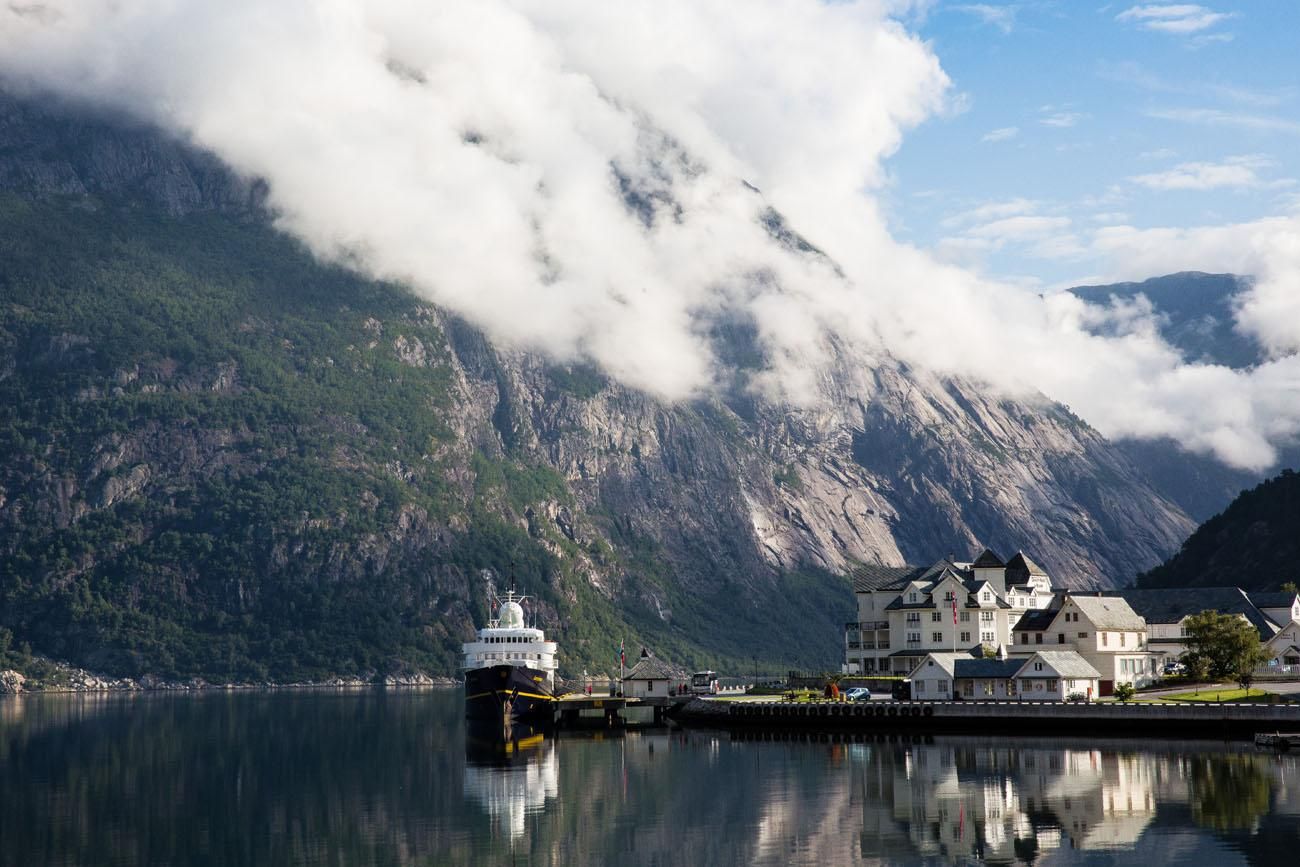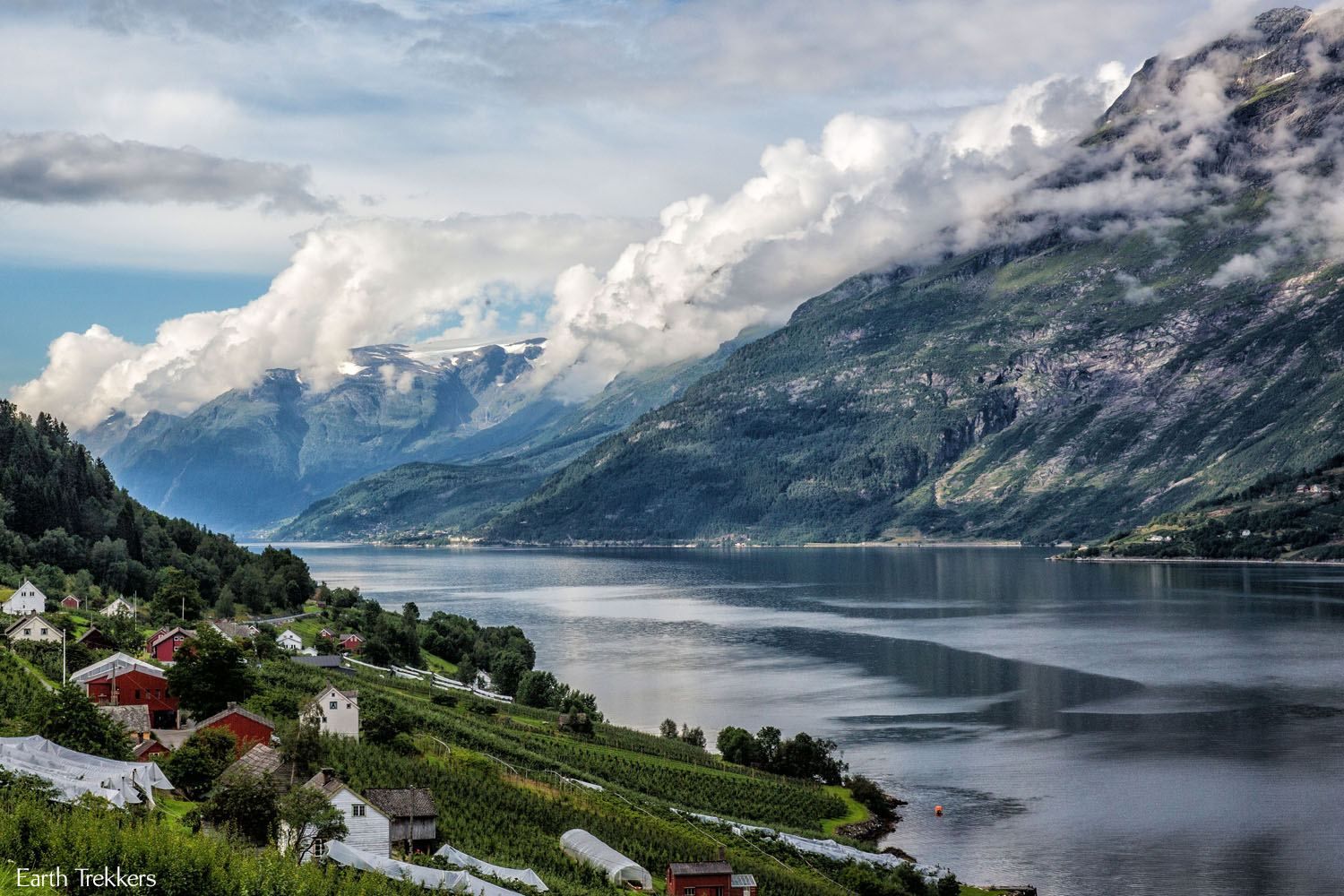 Several years ago, the hike started as a 1 km strenuous walk up an old funicular track. That is now closed. There are now several options for hiking to Trolltunga.
Option 1 is to hike the switchback trail near the funicular track. This is strenuous but once at the top, it is mostly easy-going for the rest of the hike out to Trolltunga. Option 2 is to arrive very early in the morning and be one of the first cars to park in the new, upper parking lot. This drive lops off the first major descent of the hike and can save you hours of time. But you need to get here very early in the day. Read our Trolltunga article for more information.
Option 3, the Sky Ladder, is a tour that has visitors cycling and then climbing a Via Ferrata, finishing the journey not far from Trolltunga.
After the first major climb, whether you did on foot or by car, you are treated to amazing views. And then, of course, you get to step out onto Trolltunga.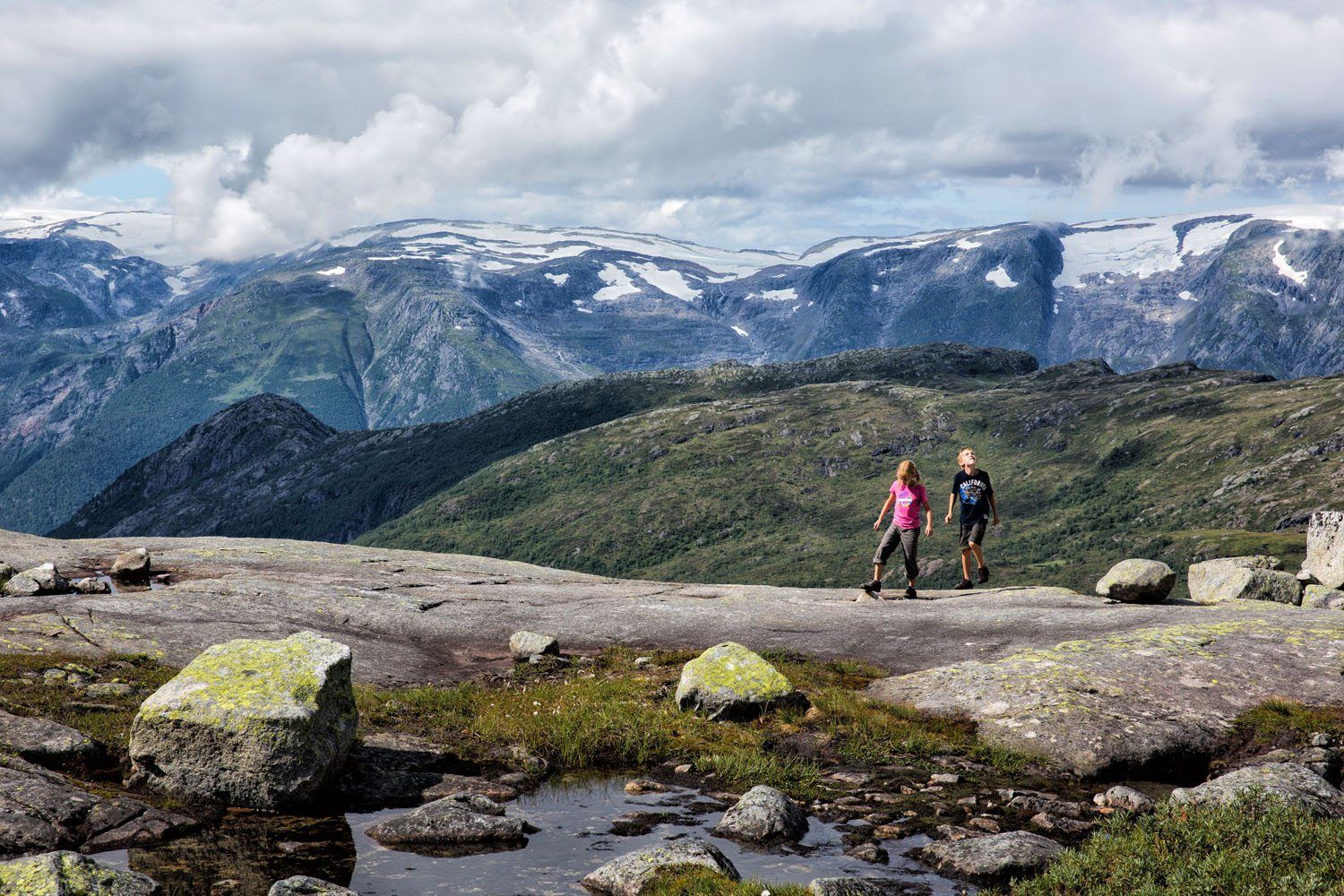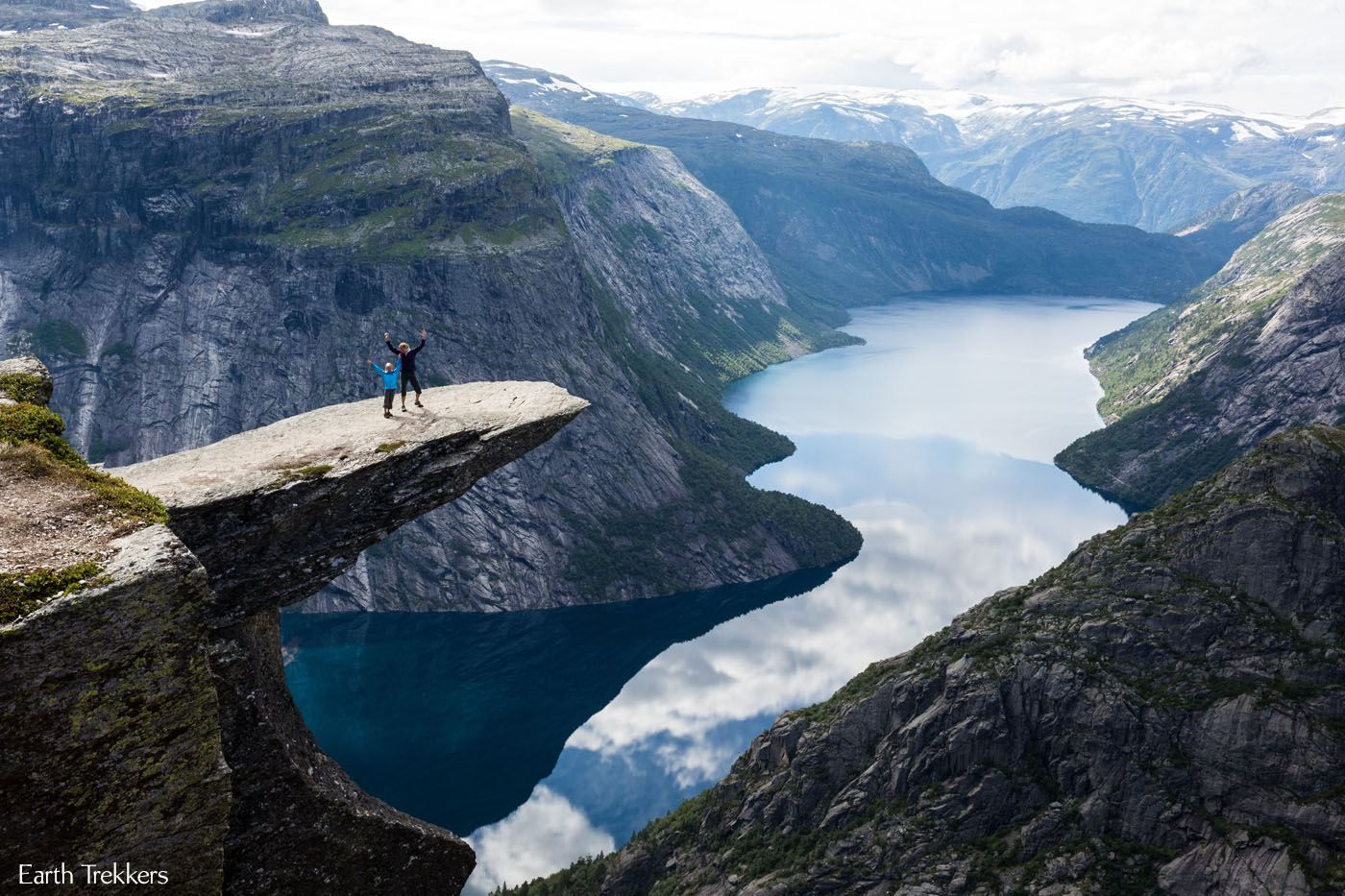 The hike to Trolltunga takes 8 to 10 hours to complete, going 28 km total. After completion of the hike, drive back to your hotel.
---
Day 6
Norway in a Nutshell
The Norway in a Nutshell tour is a very popular excursion for first-time visitors to Norway. This tour includes a cruise on Naeroyfjord (a UNESCO World Heritage Site and the narrowest fjord in Norway) and Aurlandsfjord, a railway journey to and from Myrdal, and a spectacular view of the Naeroydalen valley from the Stalheim Hotel.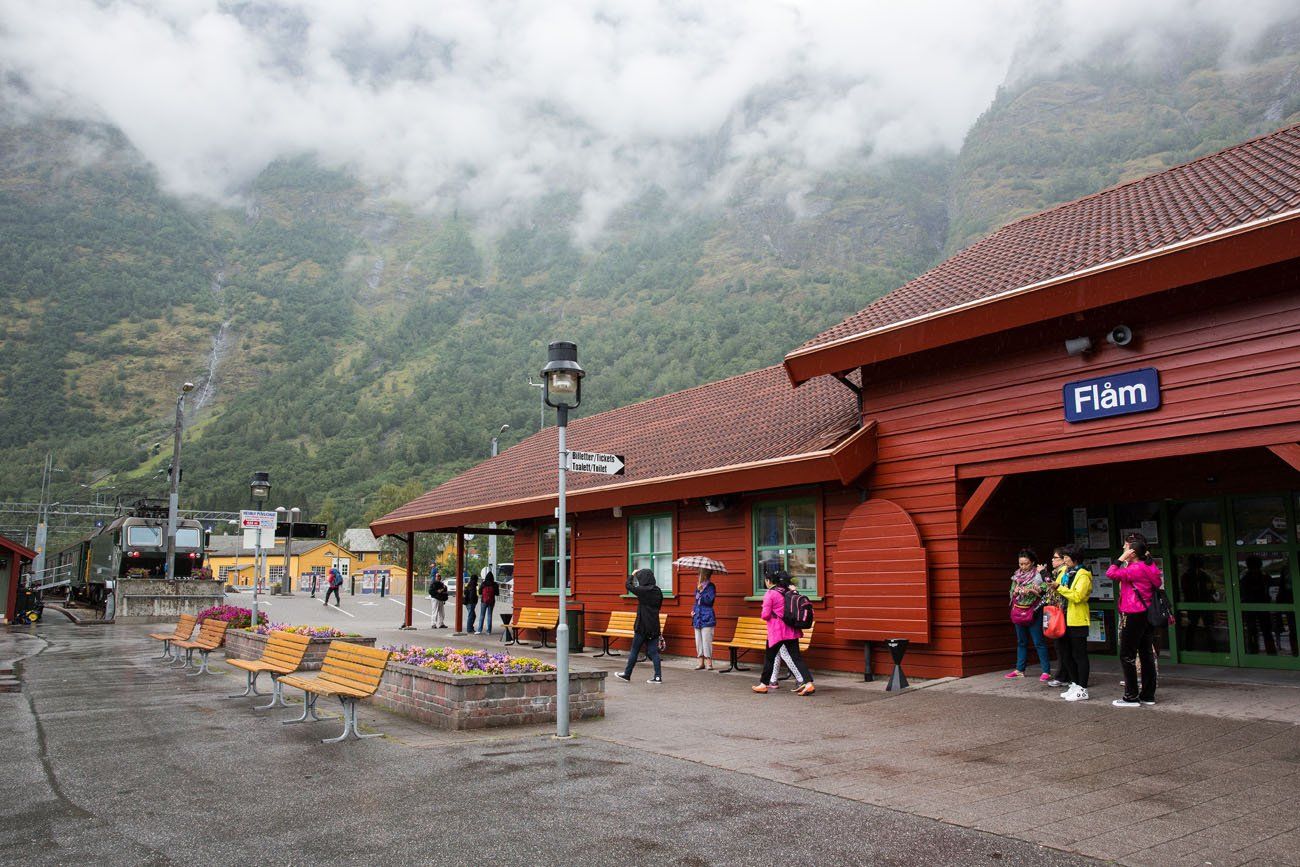 If you are following our Norway itinerary and/or have your own transportation, then it is not necessary to book the organized tour. You can follow our guide on how to do Norway in a Nutshell on your own. You'll want to drive to the Stalheim Hotel, where our guide begins.
Read more about this full day itinerary, including what to see on the drive from Eidfjord to Flåm: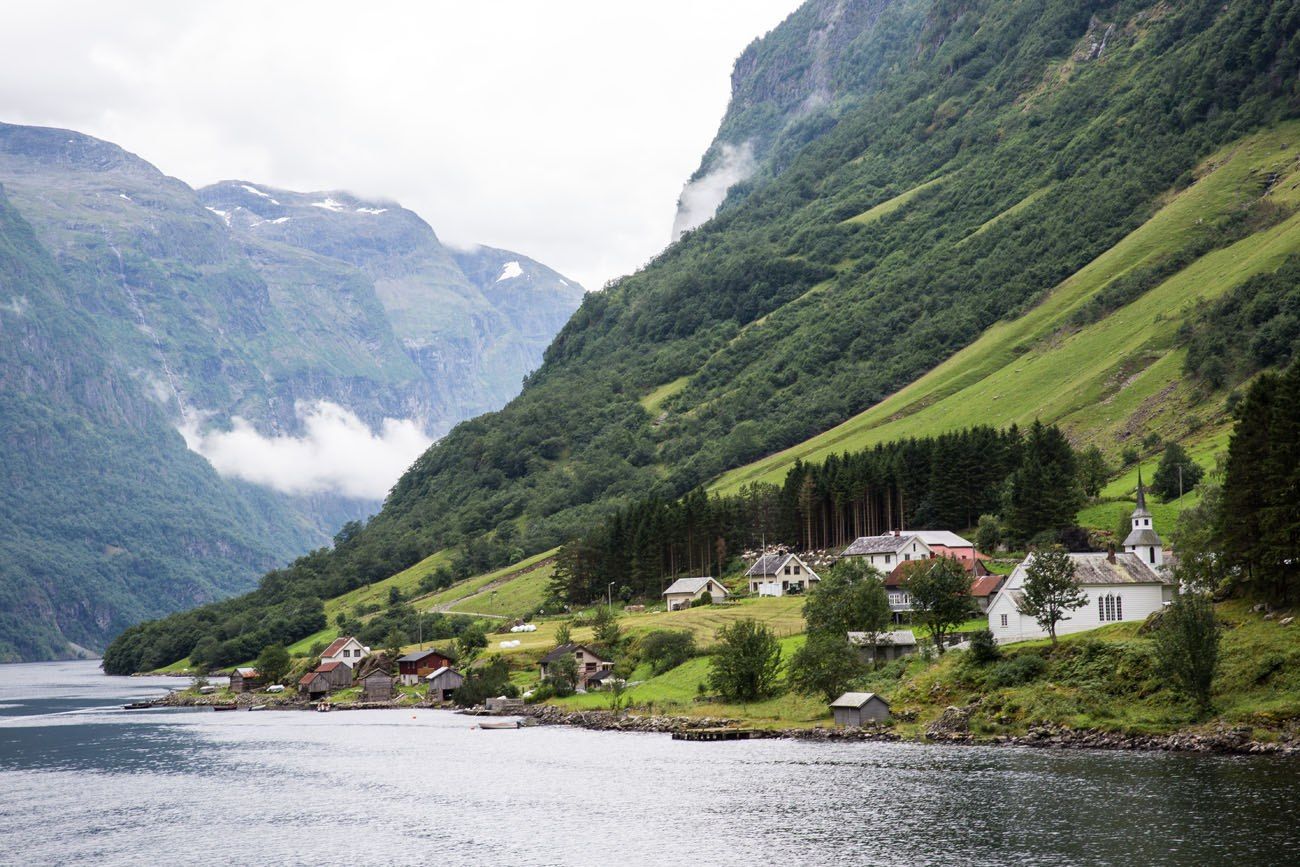 Once the tour is over it is time to drive to Balestrand. On the way, and only about 30 minutes from Flåm, is the Stegastein Viewpoint, a scenic lookout over Aurlandsfjord. From this viewpoint you can continue along the Aurlandsvegen Snow Road, a high mountain road with spectacular scenery. Or you can back track down the mountain and take the world's longest tunnel, Lærdalstunnelen (24.5 km or 15.2 miles).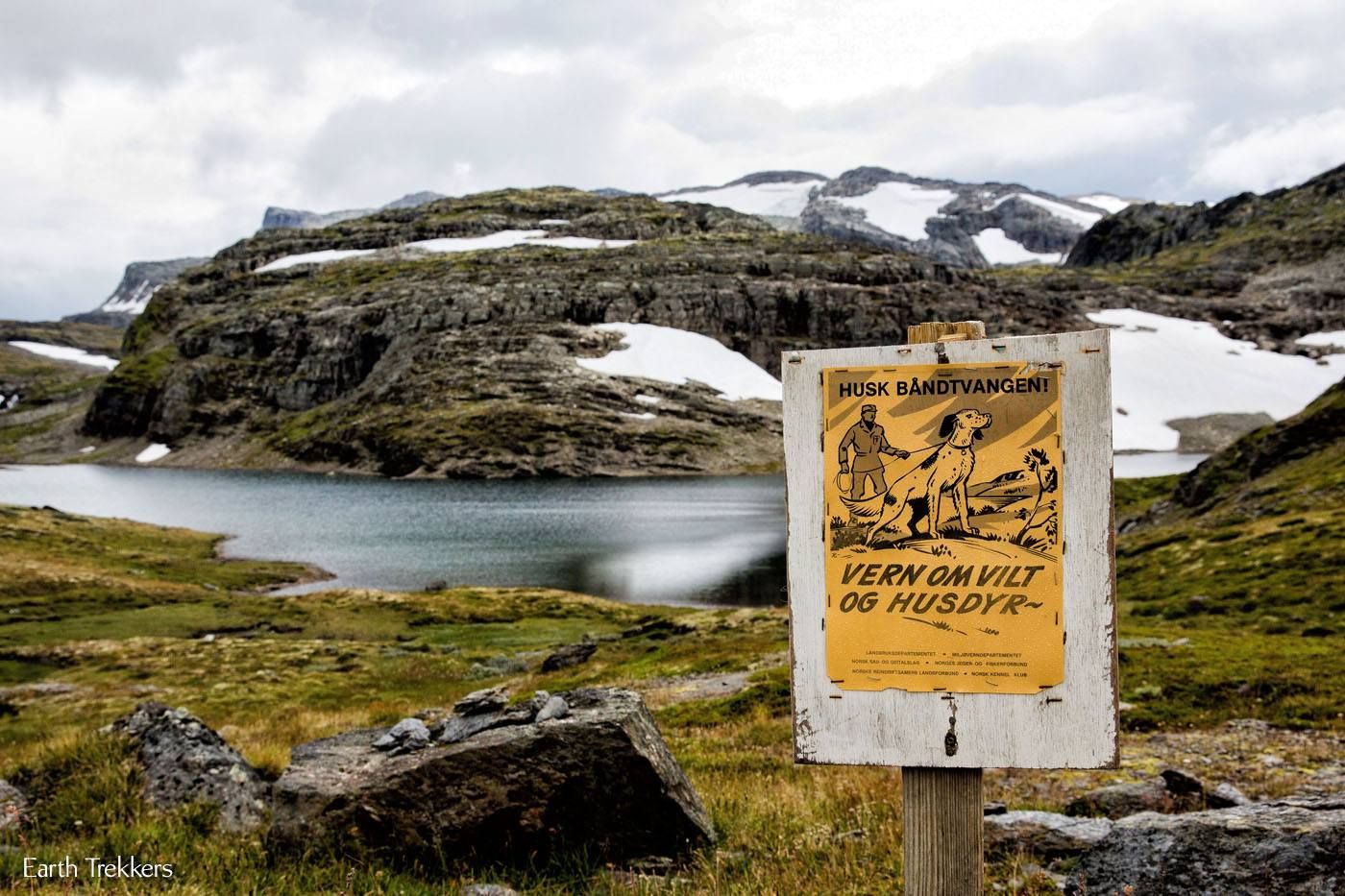 Where We Stayed in Balestrand: We stayed in the Balestrand Hotel, a nothing fancy, family-run hotel. If you want a nice view, request a room overlooking Sognefjord.
---
Day 7
Drive to Geiranger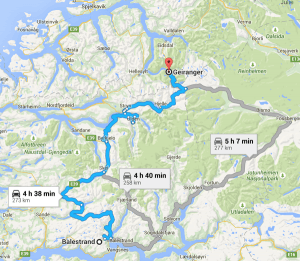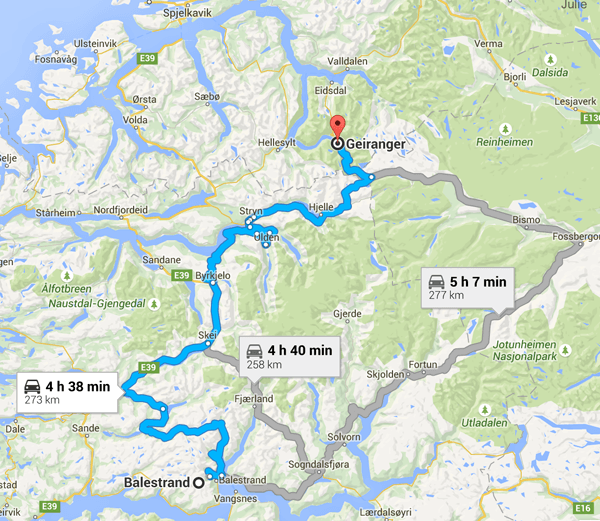 Today is a full day of driving but if you get lucky with the weather (we did not) the scenery is amazing. This drive takes you along fjords and through small towns, giving you plenty of opportunities to stop for food along the way.
Sites to see on the drive between Balestrand and Geiranger include:
Likholefossen (we ended up not stopping here ourselves due to a late start)
Jostedalsbreen National Park Centre (listed in Google Maps as Jostedalsbreen Nasjonalparksenter) for an education on glaciers
Old Strynefjell Mountain Road (Old Road 258) … for the views
Videseter Hotel to look at the view of the valley (located on Old Strynefjell Mountain Road)
From the Videseter Hotel you can also walk to the Videfossen Waterfall (listed in Google Maps as Buldrefossen)
As you approach Geiranger there are various viewpoints to see:
Dalsnibba Viewpoint – highest of the views of valley and fjord. The road here is Norway's highest car road.
Knuten Viewpoint
Flydalsjuvet Viewpoint
In the afternoon, you will arrive in Geiranger, a UNESCO World Heritage Site and a fjord known for being one of the most spectacular in Norway.
Where We Stayed in Geiranger: Hotel Utsikten. We chose this hotel for its awesome views over Geirangerfjord. Unfortunately, during our stay in Geiranger, it was wet and foggy and at times we could barely see the fjord from the hotel. If you chose to stay here, hopefully you will have better luck. The hotel is within walking distance of the town, where you can rent kayaks and go shopping. We enjoyed hanging out at the hotel bar at the end of the day, and overall really enjoyed our stay here, despite the rainy weather.
---
Day 8
Geiranger
There is plenty of time in the day to explore Geirangerfjord before moving on again. There are hiking and biking trails, kayaks to rent, viewpoints to drive to, and the small town of Geiranger to explore and to go shopping.
From Geiranger it is a two hour drive to the next town, Åndalsnes. This is another scenic drive and just before arriving in Åndalsnes you will drive the Trollstigen (Troll's Ladder), a switchback road that is one of the most popular drives in Norway.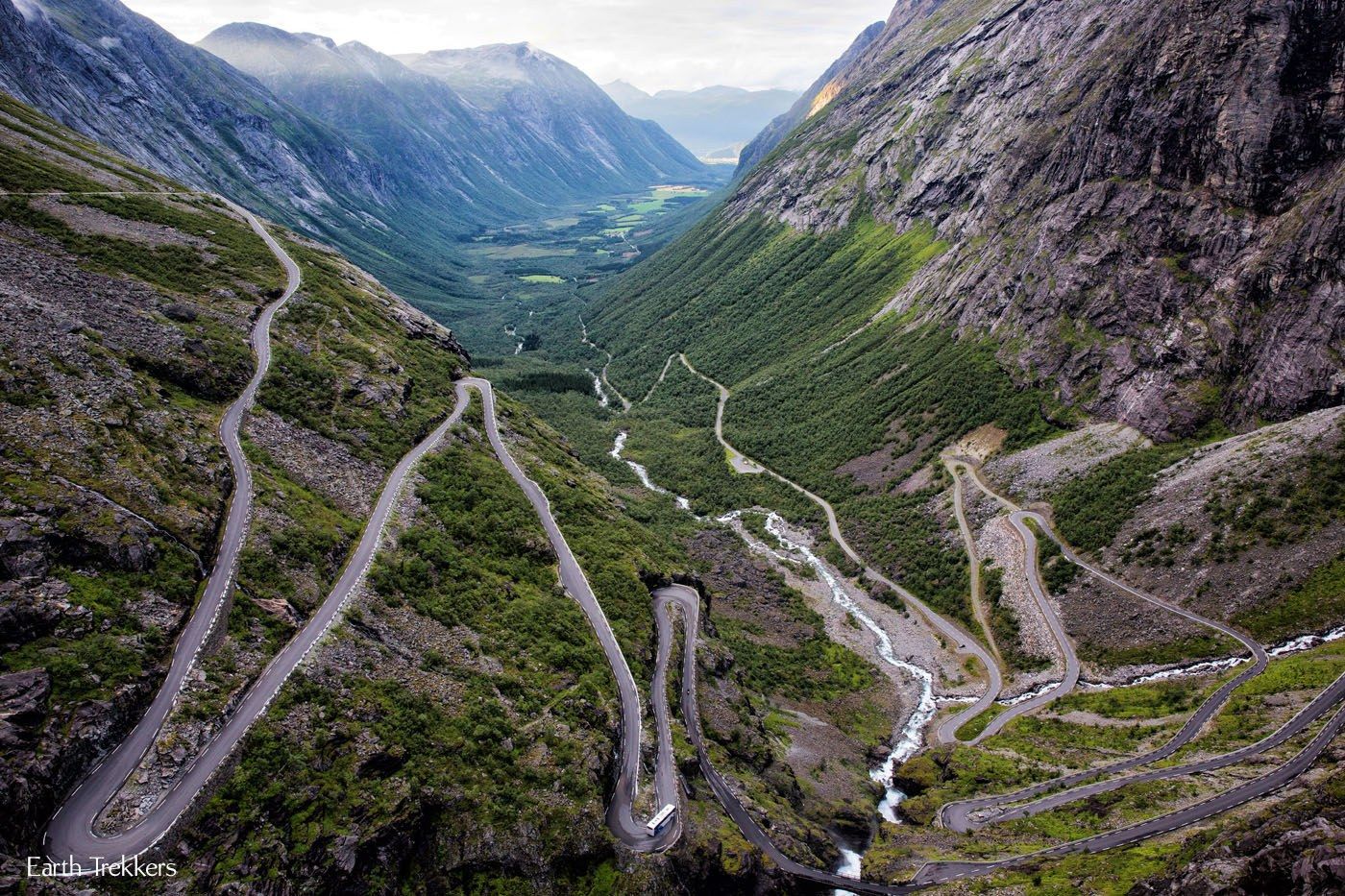 Have dinner in Åndalsnes and get settled into your accommodations. Tomorrow is an early morning.
Where We Stayed in Åndalsnes: We spent two nights at the Trollveggen Campground in Åndalsnes. We slept in cabin #3 and it was adorable. Tyler and Kara loved it. In fact, they described it as "epic."
---
Day 9
Romsdalseggen Hike
Romsdalseggen is an 11 km hike along the spine of a mountain. Although not the longest hike in this Norway itinerary, we found it to be the most difficult. This hike can take 8 to 10 hours to complete.
You can hike this trail from July 1 through September 30, when the shuttle bus is in service. Read our article about the hike for full details.
From Åndalsnes, there is a bus that delivers hikers to the start of the hike. This hike is a point to point hike, starting on farmland and ending in the town of Åndalsnes. Weather can be unpredictable…we were here in August and there was a chance of snow in the forecast.
The hike starts off with a strenuous climb, taking hikers to the spine of the mountain. From here, on a clear day, you can see all of the way out to the Atlantic Ocean. We were not so lucky, but even so, the views were still amazing.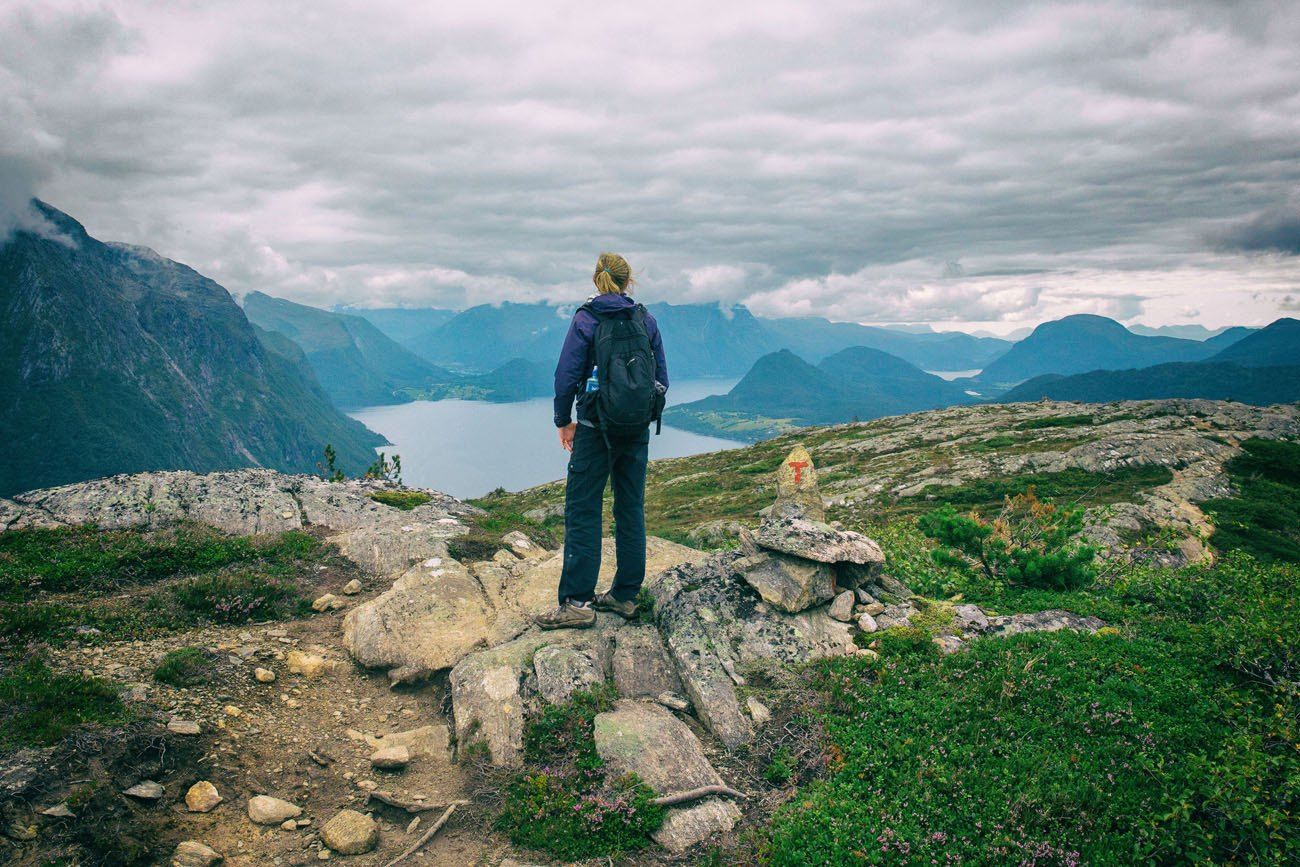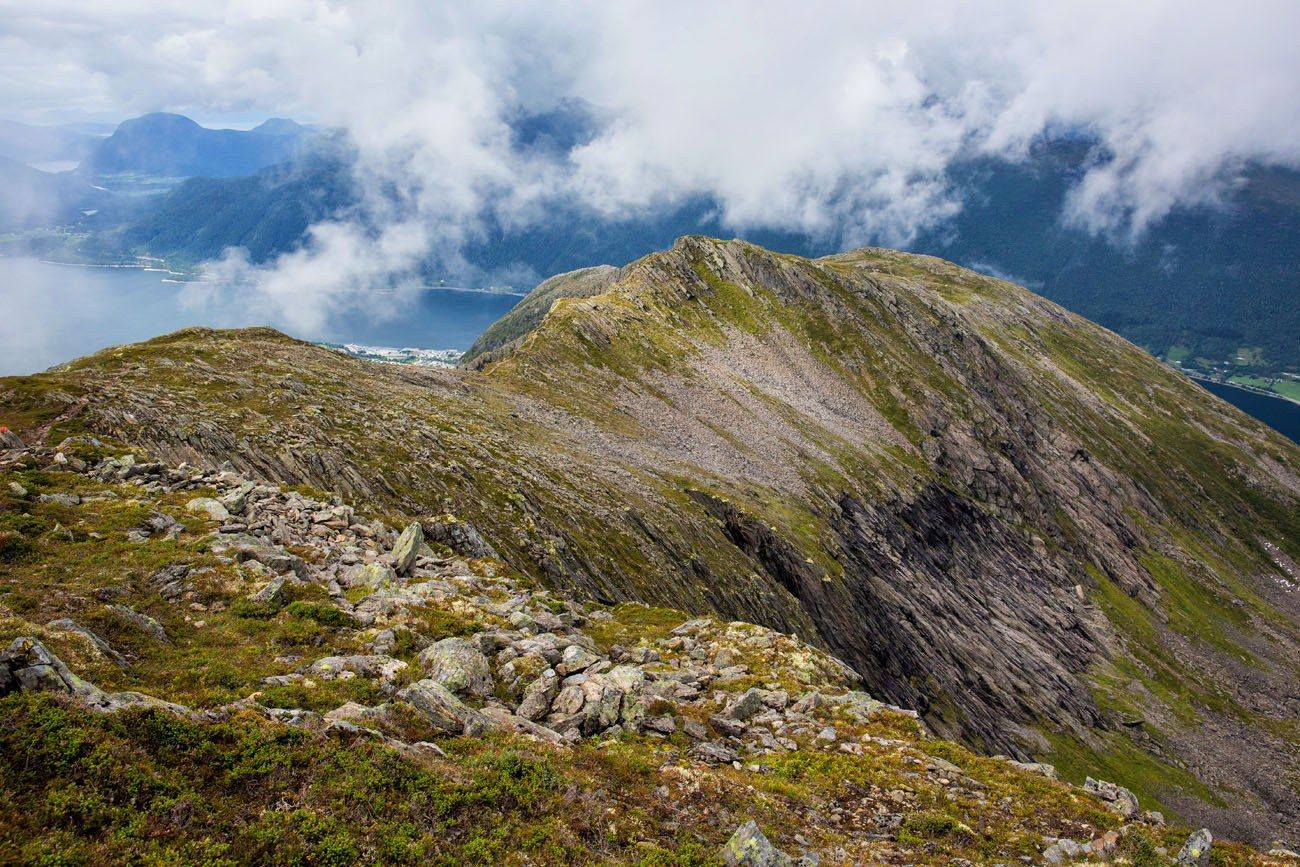 Beware of the low cloud cover…this hike goes right along the edge of a mountain and one false step could send you off over the side. Our kids called it "oblivion."
If you don't want to hike Romsdalseggen Ridge, or the weather is not cooperating, you have the option to hike to the Rampestreken viewpoint. This viewpoint is located along the Romsdalseggen trail and overlooks Åndalsnes and the valley. It takes roughly 3 hours round trip to hike to the viewpoint. With 700 meters of climbing, it a strenuous walk to get here.
After your hike, enjoy dinner in town.
---
Day 10
Ålesund and Oslo
From Åndalsnes it is a two hour drive west to Ålesund, another coastal town.
Enjoy the day exploring Ålesund and don't miss the walk up the hillside to Fjellstua for the best views of the town.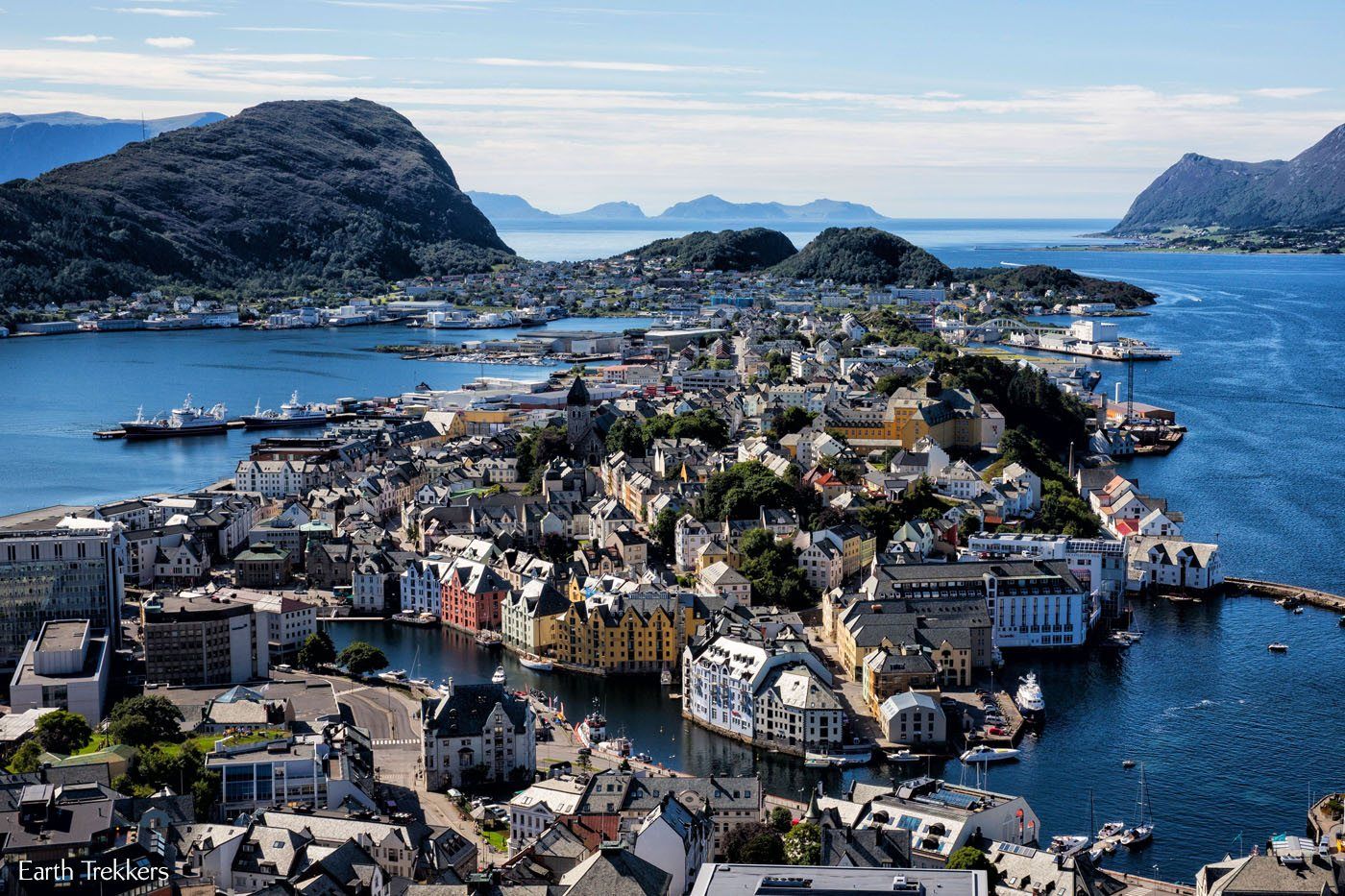 In the afternoon, fly to Oslo, completing your tour of Norway.
Where We Stayed in Oslo: The Clarion Royal Christiana. This is a four star hotel located in downtown Oslo within walking distance of the train station and the Oslo Opera House. My favorite thing about this hotel (other than it's great location) was the huge breakfast buffet.
Best Time for this Norway Itinerary
The best time to do this Norway itinerary is between June and September, especially if you plan on hiking these trails. Snow lingers on some of these trails up until June. The earliest you can hike Trolltunga without a guide is June 1, according to the Visit Norway website.
If you are planning a trip to Norway before June with the intent to go hiking, here are some things to consider:
Pulpit Rock: You can hike Pulpit Rock from April to October. For the remainder of the year, the trails will be covered with snow. It is only recommended that you hike Pulpit Rock from November through March with a guide.
Kjeragbolten: The best time to hike Kjeragbolten is from June 1 through September 30. The bus from Stavanger does not start running until June 1. Before June 1, snow can still cover the roads, so you may not even be able to drive to the start of the hike.
Trolltunga: June 1 to September 30. All other times of the year you should hike with a guide.
Romsdalseggen Ridge: June 30 to September 30 (when the shuttle bus is in service).
For your best chance of clear weather, visit Norway in the spring and early summer. In August, rainfall chances increase. It is not unusual to have rainy weather during September and October.
If you do not plan on hiking, some roads on this Norway itinerary can be closed from November through May. Trollstigen and the Aurlandsvegen Snow Road make it onto this list. For a list of possible road closures, plus their dates of opening and closing times, click here.
We did this same Norway itinerary in early August.
---
If you have any questions about this Norway itinerary, let us know in the comment section below.
More Information for Your Trip to Norway:
Are you planning a trip to the Norway? Read all of our articles about Norway in our Norway Travel Guide.
You Might also Like:
Visiting Norway? Buy the Guide
Note: This post contains affiliate links. When you make a purchase using one of these affiliate links, we get paid a small commission at no extra cost to you.
All rights reserved © Earth Trekkers. Republishing this article and/or any of its contents (text, photography, etc.), in whole or in part, is strictly prohibited.