Reading goes hand in hand with traveling. Books open you up to new places, new experiences, and new adventures, all from the comfort of your own home. They broaden your horizons and sometimes inspire you to travel to new places. Here is a list of our favorite travel books of all time.
If any of these books inspire you, click the link to purchase them on Amazon.com.
12 Great Travel Books to put on your reading list
Vagabonding: An Uncommon Guide to the Art of Long-Term World Travel
Vagabonding by Ralph Potts, is not only one of my favorite travel books, it is also one of the most life-changing books I have read. This is the ultimate guide to living a nomadic life. The message of the book is that anyone with an adventurous spirit can take time off and travel the world. His book is a basic guide to making this happen and what to do once you are on the road. This is one of the books that inspired our family to take a one year trip around the world. If you are considering long-term travel, put this book at the top of your list.
Into Thin Air
Into Thin Air, written by Jon Krakauer, covers the disaster on Mt. Everest in 1996. Most people are familiar with the story, especially since the release of the movie "Everest" in 2015. Jon Krakauer's account is shocking and poignant. At the time, he was working as a journalist for Outside magazine. When he signed up for this climb, he had no idea about the disaster the Everest climb would become. His story gives a realistic insight into what went wrong during the summit attempt and how it changed the lives of so many people. For anyone with an interest in hiking and adventure, this is one of the best books out there.
In A Sunburned Country
Bill Bryson is one of our favorite travel writers and In A Sunburned Country is his best, in my opinion. If you want a hilarious book about what it is like to travel through Australia, this book is for you. Bill Bryson writes about the fascinating history of Australia coupled with misadventures and hilarious moments that will have you laughing out loud.
Catfish and Mandala: A Two-Wheeled Voyage through the Landscape and Memory of Vietnam
Catfish and Mandala is written by Andrew X. Pham, a Vietnamese American. At the age of 30, he hops onto his bicycle, the start of a journey that takes him from America to Vietnam. It is a cultural journey where Andrew learns who he is and where he comes from. It's a heartfelt, candid adventure story, taking readers through Mexico, the United States, Japan, and Vietnam.
The Alchemist
The Alchemist, written by Paulo Coehlo, tells the story about Santiago, a young shepherd that travels the world in search of treasure. This story is written like a fable, delivering the message to listen to your heart and to follow your dreams. Most people love this story for its inspirational message, but some people hate it, saying it is just a string of clichés. Personally, I enjoyed it and found it to be thought-provoking and inspirational.
Beyond the Sky and the Earth, a Journey into Bhutan
Beyond the Sky and the Earth, written by Jamie Zeppa, is a story about going outside of your comfort zone. Jamie, a very naive young adult, travels to Bhutan after graduating college to teach English. Instantly, she regrets her decision, with Bhutan being nothing she expected it to be. Within a week of arriving, Jamie strongly considers catching the next flight back to Canada. A string of events forces her to remain in Bhutan and after giving it a little time, Jamie falls in love with Bhutan.
This is not only a story about what it is like to live and work in Bhutan. It is also a story about stumbling onto the unexpected, going outside of your comfort zone to do something challenging, and having an experience that changes your life in so many ways. Having been to Bhutan, this book also gives a very accurate representation of the country. This was one of my favorite books of 2016 and I highly recommend it.
A Year in Provence
Wouldn't it be wonderful to pack up your life and move to the south of France? Peter Mayle tells the story of what it is like to move from the UK to Provence, France and all of the trials and tribulations that goes along with it. A Year in Provence is a delightful, engaging account of what it is like to move to this region.
Turn Right at Machu Picchu: Rediscovering the Lost City One Step at a Time
This book will make you want to travel to Machu Picchu. And if you have plans to go to Machu Picchu, you definitely should read this book first. Written by Mark Adams, Turn Right at Machu Picchu tells the story of what it is like to follow in the footsteps of Hiram Bingham and trek to Machu Picchu. Only Mark Adams has no outdoor experience, making this book hilarious, laugh out loud funny. But along the way, you learn about the history behind Machu Picchu, its "discovery" by Hiram Bingham, and what it is really like to go trekking in remote areas of Peru.
Sihpromatum: I Grew My Boobs in China
I Grew My Boobs in China is the story about Savannah Grace, a 14 year-old-girl who unwillingly goes on a four year backpacking trip around the world with her family. Savannah is totally against the idea of giving up her life, her home, and her friendships to go on this journey. And it is not an easy journey. Her family travels to remote, off-the-beaten-track destinations, living on a very tight budget. This leads to some amazing misadventures and minor catastrophes. During the journey, Savannah changes…a lot. This is a quick and easy read, a memoir written by Savannah. It's very personal, holds nothing back, and is one of my favorite travel books of all time.
Into the Wild
Into the Wild is another great book by Jon Krakauer. Krakauer tells the story of Christopher McCandless, a young man from a well-to-do family that hitchhiked into the wilderness and died of starvation four months later. This is the story about what would motivate someone to give it all up to head off into the unknown, searching for a better life. And this is another book that you may love or you may hate. You will either be inspired by McCandless' vagabondism or hate him for his selfishness, leaving his family shattered after his death.
Behind the Beautiful Forevers: Life, Death, and Hope in a Mumbai Undercity
Behind the Beautiful Forevers, written by Katherine Boo, is a powerful book about what it is like to live in poverty in a slum in Mumbai. Warning, it is not a pretty story. It will shock you and most likely have you feeling frustrated. So why read it? Katherine Boo holds nothing back, informing us what it is really like to live in extreme poverty. It is informative and eye-opening, a look into real life in this world.
World Trek: A Family Odyssey
Oh, this book.
In 2009, World Trek showed up on my recommended list on Amazon.com. It's a story about a normal family's one year trip around the world. My first reaction: who does that?!! So I bought the book. Thinking they were crazy.
Well, I read the book in 24 hours. I couldn't put it down. And by the last page, I realized that the idea of taking your family on a one year adventure around the world really is not that crazy.
This is the book that inspired our around the world trip. It's the story of a normal family that took their kids out of school and spent one year traveling the world. Dare I say that this is the most inspiring book I have ever read?
And now I hope that we are inspiring other families to make the same journey.
---
What are your favorite travel books? Share them below in our comments section!
You Might Also Like: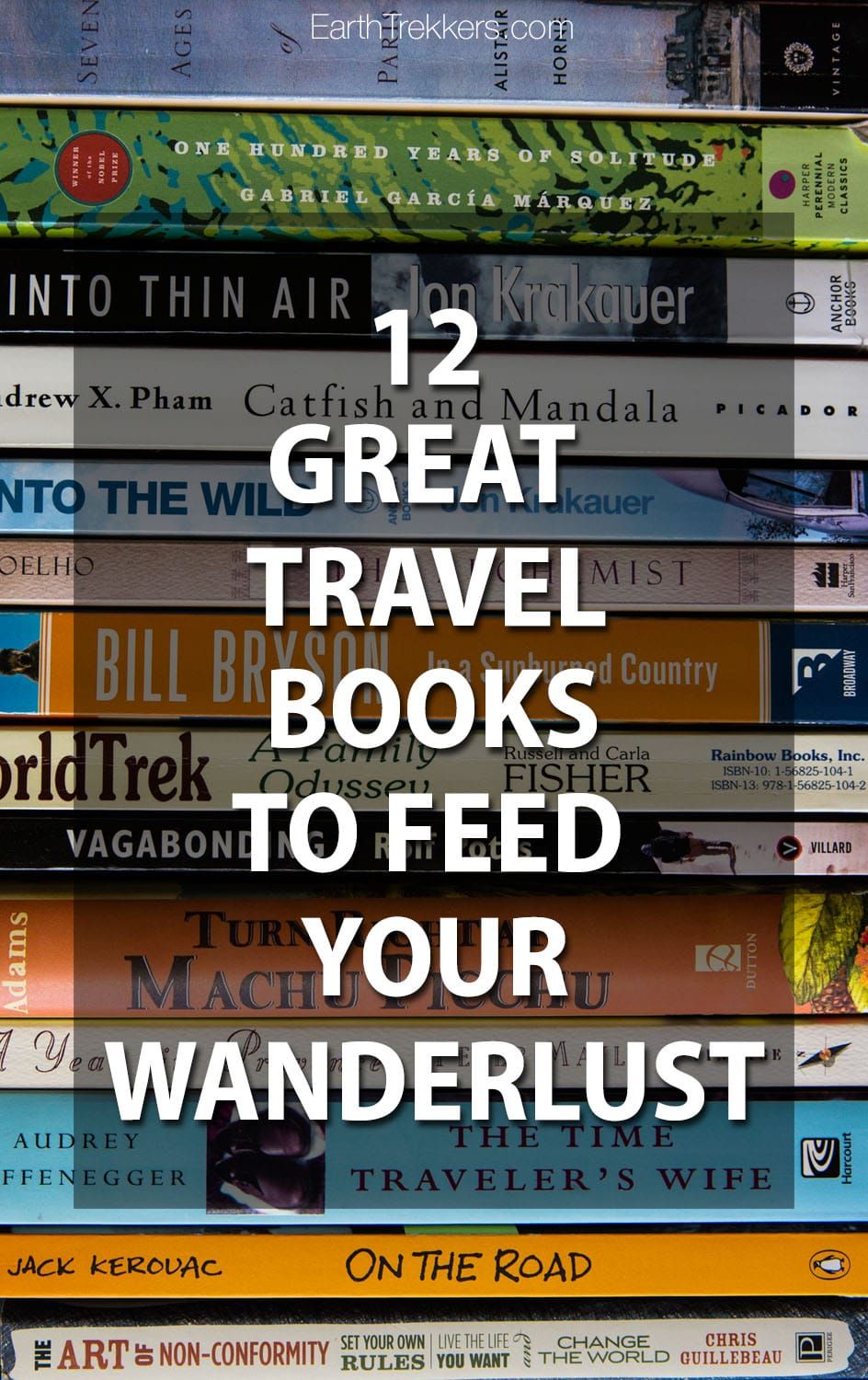 Note: This post contains affiliate links. When you make a purchase using one of these affiliate links, we get paid a small commission at no extra cost to you.
All rights reserved © Earth Trekkers. Republishing this article and/or any of its contents (text, photography, etc.), in whole or in part, is strictly prohibited.