Bagan, Myanmar is one of Myanmar's most famous destinations for tourism. There are many ways to explore Bagan's many temples, either by bike, by taxi, by scooter, or by big tourist bus. In our opinion, Bagan is the perfect place to explore by bicycle. The streets are relatively quiet, there are great sandy roads that take you to villages and smaller temples, and cycling Bagan is tons of fun for kids and their triathlete parents (us!).
Cycling Bagan
Choosing our Bikes
We rented our bicycles through our hotel, Kyaw Hotel.
My mother, Kathy Younkin, flew in from the US to join us in Myanmar. She chose an electric bike, which is really just a smaller, slower version of a moped, while the four of us rented three bicycles. Kara was not big enough to ride her own bicycle and we did not see any bicycles that were "child sized" during our entire three day stay in Bagan. She rode on the extra seat on the back of my bicycle or Tim's bicycle.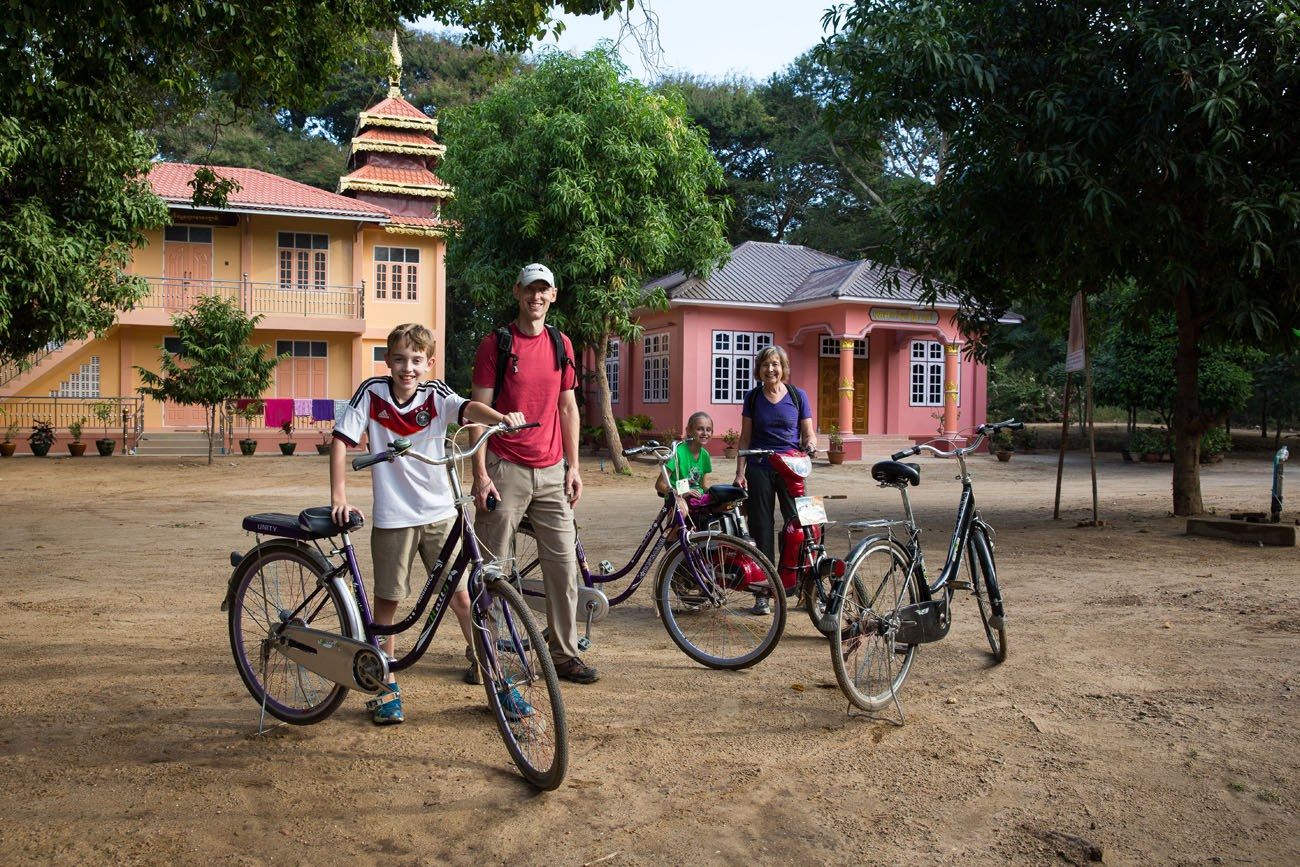 What is Bagan?
Bagan is home to 2200 Buddhist and Hindu temples. At one point Bagan was home to over 10,000 temples, all dating back to the 11th to 13th centuries. Over the years the temples have been destroyed by earthquakes and other natural causes.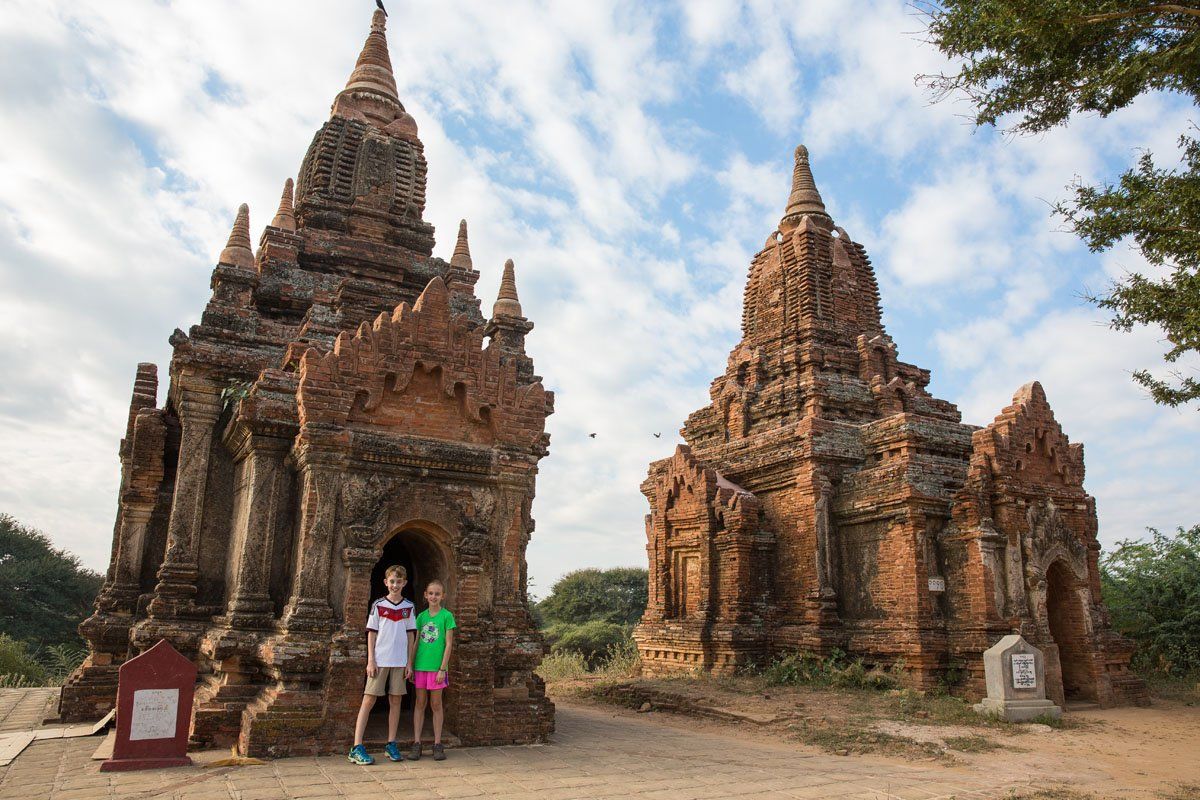 The area known as "Bagan" is a small area in rural Myanmar that consists of two towns…Old Bagan and New Bagan and acres and acres of temples.
Tourism is really just taking off here. There is a mix of older, no frills hotels with several newer, higher class hotels as well. Most restaurants feature outdoor seating under corrugated tin roofs with basic tables and plastic chairs. There are nicer restaurants as well. There are absolutely no western restaurants…no Starbucks, no McDonald's, no KFC, and no Subway. It was great to see this place before the chain stores of the western world move in, not necessarily changing this place for the better.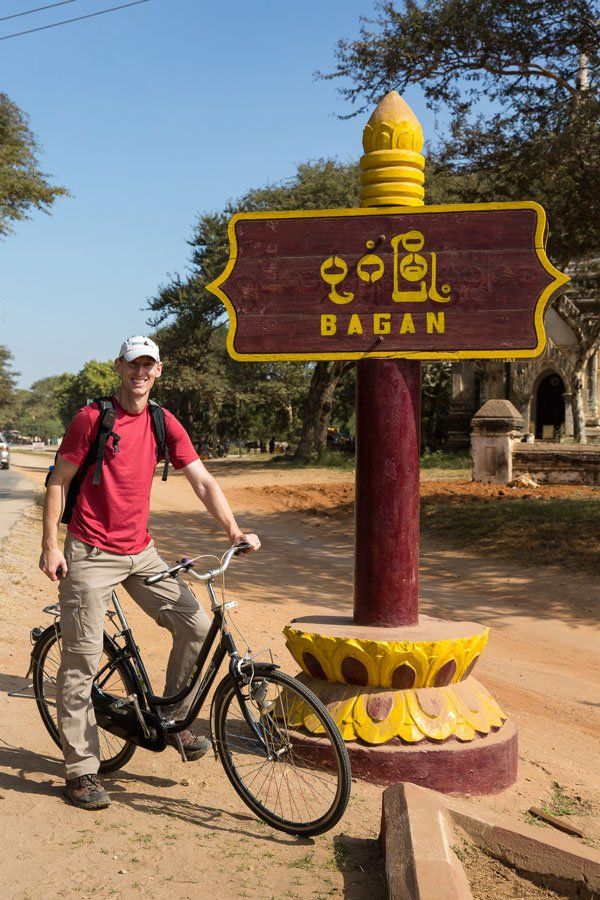 We would usually start our day with breakfast at our hotel followed by a morning ride around the temples. This was tons of fun for all us, but especially for Tyler and Kara, who loved riding on the dusty, rural roads and fishtailing in the thick sand that covered many of the back roads.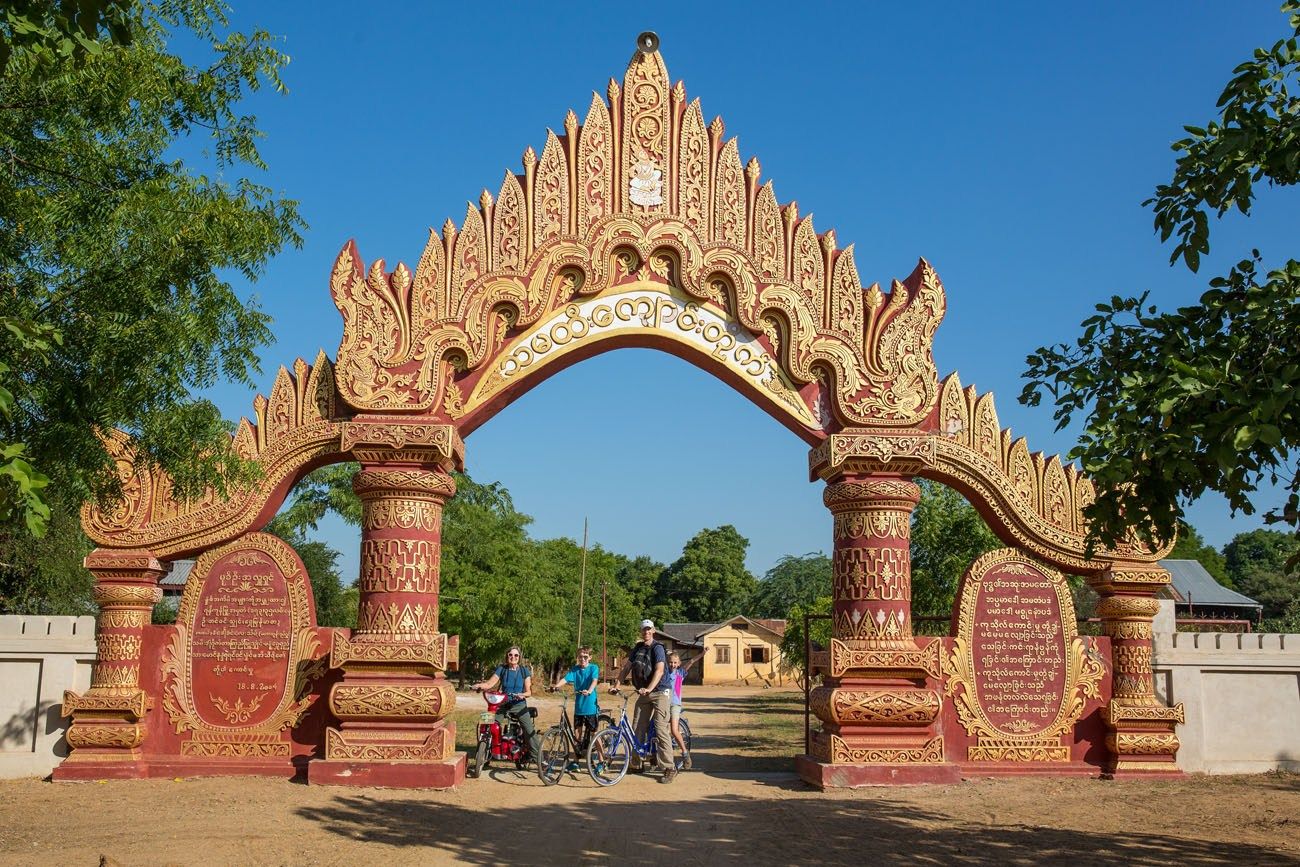 Peanut Farming in Myanmar
One thing we learned is that peanut farming is one of Bagan's biggest industries. One morning we wandered off road onto a newly plowed field. It did not take Tyler long to notice that we were riding through a peanut field. Tyler has a severe allergy to peanuts so it is obvious to say that riding his bike through fields of peanuts was very alarming to him.
What I was more concerned about was what he was actually eating while in Bagan. Peanuts are added to a lot of the dishes here so Tyler lived on grilled and fried meats, bananas, and bread while we were here. This is something we were expecting and prepared for, as peanuts are used in a lot of dishes all throughout Southeast Asia.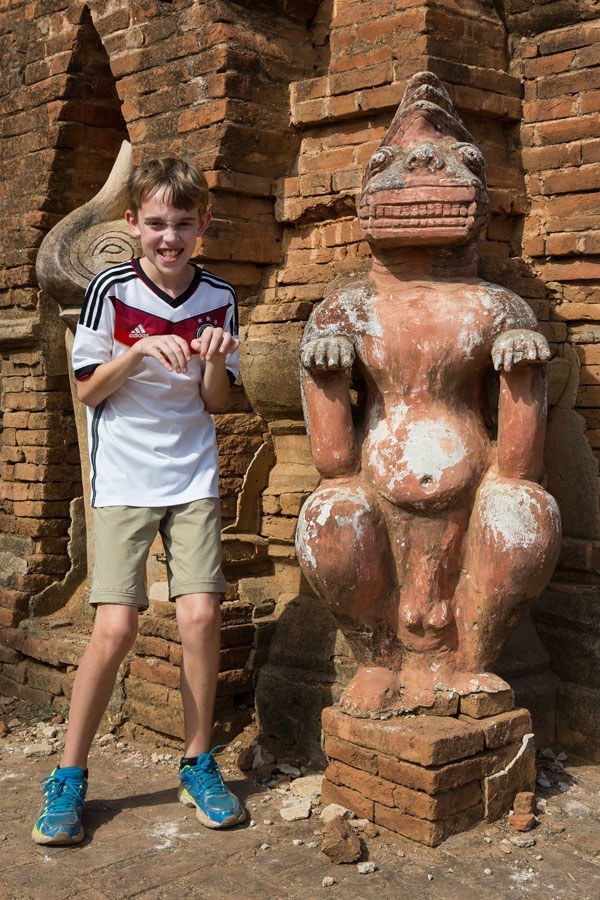 Shwe-san-daw Pagoda
We spent hours and hours wandering among the temples, stopping for photos along the way. Most temples are only viewed from the outside but several we were allowed to enter. Our favorite was the Shwe-san-daw Pagoda. This one could be climbed (on a very steep staircase!), the reward being amazing views over Bagan and all of its temples. The view was spectacular.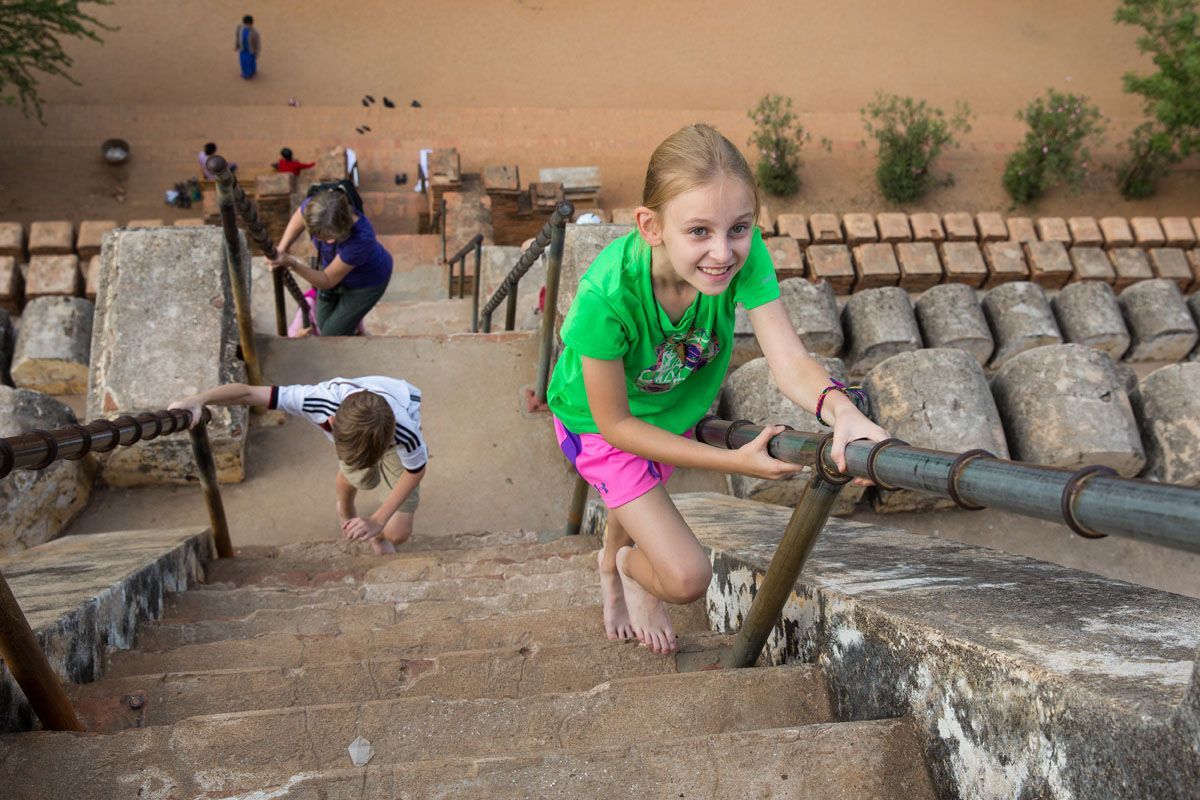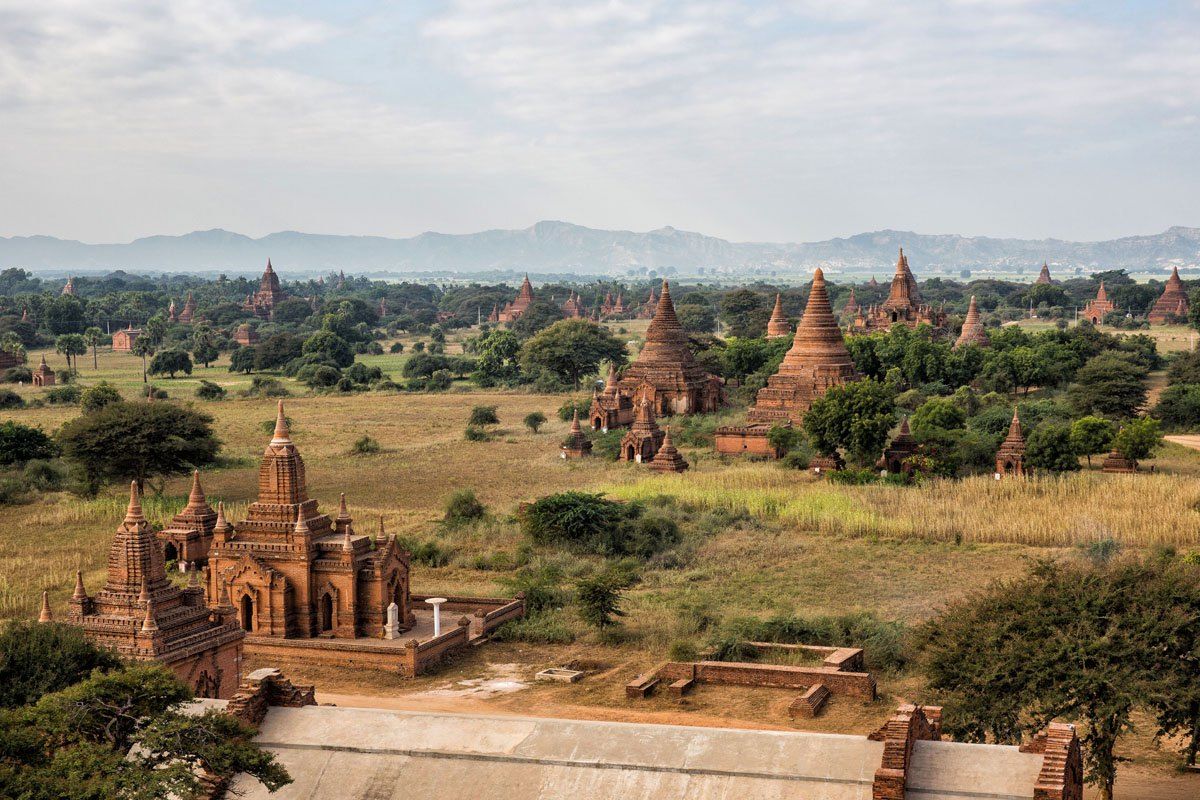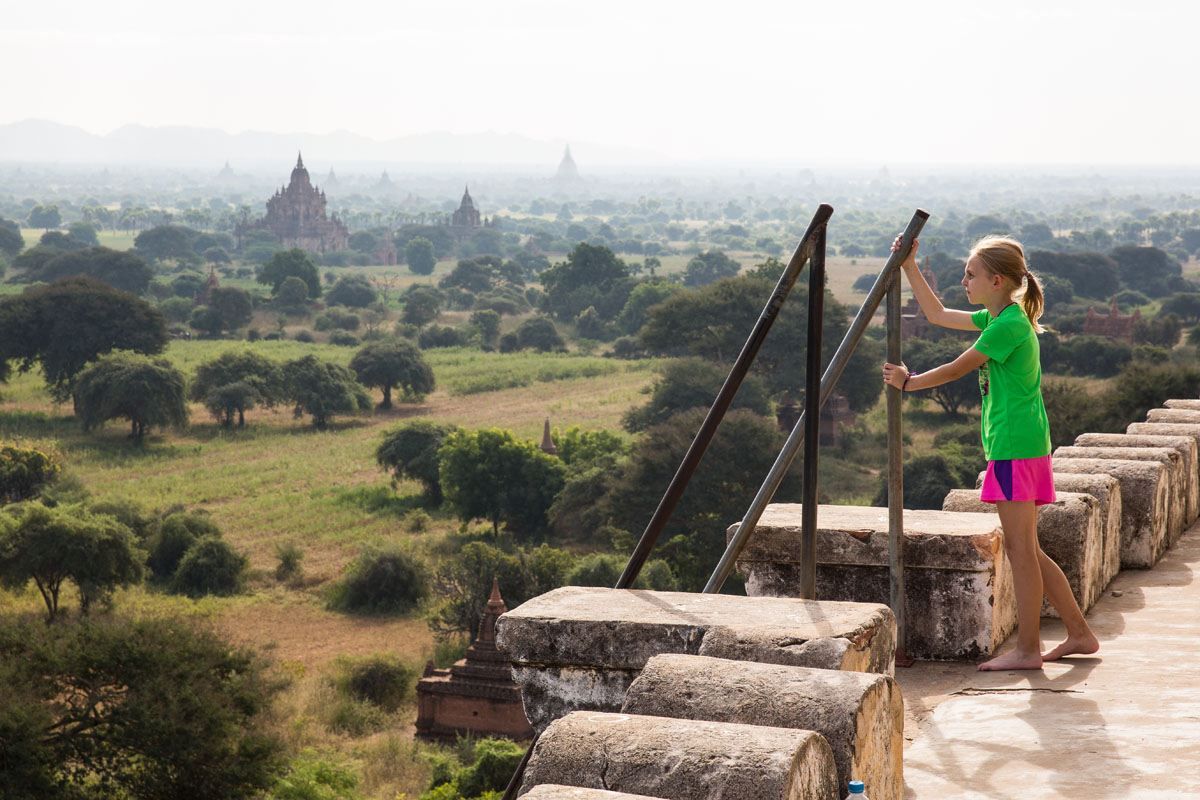 We all really liked it here. We loved the tropical scenery, the very friendly people, and seeing temples everywhere we turned. It really felt like we were in Southeast Asia, with palm trees, hot weather, and friendly, smiling faces.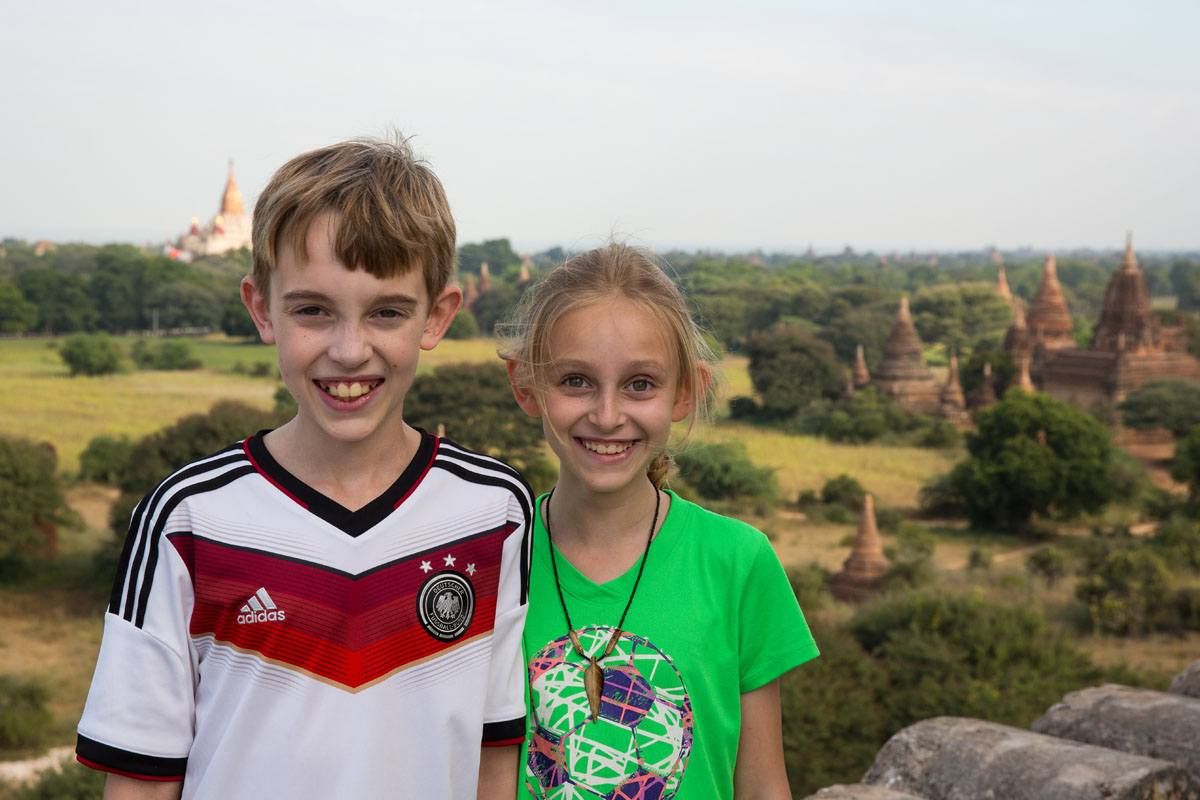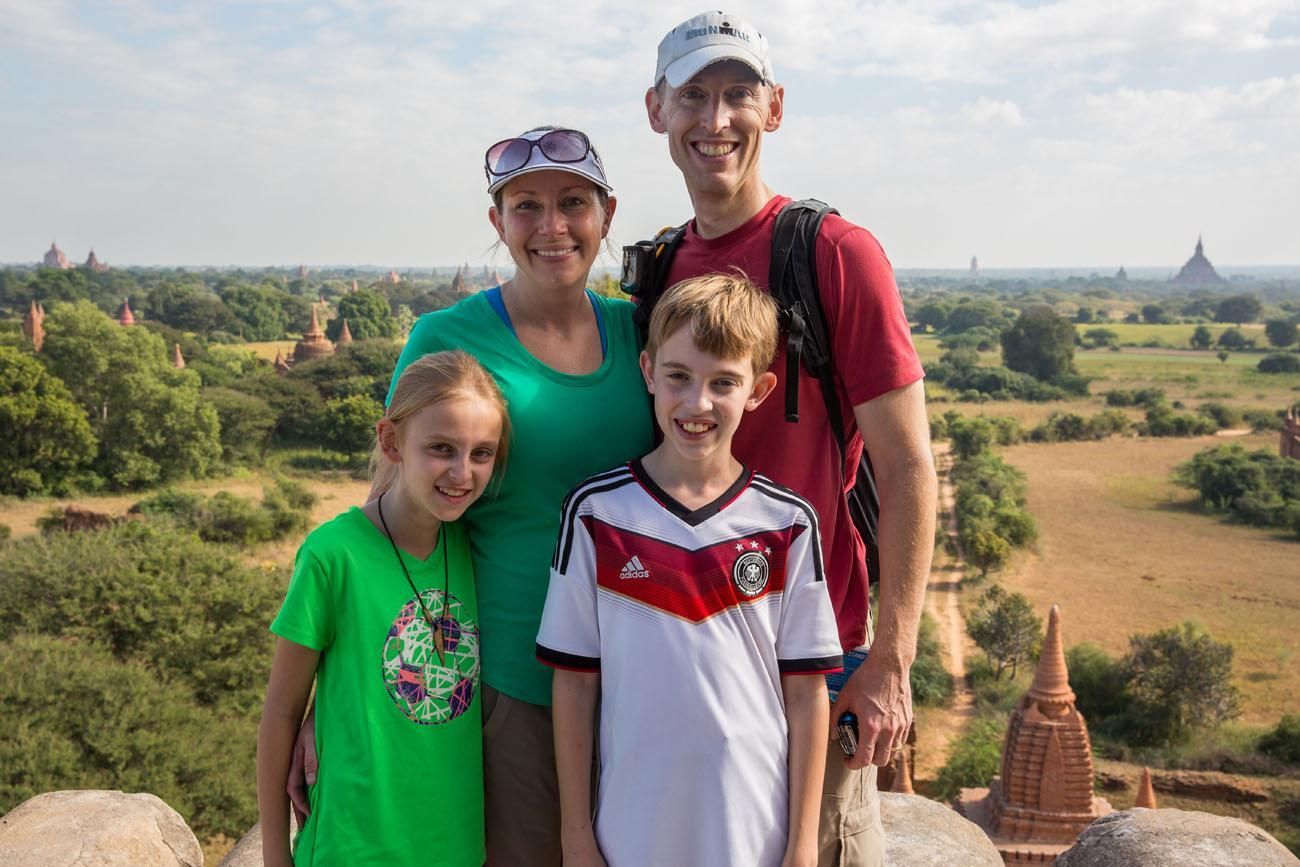 More Views of Bagan
And here are some more views of the temples…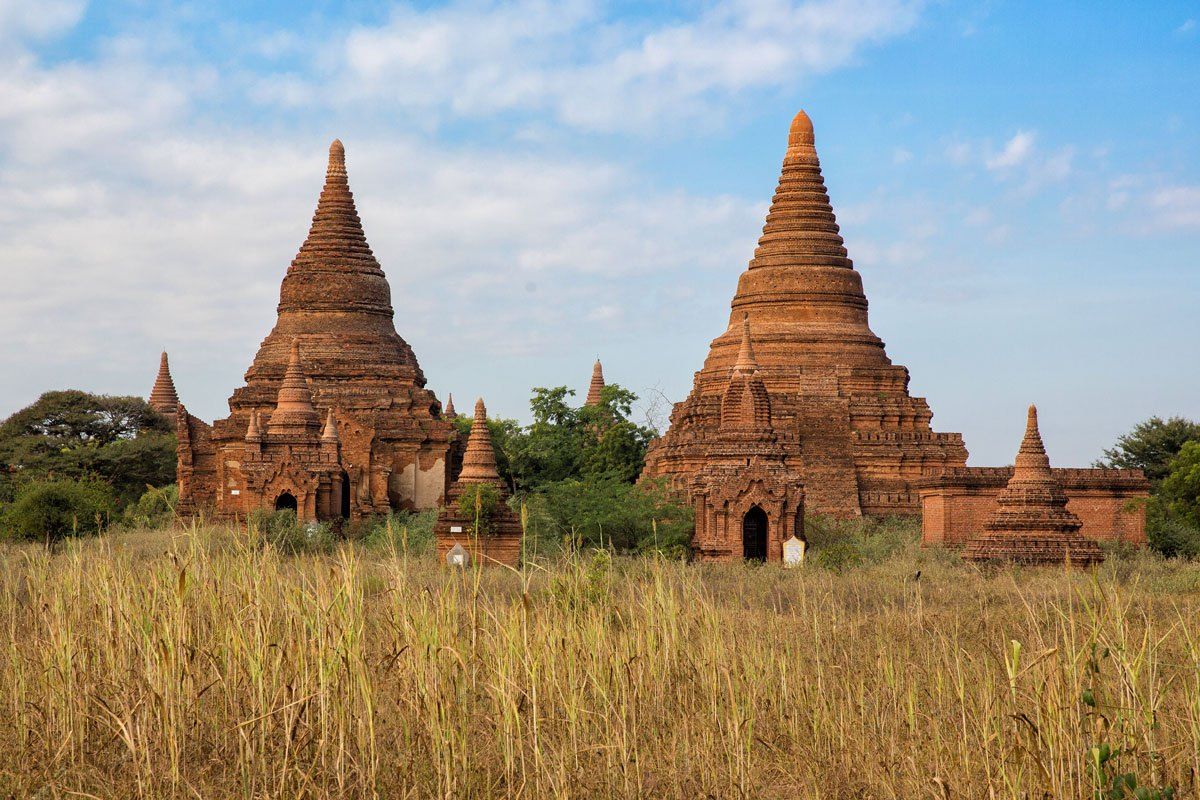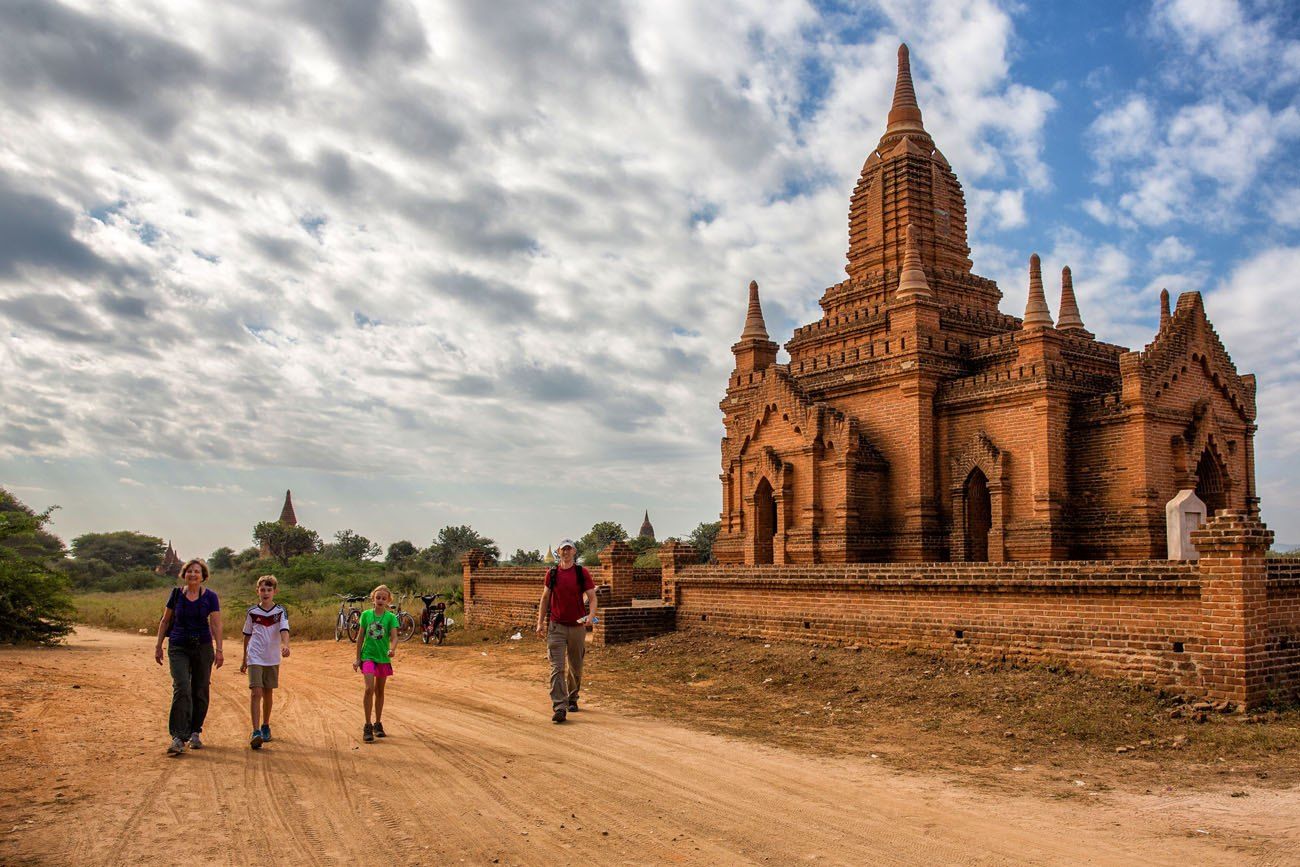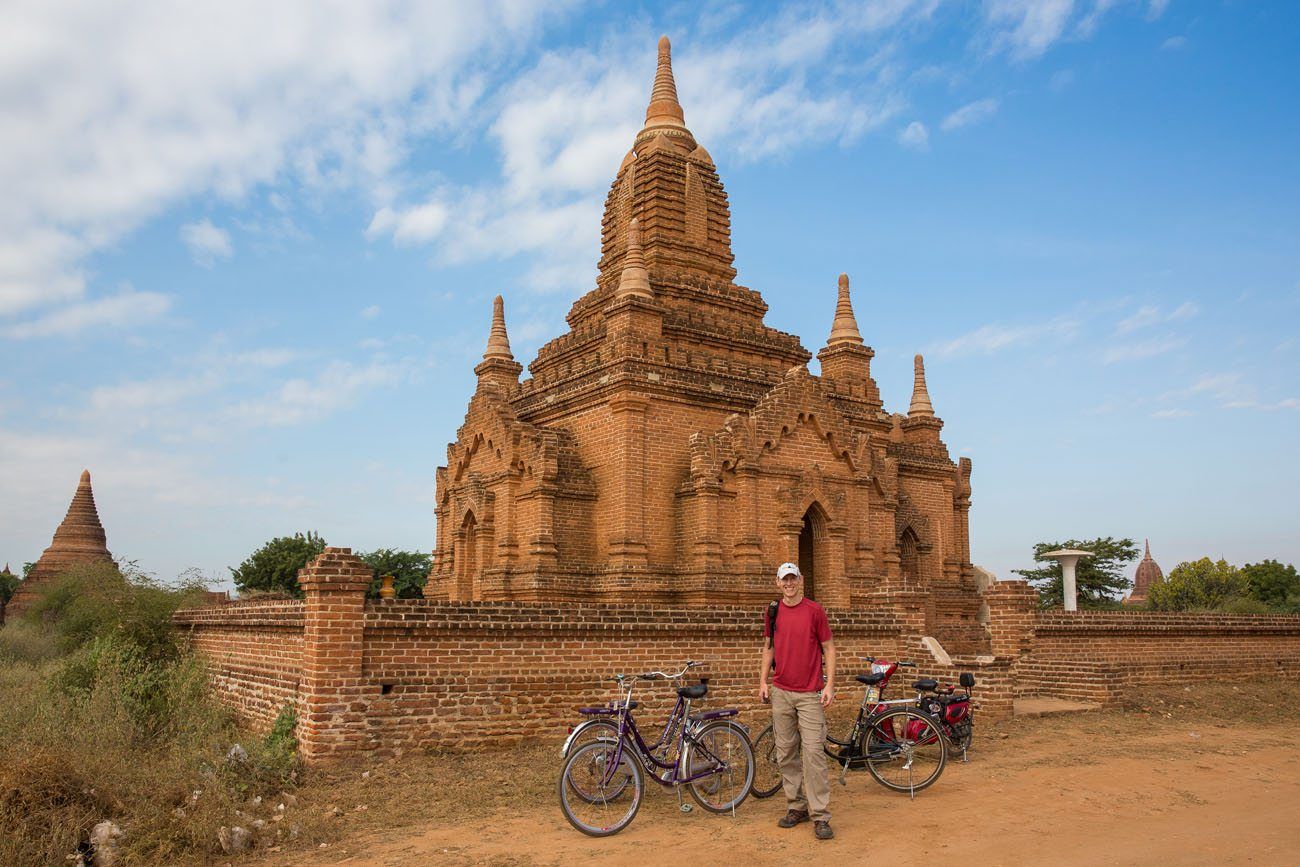 The people here get around by bicycle, also.
Meeting the People of Bagan
At one point I got a flat tire. A woman took us to her home in a small local village. While her husband repaired my tire, the lady demonstrated cotton spinning and weaving. The matriarch of the family joined us, a ninety-two year old woman, puffing away on a giant cigar.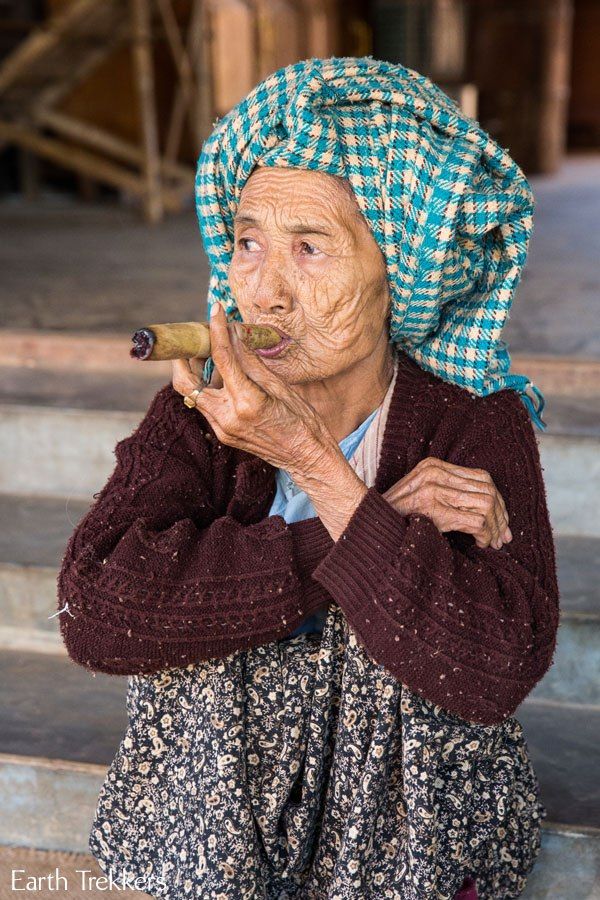 Watching the Sunset in Bagan
One of the best things to do in Bagan is to watch the sunset from a temple with a great viewpoint. For this we returned to Shwe-san-daw Pagoda, joining way too many other people wanting to watch this amazing sunset. It was crowded but worth it…what an amazing view.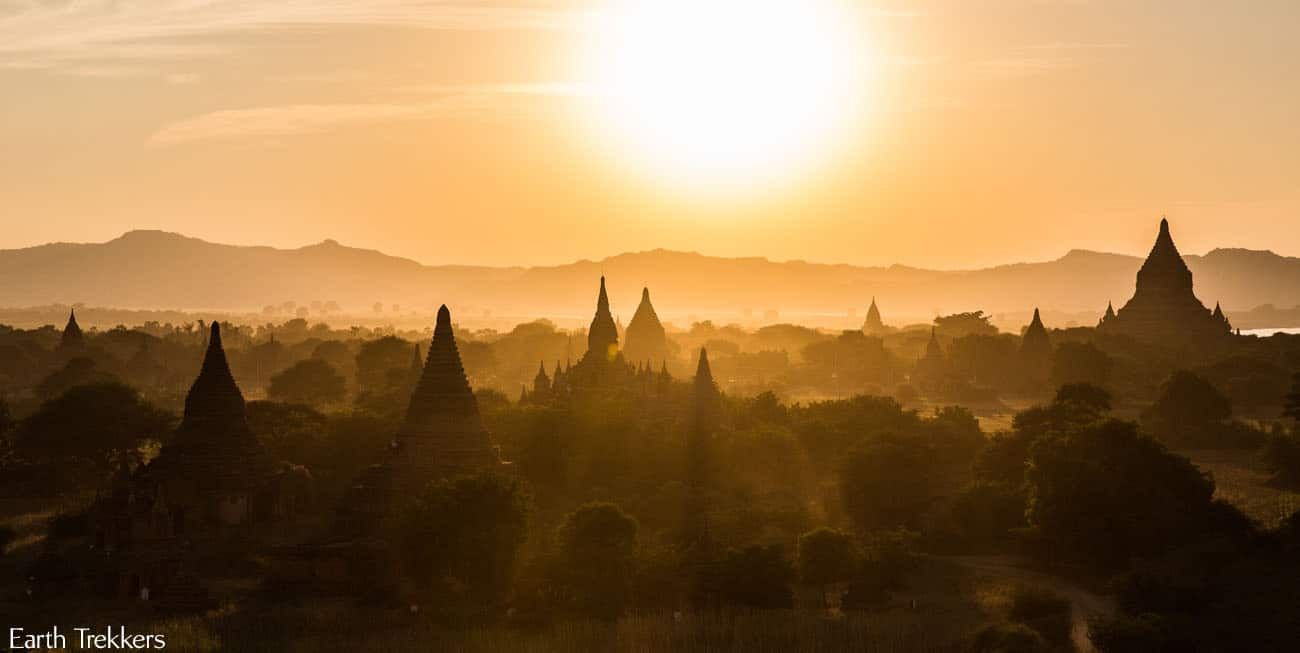 And a little while later…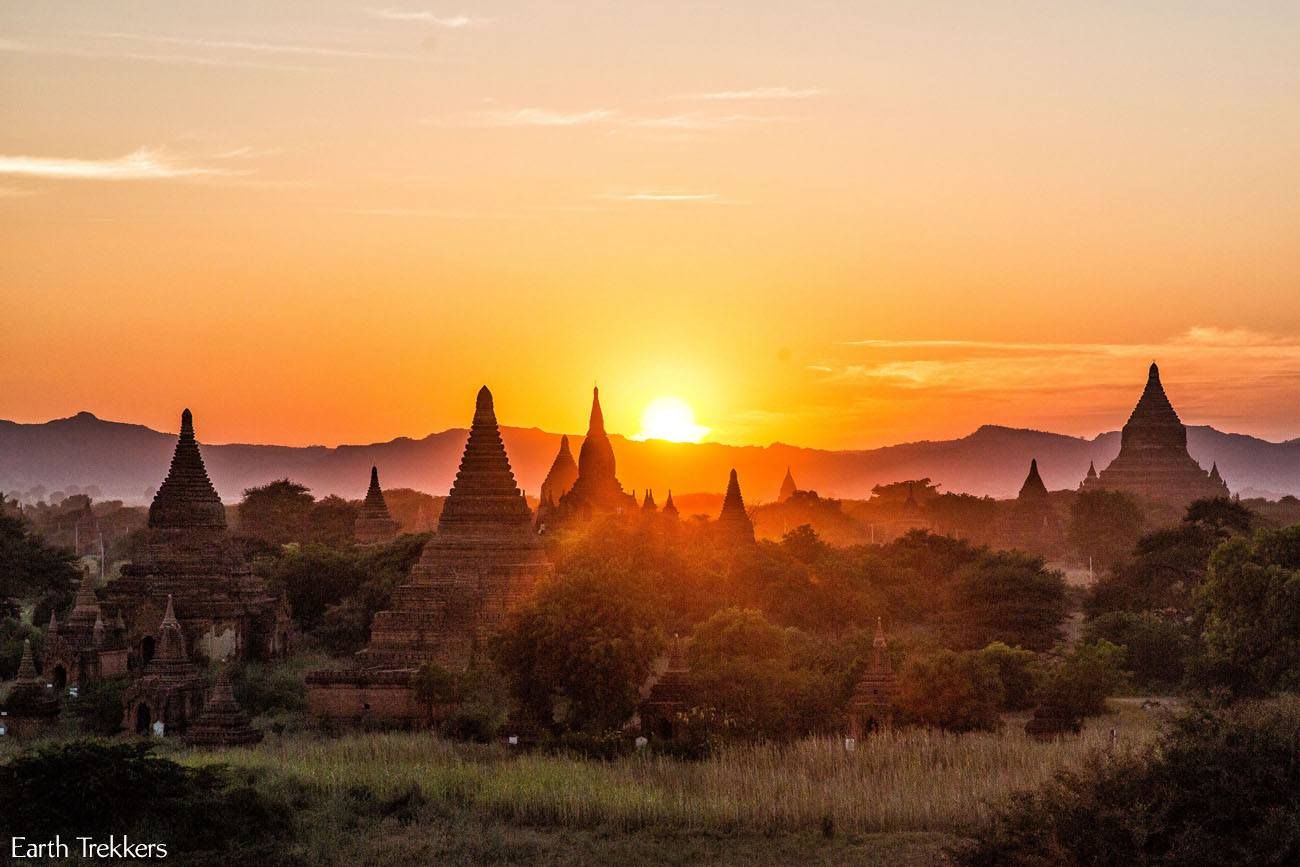 All of us, including my mother, Kathy, really enjoyed being in Bagan. I really liked the laid back attitude here. We had no set itinerary, just got on our bicycles, wandering out into the countryside, exploring temples and villages. This was a great place for kids as well, as Tyler and Kara loved getting around by bicycle. What kid would not like exploring 1000 year old temples? We were able to find restaurants with good, cheap food that was also safe for Tyler to eat. And our sunrise balloon flight was the icing on the cake. Bagan is such a fun place to visit.