Here is another destination for your Ireland bucket list: the gorgeous Dingle Peninsula. If scenic drives, stunning coastal scenery, and a visit to one of Ireland's most colorful towns sounds interesting to you, keep reading. Driving the Dingle Peninsula is a must on a visit to Ireland!
Dingle Peninsula Road Trip
Things to Know Before You Go
The Dingle Peninsula is located on the southwestern coast of Ireland. This is the land of the famous Wild Atlantic Way. Rugged coastlines, green pastures, beautiful beaches, and quaint villages are all just waiting to be explored. The roads are narrow and winding, making the drive a bit of an adventure.
It takes a full day to drive the entire loop around the peninsula. Good places to base yourself are the wonderful little towns of Dingle, Killarney, or Tralee. We stayed in Killarney for three nights, our home base for driving the Dingle Peninsula, the Ring of Kerry, and taking the boat trip out to Skellig Michael island.
Many roads on the Dingle Peninsula are narrow, two lane roads. On Slea Head Drive and the Conor Pass, the roads are one lane, very windy, with periodic passing points. Remember, they drive on the left in Ireland! If you do not like the idea of driving these narrow, curvy roads it might be better to visit the Dingle Peninsula on a tour. This tour from Killarney gets rave reviews.
The best part of the Dingle Peninsula is Slea Head Drive. This is a coastal road on the far western end of the peninsula. This is definitely worth your time. We have recommendations for other places to visit on the Dingle Peninsula, as well.
For a Preview, Fly Over the Dingle Peninsula
Overview of the Dingle Peninsula
Here is an overview of our route from Killarney through the Dingle Peninsula. We followed the red arrows to get to Dingle and then drove the Slea Head Drive Loop (blue arrows).

Detailed Driving Directions
Here is a map with three driving routes. The first route includes our detour north to Camp, if you want to see more of the peninsula. The second route goes right to Dingle and from here you can make a detour to the Conor Pass. The third route is the Slea Head Drive Loop.
How to Use This Map: Click the tab in the top left hand corner of the map to view the layers (points of interest and the driving routes). You can click the check marks to hide or show layers. If you click the icons on the map, you can get more information about each point of interest.

If you click the star next to the title of the map, this map will be added to your Google Maps account. To view it on your phone or computer, open Google Maps, click the menu button, go to "Your Places," click Maps, and you will see this map on your list.
Best Things to Do on the Dingle Peninsula
Here is what we did, with recommendations of what is worth seeing and what can be skipped.
Inch Beach
I do not know how Inch Beach got its name, but it is far from tiny! This beach is four miles long and definitely worth a stop. You can drive your car right out onto the beach if you want. Surfing lessons are offered here as well.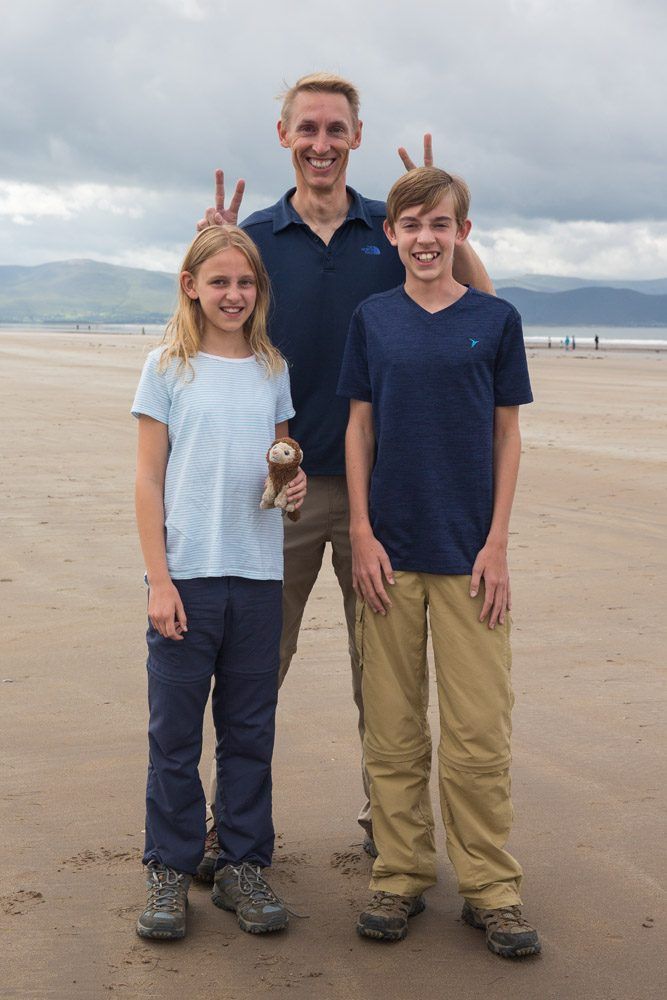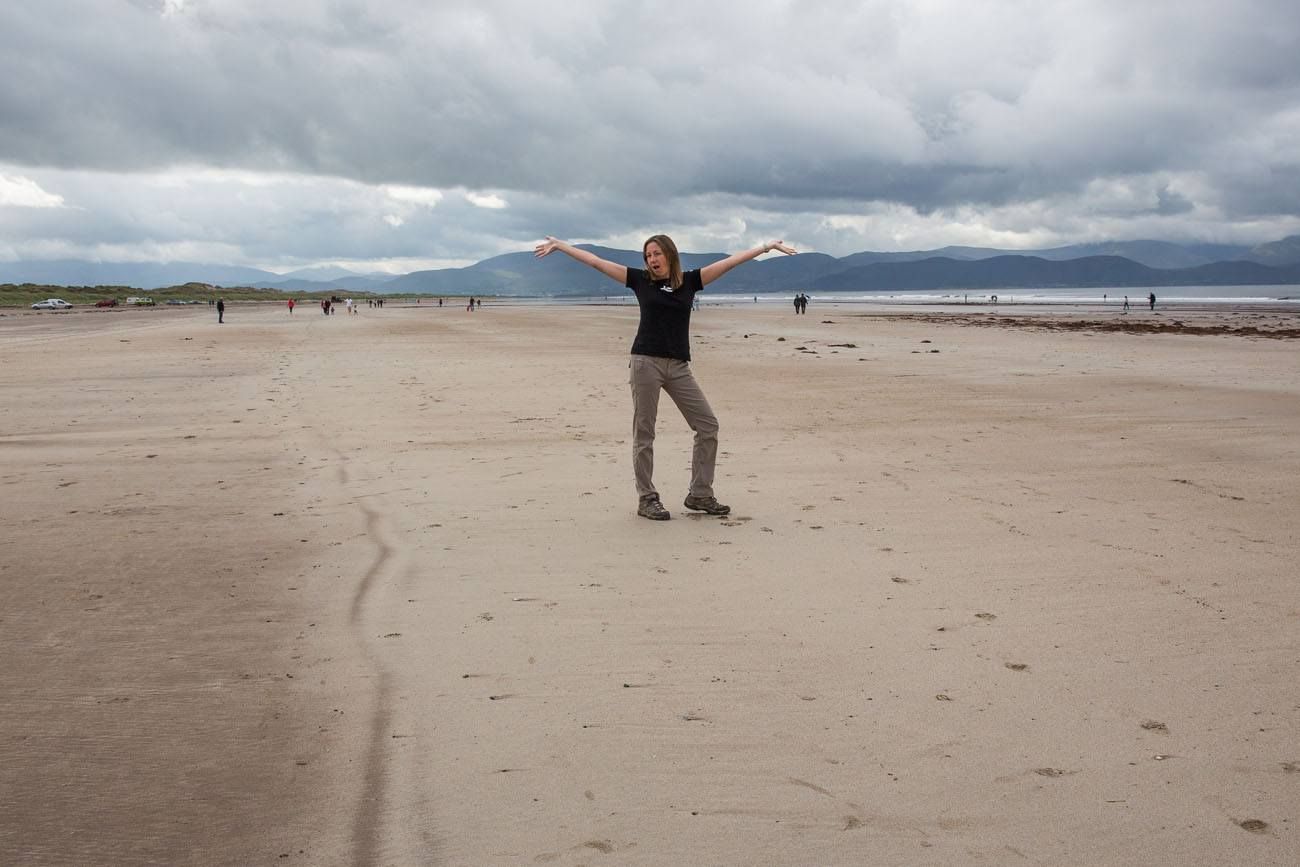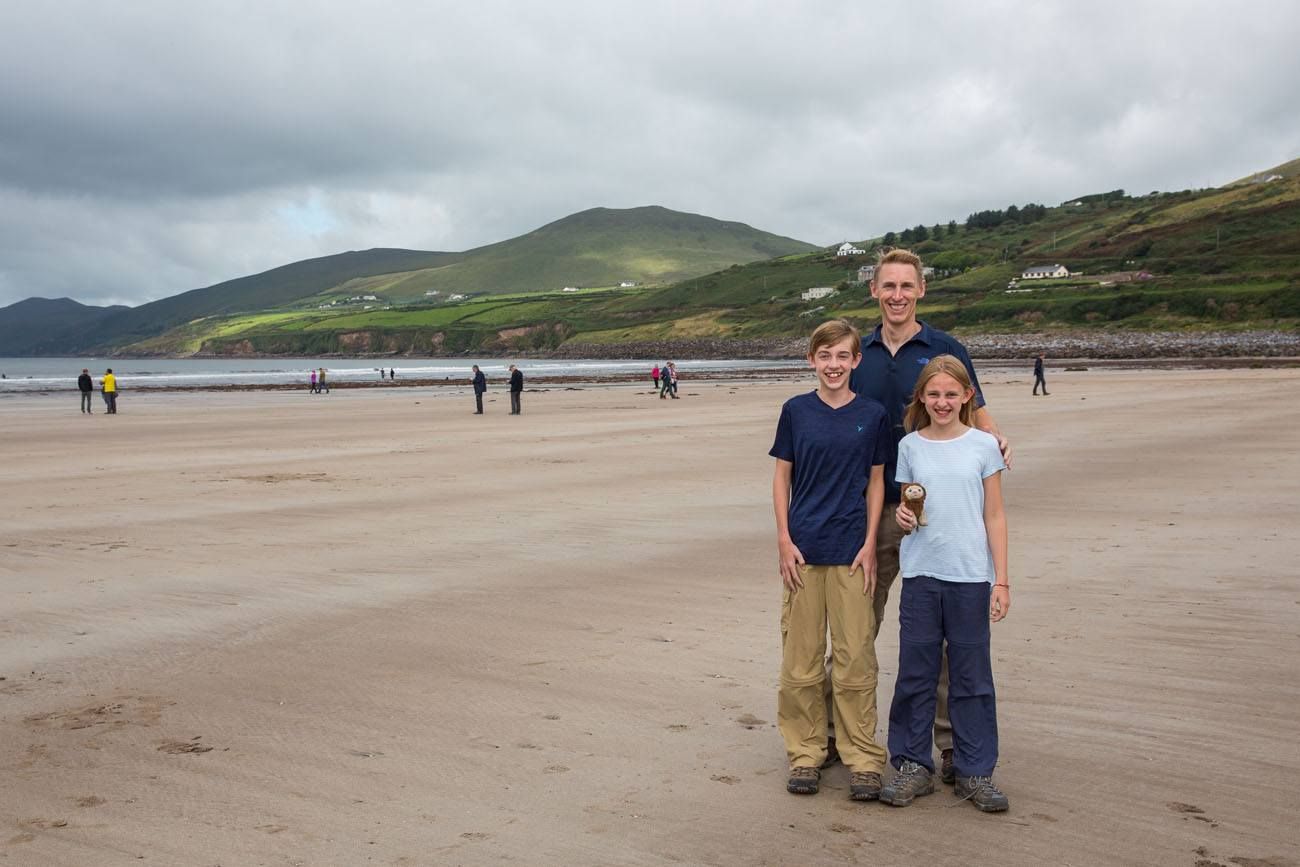 Scenic Drive to the Northern Coast
As we continued west towards Dingle, this was our view. Not bad!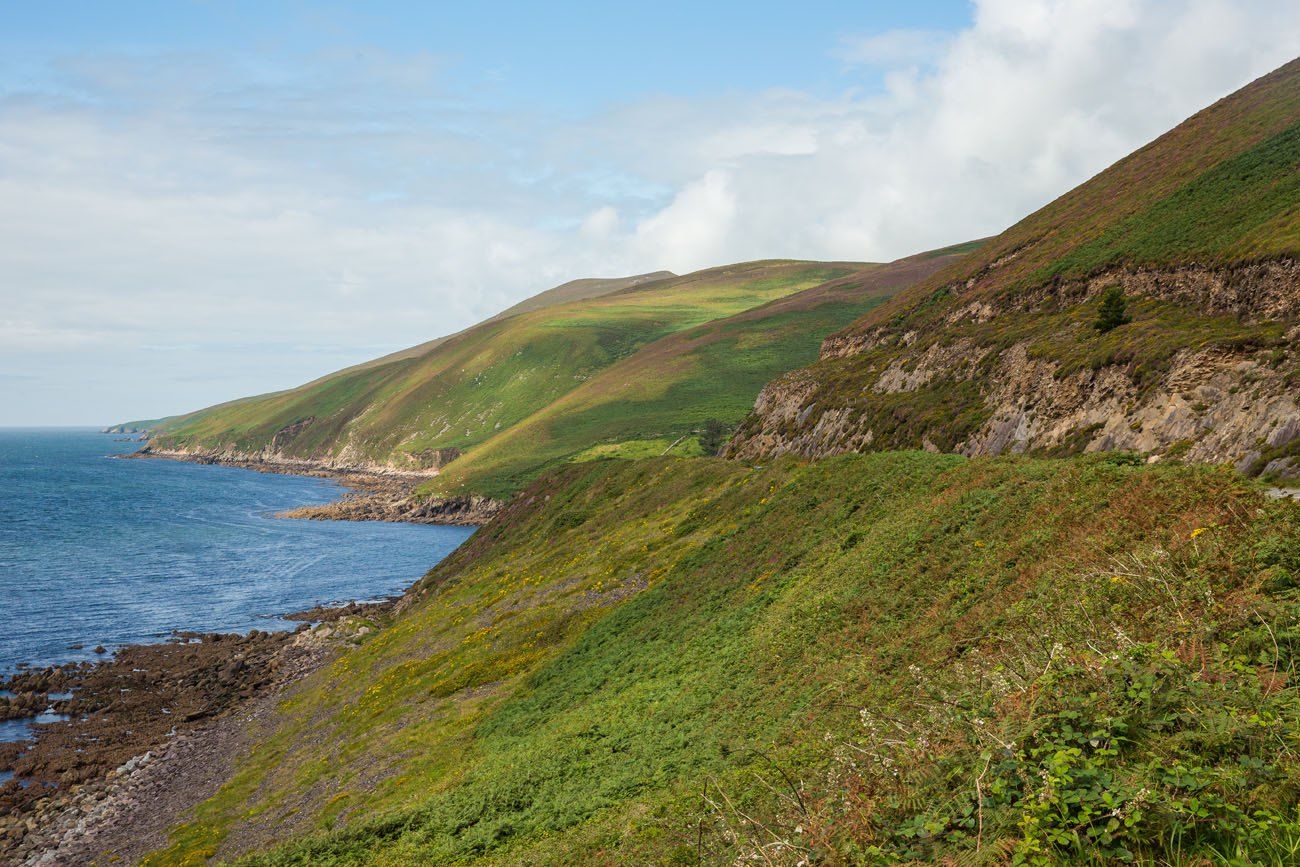 We chose to drive across the peninsula on N86. Green fields stretched out in all directions and some clouds lingered overhead. Just before arriving in Camp, this valley caught our eye. When I think of Ireland, this is what I imagine.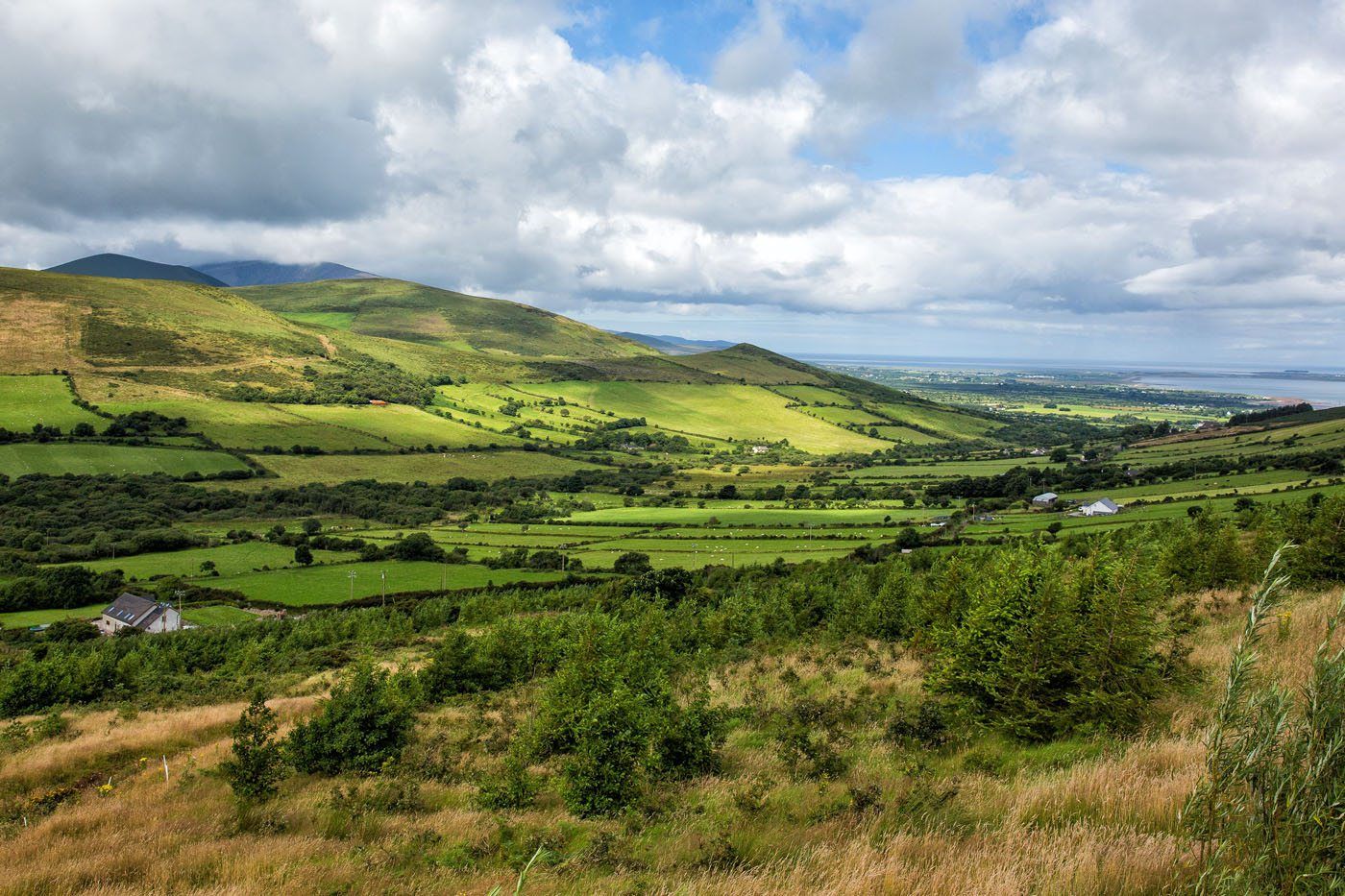 Peninsula Drive to Ballycurrane
In the mood to explore, we drove out onto the small peninsula on the northern coast, to Ballycurrane. There were some horse pastures, small houses, and a few small beaches, but nothing really worth seeing. It looked like this is the place where locals go to escape the hoards of tourists that descend on Ireland every summer. I would skip this place. There are better ways to spend your time on the Dingle Peninsula.
But we did spot this pub that we loved!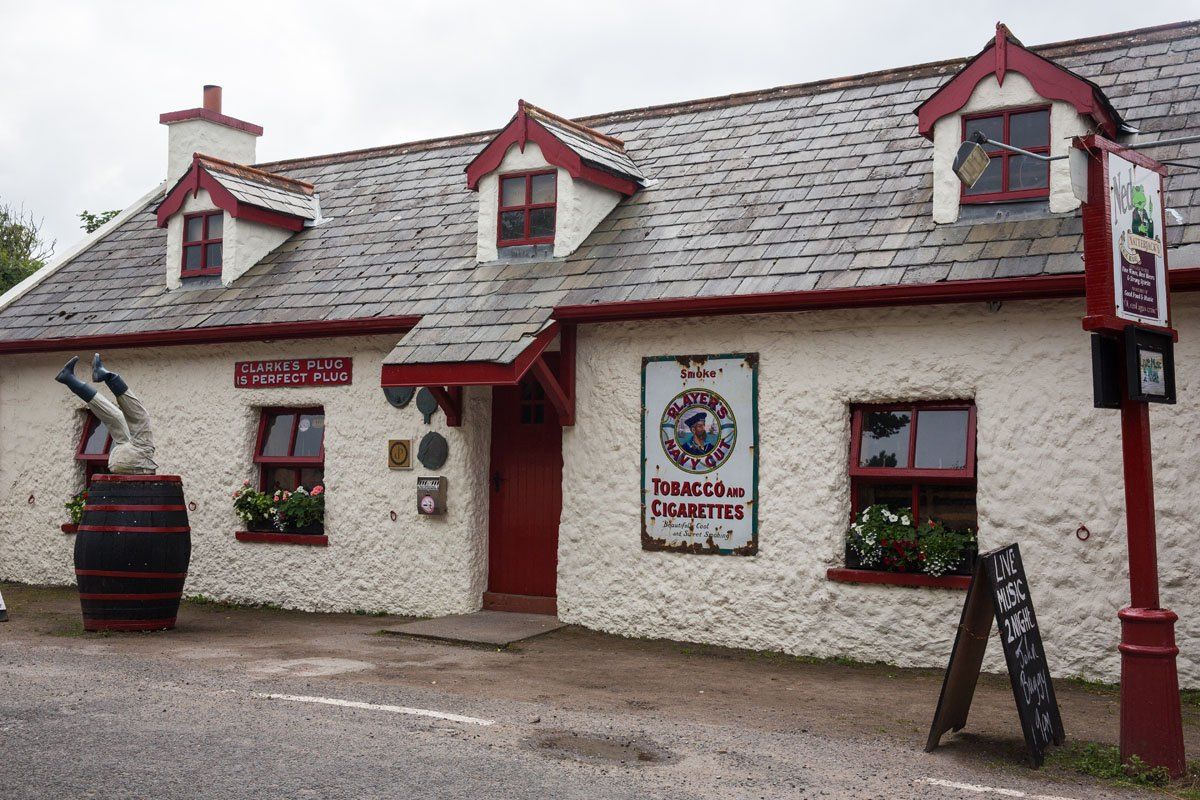 Conor Pass
The Conor Pass is one of Ireland's highest mountain passes. It's a long, winding, one lane road with lots of traffic. It was very cloudy while we were here. The views are not all that amazing. If you are short on time, the Conor Pass is skippable. But if you like driving very windy, narrow roads, put this on your list.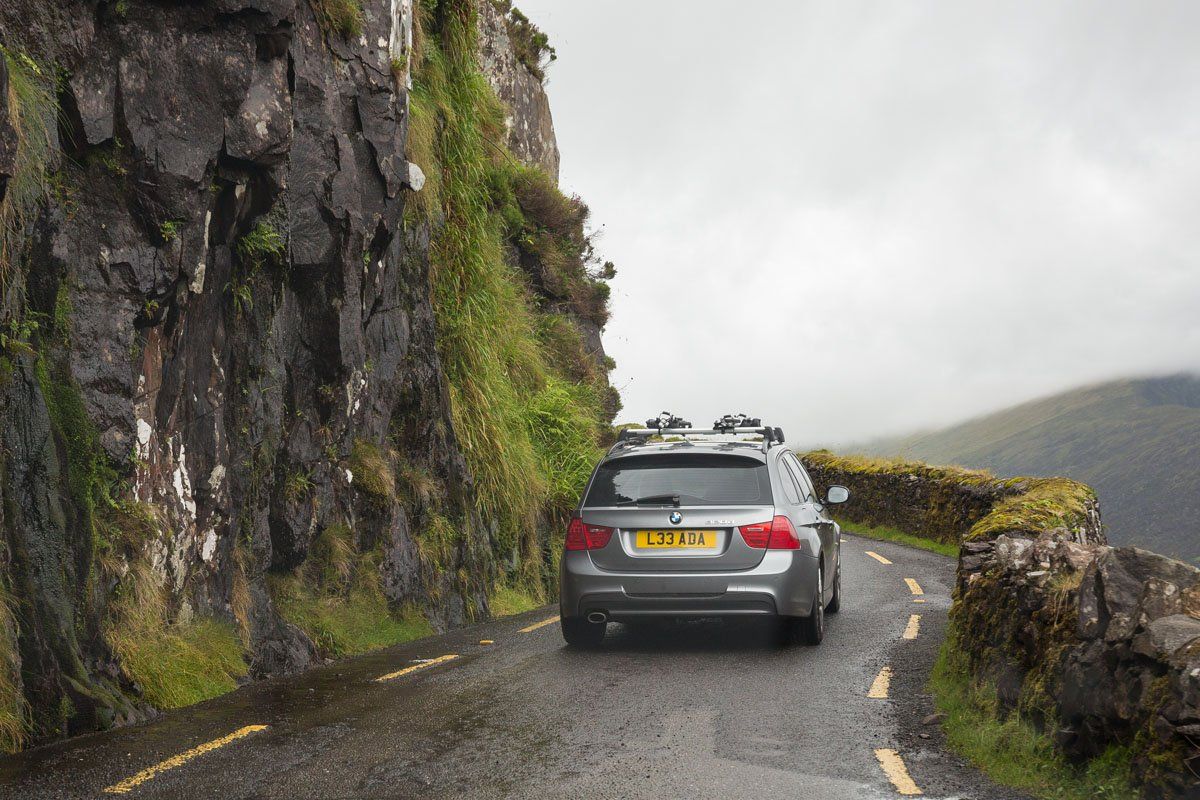 The road to Dingle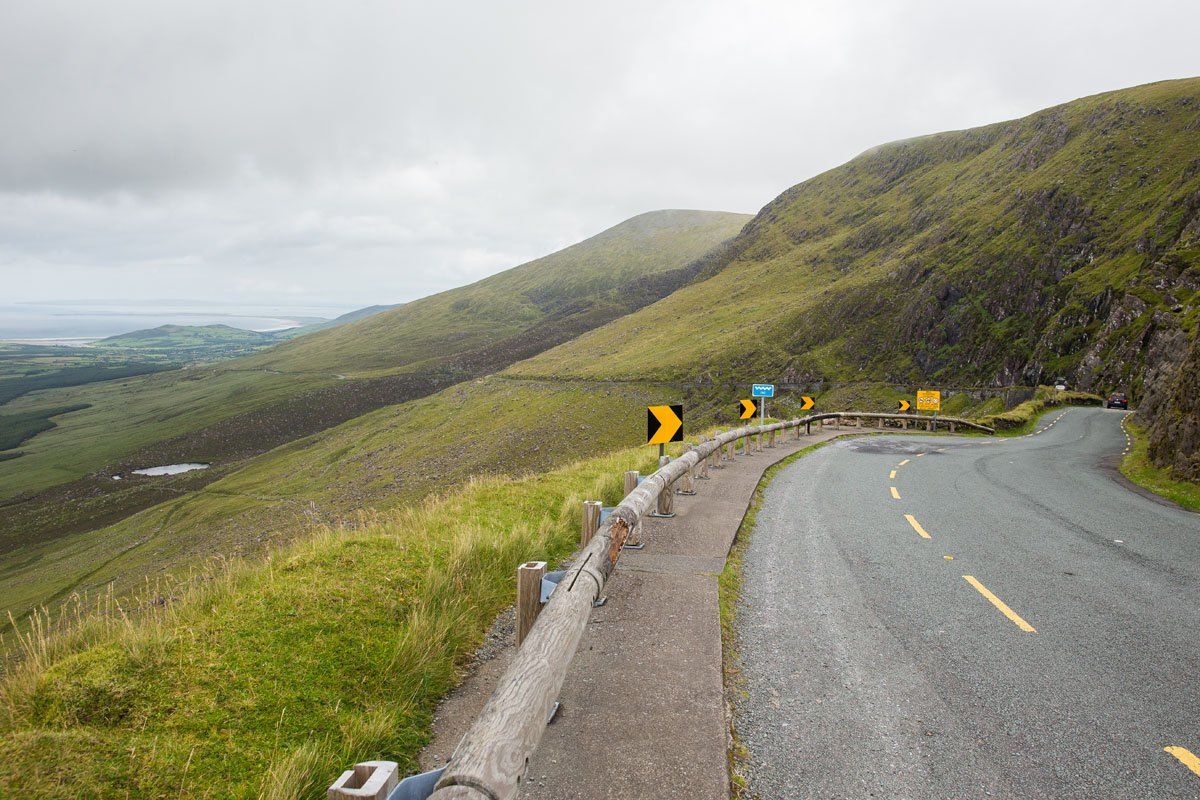 If you are short on time (or just want to skip right to the good stuff) see Inch Beach and then continue directly to Dingle. Yes, it was a nice drive to the northern coastline, but you haven't seen anything yet. It's about to get really good!
The Colorful Town of Dingle
Lovely little Dingle. This is one of Ireland's cutest and most colorful towns.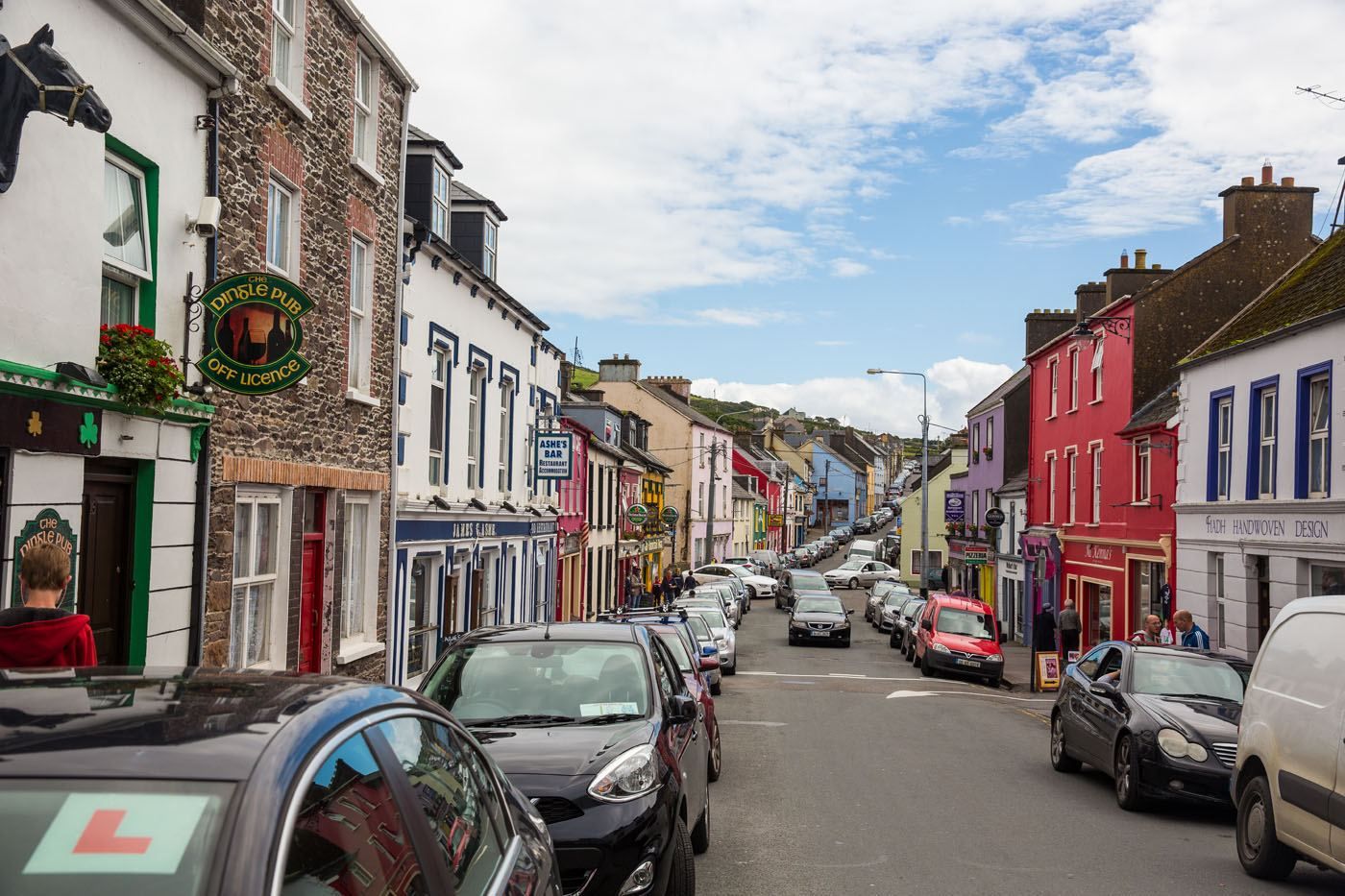 We arrived at lunchtime. There are lots of great restaurants to choose from. We picked the Dingle Pub because Tyler and Kara were starving and in no mood to go on a search for "the best restaurant." It was one of the first restaurants we walked by and that is how we made our decision. The food was decent. I ate fish and chips with a Guinness, two things I could not get enough of while in Ireland.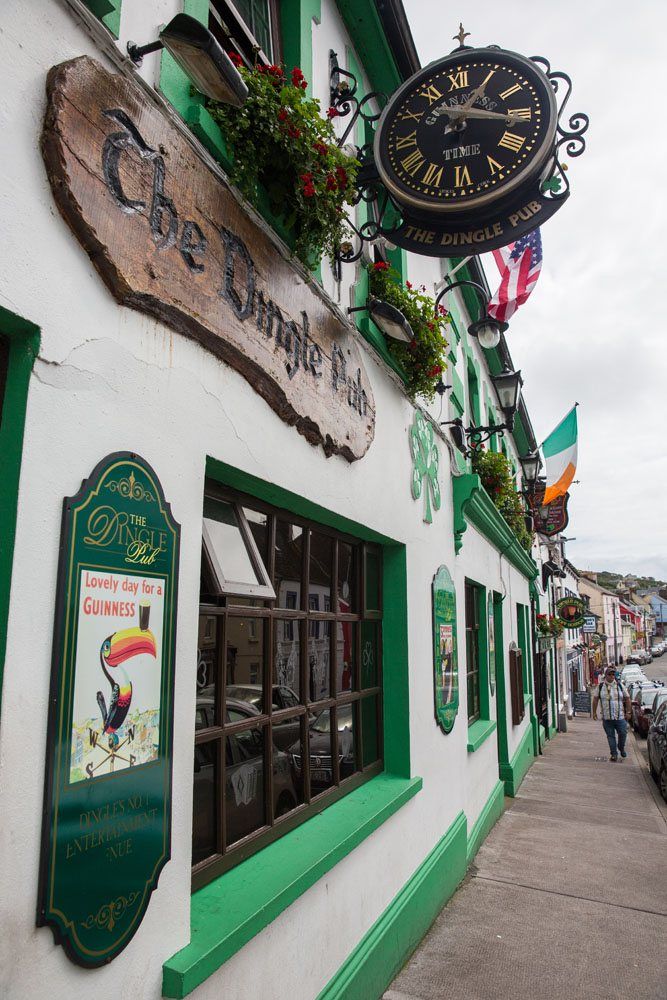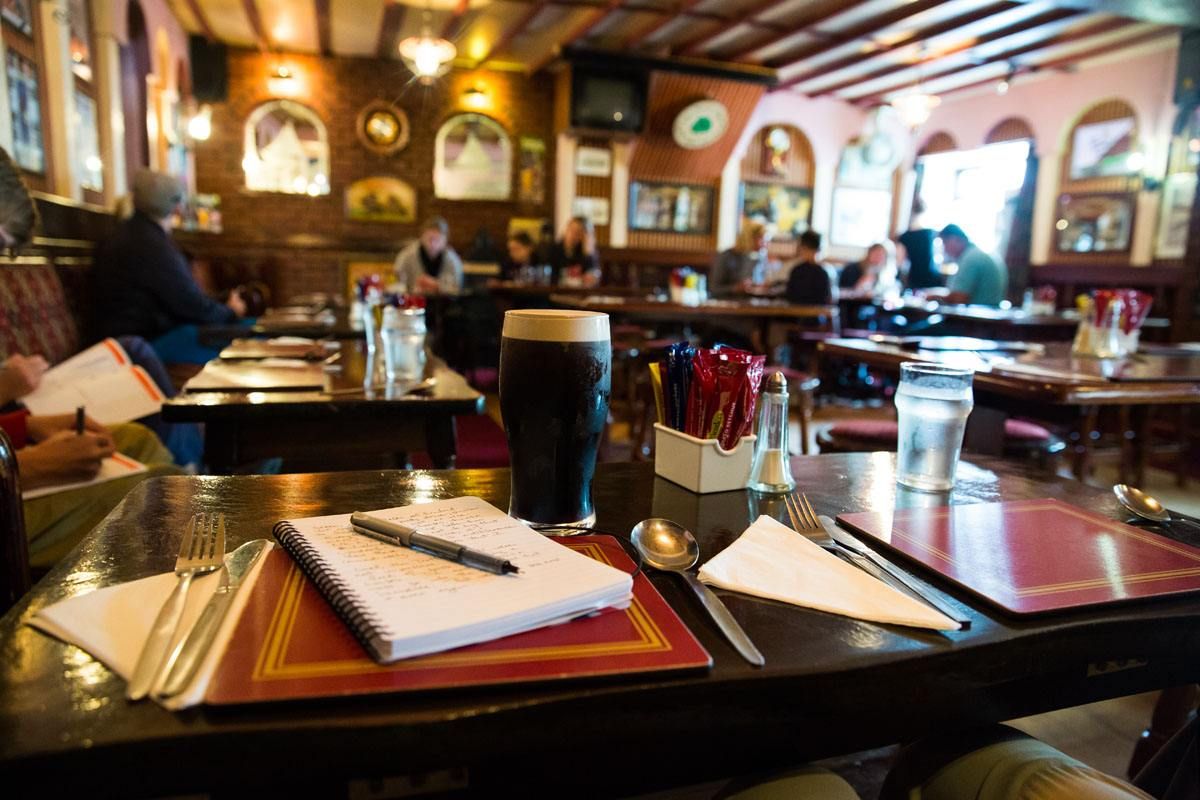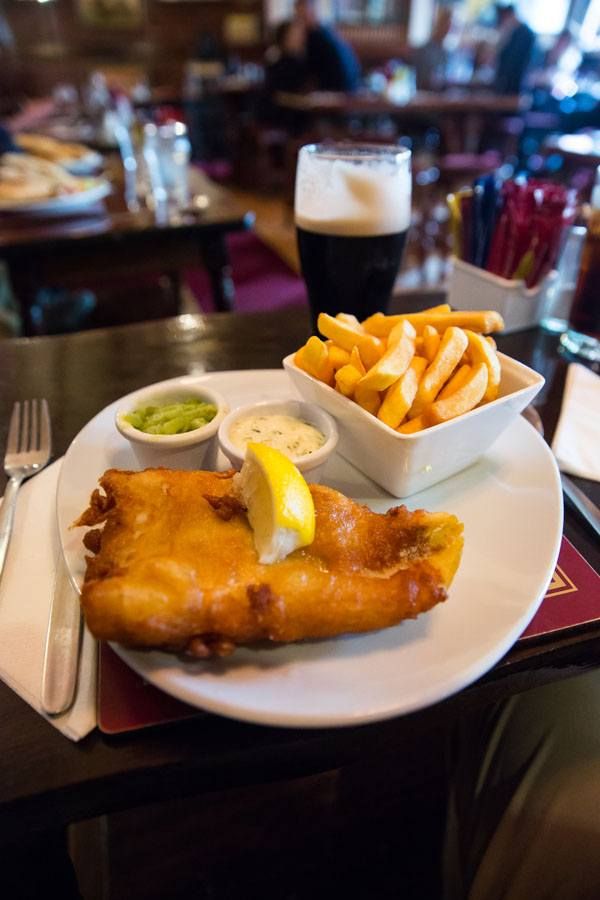 After lunch we strolled through Dingle. We highly recommend the ice cream at Murphy's!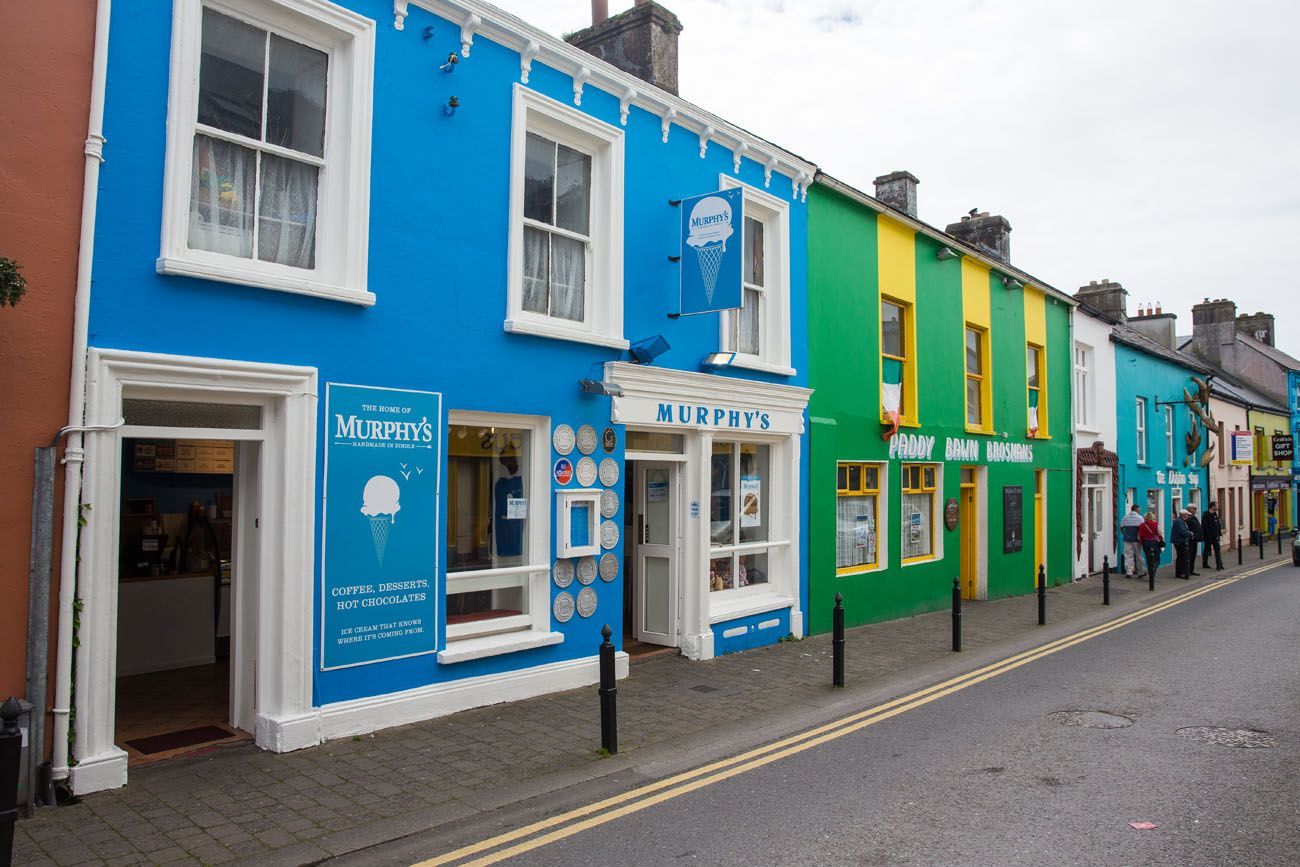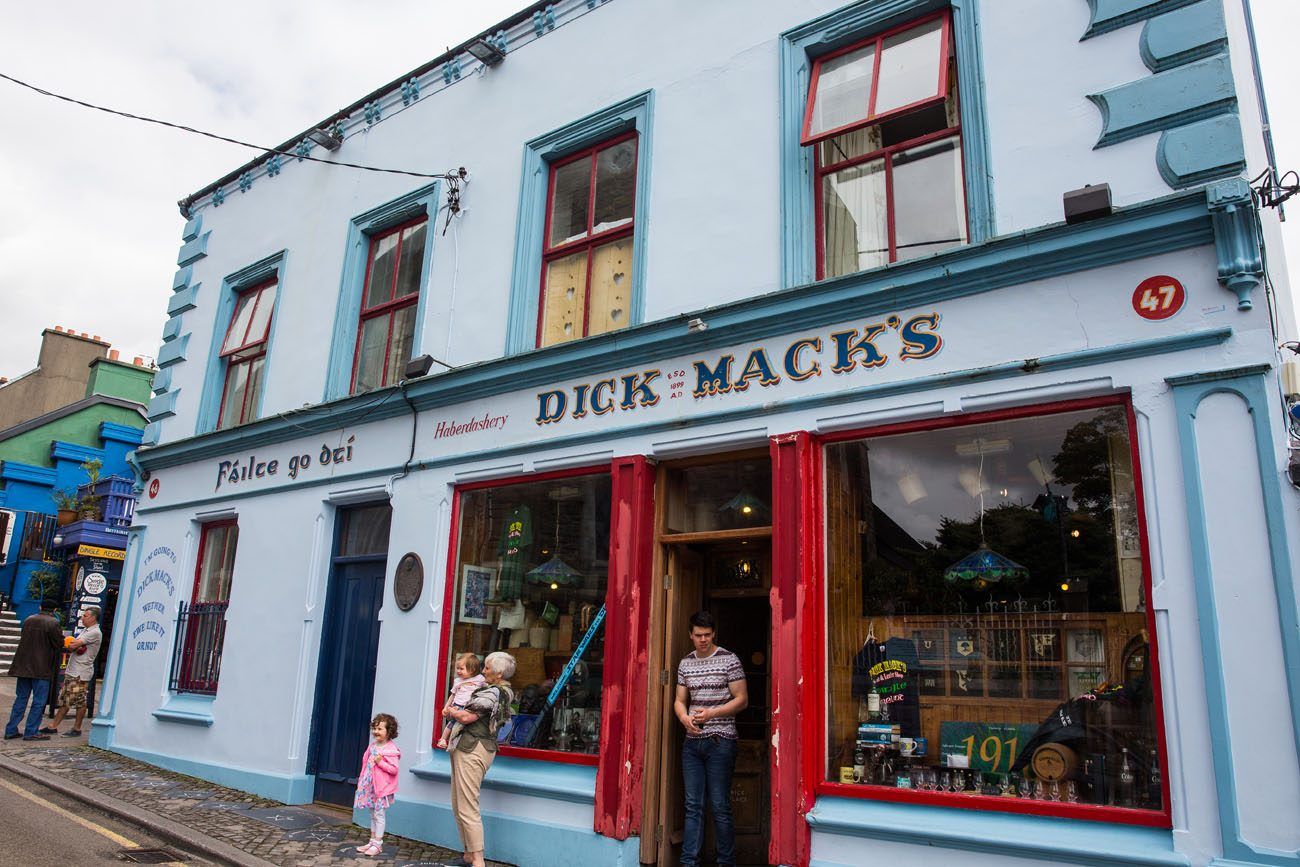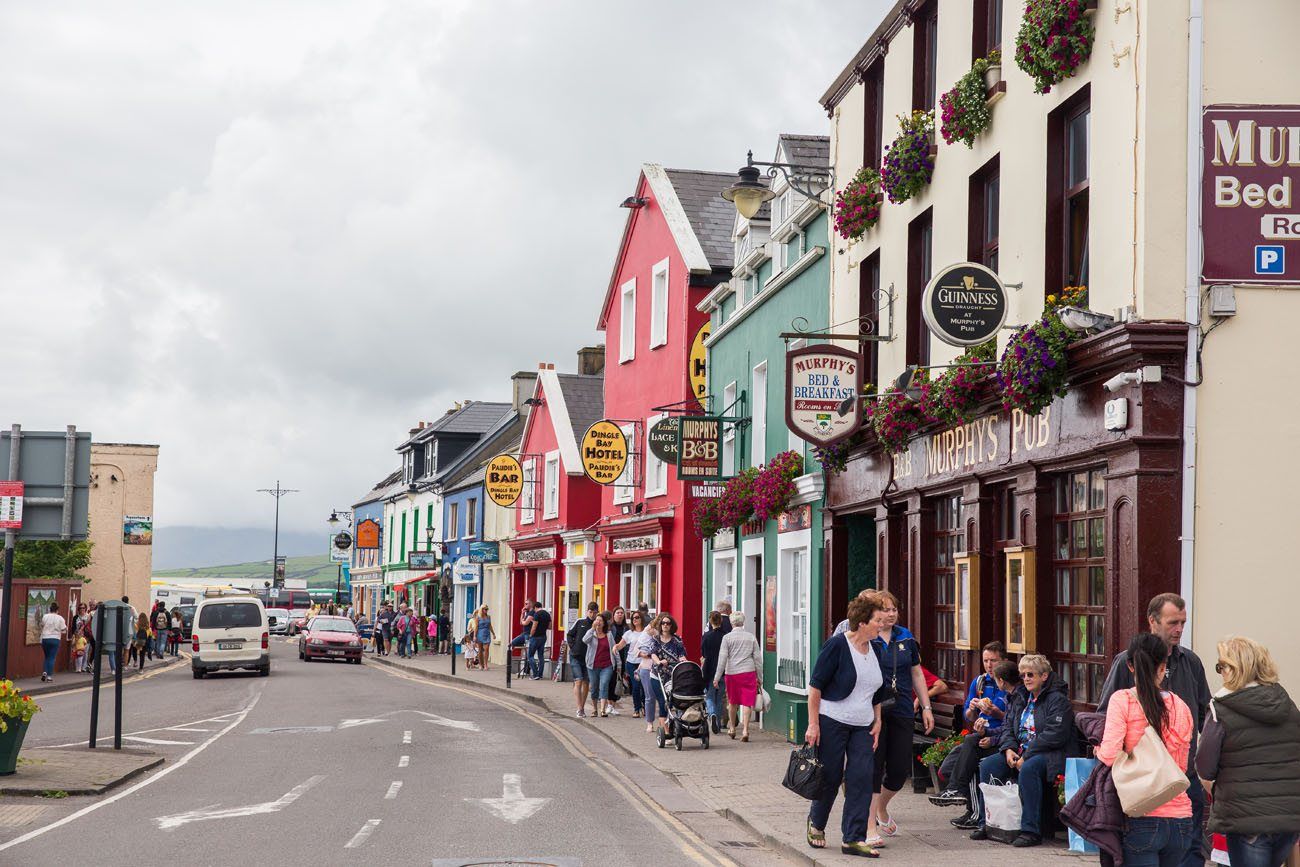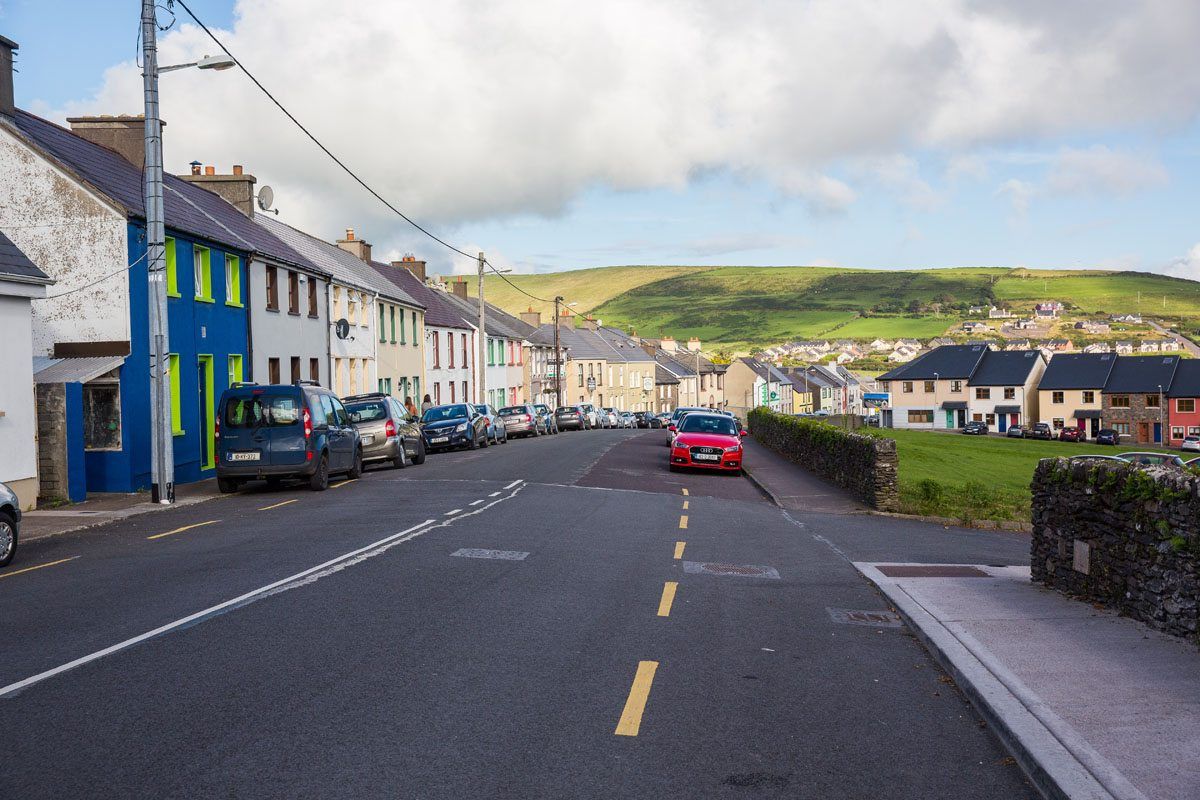 Slea Head Drive
This is the best part of the day. The coastal landscape here is stunning. There are also a bunch of historical sites to visit along the way, for those who are interested.
The entire Slea Head Loop is 30 miles. Expect the drive to take three or more hours, depending on how many places you stop to visit along the way.
From Dingle, follow signs for Slea Head Drive to the left. A few kilometers into the drive is a turn off for Eask Tower. From the road, it's a 45 minute hike up to the tower. From here, you will have views of Dingle and out to the Skellig islands.
As you continue clockwise on Slea Head Drive, you will come to some historical sites. There is an old cottage that was abandoned 165 years ago during the famine. There is also a collection of beehive huts, stone dwellings dating back to ancient times.
It was from this spot that we had our first awesome view of the coastline. Tyler flew the drone while I took photos. Tyler's drone photos (and video) from here are spectacular!
From the sky: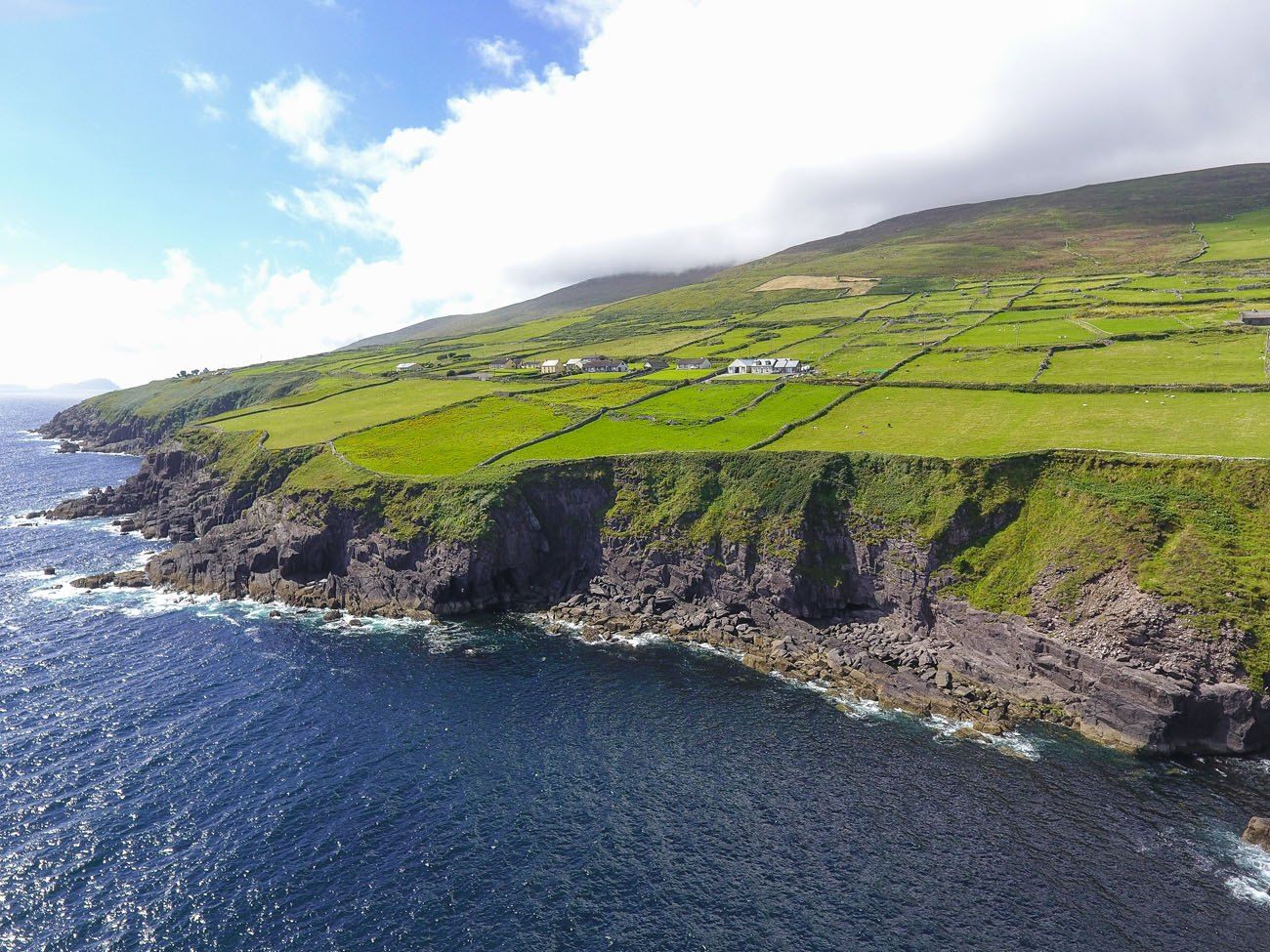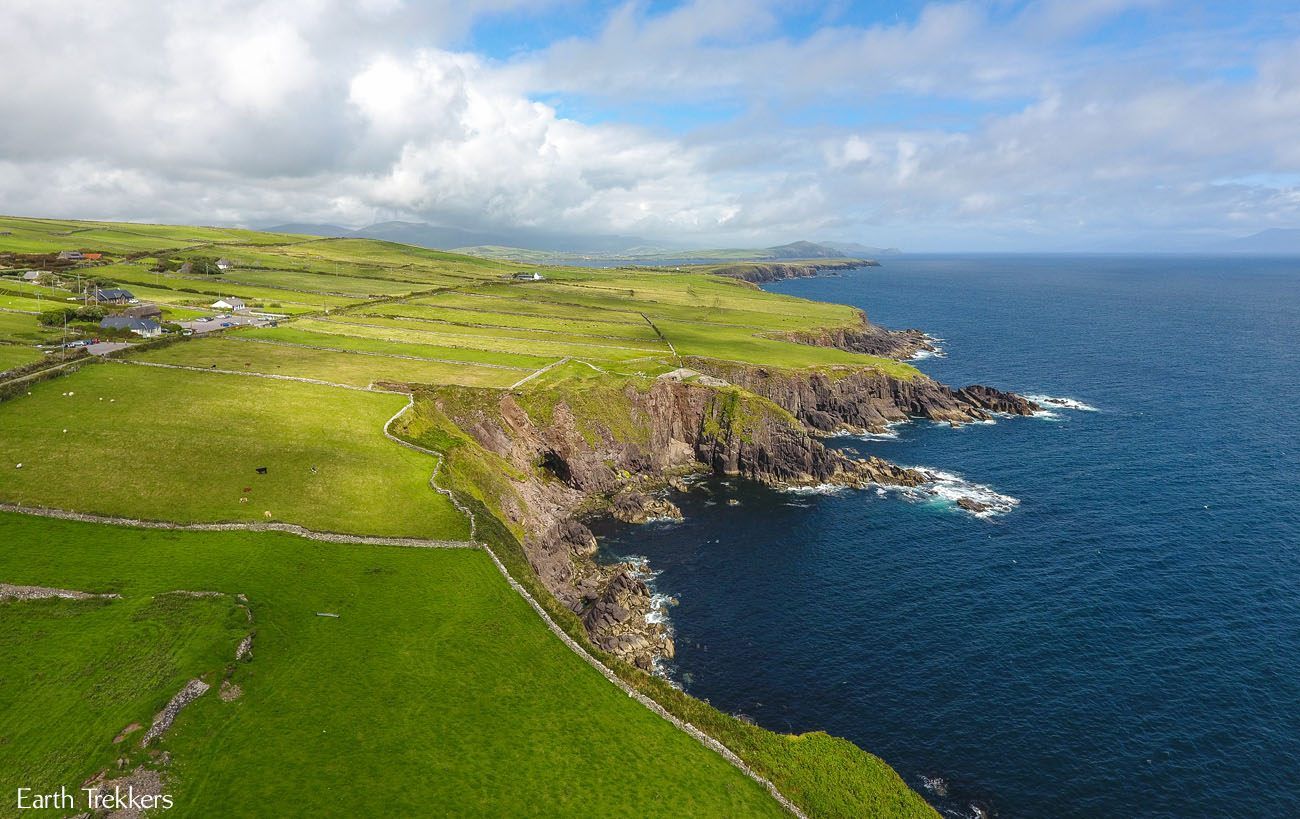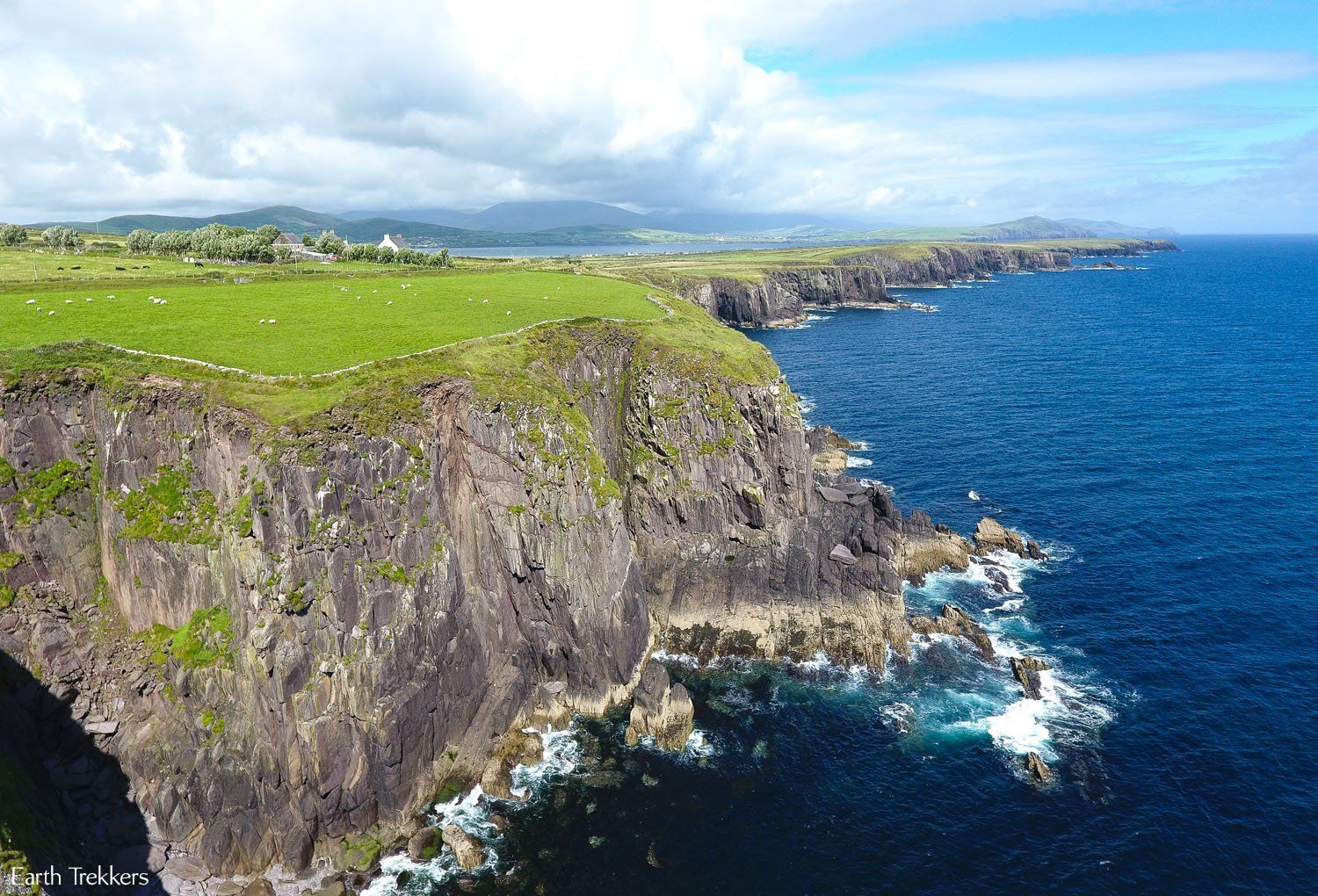 From land: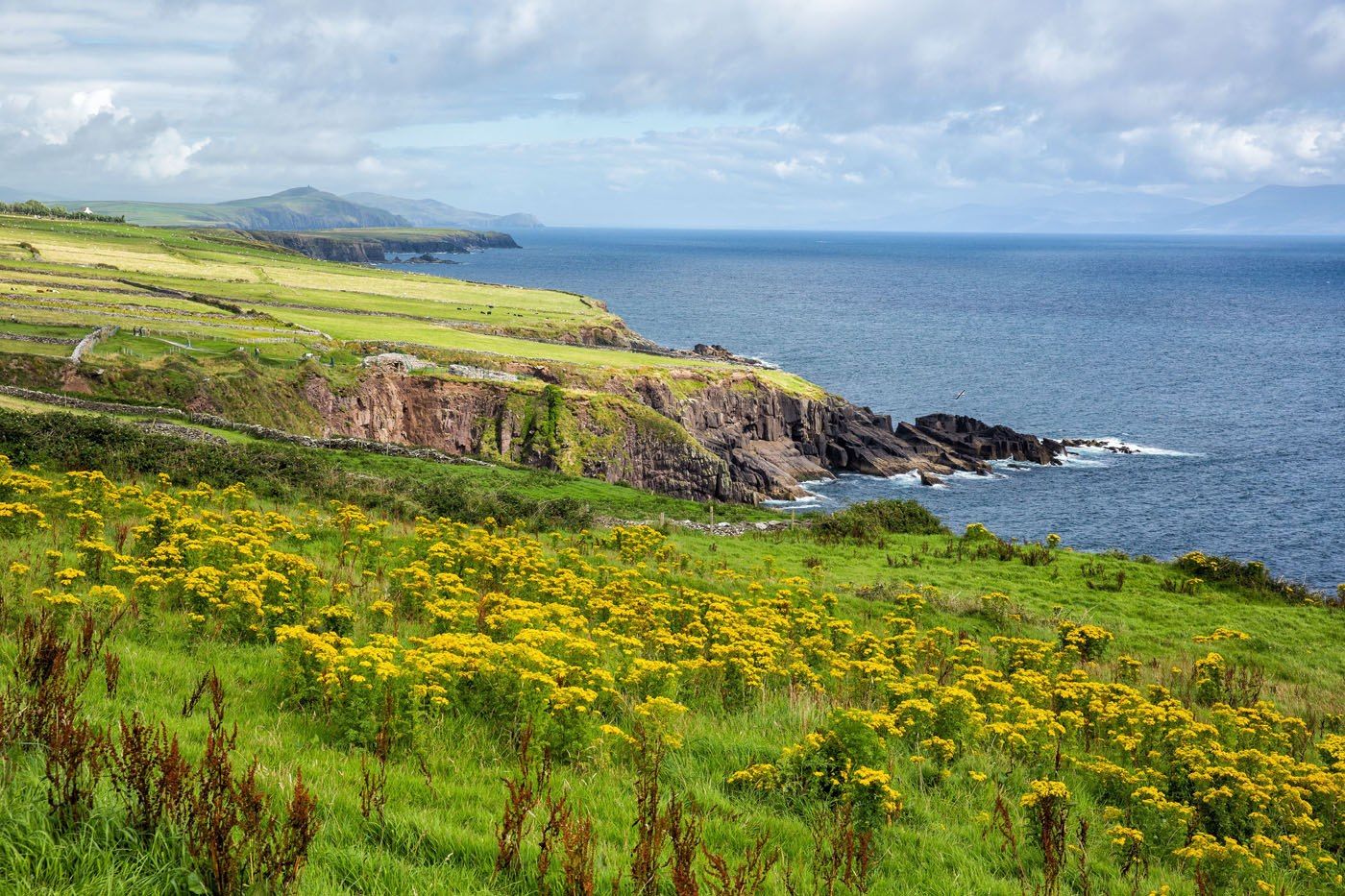 This is Slea Head Drive as you approach the westernmost point of the peninsula.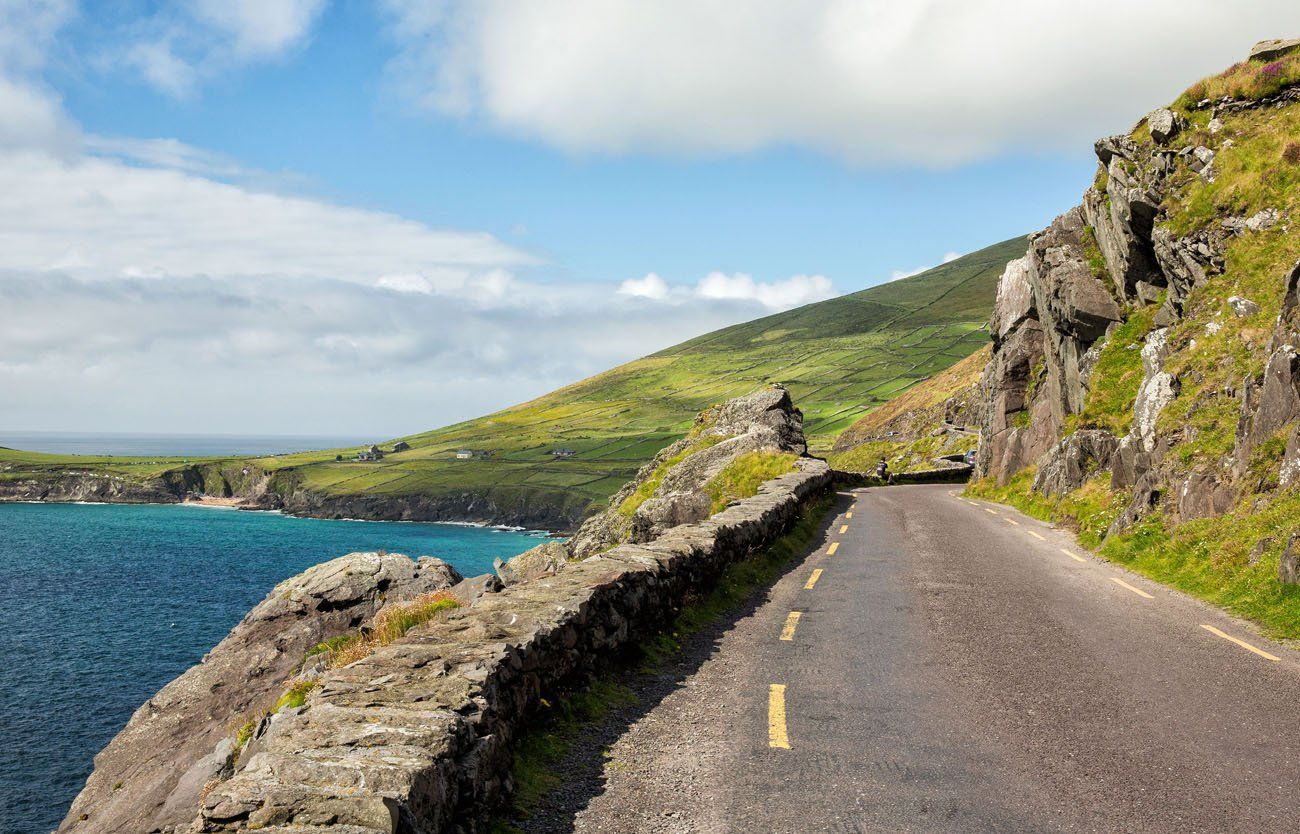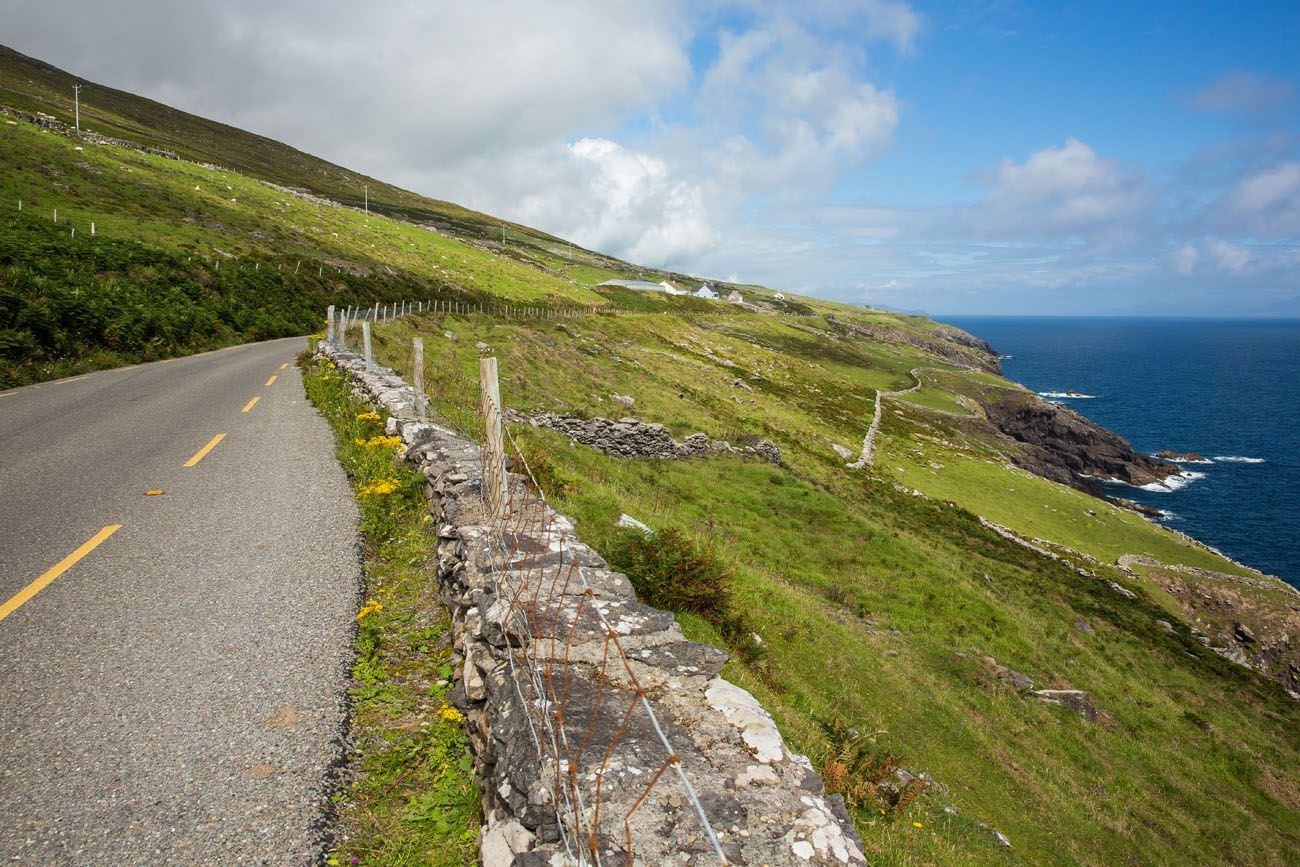 Coumeenoole Beach
Make a quick stop at Coumeenoole Beach for views of a beautiful beach and the rugged coastline. We missed this but judging from the photos I have seen online it is worth the stop.
Blasket Islands
For more amazing views, pull into the parking lot labeled Dun Chaoin. From here you can see the Blasket Islands, the westernmost point in Europe.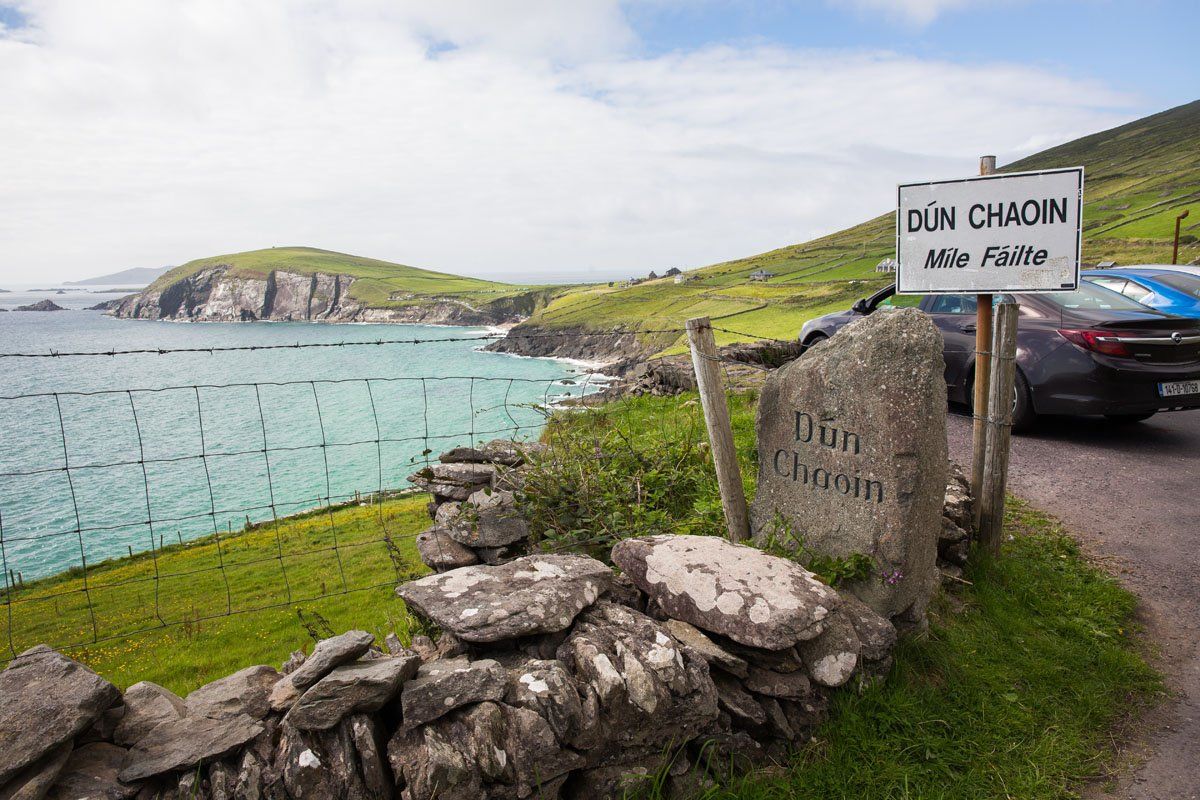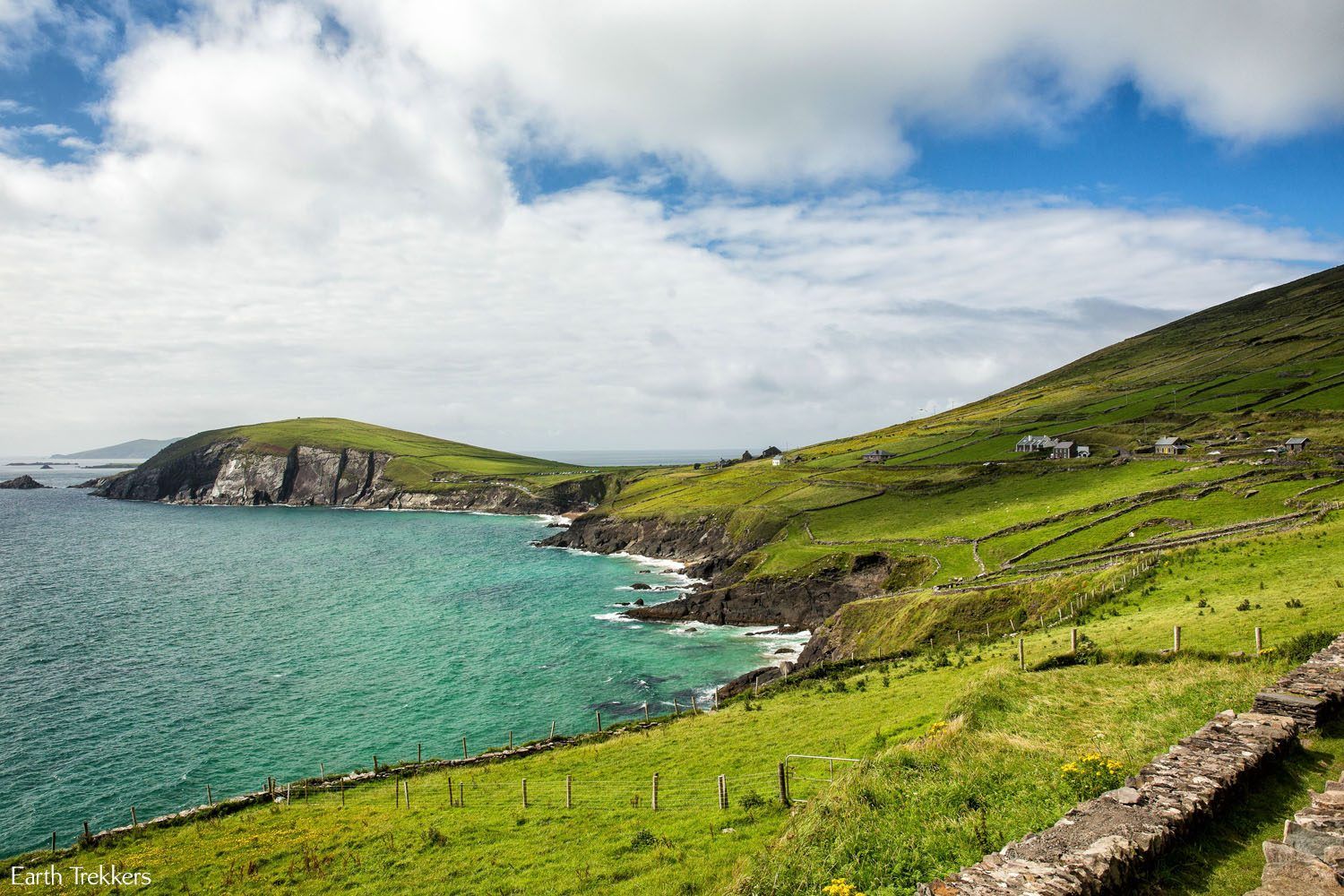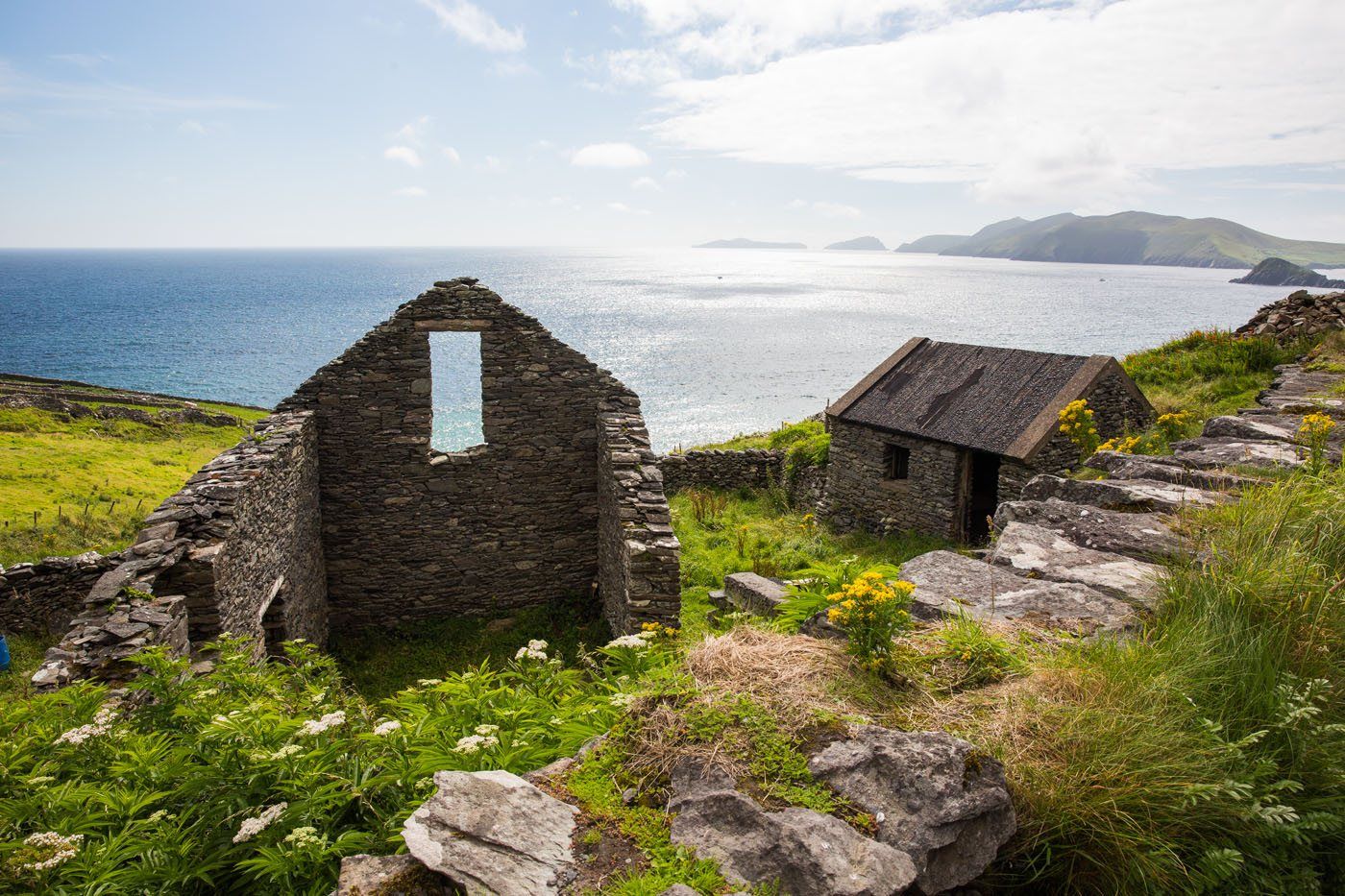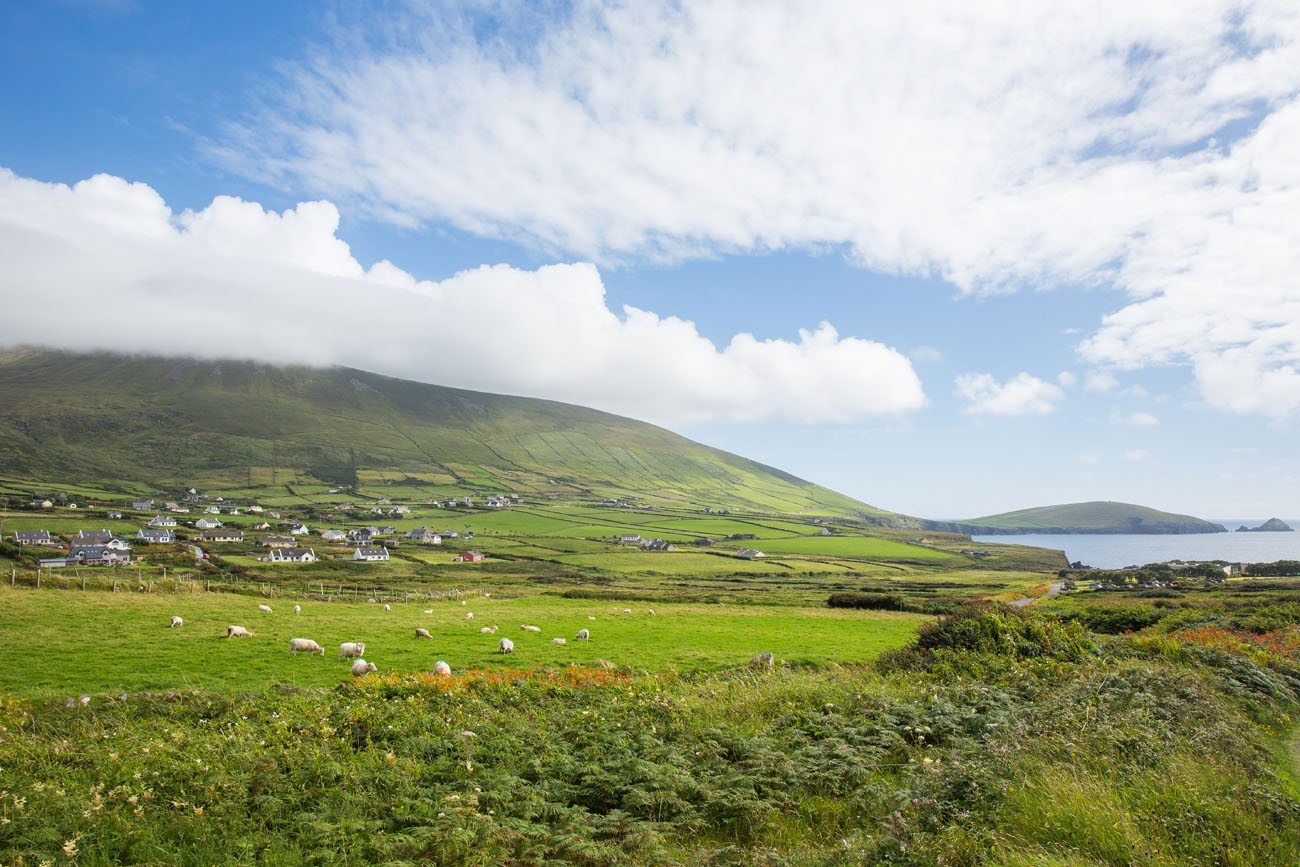 Clogher Head
Approximately 7 km later, park at the car park on the side of the road. It is a 10 to 15 minute walk up to the top of Clogher Head for more spectacular views.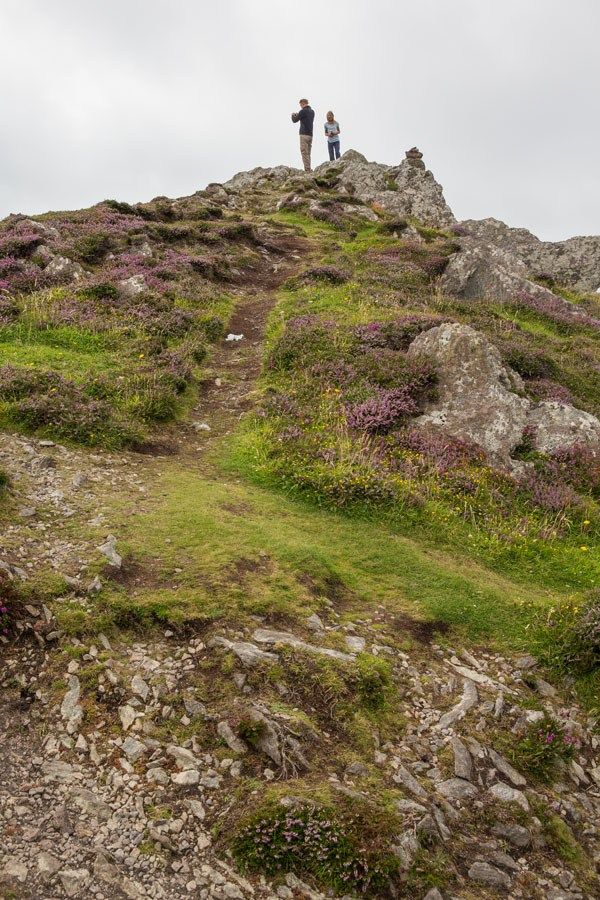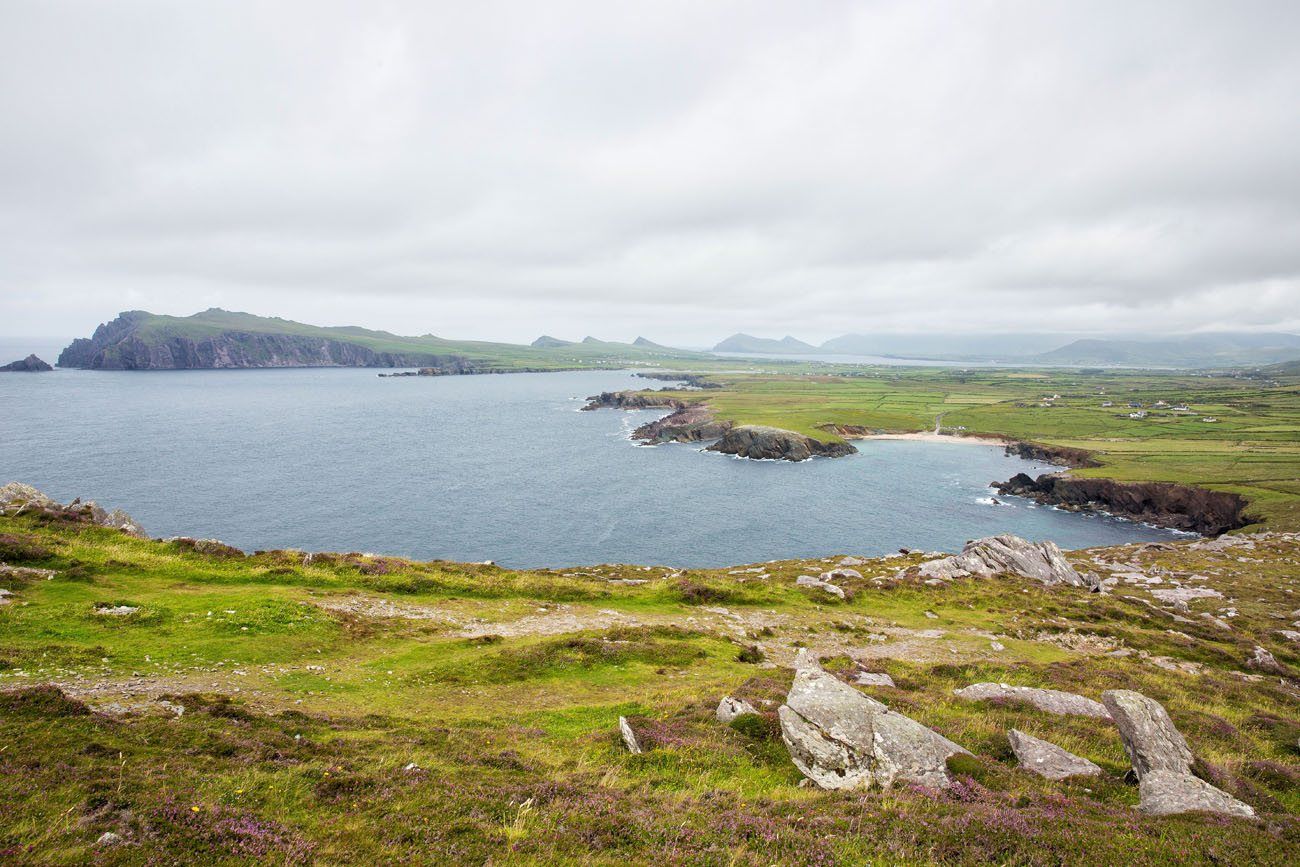 Rumor has it that this was the filming location for the Star Wars: The Last Jedi. Originally, filming took place on Skellig Michael island. Concerns about endangering the nesting sites of the birds on Skellig Michael forced producers to change locations. A replica of the beehive huts on Skellig Michael were constructed on the edge of these cliffs during the filming of the movie.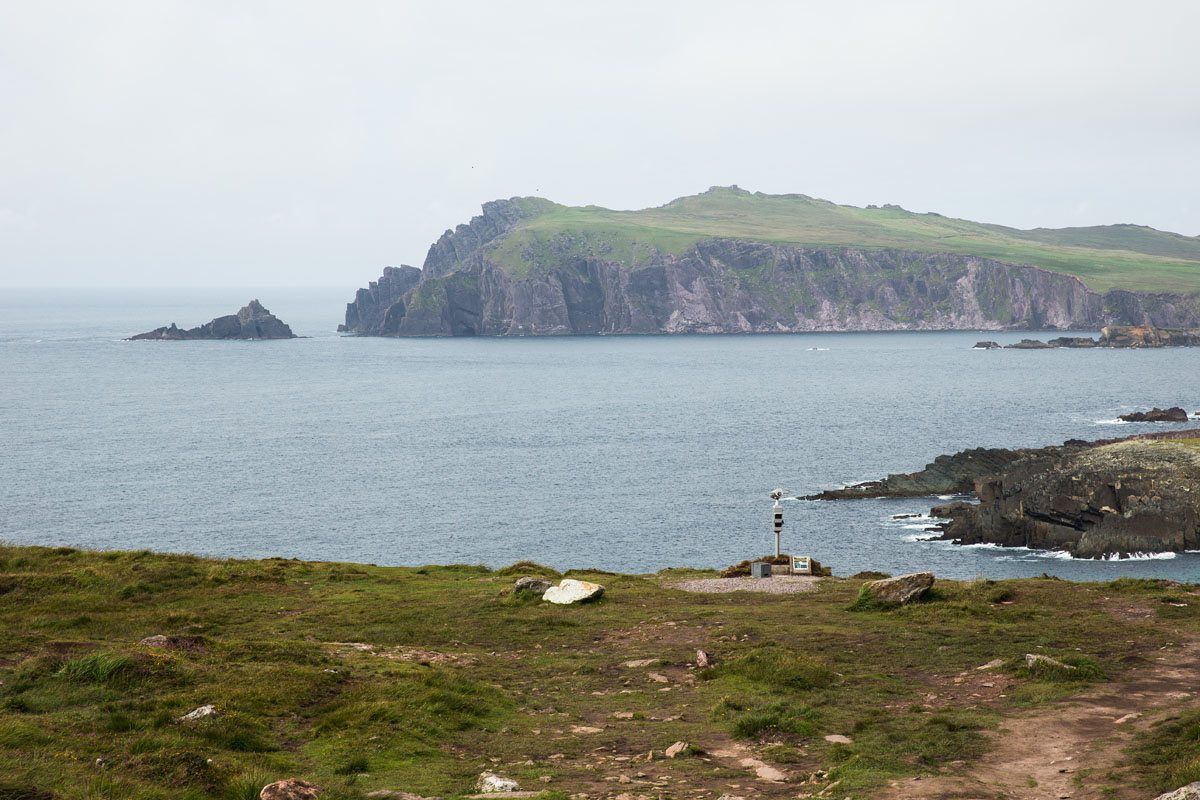 Continue on to Ballyferriter. You have the option to visit the Gallarus Oratory, a stone, Christian church built 1,300 years ago. Then, continue back to Dingle and then on to your hotel.
Ring of Kerry or Dingle Peninsula?
If you only have time for one scenic drive, the Dingle Peninsula is the clear winner. In our opinion, the scenery was more breathtaking and the roads were less crowded than the more popular Ring of Kerry.
Where We Stayed
We stayed in Killarney at the Gleann Fia Country House and we highly recommend this B&B. We had a huge family room, Tyler and Kara loved playing Monopoly in the conservatory each night, and being located just outside of town, it was very easy to get to by car.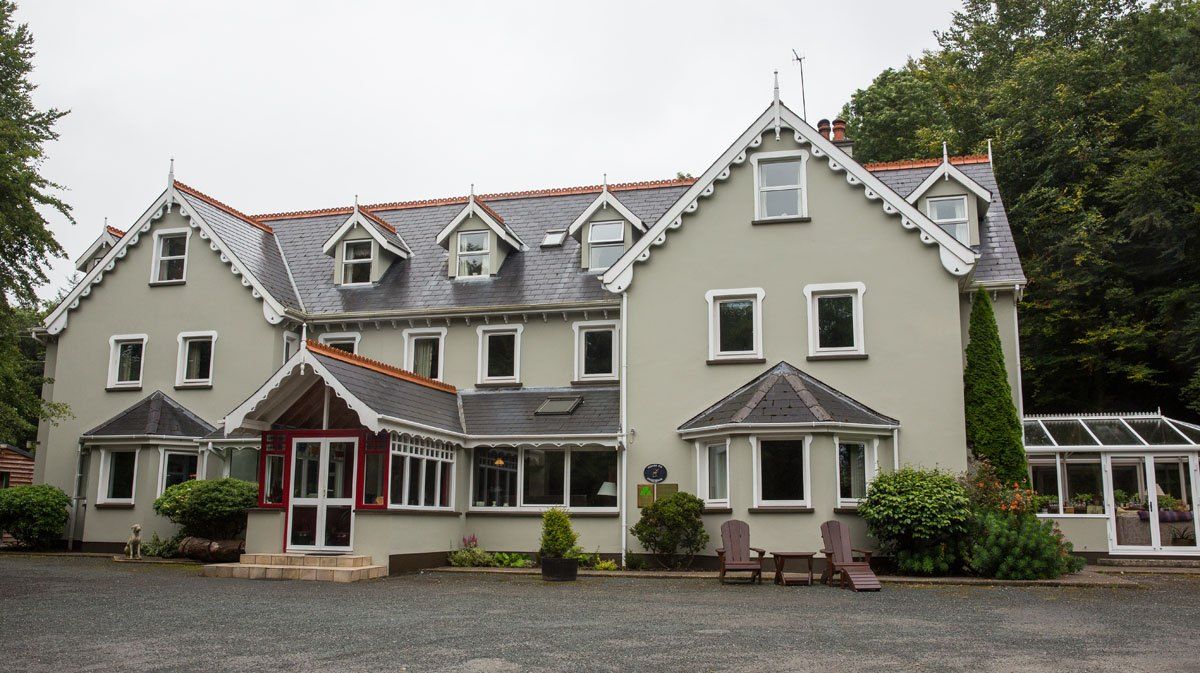 ---
More Information about Ireland
IRELAND ITINERARY: In 10 days, you can go on a road trip through Ireland and Northern Ireland, visiting the highlights. Get the full details in our 10 Day Ireland Itinerary.
BEST OF IRELAND: For a list of top experiences in Ireland, read our post Best Things to Do in Ireland. Walk the Cliffs of Moher, drive the Ring of Kerry, and visit Dublin.
NORTHERN IRELAND: Northern Ireland was a big filming site for Game of Thrones, but there are some things to know before you go. The Giant's Causeway is one of our favorite places in Ireland and worth the time to get here.
EUROPE TRAVEL INSPIRATION: For more great ideas on where to go in Europe, check out our article 30 Beautiful Places to Visit in Europe and the 20 Best Hikes in Europe. You can also get more travel ideas in our 10 Days in Europe itinerary guide, which has 10 great itineraries for your next trip to Europe.
DRIVING IN EUROPE: If you have plans to rent a car in Europe, read our article Things to Know Before Renting a Car in Europe for lots of helpful tips.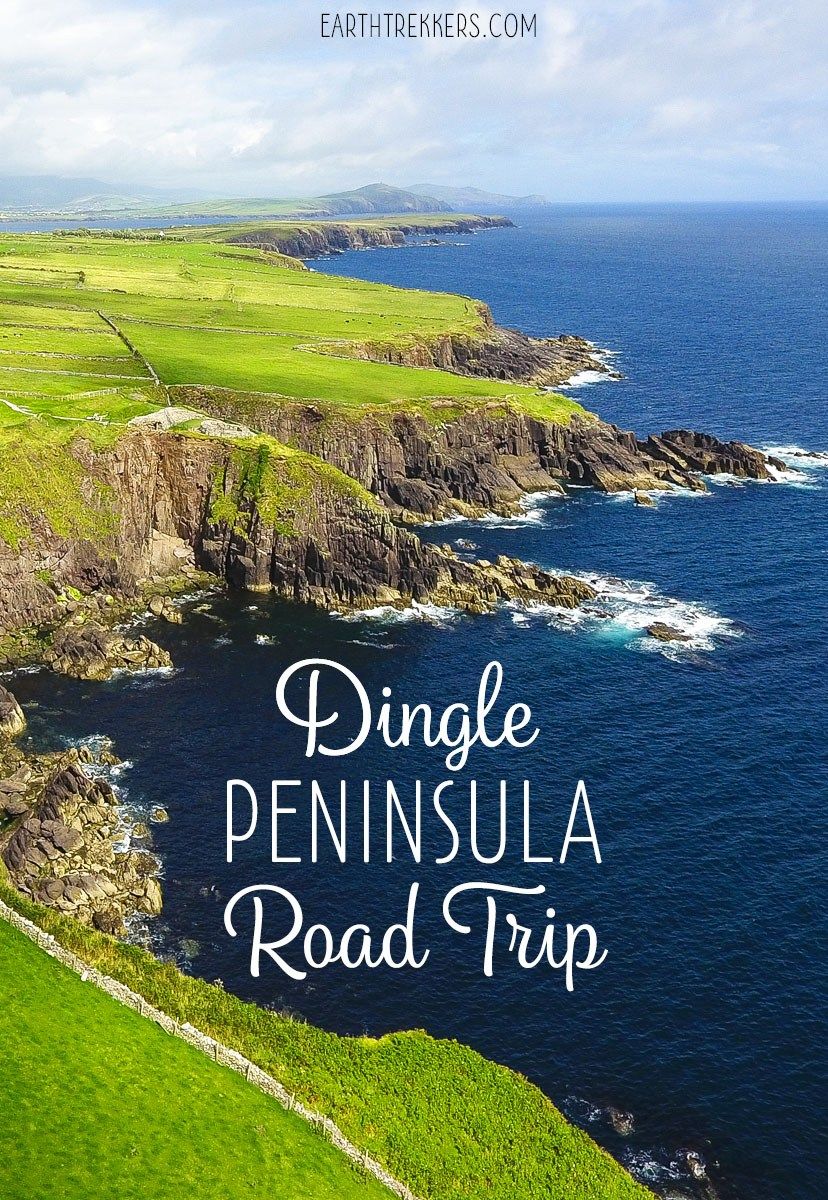 Note: This post contains affiliate links. When you make a purchase using one of these affiliate links, we get paid a small commission at no extra cost to you.
All rights reserved © Earth Trekkers. Republishing this article and/or any of its contents (text, photography, etc.), in whole or in part, is strictly prohibited.