Skellig Michael is a rugged, remote island located just off the western coast of Ireland. Those who travel here rave about it. Not only is Skellig Michael a beautiful, off the beaten path excursion in Ireland, it was also a filming sight for Star Wars: A Force Awakens. Visitors arrive by the hundreds to visit this island.
We wanted to visit Skellig Michael not so much because it was a Star Wars filming location, but to visit some place unique, a destination that seemed remote and unheard of. Really, we just wanted to explore those stone pathways and have those awesome views featured in the movie.
We are not the only ones who added Skellig Michael to their traveling wish list after watching Star Wars. Just a few years ago, Skellig Michael was a little known travel destination. Sure, there were tours out to the island, but only handfuls of travelers in the know were making the journey.
How things have changed.
Getting a ticket to land on Skellig Michael is much more difficult nowadays. Skellig Michael is a UNESCO World Heritage Site, so the number of people able to land on the island everyday is limited. In fact, only 180 people per day are allowed to step foot onto the island.
Also, there are just a handful of boats that make the journey out to Skellig Michael.
If you are interested in visiting Skellig Michael, you must book your tickets well in advance.
How far in advance? Four weeks before you travel, at a minimum. Even then, you may not get a ticket.
Even if you do reserve a seat, there is still no guarantee that you will go to Skellig Michael. Storms and high winds frequently cancel the excursions for the day. On average, boats will sail 5 out of 7 days for Skellig Michael.
How to Visit Skellig Michael
Our Experience
We booked our tickets a month before our trip and kept our fingers crossed for good weather.
But this is Ireland. It rained all but one day we were in this country. The day before our trip out to Skellig Michael, high winds and storm-like conditions cancelled all excursions for the day. We went to bed the night before our trip, very uncertain if we would be able to make landfall on Skellig Michael.
Luck was on our side. We awoke to clear skies in the morning. It was still windy but boats were sailing today. How fortunate we felt!
Crossing the Rough Sea
So, at 9 am, we boarded the Celtic Victor with 8 other passengers. Dan and Donal McCrohan, a father son team, were our boat operators. We donned life vests, took our seats, and set sail for Skellig Michael.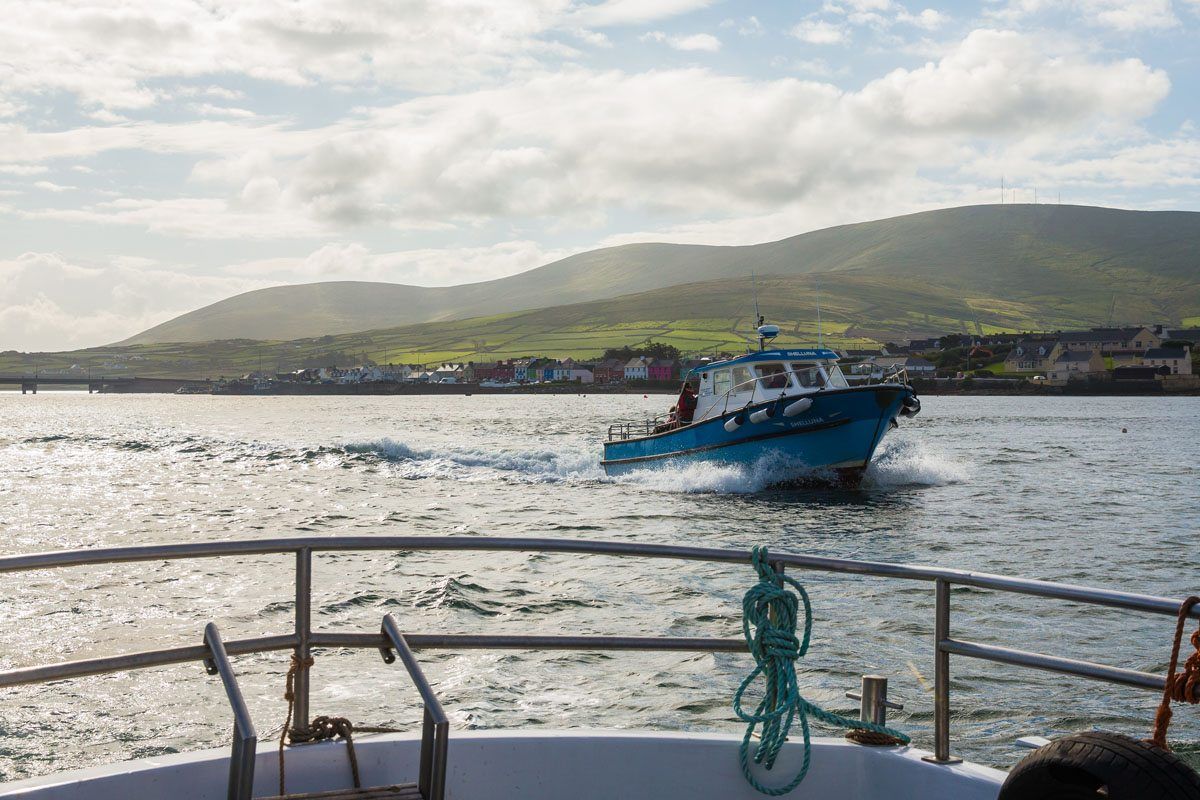 It takes one hour to cross the seven miles between the mainland and Skellig Michael. The seas can be very rough, even in the best of conditions. One passenger on our boat was seasick, not an uncommon occurrence during this rough ocean passage.
The most dangerous part of the excursion is exiting and re-entering the boat. Swells from the ocean rock the boat, causing a very unsteady landing on shore. If it has been raining, the landing platform will be slick, like stepping out onto an ice rink. Despite the high winds and large swells today, it seemed rather easy for the 12 of us to disembark onto the island.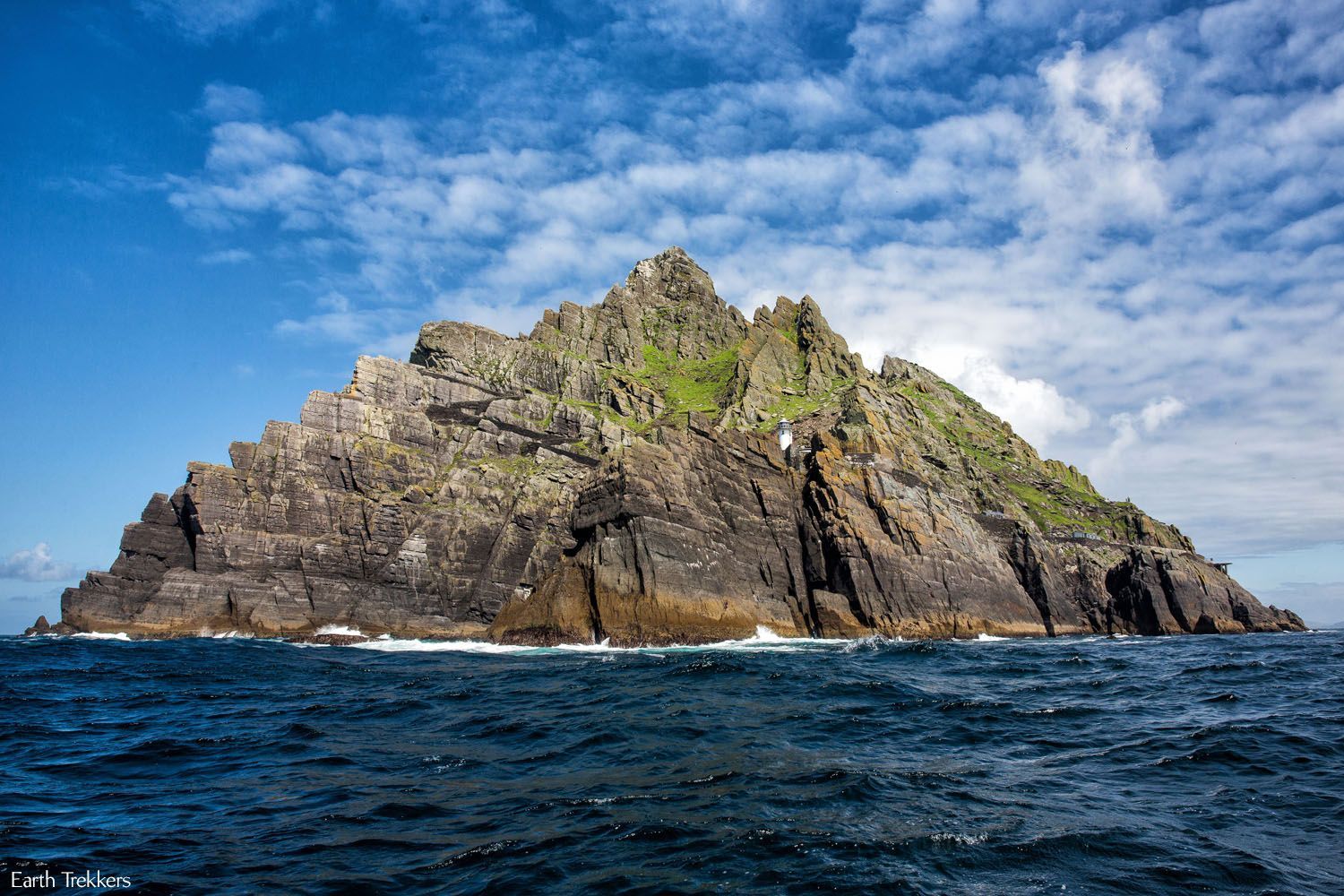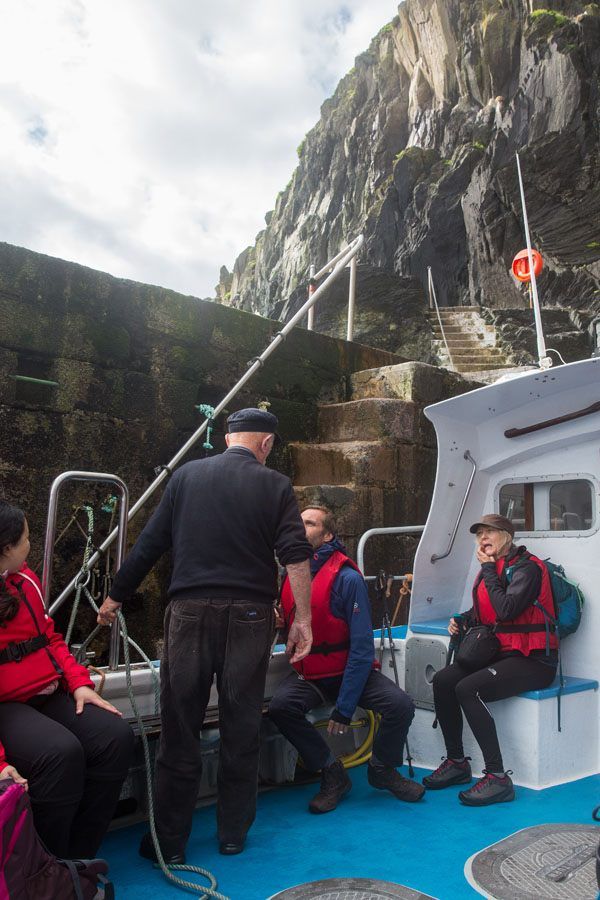 Exploring Skellig Michael
Once on Skellig Michael, visitors have 2.5 hours to tour the island. There is only one way up to the monastery (that visitors are allowed to use). Guides are stationed along the path, both to keep visitors safe and to teach visitors about the history of the island.
Heed the safety warnings. Two visitors got too close to the edge and fell to their deaths.
In the span of an hour, 180 visitors are unloaded onto the island. 180 people may not sound like much, but this is a small island, and we were always in the company of other visitors. The congestion on the paths took away from some of the magic and the appeal of this place.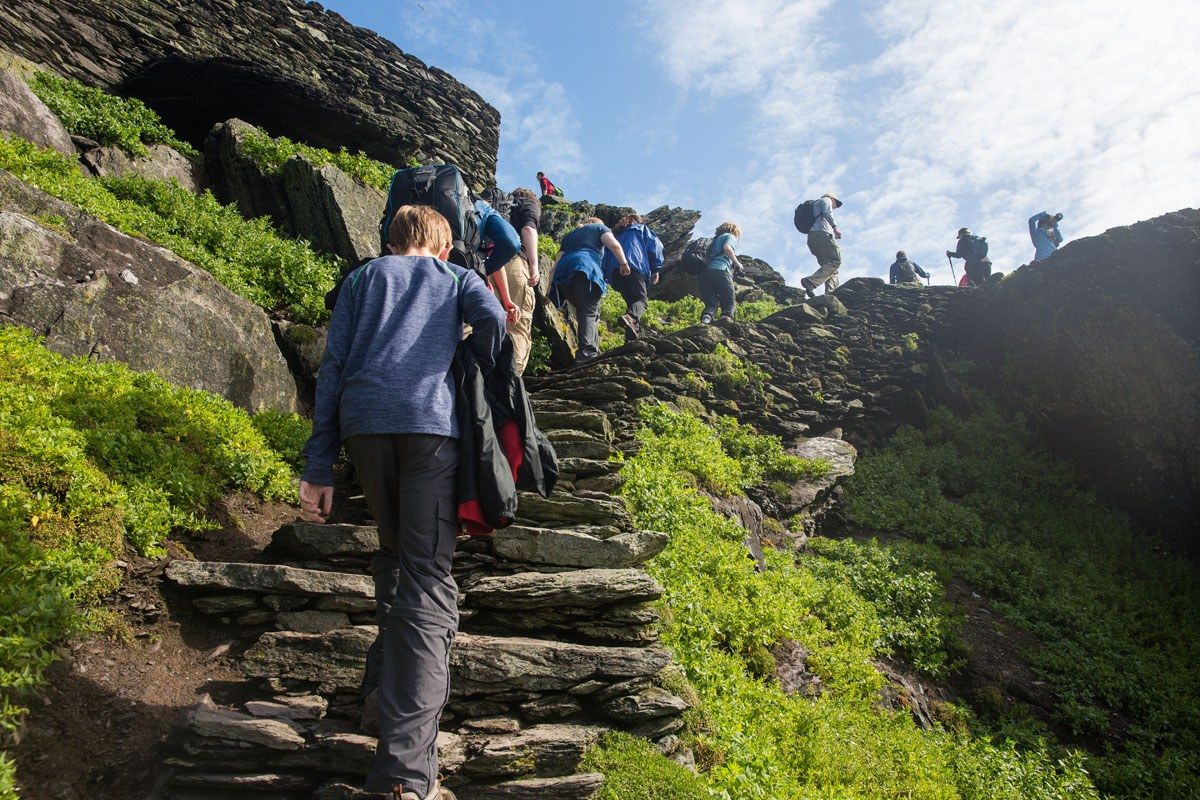 Visitors climb over 600 steps to reach the summit of the island. The steps are steep, uneven, and some pathways are narrow. The further you climb, the better the view.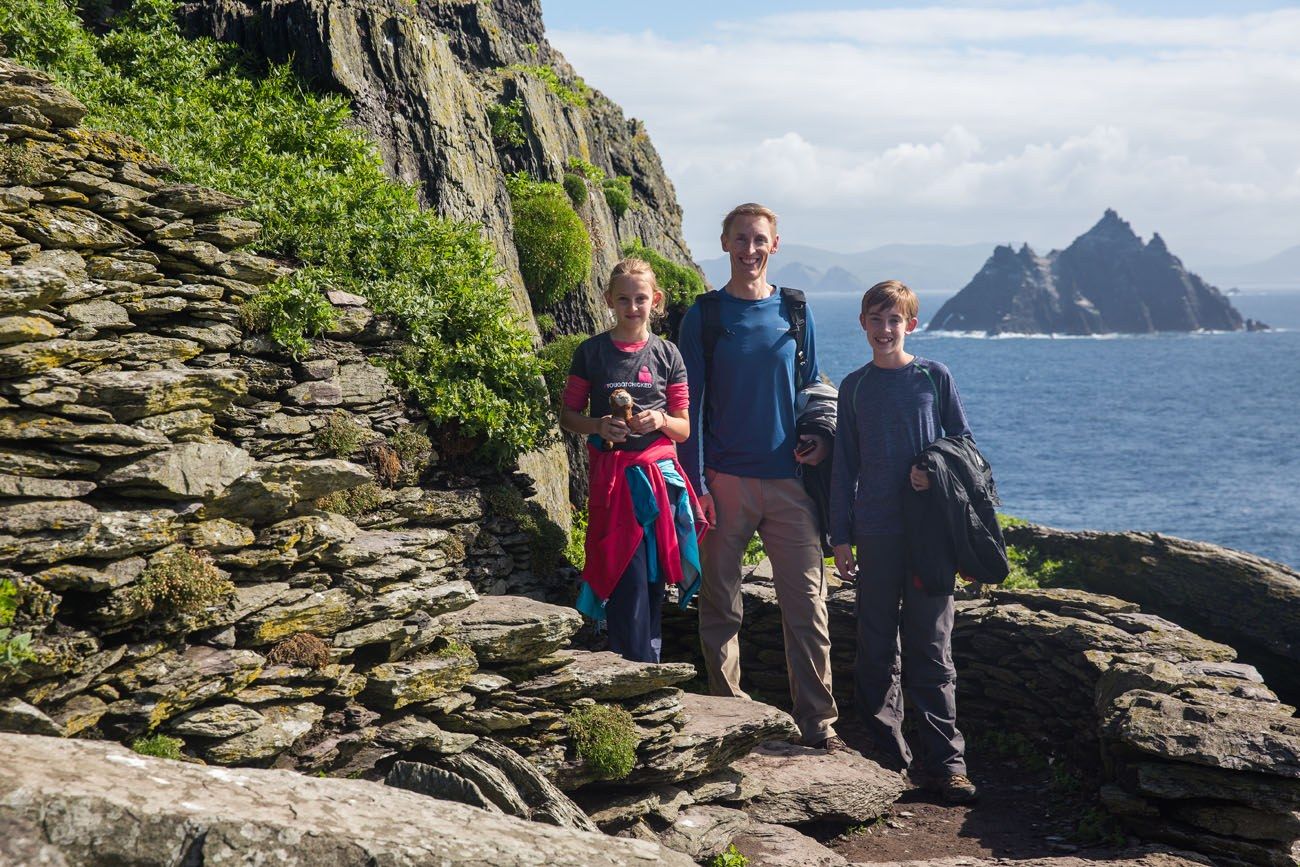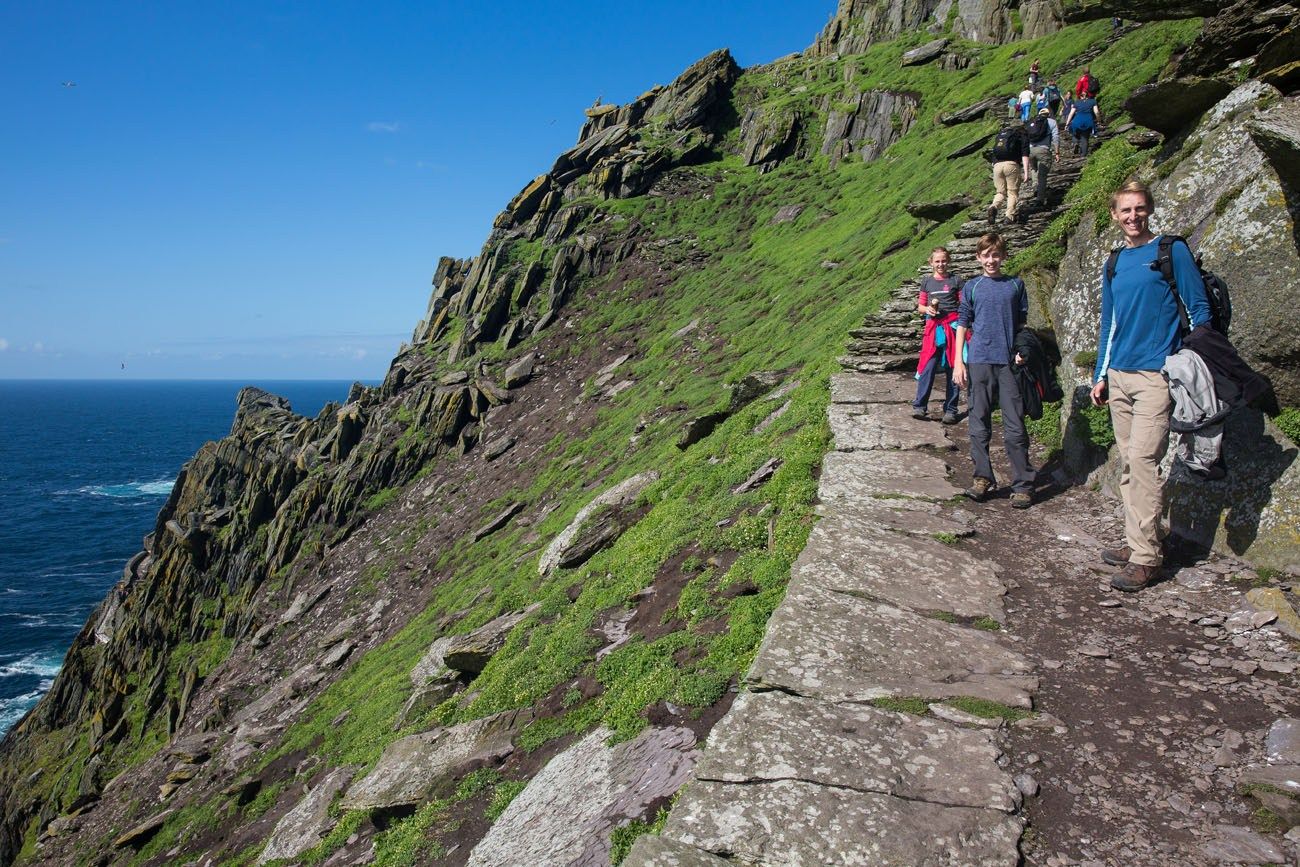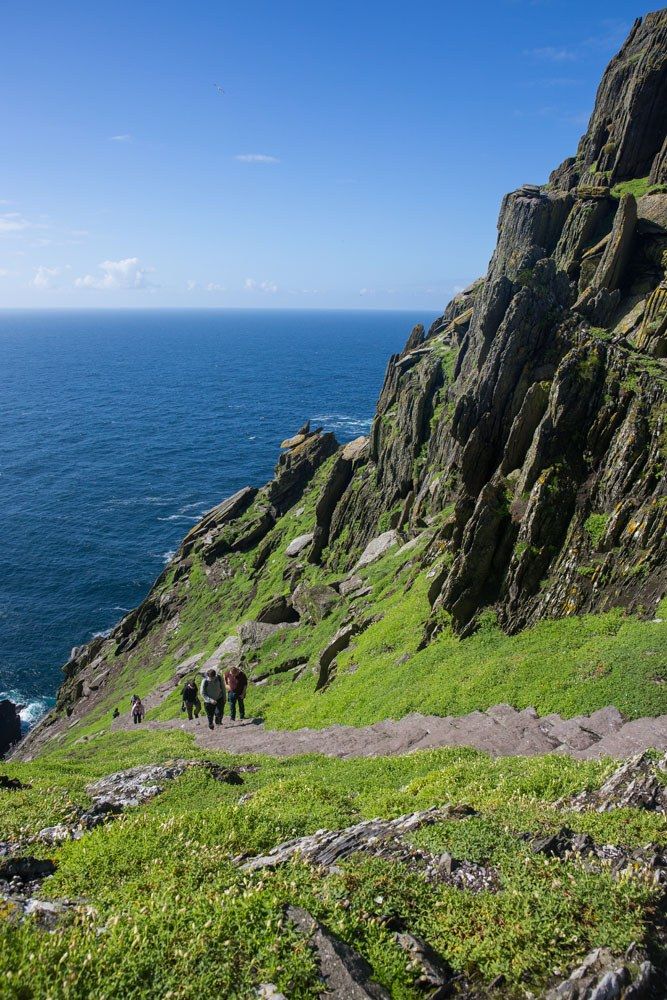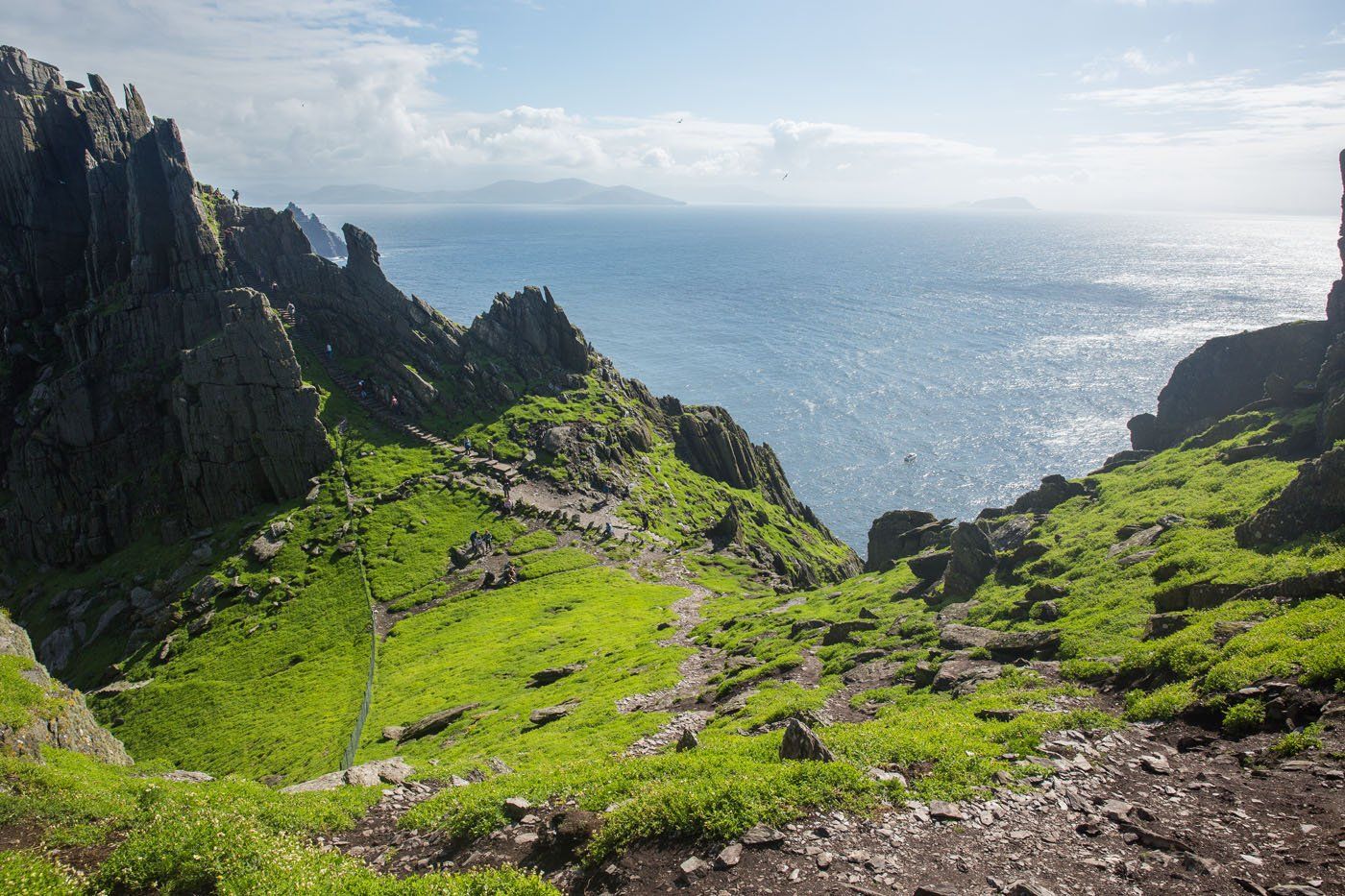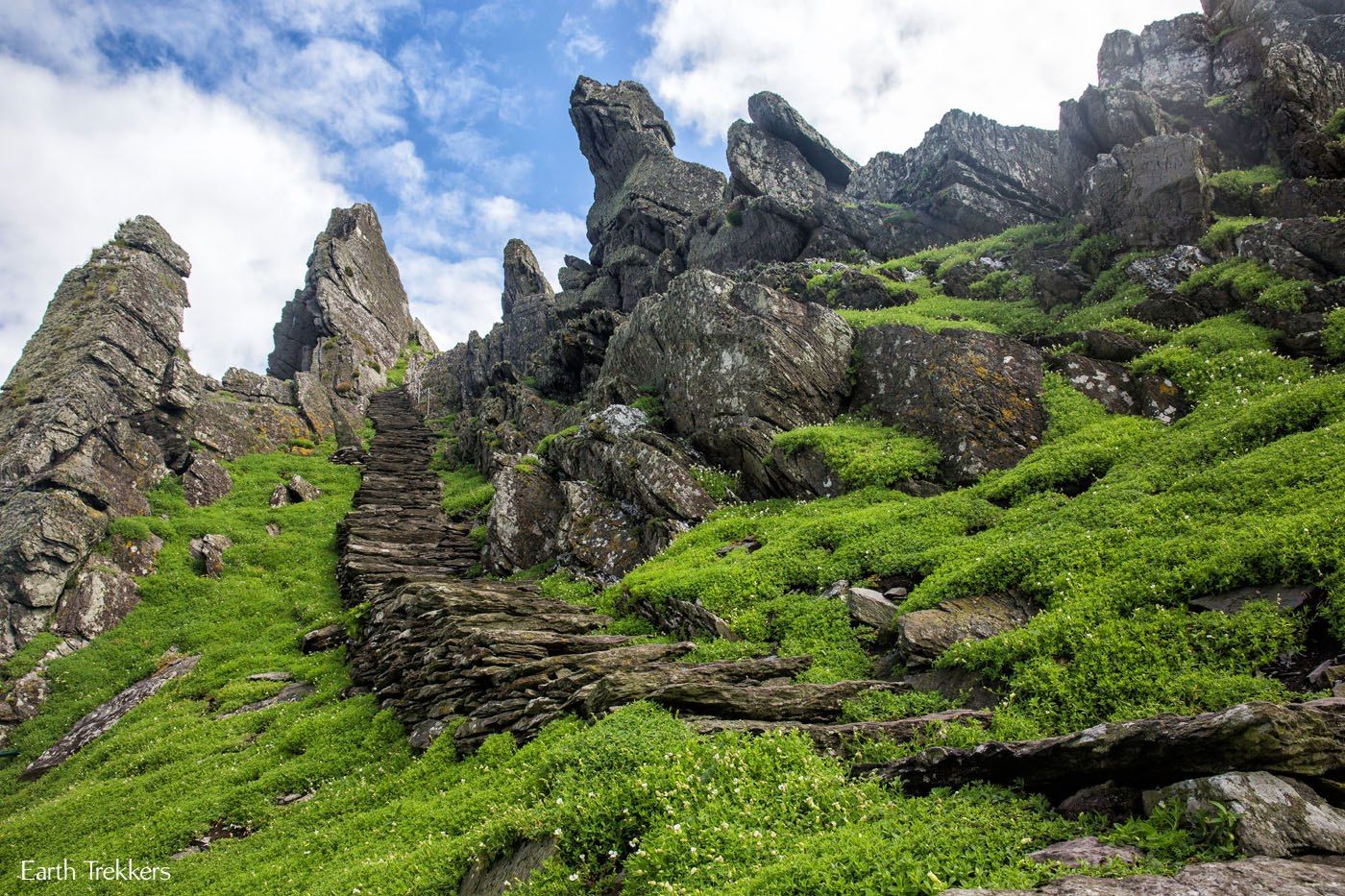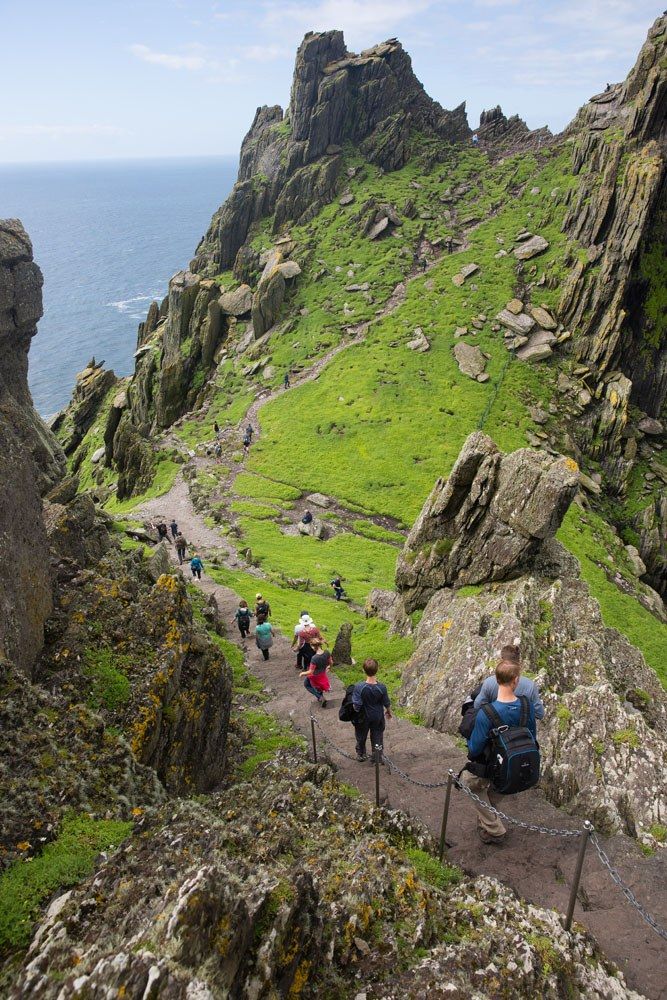 The Skellig Michael Monastery
Your reward for reaching the top are amazing views back to the mainland of Ireland and a chance to explore the Christian monastery dating back to the 6th century.
For hundreds of years, Christian monks inhabited this island, living in stone beehive huts and living off of the land. The structures they built remain intact and unchanged today.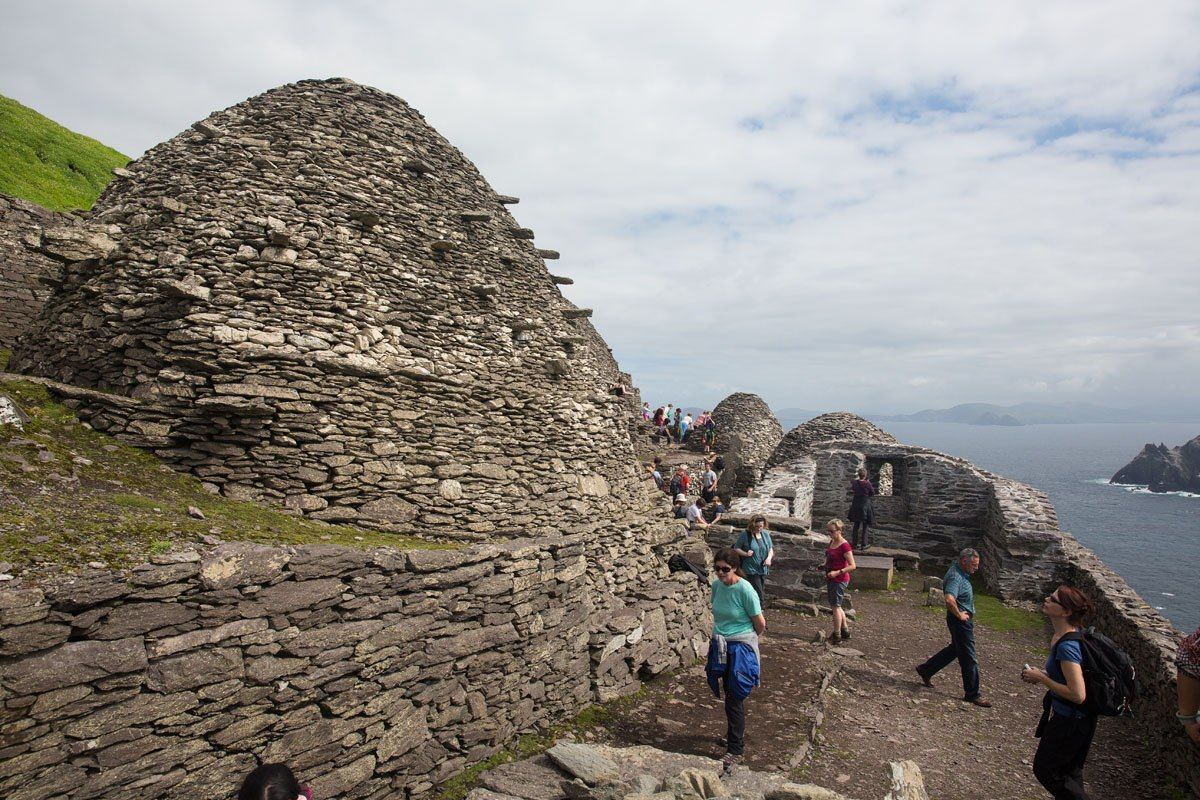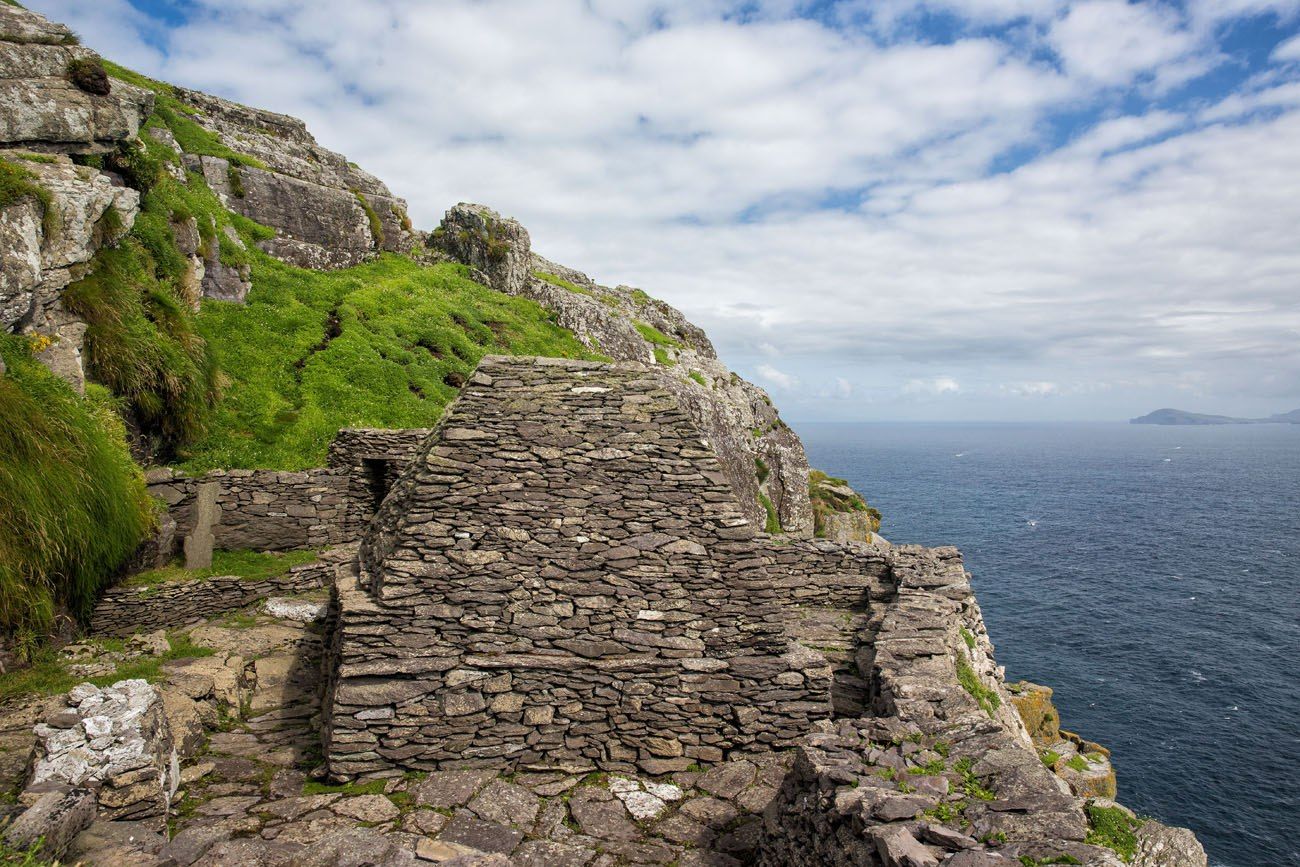 From the monastery, views back to the mainland of Ireland are stunning.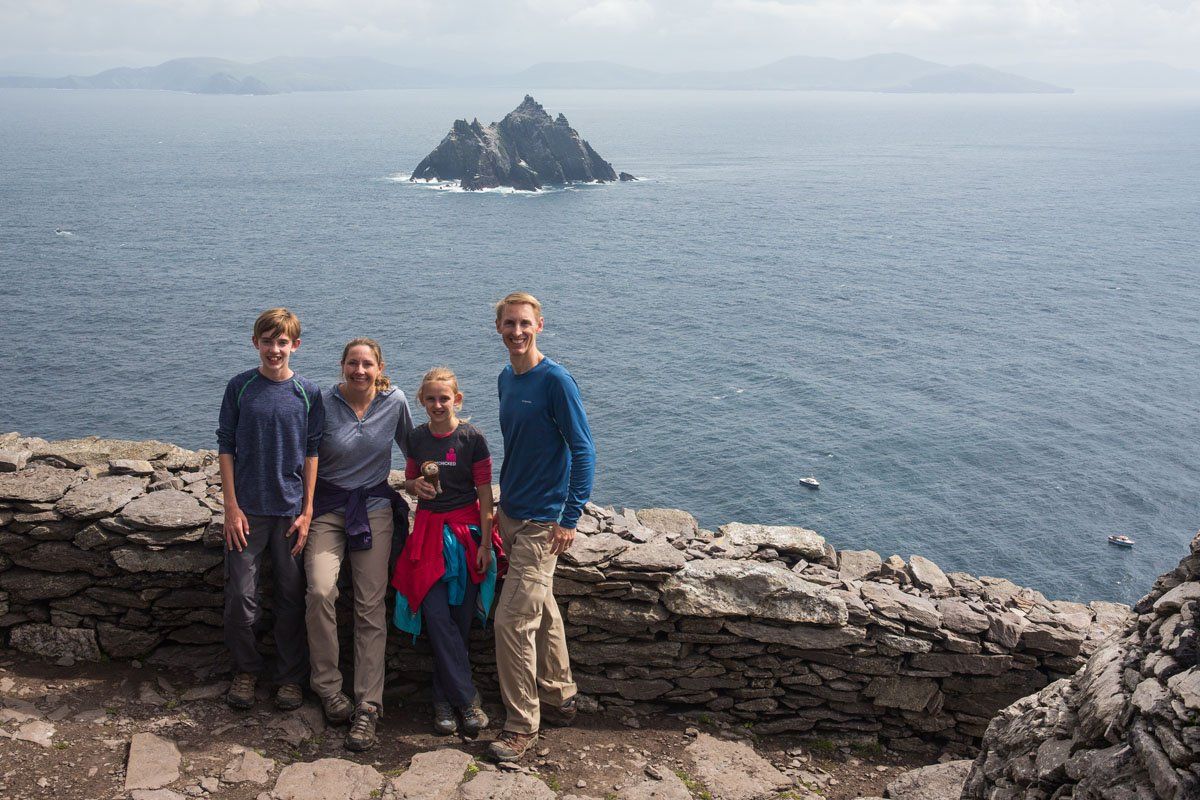 If you look down from the monastery, you will be able to see this stone path, one of the paths featured in The Force Awakens. This path is off limits to visitors, but at least you can view it from here.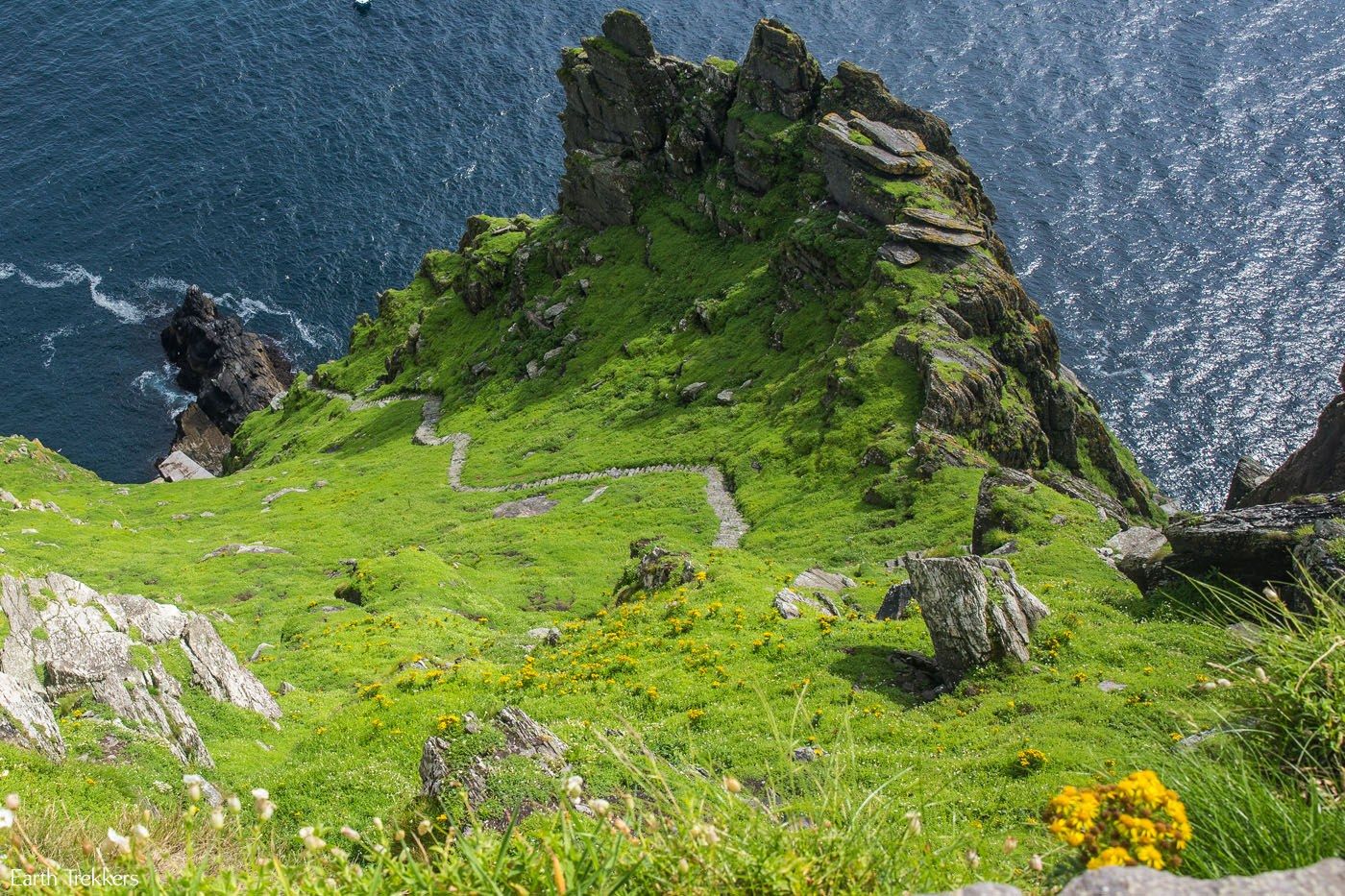 During the visit, there is plenty of time for photographs, exploring the monastery, and walking several of the same paths featured in Star Wars.
Does Skellig Michael live up to the hype?
We had huge expectations for Skellig Michael. HUGE.
With the island featured in Star Wars, plus the limited numbers of boats selling out months in advance, yes, we had huge expectations for this visit.
So, does Skellig Michael live up to the hype?
Almost.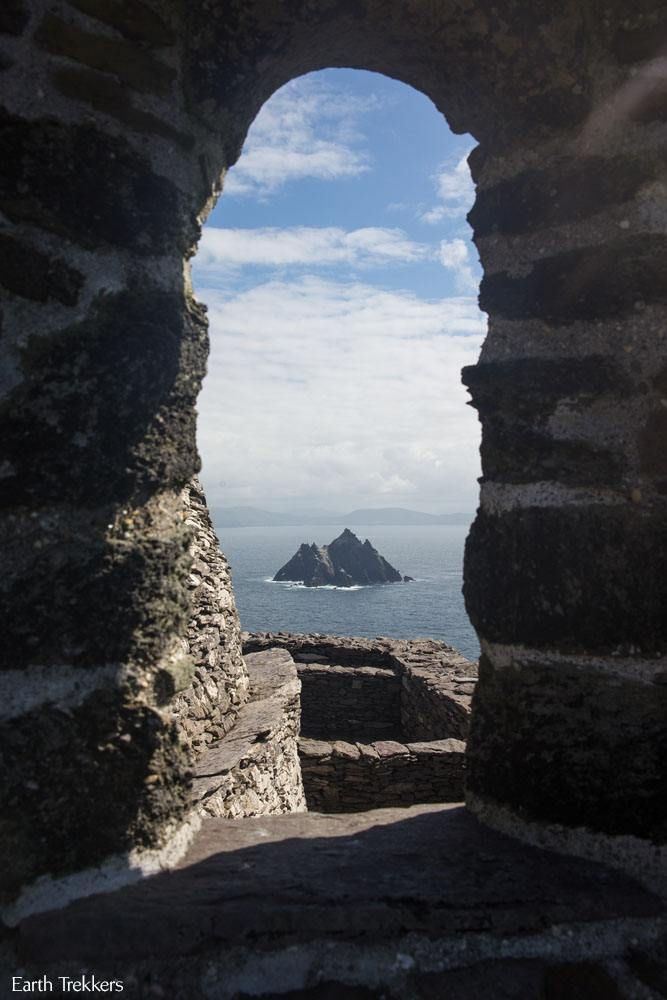 Skellig Michael is amazing. We loved the experience. The climb up the narrow, rocky steps, the hundreds of birds flying overhead, a visit to an ancient monastery, and having one of the best views in Ireland, what's not to love? The fact that this is a Star Wars filming location is just an added bonus.
But as we walked around, amidst many other curious visitors, I began to wonder if too many people come here. Are we all doing harm to the island, to the nesting sites, to the history here, by walking and climbing over these paths?
This is something I struggle with sometimes, as I write about these places. Yes, I want to let people know that these amazing places exist, but there is a part of me that wants to keep them a secret, so they do not get over visited, losing their magic and allure for the few that visit them.
Honestly, I think Skellig Michael would be a better experience if fewer people per day were allowed to visit the island. I know that means less business for the people of Portmagee and a lot of disappointed travelers who would not be able to set foot on the island. But hundreds of people tramping over the island seems detrimental to the beauty and the tranquility that this place is meant to represent.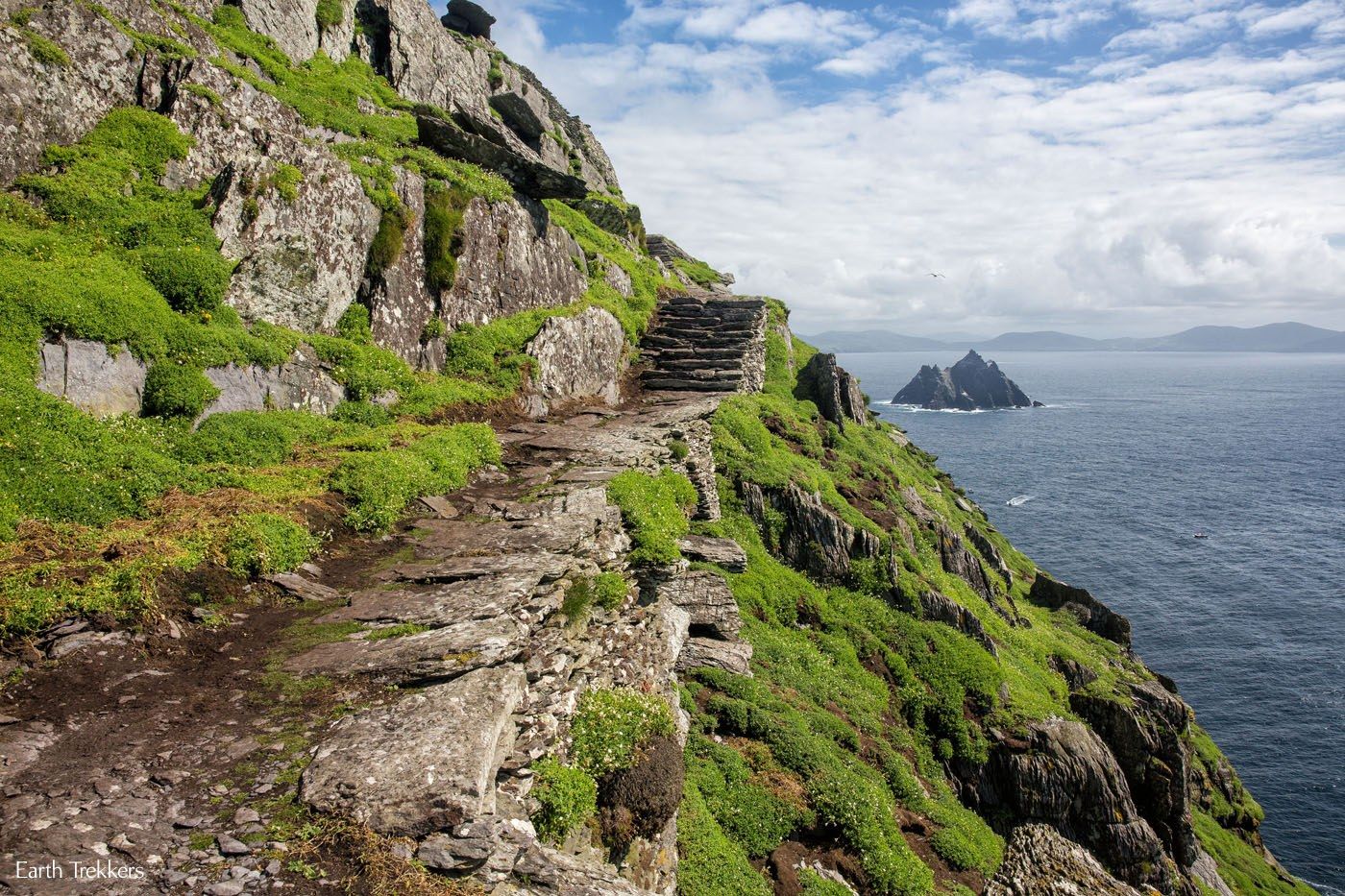 Is Skellig Michael Worth It?
Absolutely.
Even though I believe less people should visit the island, I still think the experience is absolutely worth it.
Visiting Skellig Michael is one of the most unique experiences you can have while visiting Ireland. It feels like a real adventure. Most likely, it will be an experience you will never forget.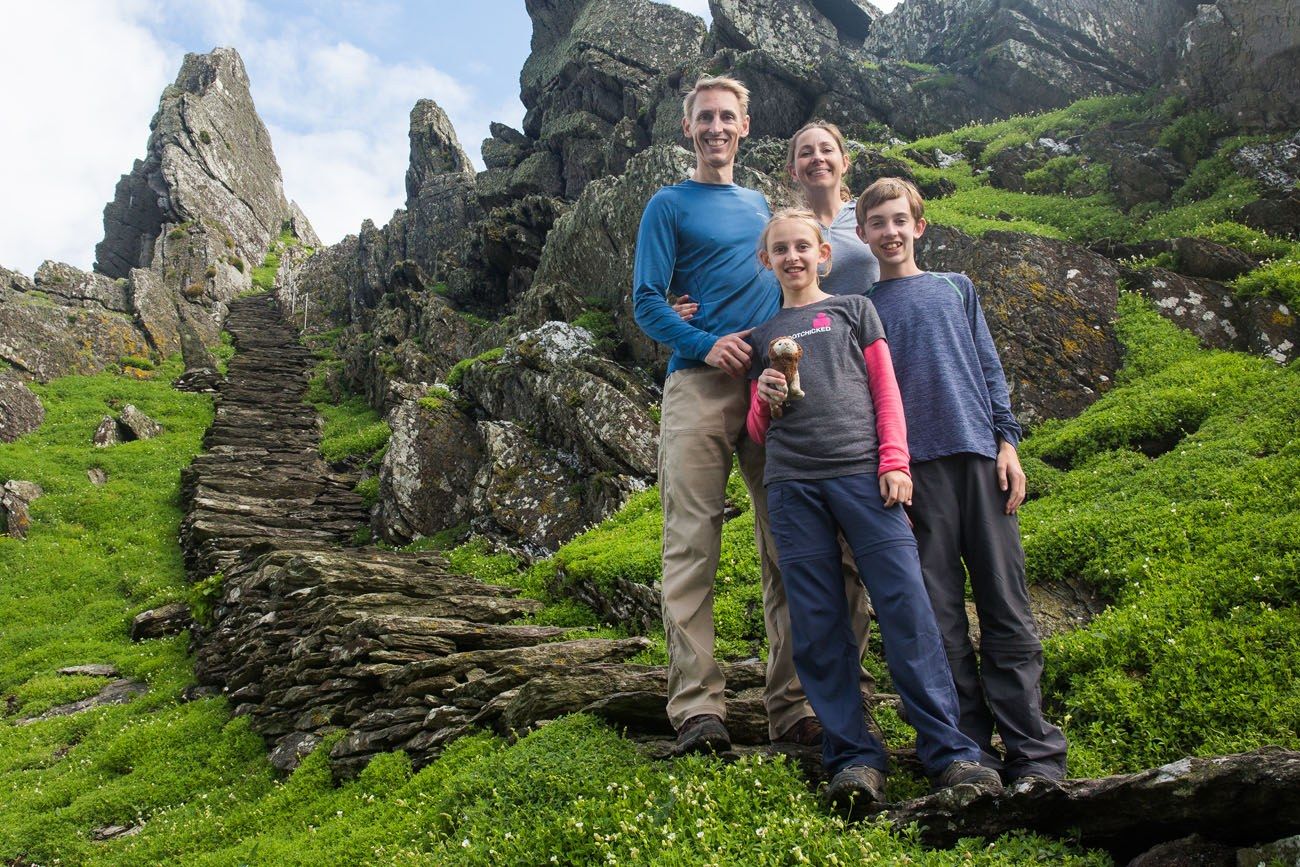 Advice for Visiting Skellig Michael
Best Time to Visit
Landing tours to Skellig Michael run between May 15 and September 30.
If you want to see the puffins, arrive before August 1. We visited Skellig Michael on August 4th, and the majority of the puffins migrated on to their next nesting site. We just missed seeing these cuties!
Book Your Tickets in Advance
For the summer months of June through August, tickets will sell out way in advance. To be safe, I'd contact the boat operators at least two months before your travels.
Boat Operators to Skellig Michael
There are 15 licensed boat operators that are allowed to land on Skellig Michael. We used Dan and Donal McCrahon, based in Portmagee, and highly recommend them.
For a listing of boat operators in Portmagee, visit the Skellig Michael website.
There are also several companies offering tours to Skellig Michael: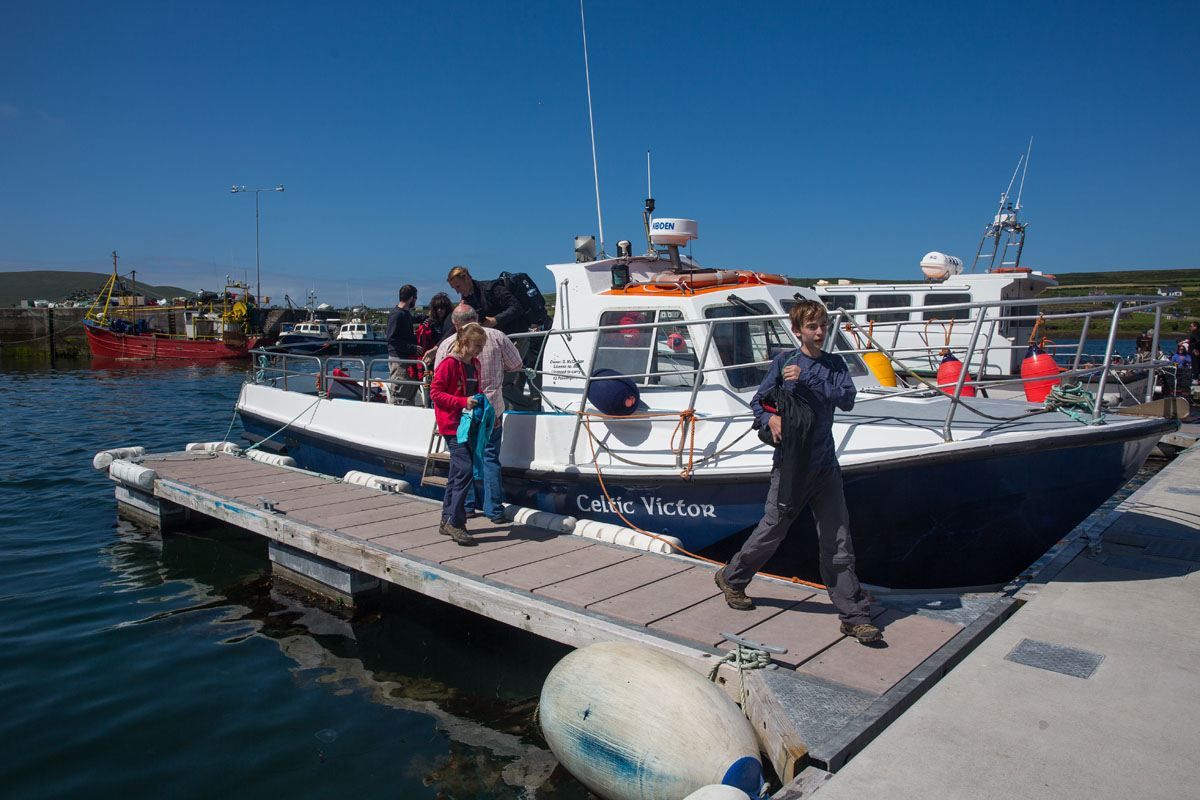 Our boat to Skellig Michael: the Celtic Victor
What to Bring
Dramamine or other anti-nausea medication, if you are prone to seasickness.
Rain jacket
Warm clothes for the boat ride to and from the island
Water and a small snack. There are spots on the island for a picnic.
Good, sturdy shoes. Hiking shoes or a good pair of walking shoes are ideal. Sandals and flip flops are just asking for trouble.
Sunscreen and sunglasses
Your camera, of course!
There are no bathrooms on Skellig Michael
Make sure you take care of business before you leave Portmagee!
Frequently Asked Questions
What if you cannot get tickets to land on Skellig Michael?
If tickets to land on Skellig Michael are sold out, you can still sail out to the island and see it from the water. Many boat operators sell tours that circle Skellig Michael and Little Skellig without making landfall. This is a good alternative if tickets are sold out.
When is the best time to visit Skellig Michael?
Landing tours to Skellig Michael are offered from mid-May through the end of September.
Is Skellig Michael safe for kids?
Most boat operators state that Skellig Michael is not suitable for children under the age of 12 and will not take kids younger than 12. Kara was 11 (just 2 months shy of turning 12) when we visited and she did great, although she has lots of experience hiking and walking along narrow paths like those on Skellig Michael. If you plan to visit Skellig Michael with kids, they have to know to stay on the path and stay away from the edge. This can be a dangerous place, especially if it has been raining.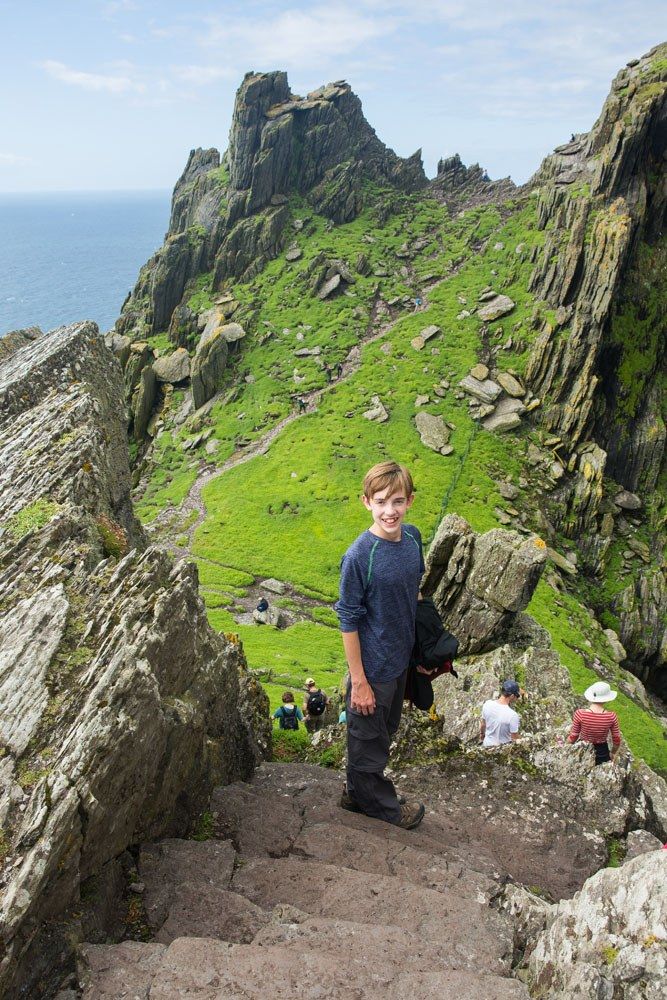 More About Star Wars
The monastery on Skellig Michael is one of the major movie sets used in A Force Awakens. Due to concerns about damage to the island while filming The Last Jedi, a replica of the monastery was built at a separate location in Ireland. The movie set for The Last Jedi was located near Dingle, on the coastline overlooking the Blasket Islands.
Where to Stay
We stayed in Killarney at the Gleann Fia Country House. It is a one hour drive between Killarney and Portmagee. For us, staying in Killarney served as a great home base for exploring not only Skellig Michael but also Dingle and the Ring of Kerry. We highly recommend this B&B. We had a huge family room, Tyler and Kara loved playing Monopoly in the conservatory each night, and being located just outside of town, it was very easy to get to by car.
In Portmagee, the most popular place to stay is The Moorings Guesthouse.

The town of Portmagee
What to Do after Your Trip to Skellig Michael
Have a late lunch at the Bridge Bar or The Moorings Restaurant.
For the best view on the Ring of Kerry, visit the cliffs of Kerry. It is just a short drive from Portmagee. Drive on the Skellig Ring Road towards the coastline, following signs for "Sensational Cliff Views." The 4 € per person to visit here is worth it.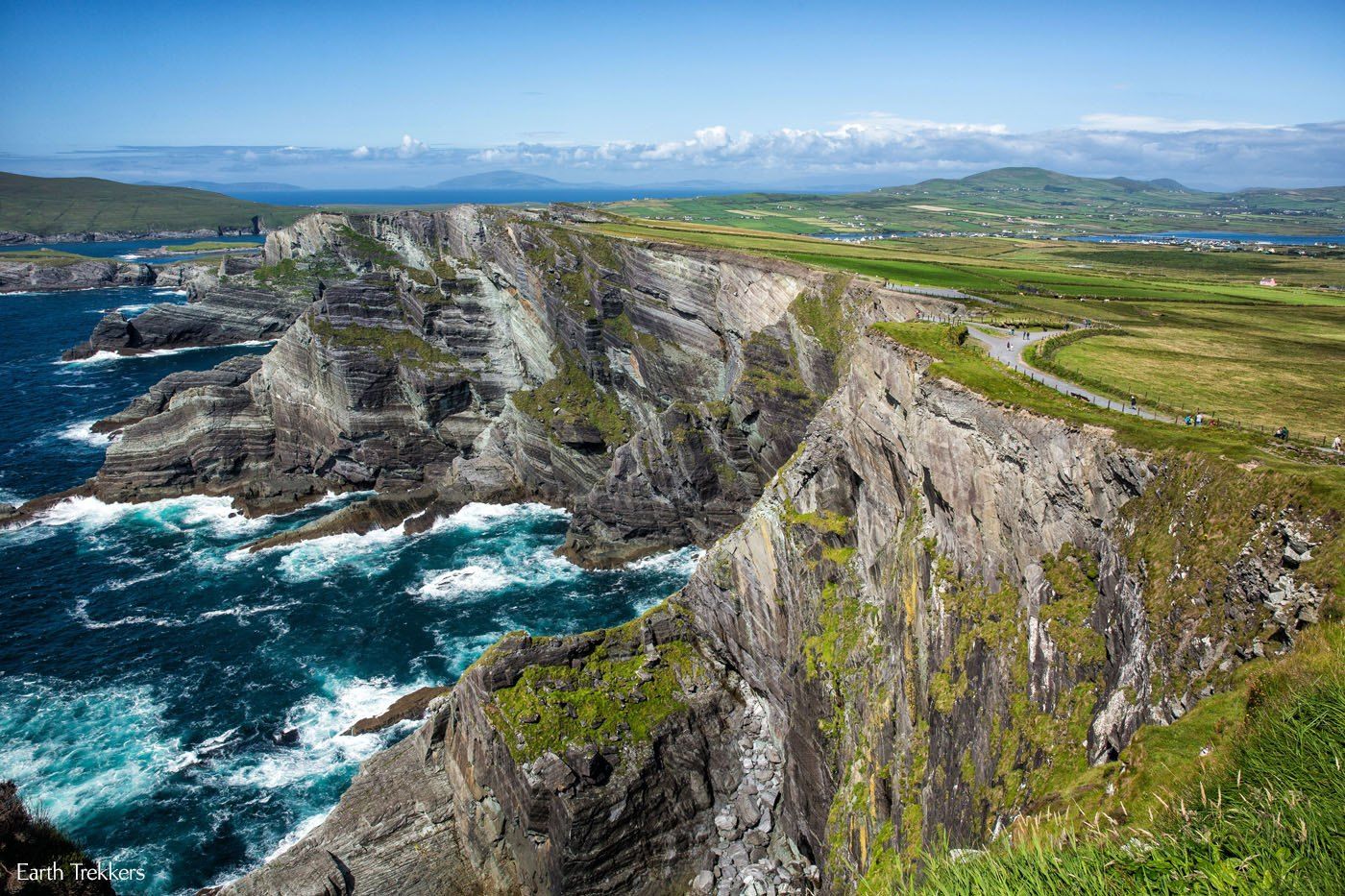 ---
If you have any questions about how to visit Skellig Michael, let us know in the comment section below.
More Information about Ireland
BEST OF IRELAND: For a list of top experiences in Ireland, read our post Best Things to Do in Ireland. Walk the Cliffs of Moher, drive the Ring of Kerry, visit Dublin, and explore the Dingle Peninsula. Learn how to put all of this together in our 10 Day Ireland Itinerary.
NORTHERN IRELAND: Northern Ireland was a big filming site for Game of Thrones, but there are some things to know before you go. The Giant's Causeway is one of our favorite places in Ireland and worth the time to get here.
FIRST TIME IN EUROPE: If this is your first time in Europe, don't miss our article 7 Things to Know when Planning Your First Trip to Europe.
TRAVEL INSPIRATION: Here are 15 fairytale destinations to visit around the world. And if you are considering a trip to Europe, check out our article 30 Beautiful Places to Visit in Europe.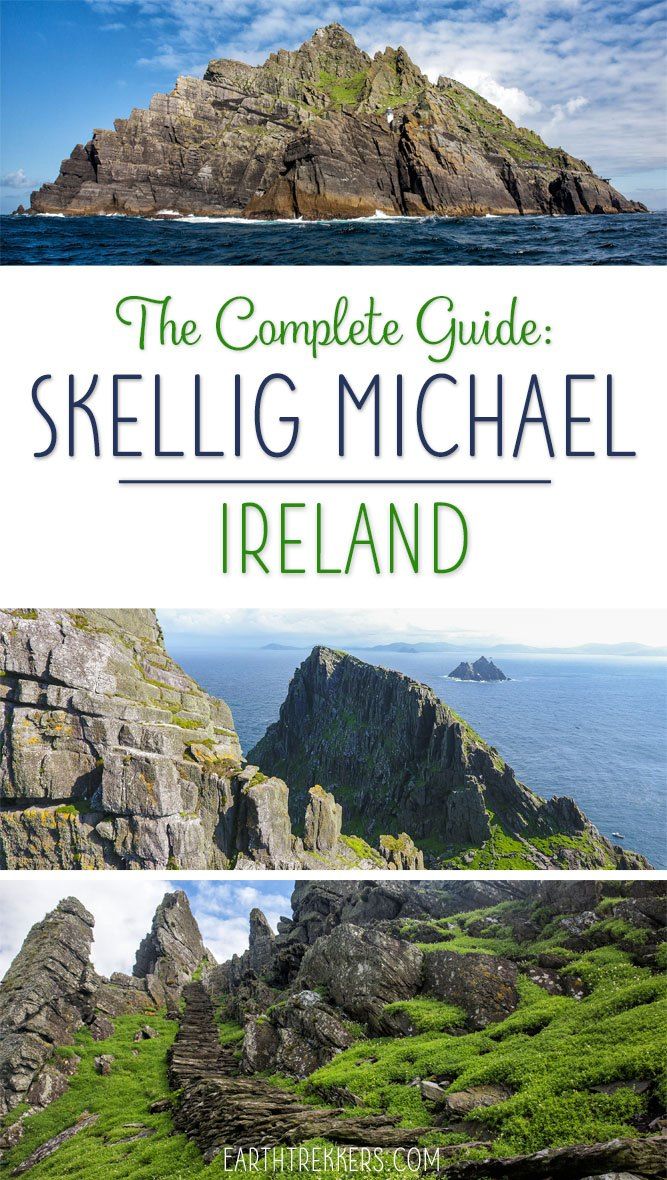 Note: This post contains affiliate links. When you make a purchase using one of these affiliate links, we get paid a small commission at no extra cost to you.
All rights reserved © Earth Trekkers. Republishing this article and/or any of its contents (text, photography, etc.), in whole or in part, is strictly prohibited.