Ireland is a popular destination on many travelers' wish lists, for a good reason. This country is a joy to explore, with stunning landscapes, friendly and welcoming people, and ancient historical sites. Don't let it's small size fool you…there is a lot to see and do here. On this 10 day Ireland itinerary, tour the highlights of this country.
This itinerary is designed as a road trip. You will need to rent a car in order to tour the island. Ten days is just enough time to visit the highlights of Ireland, including Dublin, the Rock of Cashel, Galway, the Cliffs of Moher, the Dingle Peninsula, and Northern Ireland. It's an amazing trip, but expect to have busy, action packed days.
This Ireland Itinerary is good for:
Families
Scenic Drives
Game of Thrones fans
Historical Sites
Stunning Scenery
How to Use This Map: Click the tab in the top left hand corner of the map to view the points of interest of this Ireland itinerary. You can click the check marks to hide or show layers. If you click the icons on the map, you can get more information about each point of interest. If you click the star, this map will be added to your Google Maps account. To view it on your phone or computer, open Google Maps, click the menu button, go to "Your Places," click Maps, and you will see this map on your list.
Day 1
Arrive in Dublin
Your tour of Ireland begins in Dublin, Ireland's largest city. Depending on where you are arriving from, you may have limited time (and energy) today.
Check into your hotel and take a quick nap if you need it. Spend the afternoon and early evening getting acquainted with Dublin. We recommend heading over to the Temple Bar area, for dinner and drinks in one of the many pubs.
Sláinte! You are in Ireland!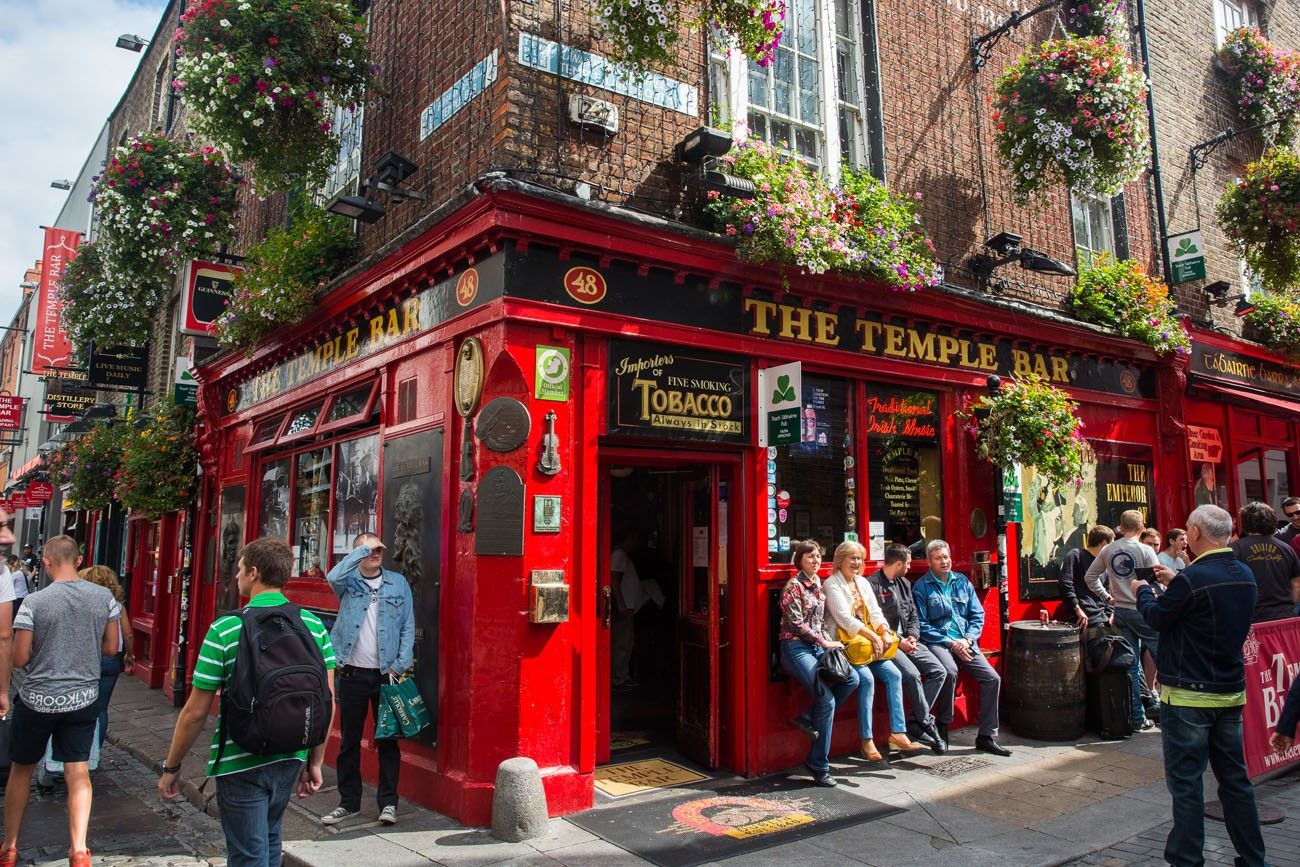 Where to Stay in Dublin
LUXURY: Merrion Hotel. With impeccable service, a 2-star Michelin restaurant, landscaped gardens, and gorgeous rooms, this is a top pick in Dublin if you are looking for a luxurious hotel.
UPSCALE: Hotel 7. Located within walking distance of the top sights, this beautiful hotel gets rave reviews from prior guests.
MID-RANGE: Roxford Lodge Hotel. This boutique-style hotel offers stylish, Victorian-style rooms, and elegant dining room, and a handy bus station near the hotel. If you are traveling as a family, check out the family room that can accommodate four people.
BUDGET: In Dublin, there are several hostels that get good reviews: Jacobs Inn Hostel, Abbey Court Hostel, and Gardiner House.
Day 2
Dublin
Spend day 2 of this Ireland itinerary touring the city of Dublin. Must see sights include a visit to Trinity College to see the Book of Kells, the Kilmainham Gaol, Saint Patrick's Cathedral, and the National Museum of Ireland. Many people love the tours at the Guinness Storehouse, which ends with a pint of Guinness in the penthouse bar with 360° views over Dublin. Another idea is a guided tour of the Jameson Whiskey Distillery with tastings.
End the day with live Irish music in one of the pubs.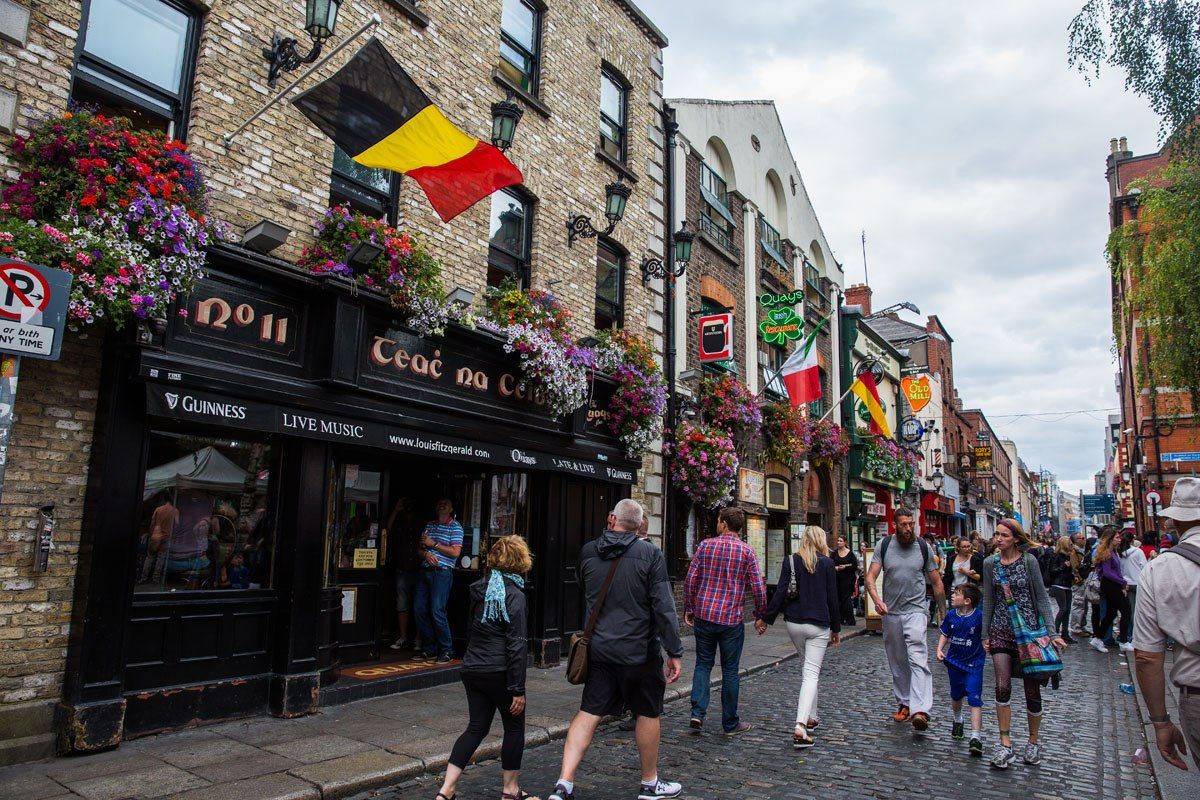 If you prefer, you can skip some of these sights in Dublin, opting to take a four-hour day trip out of the city to Newgrange, also known as Brú na Bóinne. Newgrange is a 5,000 year old passage tomb, one of Ireland's most important archaeological sites.
Tonight, sleep in Dublin.
Day 3
Drive to Killarney
It's time to say goodbye to Dublin and hello to the Irish countryside.
Today you will drive out to Killarney. If you drive directly there, it takes about four hours. However, there are sights to see along the way.
Kilkenny
Kilkenny is an awesome little city in Ireland. We only spent about two hours here, having dinner and then a pint (or two!) in one of the many pubs. We loved this place, more so than Killarney or Kinsale. Explore the town in the morning, have lunch, and then continue your road trip, heading to the Rock of Cashel next.
The Rock of Cashel
This is not to be missed. Overlooking the Plains of Tipperary, the Rock of Cashel is one of Ireland's most historic sights. This was the seat of the ancient kings of Ireland. St. Patrick baptized King Aengus here in 450 AD. Now visitors arrive every day to tour this historic complex of buildings.
You can tour the Rock of Cashel in about an hour, but make sure you also walk downhill to the much less visited and just as awesome Hore Abbey.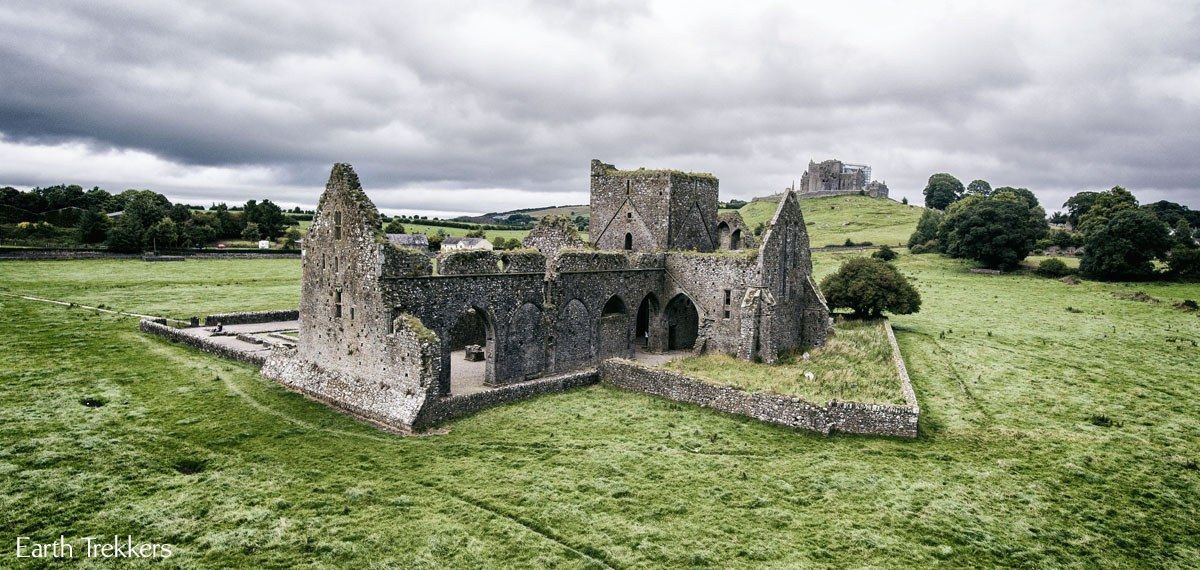 Hore Abbey with the Rock of Cashel on the hill behind it.
Before driving to Killarney, there is still enough time in the day to visit either the Blarney Stone or the colorful town of Kinsale.
The Blarney Stone
Located in Cork, the Blarney Stone is a major tourist site, where groups of people line up to kiss the famous Blarney Stone to get the "gift of gab." We skipped this, since Rick Steves ripped this experience. We chose to put our time into Kinsale and Kilkenny instead.
Kinsale
Kinsale is one of Ireland's most picturesque towns. With colorful, winding lanes, fabulous restaurants, and a nearby golf course, Kinsale attracts a lot of visitors during the summer months. It's also the starting point (or ending point, depending on which way you are traveling) of the Wild Atlantic Way.
Ideally, Kinsale deserves a full day of your time. However, with just an hour, you have enough time to explore the colorful town center and have a drink, snack, or even dinner, depending on what time it is when you get here.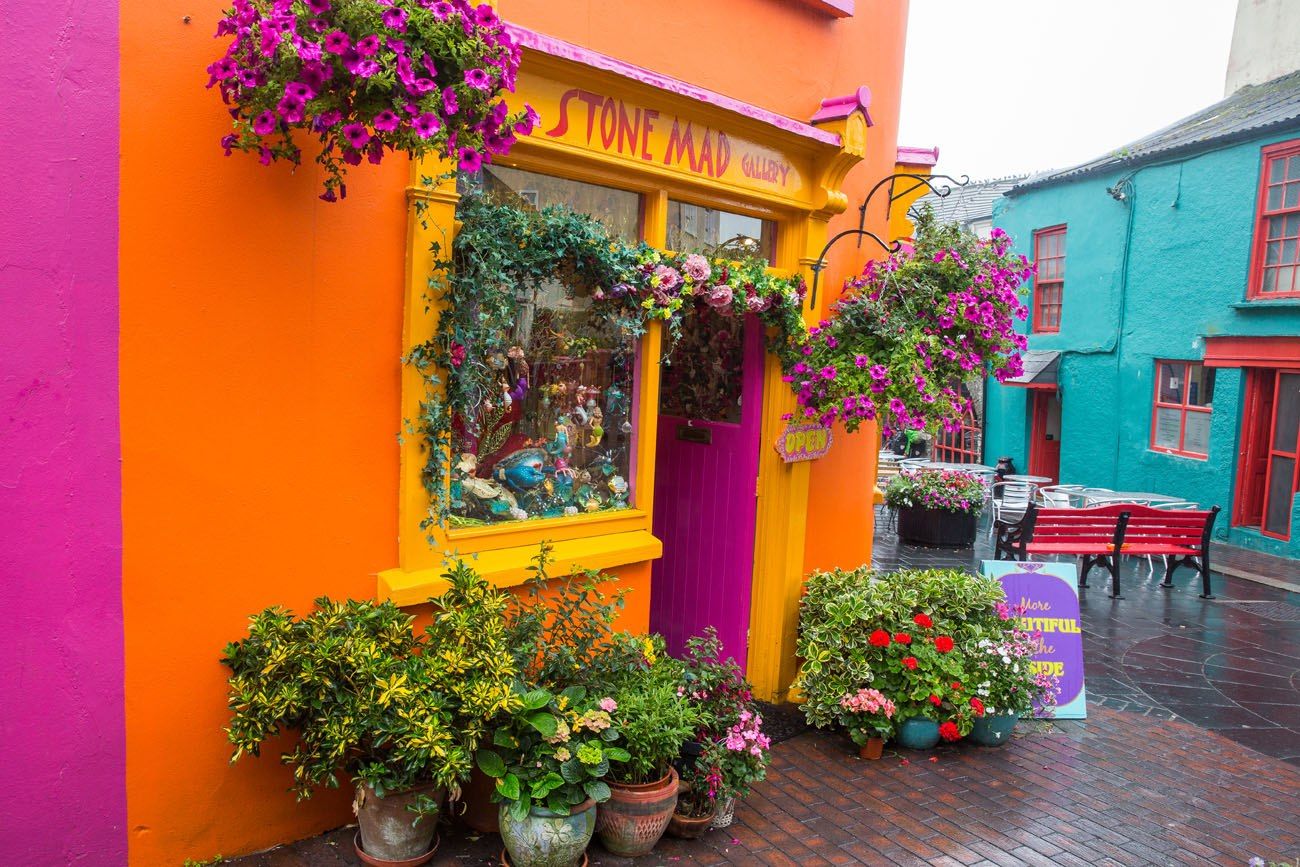 Old Midleton Distillery
If you want to tour a whiskey distillery in Ireland, this one is the best of the best. You can take a tour of the distillery, ending with a Irish vs. Scotch whiskey taste test. The Old Midleton Distillery is located just east of Cork.
Today's road trip ends in Killarney. You will spend three nights in Killarney, using this town as a home base for the Ring of Kerry and the Dingle Peninsula.
Where We Stayed in Killarney: We stayed at the Gleann Fia Country House and we highly recommend this B&B. We had a huge family room, Tyler and Kara loved playing Monopoly in the conservatory each night, and being located just outside of town, it was very easy to get to by car.
Restaurants to try in Killarney
Bricin Restaurant. This is a fabulous restaurant serving traditional Irish cuisine. We loved the food and we loved the atmosphere.
Treyvaud's. Another great restaurant serving gourmet food.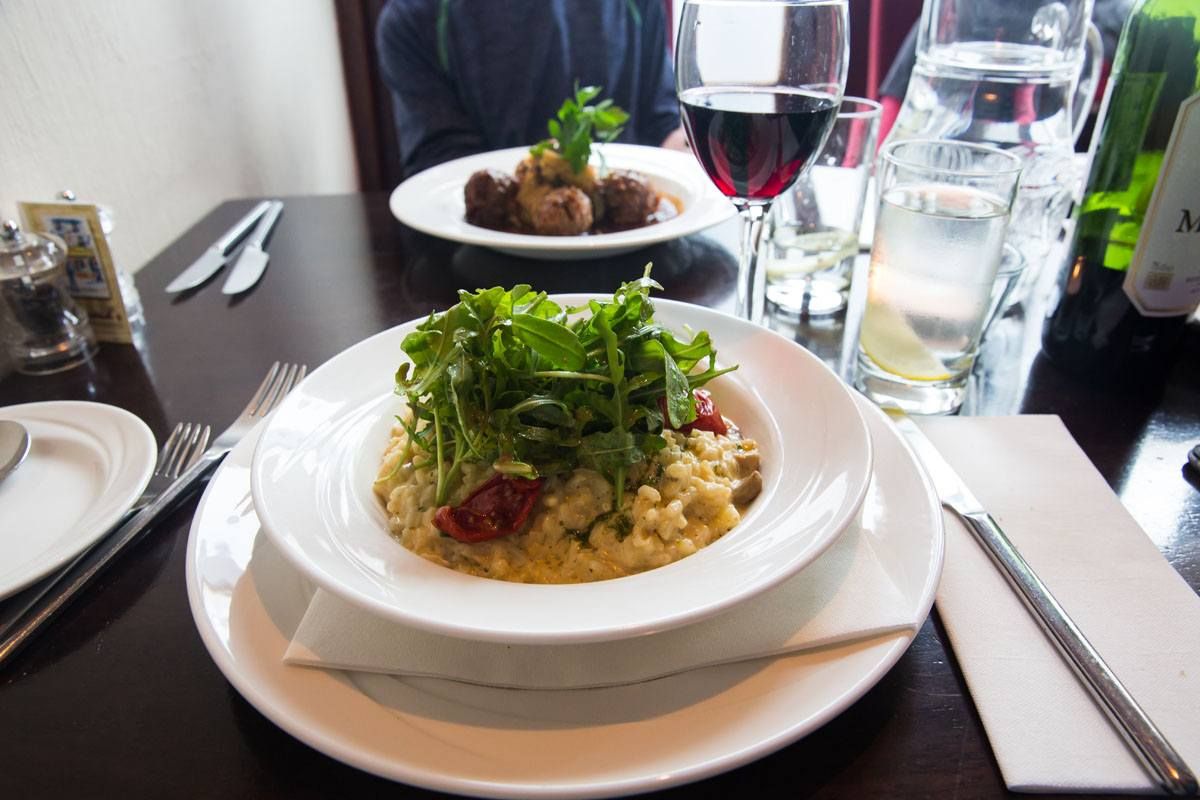 Day 4
Skellig Michael and the Ring of Kerry
Today, you can either drive the Ring of Kerry or visit Skellig Michael.
Skellig Michael
Skellig Michael is a rocky island located off of the coast of the Ring of Kerry. Visit an ancient monastery, see the nesting spot of Puffins, and see where "Star Wars: A Force Awakens" was filmed.
To get here, it is a one-hour trip by boat over the somewhat rough Atlantic Ocean. Only a handful of boats are permitted to make the trip everyday, so your tickets must be booked well in advance. Also, landing tours to Skellig Michael only run between the beginning of May and early October.
If you visit Skellig Michael, tours typically return to Portmagee by 2 pm. You have enough time the see the highlights of the Ring of Kerry as you make your way back to Killarney.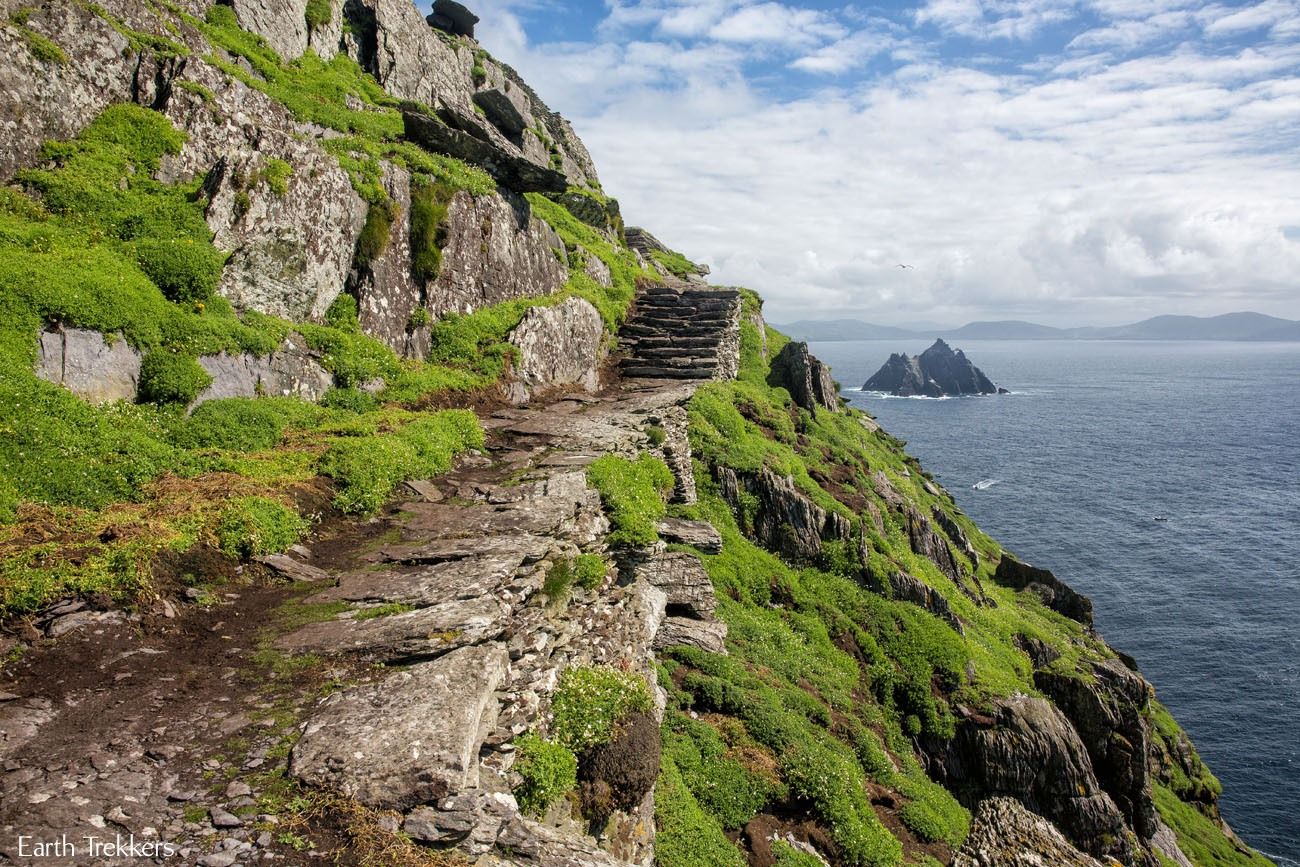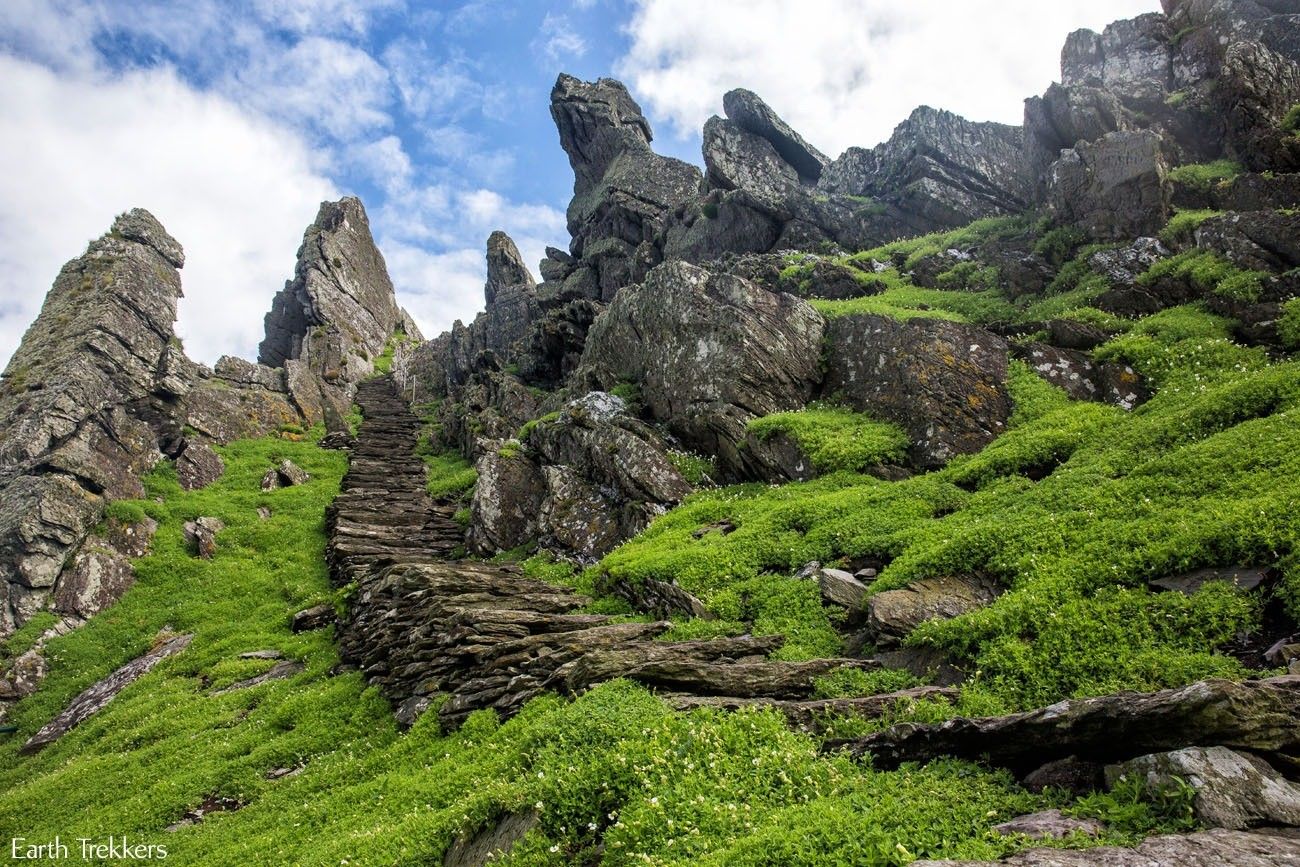 Ring of Kerry
If you are in Ireland during the off-season, you will not be able to visit Skellig Michael, but you can still drive the Ring of Kerry.
The Ring of Kerry is one of Ireland's most popular drives. In one day, you can drive through miles of green, rolling hills, explore colorful, Irish towns, and see a fantastic stretch of Ireland's rugged coastline. Learn more about what to do in our Guide to the Ring of Kerry.
If you prefer to sit back and enjoy the experience with a driver and guide, this Ring of Kerry tour starts and ends in Killarney.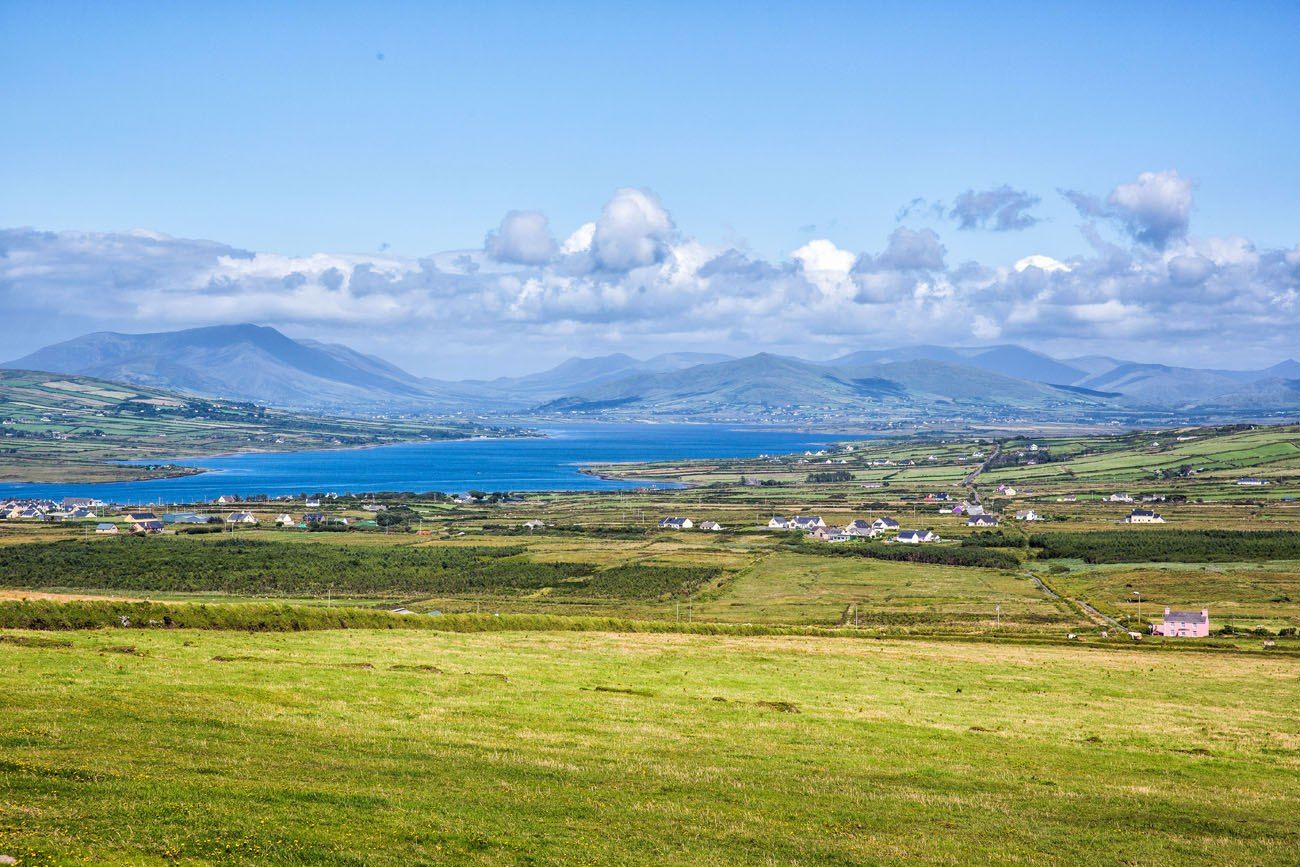 Tonight, sleep in Killarney.
Day 5
Dingle Peninsula
The Dingle Peninsula is gorgeous and this is one of Ireland's best road tripping spots. Yes, the Ring of Kerry is beautiful, but the Dingle Peninsula is stunning. Tour charming little Dingle, enjoy the views out to the Blasket Islands, walk on the huge beach named Inch Beach, and be prepared for some amazing sights.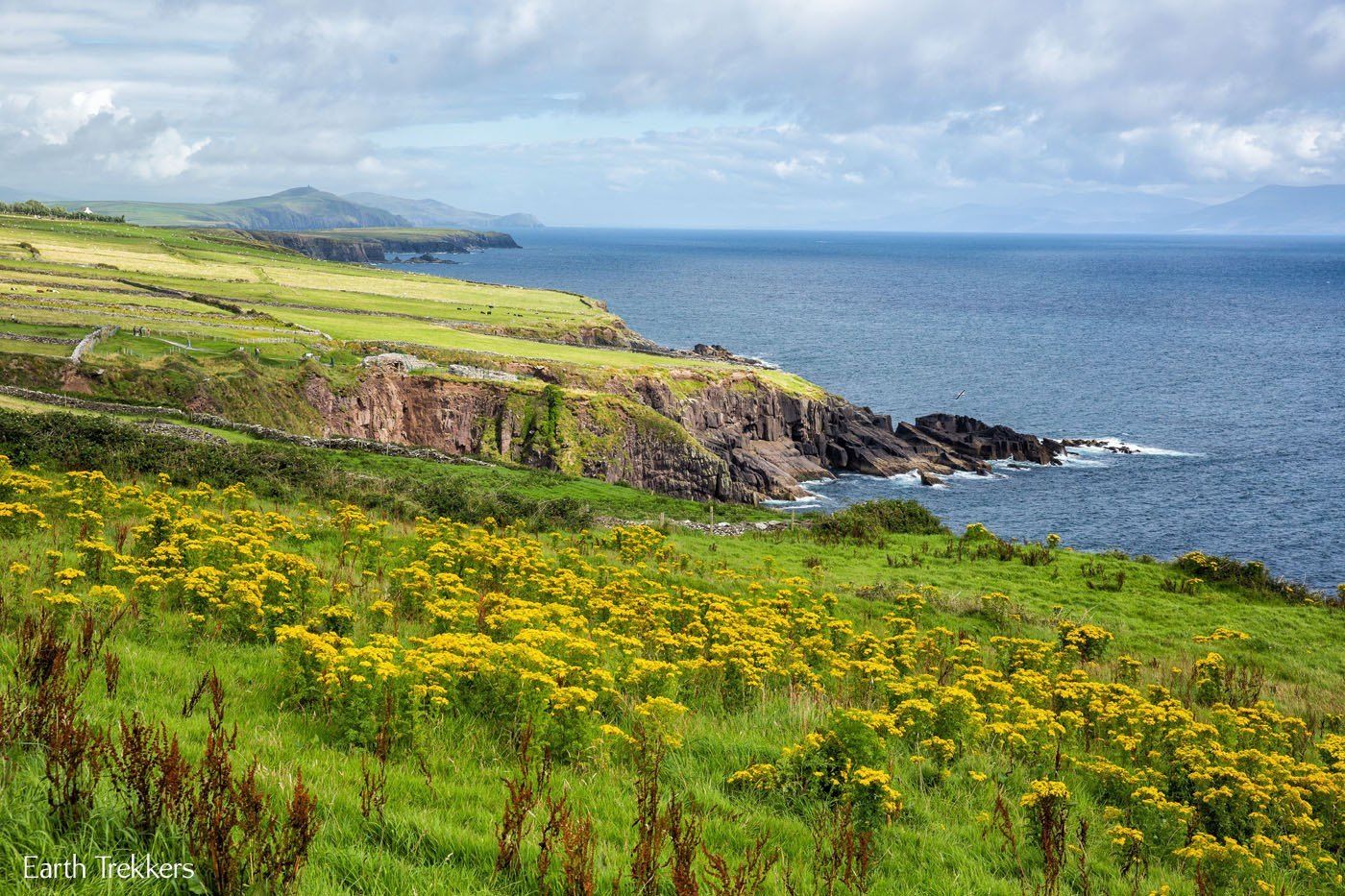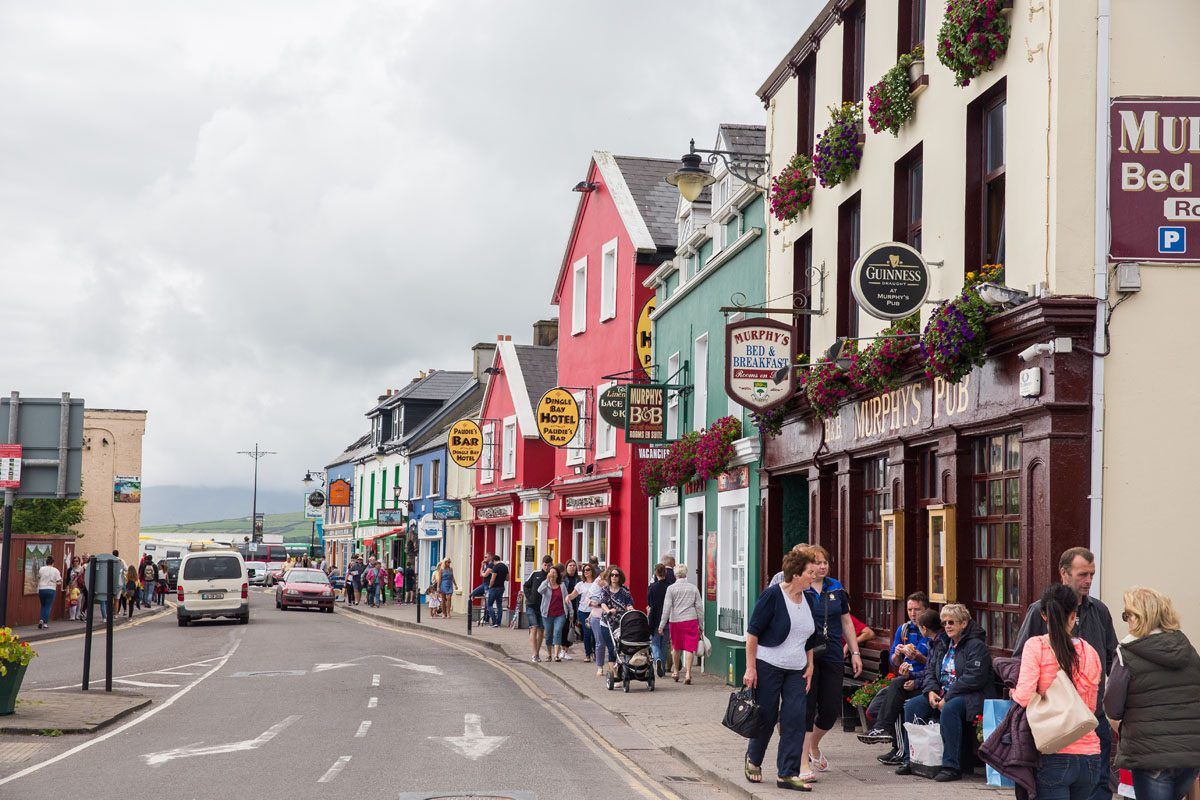 Tonight, sleep in Killarney.
Day 6
Drive from Killarney to the Cliffs of Moher
Today we drive north to the Cliffs of Moher. From Killarney to Doolin it is two and a half hours of driving, but we recommend some stops along the way.
Adare is a cute town with a small strip of colorful, thatched houses. Unfortunately, a fire several years damaged several of these houses, so it's not quite the scenic detour that it once was.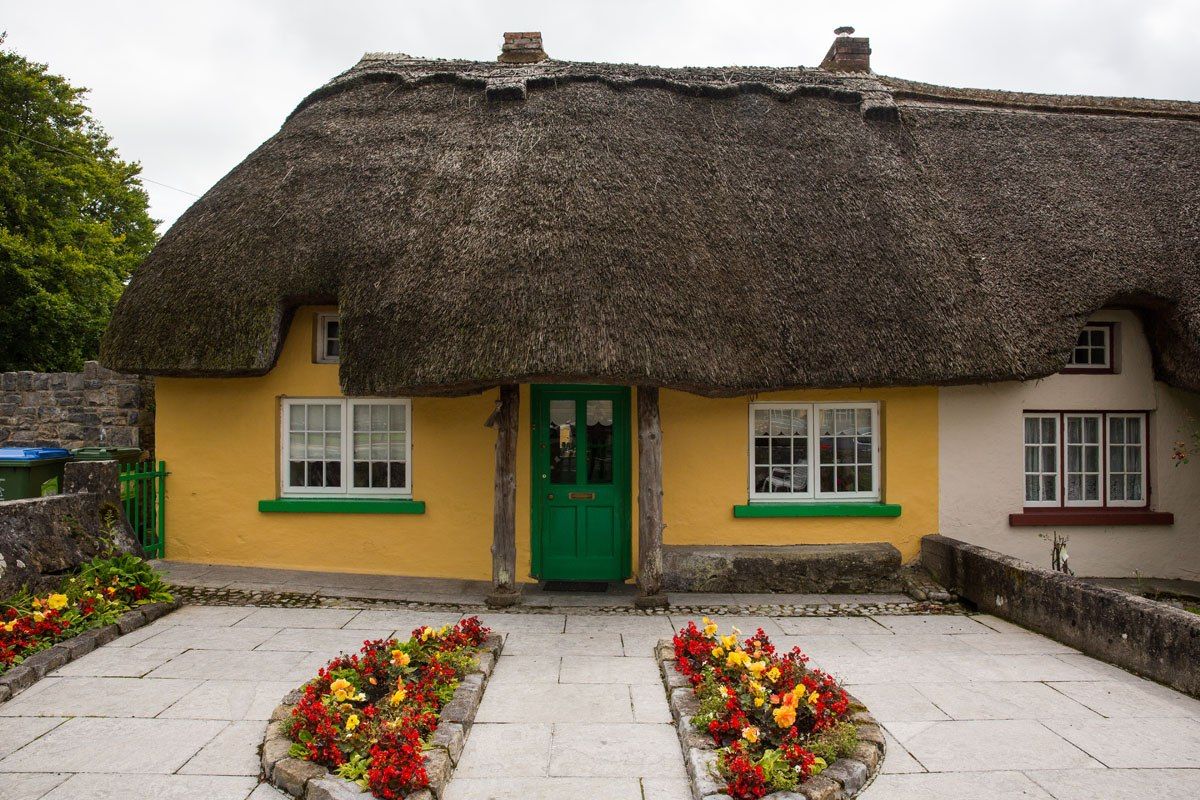 Limerick is a small city with a very cool castle that can be explored.
The Burren is a rocky, limestone plateau with Iron Age stone structures.
Your day ends in Doolin, a very small town that is a great base for exploring the Cliffs of Moher.
Where to Stay in Doolin: For hotel recommendations in Doolin, read our post about the Cliffs of Moher.
Day 7
Cliffs of Moher
The Cliffs of Moher stretch 14 km from north to south, starting at Doolin in the north and ending at Hags Head in the south. There is a well-marked hiking trail along the entire stretch of coastline. The Visitor Center, located at the midpoint, is also at the highest point of the Cliffs.
Over one million people every year visit the Cliffs of Moher, making this one of Ireland's most popular attractions.
Today, walk the Cliffs of Moher, a journey that takes most people five hours.
For a different perspective of the Cliffs of Moher, sail beneath the cliffs on this one hour cruise that starts and ends in Doolin.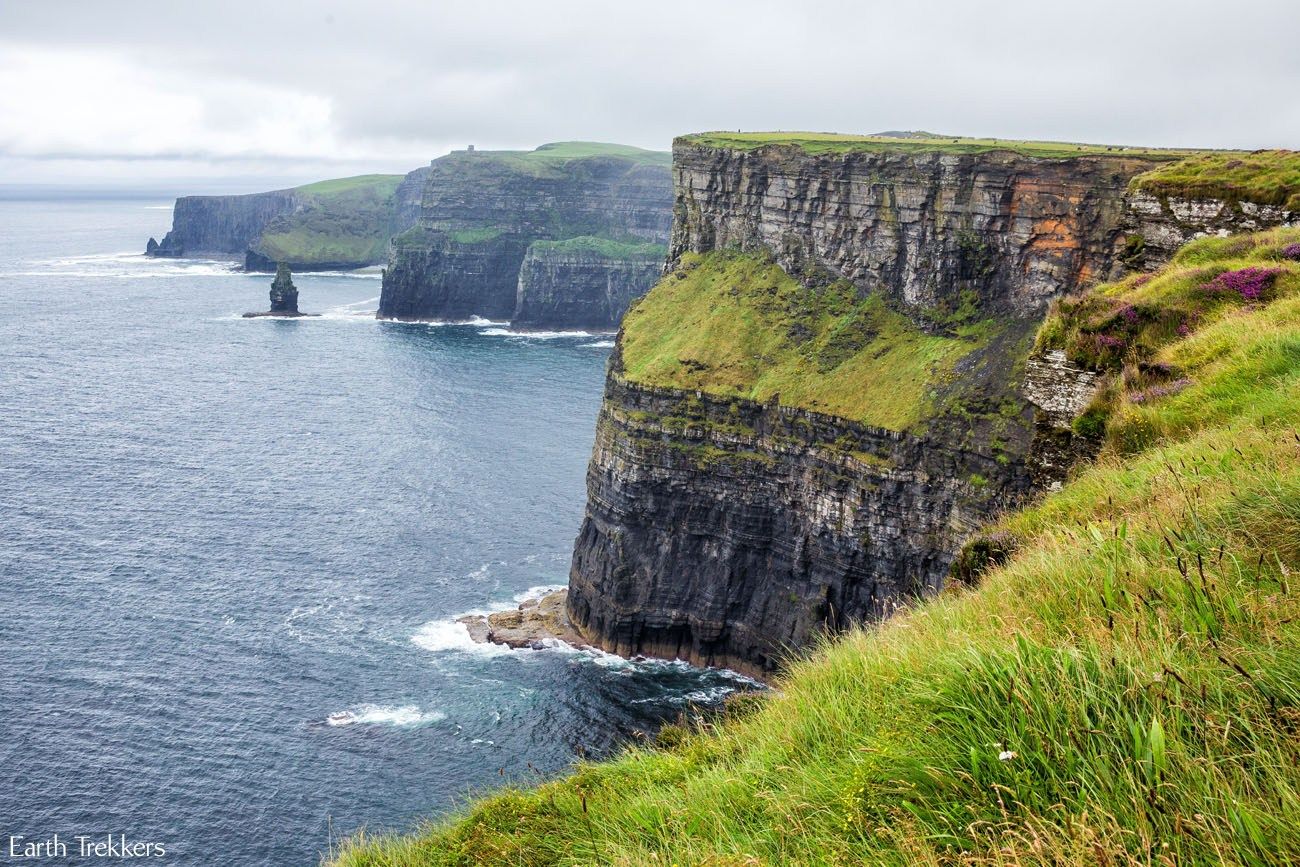 Tonight, you have the option to spend a second night in Doolin or drive an hour and a half north to Galway.
Day 8
Drive to Northern Ireland
This is the longest driving day of this Ireland itinerary. Today you will be heading north to the town of Portrush in Northern Ireland. From Doolin, it is a six hour drive (five hours from Galway).
Spend some time in Galway, a favorite city of many visitors to Ireland. Between Sligo and Donegal, enjoy the views of the wild and rugged coastline.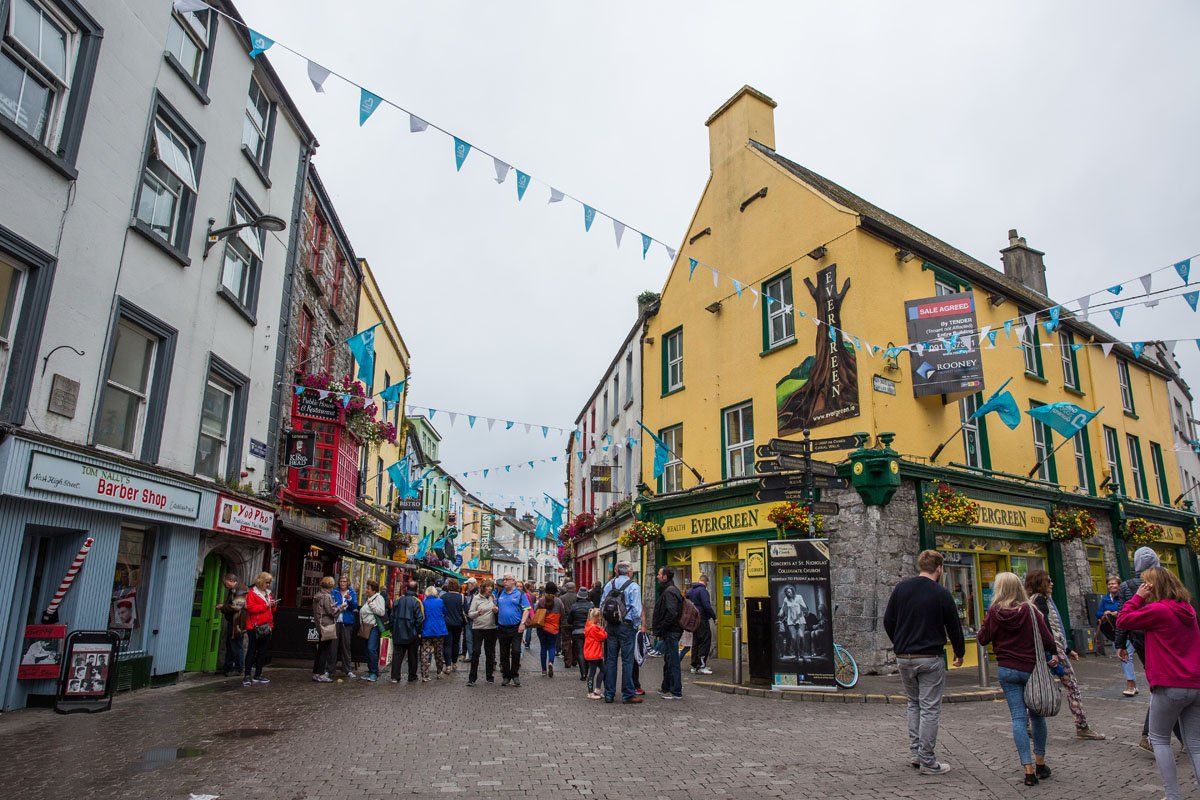 Galway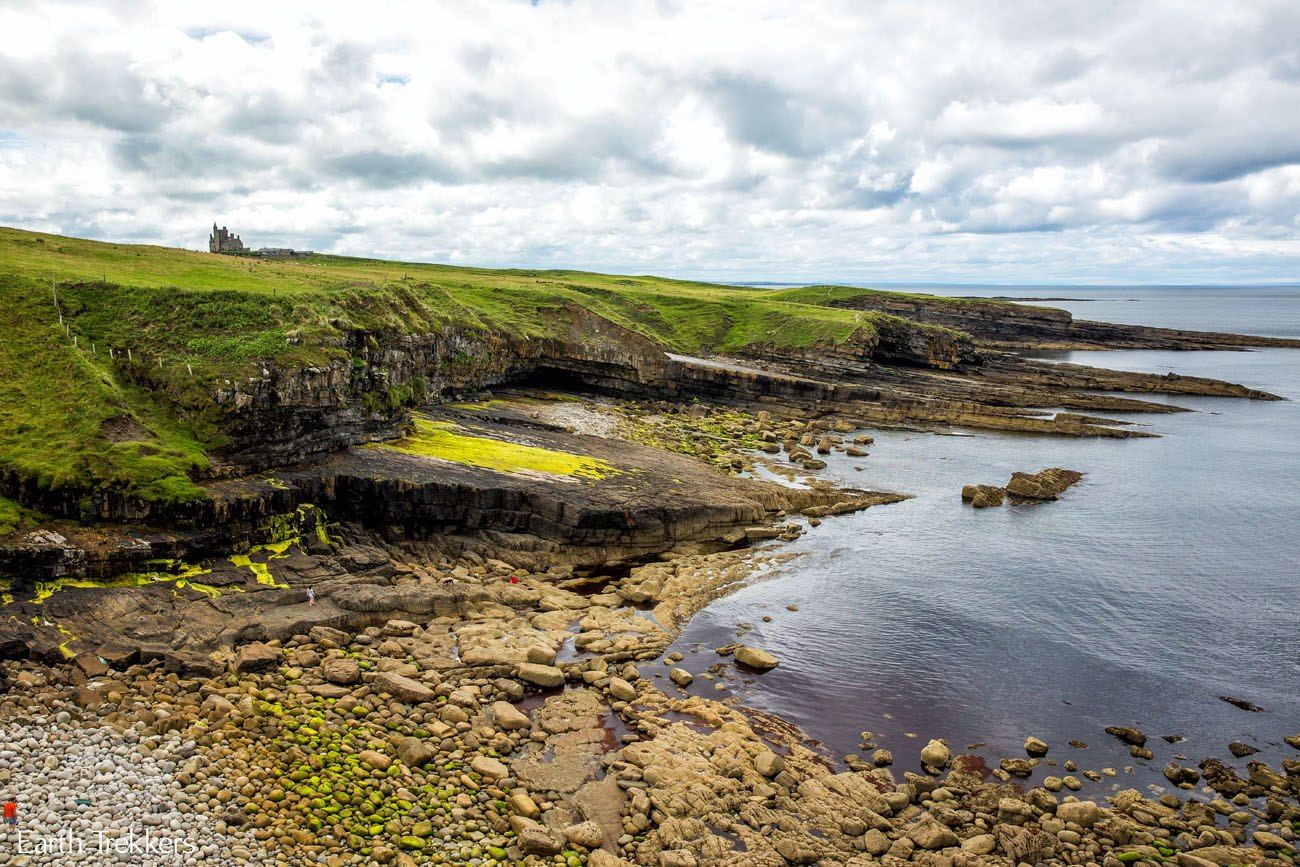 Mullaghmore Head on the Wild Atlantic Way.
If you are making great time, you can take a three hour detour out to the Slieve League. This is another dramatic stretch of coastline, similar to the Cliffs of Moher. Because of the remoteness of these cliffs, not many tourists make it out this way. We didn't either, unfortunately.
Have dinner and check into your hotel in lovely little Portrush.
Where We Stayed in Portrush: We stayed at the Albany Lodge. This is a basic, nothing fancy small hotel located in Portrush.
Day 9
Northern Ireland
One day gives you just enough time to tour the highlights of Northern Ireland. Most sites are clustered around the northern coastline and around Belfast.
Northern Ireland draws many Game of Thrones fans, as this is a major filming location for the HBO TV series. We toured the sites but were disappointed. Many of them were overcrowded and barely resemble what you see on TV. If you are traveling to Northern Ireland to see the Game of Thrones filming sites, read this before you go: Game of Thrones Filming Sites in Northern Ireland…What You Should Really Expect!
Places you should visit in Northern Ireland
Dunluce Castle. See the ruins of an ancient castle perched on the cliffs of the Northern Ireland coastline.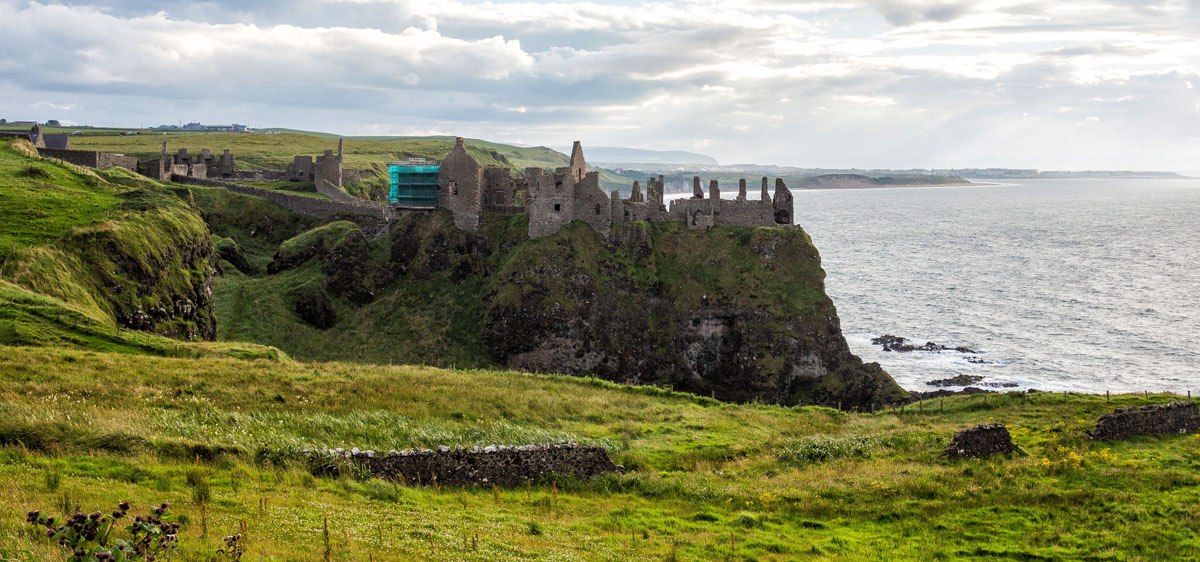 Carrick-A-Rede Rope Bridge. This rope bridge spans the gap between two rocky, coastal cliffs. Get here early or late to miss the crowds.
Giant's Causeway. This is spectacular. It is worth traveling to Northern Ireland just to see this. The Giant's Causeway is a stretch of coastline with perfectly formed hexagonal columns, all massed together at the water's edge…it's an amazing sight to see.
Get here at sunrise or sunset for the best experience. If you arrive in Portrush early enough on day 8, consider coming here to watch the sunset. This just may be one of the highlights of this entire trip.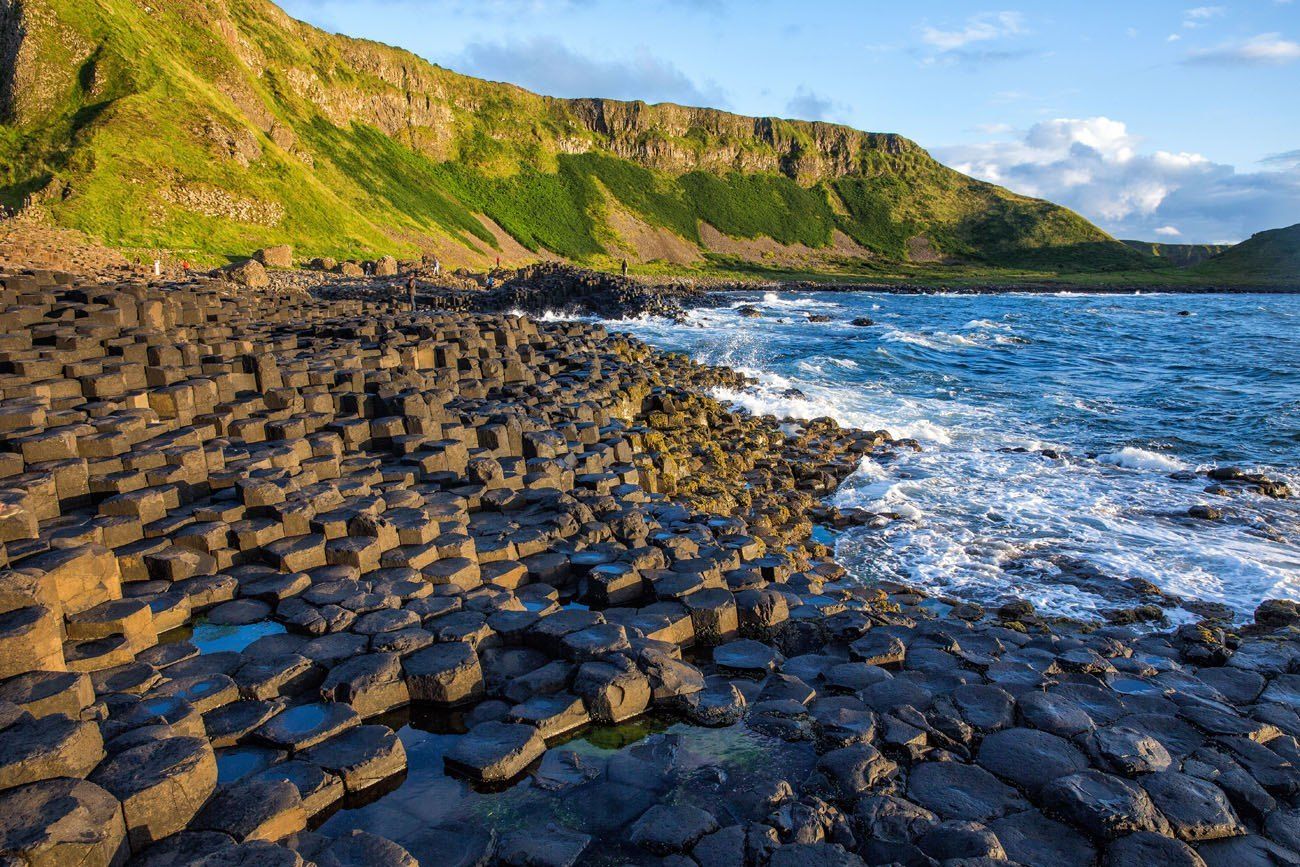 The Dark Hedges. This is the most popular Game of Thrones filming location in Northern Ireland. The Dark Hedges is a short road lined with twisted, mature beech trees. This is the Kingsroad.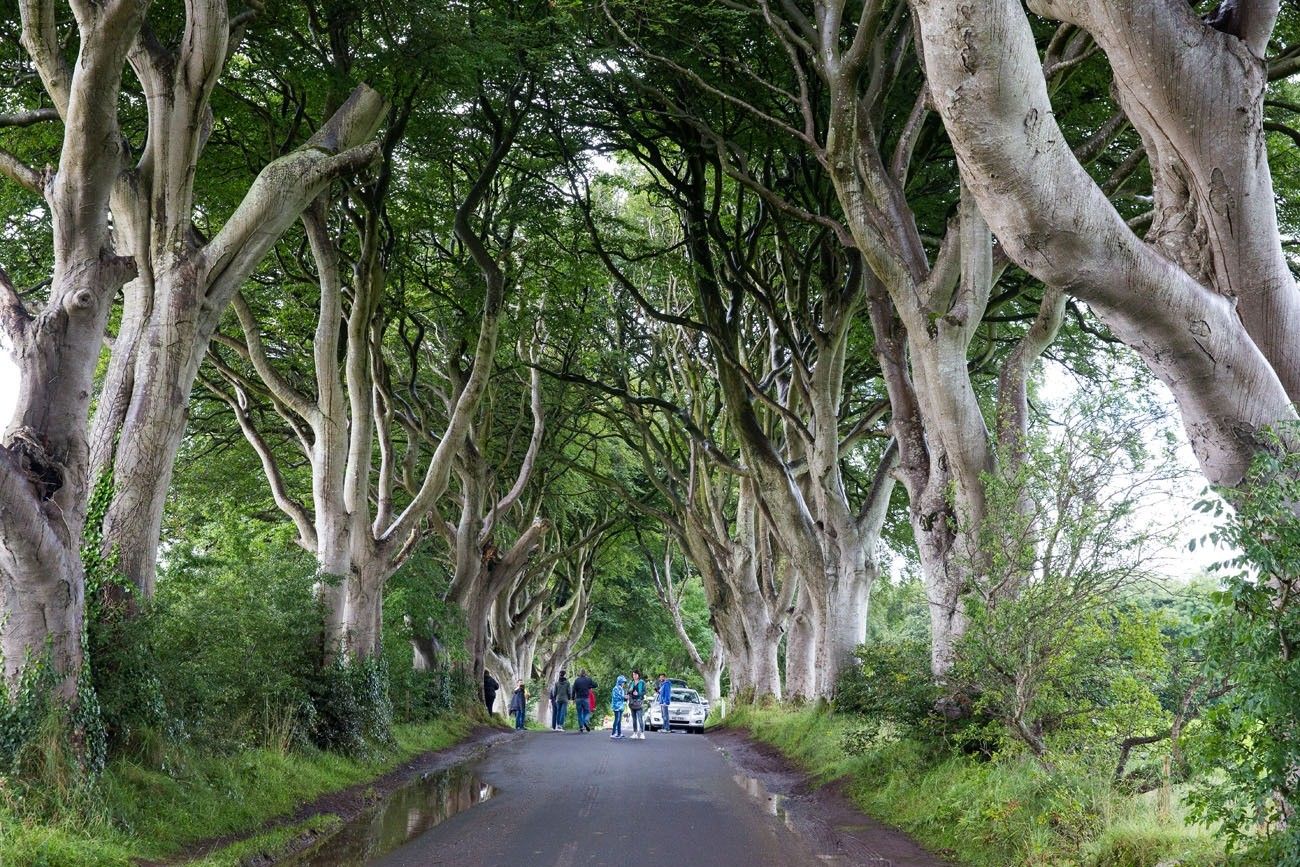 Your day ends in Belfast. If you make it before closing time (between 5 pm and 7 pm depending on the season), you can tour the Titanic Museum. The Titanic was constructed in the Belfast Harbour in 1911.
Day 10
Fly Home
Begin your travels home. Or, for those with more time, continue on to your next destination.
---
With More Time
If you have more than 10 days, here are some great places to add to this Ireland itinerary.
Aran Islands
The Aran Islands sit off the coast of Ireland and are accessible from Doolin and Galway between March and October. To see the Aran Islands you can either add a day or visit the islands on day 7 of this itinerary. To do this, on day 6, drive directly from Killarney to Doolin and spend the afternoon on the Cliffs of Moher, in order to spend day 7 on the Aran Islands.
This full day tour includes a visit to the Cliffs of Moher and a visit to the Aran Islands.
Connemara National Park
Connemara National Park is a great place for hiking and exploring the Irish outdoors. You can visit Connemara on a day trip from Galway. On this tour from Galway, visit Connemara National Park, Kylemore Abbey, and the village of Cong.
Kylemore Abbey
Kylemore Abbey is a Benedictine Monastery located just around the bend from Connemara National Park. This is a very picturesque spot, a gorgeous building that is featured in many publications about Ireland.
Ashford Castle
Ashford Castle is a medieval castle that has been turned into a five star luxury hotel. It's an impressive building to see, and John Wayne, President Ronald Reagan, King George V, John Lennon, Brad Pitt, and many more celebrities have been guests here. Ashford Castle is located one hour north of Galway.
Spend more time in your favorite spot
You could also add more time to places we already list in this Ireland itinerary, such as Northern Ireland, Kilkenny, Galway, and Dublin.
Best Time for this Ireland Itinerary
Spring, summer, and fall are the best seasons to visit Ireland. Summer is peak season, so expect large crowds of people but longer days and warmer temperatures.
If you want to avoid most of the tourists, late spring and early fall are your best bets.
More Information about Ireland
BEST OF IRELAND: 14 Must-Have Experiences in Ireland
CLIFFS OF MOHER: Cliffs of Moher: How to Walk from Doolin to Hags Head
RING OF KERRY: Tips for Driving the Ring of Kerry
DINGLE PENINSULA: Driving the Dingle Peninsula
SKELLIG MICHAEL: How to Visit Skellig Michael: One of Ireland's Most Unique Destinations
GIANTS CAUSEWAY: The Jaw-Dropping Giant's Causeway
---
If you have any questions about this 10 day Ireland Itinerary, let us know in the comment section below.
Going to Ireland? Buy the Guide:
You Might Also Like: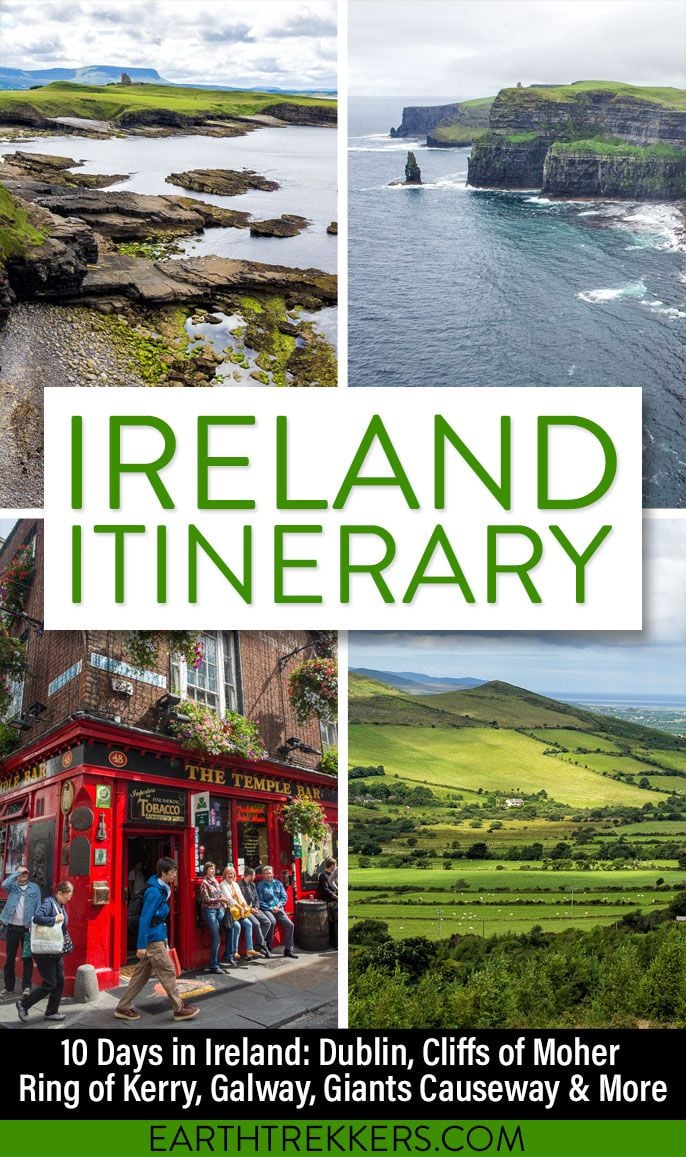 All rights reserved © Earth Trekkers. Republishing this article and/or any of its contents (text, photography, etc.), in whole or in part, is strictly prohibited.
Note: This post contains affiliate links. When you make a purchase using one of these affiliate links, we get paid a small commission at no extra cost to you.