Our trip to London and Paris was our kids' very first experience in Europe. They were only 8 and 9 years old at the time, so we wanted to pick two cities that had recognizable landmarks, good food, and fun things to do with kids. During our four days in Paris we toured most of the major sites, ate lots of french food, and spent a lot of time on Paris' metro system. Tyler and Kara loved Paris, and from our experience we have come up with ten fun things to do in Paris with kids.
Things to Do in Paris with Kids
Climb the Steps of the Eiffel Tower
It goes without saying that the Eiffel Tower cannot be missed on a trip to Paris. Kara looked forward to this the most so we made it the very first thing we did. Both of our kids climbed all 600+ steps to the second level. For them, climbing the steps was more fun than waiting in long lines in order to take the elevator. We met Kathy and Valerie (our Moms) on the second level and from here we had the best views over Paris.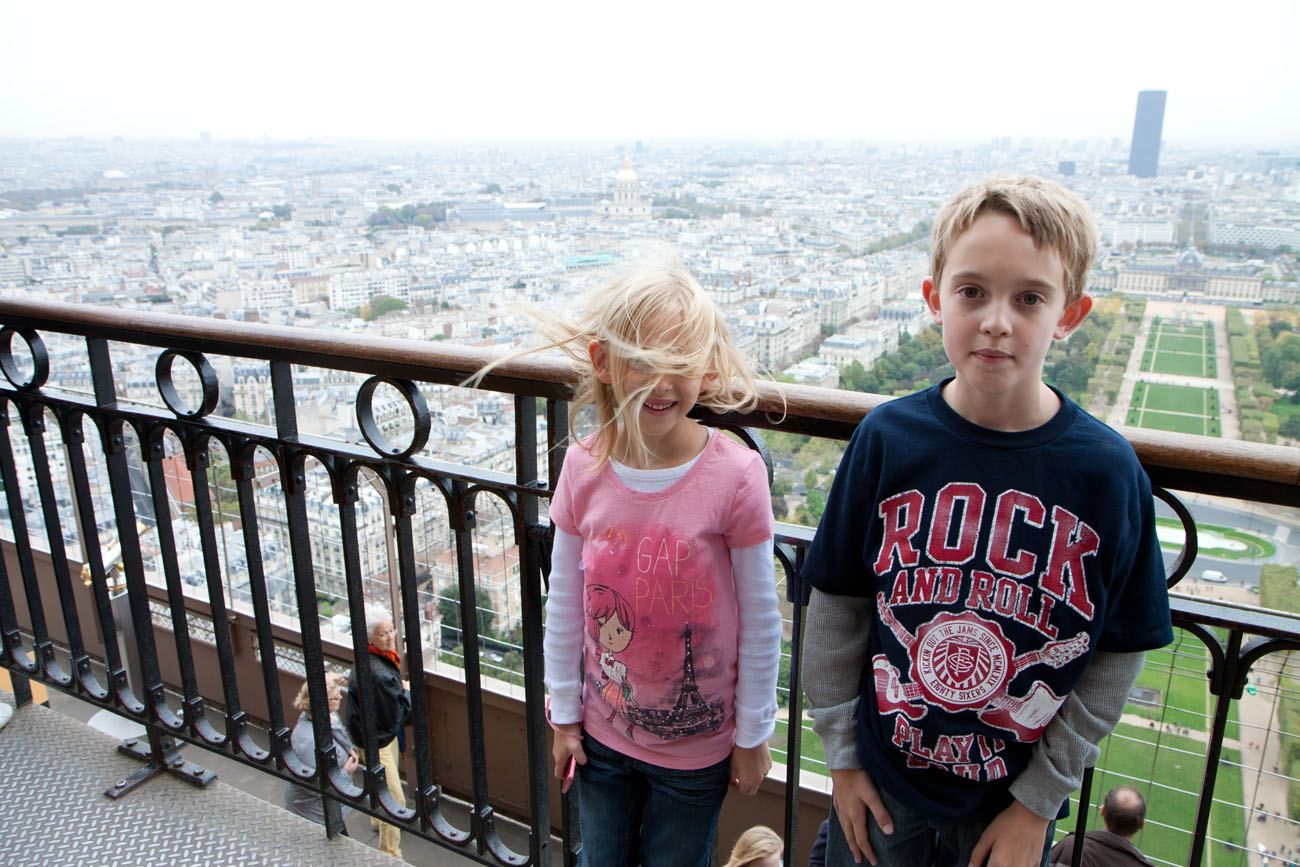 It can be windy!!
Have a Picnic in Front of the Eiffel Tower
Tim and I did this on our first trip to Paris and absolutely loved it. Rue Cler is a market street in Paris just a few blocks away from the Eiffel Tower. Here you can assemble a lunch of bread, cheese, fruit, and chocolate, find a picnic bench or patch of grass in Champs du Mars, and have a picnic with one of the best views in the world. Going from shop to shop on Rue Cler is a lot of fun and the lunch may be one of your favorite memories during a visit to Paris with kids.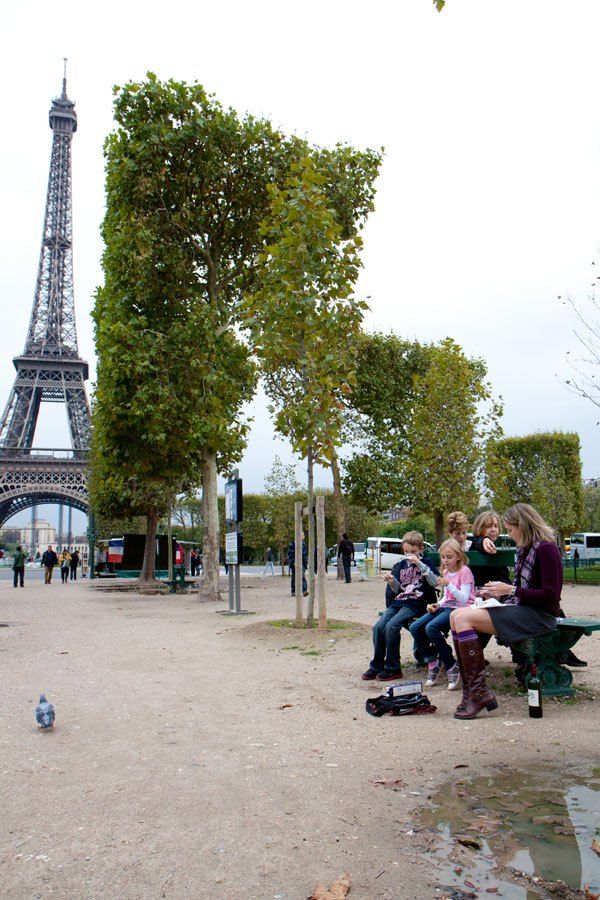 Go on a Scavenger Hunt in Musee d'Orsay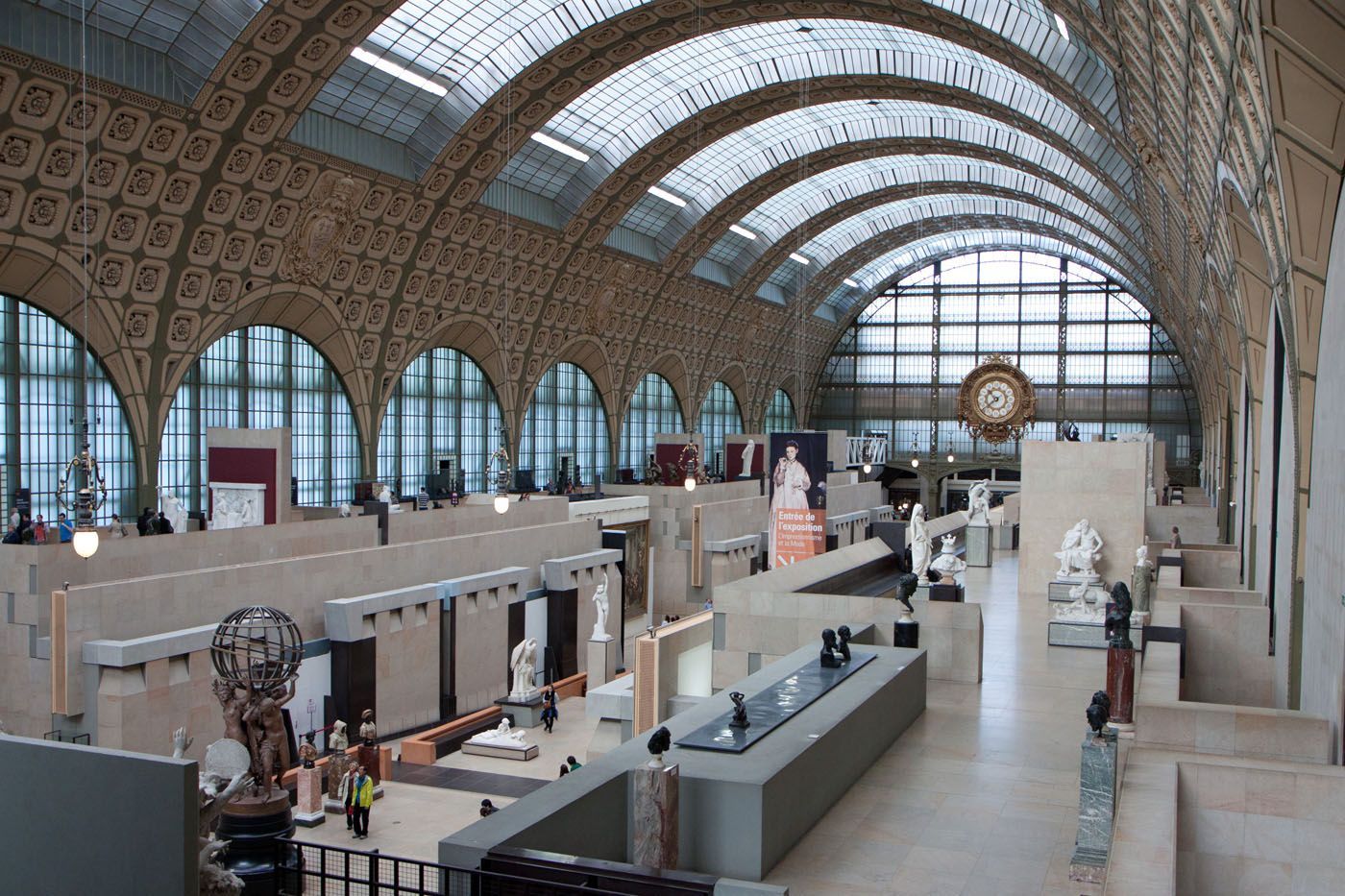 The Musee d'Orsay is my favorite art museum in the world. There is just no comparison. The impressionist artwork is beautiful but seeing it in the setting of a renovated train depot is what makes this place special.
On arrival we received a guide of featured artwork on display in the museum. We picked up a second copy so both Tyler and Kara each had their own. For each of the three levels there were pictures of six pieces of art they each had to find. Tyler and Kara had fun walking through the museum looking for the artwork while Tim and I followed them. We got to see everything, the Van Goghs, the Monets, the Manets, and the Gaugins. We spent two hours in the museum and Tyler and Kara did not want to leave because they were having such a good time.
Get a Gargoyle's View of Paris from Notre Dame
Tyler and Kara love to climb…they love to climb stairs, rock walls, mountains, boulders in their path, you name it. So, while touring Paris, if we asked them if they wanted to climb another three hundred plus stairs they very enthusiastically answered "yes!" Make the staircase a narrow, spiral staircase and the fun factor multiplies.
Notre Dame was the perfect Parisian entertainment for our kids. We climbed those narrow staircases and then enjoyed the iconic views of Paris in the company of centuries old gargoyles.
Important Note: On April 15, 2019, Notre Dame suffered a devastating fire. The cathedral and the towers will be closed until further notice. Restoration work is currently being done, with a goal of reopening the cathedral in time for the 2024 Summer Olympics.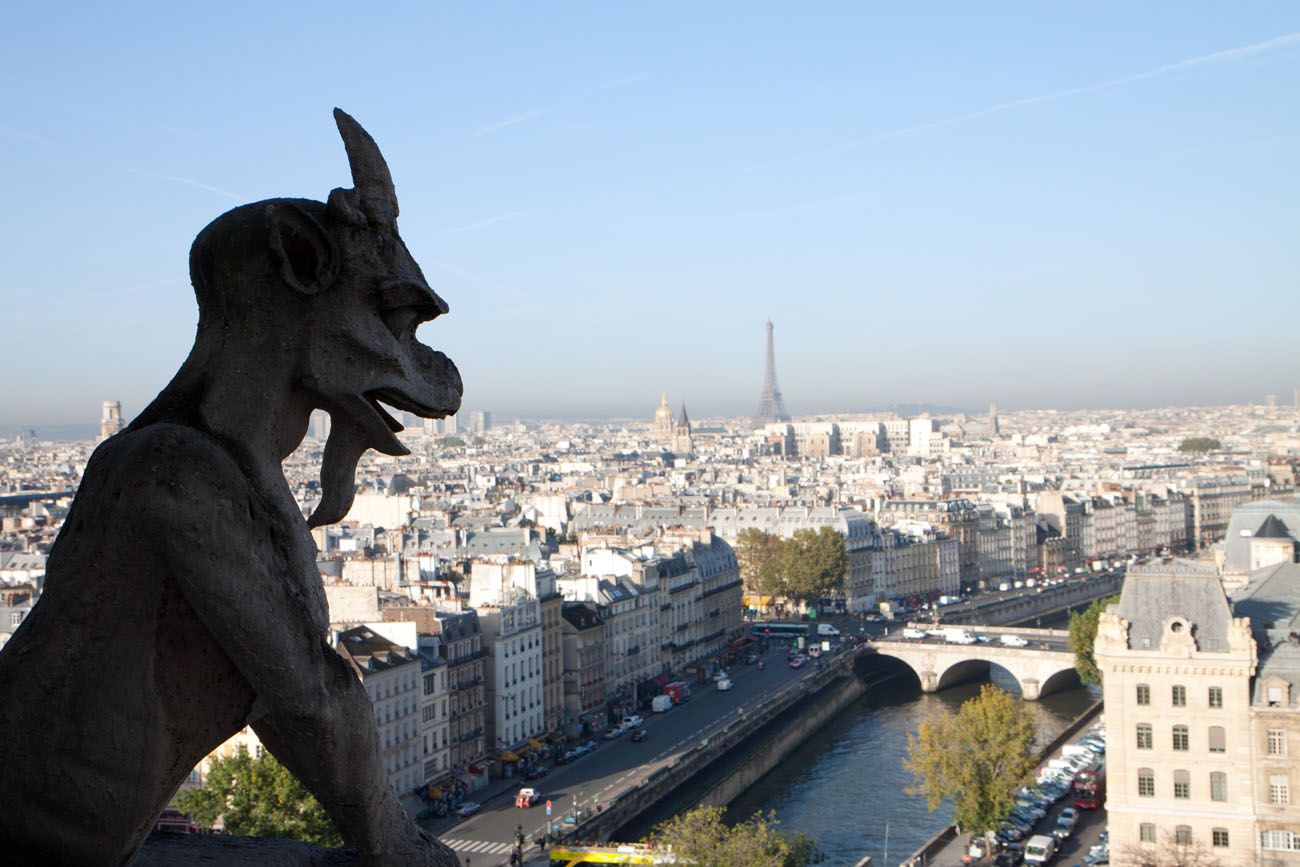 Say Hi to Mona Lisa at the Louvre Museum
The Louvre is gigantic. It is so large and contains so much artwork it would take days to see it all. If you are traveling with kids, keep the visit short and sweet and it will be a much more enjoyable experience for all of those involved. We took a one hour tour of the Louvre, focusing on seeing the Mona Lisa, Venus de Milo, Winged Victory, and the Apollo Gallery.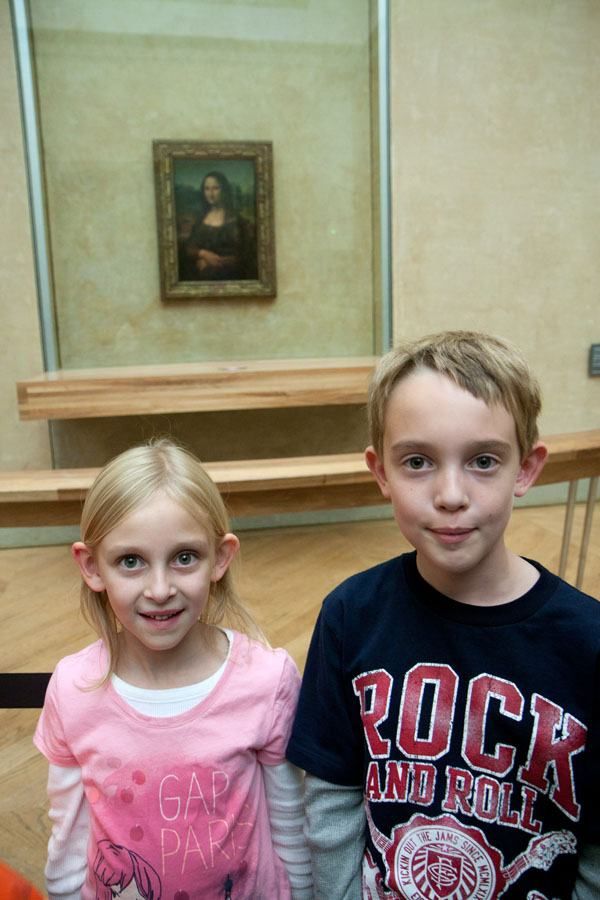 More Stair Climbing and Fabulous Views from the Arc de Triomphe
Another narrow, spiral staircase plus fabulous views from the top make the Arc de Triomphe a must see on a visit to Paris. I personally think the views from the top of the Arc are the best in Paris. You get a perfect view down the Champs Elysees to Place du Concorde and beyond, plus perfect views of the Eiffel Tower, Invalides, and the Sacre Coeur perched on the hills of Montmartre.
If you have the museum pass you can climb the Arc multiple times. The views at night are incredible…what a magical place to see the "City of Light."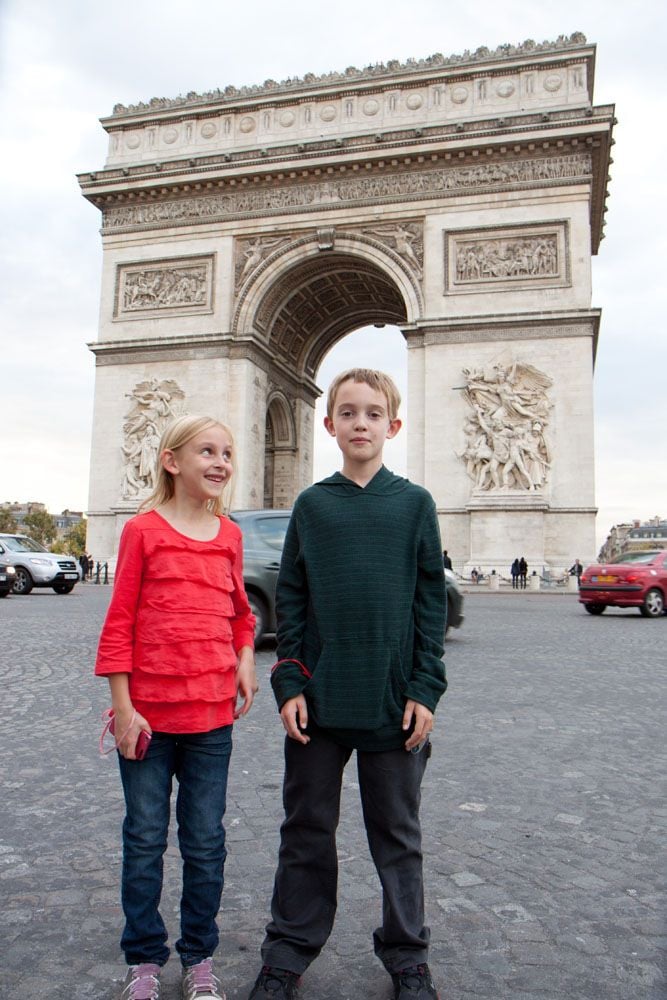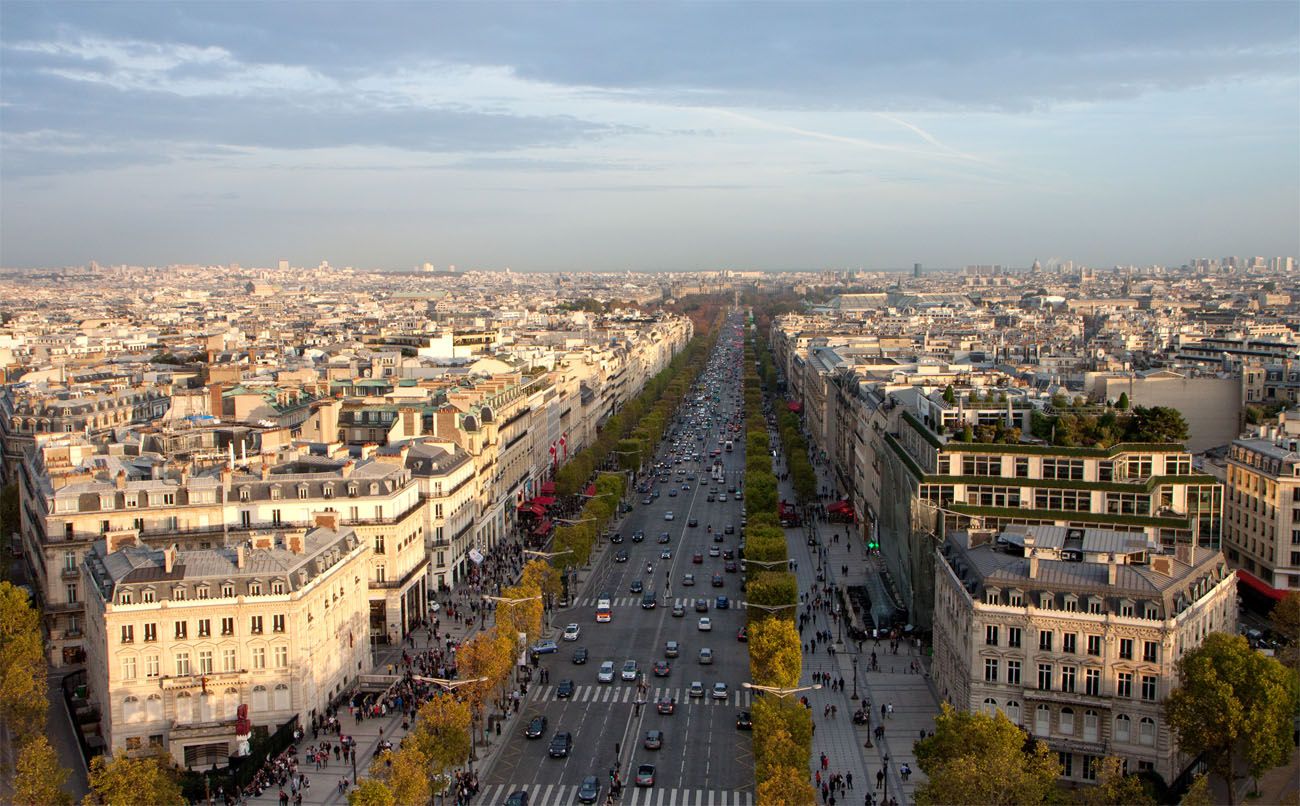 Visit Sacre Coeur and Montmartre
If your kids are still going strong and have more energy to burn, stroll the hills of Montmartre, ending at the beautiful and very unique Sacre Coeur Basilica. This is a great place to have a seat on the steps of the Sacre Coeur, look out over Paris, do some people watching, and watch the street entertainers.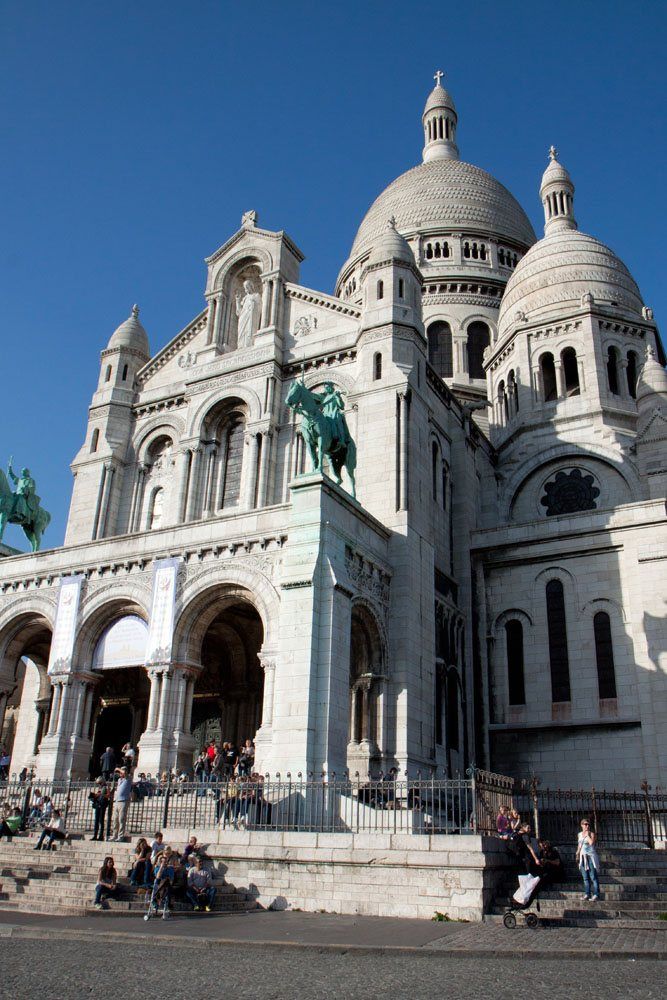 Let Imaginations Run Wild at Pere Lachaise Cemetery
This may sound a little creepy, but our hour and a half spent in the Pere Lachaise Cemetery was Tyler and Kara's favorite memory of Paris. The cemetery is a surprisingly beautiful, serene place for a stroll, at least until your kids (and husband) start pretending that they are zombies. There are so many cobblestone paths and hiding places to explore here that kids can be entertained for hours.
We visited the cemetery in October just after a rainstorm so there was mist rising up from the ground. Above us crows and ravens were cawing, adding to the mystery of the cemetery. And the leaves were just beginning to change…beautiful.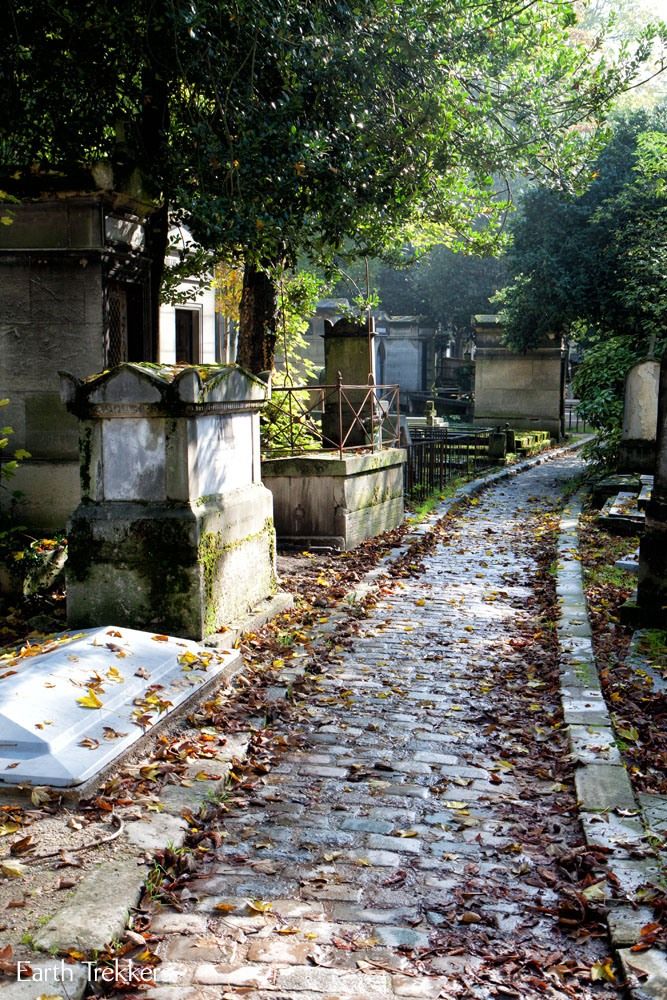 Pose Like the Statues at the Rodin Museum
We had a rainy visit to the Rodin Museum. Despite the weather Tyler and Kara had fun wandering amongst the statues, posing, and having their photos taken. The best feature of this museum is the fact that the artwork is located outdoors. Here we viewed Rodin's statues in the shadow of nearby Eiffel Tower. The Rodin Museum was the "most fun" of the art museums we visited in Paris.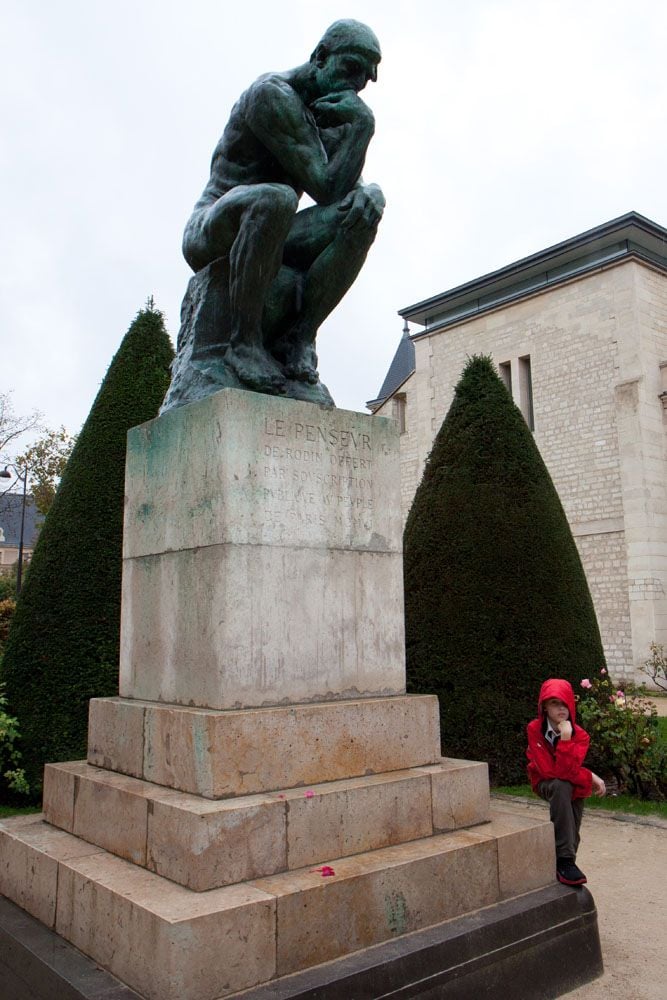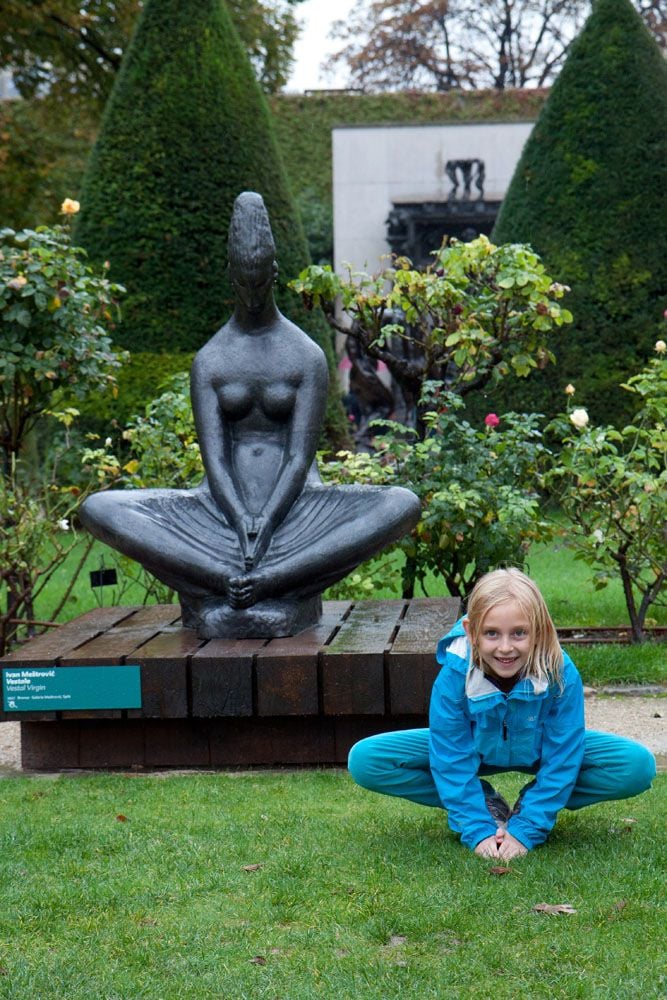 Explore the Palace of Versailles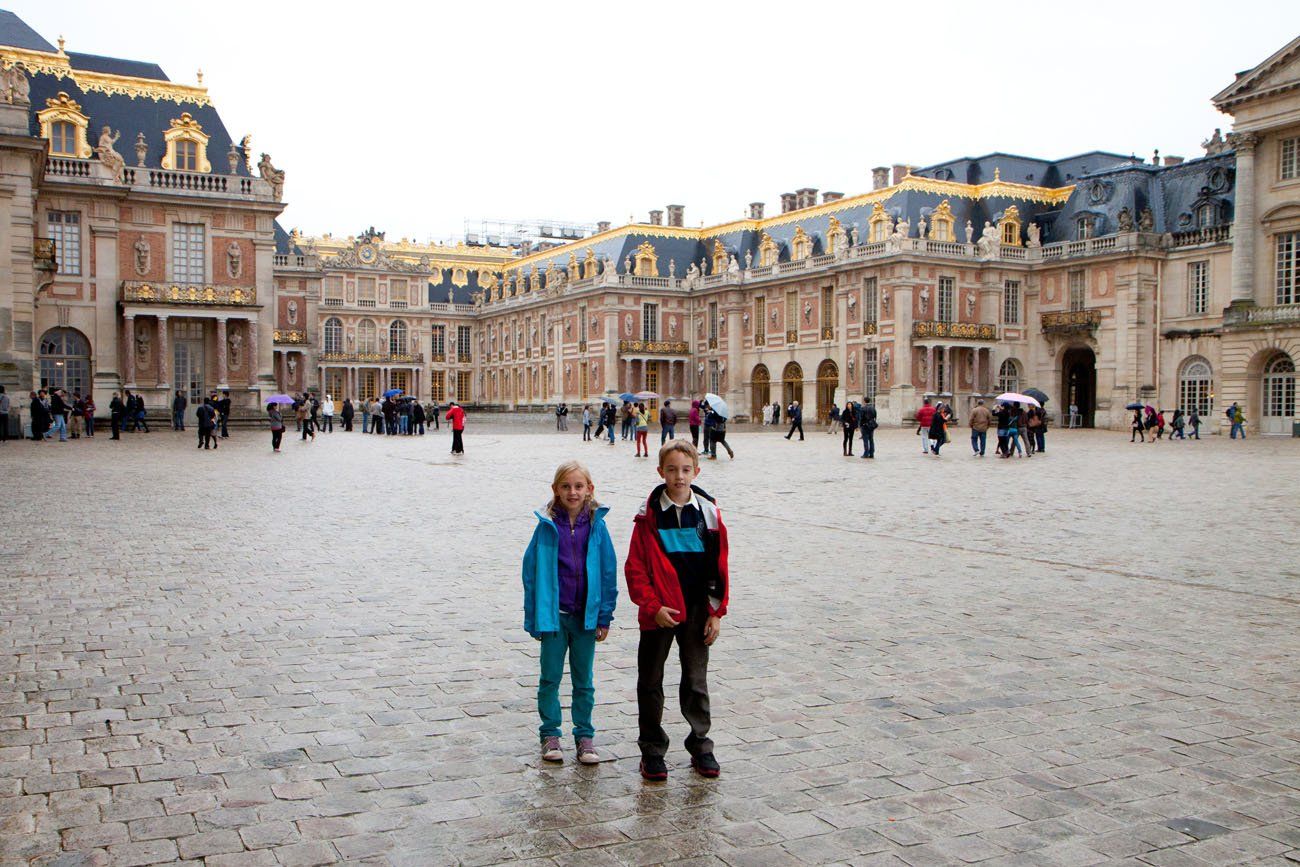 We took one morning to tour Versailles, using the RER for transportation. We must have been visiting during an unusually busy time because the palace was uncomfortably packed with other tourists. It was hot and difficult to walk around and not very enjoyable.
So why am I recommending it? Because the gardens of Versailles are unbelievable. We visited on a rainy, dreary day when the fountains weren't running, but if you catch this on a sunny day at the right time of year, wandering the ground of Versailles with kids would be an unforgettable experience.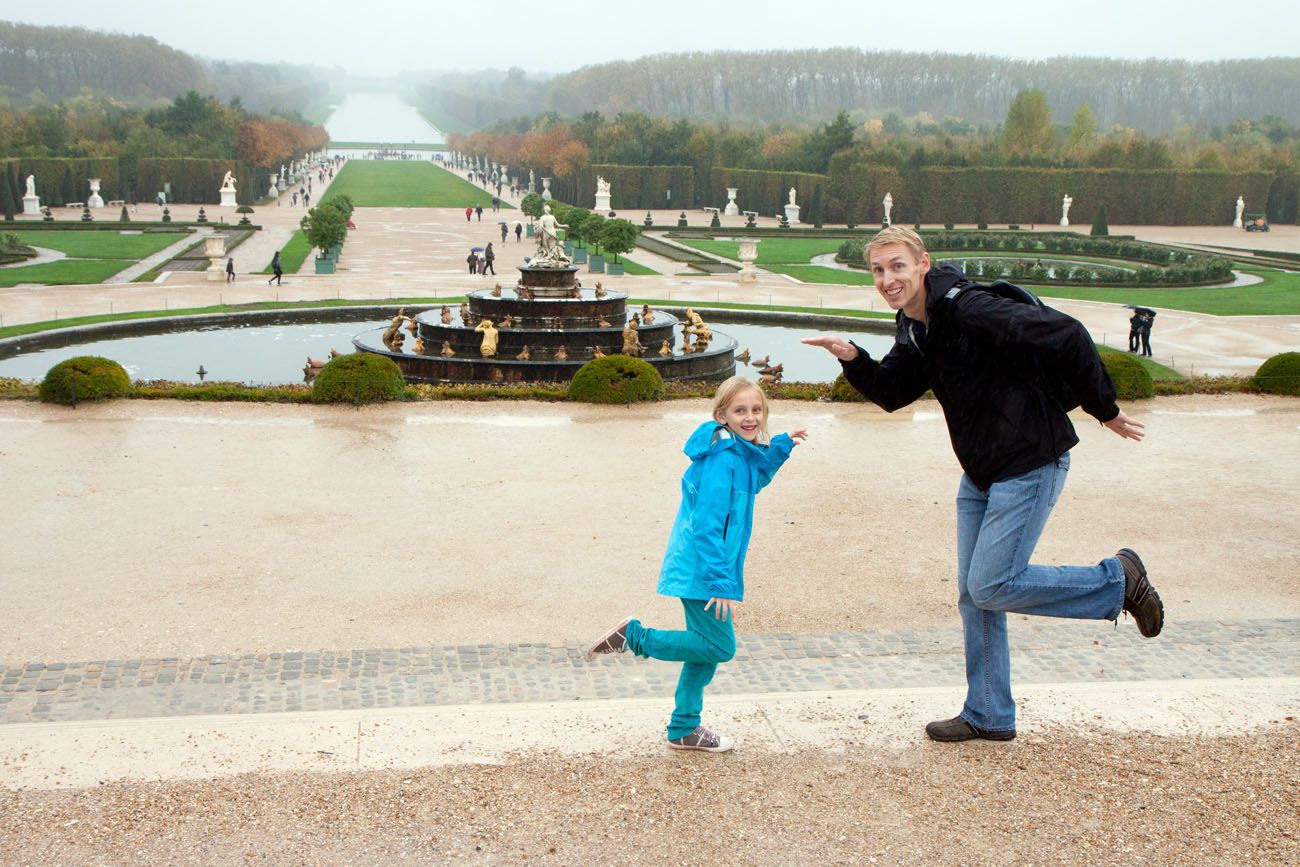 More Tips on Visiting Paris with Kids:
Visit the catacombs. They were not open when we took Tyler and Kara but Tim and I have been and we really liked them. It's quite an interesting experience wandering underneath the streets of Paris in long hallways lined with human bones.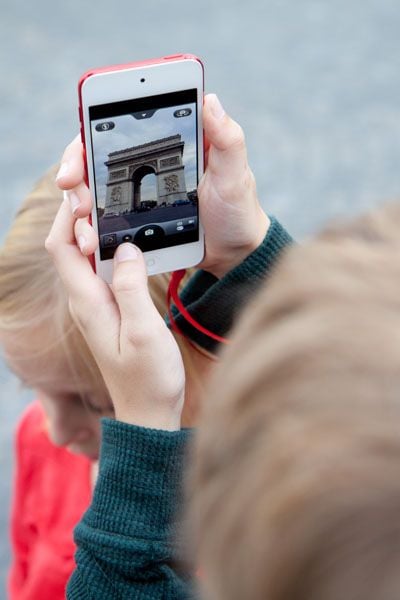 Let them take pictures. Both Tyler and Kara have an iPod and they love taking pictures and video during our trips. Once at home their pictures can be printed and they can make a scrapbook of their adventures.
Have your kids lead the way in the Metro. The Paris metro system is very easy to use. I would tell Tyler and Kara where we were going and they loved trying to figure out how to get to our train.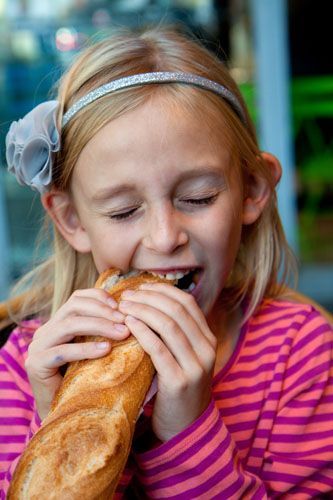 Try new foods. There are so many good things for kids to try. Great bread and cheese, onion soup, frog legs, escargot…yum!
Keep a Journal. Have your kids write a few sentences or more about what they did each day. We usually had them do their writing while waiting for dinner. It can be very interesting to hear what your kids thought about what you did each day.
Eat at an outdoor cafe. There is a cafe on every corner in Paris and this is one city where you will not have a bad meal. The adults can sit back, relax, and enjoy a glass of wine while kids are entertained watching the activity on the streets and sidewalks of the city.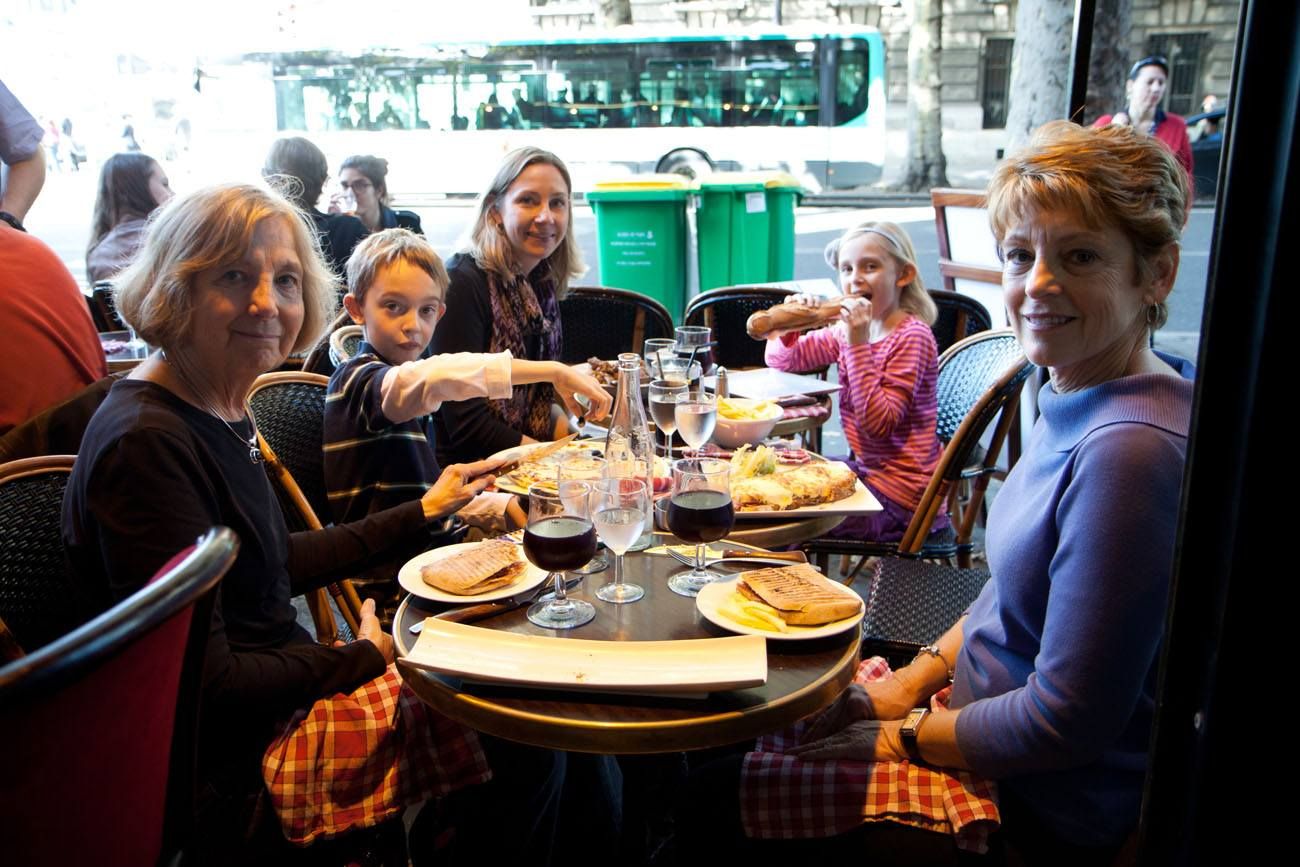 Paris is my favorite city in the world, and Tim and I were very happy to share this city with Tyler and Kara. Traveling with your kids can be a very enjoyable experience. We were always amazed at how well Tyler and Kara kept up with everything we had planned and how they handled the six hour time change easier than we did. Now, Tim and I cannot imagine traveling without them. We have really come to enjoy seeing these new places through their eyes.
---
More Information for Your Trip to Paris
PARIS: For the top experiences in the city, read our article Best Things to Do in Paris. Learn how to visit Pere LeChaise Cemetery, plan your time with our 3 Day Paris Itinerary, learn where to get the best views of Paris, and read our Paris Food Guide for information on what to eat in Paris.
LONDON & PARIS: Learn how to plan a trip to Paris and London with our 10 Day London Paris Itinerary. You can also add in Amsterdam, visiting London, Amsterdam, and Paris in 10 days.
EUROPE TRAVEL INSPIRATION: Get more travel ideas in our article 10 Days in Europe itinerary, which has 10 itineraries for your next trip to Europe. If you have less time, we also have an article that lists 25 different ways to spend one week in Europe.
FIRST TIME IN EUROPE: If this is your first time in Europe, don't miss our article 7 Things to Know when Planning Your First Trip to Europe.
All rights reserved © Earth Trekkers. Republishing this article and/or any of its contents (text, photography, links, etc.), in whole or in part, is strictly prohibited.