Saint John is one of the three main islands of the United States Virgin Islands (USVI). Most of Saint John is national park land and visiting the national park is one of the best things to do in Saint John. But you can also kayak in Coral Reef National Monument, visit beautiful Coral Bay, have dinner on the beach in Cruz Bay, or have drinks with a view.
In this guide, not only do we cover the best things to do in Saint John, but we also provide important planning information, such as how to get around, where to stay, and how to get here.
Let's get started.
Interesting Facts about Saint John
Three main islands make up the United States Virgin Islands: Saint Thomas, Saint Croix, and Saint John.
Saint John is the smallest of these three islands and roughly 60% of the island is Virgin Islands National Park.
Virgin Islands Coral Reef National Monument was created in 2001 and this monument protects the coral reefs around Saint John.
The earliest known inhabitants of Saint John are the Taino people, with artifacts dating back to 700 to 1400 AD. The Taino are the indigenous people of the Caribbean and these were the first people that Christopher Columbus met on his 1492 voyage. The Spanish conquered the Taino people, forcing them to work on the plantations and gold mines. Many of the Taino people were killed by infectious diseases brought to the islands by the Europeans.
The remaining Taino people intermarried with Europeans and Africans and now have living descendants in Puerto Rico, the Dominican Republic, and Cuba.
In the 18th century, Saint John was claimed by Denmark and the island was used to grow sugar cane and cotton. These plantations were operated by slaves. The slaves were emancipated in 1848 and once the plantations and sugar mills were abandoned, the population on the island plummeted.
In 1917, the United States purchased the US Virgin Islands from Denmark in order to establish a naval base. After World War II, Saint John became a popular tourist destination and the national park was established when Laurance Rockefeller donated his land on the island.
Two category 5 hurricanes (Irma and Maria) struck the Virgin Islands in 2017. Extensive damage was done to Saint John. The famous Caneel Bay Resort is still in disrepair and it faces an uncertain future.
Best Things to Do in Saint John
#1 Virgin Islands National Park
Without a doubt, visiting Virgin Islands National Park is one of the best things to do in Saint John.
Virgin Islands National Park makes up 60% of the island. With its pristine beaches, hiking trails, snorkeling spots, and wildlife, there is a lot here to keep you busy for several days.
Below we list ten essential experiences to have in Virgin Islands National Park.
In our Guide to Virgin Islands National Park, you can read the full list of things to do in the park, with important planning information about each of these sights.
Snorkel & Swim in Trunk Bay
Trunk Bay is one of the most beautiful beaches in the Caribbean, if not the entire world. Not only can you visit a long, pristine beach, but you can also snorkel the Coral Reef Underwater Park Trail, a snorkeling trail with underwater signs labeling the marine life.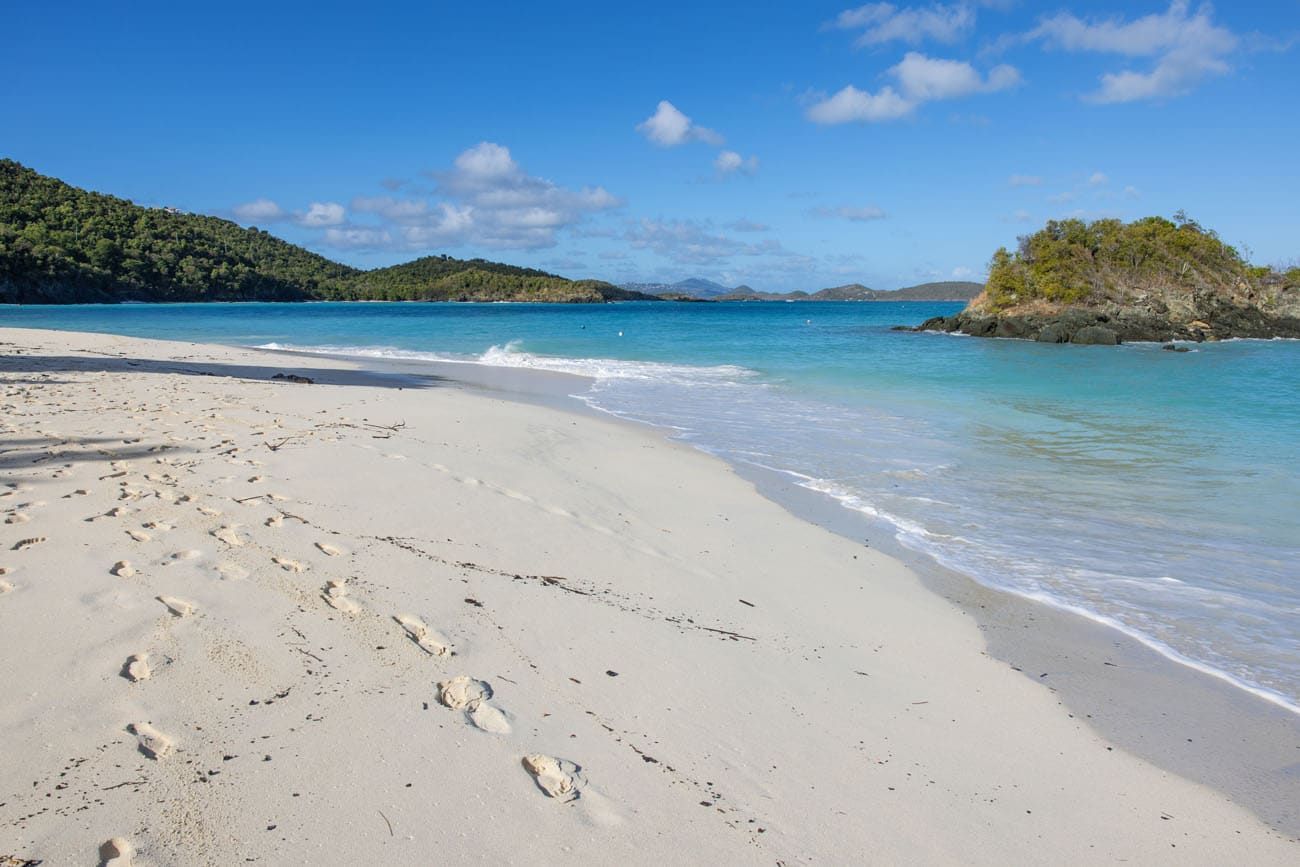 Trunk Bay Beach
Hike to Ram Head Point
This is our favorite hike on Saint John. This 3.2-mile round-trip hike takes you to two beaches, a salt pond, Drunk Bay, and Ram Head Point. The view from Ram Head Point is spectacular, and on a clear day, you can see the British Virgin Islands and Saint Croix.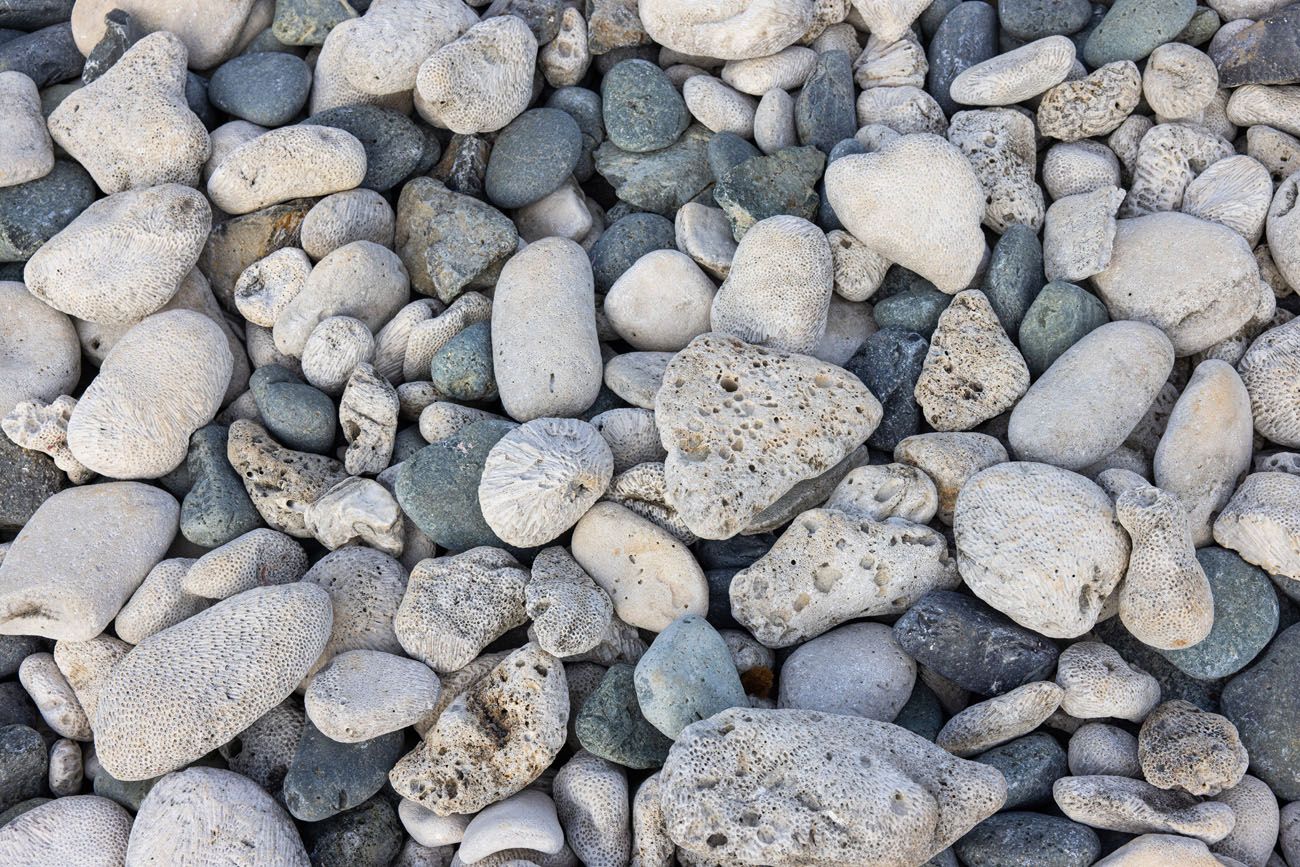 Cobblestones and coral on Blue Cobblestone Beach
Ram Head Point
Spend the Day on Maho Bay Beach
This long stretch of beach is one of the best places to spend the day since there is so much to do here.
From the shops that sit across the street from the beach, you can rent paddle boards, snorkeling equipment, lounge chairs, and souvenirs. There are several food trucks and a tiki bar. Rent kayaks and kayak out to Whistling Cay. And in the early morning or late afternoon, you might even be able to spot sea turtles.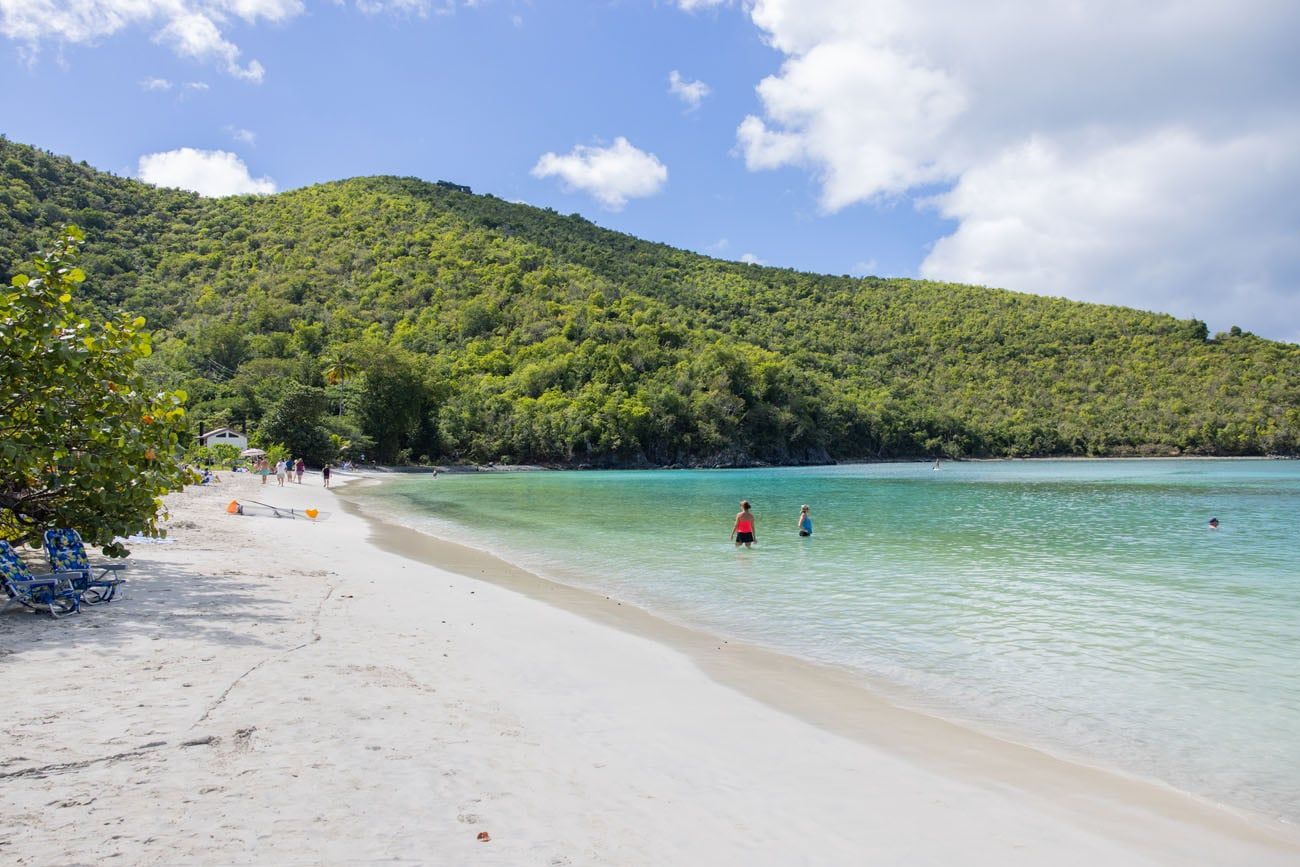 Maho Bay Beach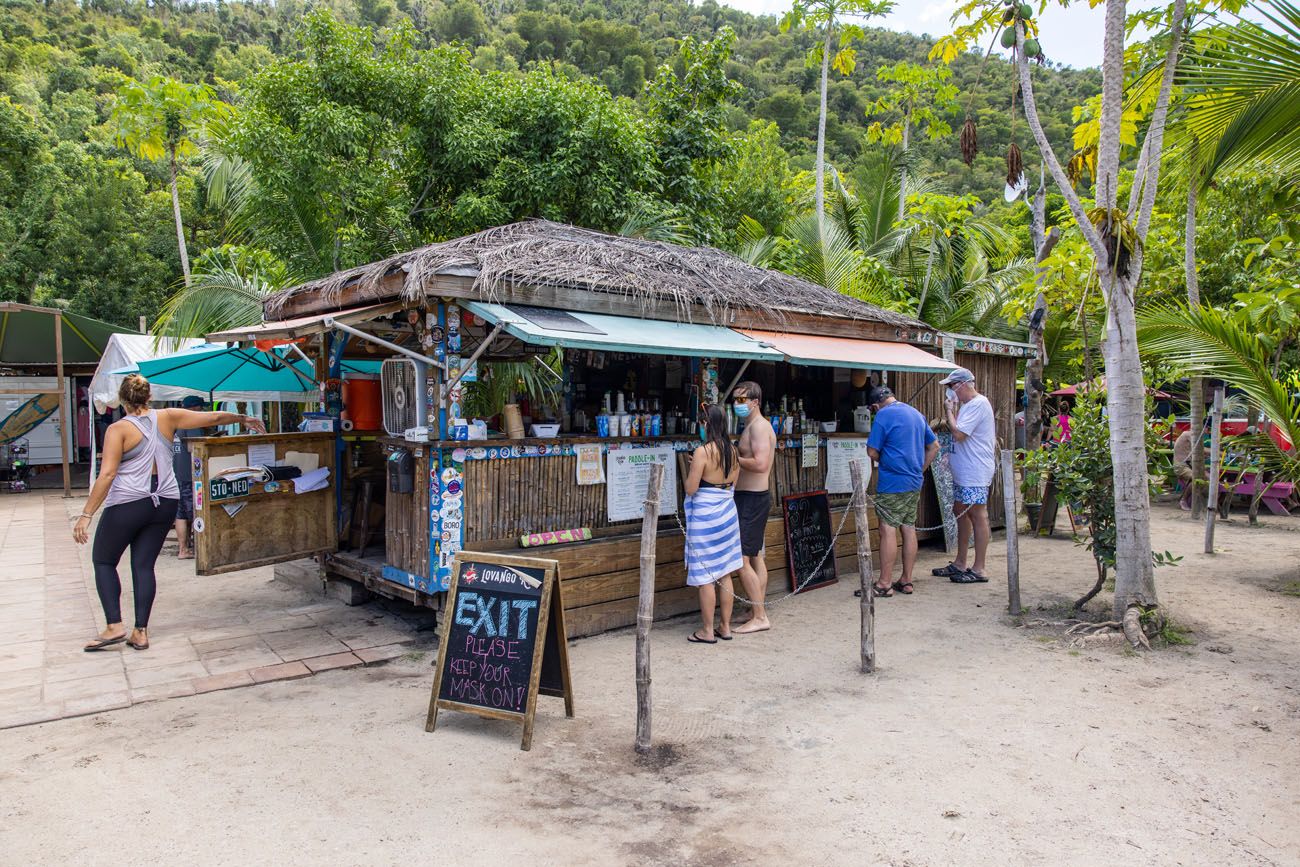 Tiki Bar at Maho Beach
The Leinster Bay Trail, Waterlemon Bay, and Windy Hill
This hike + snorkeling combo is one of the best things to do in Saint John.
The Leinster Bay Trail is a flat hiking trail that starts near the Annaberg Ruins and runs to Waterlemon Bay. Waterlemon Bay is one of the best spots to go snorkeling in Virgin Islands National Park…we saw tropical fish, sea urchins, and a sea turtle.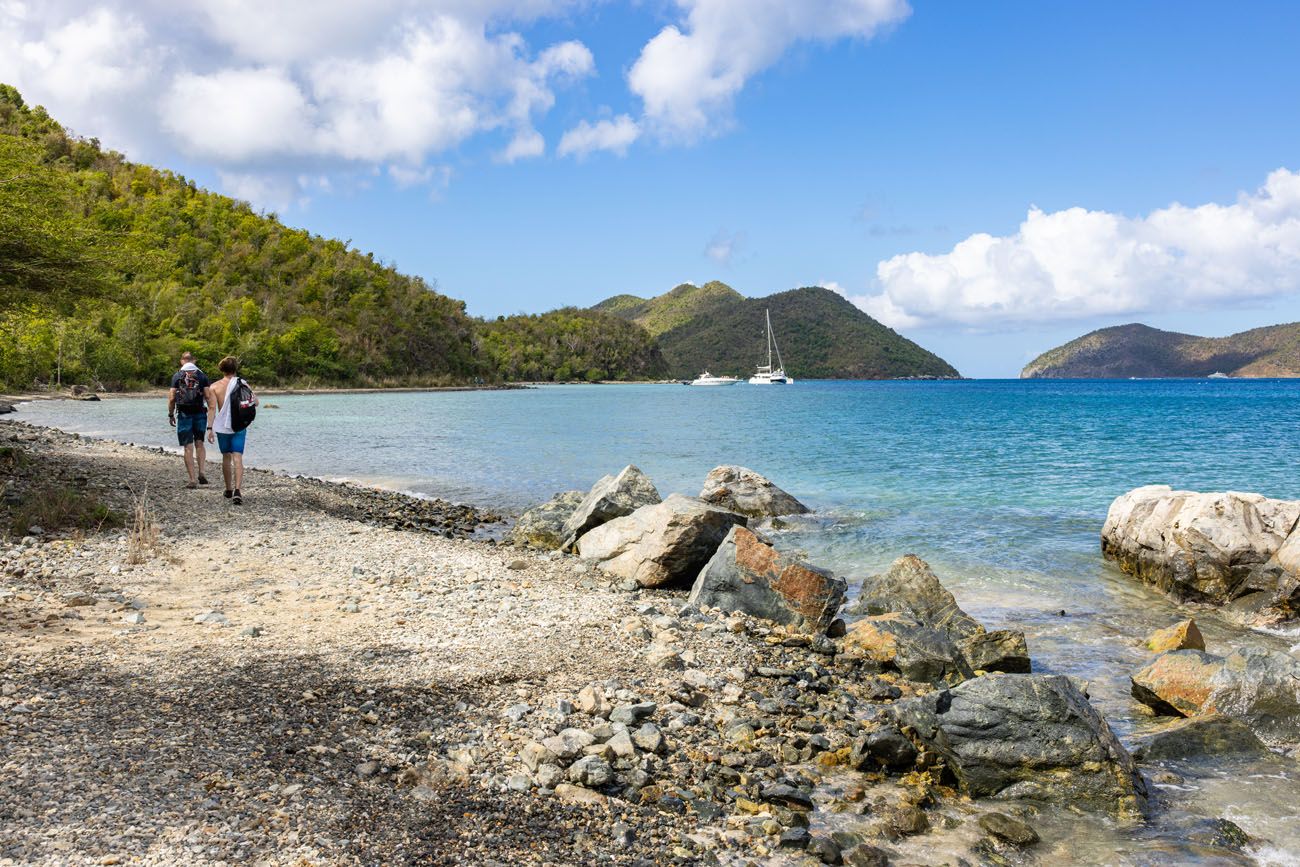 Leinster Bay Trail
You can continue the adventure by hiking up to the Murphy Great House ruins for 360° views of Waterlemon Bay and Leinster Bay.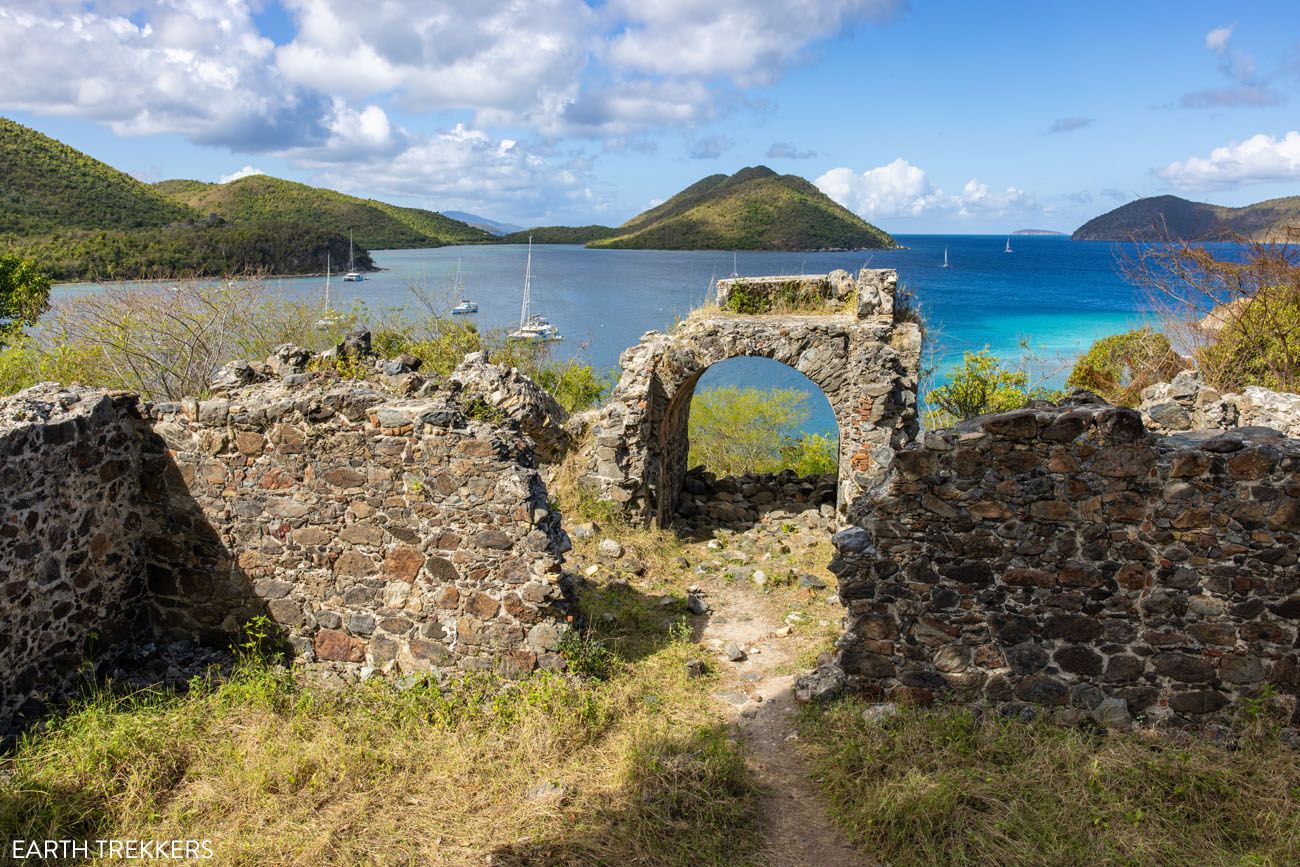 First ruins on the hike up to the Murphy Great House.
View from Windy Hill
Hike the Reef Bay Trail
This tough hike starts high up on Centerline Road and descends through a tropical forest to the ruins of a sugar mill, a beach, and petroglyphs that are over 1000 years old. If you take all of the detours along the trail, this hike is 5 miles long with 1,000 feet of total ascent (and most of this comes at the end of the hike), so it's a challenging hike.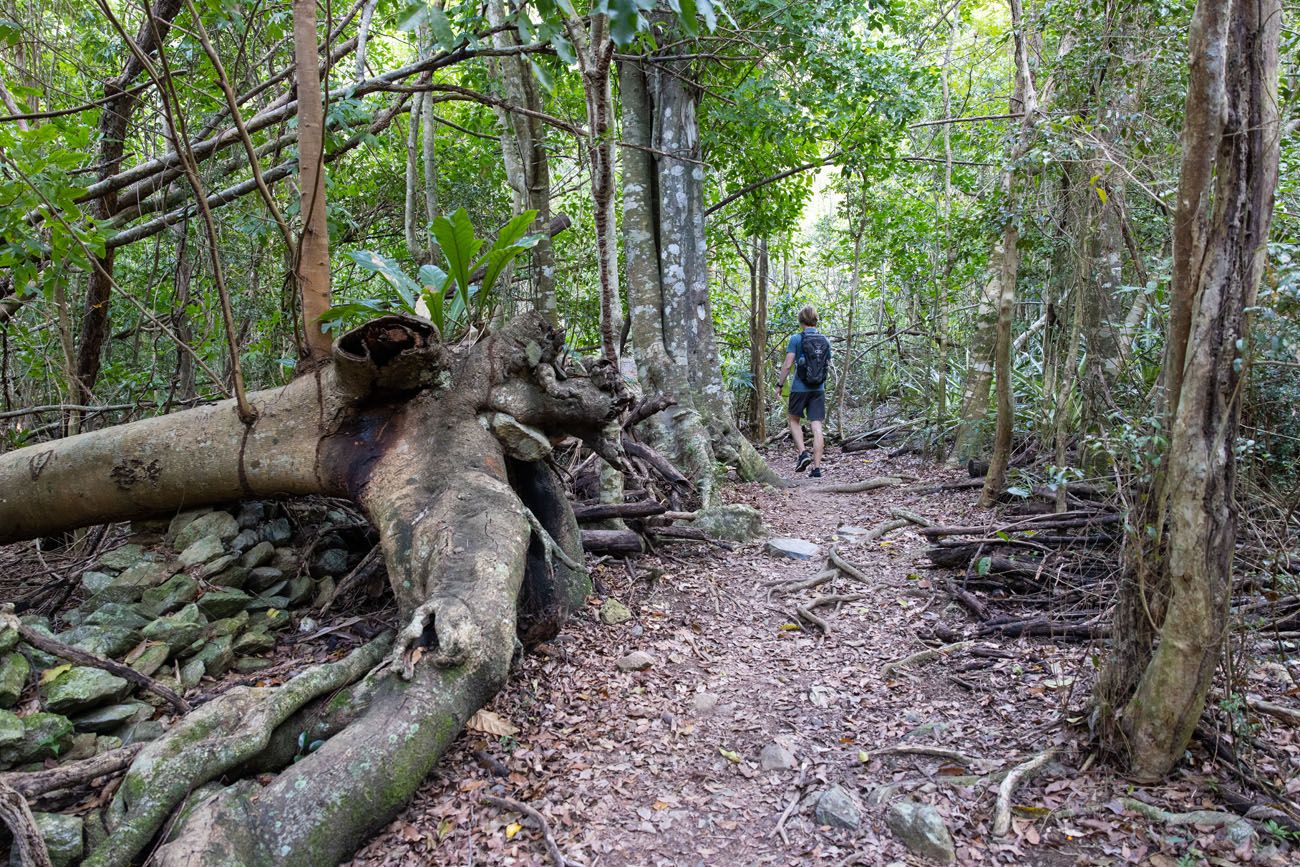 Reef Bay Trail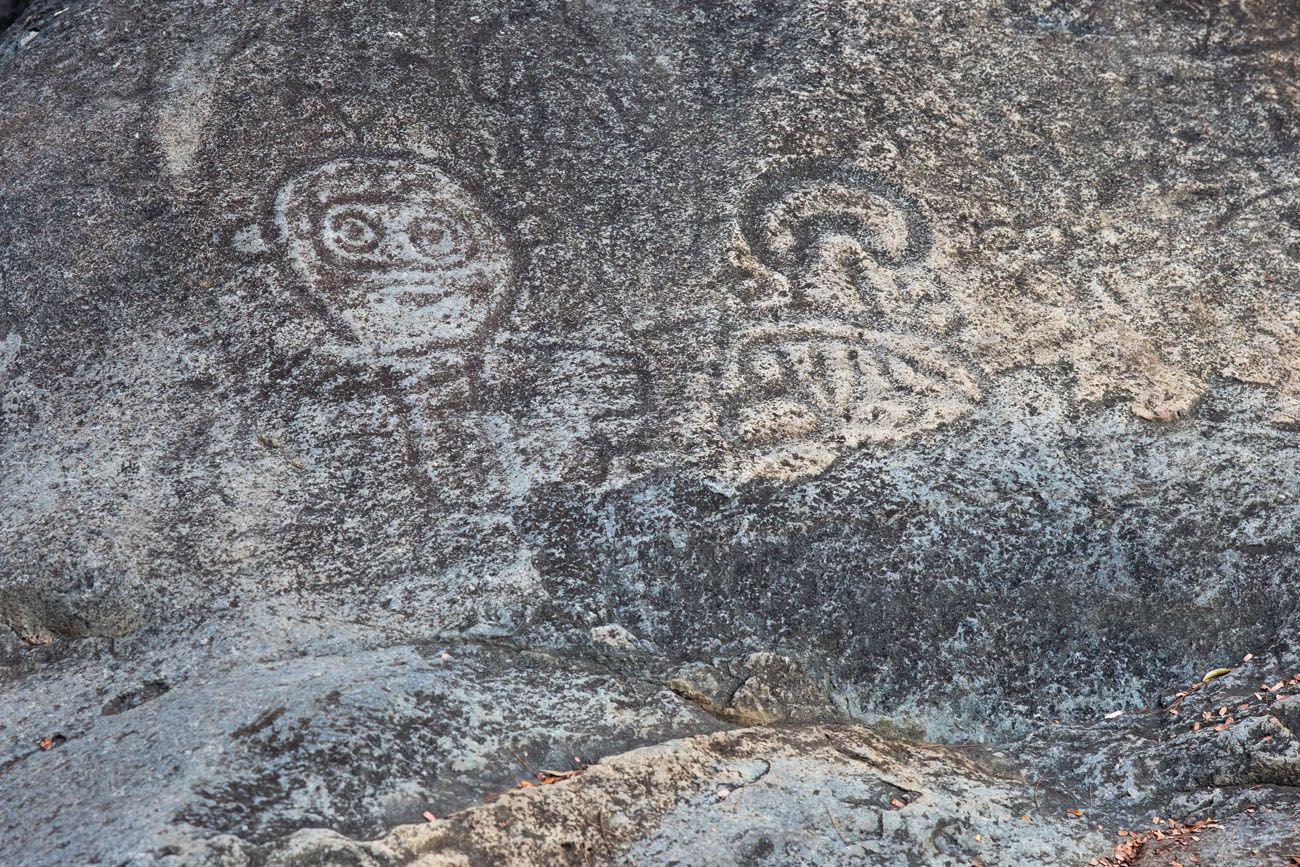 Petroglyphs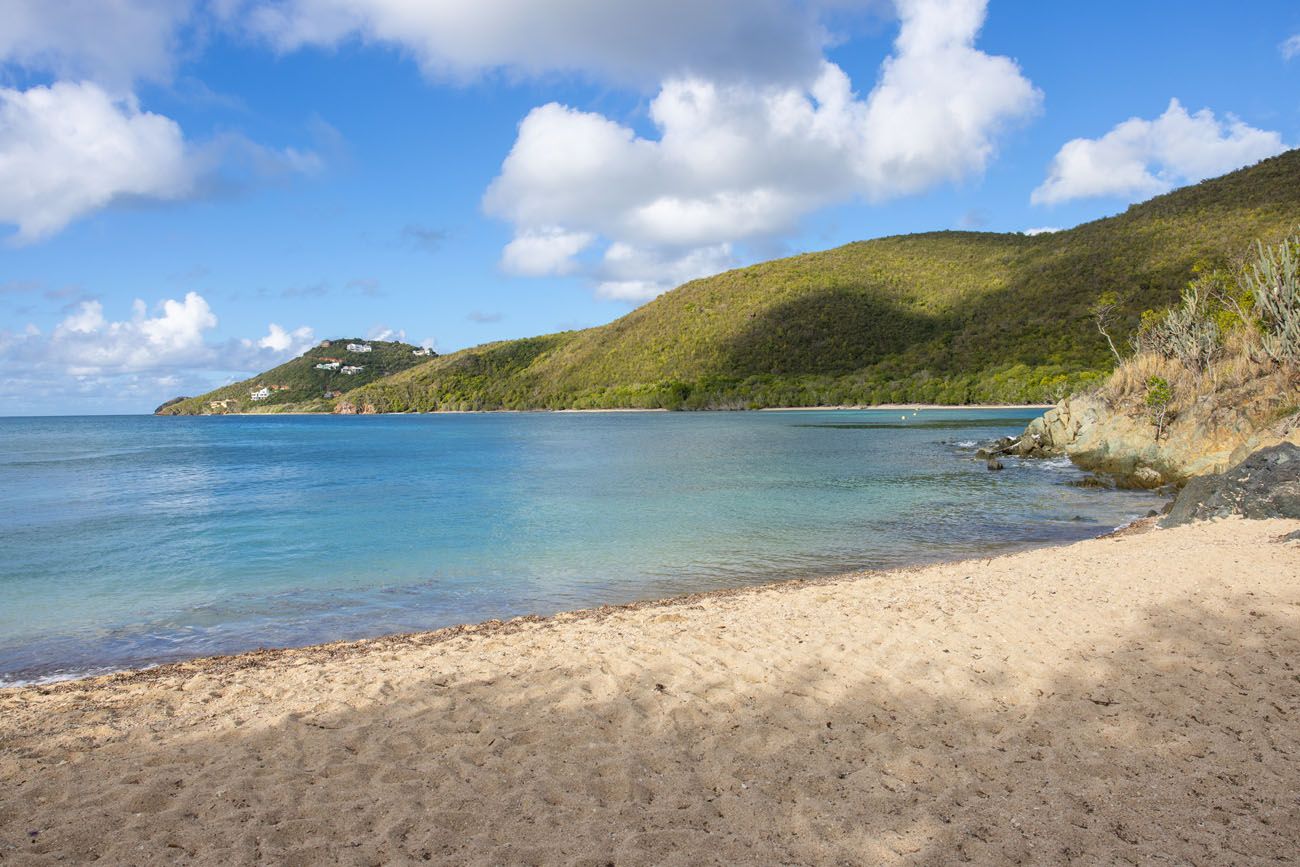 Beach at the end of the Reef Bay Trail. A great spot to go swimming before the return hike.
Visit Cinnamon Beach
This very long, white sandy beach is located about five minutes east of Trunk Bay. Cinnamon Bay Beach is a close second to Trunk Bay in terms of beauty, so if you can't get parking at Trunk Bay, this is a great beach to try next. It's also a great snorkeling spot.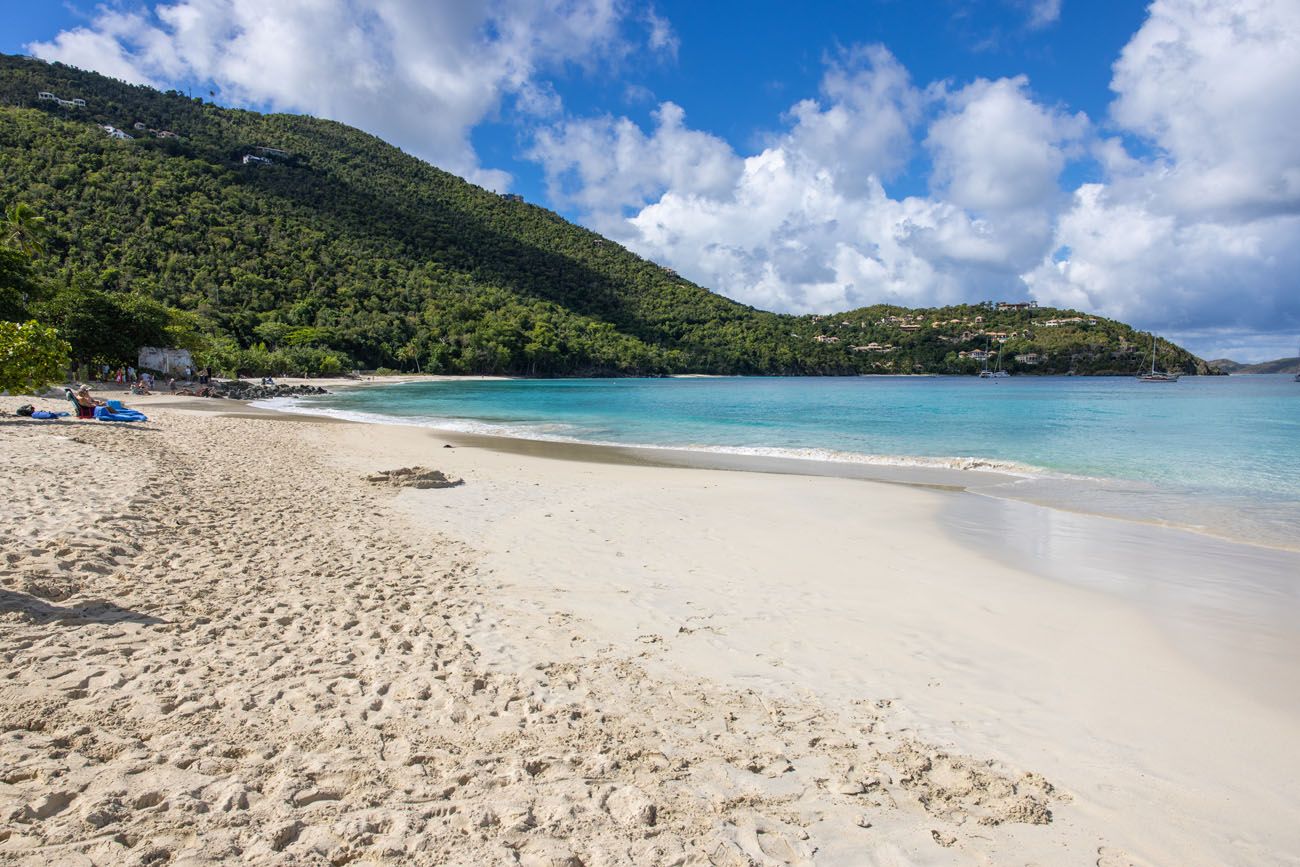 Cinnamon Bay Beach
Annaberg Sugar Plantation Ruins
The Annaberg Plantation was one of 25 sugar plantations on Saint John. The windmill that was built here was one of the largest on the island. Walking around the ruins is interesting and you also get a wonderful view over Waterlemon Bay from here.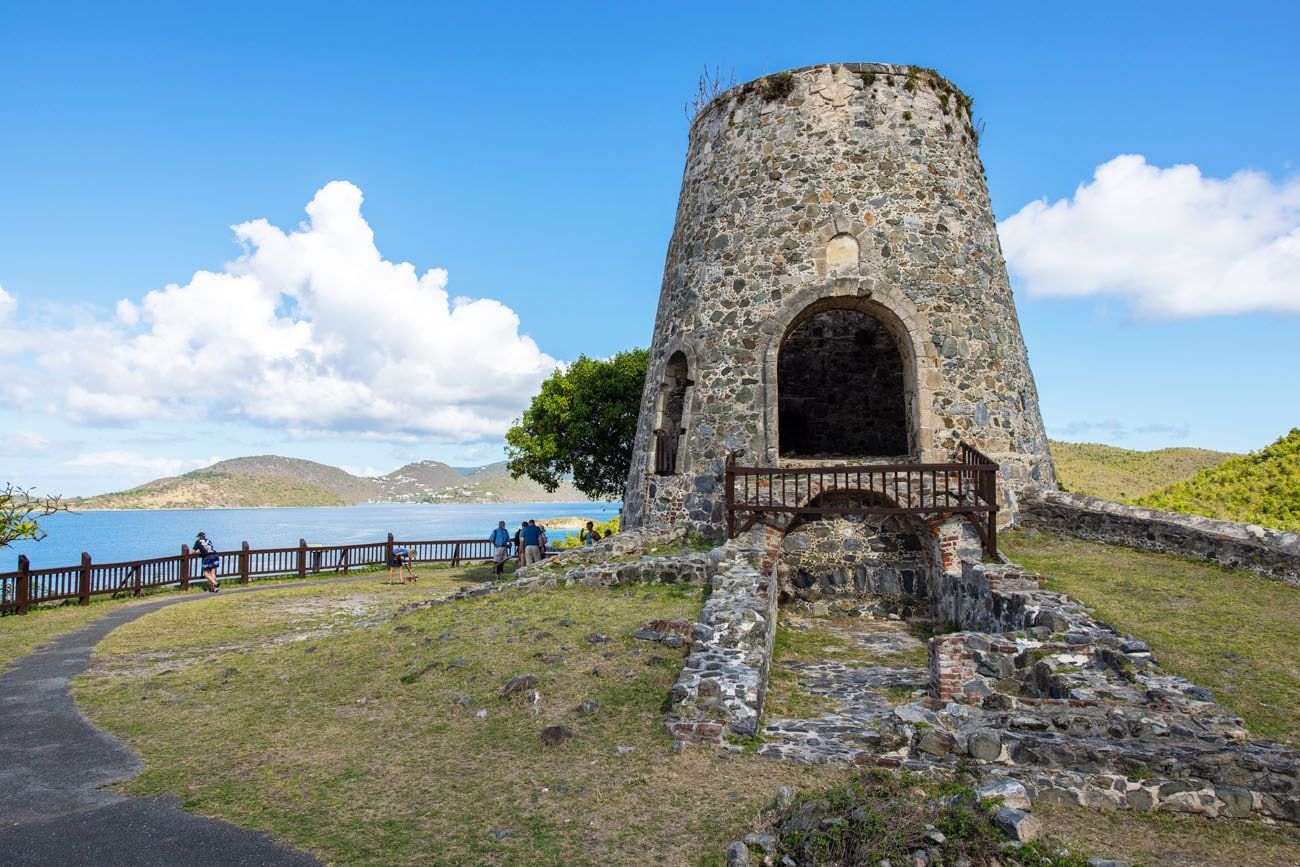 Annaberg Sugar Plantation
Visit the Overlooks on North Shore Road
There are several great overlooks of the bays and beaches of Virgin Islands National Park as you drive down North Shore Road. Seeing Trunk Bay from the Trunk Bay Overlook is one of the best things to do in Saint John, but the views over Caneel Bay and Maho Bay are also fantastic.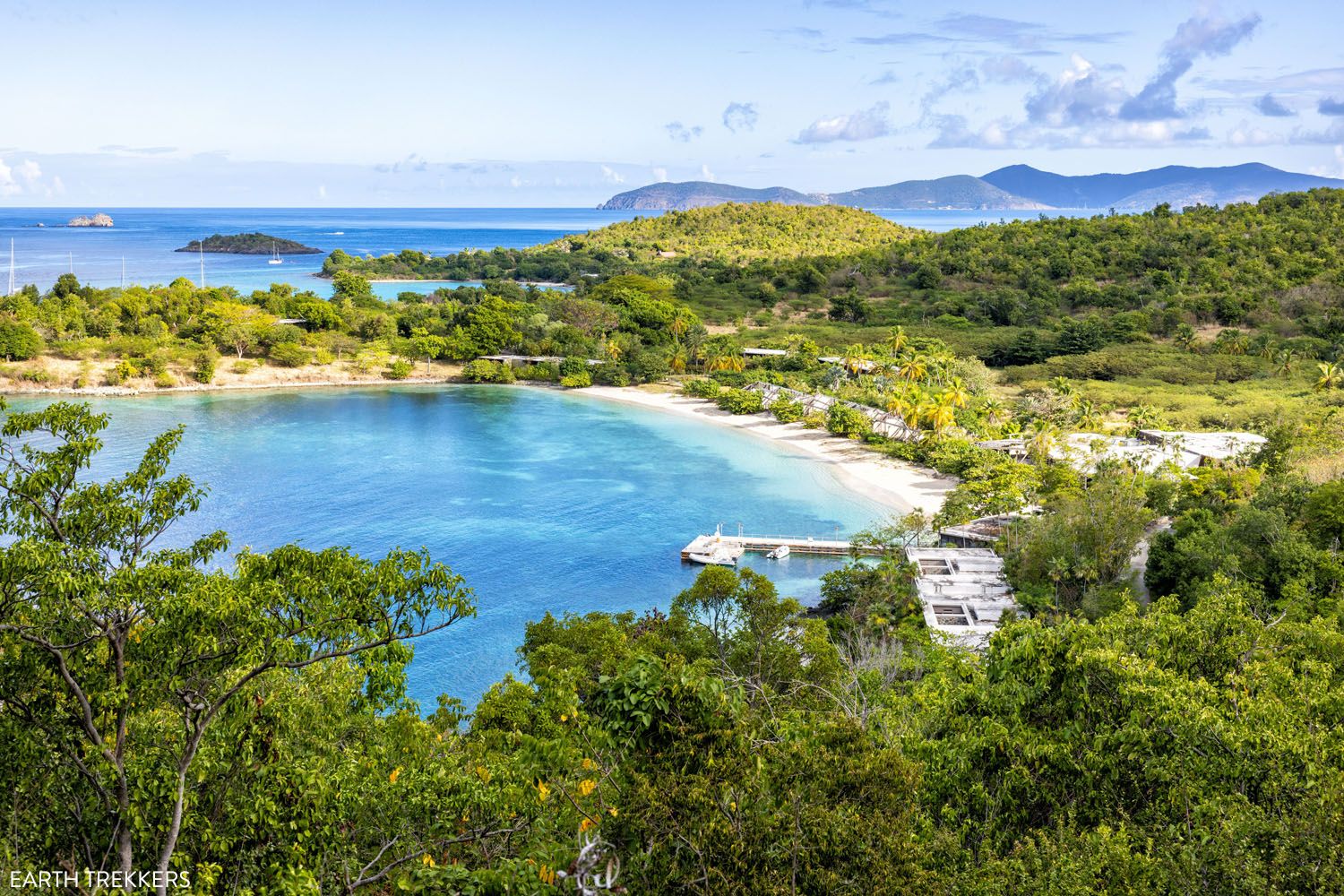 Caneel Bay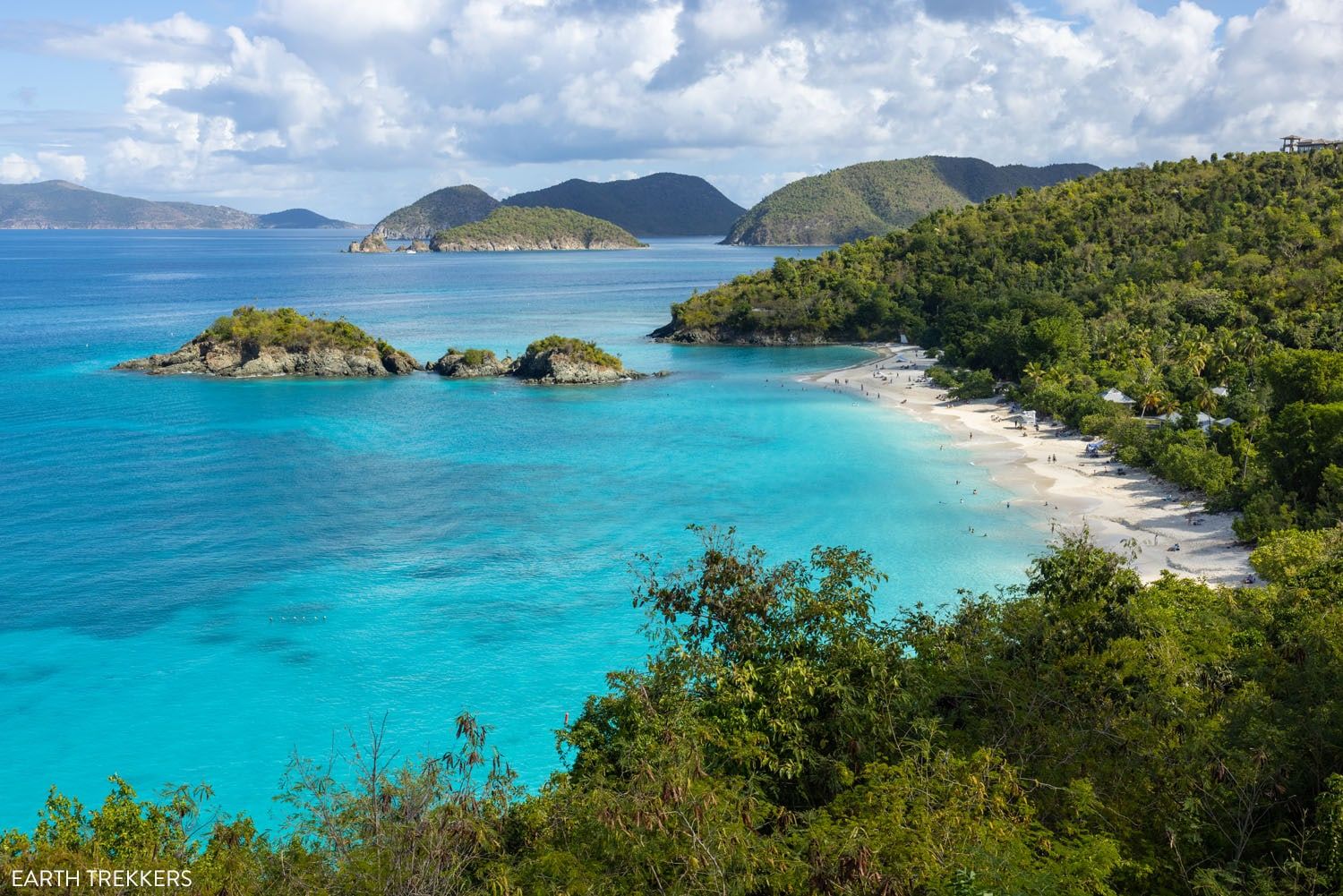 Trunk Bay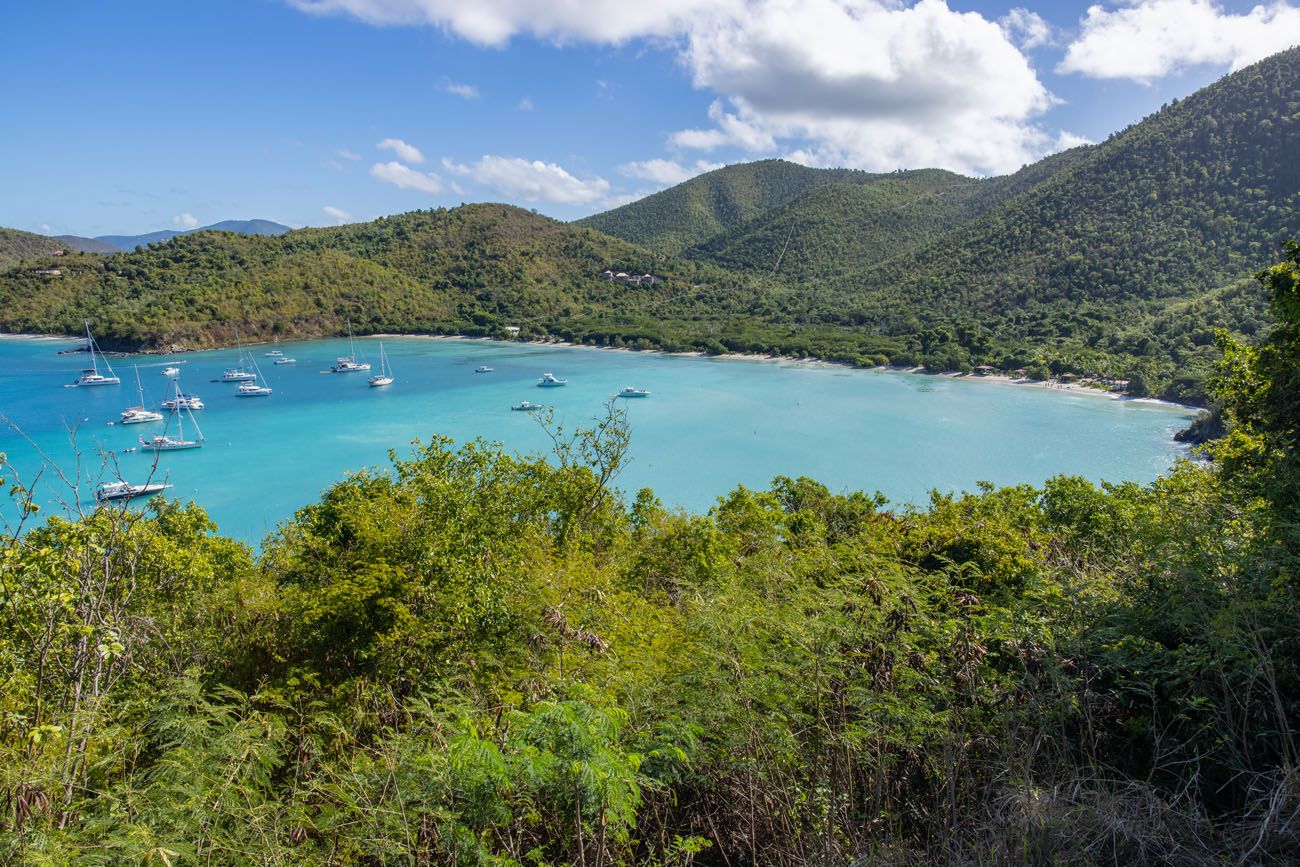 Maho Bay
Visit Denis Bay
This pristine beach is one of our favorites in Virgin Islands National Park. Since this small, secluded beach can only be reached by boat or on foot, and since the parking lot at the trailhead is small, this beach tends to only have a handful of people.
There are no amenities here…no bathrooms, no snorkel rental shops, and no food stands, but what you are getting is one of the quietest, most beautiful beaches in Virgin Islands National Park.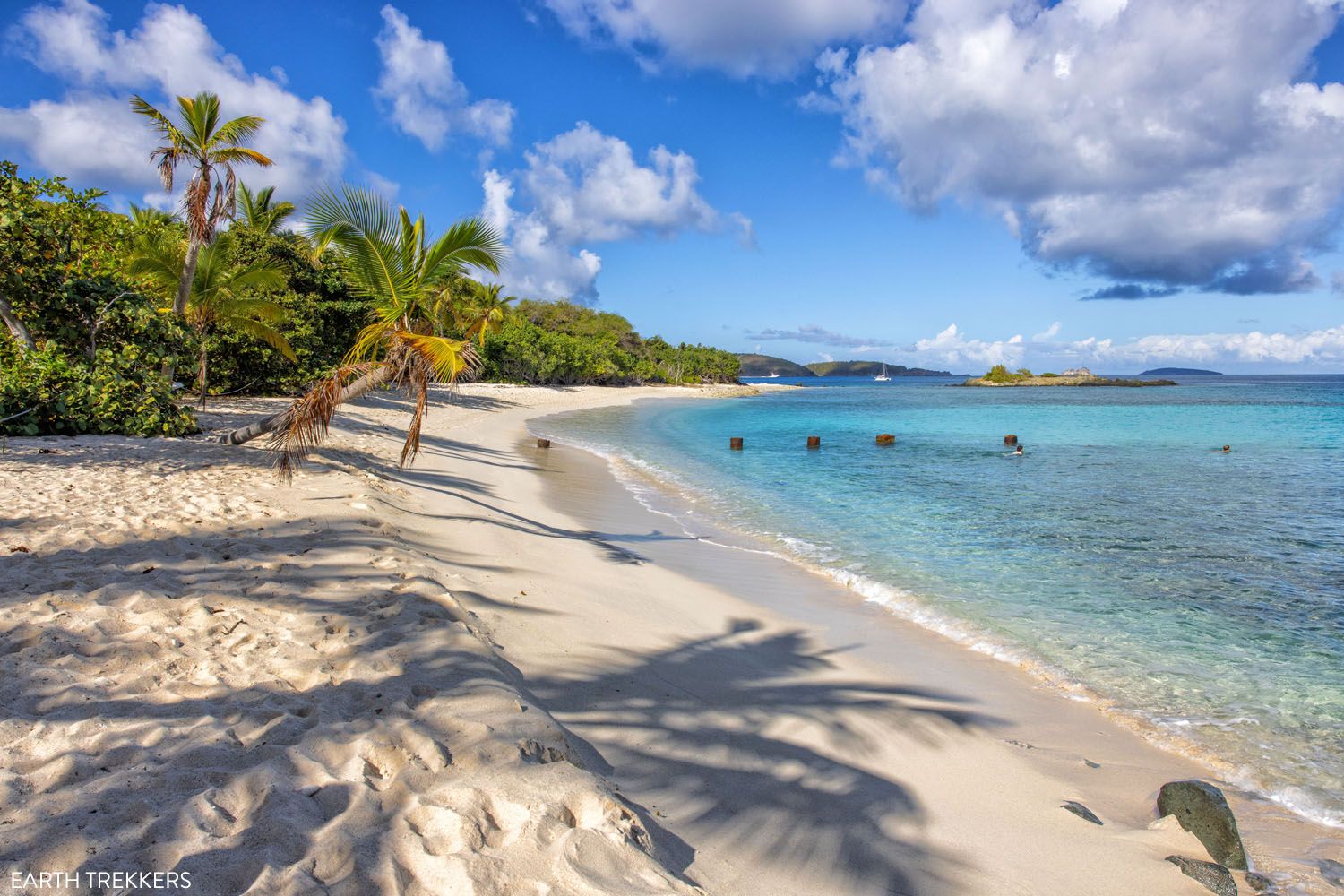 Denis Bay
Spend Some Time on Honeymoon Beach
This is a great beach to visit, since its remote location helps keep crowds down, and you can also rent snorkel gear, lounge chairs, and even a cabana. Plus, there is a restaurant and bar, so this is one of the best beaches in the park to sip on tropical drinks while lounging on the beach.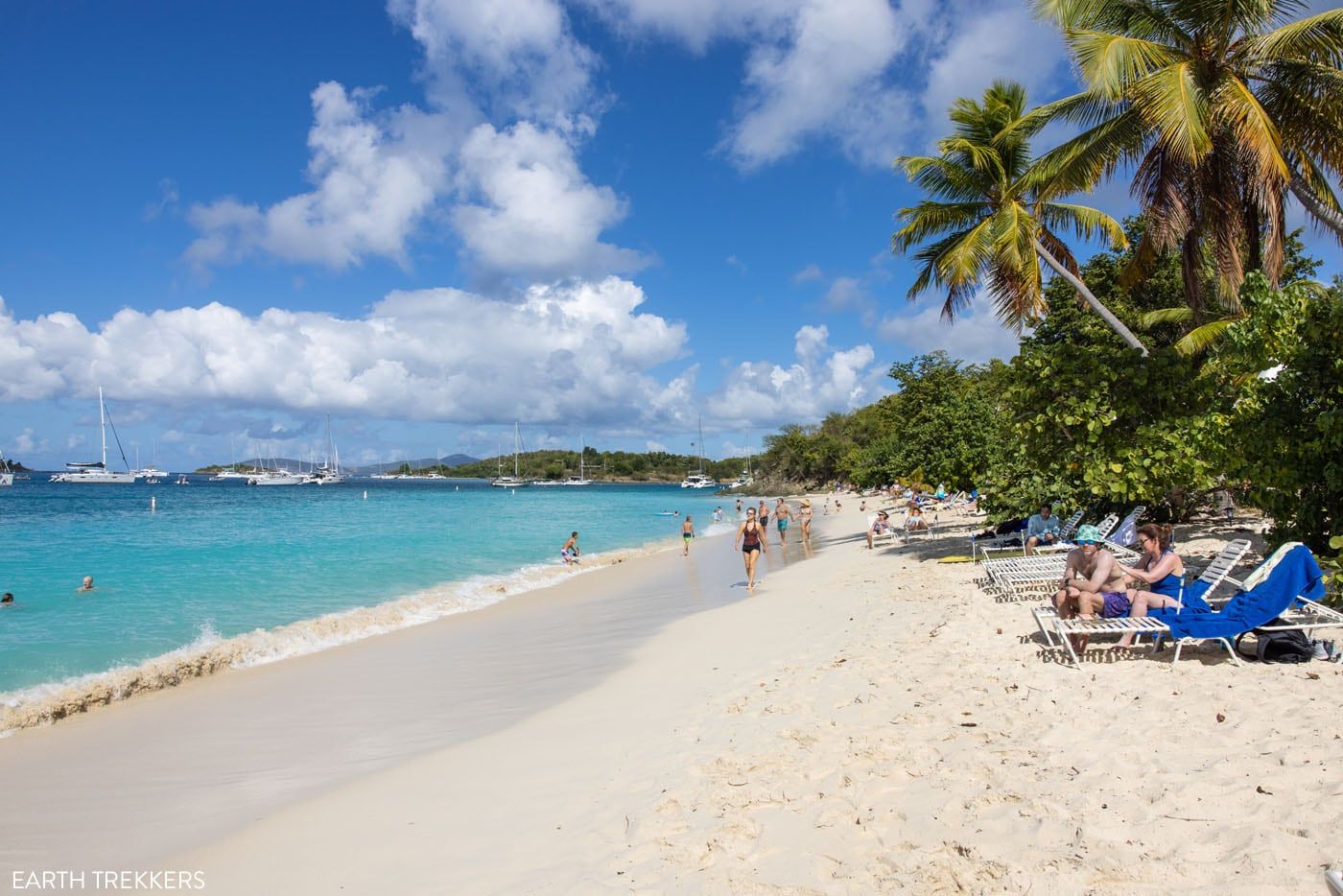 Honeymoon Beach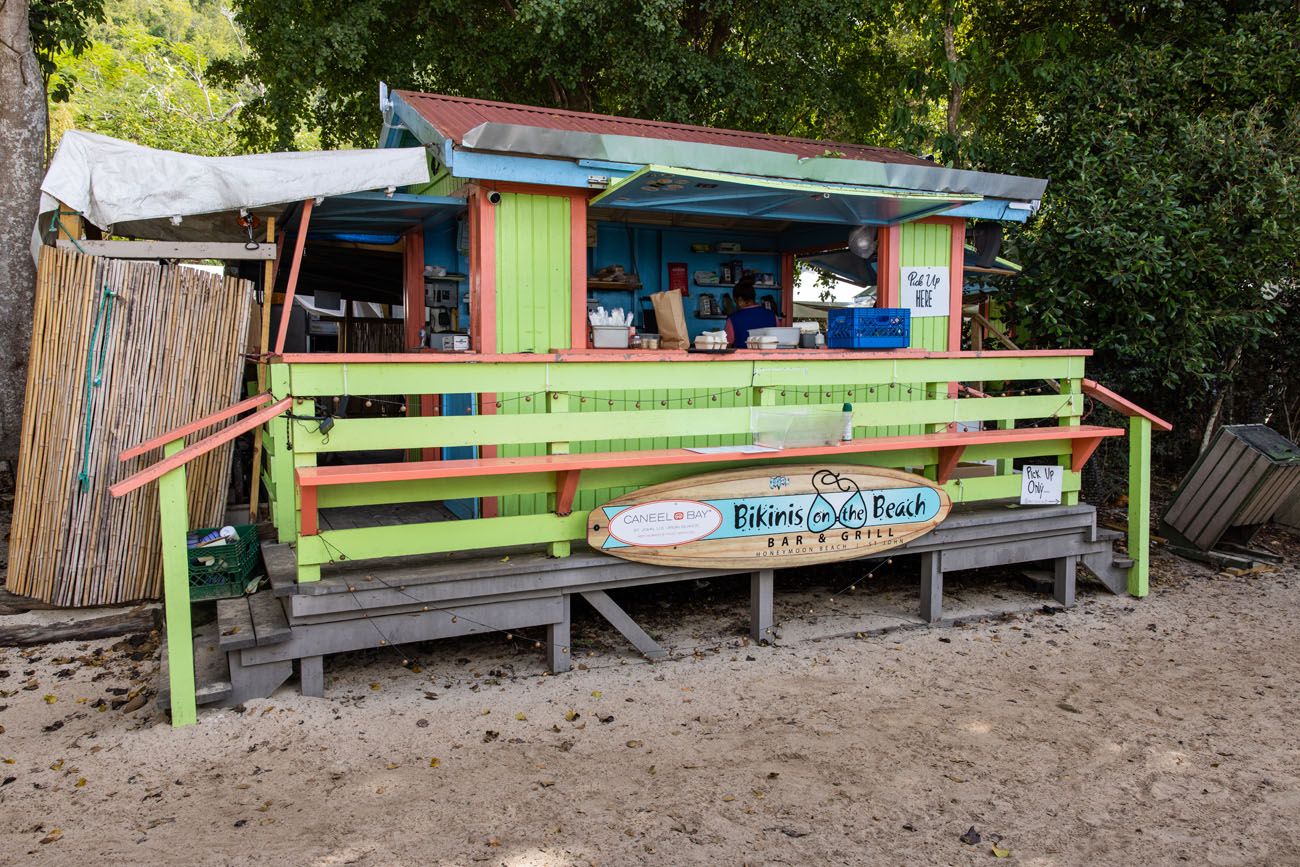 Bikinis on the Beach Bar & Grill
#2 Kayak & Snorkel in Hurricane Hole
Coral Reef National Monument protects the surrounding water and coral reefs of Saint John. Hurricane Hole is one of the best places to explore in this national monument.
Hurricane Hole is located on the far eastern end of Saint John, near Coral Bay. To visit Hurricane Hole, you can either book a kayaking tour or rent kayaks in Coral Bay.
Arawak Expeditions offers a full day guided kayak and snorkel trip of Hurricane Hole. Snorkel in mangroves and visit Otter Creek, Princess Bay, and Water Creek. This tour includes your transportation and a picnic lunch.
You can also rent kayaks from Crabby's in Coral Bay. Call them at least one day in advance to reserve your kayaks. We tried to rent kayaks from here to visit Lime Out (mentioned later in this guide) but we were told that kayaks needed to be reserved at least one day in advance.
#3 Visit Coral Bay
Coral Bay is a beautiful bay on the east side of Saint John. This residential area also has several great restaurants and is a quieter, less touristy place to stay than Cruz Bay. Coral Bay also makes a great spot to get lunch after hiking the Ram Head Trail or visiting Little Lameshur Beach.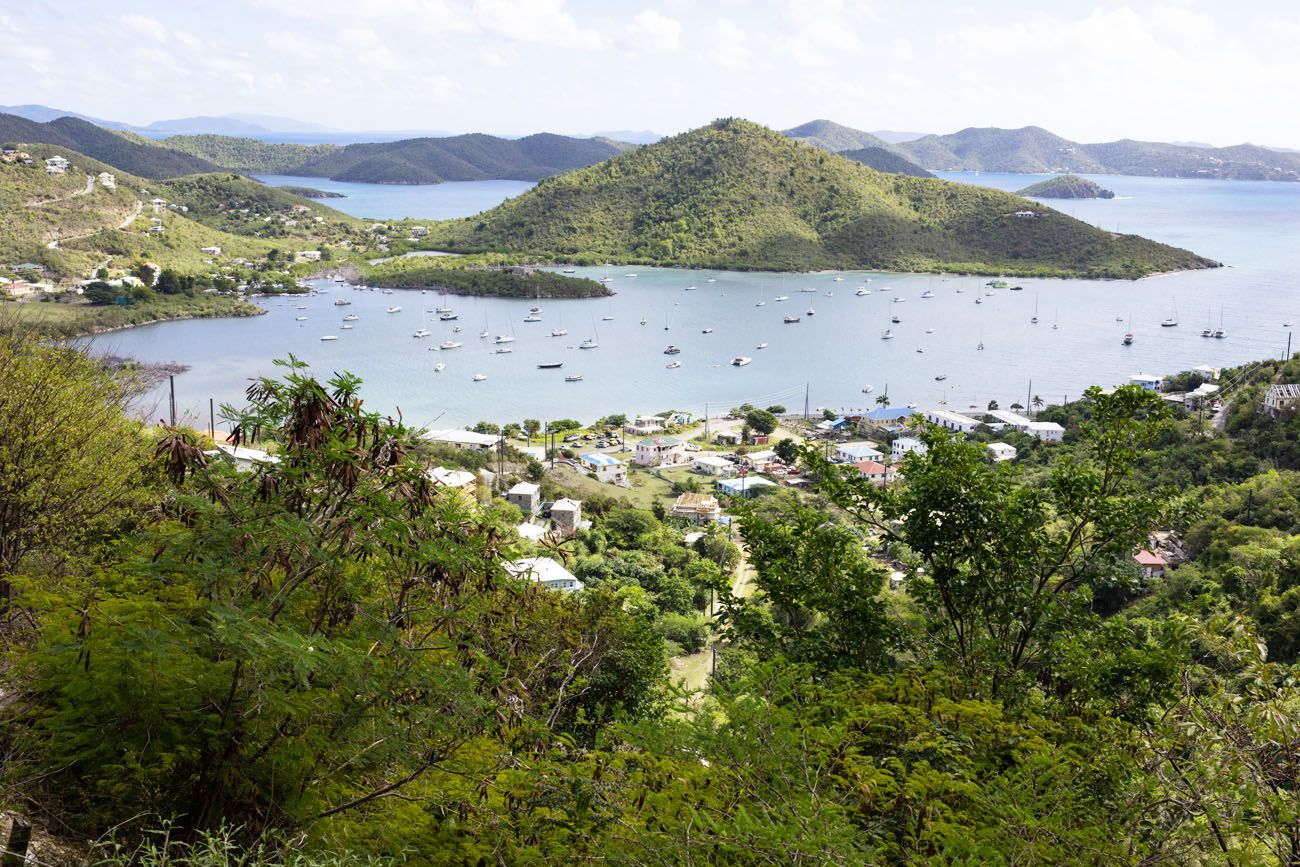 Coral Bay
Skinny Legs is a popular restaurant that serves cheeseburgers and sandwiches. They are open for lunch and dinner Tuesday through Saturday.
Salty Mongoose Pizza & Rum Bar also gets great reviews. Miss Lucy's, which is located south of Coral Bay, has a great setting right on the water under a mangrove canopy.
You can get a great view of Coral Bay from a pullout on Highway 10 (GPS coordinates: 18°21'15.1″N 64°43'26.5″W).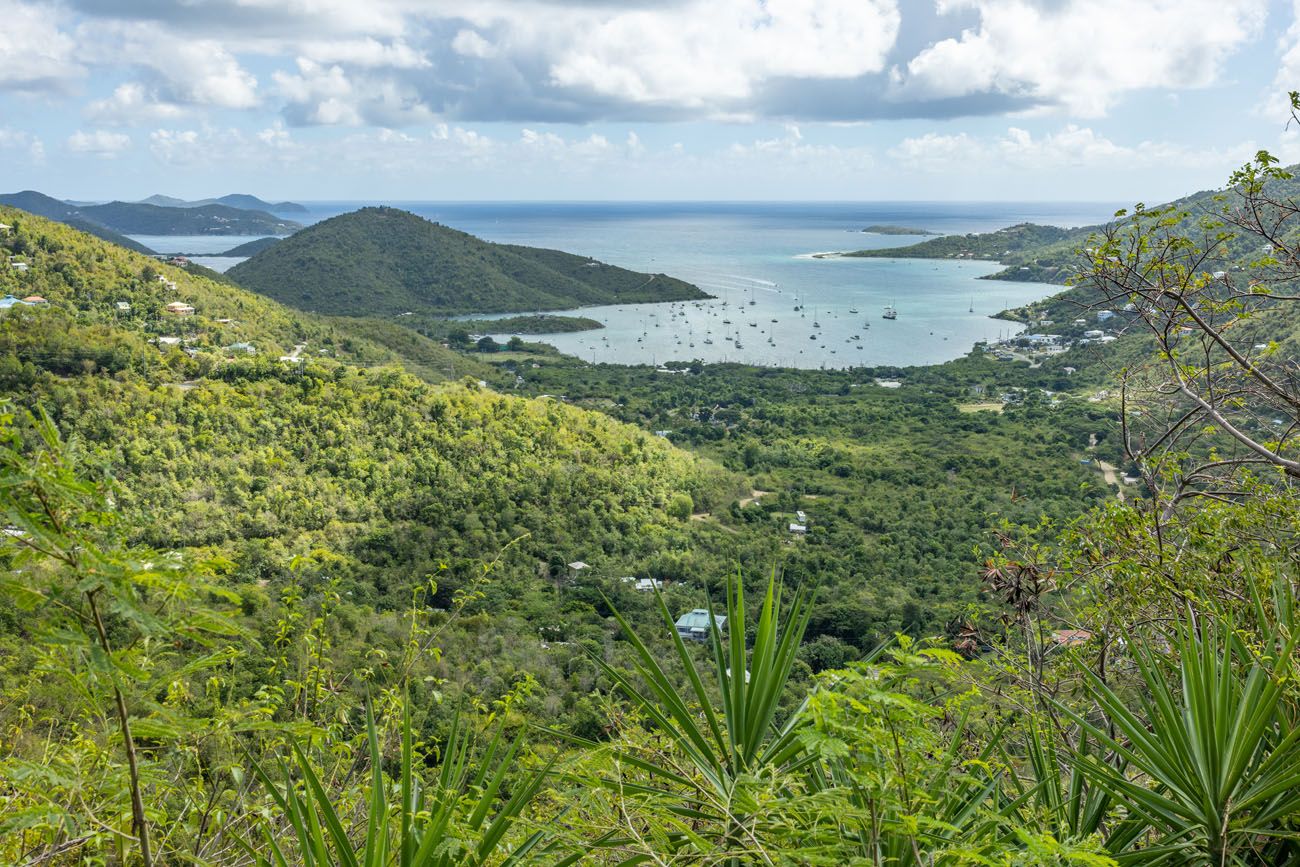 Coral Bay Overlook. Every time we drove past this point it was cloudy, so this is not the best photo, but the view is very nice from here.
#4 Have Tacos and a Drink at Lime Out VI
This comes up in a lot of posts about Saint John and it was something that we really wanted to try.
Lime Out VI is a floating taco restaurant/bar in Coral Bay. This lime green house is surrounded by inflatable green floats. Relaxing on one of these floats, eating tacos, and having a craft cocktail sounds awesome, right?
Getting here is not so easy. You need to have some sort of boat. The staff at Lime Out will not serve you if you swim up to the bar (and you have to be a good swimmer to get here from land). We tried to rent kayaks in Coral Bay from Crabby's, but they would not rent them to us to visit Lime Out (we were told they only rent kayaks for Hurricane Hole excursions). And on the spur of the moment, we could not find a boat operator in Coral Bay that could take us to Lime Out.
So, you need to have your own boat or kayak, or you need to be on a boat tour that includes a visit to Lime Out.
It's a great idea, having tacos and drinks at a floating bar, but it can be a hassle arranging transportation if you don't have a boat. But if you are looking for a great restaurant that is easy to visit and has one of the best views of Saint John, you'll like #5.
#5 Drinks & Dinner with a View at The Windmill Bar
This was one of our favorite things to do in Saint John.
Located on one of the highest points of Saint John are the Susannaberg Plantation Ruins. Next to the ruins of this old windmill is The Windmill Bar, a bar/restaurant with panoramic views of Saint John.
Grab a seat on the terrace, order drinks from the bar, and enjoy the spectacular view. During our visit, there was also live music.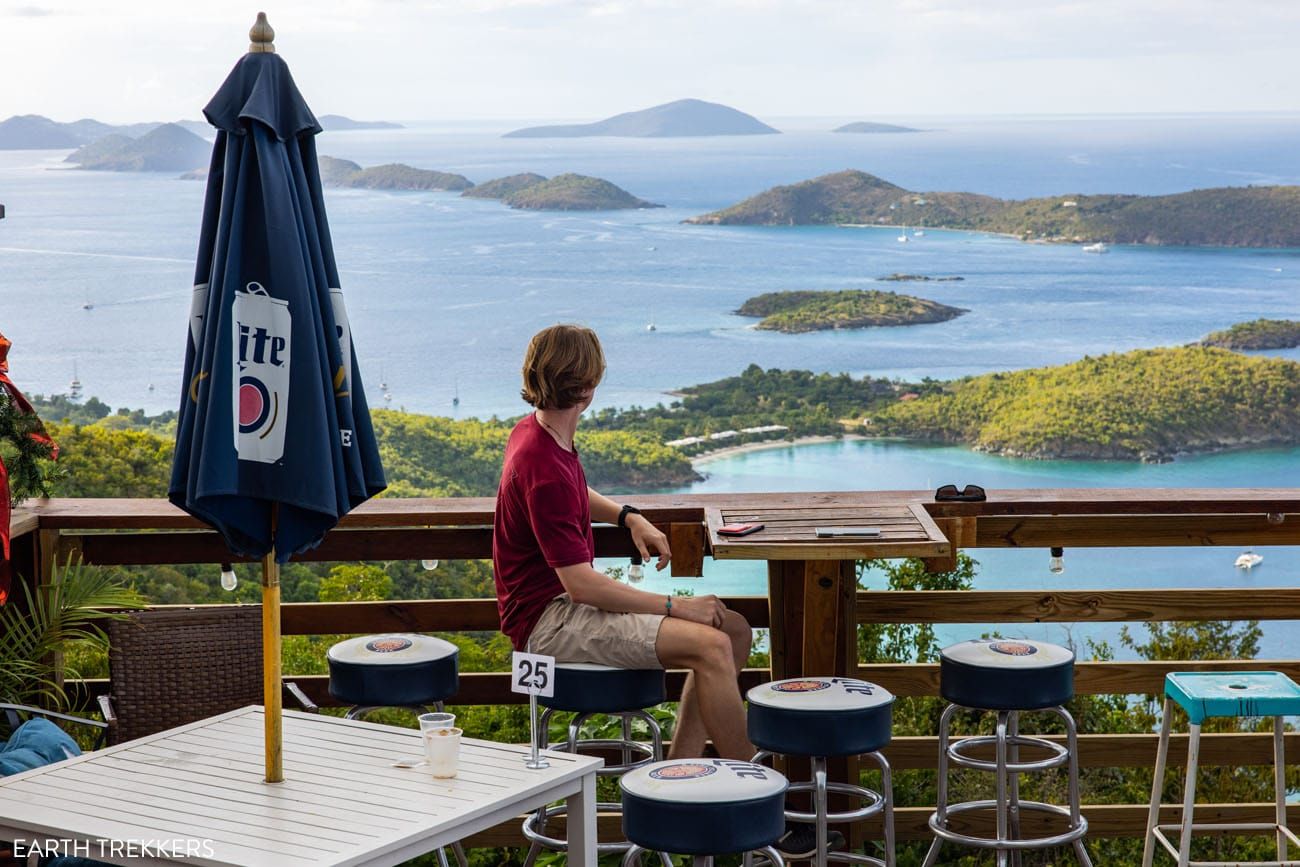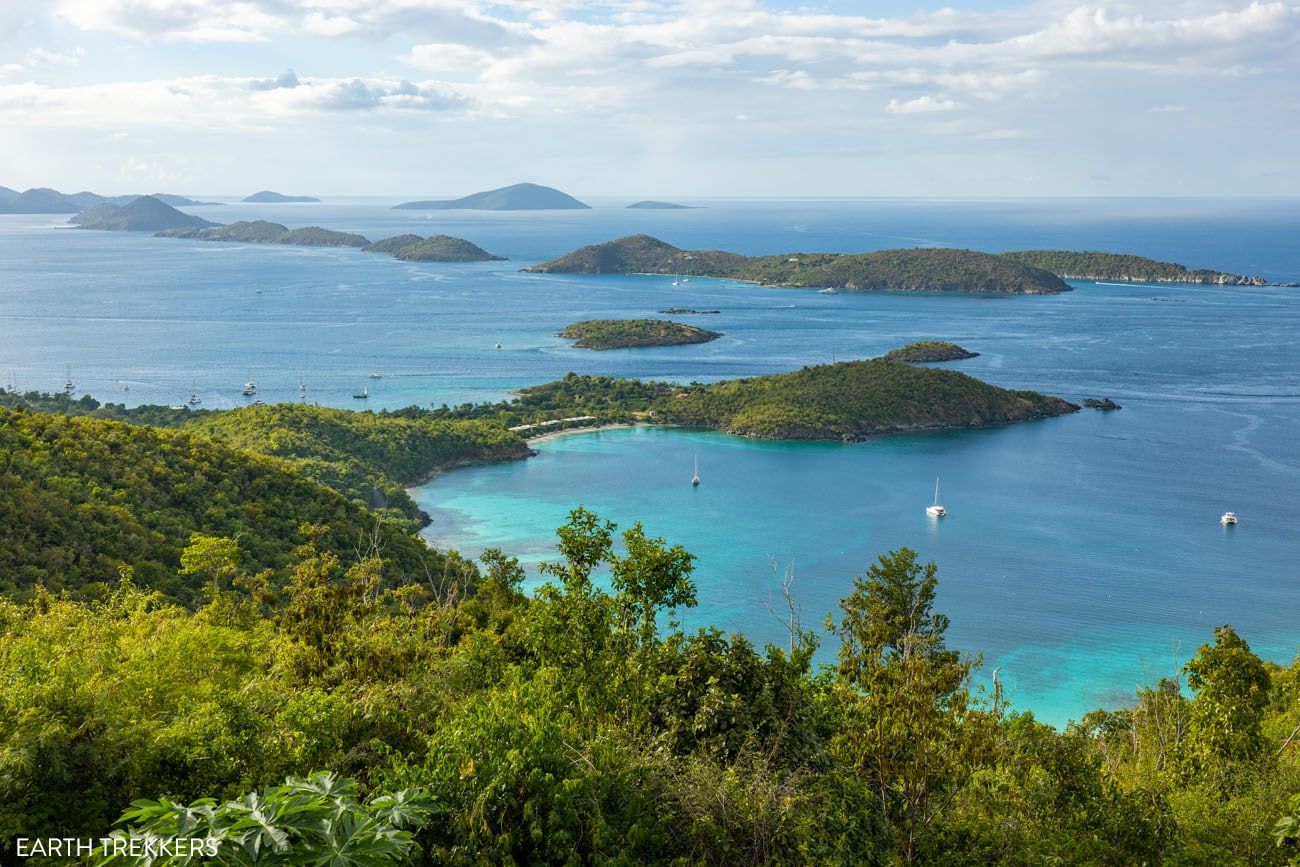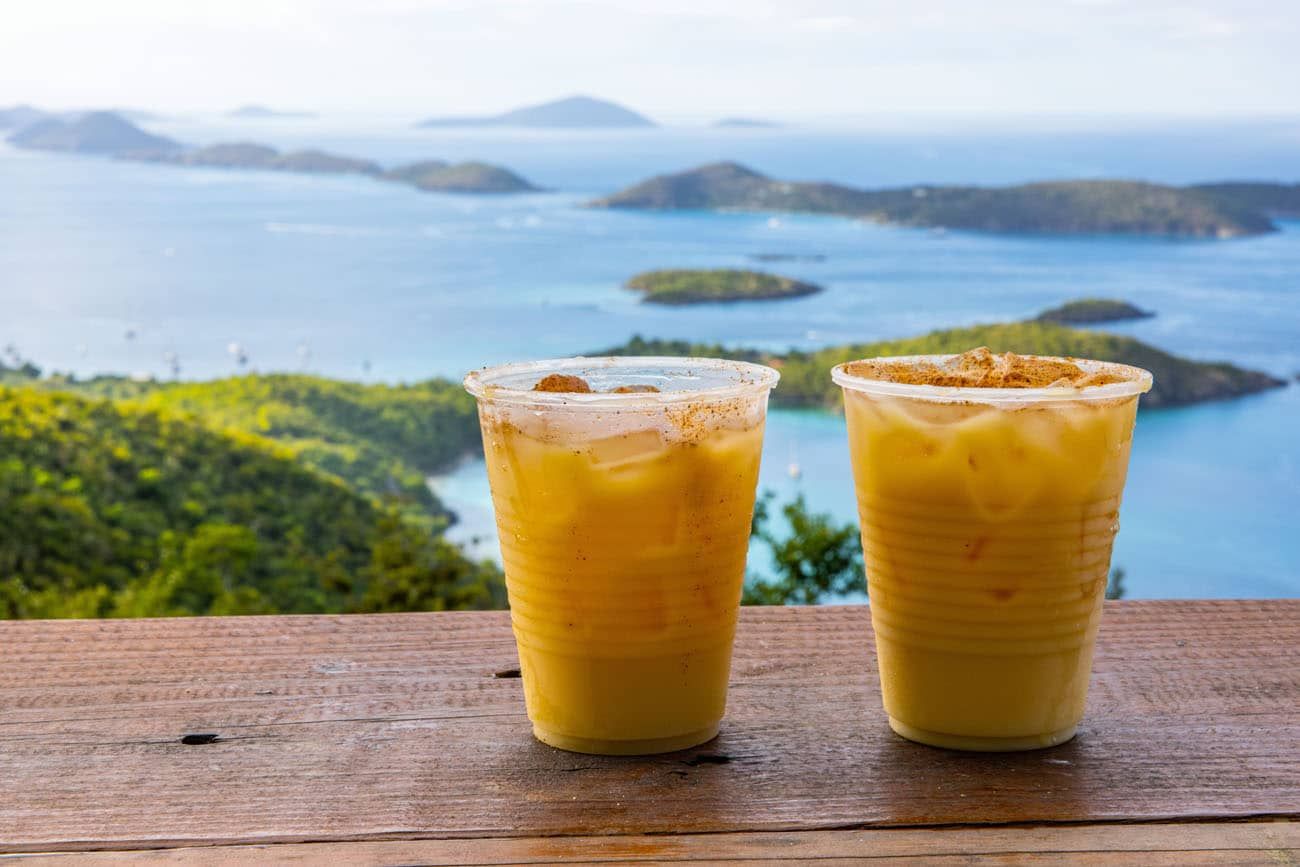 Painkillers
The Windmill Bar serves lunch and dinner. Dinner is the most popular time to be here and if you want a spot right up against the railing (for the best views) try to get here by 4 pm. When we were here, the place filled up by 5 pm. You do not need a reservation.
#6 Visit Cruz Bay
Cruz Bay is the main gateway onto St. John and Virgin Islands National Park. This is the place to take a ferry to or from St. Thomas and the British Virgin Islands. It's also where you will find the highest concentration of hotels, residences, and businesses on the island.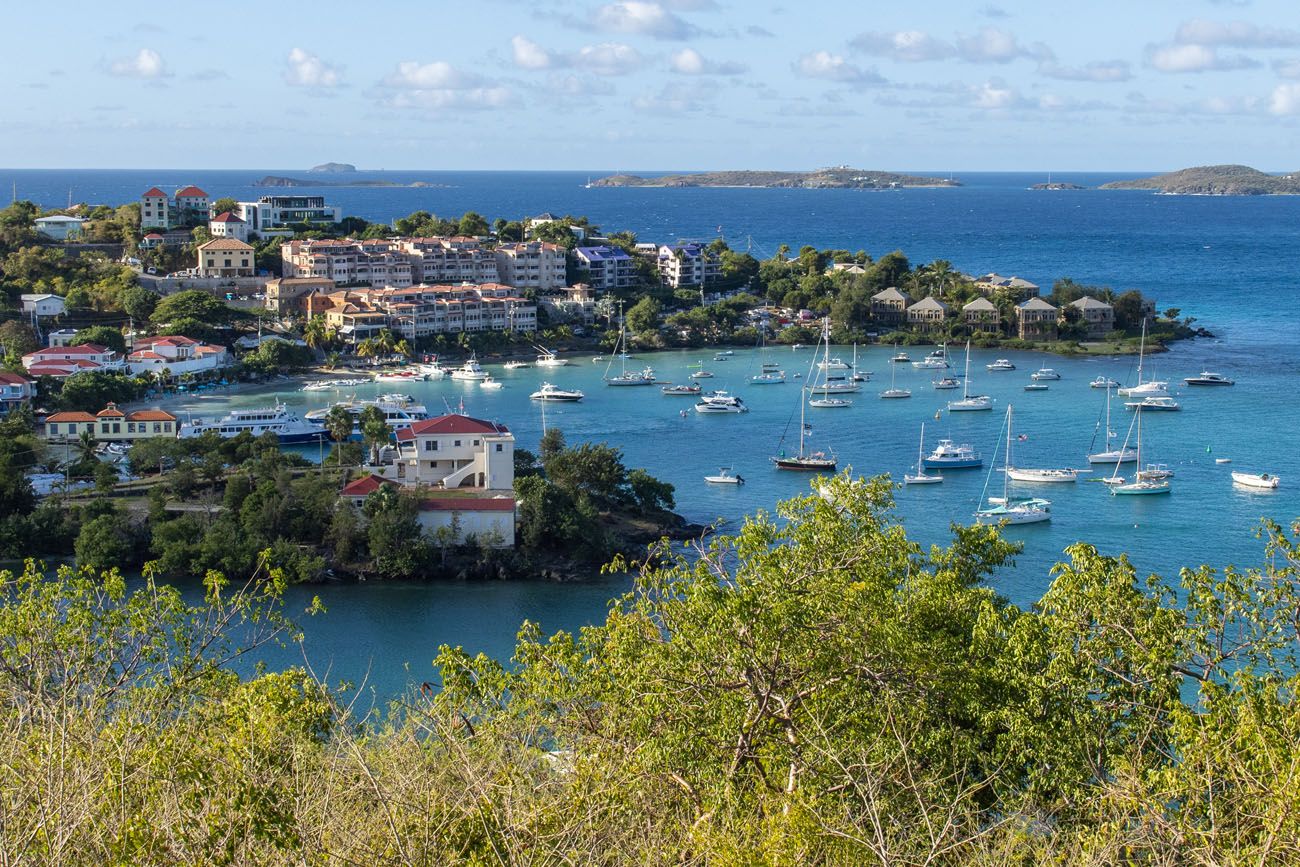 Cruz Bay
Cruz Bay is a small, walkable area. We parked at The Lumberyard at Cruz Bay and from here it is a short, easy walk to most restaurants, the national park visitor center, and Cruz Bay Beach. We also tried Slim Man's Parking but had no luck getting a spot here.
In Cruz Bay, our favorite restaurant is The Beach Bar. This small restaurant is located right on the beach and they serve awesome painkillers. Greengos Caribbean Cantina is the place to go if you want Mexican food and margaritas. The Longboard, Sun Dog Café, La Tapa, Lime Inn, and Cruz Bay Landing also get great reviews.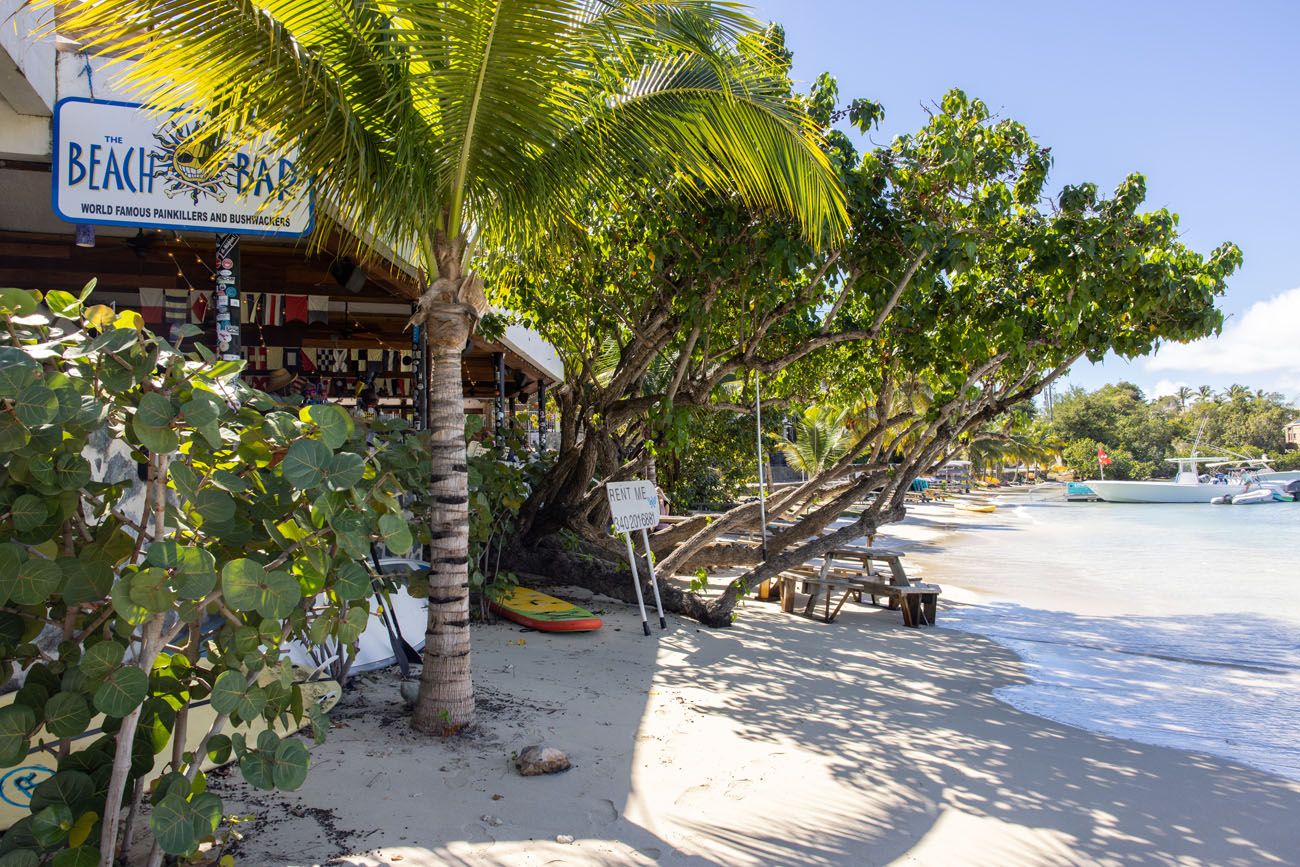 The Beach Bar
#7 Take a Kayak & Snorkel Tour of Saint John
Taking a tour is a great option for people who prefer to hike or kayak with a guide or those who don't want the hassle of figuring out how to rent a kayak while visiting the national park. This snorkeling tour includes a visit to Honeymoon Beach.
Best Things to Do in Saint John: On a Map
How to Use This Map: Click the tab in the top left hand corner of the map to view the layers (beaches, viewpoints, hiking trails, etc.). You can click the check marks to hide or show layers. If you click the icons on the map, you can get more information about each point of interest.

If you click the star next to the title of the map, this map will be added to your Google Maps account. To view it on your phone or computer, open Google Maps, click the menu button, go to "Your Places," click Maps, and you will see this map on your list.
How to Get to Saint John
To get to Saint John, first you will have to fly to Saint Thomas. There is no airport on Saint John.
From Saint Thomas, take a ferry to Cruz Bay, Saint John. There are two types of ferries: car ferries and passenger ferries.
If you plan to rent a car on Saint Thomas, you will take the car ferry from Red Hook. There are several car ferries that travel between Red Hook and Cruz Bay: Love City Car Ferry, Global Marine's Tug Life, Big Red Barge Company, and Boyson, Inc.
Love City Car Ferries makes frequent trips back and forth between the islands each day (roughly every two hours from 6:15 am to 6:15 pm for a total of seven trips). You can see the ferry schedule and get updated pricing on their website.
In general, there is no need to reserve a spot in advance (unless you plan to be on the last ferry of the day, and even then, it's not absolutely necessary). With four ferry companies running, there almost always seemed to be a ferry coming or going. We simply showed up and got in line for the next available ferry and never had to wait longer than 20 minutes. We took the Big Red Barge Company ferry from Saint Thomas to Saint John and the Love City Car Ferry from Saint John to Saint Thomas.
The first and last ferries of the day tend to be the fullest. If you plan to take the last ferry of the day, get here at least 30 minutes early to make sure you get a spot. With Love City Car Ferries, you can make a reservation, which is a good idea if you plan to catch the last ferry of the day.
One of our readers wrote in with a great tip. Ferries can get cancelled, creating long lines for the next ferry. This happened to Matt (you can read his comment at the end of this post), but since he had a ferry reservation, he did not have to wait in line. So, making a reservation can be valuable, particularly if you are running on a tight schedule, have set plans (for example, you are returning to St. Thomas for a flight home), or just don't like the idea of getting stuck in a long line of cars. Thanks, Matt!
How to Get Around Saint John
Rental Car
The easiest way to get around Saint John is by renting a car. You can rent a car in Saint Thomas (we rented our car at the airport from Avis) and take it across to Saint John on the car ferry.
Alternatively, you can also rent a car on Saint John. There are several rental car companies in and around Cruz Bay and these companies typically rent Jeep Wranglers.
Driving on Saint John
On Saint John, you will drive on the left-hand side of the road.
The roads on Saint John are narrow and very windy. There doesn't seem to be a straight stretch of road anywhere on this island. In addition to being very windy, the roads are also incredibly steep. These roads make hairpin turns with very steep inclines, which makes it challenging to drive on Saint John.
There are no shoulders on these roads and in most spots, no center line.
Keep a lookout for wild donkeys, cows, goats, chickens, deer and people.
Drive slowly, keep your eyes on the road, and stay to the left.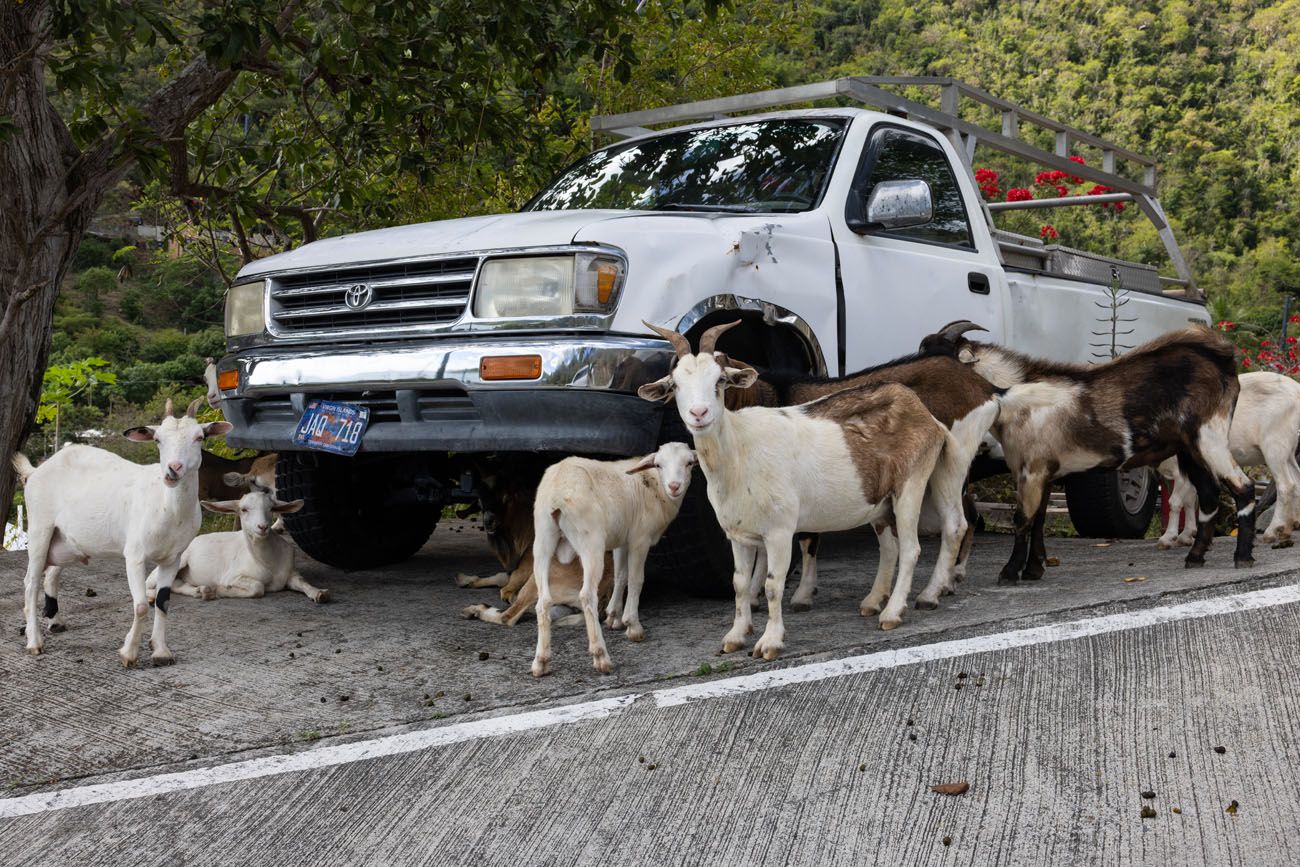 Goats on the road…at least they know to stay behind the white line 🤣
Taxis and Shuttles
There are safari shuttles and taxis that leave from Cruz Bay. If you hire a taxi, arrange a time to be picked up. Cell service is spotty, and you might not be able to call for a taxi on all parts of the island.
Safari taxis also offer 2 to 3-hour guided tours of the island. They stop at beach overlooks and the plantation ruins.
The Vitran Bus System is a public bus system that runs Monday through Friday. It's not very reliable and we saw very few buses running during our visit.
Best Time to Visit the Virgin Islands
December, January and February are peak season in the Virgin Islands. Daytime temps are their coolest (in the low 80's) and this is the dry season, with rain being unlikely. Since this is peak season, hotel prices are their highest and beaches can be crowded.
During the spring months (March, April and May), temperatures get a little warmer, humidity increases, and rainfall chances go up. This is a very nice time to visit Saint John if you want lower crowds and lower prices.
June, July and August are the hottest, most humid months to visit Saint John. Temperatures peak at 90° in the summer. This time coincides with the arrival of the wet season and hurricane season. Peak hurricane season runs from July through October.
The fall months, September, October, and November, tend to be warm and wet. September and October are the wettest months of the year. But by November, hurricane season and the wet season ends, making this month a good time to visit before the arrival of peak season.
We spent nine days on the US Virgin Islands in mid-January 2022. Other than one afternoon of steady rain showers, our weather was mostly clear and dry. Very short afternoon rain showers occurred about 50% of the days we were here, but these were very brief (the longest one lasted less than 10 minutes).
How Many Days Do You Need in Saint John?
For the best experience, plan on spending three days on Saint John. This gives you enough time to visit the highlights of Virgin Islands National Park, spend some time at several different beaches, and go hiking.
If you only have one day in Saint John, drive North Shore Road visiting the overlooks, and spend some time at Trunk Bay, Maho Bay Beach, or hike the Leinster Bay Trail to Waterlemon Bay beach. Have dinner at The Windmill Bar.
With two days in Saint John, spend day one either hiking the Reef Bay Trail or Ram Head Trail in the morning and then get your beach time in the afternoon. On day two, spend the day at Trunk Bay or Maho Bay Beach.
With three days in Saint John, follow our suggestions above for two days. On the third day, go kayaking in Hurricane Hole, visit the quieter, more remote beaches like Denis Bay or Little Lameshur, and/or go snorkeling in Waterlemon Bay, if you have not done that yet.
Since Saint John and Saint Thomas are located side-by-side, together they make a great Caribbean vacation spot. With one week, you can visit both Saint John and Saint Thomas.
Where to Stay
With its handy location near the ferry port and abundance of hotels and restaurants, the best place to stay in Saint John is Cruz Bay.
We stayed at the The Westin Resort Villas. The property is beautiful and it is also very large…so large that there are golf carts to shuttle visitors around. We enjoyed our stay here, but if you have a villa on the far end of the property (we did) it can be as much as a 10-minute walk to your car. We didn't have much luck calling a golf cart shuttle and having it arrive within a reasonable amount of time, so we typically walked everywhere.
Also in Cruz Bay, Limetree Cottage at Chocolate Hole, Gallows Point Resort, and Estate Lindholm all get good reviews.
Westin Resort Villas
---
If you have any questions about the best things to do in Saint John, let us know in the comment section below.
More Information for Your Trip to the US Virgin Islands & the Caribbean
US VIRGIN ISLANDS: If the US Virgin Islands is on your travel wish list, check out our 7-day US Virgin Islands Itinerary, plus our articles on Things to Do in St. Thomas and Things to Do in St. John. On your trip, don't miss Virgin Islands National Park, one of the most beautiful national parks in the USA.
KEY WEST & THE FLORIDA KEYS: Learn how to plan the perfect trip to the Florida Keys with our Miami, Florida Keys, and Key West Itinerary. We also have detailed guides on Things to Do in Key West, the Best Restaurants in Key West, and top experiences along the Florida Keys. From Key West, learn how to plan a day trip to Dry Tortugas National Park.
ARUBA: Learn how to plan your visit to Aruba and get information on the best things to do in our Guide to Aruba. In our article Best Beaches in Aruba, we list 10 beautiful beaches to visit on the island. And don't miss Arikok National Park and Natural Pool, one of the best adventures in Aruba.
TRAVEL INSPIRATION: For more travel ideas, here are 10 unique destinations to put on your travel wish list and 10 bucket list destinations from around the world.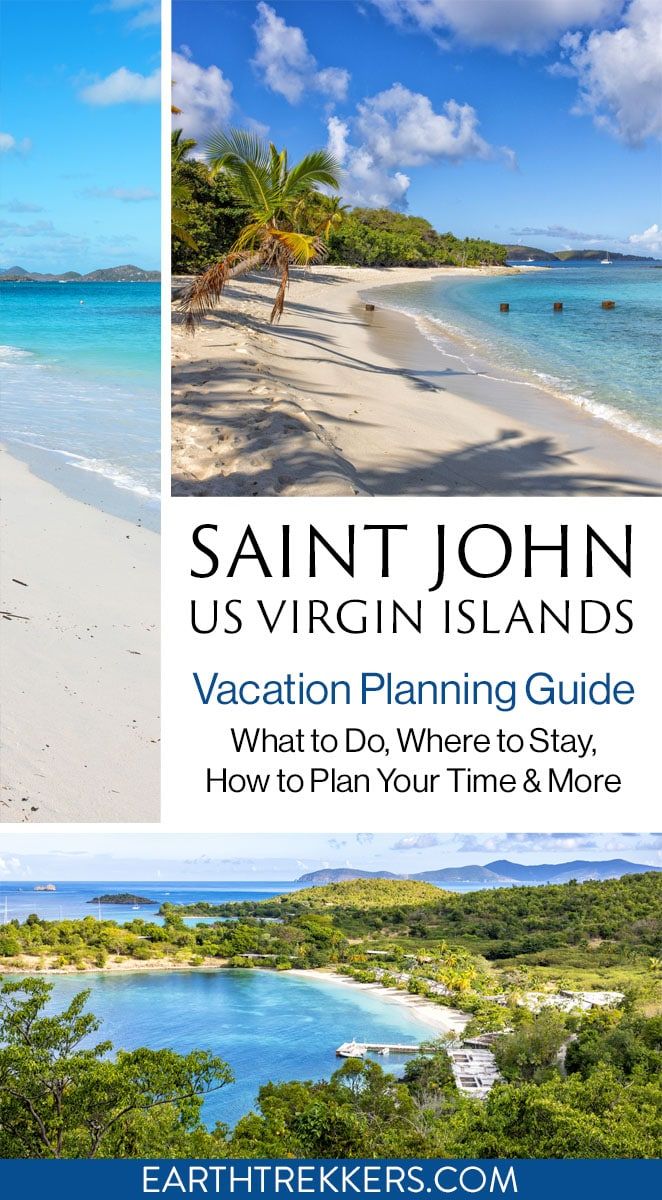 Note: This post contains affiliate links. When you make a purchase using one of these affiliate links, we get paid a small commission at no extra cost to you.
All rights reserved © Earth Trekkers. Republishing this article and/or any of its contents (text, photography, etc.), in whole or in part, is strictly prohibited.