Located on the West Rim of the Grand Canyon, the Skywalk is an easily accessible viewpoint from Las Vegas. It looks and sounds thrilling…a glass walkway perched high above the canyon floor, offering spectacular views of the Grand Canyon. But is the Grand Canyon Skywalk worth it?
What to Expect at Grand Canyon West and the Skywalk
How Much Does it Cost to Visit the Skywalk?
We visited Grand Canyon West and the Skywalk on Sunday December 23, 2018. With it being a weekend day during a busy holiday week, we expected larger than normal crowds.
For a family of four, basic admission tickets plus the added fee for the Skywalk (called Grand Package) cost a whopping $277.80 in 2023! That's $64 per person plus $21.80 in taxes.
This better be an amazing experience for this price!
How to Get to the Skywalk
We drove out from Las Vegas, stopping along the way for a quick visit to Hoover Dam.
If you drive directly from Las Vegas to Grand Canyon West, it takes 2 to 2.5 hours (130 miles). Most of the drive is on a highway but the final 45 miles is on a two-lane paved road through small towns.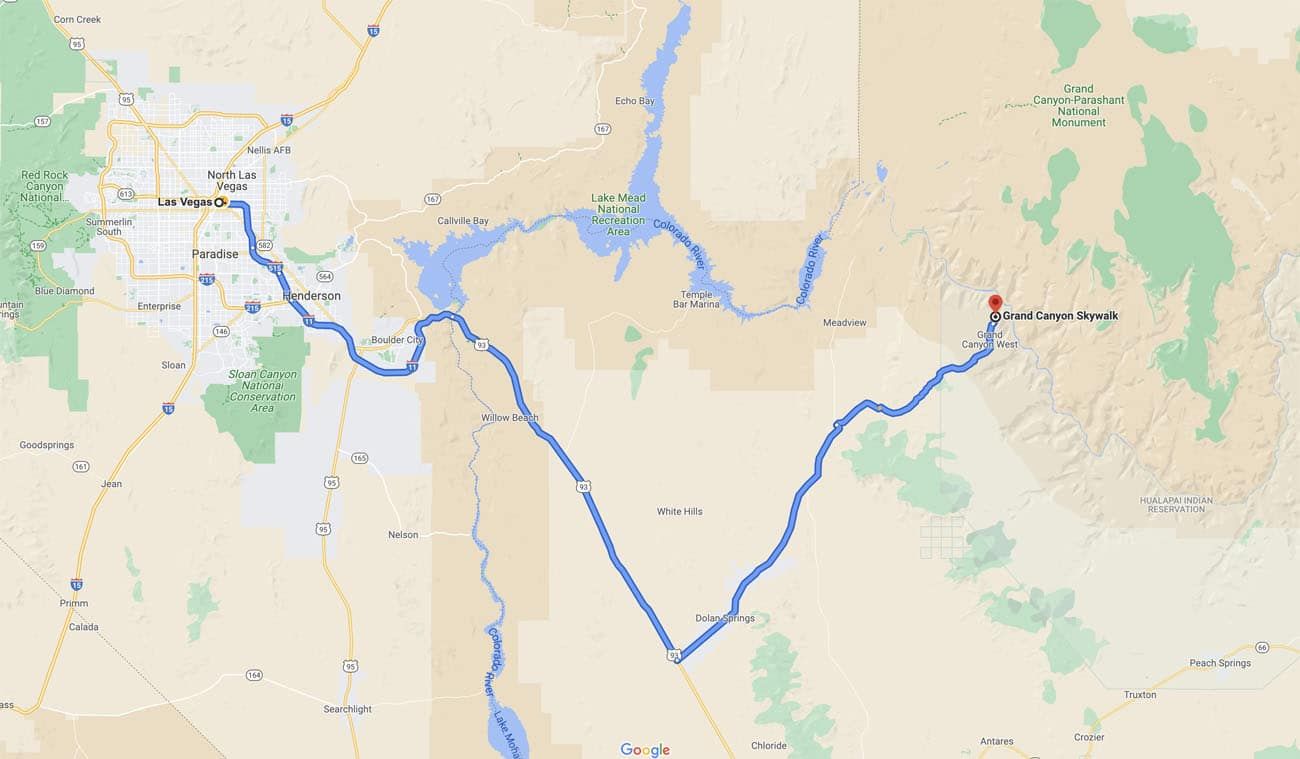 The Skywalk is not located in Grand Canyon National Park. It is located on the Hualapai Indian Reservation and is owned and operated by the Hualapai Tribe.
Things to Do at the Skywalk
Once at Grand Canyon West, we parked in an enormous parking lot. The lot was filled and we had to wait in line in order to find a parking spot.
Next to the parking lot is the Visitor Center. If you did not purchase your tickets in advance, you can buy them here. The line for tickets was roughly a 30-minute wait. Good thing we bought ours in advance!
The Visitor Center is located several miles from the canyon and the Skywalk. The only way to get to the Skywalk is by shuttle bus. You are not permitted to drive to the Skywalk.
The line for the shuttle bus was very long as you can see from our photo. However, they did have shuttle buses running frequently so we only had to wait for 15 minutes.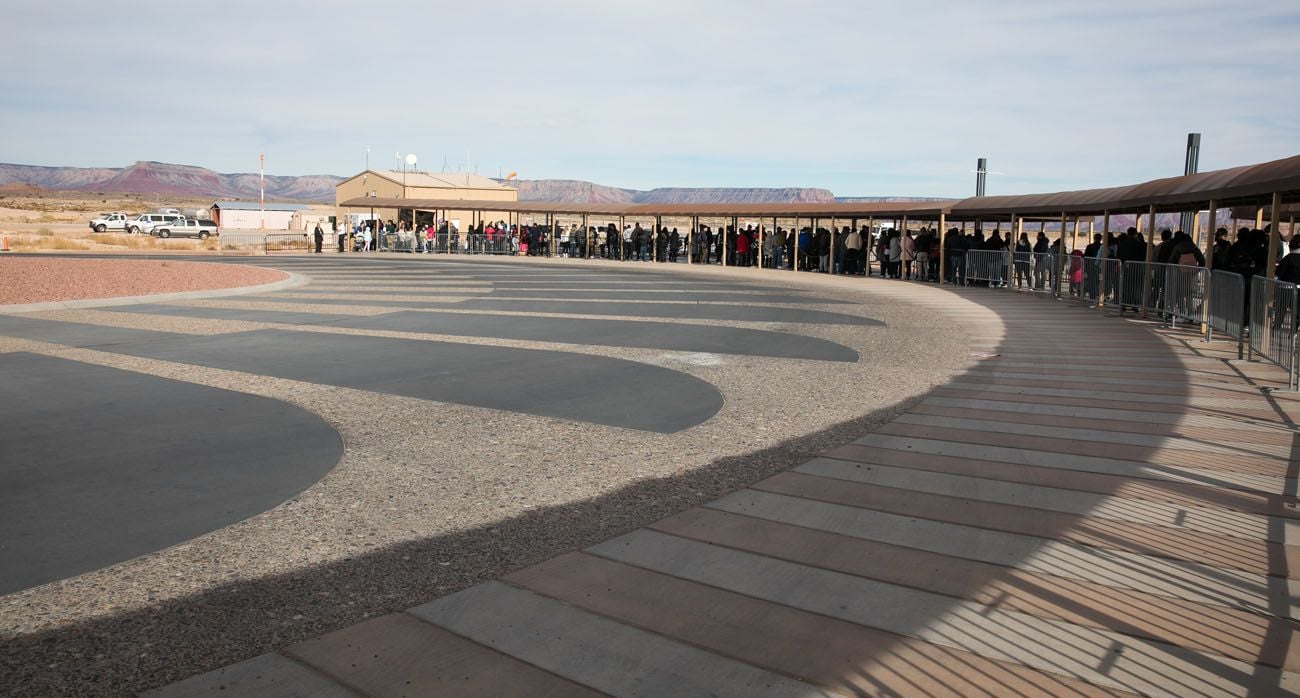 The line for the shuttle bus at the Visitor Center.
Eagle Point
The shuttle bus drops you off at Eagle Point. This is a decent viewpoint over the canyon.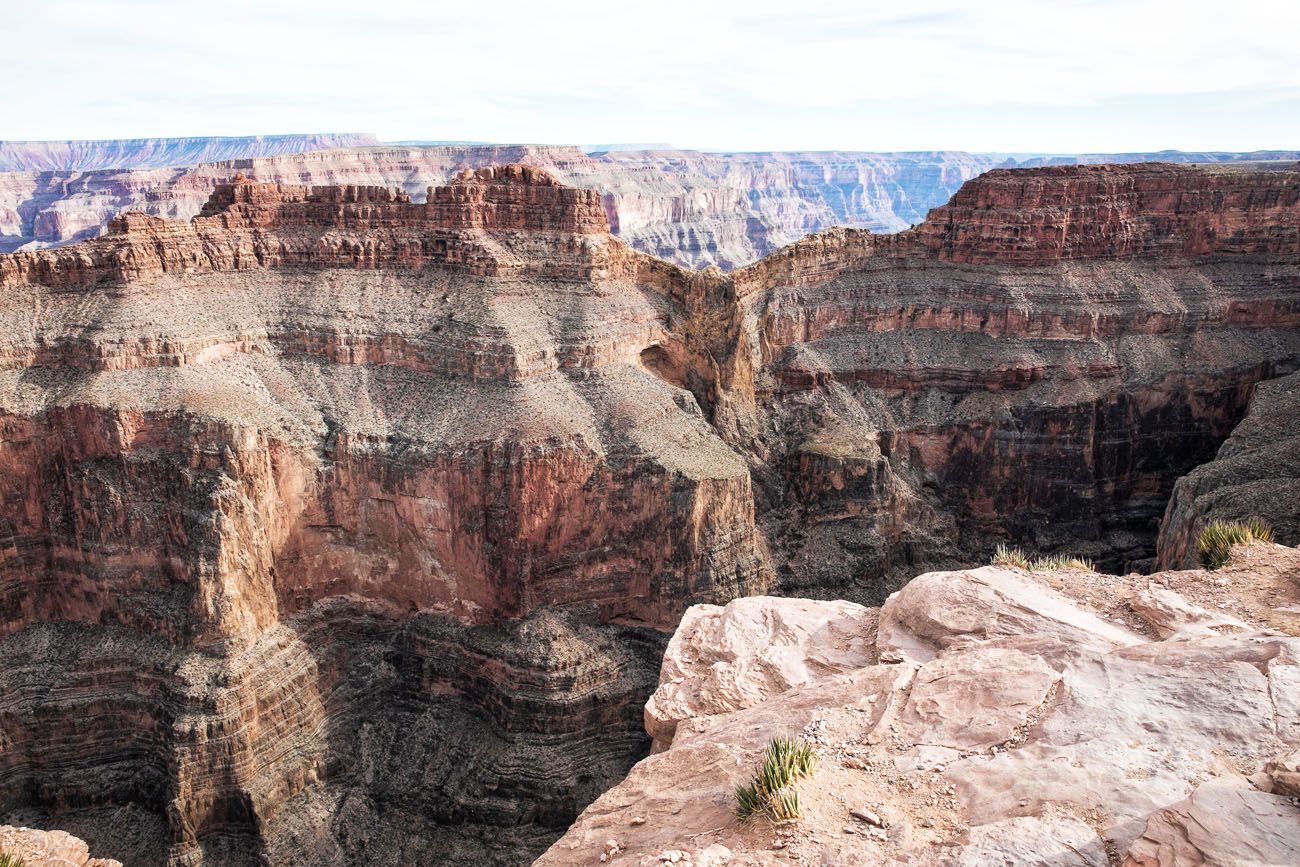 From here, you can also see the Skywalk jutting out over the canyon.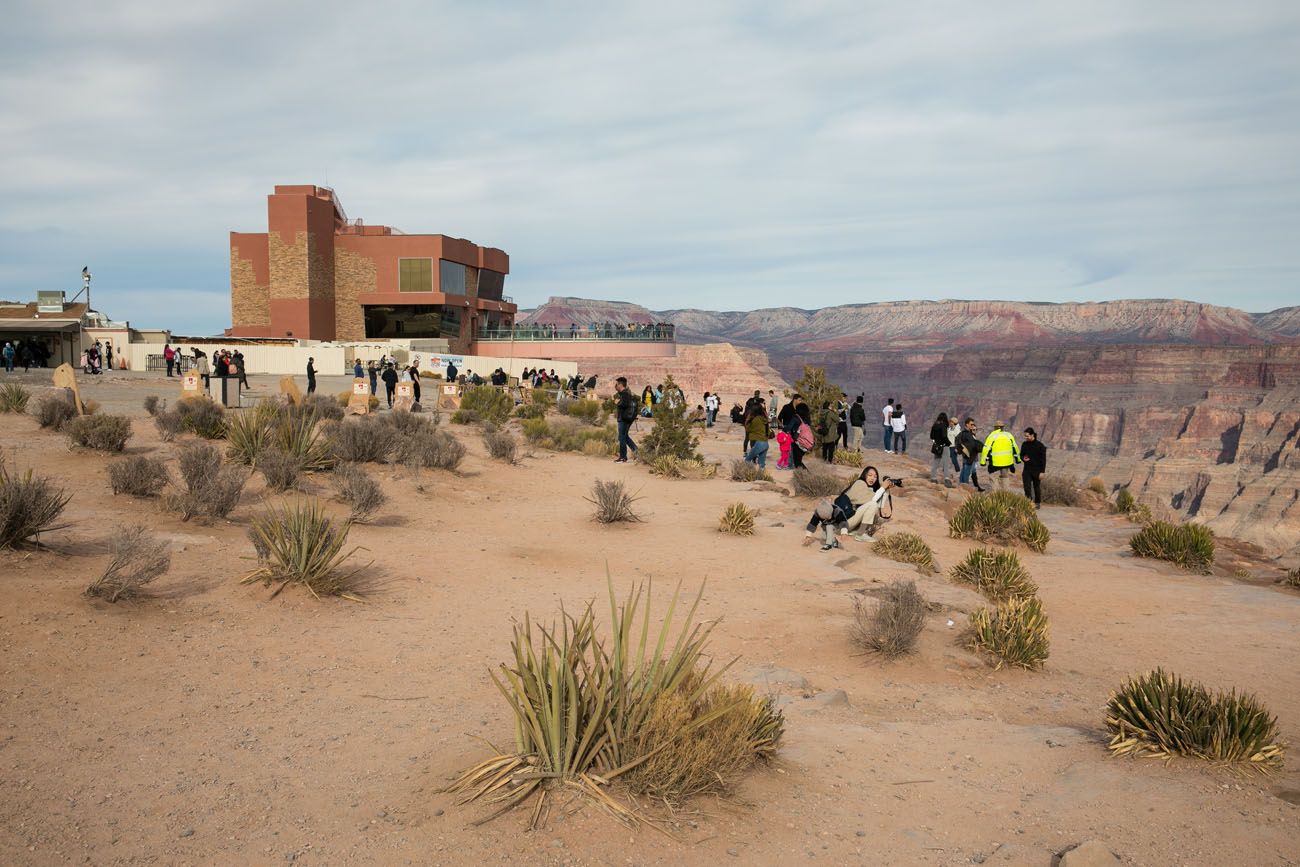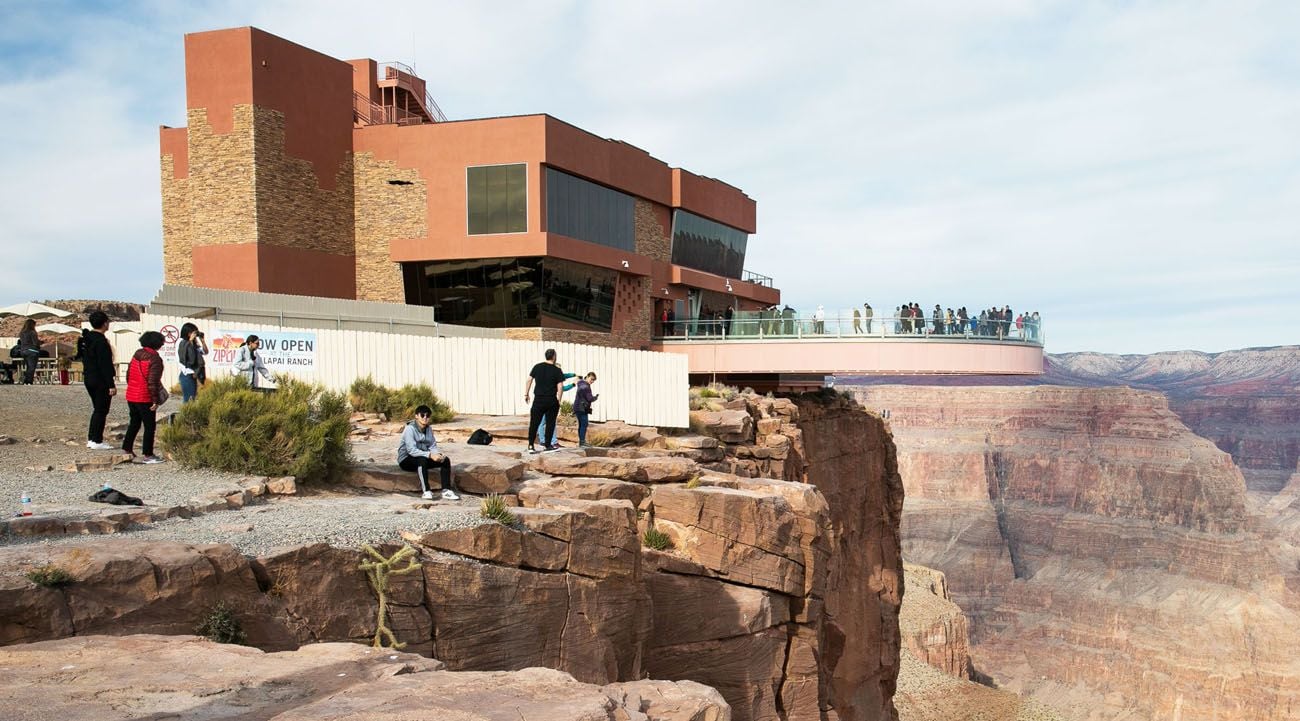 We took a few photos at Eagle Point and then headed to the Skywalk.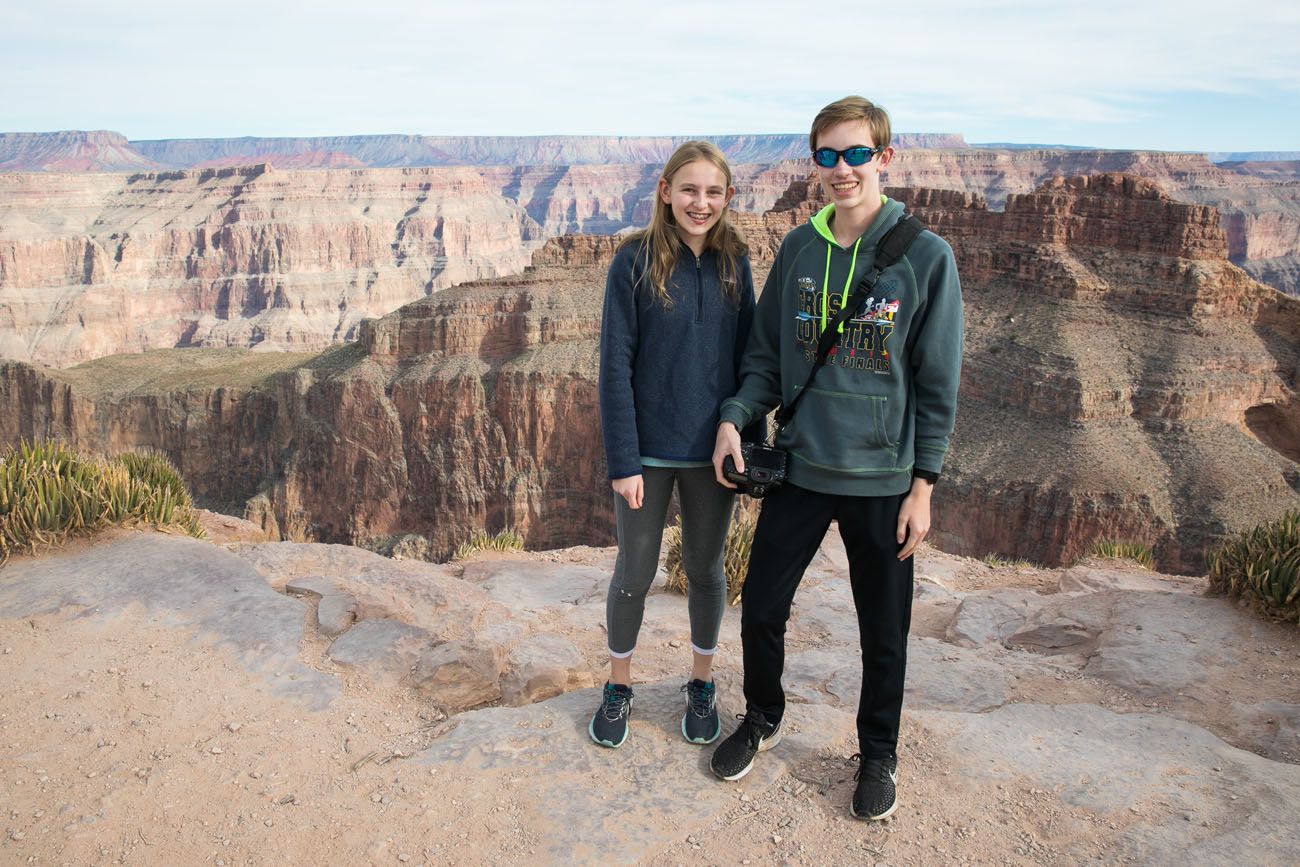 More Lines, More "Surprises" at the Skywalk
We were shocked to see such a long line to get onto the Skywalk. It was so long that we considered skipping it altogether. But we had come so far, and paid so much, that it would be silly to skip it.
So, we got in line.
And the line slowly trudged forward.
While we waited, Native American women put on a show in the small amphitheater. Tim and Tyler took advantage of our waiting time to get food at one of the small restaurants. They had to wait in another long, slow moving line and it took them 45 minutes to get served overpriced, mediocre food.
By the way, you are not permitted to bring your own food into Grand Canyon West.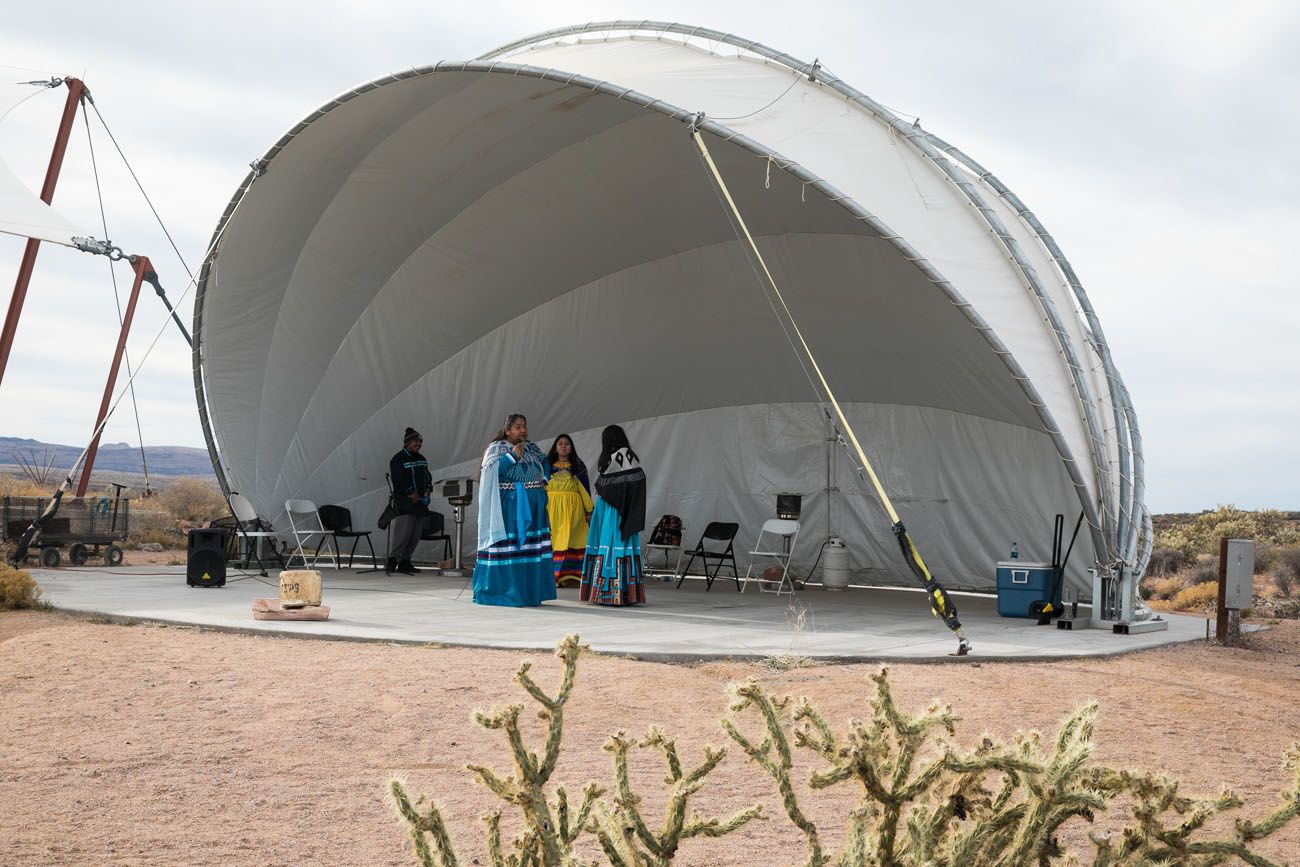 Native American show in the ampitheater.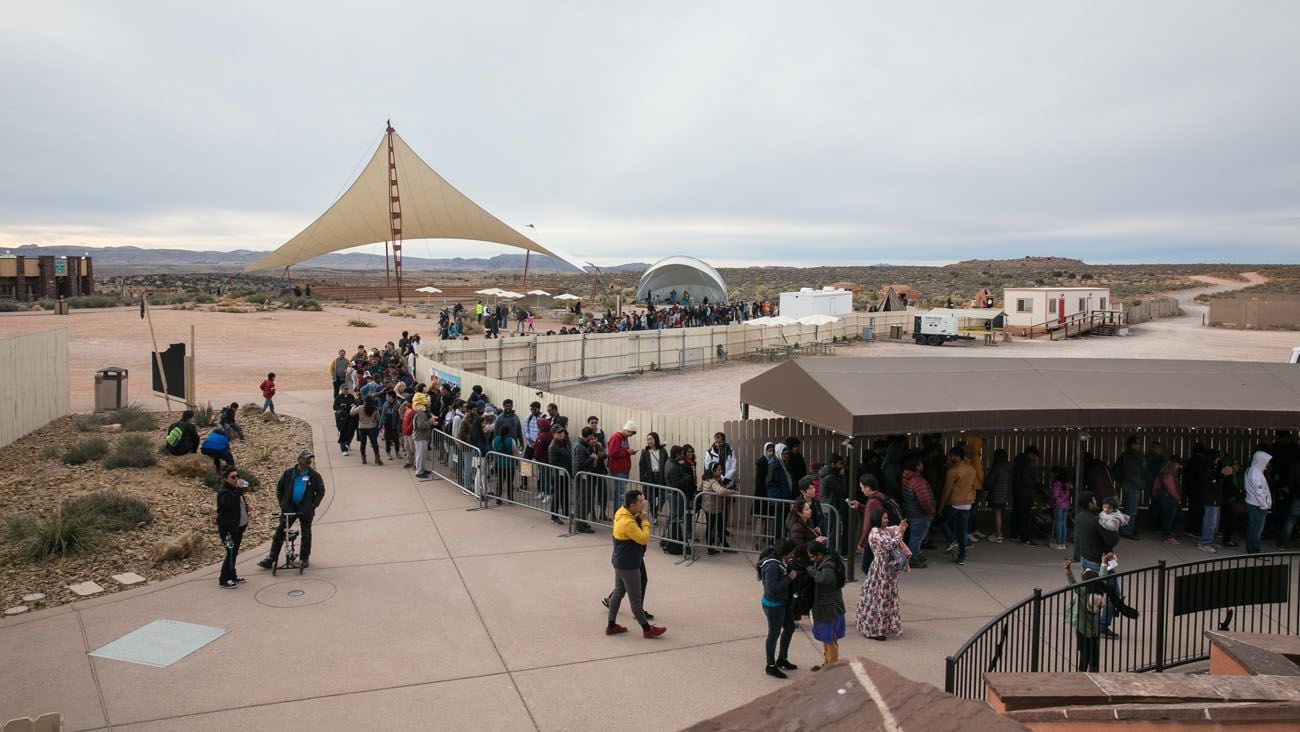 A view of the line to enter the Skywalk.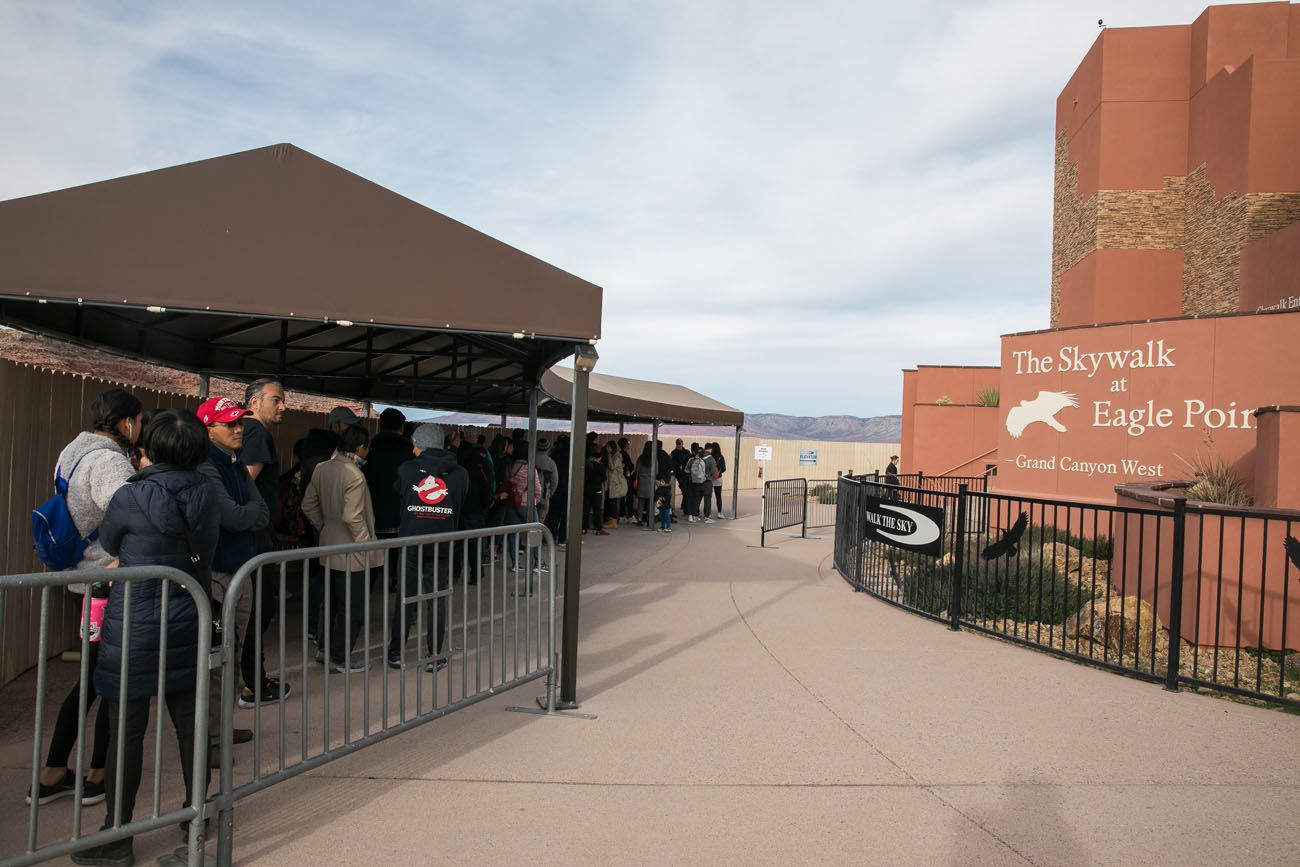 It took us an hour and fifteen minutes to enter the Skywalk building.
Once inside, we had to wait in another short line. It was here that we learned that no photography is permitted on the Skywalk. No cameras. No cellphones. All of your personal belongings need to be stored in a free locker before walking onto the Skywalk.
So, we waited almost an hour and a half and just learned that photography was not allowed. I was extremely frustrated by this point (as were many other people in line).
We did not see any signs outside of the Skywalk building letting visitors know that photography is not permitted. It's also not readily stated on their website. They do mention "no photography" in the FAQ section of their website (that I read after our visit). Their reason for no photography: they state that it is for safety reasons and that they do not want cameras and cell phones falling to the canyon below. But really, I believe they are simply trying to make more money.
How much money? It costs $17 for a single photo and $69 for the photo package. There are photographers who will take your photo on the Skywalk and you can purchase these at the end of your visit.
On the Skywalk
Before stepping foot onto the Skywalk, you will put shoe covers over your shoes to protect the glass surface.
If you want one of their photographers to take your photo on the Skywalk, you will have to wait in another line. On the day we did this, the wait time for photos was 30 minutes.
We skipped the photo line and stepped out onto the Skywalk.
We have done similar things in other places around the world. I do have to say that the glass floor of the Skywalk is very clear and it's really cool to see the ground way below your feet. At other sites we have been to, the glass is so scratched up that it's hard to see through. Not at the Skywalk. If you have a problem with heights, this could be challenging for you.
You should also know that the Skywalk does not hover 4,000 feet above the canyon as it is advertised on their website. The Skywalk sits above a small plateau so you are only 700 feet off the ground.
We spent about 10 minutes on the Skywalk. The view is nothing special. The reason to do this is for the experience of walking out on a platform suspended high off of the ground.
Guano Point
Once finished at the Skywalk, the shuttle takes you to another viewpoint called Guano Point. Here, you can enjoy more views of the canyon and hike on the rocks.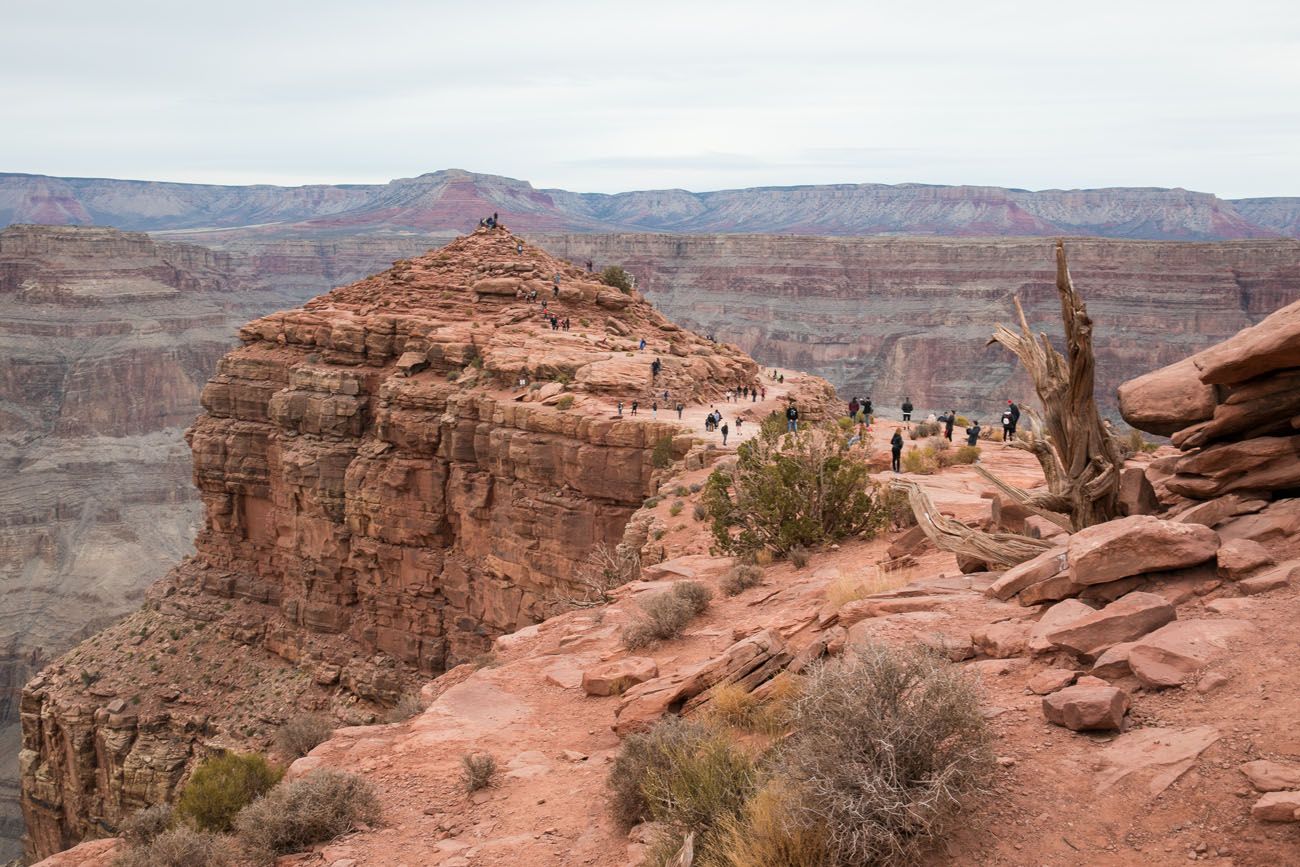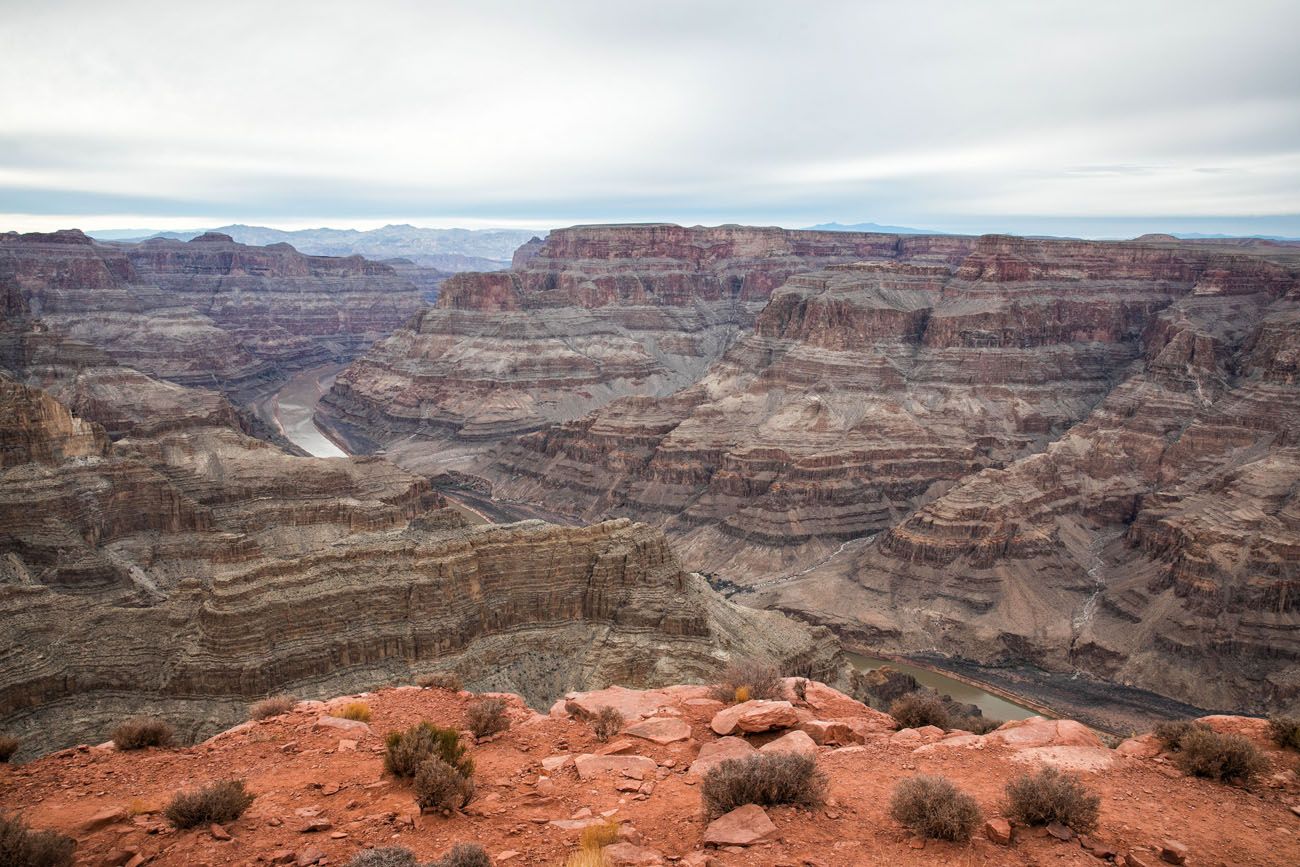 View from Guano Point
From Guano Point, the shuttle takes you to the Hualapai Ranch and then back to the Visitor Center.
Note: There are no direct shuttles from the Skywalk back to the Visitor Center. You must ride the shuttle to Guano Point and Hualapai Ranch even if you do not plan to visit them.
Is the Skywalk Worth It?
No. This entire experience was one frustration after another. And to think that we spent nearly $300 makes it even more irritating.
I know that we visited during a holiday weekend when crowds are larger. But even without the lines, this experience does not deserve its huge price tag.
$300 is a lot of money to spend for a family of four, and that does not include meals or the photo package. Compare this price tag with the $35 park entrance fee if you went to the South Rim of the Grand Canyon instead of the Skywalk.
I understand that the Skywalk is not on national park land so prices will be higher for this attraction. I don't have a problem with that. We are all for spending some money, supporting the Hualapai Tribe, and visiting an extraordinary place in the process. The Skywalk is a great way to attract visitors to the Grand Canyon and it is a cool experience, but it is overpriced for what you get.
West Rim View of the Grand Canyon
Grand Canyon Skywalk is advertised as a quick and easy day trip for visitors in Las Vegas to see the Grand Canyon. And it's a great idea, which is exactly why we did it.
If you are in Las Vegas and have never seen the Grand Canyon, this may be a day trip that you are considering.
However, Grand Canyon West lacks the grandeur and awe-inspiring vistas that you see in photographs. To get these views, you need to head farther east.
If your only view of the Grand Canyon was from the Skywalk and Grand Canyon West, you would be leaving with the wrong impression of the Grand Canyon. Grand Canyon West simply does not have the same "wow" factor you get on the South Rim.
An Alternative to the Skywalk
If you consider that it is a 2.5-hour drive to the Skywalk, with just two more hours of driving, you can be standing on the South Rim with more spectacular views.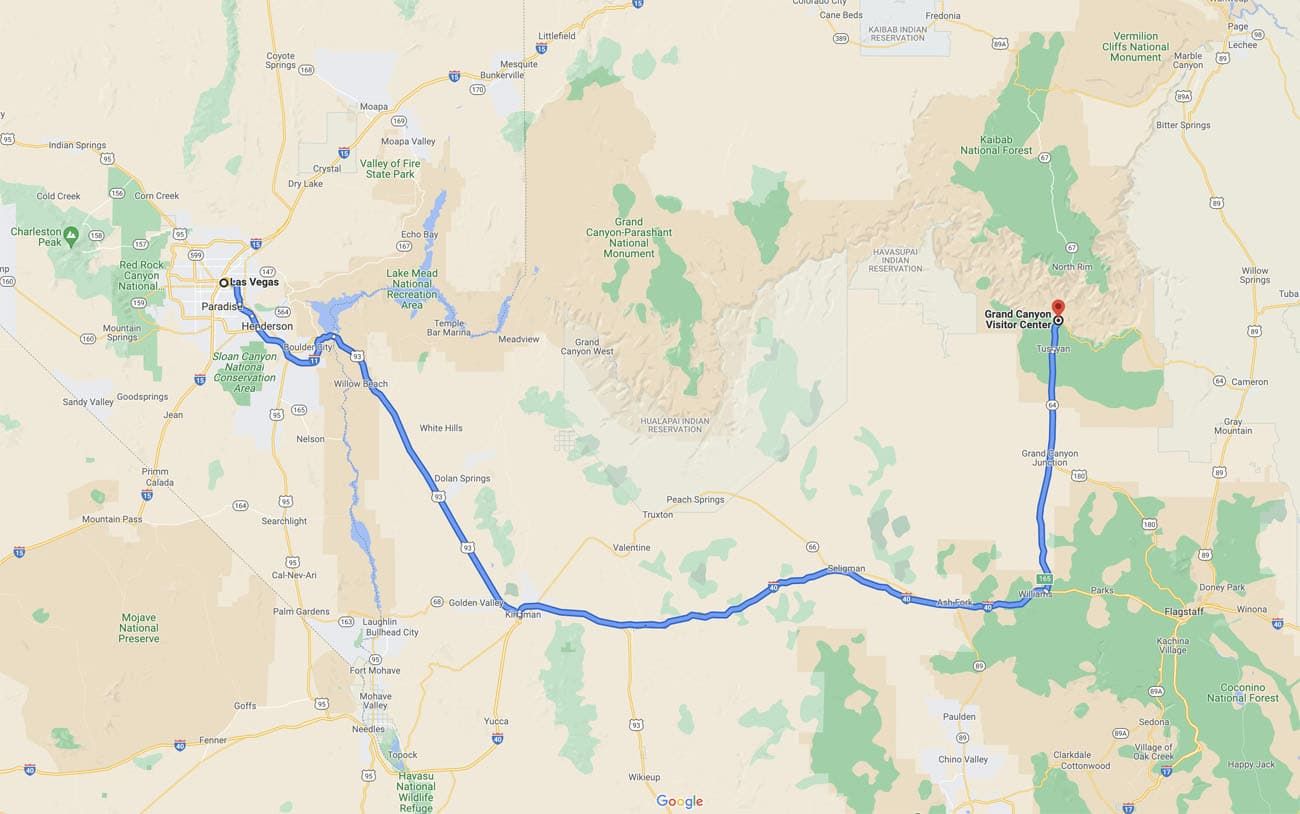 Pay your park entrance fee, walk to Mather Point from the Visitor Center, and enjoy this view.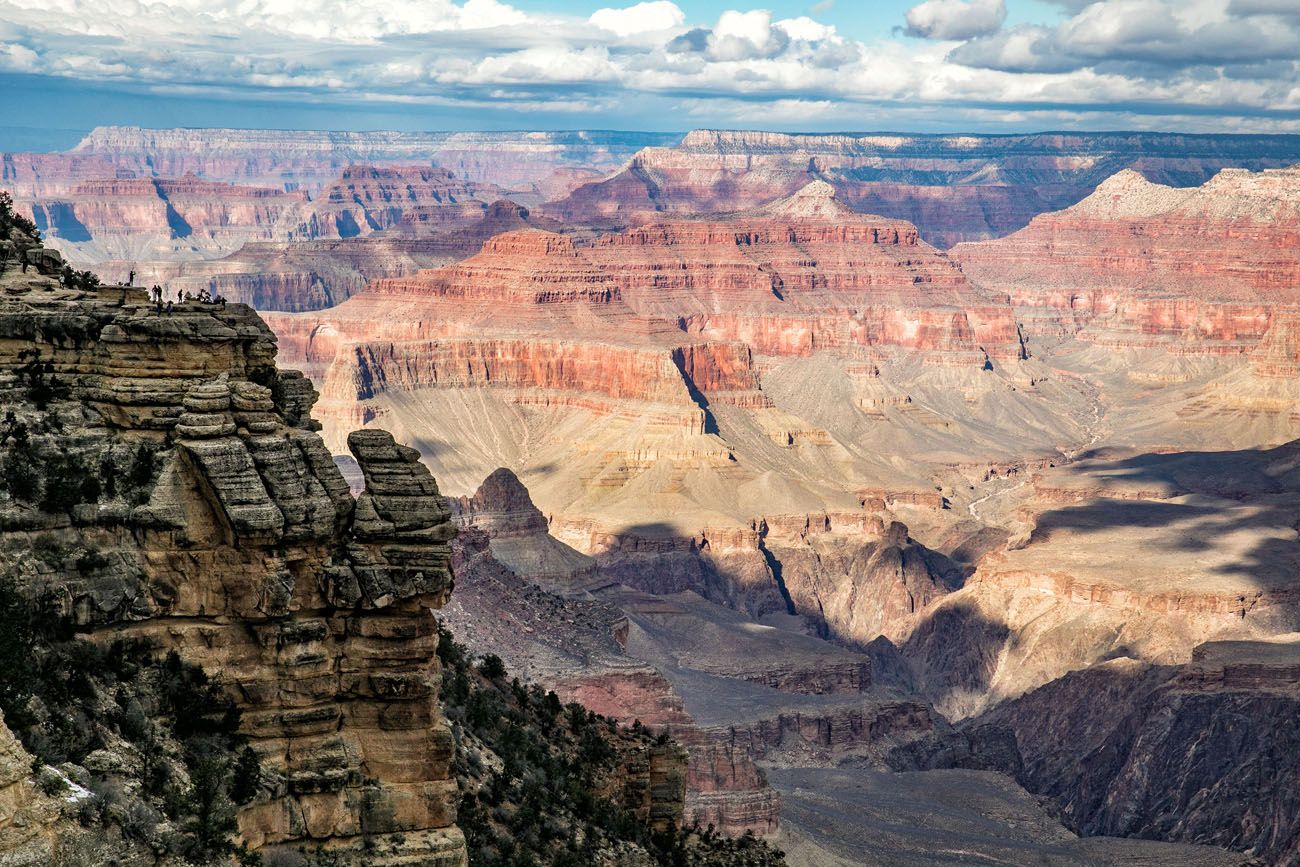 The view from Mather Point, just a short walk from the Grand Canyon Visitor Center
Or check out these views from the South Rim.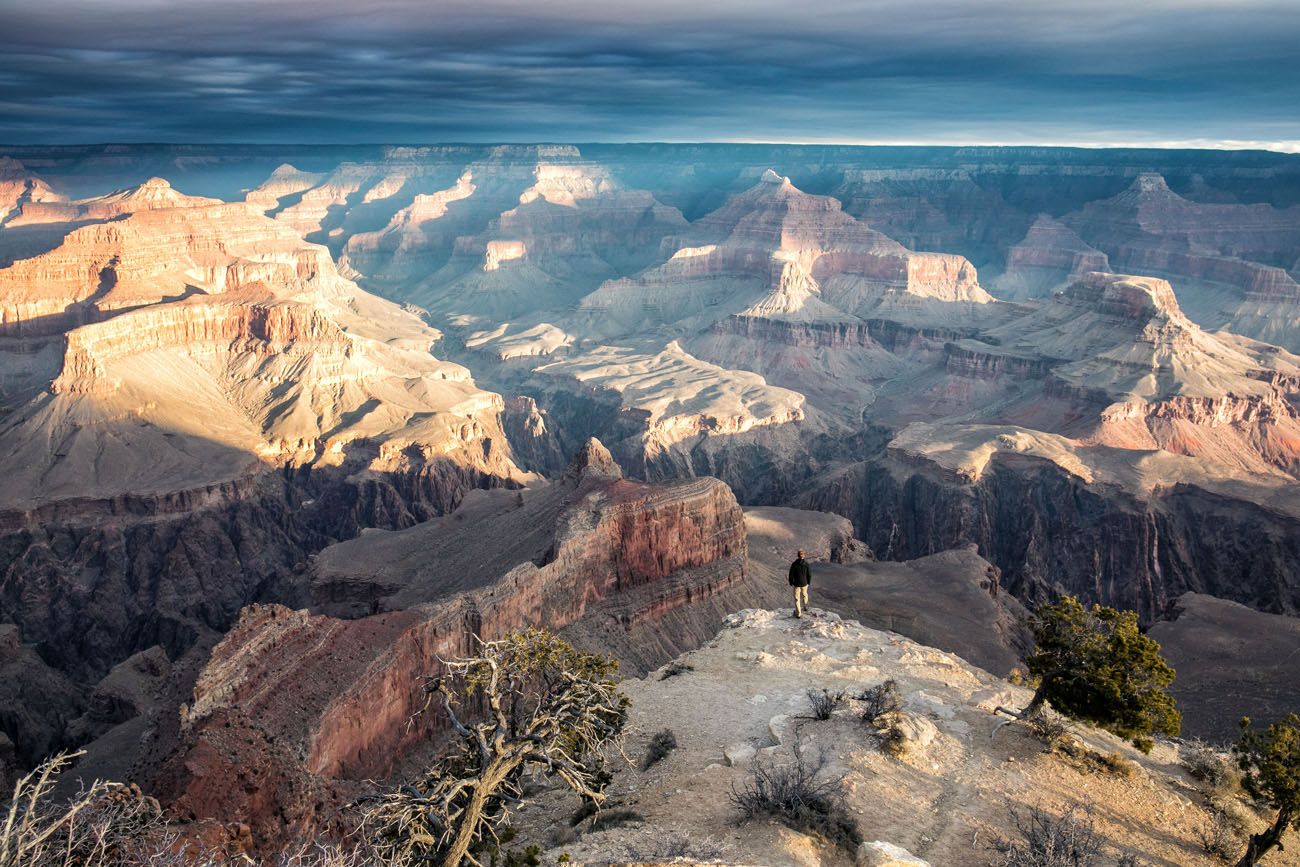 The view from Powell Point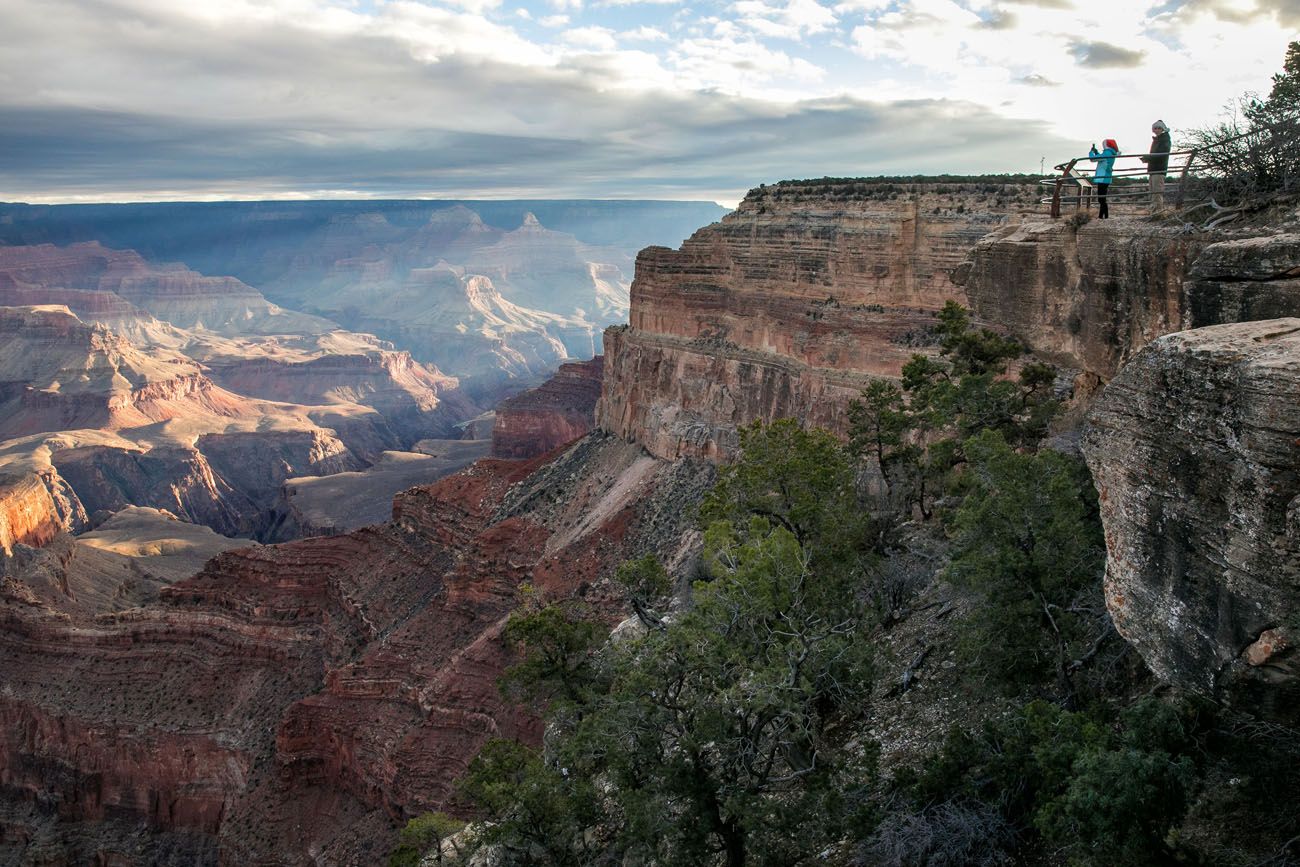 Mohave Point at sunrise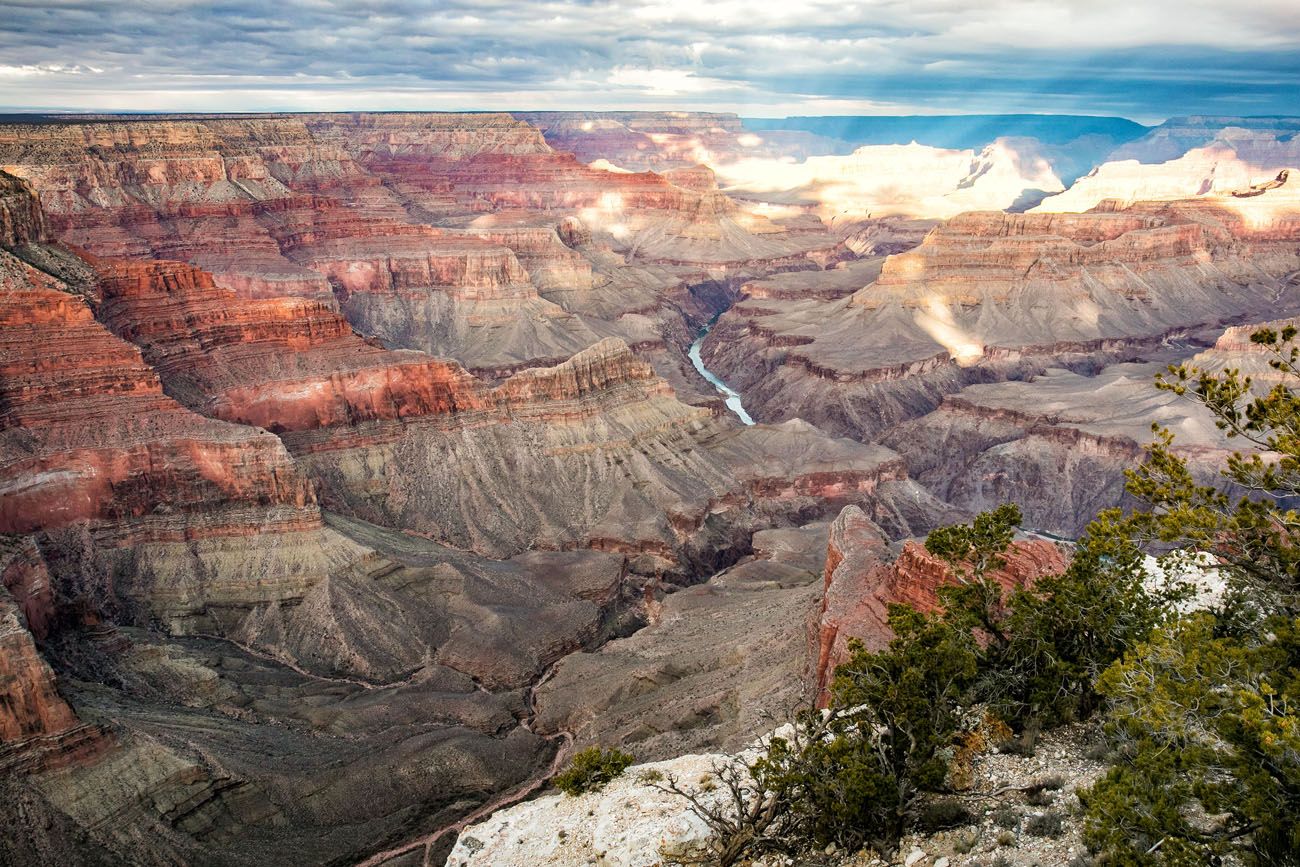 Another view of Mohave Point
There is no comparison between the West Rim and the South Rim, in our opinion. And you only need to pay the $35 park entrance for your entire family (and it's good for seven days!). Worth it? Absolutely.
However, to make a visit to the South Rim worthwhile, you need to plan to spend at least a few hours here. It can be done as a day trip from Las Vegas, but you will spend most of the day in your car (it takes 4.5 hours to drive from Las Vegas to the Grand Canyon). That is nine hours of driving in one day…doable but definitely a long day.
A better option is to spend the night at the Grand Canyon Village or in Tusayan and head back to Las Vegas (or continue your road trip) the next day. Of course, more time is always better.
How to Make the Skywalk Worth It
If driving out the South Rim is not an option for you, I do believe that there are ways to make the West Rim and the Skywalk a worthwhile experience.
First of all, you have to know what to expect. Plan to wait in line and to know that you will not be able to take your own photos on the Skywalk.
If you can, get here early in the day to avoid the crowds.
Eat a big breakfast in Las Vegas before your drive out and have snacks in the car for your drive back. Avoid eating at the slow, mediocre restaurants at Grand Canyon West.
Buy your tickets in advance. You will get to skip at least one line if you do this.
Consider skipping the Skywalk. You will save $26 per person. And you can still enjoy the view from Eagle Point and Guano Point. Once on site, you can purchase your Skywalk tickets inside the Skywalk building if you change your mind.
Combine the Skywalk with Hoover Dam (you get to visit two attractions on one drive). On this highly-rated tour, you visit the Skywalk and have a quick visit to Hoover Dam (note that you do not tour Hoover Dam, you just get a view of it from the bypass bridge, which is still very nice).
If you want to see photos taken from the Skywalk, click here.
Before you go, take a look at the Frequently Asked Questions section of the official website so you don't have any surprises.
In Conclusion
If you want jaw-dropping views of the Grand Canyon, skip the Skywalk and drive the extra two hours to the South Rim. You'll have loads of amazing photos and a lot more money in your wallet.
Grand Canyon West and the Skywalk would be worth it if they reduced the entrance fees and allowed photography on the Skywalk. Until then, the South Rim is the most accessible (and much more spectacular) portion of the Grand Canyon to visit.
But if you are still interested in visiting Grand Canyon West and/or the Skywalk, here are several highly rated tours from Las Vegas.
---
If you have any questions about visiting the Grand Canyon Skywalk, or if you want to share your experience, let us know in the comment section below.
More Information for Your Trip to the American Southwest
GRAND CANYON: Check out our Grand Canyon National Park Travel Guide for important travel planning tips, sample itineraries, advice on when to go, where to stay, and more.
GRAND CANYON: Check out our guides to the Best Things to Do on the South Rim, how to spend one perfect day in the Grand Canyon, and which South Rim viewpoints are the best ones to visit. For amazing views of the Grand Canyon, check out our guide to the Grand Canyon Helicopter Tours.
GRAND CANYON ROAD TRIP: If the Grand Canyon is on your to do list, learn how to combine it with other places in Arizona, Nevada, and Utah with our Grand Canyon Road Trip Ideas.
LAS VEGAS: For information on how to visit Las Vegas, read our article Best Things to Do in Las Vegas, which also has advice on where to stay, where to eat, and how to plan your time. If you are visiting with kids or teenagers, don't miss our article Best Things to Do in Las Vegas with Teenagers.
VALLEY OF FIRE: The Valley of Fire is a stunning state park that is a short drive from Las Vegas. Plan your visit with our Guide to the Valley of Fire.
Note: This post contains affiliate links. When you make a purchase using one of these affiliate links, we get paid a small commission at no extra cost to you.
All rights reserved © Earth Trekkers. Republishing this article and/or any of its contents (text, photography, etc.), in whole or in part, is strictly prohibited.