Just 30 minutes from downtown Las Vegas is Red Rock Canyon, an outdoor playground for hikers, families, and outdoor adventurers. Go mountain biking, rock climbing, explore the hiking trails, and enjoy the view on the scenic drive through the park. If you want to escape the bright, neon lights and all-you-can-eat food buffets for a little outdoor adventure, Red Rock Canyon is calling your name.
How to Visit Red Rock Canyon
Arriving at Red Rock Canyon
After paying your entry fee ($20 per car) at the fee station, you will enter the scenic loop drive. This one-way loop takes you past all of the trailheads and viewpoints in the park. Make sure you know which stop you need because if you drive past it, you will have to drive the entire loop to get back to that place.
IMPORTANT NOTE: From October 1 through May 31, between 8 am and 5 pm, you must make a reservation in advance for entry into the park. Recreation.gov charges a $2 processing fee, which is in addition to the entry fee ($20 per vehicle). Timed entry reservations are not required from June 1 through September 30. Learn more here. If you have an America the Beautiful Pass, you do not have to pay the entry fee (but you still need to make a timed entry reservation).
While in Red Rock Canyon, please practice the seven principles of Leave No Trace: plan ahead, stay on the trail, pack out what you bring to the hiking trail, properly dispose of waste, leave areas as you found them, minimize campfire impacts, be considerate of other hikers, and do not approach or feed wildlife.
How to Choose Your Hiking Trail
There are 26 hiking trails to choose from at Red Rock Canyon. So how do you decide which ones to do?
When you pay your entrance fee, you will be given a park map that includes brief descriptions of each trail. It can be very difficult to pick your perfect hike from this limited information. Planning ahead is the best thing to do (which is why you are reading this!).
Using the Red Rock Canyon website and other travel blogs, we picked several hikes to do. The four of us spent about half a day on the trails. We only saw a fraction of the park, so we can't comment on what the best trails are, but we can recommend the trails we hiked. And recommend them, we do. If you like the idea of rock scrambling, exploring narrow canyons, and having a sweeping view over the city of Las Vegas, put these two hikes on your list.
Calico Hills
You don't have to drive very far to get to the first trailhead. About a one-minute drive from the Visitor Center is the turn-off for Calico 1. The Calico Hills are a large cluster of red and orange rocks that are laced with hiking trails and canyons to explore. This is a very fun spot to wander through, without any real route to follow.
From the car park, we hiked downhill and then followed the trail to the right, weaving our way down into the canyon. There are slot-like canyons to explore and places to go rock scrambling. This is very fun place, especially if you are here with kids.
I recommend following the trail downhill, in the direction of the park entrance, for a little ways. The farther you get from the car park, the more people you leave behind, and the better the experience gets.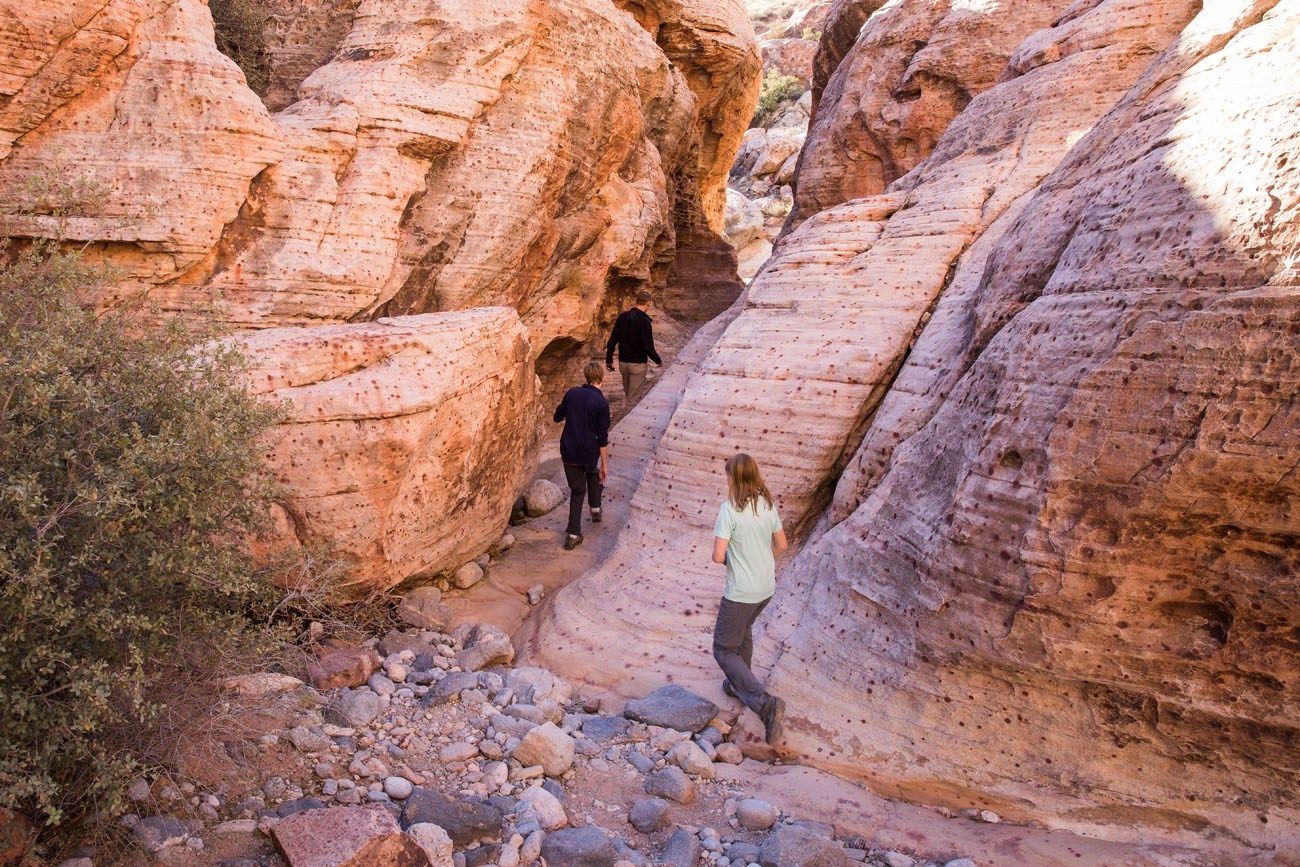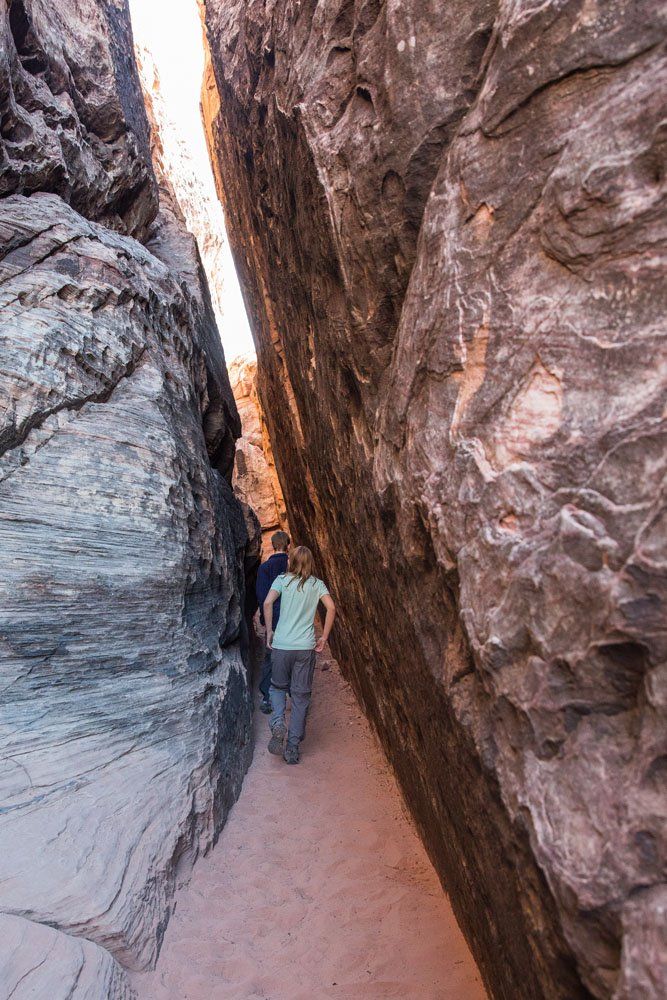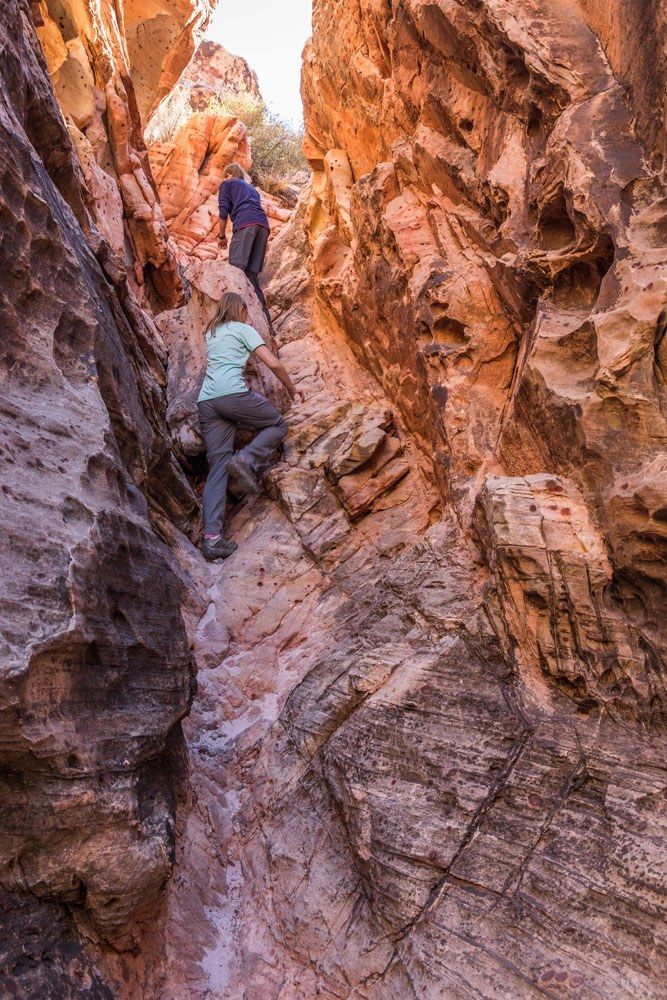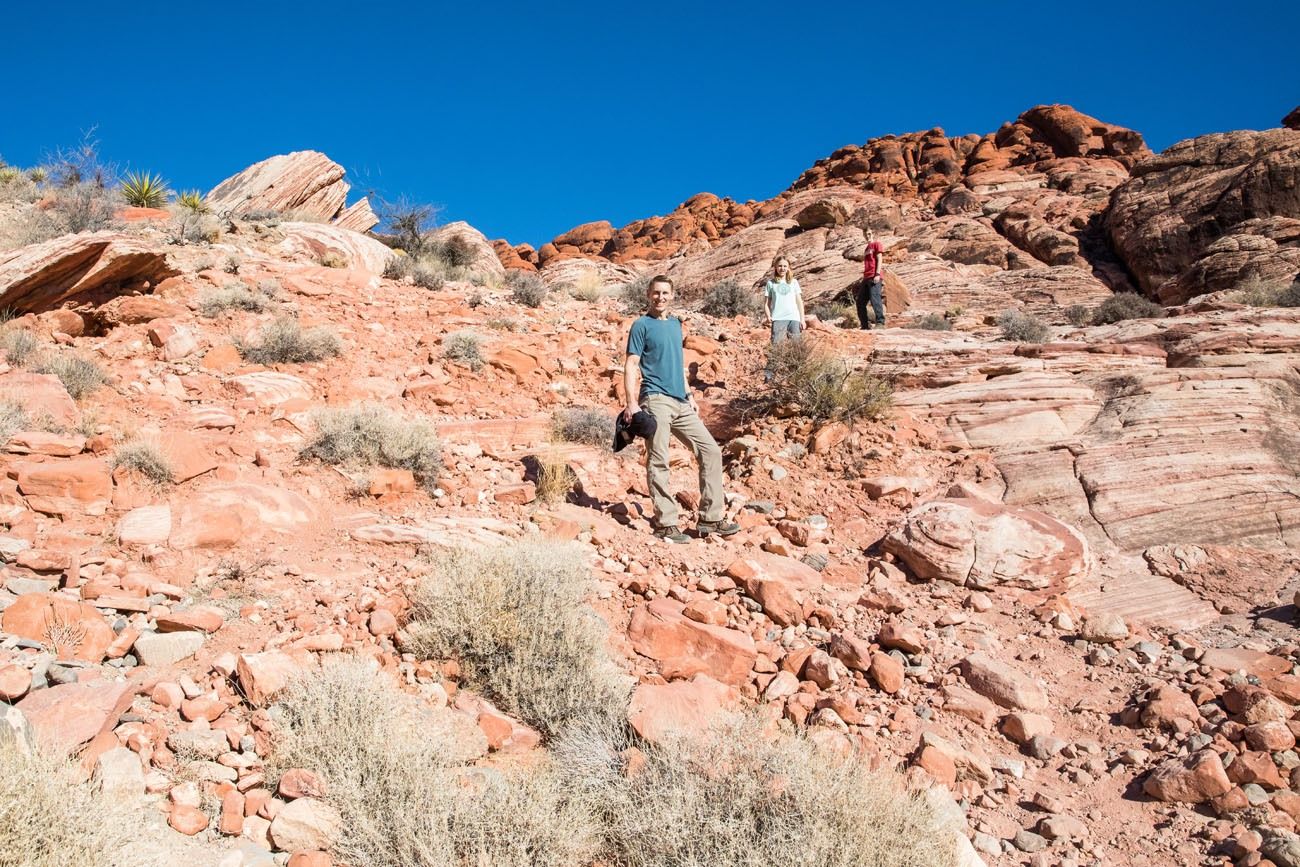 Prior to our trip to Las Vegas, I printed these hiking directions which takes you through some scenic spots in Calico Hills. We followed the directions for a little bit but then wandered around on our own, hiking the trails that looked interesting to us.
The trails here connect Calico 1 with the Calico 2 car park. You can follow the trail all of the way up to Sandstone Quarry (the start of the next hike), but your car will still be at Calico 1. I recommend exploring the area between Calico 1 and 2 and then moving on to the next hike.
Calico Tanks
Just a short drive from Calico 1 is the Sandstone Quarry parking lot. Park here and look for sign marking the trail to Calico Tanks.
The hike to Calico Tanks is 2.5 miles round trip and takes about two hours. This hike takes you up and over sandstone rocks to a viewpoint over the city of Las Vegas. This is a very fun hike with ever-changing views and just enough rock scrambling to keep things interesting.
The trail is relatively well marked the entire way. We did lose the trail, briefly, in one or two spots, but with a little backtracking found our way again.
The Calico Tanks Trail is a blast and the view over Las Vegas is icing on the cake. We highly recommend this hike.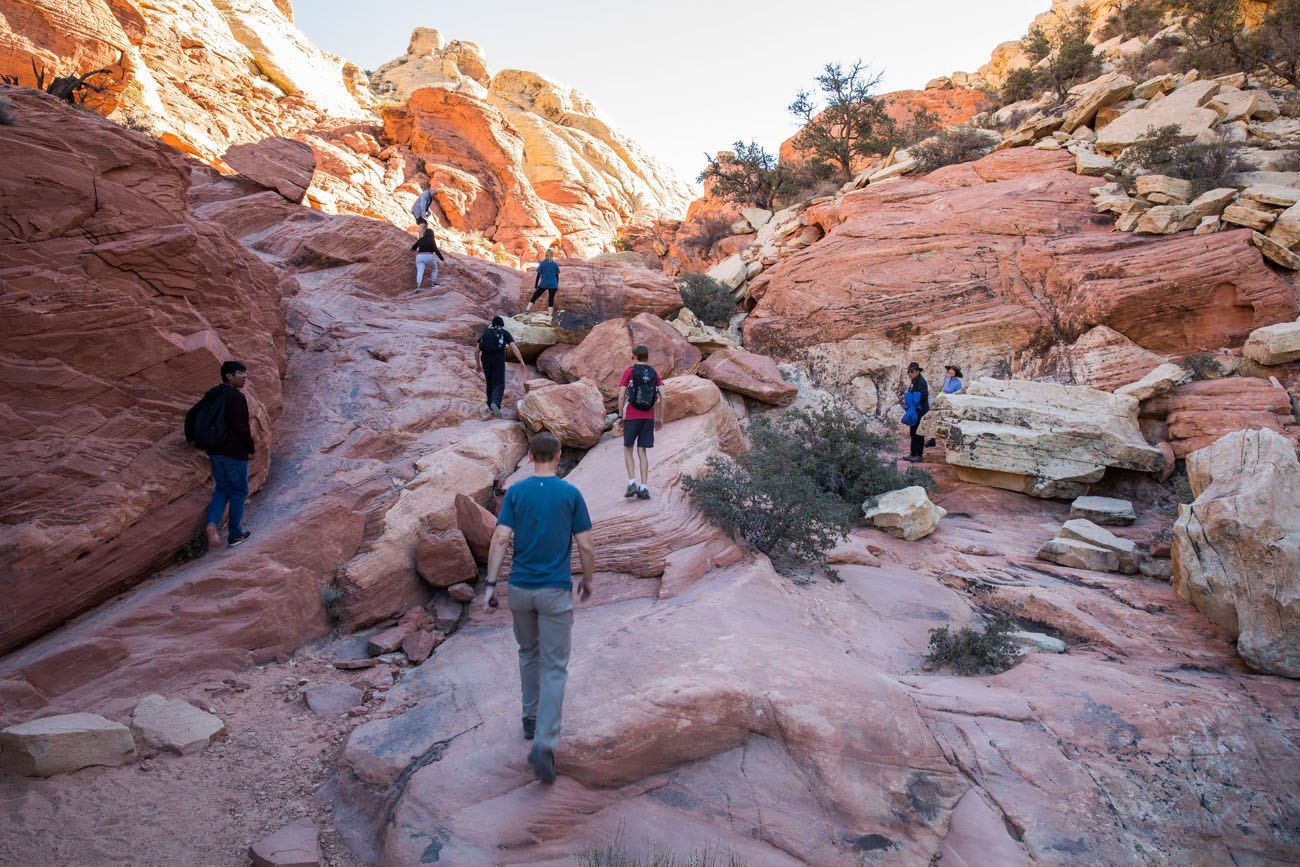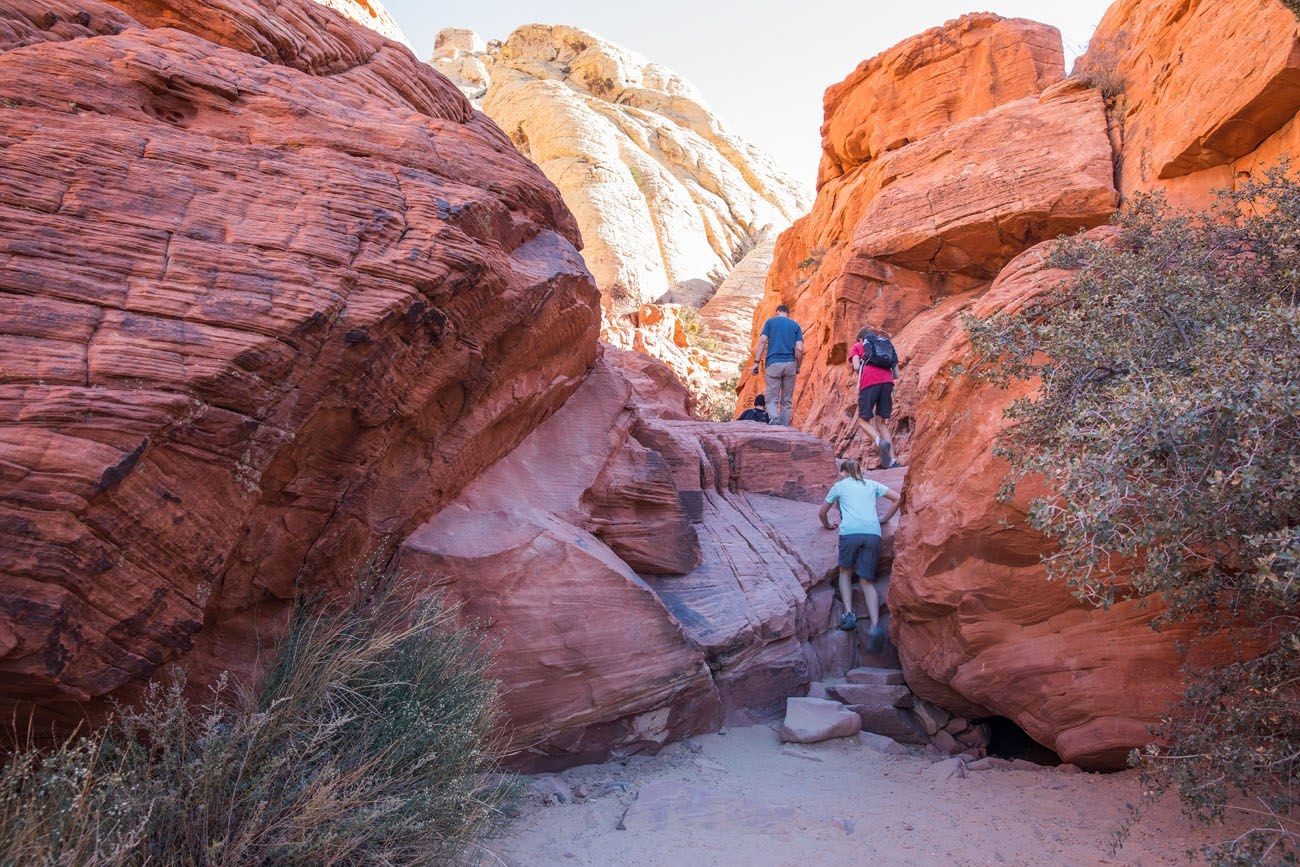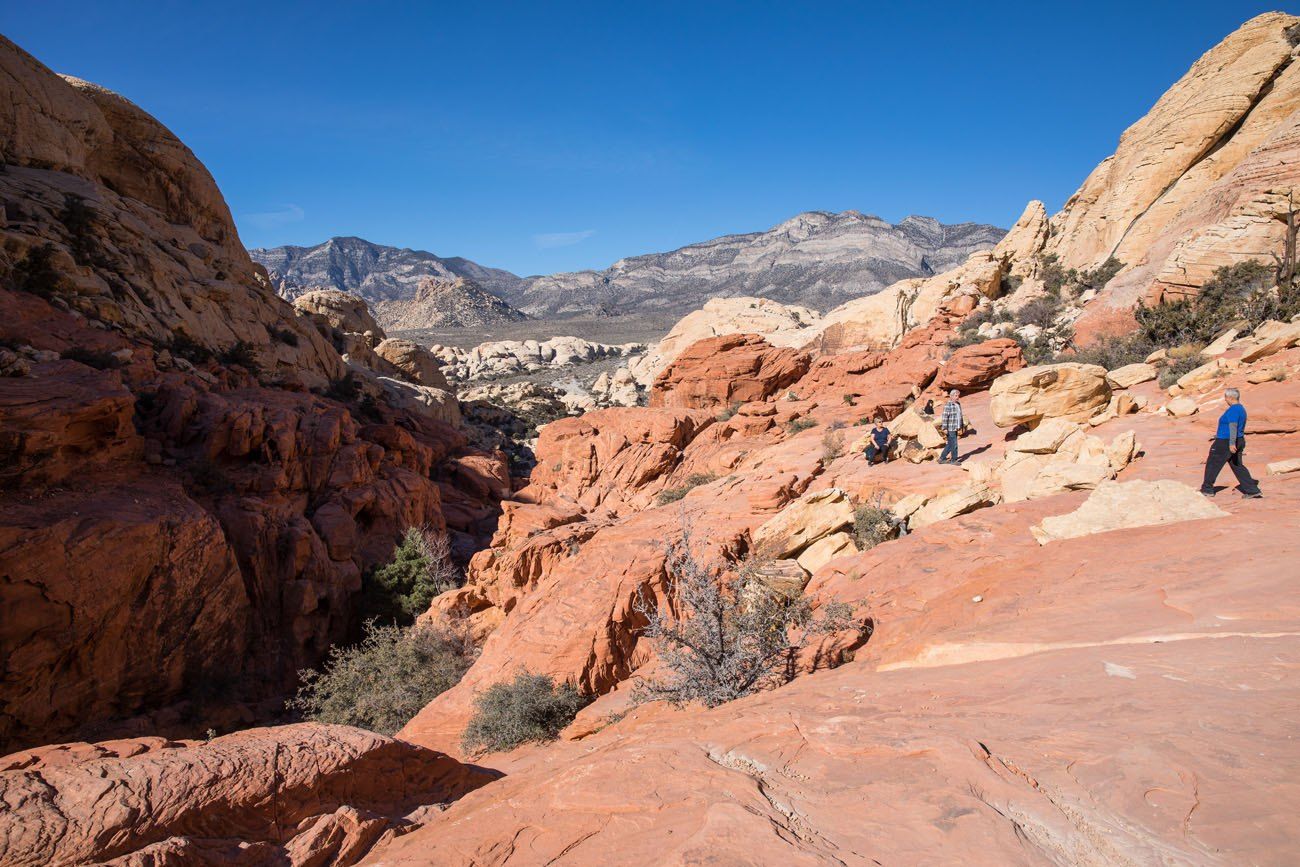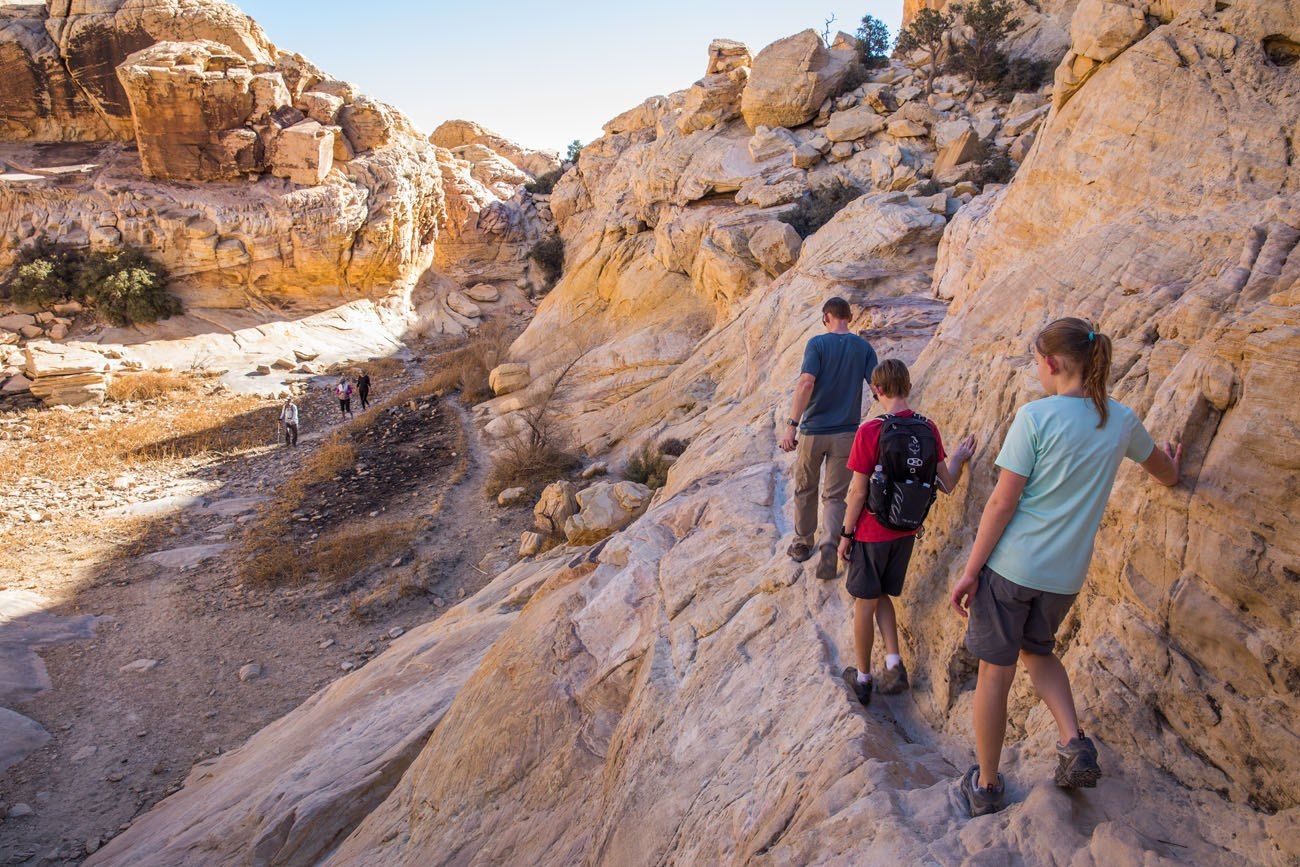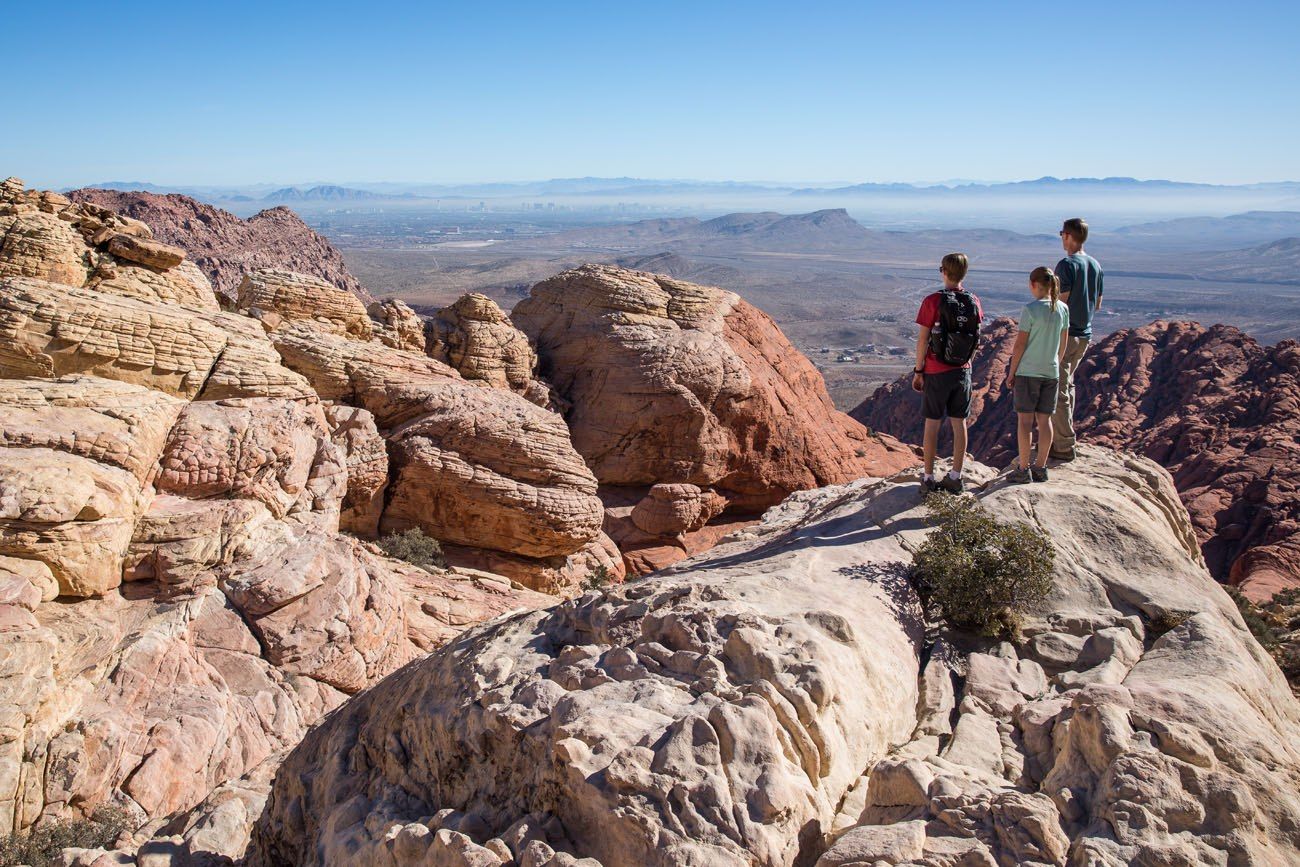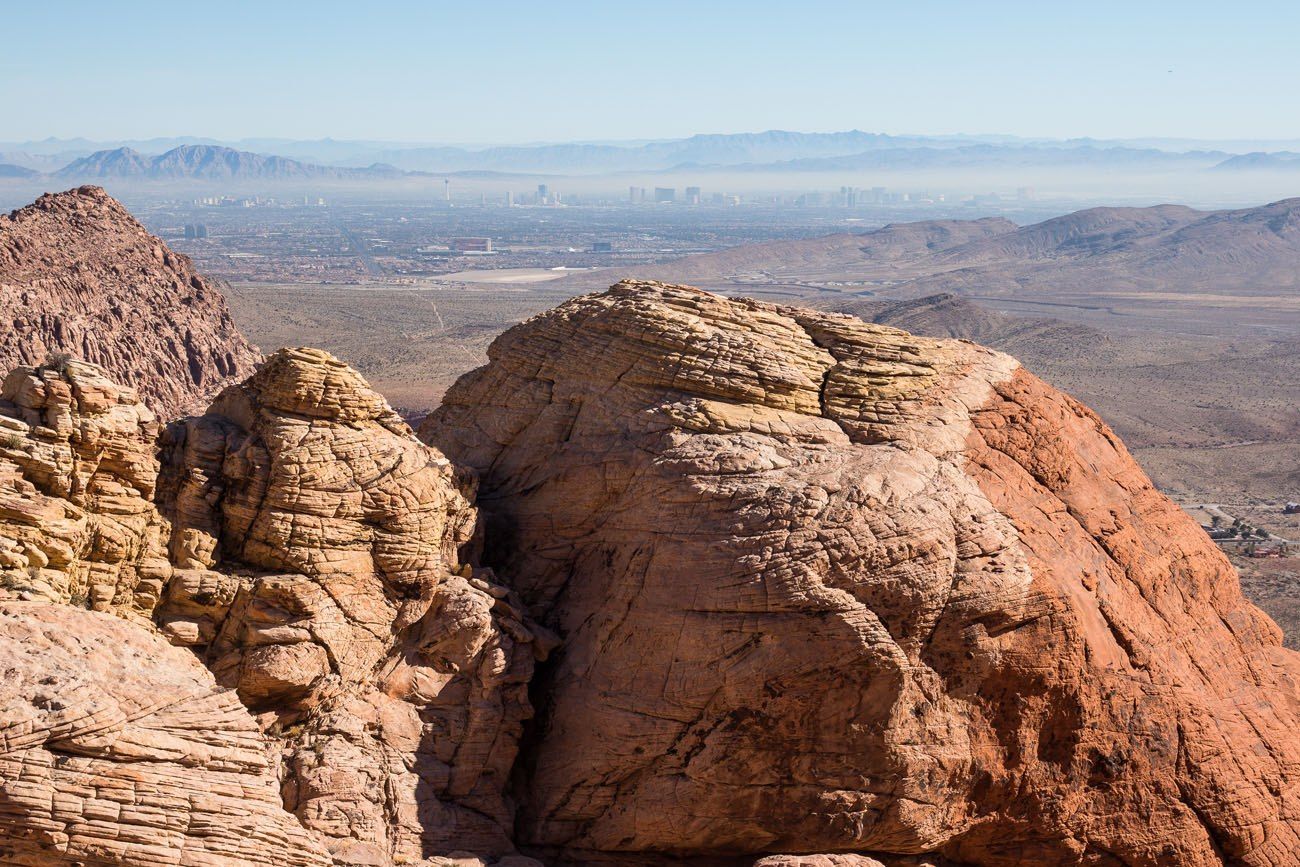 This trail is moderately strenuous with short sections of rock scrambling. We saw people of all ages on this trail, from Moms carrying toddlers in baby carriers, 5 year olds scrambling up and over boulders, and hikers in their 70's.
By now it was early afternoon. We visited Red Rock Canyon on a late December day between Christmas and New Years Eve, and it was really getting busy. We finished the scenic drive and then drove back to Las Vegas. Sure, you can spend all day at Red Rock Canyon, but we also wanted to show Tyler and Kara some of the Las Vegas strip.
Our Lunch/Dinner Recommendation
Located between Red Rock Canyon and downtown Las Vegas is Juan's Flaming Fajitas and Cantina. At the time of our visit (2017), this restaurant was ranked #1 in Las Vegas on Trip Advisor so we just had to check it out. Since then, this restaurant has dropped a little bit in the rankings, but as of 2023, it's #19, not bad on a list of 3,000+ restaurants.
If you like the idea of fajitas, enchiladas, nachos, or margaritas after exploring Red Rock Canyon, go to Juan's. The food is very good and the portions are huge. Plus, the prices are slightly cheaper than getting lunch or dinner right on the strip.
Getting to Red Rock Canyon
Red Rock Canyon is located due west of Las Vegas. From the city, you can see these mountains on the horizon. To get here, it helps to have your own car. There is no public transportation to Red Rock Canyon, although there are tour companies that can provide a tour and transportation for you. Here are several highly rated tours of Red Rock Canyon.
Get Updates Before You Go
Get updates about park conditions, operating hours, and trail closures on the official website.
Don't Miss the Valley of Fire
As a side note, the day before our visit to Red Rock Canyon we visited the Valley of Fire, another park that makes a great day trip from Las Vegas.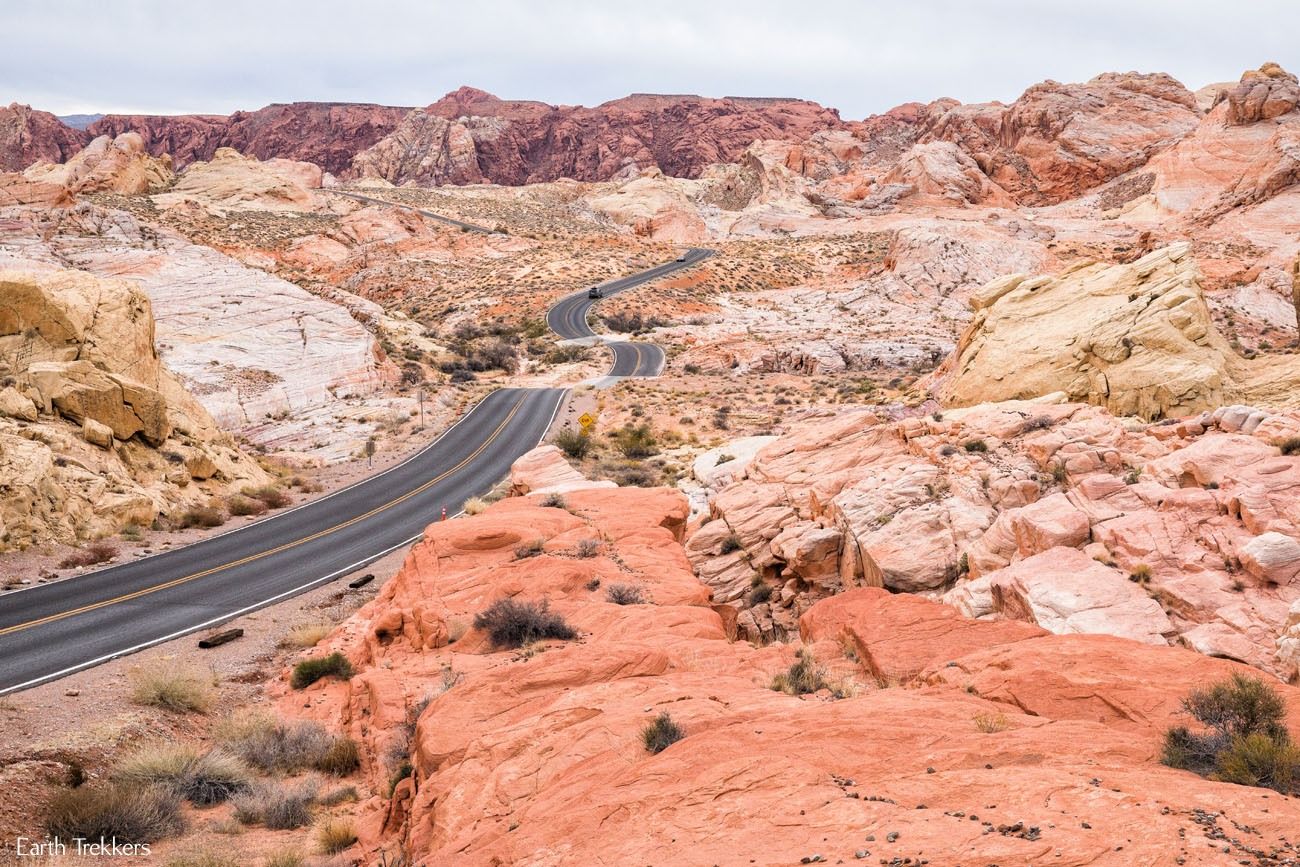 Both Tyler and Kara want you to know that Red Rock Canyon is a lot more fun to hike and explore than the Valley of Fire, in their opinion. Tim and I agree with them, Red Rock Canyon is more fun. However, I think the Valley of Fire is the more visually interesting of these two parks.
---
Have you been to Red Rock Canyon? What hikes have you done that you recommend? Comment below!
More Information for Your Trip to the American Southwest
LAS VEGAS: For information on how to visit Las Vegas, read our article Best Things to Do in Las Vegas, which also has advice on where to stay, where to eat, and how to plan your time. If you are visiting with kids or teenagers, don't miss our article Best Things to Do in Las Vegas with Teenagers.
SOUTHERN CALIFORNIA ROAD TRIP: Go on a road trip from Las Vegas to San Diego, visiting Joshua Tree and Death Valley National Parks, as well as Anza-Borrego Desert and the Mojave National Preserve.
DEATH VALLEY NATIONAL PARK: Check out our Death Valley National Park Travel Guide for important travel information, sample itineraries, and how to plan your visit. For a list of must-have experiences, read our article Best Things to Do in Death Valley National Park.
PLACES TO GO IN ARIZONA: Go hiking in Sedona, visit Saguaro National Park and Petrified Forest National Park, explore Monument Valley, photograph Antelope Canyon, and visit the South Rim of the Grand Canyon. Learn how to put all of this together in our Arizona Road Trip Itinerary.
Note: This post contains affiliate links. When you make a purchase using one of these affiliate links, we get paid a small commission at no extra cost to you.
All rights reserved © Earth Trekkers. Republishing this article and/or any of its contents (text, photography, etc.), in whole or in part, is strictly prohibited.