Kerlingarfjöll is a mountain range located in Iceland's central highlands. Tucked away within this mountain range is Hveradalir, a geothermal wonderland of steaming vents, boiling mud pools, and rainbow-colored hot springs.
The combination of hiking trails, rust-colored mountains, and clouds of steam creates one of Iceland's most unique hiking and photography destinations.
Kerlingarfjöll is located in central Iceland and is only accessible by driving on rough, gravelly F-roads. To get here, you will either need to rent a 4×4, take a bus, or join a tour.
There is something very special about driving on the low-traffic, unpaved roads through the heart of Iceland. Just being out here feels like an adventure. And along the way, you get to witness endless views of barren landscapes and distant, glacier-topped mountains that many visitors never get to see.
This just may be the highlight of your trip to Iceland.
Here's how to do it.
About Kerlingarfjöll
Kerlingarfjöll is a combination of two words: Kerling, meaning old lady, and fjöll, meaning mountain. Legend has it that a woman troll was walking in the area and when the sun came up, she was turned to stone. It is possible to see her stony pillar, also called Kerling, from some of the hiking trails here.
The Icelandic highlands are a barren, uninhabitable region that dominate central Iceland. Located within the highlands is Kerlingarfjöll, a 10,000 year old mountain range that was formed from volcanic activity. Mixed in with these rhyolite mountains are numerous hot springs that color the ground red, green, and yellow.
The mountains of Kerlingarfjöll look very similar to those at Landmannalaugar, another area very famous for its rhyolite mountains.
There are several geothermal areas in Kerlingarfjöll and Hveradalir is the most famous. Hveradalir is the place to see steaming vents, bubbling hot springs, and pools of boiling mud.
Kerlingarfjöll can be visited year-round and it is popular with hikers in the summer and snowmobilers in the winter.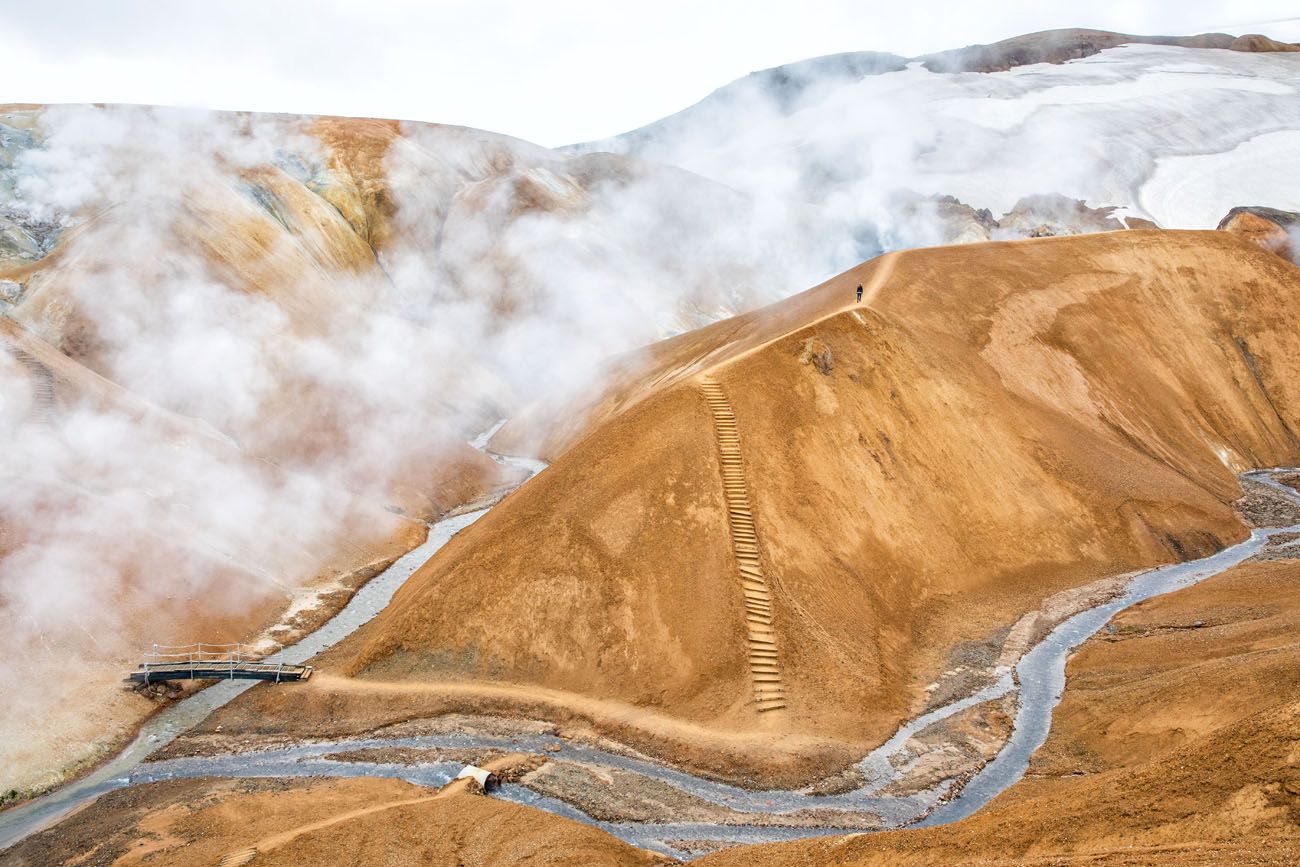 How to Get to Kerlingarfjöll
Kerlingarfjöll is only accessible by driving on unpaved F-roads. To drive on these rough, gravelly roads you will either need to have a 4×4, take a bus, or join a tour.
Here is Kerlingarfjöll on a map. To get to Kerlingarfjöll you will drive on F-35 (also called the Kjolur Route or Kjalvegur Road), which connects Blönduós in the north to Gullfoss and the Golden Circle in the south.
How to Use This Map: Click the tab in the top left hand corner of the map to view the layers (points of interest and the driving routes). You can click the check marks to hide or show layers. If you click the icons on the map, you can get more information about each point of interest.

If you click the star next to the title of the map, this map will be added to your Google Maps account. To view it on your phone or computer, open Google Maps, click the menu button, go to "Your Places," click Maps, and you will see this map on your list.
Getting Here by 4×4
Driving Distances and Times
Reykjavik to Kerlingarfjöll: 185 km, 3 to 4 hours
Gullfoss to Kerlingarfjöll: 70 km, 1.25 to 2 hours
North Iceland (where F-35 meets Route 1) to Kerlingarfjöll: 120 km, 2 to 3 hours
Driving times can vary depending on your vehicle, your experience driving on unpaved roads, and the condition of the roads. Road conditions can change month to month and year to year, depending on weather and upkeep.
Our Experience
We drove the entire length of F-35 in the summer of 2019. We drove a Kia Sorrento, which is classified as a 4×4 and is permitted by our rental company, Hertz, to be driven on F-roads.
In general, F-35 was in much better condition than we expected. For the most part, the road is wide enough for two cars and rough, but not overly rocky or bumpy.
The stretch of road from Gullfoss to Kerlingarfjöll (the southern part of F-35) was in excellent condition: very smooth, easy to drive, and we could drive at a reasonably fast pace.
From Kerlingarfjöll to north Iceland, the road was much rougher, with some very bumpy sections and one minor river crossing.
But what an amazing drive! You really get the feeling that you are out in the middle of nowhere. During the hour and a half drive from Gullfoss to Kerlingarfjöll, we saw a total of 4 cars (we saw many more the next day as we drove north on F-35).
Here are some photos from our drive.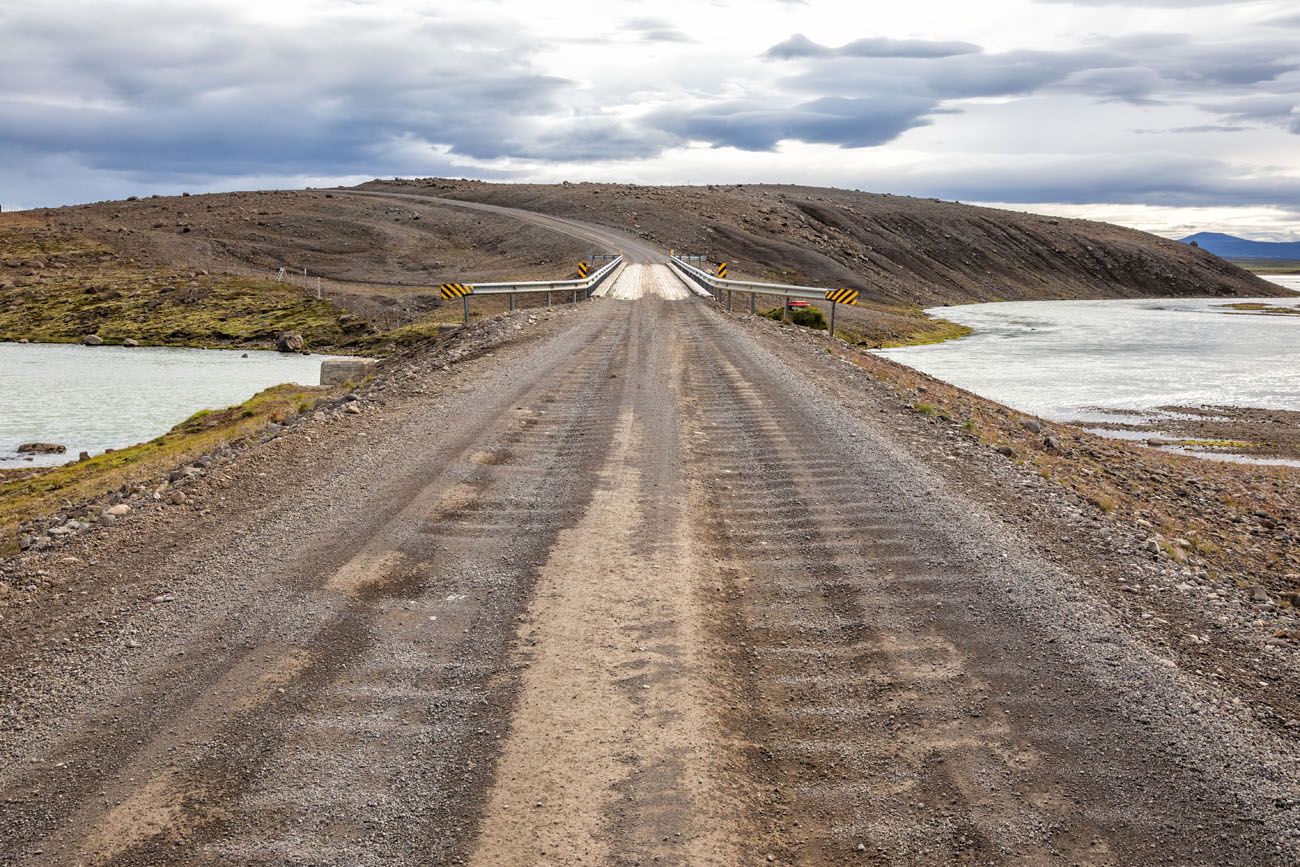 F-35 and a one lane bridge south of Kerlingarfjöll.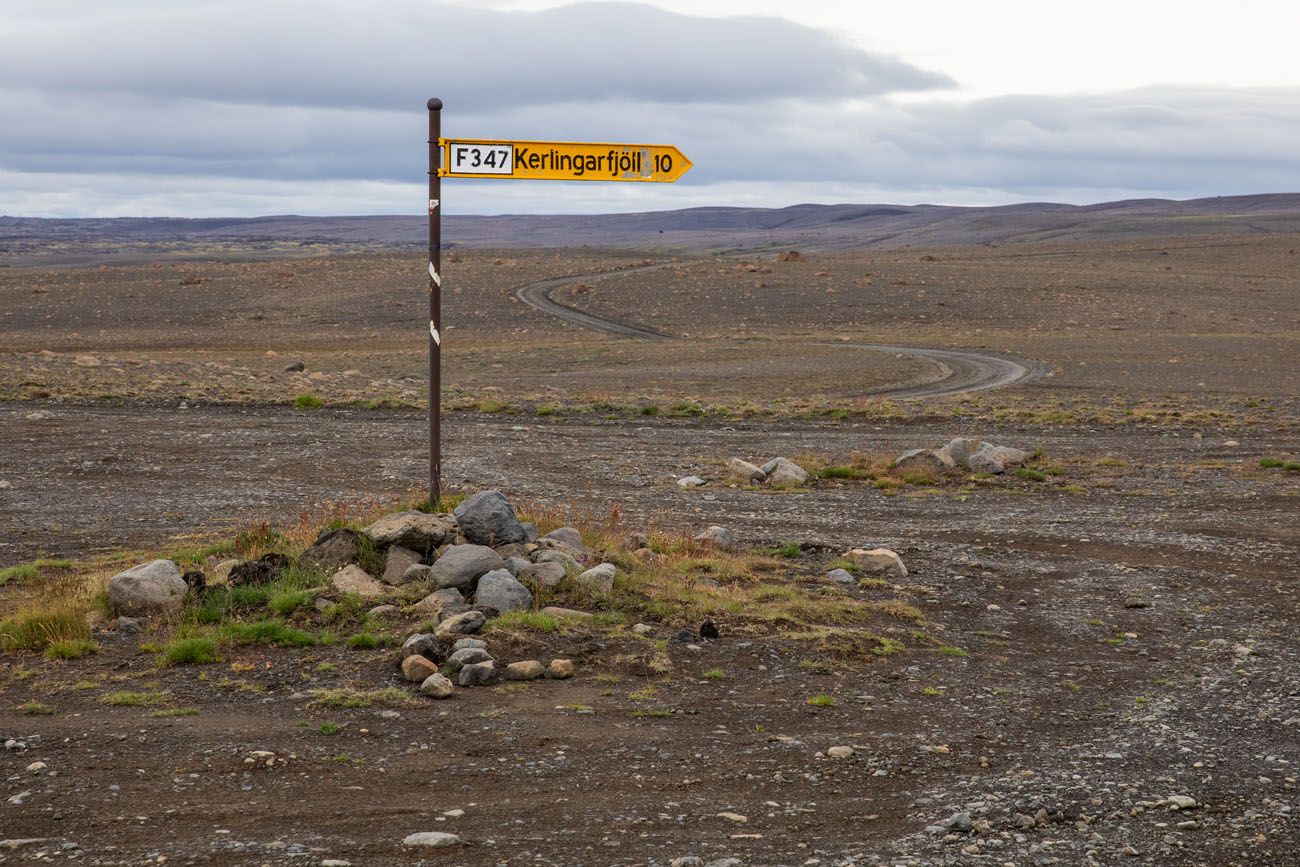 Road sign pointing towards Kerlingarfjoll.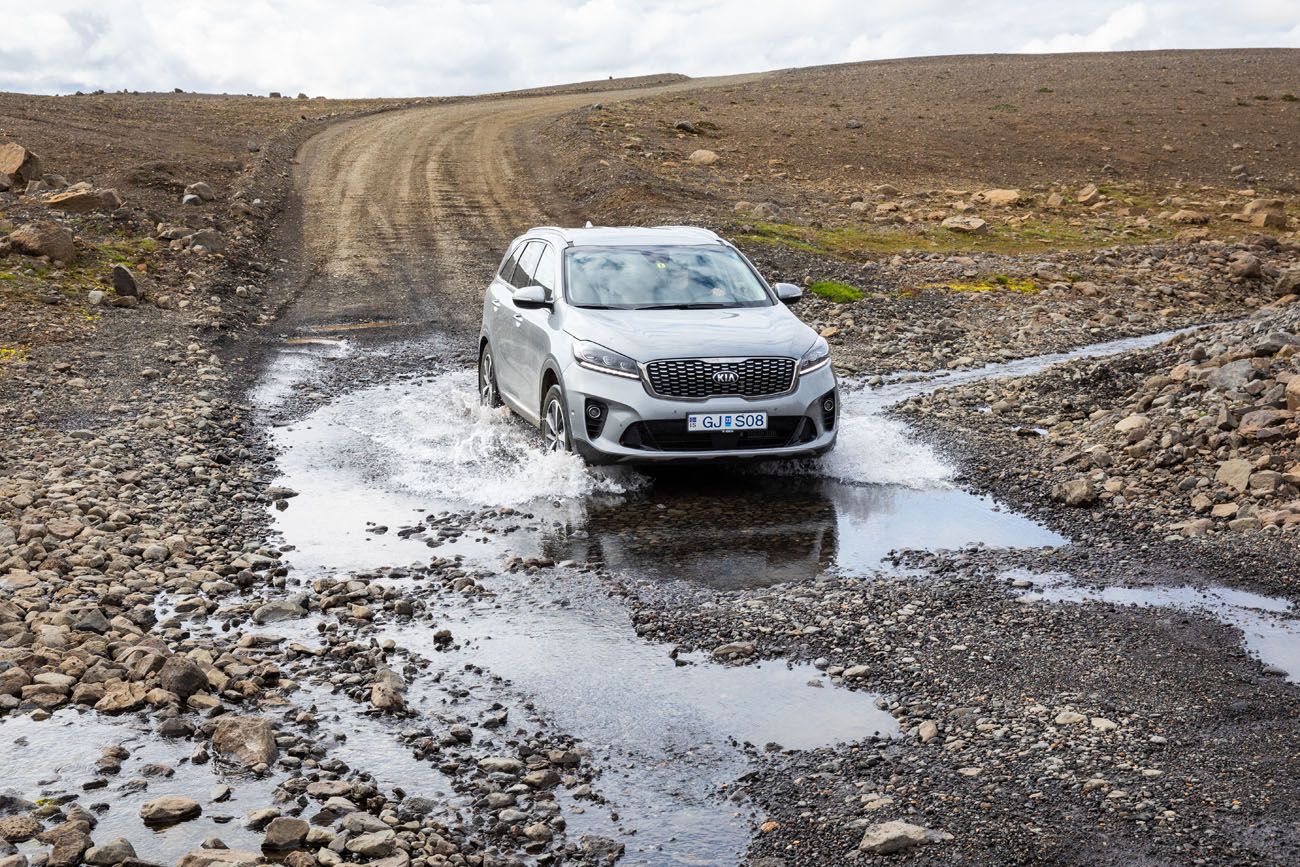 The one minor river crossing on F-35 north of Kerlingarfjöll.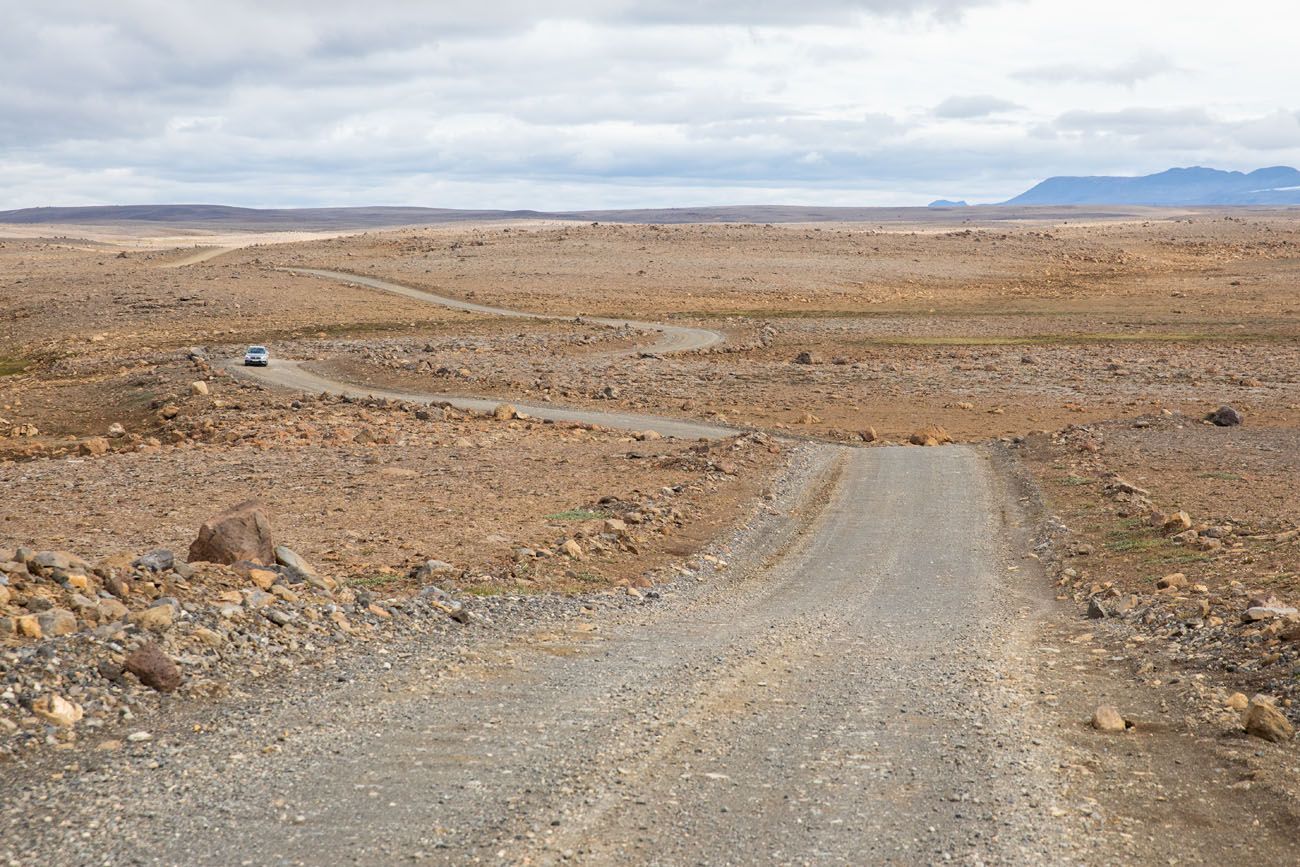 F-35 north of Kerlingarfjöll.
F-35 is only open from mid-June through sometime in September, when the first snows begin to fall.
PRO TRAVEL TIP: Check weather and road conditions before you go at www.road.is.
Getting Here with Public Transportation
There is a daily bus that links Reykjavik, Gullfoss, Kerlingarfjöll, Varmahlid, and Akureyri (and other towns along the route). This bus runs from mid-June through early September. For pricing and updates on scheduling, click here.
Getting Here in the Winter
Kerlingarfjöll Mountain Resort is open year-round. The F-roads close once they get snow covered, however you can still get here by taking a tour. Don't expect to go hiking once the trails get snow covered, but you can go snowshoeing or snowmobiling.
Where to Stay in Kerlingarfjöll
Nestled in the Kerlingarfjöll mountains is Kerlingarfjöll Mountain Resort. At this resort, there are 10 chalets, a hotel with 20 double rooms that have a private bathroom, dorm rooms, and a campsite by the river.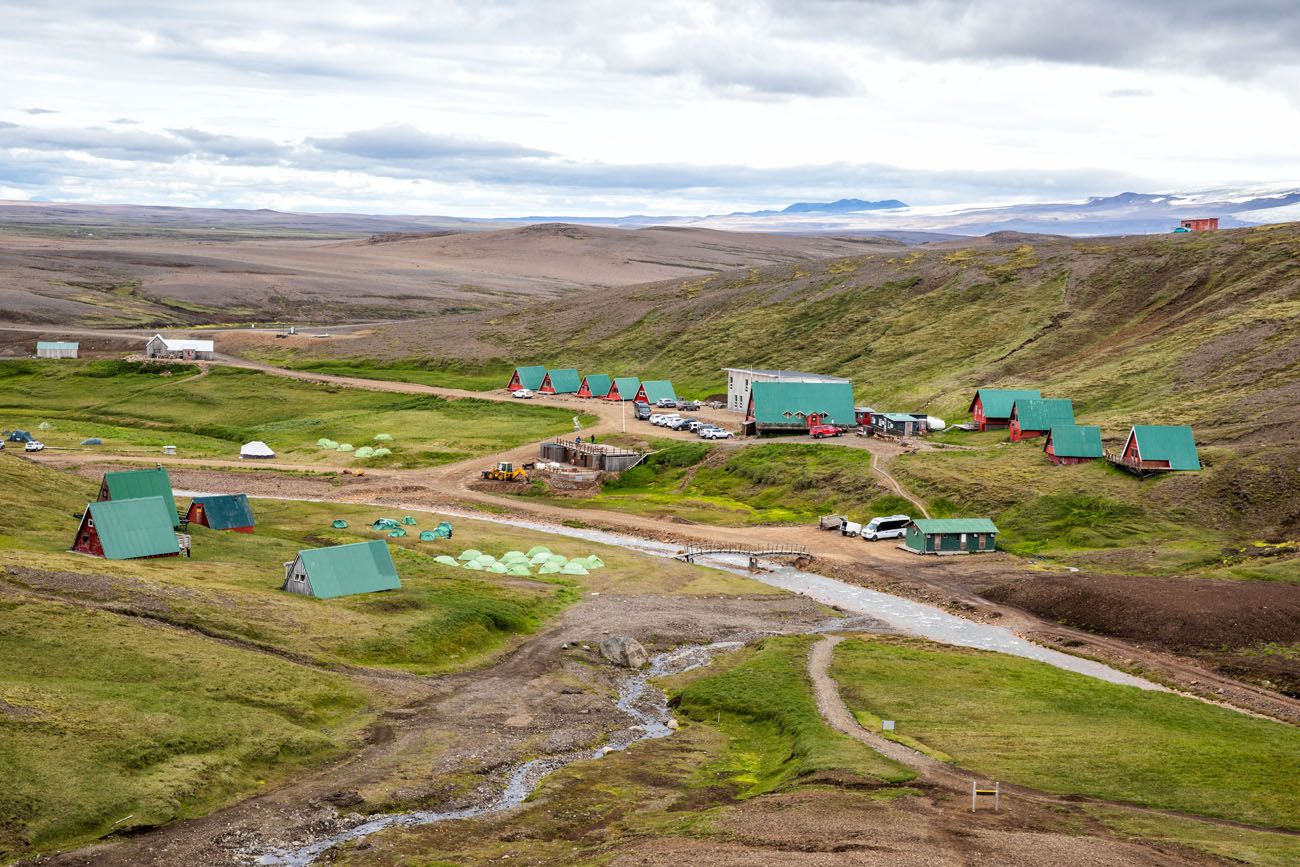 If you would like to stay in the hotel or the chalets, make your reservations at least 6 months in advance. We booked our chalet four and a half months before our trip and had a hard time finding availability (for a visit in mid-July).
We stayed in one chalet that had two twin rooms and two bathrooms (these were considered two separate rooms: NYPA 5-1 and 5-2). The rooms are small, very basic, but clean, quiet and each unit had a private bathroom.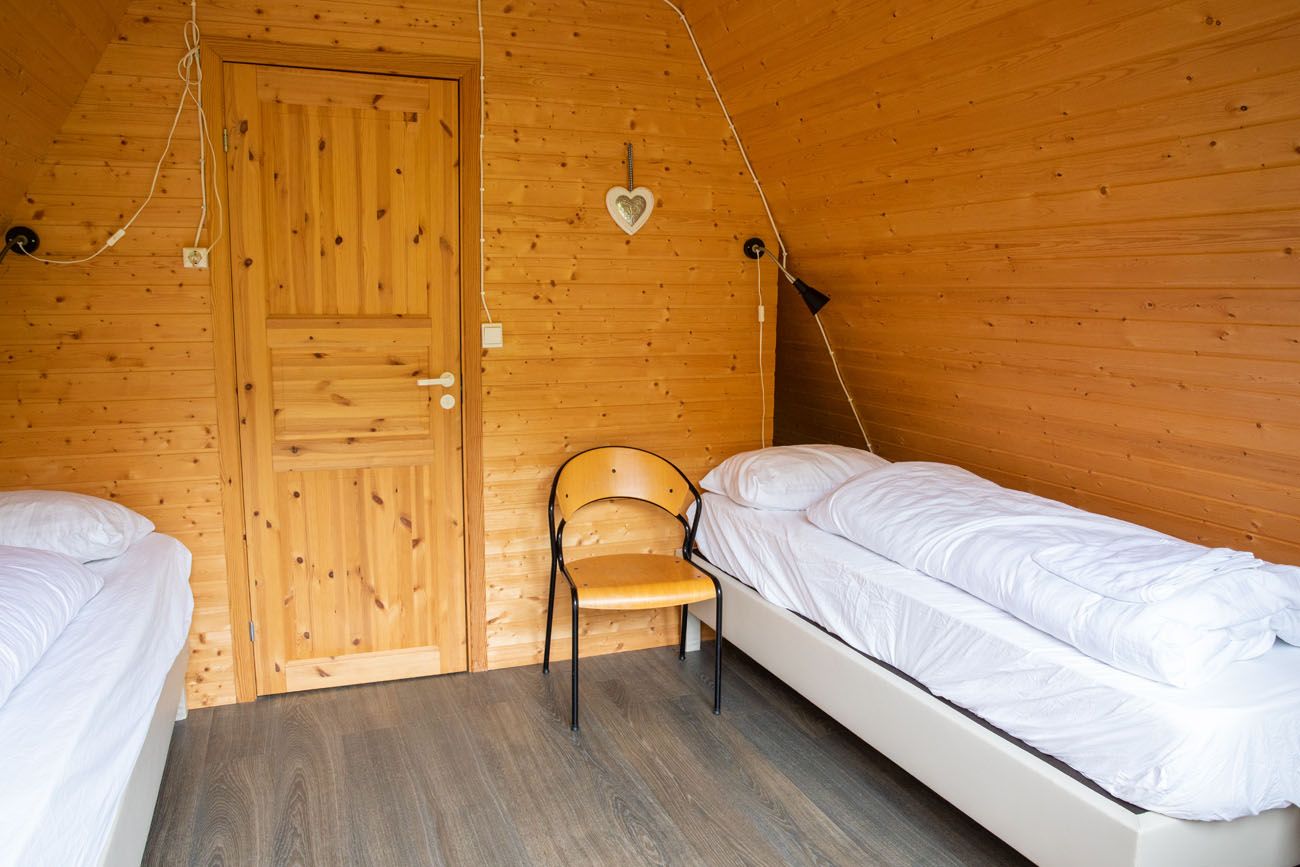 The campsite got quite full the night of our visit. From what I learned, you do not need to reserve a spot in advance. It is first come first serve for finding a spot down by the river for your tent. There are bathroom and shower facilities as well as a kitchen for preparing your meals.
There is also an onsite restaurant where you can get breakfast, lunch, and dinner. Dinner costs 3000 to 4000 ISK per plate.
For accommodations, get updated pricing and see photos, visit the Kerlingarfjöll website. In 2023, a new area will be opening with brand new lodges and a new restaurant.
Best Things to do in Kerlingarfjöll
In the summer, the best things to do are either hike one of several trails and/or visit the hot spring that is just a short walk from the resort.
Hiking in Kerlingarfjöll
Hveradalir Geothermal Area
If you do one thing while in Kerlingarfjöll, it should be hiking Hveradalir. There are two ways to get here: hiking from Kerlingarfjöll Mountain Resort or driving to the geothermal area. More on this in just a bit.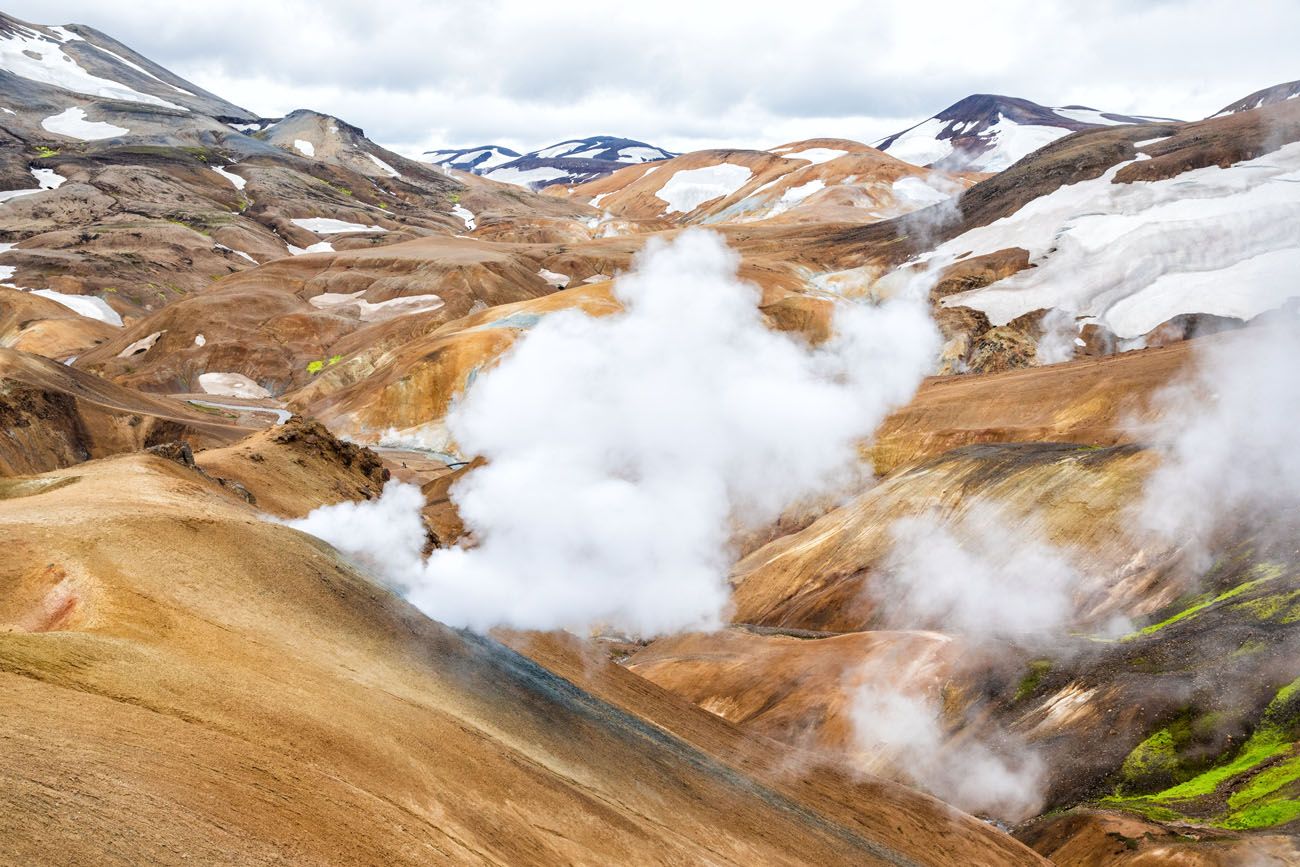 The Peaks of Austurfjöll
This is a 7 km demanding hike where you summit several peaks, including Snaekollur, the highest peak of Kerlingarfjöll. The hike starts at the car park in Keis and takes 5 to 6 hours.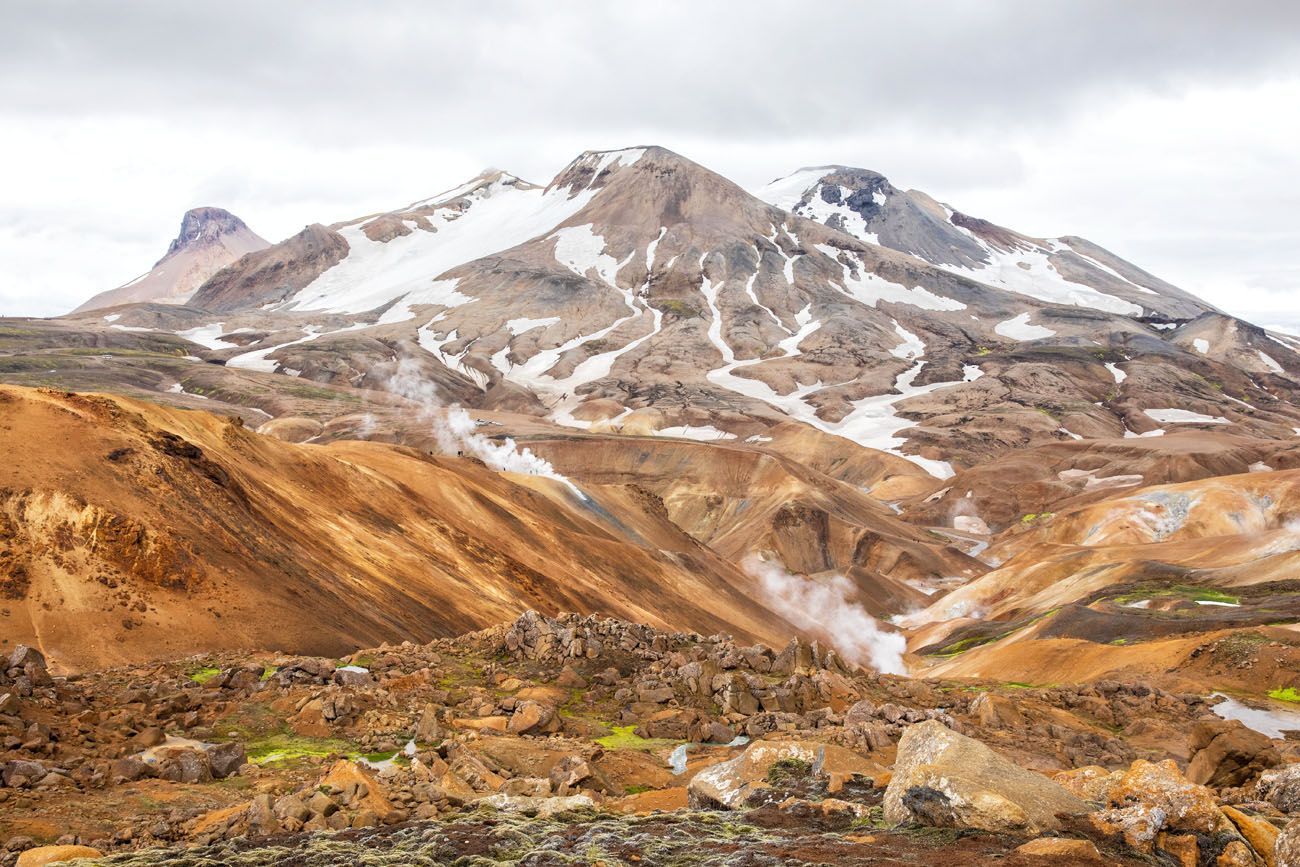 The Circle Route around Kerlingarfjöll
This is a 47 km multi-day trek over the peaks of Kerlingarfjöll. Most people take three days to complete this trek, staying in huts along the way. To do this, reserve your spot in the huts online in advance (by email) or at the reservation desk when you arrive at Kerlingarfjöll Mountain Resort. There are a limited number of beds in each hut (10 max in one of the huts) although you can also camp along the way. The staff member I spoke to said that it costs 6000 per night to stay in these huts.
Relax in the Hot Spring
There is a small thermal pool located within walking distance of the Kerlingarfjöll Mountain Resort. From the resort, it is a 1.3 km walk along the river to get here (about 20 minutes). Make sure you follow the well-marked trail on the right-hand side of the river (as you walk upstream to the pool) to get here.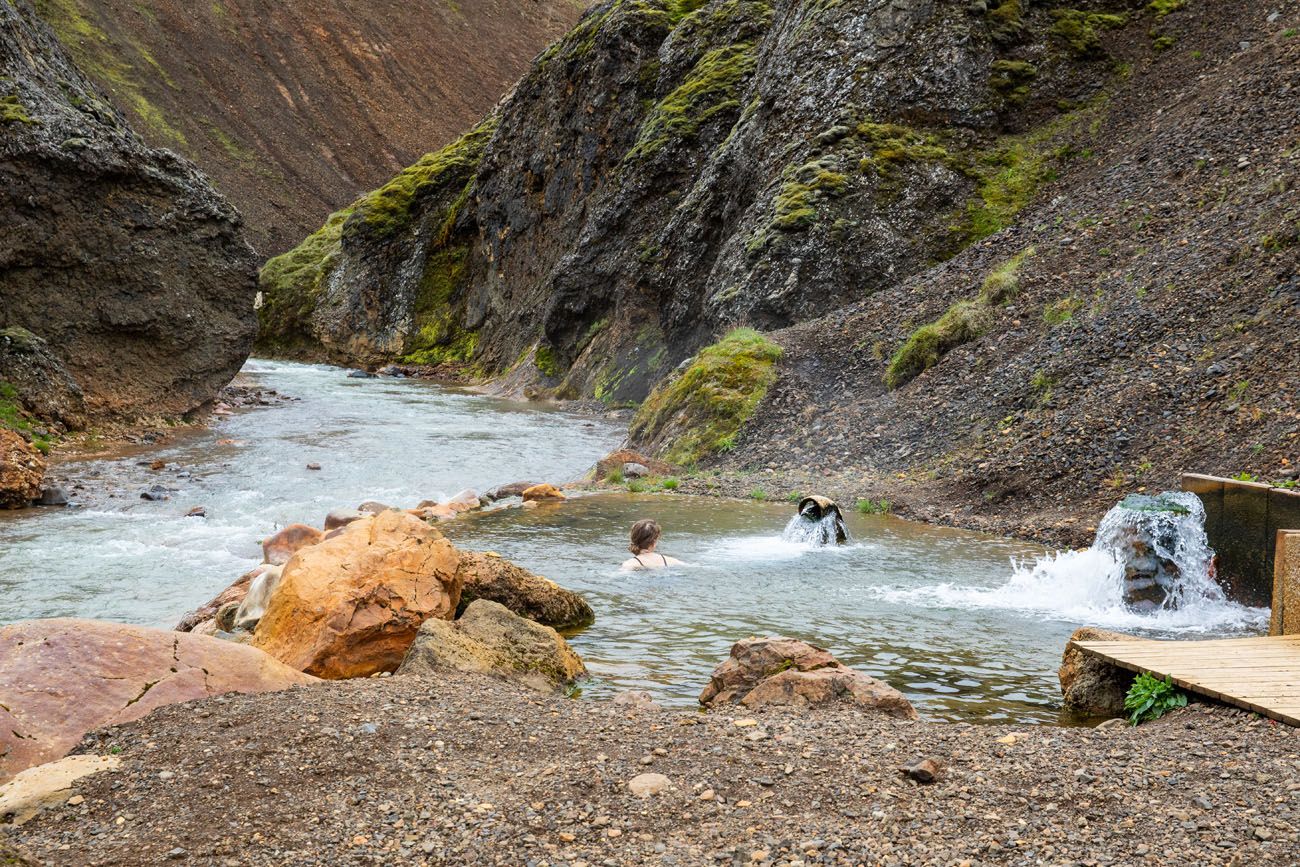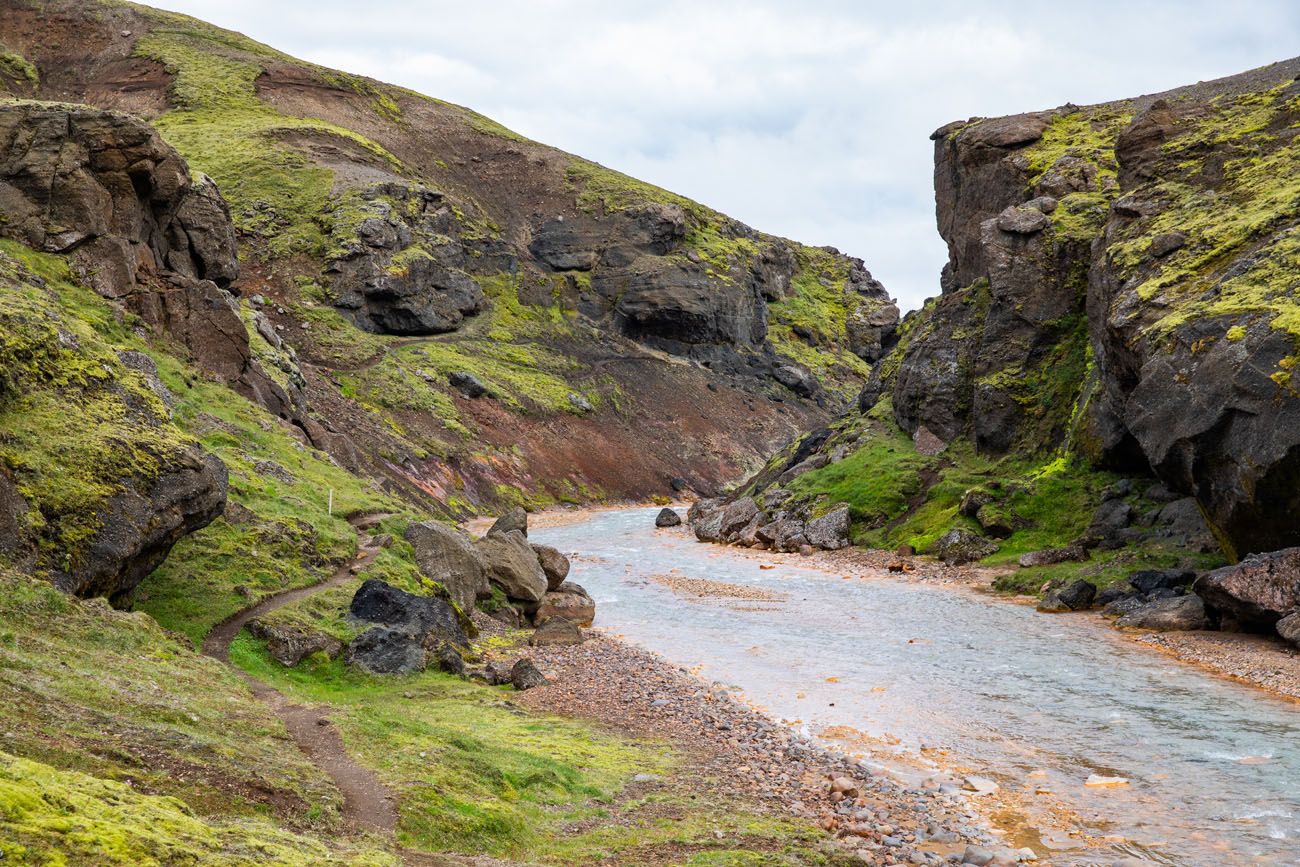 Hiking trail to the hot spring. This photo was taken on the walk back to the resort.
See the Jokulfall Gorge and Gygarfoss Waterfall
You will drive right past this waterfall and gorge as you drive to the Kerlingarfjöll Mountain Resort.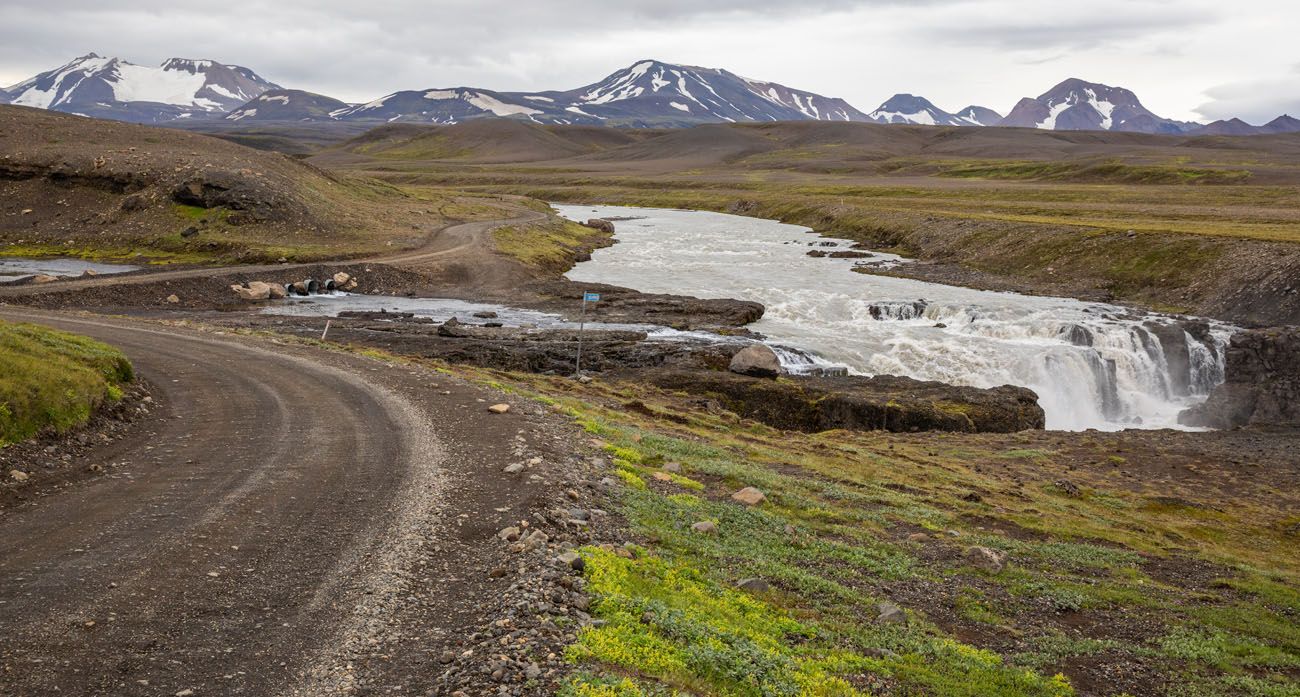 Hiking Hveradalir Geothermal Area
For us, the Hveradalir Geothermal Area was the highlight of our visit to Kerlingarfjöll. We enjoyed it so much that we did it twice!
There are two ways to get here: you can either hike to the geothermal area or drive here.
Hiking to Hveradalir
If you have lots of time and lots of energy, you can hike from the resort to the geothermal area. Here are the details:
Distance: 11.5 km (7 miles) round trip (this includes exploring Hveradalir)
Time: 4 to 5 hours
Difficulty: Moderate

Kerlingarfjöll Elevation Profile
The hike starts at the Kerlingarfjöll Mountain Resort. Cross the bridge and look for the zig-zagging hiking trail that heads up into the mountains.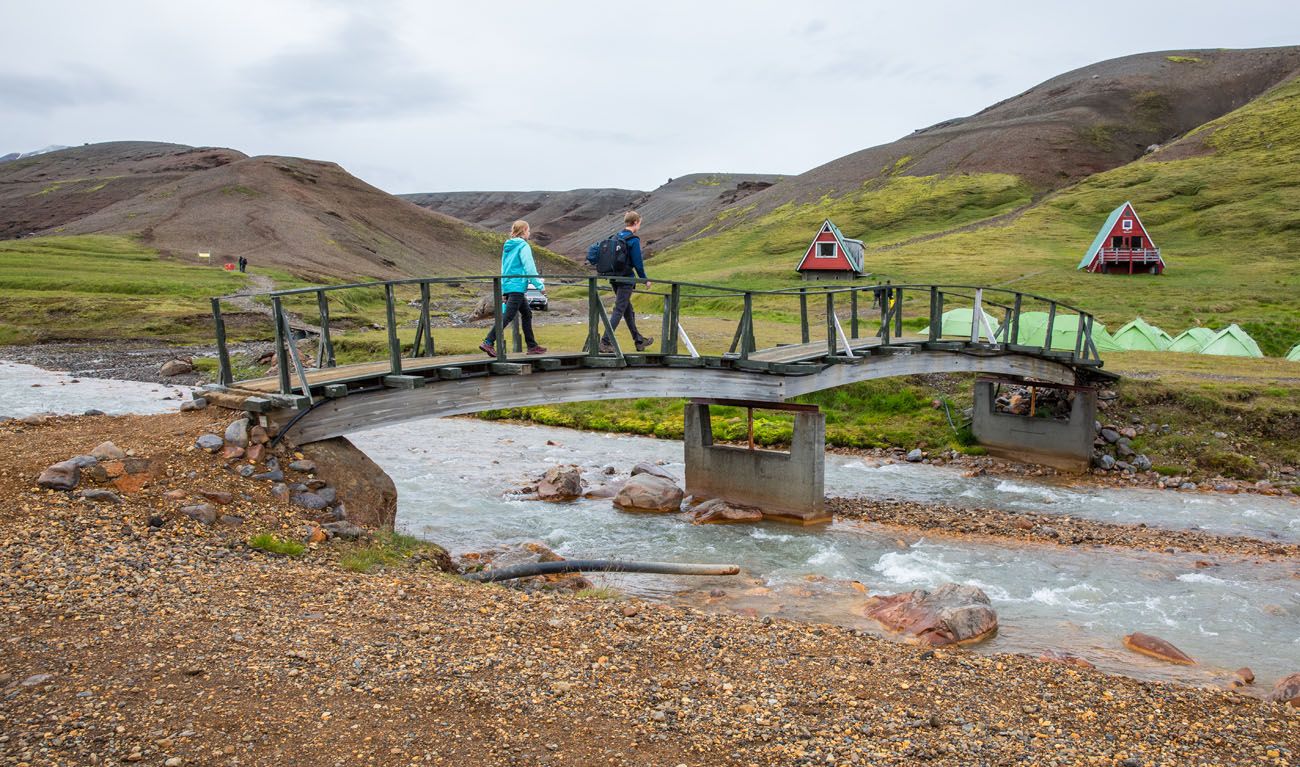 At first, it's an uphill, somewhat monotonous walk.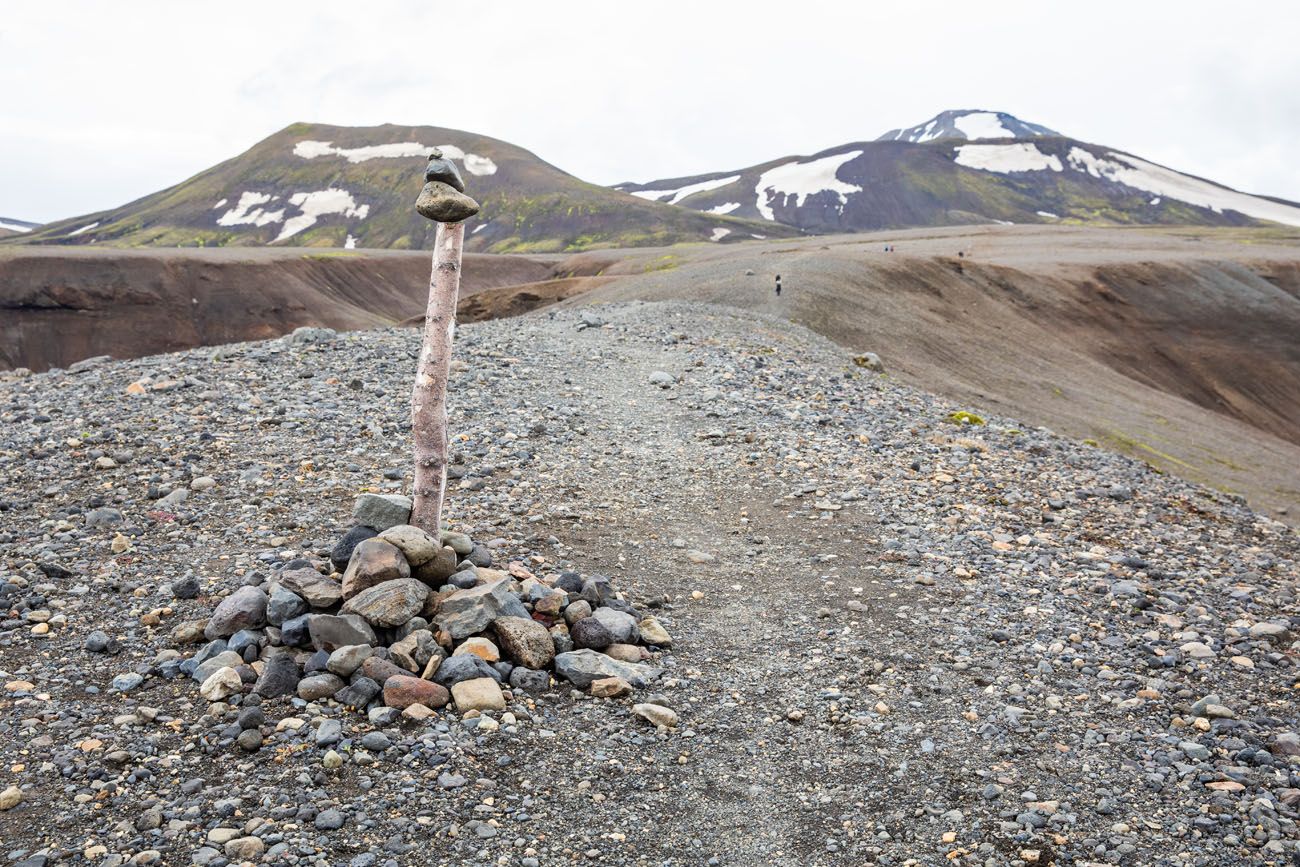 As you head farther away from the resort, you really get the sense that you are in remote Iceland, as long as you don't share the trail with too many hikers.
Then, the trail climbs and descends a few times. Even in mid-summer we had to cross snow to continue along the trail.
Once the trail reaches the geothermal area, you can turn left or right. Both trails get you down into the heart of Hveradalir. We chose to go down the left trail and back up the trail to the right as we hiked back to Kerlingarfjöll Mountain Resort.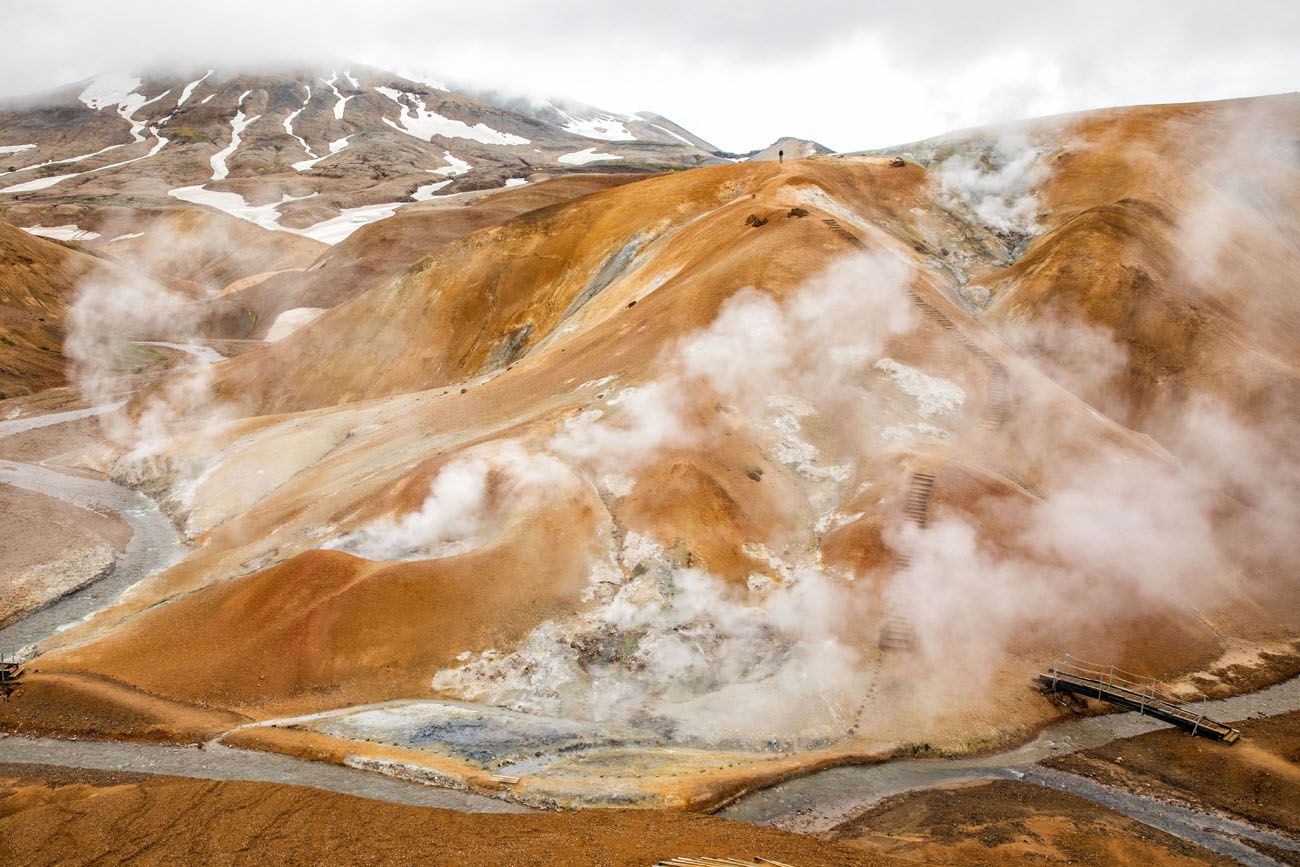 Can you spot Tim?
Driving to Hveradalir
From the resort it is a 3 km ride on a rough, gravel road to get to the Hveradalir car park. This drive takes about 10 minutes.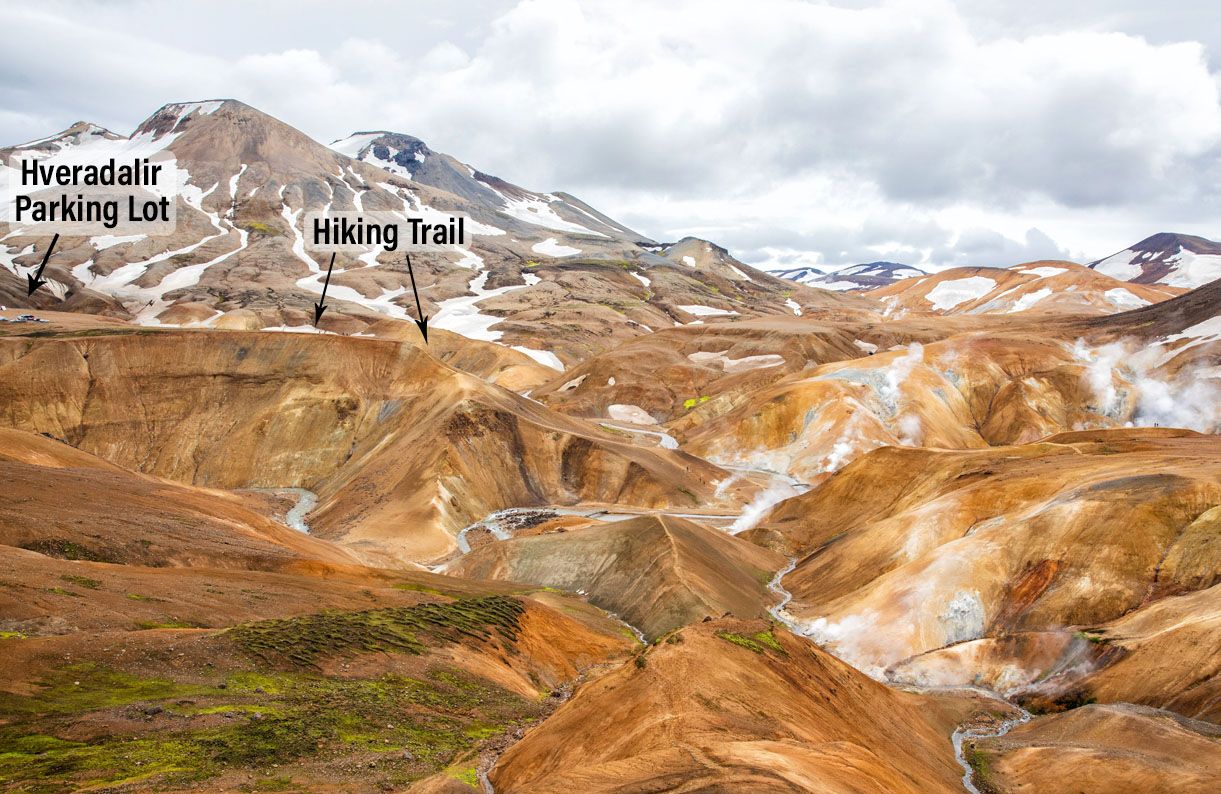 From here, you overlook the geothermal area. It's a steep walk down a series of staircases to get to the valley. From here, most people spend 2 to 3 hours walking the trails and exploring this very unique landscape.
Our Experience: We did this on the second day of our visit. We arrived at 8:45 am and had the entire place to ourselves until 9:45 am. It was amazing!! And we were shocked, since it really wasn't even that early. However, many day trippers arrive midday, and that is when this area is busiest.
Photos of Hveradalir
We had a blast exploring every nook and cranny of this place. Here are some of our favorite photos.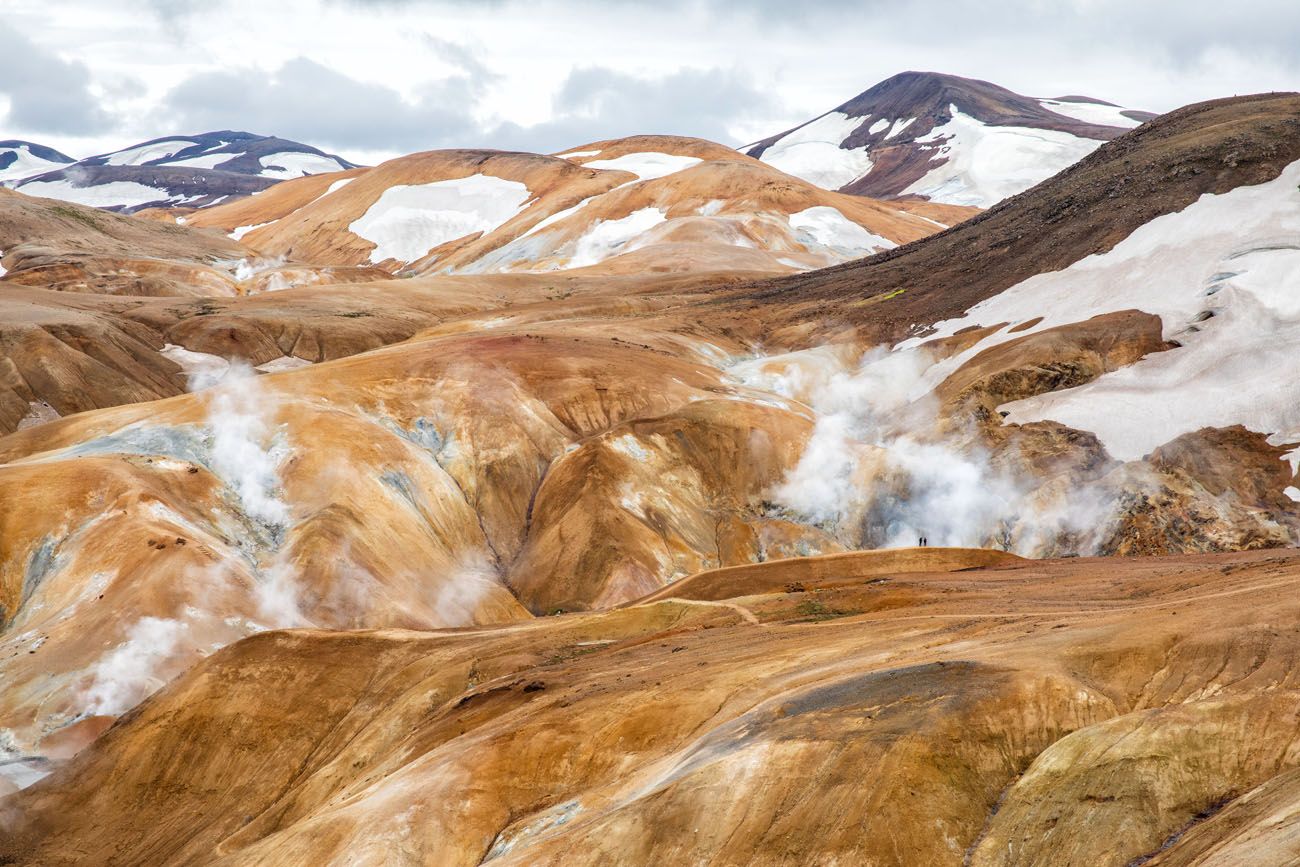 Can you spot the two hikers on the trail?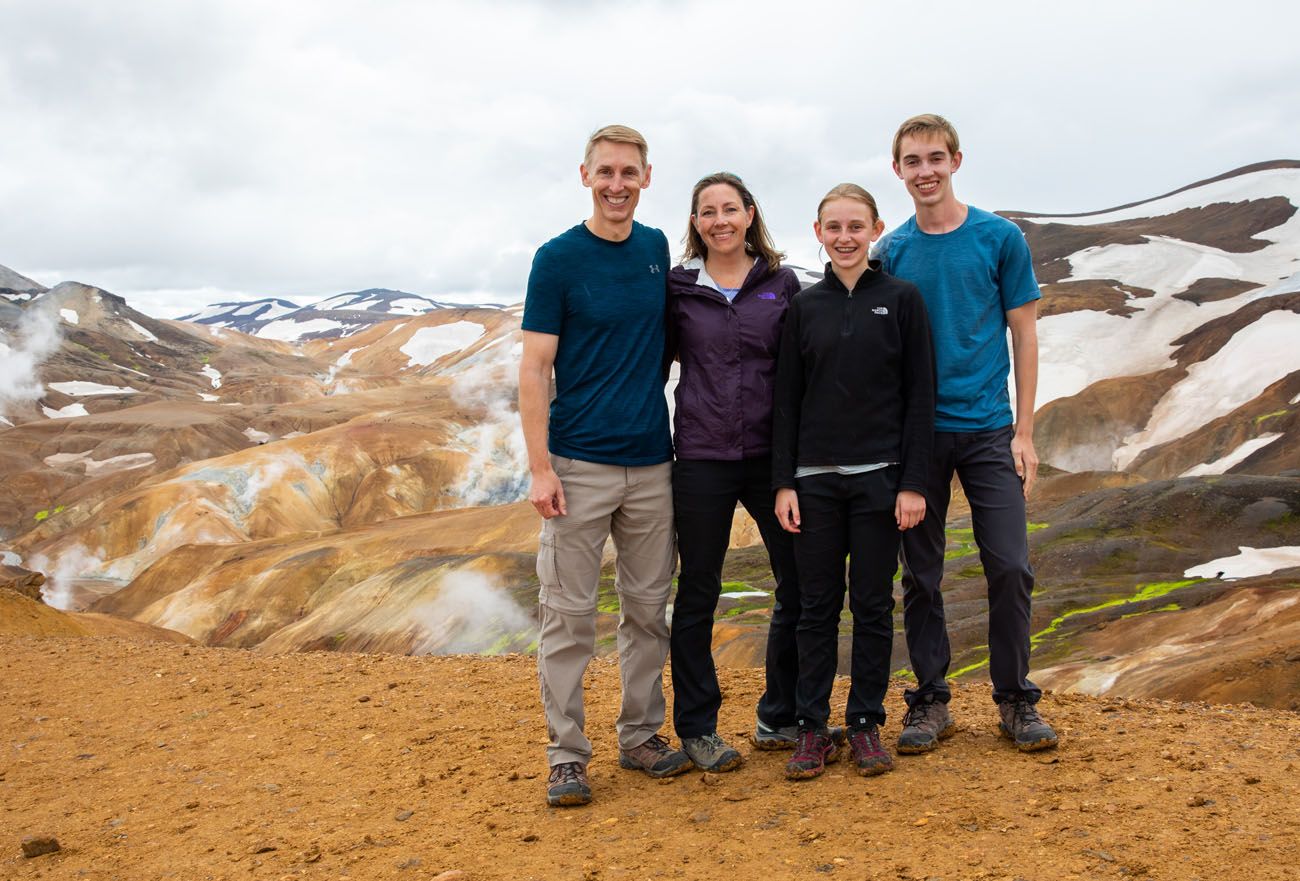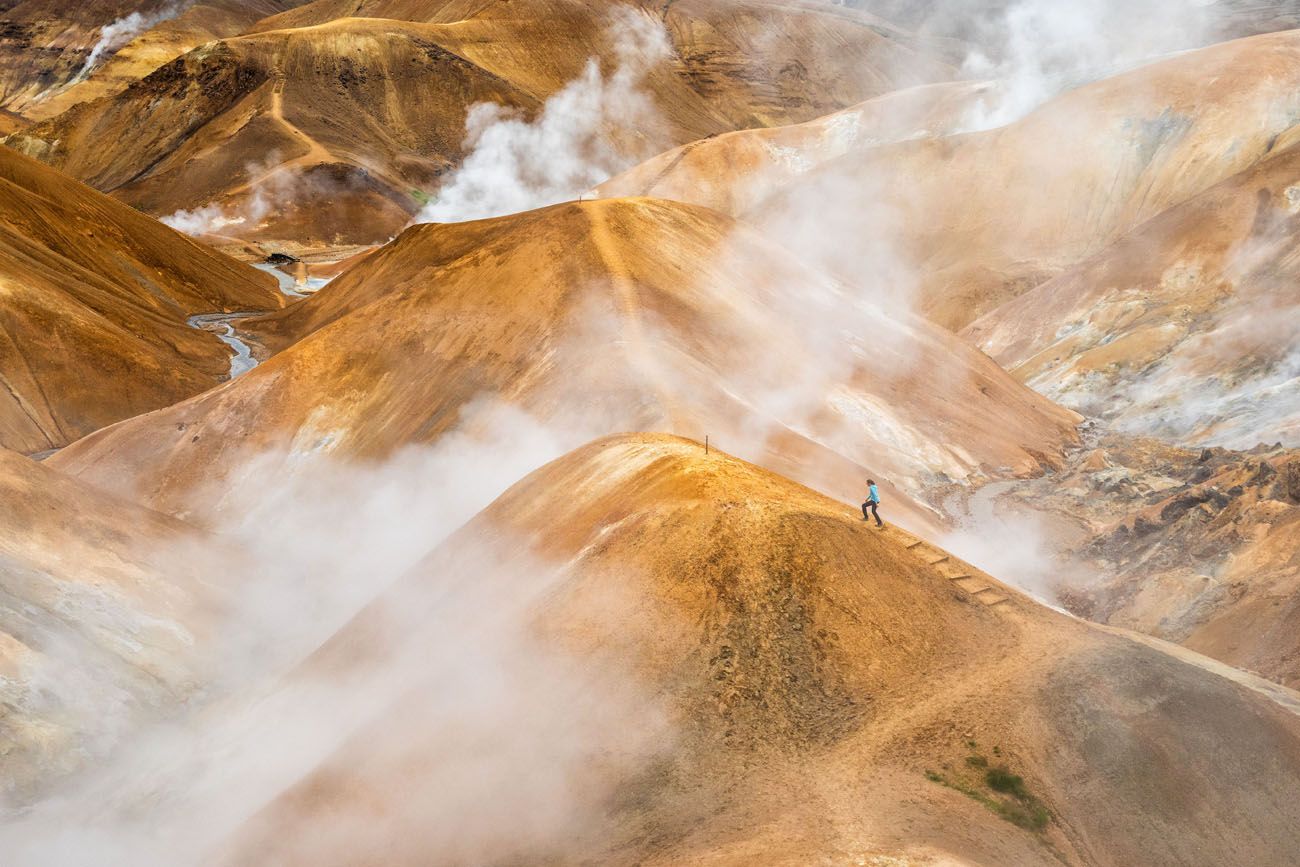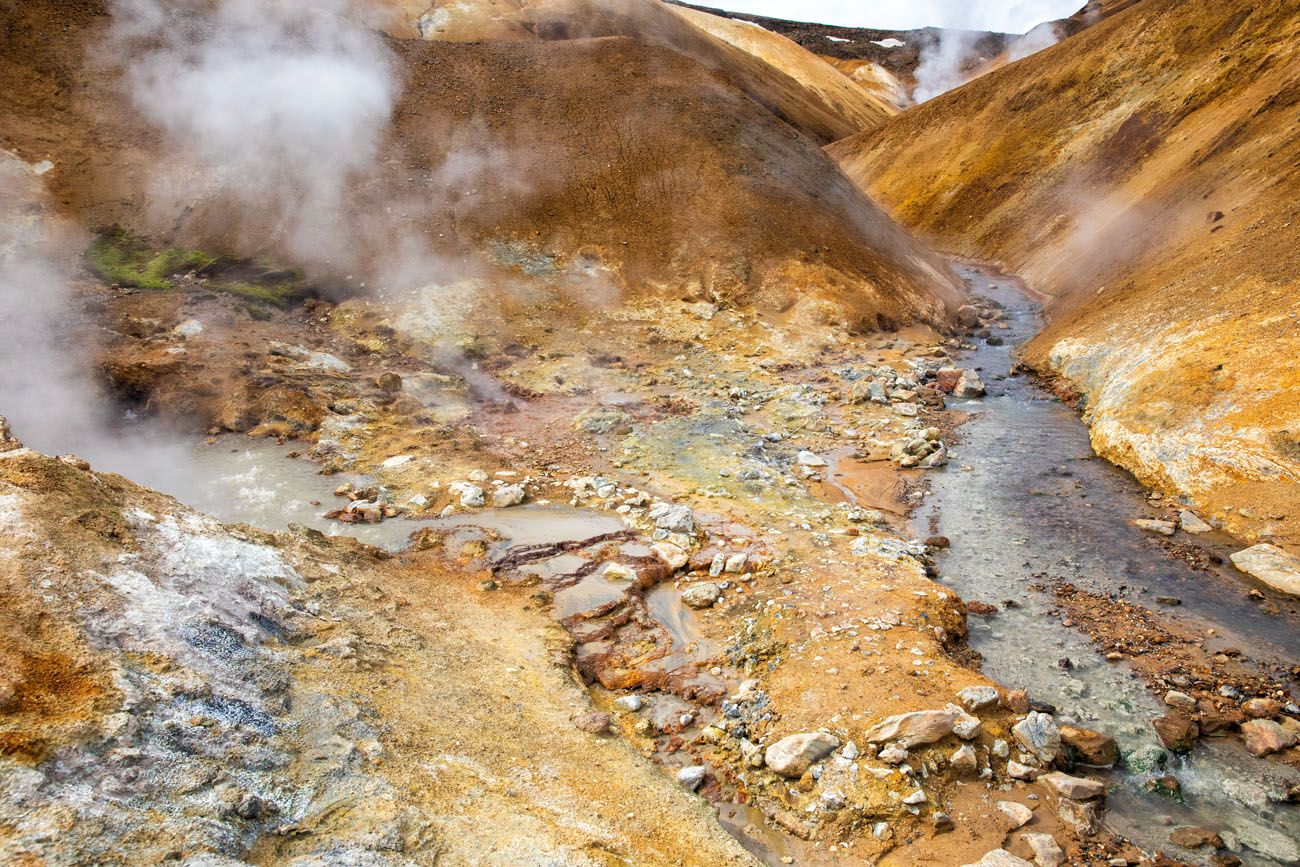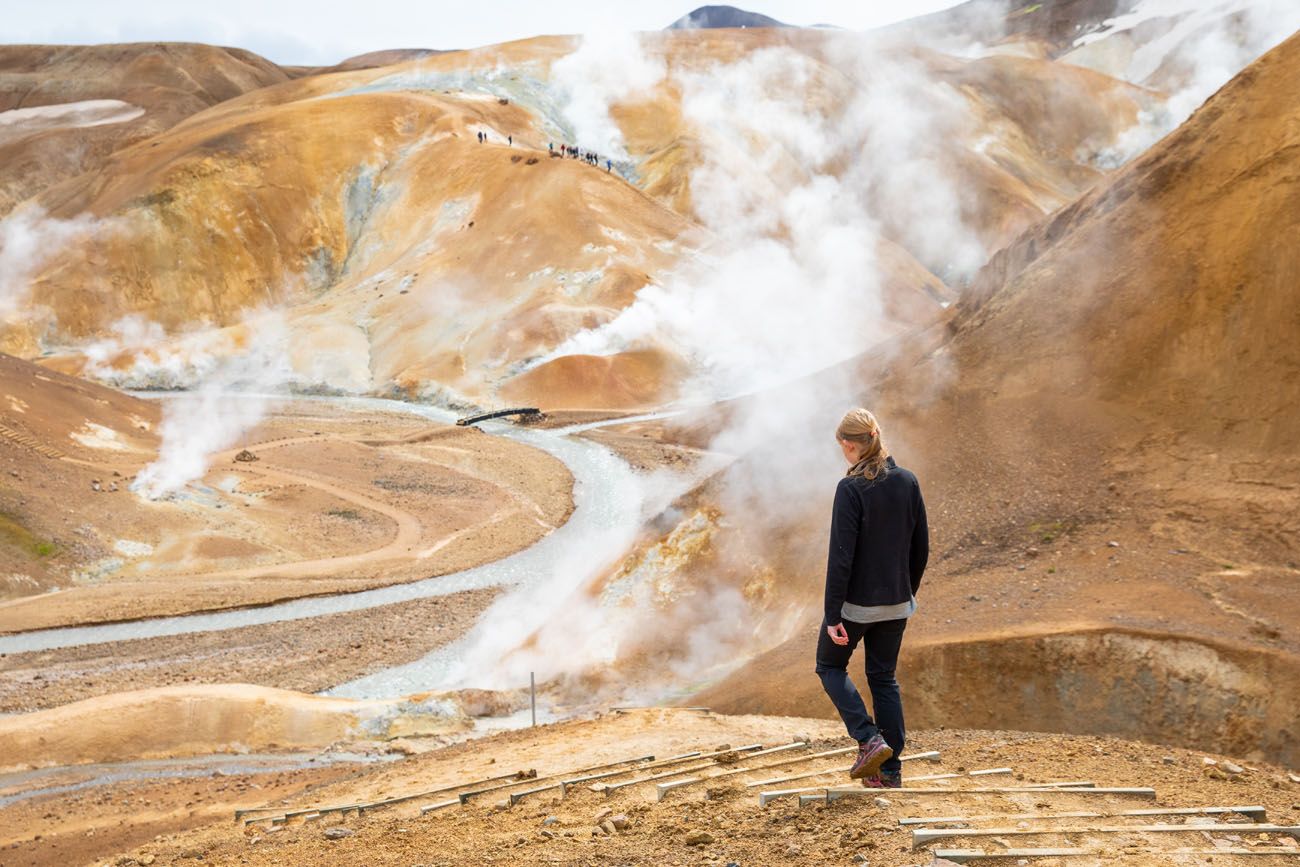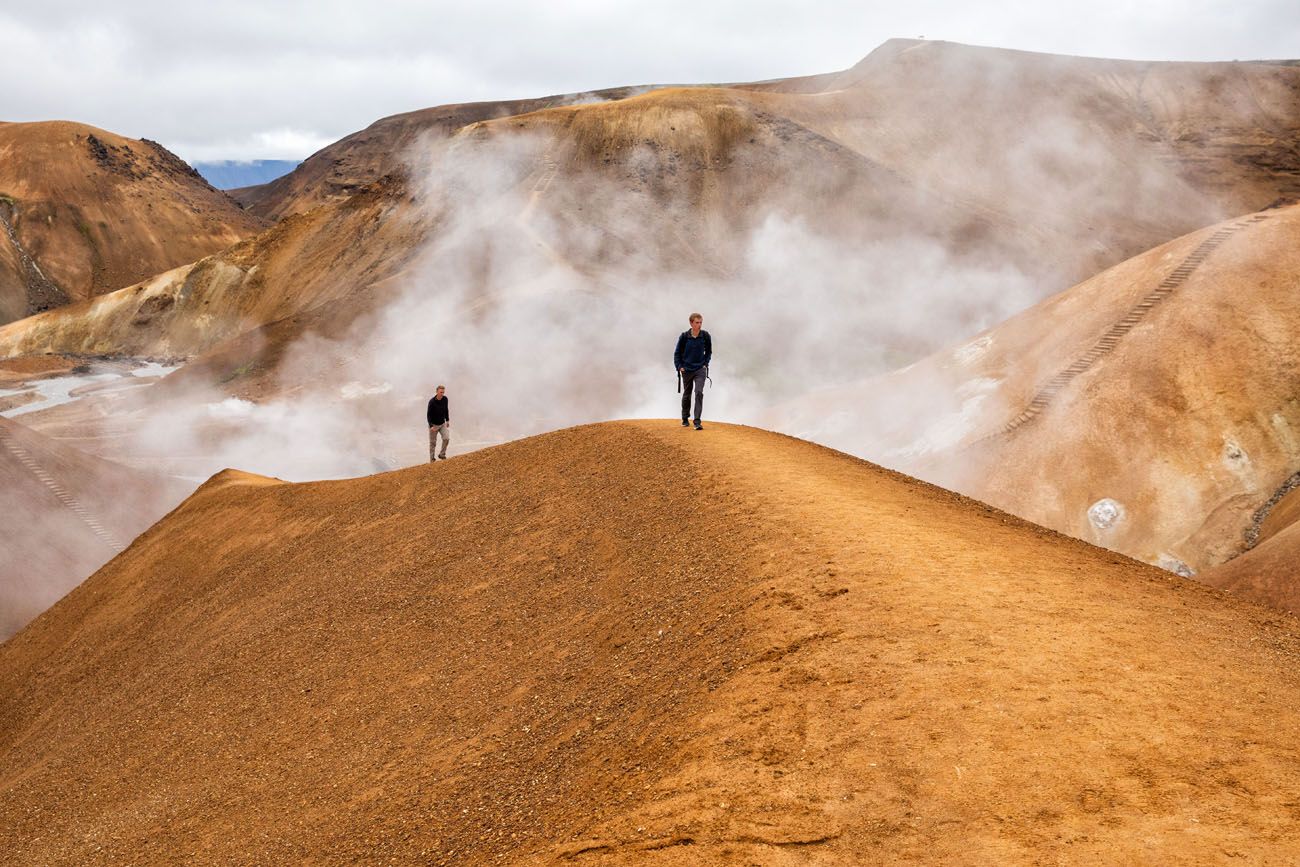 Drone Video of Hveradalir
Here is our video of Hveradalir, filmed by drone.
Day Trip or Stay the Night?
Is it best to stay one (or more nights) in Kerlingarfjöll or visit the region on a day trip? The answer depends on how much time you have and what you want to do here.
As a Day Trip
If the only thing you want to do is hike the Hveradalir geothermal area, you can visit Kerlingarfjöll as a day trip. It's best to do this from the Golden Circle.
From our hotel in Fludir, it took us just 2 hours to reach the Kerlingarfjöll Mountain Resort. Once here, explore Hveradalir and either have a picnic dinner at the resort or eat at the restaurant. You can either return to the Golden Circle or continue north to northern Iceland.
With 1 or More Days
Staying the night gives you a more leisurely experience and gives you an extra day, just in case you get bad weather.
With 1 or more nights, you can also do a second hike. Snaekollur was high on our list, but overcast conditions on our second day kept us from doing the hike (the mountain peak was totally hidden behind the clouds).
What We Did
On day 1, we drove to Kerlingarfjöll from Fludir, which is located on the Golden Circle. Midday we hiked out to Hveradalir. We ate dinner at the resort restaurant.
On day 2, we visited Hveradalir geothermal area a second time, this time driving there. It was a blast having it all to ourselves. Our original plan was to hike up Snaekollur but since the peak was hidden behind the clouds, we chose to return to Hveradalir instead. Midday, we drove north and spent the night in northern Iceland, not far from Varmahlid.
Tips to Have the Best Experience
Bring lots of layers. Even in mid-July it was very chilly here, almost cool enough for hats and gloves. Hiking shoes are a must and so is a rain jacket.
Stay on the hiking trails. The clay soil is very fragile and your footsteps will be visible for a long time.
Make sure you have a full tank of gas before you drive to Kerlingarfjöll. There are no gas stations on F-35. We saw a gas pump at the resort but it didn't look too reliable. With one full tank of gas, we had plenty to spare even after the drive from Gullfoss through Kerlingarfjöll to northern Iceland.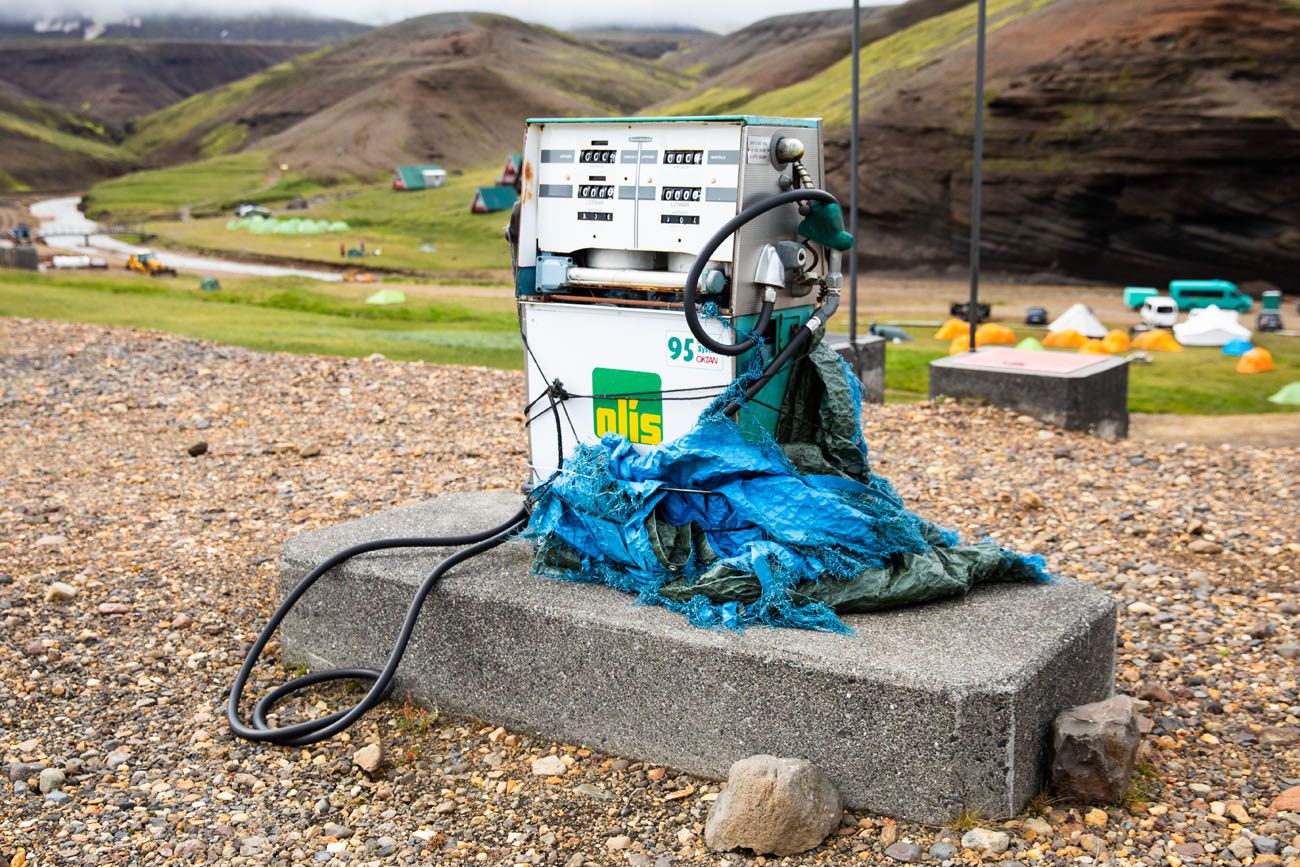 Important Links
To check road conditions before you go, visit road.is.
For more information, visit the official Kerlingarfjöll website.
The most reliable website for weather is www.en.verdur.is. Click here to check the weather before you go.
---
Do you have plans to visit Kerlingarfjöll and the Hveradalir geothermal area? Comment below if you have any questions or if you would like to share your experience.
More Information about Iceland
ADVENTURES IN ICELAND: Iceland is full of wonderful adventures. Spend one day in Landmannalaugar, hike the epic Fimmvorduhals trail (one of our favorite day hikes in the world), and go glacier hiking. Learn how to put all of this together in our 10 Day Iceland Adventure Itinerary.
ICELAND ITINERARIES: There are several ways to put together a trip to Iceland. If you have 10 days, here are four different ways to spend your time in Iceland. This two week Iceland itinerary includes the entire Ring Road and main highlights of Iceland.
SNAEFELLSNES PENINSULA: Plan the perfect visit to the Snaefellsnes Peninsula with our Guide to the Snaefellsnes Peninsula, which covers the best things to do, where to stay and sample itineraries.
SOUTH COAST OF ICELAND: The south coast is filled with some of the top sights in Iceland. Go glacier hiking and visit Skogafoss and walk the amazing Waterfall Way trail. For the full list, check out our Guide to the South Coast of Iceland.
TRAVEL PHOTOGRAPHY: For more information about the camera gear we carry, check out our Travel Photography Gear Guide. And tips and tricks for taking great photos in our article How to Take Better Photos while Traveling.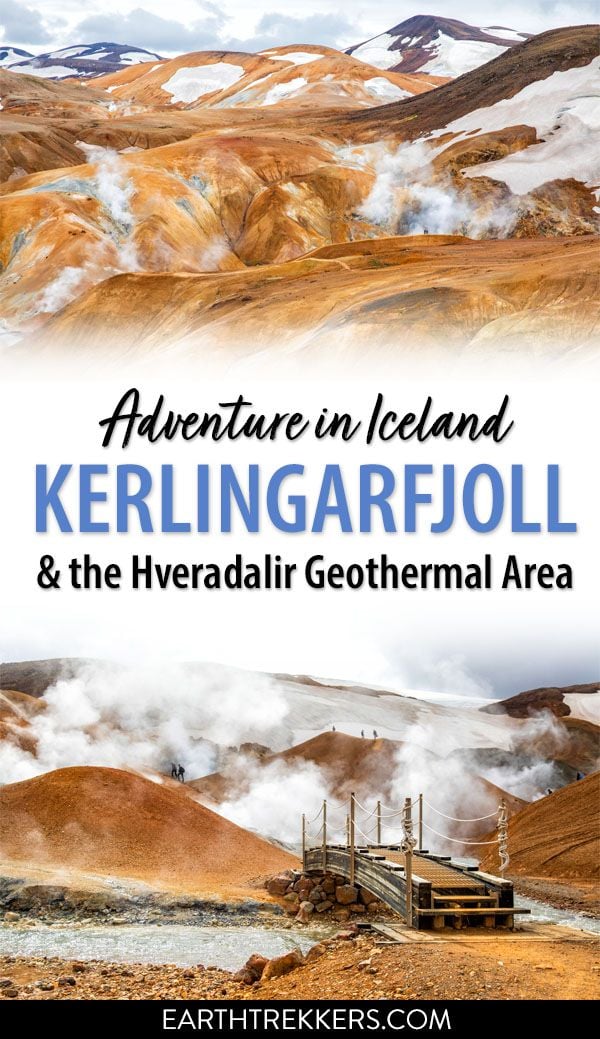 Note: This post contains affiliate links. When you make a purchase using one of these affiliate links, we get paid a small commission at no extra cost to you.
All rights reserved © Earth Trekkers. Republishing this article and/or any of its contents (text, photography, etc.), in whole or in part, is strictly prohibited.